Summer wedding season is fast approaching, leaving many men panicking about their attire.
Naturally, it's tempting to complain about needing to dress up in a suit during the hot summer weather.
However, perhaps wearing a suit in the summer doesn't need to be torture.
With proper planning, you can look like the perfect summer wedding guest and keep your cool.
Summer Wedding Attire: The Basics
Summertime usually puts me in the mood for swim trunks for a day in the sun, not a full suit.
If spending a warm day dressed in your best suit sounds constricting, you can feel better knowing that you don't need to sweat it.
When you choose the correct suit, you can be cool as a cucumber but look way better than one.
Go for Lighter Colors
Dark clothing usually calls to mind the dreary, cold winter weddings. For a summer wedding, though, you want something fitting with the season. Besides, this is an occasion to have fun and celebrate!
Light colors aren't only cheery and festive but are also great for keeping your temperature down. This is because they reflect the sun, whereas dark colors absorb the heat from the sun and hold it close to you.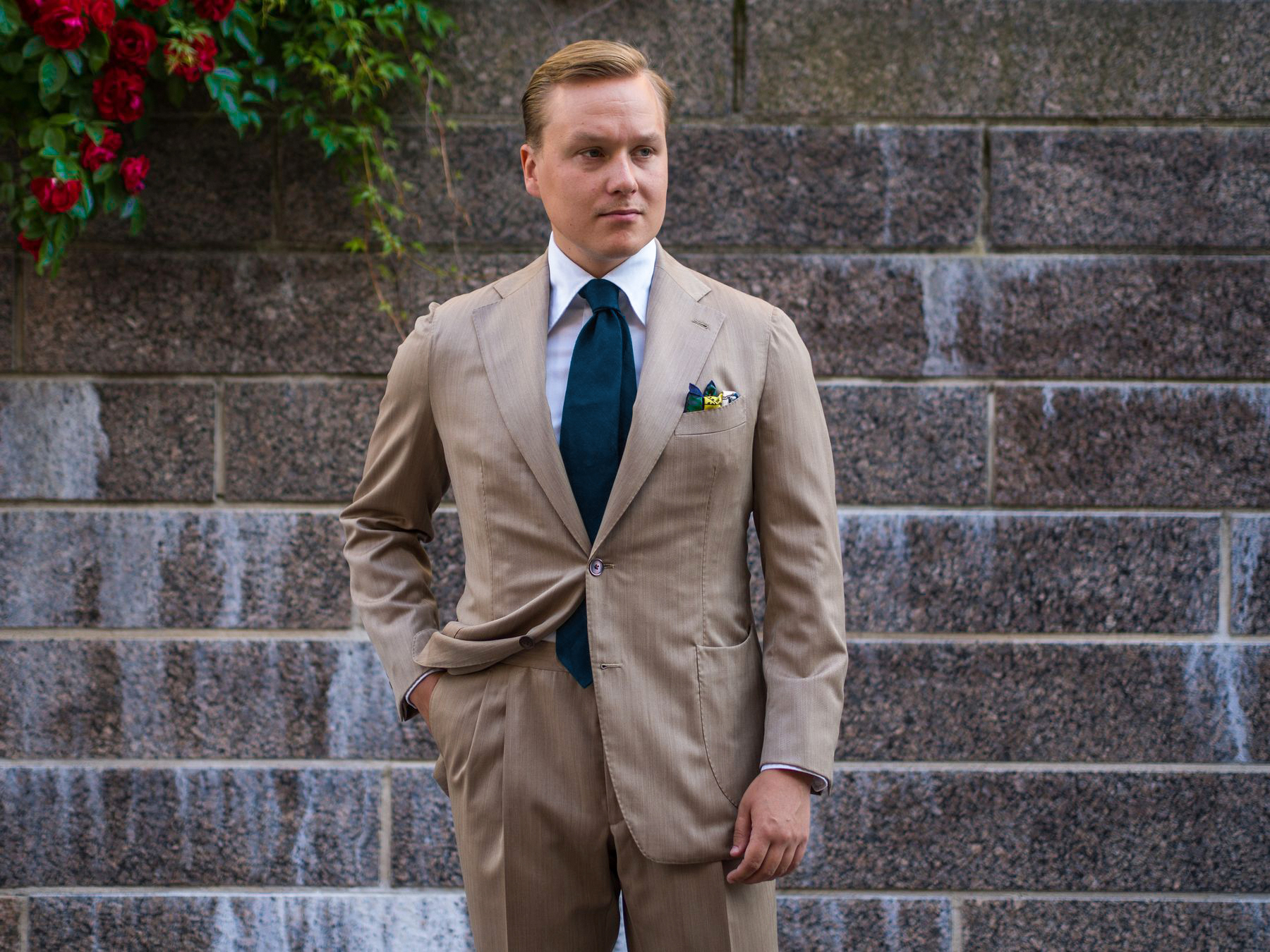 Khaki and light blue are excellent suit color choices for summer wedding attire. Light grey is an acceptable way to go, considering it is light, but it may still feel slightly reminiscent of drab winter days.
Lighter Suit Fabrics
Not all suits will be appropriate for year-round use. The heavier the suit's fabric is, the warmer it will make you. So, consider lightweight materials that have a looser weave.
A fine or loose weave allows your fabric to breathe, which means the air can circulate through the suit material.
In turn, the air can freely move about your skin so that the hot air can escape and cool air can take its place. Think of loose weave as a natural air conditioner for your body.
Natural materials tend to be the most lightweight and breathable. Consider cotton, linen, seersucker, and even wool for your summer wedding attire.
Choose Unlined Suit Jacket
A fully lined suit is the equivalent of adding another layer of clothing, and that's one of the last things you should aim for when the sun is boiling you.
If you remove the lining, your suit can breathe easier because the lining traps your body's heat and sweat. So, look for an unlined suit when possible.
The jacket's lining can add structure to your suit, but that isn't necessarily a good thing in the summer.
Summer is about relaxing, and even your suits can get a break.
So if you can't go fully unlined, get a partially lined suit. That way, you can still have some structure while cooling down.
Black-Tie Summer Wedding Attire
A black-tie dress code is the most rigid of all the wedding dress codes. It's pretty standard across the board, so there's very little room for personal expression.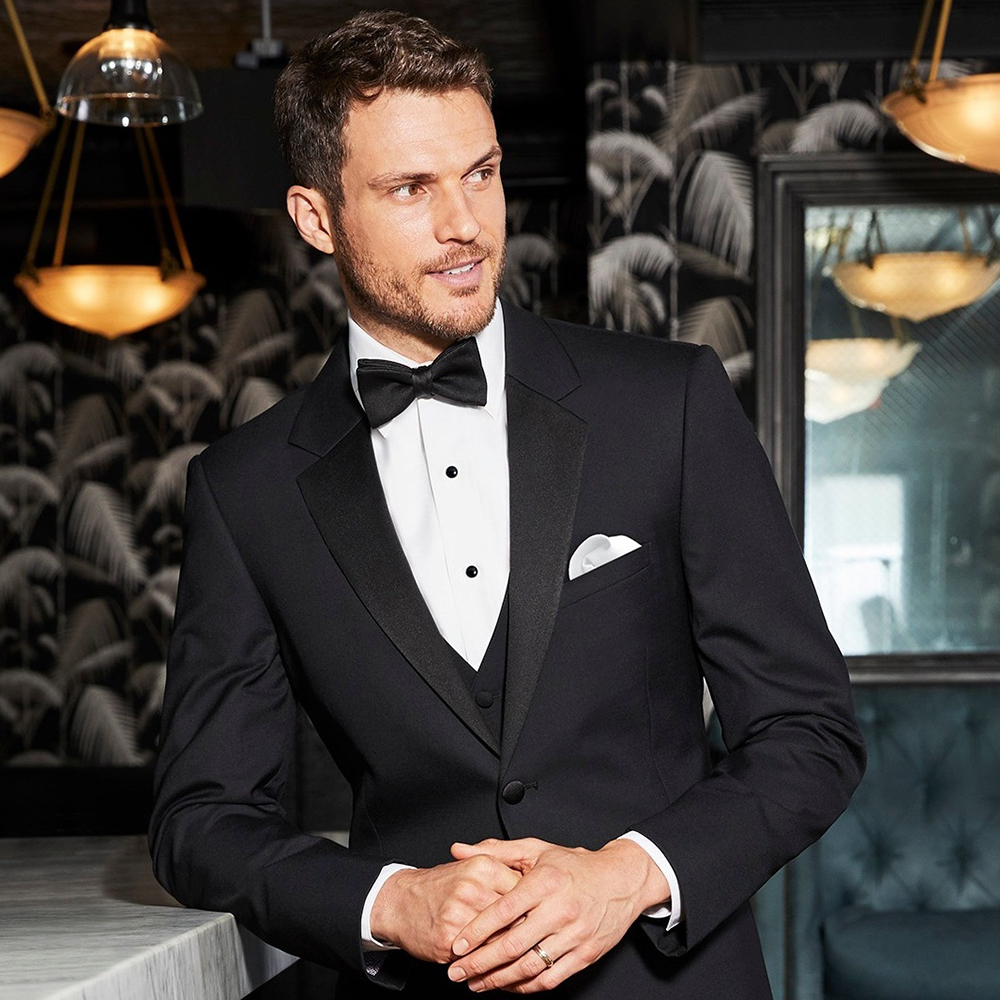 As a result, you can expect the other male guests to look almost exactly like you.
To pull off a black-tie event, you'll need a black tuxedo, known as a dinner suit.
Since you can't choose a light summer color for your suit, you can at least select a breathable material. Nothing ruins a formal look like sweat dripping down the groom's face.
The suit jacket is distinguished with peak or shawl lapels that are a different material from the rest of the jacket, either grosgrain or silk. The suit pants will have a stripe down the outer leg made from the same material.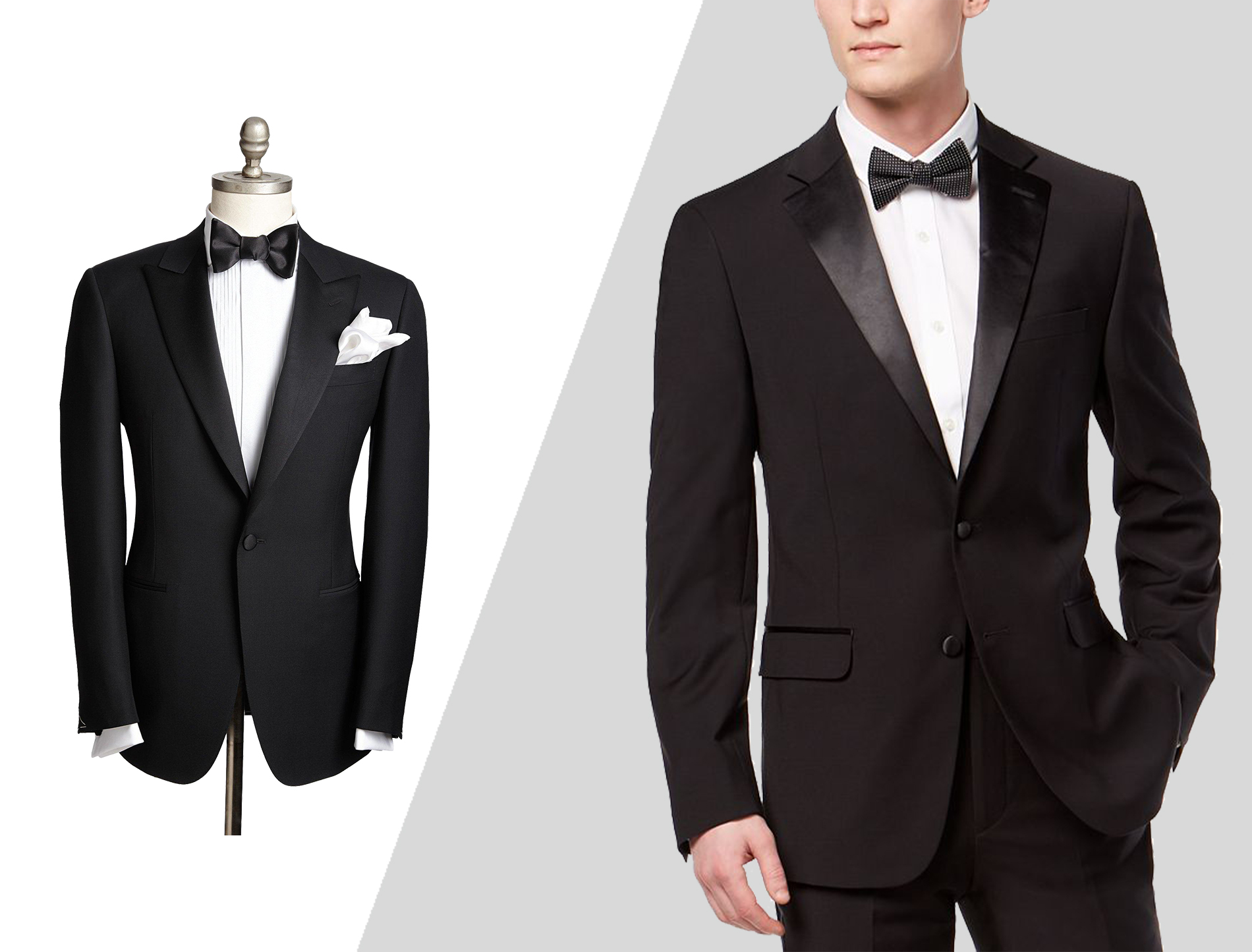 Under your tuxedo jacket, the only shirt option is a white tuxedo shirt with either barrel or French cuffs. French cuffs are a very stylish option and a fantastic opportunity to accessorize with cuff links.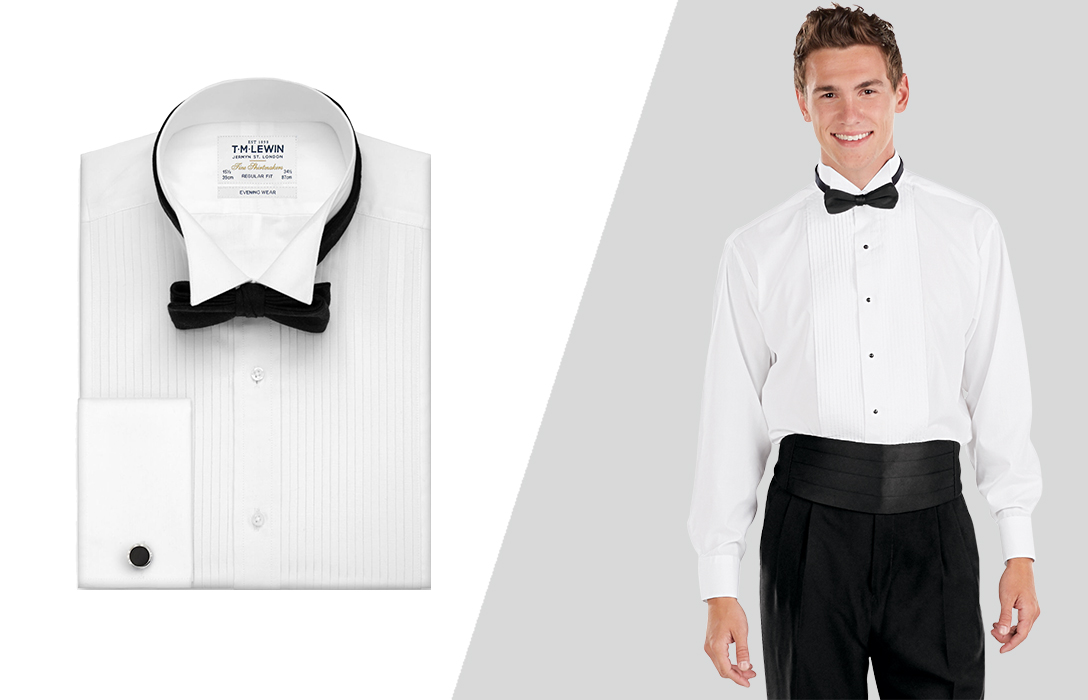 Cuff links and shirt studs are some ways you can show your personal taste and help you stand out from the crowd.
There isn't much choice for your dress shoes, either. You can go with black tuxedo loafers or black patent leather Oxfords.
And the finishing touch for this outfit is, of course, a black bow tie.
Formal Summer Wedding Attire for Guests
A wedding invitation that specifies a formal dress code for guests is open to some interpretation and creativity but is usually understood to mean black-tie.
When the couple includes this hint on their invitation, they are letting their guests know that they will be dressed formally (with the groom in black-tie), but that guests have the option to follow their lead or not.
As a guest, you should do your best to match the bride and groom's level of formality.
But that doesn't mean you have to be in a black tuxedo. Instead, you can wear a blue tuxedo for a more creative look.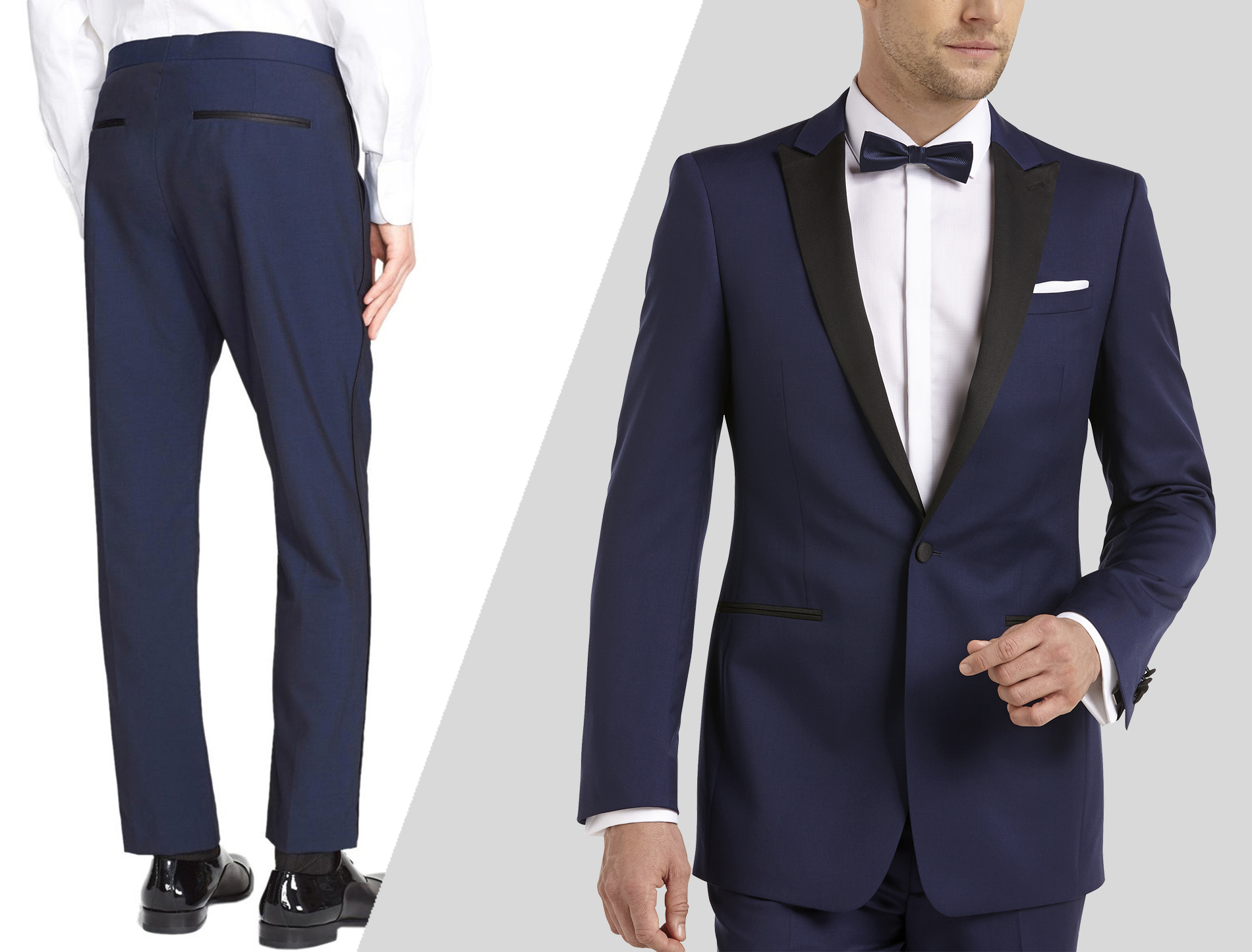 Again, it may be summer, but formal dress rules still call for dark color suits.
So if you aren't going all-in for a black-tie dress, you should, at the very least, wear your best navy or burgundy suit with a subdued tie.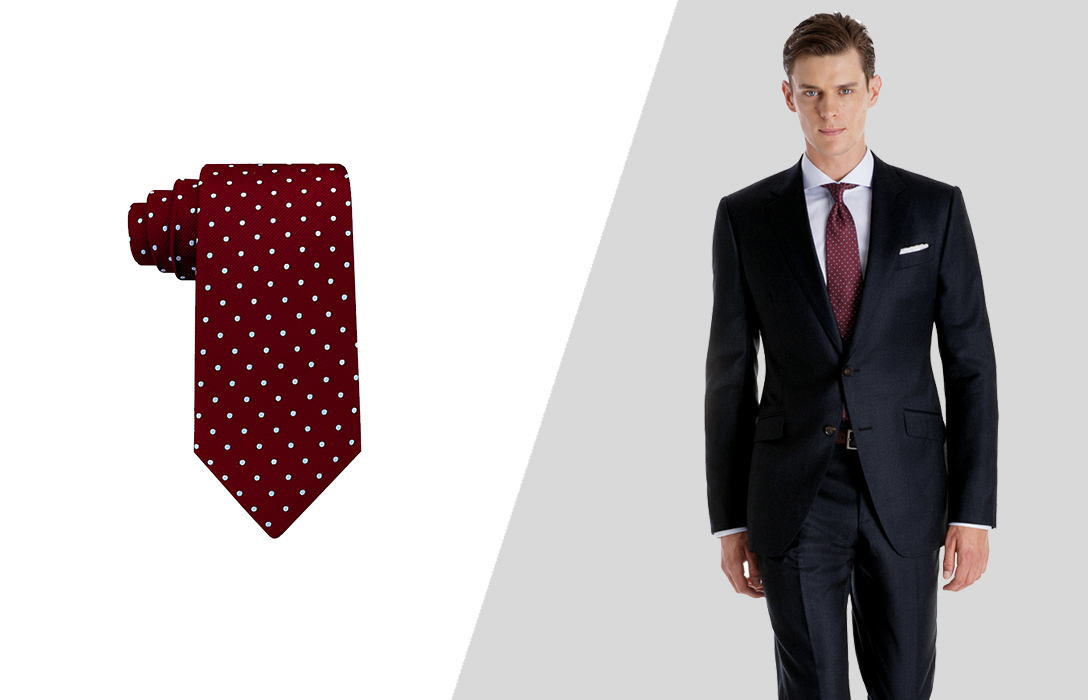 Add a white button-up dress shirt to enhance your suit's formality. This would be the perfect setting to include French cuffs; not only will they make your suit appropriately dressy, but then you can have fun accessorizing with cuff links.
A simple dress watch with a dark leather strap is another elegant touch you can add. Or, a colorful pocket square can look sophisticated.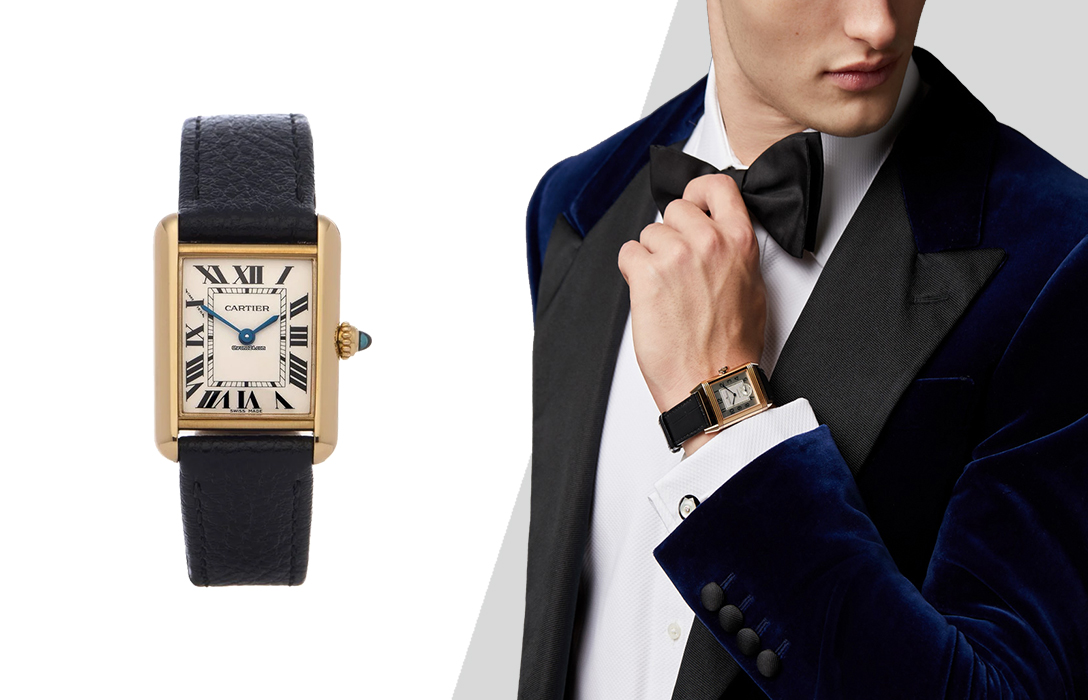 Just be sure not to go overboard with accessories. Pick just one or two to highlight; any more will look gaudy.
One way to subtly make your suit more formal without going full-on tuxedo is through its lapels. A suit jacket with peak lapels is more formal than one with notch lapels.
Semi-Formal Wedding Attire for Summer
A semi-formal wedding is an ideal occasion for people who love to dress up but don't want to be confined by strict rules. There are recommendations and suggestions for semi-formal dress, but not firm rules.
Because the goal of semi-formal attire is to be more dressed up than your everyday wear, you should wear a very good suit.
For the groom, it should be a dark suit since it's essential that he's the most formally dressed. However, guests can branch out from the typical black suit.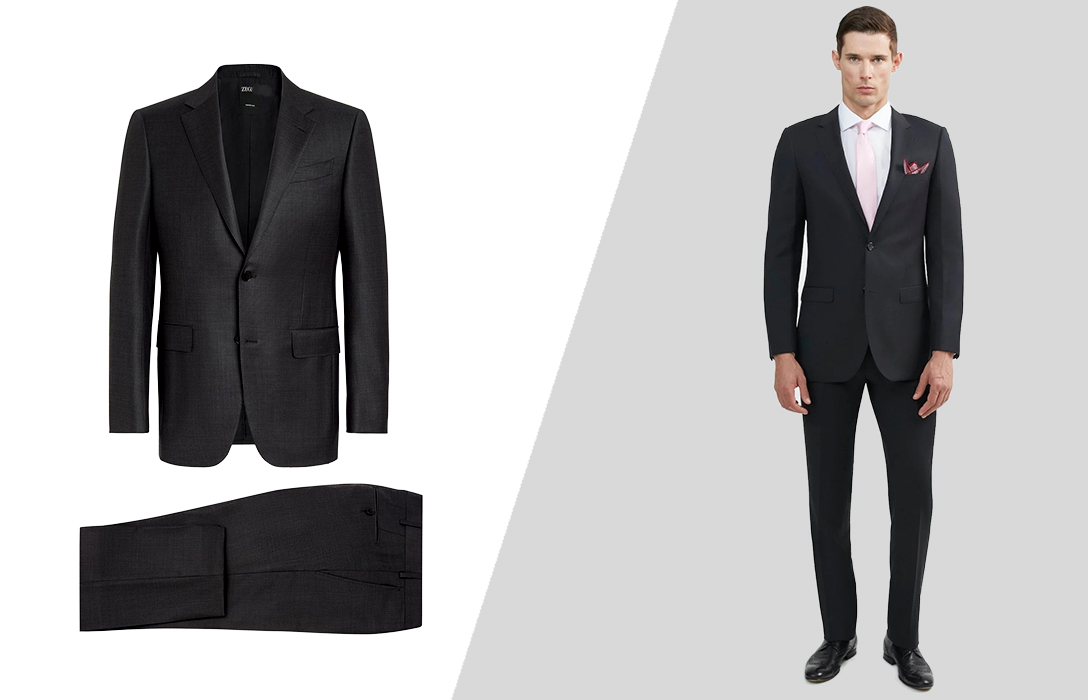 If the wedding is in the evening, a navy or charcoal suit is a great choice.
However, if the semi-formal wedding is in the afternoon, a blue suit can be acceptable as long as it's a stylish fit with more formal details.
You have flexibility with your dress shirt. White button-up dress shirts are always a winner, but you can relax your look a little bit with a pale pastel dress shirt.
A light blue or light pink shirt is always a festive yet modest choice. You can also pull off French cuffs, but barrel cuffs are probably more fitting.
Depending on your suit color, you'll want to stay in black or brown dress shoes. Pick the most formal option if you're the groom.
Remember that whichever color you pick for the shoes, the rest of your leather needs to match.
Summer Wedding Cocktail Attire
A cocktail dress code still requires that you look polished; you have much more room to show off your personal taste and personality.
If you are the groom, keep your ensemble tasteful with a solid navy suit, but you may experiment with a patterned tie and add a sophisticated accessory like a boutonniere.
Your style should be a suave twist on a business look.
However, as a guest, you can be more casual; perhaps this is the right moment to debut your new patterned suit.
Wearing a light-colored suit is also acceptable. You have more wiggle room to experiment with dress shirts and ties, too.
Don't feel obligated to wear the typical dress shirt, though. Instead, you might consider wearing a well-fitted casual shirt style. But please, no graphics!
A summer wedding with cocktail attire is also suitable for wearing separates. A pair of dress trousers works very well with a nicely tailored blazer.
Just remember to keep the blazer lightweight. You can also skip the tie!
Beach Attire for a Summer Wedding
A wedding on the beach is possibly one of the most romantic settings ever. Your clothing should reflect your setting, so stick with a lightweight material.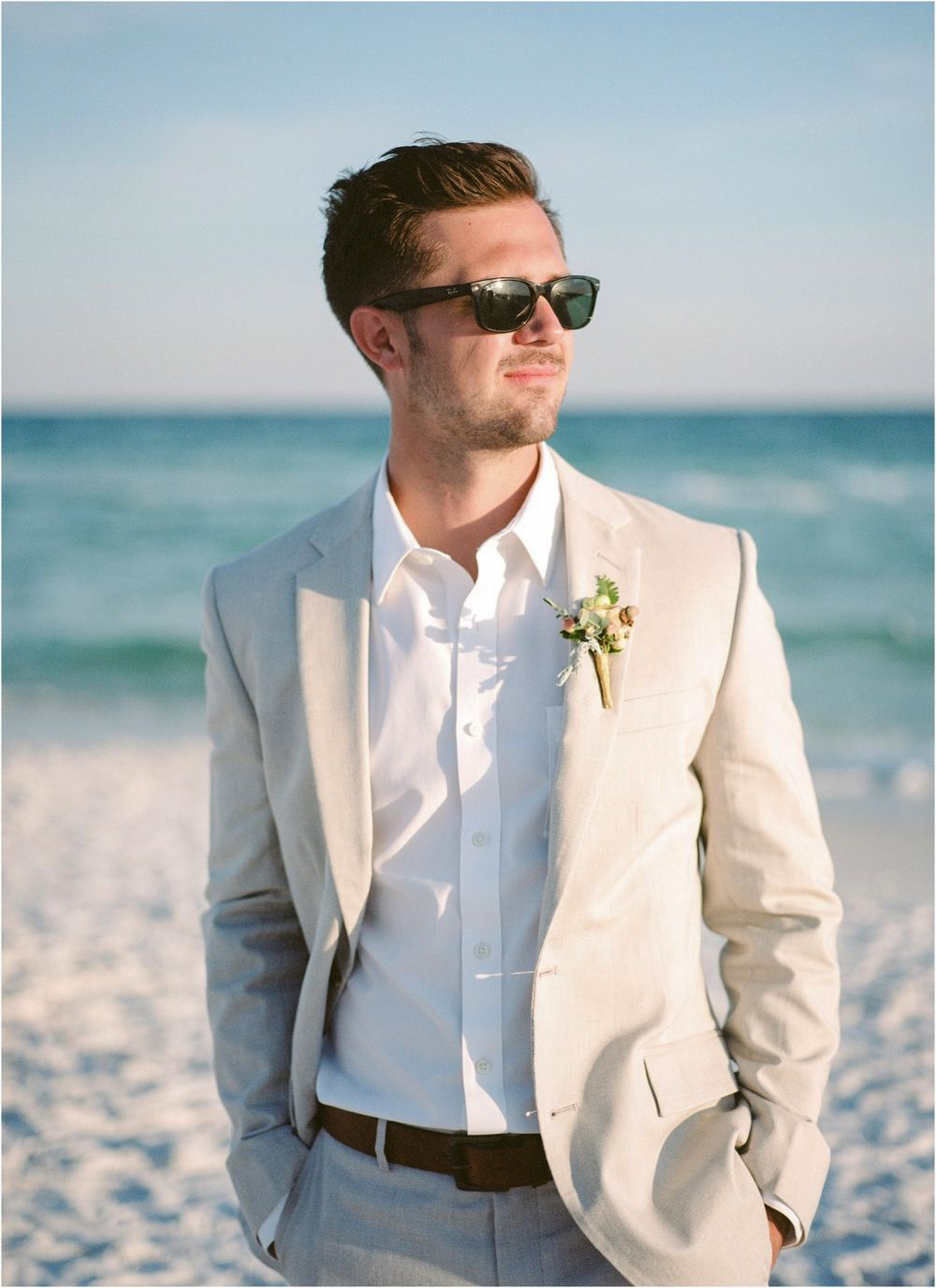 Linen or seersucker suits are ideal, but cotton is a fine runner-up choice.
Your color definitely needs to be light; this will align perfectly with the sun's heat, but it's also fitting because it will most likely be a daytime wedding.
Whether you are the groom or a guest, you should wear a dress shirt. If you are the groom, a jacket is preferable.
Guests can choose to skip wearing a suit jacket if they wear a tailored linen dress shirt. It's fine to opt for either a printed, striped, or even a floral shirt.
If you wear a tie, the material is essential. A shiny tie won't feel right in this setting and could be too reflective. However, be sure it's a bright and cheery color!
And finally: shoes. Nobody enjoys getting sand in their shoes. You may decide to attend a beach wedding on your bare feet.
If that feels too weird, wear shoes that you can easily slip off and clean out, like loafers, but definitely leave the socks behind.
Casual Summer Wedding Attire
Casual weddings are certainly something you don't see every day! However, some couples choose to keep their big day very low-key.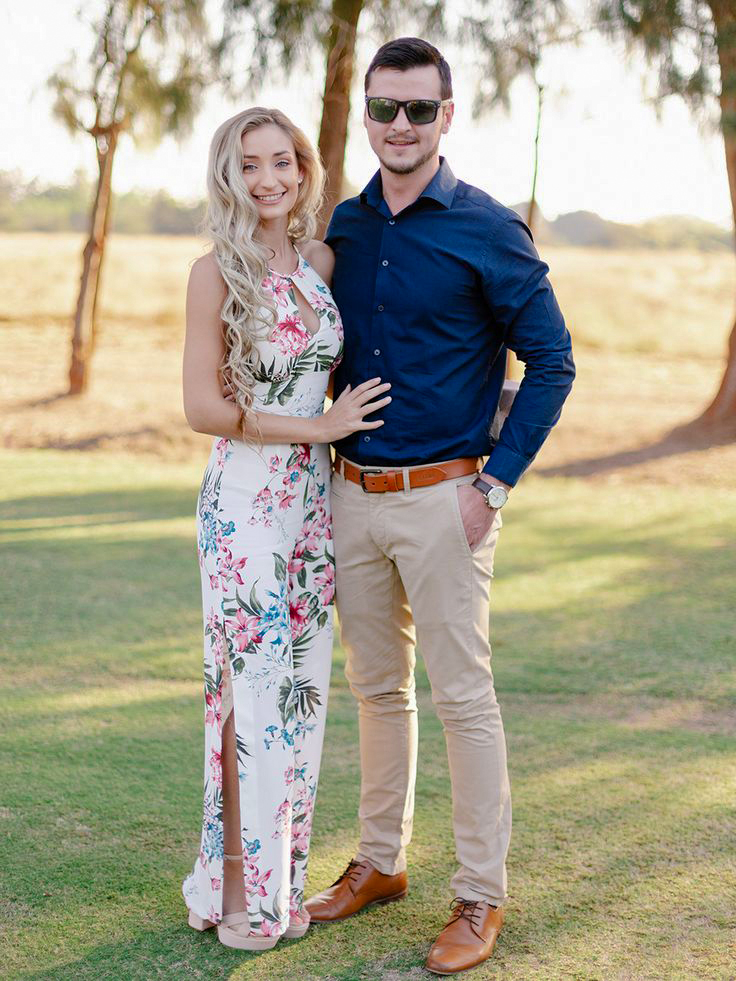 If you're invited to a casual summer wedding, you can expect relaxed, laidback vibes, but don't get too comfortable.
You still want to look respectful for this momentous occasion. So a pair of slim-fit khakis or chinos with a polo or button-down dress shirt is perfectly appropriate.
You can even roll up your shirt sleeves if you like. However, a blazer is never a bad plan, either. It's always better to be slightly overdressed than underdressed.
You have many wonderful options for shoes for a casual summer wedding. Loafers will convey a sense of leisure, as will a pair of white sneakers.
You could also find a more contemporary vibe with some brogues or monk strap shoes. Whichever shoes you settle on, make sure they are clean and free from scuffs.
Different Suit Styles for a Summer Wedding
The best thing about weddings is that you get the chance to play with fashion and try out wedding suits you don't usually get to wear.
Some attire is not in your everyday rotation but is fun to put on once in a while. Here are a few building blocks to get your ensemble started.
Single-Breasted Two-Piece Suit
This suit style is the most common choice and is always an appropriate option. It usually has a notch lapel, although a peak lapel is acceptable and more formal. Flap pockets are standard.
Single-breasted suits can come with 1, 2, or 3 buttons on the jacket. If your suit jacket has 2 or 3 buttons, leave the bottom one undone. All of them should be opened when you sit.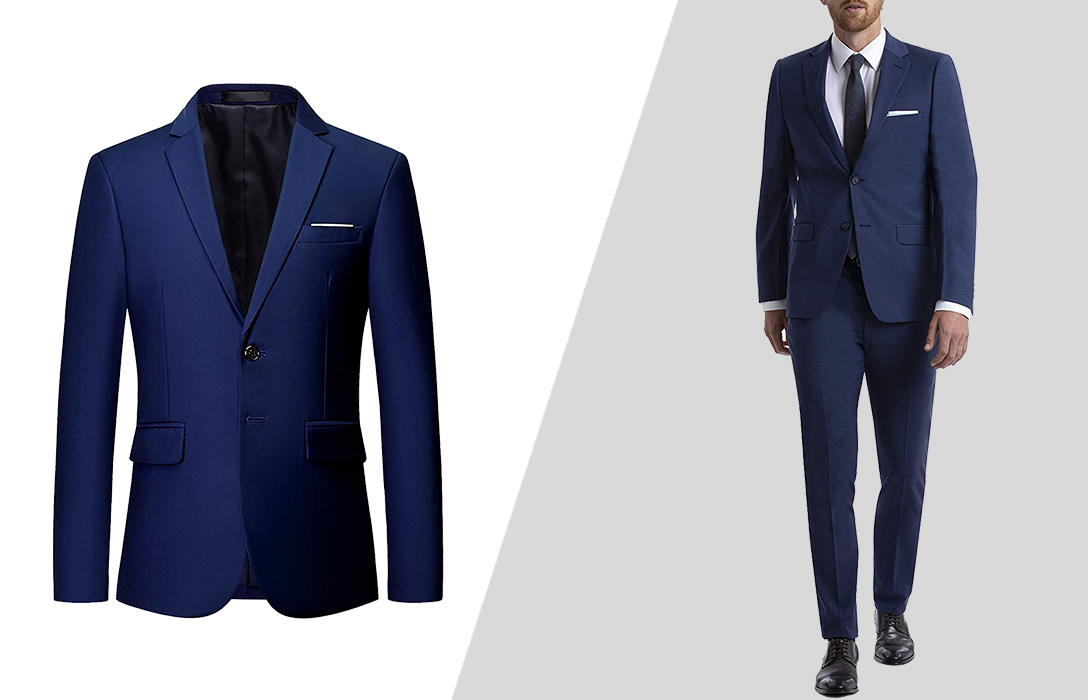 A single-button suit jacket is a modern and rather trendy take on suits. That look is acceptable; however, it won't be appropriate in the most conventional settings.
So if you are dressing up, leave the single-button jacket for another occasion.
Single-Breasted Tuxedo
The standard style for tuxedos is single-breasted, with either shawl or peak lapels. The pockets are more formal if they are jetted.
If you wear this style to a summer wedding, the lapels and piping should be either grosgrain or satin. Some tuxedos have velvet options, but you definitely want to avoid this material in summer weather.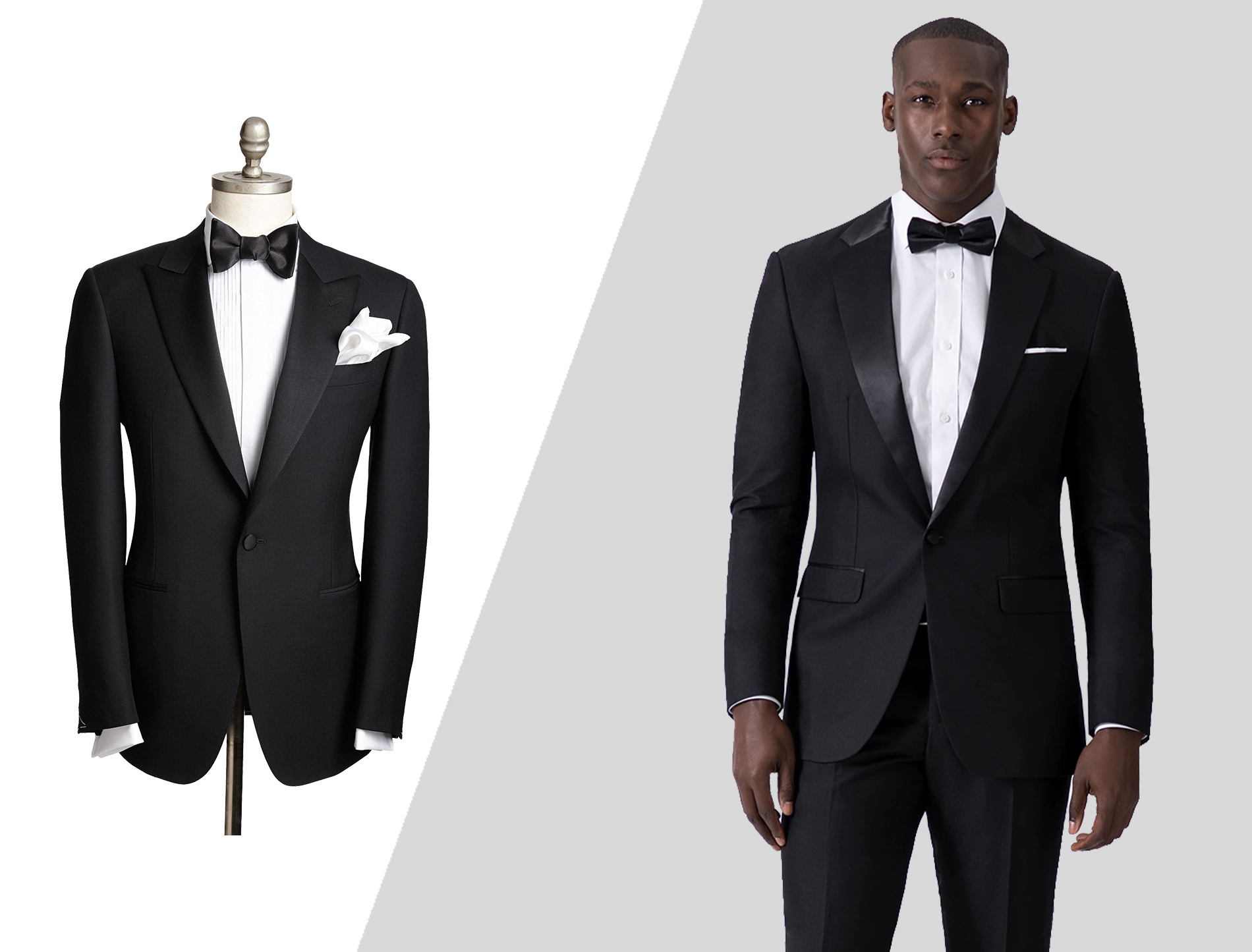 It may be tempting to rent a tuxedo for a wedding, but consider investing in one of your own instead. You may not need it often, but it will undoubtedly get used more than once.
In addition, your own tuxedo can be tailored to fit you better than any rental can, and the quality will likely be a vast improvement.
Three-Piece Suit
A three-piece suit is your standard single-breasted suit with a twist; it includes a waistcoat or a vest. This third piece to your suit adds flair and is sure to look sophisticated.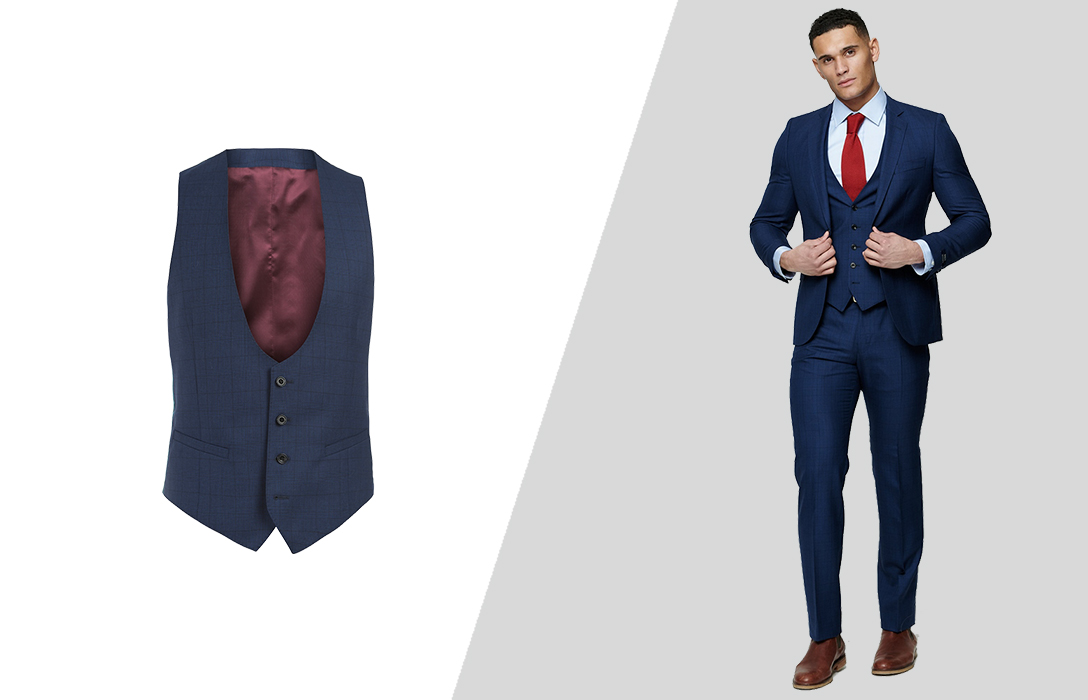 Wearing a vest under your suit jacket runs the risk of washing you out and creating too much of a monochrome appearance, so add a punch of color to your ensemble.
A lightly colored dress shirt or a bold tie and pocket square will help bring your attire to life.
Double-Breasted Suit
This eye-catching style is very dapper and can be an impeccable way to bring some style to your ensemble. It can also be quite flattering to certain body types, making slim men appear broader in the chest and shoulders.
However, short men may look consumed by this jacket, so they should only wear double-breasted suits with four buttons instead of six or eight.
Double-breasted suit jackets are more formal than single-breasted styles. This fashion is never casual. It usually includes peak lapels, which adds to its formality.
The V of the jacket enclosure is similar to wearing a vest because it comes up higher. Therefore, a splash of color is also a good idea for this fashion.
The Best Summer Suit Fabrics
The last thing you want to do at a wedding is overheat, especially if it's your own wedding!
It doesn't matter how gorgeous your suit is; if it makes you feel like you're being baked alive, it doesn't work.
Careful consideration of the fabric for your suit will help you survive this big day, no matter the temperature.
Fresco Wool Suits
I know what you're thinking; "Wool? In summer?" Yes, you bet.
"Fresco" means "open-air," and that is a perfect description of what these wool fibers do in the construction of this material.
The wool is very loosely woven, resulting in excellent air circulation through the fabric.
Fresco wool is an excellent fabric for your dressiest summer wedding needs. It looks impeccably polished, never sloppy like many summer fabrics can.
The wool fibers don't absorb your perspiration, so you never have to feel a wet suit clinging to you. However, it also means that your sweat isn't going anywhere.
Linen Suits
Linen is perhaps the traditional summer fabric. It's lovely because it's incredibly lightweight and super breathable.
Linen has a large woven and unique texture, so it stands out from most other suits.
The only considerable downside to linen suits is that linen wrinkles very quickly and can make you look crumpled. So try linen blended with wool or cotton for fewer wrinkles.
Cotton Suits
Like wool, cotton is a good year-round fabric and always looks polished. Cotton is even more rigid than wool, so it seems even more structured, although it allows for greater breathability.
This fabric does wick away your sweat, so you can feel dry as long as you don't sweat enough to soak your suit.
Cotton looks best in lighter colors, mainly because cotton fabric tends to fade over time.
A light-colored cotton suit helps to hide the fading a bit. And possibly the best aspect of cotton suits is that they are very easy to care for.
Seersucker Suits
Seersucker was wildly popularized in the American South, and today they are accepted everywhere. However, they are only appropriate in warm weather, so most people in the States can only wear them in summer.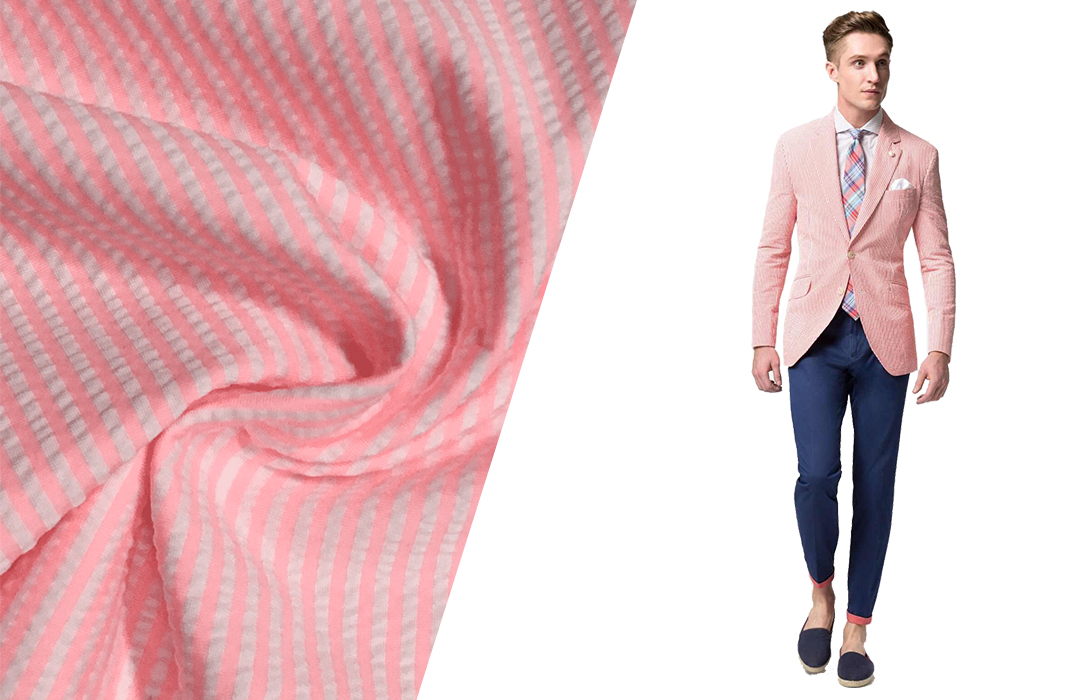 Seersucker suits are often combinations of white and pastel color, although white and navy are popular choices. They are also available in solid colors.
The crinkled look of the unique fabric gives seersucker its unique style and is instantly recognizable.
This appearance is caused by the puckering of the cotton and is important because it's what makes this fabric so breathable.
The little bumps create more room between the cloth and the skin, creating lots of room for air circulation.
Chambray Suits
Chambray is another style of fabric created from cotton. It's tremendously lightweight, which makes it an ideal summer suit choice. It's a sturdy material but not very stiff.
Chambray suits are different from many other fabrics because they have a slight sheen and closely resemble denim. It's usually blue, but it also can come in grey and khaki.
Author: Alexander Stoicoff
Hi, I'm Alex, and I've studied and specialized in styling in Rome. Through my writing, I want to help men dress well and learn the purpose and significance of suits and other formal attire. My final goal is to make men more confident in their wardrobe choice and life in general.