It sounds so easy to toss on a sweater over a dress shirt.
Sweaters are such a cozy wardrobe staple that they don't usually require much thought, so there shouldn't be many rules.
After all, it's not like you're wearing a suit.
But when pairing one with a dress shirt, you need to proceed with caution.
This match can look incredibly suave, but it's more complex than one might imagine.
However, follow a few basic guidelines, and you'll knock this look out of the park.
Things to Consider Before Matching
You can't just grab any sweater in your closet, throw it on, and call it a day; at least, not when a dress shirt is involved.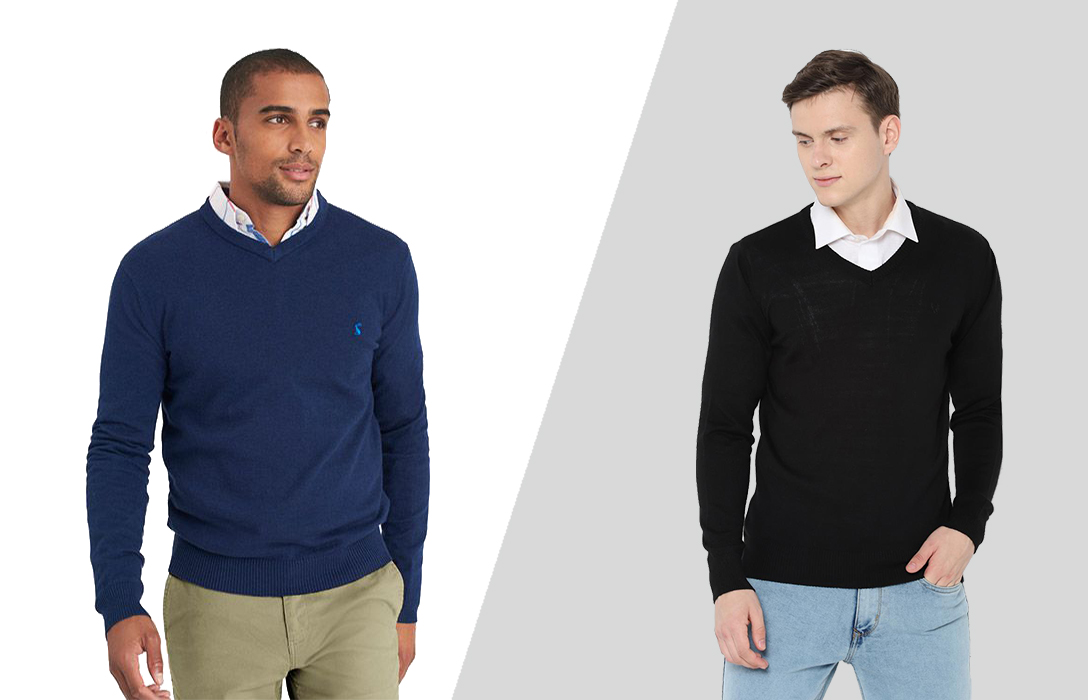 Dress shirts are by nature dressy (it's in their name, after all!), so you need the right sweater.
In most cases, a chunky knit will be far too casual to match with a dress shirt. Instead, these sweaters are better suited for skiing and other snowy day activities.
It's also critical to pick a well-fitting dress shirt. Just as there are many different types of sweaters, there are also wide varieties of dress shirts.
Some are better suited for this pairing than others. Your dress shirt is the foundation for this style, so you want to start off in the best way possible.
The Dress Shirt Fits You Properly
One of the most important aspects of wearing a sweater and dress shirt together is getting the style right for your dress shirt.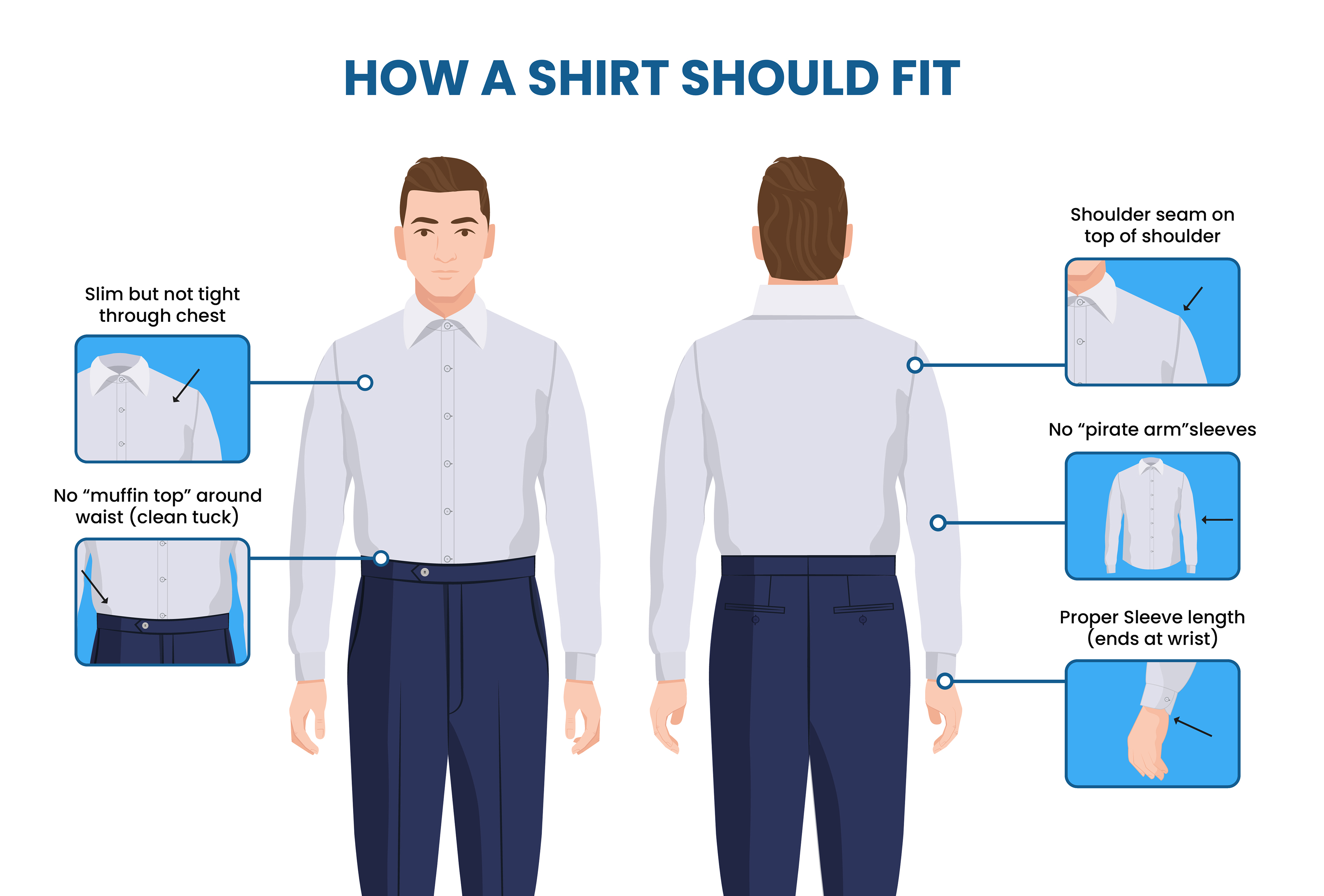 You should wear one with the appropriate cut; this will ensure your sweater sits properly on your torso. The wrong cut may make your sweater seem like it doesn't fit you well.
This is also why the sizing is critical. It would look sloppy if your dress shirt is too large and bulky; it will bunch awkwardly under your sweater, creating many lumps.
It also wouldn't feel comfortable. You'll feel the shirt stuffed under your sweater; not a pleasant way to go through your day.
A slim-fit dress shirt is ideal if you are comfortable wearing one. It will not have excess fabric that causes unsightly lines under your sweater and won't make you feel (or look) lumpy.
Dress Shirt's Fabric
Your shirt's fabric can significantly affect how well it pairs under your sweater.
For example, it's better to opt for thin material to reduce the bulk under your sweater. Thin sweaters don't hide excess material well.
Poplin, broadcloth, and cotton dress shirts are all generally thin, making them among the best choices for wearing with a light sweater.
On the other end of the spectrum are shirts like flannel, denim, and chambray. Those would probably be too heavy for your outfit.
Layers can quickly build up to be excessive, so be cautious in your pairing. Your outfit could quickly get too warm.
To avoid that problem, choose a breathable fabric; you are less likely to overheat. This means picking a natural fiber for your material and avoiding synthetics.
The Season
You don't need to restrict this preppy look to only colder months.
With a thin sweater and the correct dress shirt, you can also wear this in warmer months. Perhaps not ninety-degree weather, but you get the idea.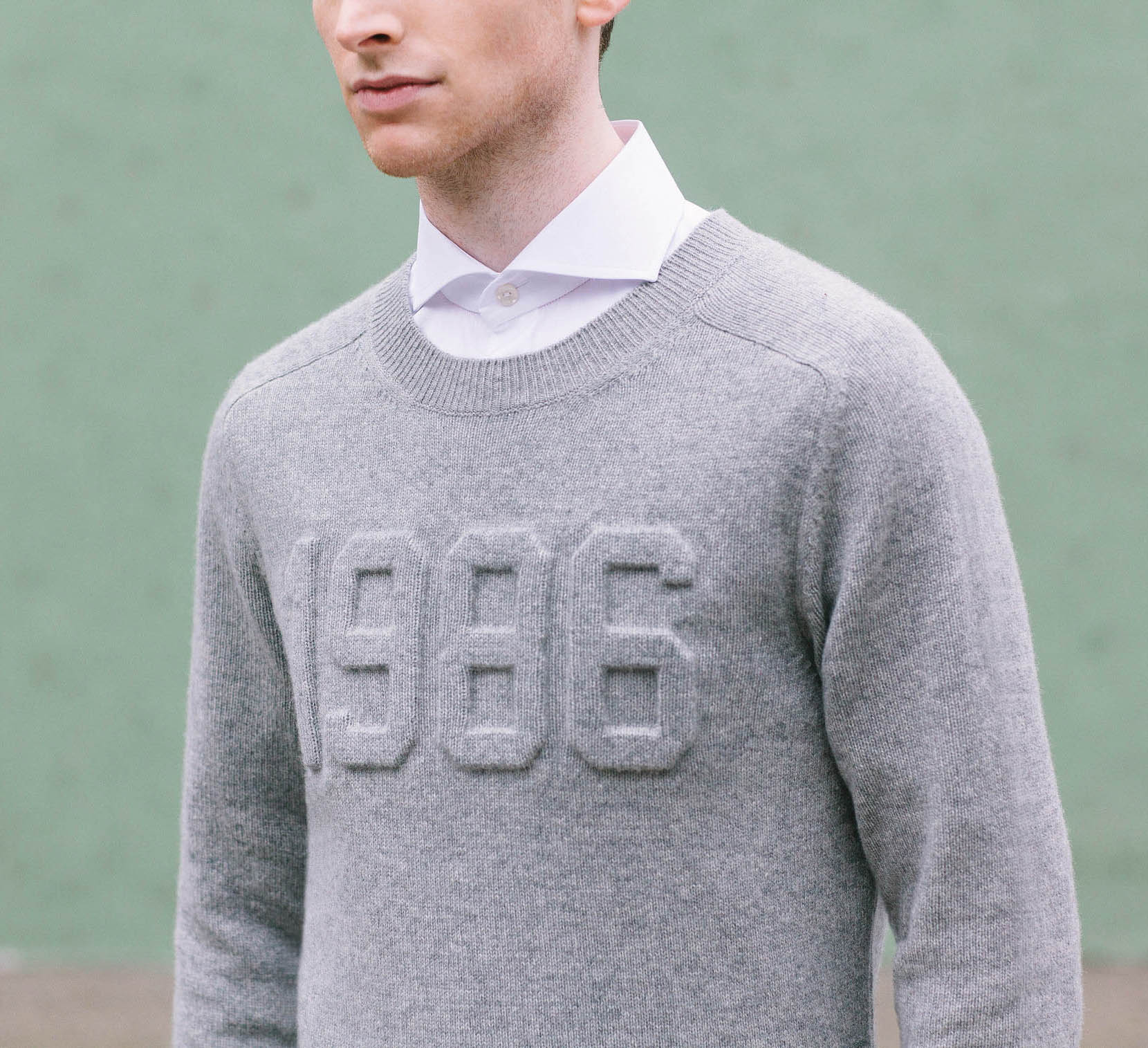 If you are sure you won't be removing your sweater, a short-sleeve dress shirt may be a good idea. It would ensure that you won't overheat.
And nobody will know you're not wearing a long-sleeve dress shirt under your sweater.
A short sleeve dress shirt also helps maintain your smooth outline. The sleeves are sometimes the trickiest part to even out under your sweater sleeves, so this would save you from having that fight.
You are guaranteed no bunching if there's no cloth there to bunch up!
The Sweater Style Has to Match the Shirt's Collar
It seems like such a tiny detail on your dress shirts, but your collar style can have an enormous impact on the overall look of your outfit.
Especially when a sweater covers most of your shirt; the collar may be the only part you will see.
Some dress shirt collars are more formal than others, so it only makes sense to align the styles of your collar and sweater.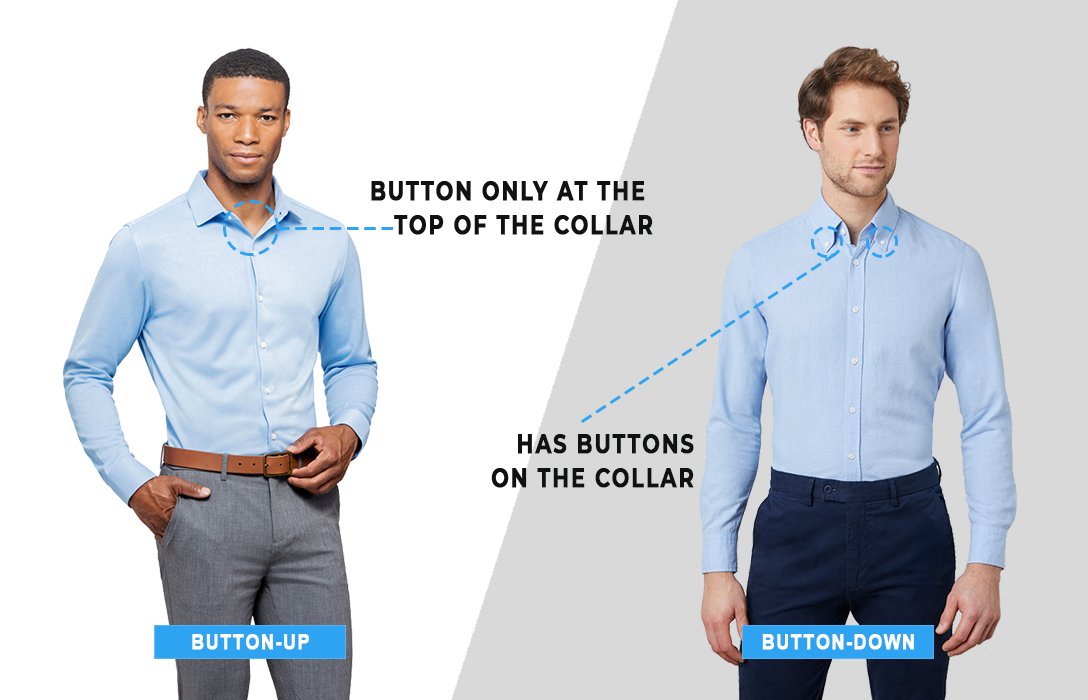 Don't go in for a mismatched look; it only ends up feeling "off."
Perhaps a good place to start with choosing which dress shirt collar to opt for would be to choose by occasion; are you dressing more dressy or casual?
Although there're some suitable collar and sweater style matches, it doesn't mean they're your only available option:
Crew Neck Sweater for a Spread Collar Shirt
Choose a crew neck sweater when wearing a dress shirt with a wider collar.
This is your best pairing because the crew neckline hugs firmly around your neck, so the wide collar creates a sense of balance.
A crew neck sweater is modest and conservative, so it's suitable for casual business looks.
Because of the high neckline, you typically would not want to pair a tie with this sweater.
Keep your collar points tucked under your sweater's neckline when wearing this combination. This looks clean, and the wide points won't be distracting.
V-Neck Sweater for Point Collars
This is a beautiful pairing because the triangles of the neckline and the collar create perfect symmetry.
A V-neck is also a dressy neckline. It shows off a good deal of your dress shirt. In addition, you can dress it up well because it's the ideal sweater for pairing with a tie.
The large, open neckline offers plenty of space to showcase your tie but remember that it narrows pretty quickly, so keep your tie slim. This will avoid a conflict of the tie taking up too much space.
Again, keep the points of your collar tucked in.
Cardigan Sweater and a Button-Down Shirt
Cardigans are like a more casual V-neck sweater; they have an even deeper V-shaped neckline.
Of course, the amount of your dress shirt this sweater displays can vary by the cardigan sweater.
A cardigan can be defined by buttons, a zipper, or completely open. You get to determine how closed or open your sweater is.
A cardigan sweater is an excellent time to try out patterned dress shirts since you can see so much of it.
This is only a good combination if you're leaning more toward the casual side since a cardigan is pretty relaxed, to begin with.
Sweater Vest and a Cutaway Collar
A sweater vest is usually a casual sweater choice.
It has a lot of room in the collar, so a cutaway or semi-spread dress shirt is a perfect pairing to fill out this neckline.
Of course, this also means a tie would work well with this sweater. One note: Avoid a club collar with this sweater and dress shirt combo.
It's always essential to ensure your sweater fits well, but it's imperative to ensure your vest is an exact fit. It can quickly look dumpy, so the right size is crucial.
Since a sweater vest is informal, change up the look by rolling up your sleeves. It will give your outfit a jaunty appeal.
Different Ways to Wear a Sweater Over a Dress Shirt
With a bit of imagination and willingness to step outside the box, you can create many looks with these two wardrobe staples.
You can play with colors, fabrics, and accessories to put together a range of outfits that run from dressy to casual, from funky to conservative, and from standard to out-of-this-world.
Neutral Color Sweater and Dress Shirt
If you're steering your outfit toward a conservative, professional look, neutrals are the way to go. These colors are always office-safe and guaranteed not to make any waves.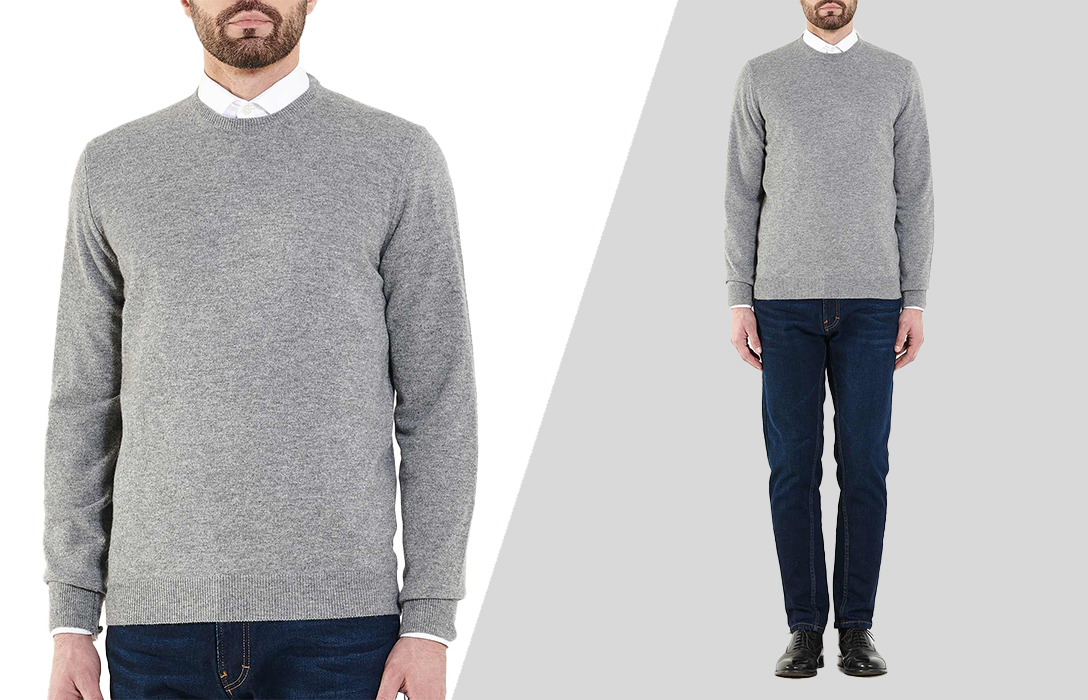 Think about your most professional suit colors, and translate those to your dress shirt and sweater combination.
For example, grey and navy are your two most professional suit shades, so go for a color palette that's reminiscent.
A navy or charcoal sweater can make your sweater feel much less informal.
A white dress shirt is always a solid choice; it shows that you've put effort into looking good and looks impeccable next to a neutral shade like navy.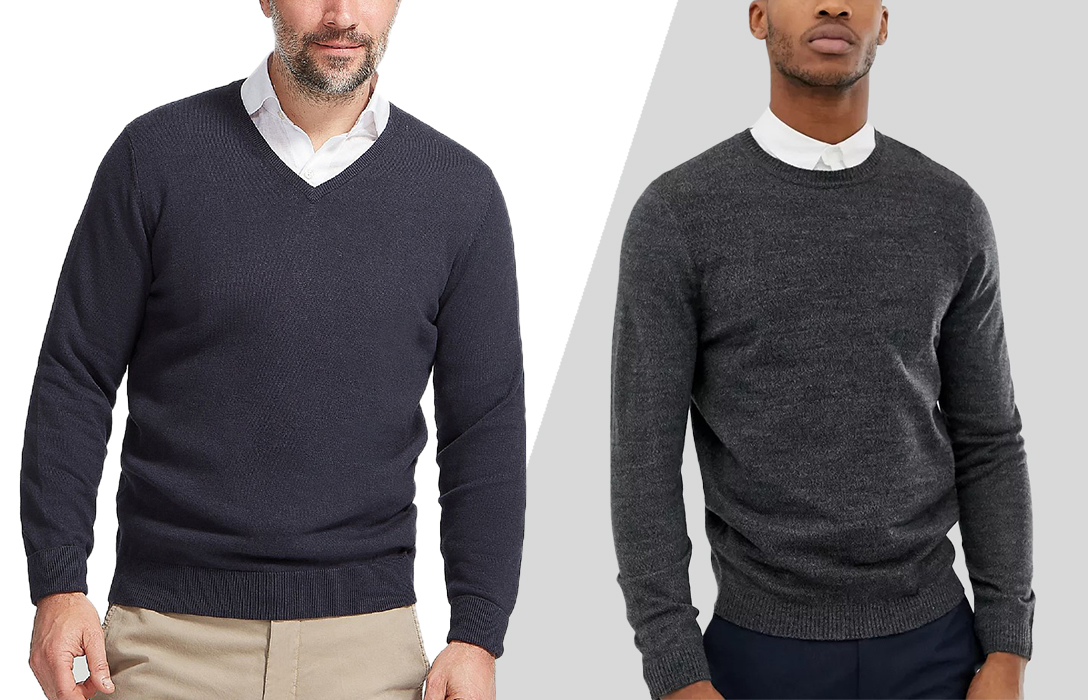 Stick to solid colors if you want a professional outfit. They are more respectable; prints are fun but perhaps too fun for formal dressing.
To up your dressiness, toss on a dark blazer over your sweater.
Introducing Colors for the Shirt and Sweater
Are you ready to turn up the heat a notch or two? Bring in some brighter, bolder hues for a look that will pop.
If you have the flexibility to lower your outfit's formality, now is an excellent opportunity to play with color.
Don't pair a bold dress shirt with a bright sweater. Instead, pick one more colorful piece while keeping the other garment neutral.
For example, a blue shirt under a royal blue sweater is bright and inviting.
Conversely, you could wear a light grey sweater with a violet dress shirt to draw attention.
Put on a Tie For a Business Event
It's a cinch to turn your sweater from casual to professional when you add a tie. It makes for a cool and relaxed departure from your standard suit but still shows effort to look nice.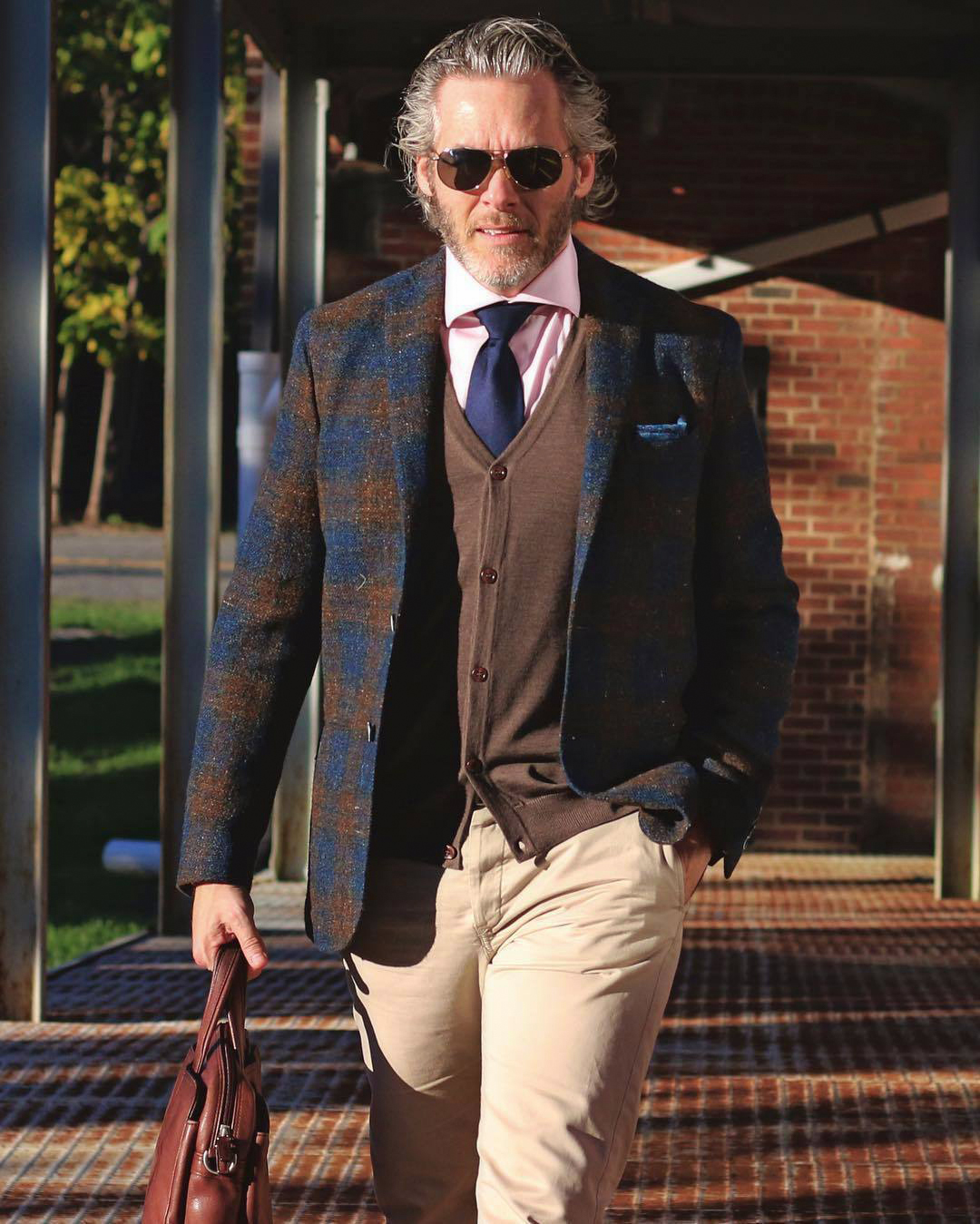 A tie is also a fantastic way to include a hint of color or pattern in an otherwise neutral, solid ensemble.
Keep your tie slim, so it doesn't overpower the rest of your outfit. It should be a small detail, not the center of attention.
And remember to make it a style match. Don't choose a tie that's clearly quite formal with a lot of sheen; veer toward one that's matte and can match the tone and feel of the rest of your outfit.
Always, always keep your tie tucked under your sweater.
Consider a Patterned Shirt to Add Personality
Part of the fun of wearing a sweater over a dress shirt is that it can be more expressive than wearing a suit sometimes.
As a result, you get the chance to show off a more relaxed version of yourself, one that's probably closer to who you really are. There's more to you than suit-guy; he's your professional side only.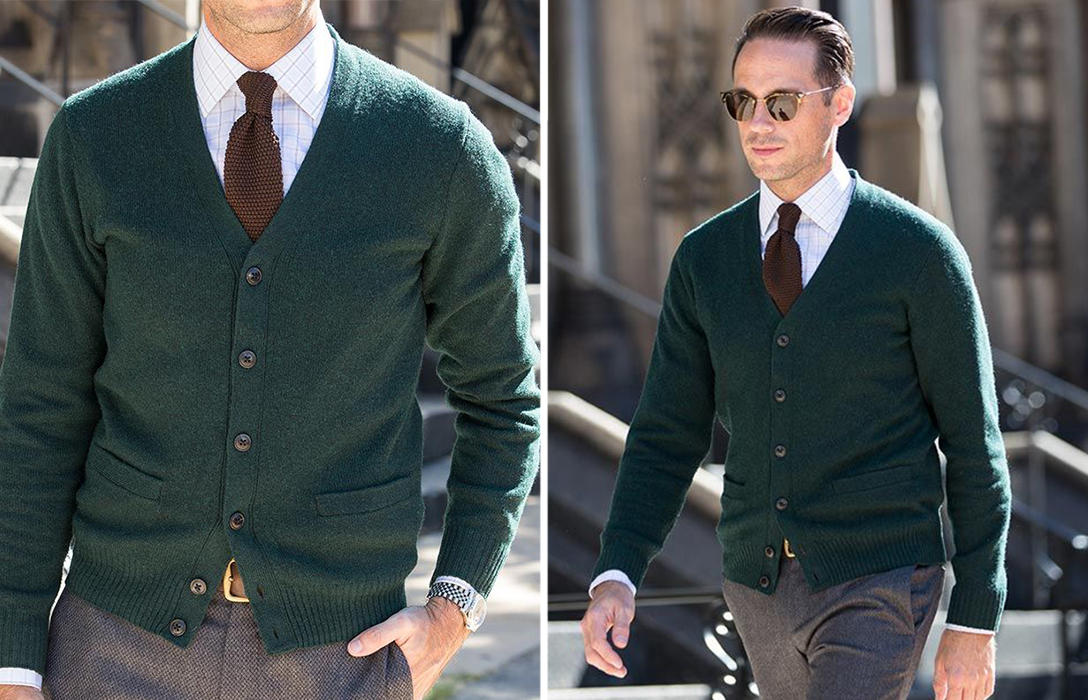 So, adding patterns to your dress shirt instead of a solid-colored shirt can be a fun way to infuse even more of yourself into your clothing.
The shirt can be any pattern you like: plaid, stripes, dots, even floral or paisley.
Your print will look better if you keep your sweater's neckline in mind as you choose your pattern and how large it is.
The shirt's design also gives you more of a chance to play with color. You can have your sweater and print in the same colors or complementary.
A contrasting color combination can work, but be cautious not to mix bold colors. It may feel too garish.
How to Mix and Match Patterns
It's always wise to proceed with caution when pairing two patterns.
The most helpful guideline is to consider the size and scale of your competing patterns; they should be different sizes.
So, if a sweater has thick, chunky stripes, your dress shirt should have small gingham squares instead of large ones.
Be sparing with your patterns, too. For example, if you're also wearing a tie, it's wise to keep at least one of the three pieces solid.
Doesn't it give you a headache just thinking about three patterned pieces all together? It would be better if you wore a solid sweater or tie in this scenario.
However, when done well, mixing patterns can be a wonderful and cheeky contrast to each other.
How to Layer Up the Outfit
Layers are a fashionable way to keep out the chill as the weather turns colder. The layers trap the cold between each level, keeping your body warmer.
While layering is functional, it's also stylish. You can create some cozy and chic outfits when you pile on the layers. They can also help alter your entire aesthetic.
Add a Blazer or Sports Coat
Just like a tie dresses up your sweater and dress shirt, so does a blazer or sport coat. It brings more professionalism to your outfit.
A blazer is also another opportunity to play with color.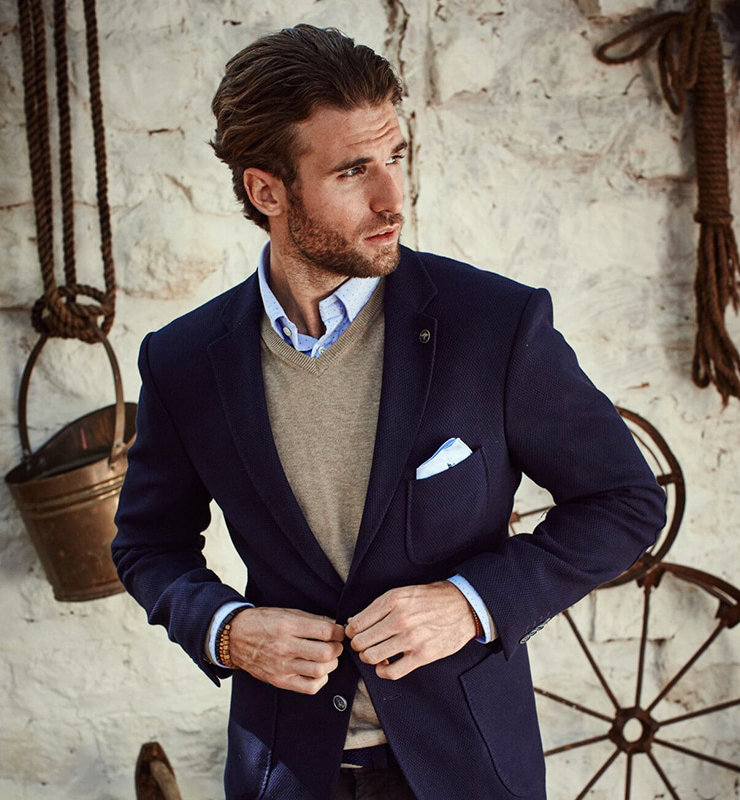 For example, you could match a tan sweater with a navy blazer or try out a navy sweater with a brown blazer. These color combinations can create a wide variety of looks.
The neckline of your sweater is also influential on your style. So now would be the ideal time to try out a turtleneck sweater!
Be mindful of the size of your sport coat. A sweater adds more bulk than your standard dress shirt, so it will take up more room under your coat.
Can you still wear your blazer and move freely? If you plan on wearing this combination frequently, you might want a slightly larger blazer dedicated to your sweater outfits.
Peacoat or Chesterfield Coat for Winter
The weather is bound to turn too chilly for your sweater to keep all the cold air out, so you'll need to cover up with a coat.
Leave your parka in the closet. It won't match the style of the rest of your outfit, and you need to keep your look all over.
Instead, turn toward a peacoat or chesterfield coat; you can't beat these for a classic and traditional style.
They are highly tailored and so versatile. Whether your clothing is casual or dressy, these coat styles are timeless.
These coats match the pretty nature of your sweater and dress shirt outfit, so you can look classy even when commuting to work.
Always Tuck in Your Dress Shirt
Even when your outfit is informal, you need to tuck in your dress shirt. You're going for casual, not sloppy!
Shirt tails hanging from under your sweater don't create a clean, sleek silhouette.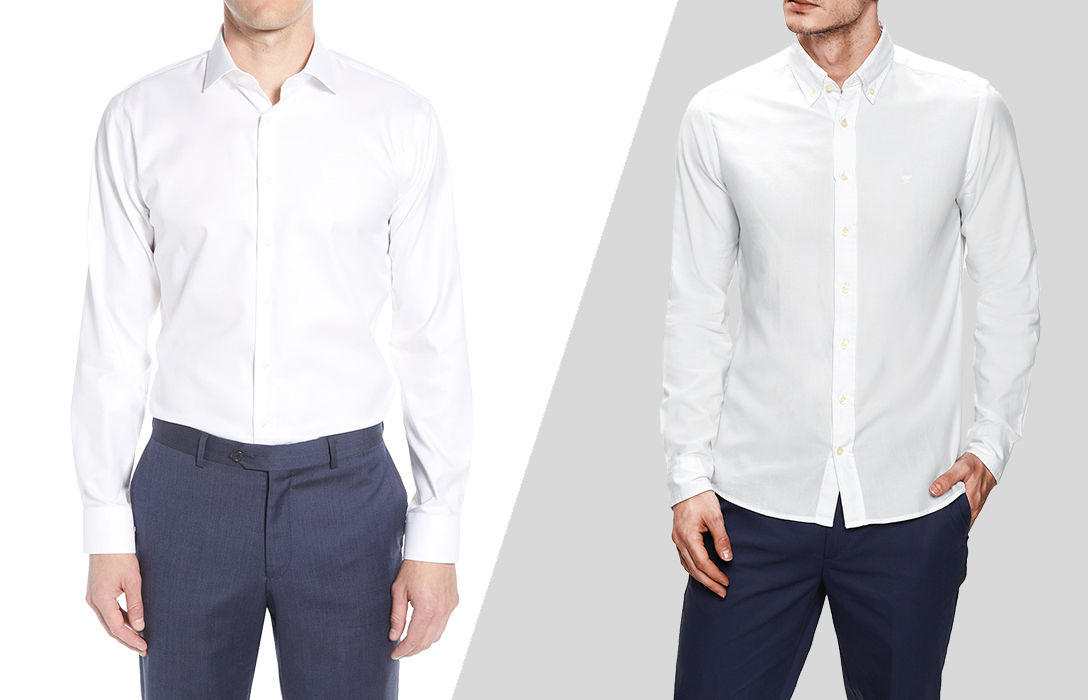 And it's worse if your sweater has a ribbed bottom that hugs against your hips; that makes the bottom of your dress shirt flare out in a way that simply looks weird.
You can avoid that by keeping your shirt tucked. Be careful to tuck evenly, so you don't wind up with odd bulges under your sweater or in your pants.
It's nice when people notice your outfit, but that would create the wrong kind of attention.
And never, ever, ever tuck your sweater into your pants!
Author: Alexander Stoicoff
Hi, I'm Alex, and I've studied and specialized in styling in Rome. Through my writing, I want to help men dress well and learn the purpose and significance of suits and other formal attire. My final goal is to make men more confident in their wardrobe choice and life in general.