Gone are the days when the man's identity was his company. These days, "a man is known by the types of sneakers he keeps." Okay! A little exaggeration.
But there is no denying that men's sneakers are redefining the rules of style. You would see them worn with suits, jeans, and every dress code that comes in between.
Types of Sneaker Materials
As a part of athleisure, sneakers need to be comfortable, stylish, and functional. So, the type of sneaker material is important in determining the practicality of shoes.
Note that most men's sneakers have rubber soles. It's the body of shoes that can have different sneaker materials.
Leather
Leather sneakers took a descent from the dress shoes. The goal was to create a minimalist shoe with durability and dressiness.
So, synthetic leather came in handy to create these popular "dress sneakers." In the likes of Stan Smith and Air Force 1, minimal leather sneakers are the horseman of smart-casual wear.
And as Jordans, leather sneakers represent the staples of streetwear. You can expect good versatility out of most leather sneakers.
These might cost a dime more than their counterparts but would stay for years.
Suede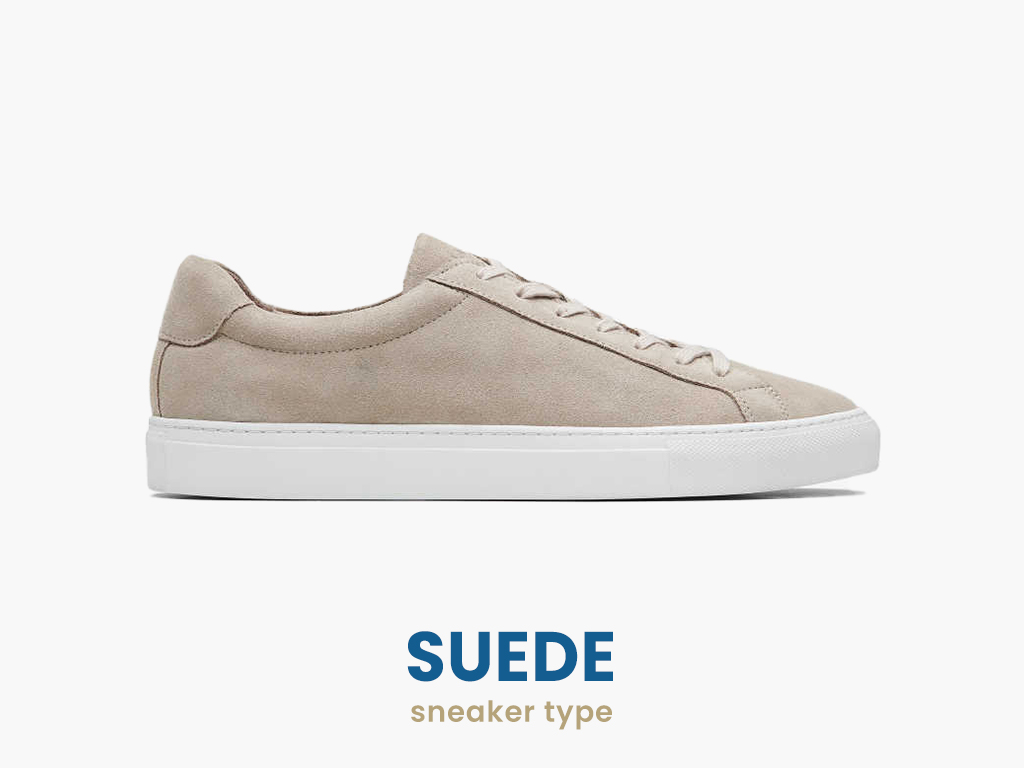 Suede sneakers have an exquisite look that appears sophisticated besides just being sporty. The elegance sprinkled over a casual style makes suede sneakers perfect for everyday wear.
Puma suede classics are an example. Many trainers and dress sneakers combine suede with leather.
This gives durability and the anticipation of styling suede sneakers with blazers and other dressy elements.
Suede sneakers also don't wrinkle that easily. However, cleaning suede sneakers can be hard.
Canvas
The strong yarns of hemp and flax changed the sneaker culture forever via canvas sneakers. Initially, these were your lightweight skateboard sneakers that stood out of their versatility.
Now, in addition to this versatility, they are popular as very practical and contemporary sneakers.
You can pair these with a nicely tailored pair of shorts for that classic summer look. Or dress it up with your favorite pair of chinos.
Knitted
Almost all knitted sneakers have two goals; being lightweight and environment friendly. The knitting results in making the sneaker breathable and snug.
Yeezy 350 V2 and most Nike Trainers are some popularized knitted sneakers.
Knitted sneakers are perfect for heavy-duty activities like exercise, running, and long-time standing.
With accents like suede and leather, knitted sneakers can give you dressy looks.
Different Popular Sneaker Styles
Sneakers are taking the lead in fashion because of their immense diversity. It won't be an overstatement to say, "There is a sneaker for every occasion and everybody."
Exploring different sneaker styles will help you wear the right shoe at the right time.
Low-Top Sneakers
Low-top means the shoe that won't cover your ankle. It's a sneaker with a minimal design and maximum versatility.
You can consider these as a transition between dress and sports shoes. Therefore, "smart" or "dress" sneaker is used for low tops.
The dressiness becomes evident through the styling options. It can give you a smart look with chinos and a button-down.
You can style low tops with jeans, shorts, and t-shirts as a casual daily outfit. And when dressing up, with dress pants and even with suits as business-casual.
The best thing is you would look timeless and super trendy, both at the same time.
High-Top Sneakers
High-top sneakers are the bread-and-butter of basketball and streetwear fashion. These sloped from just the NBA shoes to the holy grail of sneakers.
Now, high tops represent fashion aesthetics that make some statement. The high-tops are not just versatile but rather a fashion staple.
Wearing jeans and a T-shirt? Elevate the look with some vivid high tops. Style these with a tailored pair of shorts and Cuban-collar overshirts for those beachy casual looks.
Cargo pants match nicely with high tops. These can create hip-hop-inspired casual outfits.
Slip-On Sneakers
Slip-on sneakers are practical shoes that save you time tying up the laces. They also contribute to a perfect everyday shoe.
You can wear them with almost everything within a casual dress code, timeless of weather. From friends get-togethers to going to the airport for vacations, slip-on sneakers will always fulfill your casual shoe needs.
And if jeans, t-shirts, polos, and button-downs make a major portion of your wardrobe, slip-on sneakers are a must-have.
Designer Sneakers
There are people who buy Tom Ford suits, Hermes wallets, LV perfumes, and Moncler shoes. Here, I am only talking about the last one, the designer sneakers.
Designer sneakers, as indicated by the name, are a hallmark of a particular fashion house. And this designer converts an average lace-up to an extraordinary sneaker (with a high price, obviously).
The functionality of designer sneakers is variable. However, most of them are good for casual styling, especially for fans of hip-hop subculture and streetwear.
Also, the price vs. usage of designer sneakers is debated. But, no doubt, these shoes create your most contemporary outfits.
Oversized graphics t-shirts, straight-fit jeans, and flannel jackets match designer sneakers to create super-trendy outfits.
Plimsoll
The term plimsoll became less and less because this sort of prototype sneaker deviated into many other sneaker types. In its original form, plimsolls represent beachwear with rubber soles and upper canvas construction.
These sneakers have an old-school energy, a dressy alternative to slide shoes. You can wear the plimsolls to nourish those 70s casual vibe as casually toned-down outfits.
With chambray shirts and stone chinos, for example. Plimsolls can also work as casual beachside wear.
In this case, I suggest wearing khaki shorts with pastel polos and Hawaiian shirts.
Velcro
Velcro sneakers no longer look like the Pro Wings of the 80s. Instead, designer influence has changed their status to socially stylish sneakers.
Also, for trainers, some people prefer the convenience of velcro sneakers over lace-ups. There are two styles you can go with velcro sneakers.
The first one is with baggy clothing that makes bold fashion noises. For example, wearing red chinos and a striped t-shirt to a beach party.
The others style velcro sneakers with fine tailoring and minimal styling. In this case, wearing khaki chinos with a pastel linen shirt is a hot weather treat.
Retro Sneakers
Retro sneakers are the revisions of an existing sneaker in varying colors, designs, or technology. These sneakers are generational.
Your dad has worn them, and your children will wear them. Remember! Old is gold.
This nostalgic experience makes retro sneakers timeless and easy to style. I think of these as "you can never go wrong" sneakers.
Going to college, wear these with your basic chinos and casual shirts. Have a party to attend? Wear any popular retro sneaker with a polo and jeans, and you'll stay stylish.
Dad Sneakers
The sneakers that middle-aged dads used to wear for lawn mowing on Sundays are no longer a satire. Instead, these are the new cool sneakers, popular for their comfort.
There are many ways to style these dad sneakers. The first is the anti-fashion dad style territory of loose-fitting polos and straight-fit denim.
Wearing grey or tan shorts with a short sleeve striped shirt is the "vacation look" to style dad sneakers. To dress up, wear dad sneakers with chinos and a jacket for that casual Derby Day look.
Sock Sneakers
Sock sneakers are a stylish innovation that's comfortable and aesthetically pleasing. Plus, these haven't yet seeped deeply into the massive sneaker market. So, an easy stand-out.
You can pair sock sneakers with jogger pants as your gym trainers. With nicely tailored chinos, these sneakers would complement a smart-casual outfit.
And with jeans, you'll have a weekend look to hit the town. Finally, you can incorporate bright sock sneakers to explore streetwear styles.
Sneaker Styles by Sports Activity
Sports and sneakers are inseparable. The reason is that the origin of many sneakers is sports.
Plus, the practical utility of sneakers is a must-have to make sports competitive. Therefore, we see the categorization of sneakers styles based on their usage in sports.
Running Sneakers
Every run needs running sneakers, whether a sub-four-minute mile or a sub-two-hour marathon. These sneakers have thick soles that cushion foot arches and the heel during running.
And the meshed upper part makes the shoe breathable. Running shoes are the epitome of comfort.
And therefore, gentlemen can stylishly wear them as every day sneakers.
Skate Sneakers
The hallmark of skate sneakers is their sole. It's moderately thick but flat enough to grip the board strongly.
The skate shoes always keep a classic and minimal silhouette, making them easy to style. Plus, these are loved by everyone, not just skateboarders.
Every brand loves to grab customers through its own line of skate sneakers.
Basketball Sneakers
No sport has a bigger impact on sneakers than basketball. From Jordans of the 80s and 90s to Kobes and Lebrons today, basketball shoes remain in vogue.
Mostly these are high-tops grazing the ankle. But the low-tops and mids are also equally popular.
Basketball shoes feature cushioning technology that prevents the impact of running and jumping. Besides this popularity, these are the essentials of streetwear.
You can style these court shoes with sweatpants, joggers, jeans, and cargo pants.
Tennis Shoes
Visually, these shoes appear to combine court shoes with running sneakers. But, not hyped much.
Tennis shoes have thick soles for a cushioning effect. Additionally, it provides stability to the foot and appropriate traction for various types of surfaces.
Those who play tennis can style their tennis shoes for casual looks. However, these aren't the shoes you should buy unanticipatedly.
Hiking Shoes
Trail runners and outdoor enthusiasts are trying hard to get stylish hiking shoes. But they always end up with the same sneakers mimicking hiking boots.
Cushioning, stability, stiffness, and durability are the characteristics of a hiking shoe. But these shoes are lacking in the versatility department.
So, these are usually hard to style unless as dad sneakers or for super-casual styling.
Soccer Shoes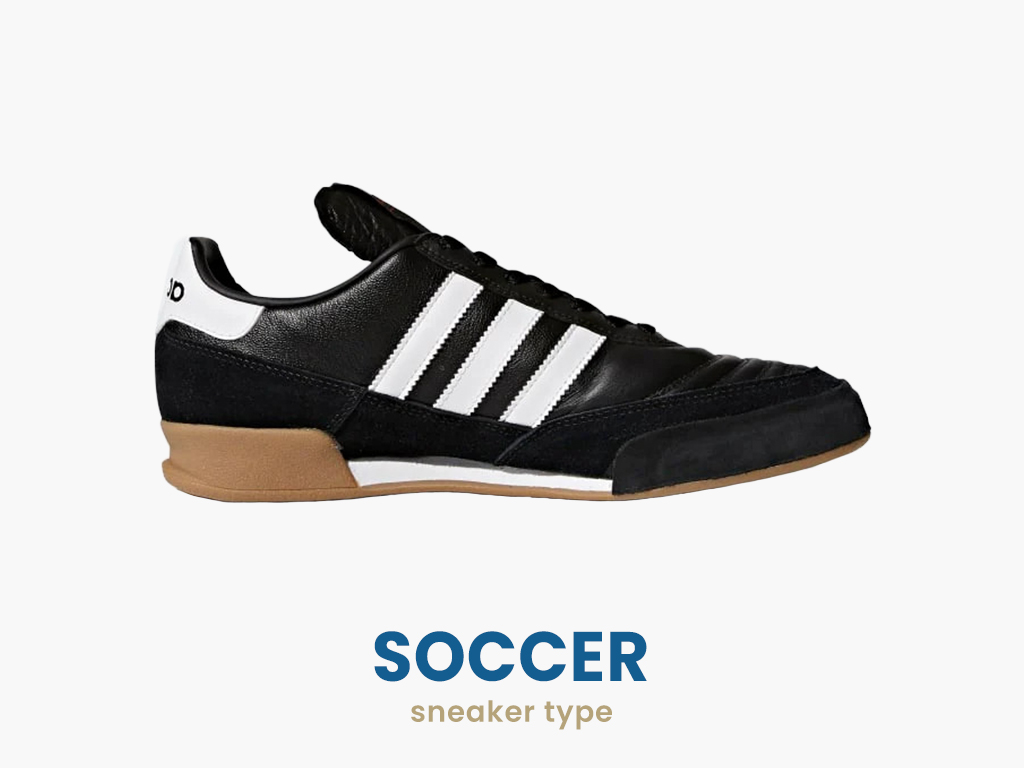 Soccer shoes often have characteristic cleats that provide traction. However, soccer flats are less popular.
Both these soccer shoes have a low-profile and minimal look. But all of these have specific brand detailing and bright colors.
This feature makes soccer shoes almost impossible to wear casually.
Brand Sneakers
Why have Adidas soccer cleats, Hoka running shoes, and Nike casual sneakers been the standard in their niche? It's because brand matters, and over time, one sneaker brand becomes prevalent in a specific style.
Here are some brand fashion sneakers that have remained iconic over the years.
Converse Chuck Tailor All-Star
These are the first high-tops to originate in 1917. And over time, it changed how people used to wear high-tops.
With the arrival of a low-top variant, the shoe profile also changed over the years. But it remained perpetually stylish for every age group.
Adidas Superstar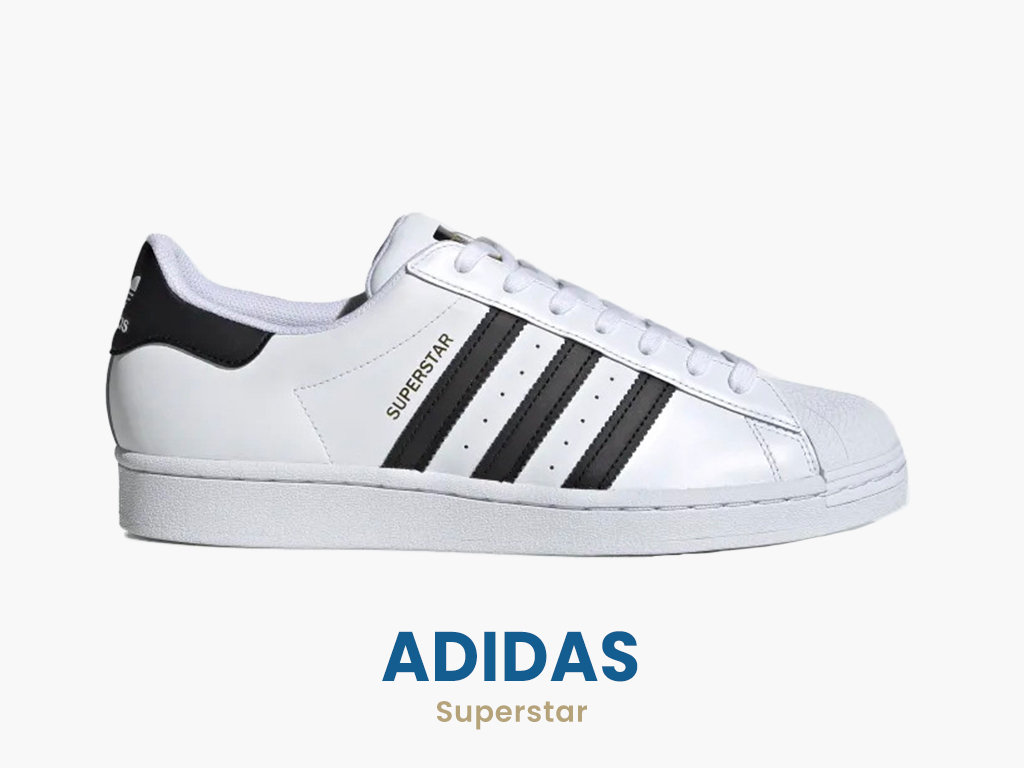 The shell toe and the clean silhouette kept this shoe alive as a "superstar" among all Adidas originals. Those iconic three stripes are there in Stan Smith and Ultraboost.
However, its unique elegance makes it stand out. I consider it a timeless shoe that you can't wear wrong.
Vans SK8-Hi
After its origin as skate sneakers, Vans SK8-Hi became a streetwear essential. And with the everyday dress codes becoming more casual, it's now a staple for casual wear.
Wear it with any casual item, and you'll look stylish without doing anything.
New Balance 990 Series
The New Balance 990 Series is influential because it deemed everything into a single shoe. Young freshmen can wear these as their everyday workout shoes.
Hip-Hop fans can style it as a smart, low-cost investment. And middle-aged men obviously like dad sneakers.
Those who want a little bit more minimalism can look toward NB 547 Series.
Reebok Classic Leather
The Instapump Fury might be the Reebok face now. But the Retro Classic leather is their most classic shoe.
The shoe has a perfectly average profile, neither bulky nor minimal. You would look super-trendy yet unapologetically classic.
Puma Suede Classic
For over 50 years, the Puma Suede Classic trainers have been ruling the sneaker market. It also inspired many new shoes, including the Puma RS Series.
Puma Suede Classics offer a rich history, various colorways, and absolute versatility. Whether you wear ripped jeans or dress pants, these sneakers will match your outfit.
Nike Air Jordan 1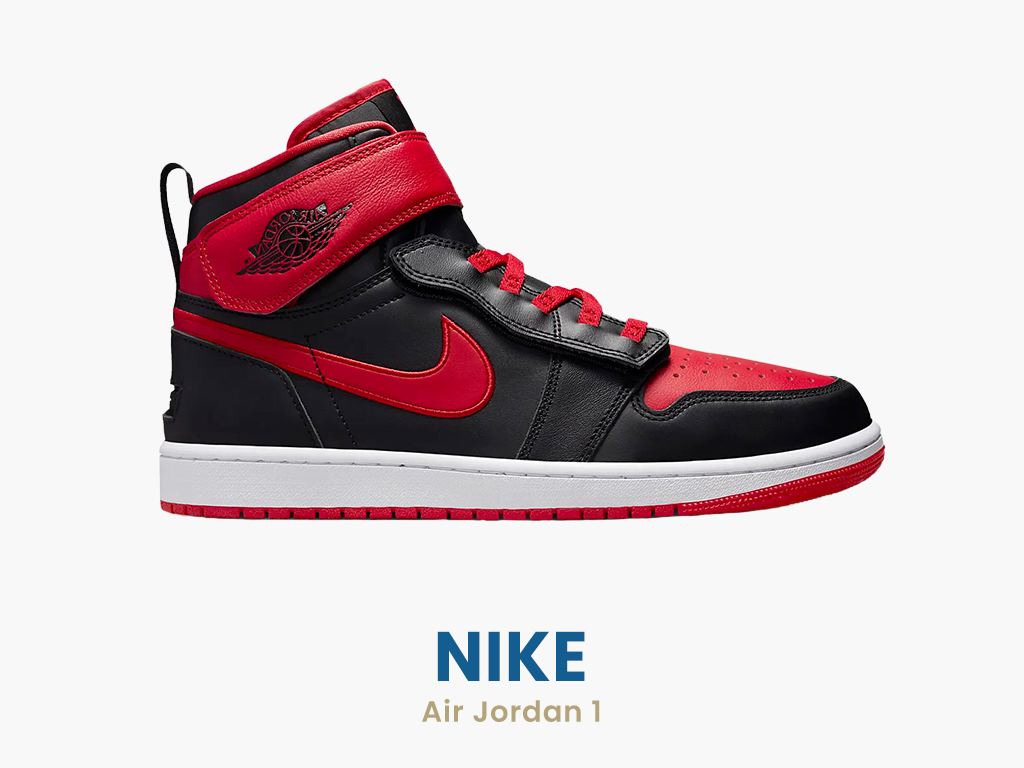 Nike Air Jordan 1 doesn't need an introduction. It's the Bugatti of shoes, iconic and incomparable.
Other Nike shoes like Air Forces 1s and Air Max Series are popular but nowhere near the Jordan 1s. Jordan 1s come in every color, material, and style. But they all share the common basics of versatile styling.
ASICS Gel-Kayano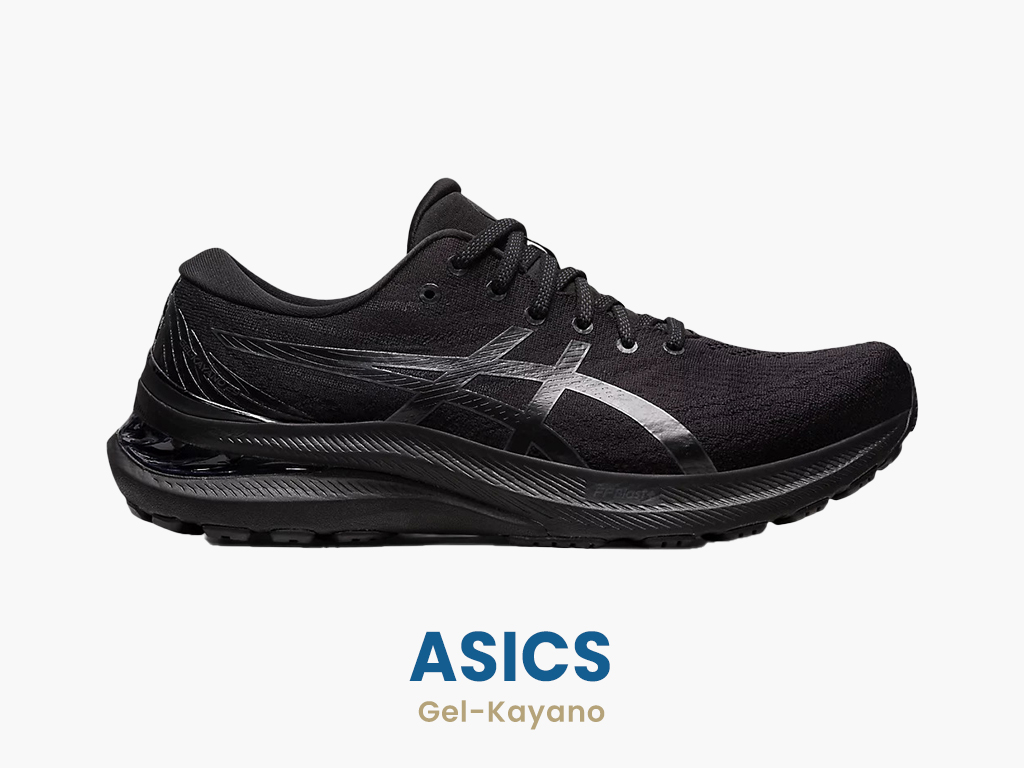 Asics Gel-Kayano has led the running shoe market as the best stability shoe for decades. Besides all those features of a good running shoe, it somewhat falls into the dad sneaker category.
It's a shoe you can wear for an old-school charm secured with matchless comfort.
Author: Alexander Stoicoff
Hi, I'm Alex, and I've studied and specialized in styling in Rome. Through my writing, I want to help men dress well and learn the purpose and significance of suits and other formal attire. My final goal is to make men more confident in their wardrobe choice and life in general.