Have you decided to bring the watch back to your wardrobe but are overwhelmed by the many types of watches?
That's understandable; there are many styles to choose from. Even though it's a tiny piece of your outfit, people will notice your watch.
That's why you need to be sure you're choosing the right one. Don't just jump right in and buy the first watch you like; make sure it will suit all your dressing needs.
How to Pick a Watch
Choosing a new watch may not feel like a huge decision, but it is. You have many styles to choose from, and you need to put much thought into what purpose your watch will serve.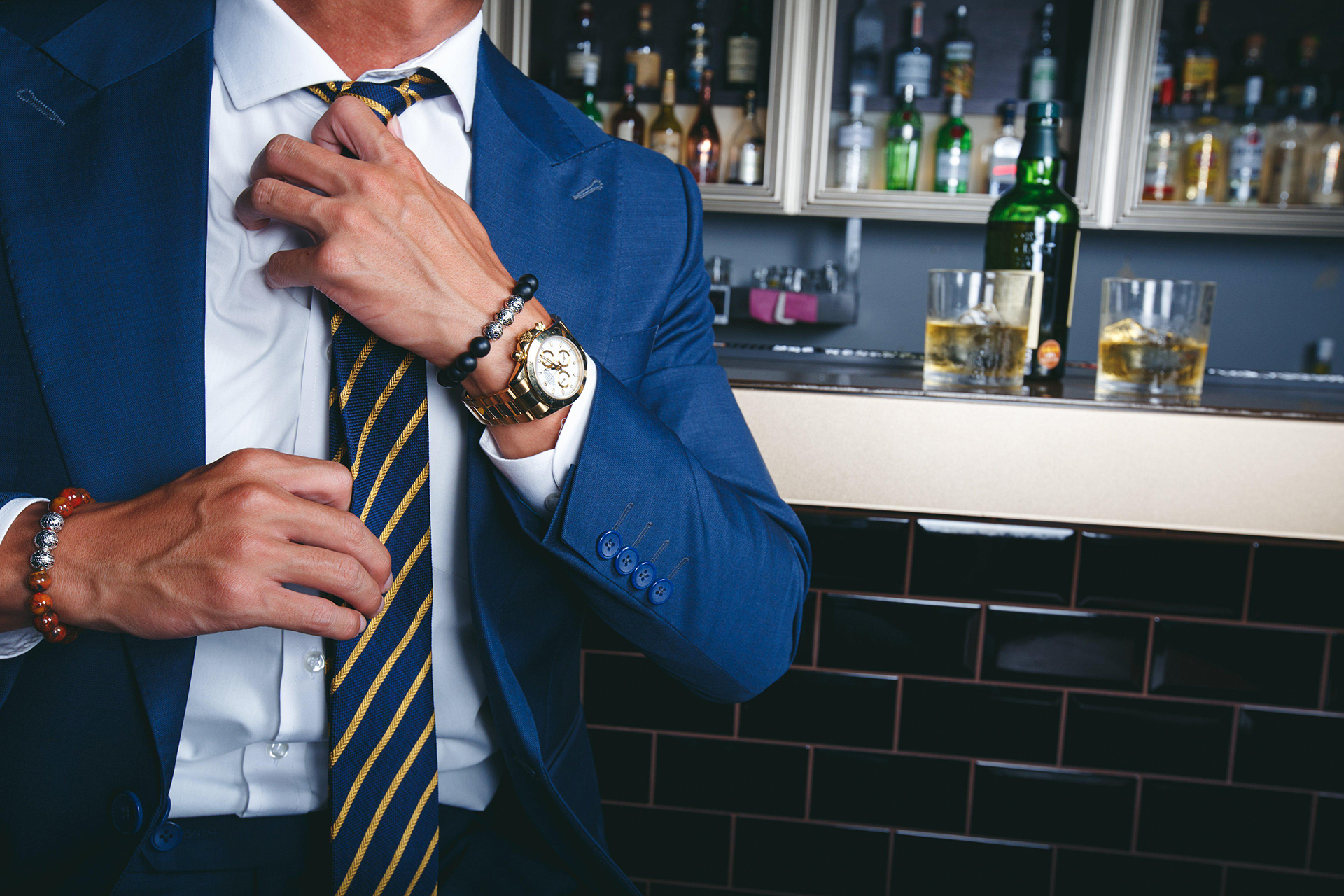 If you get the style right, you'll impress others with your style and feel confident while expressing yourself. In addition, you get to help shape your style.
Finding the Right Watch for Your Hand Size
It's essential for your watch to feel proportional to the rest of your body.
Your body type should influence the size of the watch you choose. The same watch can look very different on two different men of very different sizes.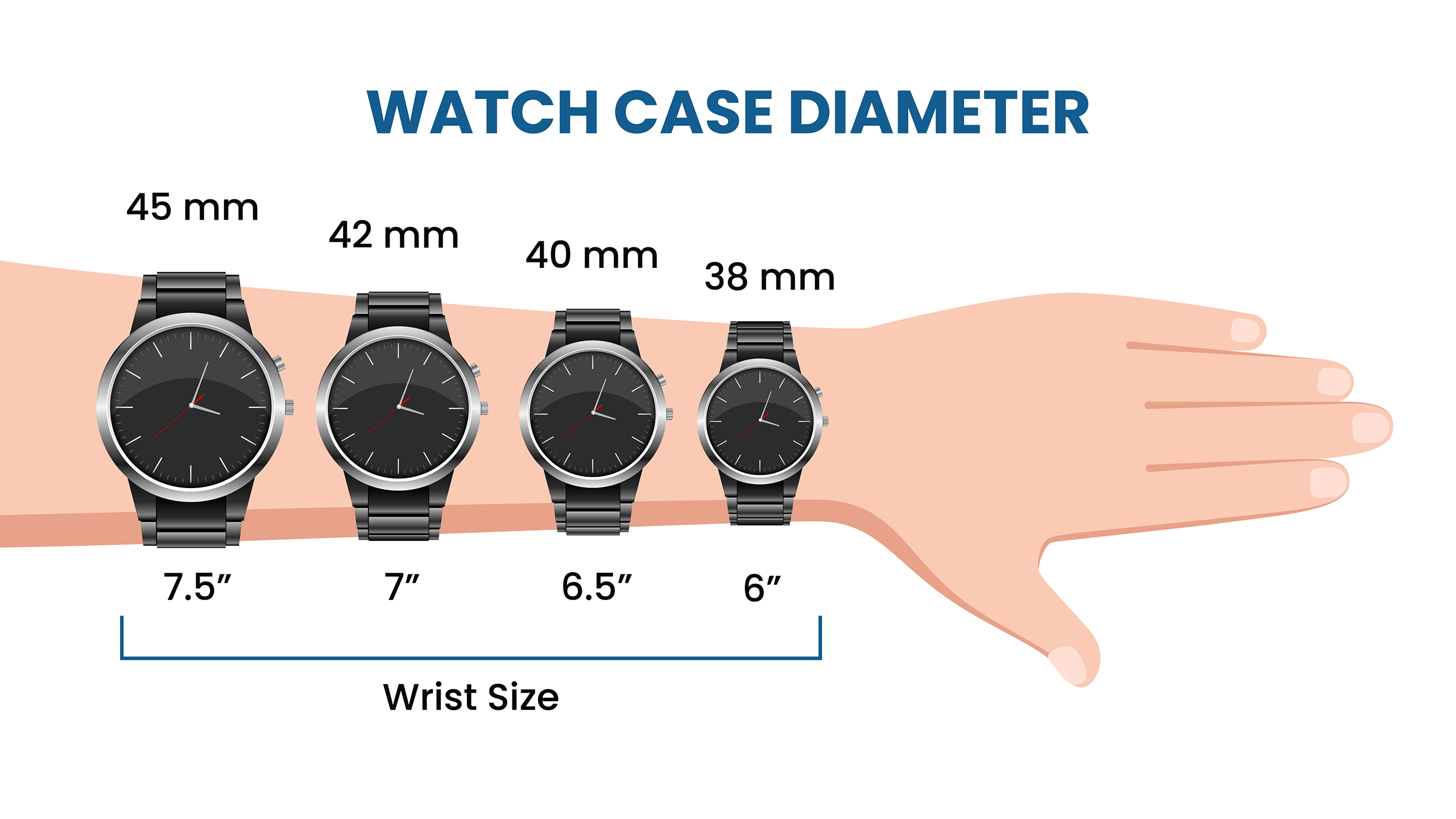 The most common case sizing on a watch is between 40-44mm; however, this can run smaller or larger. A good guideline to go by is the size of your wrist.
If your wrist measures a circumference of 6″ or less, go with a 34-36mm watch. If your wrist measures between 6-7″, you are safest with a 38-42mm watch face.
Any wrist that's more than 7″ in circumference should wear a 44-46mm watch.
Consider the Level of Formality & Occasion
A well-put-together man gets his entire outfit right, even the tiniest detail. Any dress code will have rules for all aspects of dressing, even the accessories.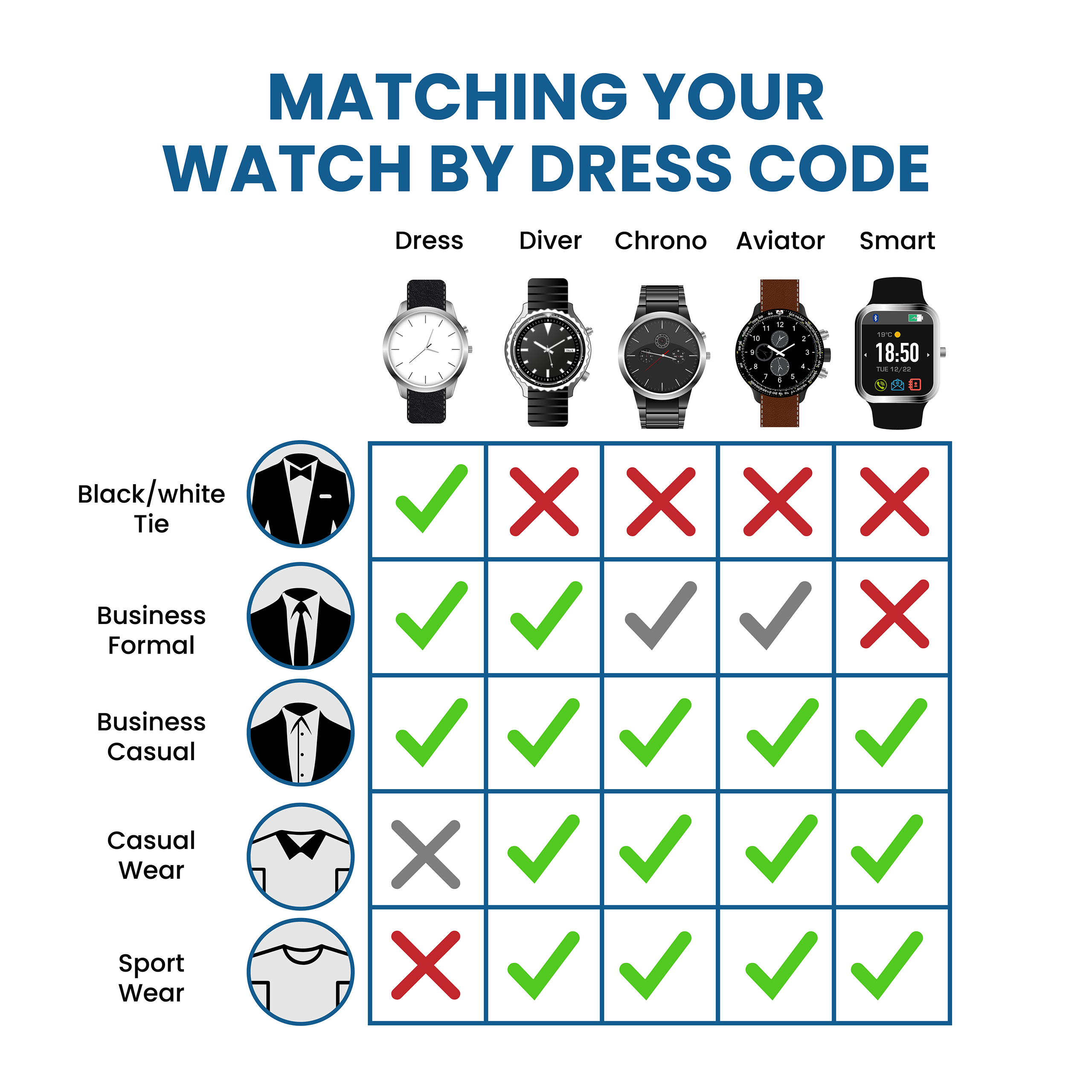 So, if you are dressing for a formal event, the rules dictate that it must be a dress watch if you choose to wear a watch. Anything else would throw off your entire look.
Formal business settings are still adhering to more traditional attire. Therefore, it's best to choose watch types like diver or dress watch.
These days, we often see casual settings for offices, relaxing the strictness of their dress code. It allows for wearing more casual watches, like aviators or even smartwatches.
Match the Watch with the Rest of the Attire
Just because you've got the right style of watch for the occasion, you aren't in the clear yet. You must ensure that your watch matches your outfit, too.
Do all the materials match? Have you chosen the right color face and band?
For example, the color of your suit plays a significant role in what your watch should look like. So if you are wearing a black suit, you should be wearing a watch with a black leather strap.
On the other hand, a blue suit would be better off with a watch with a metal bracelet.
Can you break some of these style rules regarding pairing your watch to the formality of your outfit? Sometimes, although doing so always involves a level of risk.
James Bond always does it with terrific finesse, but then again, he's Bond… James Bond.
Different Watch Styles for Men
You may think a watch is just a watch, but that's not always the case. Men's watches come in a wide array of styles, and a unique quality or function characterizes each one.
Once you know each option for watches, the purpose they serve, and how to wear them, you can decide on the perfect watch for you.
Dress Watch
This is the most formal watch style. It's stylish and understated.
Dress watches are always simple since they don't need to do anything more than telling the time. After all, why would a fancy gentleman need anything more?
The dress watch is the natural evolution of the pocket watch. However, its purpose is to look elegant doesn't mean that you need to spend much money to achieve this effect.
Instead, you can find perfectly affordable and beautiful dress watches and save your money for that expensive suit you've had your eye on.
What to Look for in a Dress Watch
The defining feature of a dress watch is its lack of features. This is a minimalist style.
Look for a clean watch face with small, simple number indicators. They'll usually be either Roman numerals or simple indices.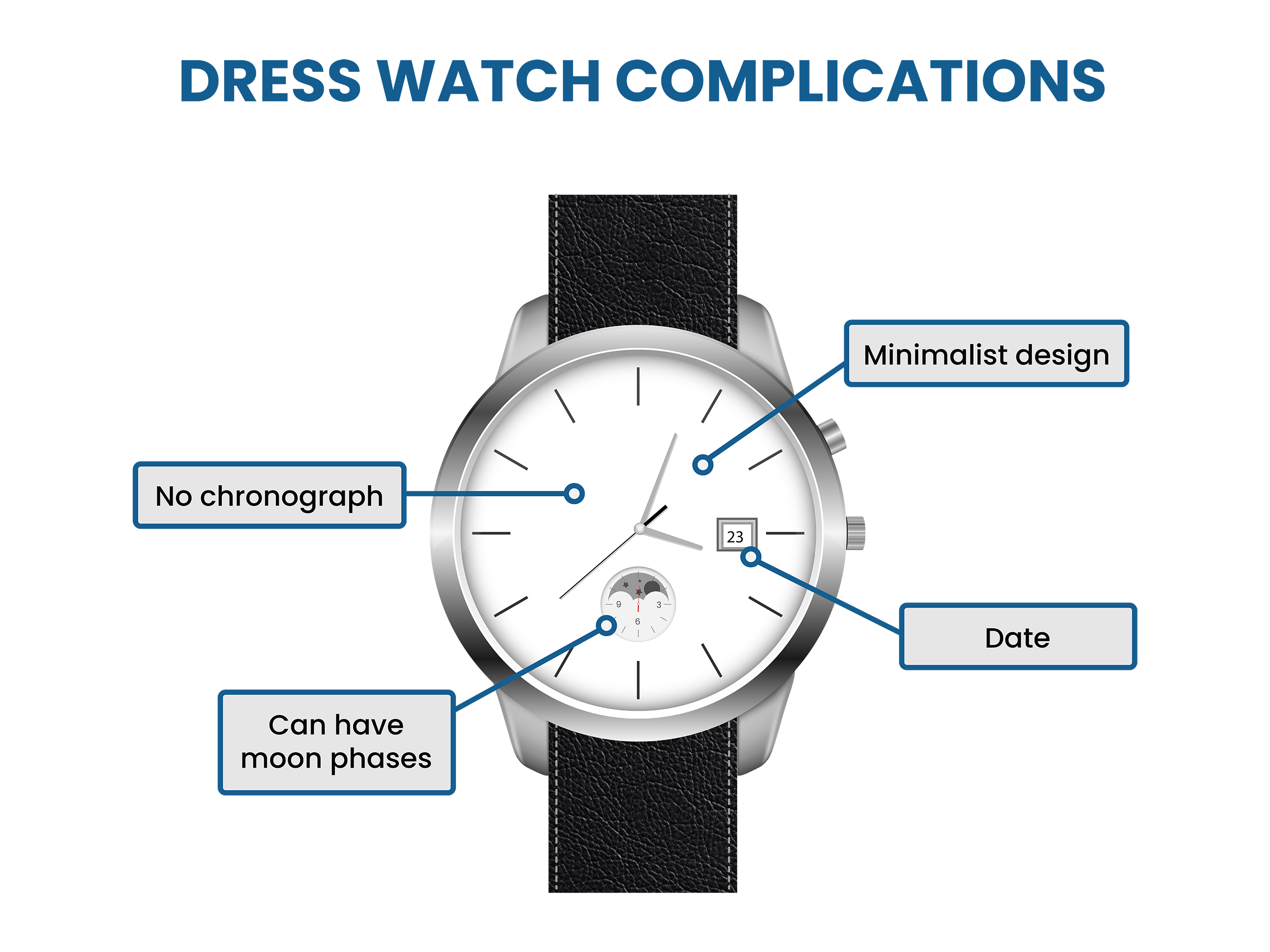 The shape of the face may vary, but it will have a slim profile so that it can slide under your dress shirt cuff easily.
The watch band will always be thin and made of dark leather.
Any metal on your dress watch will be a precious metal such as gold or platinum. Don't expect to see a lot of flashy jewels on your dress watch.
What to Wear with a Dress Watch
Because this is the most formal watch style, it's perfectly suited to wear with a tuxedo or other formal suit.
But it isn't only for formal wear; dress watches are surprisingly versatile. Of course, they are perfect to wear with suits, but you can also wear them with nearly every other style of outfit.
Looking for a sharp smart-casual appearance? Add a dress watch to it for a modest upgrade.
The only clothing you can't wear a dress watch with is super casual or sporty ensembles. The disconnect would be far too great.
Dive Watch
Can you guess the original use of this watch? It wasn't just created for a waterproof timepiece when diving.
Divers use these watches to keep a close eye on their dive time, knowing when they are nearly out of oxygen.
These watches have been around since 1926, and divers have been relying on them ever since.
Even non-divers flock to this style; a dive watch is 007's watch of choice, even when he's wearing his finest.
What Characterizes the Dive Watch?
Dive watches are larger than most other watch types. They need to be so that divers can read them easily and quickly.
In addition, they have a large minute hand, so there's no mistake when relying on your watch.
Of course, you can expect your dive watch to be water-resistant and pressure resistant.
They have a domed case, typically made from synthetic sapphire or mineral glass. This casing is incredibly protective and is very tough to scratch.
In addition, the stainless steel or titanium construction of the face and watchband ensures that this watch won't rust from being submerged.
Perhaps a unique feature of a dive watch is its rotating bezel. It's a handy feature for divers for timing their excursions; it only rotates in one direction to avoid any deadly mistakes.
What to Wear with a Dive Watch
The best type of suit to wear a dive watch with is a wet suit. (You knew I had to say it!)
On dry land, you can wear this watch with nearly all suits, except for the most formal ones. In fact, most of the top watches that pair best with suits are diver watches.
A dive watch is even good with all business wear. It may not be formal, but you can dress it up.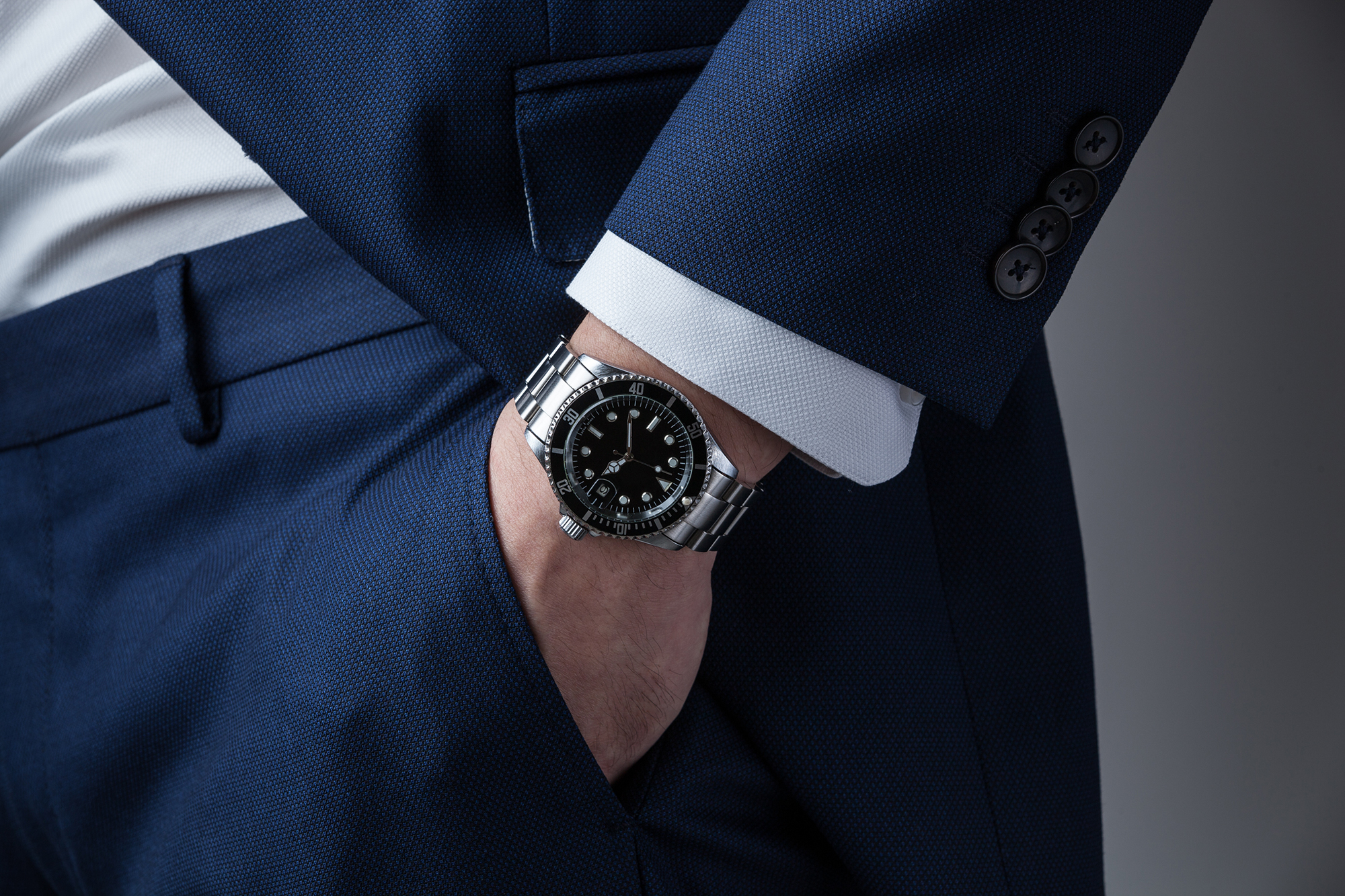 A dive watch looks great with a range of clothing types. It's even a wonderful mix with all casual outfits.
Because it's such a rugged design, you'll always look ready for any activity. And you'll be thankful for this watch when water sports are on the horizon.
Chronograph
These watch types are a multi-functional accessory for the active man. The watch face looks busy because they are busy; it can monitor many things at once.
Think of chronographs as the sporty pre-smartwatch. These watches have been around since the early 1800s. They're pretty impressive in their scope of all their different functions.
What Makes a Watch a Chronograph
A chronograph watch is unmistakable because you'll notice multiple dials when you look at its face. It can wind up looking rather cluttered.
There are at least three dials on each one for measuring hours, minutes, and seconds.
The separate second hand is crucial so it can act as a stopwatch. There will be buttons on the side to control the stopwatch feature.
There may be other complications, as well. For example, some Chrono watches include a tachymeter, which measures distance traveled.
What to Wear with a Chrono Watch
This is definitely a more casual watch. It makes the perfect companion to a smart-casual outfit.
Because you can have a Chrono watch with either leather or metal band options, you may be able to dress this watch up, and it looks surprisingly sleek. However, do this at your own risk.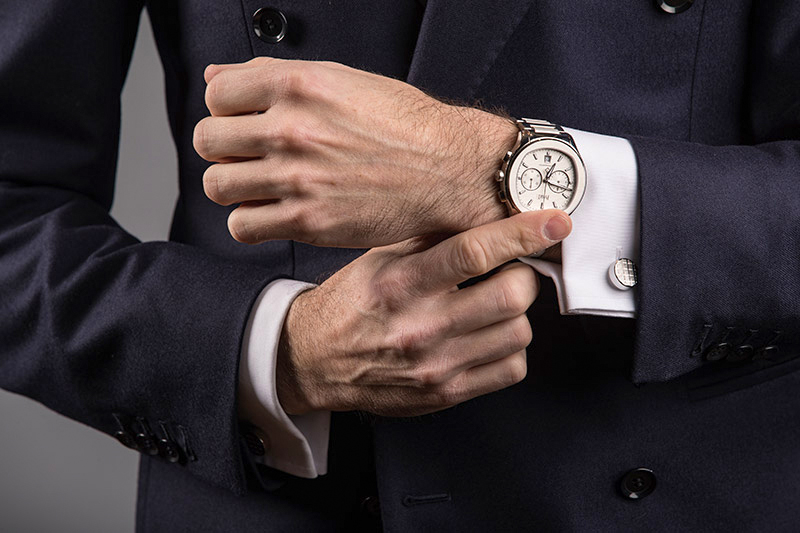 If you feel the look is right with your suit, go for it, but it will make your suit decidedly more casual. One stringent rule: no chronograph watches with your formal wear.
Aviator Watch
Like a diver watch, this watch was designed to help pilots at the dawn of flight in 1906. This sturdy watch includes a chronograph.
Pilots relied on these pieces to calculate the distance they traveled and how fast; they could also calculate how much fuel they had left!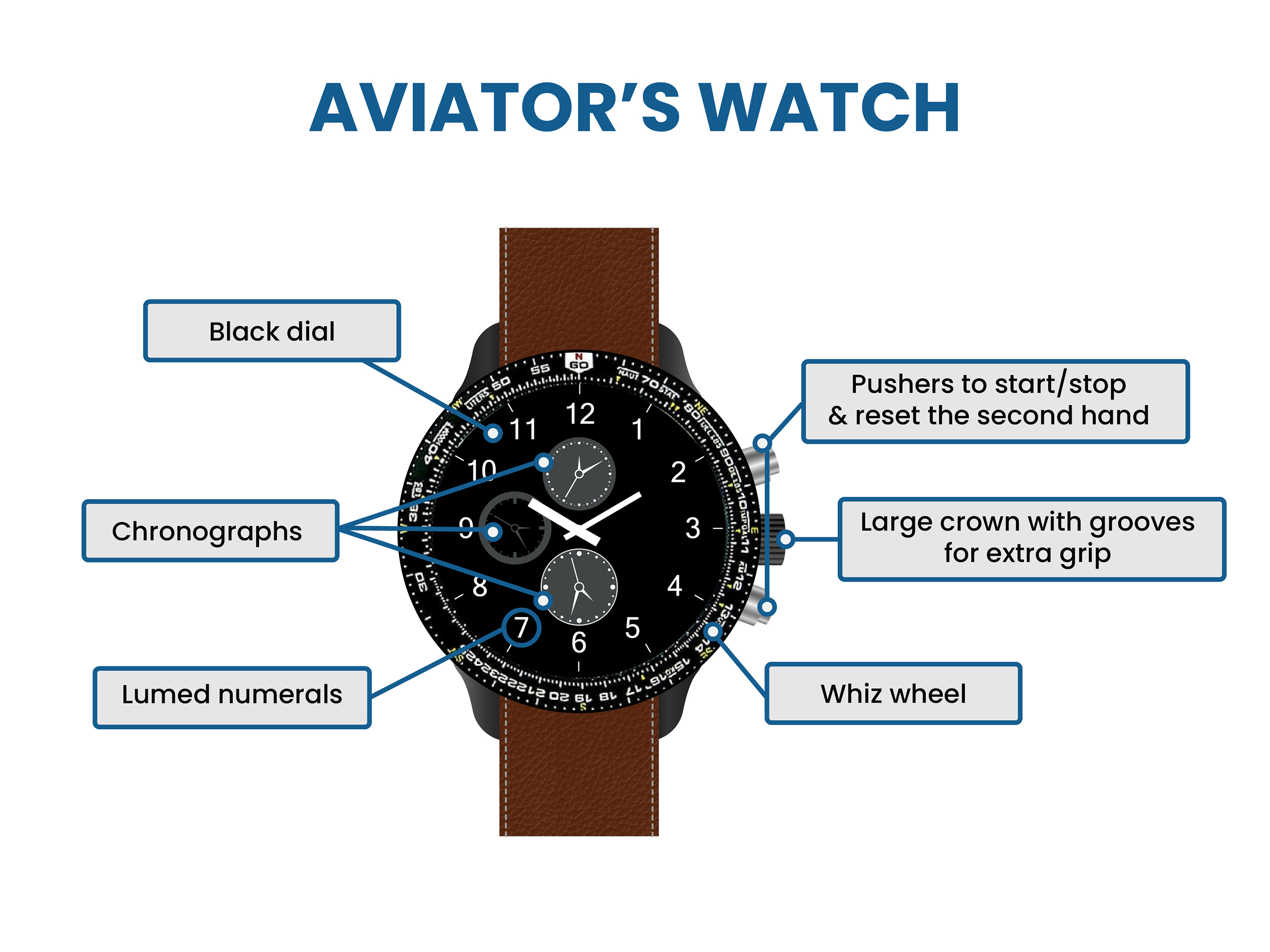 Aviator watches are large and easy to grab with flying gloves on. However, they also need an easy-to-read design with large and simple designs and colors.
Another tell-tale feature of an aviator watch is its extra-long strap, designed to fit over a jacket.
This watch is a casual accessory. Its overlarge size makes it a bad idea with professional business suits and never a fit with formal suits.
However, if you wear a suit casually, this mix may make an exciting combination.
With so many features on this watch, be sure you take the time to learn what each one is!
Other people may be attracted by your interesting-looking watch and want to know what it does. Now's your chance to shine as an expert!
Field Watch
As another highly functional timepiece, this watch type was designed for the military.
Watches are helpful in nearly every situation, and that extends to the battlefield. So, any watch that may see combat must be the most durable.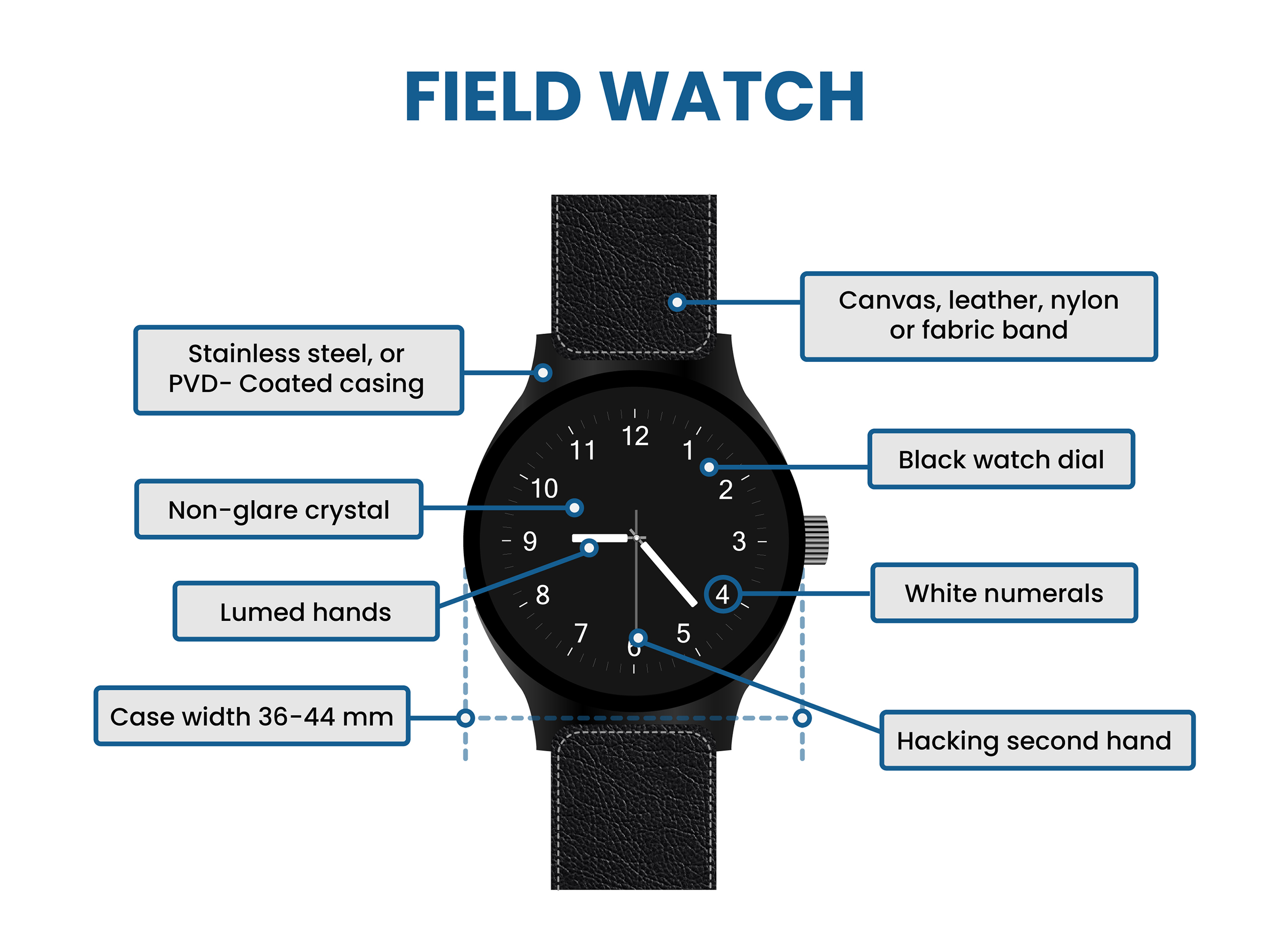 Because it's meant for use in such extreme situations, it can't be huge; it would get in the way of moving freely. Small is better, but it still needs to be easy to read.
So, the face is usually black with white numbers, or vice versa. The case is often stainless steel or titanium, strong materials so it will last longer. Sometimes it has a leather strap, but it's traditionally made from canvas.
Field watches are excellent with all sorts of casual outfits. It's a perfect watch because it's so flexible with style and ideal for most physical activity.
Of course, the dressiest you can wear this watch would be for business casual, so this is a perfect everyday watch if your office is laidback.
Sport Watch
This is another watch that's a very durable choice, explicitly designed with athletic endeavors in mind.
It can be digital or analog, but it must be made of materials that don't easily damage and can absorb the shock of rigorous sport.
The strap is often rubber or silicone, but sometimes it's made of nylon.
Sport watches are designed to be read quickly on the go, so they usually have a light and a large face. In addition, they're water-resistant, so you don't need to worry about sweat or any water activities.
Only invest in a sports watch if you need one for your lifestyle because it does not boost your fashion. It's only suitable for your most casual days and is never, ever acceptable with any suit.
Racing Watch
Also known sometimes as a "driving" watch, this timepiece was popularized in the 1930s with the rise of driving and racing. It's another niche watch that became trendy for more than its function.
Racing watches are often showy and bright, flashier than dive or pilot watches. In addition, they're characterized by their inclusion of a chronograph and tachymeter. That way, the wearer can time his driving.
These bad boys were designed to be read while moving fast, so they're large. Racing watches originally had a leather band, or sometimes rubber, but metal bracelets are relatively common today.
You should only wear this type of watch with casual outfits because of its size and loud, bright coloring.
Fashion Watch
Were you part of the Swatch watch craze in the 80s and 90s? If so, congratulations! You were in on the beginning of the fashion watch trend, which started an entirely new watch genre.
One can't precisely define what a typical fashion watch looks like because anything goes with them. They are trendy and reflect the modern style.
They're more a fashion statement than a treasured timepiece and are frequently manufactured by non-traditional watchmakers. They stand for fashion over function.
Because these watches are so of the moment, they're inexpensive. However, they aren't designed to last years and be an heirloom piece. So, you can afford several to match many outfits.
Overall, though, fashion watches are casual. Some styles might be able to pass for business wear, but never for formal.
Digital Watch
The advancement of technology has permitted a screen to replace watch hands.
When digital watches were first mass-produced in the 1970s, they were cutting edge, and this new technology was very pricey. However, today they are extraordinarily cheap.
Digital watches are not generally very good-looking, so they don't serve any style purpose. They're suitable for sports or very casual days.
They offer some features, such as backlighting for ease in reading the time. They also can be handy with functions like a stopwatch or an alarm.
Smartwatch
Instead of a regular, boring watch, a smartwatch is essentially a computer on your wrist. It's an extension of your smartphone.
As a result, this watch feels like it has nearly unlimited features: Bluetooth, GPS, texting capabilities, and a sleep monitor. Oh yeah, and you can call people on it.
Smartwatches are often mostly rubber, but you can purchase a higher-end version with metal or leather.
However your watch looks, they are still new enough technology that people are impressed by them. They're rather prestigious.
These watches are not suitable for professional business dress or formal wear but sure make a splash with any other outfit, including a suit.
Pocket Watch
Pocket watches are the original in portable time, a throwback to a simpler time.
We often think of them slipping into vest pockets; before waistcoats and vests were regular articles of clothing, men wore pocket watches on chains around their necks.
These days, pocket watches aren't very common, but you'll sometimes find them on men making a sartorial statement.
Pocket watches are typically very sophisticated with an elegant suit for formal events or can be quirky if paired with a casual outfit.
They're usually secured to the body by a metal or enamel chain.
In addition, they typically have a lid to protect their face, but sometimes it's just an open face. In these instances, the crystal is reinforced for protection.
Different Types of Watch Movement
So, how exactly does a watch work and stay accurate? It all comes down to the movement of the watch.
Movement refers to the outer and inner workings of your timepiece. There are a few different variations of a watch movement, and each has its benefits and drawbacks.
The only type of watch to not have an actual type of watch movement is digital. It doesn't count because it's electrical.
Automatic Watches
An automatic watch wind's itself all day long while you move. Each time you move your arm, it triggers a small weight that works a little to wind it.
If you don't wear your watch for a few days, it will run out of energy, and you'll need to reset it. Also, they lose a little bit of accuracy through the year, so it's slightly off.
Automatic watches require tremendous craftsmanship and are very tedious and detailed. Because of this time and effort, not to mention the years of training needed, automatic watches are expensive.
Mechanical Watches
These are the types of watches that you need to wind manually. They run using a mainspring, which creates a very smooth movement. The second-hand glides evenly along the watch face without any loud ticking.
Mechanical watches need to be wound every day or two to keep them active. They also need to be babied; you can't expose them to moisture, dust, or bumps.
Unfortunately, they are so sensitive that any of these variables can damage your watch for good. Because of this, mechanical watches are less convenient to own and, therefore, less common.
Quartz Watches
Quartz watches are incredibly accurate and reliable, thanks to their use of a battery and quartz crystal. They are also more durable.
But, unfortunately, they are less smooth when they run, and the secondhand "tweaks" along each second, creating that famous tick-tick noise that can drive some people crazy.
However, quartz watches are very inexpensive and super easy to maintain. The only upkeep you must do is replace the battery whenever it dies.
Solar Watches
These watches run on Sun! They have photovoltaic cells on their face that recharge the watch every time it's exposed to light. So, that means any light, not just the sun.
So, even indoor lights can charge your watch! And it can hold a charge for up to six months.
With no battery to ever change and running at the price of a quartz watch, solar watches are probably the easiest watch to own.
Different Watch Shapes
You probably envision one with a round face when you picture a watch. That's the most popular style choice for timepieces, but it isn't the only one.
You can play with the shape of your watch case for an unexpected twist on the standard watch.
Round – the most traditional and sensible face shape. Like a small clock on your wrist.
Oval – slightly unusual. Great for narrow wrists.
Square – an unpredictable approach. Some of the most sophisticated watchmakers have embraced this shape.
Rectangle – Very common today; think: the smartwatch. But on an analog watch, it is an elegant way to shake up the norm.
Author: Alexander Stoicoff
Hi, I'm Alex, and I've studied and specialized in styling in Rome. Through my writing, I want to help men dress well and learn the purpose and significance of suits and other formal attire. My final goal is to make men more confident in their wardrobe choice and life in general.