Chinos are an incredibly popular type of pants that both men and women flock to. Part of their appeal is their immense flexibility.
They are more comfortable and casual than formal dress pants but can be worn in many more settings than jeans.
But how just dressy or casual should you wear these popular pants? Let's dive in.
Basics to Consider When Wearing Chinos
Chino pants fall right in between dress pants and jeans in terms of formality. They are a compromise between the two extremes; they can be very casual or dressed up for business purposes.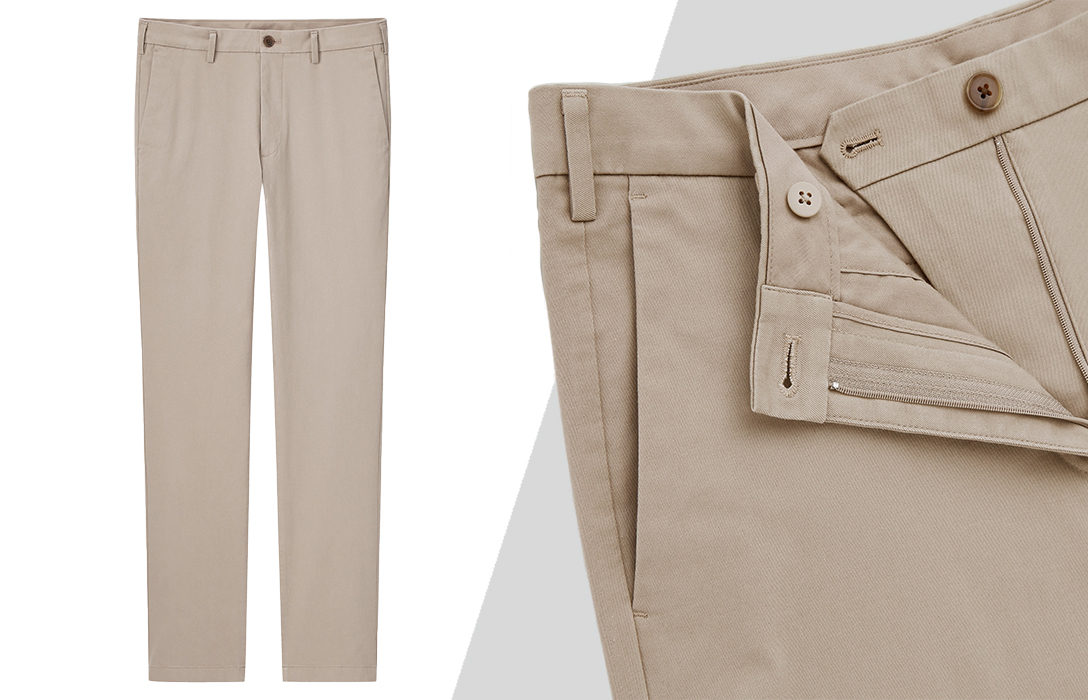 Chinos are commonly the go-to pants for the office because they're incredibly versatile; you can easily turn them into a casual outfit.
Most chinos are a neutral color; khaki is the most common, but tan, olive green, navy, and light brown are also very common.
The standard material is cotton twill, but you can also find chinos in other fabrics, such as synthetic stretch fabric. Like jeans, chinos are very durable and strong.
Traditional chinos have a flat front, slanted front pockets, and jetted back pockets.
Chinos vs. Khakis vs. Dress Pants
Most people make the same mistake of assuming that chinos and khakis are one and the same pants, just different ways of saying the same thing.
They think khaki is only a color, not a style of pants. However, that's not quite accurate.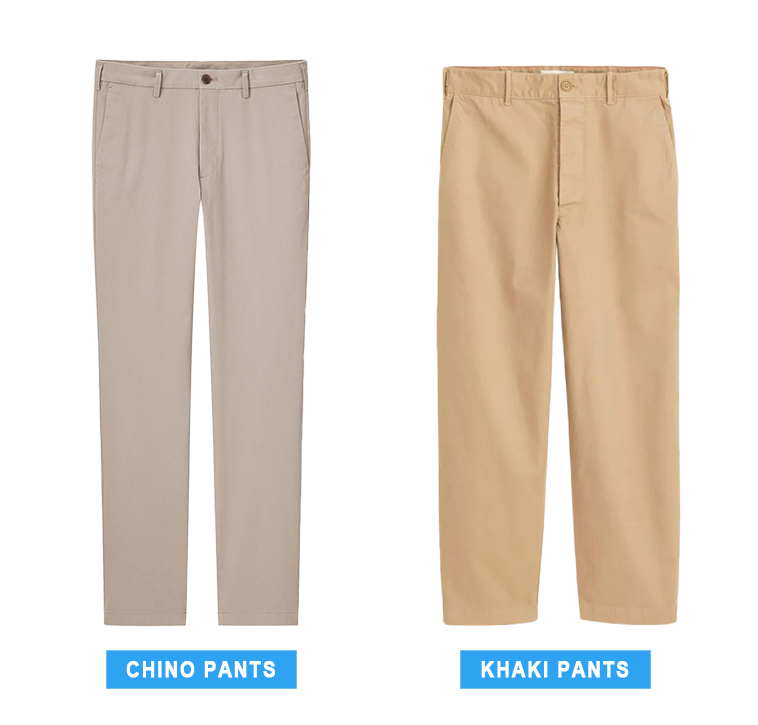 Originally, yes, khaki was just a color for pants. However, over time they evolved into a distinctive style.
Where chinos tend to be a bit tapered below the knee with a flat front, khakis are often straight-legged and pleated. Their fabric is also a bit rougher and thicker than chino fabric.
Chinos come in many colors. They are most frequently a khaki color but can be very dark neutrals, jewel tones, or pastels. Khakis, on the other hand, are generally a variation of a light tan color.
Dress pants are considered a more formal garment compared to chinos. That's because there's a visible difference in cut, style, and fabrics.
In terms of cut, dress pants have a sharp crease that runs down the leg's front. Also, they never have decorative stitching like most chinos.
While dress pants can be a shade of khaki, they aren't usually made from the cotton twill used for making chinos. That fabric is far too casual for the formal nature of dress pants; these are usually wool or blend material instead.
You can easily spot the difference in their stiffness; dress pants are much softer than chinos.
Proper Chinos Fit
Chinos aren't cargo pants, so they aren't intended to be baggy. Instead, they should be fitted, though not tight.
Look for slim-fitting chinos, but avoid skinny fit if you want to keep your slacks versatile.
Your chinos will look best if they sit at your natural waist, which is just above your hip level. This means you should look for a mid-rise pair of chinos.
They should taper slightly past your knee. If there is a break at all, be sure it's minor; chinos aren't meant to have a proper pant break.
You shouldn't need to add a belt. Your pants should stay up just fine without one; however, you are welcome to add a belt for fashion's sake.
Best Colors for Chino Pants
It's probably no surprise that khaki is the most common color for chinos since they seem so intertwined.
It's a classic look that is always guaranteed to look good. However, there are several other great shades that you should consider adding to your wardrobe.
Navy and olive green are two excellent shades that can spice up any outfit. They are unexpected colors that are just as versatile as khaki.
Dark brown chinos are surprisingly versatile, too. However, don't be afraid to try some fun shades for your more casual outfits, like a springtime pastel in warmer weather.
Also, salmon chinos are bright and cheery but also very unique!
Different Chino Pants Outfit Ideas
Thanks to the versatility and flexibility of chinos, it can be difficult to mess up any outfit you build around them.
They are so easy to pair, however, that you may wind up overlooking some great wardrobe options!
So, here are a few starter ideas to guide you from casual to business casual and everything in between.
Chinos and T-Shirt for a Casual Look
You probably can't get more classic than a pair of khaki chinos and a crisp, white t-shirt. It is the ultimate outfit for a laidback appeal.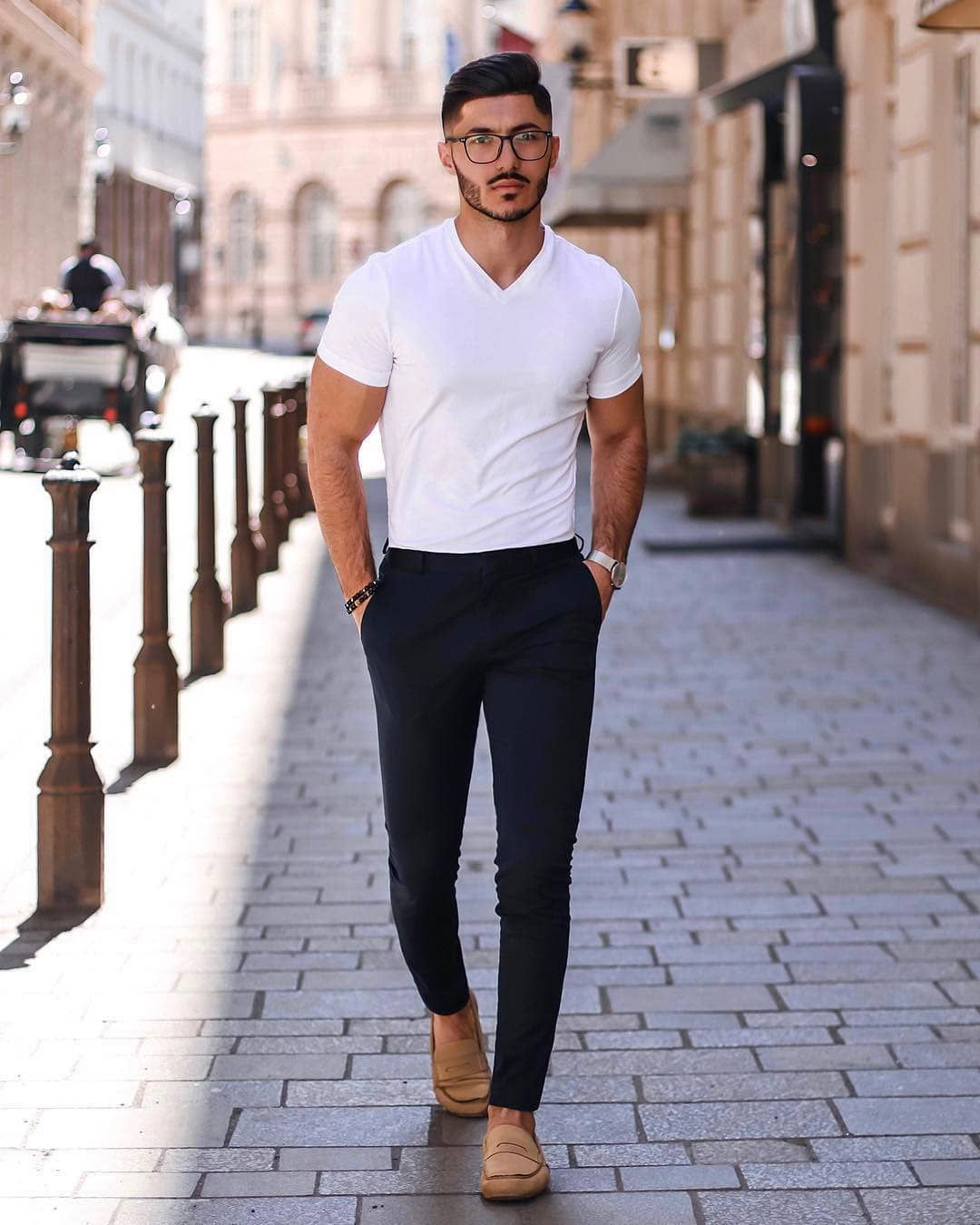 However, you can turn this outfit on its ear by pairing a pair of light chinos with a dark t-shirt, such as charcoal, olive, or navy. It looks relaxed but also tasteful and understated.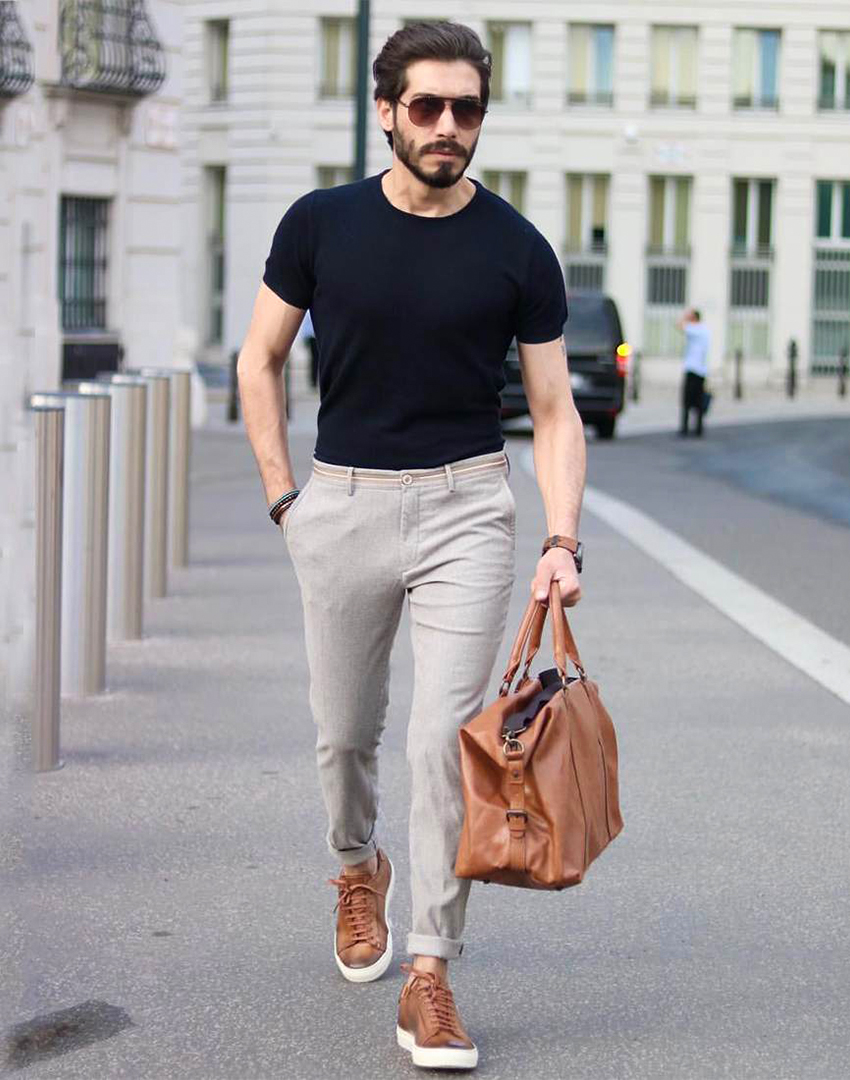 A t-shirt can often make for a bland outfit, but not when paired with chinos. The catch is that your t-shirt must be crisp, clean, and fitted. No baggy shirts are allowed for this ensemble!
White fashion sneakers are a natural fit for this combination, but you could also create a leisurely feel with a pair of suede loafers. Or veer toward a more urban style with Chelsea boots.
Leave off the belt to keep things loose, but add a good pair of shades.
Chinos & Dress Shirt
White dress shirts are always a classy option for any outfit.
Therefore, if a white t-shirt is a good pairing with chinos, you know that a white button-up is simply a more dressed-up version. It's another classic appeal.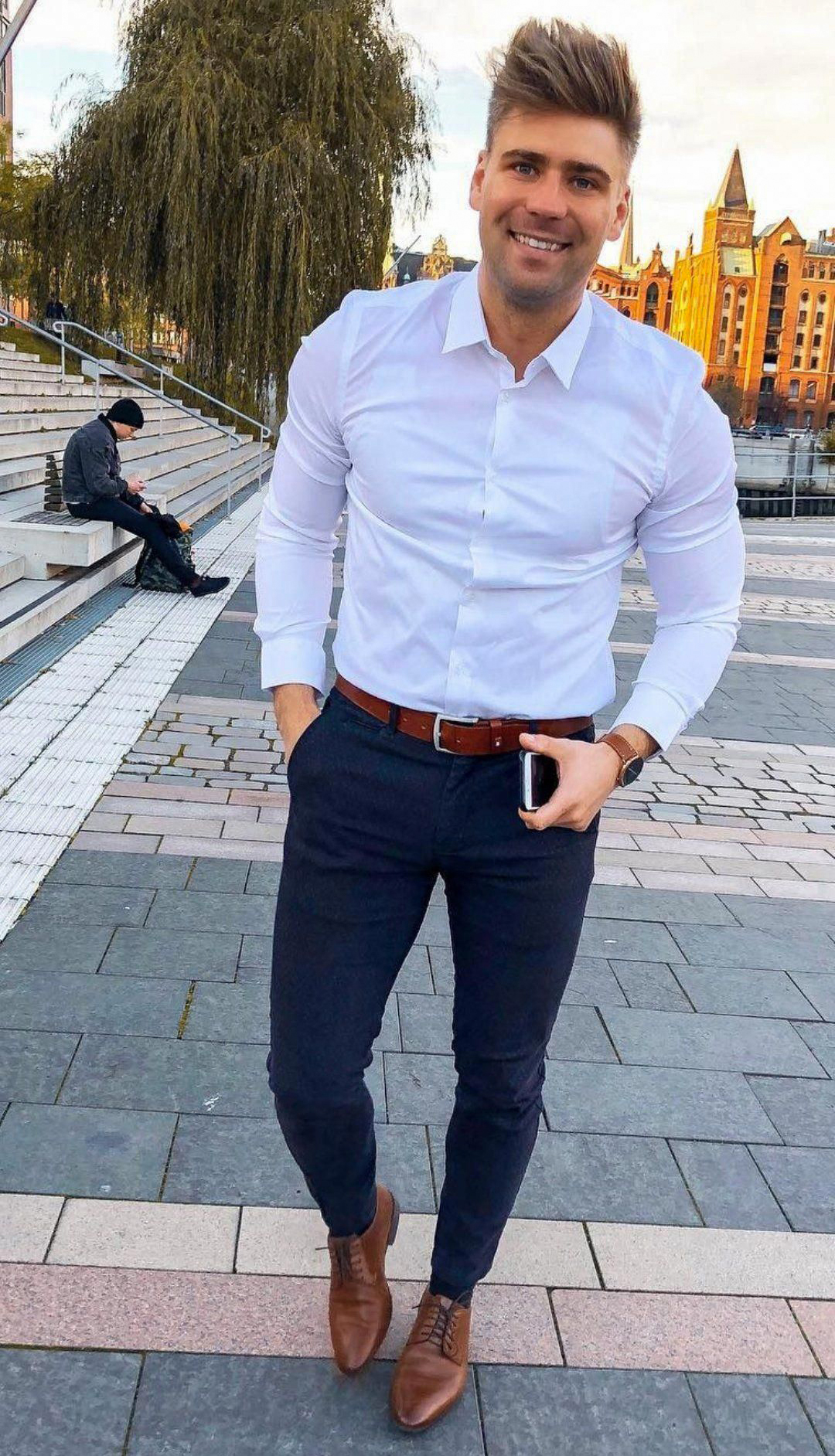 Khakis are a great color for a dress shirt pairing, but this outfit can work with any hue of chino pants.
Whether sporting a white button-up or another light shade, like pink or blue, it's a neutral outfit that won't cause any waves.
However, it can lend to looking a little bland, so you should infuse some personality with accessories.
For example, add a leather belt that matches your shoes if they are also leather. This is another good outfit for loafers, Chelsea boots, or simple sneakers.
Introducing Colorful and Patterned Shirts
Don't shy away from patterns and festive shirt colors when looking for a casual ensemble. A striped shirt or other design, like linen or chambray, adds instant appeal.
A break from the standard solid-colored button-up dress shirt can add a lot of character to your clothing.
Vibrant colors are another way to make your outfit sparkle with personality. You'll be firmly in the casual category, but your ensemble will have a decidedly joyful energy.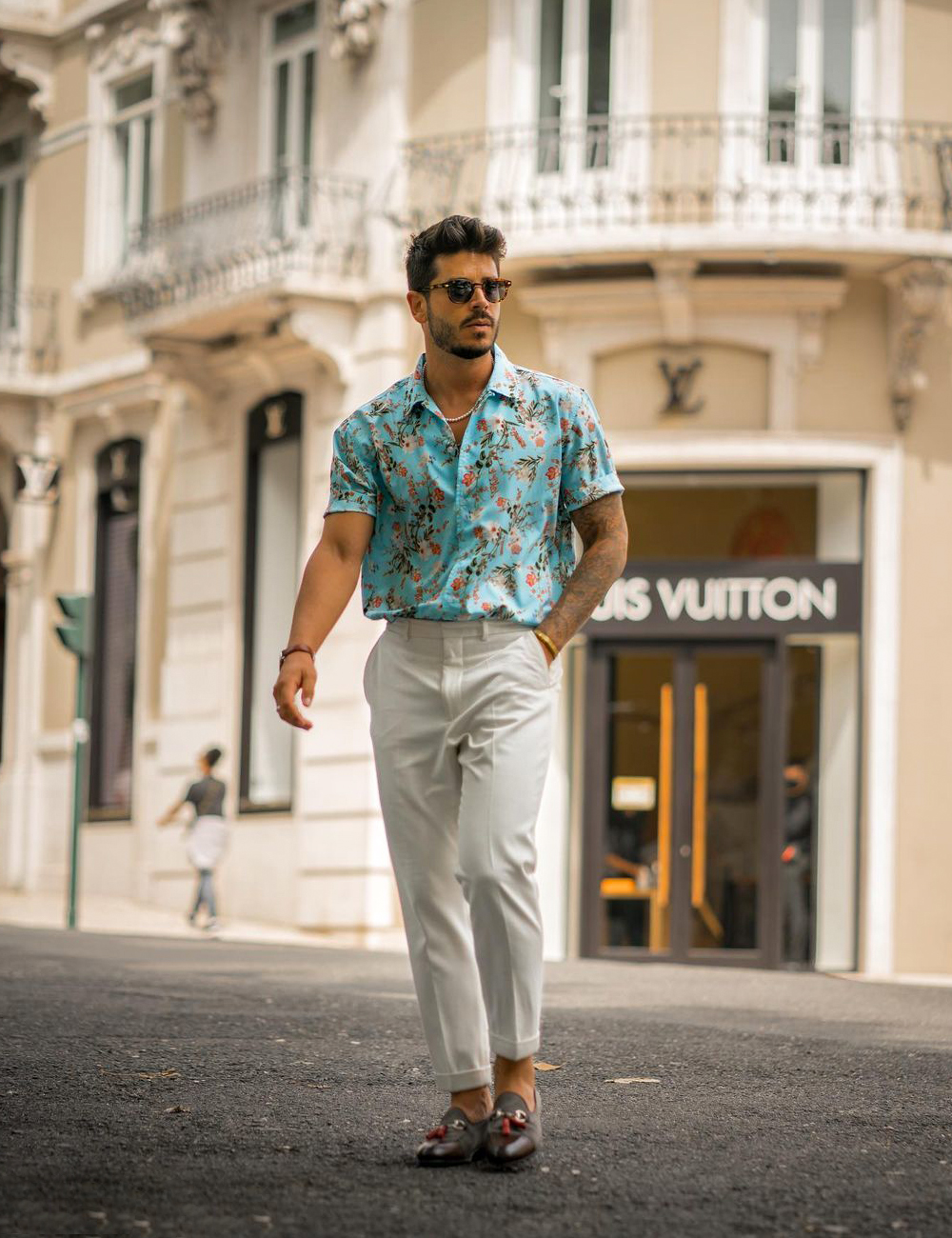 However, it's best to keep your chinos neutral; it's essential to create balance, so you don't wind up blinding everybody with competing colors. In addition, the contrast will keep your outfit grounded.
You can upgrade your shoes to chukka boots or derby shoes; these choices will also create an interesting balance to your outfit. They are slightly dressier than loafers, for example, so your outfit will pop.
Mixing Sweaters and Sweatshirts
Layering a sweater or sweatshirt with your chinos is a fantastic way to look stylish while battling the winter weather.
Take a pair of khaki chinos and pair them with a blue or black cardigan over a white t-shirt or light button-up dress shirt.
You can also look laidback yet smart and stylish if you swap out the cardigan and t-shirt for a charcoal turtleneck.
Another way to work in some cozy layers is to add a navy or grey sweater over a collared shirt. You can step up your appeal by swapping out your khaki chinos for a more colorful pair.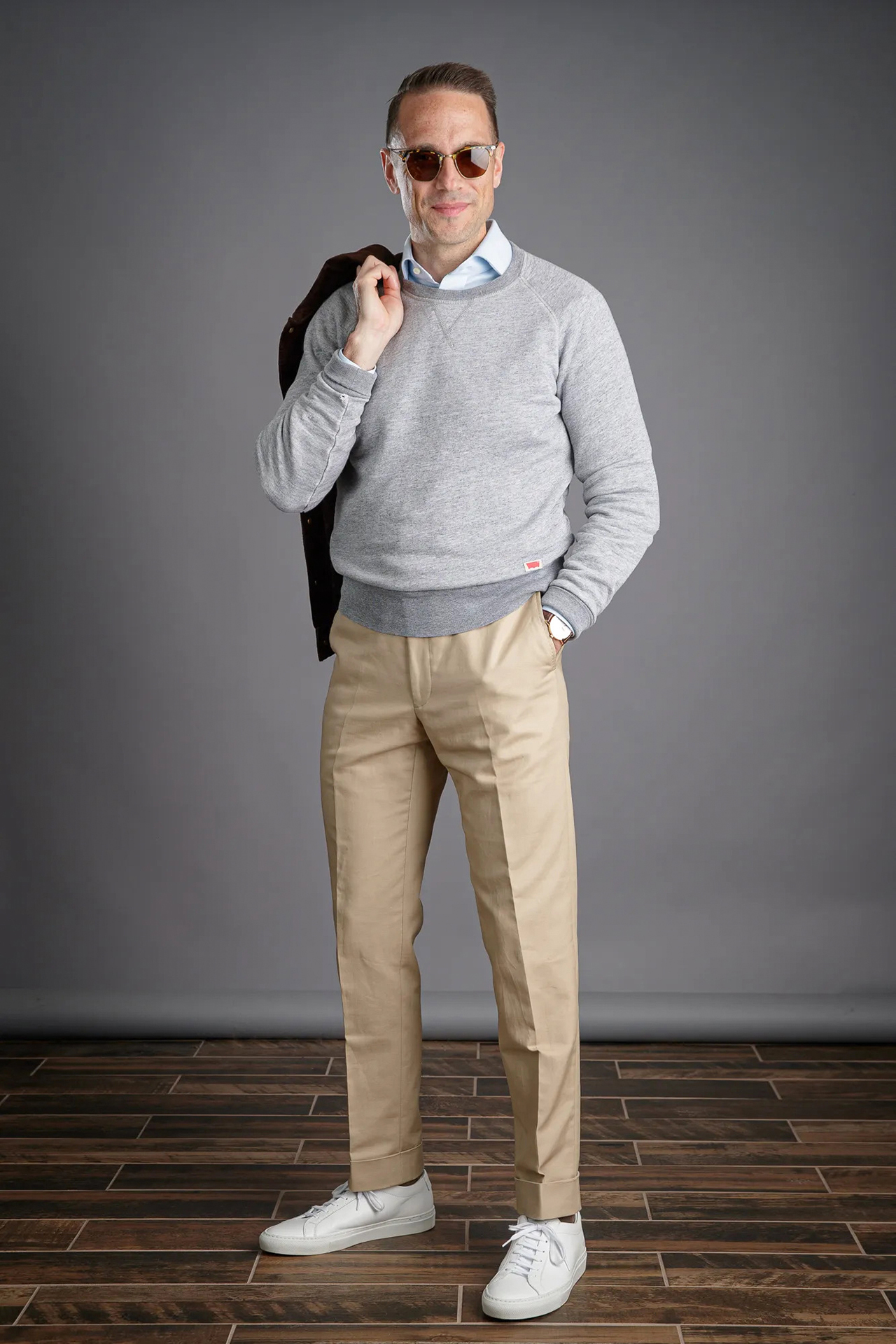 For example, eggplant chinos with your charcoal sweater would be a cheeky and unforgettable twist.
Wearing a Blazer with Chino Pants
When business casual calls, it's time to incorporate a blazer to help you look more professional. Match a navy blazer with grey chinos; try a white dress shirt with a small print.
You can also swap the colors and wear blue chinos with a grey blazer. Either combination is neutral and perfectly professional.
The button-up dress shirt ensures that your outfit is suitable for a more casual workspace. But you can transform your outfit into smart casual by replacing the button-up with a t-shirt.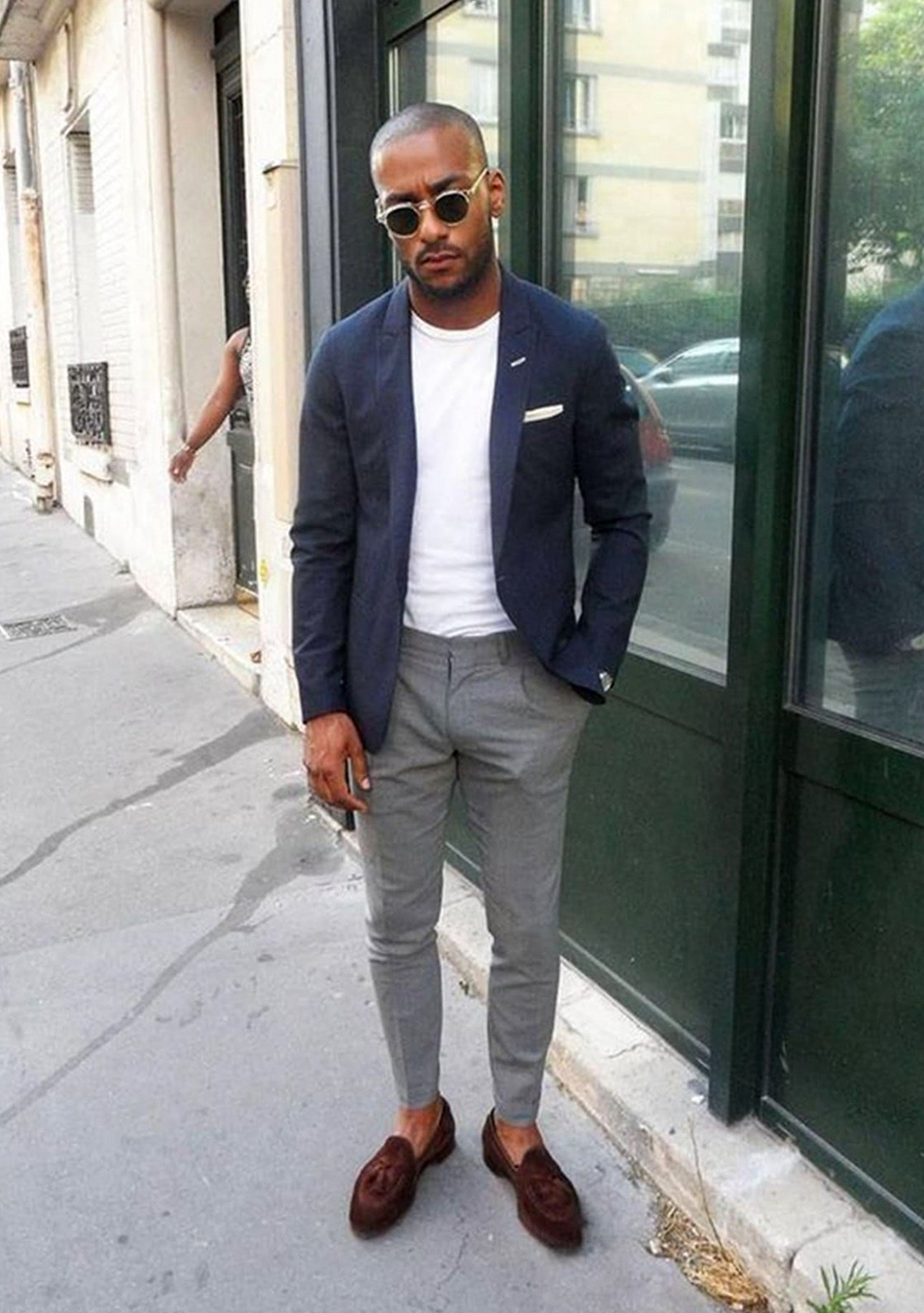 You can reshape your entire outfit with one simple shirt swap!
You can wear fashion sneakers or leather dress shoes, depending on which look you want to convey. If you go with the button-up dress shirt, don't forget to include your belt.
Adding Ties for Business Settings
Including a tie is a sure way to bring your look firmly into the business casual realm. It's a modern twist to pair chinos with a tie and is a simple way to dress up your clothing.
It can be silk or knit, depending on how dressy you would like to look. Pair with dress shoes for maximum dressy effect.
Because you aren't confined to the rules of formal dressing when pairing a tie with chinos, you can incorporate charm by adding a colorful tie. Make your color really pop with a fresh hue.
A sweater or blazer is a perfect way to round out this outfit. They can add sophistication to your simple outfit while still looking relaxed.
Swap the Blazer with a Coat or Jacket
If you're headed out for an outing with friends or date night, loosen up by trading the blazer with something more casual.
For example, a brown leather jacket and a white shirt are very simple and badass.
Another effortless combination is a brown jacket with dark chino pants. Darker pants are a good idea for creating a unified look with your jacket.
You're not limited to brown, though. A navy pea coat with dark chinos and a shirt can definitely create a stylish look for colder days.
A different option that will completely change your style is a trenchcoat or an overcoat. These coat styles look more preppy than a strictly casual bomber jacket.
Other Attire You Can Wear with Chinos
Once you have the foundation of your outfit, it's critical to decide how you want to complete the ensemble.
With so many outfit variations that can trend casual or dressy with chinos, it's helpful to be mindful of what you add to your clothing choice. Your accessories can dictate the entire feel of your look.
Shoes
Because chino pants provide a great ton of flexibility, you have limitless options for what shoes you can wear with them. That being said, loafers and sneakers are often the best choices.
They are undoubtedly casual and laidback shoes, but they can have a dressed-up feel if you choose the right pair.
For example, loafers come in many styles. Boat shoes give your outfit a genuinely leisurely effect, but brown leather slip-ons can feel more preppy.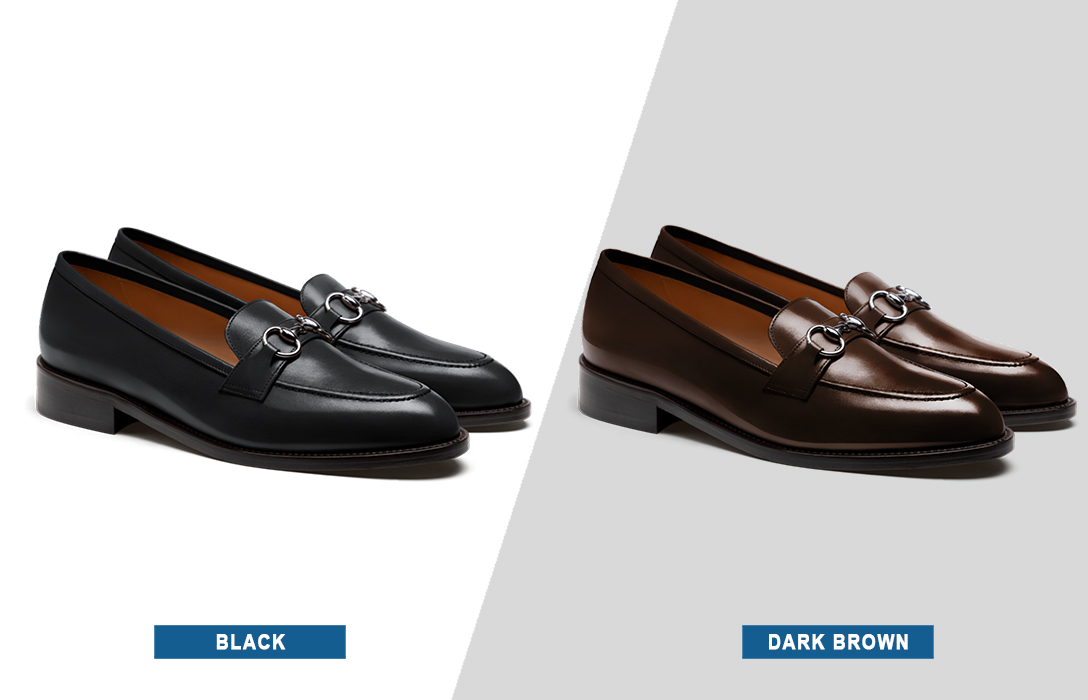 Sneakers can be either canvas or leather, but they should be pretty plain. White or black works, depending on the rest of your outfit.
Accessories
Adding a belt to your chinos can change your whole look. So leave off the belt for your most casual outings, but bring it back for smart casual or business casual appearances.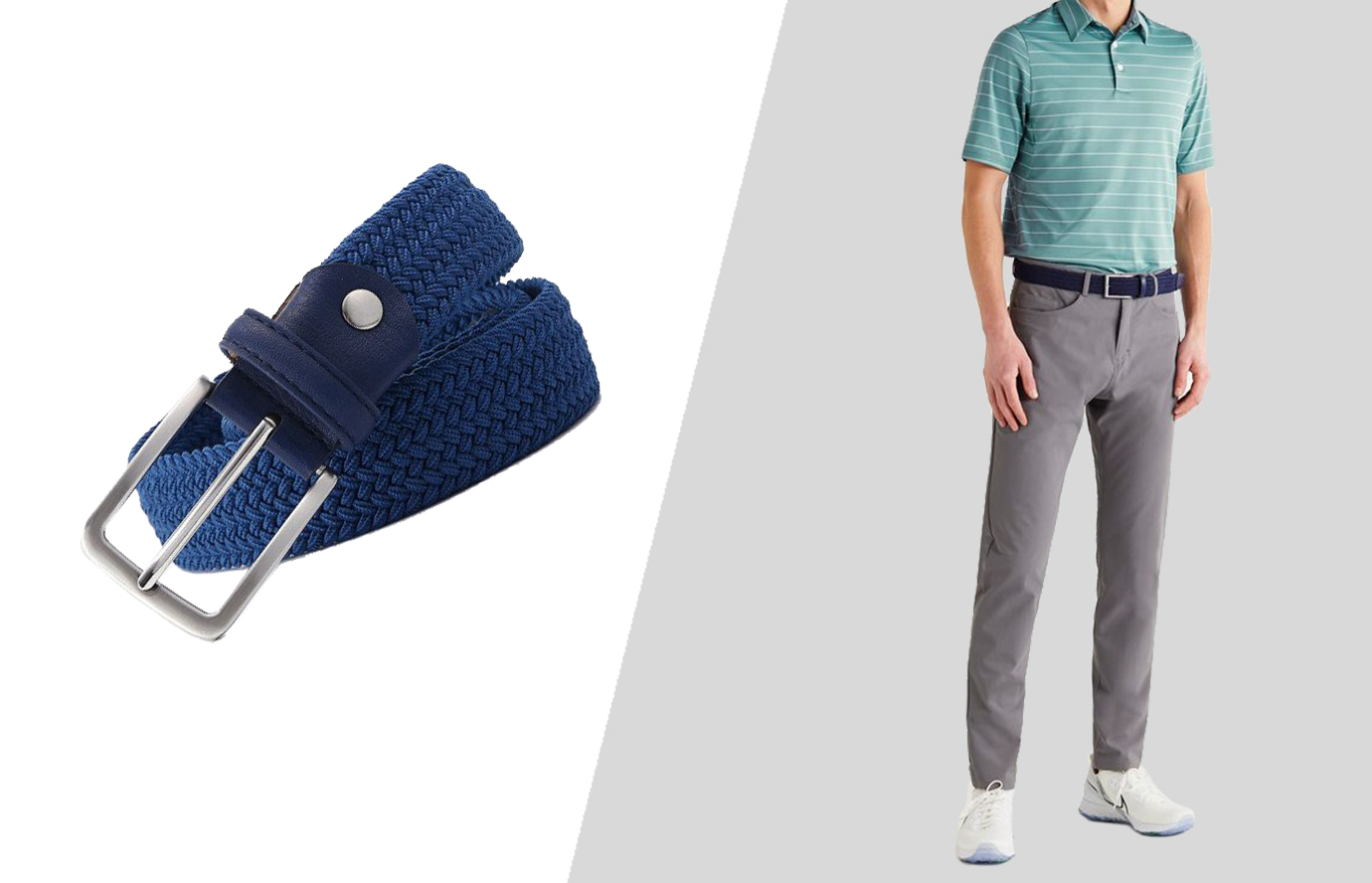 Your belt needs to be leather (the same shade as your shoes) for a business casual outfit, but smart casual can incorporate a canvas belt or stick with leather.
If you are sporting a blazer, add a simple pocket square. It will plant your outfit firmly in the dressy category and add a dash of sophistication.
How to Wear Chino Pants Cuffed
Some men love to add a jaunty effect to their chinos by cuffing them.
This can look neat, but remember that your ankles will show if you do. So, either do this when skipping socks or pick very fashionable (and clean!) socks that day.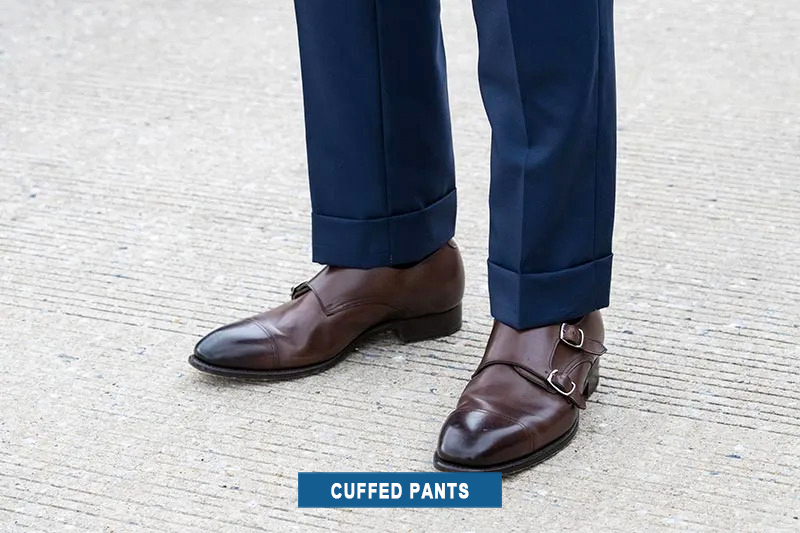 To ensure that your cuffs stay put, you'll need to tighten the leg very slightly.
First, fold your cuff vertically over itself for about an inch, creating a slight overlap. Then roll the cuff up once or twice.
It shouldn't be a firmly structured roll but a carefree look. Feel free to pinch parts of the roll and gently pull out, creating a more messy roll.
Wearing Chino Pants FAQs
Are chinos appropriate for business-casual settings?
Chinos were strictly casual not long ago. However, thanks to the movement for business casual office settings, chinos are now acceptable in certain office spaces.
What's the best shirt color for khaki chinos?
Nearly any shirt color works with khaki chinos since they are very neutral pants. However, you can't go wrong with a white or blue shirt for the best look.
Can I wear chino pants rolled?
You can cuff your chinos, which will give you a very relaxed look. However, be careful that your cuffs don't stand out too much; only roll them once or twice.
Which are better: chinos or jeans?
Each type of pants has its own appeal. However, chinos are much more versatile than jeans; they are easier to dress up, giving you more opportunities to create outfits around them.
Can I wear chinos with a suit jacket?
A suit jacket is a formal garment. While chinos may be dressed up, they can never be mistaken for formal pants. So, pairing them with a suit jacket isn't recommended.
Author: Alexander Stoicoff
Hi, I'm Alex, and I've studied and specialized in styling in Rome. Through my writing, I want to help men dress well and learn the purpose and significance of suits and other formal attire. My final goal is to make men more confident in their wardrobe choice and life in general.