It's that cold but splendid time of the year, full of holidays and joy. You have finally picked out the perfect suit, but now you need to add a coat to your wardrobe.
However, you cannot put on your puffer coat and call it a day. The jacket you're wearing may not be the focus of your ensemble, but most people you interact with will see it.
In other words, your coat is the cherry on top, the finishing touch. Here's how to get it right.
Types of Coats to Wear Over A Suit
Just as you can change your suit style by wearing different shirts or shoes, coats have the same ability.
Your appearance can be dictated by the coat type you choose over your suit jacket. Whether you are looking to feel more formal or professional, picking the right choice can help you determine the style.
Topcoat
A topcoat is a very simple, classic style coat. Most commonly single-breasted, it has defined, sleek lines and not much in the way of ornamentation.
Topcoats are distinguished from overcoats, most notably by their size. While overcoats usually extend their length beyond the knee, topcoats fall at or somewhere before the knee.
Another thing that makes topcoats recognizable is the decorative seams stitched at the cuffs and the hem.
Topcoats are generally slim-cut. It is also a warm coat but not very heavy, making it most appropriate for fall and winter.
How to Wear a Topcoat over a Suit
Topcoats are an excellent choice for formal wear. That's because of their clean front look, free from extra pockets or other unnecessary distractions.
A good topcoat will further enhance the sophisticated and contemporary look of your suit.
Therefore, it's best to wear a topcoat jacket with a slim-fit suit since it can best define the suit's sleek silhouette.
Shop the Look
Coat: Navy topcoat by Kenneth Cole.
Suit: Linen light grey suit by Hockerty.
Shirt: Slim-fit white shirt by Calvin Klein.
Tie: Dotted navy-blue tie with light-blue dots by Retreez.
Pea Coat
Peacoats are heavy woolen coats used initially in the navy, usually a quarter shorter than topcoats.
It also has a short, wide collar that is excellent for flipping up to keep the cold off your neck.
A pea coat is always going to be double-breasted. That is the signature style that makes it instantly recognizable.
In fact, they're based on the English reefer jacket and have a style and cut similar to British cut suits.
Peacoats are the least formal jacket styles for suits, so be mindful of the casual message you send when you wear one.
How to Wear a Peacoat over a Suit
A pea coat with a suit may be good for heading into the office on a not-so-freezing day.
That's because they're more open on the rear end, and the suit jacket won't be enough to keep the warmth.
Wear a peacoat jacket with a slim-fit suit for the best aesthetic.
Since peacoats are the least format jackets, it's best to pick a notch lapel suit and match the coat and suit jacket's formality.
Shop the Look
Coat: Blue wool peacoat by Hockerty.
Suit: Slim-fit light grey suit by Calvin Klein.
Shirt: Slim-fit white shirt by Kenneth Cole.
Tie: Solid black tie by QBSM.
Trench Coat
Trench coats are iconic. You immediately know a trench coat because it is double-breasted with a fabric belt and epaulets at the shoulders and is usually in tan or khaki color.
These knee-length coats are not made to keep you very warm and are best suited for spring or fall seasons.
So, bonus points for keeping you dry in the rain. That is thanks to their cotton construction.
How to Wear a Trench Coat over a Suit
Although not necessarily, trench coats are best paired with classic fit suits.
The reason for this classification is the traditional military look they provide, dating from WWI. And one can't neglect the cultural heritage that this classic work bestows.
Keep in mind that this jacket type might be waterproof but is not designed to keep you warm during frigid winter days.
Shop the Look
Coat: Double-breasted khaki trench coat by London Fog.
Suit: Black slim-fit luxurious wool suit by Tomasso Black.
Shirt: Slim-fit white shirt by Hockerty.
Tie: Black striped tie by Retreez.
Overcoat
The classic overcoat is perhaps the most traditional coat to wear with your nicest-looking suits.
In addition, this coat style is longer than most others, which makes it better at keeping you warm.
Overcoats are versatile, so they work well with all suits.
Three basic types of overcoats can personalize your choice and are best matched with a suit: the Polo, the Chesterfield, and the Crombie overcoats. Each of them offers distinct features.
The Polo is the American variant of the famous Ulster coat, best identified by its jacket belt; a Chesterfield is a specific dressy coat, sometimes featuring a velvet collar.
The Crombie coat is known for its simplicity; it has no flourishes.
How to Wear an Overcoat with a Suit
Chesterfield and Crombie are dressy overcoats meant to be paired with suits easily.
Their differences are small, and it's only a matter of personal preference which overcoat you'll pair with your suit.
When buying an overcoat to wear over your suit, I recommend looking for something dressier and as simple as possible.
Also, steer clear of any unnecessary accessories and keep your overcoat free of ornaments.
Shop the Look
Coat: Black wool overcoat by Adam Baker.
Suit: Slim-fit navy suit by Kenneth Cole.
Shirt: Slim fit white shirt by Amazon Essentials.
Tie: Dotted navy tie with dots by Spring Notion.
Single vs. Double-Breasted Coats
Sometimes your choice of coat will dictate whether you end up with single-breasted or double-breasted. For example, peacoats and trench coats are always double-breasted.
Overcoats and topcoats offer flexibility on this style option but go for one that is single-breasted when you can. With this choice, you can leave your coat open if you feel like it.
On the other hand, double-breasted jackets can rarely be left unbuttoned without looking awkward and floppy.
How to Choose the Coat Color Depending on the Suit
In general, a dark coat is best for wearing along with your winter suit. Because darker colors are more formal, a dark coat will ensure you have an appropriate jacket for eveningwear.
However, if you add a second overcoat to your collection, consider adding one suitable for daywear, such as camel.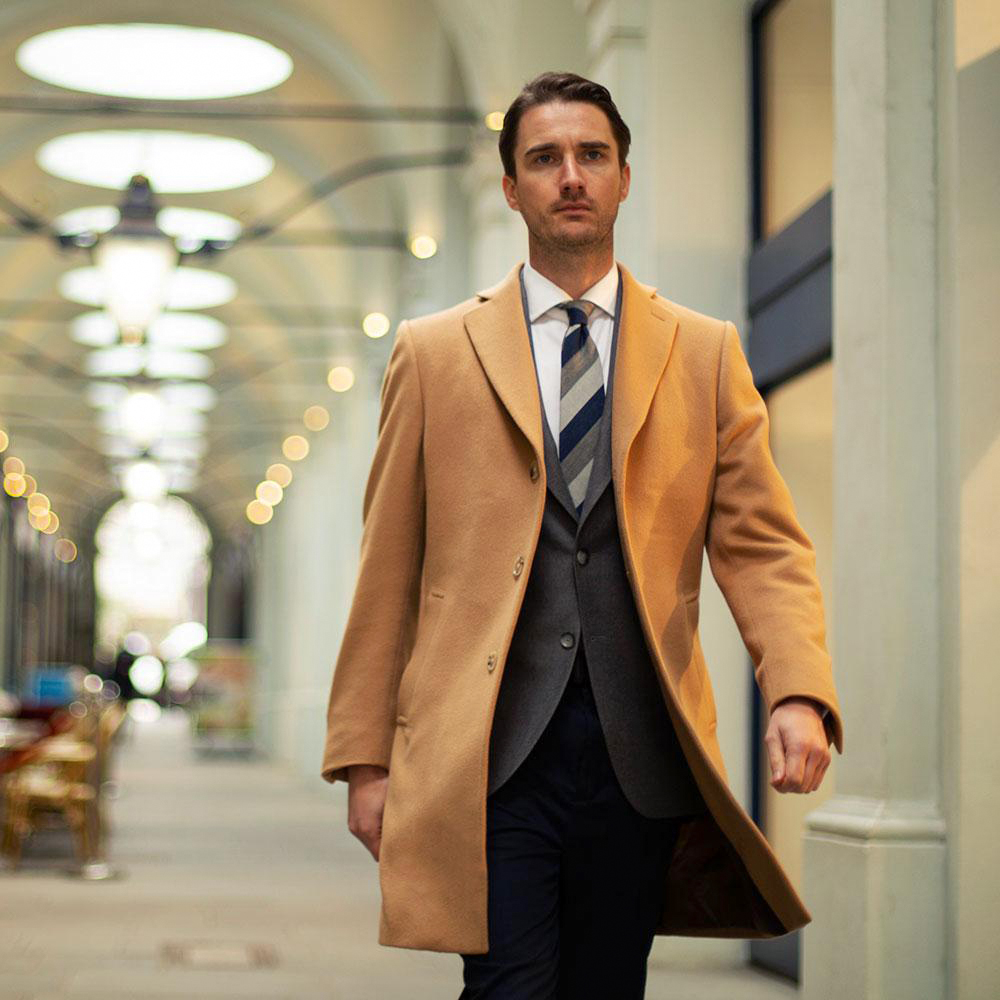 Some coats have a standard color. For example, Pea coats are traditionally navy, and trench coats are most often khaki.
Of course, there are other colors offered, but why veer from the tried and the true?
Stay traditional rather than follow color trends. As a result, you will get more use out of your coat in the long run.
Sometimes you should allow the material of your coat to dictate its color. Some materials and colors just go better together. For example, a camel coat is nearly always a natural color. It just looks best that way!
How Should a Coat Fit Over a Suit
You probably already know that when you purchase a suit, you need to ensure a perfect fit. That's because a good fit is not only comfortable but greatly impacts your style.
The same goes for your coat. Even though the coat isn't the star of your outfit (that's the suit), it still needs to look and feel impeccable.
Gentle Hug When Buttoned
Your jacket should be wide enough that you can comfortably fasten it. It shouldn't feel like you're squeezing it to shut and fit your suit jacket in.
You may not always be wearing your coat with a suit underneath.
So, it's a good idea to fit your coat precisely to your suit. It will allow you to feel comfortable in it, even when you're not wearing the suit jacket.
Again, your coat should still look well-fitted with a suit jacket underneath.
Wear your suit when coat-shopping to avoid sagging without your suit jacket on or too tight of a squeeze.
Proper Sleeve Length and Size
Your coat sleeves should fall to just below your wrist. Depending on the fit, your suit jacket or dress shirt can slightly peek below the overcoat.
Your overcoat can always be tailored to get the proper length but remember to go easy on the sleeves.
You can always take in some length, but you can't add fabric to lengthen them!
Should Not Restrict Movement
Your shoulders should be able to move freely. Try circling your arms and crossing them in front of you. If those simple movements aren't easy, then try a larger coat size.
Can you breathe normally when you button up the coat? If you answered yes, then all is good!
It's Long Enough to Cover the Suit Jacket
This is just common sense. If the bottom of your suit jacket is sticking out underneath the hem of your coat, it will look goofy. You want to cover the rear end of your suit completely.
Different Types of Coat Fabrics
When you are looking to buy a cover jacket for your suit, it is important to know when and where you will be wearing it.
If you need a coat for spring instead of winter, it will mean choosing a very different fabric.
Wool
Are you looking for something that will keep you very warm? Wool is a first-rate choice. Wool is a very durable material; the coat will last for a very long time.
Worsted wool is the best quality for your coat because it will stay looking nice and will not pill.
Cashmere
Cashmere is equated with total luxury, and for a good reason. It is so light and soft that you won't ever want to take it off. Cashmere is also warmer than wool.
There are some downsides, though. Cashmere is very pricey and is not terribly hard-wearing.
If a delicate fabric isn't something you want to pay a high price for, try a wool/cashmere blend.
Cotton
Cotton is an outstanding material for a light jacket, such as for a trench coat. It is ideal for spring or autumn wear because it doesn't offer much warmth.
Unlike wool and cashmere, cotton is a very washable material. It is easy to maintain, and you needn't worry much about the elements getting it dirty.
Camel Wool
If you are looking for a material similar to cashmere but much less pricy and more lasting, consider camel wool. It offers similar warmth and softness without drawbacks.
In addition, camel wool almost always comes in its natural color, tan.
Alpaca Wool
Alpaca is another offering in the natural fiber category and another fleece that isn't from sheep. It is more expensive than standard wool, but it is also incredibly soft. It makes an excellent addition to wool blends.
Common Coat Over Suit Mistakes
The number one overcoat mistake is a poor fit. If it isn't streamlined, it will look too boxy and unflattering.
Unless you have opted for an overcoat, do not let your coat go past your knees. A good length is crucial in achieving a sleek silhouette. Anything too long will look too large on you.
An unseasonal coat is pretty useless. If you're wearing a heavy wool overcoat on a warm spring day, you will sweat and feel uncomfortable. Heavens, you will make all of us uncomfortable for you!
And finally, it should not be overly trendy, with a bunch of flourishes and embellishments. Please keep it simple! A classic coat will last you many years.
Author: Alexander Stoicoff
Hi, I'm Alex, and I've studied and specialized in styling in Rome. Through my writing, I want to help men dress well and learn the purpose and significance of suits and other formal attire. My final goal is to make men more confident in their wardrobe choice and life in general.