Back in the day, wearing sneakers with a suit signaled that you had a long commute and wanted to be comfortable until you got to your office.
Today it means that you know how to be fashionable and comfortable at the same time!
While sneakers with your suit aren't always acceptable, there isn't any reason you shouldn't be able to slip on your kicks while rocking a relaxed suit for a social setting.
Where to Start: Basic Guidelines
As exciting as it is to break the fashion rules you've always known, don't just jump in feet first.
Before you toss on your Nikes and hit the streets, let's go over some proper do's and don'ts for adding these casual shoes.
The first avenue to creating a successful suit and sneaker outfit is to find a balance between dressy and informal. Your ensemble will work best when you can create a compromise between your suit and your shoes.
This requires planning and a touch of know-how, but once you get the idea, you can run with it (and faster since you'll be wearing sneakers!).
The Suit's Cut
The suit cut can either work with or against your sneakers. For instance, large and loose trousers can quickly turn into looking sloppy.
It's best to avoid this look because sneakers can quickly end up looking sloppy if you aren't cautious. Put the two together, and they can look quite a mess.
So your best approach is to start with well-fitted, slim-fit trousers. A slim outline of your pants will ensure they don't swallow or overwhelm your sneakers.
Don't go for a deep break at the ankle; either a slight break or a cuff works best.
Wear a Casual Suit
It's easy advice to say you should wear a casual suit when you're incorporating casual shoes like sneakers. But a good question is: what makes a suit casual?
One trick to helping you look more laidback is wearing an unstructured suit jacket. Without the standard canvassing and interlining, your suit will drape much more naturally against your body.
Color and texture also play a role in how casual your suit is. Darker shades are more formal, and neutral ones can even be on the more reserved end.
Try a light shade or an unexpected suit color; neither would be acceptable in formal settings.
Additionally, a material that provides some texture loosens up the look. Flannel, corduroy, cotton twill, and linen are all nicely textured fabrics that lower the formality of suits.
Consider Separates
Swapping out your suit for a separate blazer and trousers nicely breaks up the stiffness of the suit.
Blazers typically hang more naturally than suit jackets; they also lower the formality because they break up the unified color.
Blazers often have some texture to them, so that's another automatic lowering of the formality of your outfit.
Different Types of Sneakers to Wear with a Suit
Sneaker styles are so varied that you could wear a different kind every day of the week without any repeats.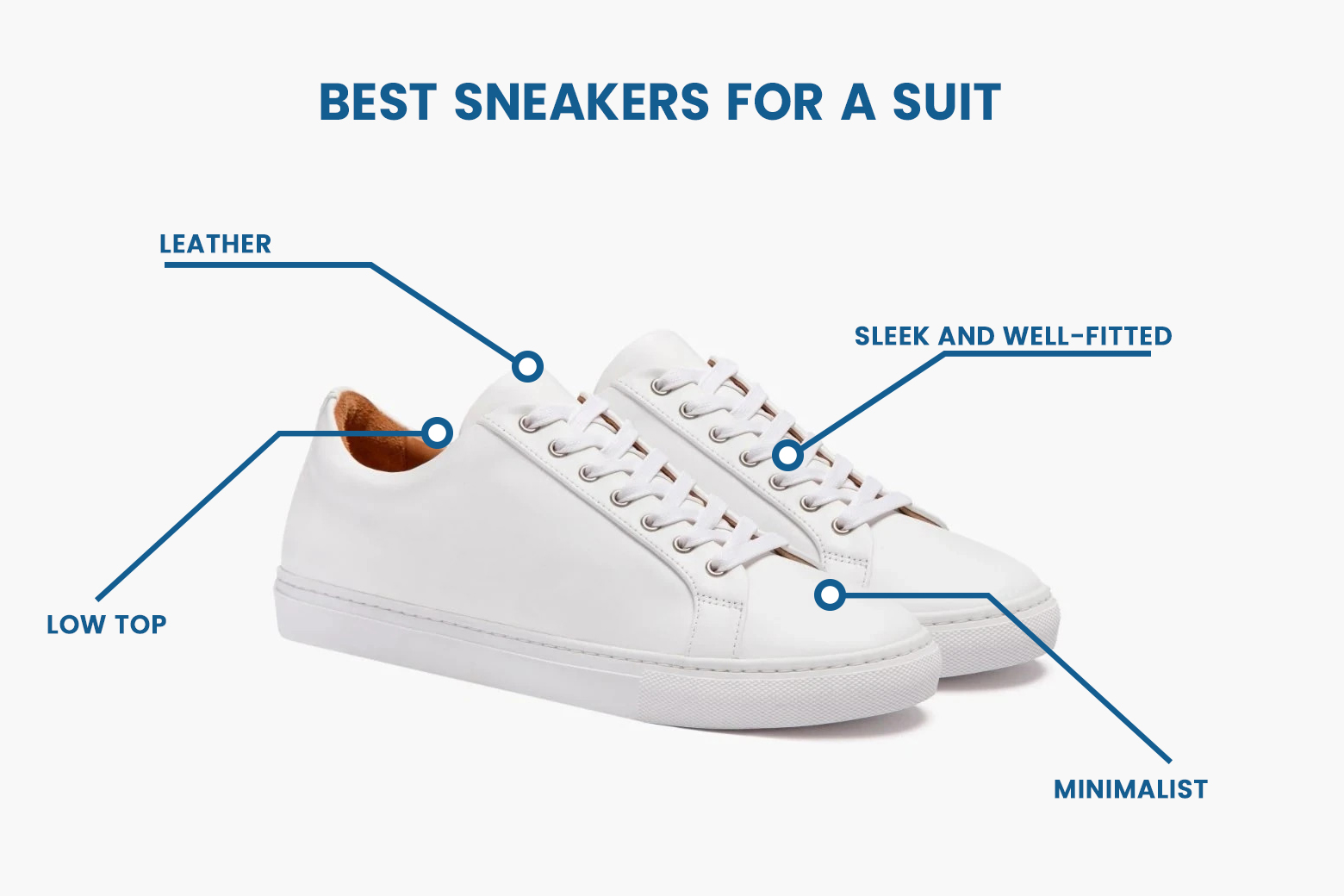 However, when wearing sneakers with your suit, your best approach is to opt for a minimalist style, something simple and neutral. You don't want a lot of detailing going on that will compete with your suit.
A sleek pair of sneakers can be similar to a leather men's dress shoe. It's a great trick if your sneakers invoke a pair of dress shoes while remaining firmly casual.
Also, low-top sneakers are preferable. High tops could interfere with the hem of your suit pants, ruining your perfect line.
Sneakers and Suit Color Combinations
Black or white sneakers are nearly always a win with your casual suit, depending on the color of the suit. But sometimes, it's wholly appropriate to shake up the norm with a splash of color.
Of course, the cut and color shade of your suit contribute to the overall effect of the outfit, but these color combinations are generally the best:
White sneakers: grey, navy, tan, blue, or maroon suit.
Black sneakers: black, grey, or green suit.
Grey sneakers: grey, blue, or navy suit.
Brown sneakers: brown, grey, navy, or tan suit.
Navy sneakers: grey, tan, or navy suit.
Burgundy sneakers: grey, brown, navy, or black suit.
Different Ways to Wear Sneakers with a Suit
Once you get the rules down, it's time to put your new knowledge to work. Now it's time to perfect your suit and sneaker matching skills.
These are some suggestions, but there are many other combinations out there. Feel free to experiment and play with looks until you find the perfect style for you.
Dark Suit with White Sneakers
Dark color suits traditionally signal formal, but that's no reason you can't give it a playful little wink by adding sneakers.
Likewise, you can make the suit feel less formal with a t-shirt instead of a button-up shirt.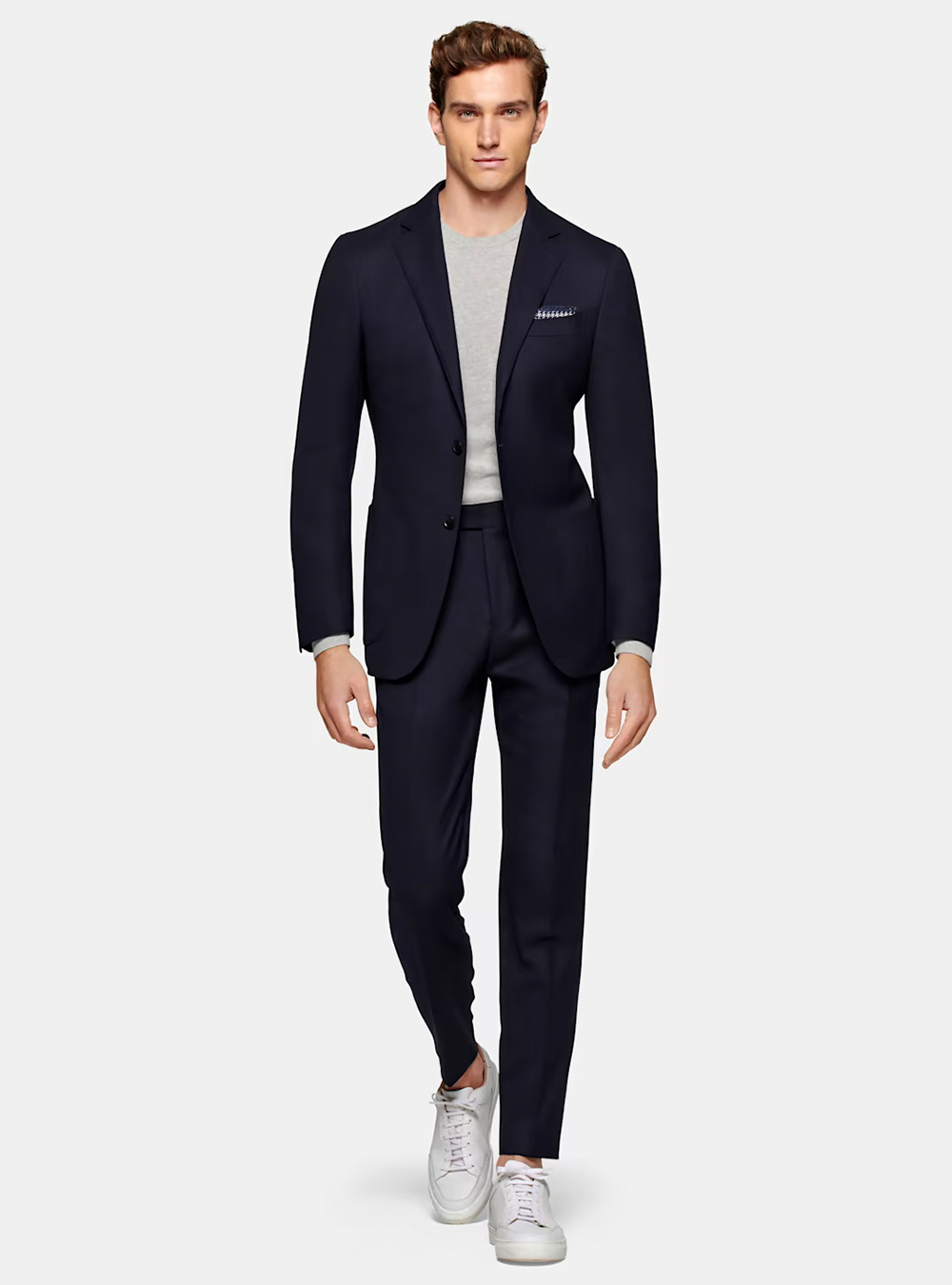 A navy suit with a white t-shirt and white sneakers is a perfect example of how to find a playful way to style this typically professional outfit.
You might surprise others with the unexpected bright flash of color on your feet.
Complementary Color Combination
Pick a suit that you can pair with a complementary color shirt. For example, one excellent pairing would be a casual tan or beige suit with a burgundy polo shirt.
The light neutral shade of the suit makes it reasonably informal, and a polo shirt also reduces the outfit's formality.
Putting your ensemble together in this fashion makes it easy and fun to match your sneakers; you can pair them to match the color of your shirt.
This creates a super symmetrical look. It helps that the tan and burgundy blend well together naturally, avoiding a tremendous contrast.
Sneakers & Colorful Suits
Step outside the norm and slide into a colorful suit, like burgundy or blue. Then, cement your look with white or grey sneakers.
Each color will have a different effect on your suit; white sneakers will make the color of your suit pop, while grey ones will subdue it.
Both approaches are a fun way to incorporate sneakers into your suit wardrobe.
Here's another way to play with your look: your shirt. A dress shirt looks nice but can get boring; it's what's expected.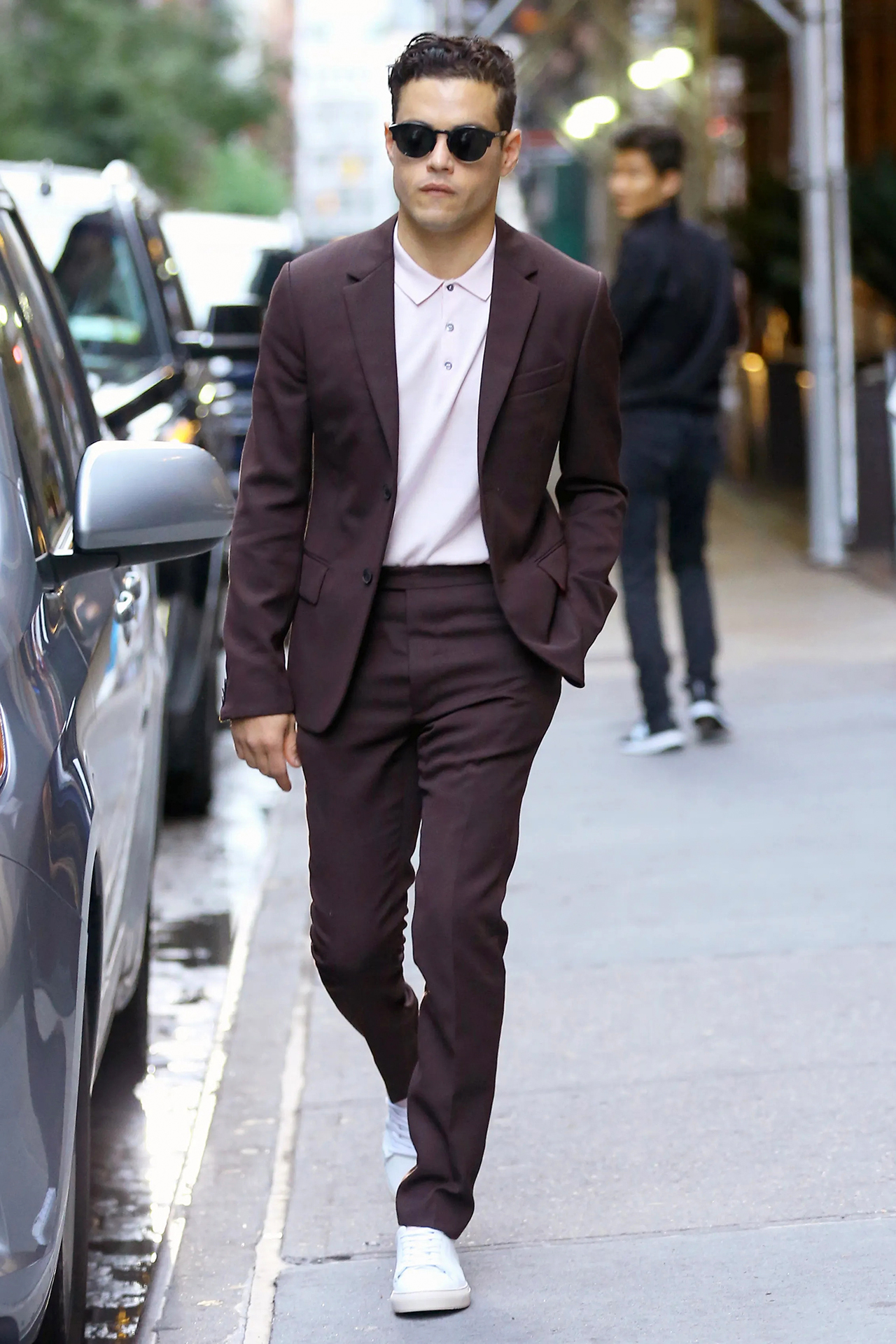 Instead, make your outfit more interesting with an unusual top under your suit jacket. A Henley shirt is unique, and so is a polo or a V-neck t-shirt.
Neutral Suits and Sneakers
Perhaps the easiest suits to style are neutral-colored ones since they can easily sway either dressy or casual. Grey is the perfect example of that.
A pair of light grey sneakers perfectly complement a medium grey suit.
Notice that you don't need to go all in on monochrome. Instead, differentiate your pants and your shoes by slightly varying the tone.
How about tweaking your suit with a colored shirt? White is always a win, but you could also wear black or a light blue shirt for a change of pace.
Separates for a Modern Flair
Time to play mix and match! Ensure a more casual vibe for your clothing when you embrace separates.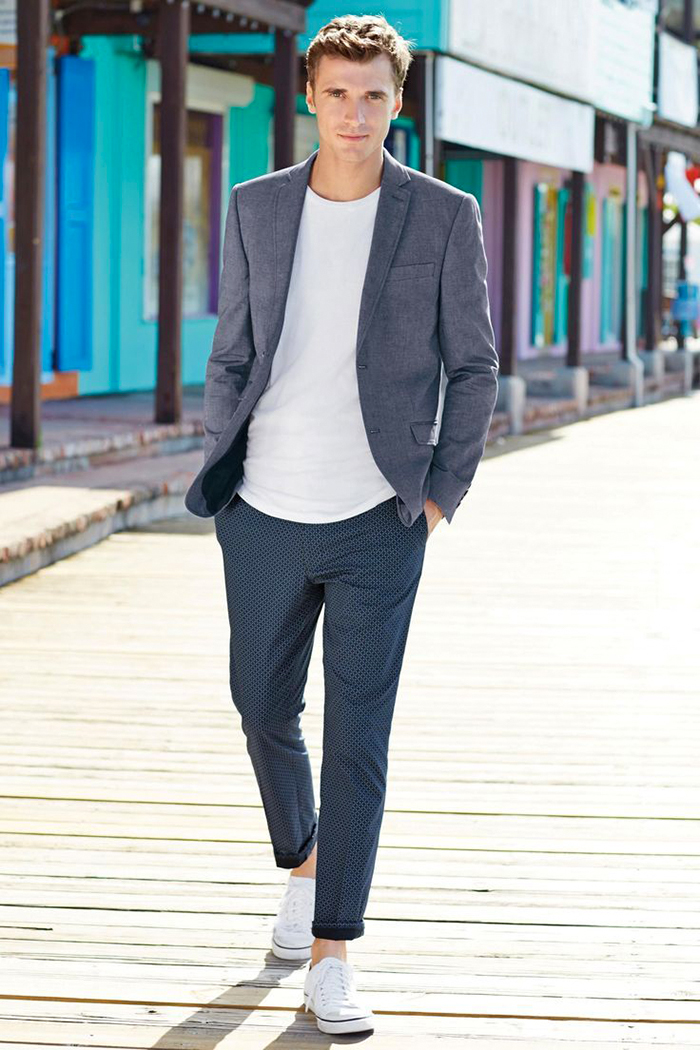 Split up your suit and wear the pants with a blazer, or wear the suit jacket with more casual slacks.
You don't even need to begin with a suit; grab a blazer and some chinos for a relaxed semi-formal outfit.
A grey blazer and tan chinos pair really well with brown or navy sneakers.
Patterned Suits with Runners
You don't need to reserve your retro runners for only playing sports. In fact, they make a great addition to a pinstriped or plaid suit!
It's fun to express yourself by combining vintage and modern. Retro runners take the old and make them feel fresh and new again.
These sneakers are playful by nature, so highlight them with a lively patterned suit.
You can avoid looking overly busy with tonal colors, keeping your sneakers the same shade as your suit.
Plain T-Shirt to Keep it Casual
Fighting the informality of the t-shirt is a losing battle, so let it go to work for you by adding it to a suit. Its entire purpose is to be casual, so it's a shortcut to making your suit less dressy!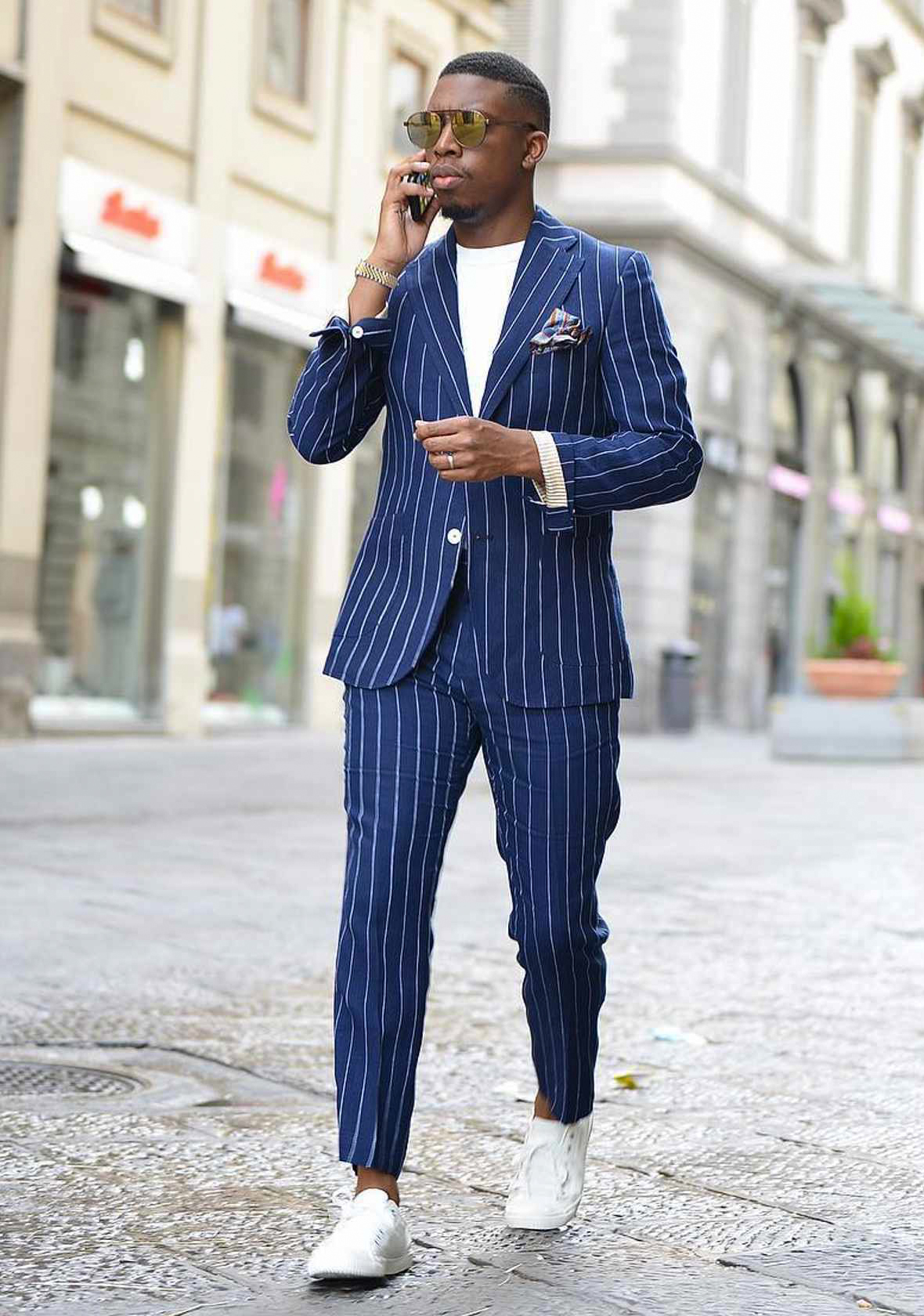 But you can't just grab any ole' t-shirt, though. You need to work with the suit, not against it.
So follow suit's lead and aim high with your t-shirt; it needs to be clean, solid, and well-fitted.
The right t-shirt will give your suit an instant makeover. Your choice of shirt and sneakers can prove to be the proper balance for lowering your suit's formality.
Polo Shirt or Turtleneck for a More Stylish Look
Adding an informal collared shirt, like a polo, is more stylish and sophisticated than wearing a t-shirt. It looks smart without being too formal.
For colder days, you can achieve the same sophistication by swapping the polo shirt with a turtleneck.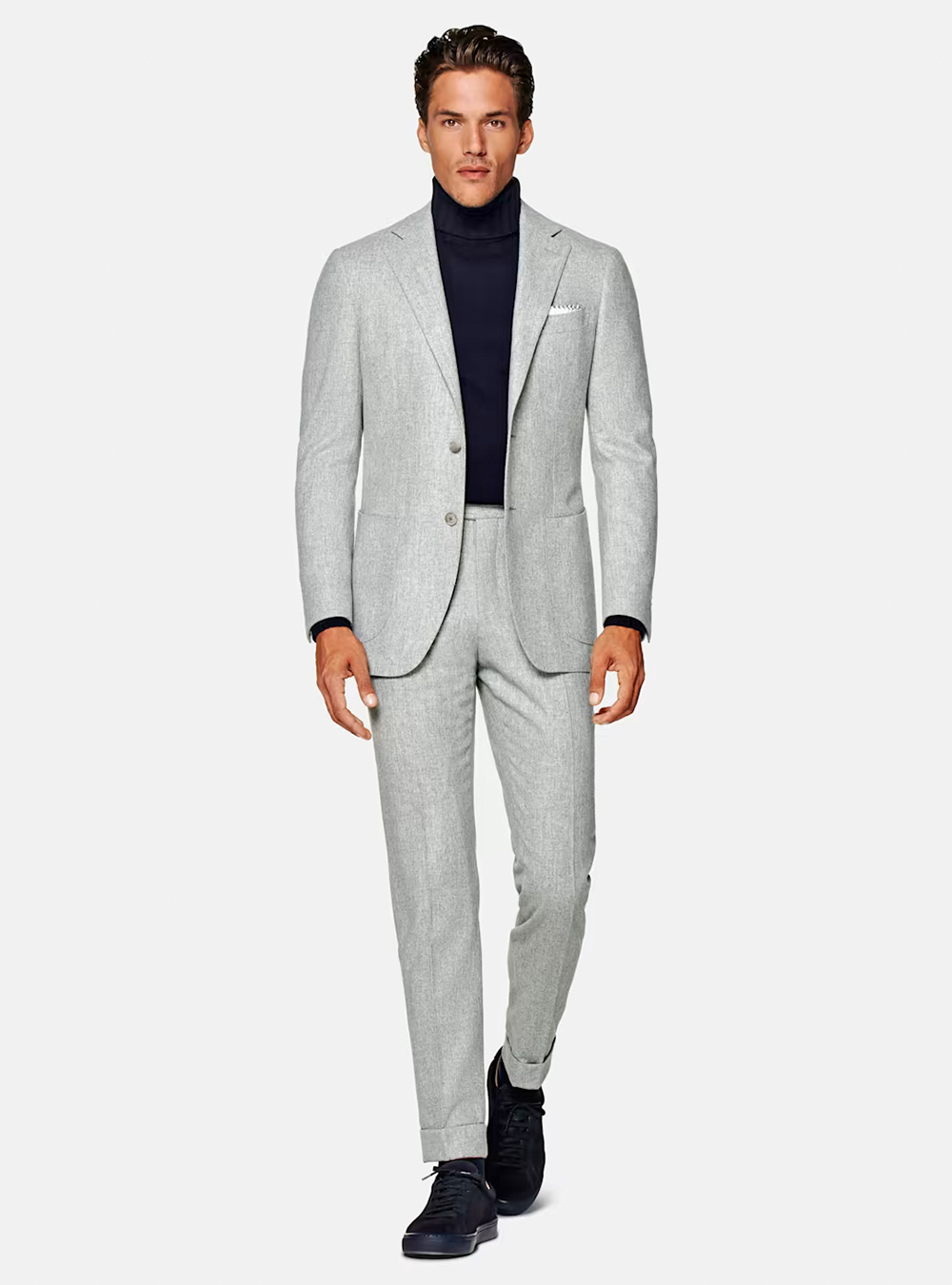 You can wear a contrasting turtleneck or a similar shade to your suit for a monochromatic look. Both color schemes pair amazingly with sneakers.
A turtleneck under a suit jacket isn't an uncommon pairing. However, most men forget how stylish and smart this combination looks.
Wear a Dress Shirt to Elevate the Formality
And yet, sometimes you really do want to lean into the dressy side of wearing a suit with sneakers.
Either a button-down or a button-up dress shirt can pair very well with the right sneakers and suit combination.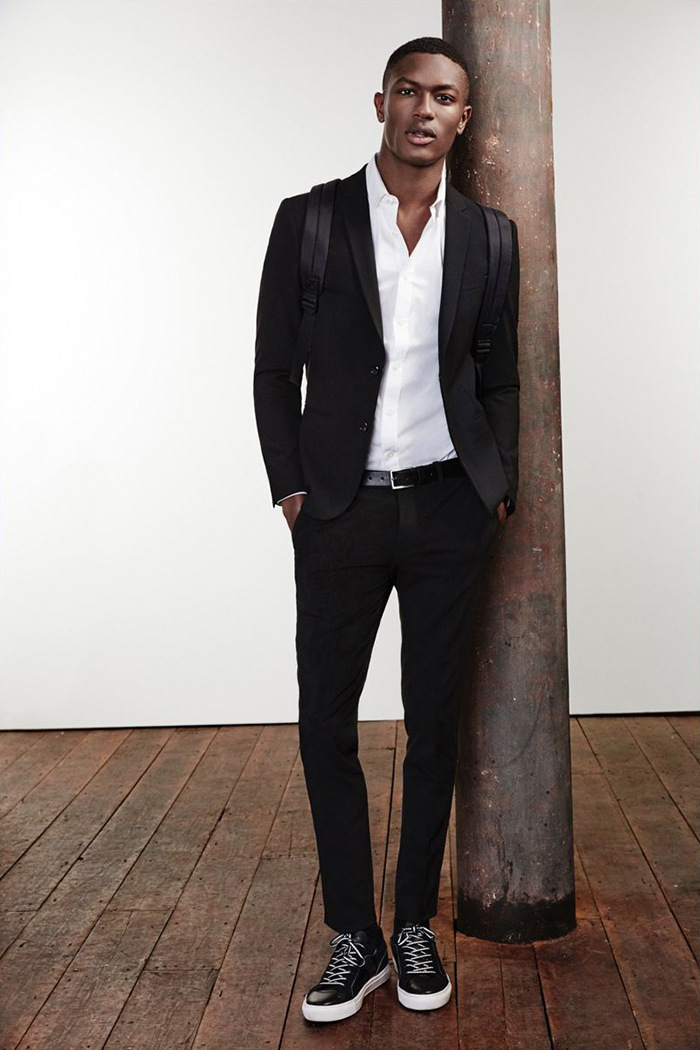 Avoid wearing a white dress shirt, since that will make your suit as formal as possible. Instead, find a colored shirt that looks good with your suit.
For example, you can wear a pale pink button-up shirt with your light or medium grey suit. Keep the collar unbuttoned and loose.
Patterned Shirts for Sophistication
A patterned dress shirt finds the perfect symmetry between the casualness of sneakers and the dressiness of solid button-up dress shirts.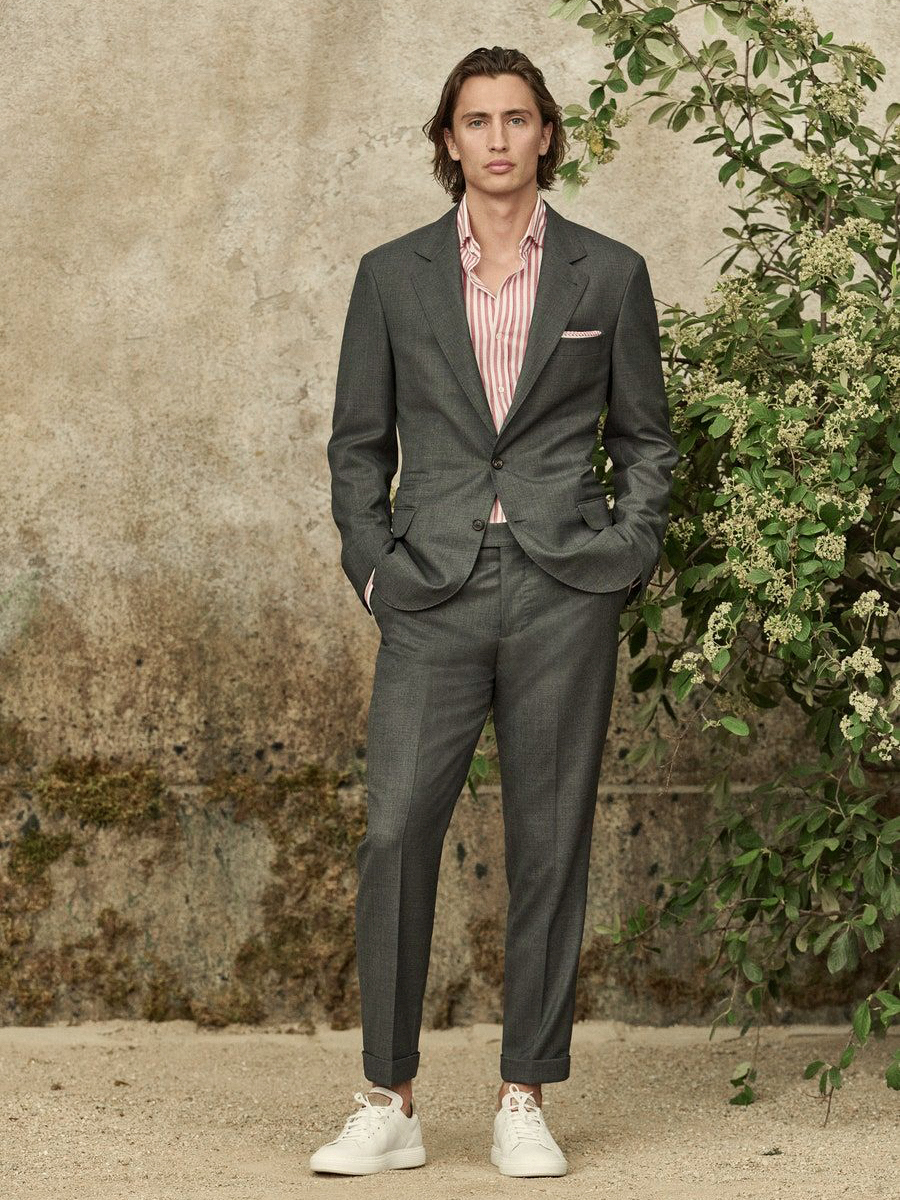 You're still wearing a dress shirt, but the print on the shirt knocks the formality level down a peg or two.
The larger the pattern, the more casual the shirt is. The more color that you incorporate, too, will make it more casual.
A Linen Suit & Sneakers for Summer
Most men would agree that getting dressy in hot weather sucks. Nobody wants to put on stuffy dress shoes when they'd rather be comfortable in flip-flops.
When you can't expose your toes, sneakers are the next best thing.
The linen suit is much lighter than the standard wool that most suits are made of.
That's why linen is a first choice suit fabric for summer; it avoids the heaviness of your other suits. In addition, the material breathes well, allowing the air to circulate through your suit and cool you off.
Because of its texture, linen also looks less formal, making it natural to pair with sneakers.
A blue linen suit with a white t-shirt and white canvas sneakers is one of the best examples of a dressed-down suit.
Double-Breasted Suits with Sneakers
Double-breasted suits are pretty darn dressy, so it may not feel natural to you at first to pair them with sneakers. However, this can be an excellent fashion-forward win.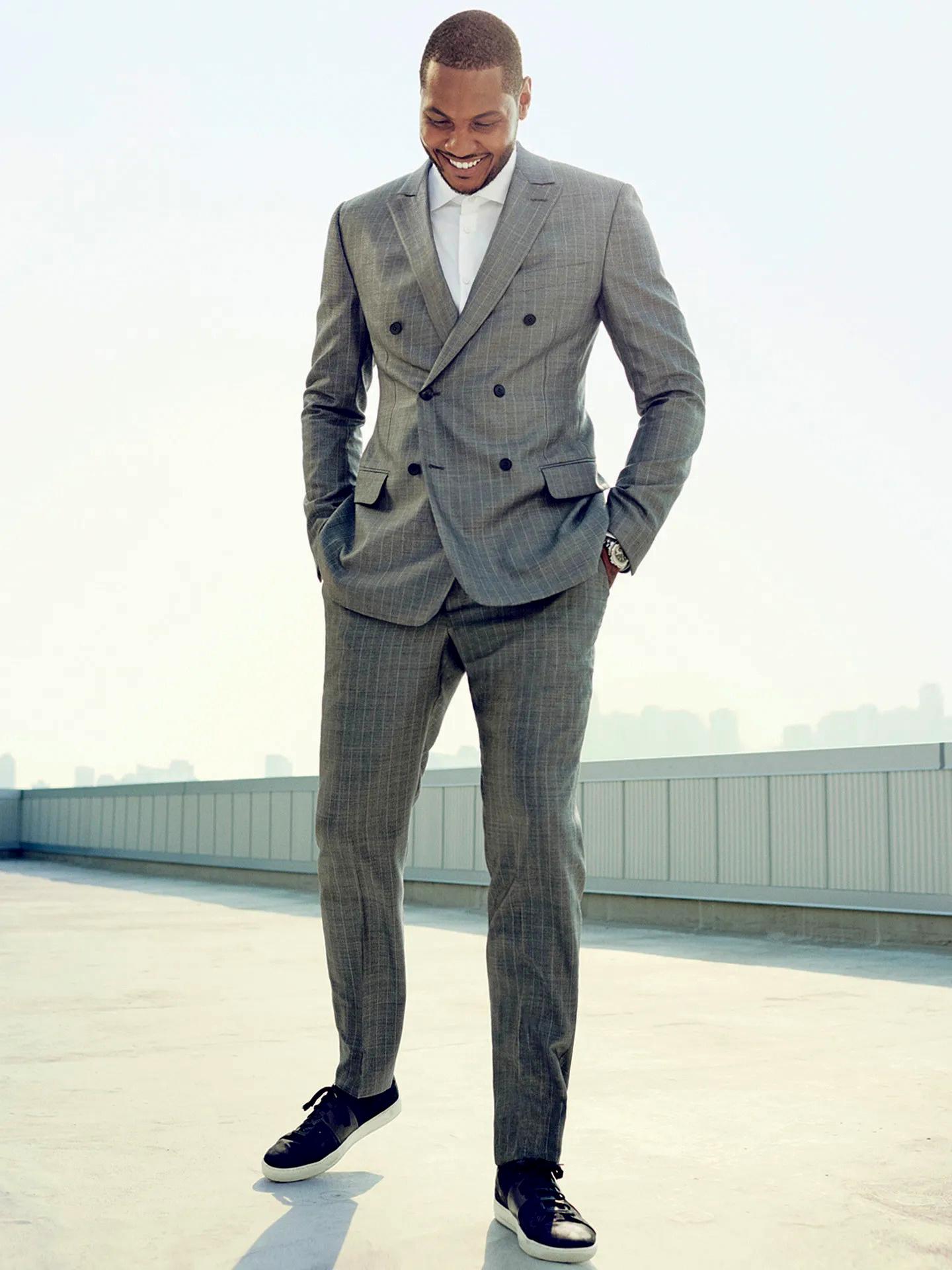 The secret to pulling this look off is to have a suit that's a modern, slim-fitted cut.
It can be tricky to dress down, so opt for a t-shirt or a button-down open at the neck. The texture is your friend here, so incorporate that where you can.
A double-breasted suit makes a bold statement but pays off in spades.
Who Can Wear Sneakers with a Suit?
This style embraces everybody! Anybody can pull off this look, regardless of age, gender, or body type.
This style is more about finding the right balance in the separate pieces than who looks good in it. Everybody can look good in sneakers!
As long as you keep in mind the formality of your setting and stick to the guidelines, you are a shoo-in (sorry, I had to!) for sneaker and suit success!
Author: Alexander Stoicoff
Hi, I'm Alex, and I've studied and specialized in styling in Rome. Through my writing, I want to help men dress well and learn the purpose and significance of suits and other formal attire. My final goal is to make men more confident in their wardrobe choice and life in general.