It may go against everything you've learned about suiting up, but wearing a sweater with a suit is an impeccable way to put a twist on a standard office favorite.
A sweater softens your appearance and still looks professional when styled correctly.
So don't let winter weather get you down; layer up with a sweater and suit jacket for extra panache and warmth.
Basic Essentials & Tips
There are a few basics to keep in mind when pairing a sweater with your suit.
Of course, the style of your sweater and the type of suit matter greatly. But things like your sweater's weight and color are also essential.
You need to choose the right sweater color to create a slight contrast with your suit jacket.
In most cases, it's wise to avoid overly bold shades. Neutral is always a winner but typically aim to avoid tonal shades unless aiming for a more conservative look.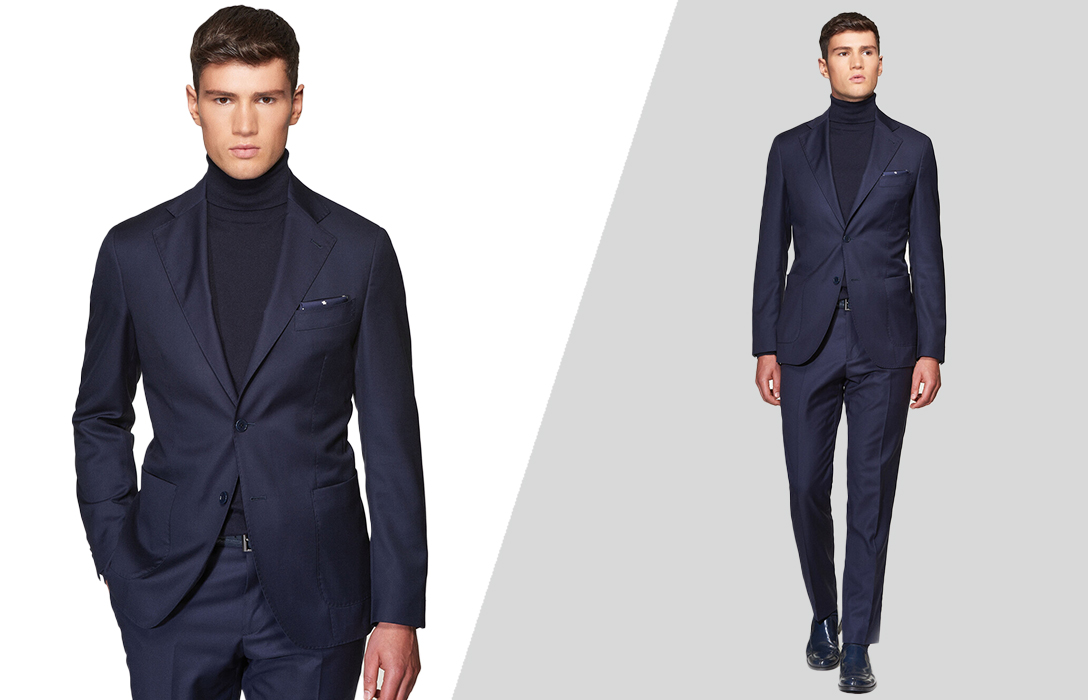 You don't want to look bulky or puffy when putting a blazer or suit jacket over your sweater. Thick layers have a way of very quickly padding you out.
That's why it's best to avoid chunky knits in favor of lightweight ones.
The Sweater Type is Important
The types of sweaters that work well under your suit include a cardigan, turtleneck, V-neck, and crew neck.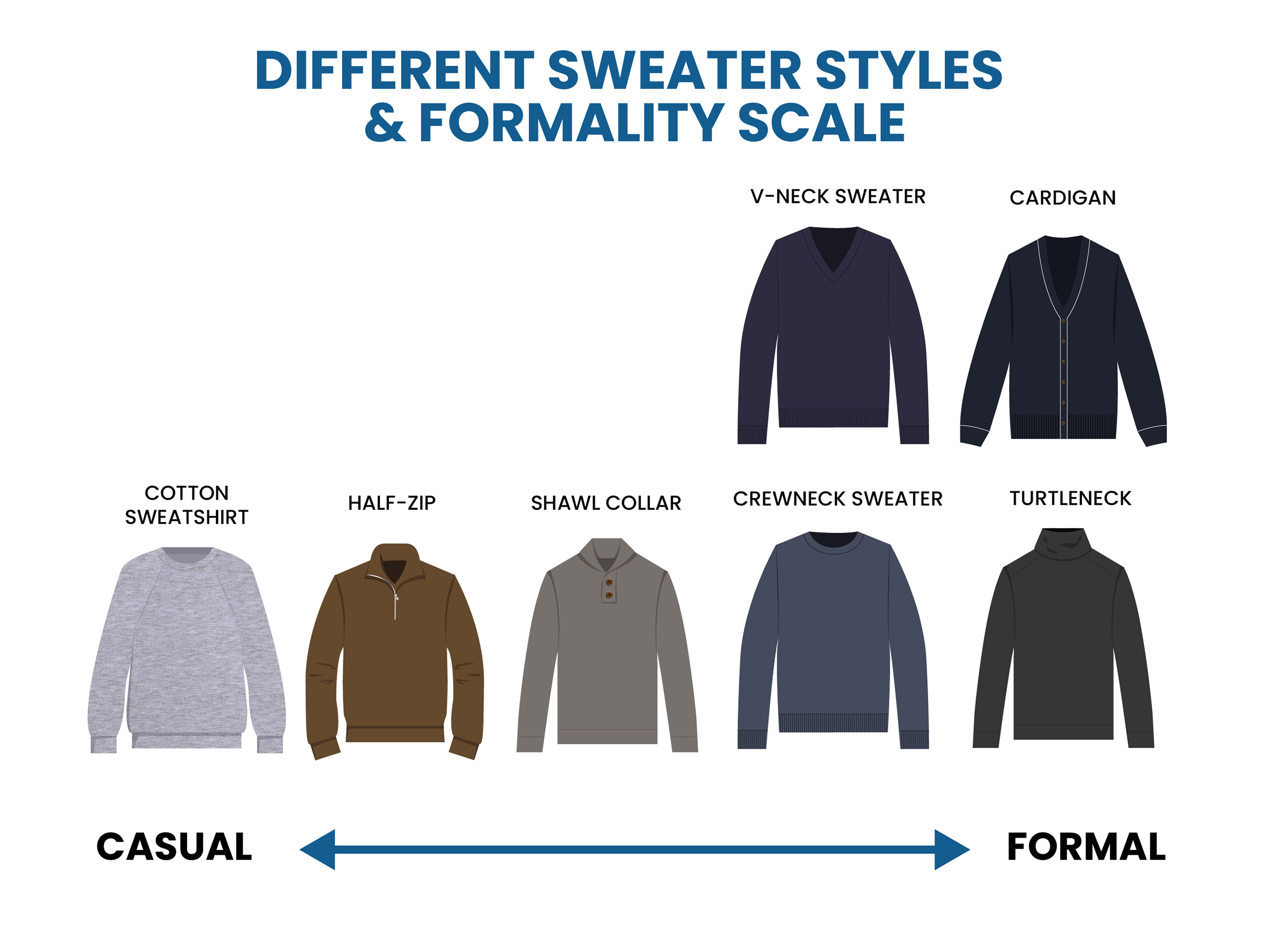 They all offer a similar formality but create different styles and provide varied versatility.
Any choice of these four sweater styles lends a swanky, sophisticated sort of informality to your suit; each has its own vibe.
For example, crew neck sweaters are a good choice in general; they are pretty simple to style and work into any outfit.
On the other hand, cardigans show off your dress shirt the most and go very well with a tie for a professional look.
V-neck sweaters are also good with a tie but are slightly less relaxed than cardigans are. And turtlenecks look sleek and minimalist, creating an elegant silhouette.
Separate the Jacket & Pants for a Casual Approach
When you want to ensure that your style is more casual than professional, split up your suit. Try out separates for a change of pace.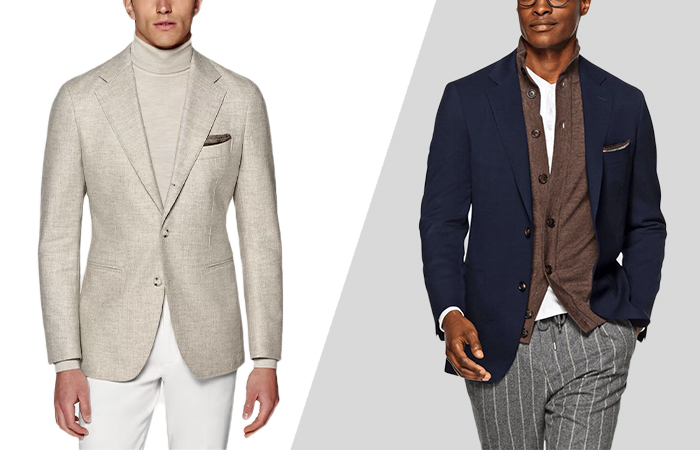 When you break up the solid color of your suit, going with a different shade of suit jacket and trousers, you end up with an outfit less formal than your full suit.
This is a perfect way to create several new combinations of outfits without needing to go out and buy more suits.
Suit Jacket with a Crew Neck Sweater
Crew neck sweaters are the most versatile sweater to wear with your suit jacket. There are so many ways to match it, and it's always appropriate for any setting that isn't formal.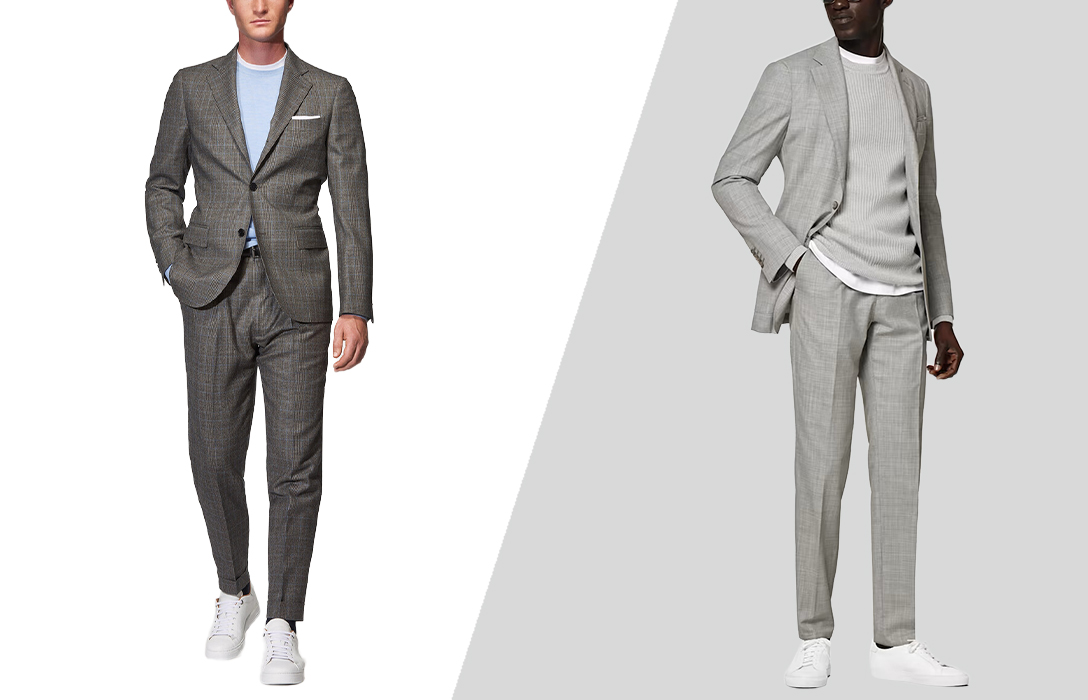 That grey suit hanging in your closet makes an excellent foundation piece to wear with a crew neck sweater because it works with nearly any color combination.
You can err on the subtle side with a navy crewneck, giving your outfit a professional and conservative tilt. Derby shoes are a perfect finish for this outfit.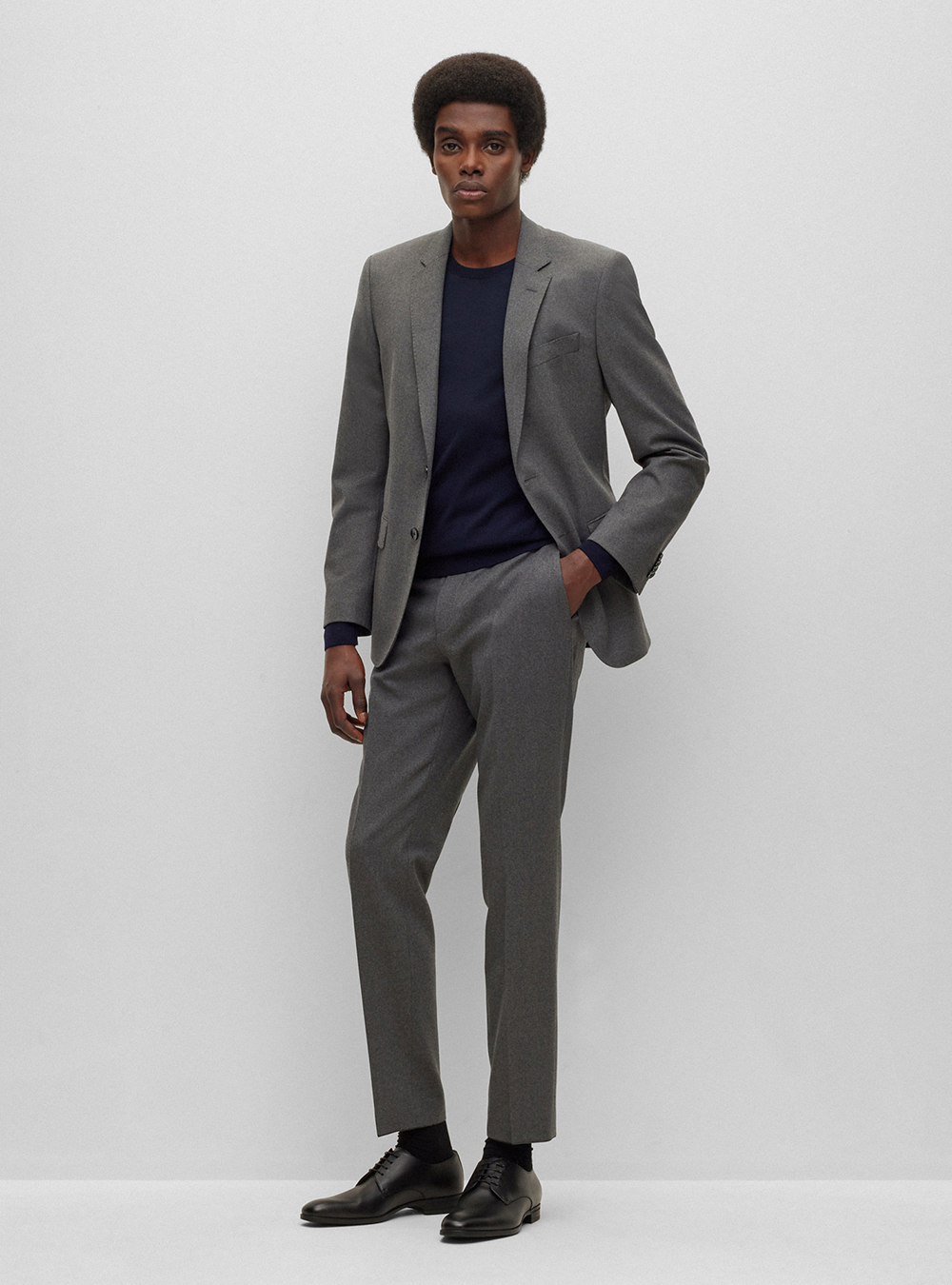 Of course, just because your sweater has a high neckline doesn't mean you need to keep your style conservative.
Instead, you can get bold with your color choices. For example, a navy suit can work just as well with a burgundy or lavender crew neck sweater.
Of course, a sweater with a suit is slightly unorthodox to begin with, and an unexpected color choice is bound to catch people by surprise.
Double monk straps are the ideal shoe to keep this outfit fashion-forward.
Still feeling bold? Try out a patterned sweater with separates.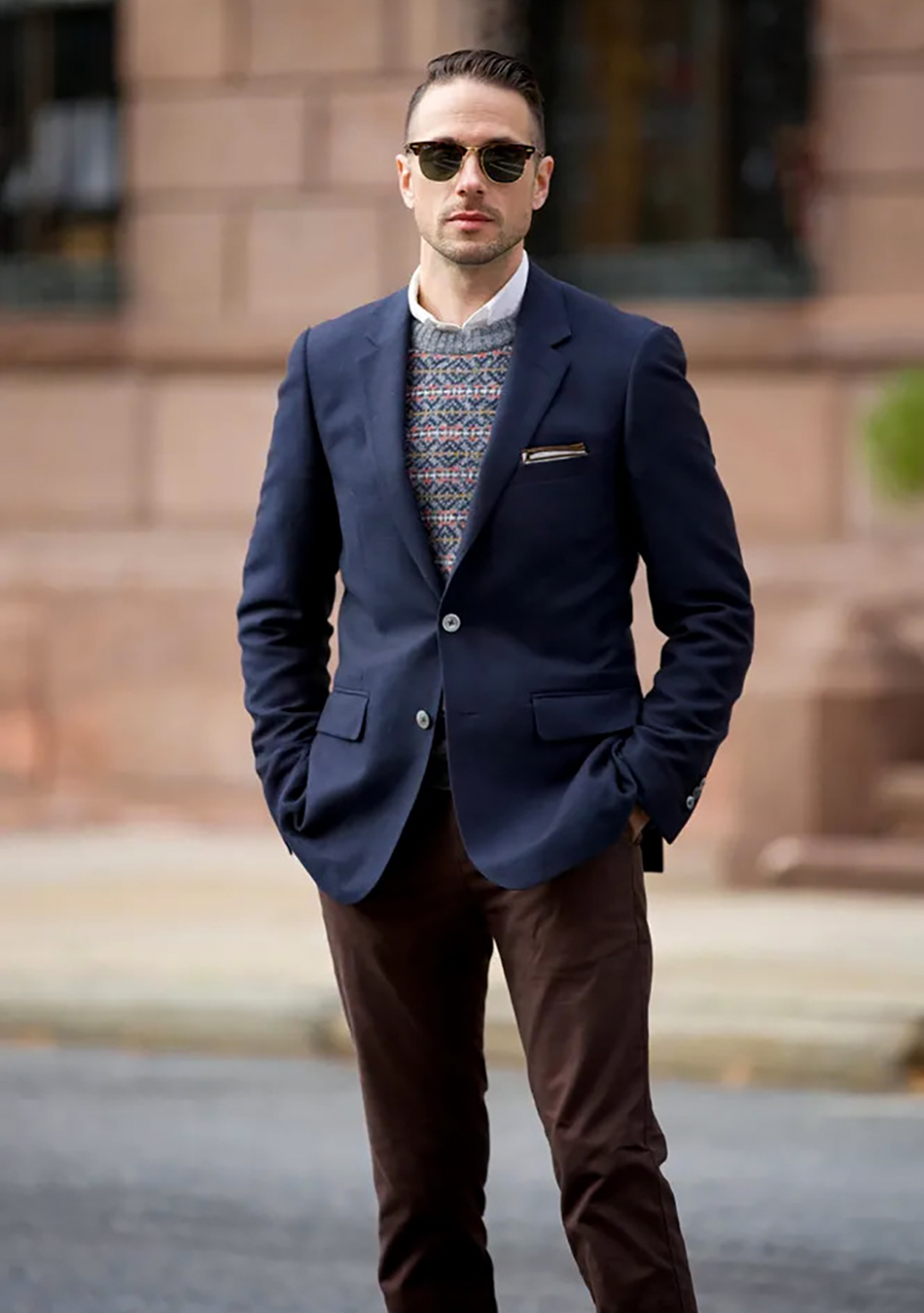 Keep all your colors neutral with this outfit to prevent your appearance from looking too busy. Let your sweater do the heavy lifting here.
An ideal middle-of-the-road style, however, is a navy suit matched with a burgundy or gold crew neck sweater. The color combination is bold yet complements each other beautifully.
Suit Jacket and a V-Neck Sweater
A V-neck sweater is an exciting addition to a suit and can be slightly less sober than a crew neck.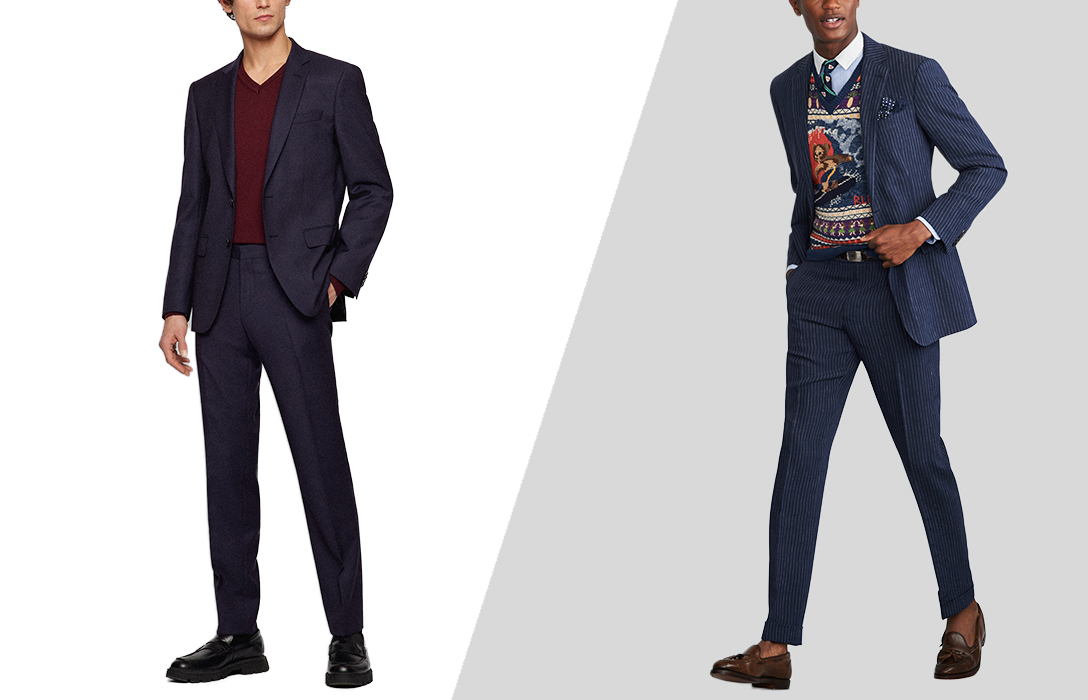 Although a crew neck can leave off the dress shirt, you should wear a shirt under a sweater with a v-neck.
One way to pair this sweater is with a tweed suit jacket; the textures are a natural complement to each other.
Try a light brown tweed jacket with an oatmeal v-neck sweater and light-colored chinos. It's an utterly laid-back outfit that manages to look impeccably put together.
Chukka boots or Chelsea boots complete this style perfectly.
Or aim a little more upscale with a navy suit and grey v-neck. A white or light blue dress shirt is the best match for underneath, keeping it more dressy.
Brown oxfords or loafers add the final touch.
Or turn this outfit entirely around and make it surprisingly casual by eliminating the dress shirt and substituting a white t-shirt.
You can swap out your oxford dress shoes for white canvas sneakers, and you have an effortlessly chic ensemble.
Another smooth variation is a black or charcoal grey suit and a medium grey v-neck.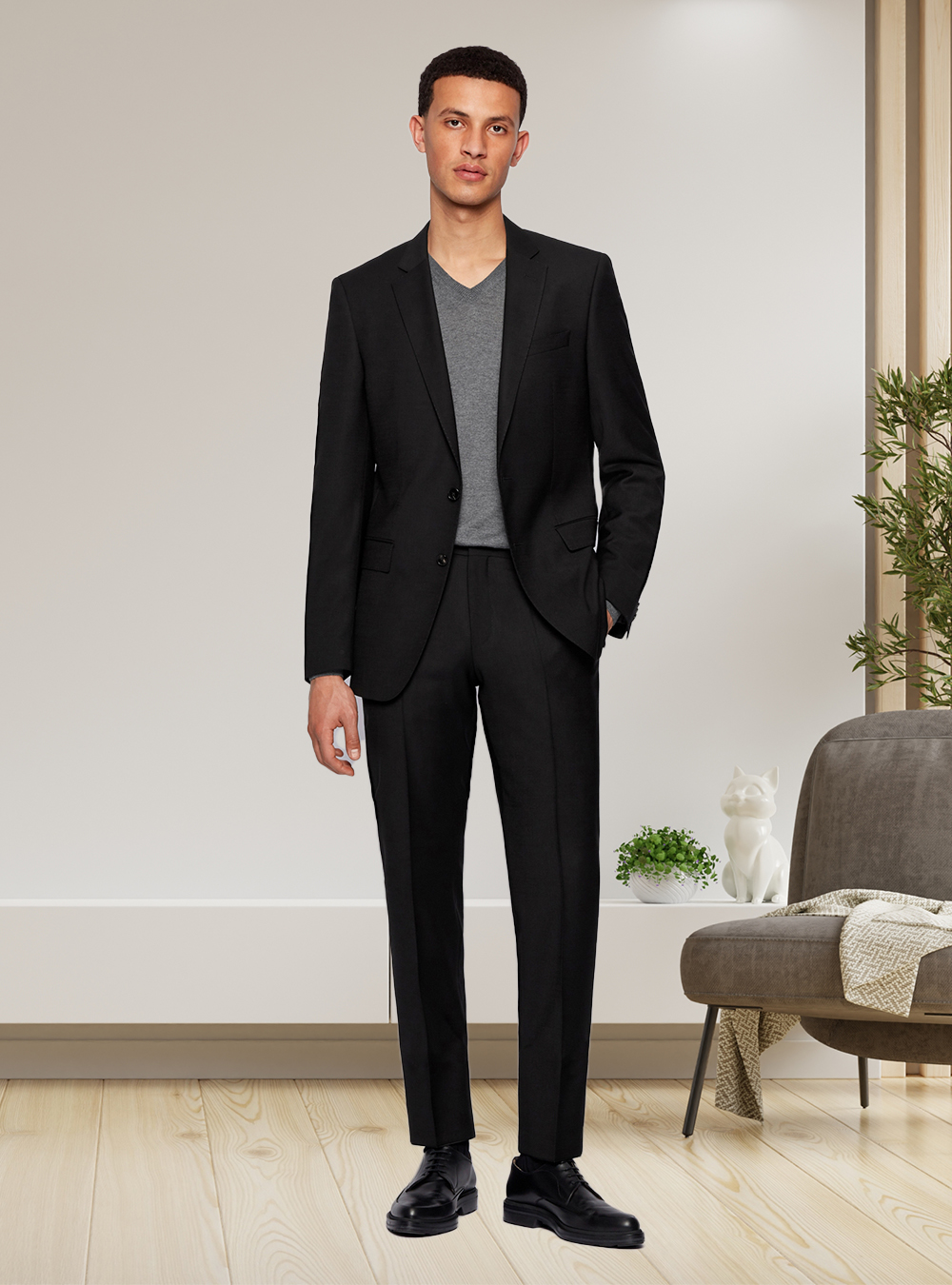 You can keep the look neutral with a white dress shirt or break up the color scheme with a blue or pink dress shirt.
Finally, dark brown brogues are a classy, contemporary way to conclude this outfit.
Blazer and a Turtleneck Sweater
Perhaps one of the most sophisticated ways to pair a sweater with a suit is with a turtleneck. This combination is remarkably suave.
The way to ensure that this look is always elegant and chic is to choose a dark, lightweight turtleneck. It can be untextured or have some ribbing.
One favorite way to pull off this look is by wearing a black turtleneck under a navy or charcoal suit or a navy turtleneck with a charcoal suit.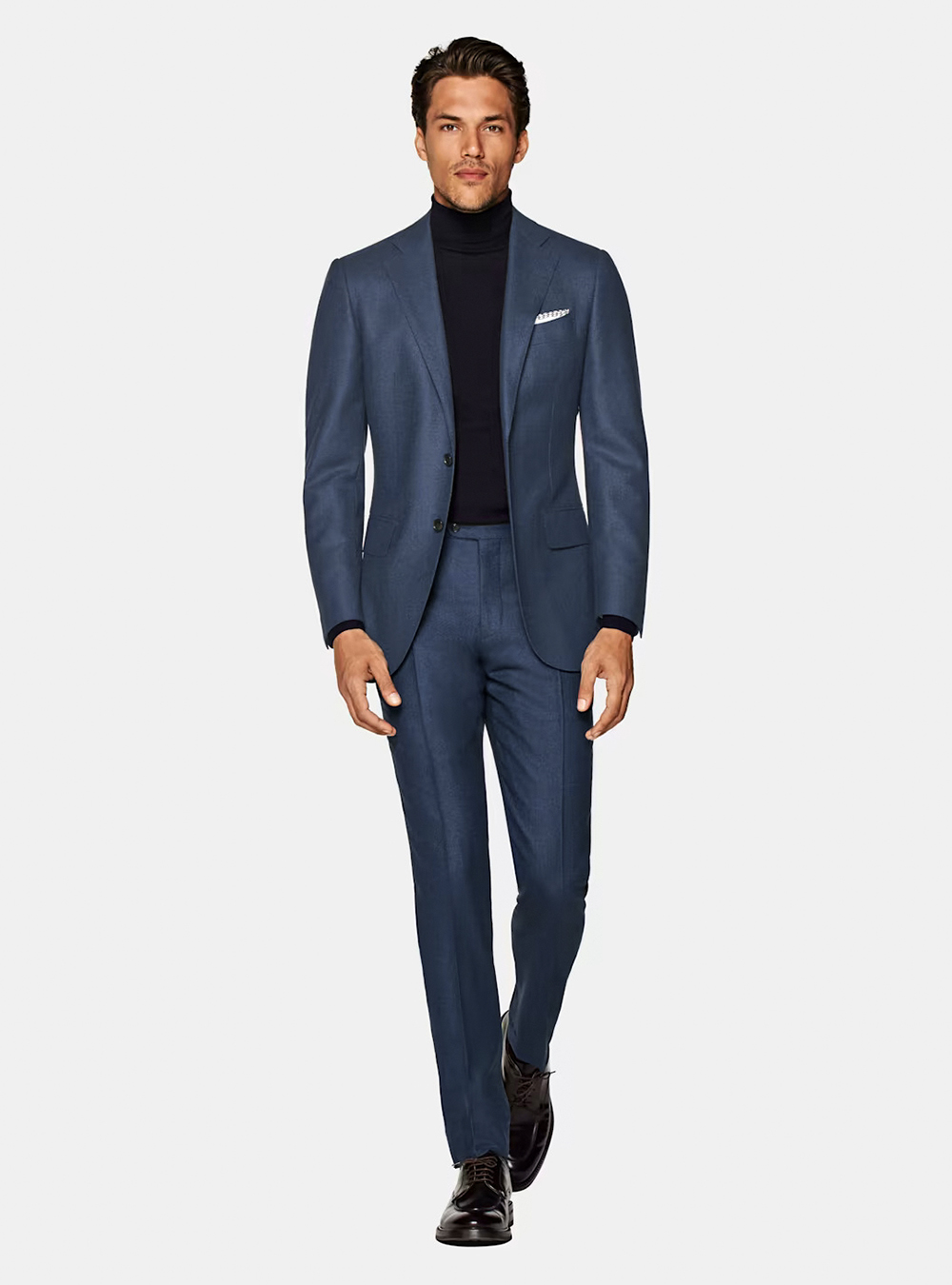 These color combinations blend well and elevate a simple turtleneck into formal status.
If you don't want such a dressy turtleneck outfit, try adding a beige turtleneck to a brown suit for a totally retro vibe.
You can also lose the suit pants and try on slightly lighter casual trousers or chinos.
A patterned blazer is the most informal way to style your turtleneck and is an exceptionally relaxed counterweight to the conservative feel of the turtleneck.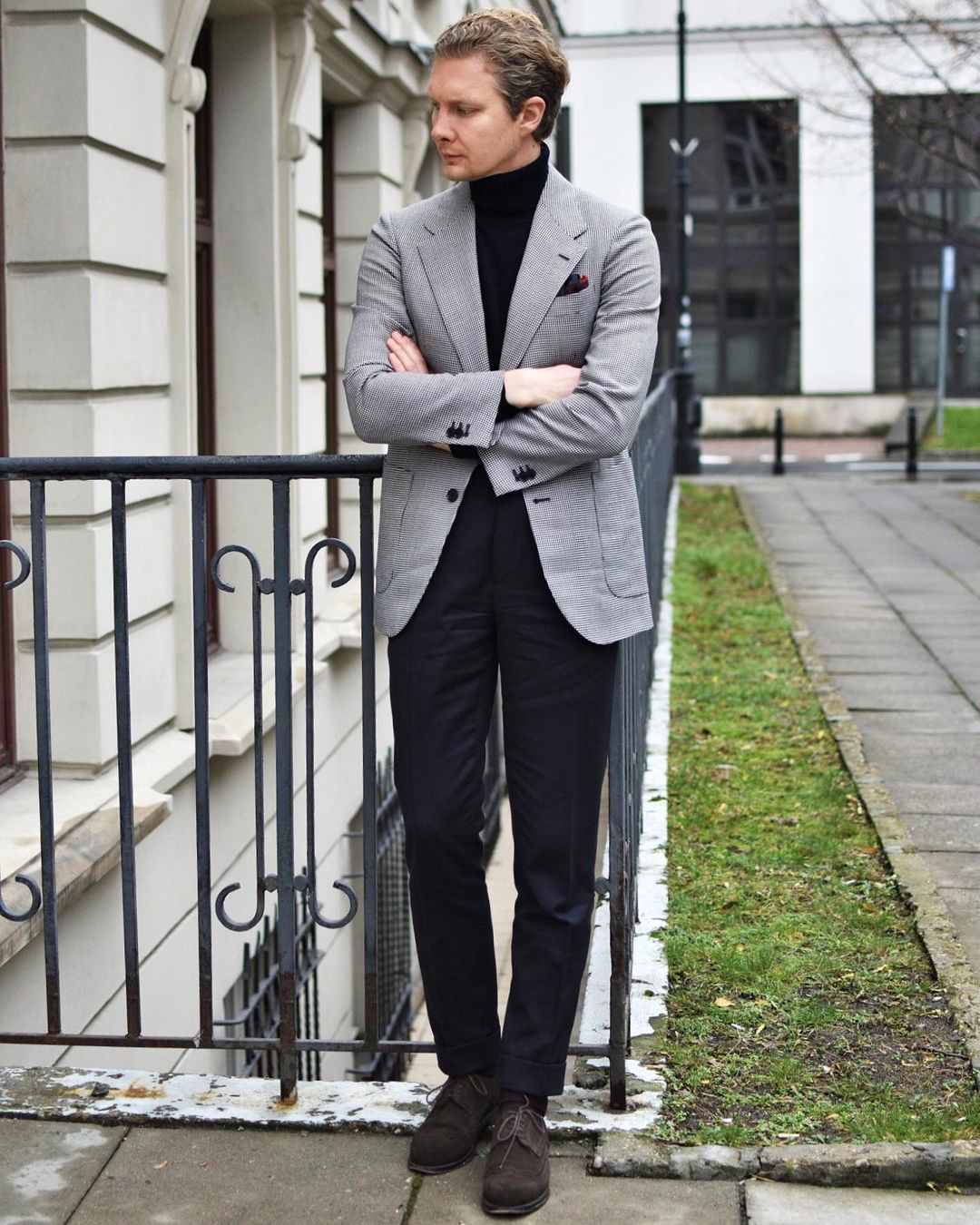 Round out the outfit with derby shoes or Chelsea boots.
Suit Jacket and a Cardigan Sweater
A cardigan is a snazzy way to create layers. It's the ultimate in layering because you get the benefit of three layers: your suit jacket, cardigan, and dress shirt are all very visible.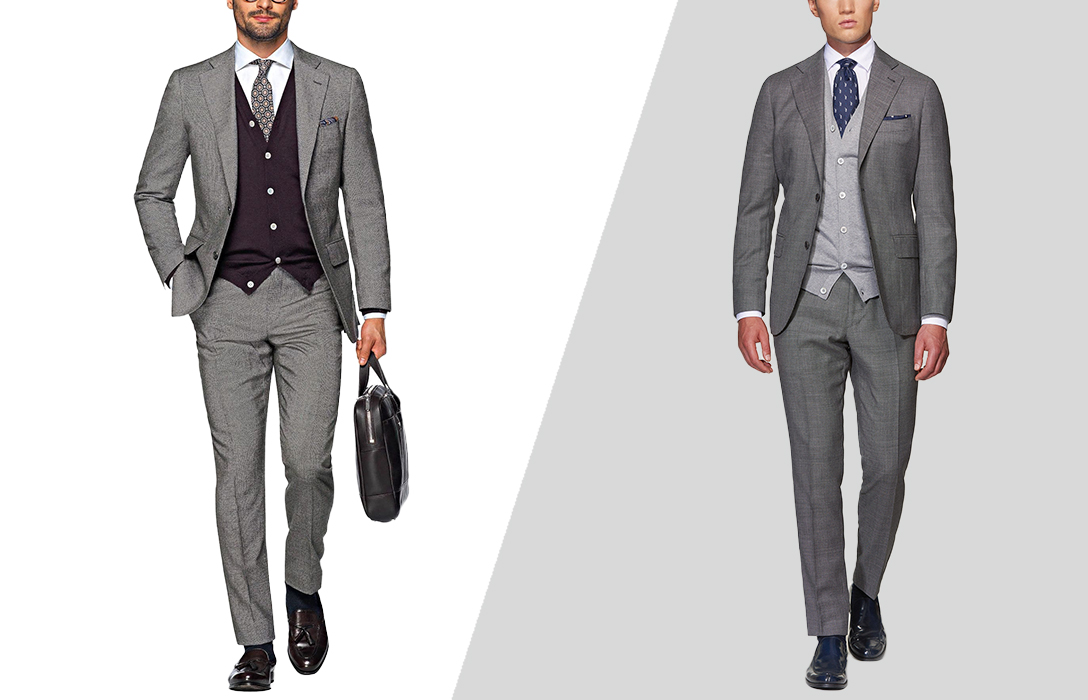 Think of a cardigan as a sort of relaxed version of a waistcoat.
Since cardigans have a very deep V, your dress shirt is on full display, so factor in the color of your dress shirt as you plan your outfit.
A patterned dress shirt can be a fun way to spice up your suit and cardigan.
A grey suit and a navy blue cardigan are an excellent pairing; try with a solid white or a blue patterned dress shirt, like pencil stripes.
An olive or burgundy cardigan transforms a neutral grey suit into a striking statement.
Or, you can match a light brown cardigan with a navy suit jacket for an understated chic appeal. A plain white dress shirt would look best, so it doesn't compete with the bold cardigan.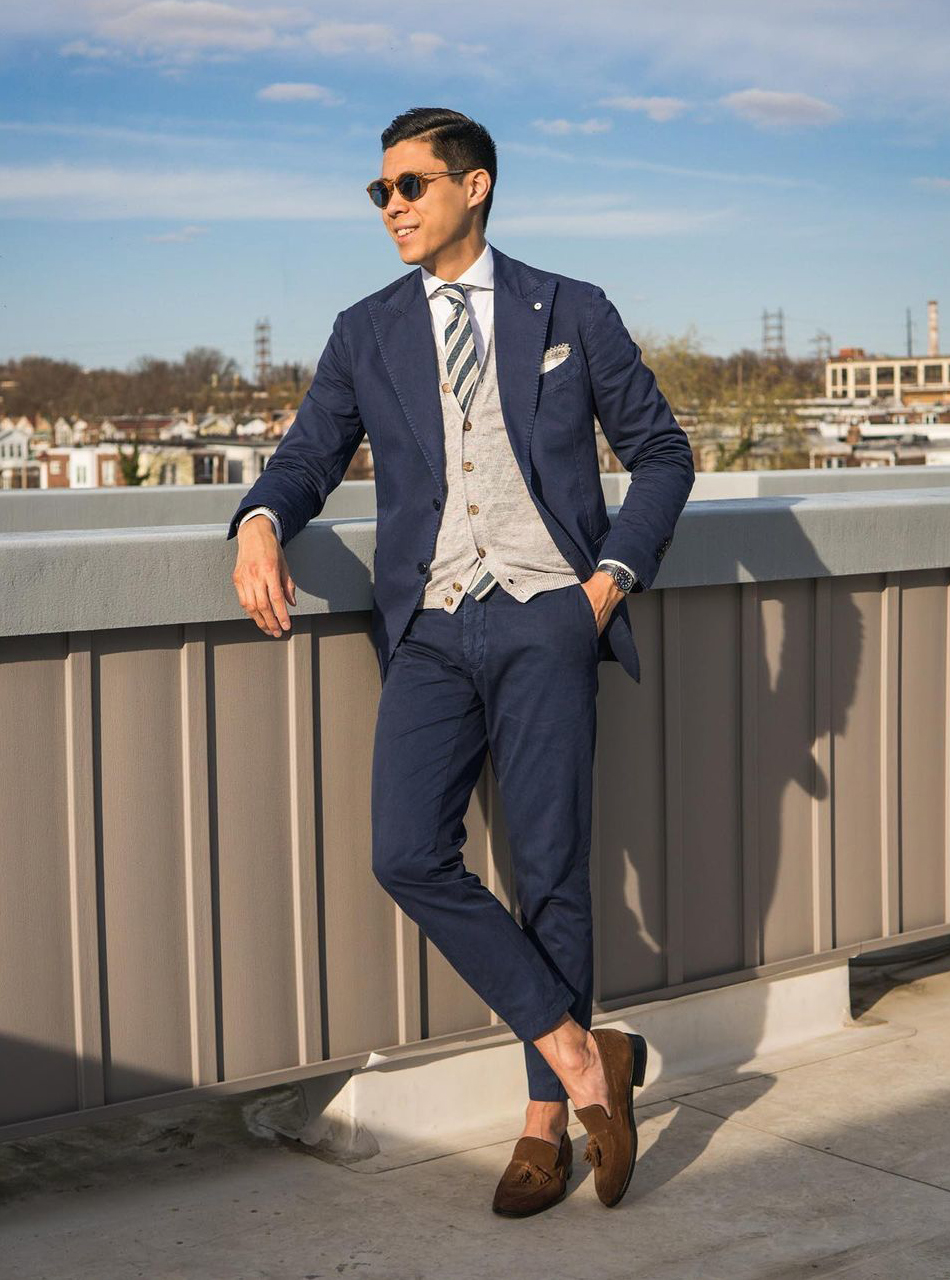 A tie can be a fun and unexpected addition to a cardigan, elevating its dressiness. However, you can simply add a pocket square instead for a nod to formality.
Author: Alexander Stoicoff
Hi, I'm Alex, and I've studied and specialized in styling in Rome. Through my writing, I want to help men dress well and learn the purpose and significance of suits and other formal attire. My final goal is to make men more confident in their wardrobe choice and life in general.