Pairing a suit with a t-shirt isn't a look only celebrities can pull off at their movie premieres.
This look can also be a slam dunk for the average Joe; it's relaxed while just a bit edgy.
If you're ready to dip your toe into the world of suits without collared shirts, now's a great time to get started.
No celebrity status required.
Wearing a Suit with a T-Shirt: Basics
Doesn't it always feel great to slip into your favorite t-shirt? It's familiar and comfortable and typically easy to style.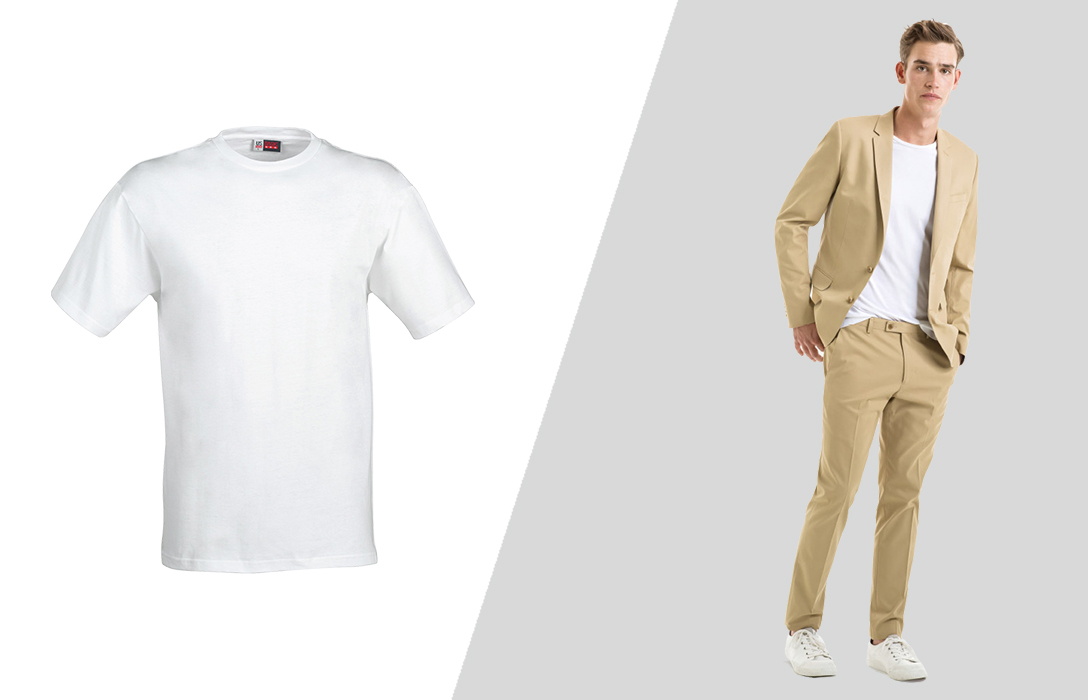 And while it's thrilling to consider wearing a t-shirt with a suit, it's critical to remember that you can't just toss any old t-shirt with any suit.
Wearing a t-shirt with your suit requires some fundamental ground rules in how you style it.
It's different from when you wear a suit formally with a dress shirt.
For example, you simply can't add a tie when there isn't a collar to put it under.
Want to master the basics in under 5 minutes? Watch the video:
Consider the Climate
Sure, people wear t-shirts year-round, but they are easier to justify with your suit when the weather is warm.
Therefore, a T-shirt makes a more natural outfit during the hot summer days.
However, wearing a T-shirt with a suit in the summer isn't all about the temperature. Summer is a time for being casual!
It's the time of year when there's no school, and families leave town for summer vacation.
Everybody kicks back and relaxes more than usual. Let your wardrobe reflect that.
Try Separates
An entire suit is more of a challenge to pair with a t-shirt. For a more effortless approach, try wearing separates.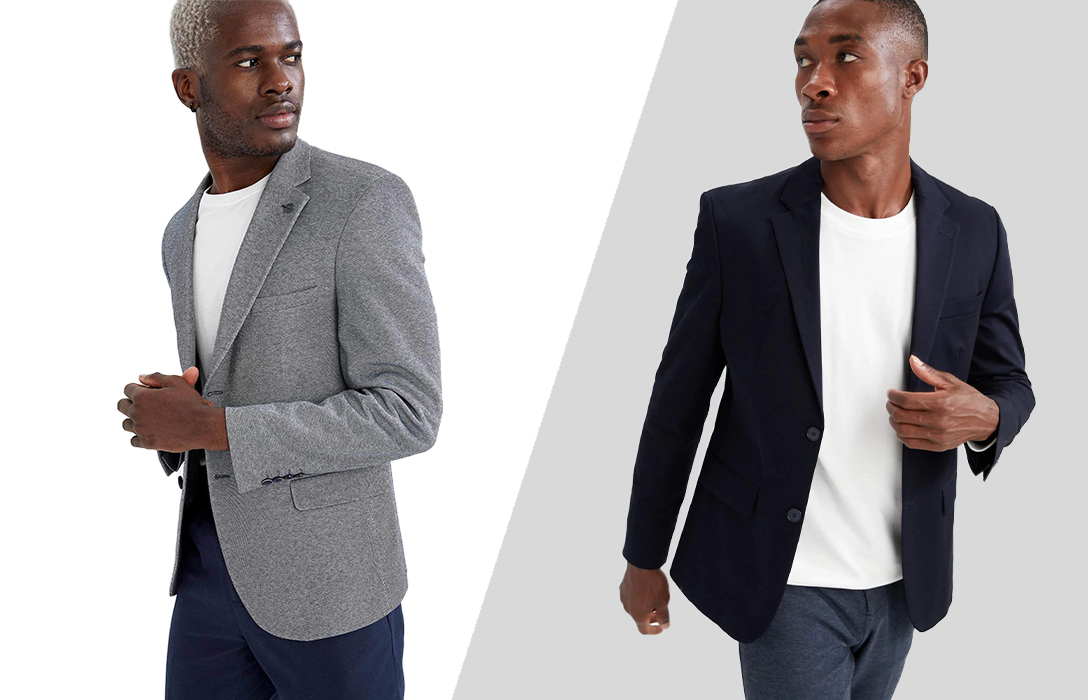 A suit jacket or blazer and trousers fit the aesthetic of a t-shirt well because it's a less stuffy outfit. It definitely sends leisure vibes.
This is an ideal combination for many settings where you want to look nice, but you don't need to go all out.
Wear separates and a t-shirt for date night, family events, weekend brunch, or casual Fridays at the office.
T-Shirt Styles to Wear with a Suit
Nearly any t-shirt style will work with a suit, but which one you choose should depend on the look you're trying to create and the setting.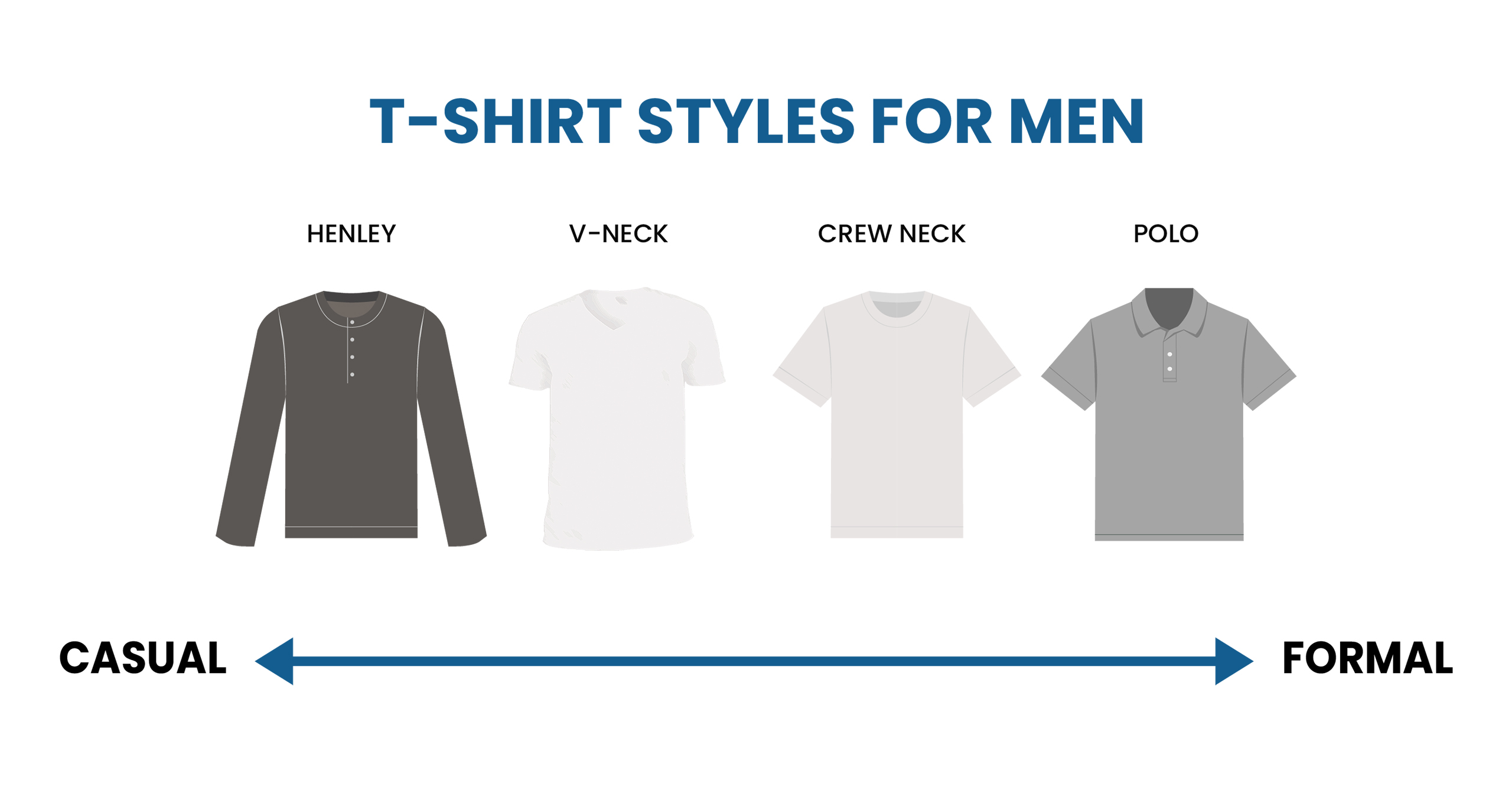 Mostly, your choice will boil down to the shirt's neckline.
However, whichever shirt you opt for, always choose a high-quality t-shirt. It should be well-fitted and thick enough that you can't see through it.
You have several choices, but these are the most popular styles of t-shirts to wear with suits:
Crew neck – the rounded neckline gives you good coverage, so it's relatively conservative.
V-neck – this neckline cuts lower down, some deeper than others. It shows more skin, so it's more informal and may be inappropriate in some settings.
Polo t-shirt – not quite a traditional t-shirt since it has a collar, but I'll include it here because it's a similar material. A polo shirt is a bit more smart-looking than your average t-shirt.
Henley – a Henley shirt has buttons at the neck, making it resemble a v-neck t-shirt when it's unbuttoned. This makes it very laid back.
12 Best Suit and T-Shirt Color Combos
Even knowing that t-shirts are acceptable with a suit, you might find it challenging to take that first step.
After years of wearing a button-up with your suit, a t-shirt may feel unnatural.
So you may need to take some cues the first few times you style your suit and t-shirt.
But don't fret; once you're feeling more confident with the look, you'll find more ways to style it on your own.
Navy Suit & White T-Shirt
This combination may seem like it shouldn't work since navy suits are relatively formal, and t-shirts are, well, t-shirts.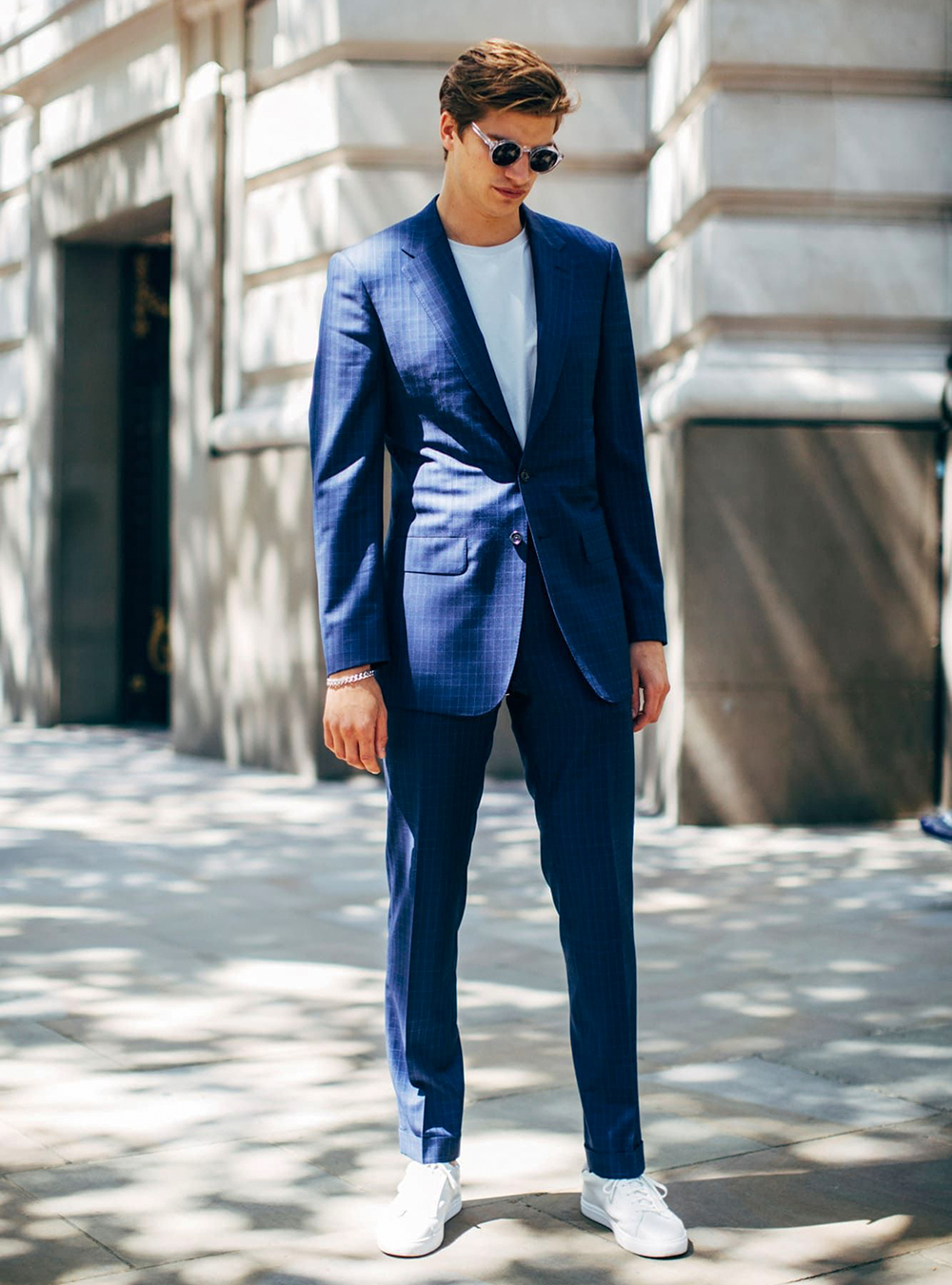 But a white t-shirt makes your navy suit oddly balanced; it combines professional with relaxed.
The white t-shirt is reminiscent of a white dress shirt and looks sharp, an instant classic.
Keep your style conservative to match the formality of your suit by choosing a crew neck style t-shirt.
Complete this look with brown leather dress shoes, like a pair of brogues. Or keep your outfit looking effortless with white canvas sneakers.
Navy Suit & Grey T-Shirt
You can tone down your formality level even further by swapping out your fancy white t-shirt with a grey one.
A dark grey, such as charcoal, gives you a dark appearance from head to toe and can seem nearly monochrome. This isn't a bad thing; dark monochromatic looks can be elegant.
Switch up the effect a bit with a medium grey v-neck t-shirt. The lighter shade of your shirt will look very contemporary.
Black shoes are acceptable with a navy suit, but they're somewhat too dressy for this outfit. So instead, opt for brown dress shoes, like double monk straps.
You can stick with sneakers, but perhaps opt for a soft cream color, so they don't create a sharp tone contrast with your t-shirt.
Black Suit & Black T-Shirt
Black t-shirt on a black suit is clearly a monochromatic look and sends a strong signal. You'll look very polished wearing all black, but it can often feel severe.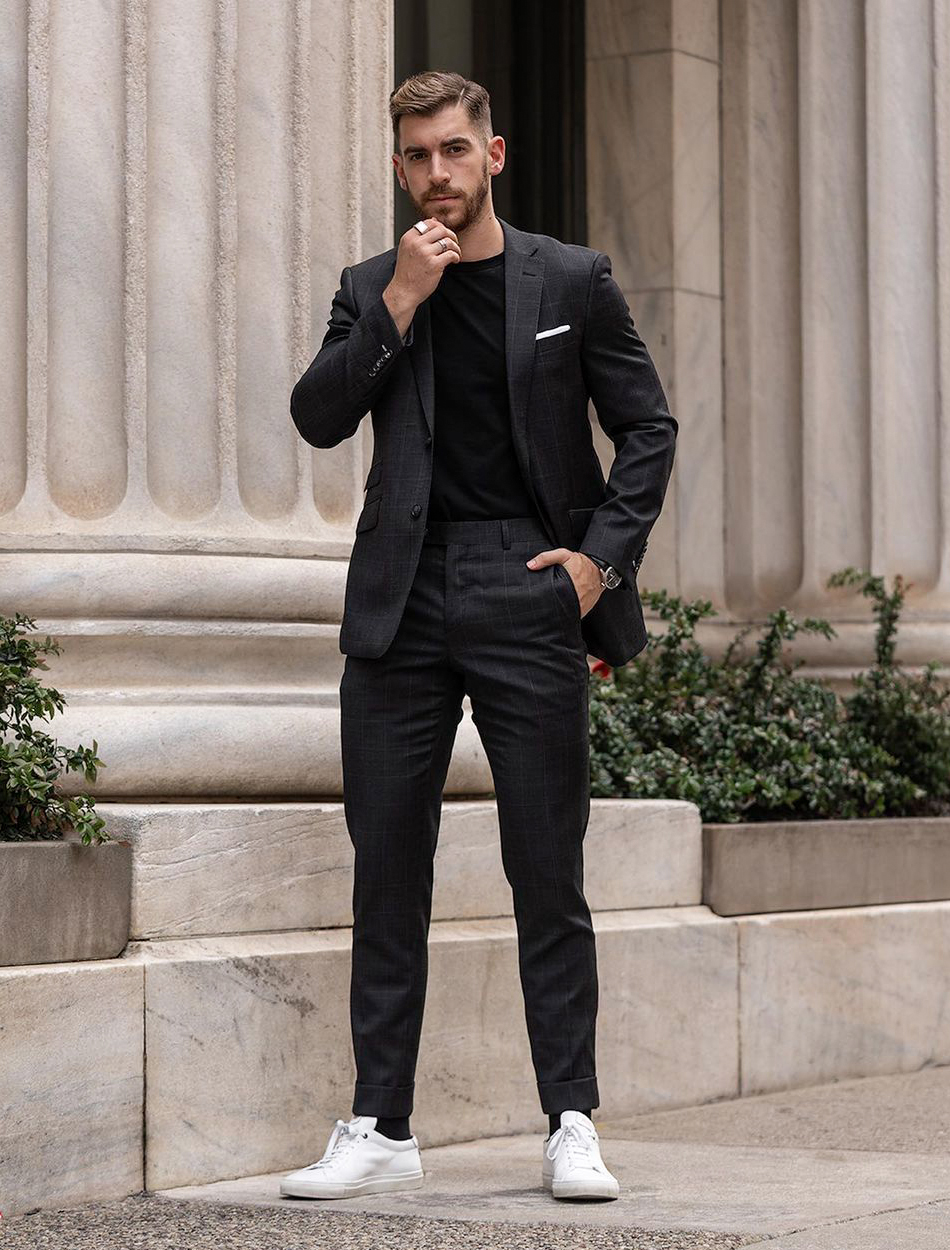 That's why a t-shirt is a brilliant way to pull off this look; it makes your ensemble more informal, taking away the feeling that you're on your way to a funeral.
However, you can avoid casual shoes. Instead, keep this outfit classy by sticking to black leather shoes.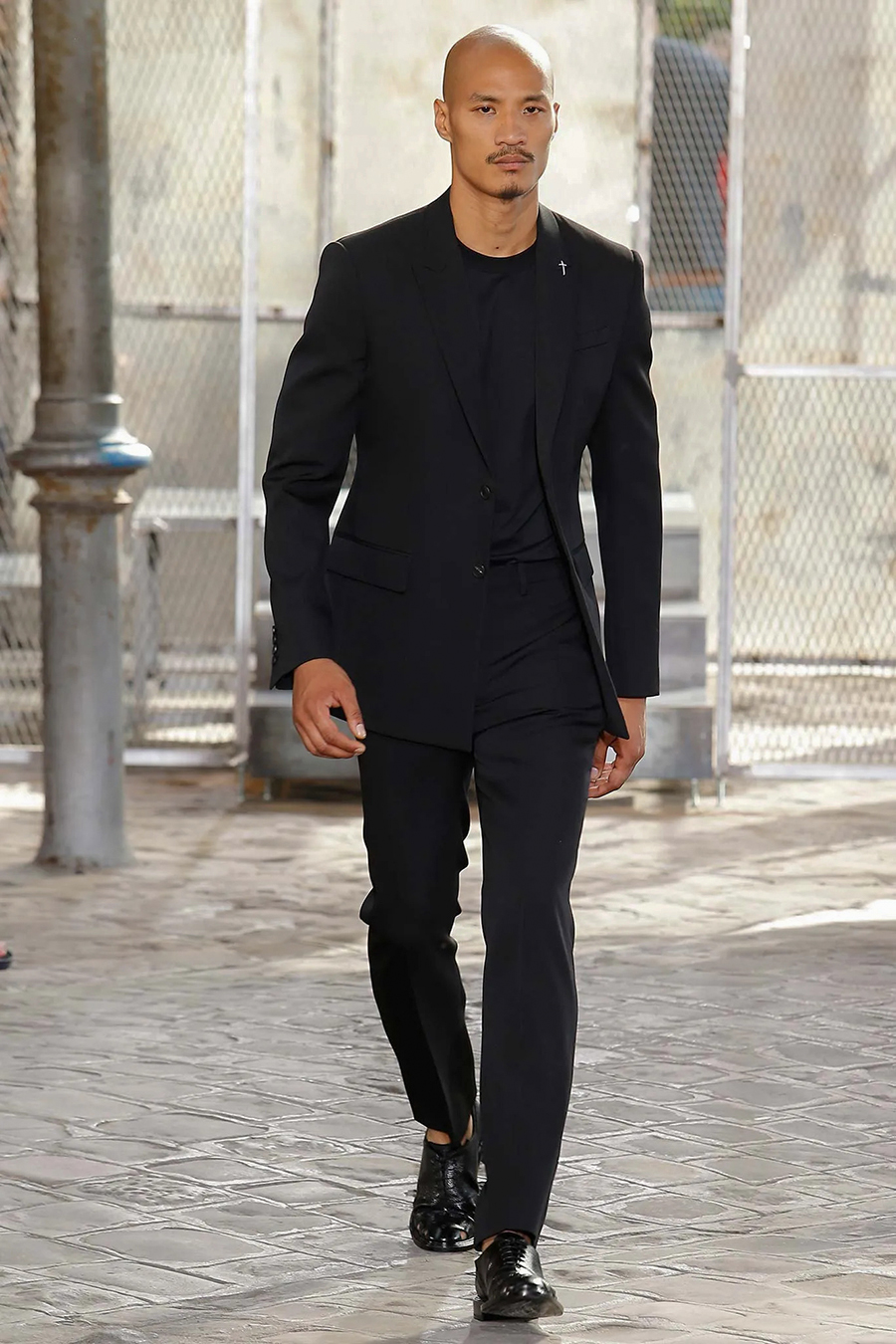 If you're feeling too somber-looking, add a pop of color with a bright pocket square.
Black Suit & Tan or White T-Shirt
If swathing yourself entirely in black feels too severe, loosen up the mood by substituting your black t-shirt with a tan or white one.
This simple swap can soften the look and comes across as less intimidating.
A black-and-white (or off-white) color scheme is one of the most classic looks you can create. It's remarkably effortless yet looks super polished.
Choose a Henley-style shirt to make your formal black suit incredibly down-to-earth. Leave it unbuttoned for some extra swagger.
This look pairs well with either black or white sneakers. The perfect button on your outfit would be sneakers of one color with trim of the other shade.
Blue Suit & White or Light Blue T-Shirt
Play up the summery aspect of matching a t-shirt with your suit by embracing summer shades.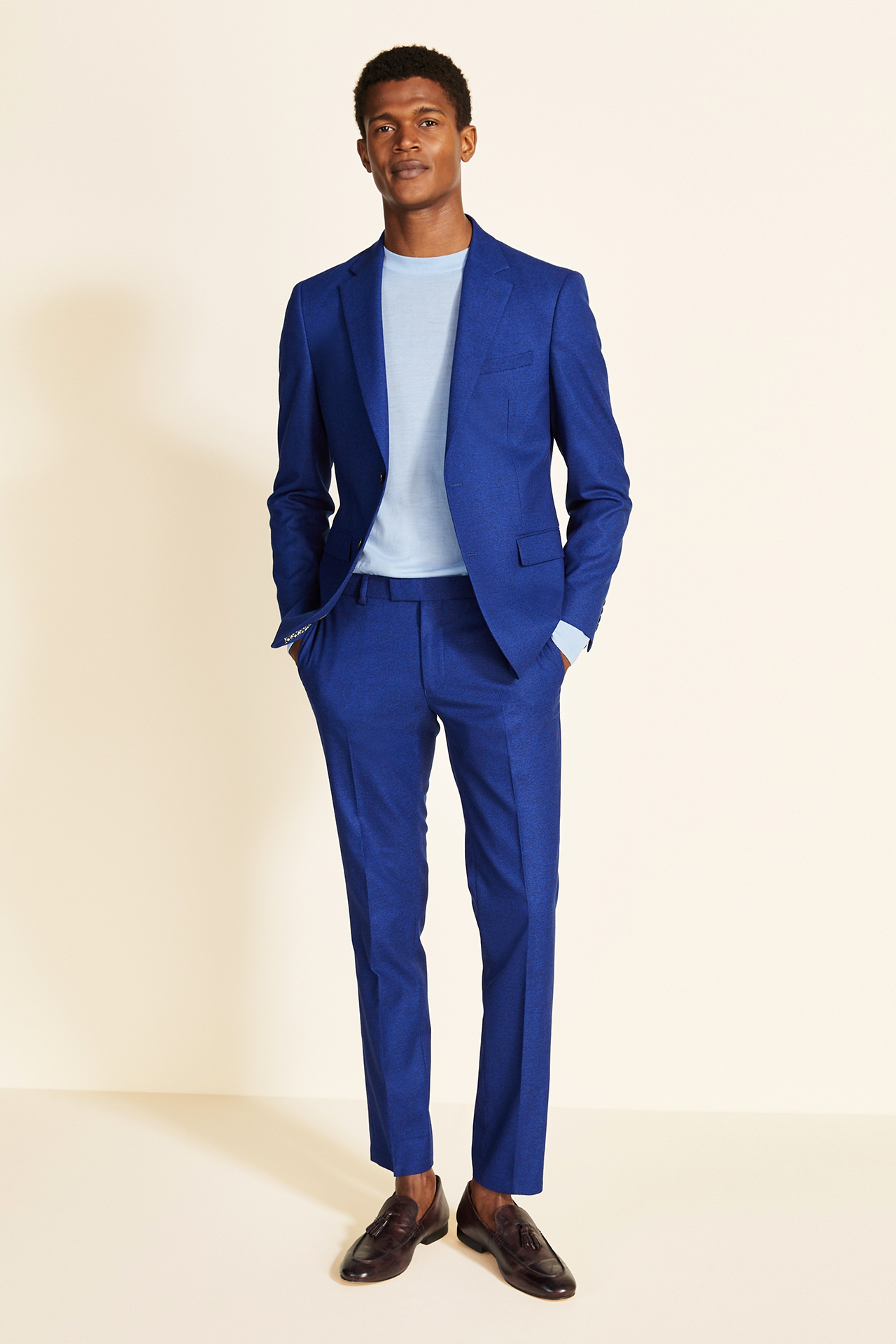 Blue is cheerful, so whether you opt for a light blue suit or a true blue suit, it reads well.
A white crew-neck t-shirt will look bold when juxtaposed against a royal blue suit jacket. Light blue would feel more easygoing.
Just avoid a light blue t-shirt when wearing a light blue suit; this is one tonal look that won't read well.
White or tan canvas sneakers are perfect for playing up the fun aspects of this ensemble.
If you want to head in a slightly dressier direction, tan or light brown leather shoes are excellent. Chukka boots or derby shoes will be a nice complement.
Blue Suit & Navy or Black T-Shirt
When you're in the mood for a more serious feel from your blue suit, slip on a dark t-shirt.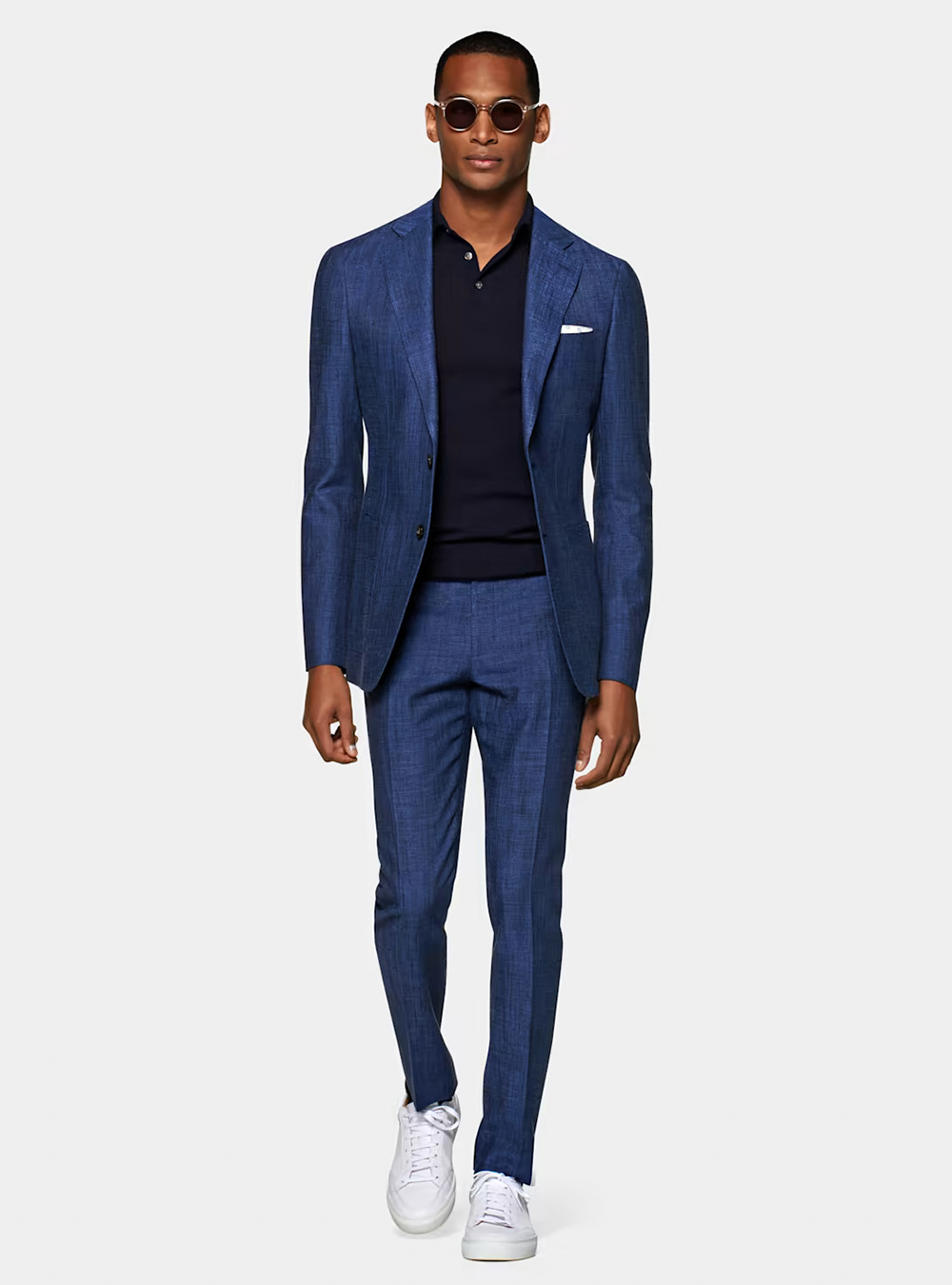 You can't help but feel confident when you step out in this sophisticated color combination. It isn't a common color combination, so it will read as fresh and unique.
Wear this darker palette for evening outings, like a party with friends, a dinner date, or a casual office gathering. In these instances, stick to a crew neck shirt to avoid looking too carefree.
Your shoes can go either black or brown. Black shoes would look best with a black t-shirt, but brown would also work.
Grey Suit & White T-Shirt
Grey is the most malleable color suit you can wear. How you accessorize it can significantly alter its formality. So, of course, which shade of grey you start with is also important.
White is a natural companion to any grey-tone suit you wear. Also, a darker grey is much dressier than a light one.
So, if your suit is charcoal, your t-shirt should be crew neck. However, a light grey suit is an excellent time to bust out your polo shirt to create a very preppy casual appearance.
You also have several shoe choices. For example, burgundy leather dress shoes look phenomenal with grey.
However, white and black are always acceptable, too.
Grey Suit & T-Shirt
Combining a monochromatic neutral t-shirt is a very unexpected yet successful way to wear your grey suit.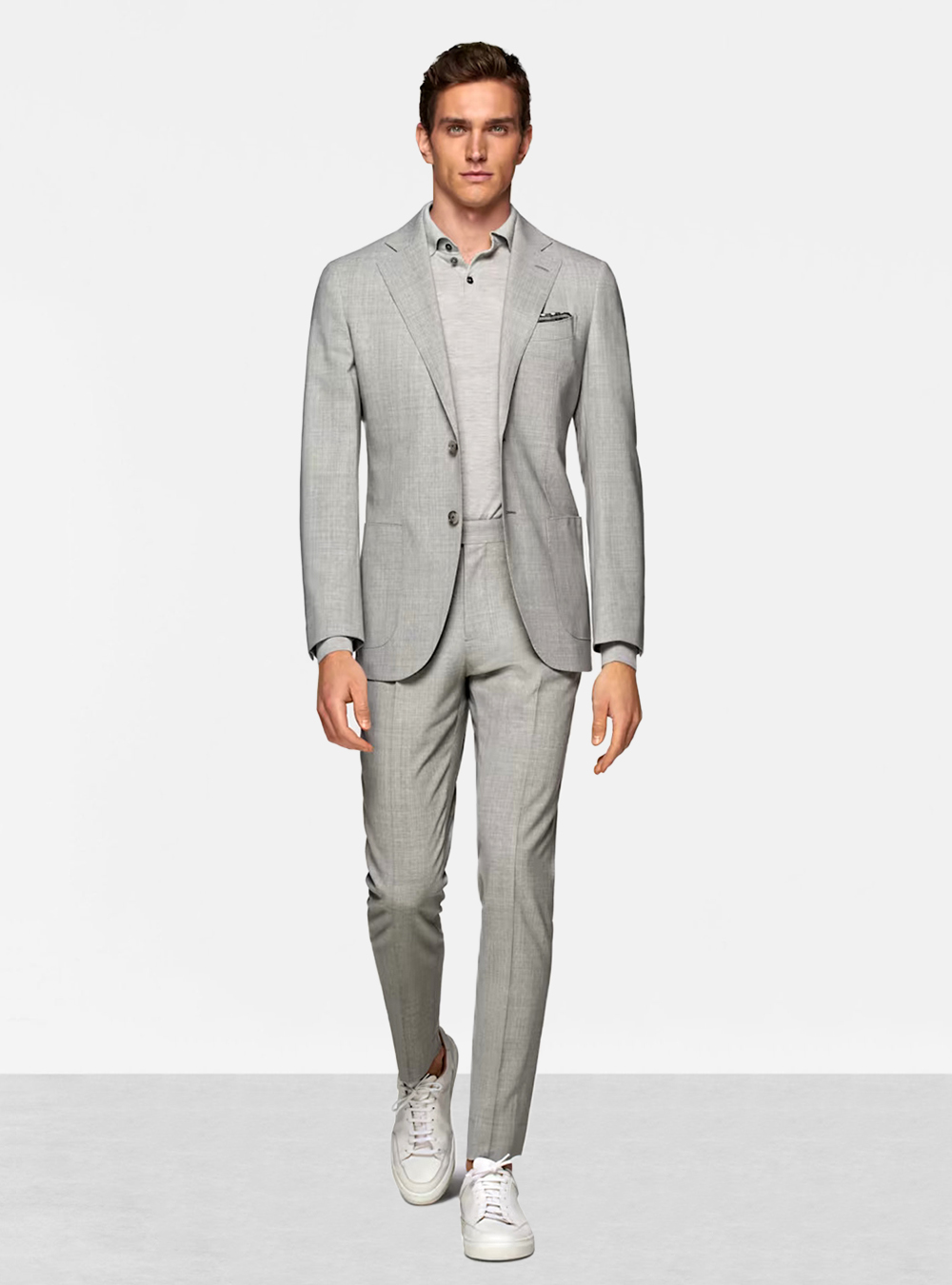 Monochromatic colors create a very natural and down-to-earth feeling; it's a great way to wear a suit casually.
What you can do is replace your standard v-neck t-shirt with a polo shirt to create a more classy outfit.
To complete this sporty weekend aesthetic, finish the look with white sneakers. Plain leather ones add a nice touch of texture.
Grey Suit & Black Polo Shirt
As I mentioned above, grey is wonderfully versatile. Think of it as a blank canvas you can shape with color and accessories.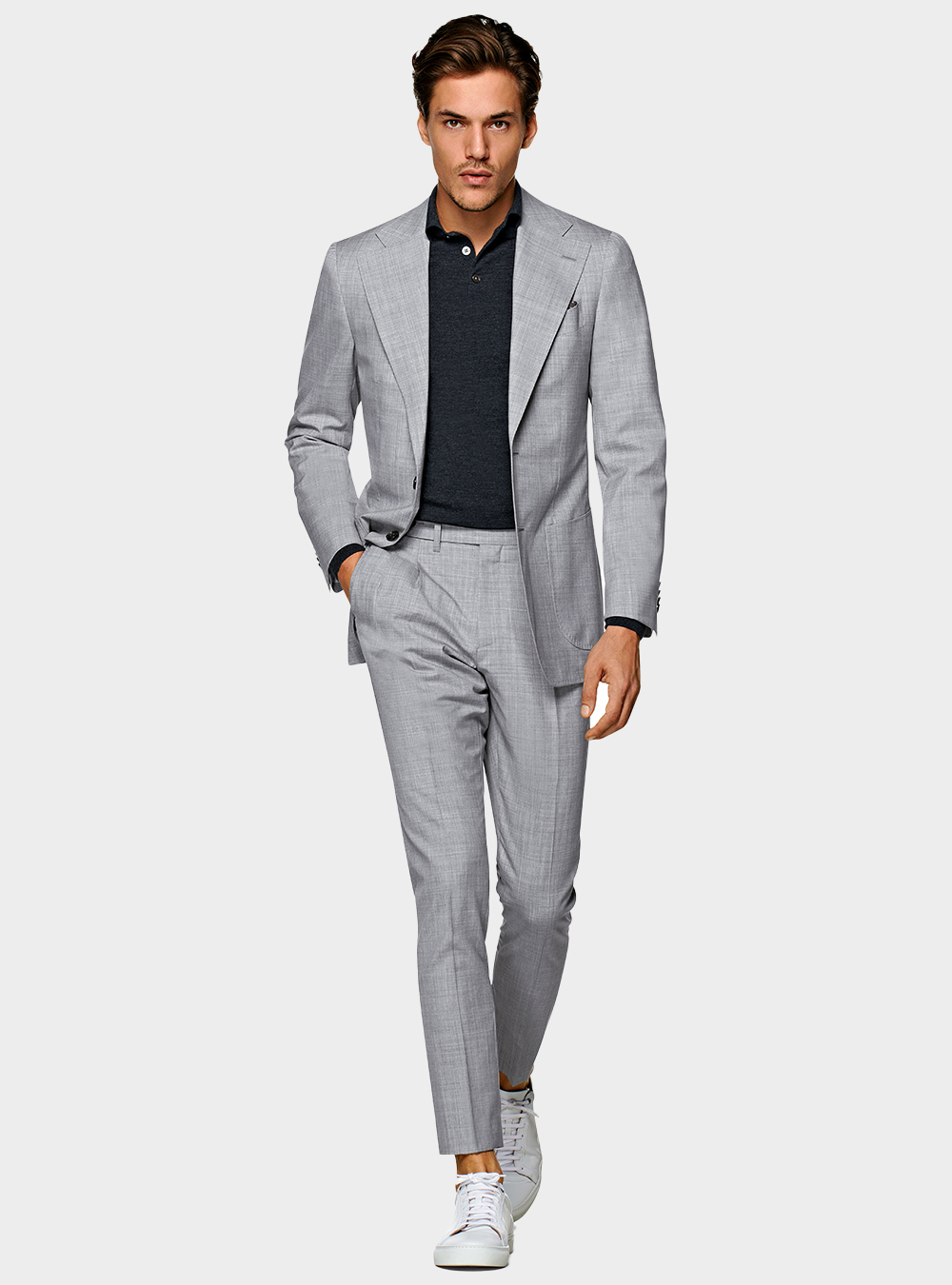 Pair your grey suit with a black t-shirt for an ultra-sophisticated and mature style.
This is a good opportunity to add a v-neck t-shirt since that will add a touch of playfulness to your otherwise serious fashion sense.
Adding dark brown accessories is possible, but black is easier to pair and a safer bet. Double monk strap shoes will add a classy and jaunty feel to your suit.
Burgundy Suit & Black T-Shirt
Your standard office suits shouldn't be the ones to get all the fun!
A burgundy suit is less formal than many other colored suits, so feel free to play around with it.
For example, you can turn your lively burgundy suit into a chic and cosmopolitan outfit with a black t-shirt.
The pairing of a black t-shirt adds a suave touch while still not feeling too fashion-forward.
It's best to match your shoes to your shirt in this instance, so stick with black leather dress shoes. Sneakers may feel a tad too relaxed with these dressier shades.
Burgundy Suit & Light T-Shirt
Who says burgundy always needs to be sophisticated? Make your suit more accessible with a light color t-shirt.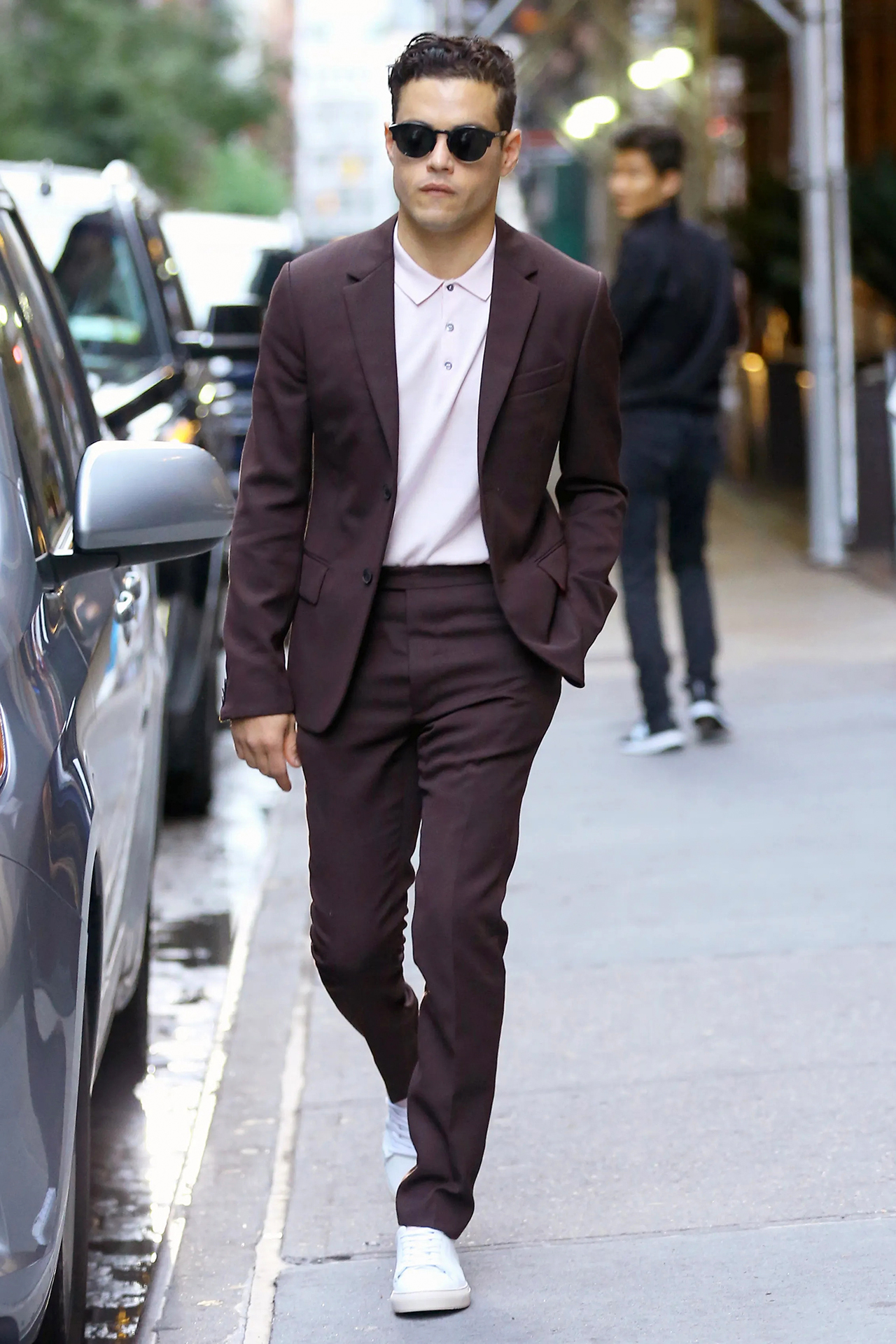 White is always a fit, but you can be really cheeky and playful with a pale pink t-shirt. Bold? Yes. Joyful? Again, yes!
You can opt for tan or brown leather shoes if you want to embrace a smart casual feeling, but white sneakers are also an excellent way to finish this ensemble.
Beige or Tan Suit & Burgundy Polo Shirt
Turn the suit world on its ear by matching a light suit with a dark polo t-shirt. This super-relaxed outfit is also very chic.
It works so well because tan and burgundy are both earth tones, so they play off each other very nicely, making each other stand out nicely.
Medium brown or tan leather shoes, like derbies, are a classy way to keep this ensemble looking sleek.
However, lean into the relaxed nature of these colors with white sneakers on the weekend.
Accessorize the Outfit
A casual outfit doesn't need a lot of bells and whistles to make it look good, but adding a watch or a pocket square will help you stand out.
A pocket square can add some unexpected color to an otherwise ho-hum outfit.
Play with the different effects you get from various color schemes. Of course, complementary colors are always a safe bet, but for fun, you can try a contrasting color pocket square.
If you add a watch, remember that your choice of band will influence how dressy or casual the watch is.
For example, leather straps tend to be more formal and should always match any other leather in your outfit, while a metal bracelet is more informal.
Most of the time, it's a good recommendation to add a belt to your suit, but when wearing it casually with a T-shirt, you don't need one.
When to Wear T-Shirts with Suits
You might be surprised to realize how many situations are appropriate for a t-shirt and suit pairing.
You can wear this for more than just looking good while running errands on a Saturday afternoon!
Since suits are a staple of most offices, the most obvious place to debut your new style is at your casual office.
It's also a fantastic outfit for teachers; you'll appear more friendly and approachable if you aren't wearing a stuffy, old-fashioned style.
You might be able to pull off this outfit for some job interviews but tread carefully.
For example, a tech company startup is probably the ideal job interview for this outfit, but not so much for a corporate office.
Be one hundred percent sure this look won't be a flop in the interview room before you commit to it; it's always better to be overdressed than underdressed.
Author: Alexander Stoicoff
Hi, I'm Alex, and I've studied and specialized in styling in Rome. Through my writing, I want to help men dress well and learn the purpose and significance of suits and other formal attire. My final goal is to make men more confident in their wardrobe choice and life in general.