Some days, wearing a suit can be bad enough, but the tie can sometimes be unbearable. Take heart.
You may not have to wear your tie, depending on the event or setting.
If you take care in how you style the rest of your outfit, you can still look suave as you go sans tie.
Things to Consider
Although it is perfectly possible to wear a suit without a tie, it isn't something you should undertake lightly.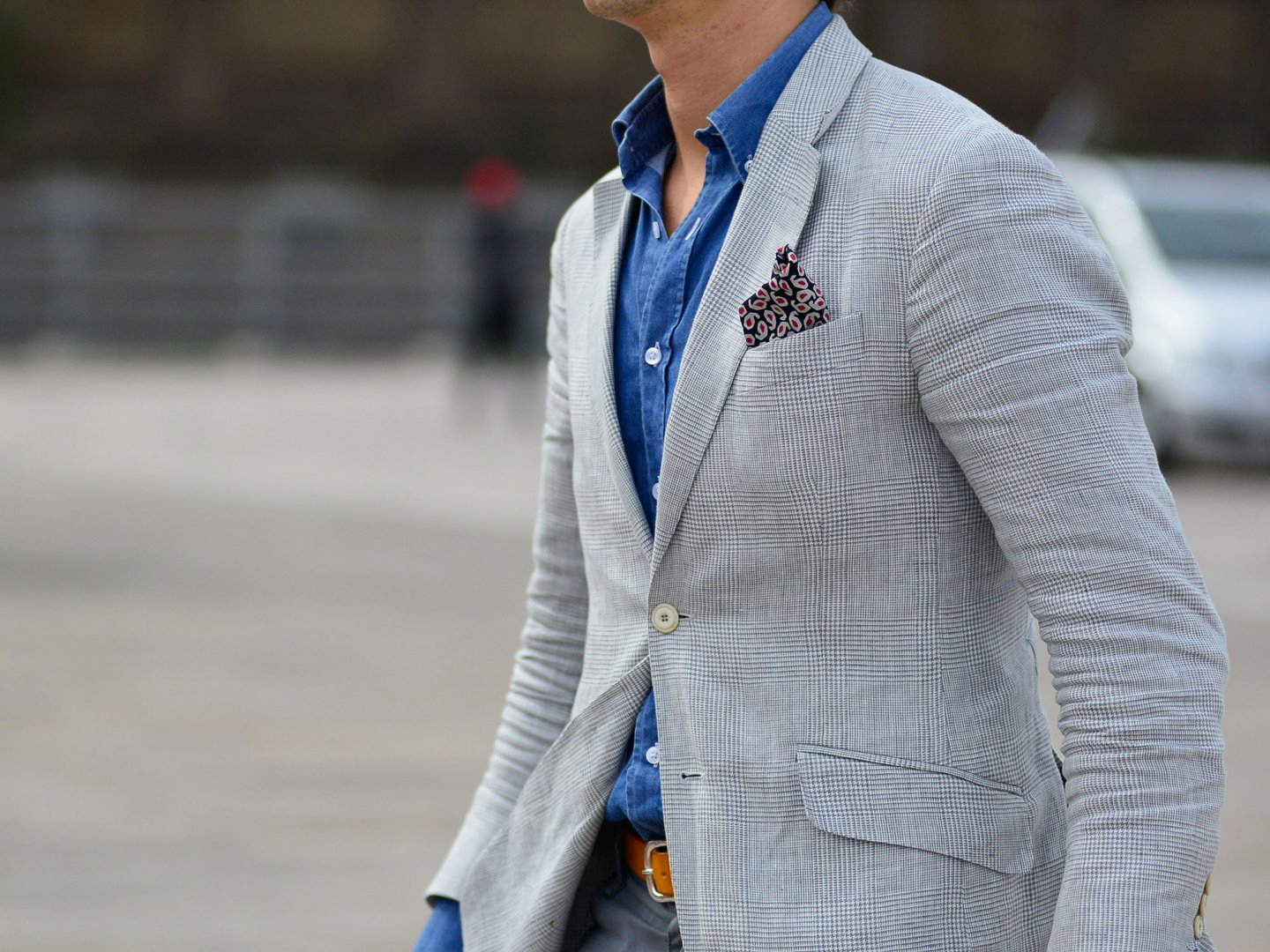 There is more to it than dressing as usual and leaving off your tie. You need to think about a couple of things first.
Of course, not including a tie with your suit will alter your image and lower the formality of your outfit. You need to be sure that this will be appropriate for the event.
If you have any questions about the suitability of skipping a tie, play it safe and stick with your tie.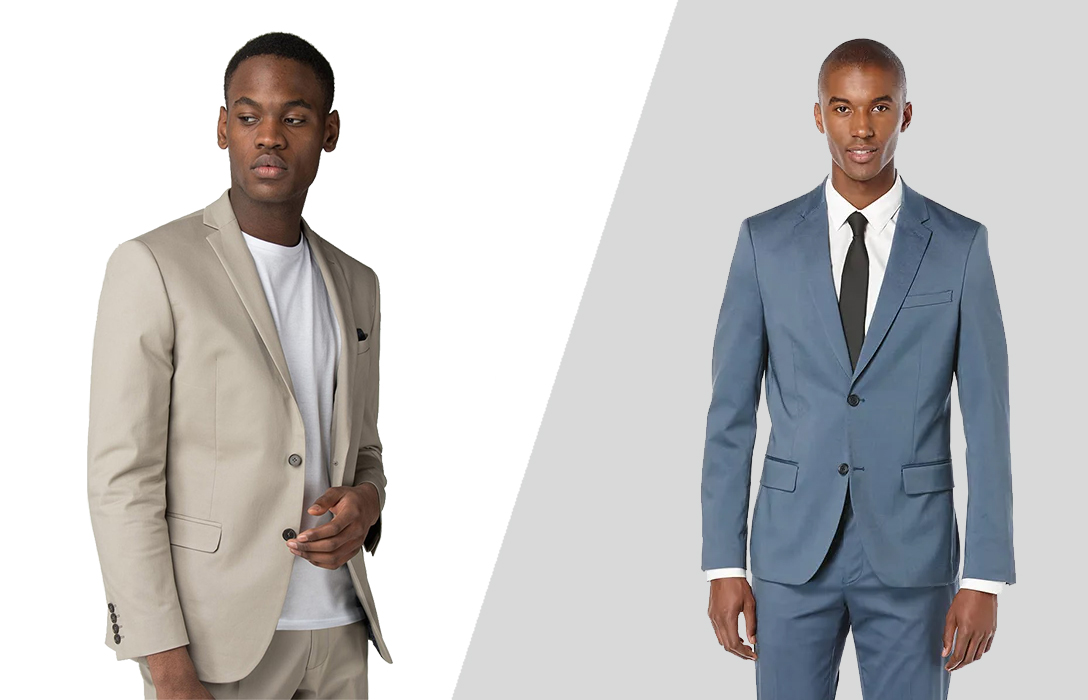 Be aware of the message you may send by not wearing a tie. It may be interpreted as disrespectful in specific circles.
For example, you could send the message that you are a fashion rebel, which can be welcome in the right setting. Or, you may come across as rakishly laid back.
Formal vs. Casual Suit
You can pull off a formal suit with no tie, but it is more of a challenge to style your formal suit well this way. It's easier to sell it with a casual suit.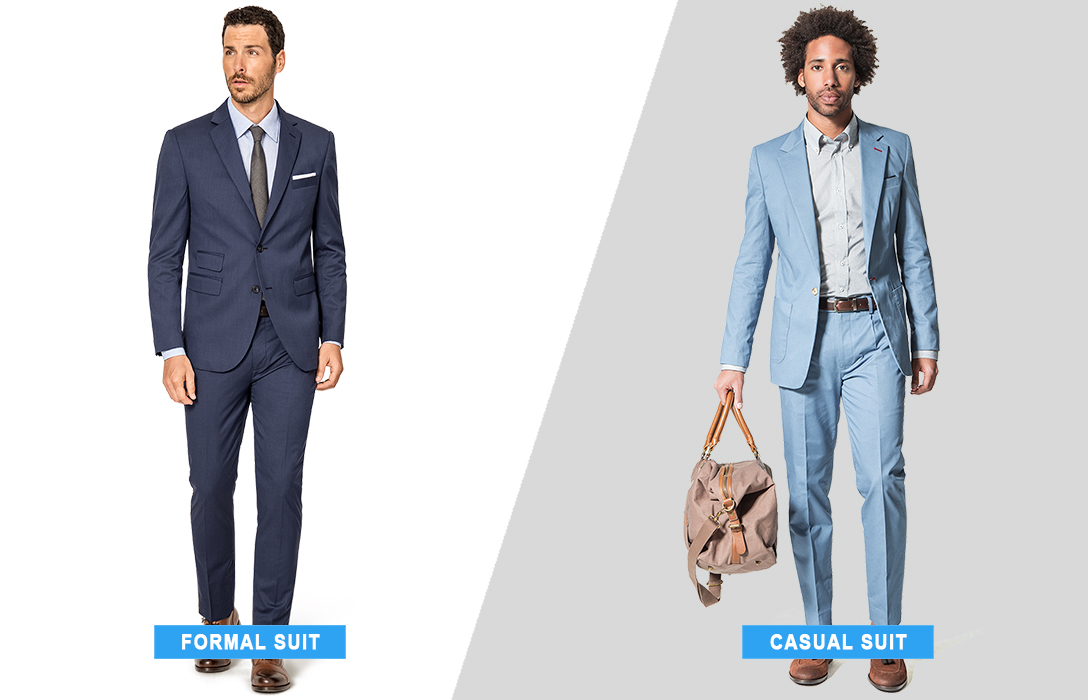 When wearing your more dressy suits without a tie, keep things simple. Your goal is to look like your style is an intentional choice, not a reaction to a rough day.
Also, don't work too hard to make up for your tieless suit by adding many accessories.
The Shirt's Collar
You cannot have a limp, floppy collar when you wear a dress shirt without a tie.
The only way for this look to succeed is with a stiff shirt collar that stands up properly. If your collar isn't sitting correctly, it may crumple down under your suit jacket collar, leaving you looking disheveled.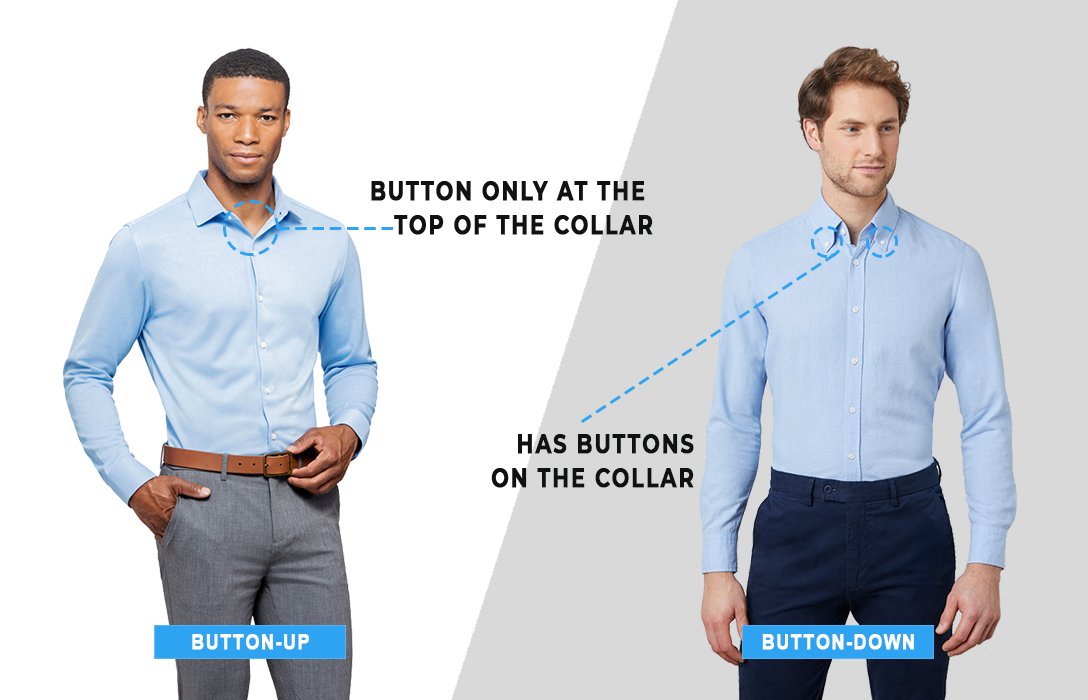 To ensure your collar stays put, iron it before wearing. You can help it out with some spray starch.
And rely on collar stays if your shirt has them. These can be very helpful in structuring your collar.
If all else fails, there's no shame in wearing a button-down collar. That is a sure-fire solution that will keep your collar in place.
The Occasion
You can't try out this look when the mood strikes you. You need to be sure that it's appropriate to the occasion.
In some settings, the tieless look may not fly. Therefore, don't end up looking foolish by trying to make a bold fashion statement when it isn't appropriate.
It's appropriate to wear a more casual suit without a tie at daytime formal events and weddings or when the dress code allows.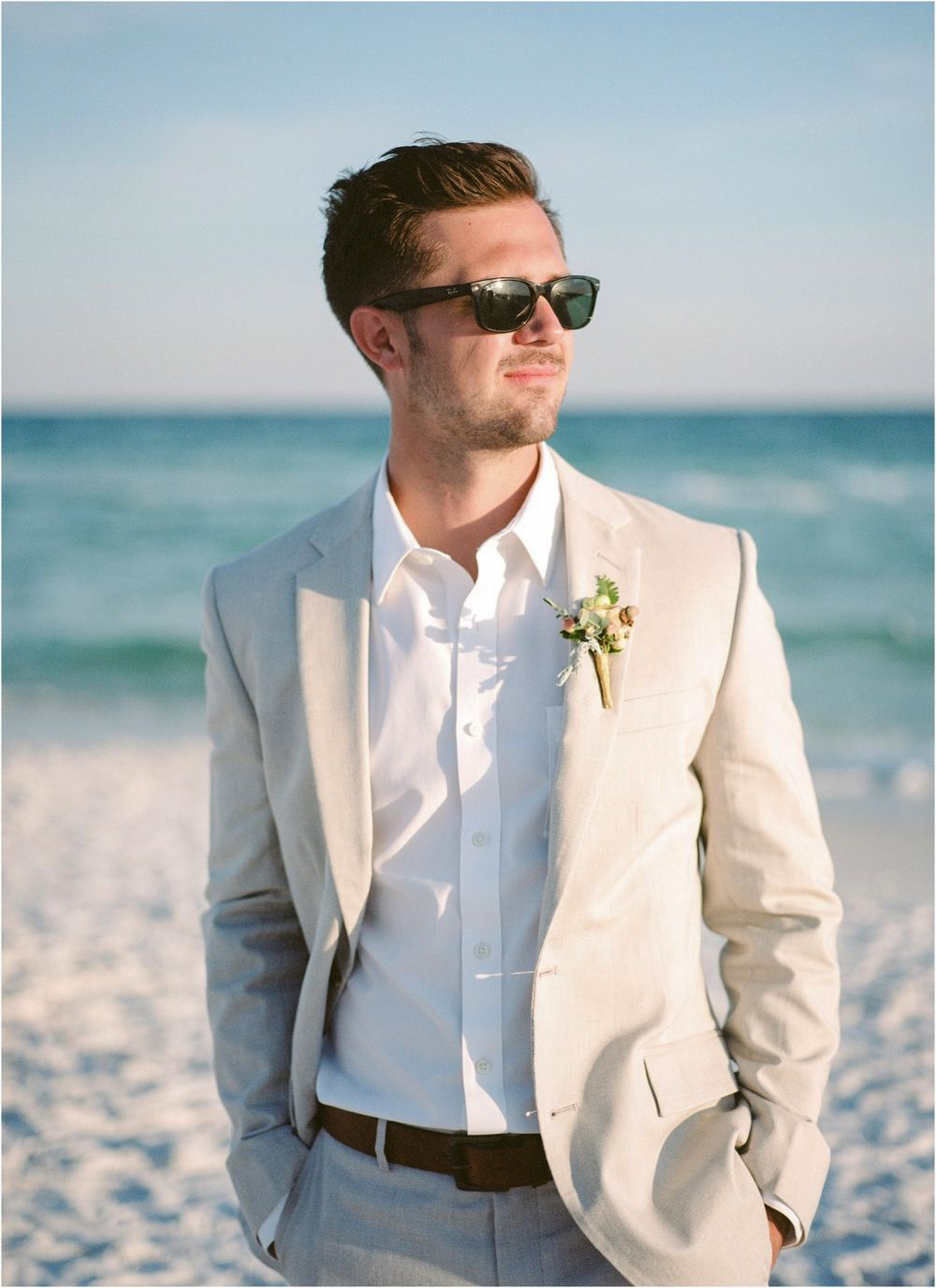 But you are expected to wear a tie at nighttime formal events, such as an evening wedding or any black-tie event.
Many conservative offices have a formal business dress code and will also frown upon not wearing a tie. They may see a tie-free outfit as a sign of disrespect and not caring about your job.
However, if you work at a business-casual office, you'll likely be fine ditching your tie.
Other daytime social events, like weddings, cocktails, or brunch, are a good time to forget your tie.
Shirt's Button Drop
Lean into the relaxed look of your lack of tie by leaving some buttons undone on your dress shirt.
The more buttons you leave open, the more casual your appearance is.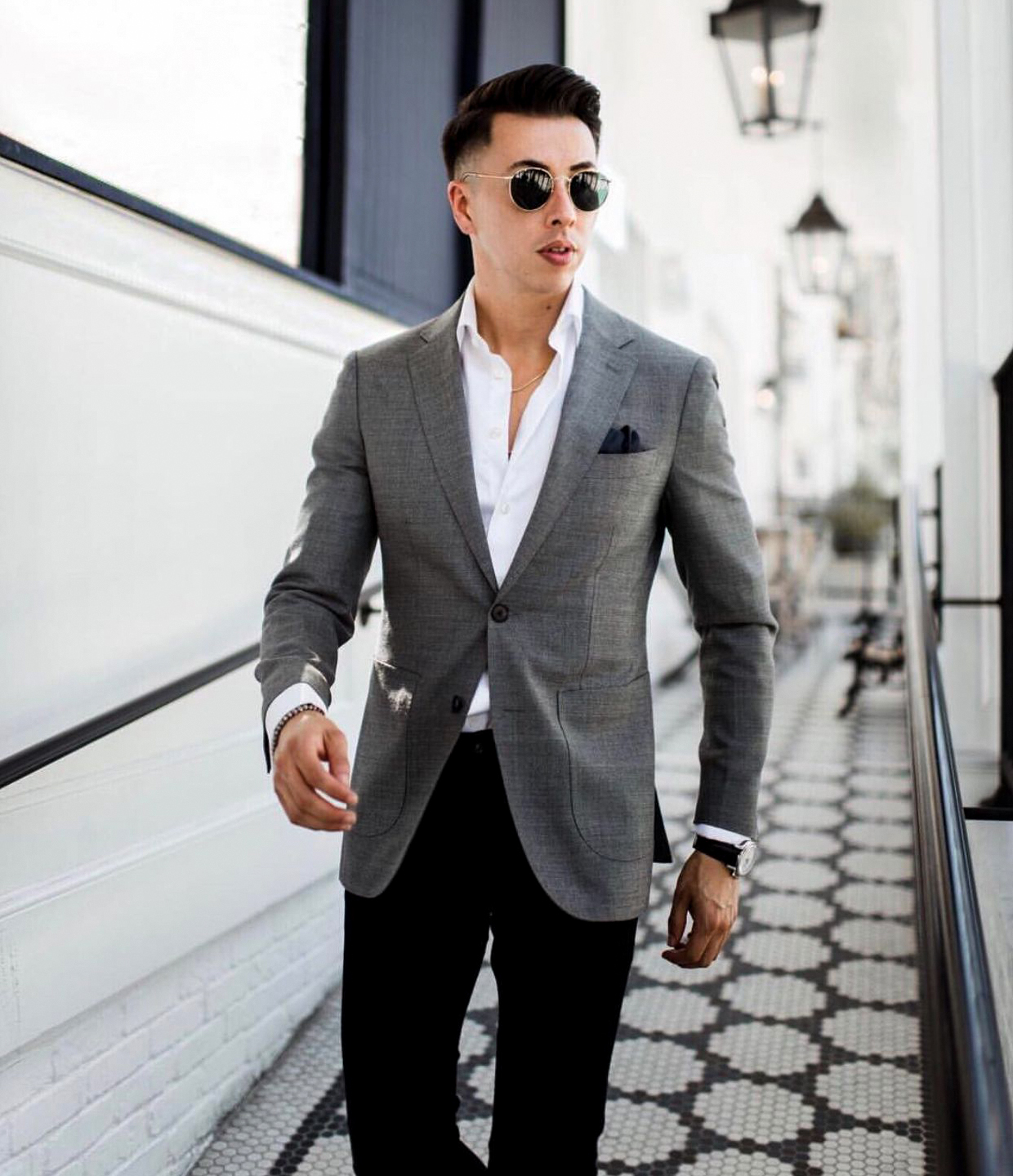 So, how many buttons should you leave undone? Most style experts will suggest no more than two.
If you unbutton too many, you risk looking like a lounge lizard. The goal is to still look classy but as if you don't have a care in the world.
How to Wear a Formal Suit without a Tie
You need to put in a little extra outfit planning to pull off a formal suit with no tie. You can't just leave off the tie; it must be clear that it was an intentional choice.
Wearing the right dress shirt with your formal suit and how you choose to wear it will go a long way in making this seem natural.
But, of course, your suit choice will also play a prominent role in how effective your style is.
For example, because of the dressy nature of your suit, it should be fully buttoned.
Air Tie the Formal Business Suit
An air tie is a humorous way of saying that you're acting as if you have a tie on but don't actually include one.
It's another way of saying to completely button up your shirt, including the collar button. You need to always pair this look with a formal shirt.
Button every button on your shirt; it leans into your suit's formality and creates an interesting and unusual aesthetic.
So, for example, this would pair very well with a navy suit and a white dress shirt, with are both inherently very dressy.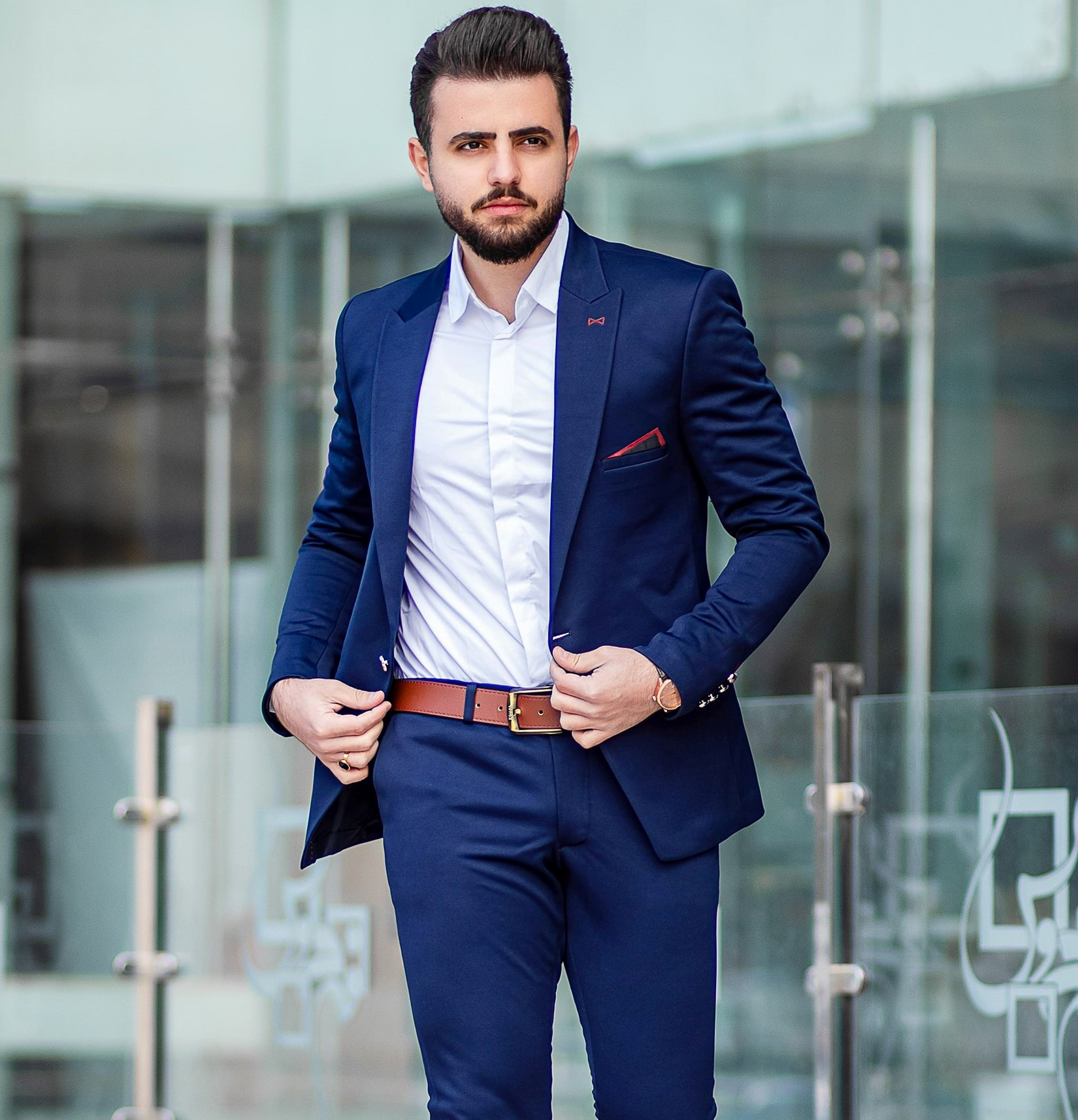 The air tie look works best with a slim-fit suit and a sleek silhouette, with partial or no pants break. This is a very precise and prim style.
Consider Suits with Patterns
Patterns are fundamentally less formal than solids but are super stylish. Solids feel like a safe style choice, but then again, so do ties. So, if you're stepping outside the box, why not go all the way?
A patterned suit is easier to pull off when it isn't competing with a tie. It's easier to style on its own and may feel more acceptable.
Don't shy away from bold patterns, either. The larger the design is, the more casual it helps your suit feel.
Instead of a discreet pinstripe, now is the perfect chance to try a bold plaid print or a windowpane suit print.
Double-Breasted Suit Without a Tie
Not including a tie with your double-breasted suit may be a massive twist on this conservative suit style, but it's completely doable!
Ditching the tie is a bold way to take the edge off this suit's formality.
This idea works best with a lightweight fabric; lighter material is less stiff than a heavier one, giving the full suit a more natural feel. Also, be sure to avoid structured shoulders, again, for a relaxed style.
For this suit to work without a tie, ensure that your shirt collar sits taller than your jacket's lapel. You still don't want to risk looking sloppy.
Pair the Suit With a Turtleneck
Adding a turtleneck to your suit is the perfect way to get out of wearing a tie!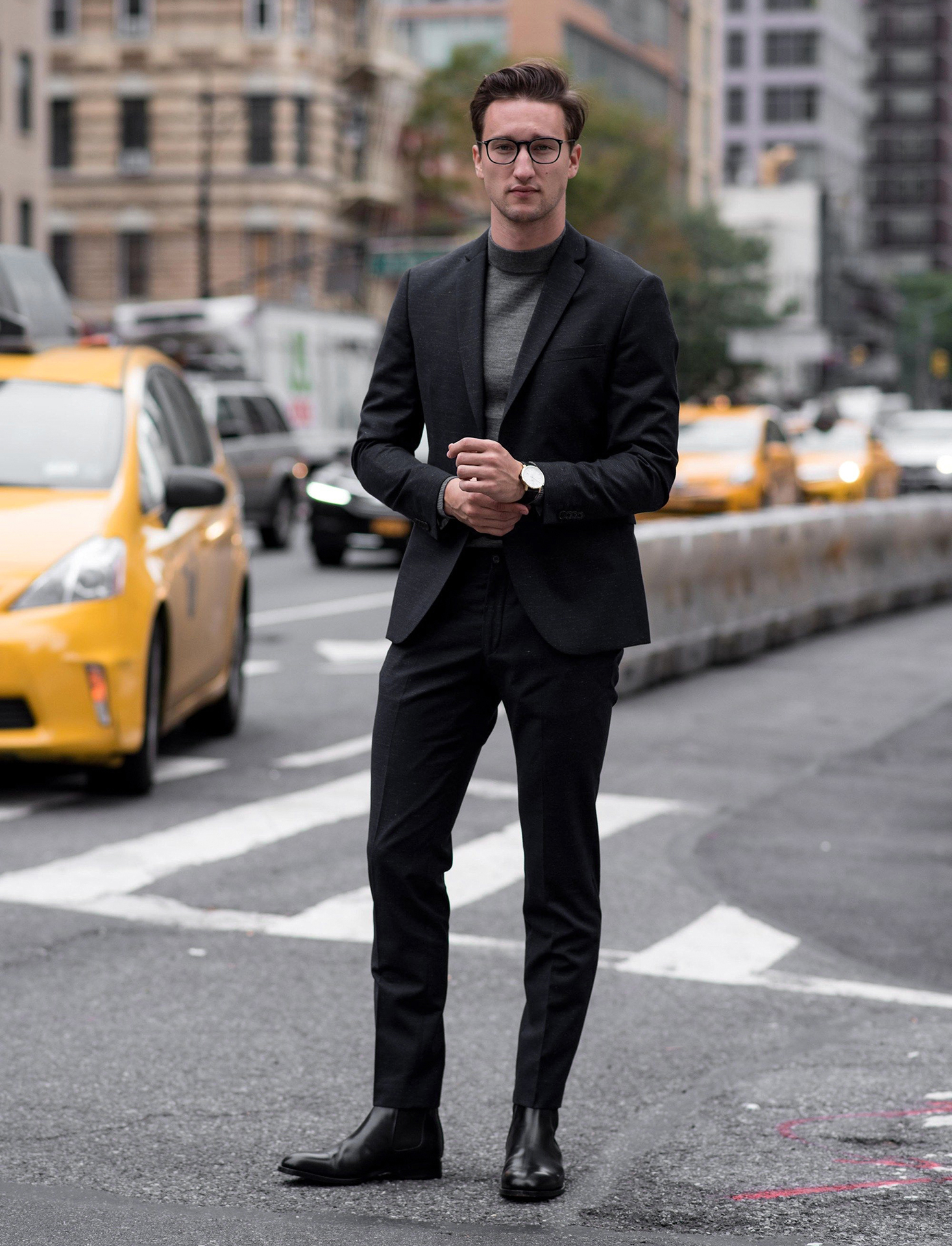 Of course, since there's no collar, you can't wear one, even if you wanted to. Instead, a turtleneck makes your suit look very sleek.
It's best to pair the right turtleneck with your suit to get this style right. Thin turtleneck material works best.
If you have a thick or chunky knit turtleneck, it will be too bulky under your suit jacket. You want it to be as similar to a shirt as possible.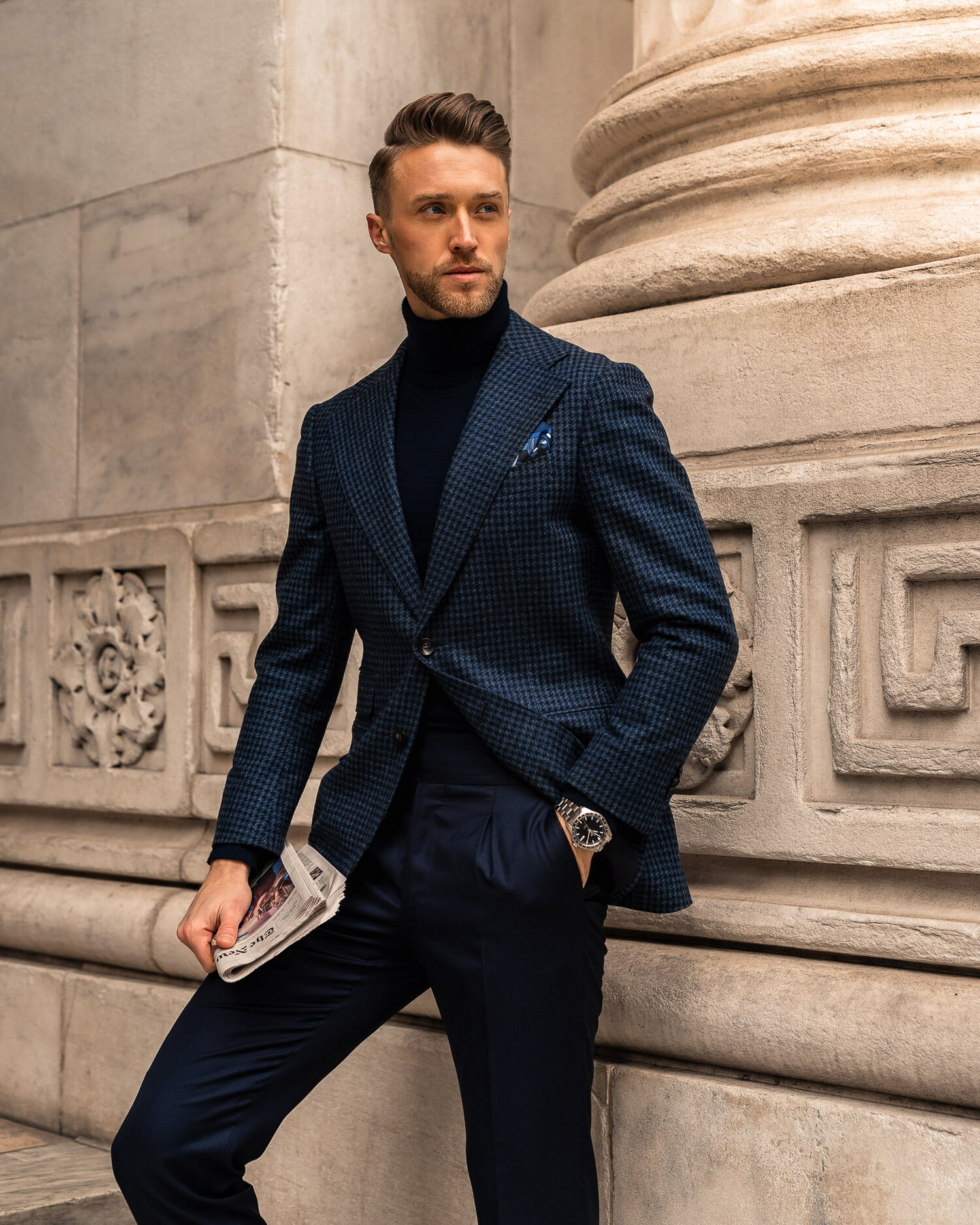 Dark colors are better, as well. They are dressier, and you don't want to wind up too casually dressed.
How to Wear a Casual Suit Without a Tie
The challenge of wearing a casual suit with no tie is to make it look intentional instead of just sloppy.
If you pay attention to the details, you'll pull this off beautifully and be the envy of all smart casual dressers.
Look for a suit that has the hallmarks of casual features. It should be a lightweight fabric, have patch pockets and notch lapels, and must be either unstructured or lightly structured.
Wear a Casual Suit With a Dress Shirt
Simplicity is the key to your dress shirt. A light color, especially a plain white shirt, keeps your suit looking classy and prevents it from slipping into the untidy territory.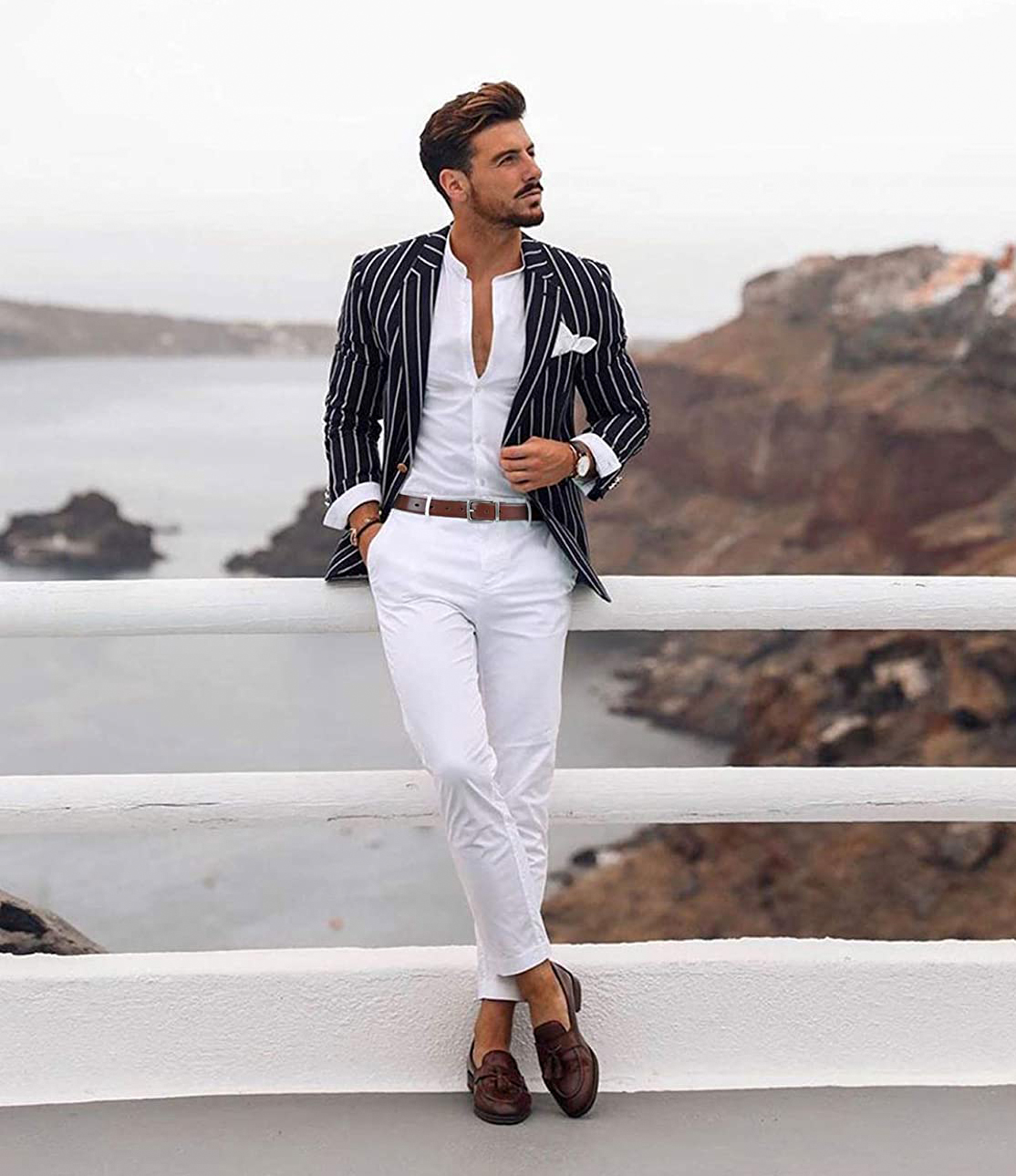 Choose a high-quality dress shirt material; it will convey that you pay attention to your looks and take care in dressing.
And remember that a button-up is dressier than a button-down shirt.
The right shirt keeps your suit elegant. It elevates your casual suit, adding a dash of formality to an otherwise laidback outfit.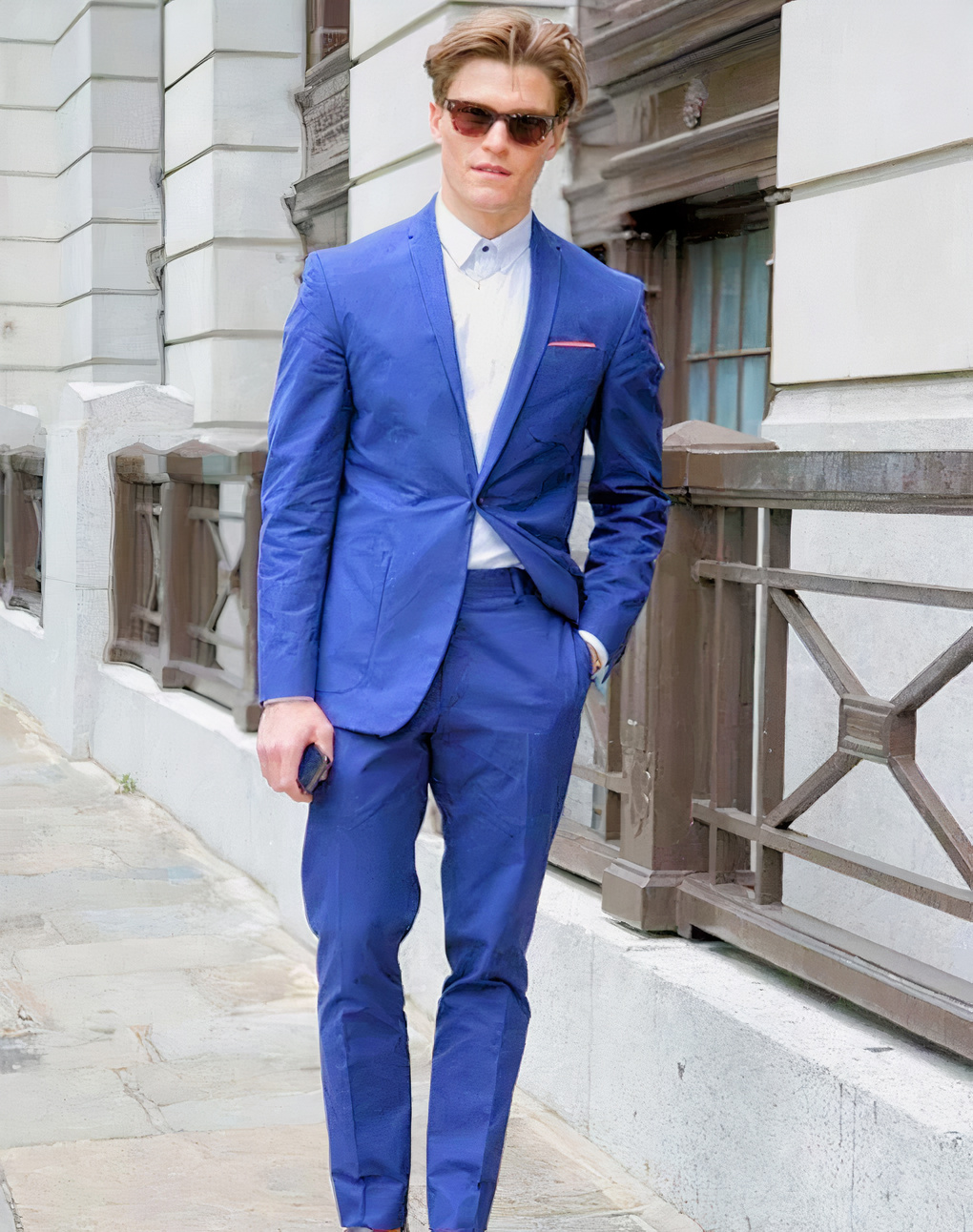 Your shirt will be doing the heavy lifting, covering the absence of your tie.
Wearing a Suit Casually With a Sweater or Cardigan
Remove all expectations of what to expect from a standard suit, and add a light layer of knitwear under your suit jacket.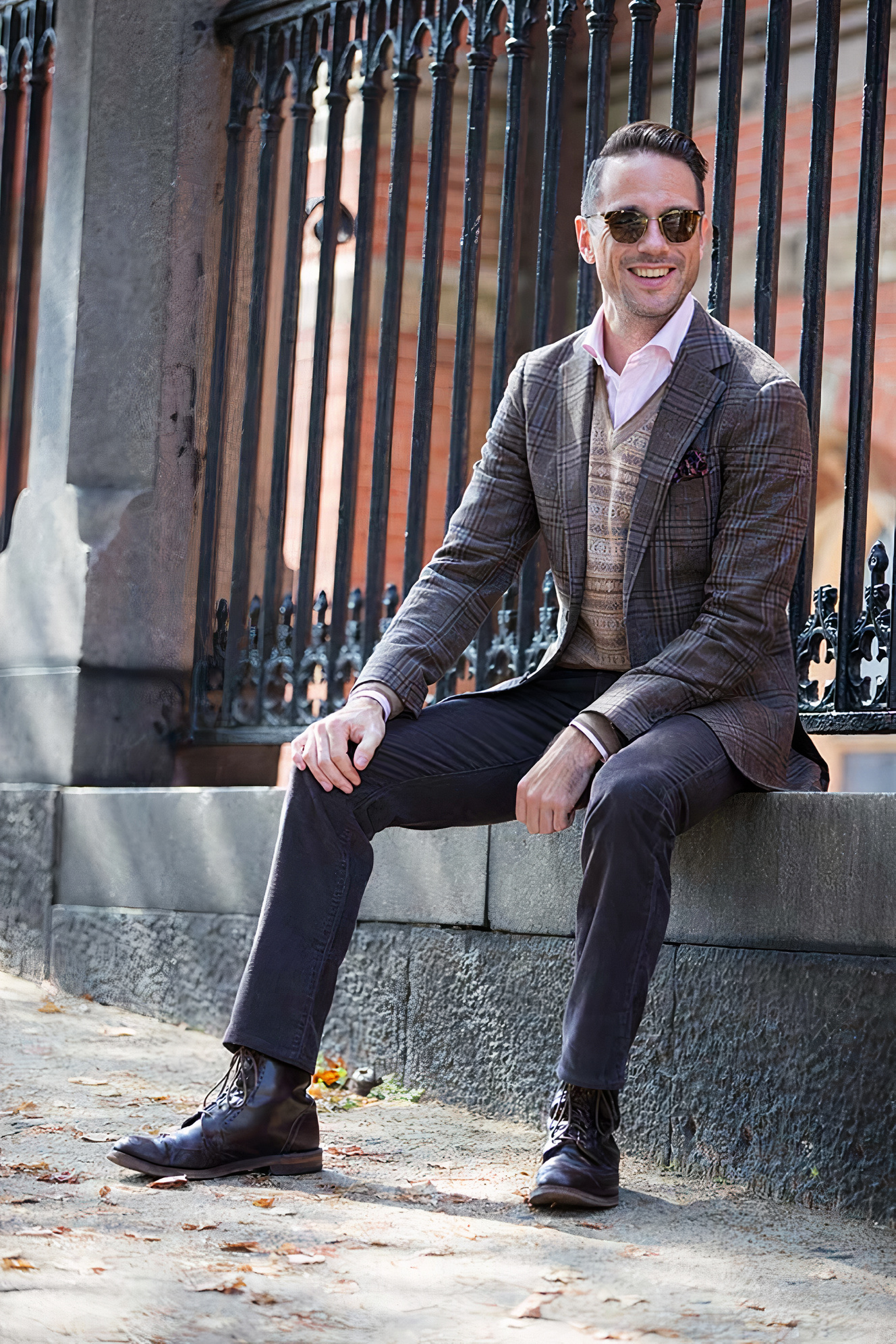 This will give the eye something to focus on other than your lack of tie. In addition, it sends a clear signal that you are playing with fashion here.
You can still wear a shirt under your crewneck sweater or cardigan. A light-colored dress shirt will complement, not compete, with your new layer.
But the sweater is an excellent opportunity to replace the color you lose from your outfit by removing your tie.
Wearing a Casual Suit With a Polo or T-Shirt
A t-shirt is fine to wear with your suit, as long as you do it correctly!
It needs to be a high-quality t-shirt. Nothing stretched out or old, or so cheap that it's fraying along the edges.
Your t-shirt must be well fitted; no baggy or oversized t-shirts for this look! And, it should go without saying, but it must be clean, of course.
Polo shirts are also a suitable choice. The collar may help you feel you're back on solid ground with your suit.
However, your polo shirt must follow the same rules as your t-shirt. Again, this is the perfect opportunity to spice up your suit with color.
How to Sophisticate Your Tieless Outfit
Even when you aren't wearing a tie, you still need to always look put together. Remember, you're showing people that this style is intentional, not a mistake.
You are a trendsetter, not a fashion victim. So add a few extra touches to your suit.
Add A Personal Touch With a Pocket Square
A pocket square can add back the class you lose with your leave off your tie but without the stuffiness. In addition, it sits at the same eye level as your tie, so others will easily spot it.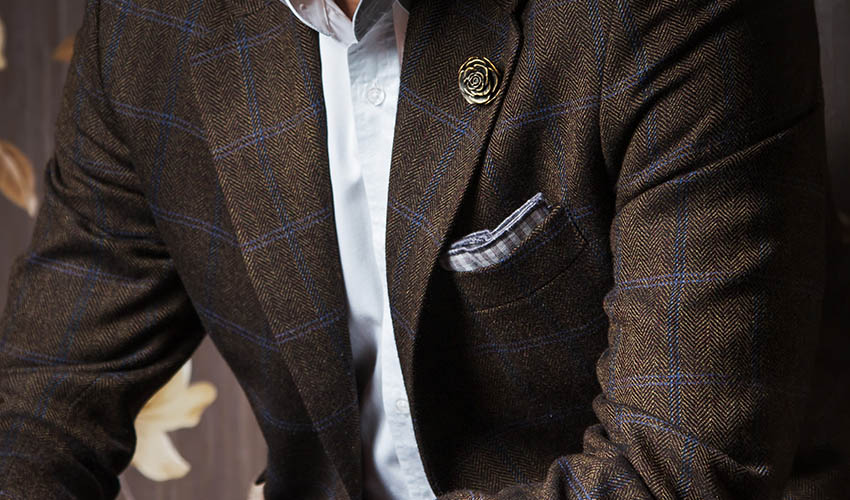 You can go with a simple, white pocket square to show what a sophisticated gentleman you are.
However, your pocket square can also be fun and colorful to add a splash of personality to your ensemble.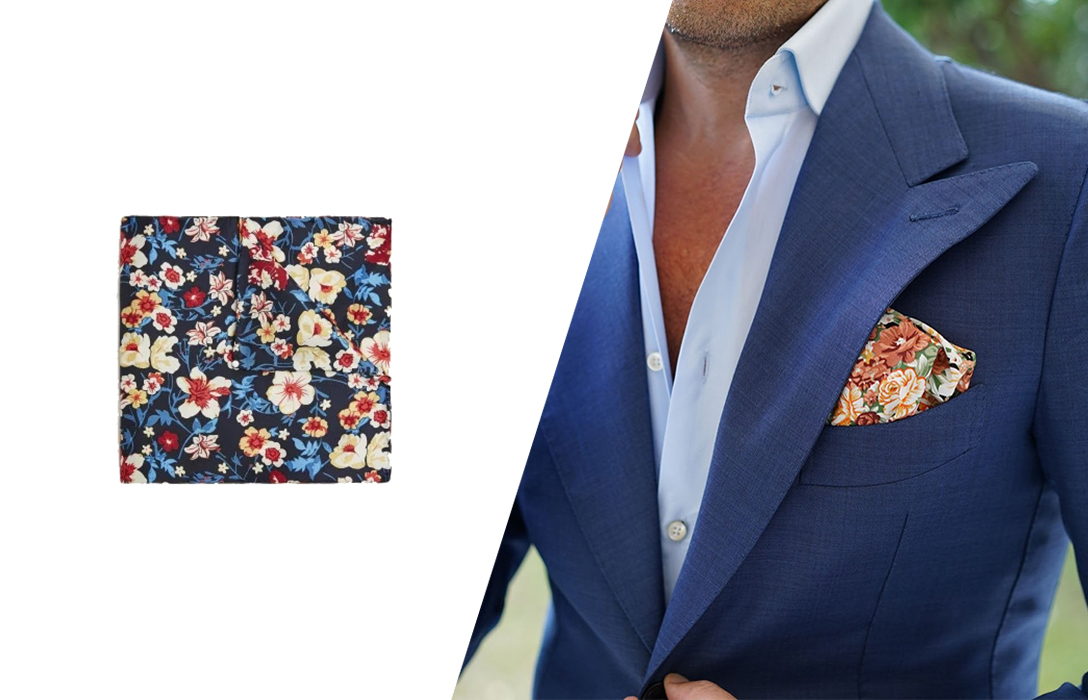 Pocket squares break the mold set by the tie but retain its elegance.
Introduce Patterns
You can have patterns on more than just your suit; why not your dress shirt, too?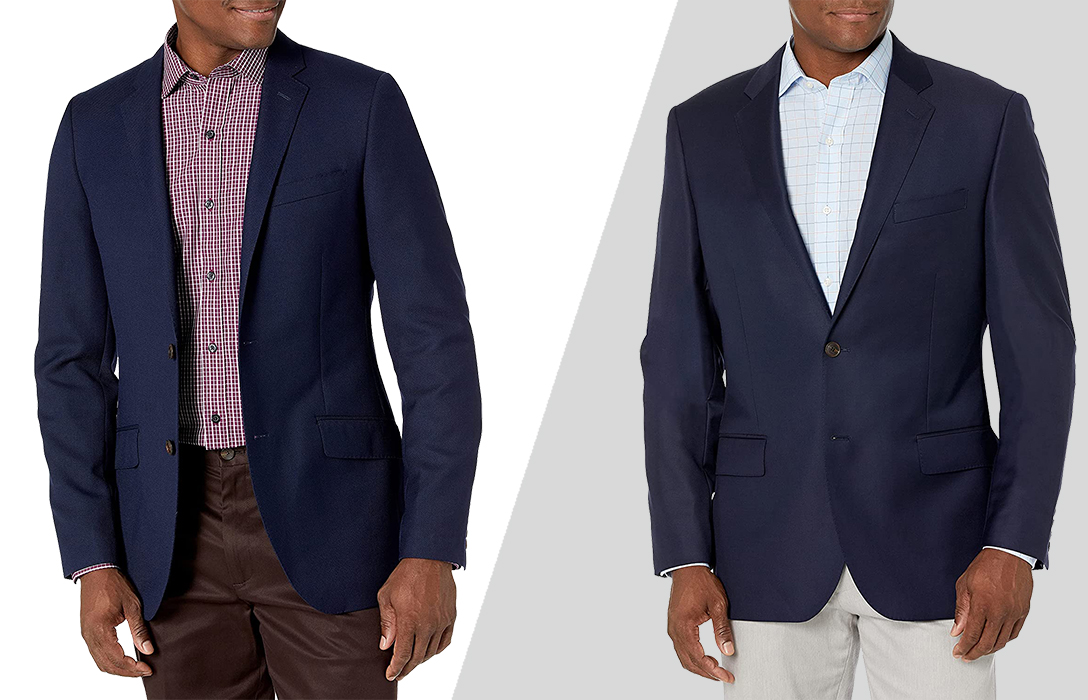 A patterned shirt shakes up your suit, clearly indicating your fashion intentions. It says you are laidback, fun, and nonchalant.
In addition, a patterned shirt shows that you aren't about business; you are ready to socialize, especially if the pattern is large.
Go for Less Formal Shoes
Don't wear your regular lace-up Oxford or derby shoes if you don't need to. And with the tie gone, you have more freedom in choosing your shoes.
Loafers are the most leisurely dress shoe type you can add to your suit while maintaining a bit of sophistication.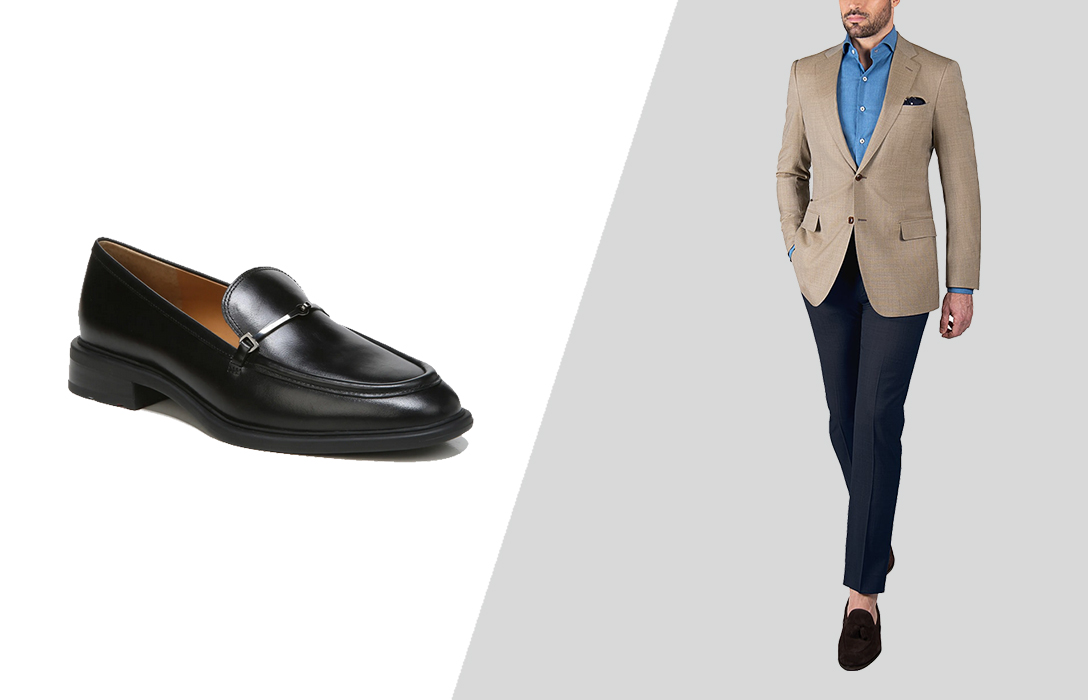 Monk straps are also an exciting way to make your outfit stand out. And if you opt for a sockless look, your style will be even more casual.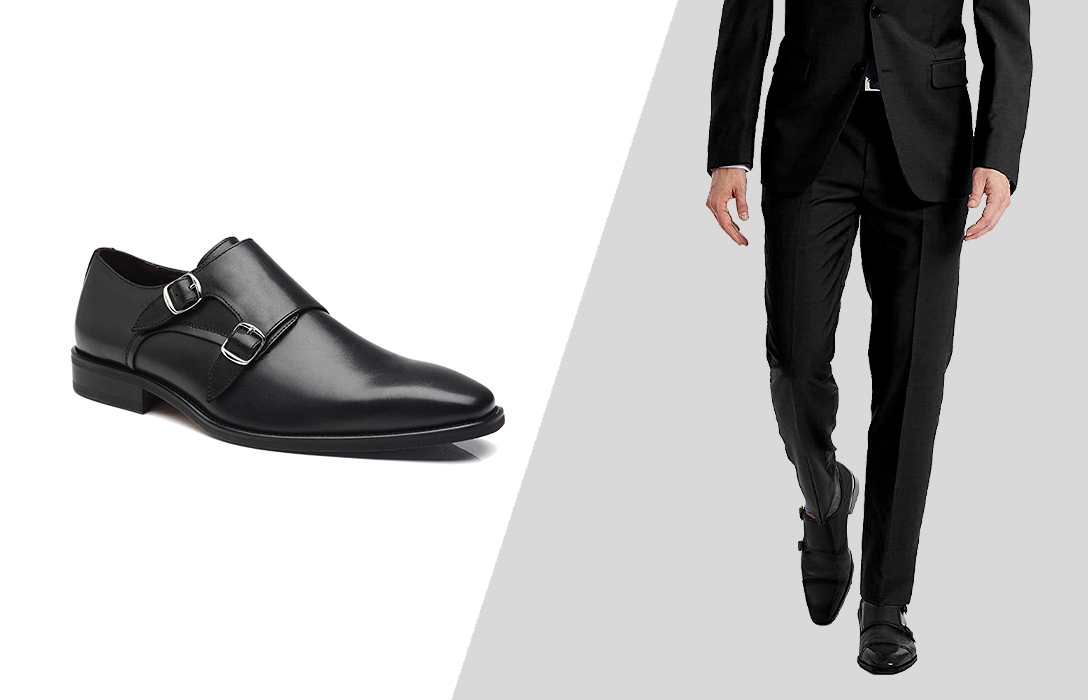 Nice sneakers are also a good footwear choice. However, they can't be athletic sneakers. Fashion sneakers that have a thin sole are ideal.
Keep the Undershirt Hidden
Your undershirt is a functional garment, not a fashionable one. Therefore, it should never be seen.
Instead, keep it tucked away and ensure that your open buttons don't reveal your undershirt.
If that proves impossible, perhaps you have the wrong kind of undershirt. For example, try a V-neck instead of a crewneck one.
Author: Alexander Stoicoff
Hi, I'm Alex, and I've studied and specialized in styling in Rome. Through my writing, I want to help men dress well and learn the purpose and significance of suits and other formal attire. My final goal is to make men more confident in their wardrobe choice and life in general.