Don't feel bad if you didn't give a second thought to your wedding shoes as a groom despite your best planning for the big wedding.
After all, shoes are just a small part of the groom's outfit; how can they really be important?
But, as it turns out, they are quite important. The right wedding shoes can make your entire outfit.
The wrong footwear, on the other hand… well, let's just focus on the right ones.
Types of Wedding Shoes for the Groom
Every couple is unique and has a personality. Their wedding will reflect the sensibilities of the couple throwing the event, so each one will vary.
As a groom, you need to pay close attention to how you dress, including your shoes, to match the event's tone.
Whether the special day is an intimate gathering in the backyard or a swanky black-tie affair, there's a different dress shoe style for each occasion.
Determining the best groom's wedding shoes is easy when you know what to expect.
Opera Pumps
Opera pumps are patent leather slip-on dress shoes with low heels. They are a throwback to how men wore dress shoes for centuries.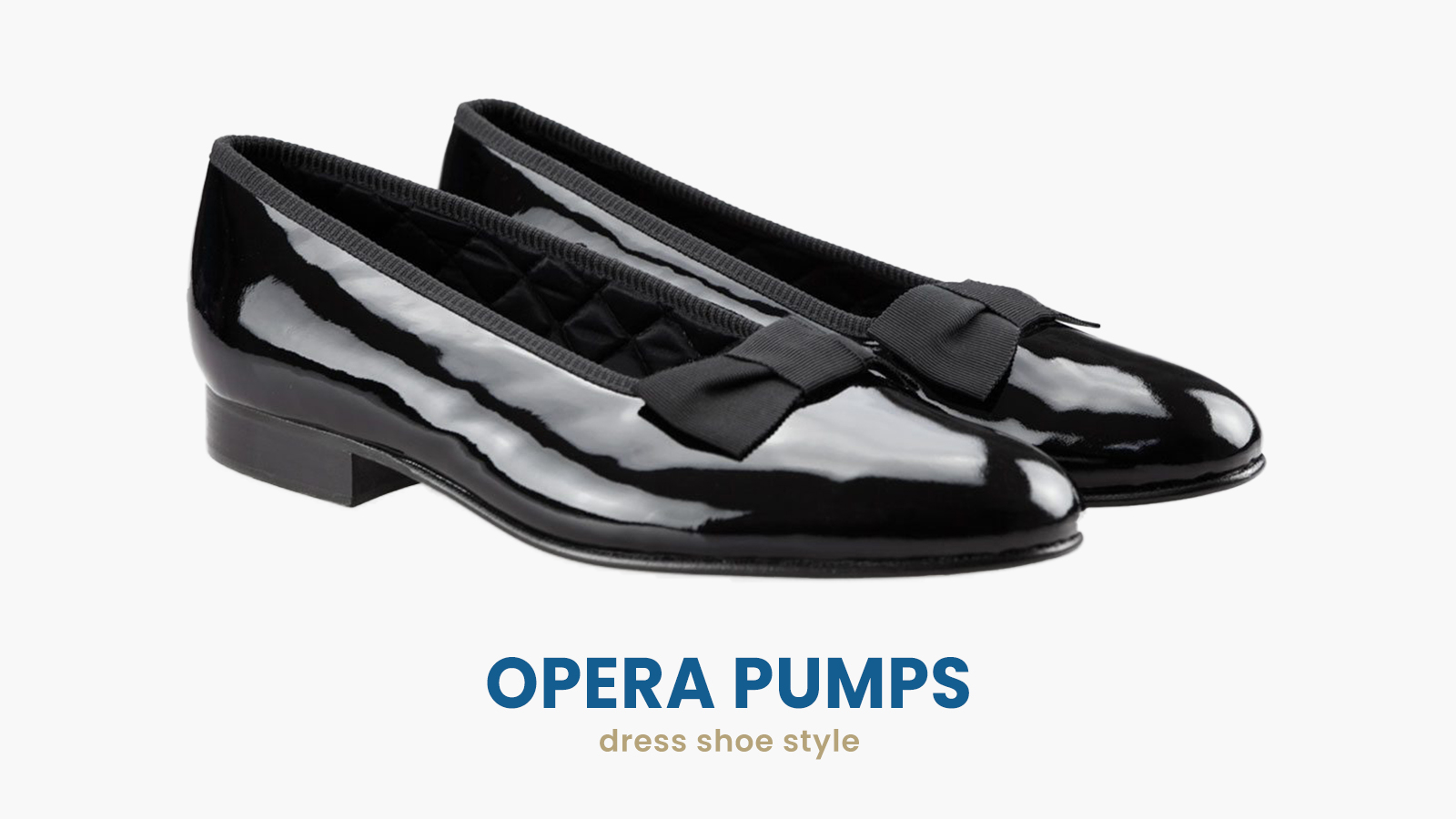 In addition, they're typically simple and plain, representing the utmost formality. Sometimes, they are embellished with a bow or ribbon across the vamp.
No matter how styled, opera pumps make the groom look elegant and sleek.
So, opera pumps are the ideal men's dress shoe for when your wedding is the height of formality, whether it's a black-tie or other formal event.
Wholecut Oxfords
The whole-cut might be one of many Oxford styles, but it is definitely the most formal one.
Wholecut Oxfords are cut from a single piece of leather, with the only stitching at the heel.
These are simple shoes yet very formal wedding shoes for a groom; they offer no embellishments or seams.
Instead, they make an incredibly streamlined silhouette.
In my opinion, whole-cut Oxfords are ideal wedding shoes if you're the groom. They are suitable to wear with tuxedos and with other formal suits.
So, if your wedding is semi-formal or above, you can't go wrong with these, especially if it's a winter wedding.
Just a note that Oxfords are closed-lacing system dress shoes with slightly stacked heels.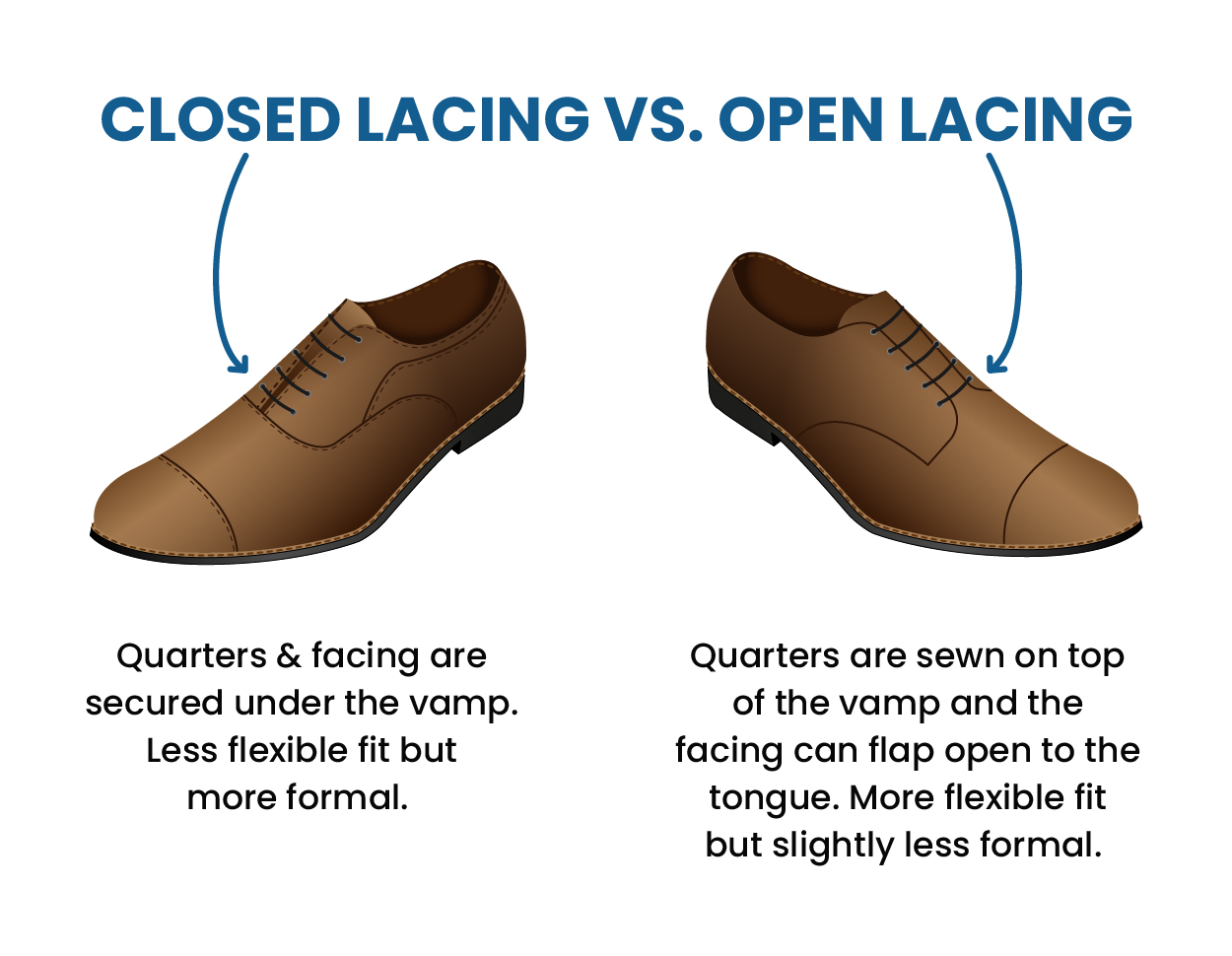 Closed lacing means that the eyelet strip is stitched underneath the vamp, ensuring that both quarters come together and close up when tied.
Plain Toe & Cap Toe Oxfords
Oxfords are highly adaptable dress shoes, appropriate for nearly any wedding suit.
The cap-toe Oxford dress shoes have stitching across the tops of the toes, creating an extra boxed-off area.
It literally creates a cap for your toes. These are less formal than whole-cut Oxfords but are still dressy.
Plain-toe Oxfords have no toe caps, which makes them a more formal option for a groom.
In contrast with the wholecut, plain toe Oxfords have small detailing around the shoe's throat.
This classic style is suitable for most groomsmen because of its versatility.
So whether your wedding is a black-tie event or a semi-formal one, a pair of Oxfords will be appropriate.
Derby Shoes
Derby shoes are pretty similar to Oxford shoes, but with one significant difference; these have an open lacing system.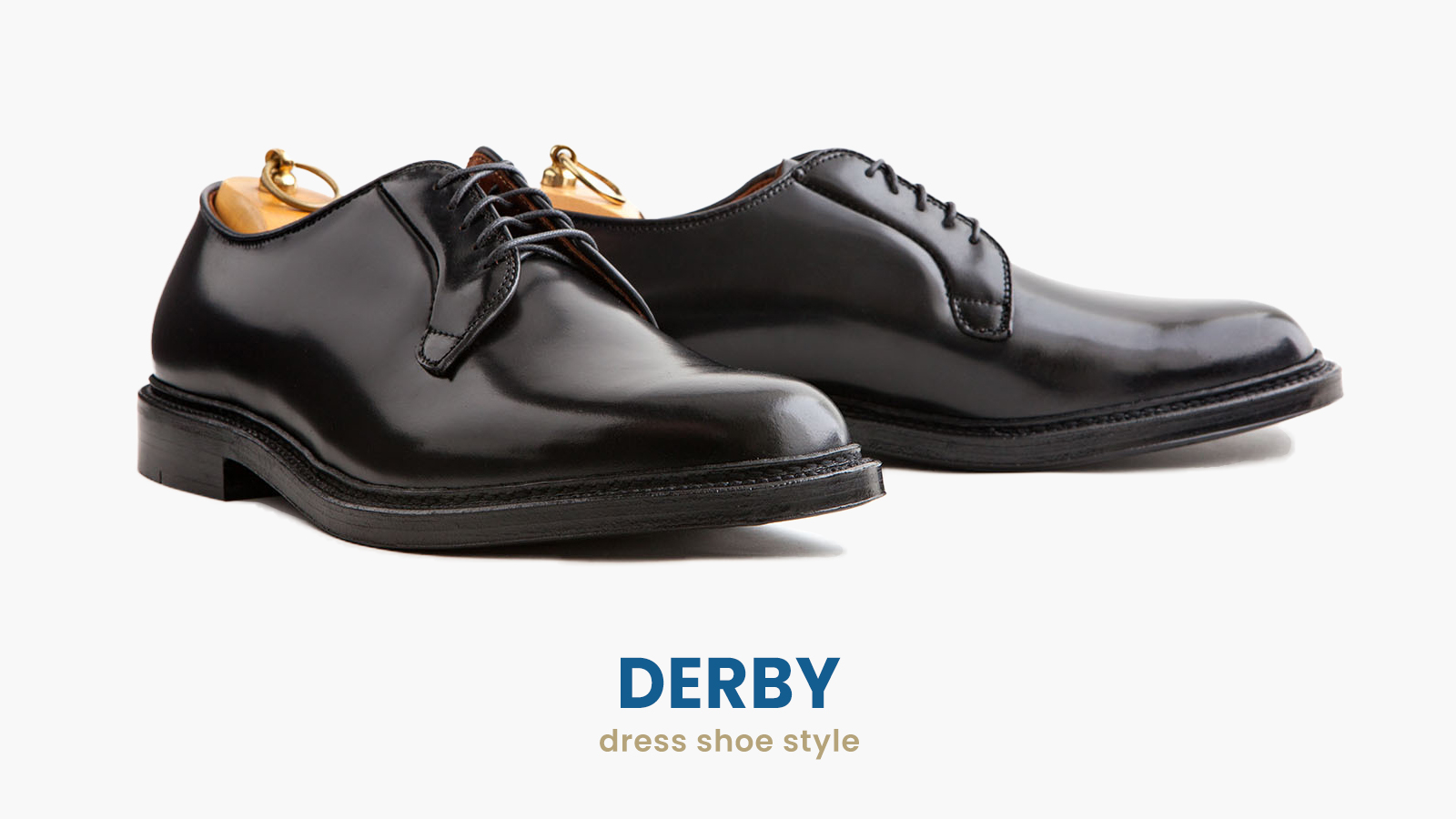 Open lacing is when the eyelet strip sits above the vamp, so the quarters don't close when you lace the shoe.
This may seem like a minor detail, and most men may not even be able to pinpoint what the difference is.
However, though the effect is subtle, it will affect the entire tone of your outfit.
Derby shoes are slightly less formal than Oxford. Sticking the somewhat dressier Oxford shoes might be best since you are the groom.
Otherwise, they are still good for dressy occasions and are suitable for most weddings.
Monk Straps
Monk straps are a fashion that stands out; they are neither slip-on nor lace-up. Instead, monk straps have buckle enclosures.
Monk straps can have one or two straps, with as many buckles. They are more casual than both Oxfords and derby shoes.
Monk straps are fit for grooms at cocktail or daytime weddings and are a good way to add personality to your wedding attire.
Although, most experts agree that these unique shoes are better suited for wedding guests than groomsmen shoes.
They may be too distracting, pulling attention away from the momentous event.
Loafers
Loafers are slip-on shoes that lean toward a casual feel, in general.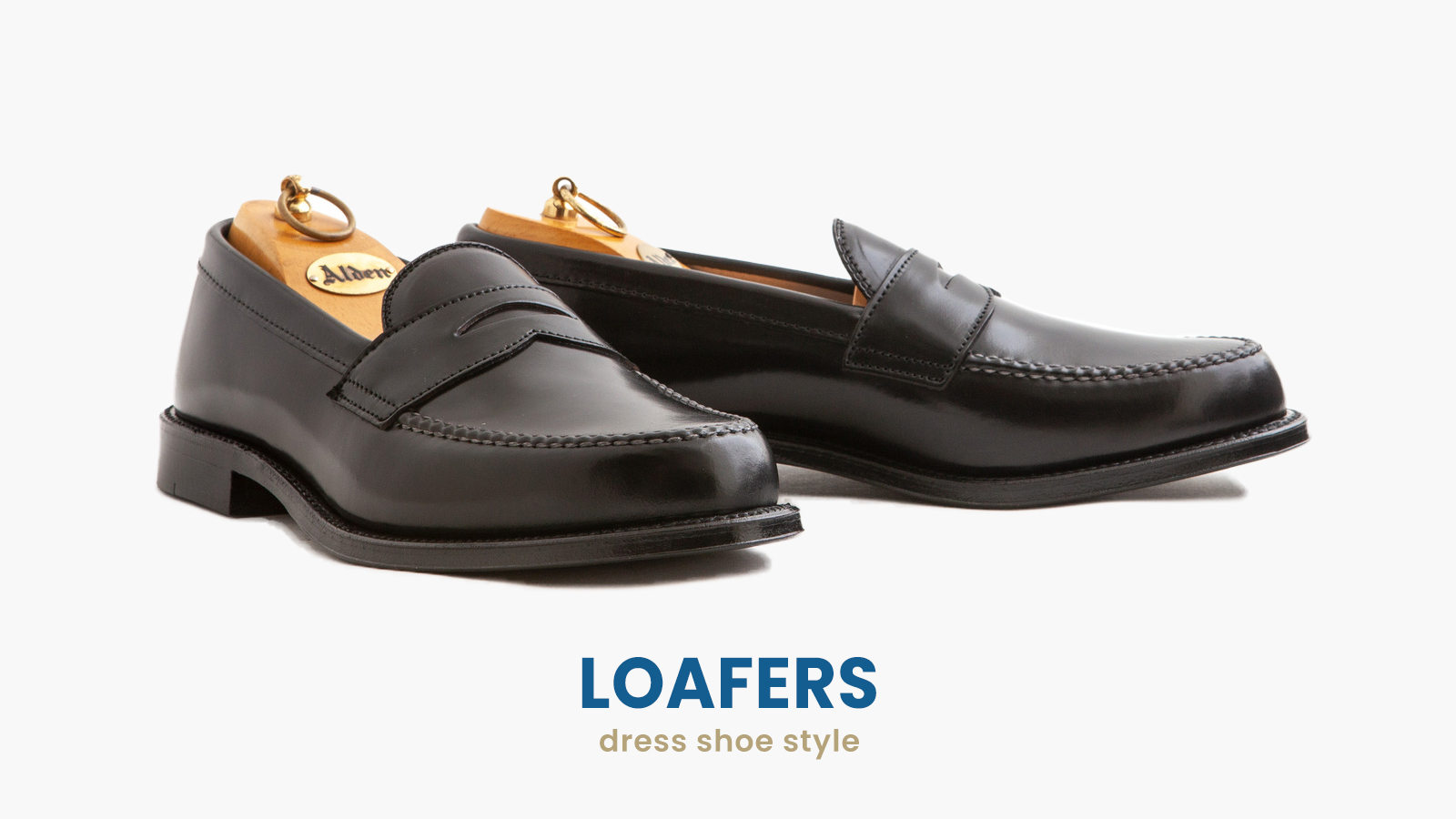 However, there are more dressy styles of loafers. For example, a leather tassel can amp up the formality of the shoe.
Or consider the material; velvet is a sublime choice for a groom who still wants a winter slip-on.
So, are loafers appropriate for weddings and grooms? Yes, they can be, especially for a summer wedding.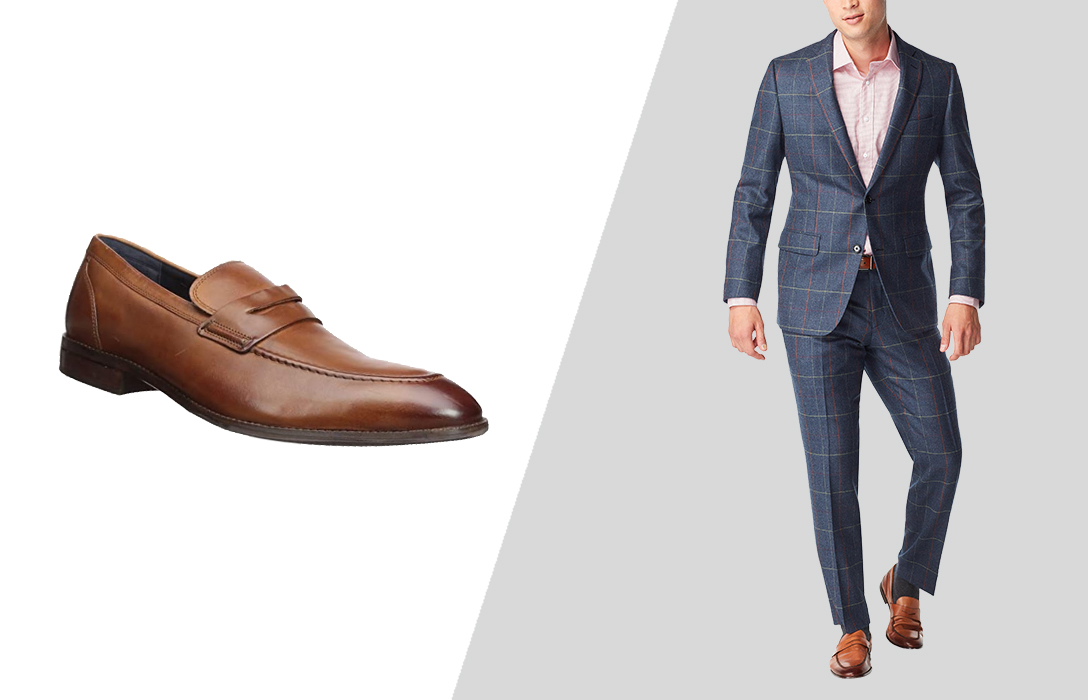 For instance, if you go the route of the velvet loafer for a formal wedding, the fabric must be dark and have no embellishments or embroidery.
If you're headed to a casual-feeling wedding, leather loafers are a good choice.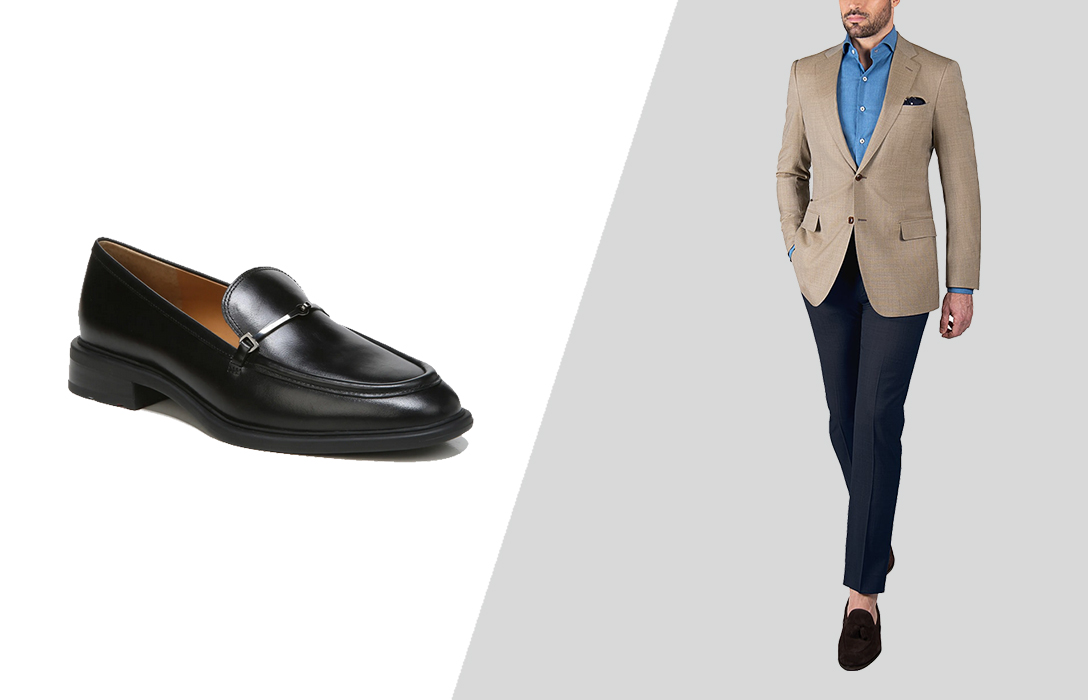 Remember to wear them with no-show socks, especially if you're attending a beach wedding.
Your pants must be appropriately tailored, and no break looks best with loafers.
Brogues
When you hear about brogue shoes, remember that the term refers to the adornment of a leather shoe, not a specific type of shoe. Therefore, any shoe can have broguing.
Brogues have small perforations in various designs across the toes and sides of the shoe.
Because plain shoes are more formal, broguing makes a shoe less dressy. That makes brogues terrific wedding shoes for guests.
However, if you are the groom, consider if this style is formal enough for your wedding without lowering the overall feeling you and your spouse-to-be are aiming for.
These aren't suitable for formal weddings, but they'll do for semi-formal and other less dressy events.
Dress Boots
Dress boots are fun and unique footwear appropriate for most wedding settings that aren't formal.
The best boot style to consider wearing is a Chelsea boot.
This sleek ankle boot has no embellishments other than elastic at the sides. It creates one smooth, continuous silhouette along the foot, reminiscent of a wholecut Oxford shoe.
Avoid dress boots that have laces if you're the groom. They can look very nice with suits, but not with a wedding suit.
The laces go too far into the pant leg to feel dressy; it creates a weird effect on the hemline.
Formal Suit & Wedding Shoes for the Groom
A formal wedding suit has peaked or shawl lapels, can either have flapped or jetted pockets, and is usually dark.
The best colors for a formal wedding suit are navy, blue, or maroon. Tan or light grey might be equally festive colors if the wedding is during the day.
Groom's formal suit can be single or double-breasted. Both suit styles are equally appropriate for weddings.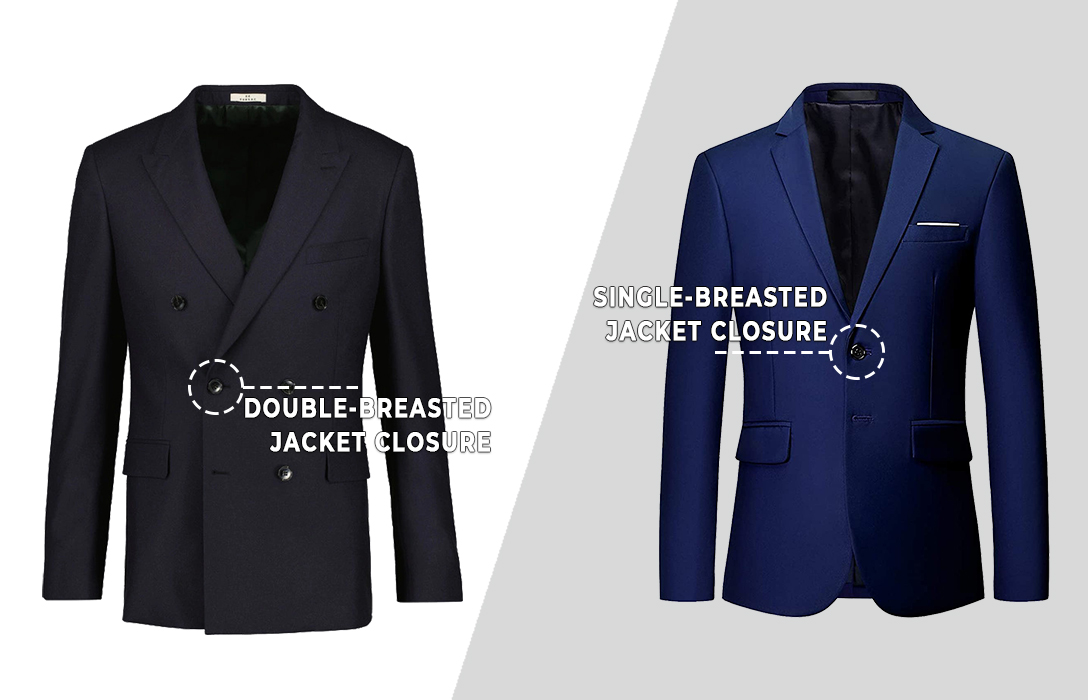 But one of the main traits of the formal suit is the material. It's either high-quality wool, velvet, or other luxury fabric.
As a groom, it's best to pair this suit with Oxford dress shoes. Both plain toe and cap toes are good, but steer clear of brogues.
Here's a perfect example of black plain-toe Oxfords and a navy suit:
The shoe color should match the suit's color, but stick to the most formal option. In most cases, it's either black or dark brown shoes.
In fact, there are a decent number of perfectly working suit and shoes color combinations for a wedding, so it's best to explore them.
You can finish the look with a white dress shirt and a formal solid or patterned necktie.
Casual Suit & Wedding Shoes for the Groom
Your shoes must always match the formality of your outfit. It doesn't matter what the occasion is; this should always be true, even for weddings.
A casual suit is distinct from his formal counterpart, with patch pockets, casual fabric (usually linen, tweed, seersucker, etc.), and bright colors.
Some casual suit colors are light blue, tan, khaki, or brown. In addition, some latest fashion trends include pink, burgundy, and green suits.
As a groom, you can pair them with brown or burgundy dress shoes, depending on the suit's color. For example, brown shoes might look good with a blue suit.
On the other hand, burgundy shoes will be a great pairing for brown, tan, or khaki suits.
You should adapt the shoe type to the wedding dress code. You can go for monk straps, loafers, and even sneakers.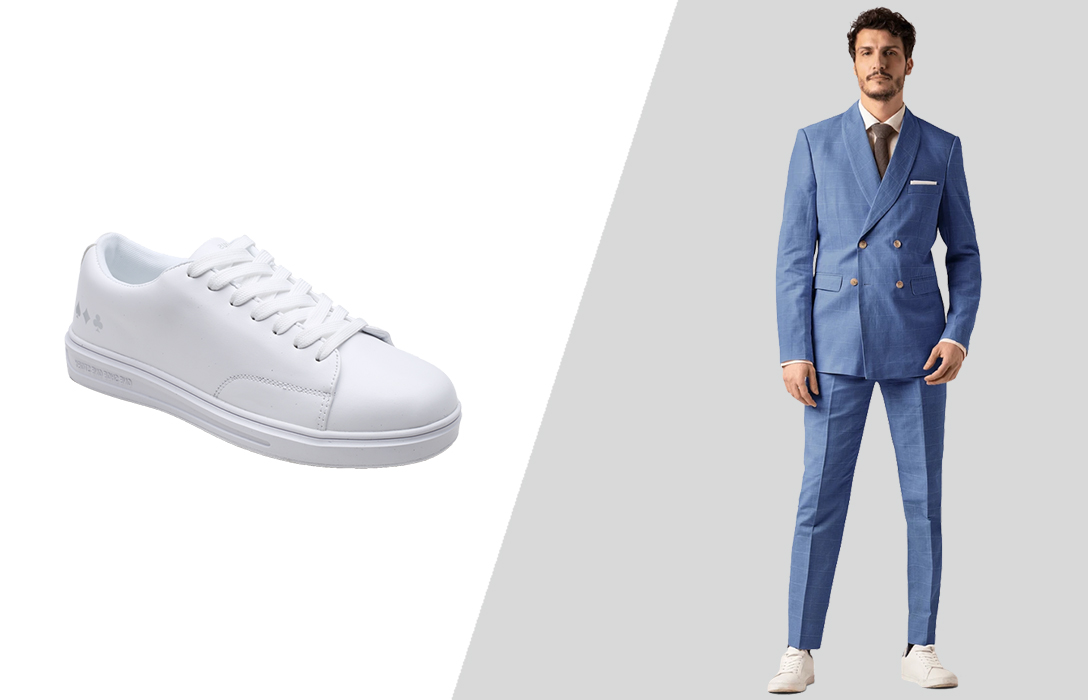 But if you want to retain some formality, I'd at least go with Derbies.
Tuxedo & Wedding Shoes for the Groom
A tuxedo is the most formal of all suits, so you need the most formal shoes with it.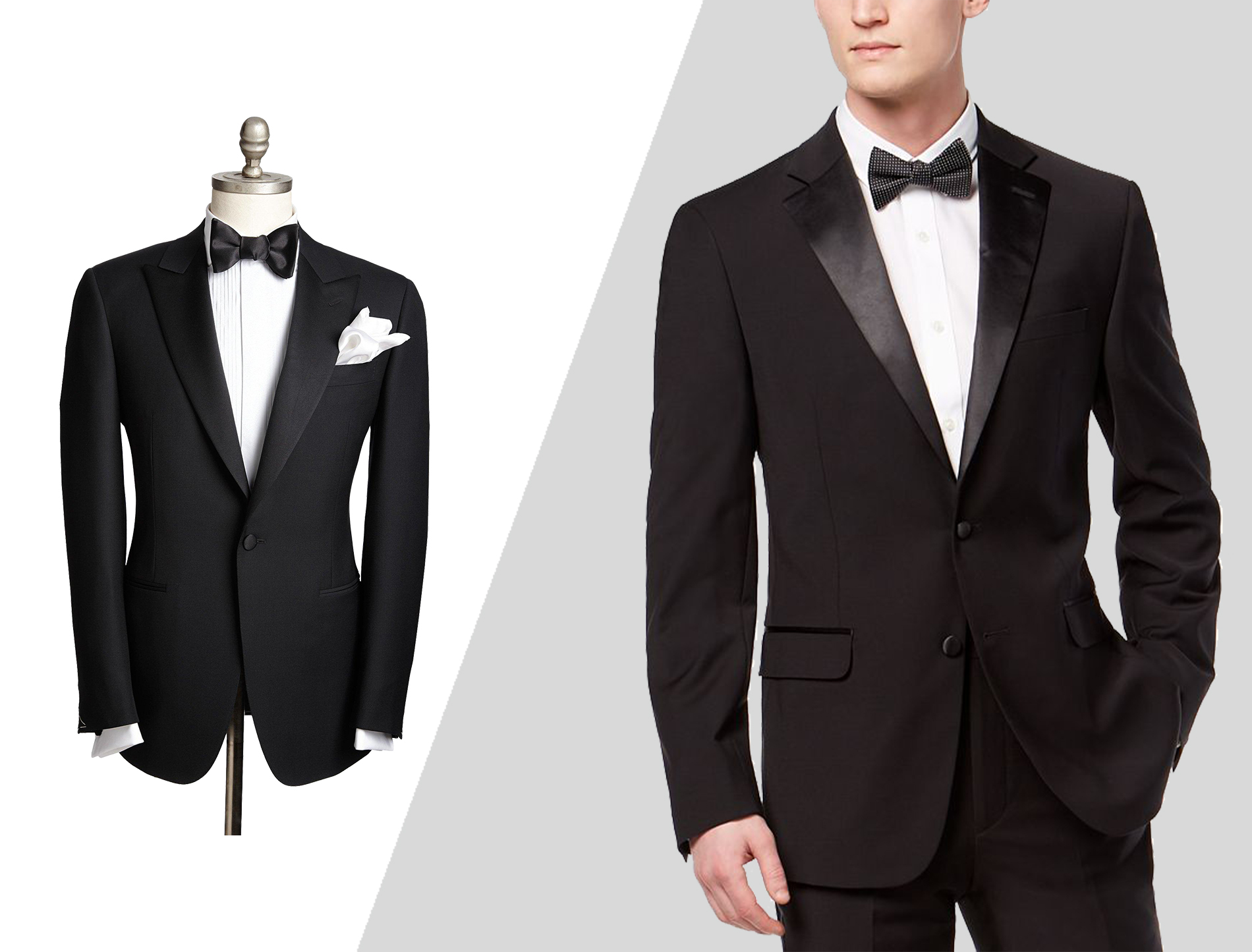 In most situations, your tuxedo will be black, but other popular wedding tuxedos can be dark blue or burgundy.
Your shoes should be black, despite the color of the tuxedo.
Opera pumps or patent leather Oxford shoes are the ideal shoes to wear with your black, blue, or burgundy tuxedo.
Both wholecut and plain Oxfords are good, but I'd avoid the cap-toe Oxfords with a tuxedo.
Pair the look with a crisp white tuxedo shirt and a bow tie. Voila!
Author: Alexander Stoicoff
Hi, I'm Alex, and I've studied and specialized in styling in Rome. Through my writing, I want to help men dress well and learn the purpose and significance of suits and other formal attire. My final goal is to make men more confident in their wardrobe choice and life in general.