The right color combination between your wedding shoes and suit should blend in perfectly with the rest of your attire.
The shoe style and type also play a huge role in the formality. It will make a world of difference which one you choose, depending on whether you're a guest or a groom.
We have it all covered.
Black Wedding Shoes
Black shoes are the most popular color for wedding shoes for a reason.
Mainly they are so common because black is the most formal, and weddings are a time for most people to get dressed up.
But there's another excellent reason for black being such a popular shoe color choice; they match nearly every suit!
And, of course, black shoes are very versatile. You'll absolutely wear your black wedding shoes again and again and again.
Your best shoe choices for wearing black are Oxford, derby, and double monk strap shoes.
Oxford shoes are your go-to for a classic and traditional style.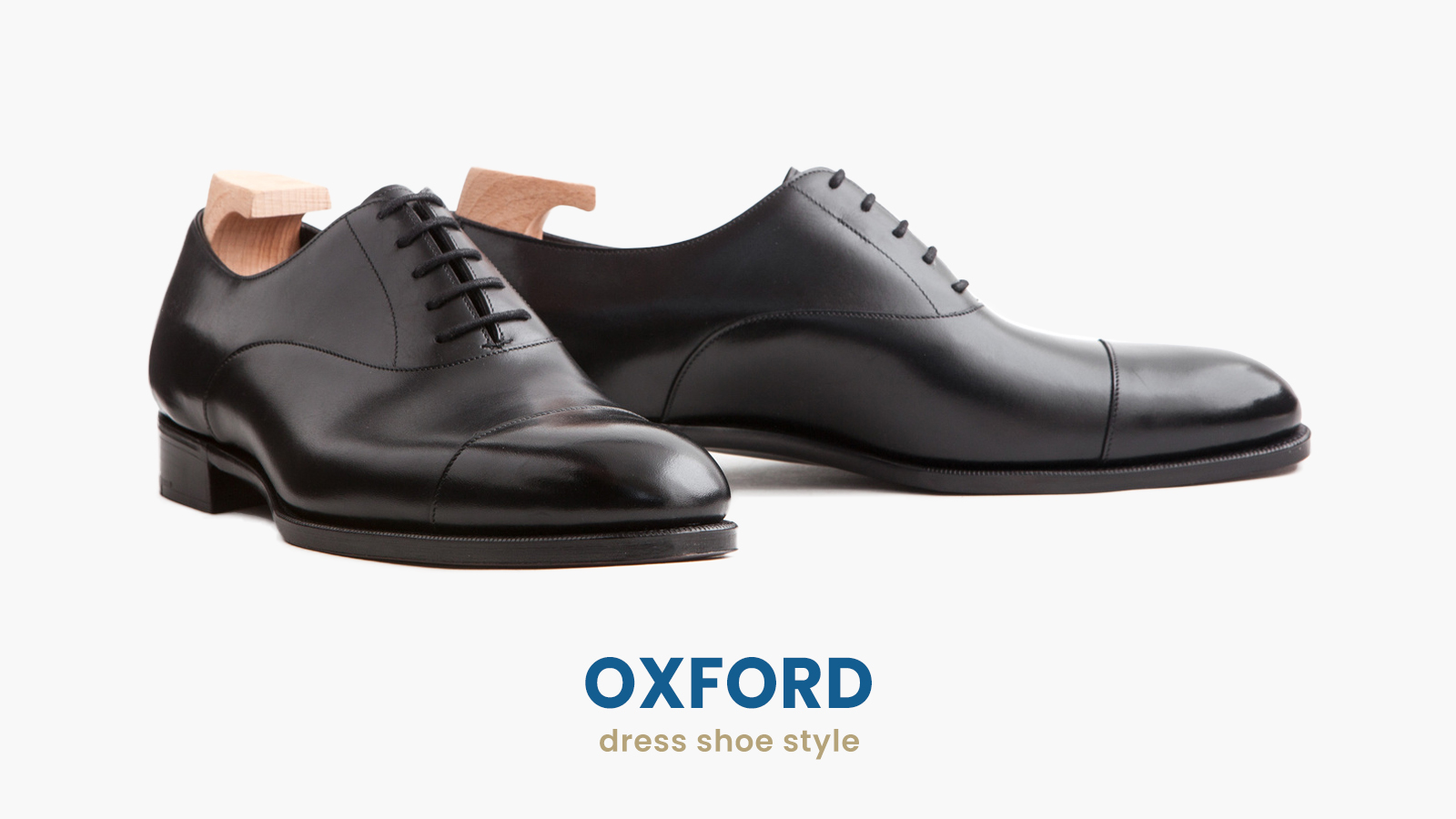 Derby shoes are for when you need something a little more laid-back.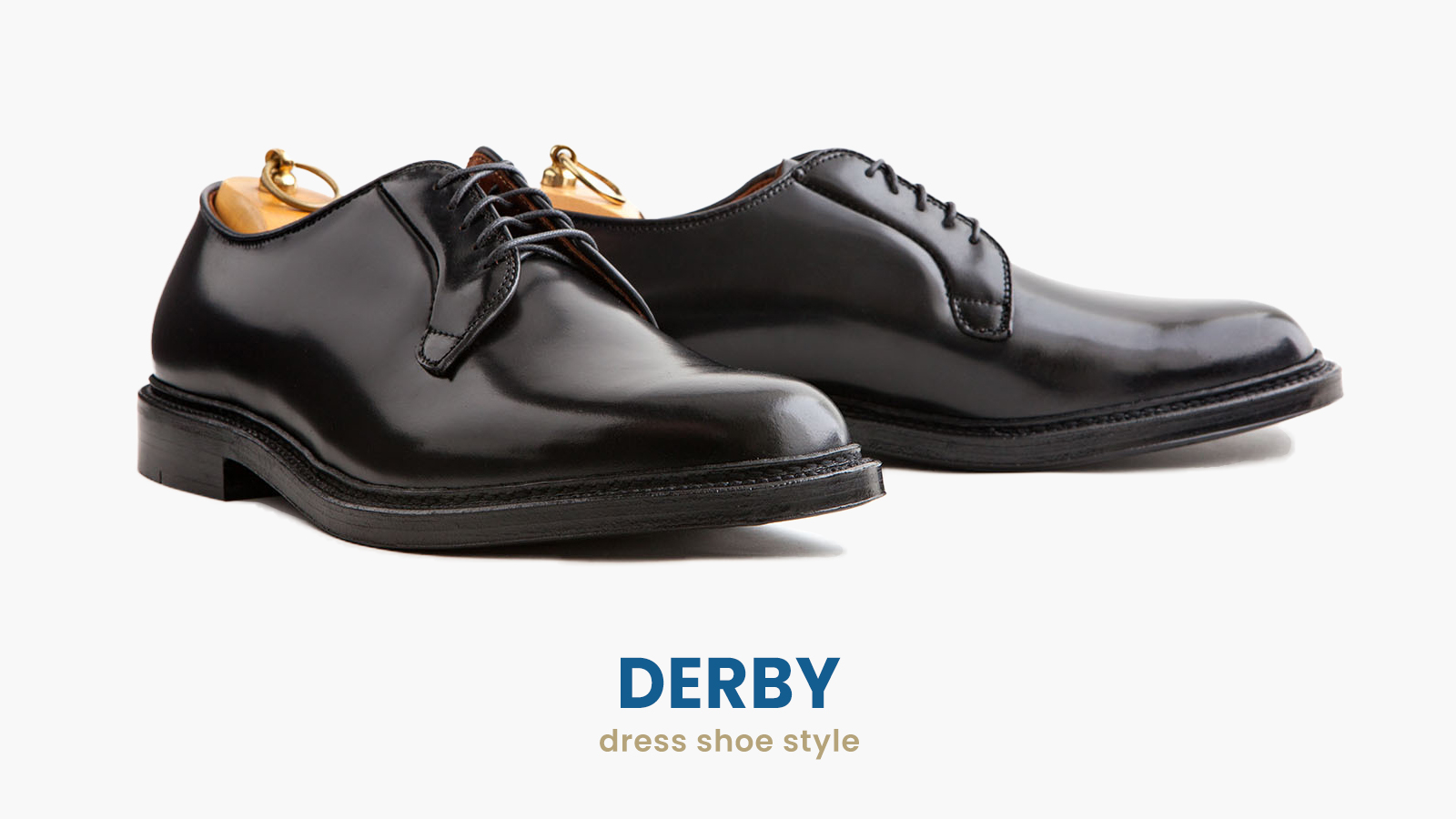 And if you crave a funky and fun style, you need to get yourself a pair of monk straps.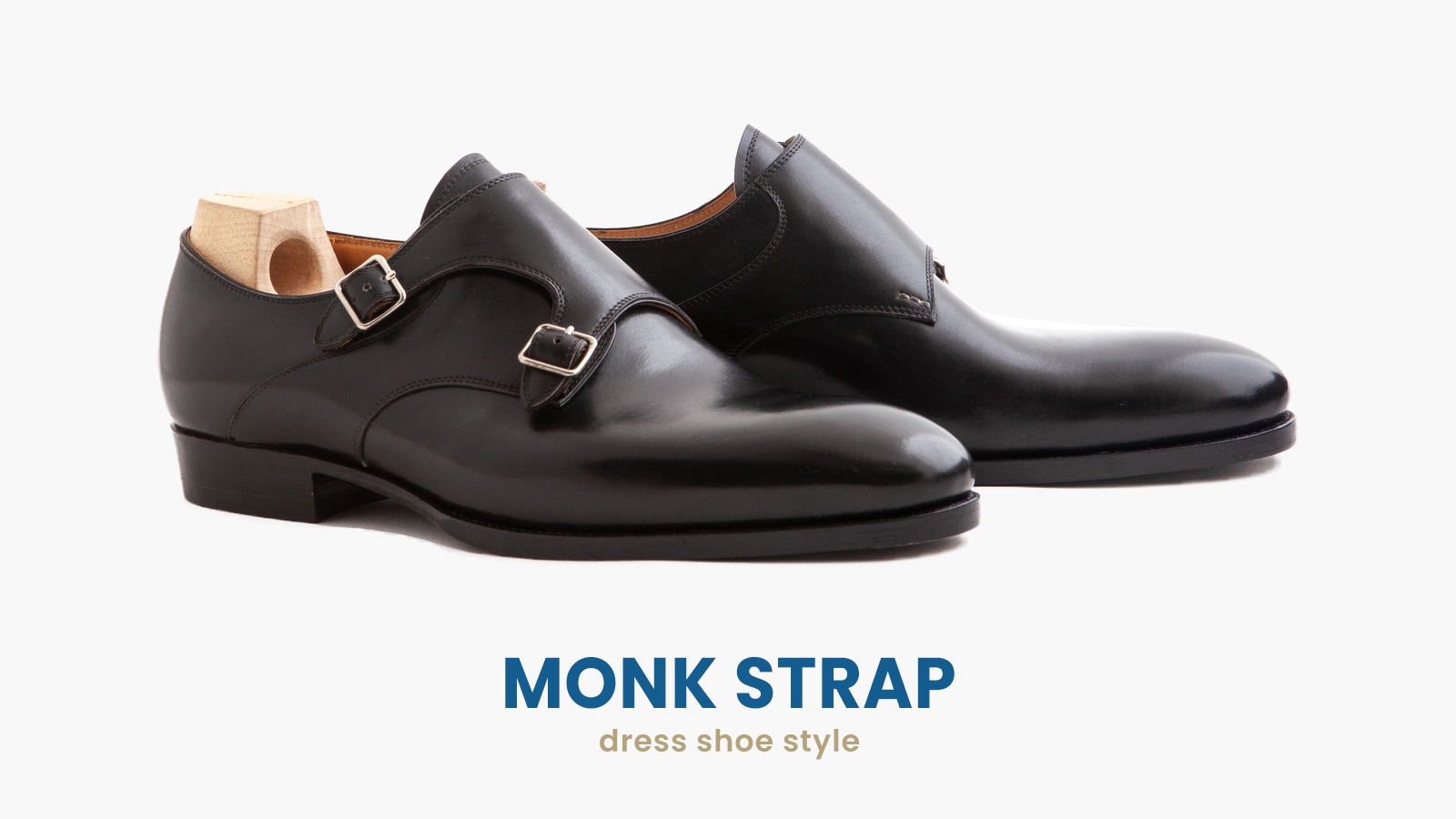 Remember that the more embellishments you add, your shoe becomes less formal.
On the other hand, if you keep your shoes relatively simple, you'll be able to match them to more occasions.
Brown Wedding Shoes
Not all weddings are formal. Many couples prefer a more casual wedding, which can be loads of fun.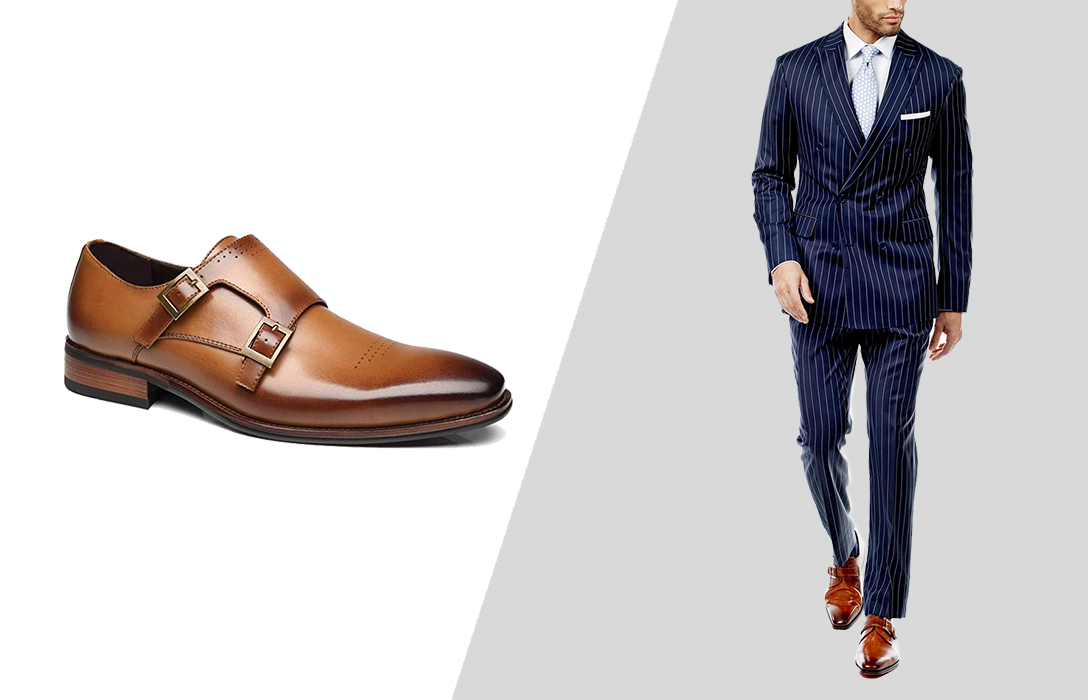 If you're looking for a relaxed wedding vibe, brown shoes are ideal for setting the tone.
Brown Oxfords are probably the best choice for wedding shoes, but you can also go for Derbies.
However, if you compare black Oxfords to brown Derbys, you'll notice a world of difference in how each one affects your suit.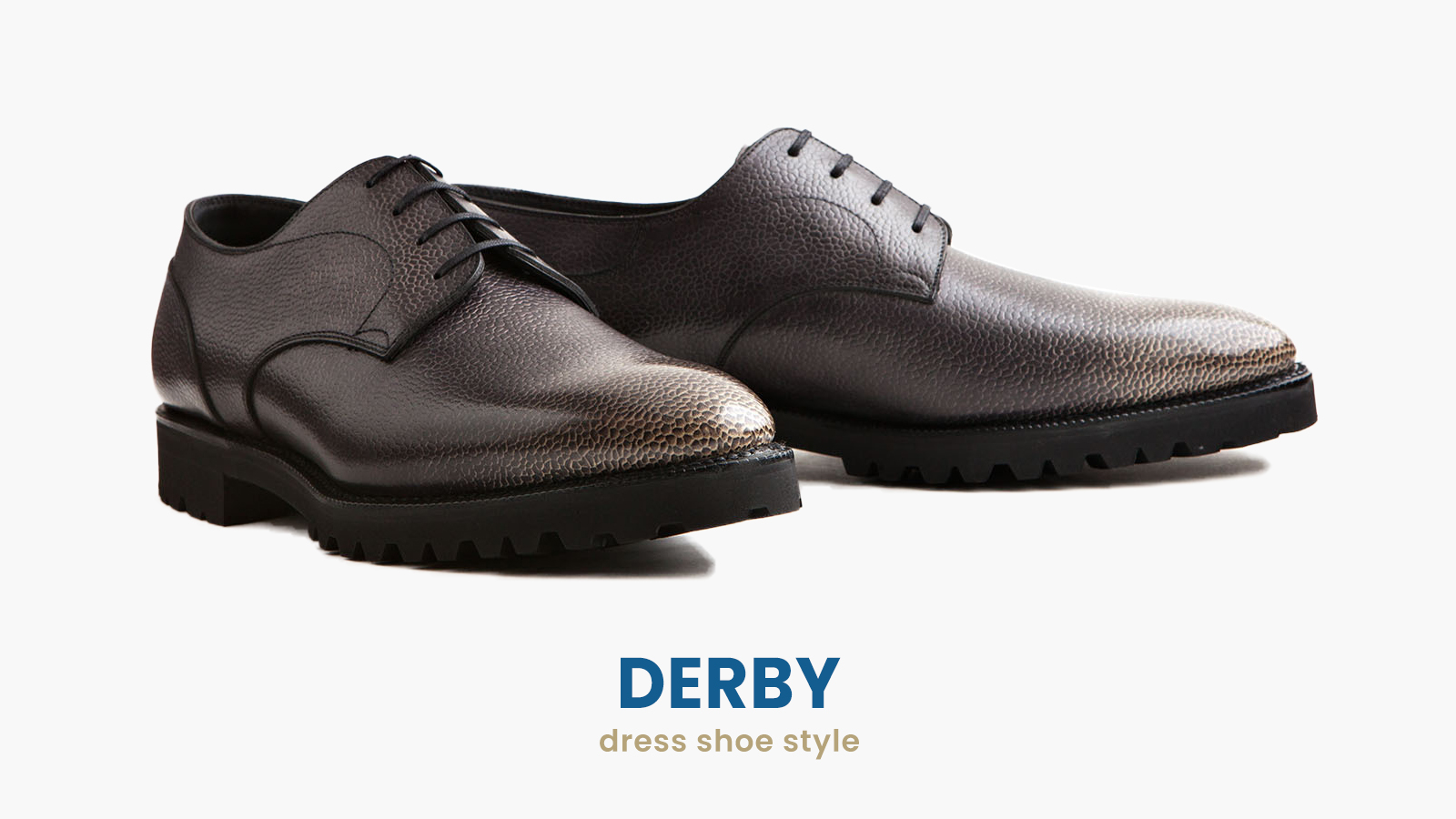 If your style is appropriate for the less dressy nature of brown shoes, you can spice things up with single and double monk straps or a leisurely pair of loafers.
Keep in mind that brown has a softening effect, dramatically changing your aesthetic. It is a color widely found in nature, so it feels very grounding.
If you're attending an outdoor wedding, you'll perfectly complement your surroundings.
Burgundy Wedding Shoes
Burgundy isn't a prevalent shoe color, but burgundy shoes can add zest to your suit.
That's because the burgundy shoe breathes new life into your usual wardrobe, especially if your suit is colored.
If you want to pull your appearance back closer to a formal style, steer toward Oxfords.
If you want to make your suit feel more trendy or contemporary, burgundy monk straps are a great place to start.
That way, you can loosen up your appearance since this shade feels much less stuffy than black.
For a casual wedding setting, burgundy loafers are perfect for creating a leisurely look.
Whatever shoe type you choose, burgundy is such a unique shoe color that it will surely draw the eye to your feet.
Wedding Shoes to Wear with Different Suit Colors
Having the correct color combination is one way to set the tone for your outfit. It's a subtle way to steer the impression that you give off.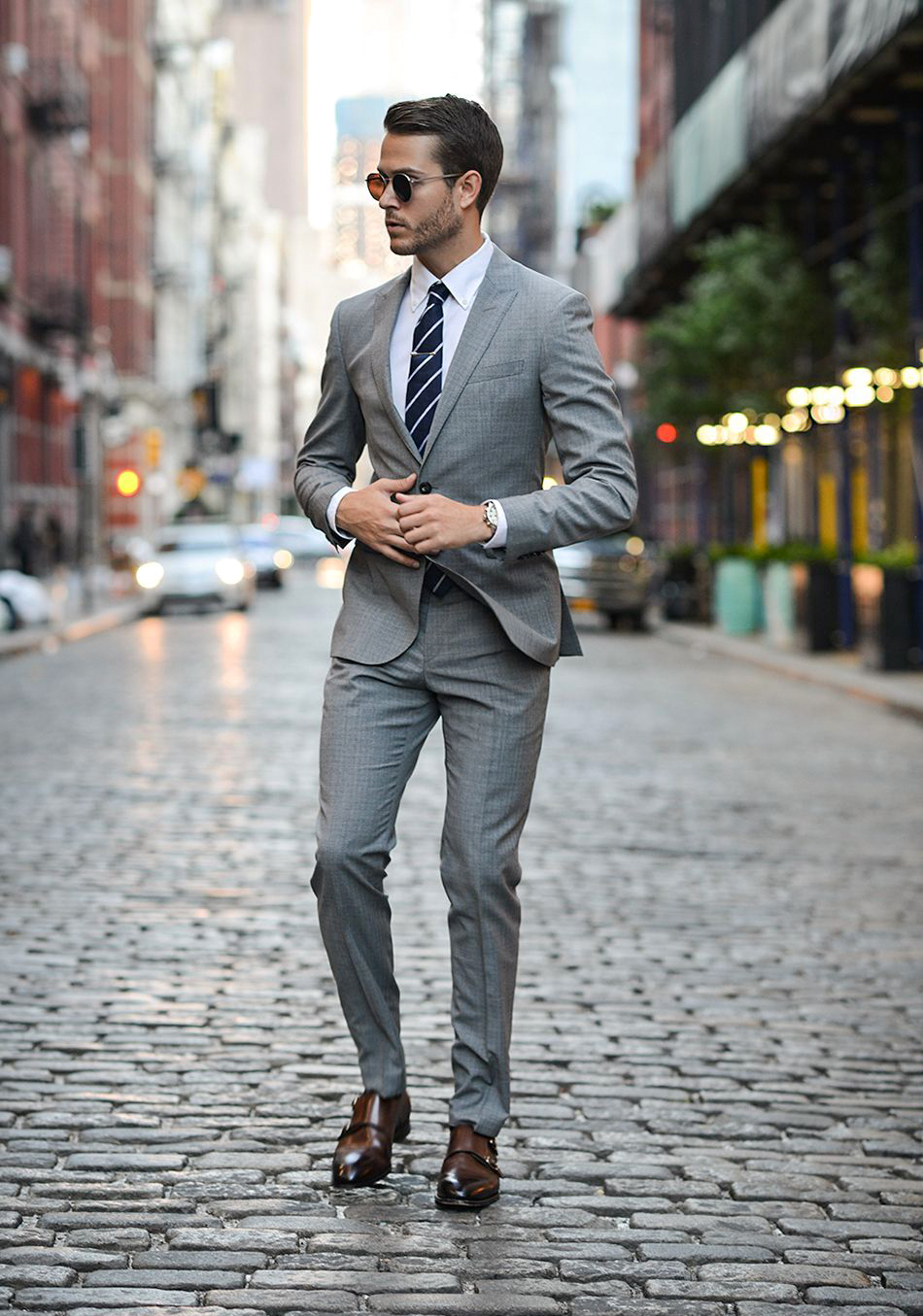 Are you formal and traditional, or relaxed and casual? It's incredible how your color pallet contributes to your image.
Black, brown, and burgundy are the most popular wedding shoe colors.
However, one suit can have several different effects when changing the shoe color.
Here's how to make the most of every suit color so you can follow the dress code.
Black Suit
Black wedding shoes are the obvious choice to match a black suit.
Because black is a formal suit color, you need formal shoes to go with it.
But even if you are wearing formal black shoes, you aren't obligated to stick with a traditional style, like Oxford.
You can play around with the effects you can create by changing out your shoe style.
Derby shoes are a close relative of Oxfords; this is an excellent way to modify your wedding suit if you feel unsure about going a little more casual.
However, if you are ready for a significant difference, try monk straps or loafers.
Very dark brown shoes are appropriate in some settings, but I recommend avoiding this look for your wedding day.
Being successful with this style is complicated and is often controversial. It's best to stick to tradition in this instance.
Navy Suit
Navy is the closest shade you can get to black. It's just as sophisticated but much more versatile; navy works well with many colors and styles.
If you decide on a navy suit for a wedding, think about how you want to style it with shoes.
For a more formal look, your shoes should be black. That's especially the case if you're wearing a navy tuxedo.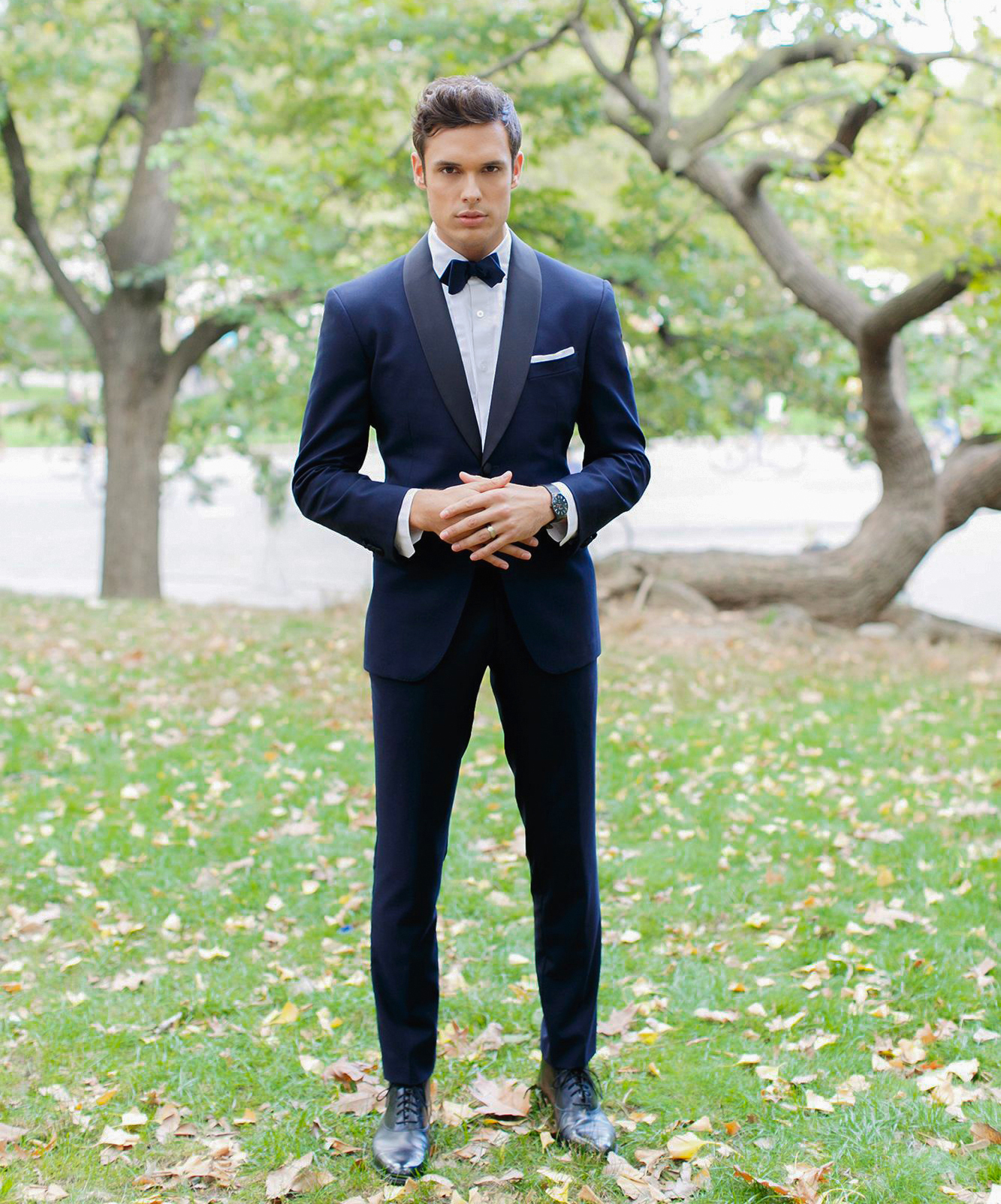 Of course, Oxfords are ideal, but if you're feeling festive, why not try monk straps?
You can soften your navy suit with brown wedding shoes. Brown is the most common shoe choice for the navy because they look divine together.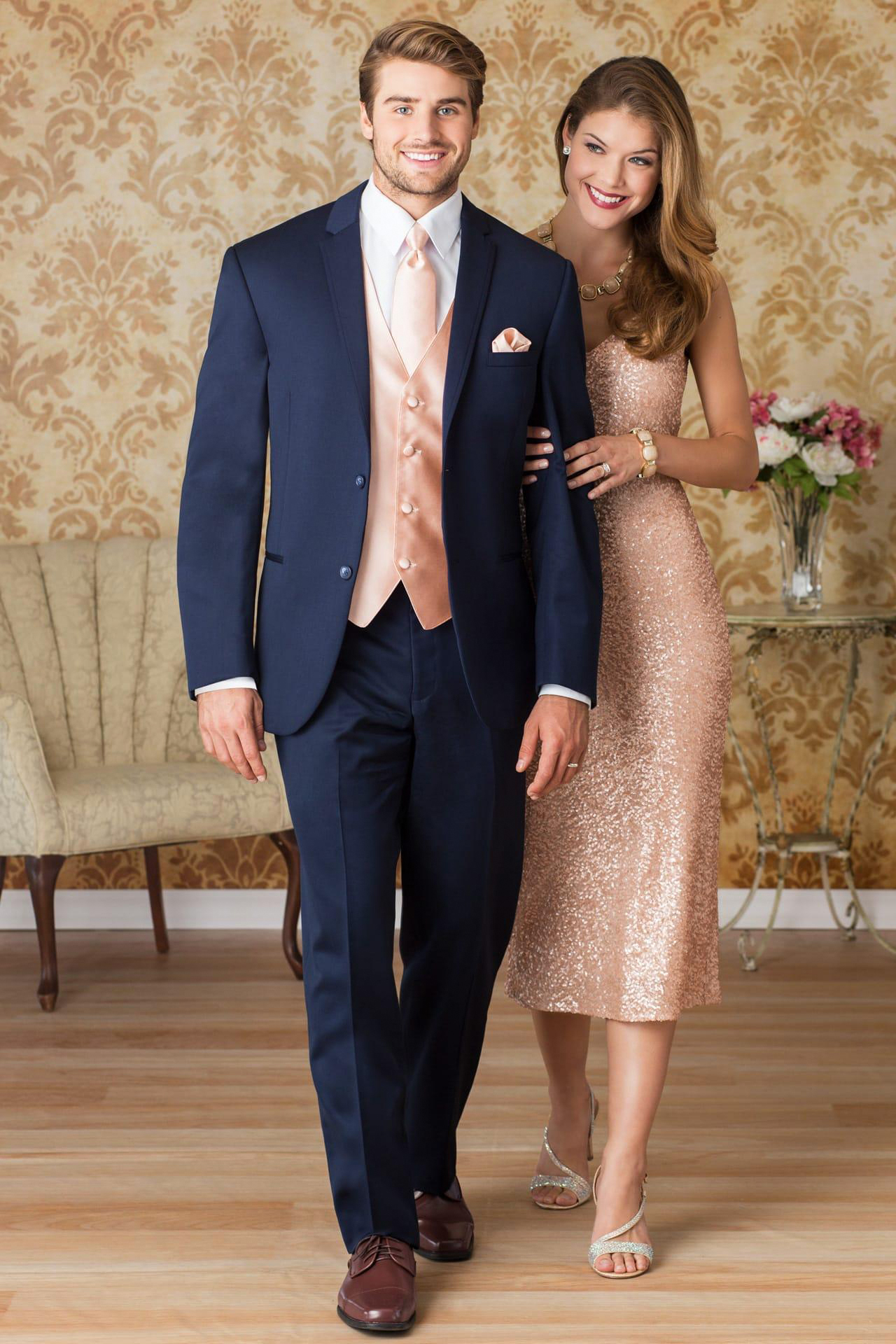 However, you can craft a modern aesthetic by wearing a navy suit with burgundy wedding shoes.
Charcoal Suit
The charcoal suit is on the same level as the navy in terms of formality. It's a tremendously elegant shade, and easy to make it dressy.
Black shoes are the number one choice for this suit because they match the formal neutral color scheme.
However, play with burgundy shoes if you want a more non-traditional approach to a very traditional suit. They'll really pop against the dark grey.
Blue Suit
Blue is a cheery wedding suit color. It's more semi-formal and less dressy than other dark suits but is perfect for specific settings, like outdoors.
Black shoes aren't a natural mix with the blue suit; they may look harsh and too formal next to this laid-back shade.
Still, it can be done; maybe consider tying the look together with a black or dark blue necktie.
If black isn't perfect, though, try brown shoes instead. Lighter shoes will enhance the rich tones of your lovely blue wedding suit.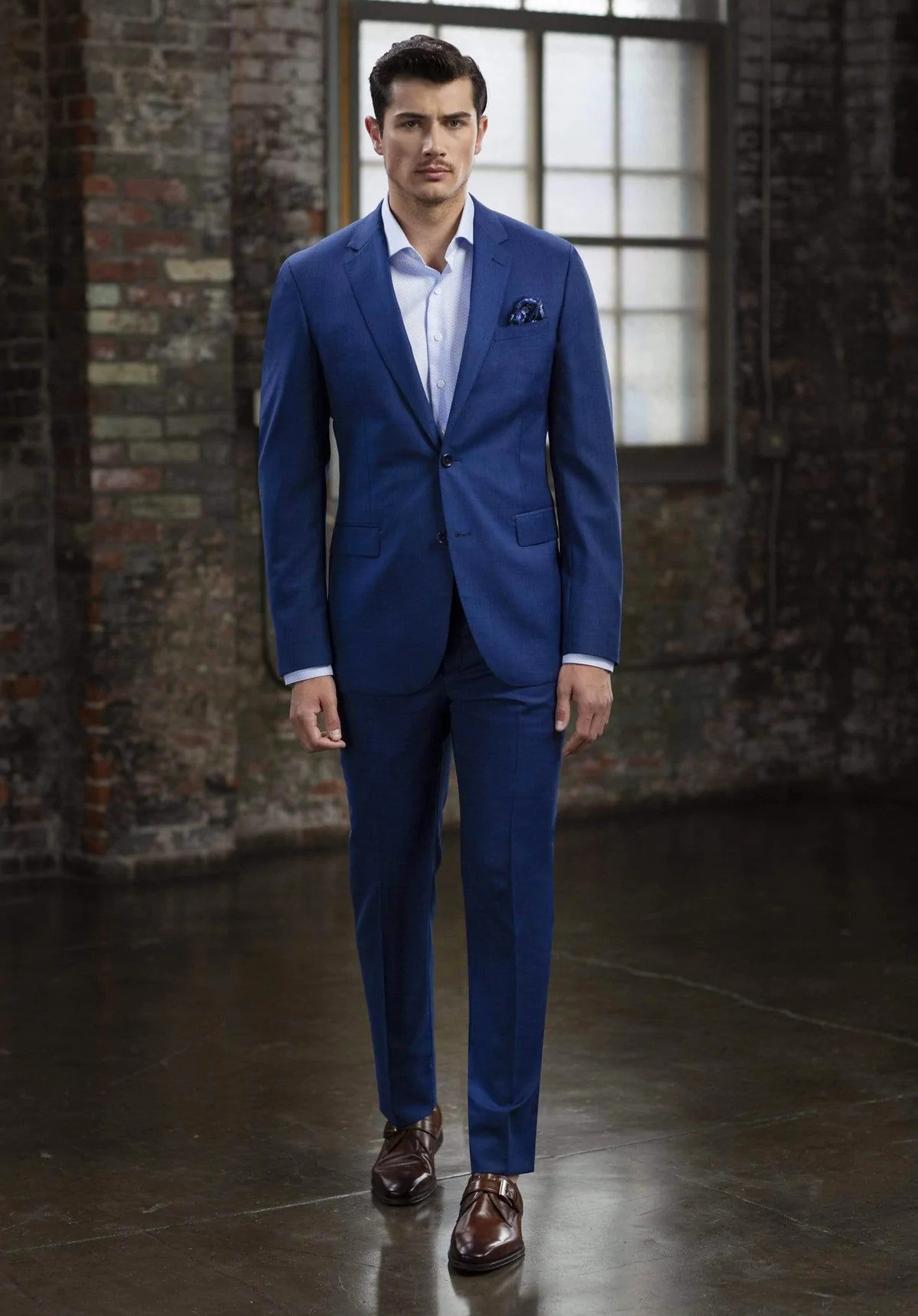 Burgundy is a bold yet classy approach to styling this unusual suit color.
Tan & Grey Suits
Black shoes may feel too clunky next to lighter suit colors like tan.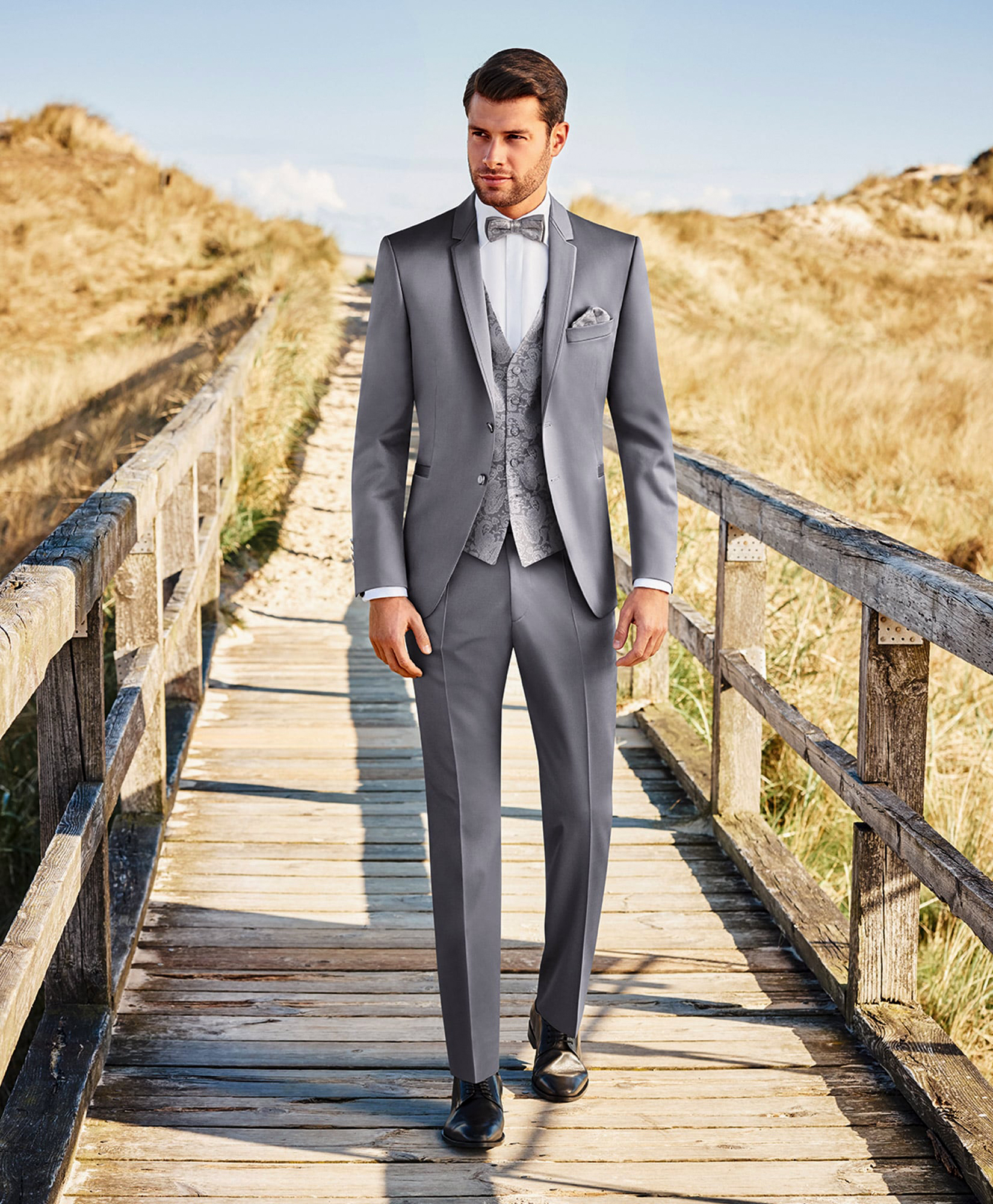 Likewise, avoid dark-colored shoes; black, dark brown, and burgundy are all colors that won't harmonize well with these light-suit colors.
Instead, light and medium brown shoes are the best bet. Medium brown would lend your tan or grey suit a traditional and respectful feeling.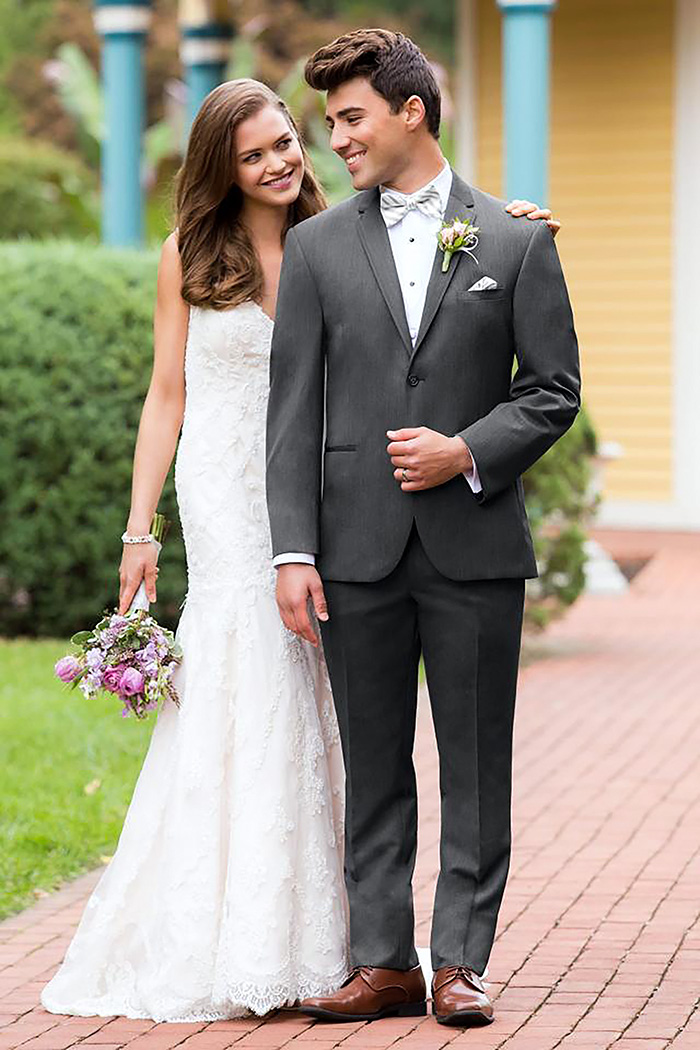 You can also opt for light brown shoes for an approachable, every-man vibe.
Burgundy & Maroon Suits
A dark red suit is highly non-traditional but looks impeccable when properly styled.
Besides, the burgundy suit feels one hundred percent suave with black shoes; this standard shoe color will help pull your unusual suit back into the traditional territory.
In effect, a pair of black Oxford dress shoes can act as an anchor to a unique wedding suit.
For a more celebratory effect, ditch the classic black shoes and choose tobacco brown or tan shoes.
Khaki & Brown Suits
Brown shoes are a natural match for brown and brown-toned wedding suits, but you must easily see the difference between them.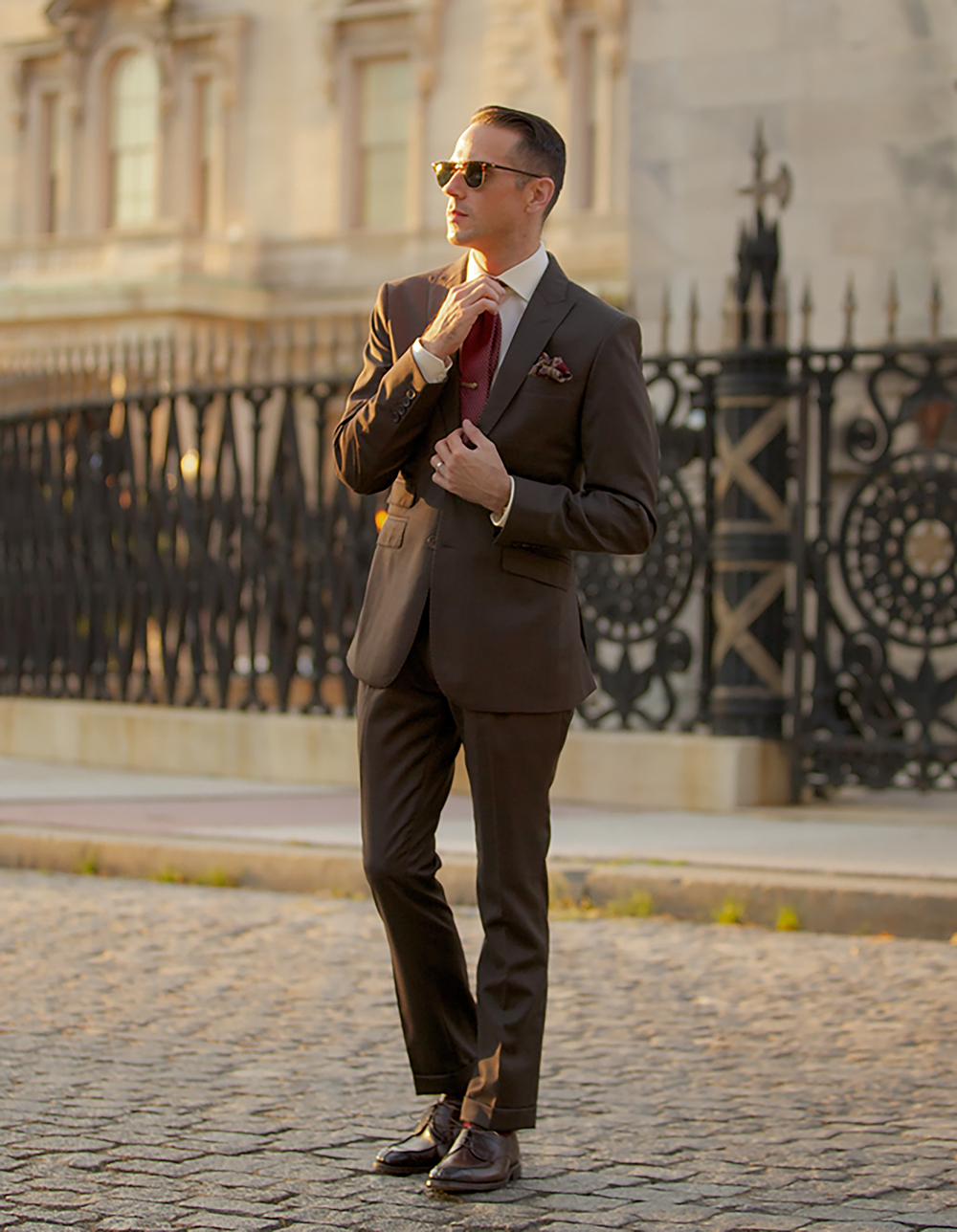 In other words, your shoes and trousers must be distinct; have your shoes one shade darker than your dress pants.
Add a splash of color with burgundy shoes, especially with a khaki suit. The paleness of the khaki fabric will ensure that your shoes shine.
Beige & White Suits
Beige and white are summery suit colors, so it wouldn't be fitting to have very dark wedding shoes. It will help keep your shoe light so your ensemble doesn't feel off balance.
A dark, heavy bottom gives the impression that you are weighed down.
The darkest shade that you can get away with is light brown. It's still dressy and fits in with more traditional styles.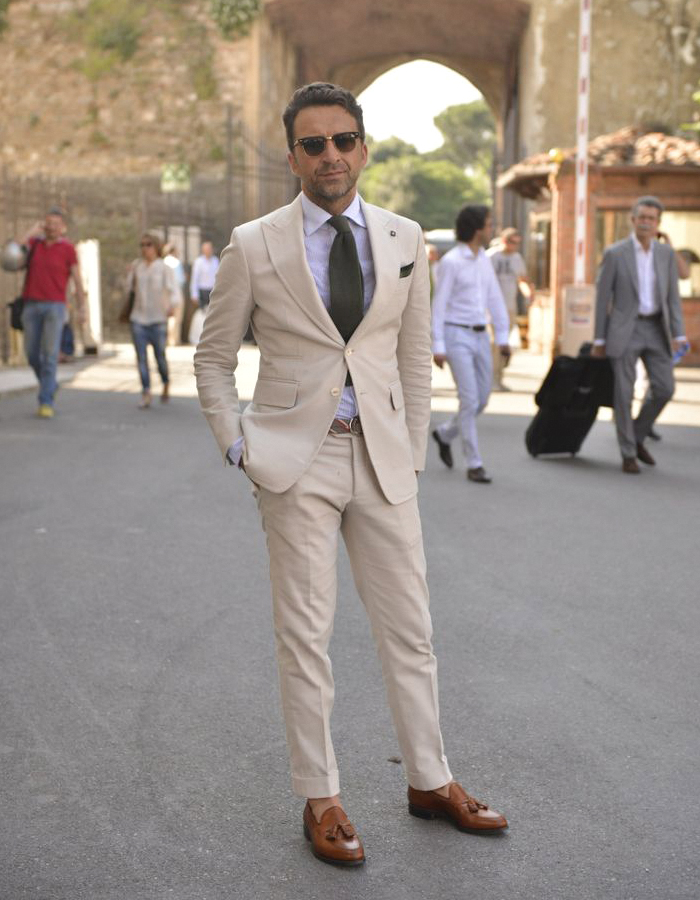 On the other hand, you can wear white in leisurely shoe styles, such as loafers. These are the best choice if you are going to a beach wedding.
Author: Alexander Stoicoff
Hi, I'm Alex, and I've studied and specialized in styling in Rome. Through my writing, I want to help men dress well and learn the purpose and significance of suits and other formal attire. My final goal is to make men more confident in their wardrobe choice and life in general.