The plan is to have only one wedding day and look for a wedding suit or tuxedo once in your life.
If you are one of the lucky grooms whose partner wants to take on the majority of the wedding planning, you can't just kick back and relax.
However, you still have at least one huge item on your to-do list: the suit.
For the biggest day of your life, you need to make sure that you plan this exactly right to achieve your greatest style yet.
If that sounds like a tall order, relax. It can be done with very little stress. Here's a complete groom's guide for their big day when looking for their ideal wedding attire.
Things to Consider
Most weddings these days are some version of a semi-formal nature. Naturally, there are many variations on what is expected at each wedding.
One thing you can be certain of is that you will need a suit; and a spectacular one. Maybe, even a tuxedo!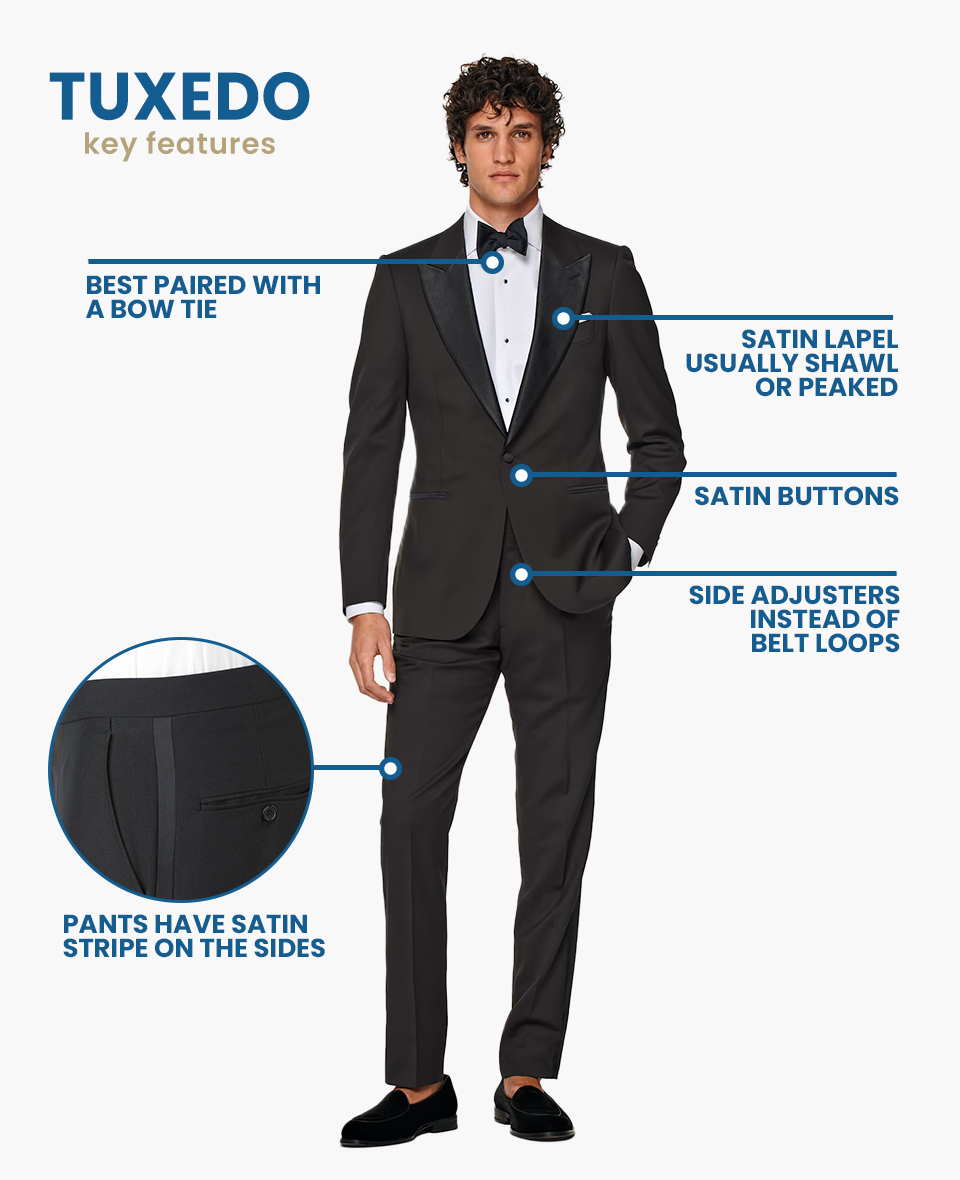 Whether you are the groom or a guest, you understand the importance of this day. You play a role in making it special, down to the last detail.
Bear in mind that suits can be a considerable investment of your money, even if you are only renting. You want to take the time to research your investment and make sure you purchase one that fits you well.
Be sure that you get your money's worth so that you look amazing for your big wedding day.
Suit vs. Tuxedo
Whether to wear a suit or a tuxedo comes down to how fancy you want the wedding to be.
If you decide on a black-tie wedding, you will certainly need a tuxedo. You can also wear one for weddings considered creative black-tie, or black-tie optional.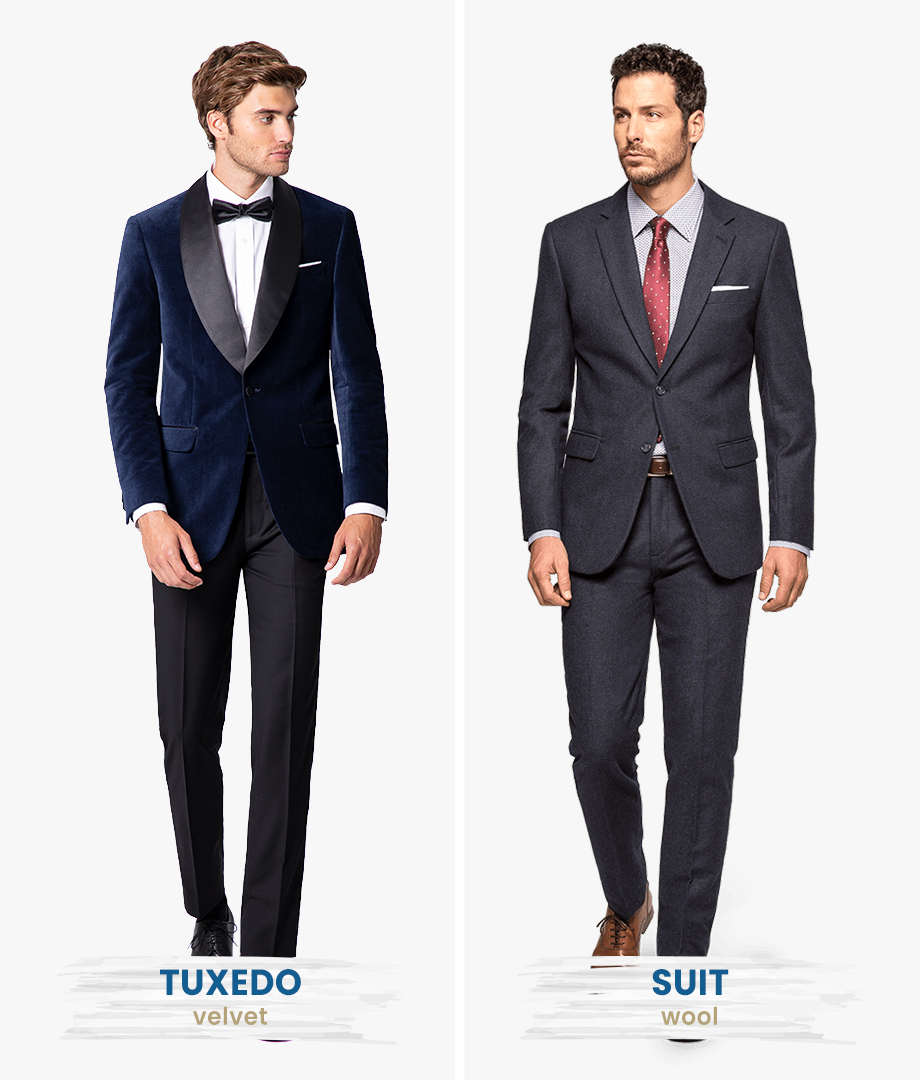 For almost any other type of wedding, an elegant dark suit will do. It is an excellent choice if you plan on purchasing your own suit. You will have plenty of opportunities to wear it over the coming years.
Black bow tie aside, several details separate a tuxedo from just a nice black suit. You know a tuxedo from its satin trim, its lack of belt loops, and the mandatory patent leather shoes that go with it.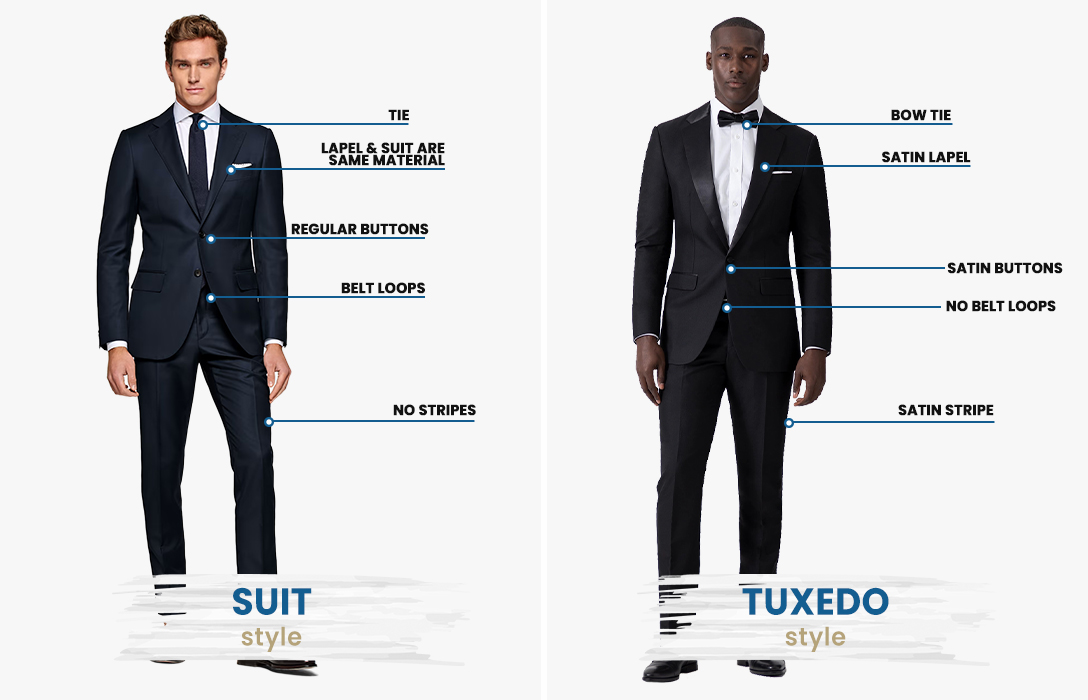 Tuxedos might have a variety of lapel choices, but they usually come in shawl lapels. Also, tuxedos have no vents on their jackets.
The Wedding Season
Dressing up means different things in different seasons. After all, would you wear a linen suit for a winter wedding? Goodness, I hope not!
If you said yes, then we have a lot of work to do, my friend. Read on to find out the correct answer.
Fall-Winter Wedding Suits
When the weather turns cooler, it is appropriate to wear a heavier fabric for your wedding suit. A wool or wool-blend suit or tuxedo can never fail you.
A good option for both fall and winter weddings will be a three-piece suit. The reason for that is obvious – adding an extra piece of clothing (the vest) will keep you warmer.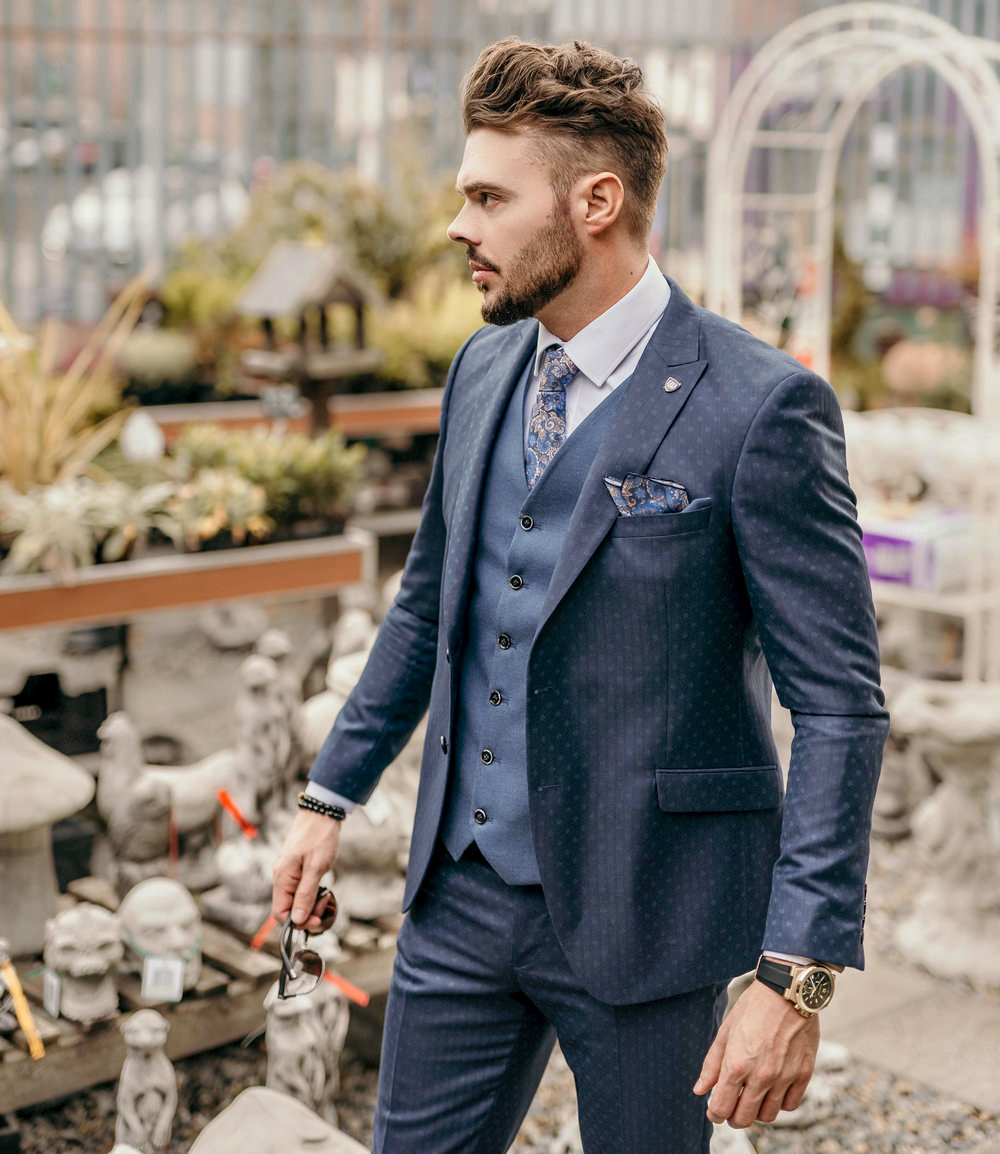 For a twist, a more unusual material may be just the right touch of romance. Fall is an ideal time to put on some tweed; it is so sophisticated. If the nuptials are in the winter, a dark velvet suit is the height of luxury.
Spring-Summer Wedding Suits
Spring and summer are the most popular time of year for weddings. There is never any lack of choices for a warm-weather wardrobe.
A light wool two-piece suit, perhaps a blend of silk, is a fine choice for a summer wedding. Of course, cotton suits are also an option.
If the event is more casual, you can go with linen, which looks chic yet are very comfortable. Also, they are ultra-lightweight; in other words, perfect in hot weather.
Seersucker is another hot weather dream come true. These suits feel like the height of Southern hospitality.
The Lapel
Your suit can send many statements, and your lapel is one method of doing so.
Did you ever even notice that there are three different types of lapels on suits? Most people never really realize this; a lapel makes a very subtle change in a suit.
Regardless of whether it's a suit or a tuxedo, different lapels are appropriate in varying settings.
A notch lapel is your basic type. It can be recognized by the fact that it makes a sideways V-shape. Also, notch lapels can be used in both formalwear and casualwear.
These look best on single-breasted suits, especially slim-fitting ones.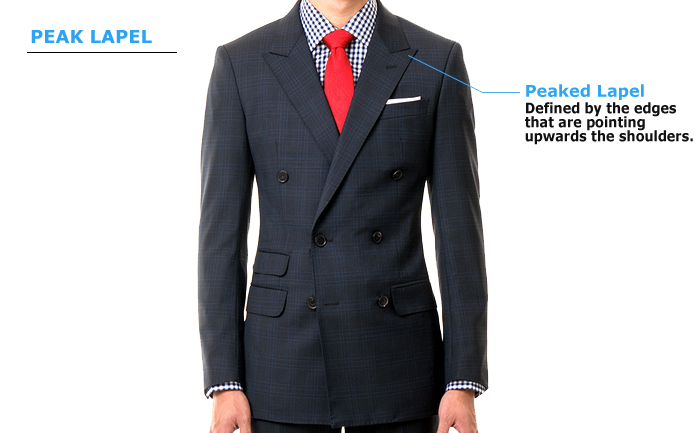 A peak lapel reaches out past your collar to form a point. It is not ever used in casual looks and is only ever appropriate for formal or business styles.
The peak lapel looks good on both single- and double-breasted suits or tuxedos and all formalwear. It appears especially flattering on short men.
I suggest a peak lapel for your wedding suit. It will add an extra touch of elegance to the most important suit you will ever wear.
The third type of lapel is a shawl collar. Again, this is only ever appropriate for evening wear.
It is more formal than peak and is found mostly on tuxedos. It is recognized by its rounded edge all the way around.
Buying vs. Renting
As I mentioned above, it is never a bad idea to own a classy dark suit or a tuxedo. It is a wise investment, one that will be put to good use over many years.
There is always a need in a man's life for at least one go-to suit that makes him feel like a million bucks.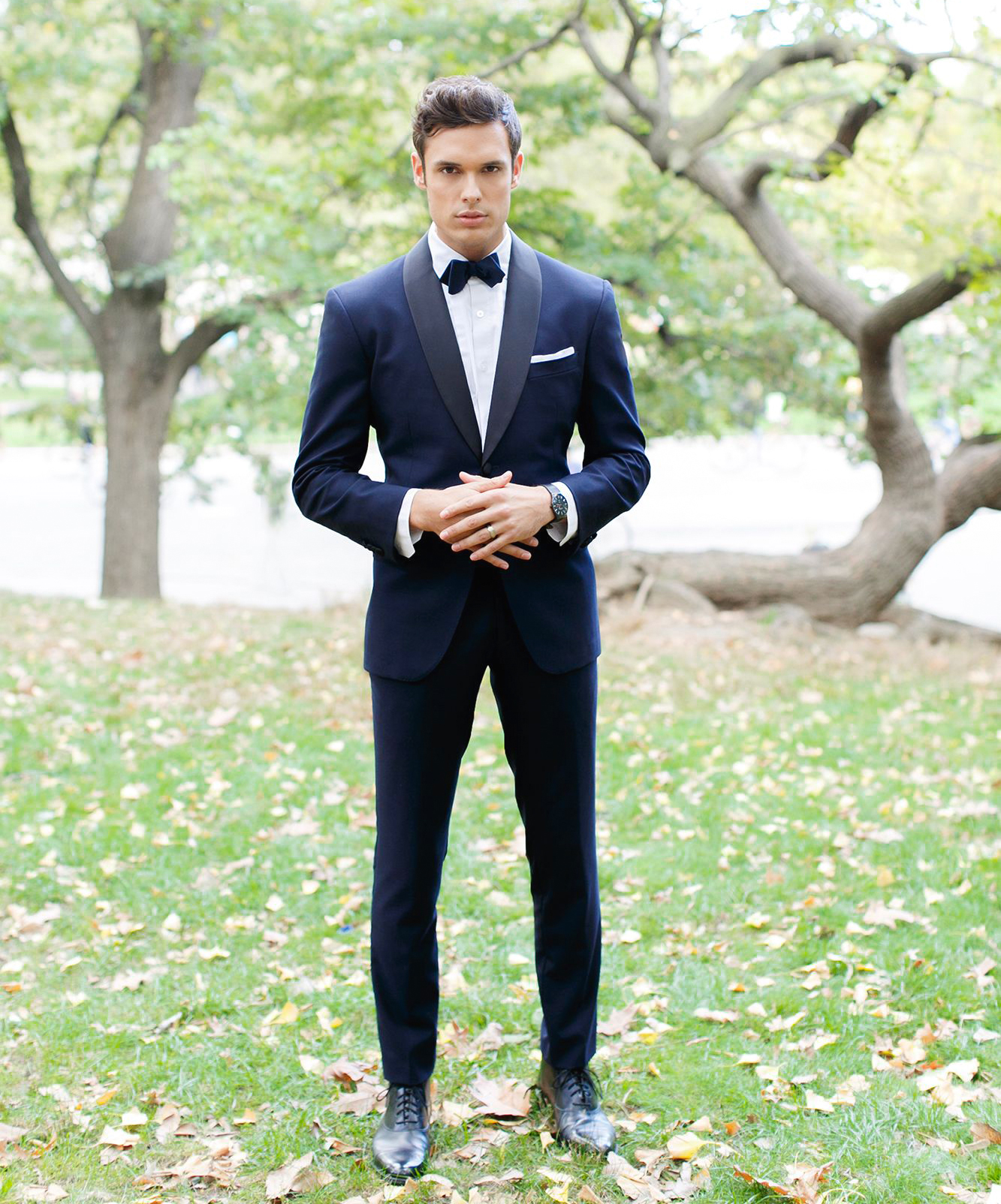 Between weddings, business interviews, and other important social obligations, it is nice to have your clothing option already squared away.
And owning your wedding attire is a lovely reminder of one of the most special days of your life. Every time you put it on is a sweet walk down memory lane. (Sorry to go all sentimental on you.)
If the fear of overspending is holding you back from making this purchase, know that it is possible to find a dazzling suit within your budget.
The secret to an excellent-looking suit is making sure it is high-quality and has a perfect fit.
How to Reuse Your Wedding Suit
You will find greater re-wearability from certain suit colors, such as dark grey and navy. These colors are timeless and appropriate for both social and business professional events.
If the suit is made from 100% wool, it is an all-season suit. You will have a little-to-no problem wearing it nearly all year long and for the most special occasions.
A beach wedding may be a bad fit for a wool suit, I agree. But otherwise, it is good to go.
If the memories of wearing the suit at your wedding make it feel too fancy, keep in mind that you can swap out shirt colors and styles, accessories, and even shoes.
This can greatly affect your suit's appearance, making it feel almost brand new every time you wear it.
Wearing a Vest with Your Wedding Suit
Ah, yes. The age-old question: to wear a vest, or not to wear a vest? The dilemma between a two-piece and three-piece suit is always huge!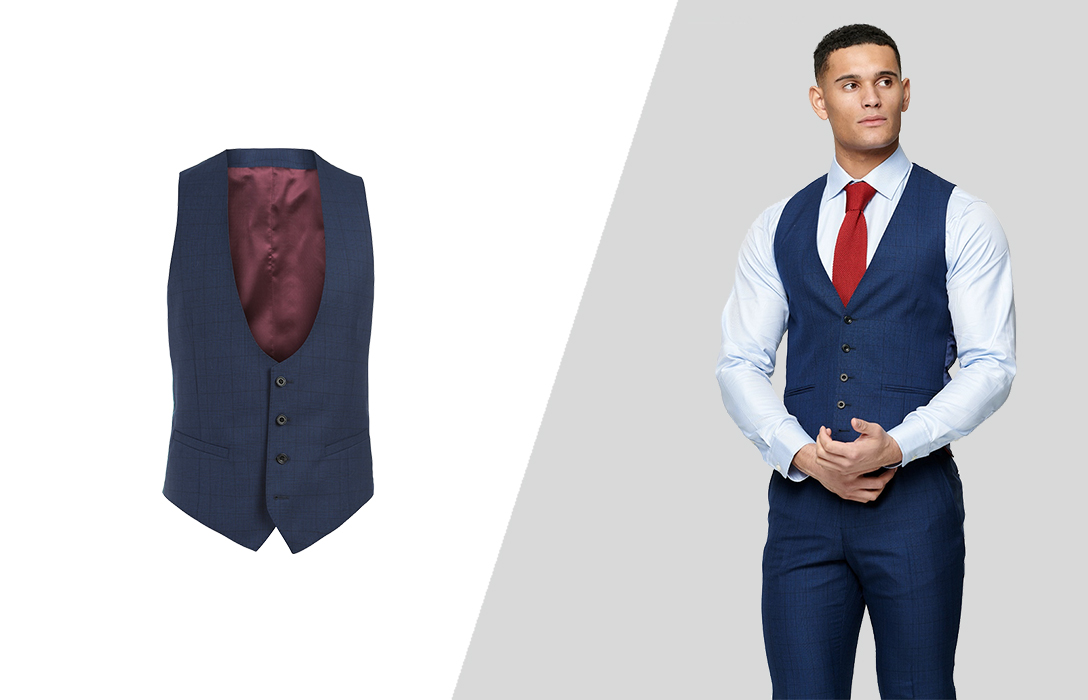 If you are getting married in a suit, you don't have much choice but to wear the vest. It is the most important day of your life. Why would you not want to add a touch of class?
You can wear a vest even if you're wearing a tuxedo. In fact, wearing one will enhance your tuxedo's overall appearance to the highest level of formality. Now that's classy!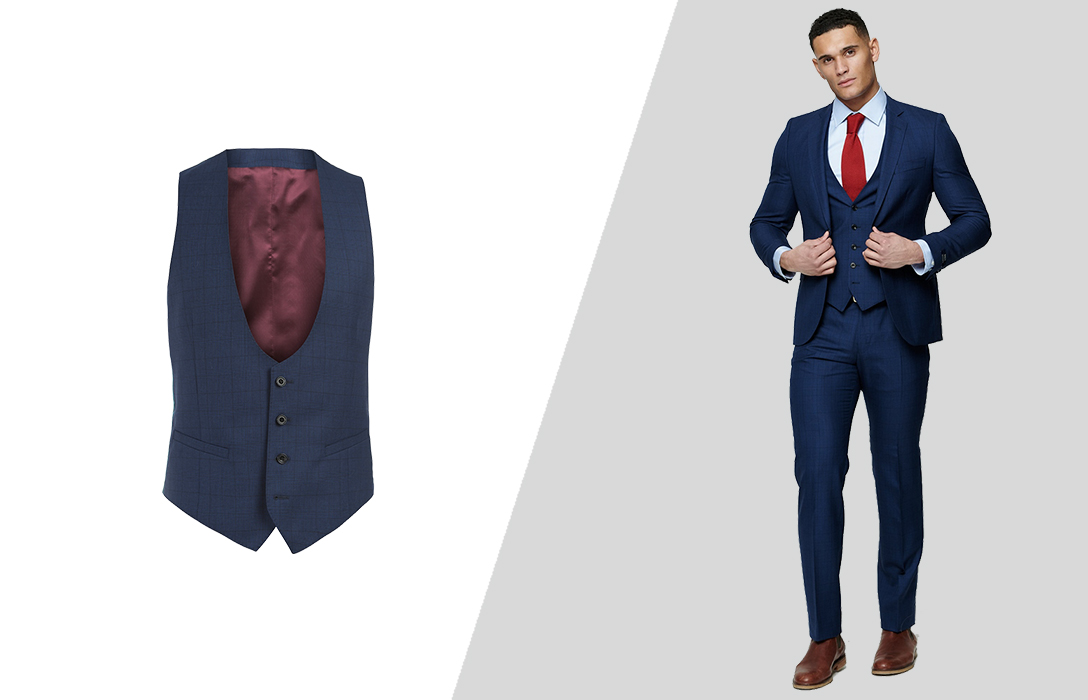 Two-piece suits are more comfortable and cool, I agree.
But the vest adds a layer of elegance to your suit. The beauty of a three-piece suit is that it not only looks sophisticated, but you can also wear the suit without it. So if you own one, it is as good as two for one.
Choose the Wedding Suit by Cut
There are three main types of cuts in men's suits. Each one looks very nice on certain body types and is wholly appropriate for a wedding suit.
Therefore, your choice mainly rests on your body type and your comfort level.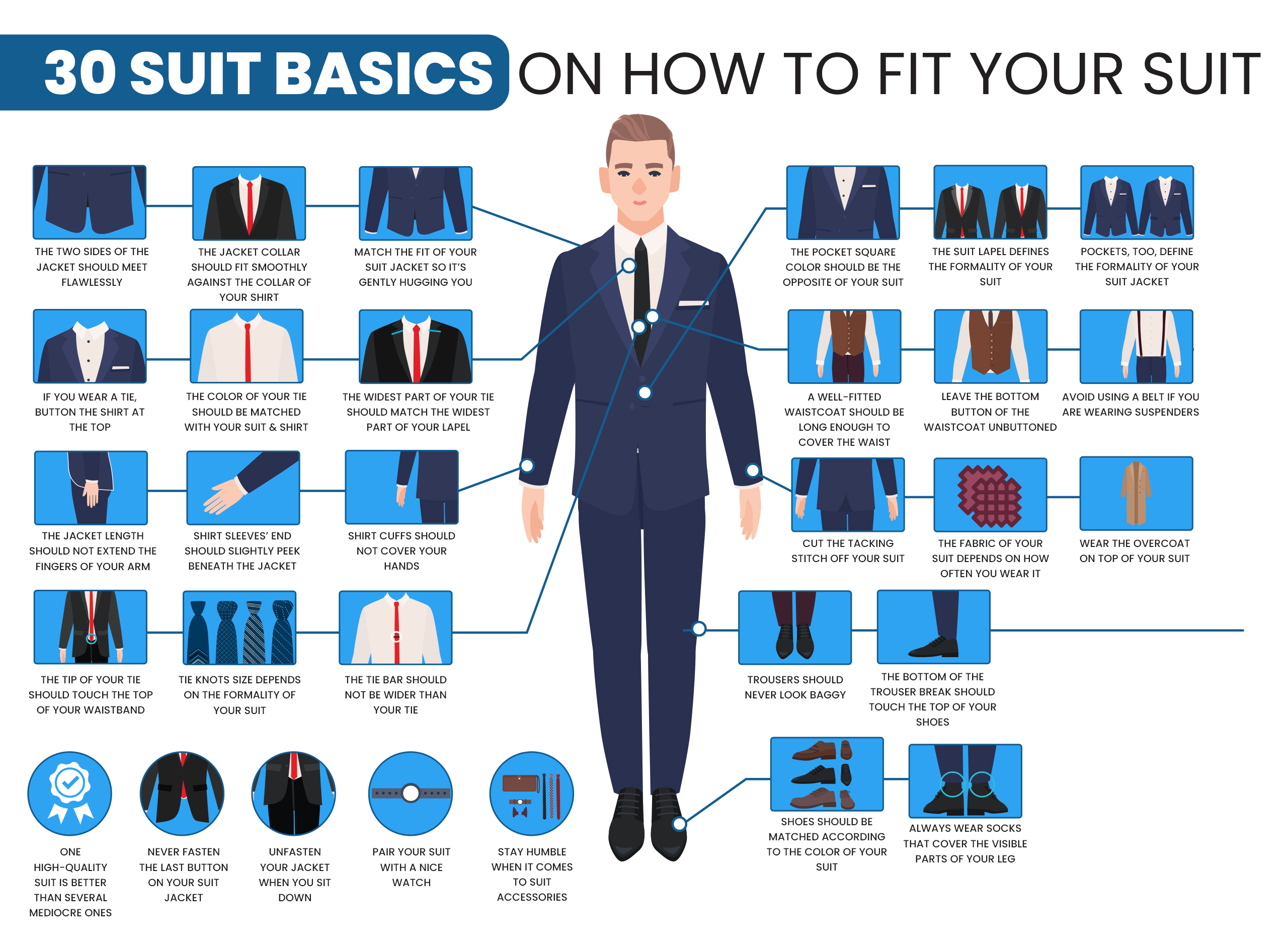 Whatever cut you choose, please remember that there are rules on how your suit should fit. All else falls away if the suit is either too tight or loose.
If your wedding attire does not fit correctly, please visit a local tailor to make some proper alterations. Or even better, order a custom-tailored suit, perfectly designed for your measurements.
Classic Fit
The classic fit suit cut offers a pretty generous chest and waist room, making movement very easy. It still fits well along the contours of your body.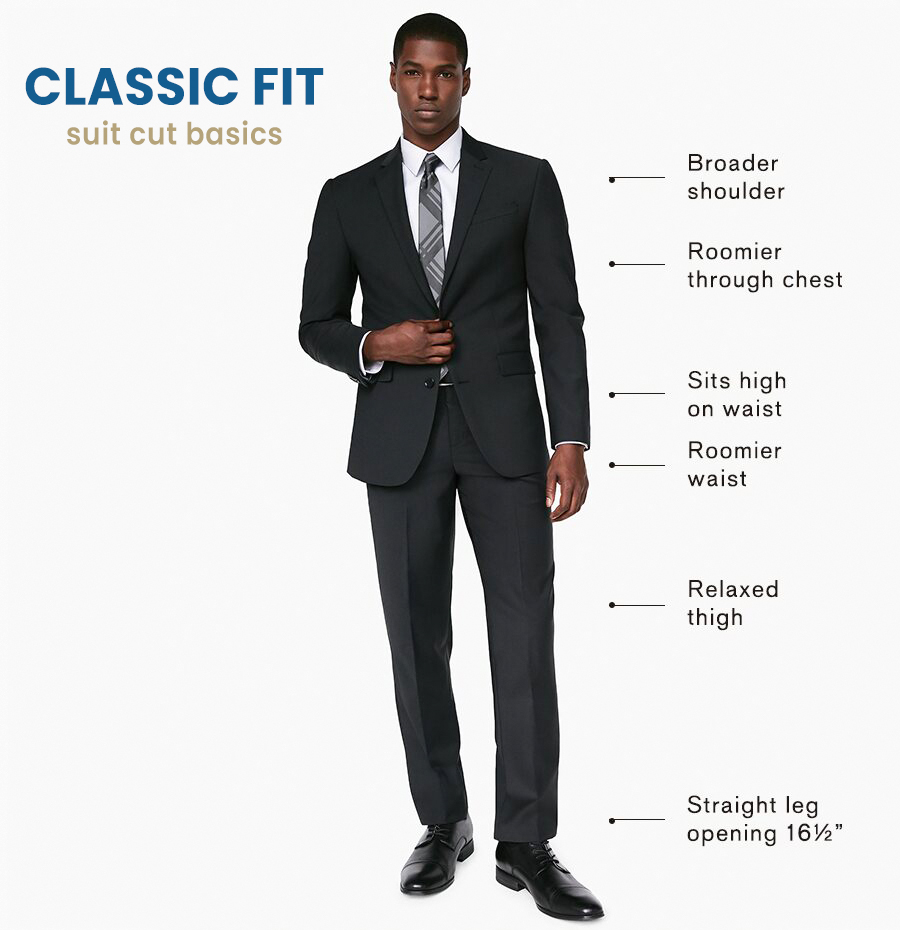 Classic fit suits are not form-fitting, but they should not look baggy. Yes, they're the roomiest fit of the three cuts, but a perfect fit is crucial for these wedding suits.
Slim Fit
The slim fit cut is much more body-hugging. There is hardly any extra fabric in the suit, offering only enough to move without being restricted.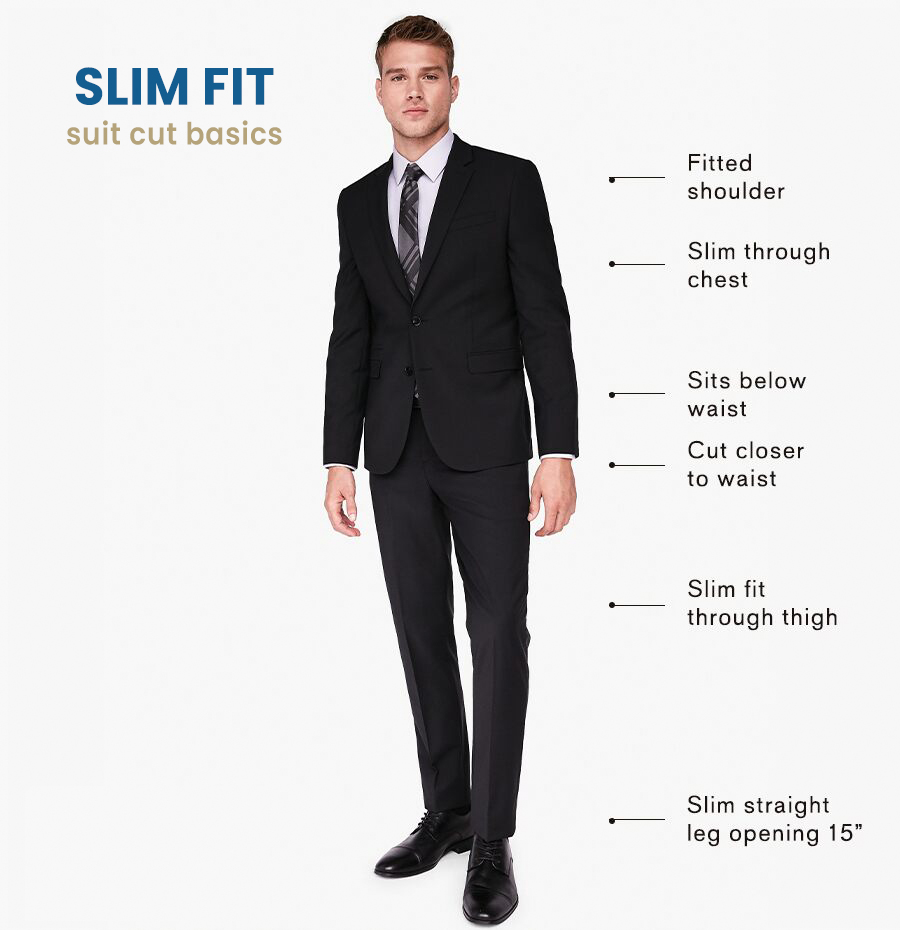 Slim fit suits have a European aesthetic. The slim-fit suit jacket has narrowly fitted shoulders and is slimmer through the chest. The trouser legs are straight and very slim.
Modern Fit
This type of suit is a compromise between the above two cuts. It is still slim, but not as tight as a slim-fit cut. As with the classic fit, it offers more fabric and is more forgiving.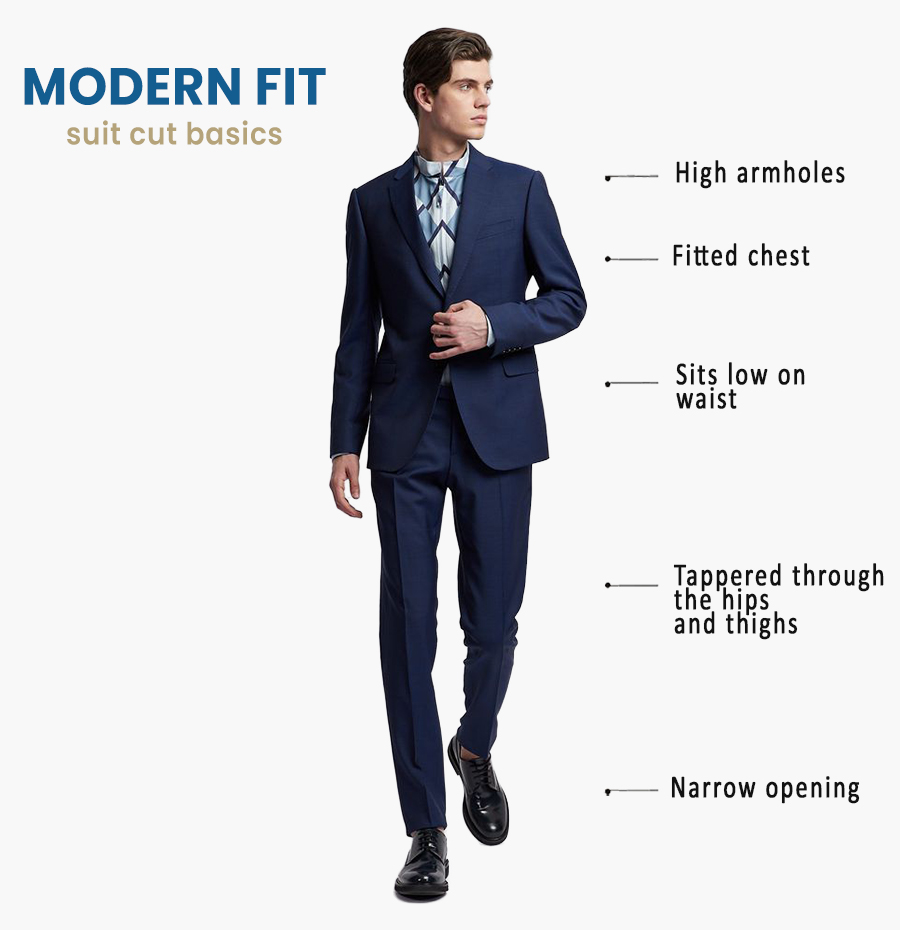 Modern fit suits are becoming more famous each season. It's one of the most used cuts for a wedding suit in the US.
Single-Breasted vs. Double-Breasted Suit
If you decide to wear a tuxedo at your wedding party, a single-breasted suit is how you want to go. Likewise, most formalwear jackets are single-breasted, even though double- is traditionally dressier.
It is rare to find a double-breasted tuxedo. That is probably because double-breasted jackets are not flattering on everyone. In addition, they must be superbly tailored because they are difficult to alter later.
Single-breasted jackets are more versatile, and they are flattering on all bodies.
Choose Your Wedding Suit Color
As you plan for your wedding outfit, of course, you are keeping the season in mind. Let the seasons guide you on many of your choice points in your planning process.
The season is also a factor when matching your suit color with a shirt and tie.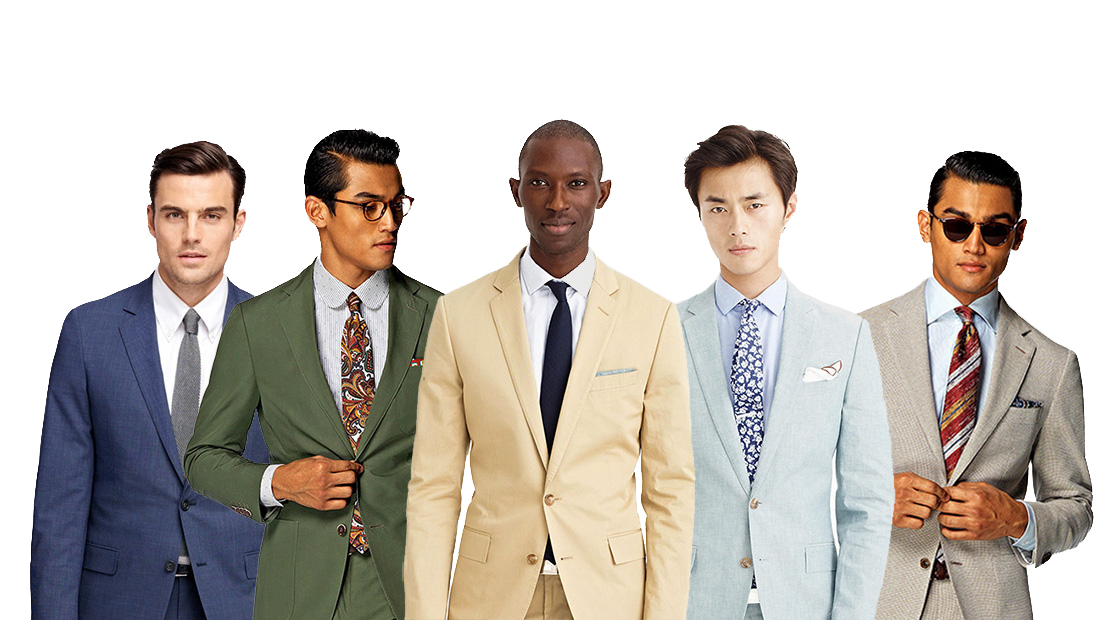 Future use of your wedding suit may also be an important factor when choosing what color you will wear.
For example, a coral-pink suit may be so spiffy at your destination beach wedding, yet is it worth investing in if you will never get the chance to wear it again?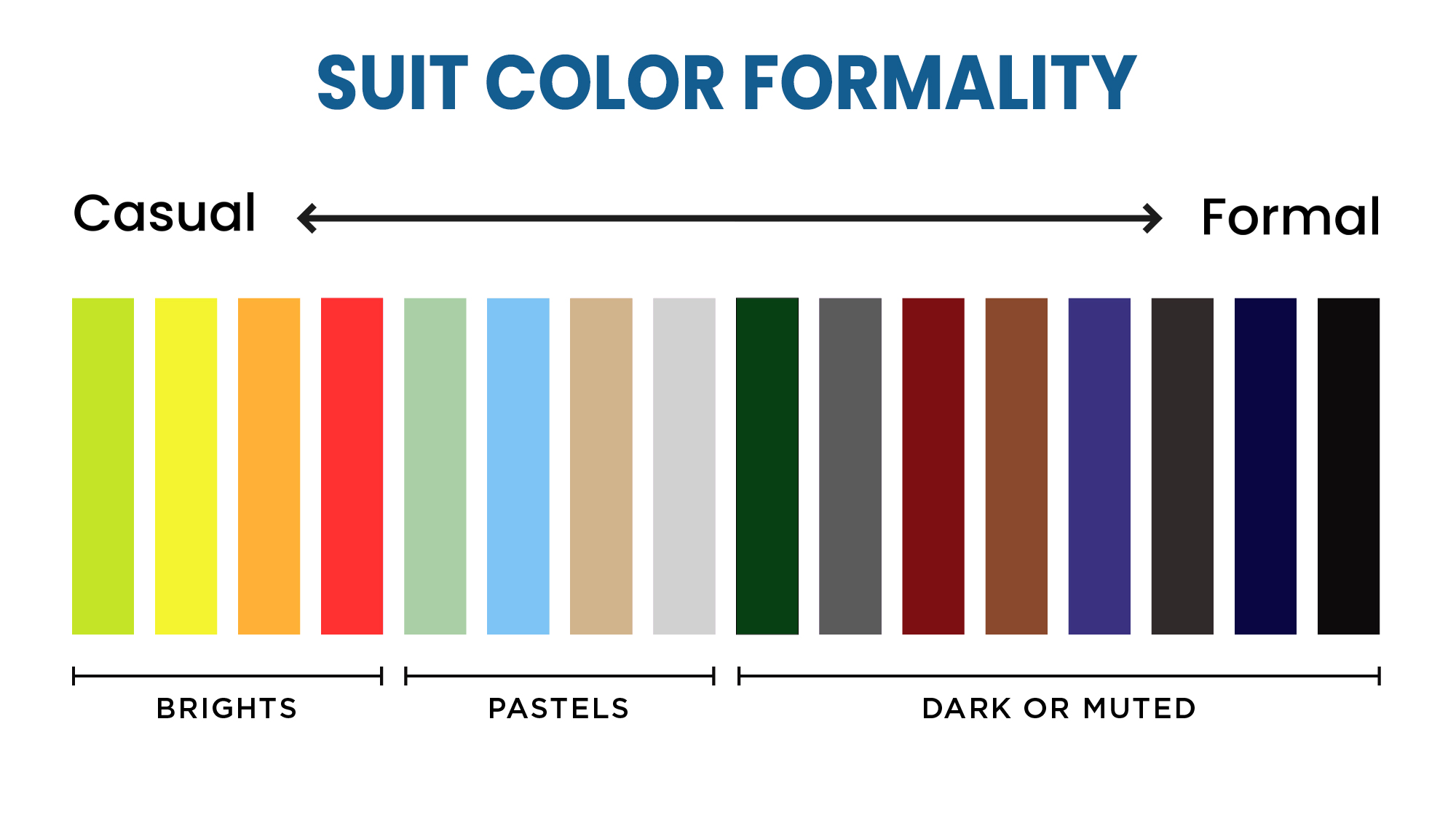 Most importantly, be sure to coordinate with your future spouse!
Black Wedding Suit
A black suit is the highest level of formality. You only want to wear this to the most formal weddings as your black-tie wedding attire.
Black wedding suits, especially black tuxedos, don't have a very high re-wear factor. Besides, weddings should be a celebration, so you might want to wear a little more "happier" color.
Navy Wedding Suit
Navy is a trendy color choice for wedding attire. It is a very classy color without being overly formal and stiff. Navy also mixes amazingly well with so many other colors.
It should be easy to work a navy suit into your color scheme! In fact, navy and midnight blue tuxedos are considered the best alternative to black tuxedos for your own wedding.
The classic color combination with a navy suit or tux is a black bow tie, a white dress shirt, and a white pocket square. It looks perfect every time I see it!
Blue Wedding Suit
A truly blue suit is slightly less formal than a navy one, yet it is still very dressy. Blue is a flattering color, as well as very cheery and celebratory.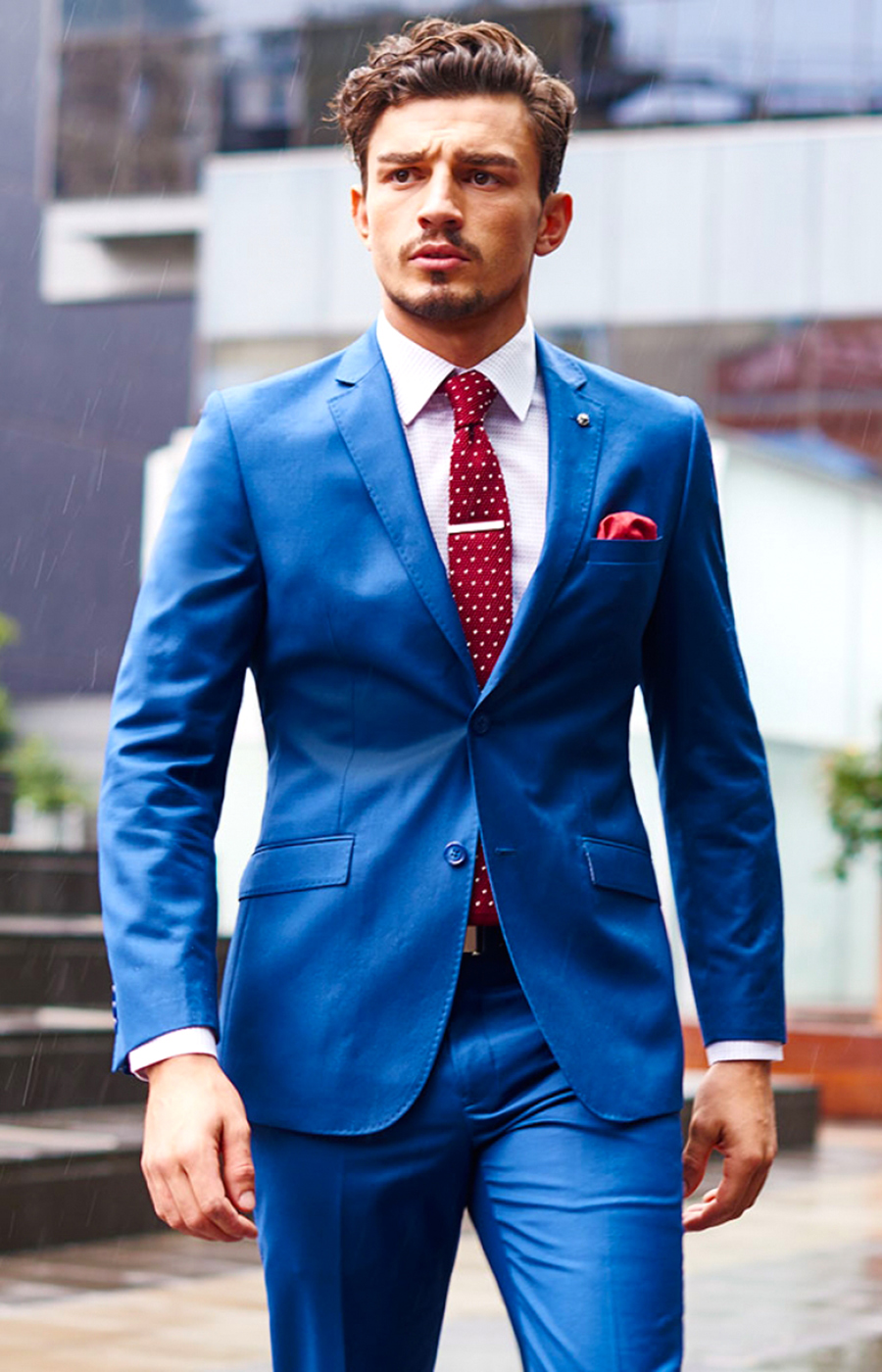 Wearing a blue suit is an excellent way to inject a bright color into the occasion. Blue is also ultra-versatile and has a high re-wear factor.
Grey Wedding Suit
This is another excellent formal option. The darker shade you choose, the more formal your suit is. If your wedding is more on the casual side, a light grey is perfect.
Whichever shade you end up choosing, your suit will have a very high re-wear factor. Grey wedding suits are always in vogue.
Other Variations
Naturally, there are a wide variety of other color choices available. What is appropriate depends on your setting, time of day, season, etc.
Brown is a nice choice for fall weddings or daytime celebrations. Green is also a neat choice for a fall wedding.
Burgundy and maroon wedding suits can be a perfect and creative alternative for a formal dress code wedding. A burgundy suit or tux is best matched with a white dress shirt and a black bow tie.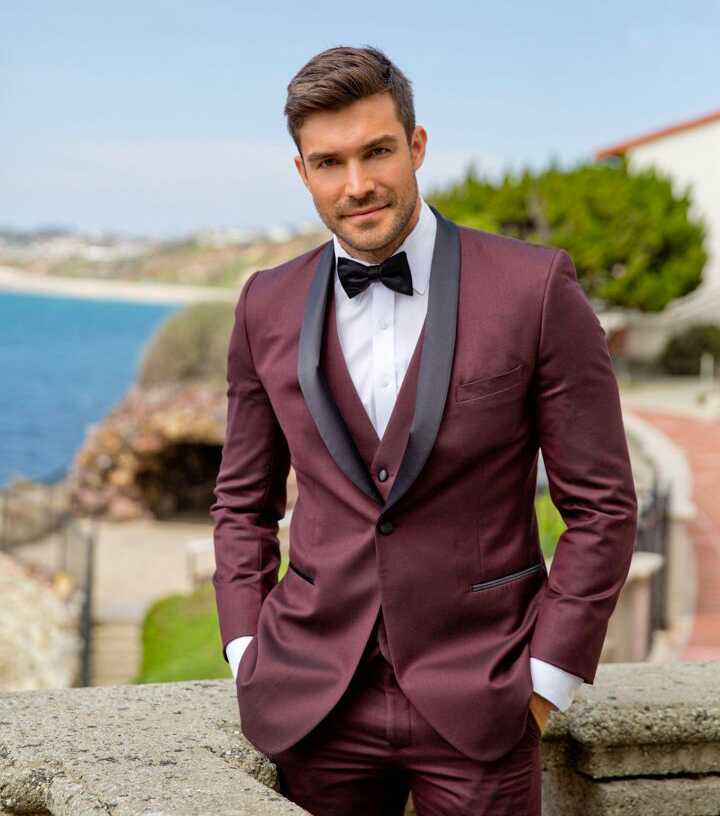 If you are itching for a beige suit, you can pull that out for that romantic beach wedding or any daytime wedding. Of course, a white suit would also complement a beach ceremony beautifully.
Just keep in mind that a light-colored suit works better for a less formal wedding party.
How to Match a Dress Shirt with Your Wedding Suit
A well-chosen dress shirt will flatter your suit and help it shine. I recommend wearing a white shirt for several reasons. It is the most formal color for dress shirts.
A white dress shirt will also best show off your suit color. If anybody near you just so happens to be wearing a white dress (ahem), it will be a nice color tie-in.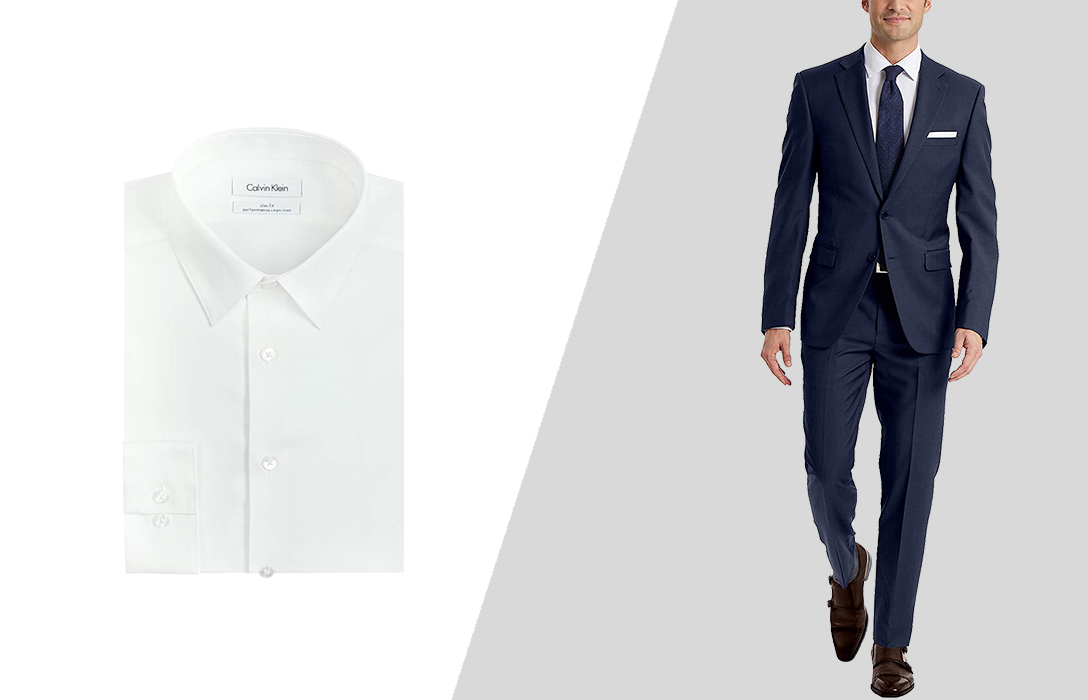 What about the other shirt options, like the cuffs or the collar?
French cuffs with an understated pair of cuff links look super sophisticated if you're wearing a standard suit. Your collar should be either straight pointed or cutaway.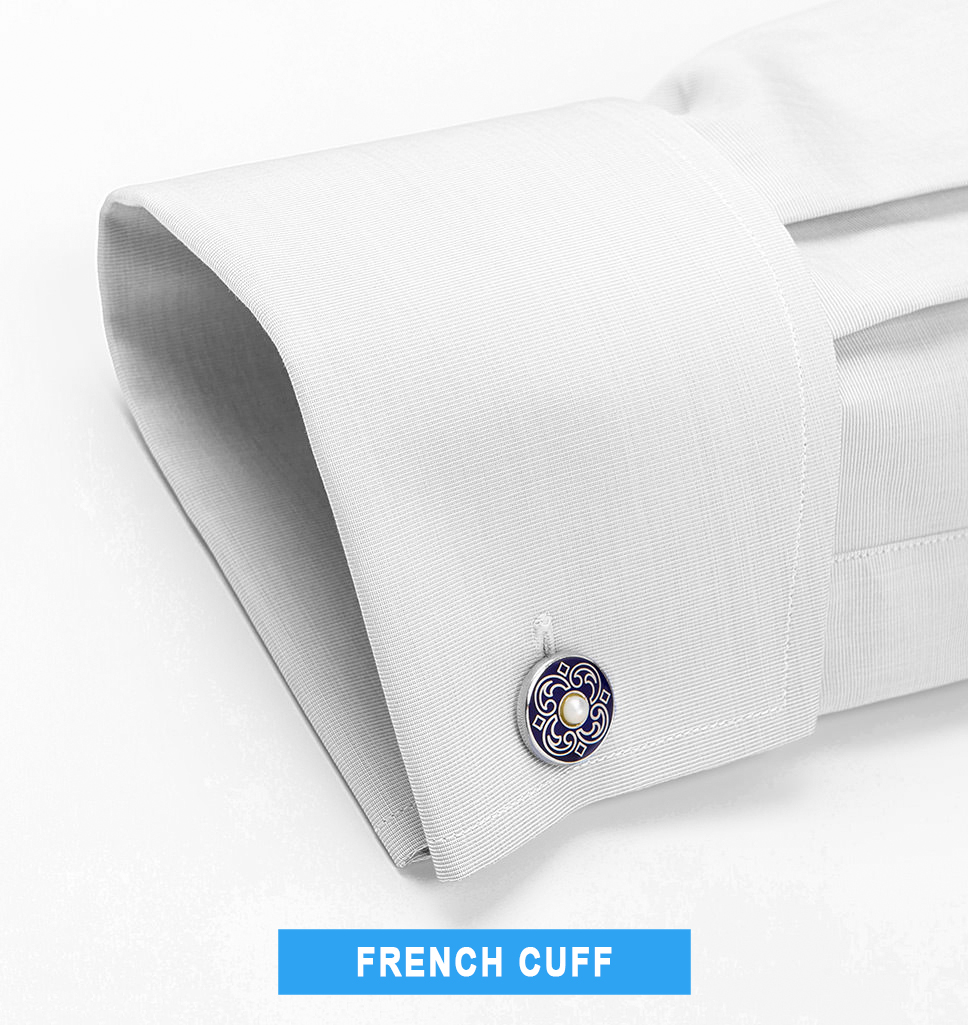 I would suggest a French cuffed white tuxedo shirt with a wingtip collar and pique front for a wedding tuxedo.
Match Your Shoes to Your Wedding Suit
It shouldn't come as a surprise when I say that your shoes' color should match the color of your suit.
Assuming you aren't wearing a tuxedo, it is almost a given that black leather Oxford or Derby dress shoes are perfect with your suit. These shoes work well with nearly every wedding suit.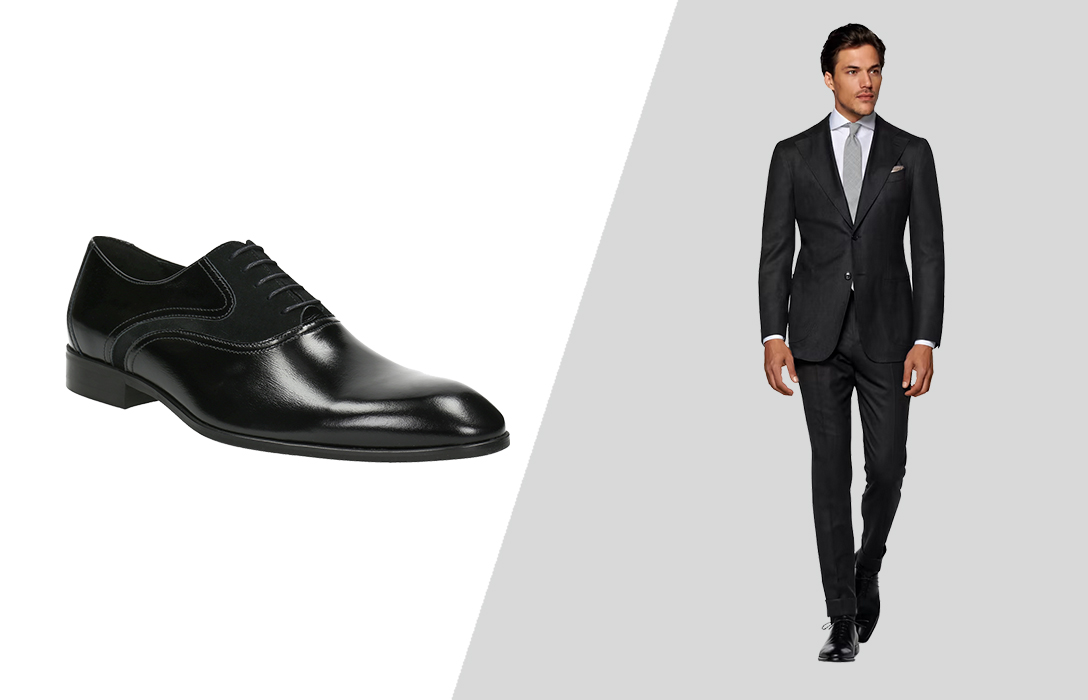 If you feel that you need a bit of color to spice things up, a shade of brown can look very cool in many cases.
Navy suits are paired best with black wedding shoes. So do charcoal and dark grey suits.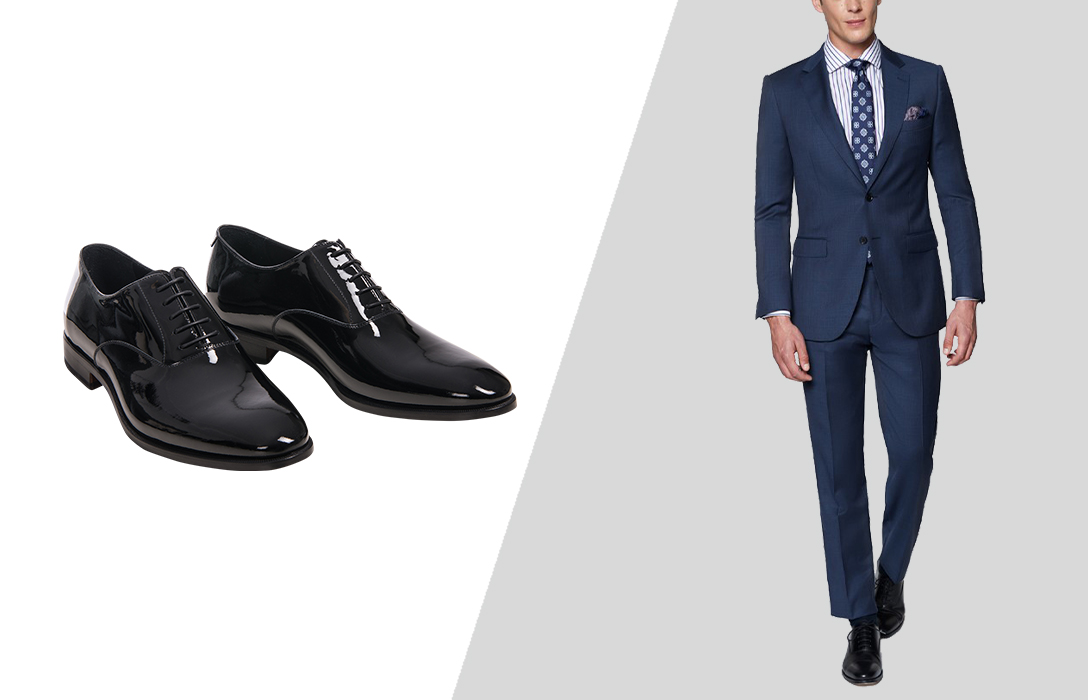 On the other hand, blue suits look tres chic with brown shoes. Be warned, though, that this will lower the formality level of your entire outfit. Only break these babies out for a more casual wedding.
You can also check out some of the best and most used wedding shoe color combinations for a suit.
The two greatest takeaways for the groom's wedding shoes are that they must be leather and lace-up.
Accessories You Can Use
If you feel like just another suit clone when you get dressed up, don't despair. You have the chance to personalize your look with accessories.
If you choose well, you can look very dapper and stand out at the same time.
Tie / Bow Tie
This is the number one accessory that people will notice. There are so many different options for a groom to choose from, but remember that you want something classy and understated.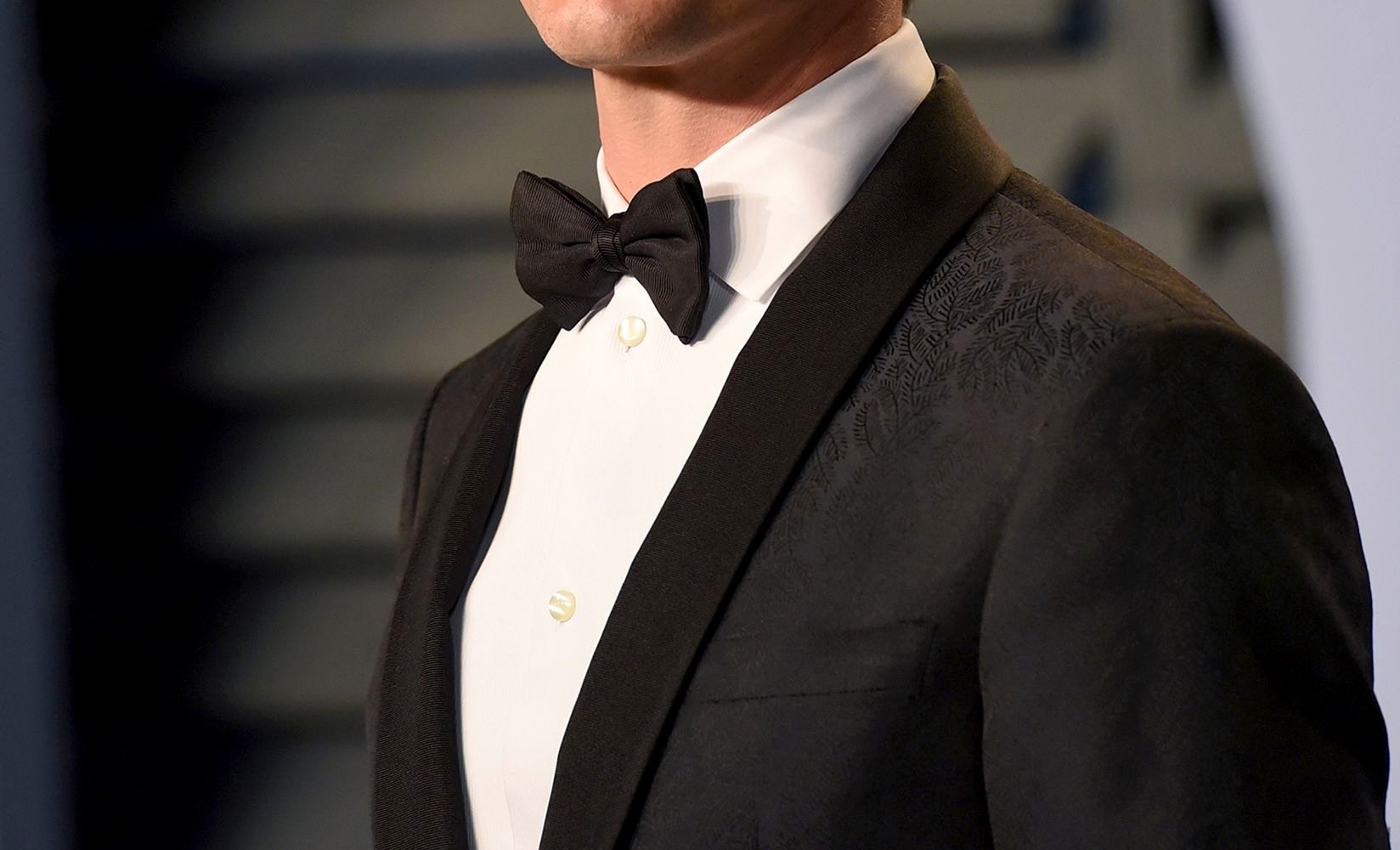 A neutral color tie is best. If you're having (or attending) a black-tie wedding and wearing a tuxedo, a black bow tie is the best choice.
If you are not having a black-tie wedding, make sure you match your wedding suit's color with the correct tie color. Some universal choices include navy blue or ivory-colored ties.
Silk is the nicest-looking fabric you can choose. If you are not holding a black-tie dress code wedding, a necktie will work just fine.
Belt
Here's the harsh truth: you can't wear a belt with a wedding tuxedo. You can only wear a belt with a standard wedding suit.
Normally, I am not against a belt. In fact, a good, well-chosen, and formal belt might even enhance the look of your wedding suit. That means choosing a real leather belt that matches your shoes' color.
Still, you might want to ditch the belt on your wedding day. There are many reasons for that, but the key to looking sharp is to make sure both your suit jacket and pants fit perfectly, even without a belt.
Wearing a vest? You may add a pair of suspenders for a dashing twist. Or you can wear a cummerbund with your tuxedo trousers, which will cover the belt area completely.
Remember, you can't wear both a vest and a cummerbund!
Watch
If the wedding you're attending requires the highest level of formality, you should add an exquisite dress watch with a black leather band.
The watch has to match the suit and needs to be simple and unadorned. It also must be very slim so that it sides well under your cuff. There can be no bulges on your wrist to give away your watch.
Steer away from big and fancy watches that might undermine your wedding attire. Instead, a minimalist and affordable watch can get the job done perfectly!
Again, if you are wearing a tuxedo, a black leather dress watch is the only acceptable choice. No Chrono, diver watches, or metal waistbands, please!
Pocket Square
The pocket square is an essential component of a special dress occasion. It can add a splash of color to your suit, but be mindful to keep it in line with your style goal for the day.
Your pocket square's material and color should not feel out of place with the rest of your suit.
Cufflinks
Complete your wedding suit with good-looking yet discrete cufflinks. Some of the best dress shirt cuffs that allow cufflinks are the French single-cuff and the double-cuff dress shirts.
The cufflinks' color should complement the color of your suit. Gold or silver cufflinks are among the most preferred choices for grooms.
Wrapping It Up
We've gone over a lot of rules and tips here for the perfect wedding attire. But don't let all of this overwhelm you.
You know your style best, so do not feel obligated to conform to something you aren't just for this one day.
However, you only get one chance to be a groom (hopefully). Your wedding day will be unlike any other in your life, so you should dress accordingly.
Take from this what works best for you. If you are incredibly unhappy with the idea of wearing a tuxedo, you can still have an elegant wedding while forgoing the black-tie element.
The most important thing is that you feel good and well-dressed at your wedding party. Well, that and enjoying the happiest day of your life.
Author: Alexander Stoicoff
Hi, I'm Alex, and I've studied and specialized in styling in Rome. Through my writing, I want to help men dress well and learn the purpose and significance of suits and other formal attire. My final goal is to make men more confident in their wardrobe choice and life in general.