Slim fit suits are oftentimes called as Italian fits. In its essence, the Italian suits were the first suits being tailored more closely to the body. A fine way to recognize and fit a slim suit is to know that the suit should 'hug' your body, just not too strong.
It feels a little tighter than the regular one and it looks that way, too. Another important characteristic that significantly describes the slim fit suit is its lightness.
This type of suit should look (and feel) slim and stylish. It should look close to the body and chest-opened, something like this:
One thing to note, though, is that choosing a slim fit suit does not require the wearer to be slim. The name refers only to the type of construction of the suit, as well as its overall appearance.
Another thing to remember is that if you cannot easily lift your arms while wearing the suit, most likely, it is just too small for you. Even slim fit suits can be comfortable, thus allowing you to move freely without any issues at all.
There are several points on how to choose a slim fit suit, all well described in this post. However, when you are purchasing it online, you need to measure your chest, waist, and arm.
Under each product, there is a size chart that gives the exact product measures. Slim fit suits are sensitive and the size has to be chosen precisely.
The suit can easily look tight and narrow, not to mention the fact that they look ridiculous when they are big and long. That's why you need to find your perfect match in a natural stance.
Introduction to Slim Fit Suits
A great suit is an essential item in any man's wardrobe. You might not have the type of job where you need to wear one daily, but you will need one for job interviews and formal occasions such as weddings, funerals, nights at the opera and theater, and for business functions.
Suits are relatively expensive items, so purchasing one requires more thought and planning than you'd put into other items of clothing. You need to choose the color, fit, and fabric with care.
You don't want to spend a lot of money only to end up with a suit that doesn't look or feel right. The first step to finding the right outfit is to decide exactly what you want.
Would you prefer a single button, or two or three? What shape of lapel do you prefer? Which colors and materials do you like? Wool, for example, is always a good option as it works well for all seasons.
The fit is probably your most important consideration. Slim fit suits, all the rage back in the 60s, have returned in a big way and are very popular again.
The slim and extra slim fit can be worn by most body shapes, but they probably look best on skinnier guys. This is because they have a more body-hugging design than traditional, looser fitting suits.
Advantages of a Slim Fit Suit
Wearing a slim fit suit will give you a more modern finish than a classic suit shape can. It gives you a contemporary edge and always looks sharp and neatly put together.
Slim fit suits fit the body closely without the excess fabric. But that isn't to say they cling to like a superhero costume. A good slim fit suit will always allow for comfort and ease of movement.
It's perfectly okay for slim fit suits to be worn by bigger men. However, they do look better on a trimmer, or even a skinny build. The slim fit is a shape you wear, instead of hanging off you as if it were on a clothes hanger.
The jacket is cut narrower around the chest and waist emphasizing your body shape instead of hiding it. When fitted correctly, they are extremely comfortable and unrestrictive.
Worn with a slim fit dress shirt underneath, these suits give off a very smart, well-presented image. They never look baggy or rumpled. Even when you're sitting down, the slim fit suits maintain their shape better than a looser cut suit.
Two vs. Three-Button Suits
Two-button jackets are the most widely available option in slim fit suits. Almost every brand produces more of these than any other style.
The two buttons create a streamlined look that gives the suit a very modern edge. And if you have a shorter torso, these timeless jackets will add length to your figure.
Another option is a jacket with three buttons. These fasten higher on the chest and are very neat and comfortable. Style-savvy men know always to leave the bottom button unfastened.
If it is done up, it can cause the jacket to bulge around the stomach area. Not a very flattering look at all.
Rule of thumb states that the top button is occasionally fastened. The middle button is always done up as this creates a shape around the waist. The bottom button is never, ever fastened.
How to Fit the Suit
The whole purpose of your suit is to flatter the shape of your body. It should hide your flaws and accentuate your shoulders and chest. The suit should create a V-shape overall which is very masculine.

A slim fit jacket should hang close to your body with very little extra fabric. Be sure that there is still some space for movement. It should not feel restrictive at all.
Remember, slim fit does not mean that you are wearing a smaller size. Instead, it refers to a specific cut. The sleeves taper to echo the cut of the pants and sit closer against the wrist than regular suit sleeves.
For the right fit, the collar should sit snugly around the neckline with no gaps. Always check it's not too tight. The shoulder pads should end where your natural shoulder does, or just slightly over.
This lets you move comfortably without making your shoulders appear too full.
Slim fit trousers shouldn't bunch up around your shoes. You're looking for a snug fit at the waist without needing a belt.
The waistband should sit near or on the natural waistline or slightly lower around the upper hipbones. Check for bunching around the butt area, since this a sure sign that you need a smaller size.
Want to learn more? Read the complete guide on how to fit your suit here.
Slim Fit Suit Color Combination
Particularly for guys with a smaller frame, adding some color can be a great idea. Slim men look more substantial in a lighter navy, for instance, than they would in a black suit.
If you prefer suits in conservative shades, add color to your appearance with a dress shirt. A matching pocket square will complete the look. Another stylish option is to team slim fit black or charcoal trousers with a more colorful jacket.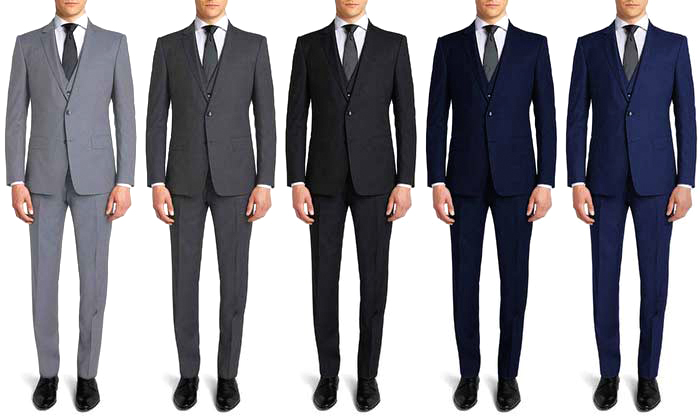 If you're buying your first suit, or if you only have a couple in your wardrobe, choose neutral colors you can wear everywhere. There are plenty of suits, shirt and tie color combinations you can choose from.
Midnight blue is always a good option. It's a little darker than navy and can be worn for day or night functions and on most occasions. Wear dark brown or black shoes to complete the look.
A couple of coordinating shirts create diversity in your wardrobe. One white shirt and one powder blue will give you the basics of a fresh and trendy outfit.
Who can Wear a Slim Fit?
You will generally wear a slim fit suit if you have a medium to small build. But they can look great if you're on the tall and thin side, too.
Men with large stomachs are probably better off with a more classic cut. That said, the bulkier guys out there can get away with a slim fit suit by choosing the right jacket.
They should opt for a double-breasted rather than a two-button jacket. The twin rows of buttons help to deceive the eye into thinking the torso is narrower than it is.
Best Slim Fit Suits – Brands & Reviews
Let's check and review some of the best selling slim fit suits online. All of them available on Amazon, too:
Slim Fit Wool Suit by Calvin Klein
It is a single-breast two-button suit from great quality material (100% wool). Considering the price, it is surely a great (if not perfect) deal. It is available in different colors, too.
As usual, pants come in number 6 minus jacket. They are unhemmed, so you will have to visit a tailor to get them fixed for you.
Slim-Fit Light-Grey Suit by Tommy Hilfiger
The suit consists of a slim-fit suit with a trim fit silhouette, featuring a two-button jacket and flat-front pants. It's made of wool (100%).
Most of the people (85%) who ordered it, said that the suit fits perfectly well and the sizes are well matched.
The jacket features flap front pockets and a welted chest pocket. The pants are unfinished at the bottom and have slanted side pockets.
X-Fit Black Suit by Calvin Klein
This black two-piece suit includes a two-button jacket and flat-front pants. The jacket has a notched lapel with side vents, featuring four-button cuffs, front flap pockets, and a chest welt pocket.
Also, it has an interior pocket on the right with button closure, too. More than 60% of the reviews rated this suit as excellent, which is a great overall score after all:

The pants are partially lined, with button-through welt pockets at the back and tab closure with zipper fly: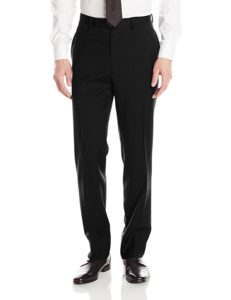 Men's Stretch Slim-Fit Suit by Calvin Klein
A 100% wool suit by Calvin Klein. A top of its class, yet at a very affordable price. The whole suit consists of a two-button, notch-lapel jacket, and flat front pants.
The jacket fits great. Calving Klein's "X-fit" can be a little extreme, so my advice is to try one number up from your regular size number.
The pants sit slightly below the waist. They are slimmed through the hips & thighs and come unhemmed. You will receive a lot of compliments for this suit, believe me!
Heather Slim-Fit Suit by Haggar
Made from 65% polyester and 35% viscose, this is a perfect slim-fit suit example. The coat and the pants come separately, though.
It has a two buttons slim fit suit coat with notched lapels and flap pockets. Excellent for work and business meetings:

You can complete the set with the slim fit flat-front pants by Haggar, designed specifically for this jacket. Crafted with the same material of 65% polyester and 35% viscose.
Two off-seam pockets at front, two pockets at the back, with a zip fly and hook closure:
His set has a tailored-fit five-button vest too, making it the perfect slim fit three-piece suit:
Premium Slim-Fit Blue Suit by P&L
With a single-breasted, two-button closure jacket, this suit is a typical Italian facing model. The fabric is nice too, with 65% polyester & 35% viscose.
The suit is available in short, regular and long sizes. It has a variety of color options, as well.
Charcoal Twill Slim Fit Suit by Tommy Hilfiger
This suit is a 100% wool suit, too. Consists of a two-button jacket and flat-front pants. The jacket has side vents and four-button cuffs on the sides, a perfect example for a modern slim-fit suit.
More than 75% of the people rated this suit as perfect. It is one of the best slim fit suits you can find for this price range:

As mentioned, it also comes with flat-front wool pants. The pants have two side and two back pockets. They have an unfinished hem, as most of the Tommy Hilfiger suits do.
A good tailor will hem these pants to your body needs in no time, and you are ready to go:
Conclusion and Recommendation
Slim fit suits are perfect for any occasion where a suit is called for. You can wear them to weddings, funerals, business meetings or job interviews.
They're also ideal for any environment where you need to walk the line between formal and smart casual. Overall, slim fit suits create a young, polished impression. And which guy doesn't want that?
Men who embrace the concept of modern style and fashion usually prefer slim fit suits. Therefore, it is perfect for men who work and want to maintain their reputation when it comes to it.
However, it's essential to get the exact fit for your body type. To obtain a fine modern slim fit suit, pay close attention to the measures. Getting the right measures is the most important step in the process.
Although most of the choices pass our criteria, we think that the charcoal twill slim fit suit by Tommy Hilfiger is the best choice by far.
An impressive 85% of the people who reviewed this suit, rated it as excellent. It contains high-quality material, comfortable for everyday occasions.
A lot of the customers with their reviews have declared that the slim fit suit by Haggar fits good, too. It is a nice modern style and business combination. The price is extremely fair and fits in any budget. Perfect for any occasion.