Slim fit suits are oftentimes called as Italian fits. In it's essence, the Italian suits were the first suits being tailored more closely to the body. A fine way to recognize and fit a slim suit is to know that the suit should 'hug' your body, just not too strong. It feels a little more tight than the regular one and it definitely looks that way, too. Another important characteristic that significantly describes the slim fit suit is its lightness.
This type of suit should look (and feel) slim and stylish. Actually, it should look close to the body and chest-opened, something like this:
One thing to note, though, is that choosing a slim fit suit does not really require the wearer to be slim. The name refers only to the type of construction of the suit, as well as its overall appearance. Another thing to remember is that if you cannot easily lift your arms while wearing the suit, most likely, it is just too small for you. Even slim fit suits can be comfortable, thus allowing you to move freely without any issues at all.
There are several points how to choose a slim fit suit, all well described in this post. However, when you are purchasing it online, you really need to measure your chest, waist and arm. Under each product there is a size chart that gives the exact product measures. Slim fit suits are sensitive and the size has to be chosen precisely. The suit can easily look tight and narrow, not to mention the fact that they look ridiculous when they are big and long. That's why you need to find your perfect match in a natural stance.
Slim Fit Suits – Shop Options & Reviews
Let's check and review some of the best selling slim fit suits online. All of them available in Amazon, too:
Charcoal Twill Slim Fit Suit by Tommy Hilfiger
The suit consists of slim-fit suit featuring two-button jacket and flat-front pants. It's made of wool (100%). Sizes are perfectly matched. Most of the people (85%) who ordered it, said the suit fits perfectly well.
The jacket features side vents and four-button cuffs:

The suit has a matching pant that goes with the jacket. The pants feature offset button closure and go with an unfinished hem:

X-Fit Black Slim Fit Suit by Calvin Klein
This black two-piece slim fit suit includes a two-button jacket and flat-front pants. The jacket has a notched lapel with side vents, featuring four-button cuffs, front flap pockets and a chest welt pocket. In addition, it has a right interior pocket with button closure, too. More than 60% of the reviews rated this suit as excellent, which is a great overall score after all:

The pants are partially lined, with a button-through welt pockets at the back and a tab closure with zipper fly: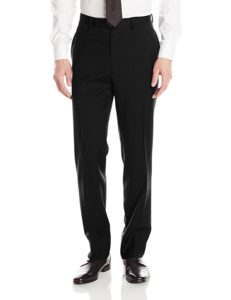 Men's Mabry Slim Fit Suit by Calvin Klein
A 100% wool suit by Calvin Klein. A top of its class, yet at a very affordable price. Whole suit consists of a two-button, notch lapel, closure jacket with side vents and flat front pants with a zip fly and button closure. The jacket has external chest pocket at left, four-button cuffs and is partially lined:

The pants have a 1/4 top pockets and back button-through welt pockets and are partially lined to the knee:

Heather Slim-Fit Suit by Haggar
Made from 65% polyester and 35% viscose, this is a perfect slim-fit suit example. The coat and the pants come separately, though. It has a two buttons slim fit suit coat with notched lapels and flap pockets. Excellent for work and business meetings:

You can complete the set with the slim fit flat-front pants by Haggar, designed specially for this jacket. Crafted with the same material of 65% polyester and 35% viscose. Two off-seam pockets at front, two pockets at the back, with a zip fly and hook closure:
His set has a tailored-fit five button vest too, making it the perfect slim fit three-piece suit:
Slim Fit Three Piece Suit Set by Poshawn
With single-breasted, one button closure jacket, this suit is a typical French facing model. Package includes fully lined 4 button fitted vest with two pockets, flat-front pants with buttoned waist tab, two-angled front pant pockets and two pockets at the back of the pants.
Charcoal Slim Fit Suit by Tommy Hilfiger
This suit too is a 100% wool suit. Consists of a two-button jacket and flat-front pants. The jacket has side vents and four-button cuffs on the sides, a perfect example for a modern slim-fit suit. More than 75% of the people rated this suit as perfect. It really is one of the best slim fit suits you can find for this price range:

As mentioned, it also comes with a flat-front wool pants. The pants have two side and two back pockets. They have an unfinished hem, like most of the Tommy Hilfiger suits do. A good tailor will hem these pants to your body needs in no time, and you are ready to go:
Single-Breasted Slim Fit Suit by Caravelli
This suit is made of 65% polyester and 35% viscose. The ensemble comes with hanger, tags, plastic bag and carton. The jacket features a flap pocket, notch lapel, as well as dual side vents. This single-breasted two-button slim fit suit also comes together with flat front pants that are unhemmed. The pants should be hemmed and lined down to the knee. At the same time, the jacket is fully lined:
Conclusion and Recommendation
Men who embrace the concept of modern style and fashion usually prefer the slim fit suits. Therefore, it is perfect for men who work and want to maintain their reputation when it comes to it. However, it's essential to get the exact fit for your body type. In order to obtain a fine modern slim fit suit, pay a close attention to the measures. Getting the right measures is the most important step in the process. Some suit manufacturers even make it possible for customers to avail tailoring.
Although most of the choices pass our criteria, we think that the charcoal twill slim fit suit by Tommy Hilfiger is the best choice by far. An impressive 85% of the people who reviewed this suit, rated it as excellent. Contains a high-quality material, comfortable for everyday occasions. A lot of the customers with their own reviews have declared that the slim fit suit by Haggar fits good, too. It is a nice modern style and business combination. The price if extremely fair and fits in any budget. Perfect for any occasion.