A proper dress shirt fit has a clear set of rules. It should flatter your body, look neat, and feel comfortable – all at the same time.
Regardless of whether you wear a suit every day, one thing is certain. Owning a dress shirt is essential to the makings of any successful man's wardrobe.
But how exactly do you know when you've found the proper dress shirt fit for you? Let's find out.
Dress Shirt Fit Overview
When looking to find just the right fit, all parts of a dress shirt are equally important on their own, as they are together.
Proper dress shirt measurements are necessary when you order custom shirts. But whether you desire a custom option or one straight off the rack, several tips will ensure you have the perfect fit every time.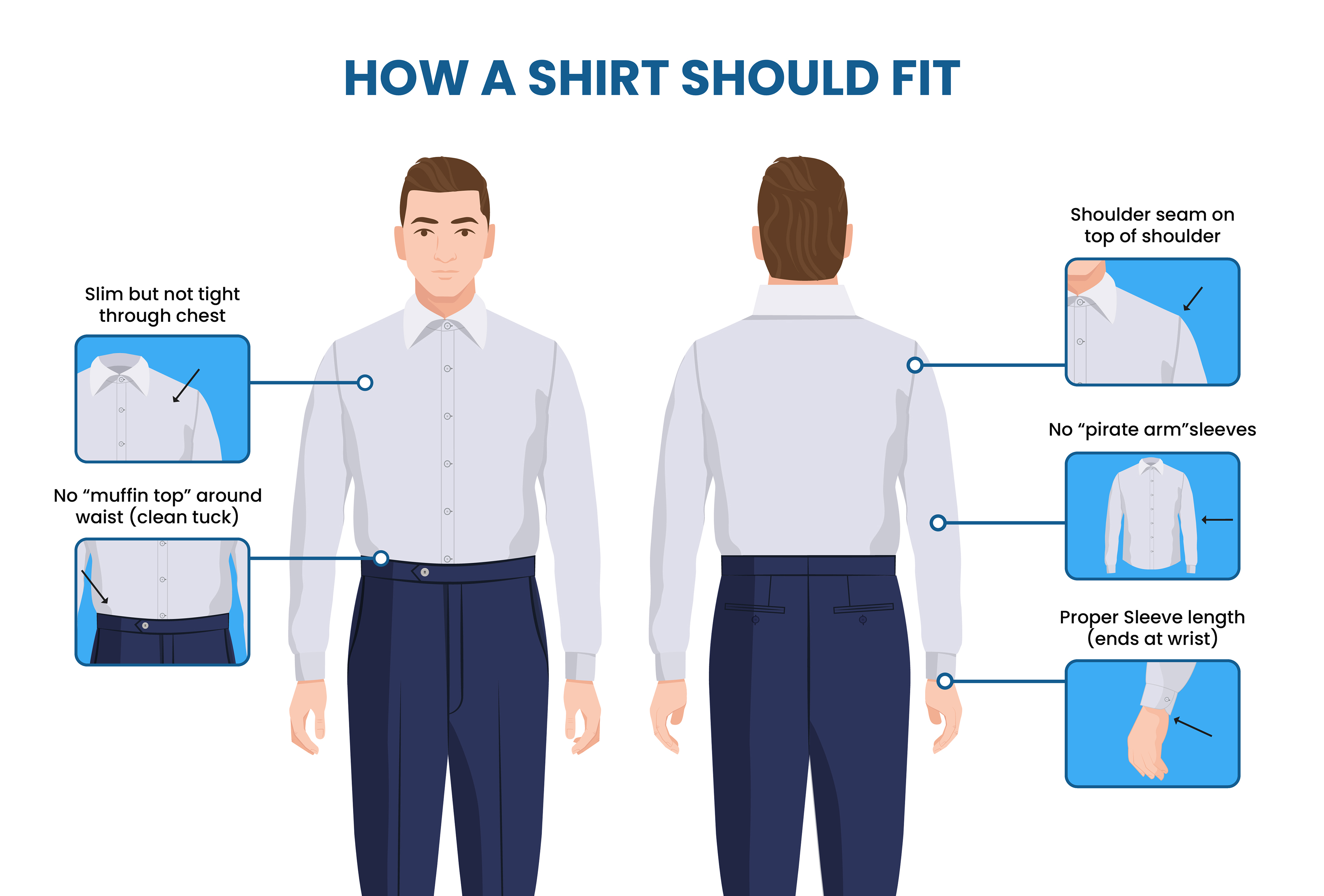 Some key dress shirt features help you determine if the fit should be right for you or not. The first thing to keep in mind is to make sure the shirt's body is tapered but not uncomfortably tight.
The next is to ensure the appropriate fit between your neck and the collar of the shirt. I've explained my "one-finger rule" below in this article and how it helps you find the right dress shirt collar size.
The sleeves should also fall effortlessly against the end of one's wrists; however, they should not cover the heel of your hands. The seams of the shoulders should be in line with where the shoulders and arms meet.
Last but not least, the cuffs need to sit just right on the wrists, where they don't fall past the hands but are also not so tight that they limit your mobility.
Dress Shirts Length
The first section that ensures a dress shirt is hemmed properly is where the shirt's bottom sits.
When trying to find the proper length of a dress shirt, the rule of thumb is to find a shirt size that fits as slim as comfortably possible. Therefore, it is necessary to find a shirt somewhere in the middle.
Ultimately, the perfect length allows you to tuck the shirt into the pants. There should be just enough fabric for the shirt to stay tucked in when you raise your arms.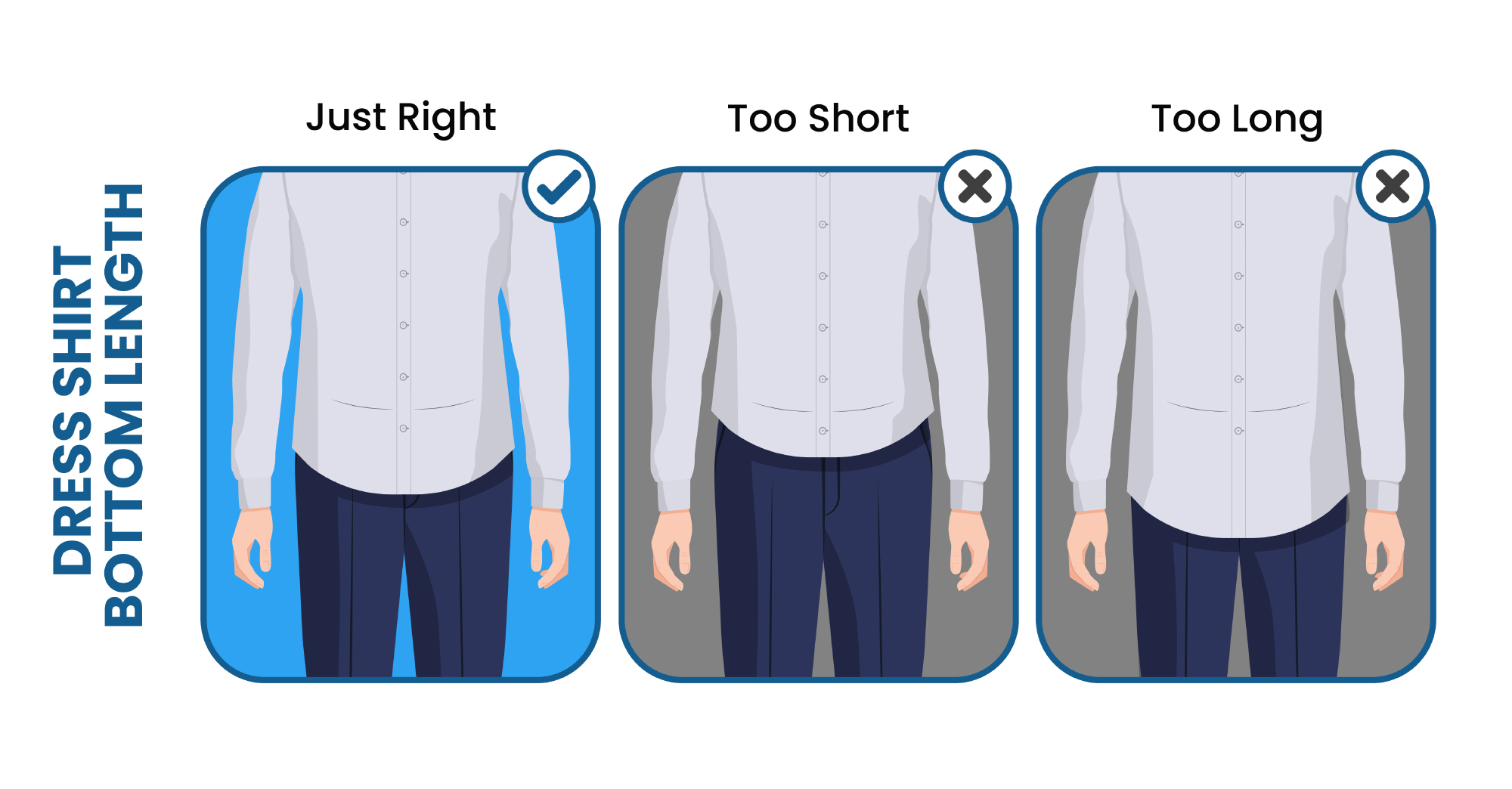 An ideal dress shirt length should be long enough to remain comfortably tucked in throughout the day. Therefore, finding a dress shirt that sits just in the right place on your hips is essential.
If the shirt is too short, you will have a limited range of motion. It affects your stretching, sitting, and everything in between.
A good suggestion is to try a shirt on with pants. Test out how well it stays tucked in when moving, just as you would throughout a typical day.
You should be able to wear your dress shirt, both tucked and untucked. Also, you want to make sure that there is not too much excess fabric that needs to be tucked in. If there is, that means your dress shirt is too long.
However, sometimes it might be challenging to find the perfect length. But not to worry if it is longer than it should be. You can always take it to a tailor to fix it.
Dress Shirt Collar Fit
When it comes to the collar, there are a few pieces of criteria to take note of. If this part of the shirt is too tight or too loose, it will be uncomfortable and will look awkward.
There are many different options in terms of collar styles. However, collars typically run from 14" small to 18" large when it comes to different sizes.
A "one-finger rule" can precisely determine what the perfect dress shirt collar fit might look like.
The rule states that you should be able to place one of your fingers comfortably between your neck and the collar of your shirt. No less or more than that.
Too tight would be characterized as feeling like the collar is choking you. On the other hand, too loose looks like there's far too much room between your neck and the shirt's collar.
Dress Shirt Shoulders Fit
The next step to ensure you have a dress shirt that fits perfectly is how it sits along the shoulders. Ultimately, the shirt should fall along the edge of your shoulders.
The proper fit should fall between the space of your shoulder and the outer arm.
A dress shirt that does not fit properly in the shoulders typically affects how the arms will sit, too. It will also directly affect how the shirt sits on the chest too.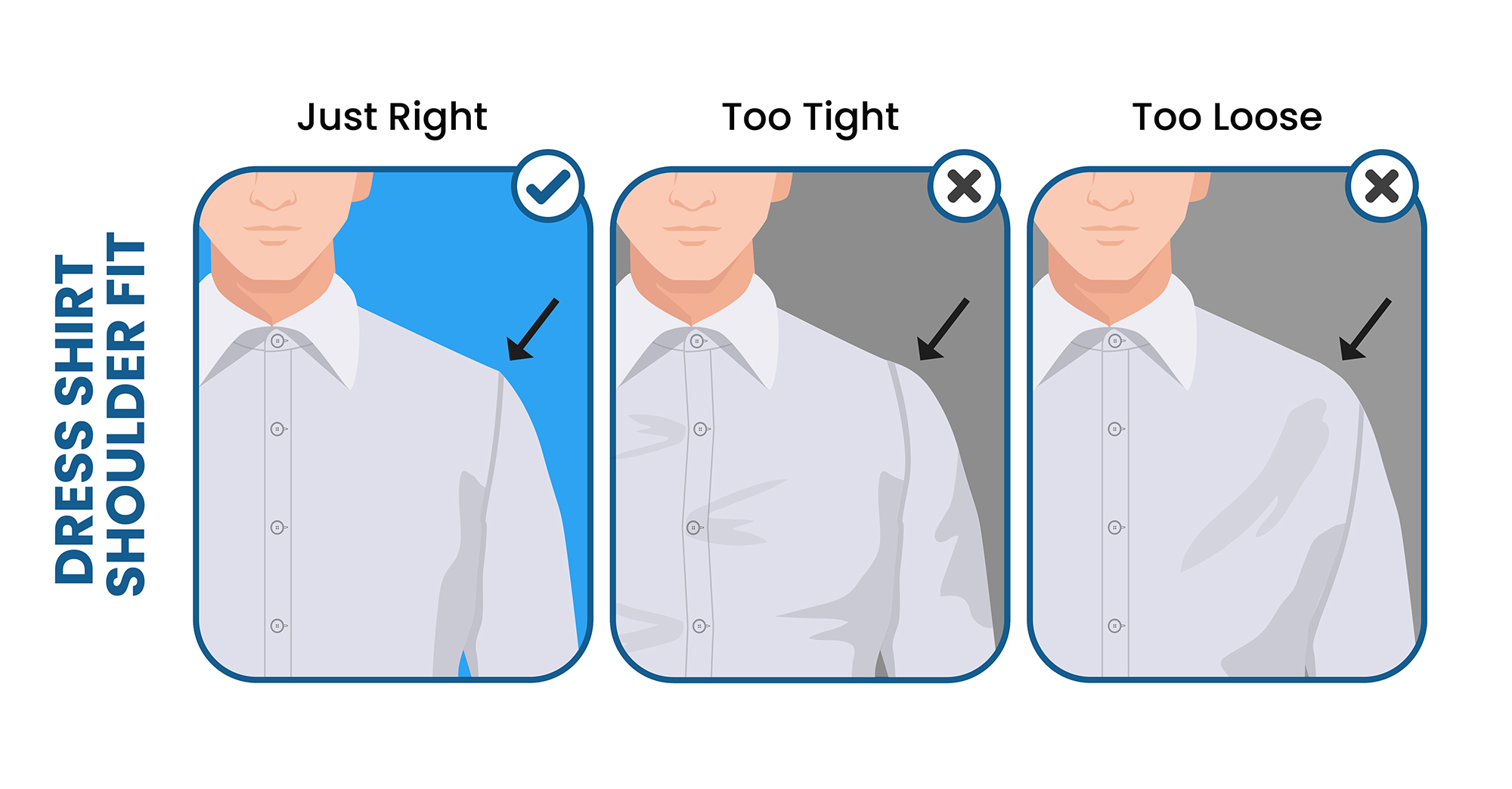 If a shirt's shoulder sits too high up, it will look like the shirt is pulling around the chest area. On the other hand, too loose would look rather unfinished.
Again, to achieve the right fit, the seam of the dress shirt shoulders must sync with the edge of your shoulders.
Dress Shirt Torso Fit
Finding the correct fit for each person might be somewhat of a daunting task. However, when looking at the torso of a dress shirt, there are a few simple rules to keep in mind to simplify the process.
There is a delicate balance when choosing which size works best for you. One helpful question I always ask myself is: "does this look neat but also feel comfortable"?
Ideally, a dress shirt should be on the slimmer side regarding how the torso will fit. Remember that you never want a dress shirt to make you feel as though you can't eat your next meal.
A tidy and well-fitting dress shirt means that the buttons will not pull but rather sit neatly. Also, it should provide a strong look that's somehow attached to your body but does not expose your body parts.
If your dress shirt is too tight, you will feel like you can't breathe, or you're left feeling exposed and uncomfortable. On the other end, too long will look like you're swimming in your dress shirts, either.
Dress Shirts Sleeve Fit
The next part of a dress shirt to consider when looking for the right fit is the sleeves. When looking at the sleeves, there are two elements you need to make sure are correctly tailored to their bodies.
Most fashion experts agree that the arms are the hardest part to fit properly. It's because the arm length and size of each person vary greatly.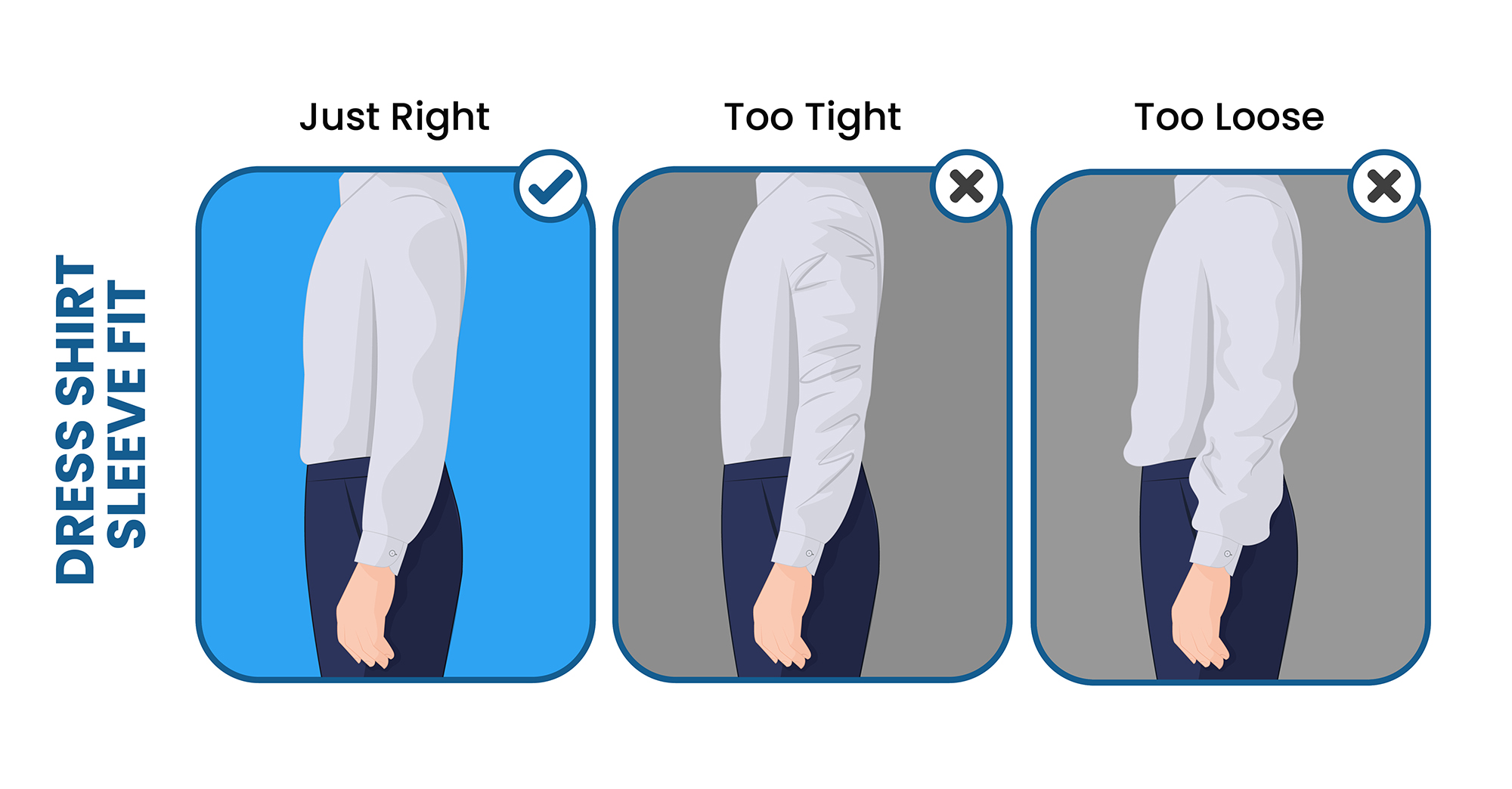 A perfect dress shirt fit includes sleeves that have some looseness to them, but not so much that you wouldn't be able to fit a jacket comfortably over the top.
Keep in mind that the way a dress shirt looks on its own is equally important as how it looks when it's part of a whole suit.
If the shirt sleeve is too tight, you will feel it excessively attached to your arm. It will limit your movement around the elbow, too.
If your sleeves are too loose, wrinkles will appear all over them. In addition, the sleeve will start to weigh down and will create folds around the cuff.
The good thing is that you can tailor your shirt by reducing the size and length of the dress shirt sleeve.
Dress Shirts Sleeve Length
A correct sleeve length will ensure that you have enough room to move freely and comfortably. While it's the first thing that many notice, it's still often mistaken.
A watch can point out the correct sleeve length. When your arm is straight, the sleeve should cover at least 50-percent of the watch, but not the whole watch.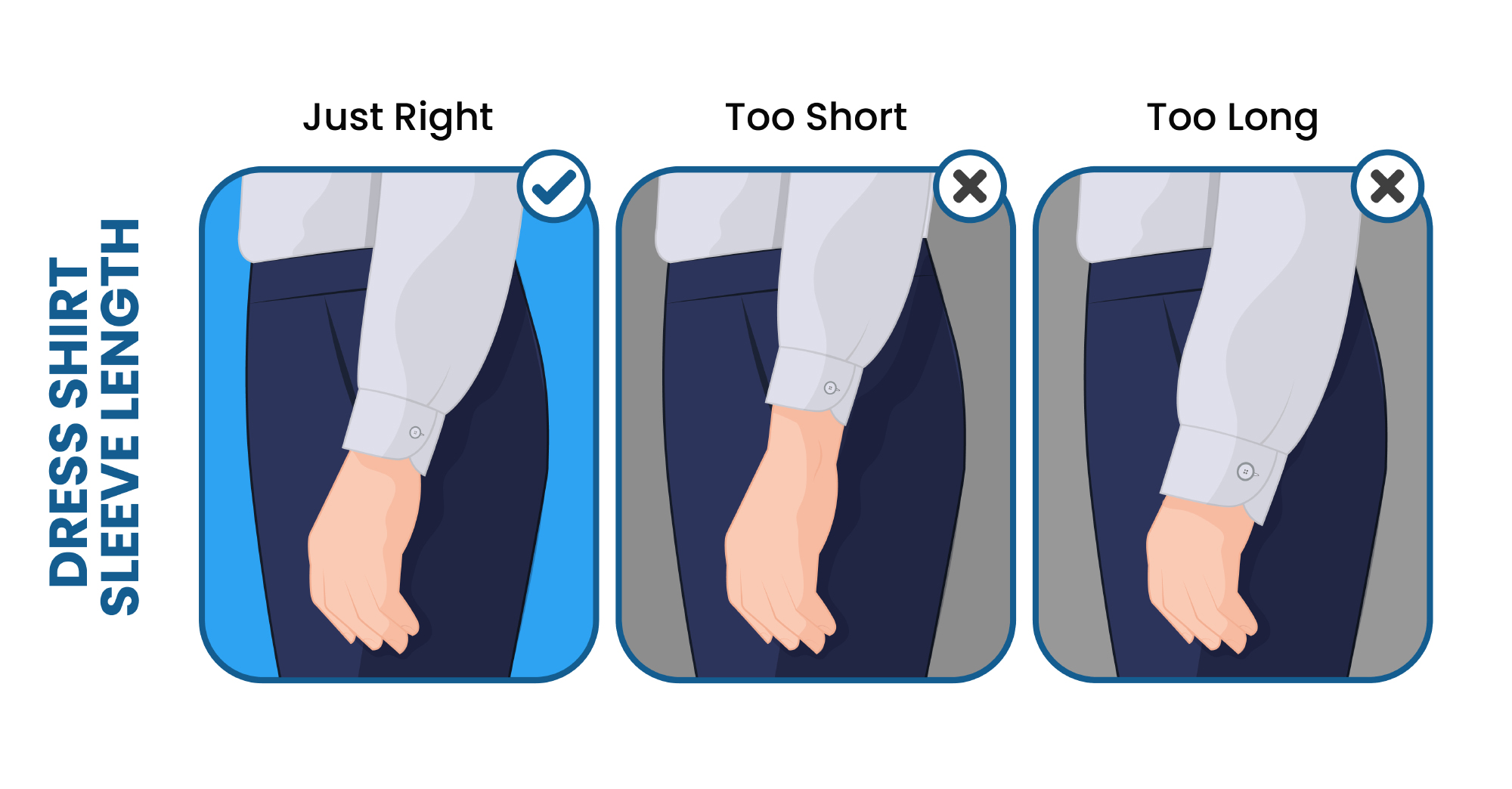 The perfect dress shirt length should allow a half-inch of fabric visible from your suit's jacket when arms hang naturally. Also, if your arm is straight, the sleeve should stop right at the break of your wrist.
You will know that your dress shirt sleeve length is too short if the wrists of your arms are visible. Hence, your suit jacket will completely hide your shirt. On the other hand, if the sleeves are too long, your shirt will cover the heel of your hands.
Dress Shirt Sleeve Cuff Fit
The cuff's fit is determined by how they feel on your wrist. Although there are many different cuff styles, it's essential to keep in mind that the fit should be comfortable regardless.
One tip to ensure the cuff size is appropriate for your wrist is to see how easy it is to take off. Ultimately, you should be able to take your shirt off without the need to unbutton it.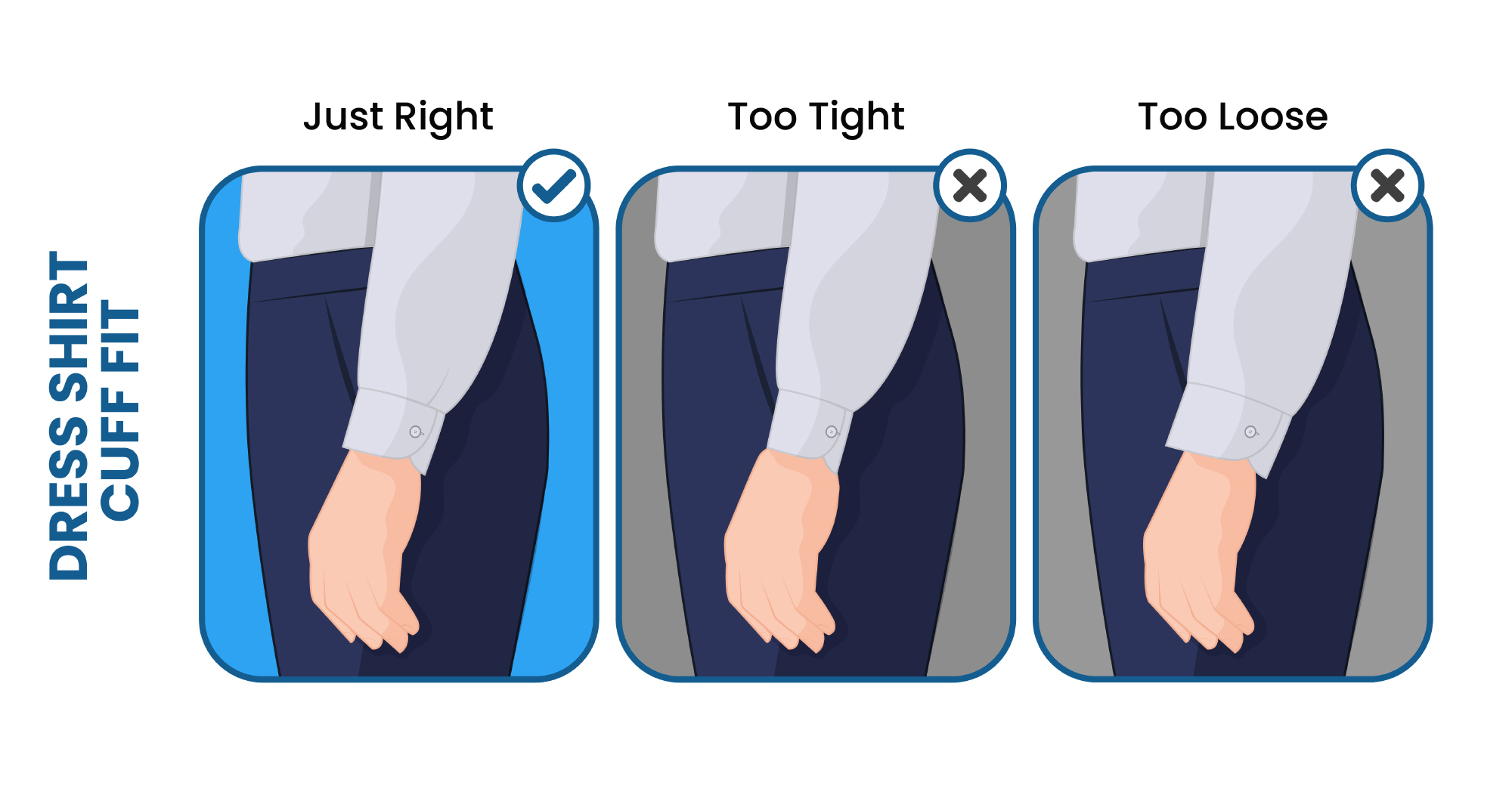 The correct fit would make your cuff feel close enough to your wrist. However, you should be able to place one of your fingers through the cuff.
But if you feel like the cuff is choking your hand, it's too tight. If the cuff does not touch your wrist when your arm is straight, it is too loose.
Different Dress Shirt Fit Types and Styles
Dress shirts may seem like one of the most mundane wardrobe pieces along with the suit, but they don't need to be. There are so many options out there, aside from just colors and patterns.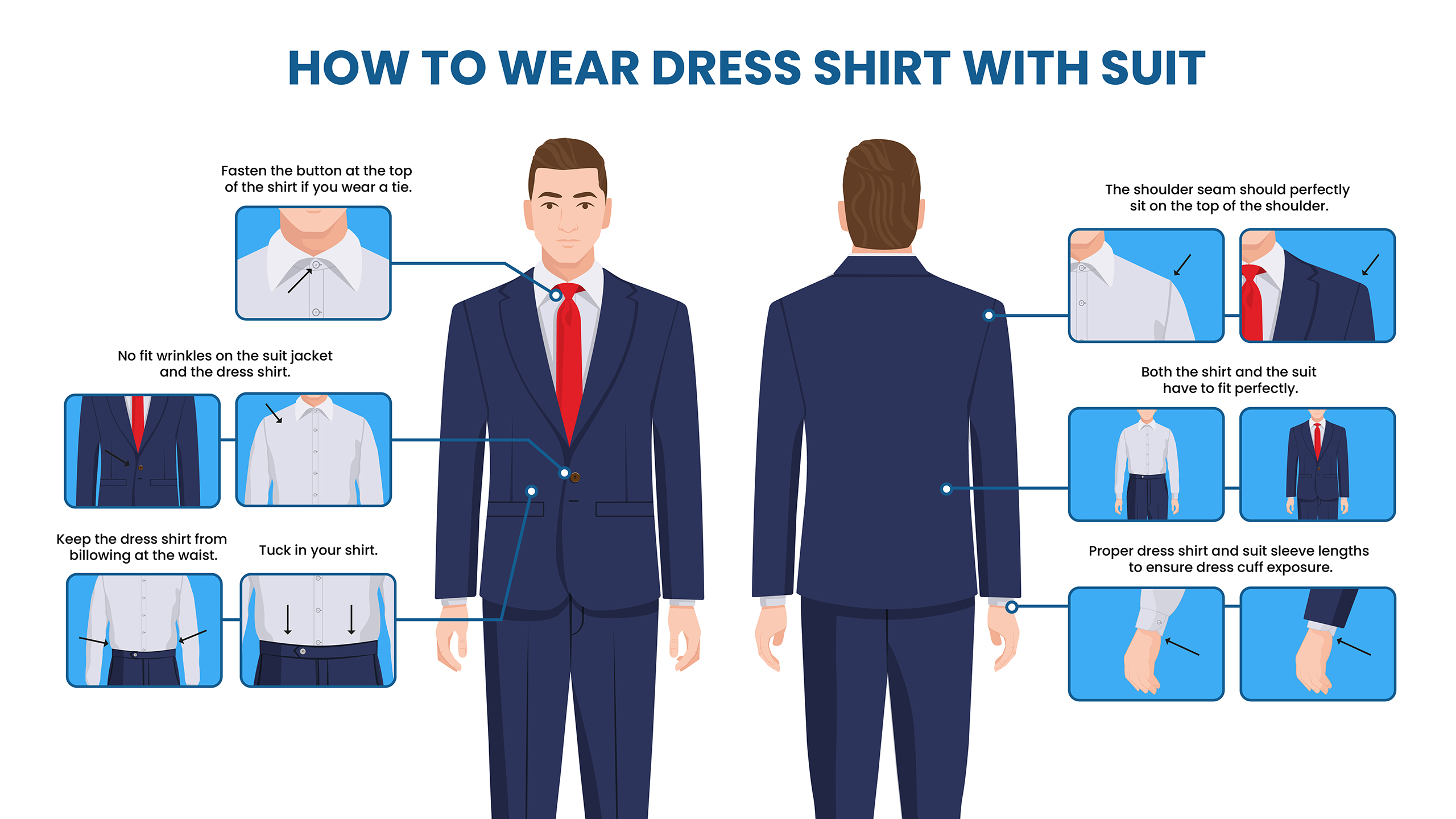 There's the shirt's fit, the style of the collar and cuffs, and even the possibility of breast pockets. It's practically exciting!
Maybe exciting is an overstatement. But having a wide variety of dress shirts is, at the very least, fantastic news. Not all men are created equal, body-wise. So why should our dress shirts treat us as if we were?
Classic Dress Shirt Fit
A classic fit dress shirt is "the" traditional dress shirt. It is sometimes also known as a regular fit.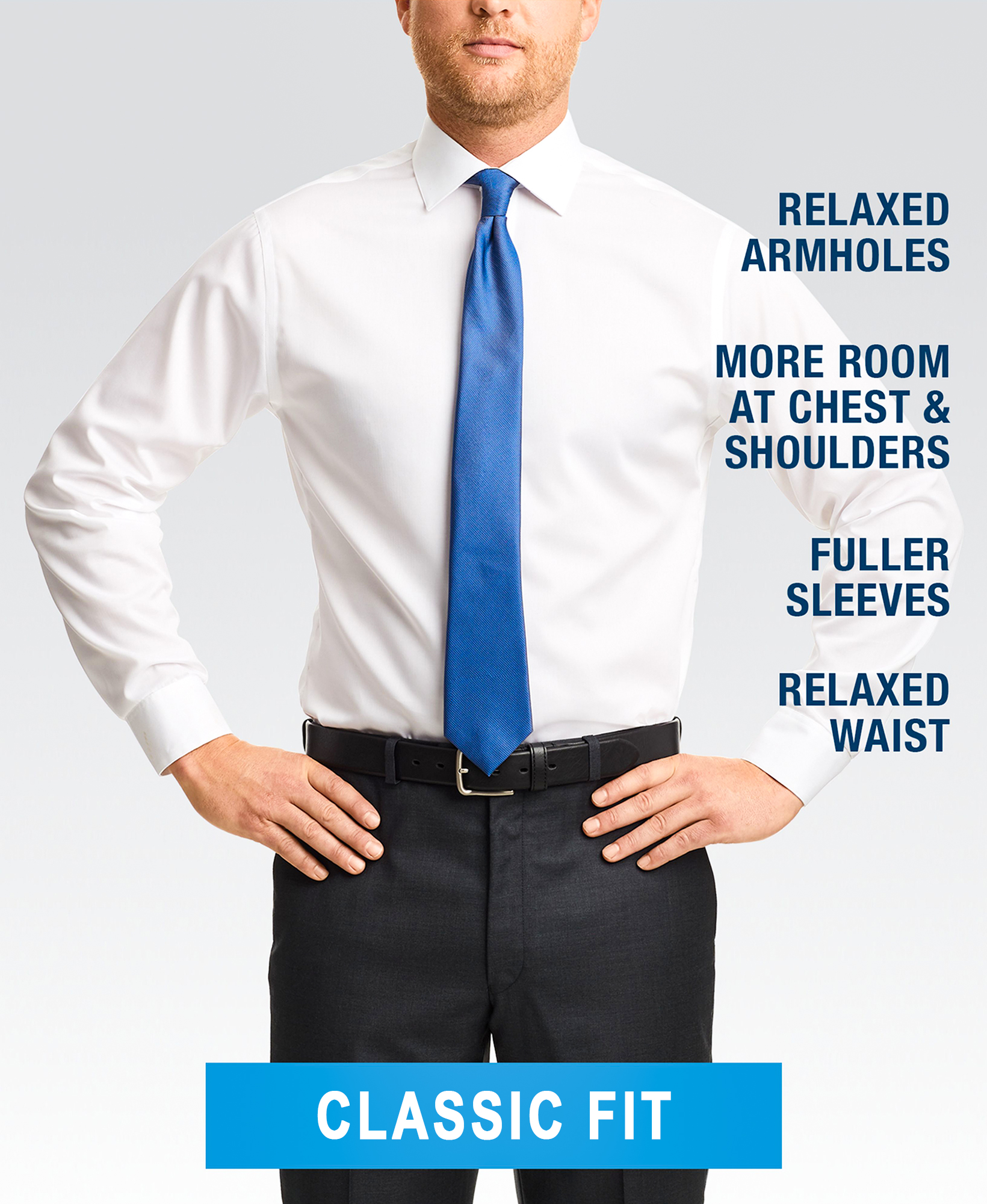 Classic fit dress shirts have practically no shaping to them. They are straight through the waist from the torso. Depending on the shape of the body, classic-fit dress shirts may appear boxy on some men.
However, they may be just the right cut for men with some girth. Also, because there is so much fabric involved with a classic fit, you may end up with extra material around your waistband when you tuck in your shirt.
If you want a shirt that provides a significant amount of room for movement, you'll want to try out a classic-fit dress shirt. You can move freely in any direction.
Remember that though this fit may be comfortable, it may not always be the most flattering choice.
Modern Dress Shirt Fit
Consider a modern-fit dress shirt if you are for something slightly less box-shaped but still want decent movement.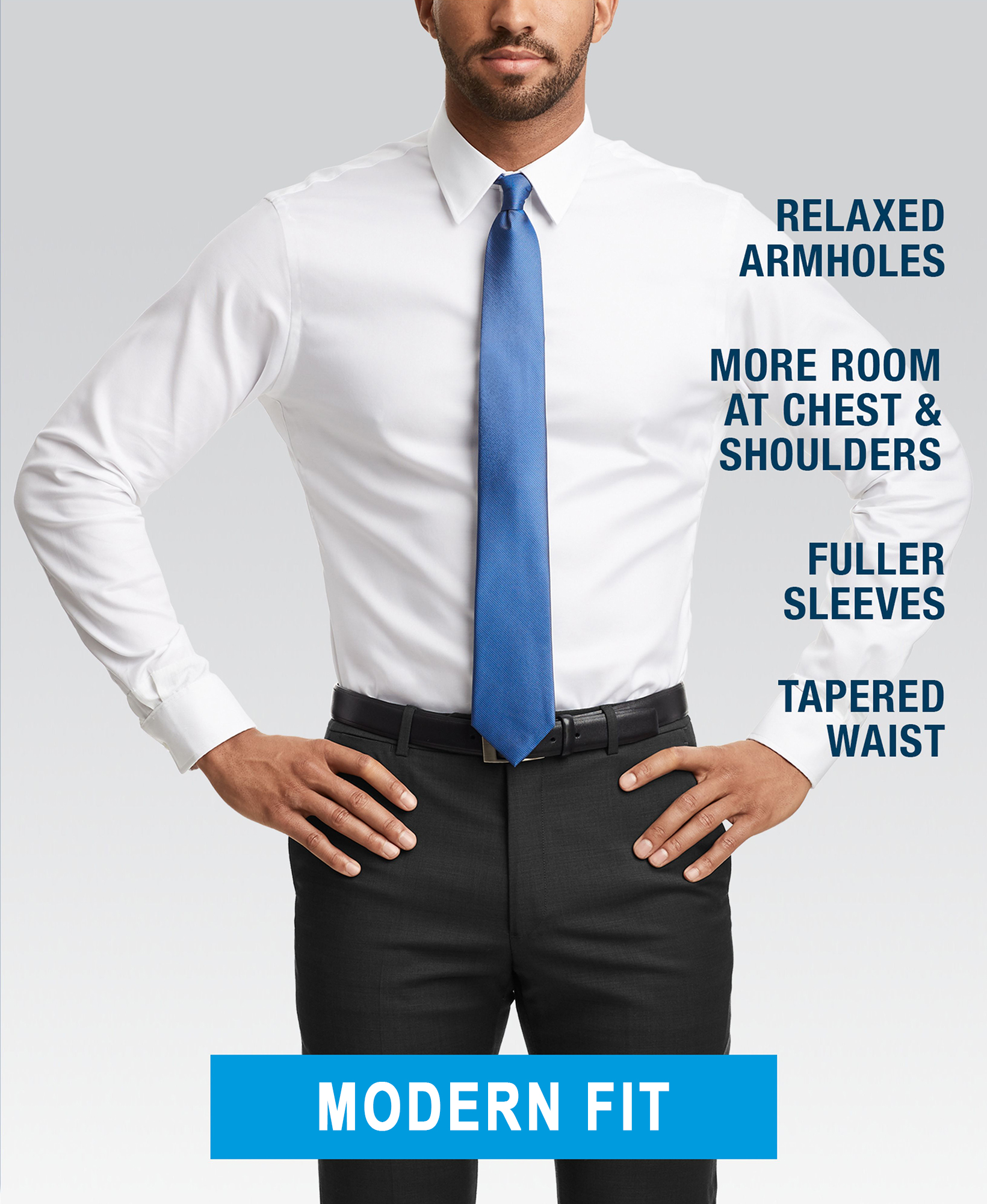 Modern-fit shirts are still roomy, just like the classic fit, but they offer a bit of tapering along the waist. So it isn't a wholly tailored fit, but a lot closer!
Think of it this way: modern fit dress shirts are as if classic and slim fits had a baby. You'll get the best of both worlds. You'll have the comfort and mobility of classic fit, only with a more modern twist. And the bonus?
You won't have the crazy amount of fabric piling up around your waist when you tuck in your shirt.
Slim Dress Shirt Fit
Slim fit is a very trendy look in both dress shirts and suits. This style is super tailored to your body. However, a slim fit doesn't leave much room for extra movement because it is fitted and tapered.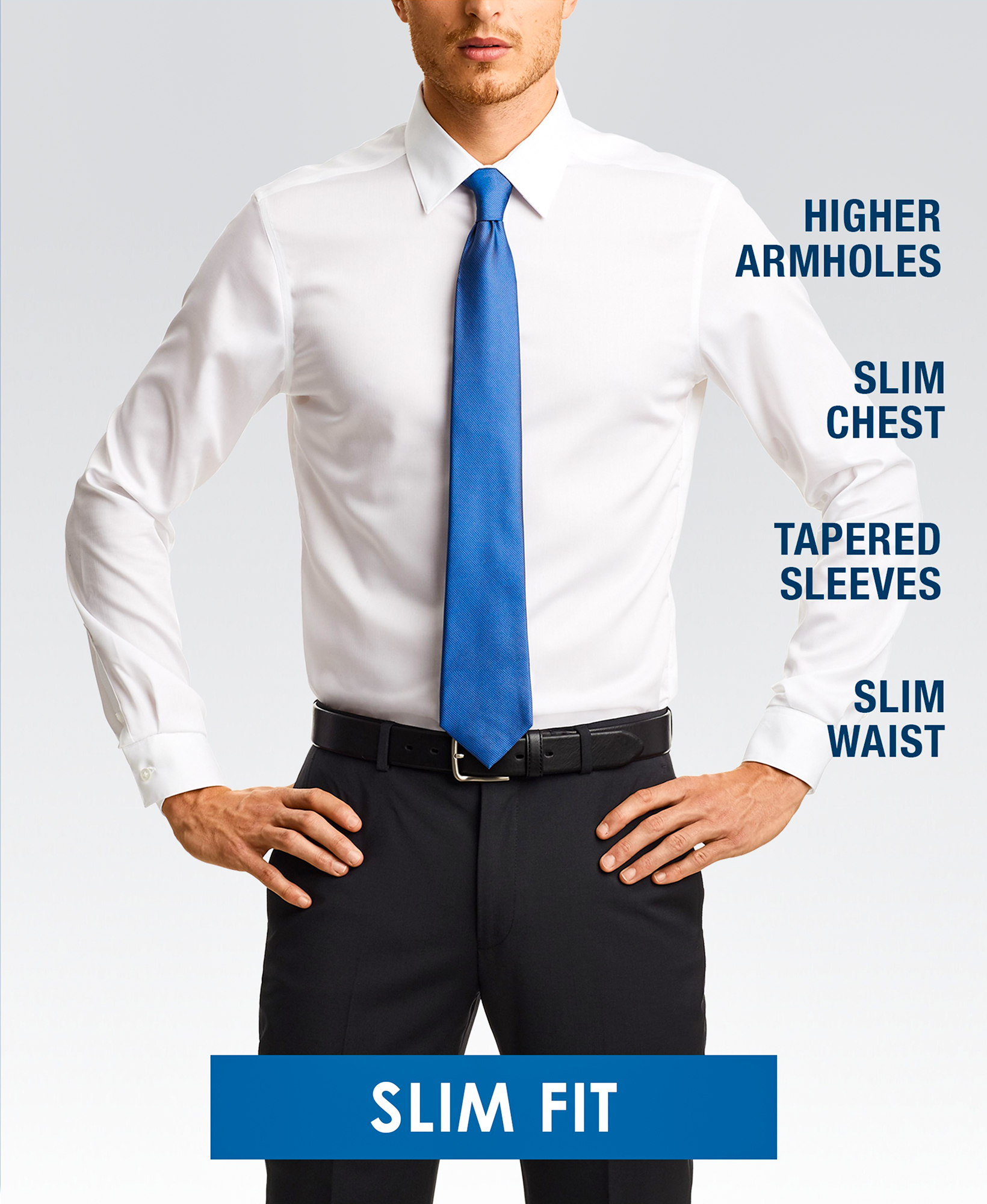 So if you are heading to a wedding where you plan on burning up the dance floor, you may want to skip the slim-fit dress shirt. There isn't an inch of fabric to spare on these shirts.
Skinny Dress Shirt Fit
If you can imagine it, skinny-fit dress shirts are even slimmer than slim fit! So this style is definitely only for a particular body type.
Skinny-fit dress shirts are tapered throughout the whole shirt, even in the sleeves. As a result, there isn't a lot of space between the fabric and your body.
Even the armholes are higher up, ensuring that the shirt material encases every inch of your body.
Author: Alexander Stoicoff
Hi, I'm Alex, and I've studied and specialized in styling in Rome. Through my writing, I want to help men dress well and learn the purpose and significance of suits and other formal attire. My final goal is to make men more confident in their wardrobe choice and life in general.