A classic fit suit is quite often referred to as the traditional or American cut. It is highly characterized by the comfort that it brings and the fact that it is very easy to wear.
These types of suits are cut generously throughout the waist and chest area. In general, this cutting style is the reason behind the possibility of moving freely, with less constriction for the body movement.
With the ease of movement and comfort that classic fit suits provide, they are often preferred for men who work in the busy, corporate environment.
Advantages of a Classic Fit Suit
Why should you pick a classic fit suit? There are lots of reasons.
Firstly, they're easy to find. Most stores will stock this particular cut, so you're bound to find one to match your budget and your size.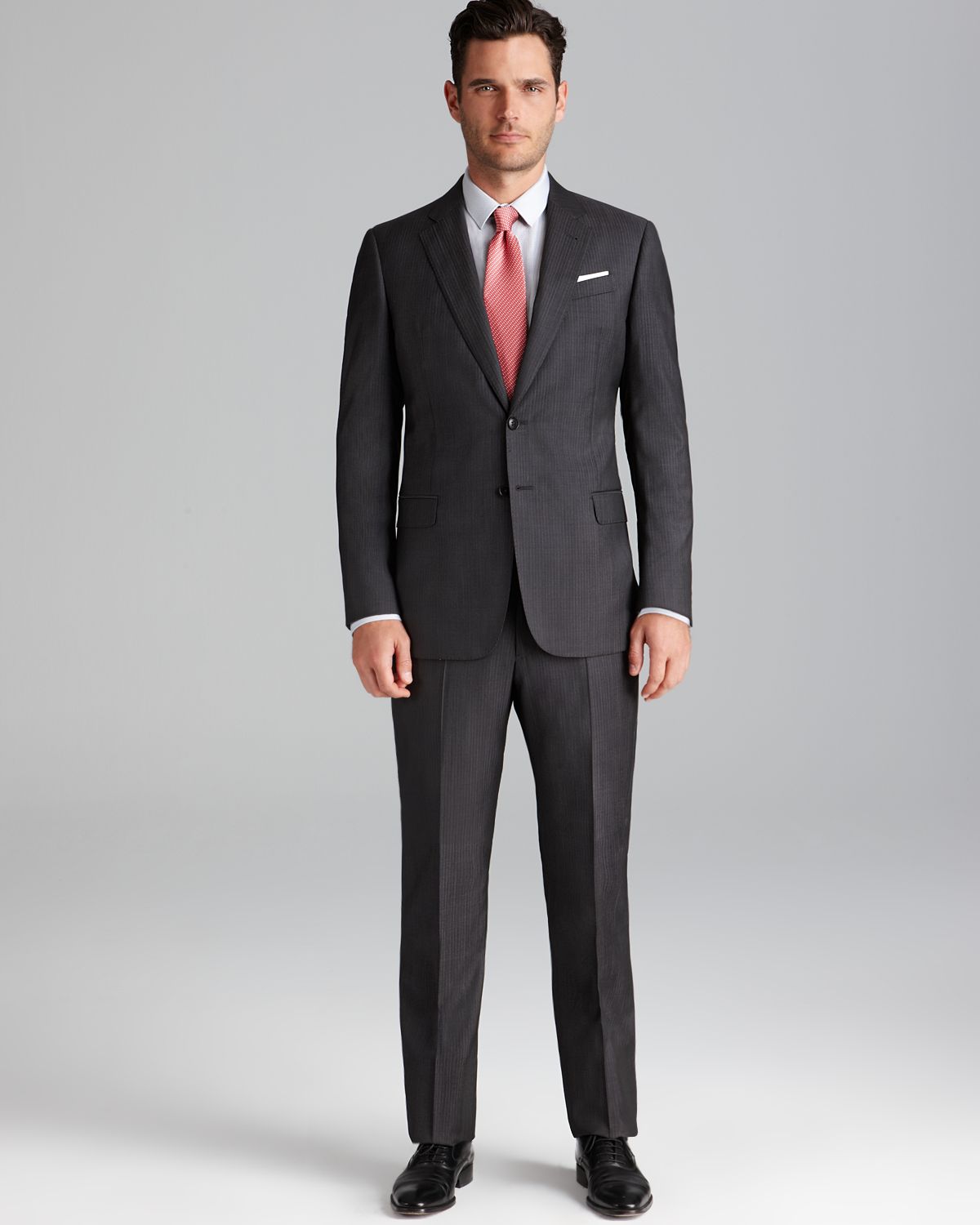 If you're an unusual size or shape, they're one of the easiest styles for a tailor to adjust. A classic fit suit is also great for men who aren't comfortable in a slim-fit style and prefer a more timeless look.
The classic shape is never out-of-date and is ideal if you only wear a suit once a year. Classic suits offer a time-honored fit that's ideal for everyday wear.
Plus, they are suitable all-weather wear for every season. You can easily slip a warm waistcoat underneath for an extra layer in colder weather.
Every guy who cares about comfort should have at least one classic fit suit in his wardrobe. And if you wear suits to work, you'll probably need this timeless cut in various colors and different materials.
Nowadays, you can get classic-fit suits in crease-resistant fabrics that don't even have to be dry-cleaned. How's that for making your life easier?
Two vs. Three-Button Classic Fit Suits
Men's classic style is all about detail. It's the little touches that are going to express your personality and sense of style. Here's where your suit buttons come in.
Look for a classic suit with buttons made from quality materials such as wood or bull horn. This will immediately set it apart from lesser suits with plastic buttons.
The number of buttons you choose is also important and can make a big difference in how your suit fits. Although one and four-button suits are available, most of the classic-fit suits will have two and three-button jackets.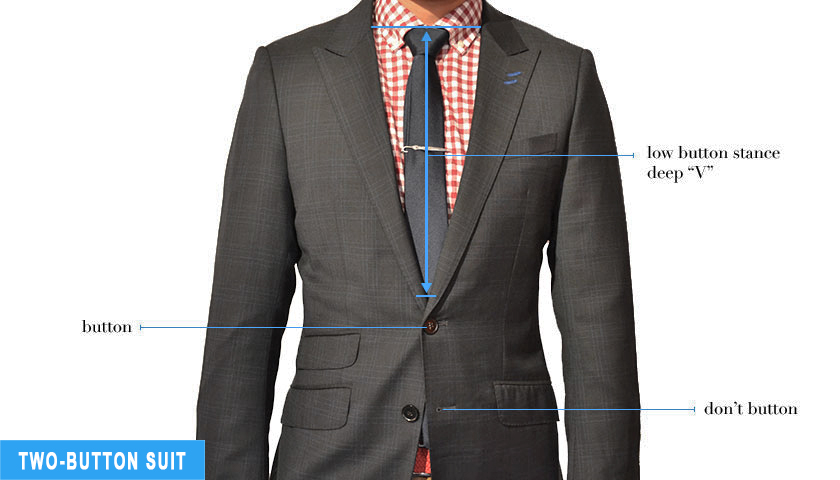 Two buttons tend to be more flattering because of the low placement of the buttons. This makes the lapels longer, which visually lengthens the torso and slims the figure.
So, if you're on the short side, a two-button classic fit suit is the obvious choice for you. It's also the best option for portly gentlemen who like to look a little slimmer.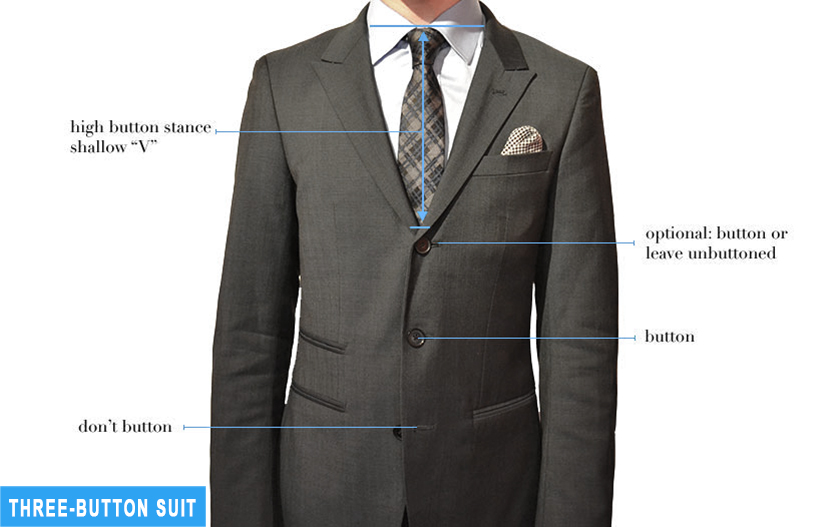 Three-button suit jackets are considered more old-fashioned and slightly eccentric but in a good way. The button placement is higher, giving the front of your suit a shallow V-shape when buttoned up.
Three-buttons do not have the lengthening effect of a two-button jacket. They are best worn by taller guys looking for a more proportionate and balanced effect to counteract their height.
Which One Should You Choose?
If you're hesitant and unsure between the two options, go for a two-button classic fit suit. It's a more standard option and is widely accepted.
However, as many buttons you choose for your jacket, always, without exception, leave the bottom button undone. Suits are deliberately cut to be worn with the bottom button undone.
Fasten the button, and you'll spoil the shape. You'll also appear a little nerdy because this is a long-standing tradition. In fact, it goes all the way back to King Edward VII, who was too fat to do up his buttons.
As a result, society followed his lead, and the trend continues to this day. Talk about a fashion icon!
How to Fit the Classic Suit Cut
Classic suit jackets are cut with broader shoulders. That's because they have more room around the chest and waist than their slim-fit counterparts.
The armholes and sleeves are also a slightly wider cut. A classic fit jacket is a little longer than other styles and usually goes below the middle waistline. It's also less taken in at the waist.
The pants are relaxed around the thigh and seat area. They'll fit a little wider too, to maintain a well-balanced appearance. The waistband fits around the natural waist and should not require a belt to hold them up.
That said, a classic fit suit should never be baggy, especially the pants.
To learn more about how a suit should fit, we strongly advise you to read the complete suit wear guide or the suit fit guide.
Classic Fit Suit Color Combinations
You can either wear the matching pants and jacket together or mix things up a little. For a more business-like, traditional appearance, the jacket and pants should match in color and material.
For an offbeat, bolder look, feel free to mix the overall outfit colors. Bear in mind, though, that it's probably best to stick to some predefined color combinations that work best for classic suits and dress shirts.
Keep a classic fit black suit for formal occasions or weddings, and always wear black shoes with it.
For the office, navy and charcoal grey are your go-to colors. Add dark brown shoes and a shirt in almost any color to look sharp and stylish, without overdoing it.
What about suits in summer? Navy and charcoal grey work anywhere, anytime. But it's nice to have a couple of lighter shaded suits for the warm weather, like tan or light-grey. They'll reflect the heat and create a fresher appearance overall.
Try light grey with a powder blue or white shirt. Blonde or grey-haired gents will look sophisticated in a baby-blue teamed with a white shirt. Khaki is also perfect for summer but keep it for daywear as it's not as formal as other colors.
When autumn comes along, rich burgundy or berry shades make a statement while still being classic. A white shirt and black shoes pair well with these colors.
When to Wear a Classic Fit Suit
Your classic fit suit is ideal for so many occasions you'll probably discover you need more than one. Here are just a few examples of when the classic look is never out of place.
For Business
The business-professional dress code demands traditional attire colors. Navy, charcoal, medium grey will always look professional and polished. Thus, pick a dark-color classic-fit suit if you plan it to wear for business occasions.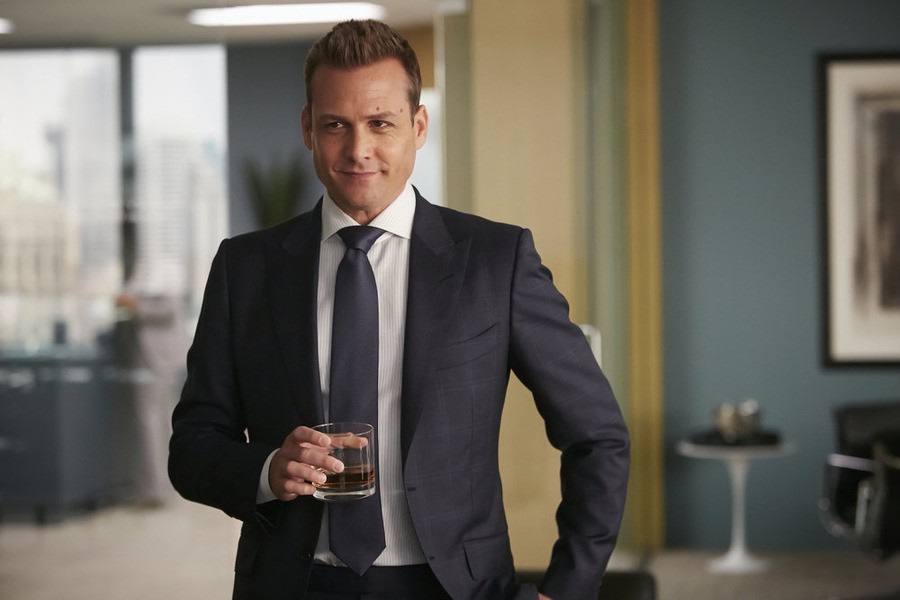 A classic fit suit will take you effortlessly from your office to the boardroom. Then out for dinner and drinks with clients. Plus, it will ensure you're comfortable throughout your busy day.
If your business is slightly more casual, wear your suit pants along with a dress shirt and vest. Or wear your trousers and jacket with a polo neck sweater.
Date Nights
Your date is sure to be impressed if you show up in a classic jacket and trouser combination. If you don't wish to be quite as formal, exchange the suit trousers for a pair of dark, well-fitting denim jeans.
You can also show off the playful side of your personality. Simply wear your classic suit with a vibrant colored or patterned dress shirt.
Formal Events
These are the perfect times to pull your suit out of mothballs. A black suit and white dress shirt are traditional for formal occasions, but you can veer off the tracks a little here if you have the confidence.
Feel free to experiment with jackets in unusual fabrics, such as velvet in vibrant colors, like maroon or burgundy.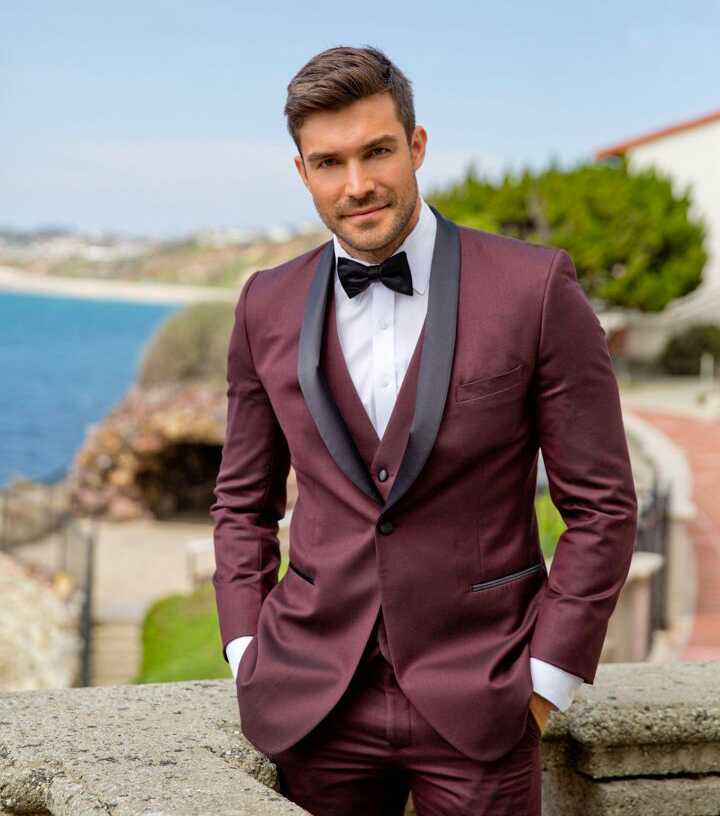 Finish your look with accessories like bow ties, patterned neckties, or interesting, eye-catching shoes that match your suit.
Weddings
Weddings generally have a formal ambiance. Some might even require wearing a tuxedo. But most of the wedding dress codes require a classic suit.
For example, for a day-time wedding, pick a wedding suit in a lightweight fabric such as cotton or linen. Wear lighter colors in neutrals or pastel shades. Keep your shirts pale too, and you'll cut the perfect outdoorsy figure.
Best Classic Fit Suits
Several product options are marked as the best sales products in their category. They are readily available on Amazon as well:
Classic Fit Suit by Tommy Hilfiger
This classic fit suit is available in several colors, including brown, blue, light blue, and charcoal. It's made of wool (52%), polyester (46%), and spandex (2%).
The suit jacket features a notch lapel, a two-button closure, side vents, and two flap pockets, one on each side.
The pants have a flat front with a stretch waistband. Perfect for business and everyday occasions.
As one of the bestsellers in the classic fit suits category, more than 75% of the people rated the size and the model as perfect.
Classic Fit Black Wool Suit by Calvin Klein
Calvin Klein's classic fit suit is 100% wool. Therefore, it should go through dry clean only. Also, it's available in three colors: black, navy, and light-grey.
The jacket features a two-button placket, notch lapels, and side vents. Additionally, the suit jacket includes two flap pockets, an external chest pocket at the left side, and has a four-button sleeve cuff.
It also comes with flat front matching pants, lined towards the knee.
Classic Fit Two-Button Suit by Salvatore Exte
Salvatore Exte is a brand that promotes itself by designing Italian suits. Their products are proved to be of good quality, considering the highly affordable price.
This two-piece classic fit suit consists of 65% polyester and 35% viscose. It comes with a two-button jacket equipped with side vents and a buttoned notch lapel. It also has flat-front pants and jetted back pockets.
Many customers are pretty much impressed with this suit's quality, both the jacket and the pants.
Classic Fit Suit by Chama
The classic fit suits by CHAMA are made of 65% polyester and 35% viscose. They come in many colors, including black, charcoal, grey, navy, and blue.
The suit's jacket is fully lined and has a two-button closure, side vents, a notch lapel, and flap front pockets.
The flat front pants feature a zip-fly closure with a button. They have two back buttons, angled pockets, and are lined to the knee. The hem is unfinished, though.
I think the suit is great for the price, which is highly affordable. Perfect for everyday and business occasions.
Classic Stretch Suit by Tommy Hilfiger
The dark-grey, stretch classic-fit suit by Tommy Hilfiger is another top-choice by this brand. It is made using imported European fabric (52% wool, 45% polyester, and 3% spandex).
This suit features a two-button closure, a notch lapel, two vents, and a stunning design. It also comes with matching flat front pants with an unhemmed bottom. That enables you to customize the best pant length according to your taste.
The modern double side vent design gives you comfort and breathability. Everything you can expect coming from the highest quality and most expensive suits.
Three-Piece Classic Fit Suit by Salvatore Exte
This three-piece classic fit suit is made using high standard fabric that is a blend of tetron and rayon. The material is very soft, offering a great look and feel.
The jacket features a notch lapel with two black buttons and brings comfort and seriousness once you wear it.
The vest can be either single-breasted with five-button closure or double-breasted with 8-button closure. The first option has three flap pockets, the latter having two.
Finally, the suit comes with flat front pants that perfectly match the jacket's color.
As a suit made in quite extraordinary and elegant design, this model is perfect for any formal event or any occasion that requires formal-looking attire and appearance.
Black Classic Fit Suit Jacket by Chaps

This classic fit suit consists of 68% polyester, 28% rayon, and 4% elastane. The blend makes the suit wrinkle-resistant and easy-to-move throughout the day.
The suit comes with a two-button jacket featuring a notch lapel and one flap pocket on both sides.
The pants feature a zip-fly closure with a button and come with additional room in the legs. The hem is finished at the bottom, making them ready-to-wear, and no tailoring is needed.
I recommend dry cleaning only as regular machine wash may damage this suit's fabric.
Classic Fit Suit by Kenneth Cole Reaction
This suit consists of 70% polyester, 28% rayon, and 2% spandex. It's available in several colors, including black, burgundy, navy, and grey.
It includes a classic two-buttoned suit jacket with notch lapels that features two flap pockets and side vents. The pants are hemmed and come finished and ready-to-wear.
I think it's a great suit for the price. It fits well and is pretty comfortable.
Conclusion and Recommendation
Classic fit suits are the go-to outfit for any man who likes to look great without spending too much effort. Once you have the right fit, it's easy to find fabrics and colors for any occasion. You can rest assured; you'll never be caught out of style.
I recommend classic fit suits if you are the type of person who prefers a comfortable cut and wants to move around freely at work.
Indeed, there are plenty of options that you can take into consideration when it comes to selecting the best classic fit suit. There are also different colors that you can choose from and extra features that are unique with each model.
The first option on the list, the classic fit suit by Tommy Hilfiger, is an excellent option. It has also received the most positive feedback from different users and reviewers. The size of the suit perfectly matches the buyer's expectations.
Therefore, take the time to determine your needs before deciding which classic fit suit you should buy. Check the features that you want to see in a classic fit suit, too. Then, compare what you want with the available options.
Author: Alexander Stoicoff
Hi, I'm Alex, and I've studied and specialized in styling in Rome. Through my writing, I want to help men dress well and learn the purpose and significance of suits and other formal attire. My final goal is to make men more confident in their wardrobe choice and life in general.