A staple of any wardrobe, the classic charcoal grey suit is suitable for business and social events.
That's because charcoal suits are versatile and can create many looks, depending on how you pair them with ties and dress shirts.
Your choice of shoes can also switch up the look.
So, with the strategic use of colors and patterns, you can always make it appear unique.
Charcoal Grey Suits vs. Light & Medium Grey
Different shades of grey match best with different colors.
Initially, the light grey suit generally falls on the more casual side. It's a shade that is best for warmer months or hotter climates.
Most people can successfully wear light grey suits, but they look best on people with fair skin complexion.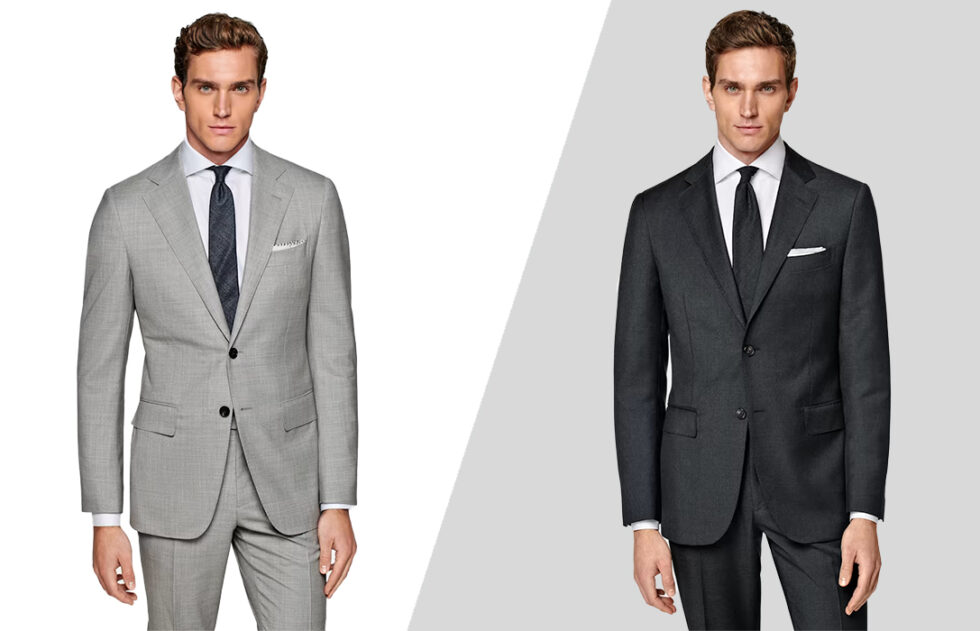 A medium shade of grey is the most versatile suit color of all because it pairs well with other colors.
It is a neutral shade that can go equally well for business or social. Swap out the shoes or mix and match your ties and shirts to vary your look.
Charcoal suits, on the other hand, are more professional-looking.
Recommended
Though traditionally more formal, charcoal grey is also adaptable and able to achieve different looks through varying fabrics and colors.
A dark grey suit can be dressed down for an informal event, too. If you pair a charcoal suit with the right brown shoe hues, it will slightly reduce formality.
Recommended
So charcoal grey is not a color that typically generates much passion or excitement. Instead, it is frequently considered a bland tone.
It is easy to fall into the trap of thinking that it must be paired with equally neutral colors. Quite the opposite!
The Formality of the Dark Grey Suit
The darker a suit is, the more formal it's considered. As a result, charcoal suits are one of the top recommendations for most professional work settings.
If you work in an environment that has a business professional dress code, chances are you need a charcoal suit.
A charcoal suit is dark enough to be similar to a black suit but not as ubiquitous. It allows you to stand out from the crowd at a semi-formal event with a charcoal suit.
This type of dress code offers more choices than its more formal counterpart, so there is room for slight experimentation.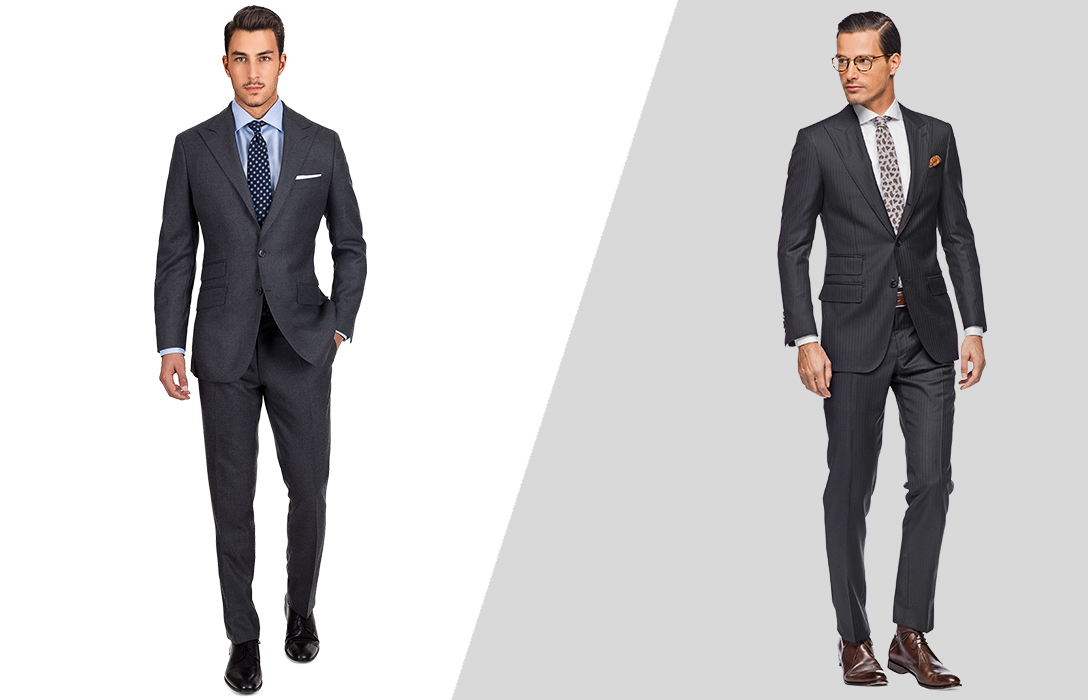 Patterning makes the suit less formal. Subtle pinstripes are acceptable for a work environment but not for formal occasions.
Be sure to stick with a plain charcoal suit if you intend to incorporate it into your eveningwear.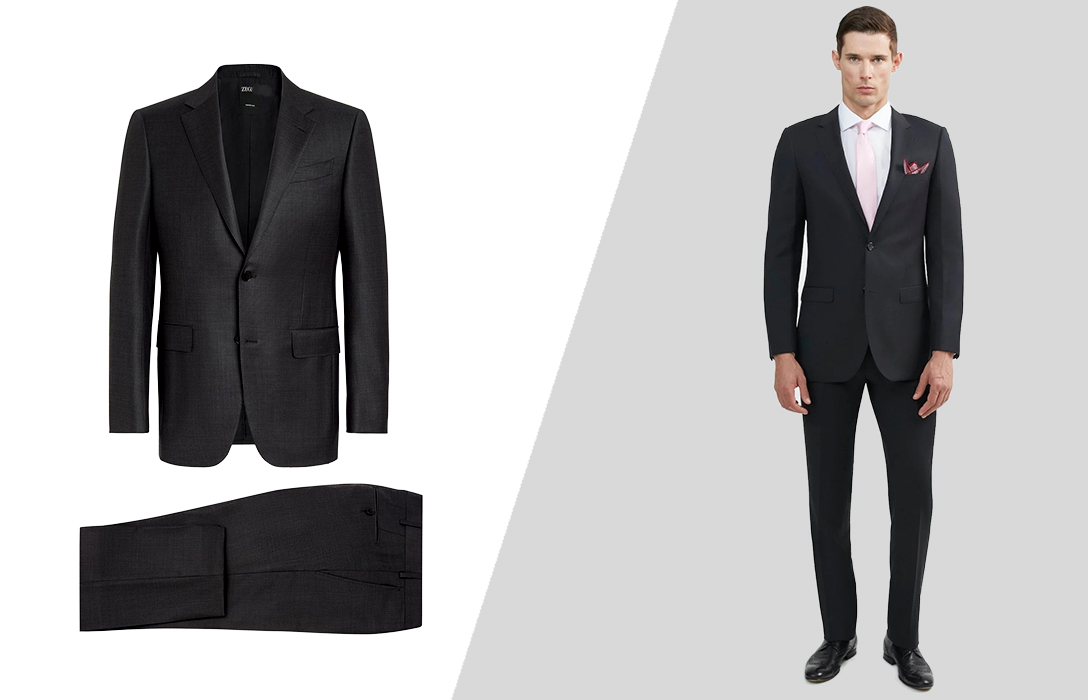 You can always purchase a second charcoal suit with patterns once you discover how much you love your original charcoal suit.
Charcoal Grey Suit Styles
There are many options out there in the world of suits. However, you are probably looking for something conservative if you opt for a charcoal suit.
The safest and most classic suit style is a single-breasted jacket with two buttons.
Single-breasted suits are the standard style for most office wear. They have been around for decades, and though it has gone through minor variations, they remain mostly the same.
A vest can increase the sophistication of your charcoal suit. It also adds versatility to your look.
It's like you have two different suits when you have a vest. So, depending on which look you want to go for, you can decide to wear the vest or not.
Double-Breasted Charcoal Suits
Double-breasted suits are more formal and, therefore, increase the sophistication of the suit. As a result, these suits look polished and gentlemanly.
Another way to jazz up a standard double-breasted suit is to swap out your standard notch lapels for peak lapels.
A different stylized and fashion-forward is to pair a double-breasted charcoal suit with a sweater or turtleneck. It may not be suitable for a corporate office, but it will slay at a semi-formal event.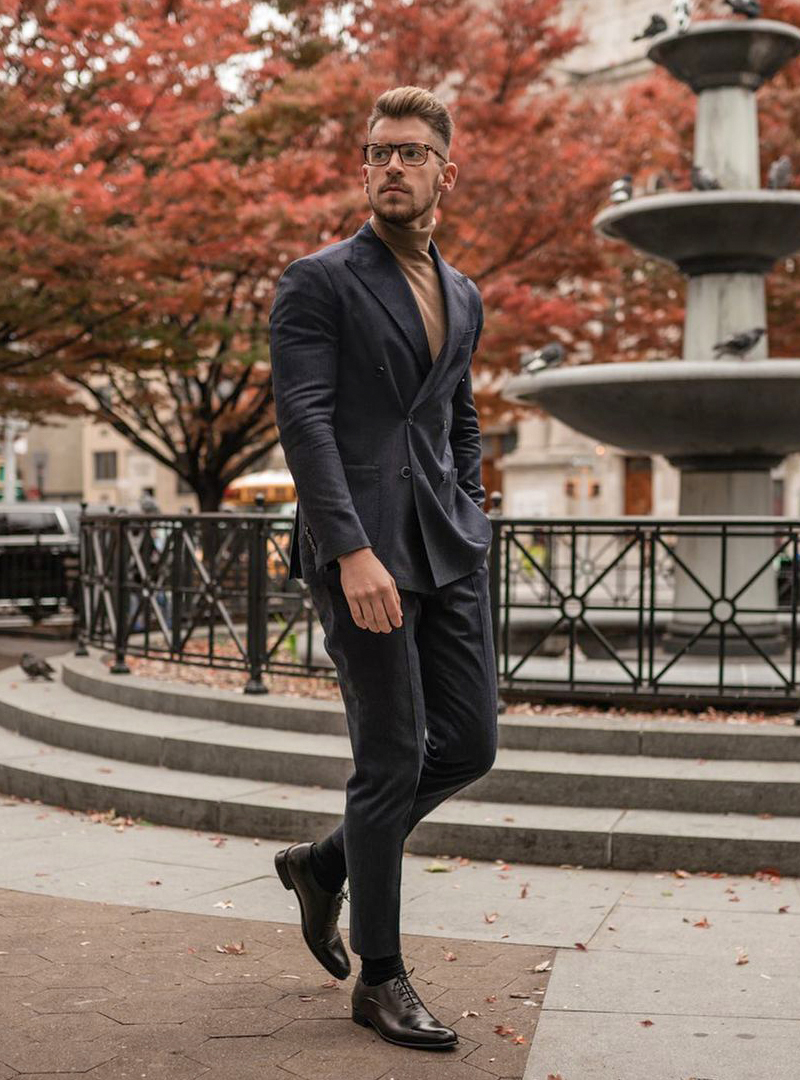 You never want to appear as if you are trying too hard, so be sure to pick one design and wear it with flair. Less is more.
Choose the Charcoal Grey Suit by Fit
By the nature of their color, dark suits naturally look heavier. So, any extra folds of fabric or an improper fit will be instantly noticeable.
A suit should not appear baggy in any area; this comes across as unkempt. It will also wrinkle easily, which will contribute to an untidy appearance.
Conversely, a suit that is too tight in areas is also unflattering. Dark colors show all these imperfections clearly, so it is crucial to get just the right fit.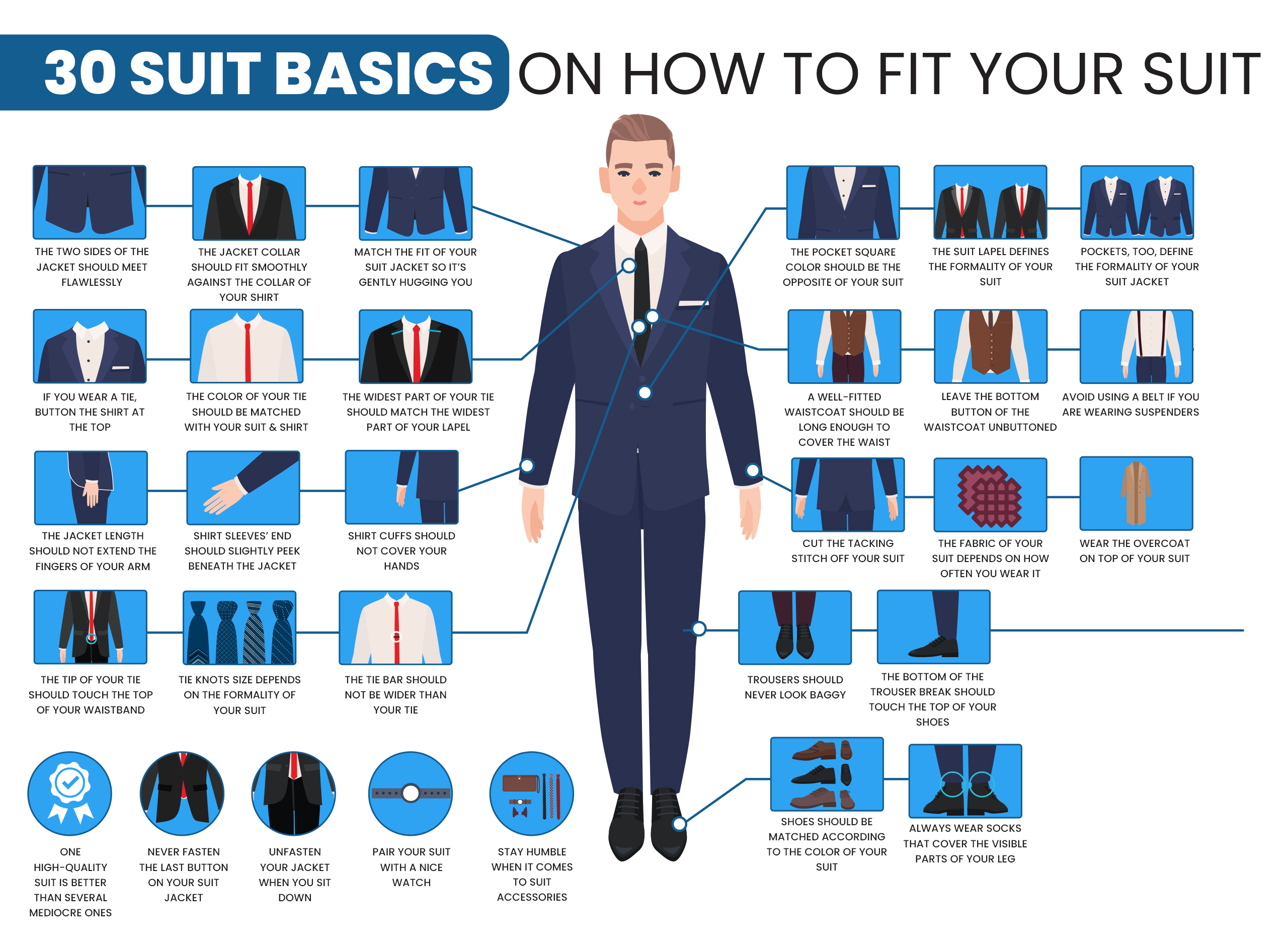 To avoid problems with fit in the future, choose the suit that is right for you. There are a handful of different cuts of suits to pick from, but two are exceptionally flattering in charcoal suits.
Classic Fit Suits
For a more conservative look, you should opt for a classic fit. It is the traditional cut, the king of suits.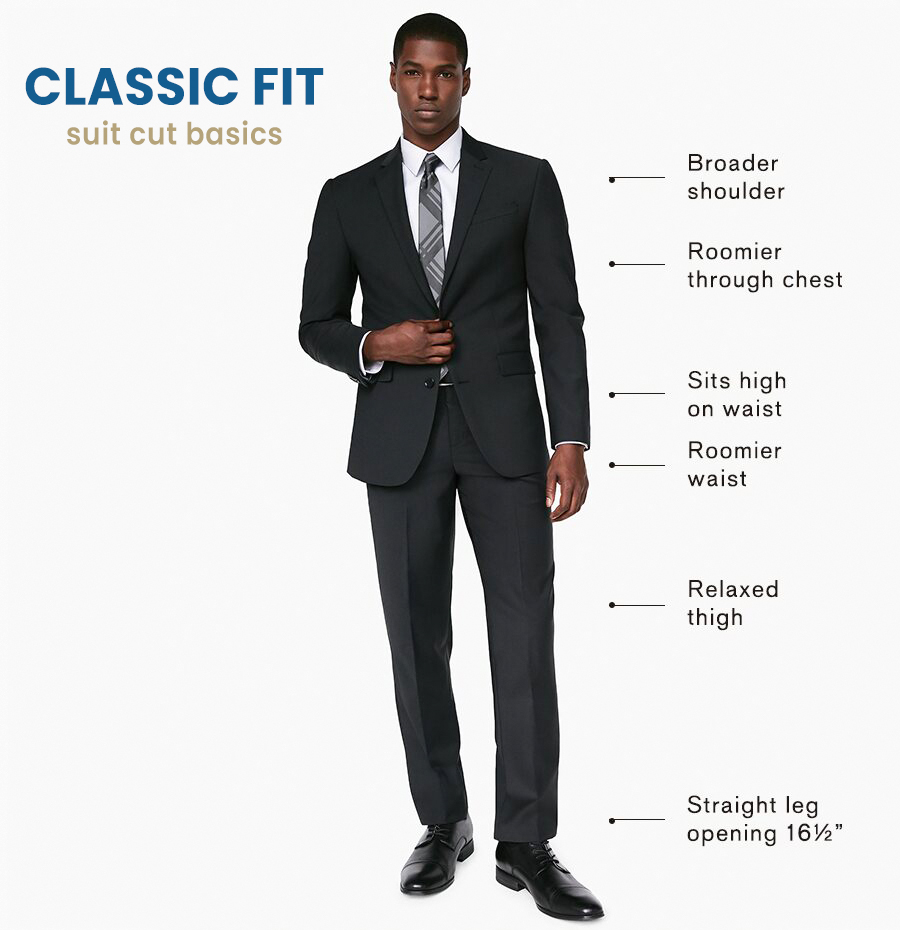 Charcoal grey is excellent in this cut. That's because, like the color, this fit is appropriate for everything. It's also a great option for business settings since it allows plenty of room to move freely.
With a classic fit cut, you don't have to evaluate if it is too fashionable for a conservative setting. You always know that it is the right level of dressed up.
Best Choices
Slim Fit Suits
A slim-fit cut for your charcoal suit is a straightforward way to create a stylish effect.
It is a modern suit style with trimmed shoulders and chest that feels like it hugs the body more tightly.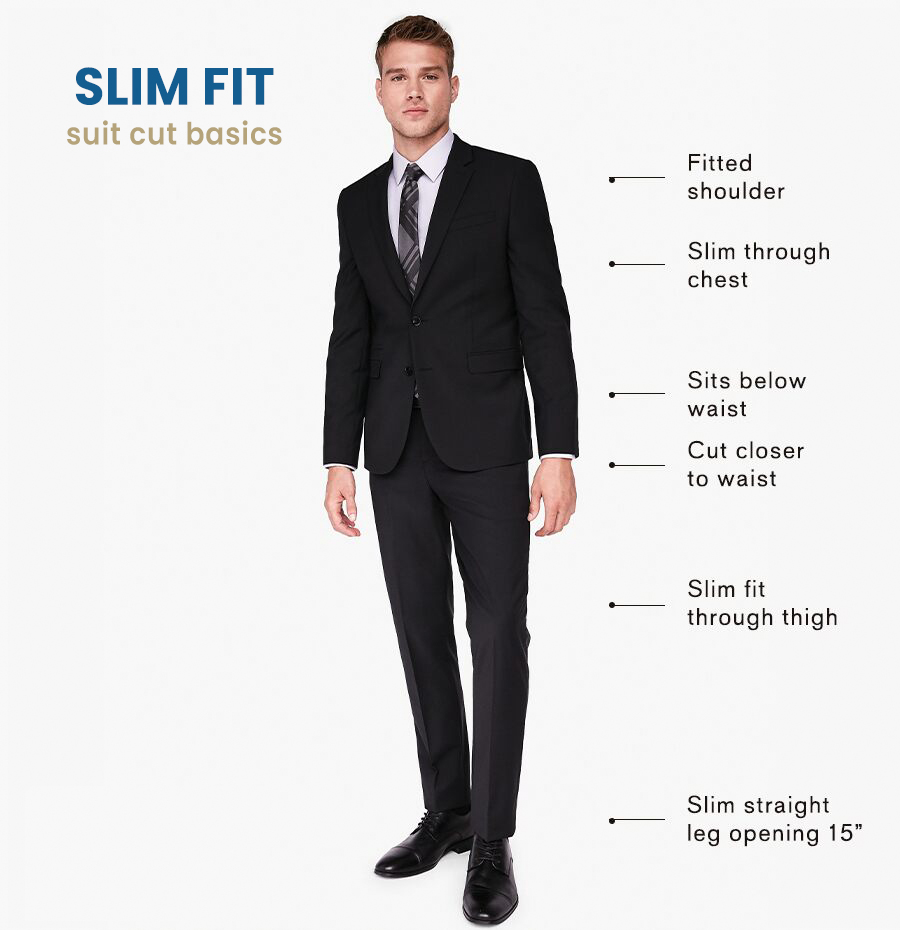 Despite its name, this fit is not only for the very thin among us. Most men can pull off this look as long as it is tailored well to their bodies.
Even with the close cut to your body, a slim-fit suit should still allow for freedom of movement. If movement is restricted, it probably is not the correct size.
Best Choices
Charcoal Grey Suit and White Shirt Color Combinations
It is likely that you already have a white button-up shirt in your closet. A dress shirt can't get more classic than that.
White looks crisp against charcoal grey. It makes the colors pop and is very bright and clean.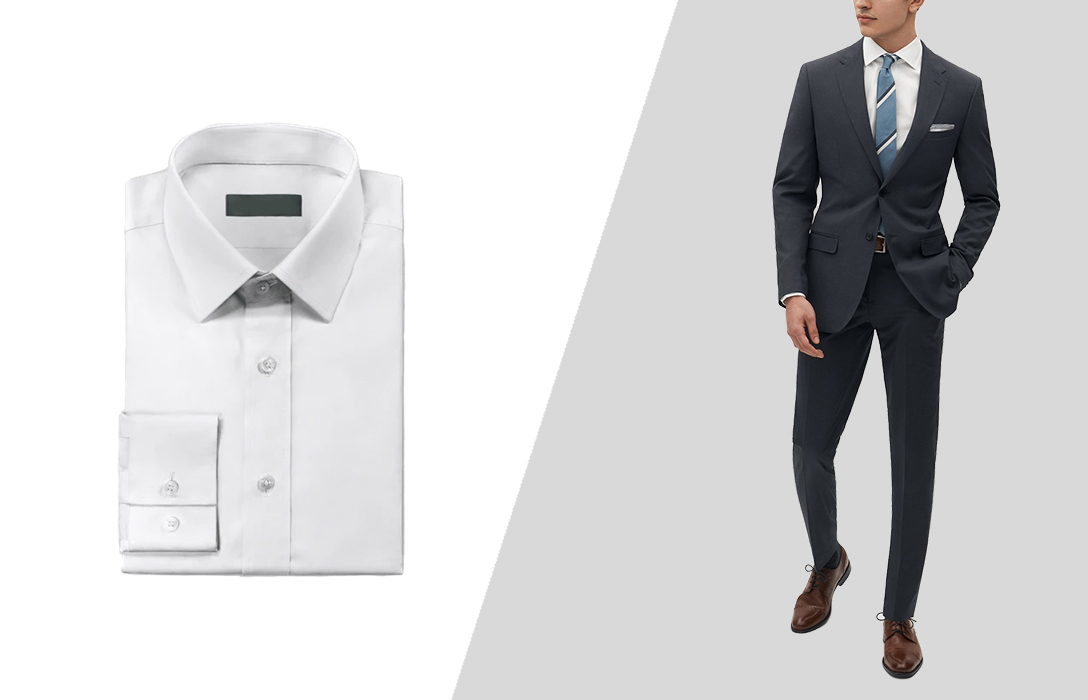 When you want your charcoal suit to be at its most formal, wear it with your white shirt. Together, these two colors can give you tie combinations for days, so deciding on one may feel daunting.
Best Choices
Red Tie
Red ties are traditionally known as "power ties." It is easy to see why – the bright slash of color jumps out at you. A deeper red, however, with a charcoal suit is more muted and looks stunning.
It creates an understated look for the office without trying too hard. Next to a charcoal suit jacket, it looks like a natural fit.
Grey Tie
A grey tie with a charcoal suit is a slightly less formal look than some other colors, such as a black tie. It is a way to lessen the formality of a charcoal suit while still looking very pulled together.
Try wearing this with brown shoes and a brown belt to tone down the monochromatic effect. If you want to keep the formality, wear black shoes and a black belt.
Black Tie
Adding a black tie to your charcoal suit creates a subtle shift from the black suit/black tie combination. It is still formal enough to wear to most evening events.
This color combination looks incredibly sophisticated and polished while also separating you from all the other black suits.
Brown Tie
For a surprising twist on the charcoal suit, pair it with a brown tie. You will be amazed by how nice it looks.
A muted brown next to charcoal grey looks impeccable. Adding some texture, such as small dots, can create a lovely effect.
Charcoal Grey Suit and Pink Shirt Color Combinations
A pink dress shirt with any suit may seem modern, but you might be surprised how long it has been around.
David Beckham was known for being an impeccable dresser, and he often paired a pink shirt and a charcoal suit.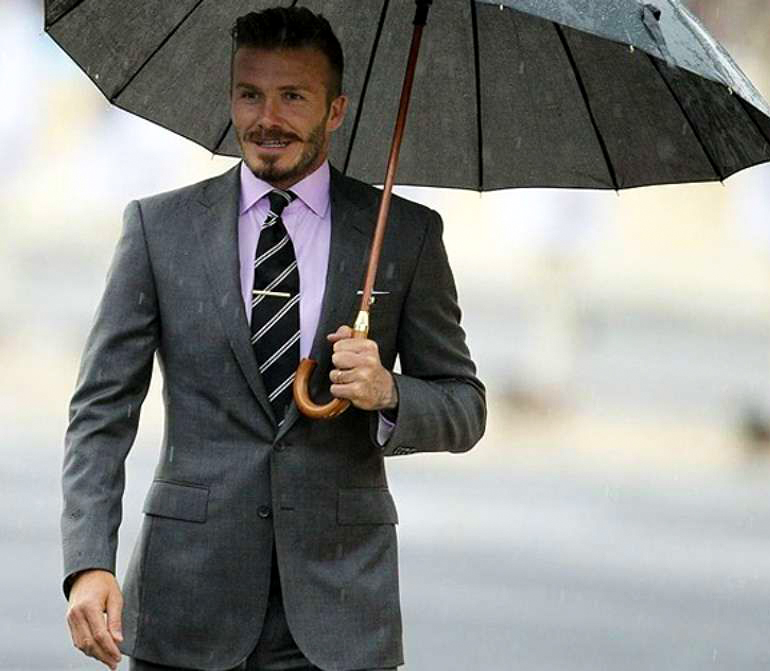 There is no reason that a charcoal suit always needs to be dressed in dark or muted colors.
Pink will brighten the look of the charcoal suit and add a bit of flair. It brings a bit of cheer where you least expect it. It may even brighten your day.
Best Choices
Red Tie
This look is best pulled off with a dark red tone. The red will complement the pink and create a striking visual that will make people look twice.
The two shades make a nice contrast to each other. You may be surprised how pretty this unusual combination looks when paired together.
Black Tie
Dark purple looks great against a charcoal suit. This dominant color telegraphs confidence.
A dark tie with a light shirt creates a stark contrast that is very bold. These two colors are not often paired in menswear, but maybe they should be more often.
Striped Tie
If you're not sure about the tie color or want to make it as formal as possible, black or dark grey is always an excellent choice.
Navy pink is fine as well. Opt-in for striped ties for the best appeal.
Charcoal Grey Suit and Blue Shirt Color Combinations
A light blue shirt has a serene effect on a charcoal suit. A darker shade comes on too overpowering, while a bright blue would feel too garish.
Pale blue is tasteful, and it complements the grey by bringing out the suit's blue hues.
While not quite as cheery as a pink shirt, a pale blue shirt is relaxing. It is a subtle reminder of summer and warmth.
Pale blue can cut the intensity of a charcoal suit without sacrificing any sophistication.
Best Choices
Blue Tie
As with the pink-on-pink discussed above, the blue tie here must be darker than the shirt. The two blues together have a calming effect, emanating relaxed vibes.
This color scheme is very graceful. The two shades of blue draw out the blue tones of the charcoal suit.
Navy Tie
Another very sophisticated look – navy with a charcoal suit looks beautiful together. It is slightly less formal than a black tie, but it is still quite conservative-looking.
Navy is a serious, thoughtful color. It nearly blends with the charcoal suit but instead stands out ever so slightly from it.
Dark Grey Tie
In this instance, the tie should be the same shade or darker than the charcoal suit. The blue shirt helps break up what could become a dreary look by infusing a bit of buoyancy.
This combination would look good for either work or an evening event.
Black Tie
This look is a slight variation on the traditional black suit and black tie. Substituting a charcoal suit is a classy way to stand out from the crowd and retain that polished look.
You still look sharp while putting a new twist on a classic style. It is perfect for a semi-formal evening event by adding the right accessories.
Charcoal Grey Suit and Patterned Shirt
Tie and shirt color combinations can create a very personalized look for your charcoal suit.
To take it a step further, try incorporating some stripes or patterns on your dress shirt. Don't feel confined by solid button-up shirts.
Vertical stripes are the most classic print for a dress shirt. The thinner the stripes are, the more formal the shirt is.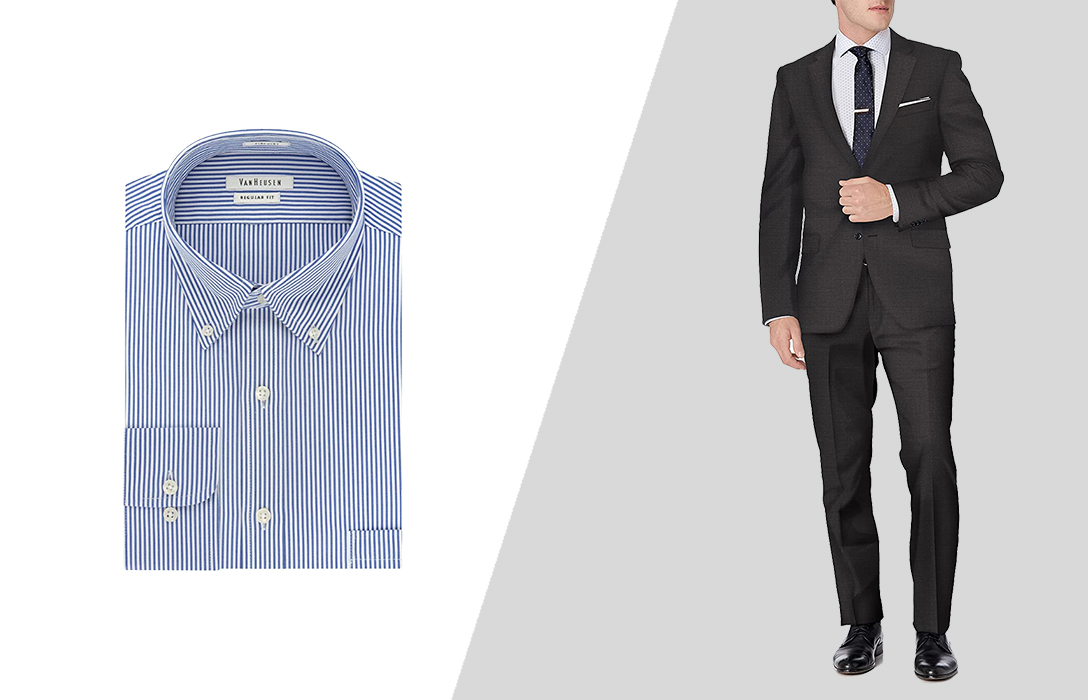 The most conservative look for this is a white background with colored stripes. Even the most professionally dressed offices see plenty of this.
Other patterns can be fun and even quirky. Floral and checked patterns are the most popular, but don't shy away from paisley.
Prints such as these are more relaxed and casual, so don't attempt them for a formal look.
Patterns are a decided effort to make a suit less stuffy. Overall, remember to keep the patterns and stripes simple.
However, too much busyness will overwhelm the dark hues of the charcoal suit and can come on too strong.
And be mindful when choosing a tie for these shirts so that you do not end up in a clashing mess. A charcoal suit needs very little help to look amazing.
Best Choices
How to Match Your Shoes with a Charcoal Grey Suit
Black shoes are the best match for a charcoal suit. They are close enough in color that they are a natural pairing.
Since black is the color choice for formal events, a pair of black leather shoes will dress up your charcoal suit.
A dark, warm brown dress shoe is a lovely alternative to black shoes that project an old-fashioned appearance. However, it is slightly less formal.
Be sure to opt for a pair with rich tones that will be on equal warmth with the charcoal suit.
Try out a pair of burgundy shoes with your charcoal suit for a surprising twist. Burgundy is reminiscent of a jewel tone, which beautifully blends with a charcoal suit.
These can also be worn for more formal occasions.
Author: Alexander Stoicoff
Hi, I'm Alex, and I've studied and specialized in styling in Rome. Through my writing, I want to help men dress well and learn the purpose and significance of suits and other formal attire. My final goal is to make men more confident in their wardrobe choice and life in general.