A suit with a turtleneck in place of a dress shirt can be an incredibly sleek look. It's somehow very retro and modern at the same time, manifesting a trendy style.
When done correctly, you will be the most suave man in the room. Of course, it requires a little more than just grabbing the first turtleneck you see.
Turtlenecks may have been dorky in grade school, but fortunately, you are more sophisticated than that now.
You know that almost anything can look great with a little bit of polish.
Wearing a Turtleneck with a Suit: The Basics
The most critical element of wearing a turtleneck with your suit is a well-fitted turtleneck.
If your turtleneck is too baggy or loose, it ruins your entire aesthetic. It must lay flat against your torso and not have any stretched-out spots on the neck or sleeves.
Turtleneck Styles
Be aware that turtlenecks are never a formal look. While they help you stand out from the usual crowd of button-ups and ties, sweaters lower the formality of your suit.
However, that doesn't mean you can't wear a suit with a turtleneck for dressy occasions; consider this style business casual.
Turtlenecks come in all thickness levels. Some are very heavy and chunky; these are closer to ski sweaters and are not intended for layering.
The thinner the knit of your turtleneck is, the easier it is to add it to a blazer or suit jacket.
Dark colors are usually better for your turtleneck. For starters, darker colors are generally dressier. You want that boost of formality to go with your suit.
Also, turtlenecks are cold-weather garments; dark shades are more seasonal.
The narrow opening of the turtleneck is bound to mess up your hair, so put it on before you style your hair.
Matching Fabrics & Patterns
In keeping with the idea that turtlenecks are seasonal, they are best paired with a suit that matches the season.
For example, you would never wear a warm turtleneck under a breezy linen suit; they don't make sense together.
Instead, wear your turtleneck with a wool suit.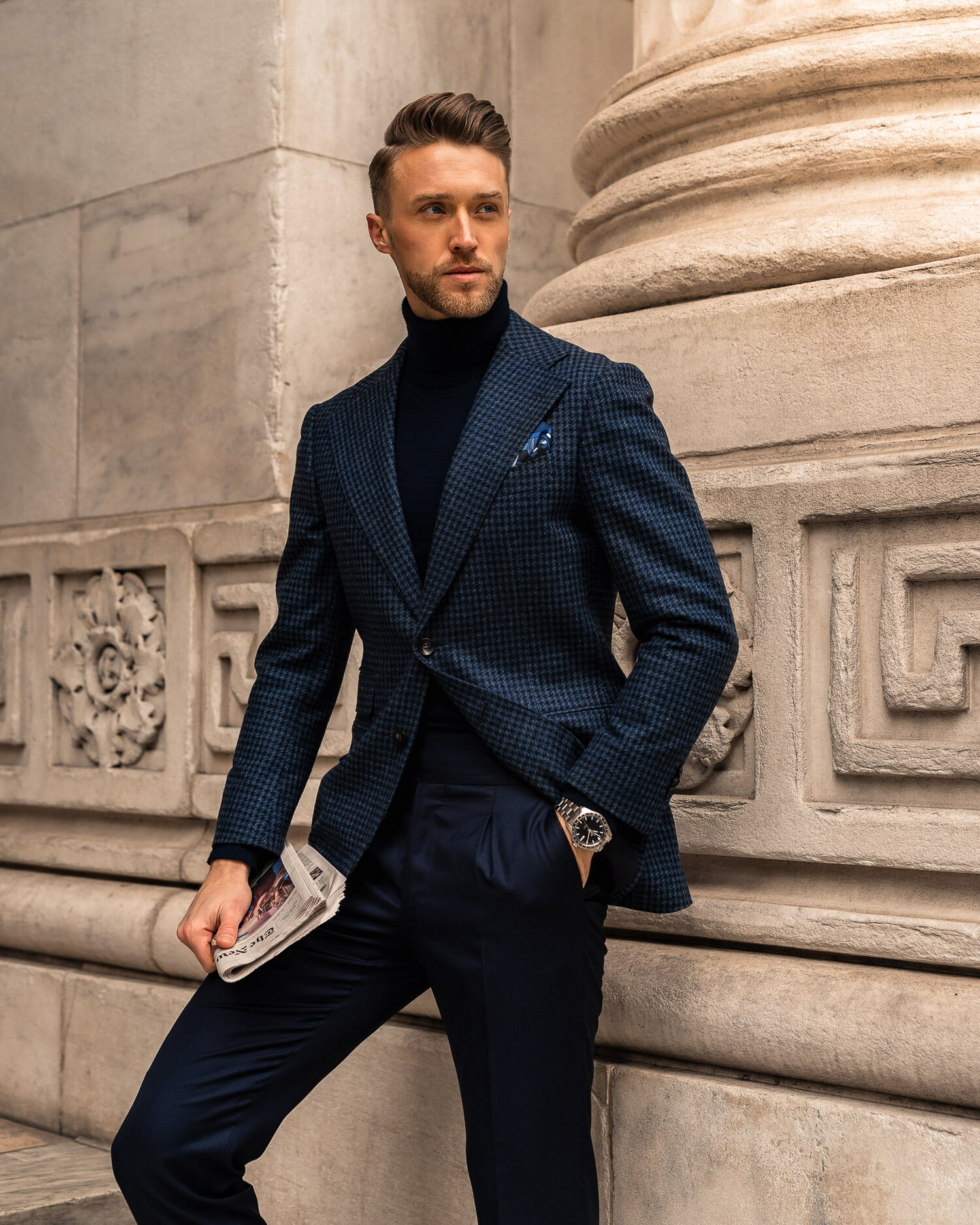 Some wool suits are appropriate for year-round use, while others are heavier and clearly meant for cold weather. A turtleneck would work well with either.
What about a patterned or checked suit? It's amazing to pair turtlenecks with pinstripe suits, but it should be done with some care.
For instance, a turtleneck is acceptable with a pinstripe suit only if the stripes aren't too loud. They need to be subtle.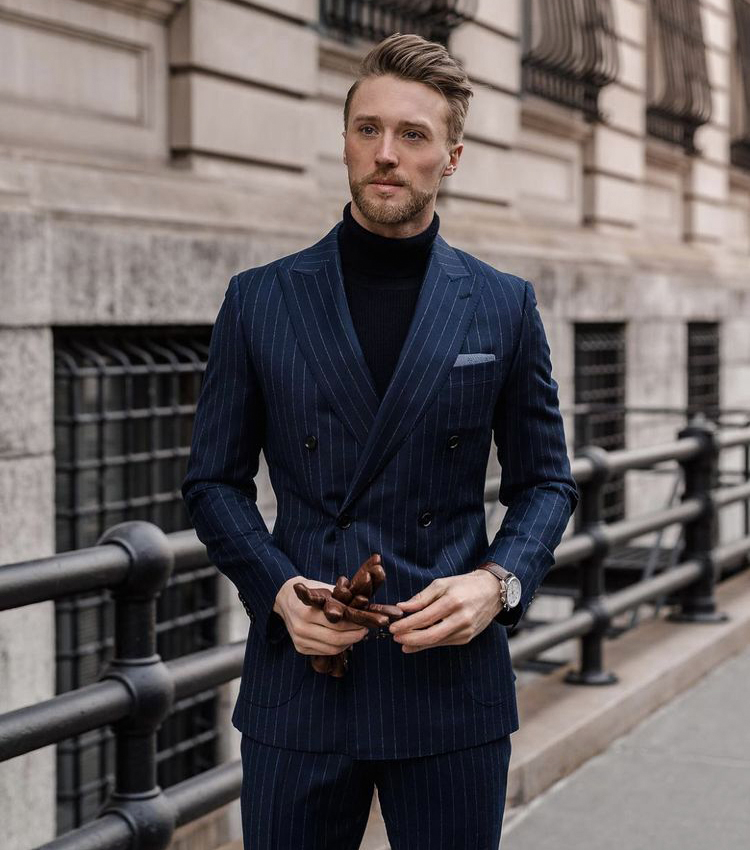 The same goes for the weave of the turtleneck. Some have a wide ribbing; to make a turtleneck suitable for pinstripes, it must have a fine weave.
Different Ways to Wear a Turtleneck with a Suit
The good news is that you have great flexibility with turtlenecks in your wardrobe!
Through the use of color and texture, you can create a variety of fashionable looks. In addition, you can mix and match light and dark colors for variations in formality.
Because turtlenecks are casual by nature, you should mostly wear them with brown shoes. Of course, you can opt for dark brown shoes, but black will be too formal in most cases.
Monochromatic Turtleneck and Suit Colors
When done right, the monochromatic look can be head-turning.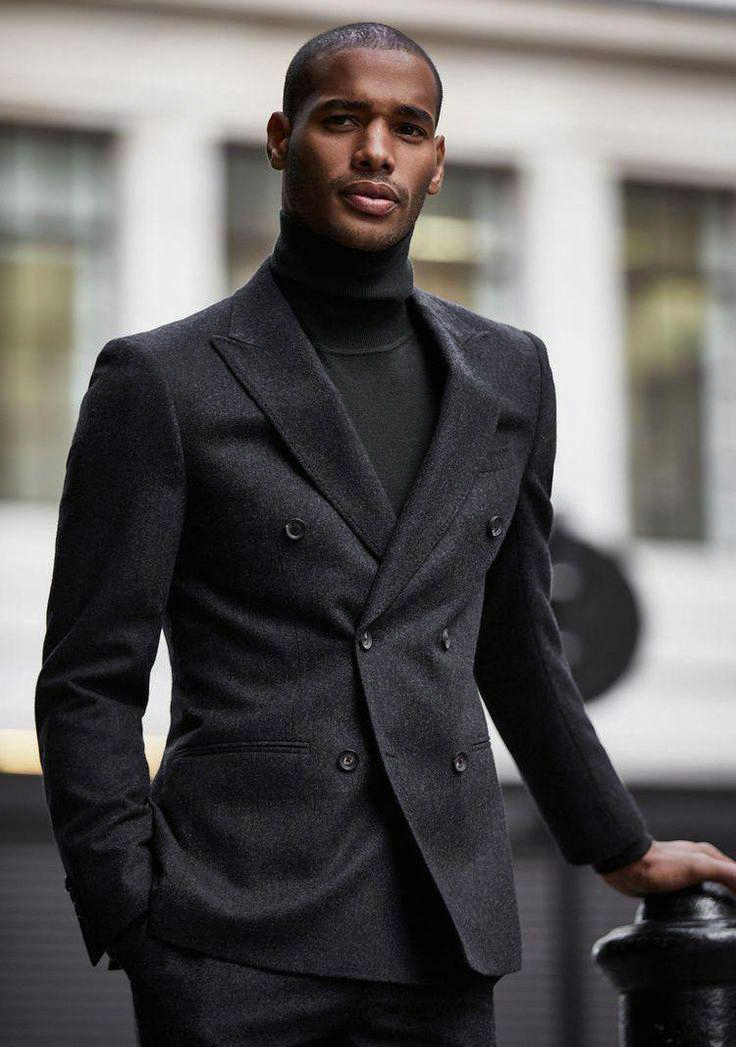 It might seem like an easy way to pull together an outfit, but there's more to it than just picking the same color items. It requires the right shades and textures to ensure that your outfit works.
Dark colors are ideal for this style because they come across as sleeker and dressier than lighter colors.
A charcoal suit with a grey turtleneck is a sophisticated combination. The turtleneck can be lighter than the suit, creating a nice depth to your outfit.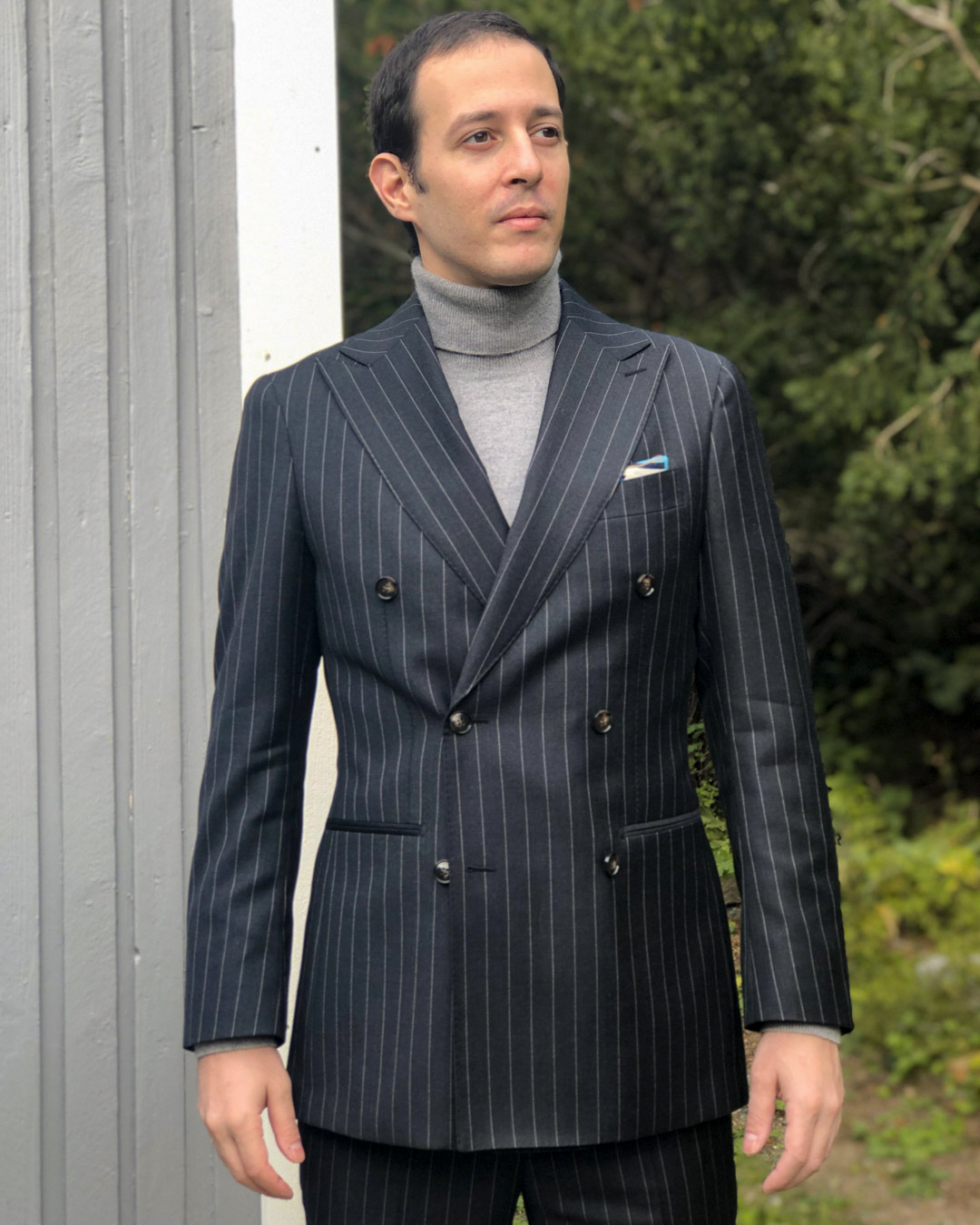 For a different feeling, go with a black suit and a black turtleneck. This is the most effortless monochrome combination to pull together because there's no worrying about if you have the proper color tone.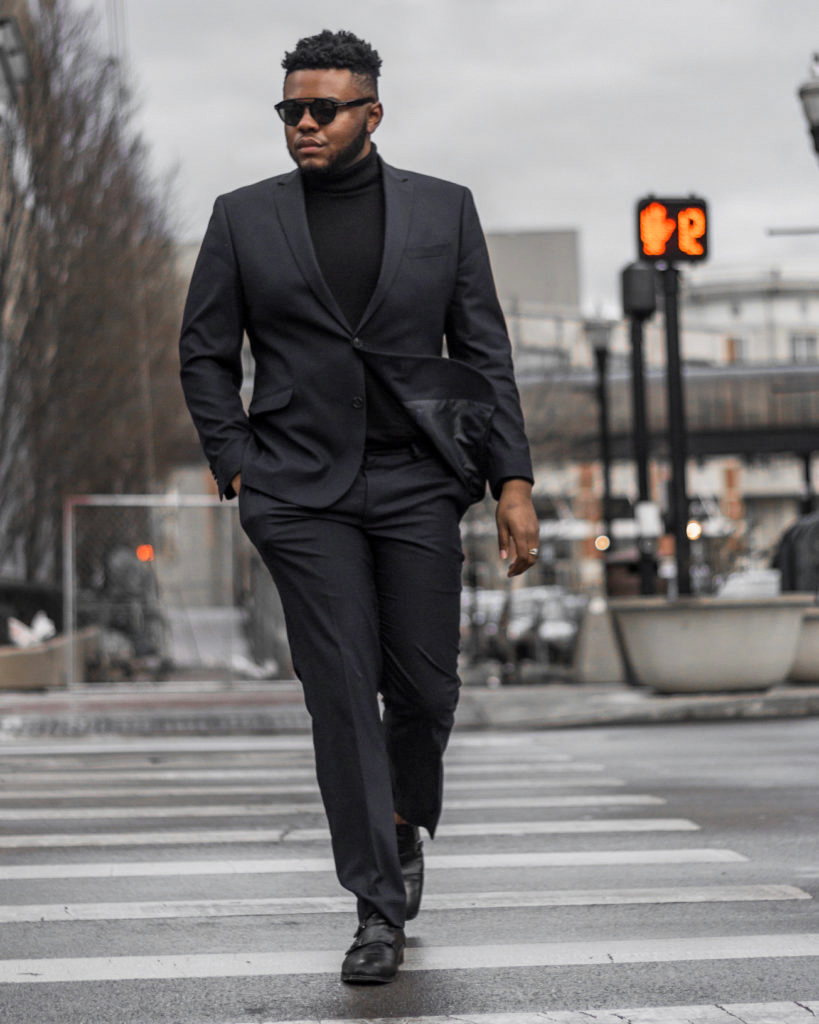 It's also a superb way to make a black suit more casual.
Similar Turtleneck and Suit Colors
You can also play with color combinations to create balance in your outfit. Wearing colors that are close to each other in tone has a very harmonious effect.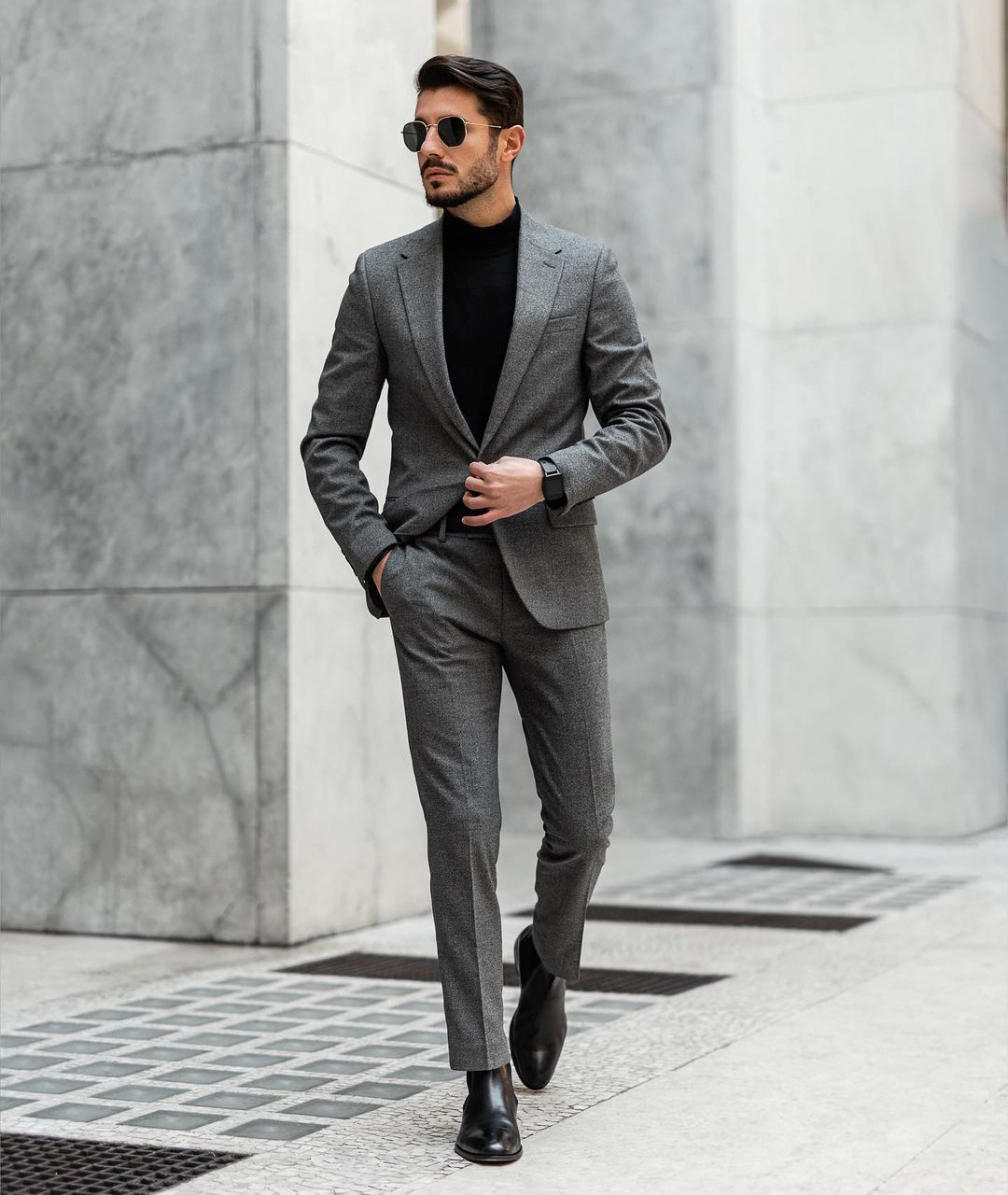 A black turtleneck will have many options for suits to pair with that are appropriately dark.
For example, think of a dark brown suit with a black turtleneck. They are both dark and neutral but have different hues.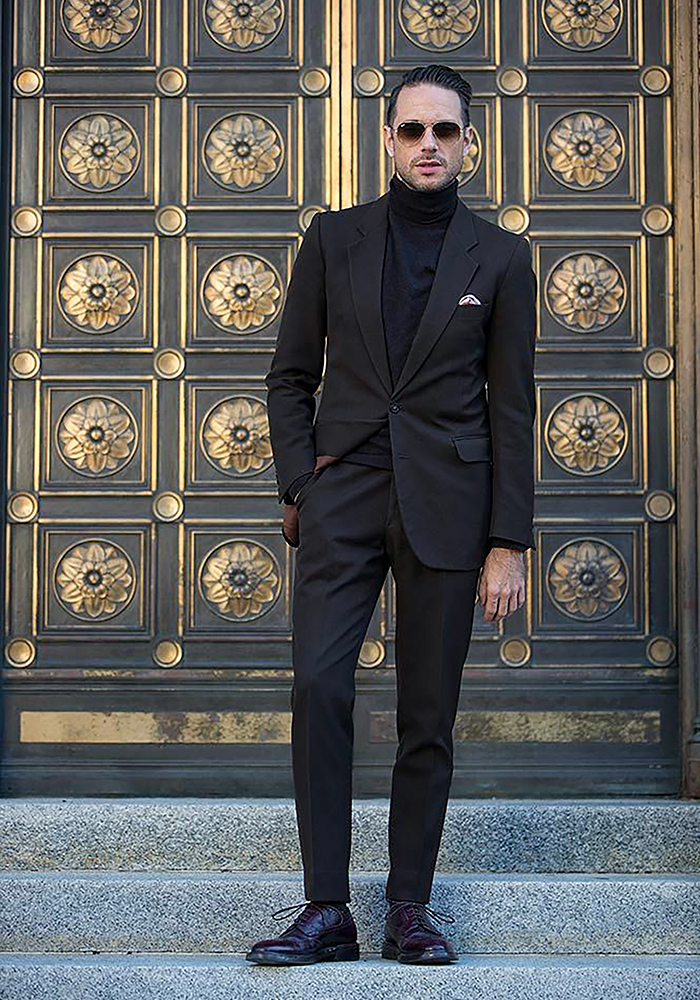 A navy suit with a black turtleneck has a similar effect, as does a charcoal suit.
For a more bold and a modern twist, a black turtleneck can be a great pair for a dark green suit.
Also, these are rare instances where you should wear black shoes to complement your black turtleneck.
Opposite Colors Turtleneck with a Suit
To make this approach work, the colors need to be quite obviously different from each other.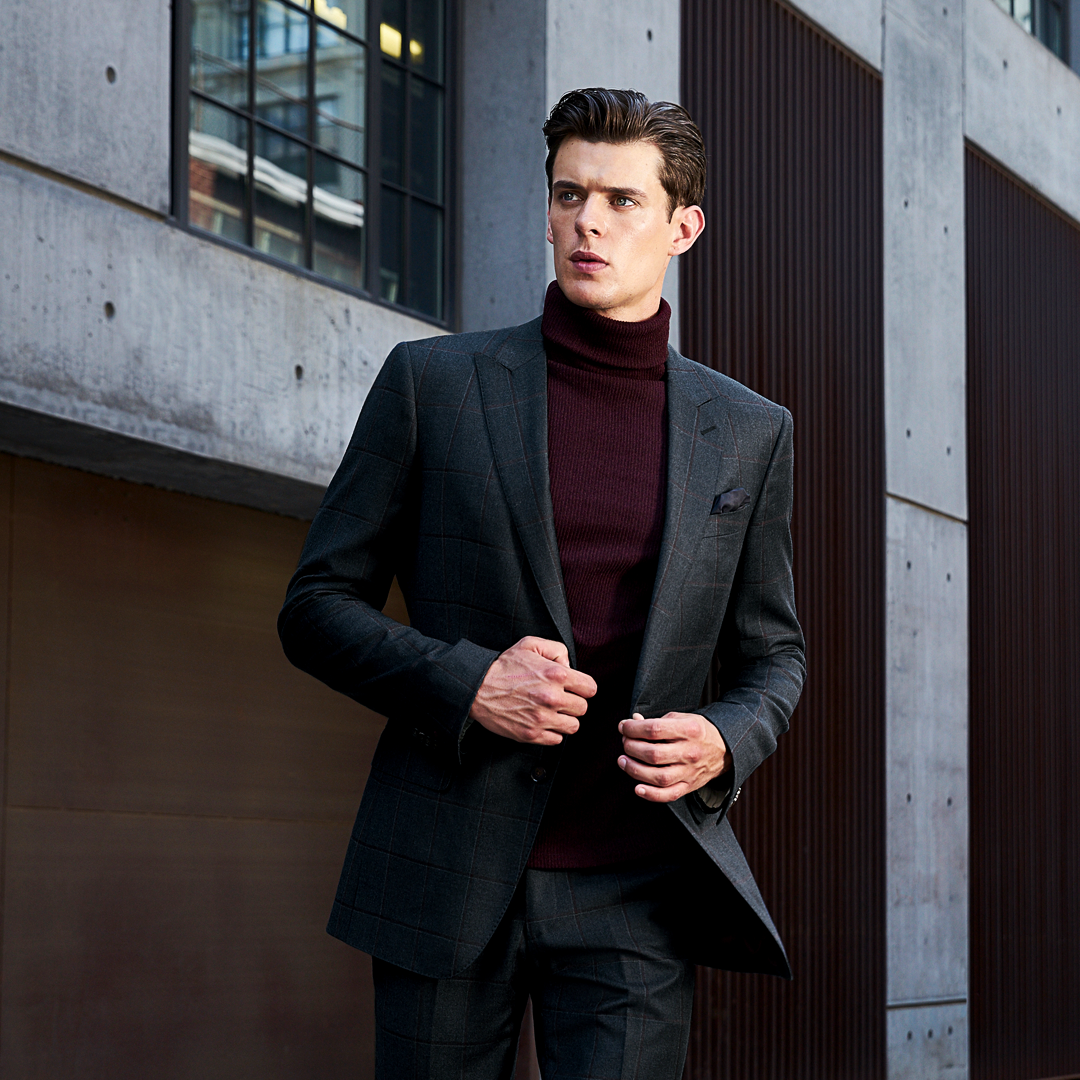 The colors don't need to be literally opposite each other on the color wheel, but they need to be far enough apart that there's no doubt that they're different.
A navy suit with an orange or even white or beige turtleneck is a lovely deep hue combination to mix and match warm and cool colors.
If you pair an earth-tone brown turtleneck with a blue suit, you can create a modern appearance with the same effect.
Try a brown suit with a gold turtleneck for a very different feeling. The brown suit will accent the dark tones of the gold.
Wearing a Turtleneck with a Double-Breasted Suit
Pair a turtleneck with a double-breasted suit jacket for a very bold take. It looks incredibly smooth.
Double-breasted suits are incredibly debonair, so adding a casual turtleneck creates something entirely unexpected.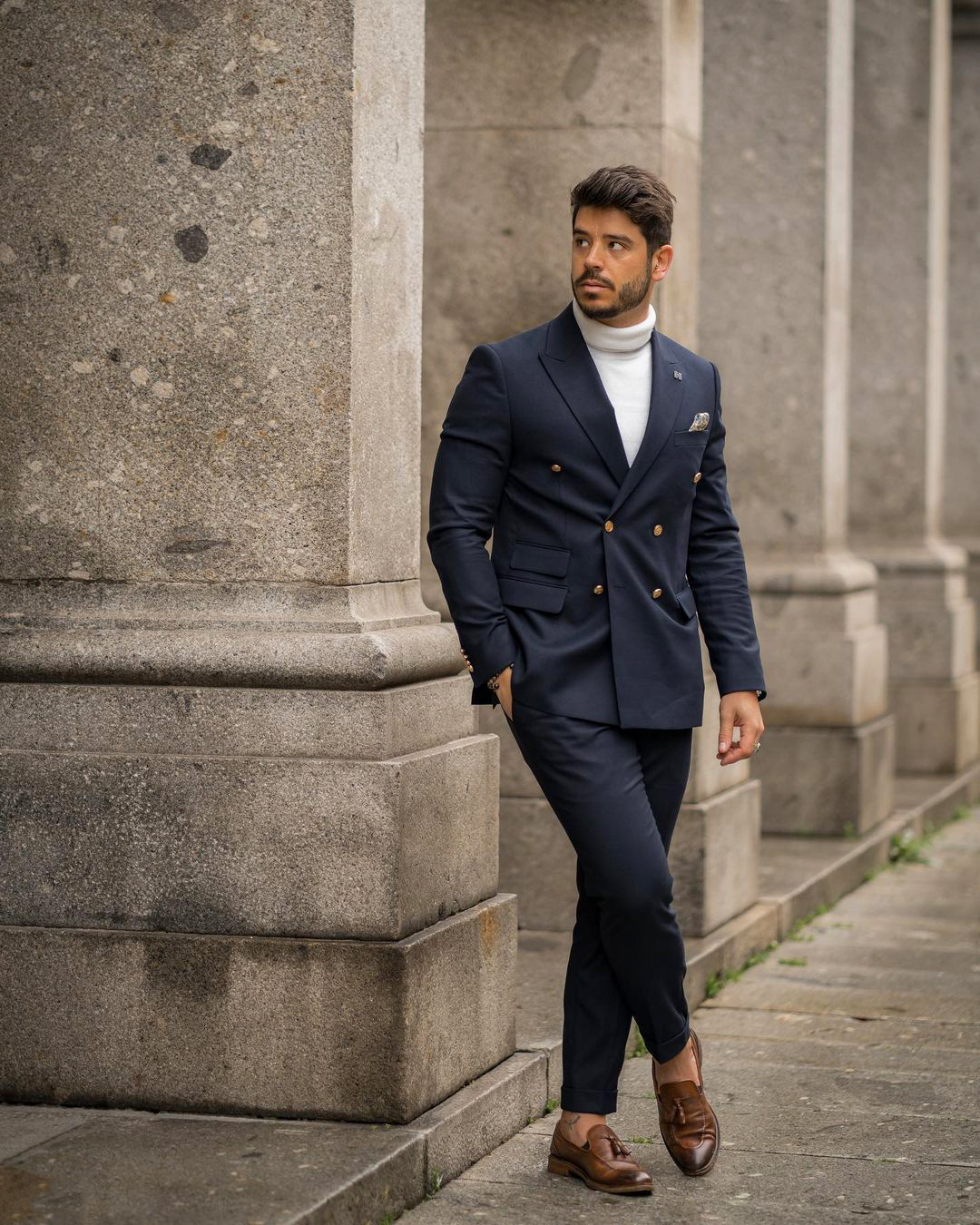 A turtleneck will slightly lower the formality of this suit, but because the jacket is so stylish, it will slightly elevate the formality of the turtleneck.
However, the bold combination of these two garments is all you need for your look. Keep it simple; avoid accessories and allow your clothing to take center stage.
Wearing a Turtleneck with a Separate Jacket & Pants
Suits aren't the only way to dress up a turtleneck. A sport coat or blazer and a pair of trousers are an excellent way to create a laid-back low-key, casual image.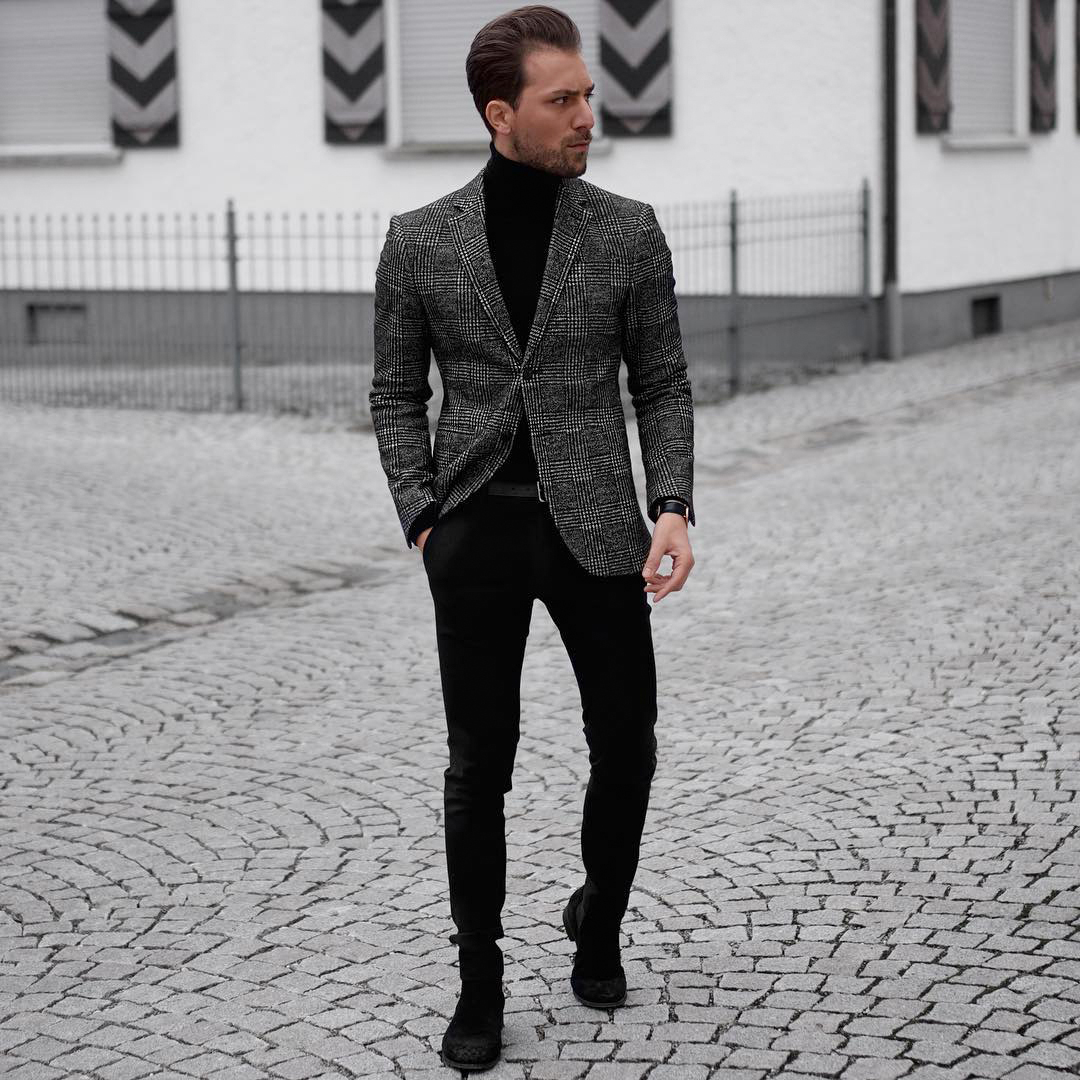 Feel free to experiment with a patterned blazer. If your pants are solid, that will help ground the look, so your pattern doesn't overwhelm your turtleneck.
This style is a perfect time to mix textures. For example, a corduroy blazer with a soft cashmere turtleneck is a luxurious combination.
What NOT to Wear with a Turtleneck & Suit
Certain fashion approaches require a light hand. It may be tempting to take this sophisticated style and add your own twist to it, but you need to avoid a few definite combinations.
Don't ever add a tie to your turtleneck and suit. Sure, a suit may feel like a tie is required, but it isn't. A tie over your turtleneck is awkward. Ties are only suitable with collared shirts.
A tuxedo is never appropriate to match with a turtleneck. Tuxedos are formal; turtlenecks are casual. These two worlds should never mix.
It may be tempting to put a vest over your turtleneck, but this isn't a good look.
A suit jacket or sport coat works because it's somewhat open over your turtleneck, but a vest isn't.
It's a very buttoned-up look over a high-necked shirt; it's simply too much fabric. So skip the vest.
Author: Alexander Stoicoff
Hi, I'm Alex, and I've studied and specialized in styling in Rome. Through my writing, I want to help men dress well and learn the purpose and significance of suits and other formal attire. My final goal is to make men more confident in their wardrobe choice and life in general.