Even the most fearless of men break into a cold sweat when they see the words "black-tie dress code" on an invitation.
What if you don't wear the right thing? You want to look like James Bond in your tuxedo without the fear that you will look goofy instead.
Take a deep breath. We've got you covered. Learn the hows and whys of black-tie events here, and you will have enough confidence to put 007 to shame.
What is the Black-Tie Dress Code
A black-tie event is one of the most elegant events you will ever attend in your life. They are strict and reserved only for very formal occasions.
The term "black-tie dress code" may overwhelm and intimidate you at first. Expectations are high, and one may only ever attend a few of these events in their life.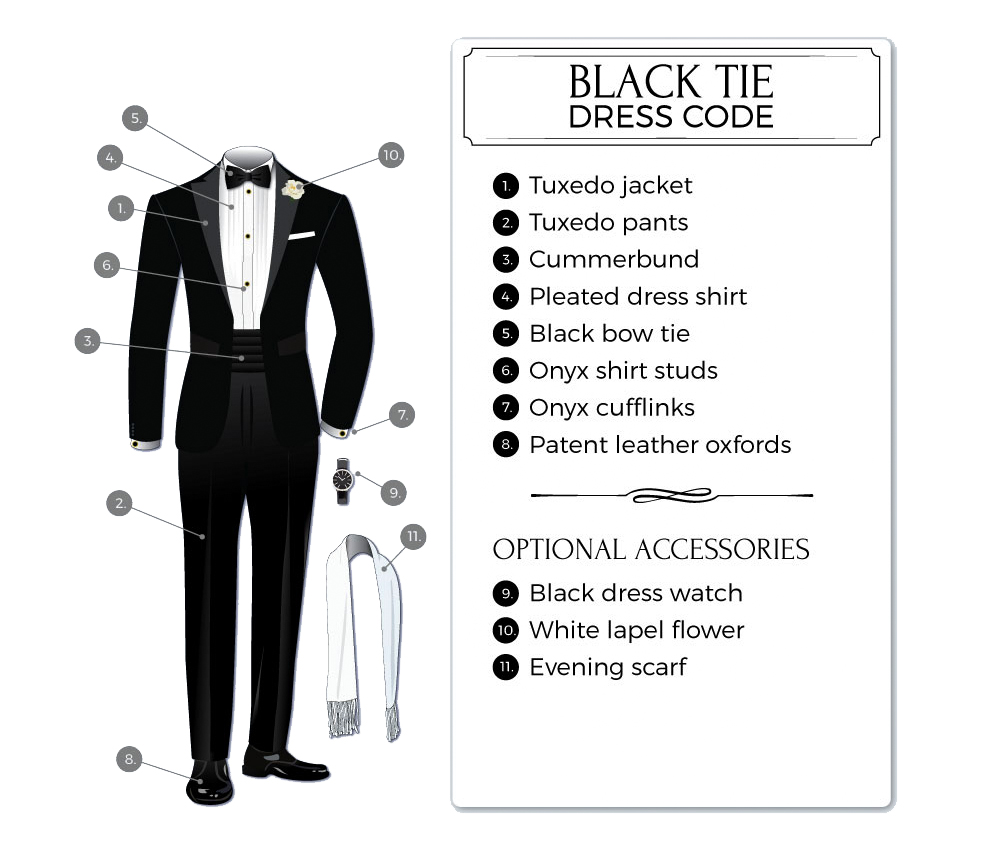 It is this strict adherence to a dress code that is what makes it so intimidating. But it can also be what makes it so easy.
The rules are clear, and you just have to know what they are.
A tuxedo is the most identifiable component you will wear to a black-tie event. Keep the tux simple; still, you must consider each piece carefully for your ensemble.
Before we dive deeper into the subject, I want to clear two other terms associated with this dress code: black-tie creative and optional.
Black-tie creative allows you to slightly subdue the formality by encouraging more creativity and playfulness with your attire. A perfect example would be to wear a midnight blue tuxedo instead of traditional black.
The black-tie optional refers to a dress code that encourages guests to wear a tuxedo or dinner jacket but optionally allows them to wear a dark suit in case they don't want to wear a tuxedo.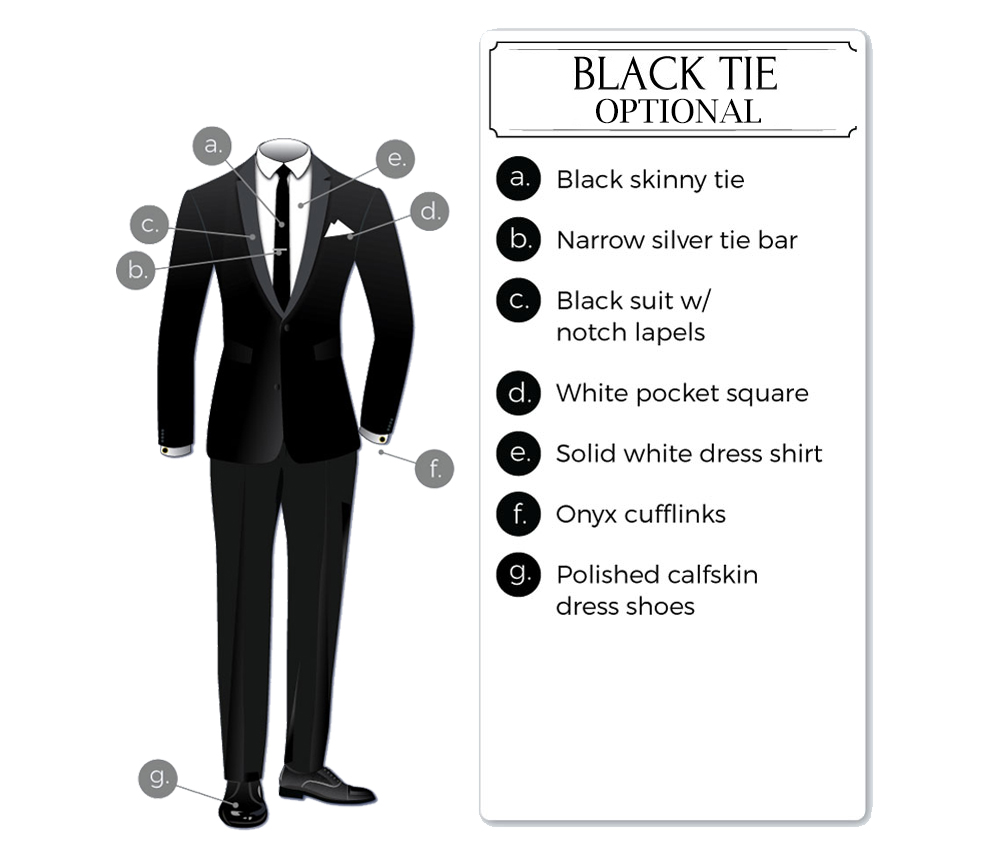 That means a black suit and tie will also work in a pinch for that black-tie optional, but you need to add some flourishes to meet black-tie standards.
Where is The Black-Tie Dress Code Required
Black tie dress codes are typically found only at formal events. Formal events can take place any time of day; however, a black-tie outfit is worn only for evening events.
The most likely place you would encounter a black-tie invitation would be for a formal wedding. However, not all weddings are black-tie, so pay close attention to the wording on your invitation.
In the rare event, you get invited to a gala, award ceremony, or a ball, those are other likely places that would necessitate a black-tie dress code.
Black-Tie vs. White-Tie Dress Code
Black-tie is not the most formal of all possibilities; that honor goes to white-tie events. However, you are much more likely to attend a black-tie event than the other one.
White-tie is the ultimate in formal wear. It is so formal that it is very rarely used; you have very little chance of ever needing to dress for this event.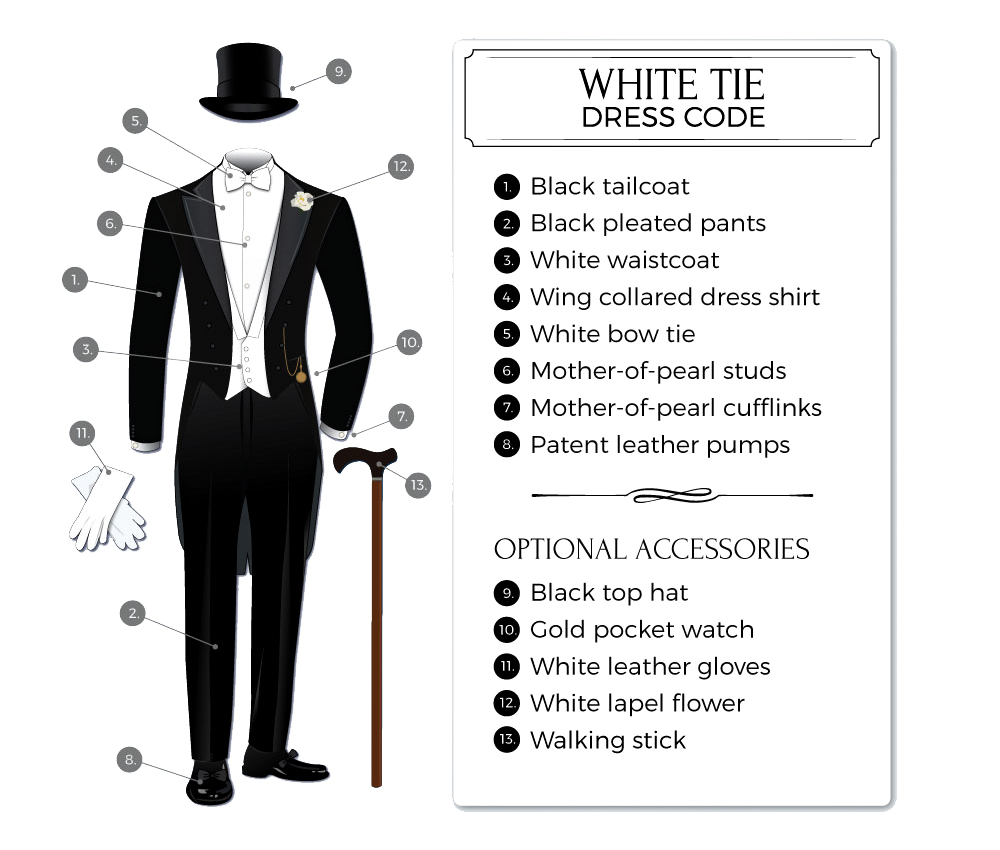 Prior to World War II, the white-tie dress was not very uncommon. It fell out of fashion after the war and is not reserved for very high levels of formality.
Not only is this dress code more formal than black tie, but it has even higher standards. For as little wiggle room as a black-tie dress code leaves, a white-tie dress code leaves zero wiggle room.
White-tie dress is very exact, leaving very few choices for a person to make. On the other hand, a black-tie dress code allows a person some small measure of self-expression.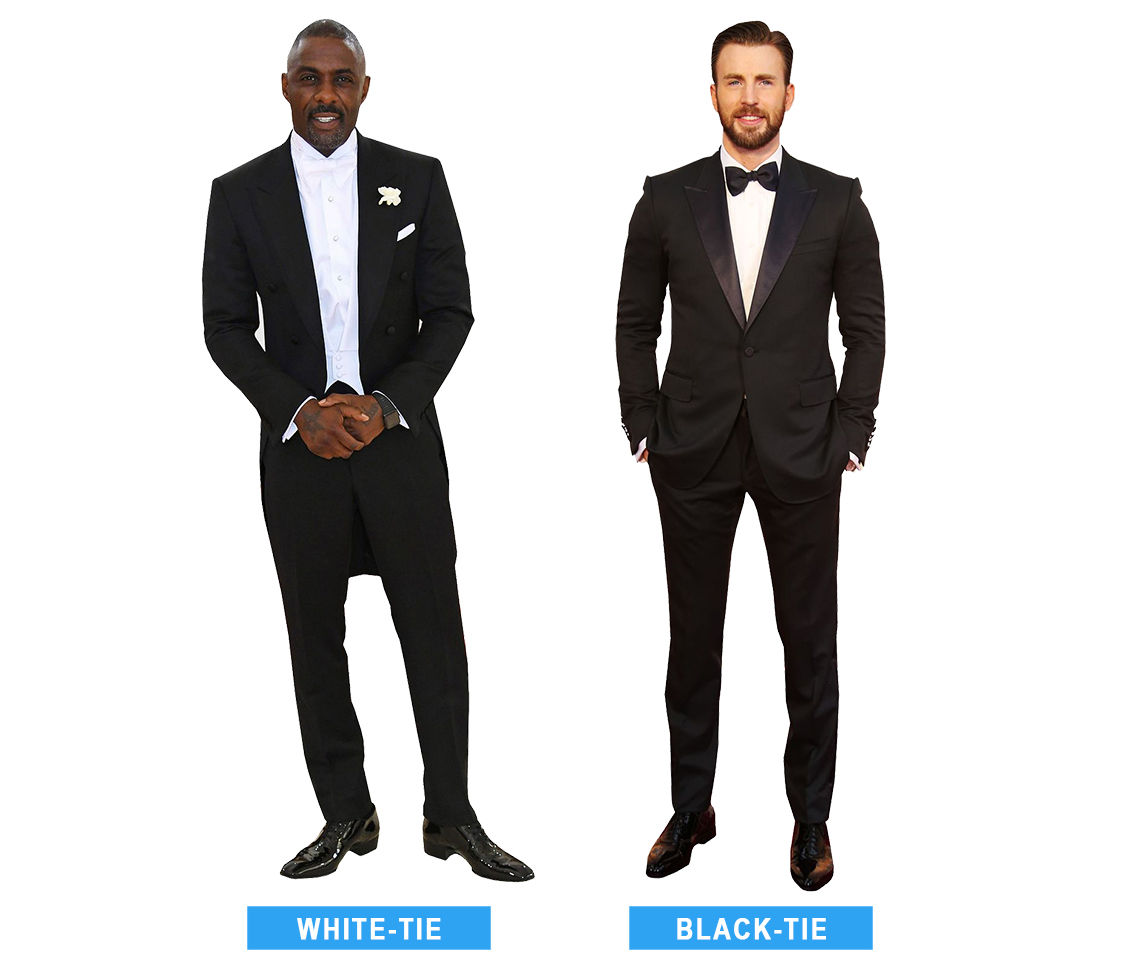 A tuxedo is central to both dress codes. A white-tie tux, however, has a tailcoat instead of a dinner jacket.
A waistcoat is optional for a black-tie, but a white vest is a standard part of a white-tie ensemble. The waistcoat must have a particular fit, as well.
The final major difference between both dress codes is given away in the name; the formality determines your bow tie color. There is minimal, if any, deviation from your bow tie color choice.
Men's Attire for Black-Tie Dress Code
You have a general idea of what to expect when attending a black-tie event. Now, it is time to go over the specifics for each piece.
Getting each component of your formal outfit just right is crucial to pulling off this look. As they say, the devil is in the details. Follow these guidelines and carefully choose each item for your ensemble.
Black Tuxedo
A black tuxedo is like the artist's canvas in formalwear. It is the basic building block for the rest of your formal outfit. Use this as your base; worn correctly, everything else falls into place.
A black tuxedo is, of course, ideal, but a midnight blue tuxedo is also acceptable. Of course, it must be in impeccable shape and perfectly fitted to your body.
Tuxedo Jacket
A black tuxedo jacket (also known as a dinner jacket) is the epitome of the black-tie dress code.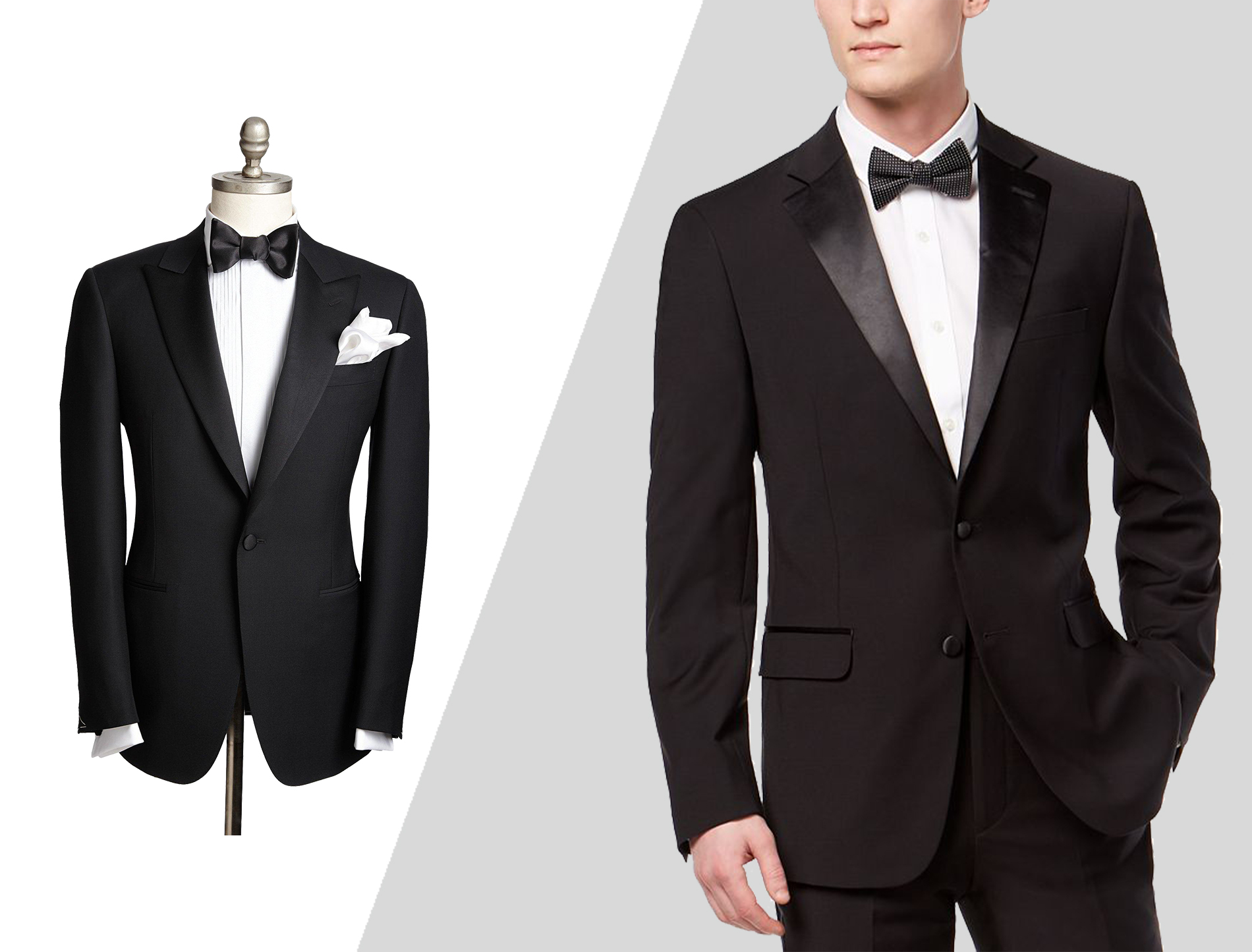 However, a white dinner jacket is also an acceptable and stylish way to deviate from the traditional black-tie attire.
The dinner jacket can be either single or double-breasted. There may be vents, but they are only permissible on the sides of the jacket.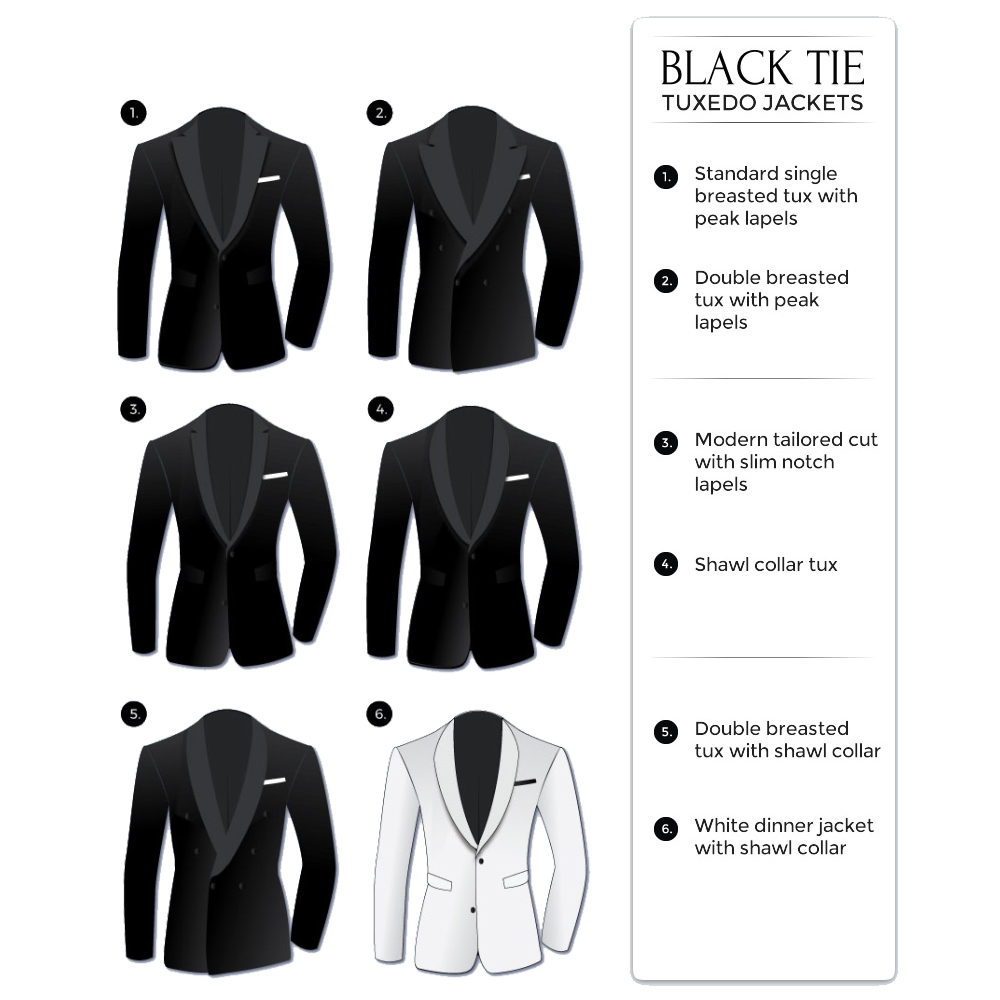 In fact, most tuxedo jackets don't have vents. That's because a vent in the back of a dinner jacket is too informal.
Not only does a back vent lower the level of formality, but it makes the jacket bunch up oddly when you sit. Business suits have back vents, but not dinner jackets!
Jetted (piped) pockets are dressier than pockets with flaps. Flaps make the jacket casual. If your dinner jacket has pockets, be sure there is no flap enclosure.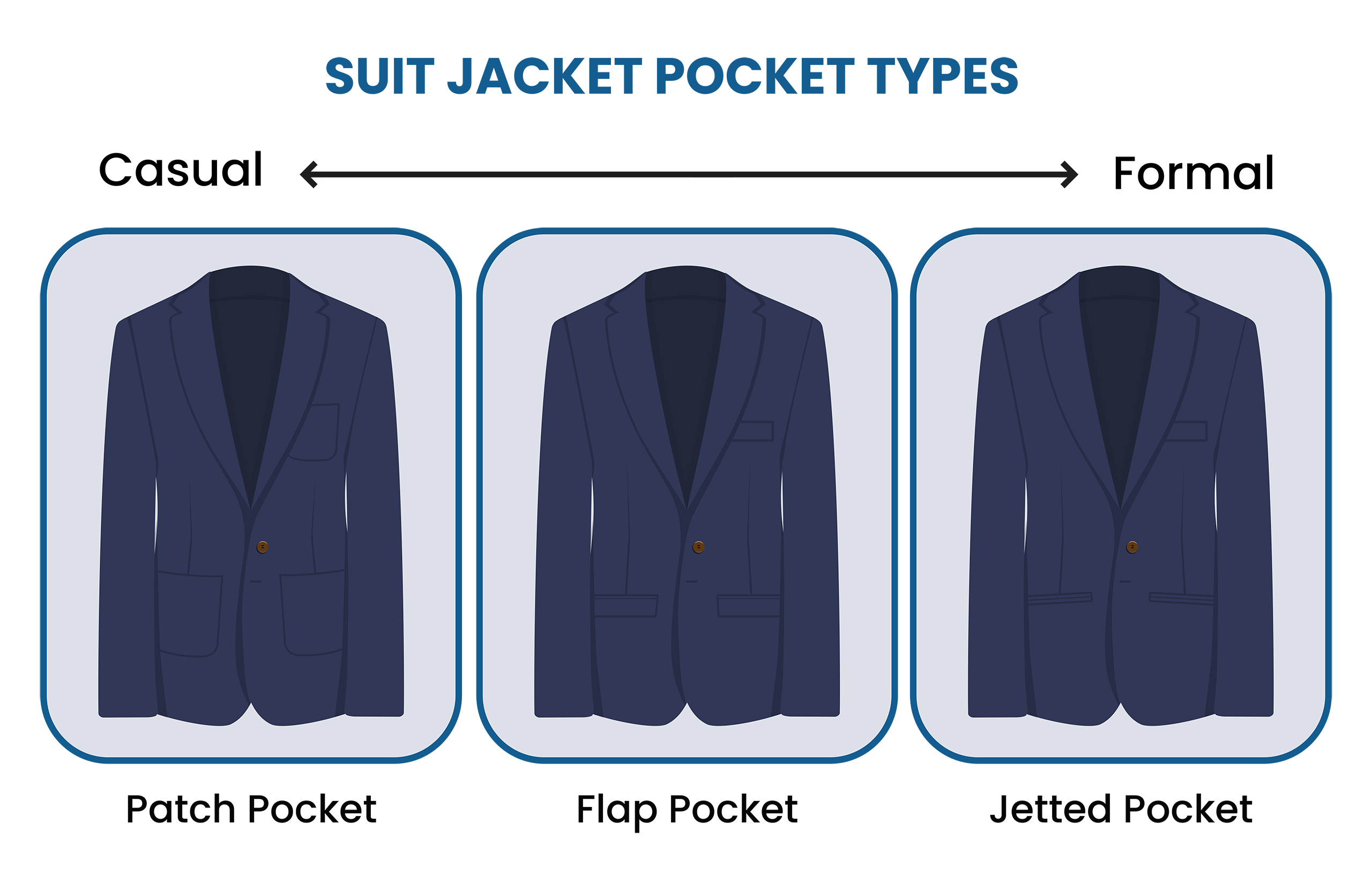 Tuxedo dinner jackets can have notched, peaked, or shawl lapels. Although I don't recommend picking notch lapels as it makes the dinner jacket appear more informal.
Peak lapels are a head-turning look, quite fashion-forward. They add the illusion of height and are slimming for the wearer. If you choose a double-breasted tuxedo, these are best for that style.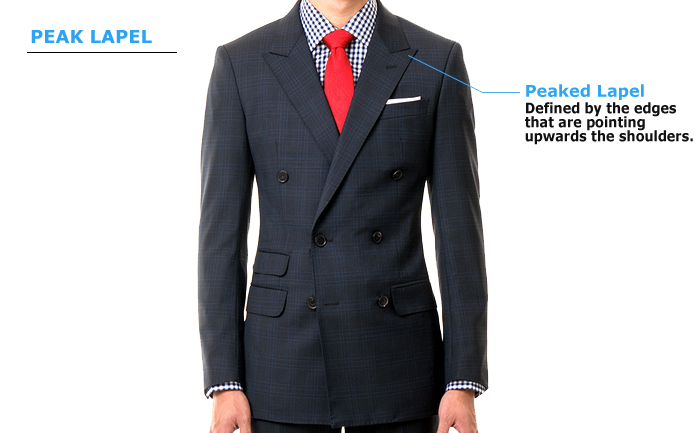 Shawl lapels are found exclusively on tuxedos and dinner jackets, perfectly suitable for a black-tie event. They can be on either single-breasted or double-breasted jackets.
If you want to dress as formally as possible, go with a peak lapel. But for a more stylish look, you might want to choose a shawl lapel.
Tuxedo Pants
Formal trousers have a single satin or silk stripe along the outer seam of the pants.
When it comes to the black-tie dress code, always wear black tuxedo pants, whether you pick a black tuxedo or a white dinner jacket.
Tuxedo pants do not have belt loops; instead, they have side tabs for adjusting to the proper width. You may also wear suspenders.
The trousers must be hemmed, and there should be no cuff at the bottom. That would make the trousers less formal. Also, ensure they have the perfect length.
White Tuxedo Shirt
A white tuxedo shirt is the utmost formal piece of your black-tie attire. However, since white is the most formal of suit shirts, just about any white dress shirt will be fine.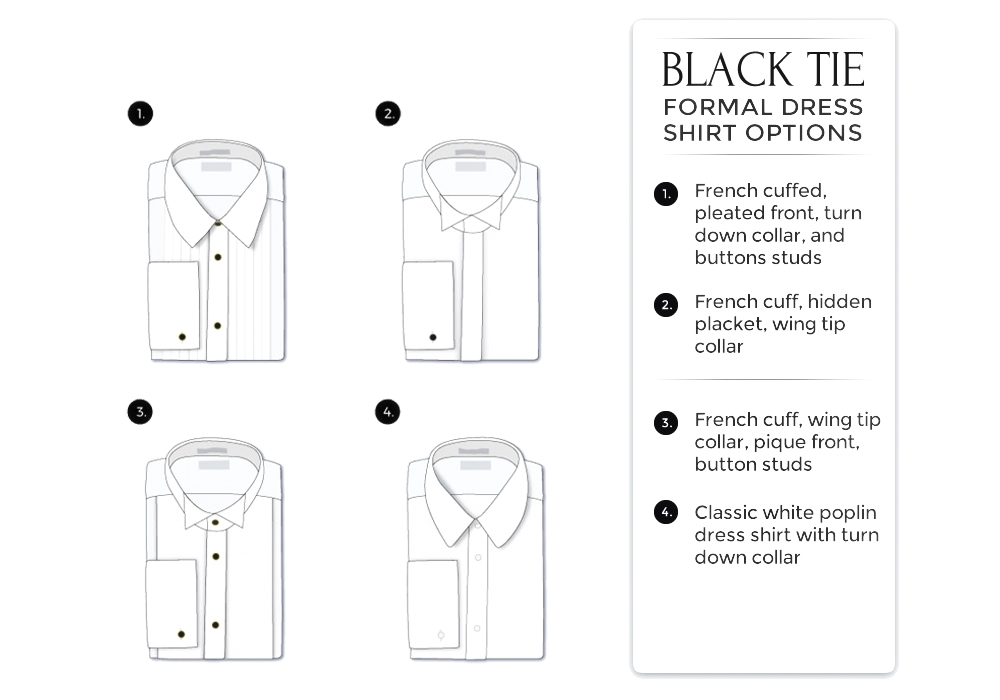 Paying attention to certain details will greatly increase your tuxedo shirt's elegance. For a truly sophisticated appearance, go with a wingtip collar shirt.
However, semi-spread or turn-down tuxedo shirt collars are also acceptable.
French cuffs are incredibly beautiful, so those are practically a must. Plus, they provide an excellent opportunity for accessorizing your tuxedo shirt with cufflinks.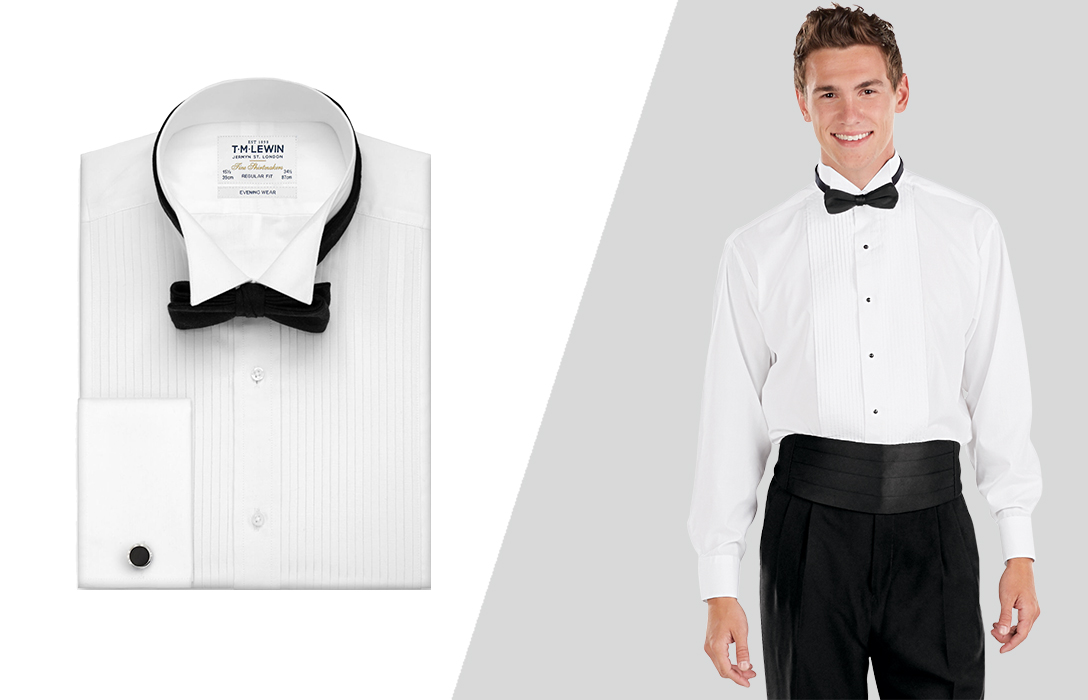 Tuxedo shirts usually have different front styles (known as plackets). However, a hidden (fly-front) placket shirt can produce a smooth and neat look, as well.
A pique bib front is one of the most elegant you can wear. But a pleated front is another nice touch to raise the formality of your black-tie attire.
Accessorize the front with button studs, which are placed into the holes of your tuxedo shirt.
Black Waistcoat
A black waistcoat is another option for personalizing your black-tie style. The waistcoat can be single-breasted or double-breasted and looks best if you wear a jacket with a peak lapel.
One of the best options you can go for is a black U-shaped front waistcoat since it still allows the shirt and the tuxedo to dominate. Although, an open-back waistcoat is just as elegant.
Just to keep in mind that waistcoats are entirely optional, so you can decide if that is the look you want to create. Also, they're not the garment that covers your waist.
Cummerbund
In lieu of a waistcoat, there's a perfect replacement for your black-tie attire – the cummerbund.
The cummerbund is a band that covers your waist area and can come in various designs. For black-tie events, I prefer a black pleated cummerbund.
You can't wear the cummerbund along with a waistcoat. It's a replacement for the waistcoat, not an addition.
Bow Tie
Naturally, you need to wear a black tie. That is the name of this dress code, after all!
A solid black necktie with a Windsor knot is sufficient only if the event has the sign "optional" next to the black tie.
If you are attending a classic black-tie event, you must wear a black bow tie.
A clip-on tie is never OK for these events. In fact, even pre-tied bow ties aren't acceptable. It has to be a self-tie bow tie.
The black bow tie material is traditionally the same as your lapel, but these days, there is more flexibility on this. If you're unsure which style to choose, go with the standard one or the jumbo butterfly.
Footwear
Black patent leather shoes are the number one choice for a black tuxedo. The second best option is black polished calfskin cap toes.
When it comes to the dress shoe type, there are a few options in style.
Patent leather opera pumps are the traditional choice to wear to a black-tie event. However, Oxford lace-up shoes are the best contemporary option.
Derby shoes are also acceptable, though they are not as traditional and are the least formal option you can choose for this dress code.
Accessories
Cufflinks are a wonderful way to accessorize your black-tie ensemble. Metallic cufflinks add a touch of sparkle to your tuxedo shirt's appearance and can look very classy.
To maximize their effect on your formality, you can add gemstones. Since men don't wear much jewelry, cufflinks are a great way to add personal detail.
A pocket square in your breast pocket is another way you can add a touch of personality to your formalwear. Again, you should keep the color subdued, although some small prints can make for an interesting visual.
If possible, wear shirts with button studs. Button studs raise the level of sophistication, especially if matched with the cufflinks.
Finally, you can pair your tuxedo with a watch. Although there are many beautiful and sophisticated watches, a tuxedo is not an appropriate outfit for most watch types.
The only appropriate watch type for accessorizing your formalwear is a dress watch. However, you need to make sure that you choose a minimalistic and simple one.
Black-Tie Dress Code FAQs
Taken piece by piece, it is not too difficult to put together the ideal black-tie outfit. Start with your basic unit, the black tuxedo, and add to it. But if you still don't feel completely confident, here are some of the most common questions people have about this dress code.
What's the difference between a tuxedo and a suit?
Although both a tuxedo and a suit embody formal wear, there are several important differences and detailed styling variations.
Tuxedos usually have satin or grosgrain details throughout the jacket and pants. Also, tuxedo jackets usually have satin shawl lapels (satin peak lapels are common, too), while suits have a standard notch or peak lapels.
Tuxedos are more formal than suits. Finally, you can pair a tuxedo only with a bow tie and a tuxedo shirt. On the other hand, you should wear a suit with a dress shirt and a necktie.
Can I wear a waistcoat and a cummerbund?
You cannot wear both pieces together; it is strictly one or the other. You can, however, opt to wear neither piece. Just your plain tuxedo shirt and bow tie are suitable.
Can I wear a black suit to a black-tie wedding?
I don't recommend it. Unless it states black-tie optional, a tuxedo is a necessary attire for this event. If you don't own a tuxedo, you can always rent one instead of wearing your black suit. Although it's best to purchase one, as many affordable tuxedos will cost less than a rented one. On the bright side, you will know what to wear the next time a black-tie wedding appears.
Is a black tuxedo the only black-tie attire option?
No, black tuxedos are not the only option for these events. A midnight blue tuxedo might even be more elegant and aristocratic. In fact, when the black-tie event was invented, people wore midnight blue. Don't forget to pair it with a black bow tie.
Author: Alexander Stoicoff
Hi, I'm Alex, and I've studied and specialized in styling in Rome. Through my writing, I want to help men dress well and learn the purpose and significance of suits and other formal attire. My final goal is to make men more confident in their wardrobe choice and life in general.