If you become overwhelmed by all the dress shirt color options when you go clothes shopping, welcome to the club.
You can find dress shirts in every shade imaginable; it's tempting to buy one in every color.
However, before you break the bank, start building your wardrobe with these fundamental colors to provide a versatile closet.
Plain White Dress Shirt
There's no arguing that the plain white dress shirt is iconic for men. It's the standard against which all other dress shirts are measured; it's the most formal and flexible.
Moreover, it goes with absolutely every men's suit; there's nothing this dress shirt doesn't pair well with.
White dress shirts should be a staple in every man's wardrobe, whether you wear a suit every day or only rarely.
Heck, I'd suggest owning at least two or three of them. You can wear them for your most formal business outings, but they are also capable of a more casual style.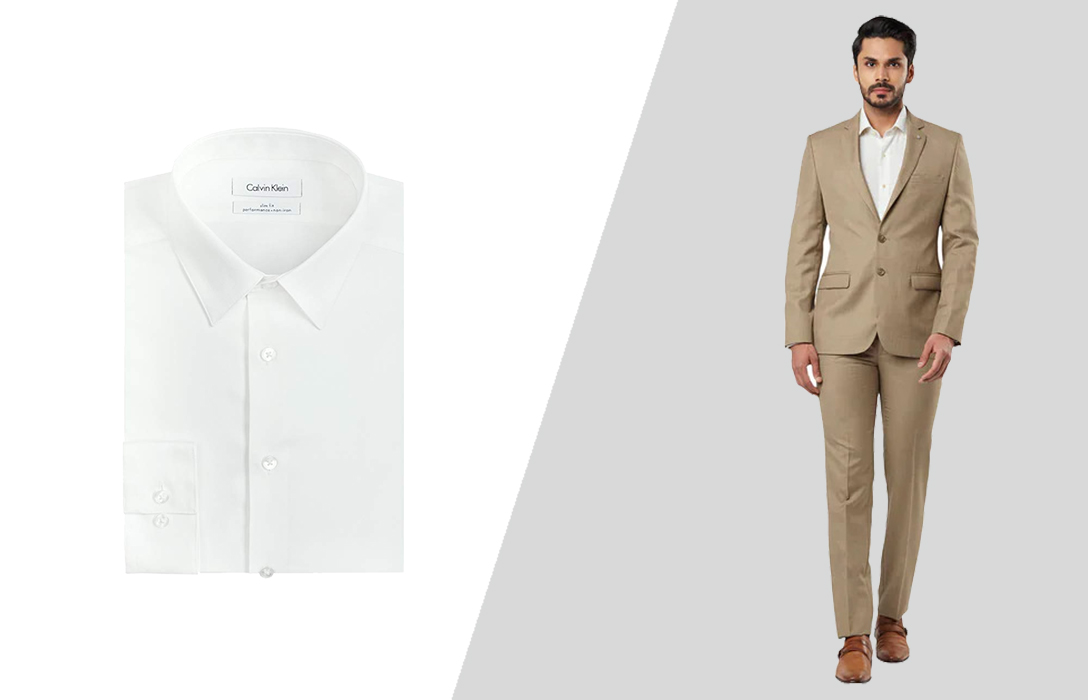 My favorite match-up for a white dress shirt is definitely a navy suit. It looks sophisticated, trendy, and conservative at the same time.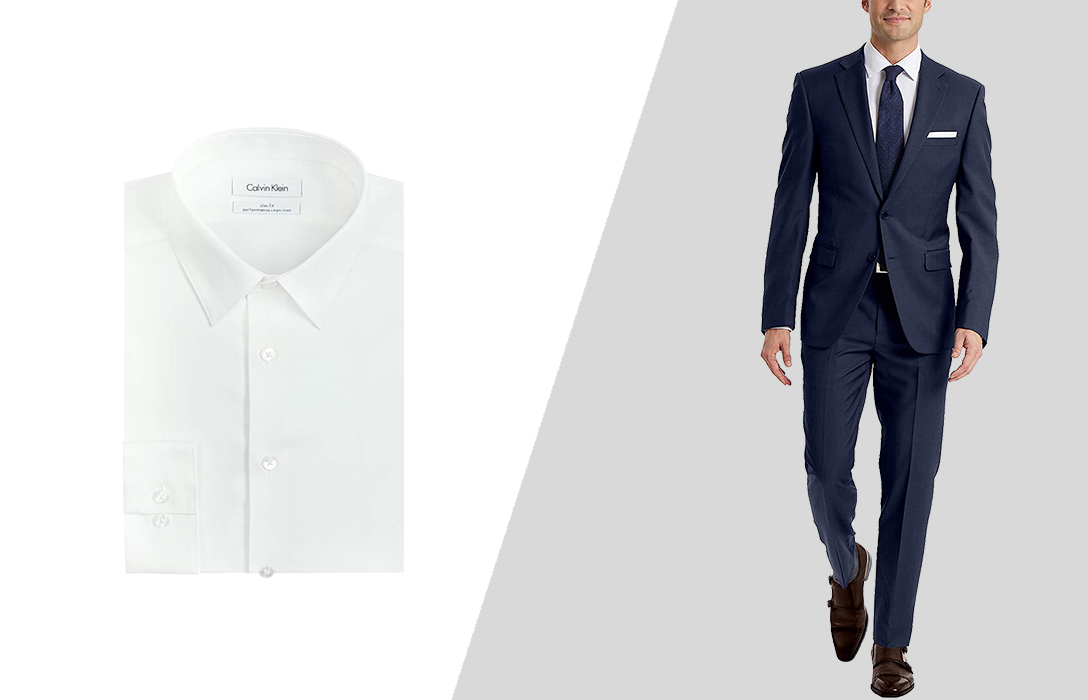 To ensure that your white dress shirt is fully universal, don't go directly for French cuffs.
Your shirt will be more versatile with barrel cuffs; wait until you own a couple of white dress shirts before investing in one with French cuffs.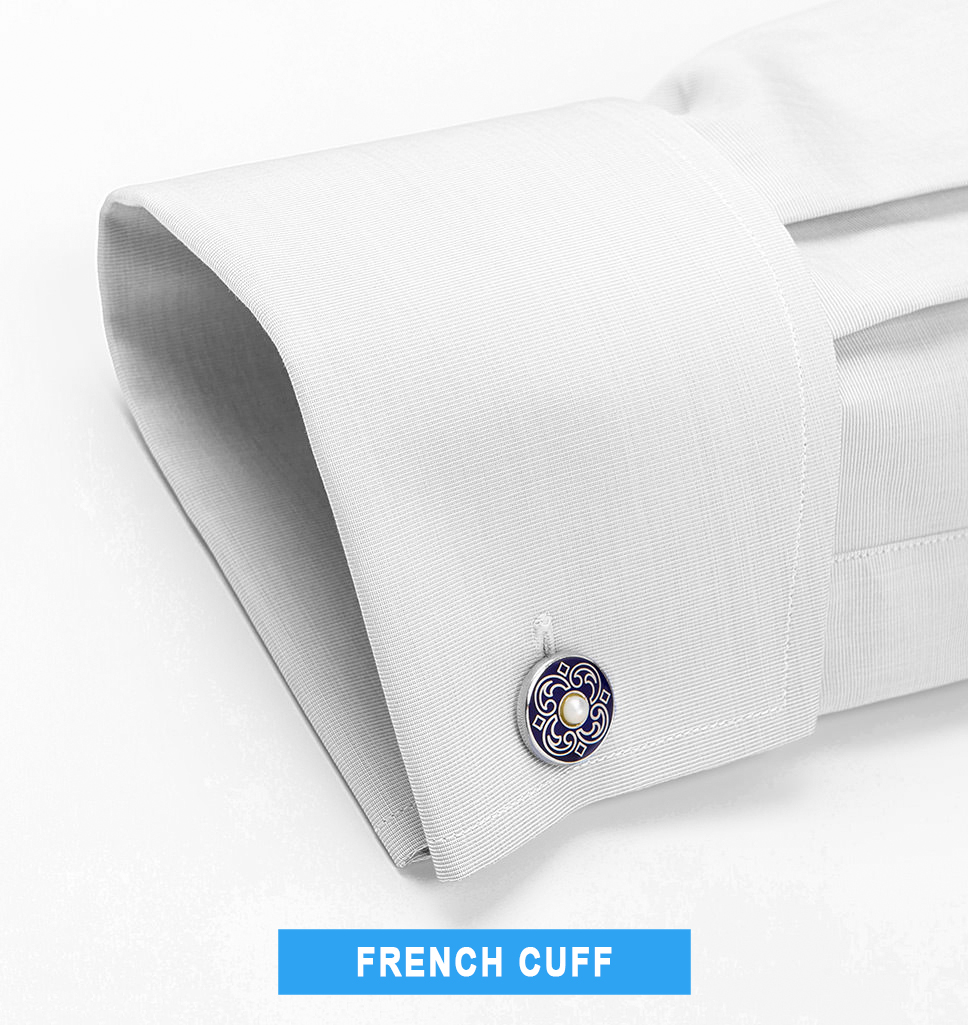 It would be best if you also avoided a dress shirt with a pocket on it.
A pocket automatically lowers the formality of any dress shirt, so skip the pocket to be able to dress up your shirt if needed.
Because you'll have use for this dress shirt all year round, opt for medium-weight cotton fabric.
Weave White Dress Shirt
A weave white dress shirt is very similar to a plain white dress shirt, except it has a nearly unnoticeable patterning.
The weave is usually a waffle pattern, although herringbone shirts are also popular. They're so subtle that it's only noticeable up close; the shirt looks like a traditional white button-up from afar.
Even though the patterning is incredibly subtle, it can make the dress shirt slightly less dressy if it's too prominent.
A fine weave is better, as it is less noticeable. It is also pretty easy to dress this shirt up, using a few style choices.
French cuffs or double cuffs will raise the shirt's formality, as will a French placket.
If it's a broadcloth or twill weave white shirt, you can even wear it with a tuxedo and a bow tie.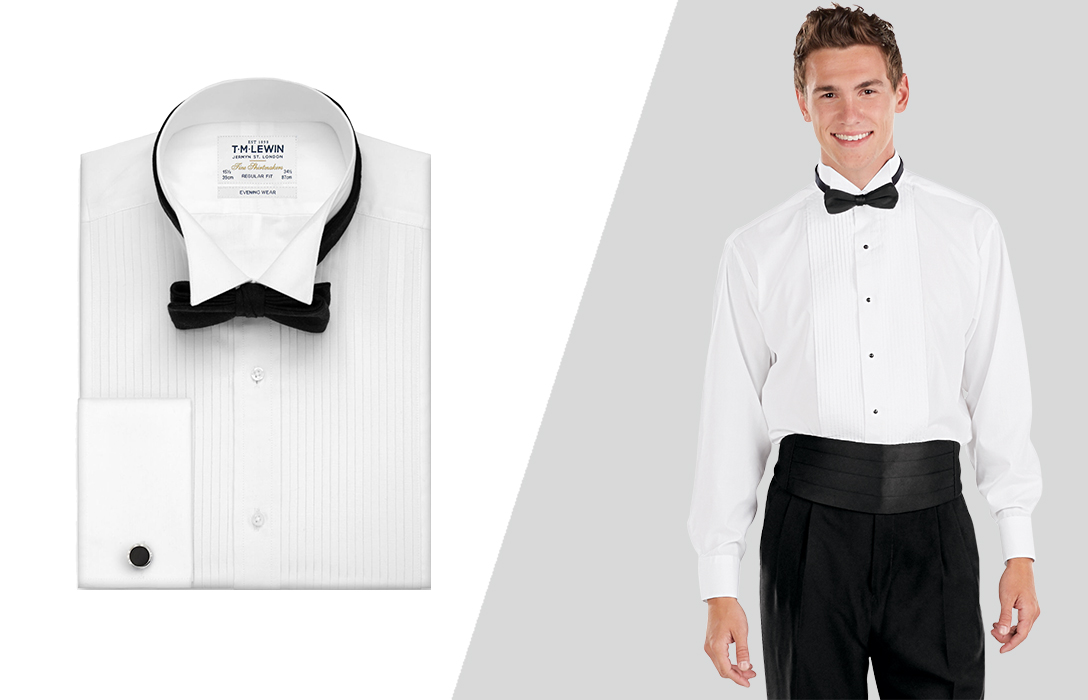 The bow tie allows you to show off the features of your dress shirt better than a necktie would.
Light Blue Dress Shirt
A light blue dress shirt is the second most important dress shirt color a man should own.
It can go with most suit colors, even though it is slightly less formal and less versatile than a white dress shirt.
Also, a light blue dress shirt looks flattering on nearly every type of skin color so that everybody can wear it.
You can pair a light blue dress shirt with any shade of grey suit you may own.
A charcoal grey is very professional, and wearing a light blue dress shirt with a light grey suit is a very laid-back style.
You can also match a light blue dress shirt with a black suit; this will tone down the suit's formality and soften its harshness.
In addition, you can even mix things up by wearing this dress shirt with a blue suit!
It's surprising how many ties go well with a light blue dress shirt.
Depending on the color suit you pair it with, you can add a darker blue tie than the shirt or a solid black one. But you can pattern or striped ties as well, especially if the suit is darker.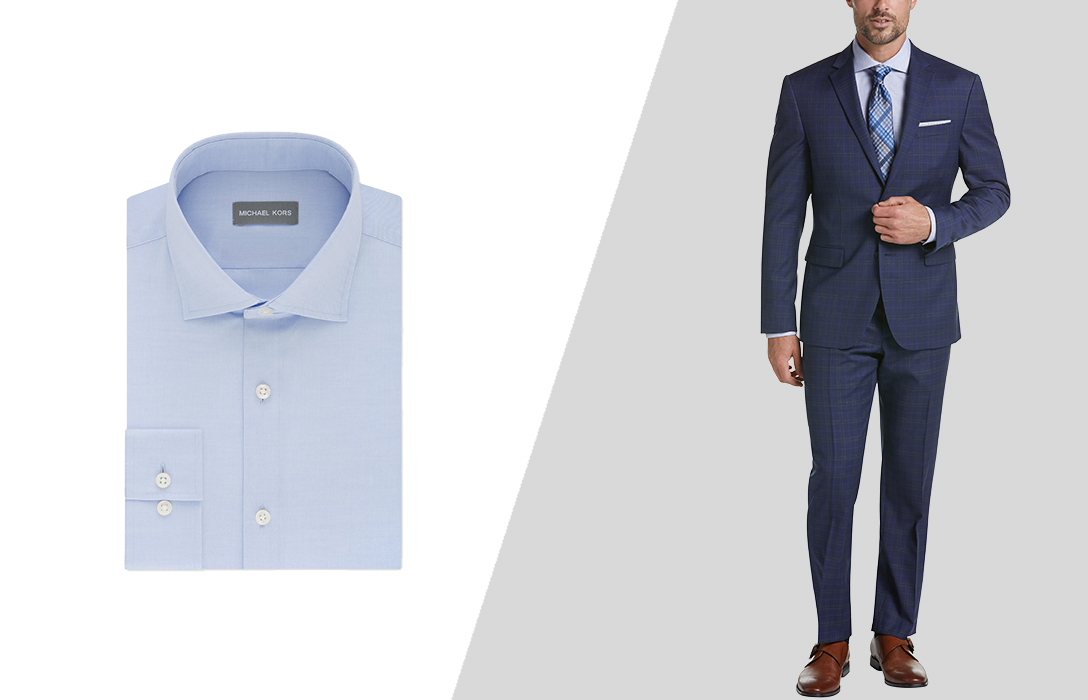 Grey is also a nice tie color to pair with it; either dark or light would work, depending on what suit you are wearing.
You can't go wrong with red for a bold but completely appropriate color.
Medium Blue Dress Shirt
A medium blue dress shirt is less versatile than its sibling, the light blue dress shirt, but is stunning with the right suit.
In addition, it has a very contemporary feel to it. This color is very noticeable.
Grey is the best match for this shade of blue. Medium blue dress shirts look stunning against a light grey suit, and with a charcoal grey suit, it's positively head-turning.
Medium blue with a black suit is a gamble, but these colors are remarkably striking together. However, this isn't a formal combination, nor is it suitable for most offices.
Leave the suit out of the picture for a very casual approach altogether.
Instead, why not dress down your blue shirt with a pair of smart khakis? This outfit shows that you put effort into dressing but are feeling relaxed.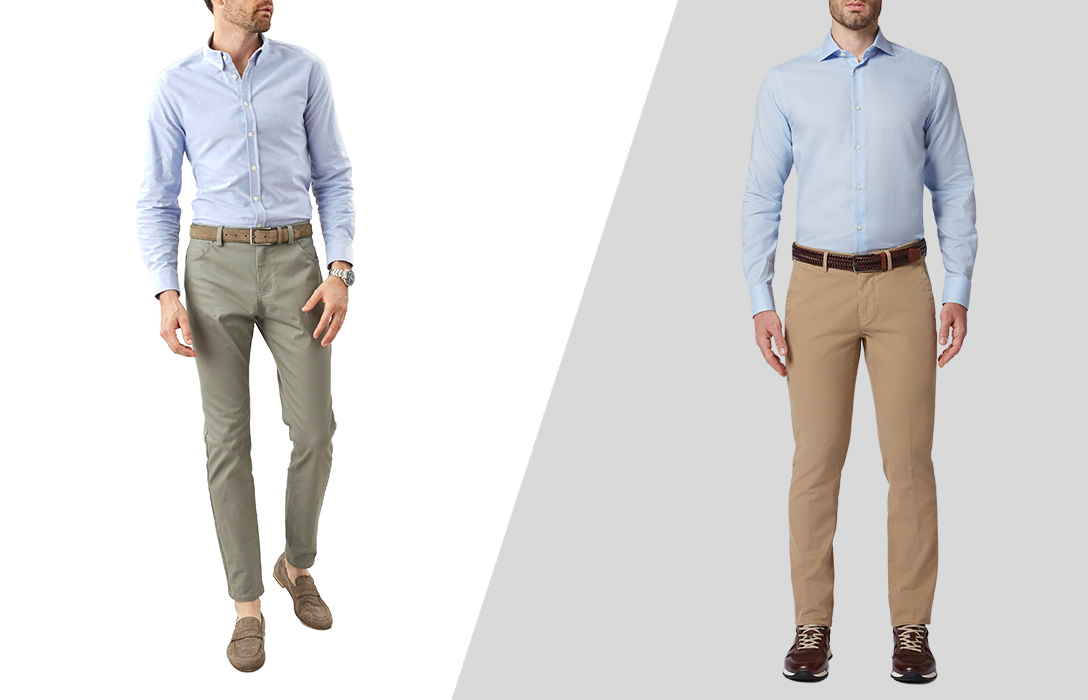 As far as ties go, a micro-pattern may be an excellent way to break up some of the intensity of this bold-colored dress shirt.
For example, a small paisley print or thin stripes with blue and lighter colors will effortlessly pull your ensemble together.
Or, you can leave off the tie and open your collar.
Pink Dress Shirt
At first blush, a pink dress shirt doesn't sound as if it would be appropriate for most office spaces.
However, it's shockingly professional. It can present as relatively conservative or playful, depending on how you wear it.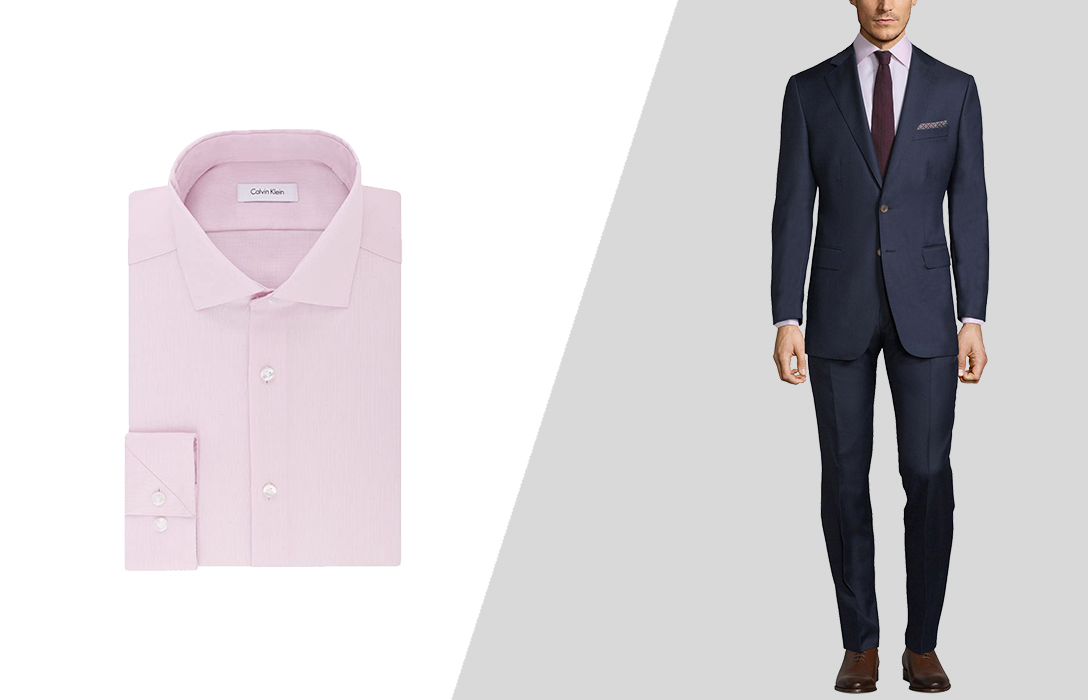 For conservative offices, pale pink is your wisest choice. It goes very nicely with many suit colors: light grey, charcoal, navy, and even brown.
And similarly to a light blue dress shirt, a light pink dress shirt can soften a black suit and make it more casual and fun.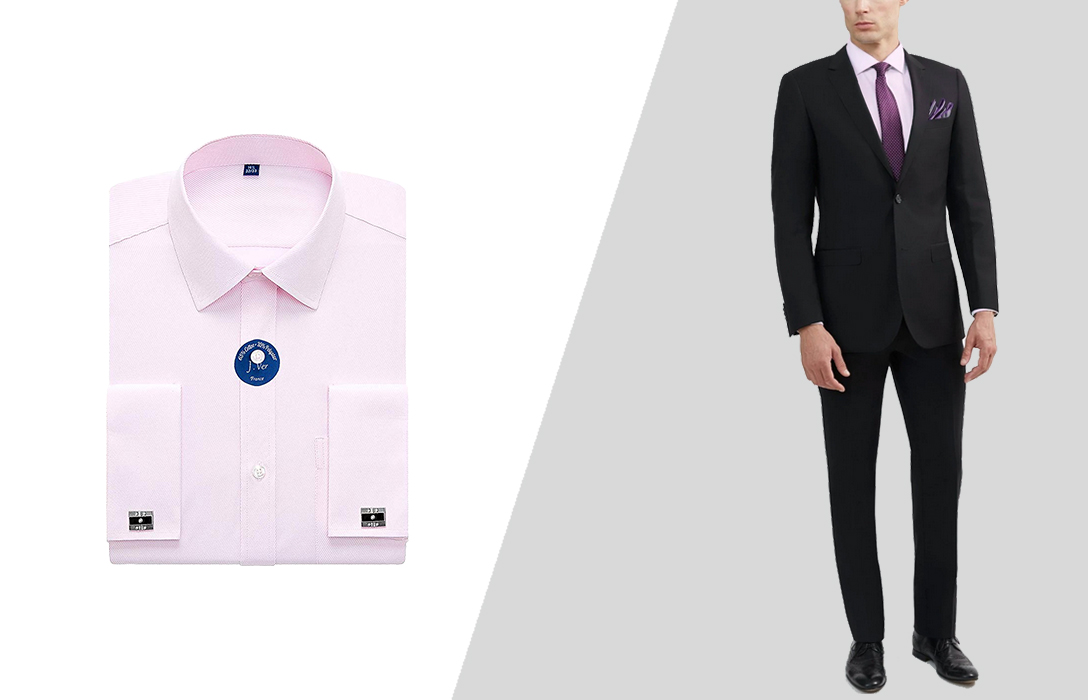 With a pale pink dress shirt, you'll find that you can make tie combinations for days.
Every shade of blue complements light pink, but you can also try black, light green, grey, or a darker shade of pink ties.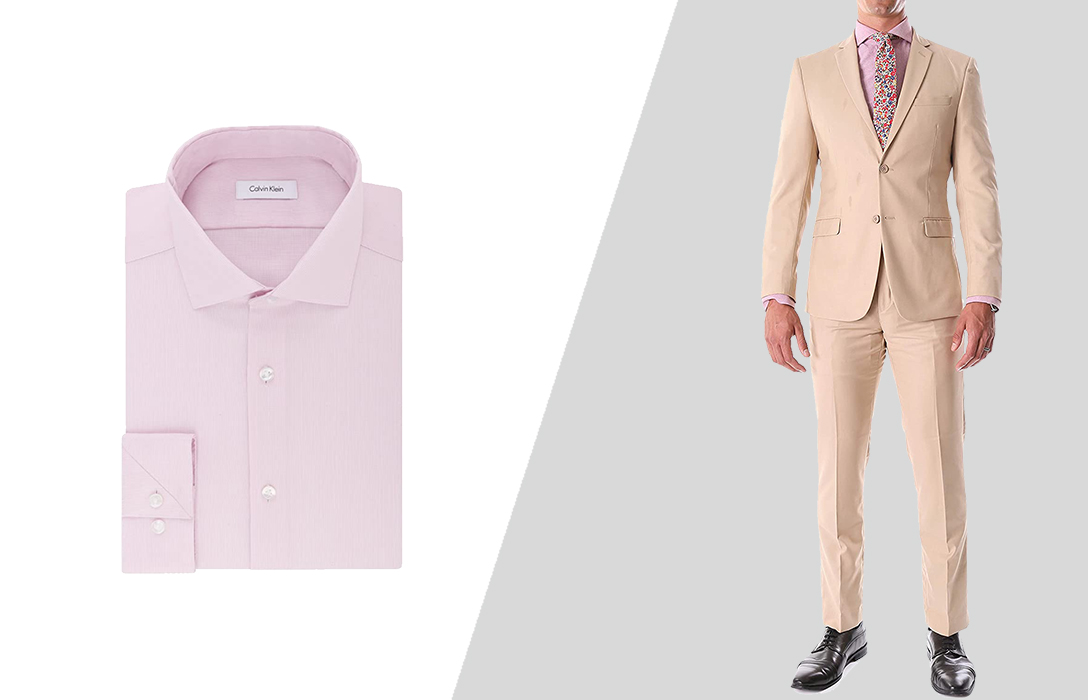 Want to try a very bold combination? Go with dark red, maroon, or burgundy. Trust me; it's a-mazing.
Blue Striped Dress Shirt
A striped or patterned dress shirt is one of the most casual ways to wear a button-down shirt.
However, certain patterns are still appropriate to wear to work.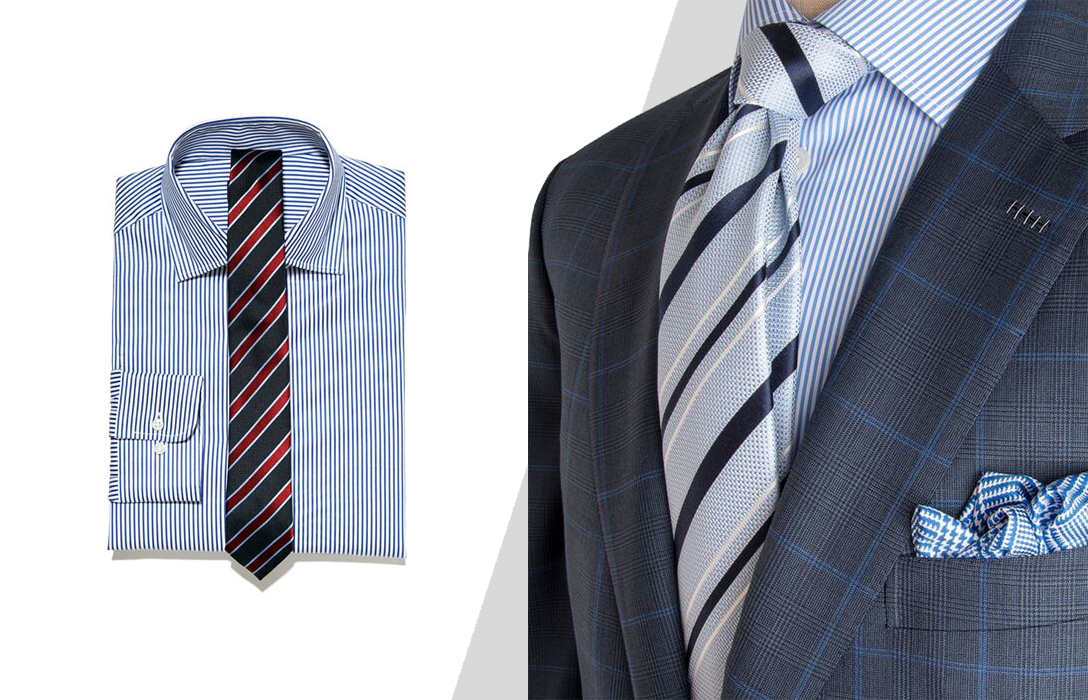 For example, when wearing stripes with a suit for work, pick a dress shirt with thin or medium-sized stripes. That's because if they're too wide, they look immensely casual.
A blue striped dress shirt with a white background is the most popular color for this pattern. It makes for an excellent casual switch-up.
You can easily pair a blue-striped shirt with mostly dark suit colors, like black.
However, don't ever mix patterns in your outfit. So, if you choose to wear a striped dress shirt, only pair it with a solid suit. You'll look too busy otherwise.
Pink Striped Dress Shirt
Both light blue and light pink dress shirts are terrific alternatives to a white dress shirt.
So, then pink striped dress shirts are very similar to blue stripes. Therefore, many of the same rules apply when you switch out the color of the dress shirt stripes.
A pink striped dress shirt might be a little more of a challenge to pair with a suit, colorwise.
Grey is always the perfect standby suit for most colors; otherwise, this dress shirt looks bold with a navy suit.
You can also perk up a brown suit with some pink stripes or turn heads in a black suit.
This is the perfect shirt to wear for separates. A pair of slim-cut trousers, even without a blazer or suit jacket, will allow this dress shirt to stand out.
If you consider wearing a tie, a micro-floral print will complement this dress shirt nicely with the right colors.
A darker shade of pink, light blue, pale green, or purple will all bring out the cheery tone of a pink striped dress shirt.
Light Grey Shirt
Light grey is a sure hit if you want a very unexpected dress shirt color. Admittedly, it's a rare color for dress shirts, but it deserves a little more love than it currently receives.
Light grey serves as the perfect background to allow the other colors in your outfit genuinely pop.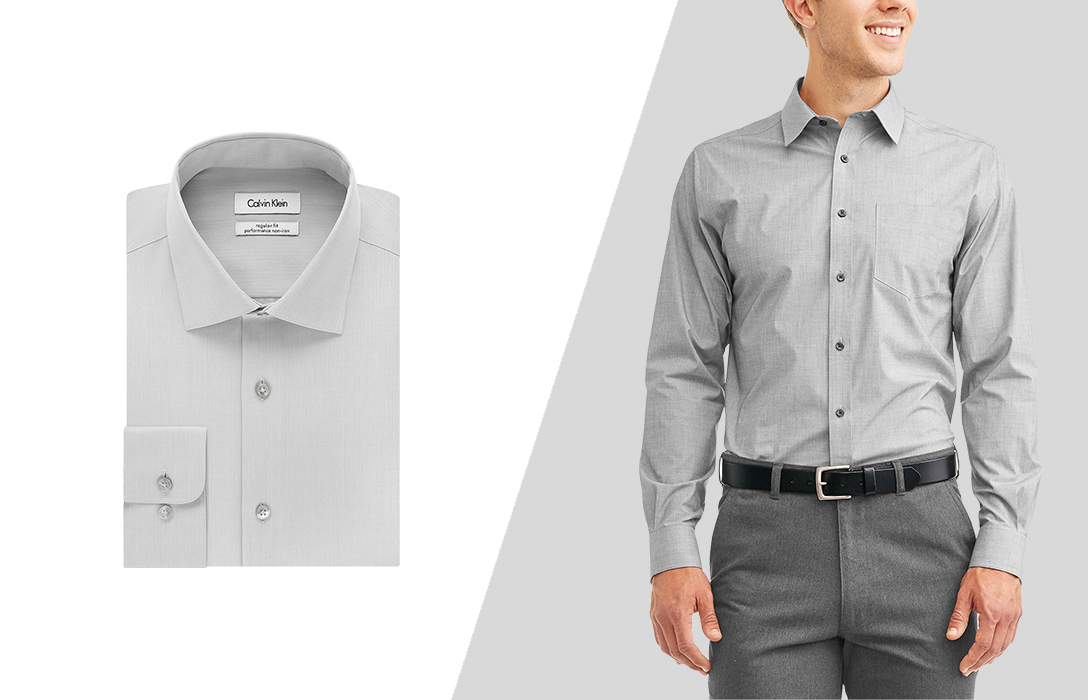 People will pay extra attention to the navy in your suit, and blue will look bluer.
Wear a light grey dress shirt with a black suit if you want a sophisticated, mysterious approach. It won't be formal without the white shirt, so you'll easily be able to wear it for a night on the town.
Don't feel that you need to add a tie with this ensemble. But if the mood strikes, stick to darker colors such as black, charcoal, navy, or even dark pink.
Light Green Shirt
Ok, are you ready to try something truly unique? Slip into a light green dress shirt.
Yes, it's an unusual shade for a dress shirt. However, it feels like a breath of fresh air and works surprisingly well.
By keeping the color pale, a green dress shirt isn't so bold that you'll be stepping outside your comfort zone.
Green shirts are not the best attire for suits. However, you can use this color shirt to brighten up black, navy, grey, or brown suit pants.
Again, avoid wearing a light green dress shirt with a full suit; the contrast may be too sharp to look decent.
Stick with a dark tie, which will help ground the light green. A darker shade of green or charcoal grey are both excellent pairings.
Or, for a twist, see how you feel about a navy tie.
Black Dress Shirt
A black dress shirt may seem like a very tricky move to pull off, but it's actually quite simple. It's sophisticated and very suave, a truly macho approach to dressing.
You don't have many options you can wear a black dress shirt with, but charcoal and light grey suits are the ideal combinations.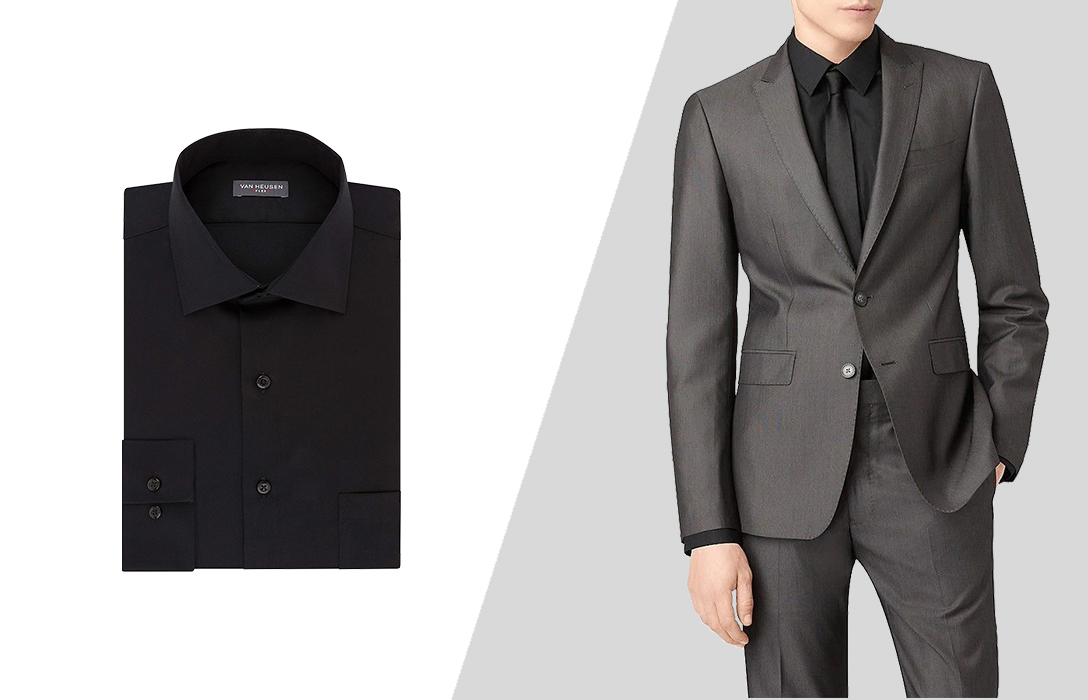 If you want something very fashion-forward, a true blue suit might fit, but you would have to get the shade just right.
On the other hand, are you the type of dresser bold enough to own a green suit? Then a black dress shirt may be an exciting option for you to consider.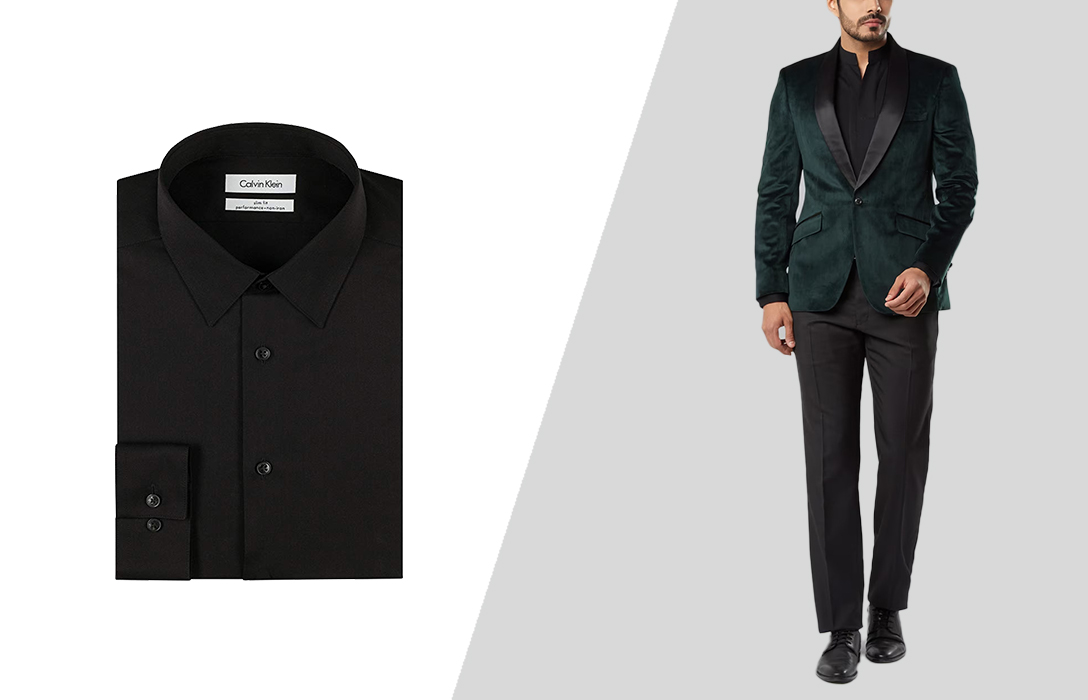 What tie color should you wear? That's a trick question. It's best to skip the tie when wearing a black dress shirt.
Blue Checked Shirt
Checked shirts are the most casual style for dress shirts. You can pair blue checked shirts with a medium or light grey suit, or wear it with just a pair of trousers.
Khakis look nice, but grey or black dress pants are excellent ways to dress this shirt up.
A checked shirt can be enough activity for one outfit. My advice is to avoid a necktie.
However, if you plan to add a tie with a blue and black checked shirt, it must be blue or black; introducing another color will make your outfit feel too busy.
Red Checked Shirt
You may be envisioning a lumberjack right now, but these shirts can be so much more than that.
You can dress up a cotton red and black checked shirt with a sleek pair of black dress pants.
However, if you want to lean into the casual nature of this shirt, more power to you. Also, avoid wearing ties in any case.
A pair of black or dark blue jeans offer a simple appeal to this classic button-down style.
Author: Alexander Stoicoff
Hi, I'm Alex, and I've studied and specialized in styling in Rome. Through my writing, I want to help men dress well and learn the purpose and significance of suits and other formal attire. My final goal is to make men more confident in their wardrobe choice and life in general.