The term "business-casual" may seem like an oxymoron.
Don't let your work's business casual dress code confuse you; it's still critical that you are a bit dressed up.
However, you can relax your professional look here and there with some adjustments.
Conquer this confusing dress code with a few well-planned outfits.
Understanding the Business Casual Dress Code
Until several years ago, the term business casual did not exist. Business suits were the standard daywear attire for almost all business industries.
Nevertheless, times change; and dress codes change with it.
With the rise in popularity of khaki pants and Hawaiian shirts, many employers looked at it as a possible substitution for suits.
At the same time, many clothing companies recognized this as an opportunity to increase sales of their casual wear.
They began marketing their moderately casual attire, like chinos and sports shirts, in offices and work environments.
Consequently, more and more offices began to embrace and accept this slightly informal trend.
Business Casual vs. Formal Business
There may be many differences between these two dress codes, but it's helpful to remember that they have more in common than many men think.
Formal businesswear requires a full suit, usually dark. It's generally worn with a white button-up dress shirt and always a tie.
In comparison, business casual outfits never involve a full suit. They may leave off the tie and suit jacket and may not even include the suit pants!
Separates work very well for a dressed-down approach to dressing in a business casual setting. A blazer is a mark of business casual, but you may opt to go without a jacket altogether.
You'll also find more colored or patterned dress shirts, but avoiding bold or flashy colors is wise.
Business Casual vs. Smart-Casual
Given the casual nature of each dressing style (and the fact that each has "casual" in the name), these two dress codes may feel interchangeable. So it's understandable to mix them up, but they are very different.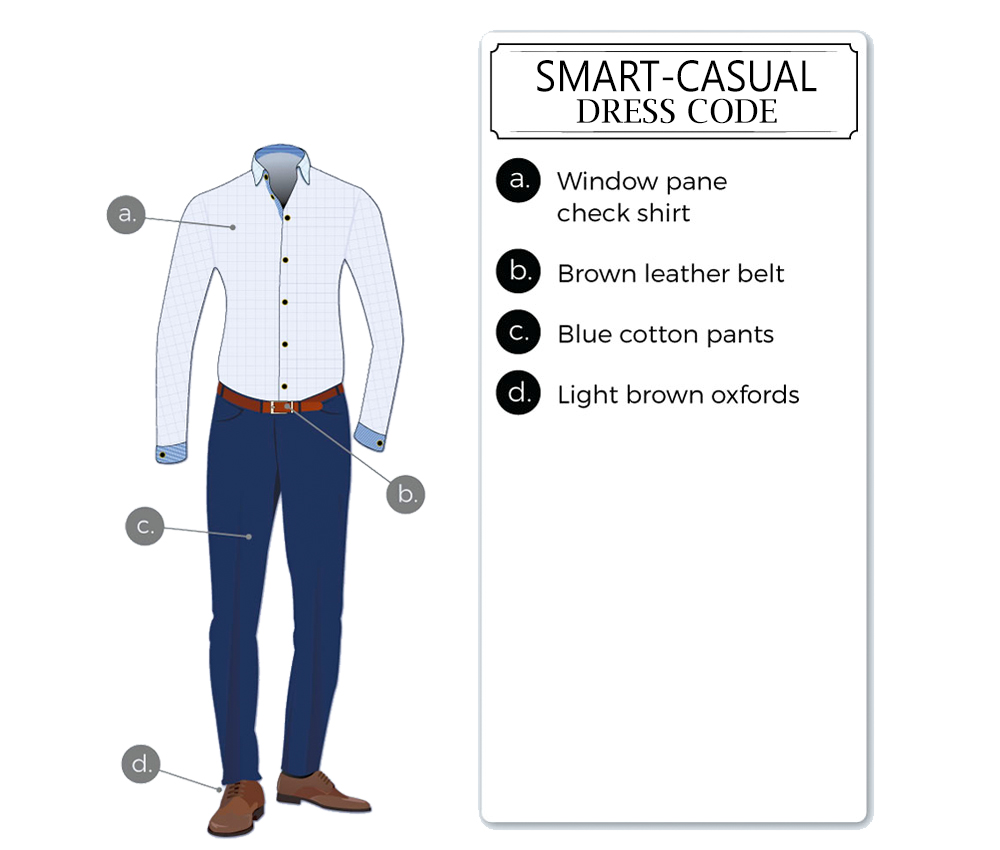 The easiest way to differentiate the two is by remembering that business casual is for, well, business. You are still expected to be professional in your appearance.
Smart-casual is for social settings. You'll often find jeans in your smart-casual styles, which aren't typically included in business-casual options.
Smart-casual is a very middle-of-the-road way of dressing. It's far from sloppy, yet it also isn't formal. You'll always look nice, but it's just a step or two below being work-ready.
Other Things to Consider
Every office will have a different definition of business casual, which can make this dress code all the more confusing.
So the critical first step in tackling your business casual wardrobe is to determine your company's take on what they mean.
Some employers may be completely cool with nice jeans being included in your office wear; others may expect you to still wear dress pants and a jacket.
Observe your office mates before you invest in new clothing. In the beginning, play it safe and dress more formally than you think is required.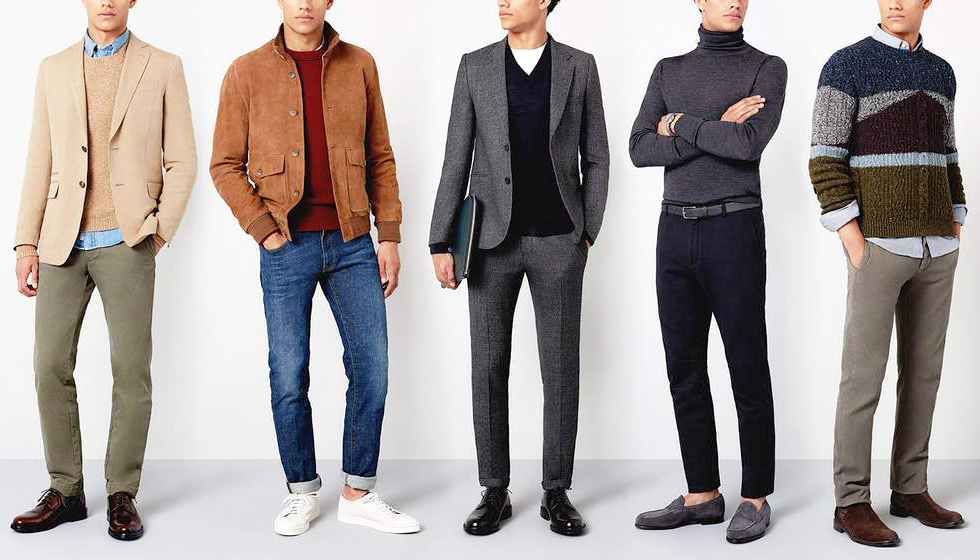 Remember that colors and clothing details can make some items more casual. So avoid bold colors and stick to muted, neutral shades.
Business Casual Attire for Men
One of the best (and most frustrating) features of business casual dress codes is that they are open to interpretation.
As a result, some business-casual workplaces are more relaxed than others.
Today's world is becoming more informal than it once was. Offices all over are loosening their dress codes in favor of less strict ways of dressing.
Here's a quick guide to some foundational pieces you can use to build your wardrobe.
Jackets & Blazers
A blazer is an essential component of your business casual wardrobe. It plants you firmly on the dressier end of the dress code.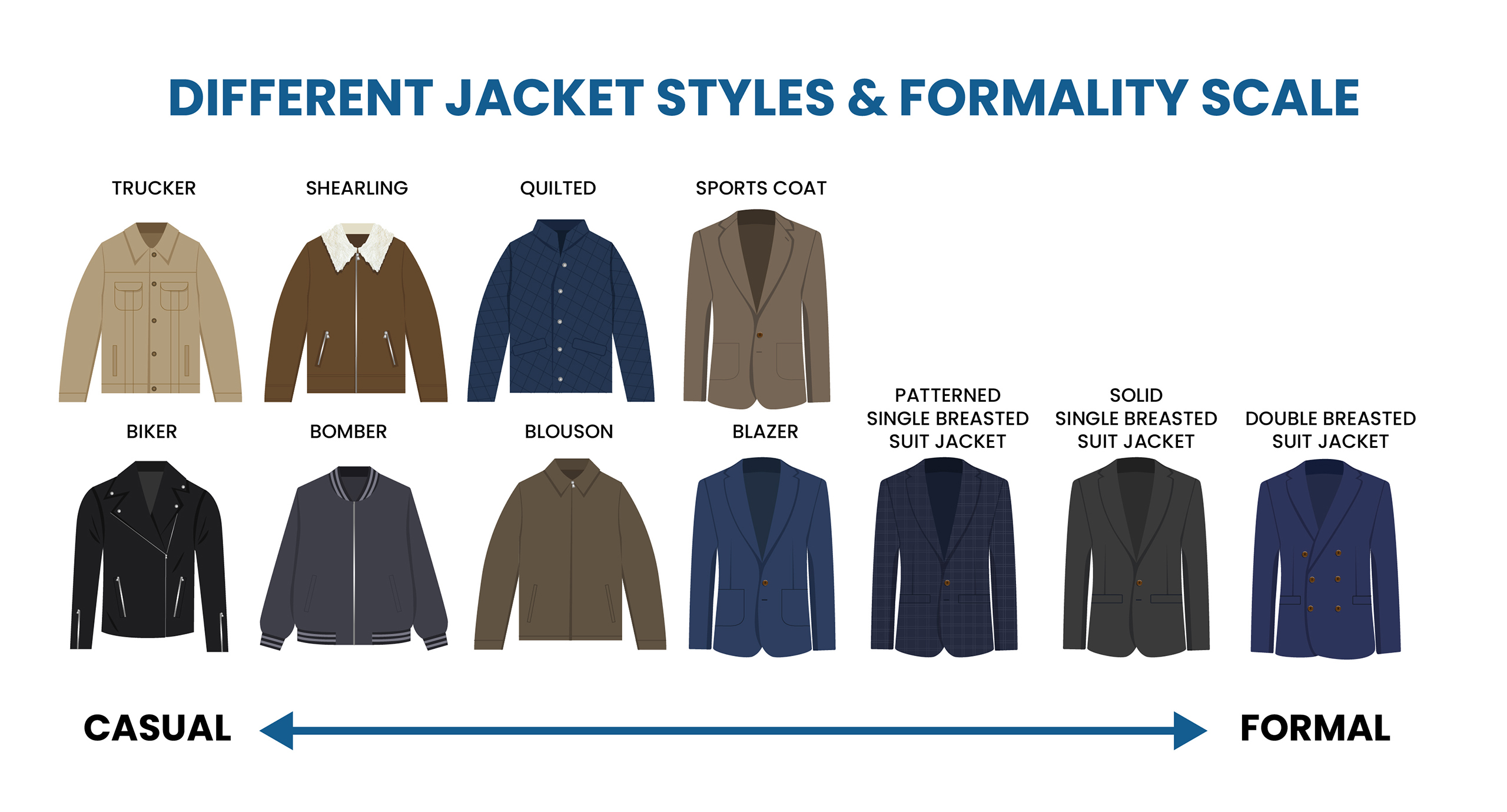 Stick with dark colors and avoid gold buttons made from good-quality materials.
Navy is probably your best bet, as it is the most classic blazer color of all. Go single-breasted rather than double, as this can look too powerful.
A sports coat is another good choice for a professional environment. Stay away from brash colors and opt for something less loud and with a more subdued pattern.
Each of these pieces should be well-tailored. A perfect fit is more important than the right color and detailing.
Look for something that tapers gently at your natural waist with a cuff that ends just short of your dress shirt's cuff.
Business Casual Coats
It would be a shame to ruin a perfectly good business casual outfit with the wrong coat, either too dressy or too informal. And let's face it, you'll need a coat every now and then.
When a sports coat just won't keep you warm enough, go for something heavier with some good tailoring.
For example, a pea coat or a trench coat are both perfect choices to pair with your office attire.
If you only have a very casual or formal coat, always opt for the formal one. It's better to be overdressed.
Dress Shirts
There are two varieties of dress shirts you can choose from – button-up or button-down.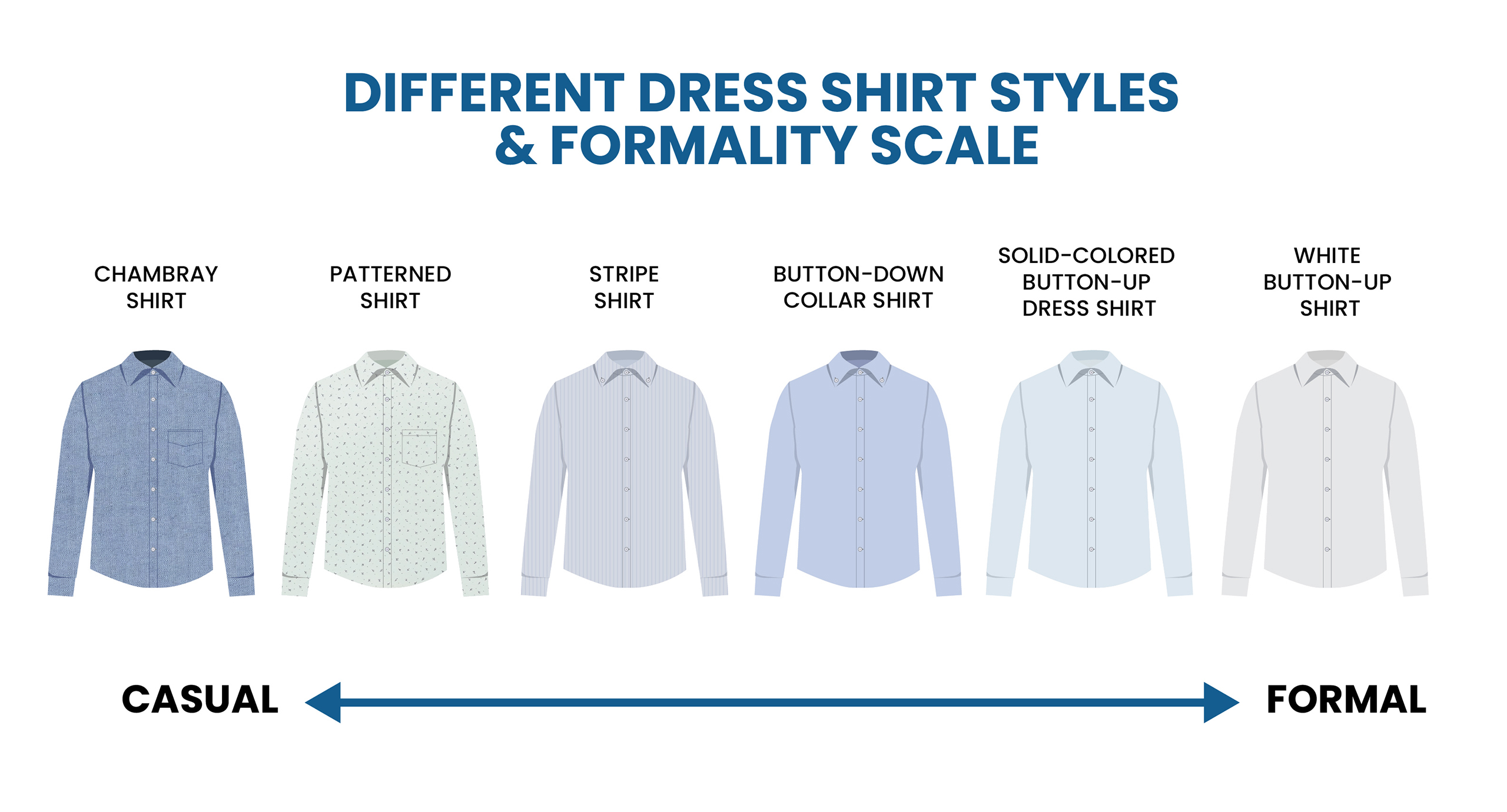 They are similar, only differentiated by two small buttons at the collar tips on the button-down shirt.
Both are appropriate business casual attire, but the button-up is more dressy and crisp than the button-down shirt.
One nice feature of the relaxed office dress code is that you have more freedom to experiment with colors and patterns that you can't usually wear in formal settings.
Without a jacket or blazer, your dress shirt is the centerpiece of your outfit. That's why it's essential to ensure you have an excellent fit. The sleeve length, chest, and armhole should all lie perfectly against your body.
And remember to always tuck in your dress shirt.
Business Casual Shirt
If your office welcomes a more relaxed way of dressing than a dress shirt, you may introduce other shirt options.
Some styles may be more trendy than others, such as a very nice and fresh-fitted t-shirt worn with a suit or blazer. Also, polo shirts are usually very popular for a business-casual style.
Once again, the fit is king. Whichever style shirt you choose, it should never look loose or oversized. That makes your entire outfit feel sloppy.
Pants Styles
Pants are an essential part of your business casual attire. When it comes to traditional working environments like law firms or banks, it's best to keep your dress pants as formal as possible.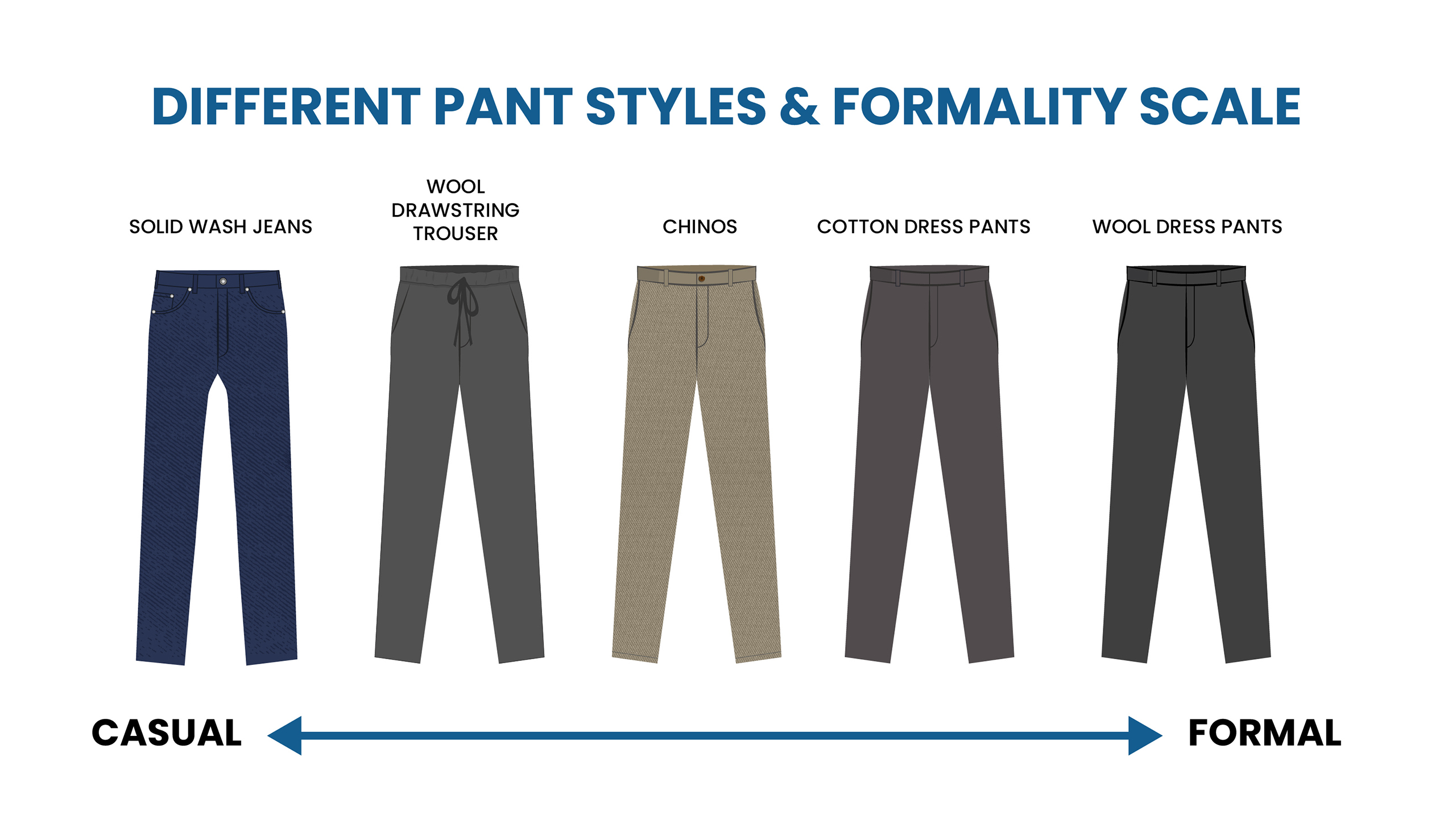 Dark colors work best on these occasions. Solid navy pants might be a perfect choice. So are grey or even charcoal.
You can choose flat fronts or pleated ones for your business casual outfit. Just make sure they aren't baggy.
Some offices accept a more relaxed style. In that event, break free from your standard dress pants and slip into more casual slacks.
Chinos and khakis are popular options for more relaxed business casual. Corduroy and tweed pants are superb ways to dress nicely and add some texture on cold days.
Some offices accept denim, but it's best to avoid denim altogether.
Sweaters as a Business Casual Attire
Layered looks are tres smart and also an excellent way to stay warm when the temps drop.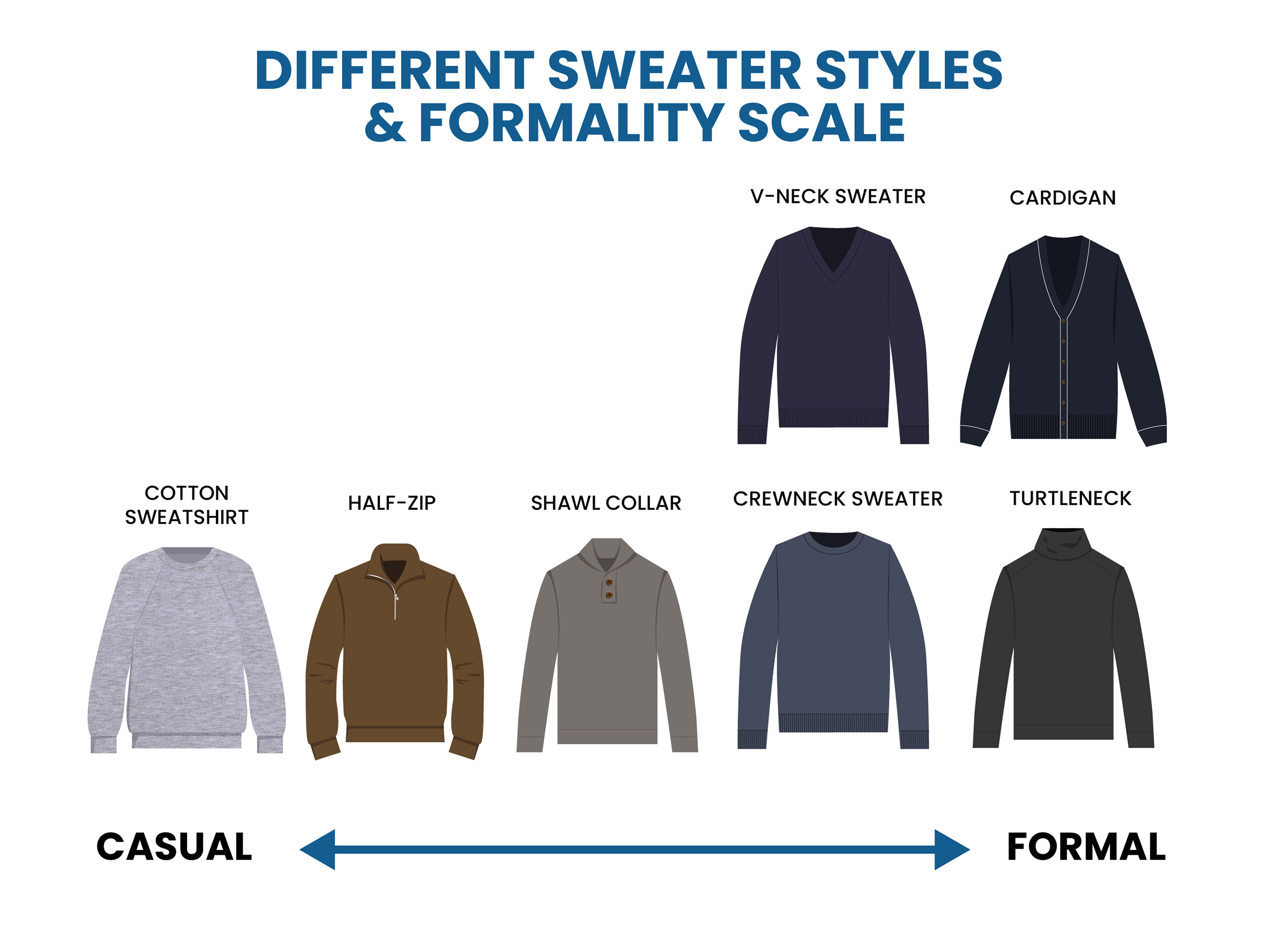 A pullover layered over a dress shirt is a perfect casual touch. You can opt for a crewneck or a slightly more informal v-neck sweater.
The sweater should be very thin; chunky sweaters are ideal for the ski slopes but too casual for the office.
Cardigans and turtle necks work well on colder days when paired with a sports jacket or a blazer. Slip them over a cotton shirt for casual Fridays.
Generally speaking, knitwear will make your formal outfit look a lot more relaxed. Your work sweaters should be fitted, never baggy.
Business Casual Shoe Styles
When it comes to shoes, the range of acceptable business-casual footwear is remarkably extensive.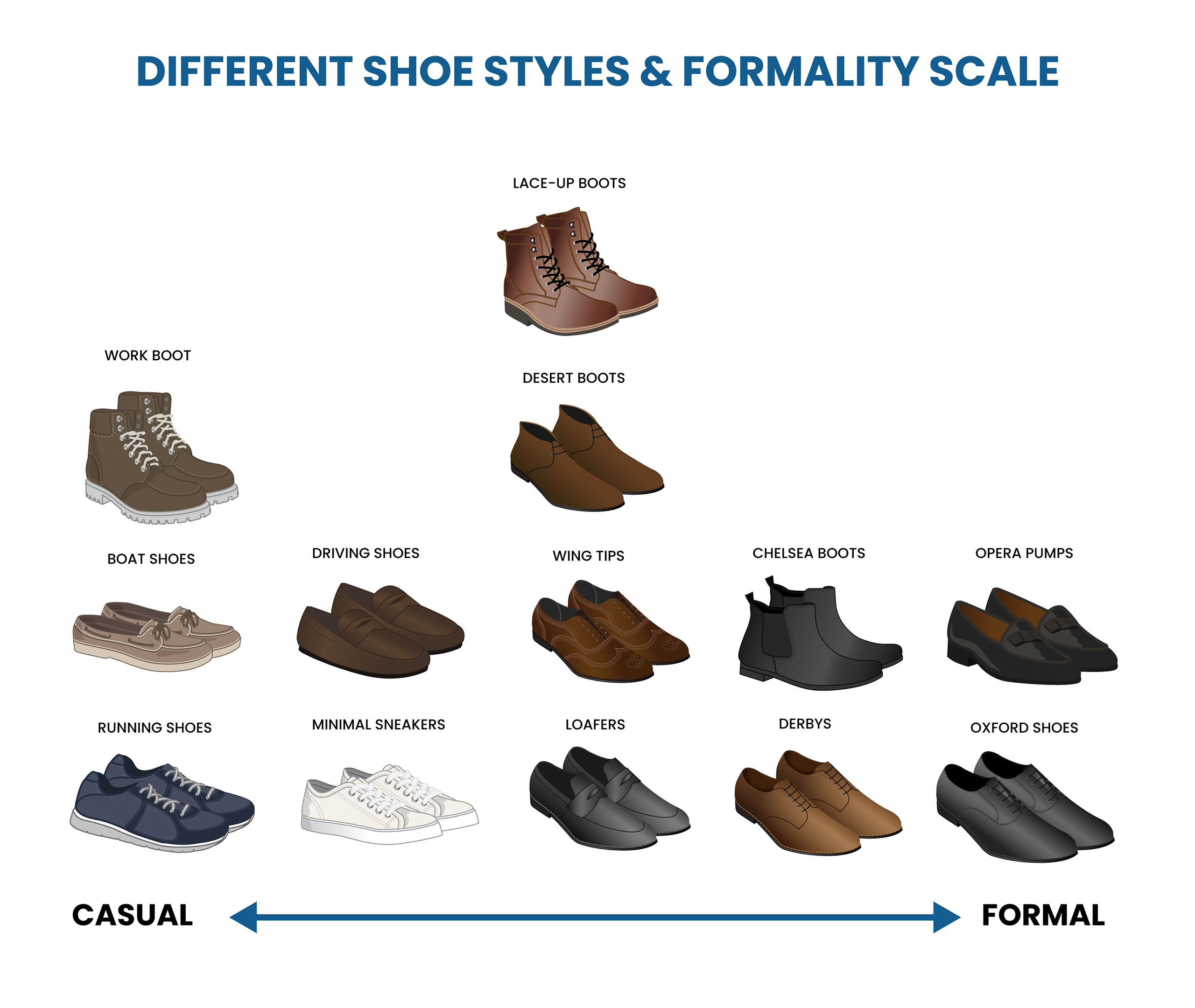 Even the most formal Oxfords and Derby's are totally acceptable. If you want to play it safe, keep in mind two things: quality and style.
Want to add more style and diversity? Rather than the classic black oxfords or derbies, get creative and go for unusual colors like burgundy and oxblood.
Even better, reduce the formality by sticking to brown or burgundy monk straps.
If you want to go along with something slightly casual, you can also try chukka boots or loafers. Chelsea or lace-up boots are a nice option, too, especially during the colder months of the year.
Different Business Casual Outfits for Men
I've covered some essential pieces for business casual outfits, so the next step is combining them expertly for a flawless style.
Again, the goal is to look effortless, as though this outfit just came to you naturally without even trying.
Wherever your office falls on the formality spectrum, these looks will cover it all. So here's how to put it all together.
Navy Blazer and Dark-Colored Pants
When your work kind of wants to be business casual but also thinks dressier equals professional, a navy blazer and dark-colored pants will make the higher-ups happy.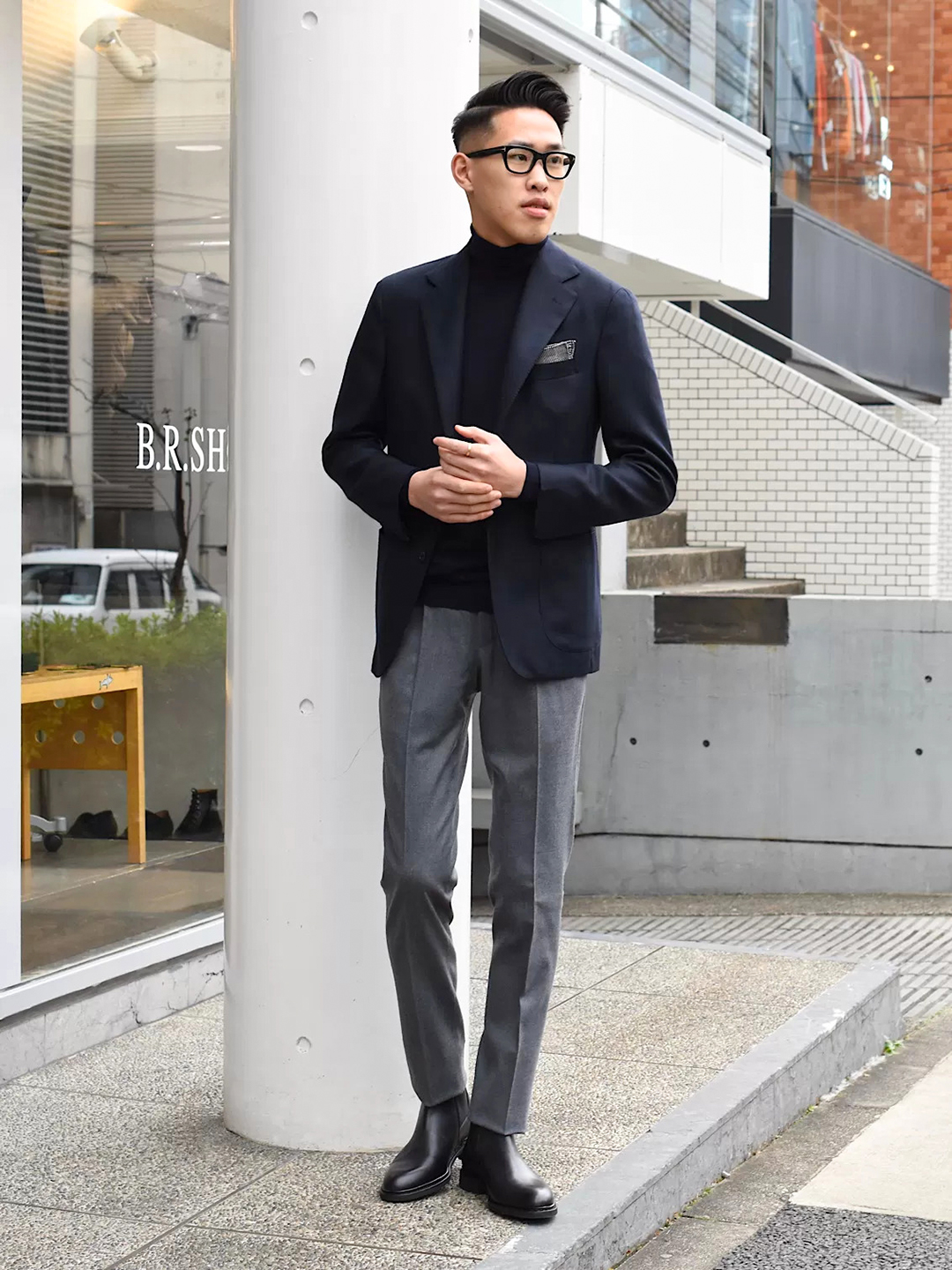 Navy is one of the most professional shades, while separates signify informality, so they are an ideal combination for business casual.
If you want to lean more into a dressy approach, wear a dress shirt and leave off the tie.
Shop the Look
Grey Blazer and Navy Pants
Another conservative outfit for business casual is pairing a grey blazer with a pair of navy pants.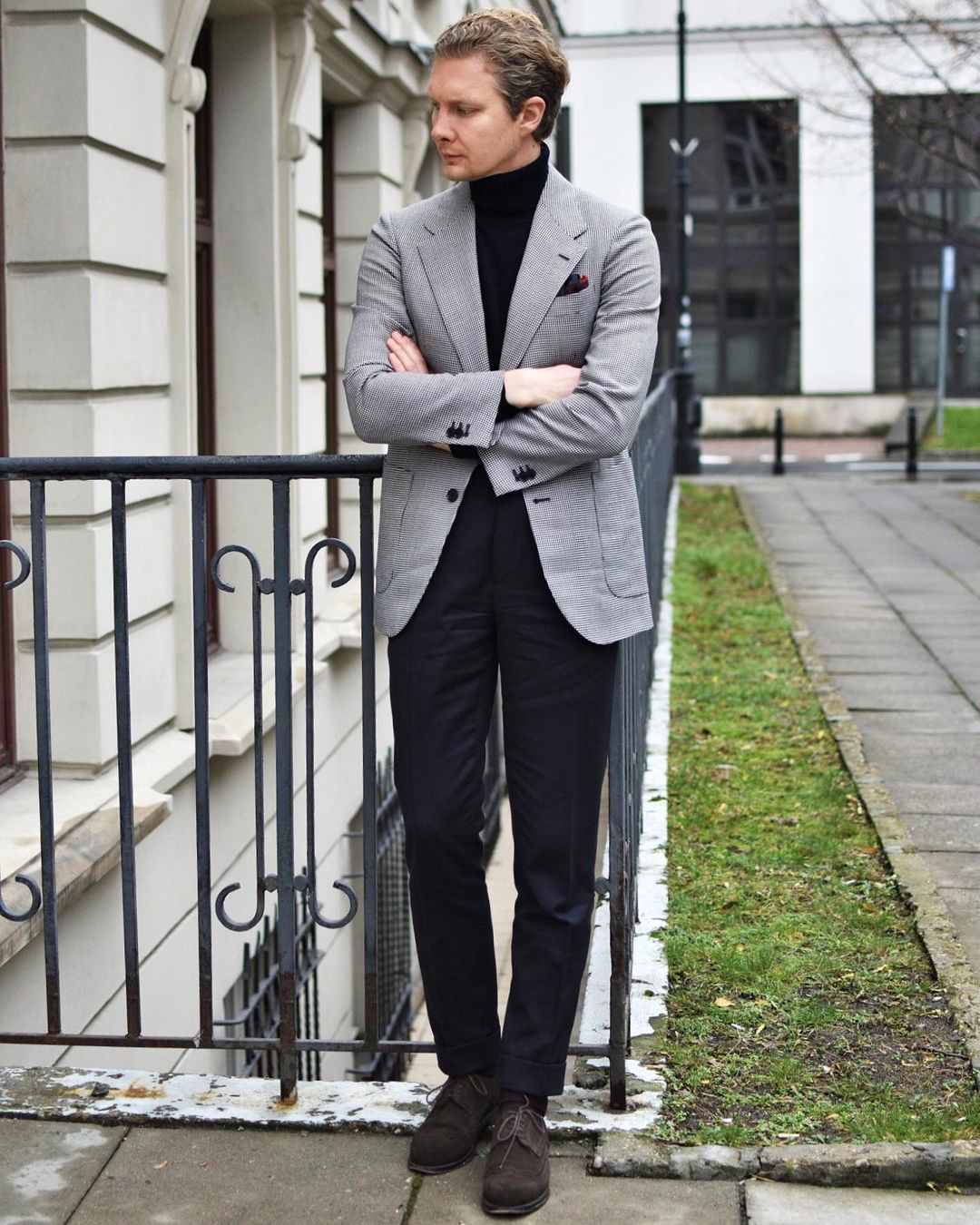 This combination is slightly more unusual than the ubiquitous navy blazer but just as acceptable in traditional circles.
It looks great with a pale blue dress shirt or a dark sweater for a more informal look. Finally, add dark or medium brown brogues for a very contemporary polish to your overall style.
White Dress Shirt & Navy Pants
Few men's outfits are as timeless as a white dress shirt with slim-fit navy pants. It's dressed down in an effortless way yet impeccably smart at the same time. It's so simple and appealing.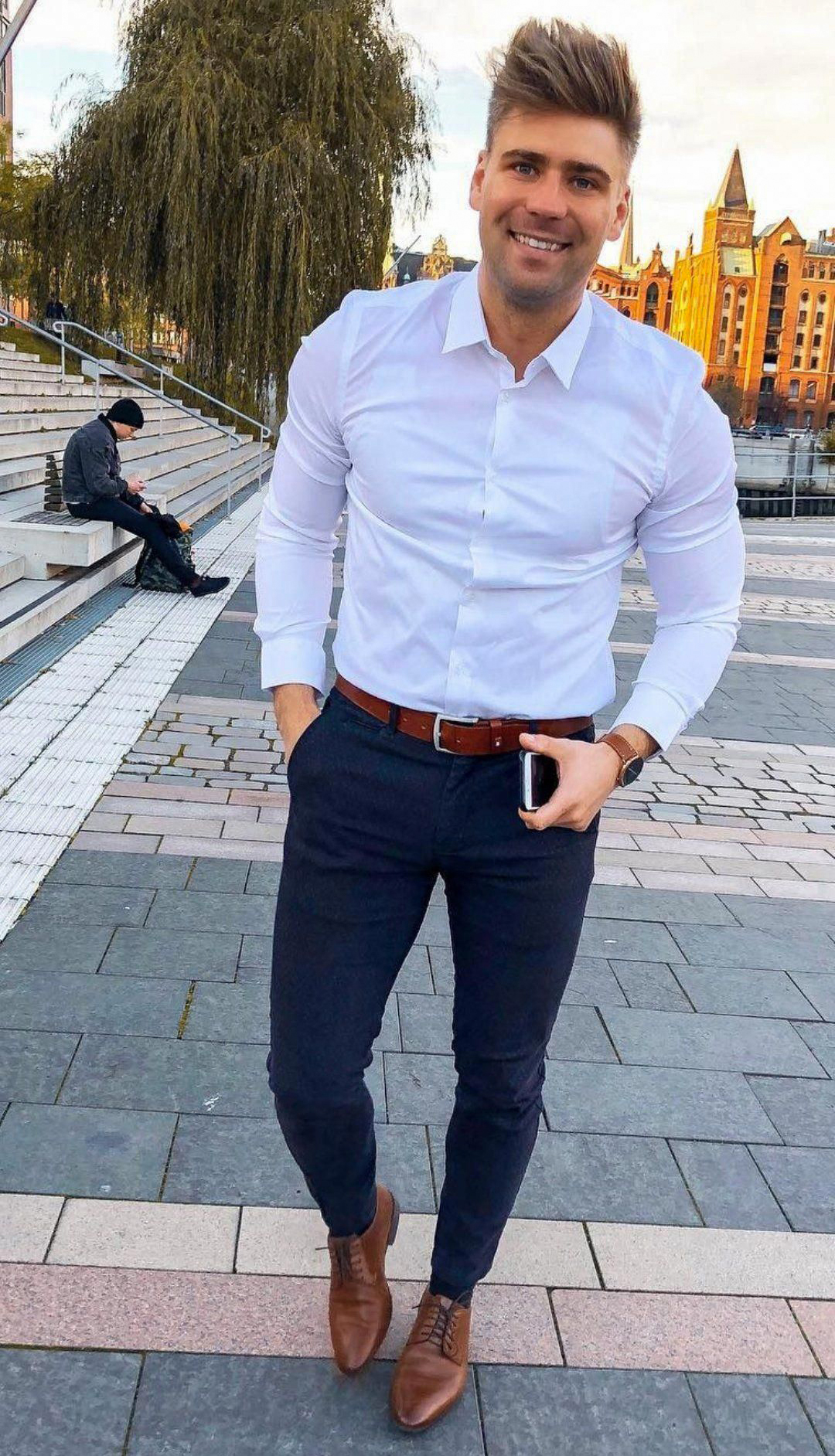 Keep the dress shirt solid, with no patterns, and be sure it's ironed. You can add a dark tie to increase the formality; consider navy or charcoal.
Dark brown loafers are an elegant finishing touch.
White Shirt & Grey Pants
This outfit is similar to the above, but switching out the dark pants for a lighter shade of grey increases your informality.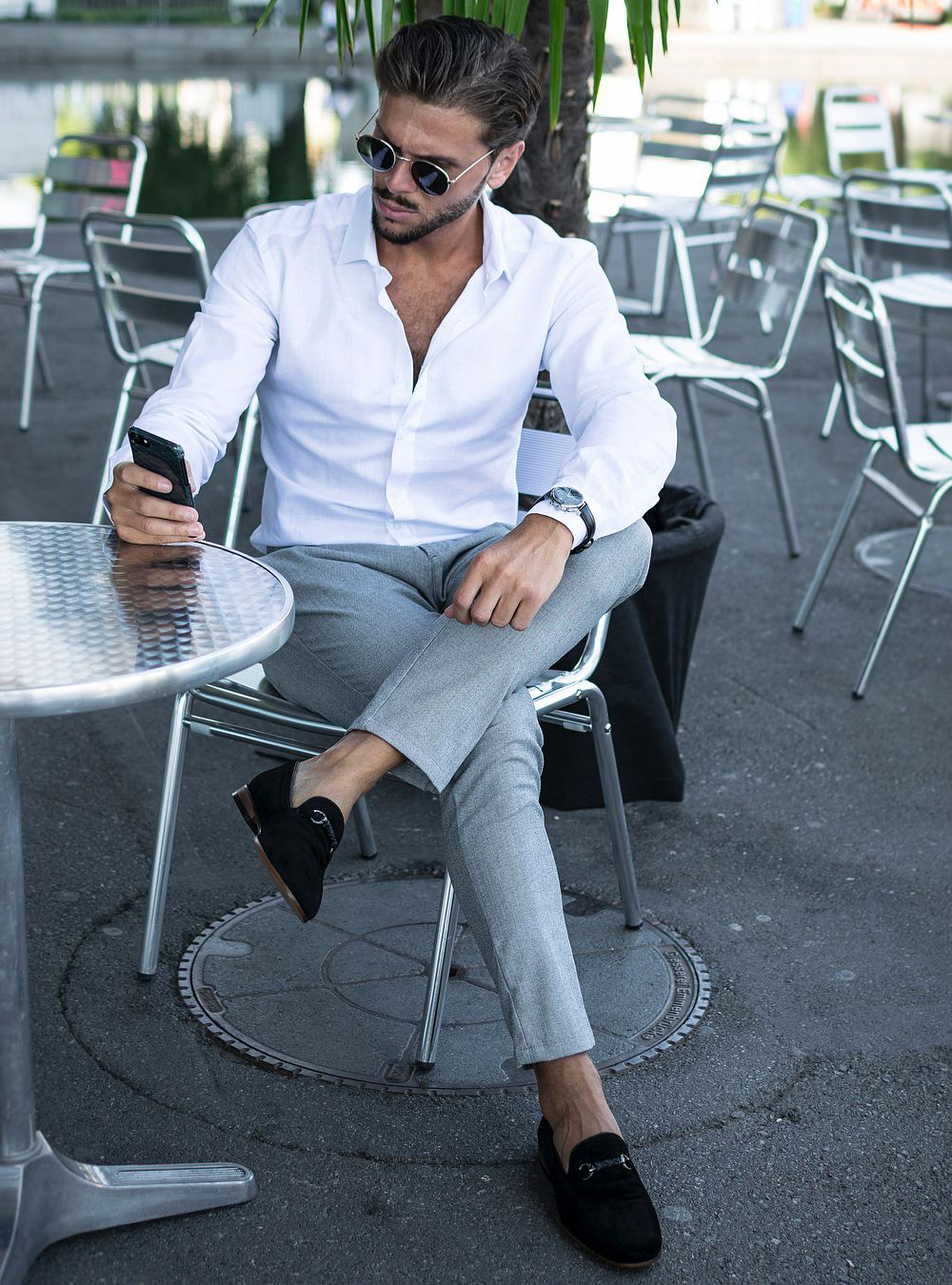 Leave off the tie but feel free to add a cardigan or sweater to work in some color. Consider a darker shade of grey, navy, or black for your top layer.
Black or brown loafers (or monk straps) make this classic outfit feel modern.
Blue Shirt with Khaki & Chinos
A blue shirt with khakis or chinos may feel cliché, but your ensemble looks sophisticated and sleek as long as the fit is perfect.
Leave the top button undone at the neck to further relax this carefree outfit. Or wear a navy or grey blazer to enhance the formality.
Because this outfit has clean and simple lines, your shoes should, too. Go for medium brown shoes in a loafer or derby style.
Navy Blazer Over a T-Shirt
The navy blazer is a traditional go-to for a business casual look. It has a conservative appeal while also hinting at some upper-class leisure, such as sailing.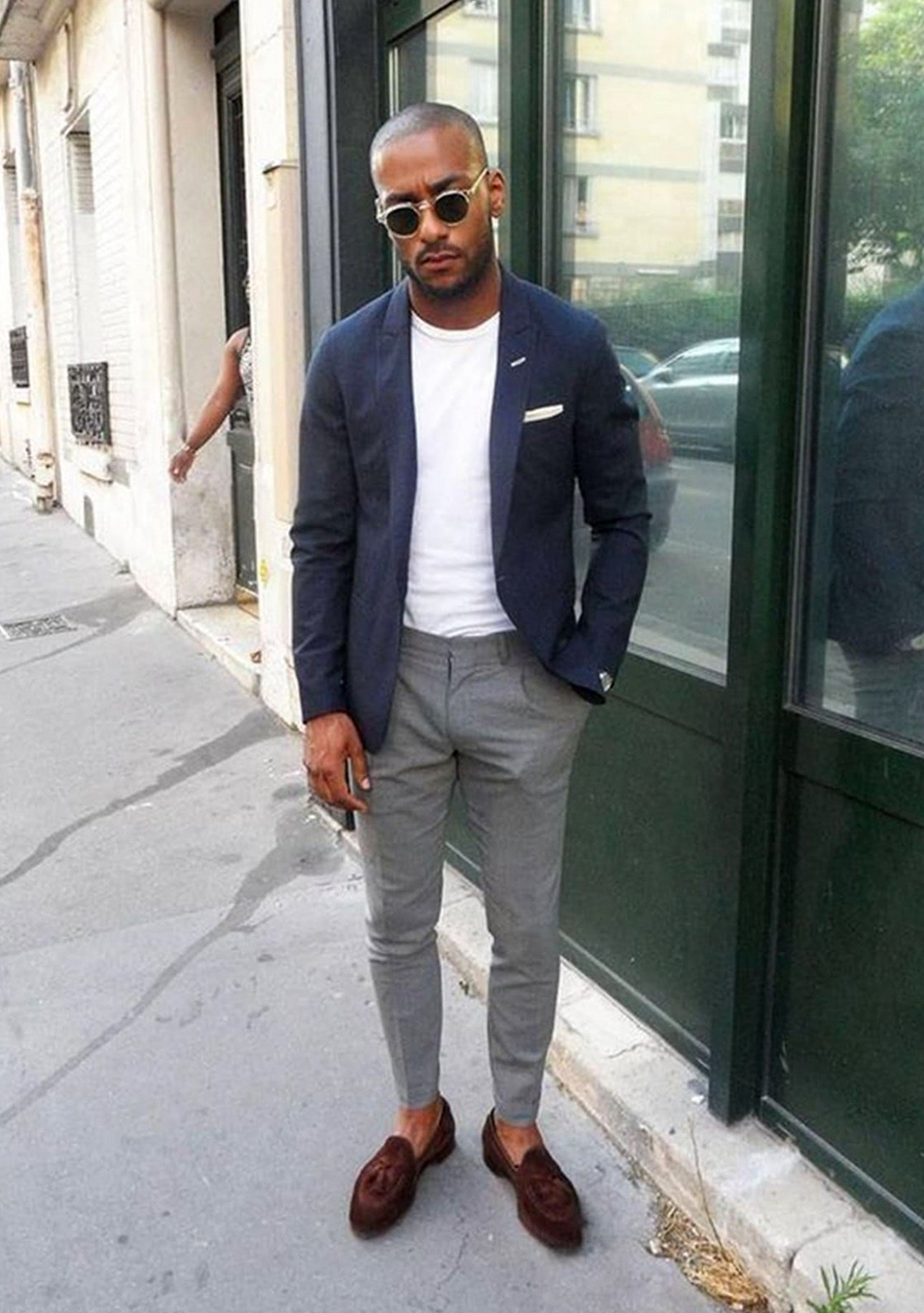 Your t-shirt color can steer this entire outfit. Or go for white for a more classic or black for a more dressy style.
To achieve a more serious look, it's best to stick with neutral color t-shirts.
Navy goes very well with brown, so pair this blazer with chinos and some brown loafers or derby shoes.
Turtleneck Under A Sports Coat or Blazer
Adopt the turtleneck look as a way to add instant charm to an otherwise dull outfit. A turtleneck has a very casual feeling when it's alone, but a blazer or sports coat can be transformative.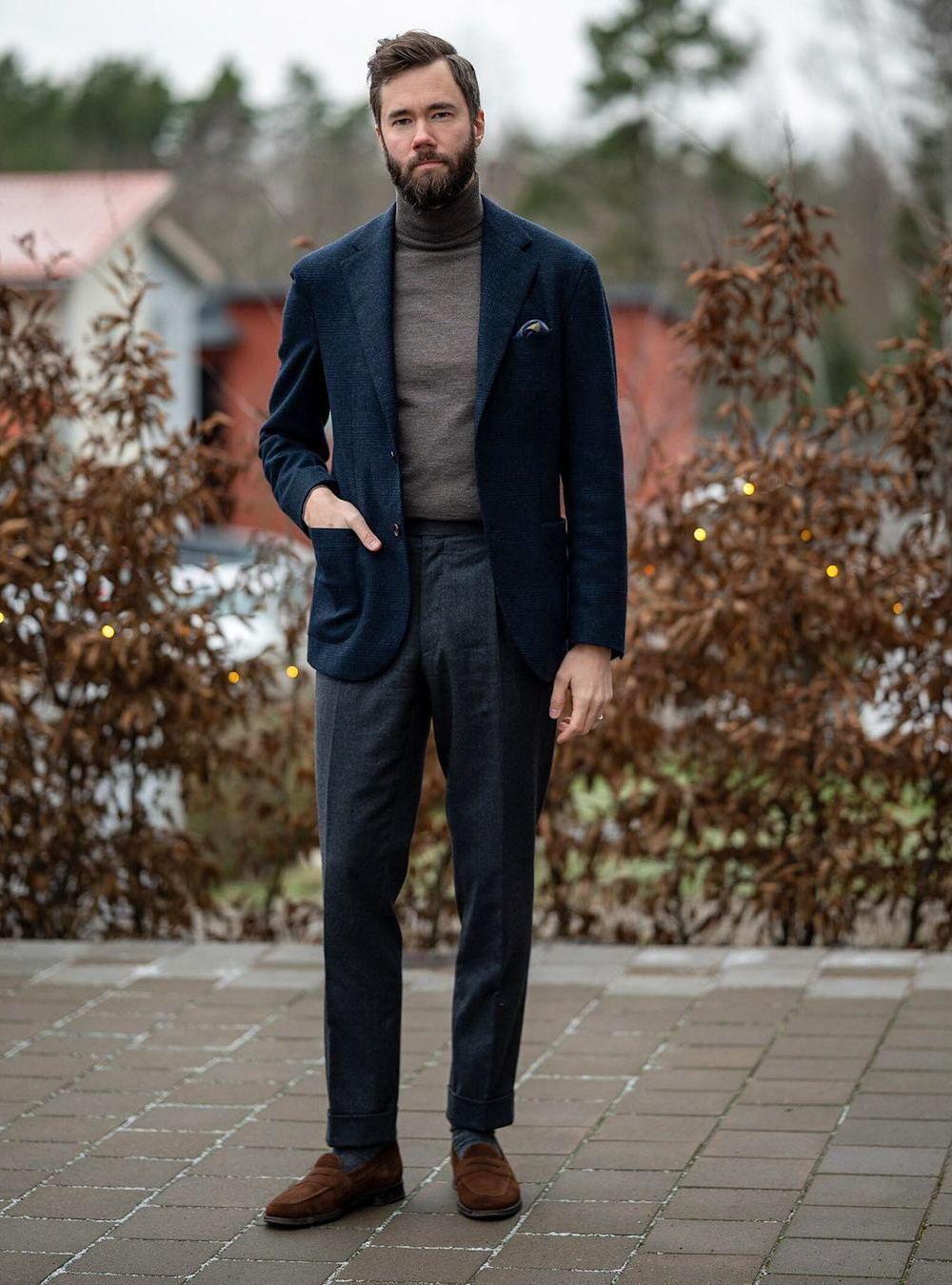 Choose a dark turtleneck to keep it looking more professional; you can wear a jacket of the same color or another neutral shade.
For example, a charcoal grey turtleneck complements a navy blue blazer beautifully. Likewise, a black turtleneck and charcoal sports coat look stunning together.
Grey, navy, or khaki pants complete this elegant ensemble. However, to ensure you don't look sloppy, make sure your turtleneck is fitted.
Sweater Over a Dress Shirt
Slipping a sweater over a dress shirt makes your style solidly casual but is a well-put-together look. It says that you put thought into your clothing choice.
You can wear a crew neck or v-neck pullover or a lightweight cardigan. Your dress shirt must be fitted so it doesn't create any lumps under your sweater.
To raise your fashion profile, you can add a tie. While this doesn't make your look formal, it does give you a jaunty appeal.
Conversely, choosing a patterned dress shirt to peek out from under your sweater can make your outfit a bit less dressy.
Button-Down Shirt & Dress Slacks
Dress slacks and a button-down shirt make a super simple outfit that doesn't require extra touches to make it look office worthy. It is an unpretentious yet practical outfit.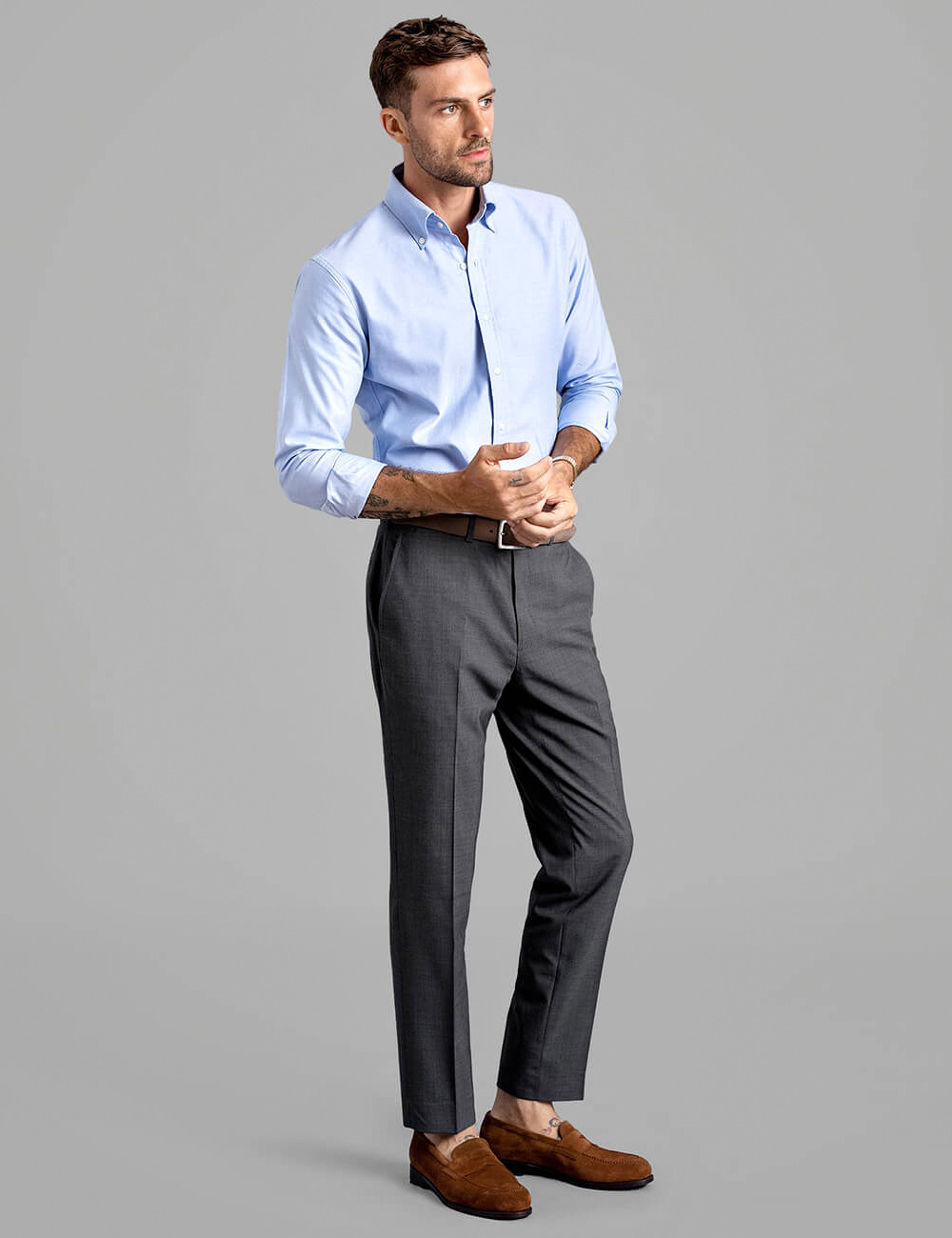 A pair of grey slacks, any shade, is incredibly versatile, so those make an excellent foundation for many outfits. A subtle pattern, like thin pinstripes, gives this outfit some character.
A white button-down always looks superb, but shake things up with a pastel blue button-down.
Again, an unexpected splash of color adds personality to what could otherwise be a mundane outfit.
A pair of brown double monk straps or loafers are the perfect finishing touch to make this outfit pop.
Different Business Casual Friday Outfits for Men
The words casual Friday can be music to many men's ears until it's time to get dressed. So what does your office mean by "casual"? Indeed not everything is fair game on a casual Friday.
Some conservative workspaces allow employees to close out the week by dressing down.
Still, it's a good idea to retain professionalism in your dress. So here are a few ways to relax your professional dress code.
Button-Down Shirt & Chinos
Chinos are very comfortable and relaxed. However, don't get too comfortable with these casual pants; make sure they are always clean and pressed.
Add a patterned button-down dress shirt for a leisurely look. Plaid and gingham are excellent business casual prints.
Your shoe choice will help steer how dressy or casual this outfit is.
Chukka boots are fantastic for this outfit; you could also dress it down a bit with a pair of spotless white fashion sneakers. However, add a dressy twist with loafers.
Sports Coat Over a T-Shirt
Toss a sports coat over a fitted, white t-shirt for an instant casual Friday classic. A dark sports coat contrasts beautifully with the white of the t-shirt, making this feel a little preppy.
However, the t-shirt needs to be pristine for this look to work. It must fit perfectly (no looseness!) and be completely wrinkle-free.
Your pants should be a compromise between the dressiness of the sports coat and the total informality of the t-shirt. So, khakis or navy chinos are fantastic to pair here.
Sneakers and monk straps are the ideal shoes to add polish to this ensemble.
Polo Shirt & Chino Pants
Swap out a button-down dress shirt for a polo shirt to cool off on warm days.
White polo shirts look fresh while being classic. Stick to a slim fit or classic cut for a tailored appearance. Your chinos should be slightly tapered and not too roomy.
Create a contrast between your pants and your shirt. For example, if you go with a navy polo, wear classic brown chinos. But if you opt for a lighter polo, try a pair of navy chino pants.
You can lean into the casual nature of this outfit with a pair of nice leather sneakers, either white or brown.
Button-Down Shirt & Jeans
Jeans are the ultimate casual Friday wear. However, not all offices allow jeans, even on casual Fridays, so check first!
Combine dark, well-fitted jeans with a white print button-down dress shirt. The contrasting colors make a smart combination.
Having a patterned shirt helps bring the formality of the shirt closer to the level of jeans.
A pair of white sneakers fit this look very well, giving a leisurely appeal to your outfit. Or, if you want to give it an urban twist, slip on a pair of brown loafers.
Business Casual Accessories
Dressing down does not mean you can abandon your regular dressing habits for work. Remember: accessories complete your look.
Topping off your outfit with thought-out accessories to complement your clothes shows that you made an effort to look good.
And you always need to make an effort for work.
Ties
Sometimes wearing a tie can be the perfect way to make your casual outfit dressy enough to pass muster for a business-casual style.
But you can make your tie feel less formal through certain additions.
For example, a patterned tie is less dressy than a solid one. This is also a great chance to play with more exotic prints, like floral or paisley.
Also, the larger the pattern, the more informal the tie is.
You can also experiment with texture. A knit or gaberdine tie lends your outfit a unique quality.
Watches
Watches are always a big yes in my book! They add class and flair to any outfit.
If you go with a leather strap, remember to follow the rule that it must be the same color as your leather shoes.
However, since you're dressing more informally here, you can branch out from leather if you wish. A metal bracelet band or even a canvas strap can alter your look.
Chronograph, diving, and aviator watches are all gorgeous watch styles. You can pick any of them, or even all three, to rotate!
Belts
You may get away with a canvas watch strap, but a leather belt is still the best material for a business casual dress code.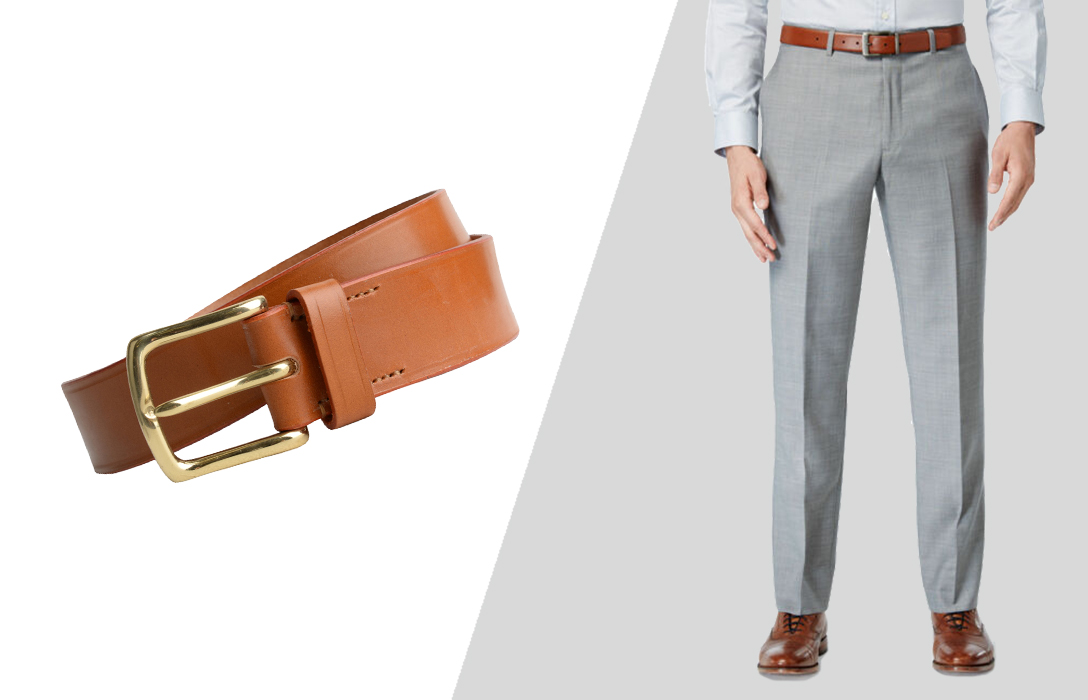 Brown will always be more relaxed than black, but what matters most is the color of your shoes. Your leathers need to be the same shade.
It's acceptable to leave the belt off for some outfits, but most are enhanced by wearing one.
Bags
A leather or canvas bag is your best bet here. Color-wise, anything goes, except maybe a glow-in-the-dark green and pink with a cartoon figure on the front.
Bags with cable and camera compartments and built-in chargers are widely accepted nowadays. But whatever you go for, skip the backpack. They may be super convenient, but they also look super immature.
Things to Avoid when Dressing for Business Casual
Perhaps the number one thing every man needs to watch out for is baggy clothing.
It isn't a professional look, so ensure your clothing sits well on your body. No matter your body shape, you'll look better with fitted clothes than loose ones.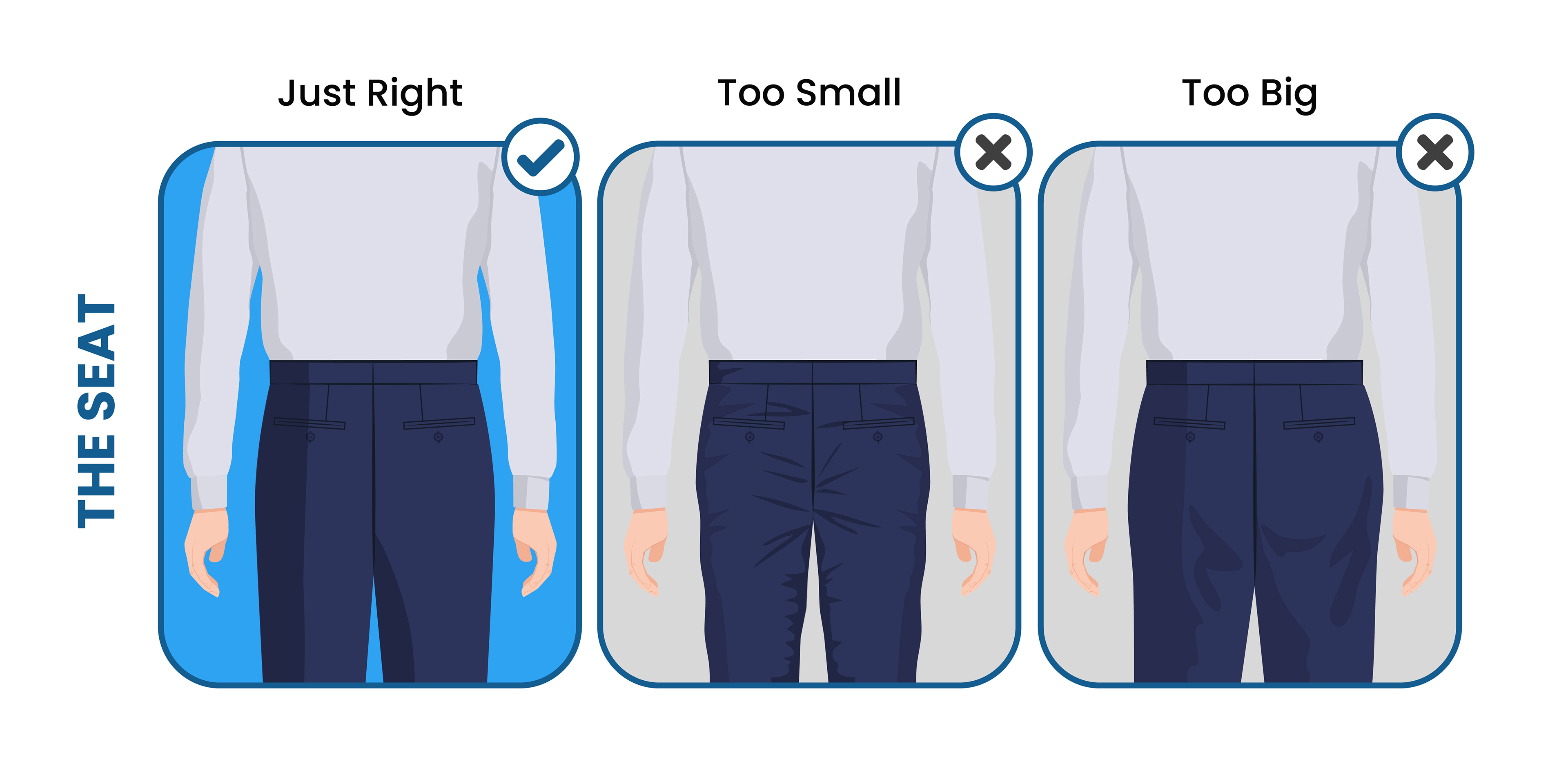 Don't ever get comfortable enough with your casual dress code that you wear shorts or sweatpants. Yes, lovely styles are available for each garment, but they are still way too relaxed.
Likewise, summer shoes like sandals or flip-flops are a big no. It doesn't matter how nice your Birkenstocks are; leave them for the weekends.
Business casual may be a fun way to express some of your fashion sense, but you still need to avoid bold, flashy colors or prints. They undermine your professionalism.
And you can go too far in the opposite direction. Avoid appearing overly formal. That means don't wear formal suit jackets and avoid fancy fabrics.
For example, velvet jackets are fun but too extravagant for business casual.
Business Casual Dress Code FAQs
What defines the business casual dress code?
For the most part, business casual calls for professional business attire but with some relaxed rules.
You can substitute certain dressy items for more casual ones. Or, you can leave other garments out completely, like a suit jacket or tie.
Are jeans considered business-casual attire?
In general, casual jeans are not appropriate for business casual. However, some offices may relax their standards to allow well-fitted dark jeans. Play it safe and opt for dressier pants.
Is a polo shirt and jeans a casual Friday outfit?
In most cases, yes. However, this is individual to each office's policy. Many still expect their employees to have a professional touch in their style and not look as if they're already on a weekend break.
Is a full suit acceptable for business casual?
A full suit is always conservative and formal, so it isn't ever considered business casual.
You'll stand out tremendously if you don't dress down along with the rest of your co-workers, so leave the full suit for another time.
Author: Alexander Stoicoff
Hi, I'm Alex, and I've studied and specialized in styling in Rome. Through my writing, I want to help men dress well and learn the purpose and significance of suits and other formal attire. My final goal is to make men more confident in their wardrobe choice and life in general.