Business casual is a dress code that has been adapted to fit a specific company's culture. In fact, it makes the term elusive; business casual means different things in different industries.
The definition of business casual attire in a traditional white-collar job differs a lot from an IT startup business, for example. Consequently, there is no single definition or clause that defines the term.
While a suit was traditionally considered the primary and only formal attire, it doesn't mean that you can't dress appropriately for a business occasion without it nowadays.
To better understand the term business casual, we will explore different formality spectrum jobs and their appropriate office attire. Just remember that, no matter what, you are always dressing for success!
Understanding the Business Casual Dress Code
Until several years ago, the term business casual did not exist. Business suits were the standard daywear attire for almost all business industries. Nevertheless, times change; and dress codes change with it.
With the rise in popularity of khaki pants and Hawaiian shirts, many employers looked at it as a possible substitution for suits.
On the other hand, many clothing companies recognized this as an opportunity to increase sales of their casual wear.
They began marketing their moderately casual attire like chinos and sport shirts in offices and work environments. Consequently, more and more offices began to embrace and accept this slightly casual trend.
Then, Casual Fridays became a trend, where companies relaxed their dress code for their employees every Friday.
What followed was the spread and blend of different clothing, altered and modified to fit many types of offices, almost synonymously with suits.
That's how the term business-casual was coined. It still reflected the same professional framework, loosening the need to wear the traditional and rather conservative office wear.
Men's Business Casual vs. Smart Casual Dress Code
With time, men's casual attire has become indispensable in nowadays wardrobe. Whether it's for business or non-formal purposes alike. Why? Because it can easily give you a smooth, elegant, and ideal look.
Casual attire has several primary categories, but people often confuse two very similar dress codes: business casual and smart casual.
To simply distinguish the two, keep in mind that men's business casual is still a dress code to fit a professional work environment, only without the suit and the tie.
Smart casual for men is usually a combination of formal and informal attire for slightly more casual environments.
The business casual dress code for men is further defined as no suit – but no jeans either. It also means adapting your outfit to your place of work and the job you do, and at the same time, portraying a sense of professionalism and elegance.
Smart casual is all about avoiding the extreme ends of the sartorial spectrum. It means you should not wear jeans, trainers, flip flops, or sweatpants. It also means no tie, suits, pleated trousers, and no dress shoes in black.
Business casual is still the norm in most offices. On the other hand, smart casual is often referred to as "startup attire" and is most commonly accepted within newly-established companies.
Business Casual Attire for Men
Business casual attire, by definition, is a style of clothing that is less formal than traditional business wear; however, it is still intended to give you a professional and business look.
Although fashion and style are constantly changing, few things define business-casual attire. Most importantly, it should fit in with your company's culture. Age is essential too, and the older you are, the more formal the look should be.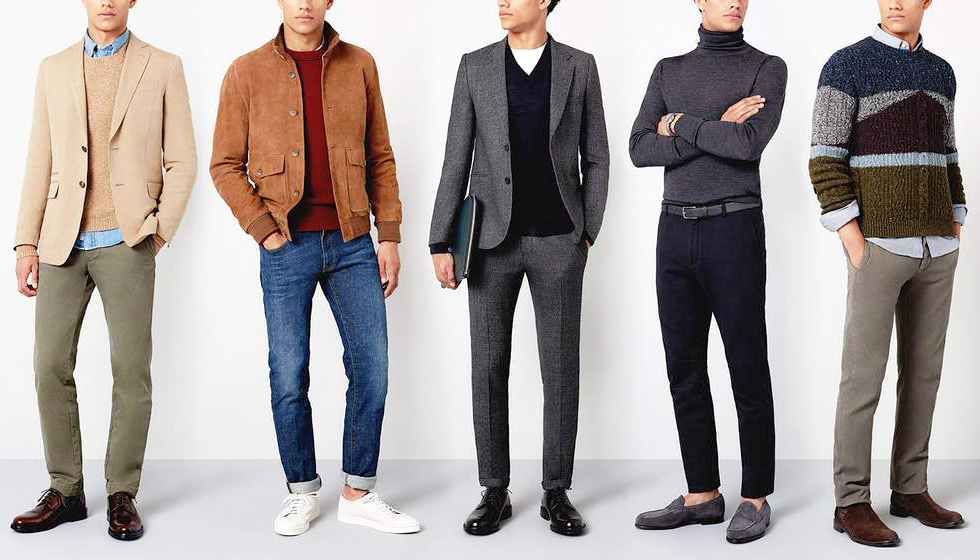 The look is entirely open to interpretation, but you don't want to find yourself looking overly casual. If you're not sure, steer clear of a polo shirt or a t-shirt. Avoid sneakers and overly casual footwear, too.
White-Collar Business Casual Attire
If you work for a bank, a law firm, or an accounting company and business casual attire is allowed, this is the look for you.
It is on the more formal end of the business casual dress code spectrum and should include the following:
Jackets & Blazers
A blazer is an essential component of your business casual wardrobe. Stick with dark colors and avoid gold buttons made from good-quality materials.
Navy is probably your best bet, as it is the most classic blazer color of all. Go single-breasted rather than double, as this can look too powerful.
A sports coat is another good choice for a professional environment. Stay away from brash colors and opt for something less loud and with a more subdued pattern.
Recommended Choices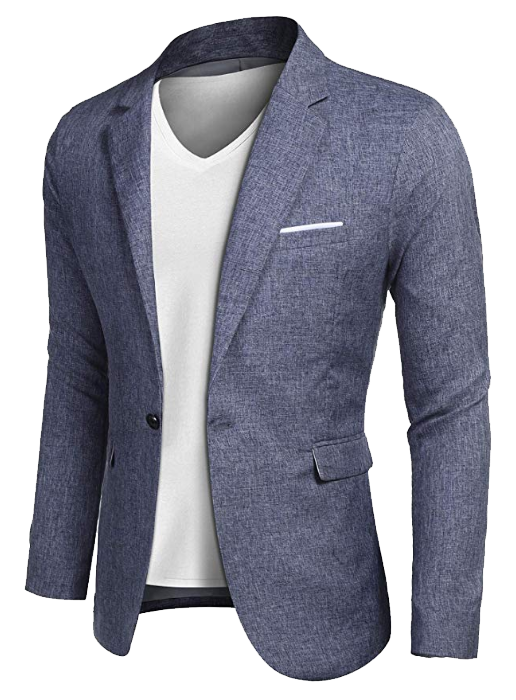 #1: Slim fit navy blazer by Ferrecci.
#2: Slim-fit black suit jacket by Kenneth Cole.
#3: Three-button dark blue casual blazer by Jinidu.
#4: Casual blue blazer by Coofandy.
Dress Shirts
Go for a long-sleeved white dress shirt in cotton. Pastel tones, or light blue, are a good choice here, too. An Oxford, for example, is perfectly acceptable. Choose colors that best align with your work environment.
A plain white oxford is ideal for business casual wear. Add a serious tie, throw over a blazer, and you're ready for that unexpected meeting with the boss. To tone things down, leave the top button undone or go for a knit tie.
To create a cleaner and more elegant look, tuck in your shirt. If the shirt won't stay tucked, it's a good habit to wear "shirt stays". They might be a little uncomfortable, but they provide an excellent solution for your looks.
Recommended Choices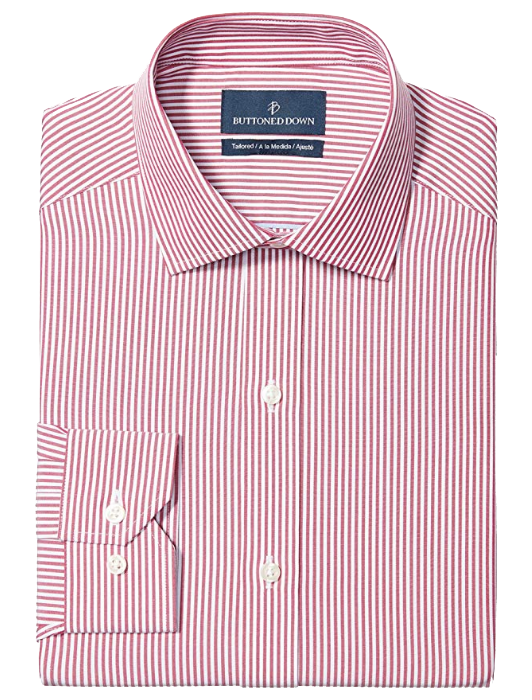 #1: Slim-fit white shirt by Calvin Klein.
#2: Slim-fit blue-striped white shirt by Calvin Klein.
#3: Slim-fit pale blue shirt by Amazon Essentials.
#4: Tailored-fit white-stripe pink shirt by Buttoned Down.
Ties (or no Ties)
White-collar business casual doesn't demand you wear a tie, but you surely can if you want to. Choose knit or grenadine ties because they underscore the business-casual character.
Leave the bow tie for formal events; it doesn't have a place in the business industry. If you're determined to wear a tie, go with a necktie. But when in doubt, leave the tie at home.
Dress Pants
Pants are an essential part of your business casual attire. When it comes to traditional working environments like law firms or banks, it's best to keep your dress pants as formal as possible.
Dark colors work best on these occasions. Solid navy pants might be a perfect choice. So are grey or even charcoal. You can choose flat fronts or pleated ones for your business casual outfit. Just make sure they are not baggy.
Also, your pants and shirt must match in color. Tuck your dress shirt in neatly, add a sports coat or a blazer, and you're good to go.
Recommended Choices
#1: Slim-fit casual navy pants by Haggar.
#2: Classic-fit black pants by Amazon Essentials.
#3: Grey slim fit pants by Veggors.
#4: Modern-fit indigo pants by Perry Ellis.
Khakis, Chinos, and Corduroys
Chinos are one of the most versatile pants. They are a great choice and a perfect alternative to the typical dress pants.
Khakis can be appropriate in many casual work environments these days. But check to see what everyone else is wearing first.
Corduroy pants can be a good match in the colder months. Just apply the same rules to these as you would to chinos.
There is no best when it comes to these three types of pants. Pair them with a contrasting blazer to prevent your pants from looking "too casual".
Recommended Choices
#1: Navy slim-fit chino pants by Van Heusen.
#2: Slim-fit navy chino pants by Tommy Hilfiger.
#3: Dark khaki casual pants by Amazon Essentials.
Dress Shoes and Boots
When it comes to shoes, the range of acceptable business-casual footwear is remarkably extensive. Even the most formal Oxfords and Derby's are totally acceptable. If you want to play it safe, keep in mind two things: quality and style.
Want to add more style and diversity? Rather than the classic black oxfords or derbies, get creative and go for unusual colors like burgundy and oxblood. Even better, reduce the formality by sticking to brown or burgundy monk straps.
If you want to go along with something slightly casual, you can also try chukka boots or loafers. Chelsea or lace-up boots are a nice option, too, especially during the colder months of the year.
Recommended Choices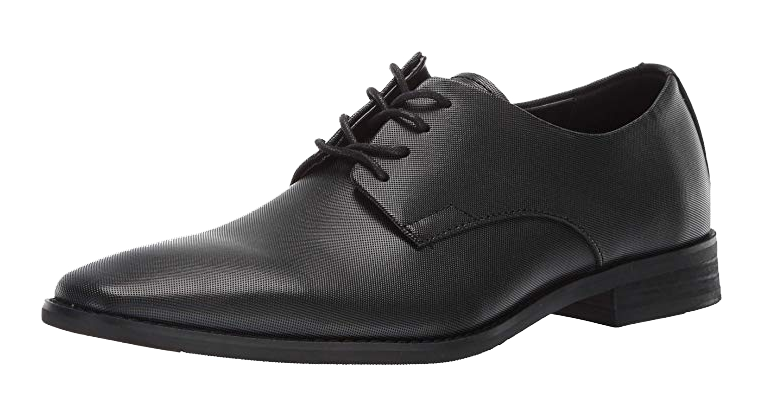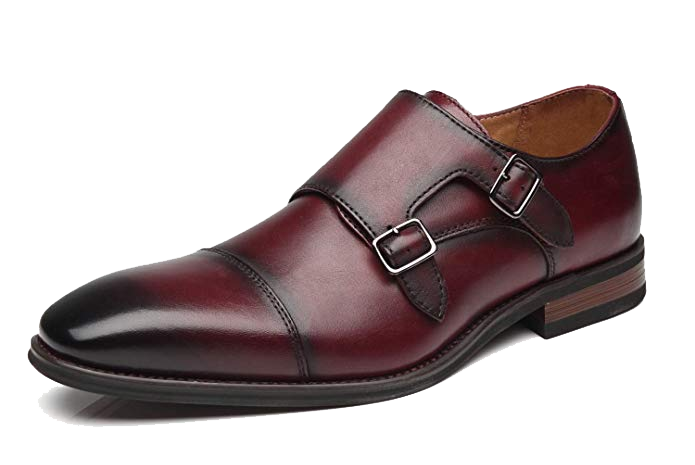 #1: Black derby dress shoes by Calvin Klein.
#2: Double monk strap burgundy shoes by La Milano.
#3: Light-brown derby shoes by Jousen.
#4: Casual oxblood dress shoes by Jousen.
Client Service Business Casual Attire
This sector includes jobs in sales, trade positions, and any situation where you interact with the public.
Interaction with the customers will probably require you to be well-dressed and in a perfect tone. The rule of thumb is that you always want to be more formally dressed than your clients, regardless of the dress code.
If your boss allows a relaxed sartorial attitude, make sure it's a business casual wardrobe that emits elegance and attitude.
Jackets & Blazers
Your business casual service industry outfit will start with a nice jacket or a blazer. You have a long-range of styles to choose from, so make sure you feel confident in it first.
Although utterly open to discussion, your safest bet will be a dark, notch lapel and single-breasted jacket or blazer. Whatever it is, it should be a couple of notches up from the people you are selling or presenting to.
Sometimes, wearing a jacket is likely to be optional. If a dress shirt or a blazer is too much, try a jacket-vest or cardigan instead.
Shirts
A classic shirt for this business casual outfit is the button-down shirt. Keep in mind that you're probably interacting with the public; you probably want to opt for the more formal end of the spectrum.
A long-sleeved patterned and button-up shirt can be acceptable, too. Again, check first to see what your colleagues are wearing. You don't want to be the only one wearing polos.
Hoodies, t-shirts, pullovers, or casual sweaters without a collared shirt underneath might be some men's idea of casual. But not when you're aiming for the appropriate business casual.
Recommended Choices
#1: Slim fit blue shirt by Tommy Hilfiger.
#2: Blue button-down shirt with white collar by J.Ver.
#3: White slim fit shirt by Kenneth Cole.
Ties (or no Ties)
In this environment, ties and bow ties are optional. But that doesn't mean that you shouldn't wear one. If you are dressing to impress, they can evidently elevate your look.
There's a huge variety of ties available, so it's up to you to match the best color combination with your other clothing pieces. Opt for narrow ties; they work well with casual jackets, cardigans, and even knitted vests.
Dress Pants, Khakis, and Chinos
Dress pants are perfectly fine, but khakis and chinos are probably the best options here. Darker tones like grey or navy are the most versatile, but lighter colors are preferable in warmer weather.
Although some progressive offices in the service industry allow jeans, I'd suggest leaving them off your business casual attire. Don't forget to include a belt that matches your business casual shoes.
Recommended Choices
#1: Dark khaki casual pants by Amazon Essentials.
#2: Navy slim-fit chino pants by Van Heusen.
Shoes & Boots
Both dress shoes and loafers are appropriate for this business category. Just stay away from tennis shoes and sneakers. Instead, choose something modern and casual at the same time.
When it comes to footwear color, there isn't any precisely defined option. Dark leather brogues or navy/brown loafers are probably my preferred option. The essential part is to make sure they look professional and polished.
You are allowed to vary the material, though. Your shoes don't have to be leather; textiles, canvas, or suede work too.
Recommended Choices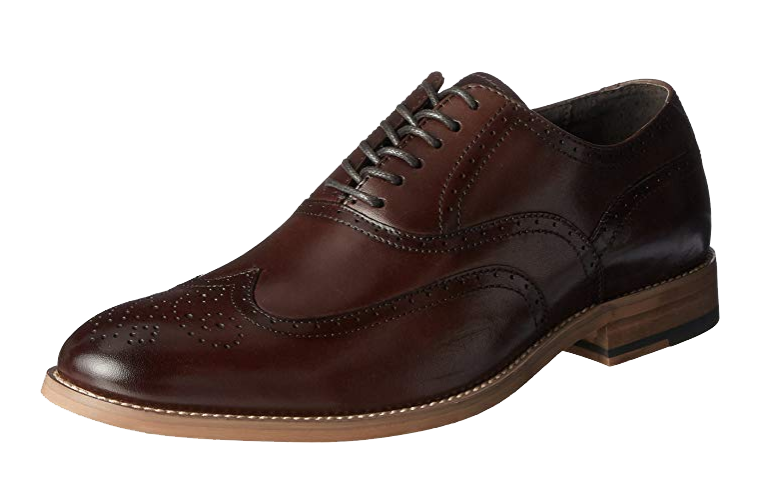 #1: Navy/brown business casual shoes by Sperry.
#2: Brown brogue oxford shoes by Stacy Adams.
#3: Blue oxford shoes by Golaiman.
#4: Black loafer Magnus slip-ons by Calvin Klein.
Startup Business Casual Attire
Startups can be far more casual than traditional companies. They are likely not to have a company dress code at all.
That's because hierarchies will be typically low, and staff can usually wear what they want. It is especially true of the tech environment.
However, if the business casual dress code is applied, you may want to adhere to its rules:
Jackets & Blazers
Blazers are probably too overdressed here, but startups are known for their generous culture of acceptance. If you enjoy looking sharp, feel free to wear a nice-looking and slim-cut blazer.
More and more people are pulling the no-blazer look nowadays. Startups have replaced the dress shirt and blazer with a sweater and a casual jacket. But even when it comes to casual jackets, there are some things you do and some things you don't.
First, don't wear an overly fancy and colorful jacket. Make sure it's made of quality material, and it looks sharp on you. Opt for neutral or dark colors; expand your palette when you become more comfortable with your attire.
Shirts
A button-down shirt is not the norm, but as with blazers, go for it if you want to. Here, you don't necessarily have to stick to monochromatic colors like white, pink, or blue.
Feel free to explore with a button-up shirt, different patterns, and colors instead.
When it comes to patterns, windowpane, gingham, or Shepherds-check shirts are the most versatile choice. Tartan plaid and pin-check shirts are good, too. In fact, it's more about personal choice and preferences than some predefined set of rules.
Most startups consider t-shirts to be just fine. I wouldn't wear one, even if it's utterly allowed. But if you must, know that a nice trim polo looks a lot smarter than your regular t-shirt.

Example shirt: Red/Navy regular fit casual shirt by Double Pump.
Sweaters
Once you decide to drop the jacket, let sweaters become your best friend. They'll keep you warm, look stylish, and add a casual note to your outfit.
Cardigans and turtle necks work well on colder days when paired with a sports jacket or a blazer. Slip them over a cotton shirt for casual Fridays. Generally speaking, knitwear will make your formal outfit look a lot more relaxed.
Trousers & Pants
Most startups will be totally fine with denim. You might even see people wearing cargo shorts. That said, you'll probably make a better impression wearing lightweight summer slacks.
It's because, at least subconsciously, people will judge you on your appearance. Looking your best can never harm your reputation. Turning up at the office dressed as a slob can.
Try a sports jacket matched with a pair of good-quality jeans. This combo will create an effortless, polished look that will fit in with most work-related situations.

Example pants: Slim fit navy blue pants by Dockers.
Boots & Shoes
An attractive pair of boots or shoes will always make a better impression than a pair of sneakers. Be adventurous here. Mocassins, spectators, and stone, blue, green, or even red suede loafers, are all allowed.
If you must wear sneakers, go for a clean pair in good condition. Nice canvas shoes can be acceptable, too, but stay away from tennis shoes when it comes to business casual outfits.

Example shoes: Blue oxford shoes by Golaiman.
Standard Men's Business Casual Wardrobe & Accessories
If your job involves always being on the move, you need to pair what you wear outside with your indoor attire. The active, weatherproof jacket you wear on your travels may not sit well with your office blazer, for example.
The Quilted Jacket
This wrinkly warm and lightweight classic jacket is easy to care for and machine washable. Just make sure it's slightly longer than your indoor jacket for a well-put-together look.

Example jacket: Navy/grey quilted jacket by Vince Camuto.
The Trench Coat
Trench coats look great in the Spring and Fall. If you want to create a less mature impact, go for one that stops just above the knees.
The Peacoat
A perfect cold-weather business casual wardrobe companion, the peacoat is less formal than an overcoat. But it's still stylish, and due to the many pockets, it's also highly functional.
Gloves and Scarves
A lovely paisley scarf and a pair of quality leather gloves can provide the perfect finishing touches to your business casual wardrobe.

Example gloves: Wool lined dress gloves by Acdyion.
Bags
A leather or canvas bag is your best bet here. Color-wise, anything goes, except maybe a glow-in-the-dark green and pink with a cartoon figure on the front.
Bags with cable and camera compartments along with built-in chargers are widely accepted these days. But whatever you go for, skip the backpack.
When in Doubt Dress Up, Not Down
You might be unclear whether or not a business casual dress code is allowed in your workplace. If that's the case, always go for an overdressed look rather than underdressing.
When in doubt, wear a suit and tie the first day, then see how people react. If all else fails, ask your supervisor or a superior.
What is appropriate business casual for men means different things in different work environments. So, it can be challenging to get it right without researching your company's dress code.
The trick is to observe your surroundings and check out what your peers are wearing. Finally, if you're unsure, always dress up rather than down.
Author: Alexander Stoicoff
Hi, I'm Alex, and I've studied and specialized in styling in Rome. Through my writing, I want to help men dress well and learn the purpose and significance of suits and other formal attire. My final goal is to make men more confident in their wardrobe choice and life in general.