The term smart-casual defines an informal Western dress code that is generally casual but with some proper and smart attire components.
Smart casual attire is a blend of trendy and aesthetic looks, often ambiguous but with a lot of sense and style.
Its sartorial elegance should make you feel clean and simple, reveling in the idyllic beauty of well-put-together pieces of attire.
Today's clothing choices are more versatile than they have ever been, and the casual look allows you to create your style.
Good taste and dress sense aside, the only limit is your imagination.
What is Smart-Casual
Smart-casual is a dress code, usually a combination of less-formal, suitable, and well-fitted pieces of attire.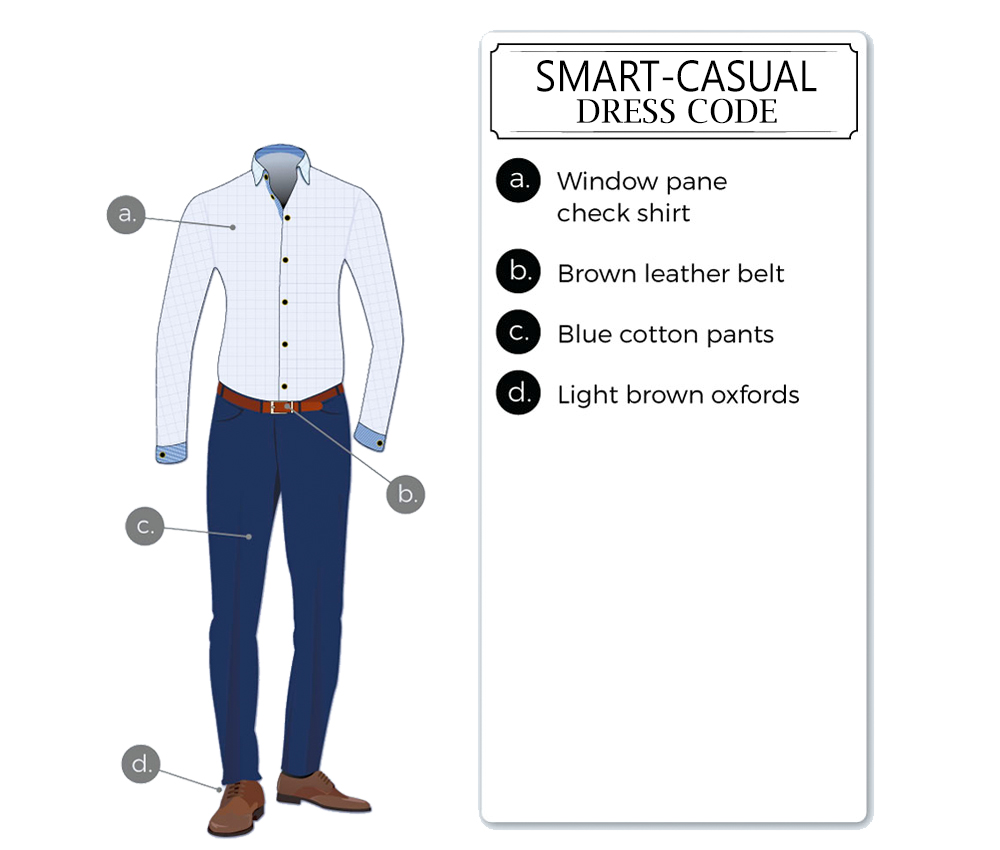 It's slightly less formal than the business casual dress code; however, it is a lot neater and more serious than putting some random, casual items.
It consists of wearing finer-quality clothes that make you look elegant. The pieces are of good quality but still casual. The overall appearance manifests style, sharpness, and sophistication.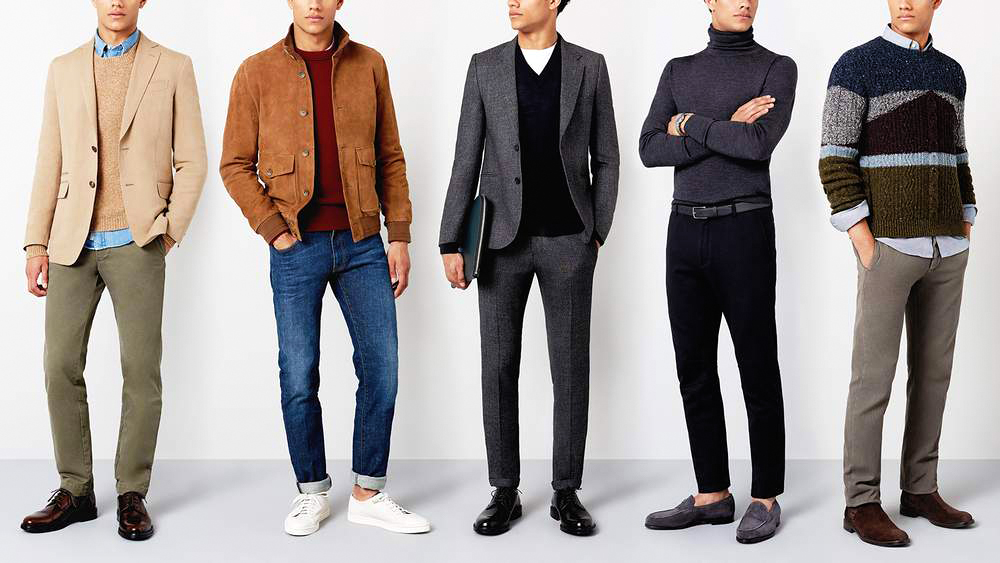 The very idea behind the smart casual is to look professional and fit for business occasions. Smart does, after all, imply no trainers or jogging shoes.
But the lack of any clear guidelines has meant that smart casual attire has become 'carte blanche'. The truth is, the look is entirely open to interpretation and is best not taken too literally.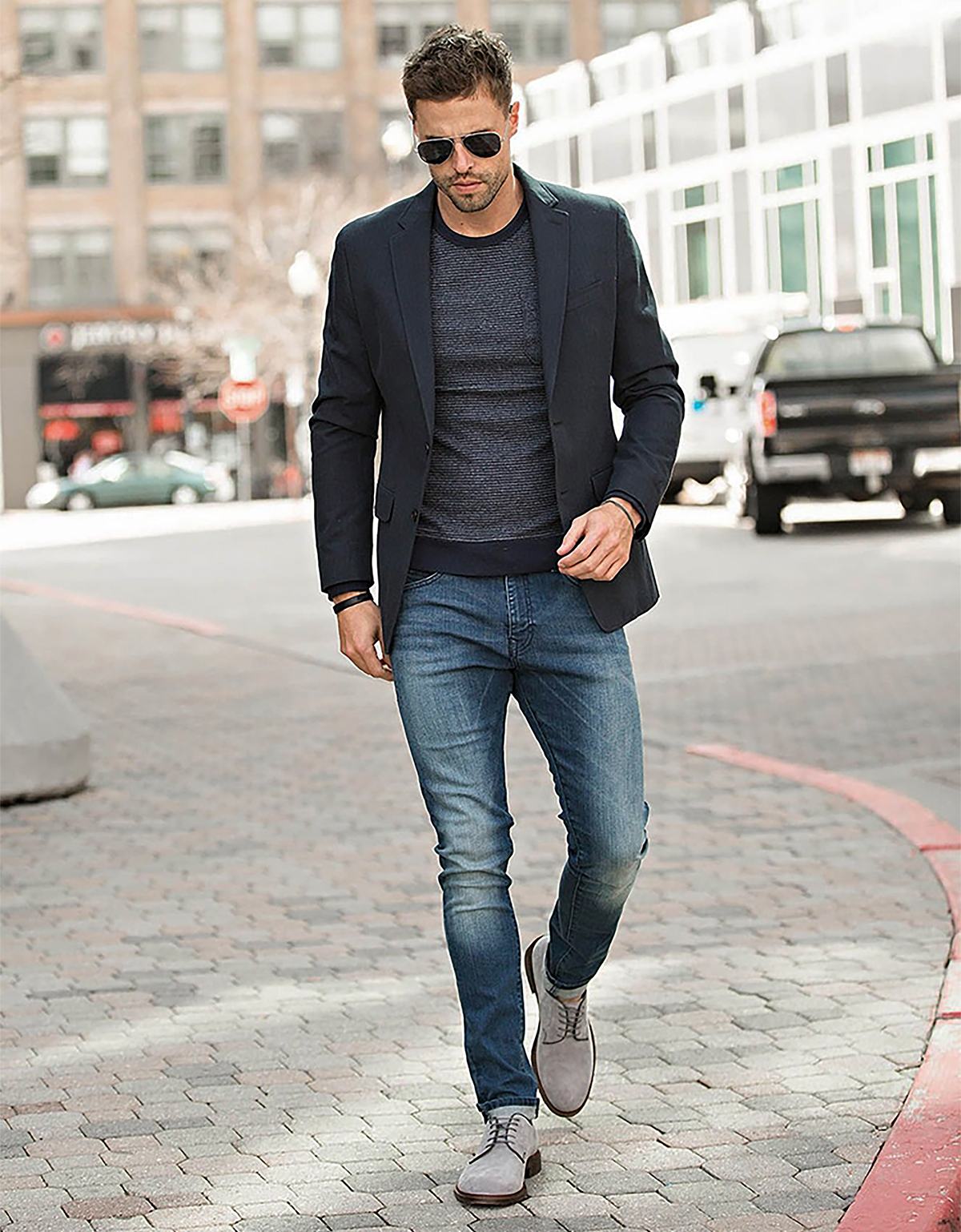 It, however, doesn't mean you should wear sweatpants with a blazer. Or a dress shirt and tennis shoes. Smart casual isn't about combining different pieces of clothing from various degrees of formality.
A hoodie would be very casual. So you don't want to match it with a pair of wool dress pants. On the other hand, chinos, combined with a nice polo shirt, hit the perfect smart-casual sweet spot.
Smart Casual vs. Business Casual
Business casual is a dress code that is intended to give a professional and business look but is slightly less formal than the traditional business look.
It's usually achieved by removing the tie, substituting the suit jacket with a less-formal blazer, and suit pants with slightly casual dress pants. Besides, you can opt for less formal colors, such as brown, light blue, grey, etc.
Consider smart casual as an upgraded version of the casual business dress code. It is more a matter of the appearance of your clothes rather than their style.
Smart casual is less formal than business casual but offers more flexibility and freedom of improvisation. Both dress codes are a blend of different formalities; each of them is unique and offers a different aesthetic.
In most cases, you will have to choose between the two. As a rule of thumb, it's always best to learn about the culture and the dress code of the event you will be attending.
Men's Smart Casual Attire
When it comes to smart casual attire, most of the choices remain with the wearer.
The smart casual dress code also allows the use of multiple colors in one outfit. It also means you can combine items you otherwise wouldn't.
The secret is to stay away from the extreme ends of the clothing spectrum.
It means no sweatpants or jeans and no hoodies and trainers. At the same time, neckwear, suits, pleated pants, and black dress shoes should also be avoided.
Jackets & Blazers
If you're aiming for the formal side of smart casual, a slightly bolder blazer is ideal. Blazers are a popular choice for smart casual attire, mainly because they can be easily paired with different types of clothing.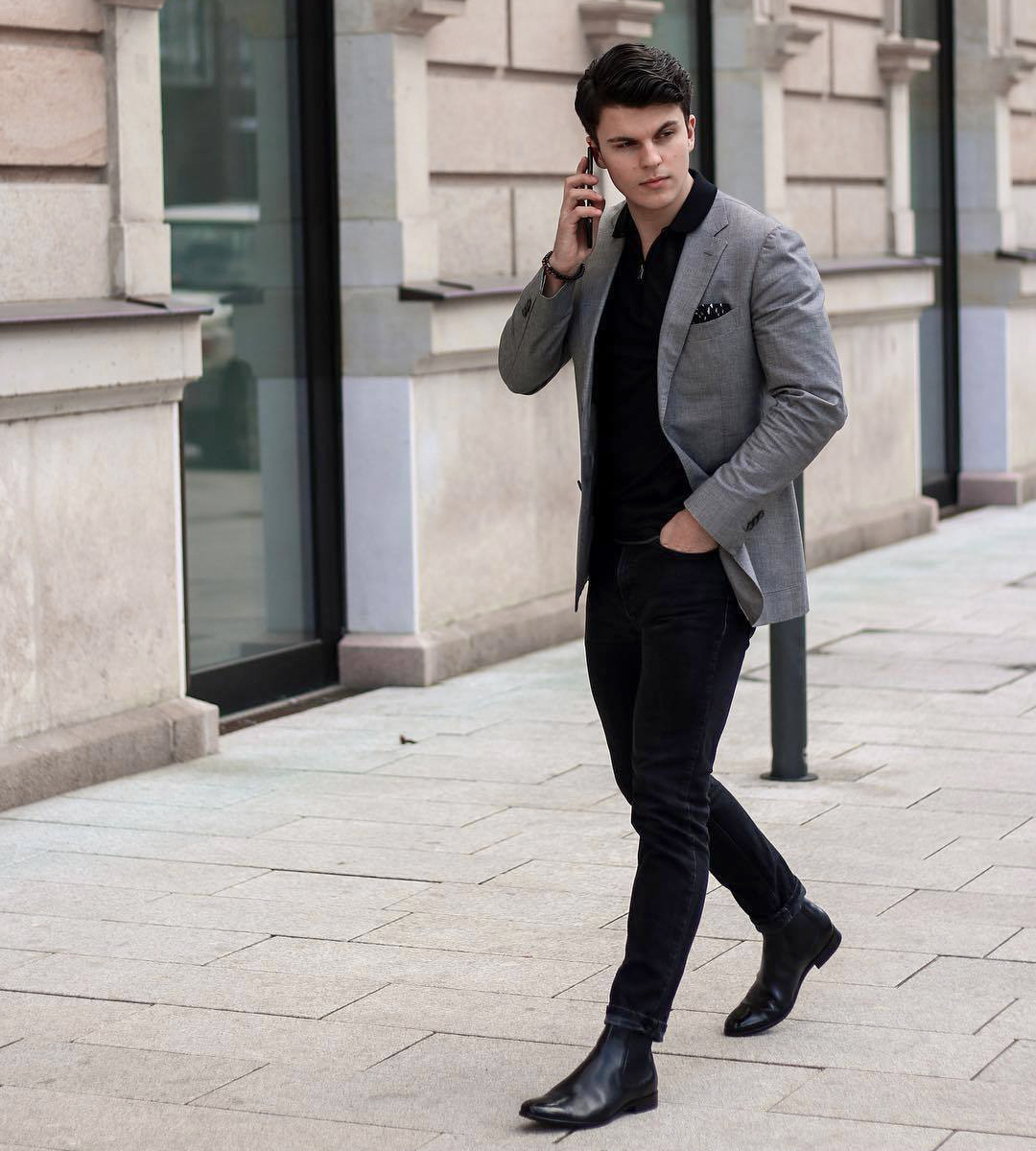 They will easily help you achieve that neat and sophisticated look. For the best look, opt for elegant colors like navy or grey.
However, any color for a blazer can blend perfectly if the other pieces are well-fitted for each other.
Unusual doesn't mean strange, just that it doesn't match the color of your pants. It doesn't mean you should wear an orphaned jacket from your pinstripe suit with a pair of red pants. That would be just too odd.
If you'd prefer a more casual choice, feel free to go for a cotton or linen jacket in a pastel color. You could even wear a leather or bomber jacket if it compliments your overall outfit.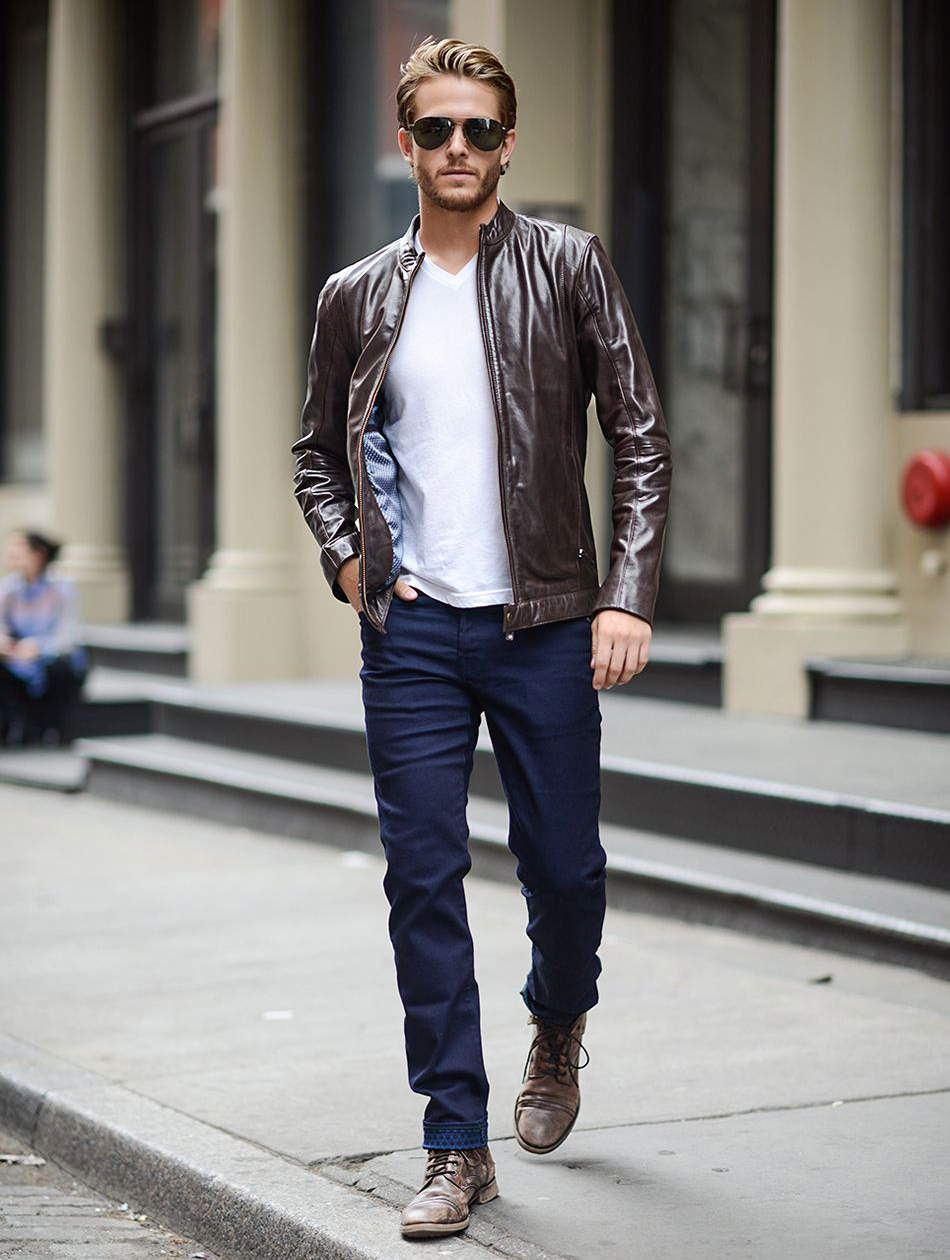 To achieve the smart look with your jacket, pair it with a nice collared shirt and well-fitted pants or chinos. Finish the look with a pair of less-formal dress shoes (no Oxfords or Derbies).
Shirts
Dress shirts are fine for smart casual, but so are checked and striped shirts. If one thing is essential, though, it's that the shirt is well-fitted.
Also, my suggestion is to make the color of your shirt diversify your demeanor. A solid pale or striped pink shirt can look playful and match any other smart-casual attire.
Although solid white or pale blue shirts are best for formal business wear, they are a perfectly excellent choice for a smart casual, too.
In fact, every color is embraced if you match it right with your overall appearance.
In case you go with a checked shirt, the best choice will be a gingham or plaid. Smaller checks like houndstooth work well too.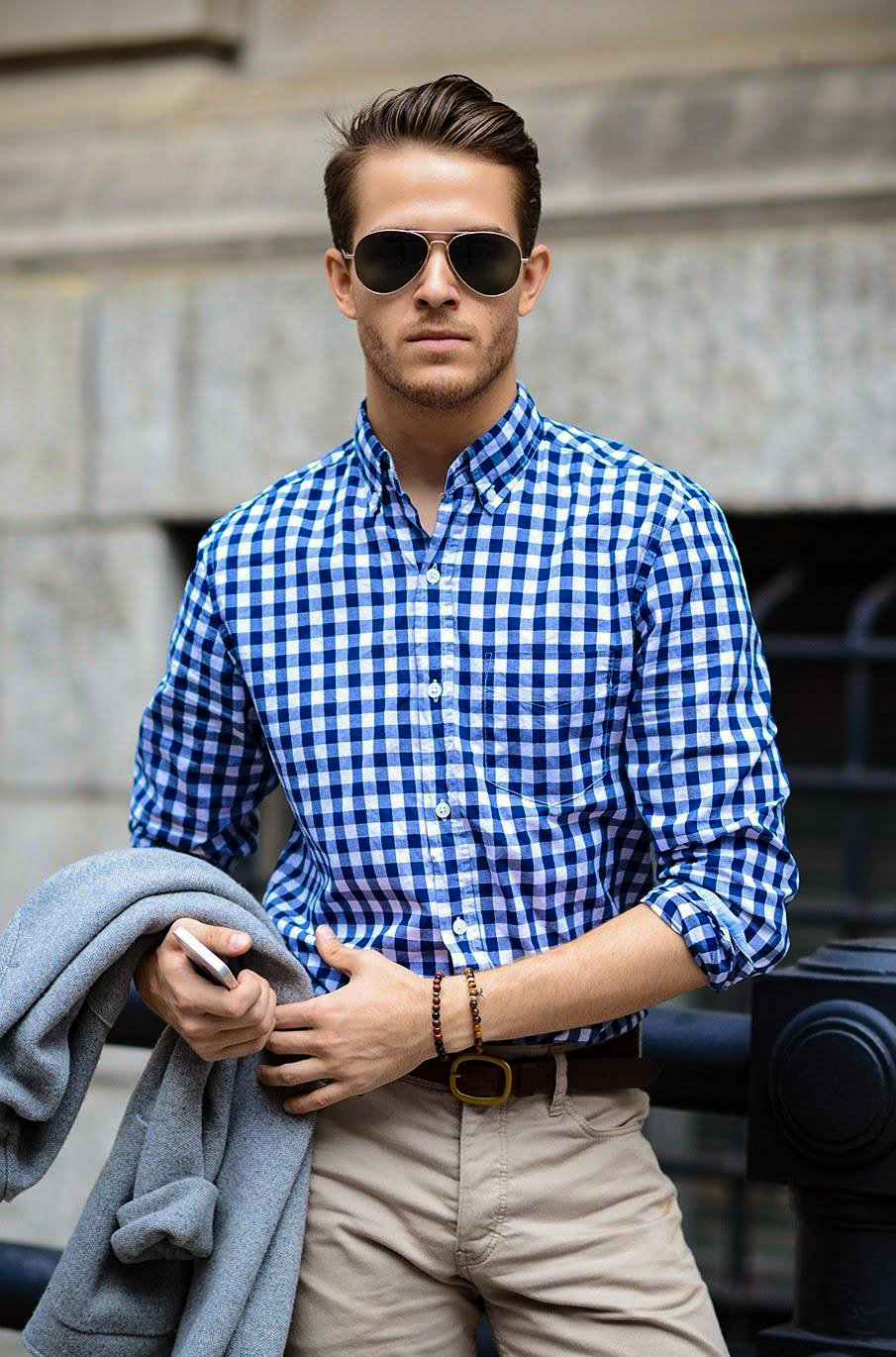 Bolder stripes are also good. Just make sure you have some contrast with color, and it's not all too stiff.
Linen shirts are perfectly acceptable in warmer climates. Denim and chambray will be a good choice as well, especially if you want a more easy-fitting outfit.
#1: Aqua classic fit shirt by Buttoned Down.
#2: Teal/Navy slim fit shirt by Amazon Essentials.
Polo Shirt / T-Shirts
If you are aiming for the less formal spectrum of smart casual, then go for a simple polo shirt or t-shirt. Just make sure it is high-quality, well-fitted, and looks sharp on you.
Smart casual is not a set of formulas and guidelines. It's merging a set of pieces to express your mood and attitude, fit for the occasion you're attending.
Therefore, t-shirts can look equally good as any attire, as long as they are clean, non-wrinkled, and not worn at home.
Choose simple colors like white or gray. Dark polo t-shirts can look good too, especially dark grey or indigo. Whatever you choose, make sure you add some shade to the overall combination.
For example, you can perfectly pair a white t-shirt with chino pants and a navy blazer.
If put together nicely, simple combinations like this can easily give you the Mark Zuckerberg smart effect.
Jeans, Chinos, Corduroys & Trousers
Avoid jeans and pleated pants of worsted wool. These are office wear and far too extreme for smart casual. Go with chinos or perhaps corduroys in colder weather.
Linen pants are great for the summer. Choose pants with a subdued pattern and a bit more texture to stand out a little from the crowd.

Example pants: Mallet chino pants by Tommy Hilfiger.
Smart Casual Footwear
Going casual doesn't mean you should leave your leather shoes at home. A pair of good quality, clean leather shoes always work, just about anywhere, and with any outfit.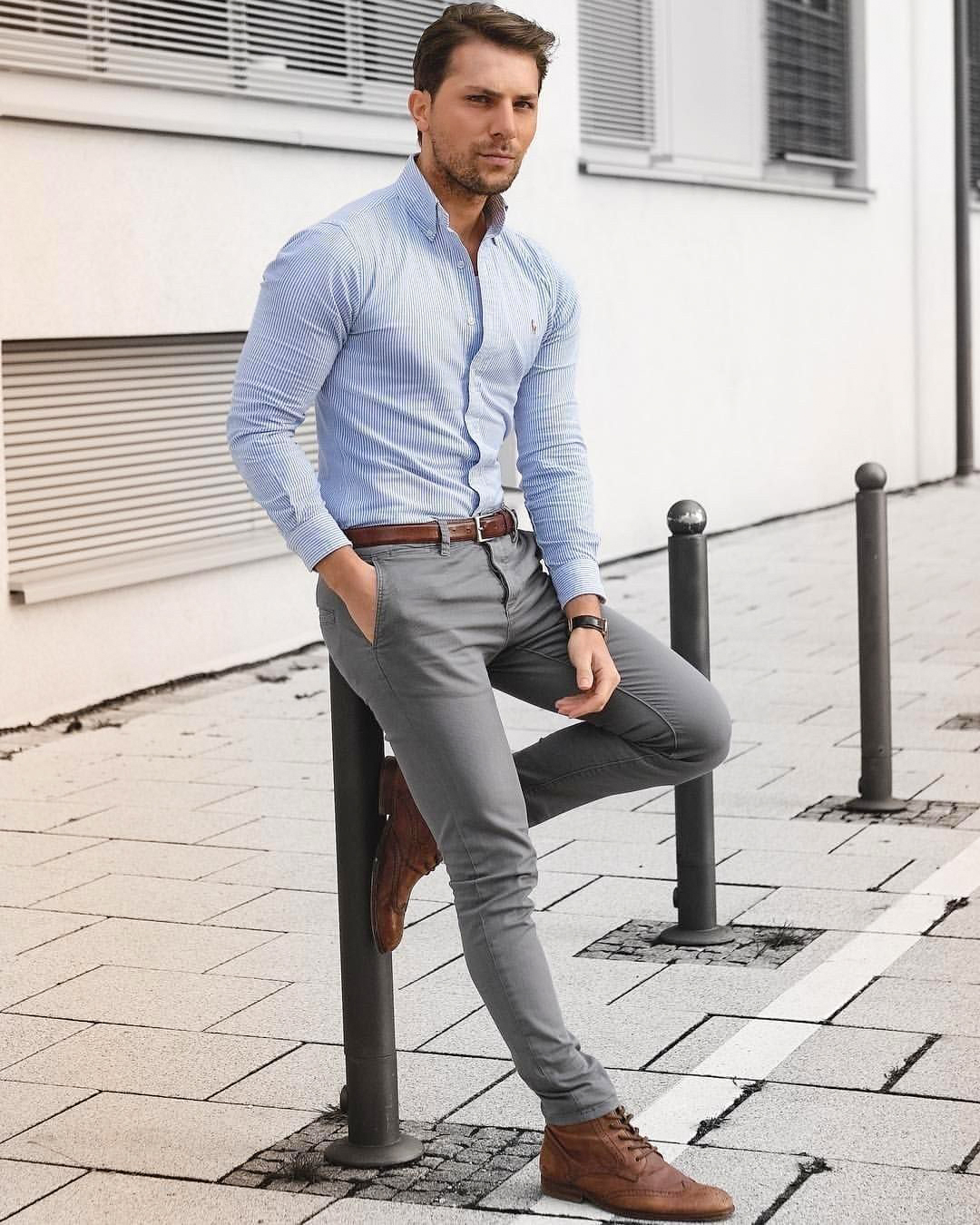 When it comes to color, brown, navy, and tans are ideal. Even dark red, green, or off-white are entirely acceptable for most events. Just avoid the overly formal black unless you think they are a perfect choice.
Remember, you're looking for a shoe style more casual than traditional business shoes. Penny loafers or two-tone tassel loafers are great. Driving moccasins work well too. But they will wear thin when worn daily.
Your safest bet is probably a pair of quality boat shoes. They are leather, look relaxed, and you can even wear them without socks. In my opinion, sneakers and trainers are a little bit too casual.
But a lot of men like designer sneakers or leather sneakers, so if you're into that kind of thing, go for it.

Example shoes: Blue/Brown boat shoes by Golaiman.
Smart Casual Accessories
To achieve the smart look we're after, you can add a few accessories that are acceptable for both formal and informal dress codes.
Feel free to pair a watch with your smart-casual attire. Although steel watches are perfectly acceptable, I advise you to go for a nice and stylish leather-band watch to perfect the casual look.
A belt is another accessory that adds nicely to your overall appearance. Again, go for leather and a high-quality belt, preferably brown, if it matches the color of your clothing.
Smart Casual Faux Pas
Although the smart casual dress code is entirely open to interpretations, there are some things you should avoid. Remember, the smart casual dress code objective is to remain as simple and clean as possible.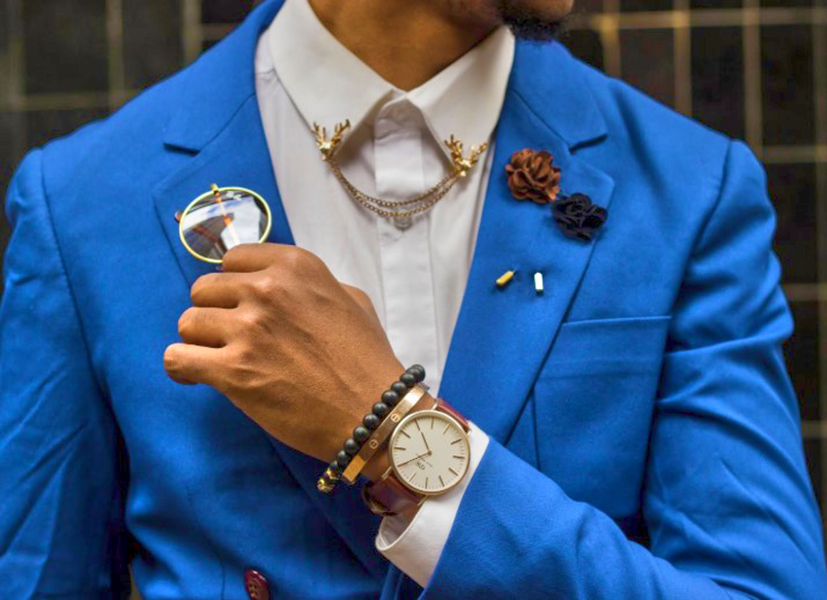 Going too casual is one of them. Remember, we want to add formality to our casual appearance. That is usually achieved by blending casual attire with pieces from the other side of the formality spectrum.
Avoid using a single color scheme for all clothing pieces. They might be of different shades but are still of the same color.
The same applies to the opposite. Choosing colors from every side of the color spectrum will make you look too flashy and shining. Not at all clean and simple.
Finally, wearing way too complicated and hard prints and patterns is something you should avoid. The point is to "execute" a neat and clean look that will make you sharp and approachable.
Where to Wear Smart Casual Attire
The truth is, you will encounter this look everywhere. On cruise ships, at vacation resorts, and in restaurants, the goal is to avoid appearing over-stuffy and look neat and presentable instead.
What about interviews, offices, and other work events?
Parties & Non-Formal Events
A smart casual dress code is great for cocktail parties and other non-formal events, especially if you're going with colleagues from work.
Let's assume you work in a white-collar environment, and your boss invites you to a casual after-work event. He usually sees you in pinstripe suits, dress shirts, and ties.
Going for smart casual attire can bring a complete change of presentation. This way, you will still look smart but casual.
Tones of brown, dark red, dark green, or navy can help create a more comfortable outfit. Remember, your look should not be as stuffy or boring as you usually wear in the office.
Is Smart Casual Good for Office?
Office, too, is a suitable place for resembling a smart-casual look, especially if you intend to go to other events after work. Offices worldwide are becoming more open-minded when it comes to clothing nowadays.
If you consider the fact behind the purpose of the smart casual dress code, it is to look friendly and approachable. At the same time, your look should be clean and straightforward, appropriate for most office jobs.
Dressing Smart Casual for an Interview
The attire depends on the company you are applying for a job interview. As we've stated earlier, a good rule of thumb is to check the company's dress code. Then, dress one level above the mean formality.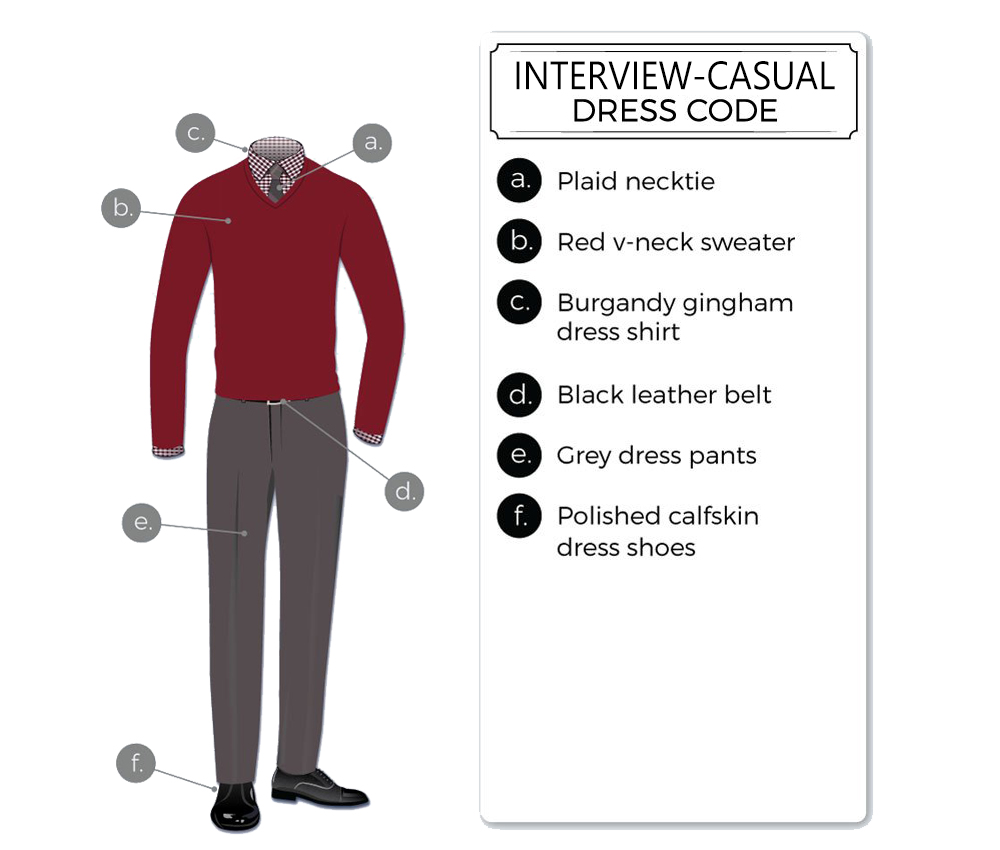 However, many companies, especially in the IT sector, prefer a casual dress code. Learn the culture of the company before the interview and dress according to it.
Dress Up Or Dress Down?
Just as with any other dressing code, the rule of thumb is always to dress up rather than down. This way, you may look a little overdressed, but you certainly won't embarrass yourself.
Keep in mind that the smart casual dress code is not appropriate for a lot of office jobs, such as banking, corporations, politics, etc. If you're not sure whether your company allows a dressing code, contact their human resources department.
In Conclusion
You can create a more fashionable and smart look by combining your everyday casual pieces of clothes with a more sophisticated and elegant outfit, like chinos and collar shirts.
This new smart casual appearance can look elegant and aesthetic if performed correctly. In fact, smart casual is not defined; therefore, it can mean anything.
When it comes to footwear, match it with either loafers, boots, or slightly casual dress shoes. Don't forget to put your watch and belt on.
If you're ever in doubt about smart casual, always dress a tad more formally. This way, you can be sure you're correctly attired and still radiate an air of relaxed confidence.
You'll gain the respect your dress sense deserves and show everyone that you do understand the smart casual look.
Author: Alexander Stoicoff
Hi, I'm Alex, and I've studied and specialized in styling in Rome. Through my writing, I want to help men dress well and learn the purpose and significance of suits and other formal attire. My final goal is to make men more confident in their wardrobe choice and life in general.