Feelings about the semi-formal dress code vary significantly between each person.
Some men are thrilled at the prospect of semi-formal attire. It means they don't have to don a tuxedo and feel stiff all evening.
Some loath seeing those dreaded words on an invitation. They wonder what it is, worrying about interpreting this style completely wrong and looking witless.
If you fall in the second category, I can help you brush up on today's definition of what precisely semi-formal means.
What is the Semi-Formal Dress Code?
If the formal dress code is defined by elegance, then one can consider semi-formal attire just as sophisticated but with personality.
Dress codes are a spectrum, and semi-formal falls much closer to the "formal" end than the "informal" one. It offers plenty of flexibility yet still has high standards of style and elegance.
The semi-formal dress code is often requested for weddings or evening work events. In addition, you will see it at cocktail parties and often at the theater.
When putting a semi-formal outfit together, one could look at it as starting formal and taking parts away until you have reached the balance between elegance and personal.
Defining the Semi-Formal Attire Spectrum
There's a broad leeway when picking the perfect semi-formal outfit.
You can wear a well-tailored two-piece suit or opt for a blazer and nice trousers instead. Tie or no tie, the choice is entirely yours to make.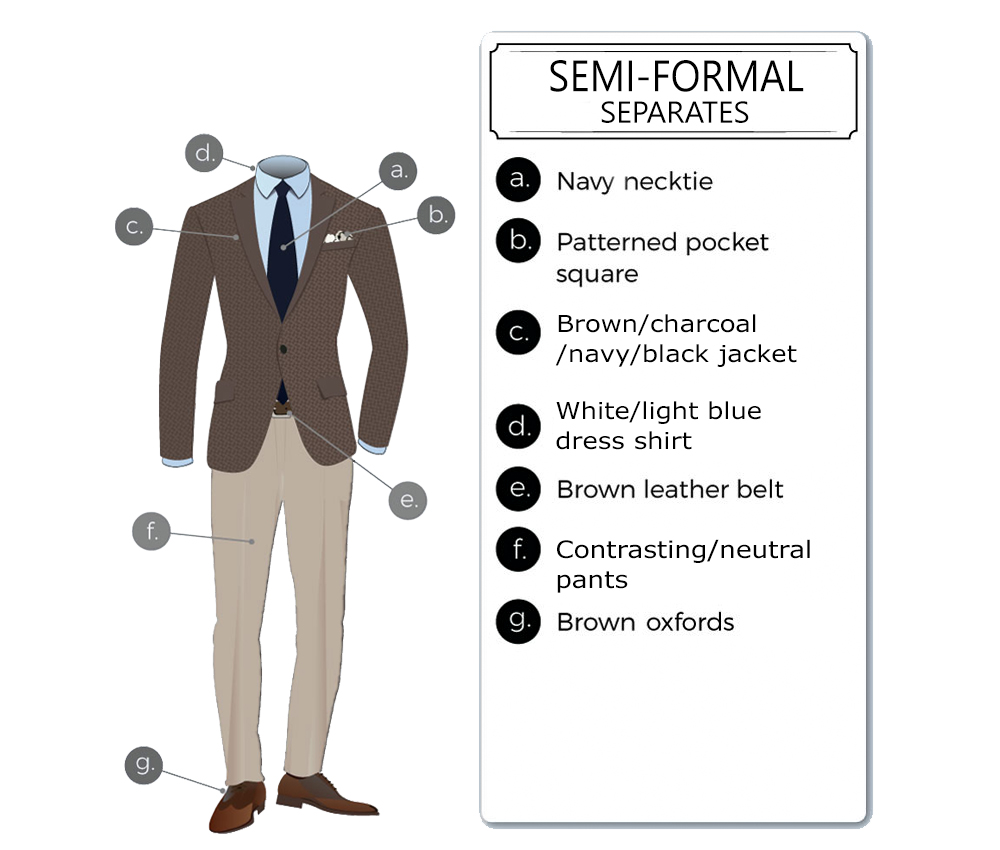 Semi-formal attire is more about the clothing you like rather than what is forced on you. It allows for some playfulness if that suits you.
You can show your personal flair with patterned shirts, ties, and even perhaps blazers.
A surprising pop of color will spice up your ensemble. You can even wear a trendy cut of suit that you may not be able to wear in formal or work settings.
Semi-Formal Attire vs. Formal Attire
Formal wear is the ultimate in sartorial sophistication and is often defined by a tuxedo. There is very little room for interpretation and no exceptions to the rules.
Both white tie and black tie are formal dress codes, and they have much in common. The suit jacket and pants are almost always black and precisely cut.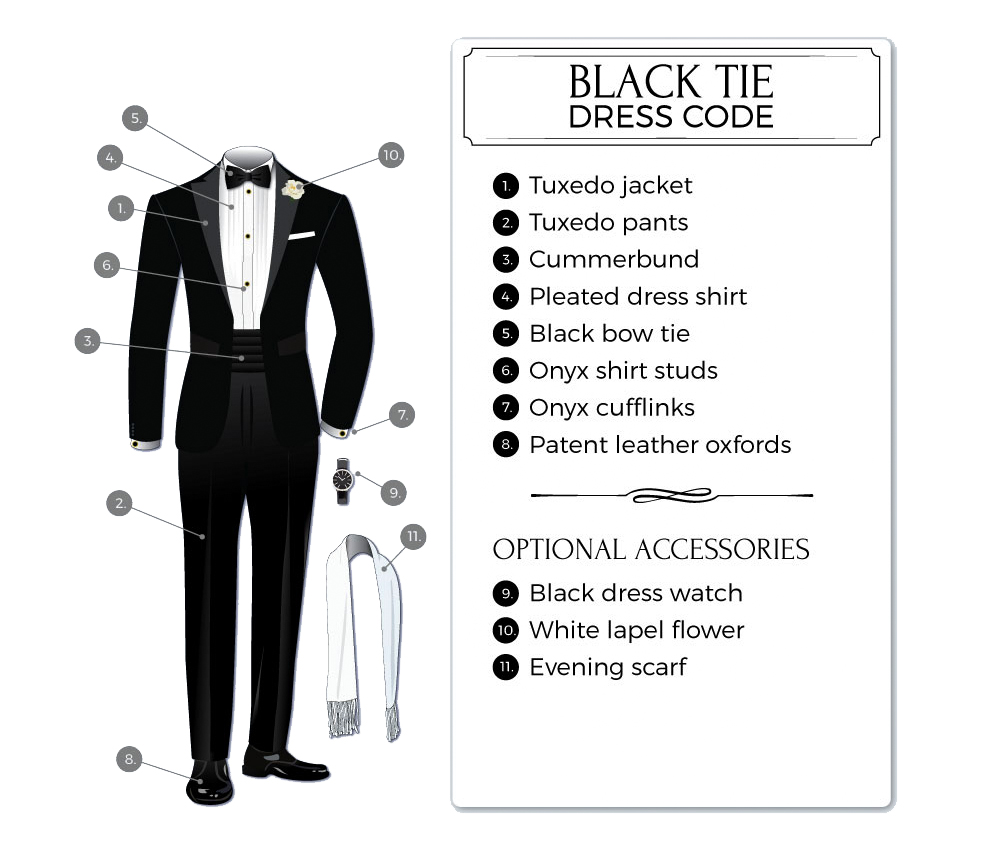 When it comes to formal attire, you can opt for a bow tie or a standard black tie, a waistcoat, or a cummerbund.
Your choice of cufflinks is the most significant opportunity for personal preference.
The main difference in semi-formal attire is that it offers more choices.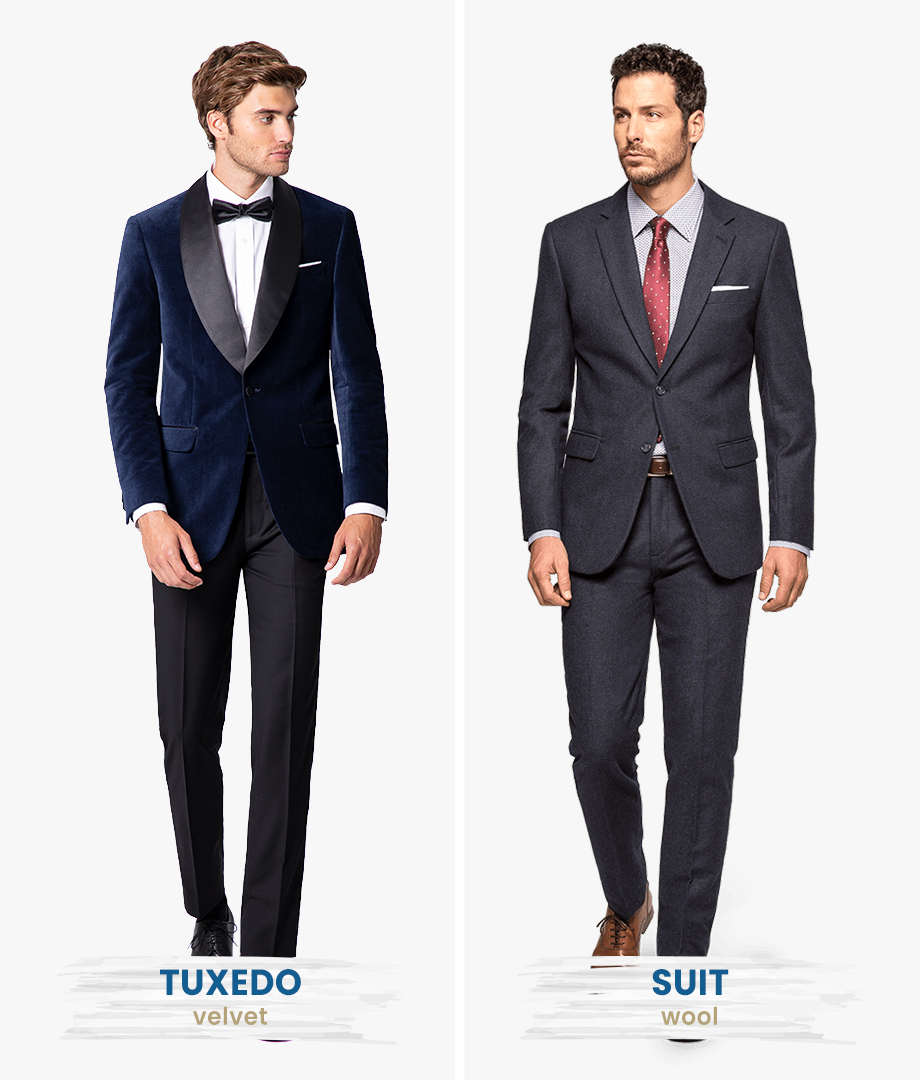 Suits or separates are both common. Tie or no tie is a common choice, too. Patterns are commonly found where there are none in formal attire.
Make no mistake: semi-formal still adheres to a code of expectations, just less rigidly. So do not confuse the relaxed rules as if there are no rules.
These events still expect people to look classy. And that requires tremendous effort and care.
Semi-Formal Attire for Men
Now that we have established generalizations of what you can and cannot expect in a semi-formal dress code, let's break it down into specifics.
Suits
A well-tailored and high-quality suit can be the centerpiece of your look. It is the most straightforward option for semi-formal attire, doing all the heavy lifting for you.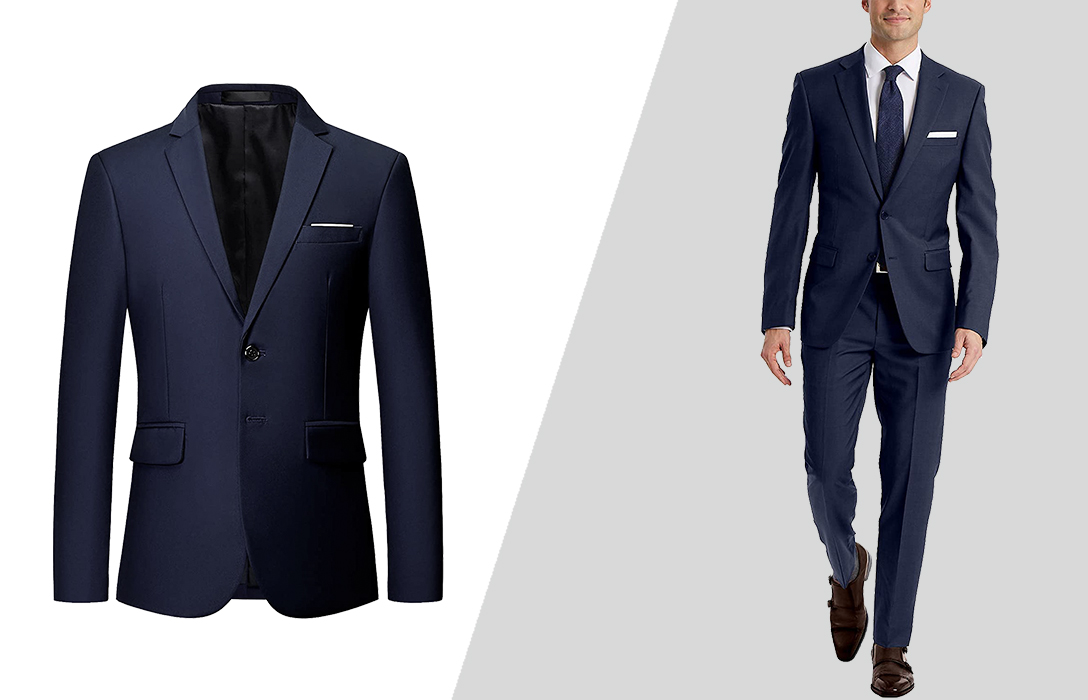 Shop The Look
It is best to avoid a formal black suit to evade dress code confusion. Instead, a dark grey or navy suit is an excellent choice, especially if you are dressing for the evening.
If the event is during the day, you are free to choose a lighter suit option. However, a light suit in the evening is never recommended.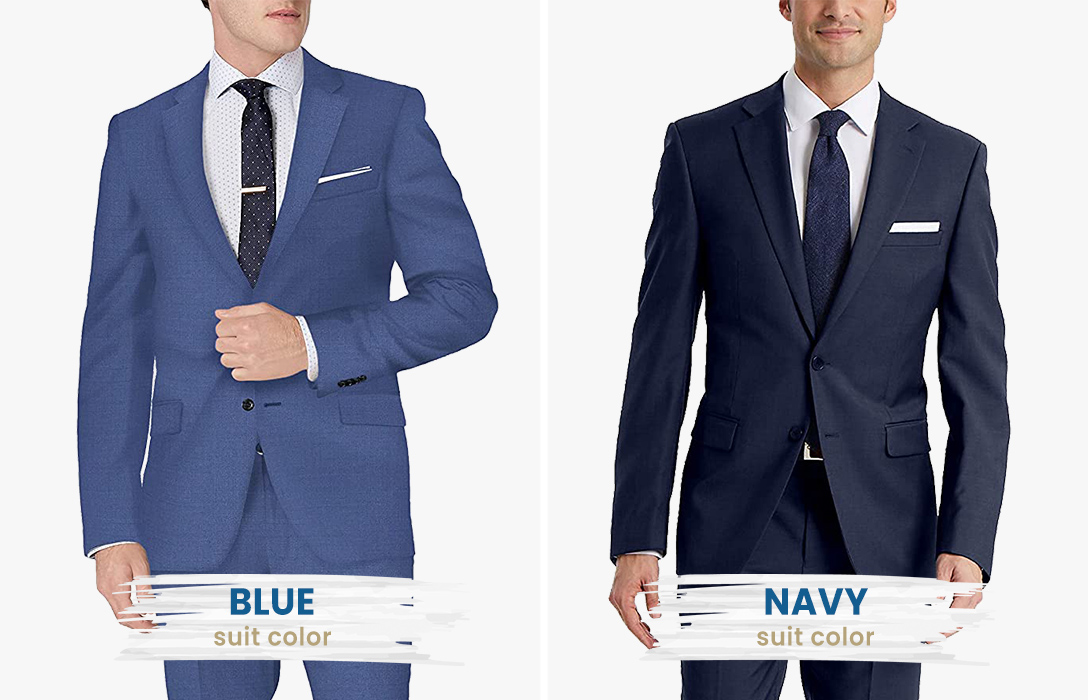 The better your suit fits, the better it will look. Today's styles lean toward suit cuts that fit very closely to the body without being too tight. A suit that looks boxy or baggy looks outdated, or worse, sloppy.
Best Choices
Blazers
A high-quality blazer is a must if you opt to forgo the suit. Blazers are slightly more casual than a suit jacket but fall within acceptable bounds of semi-formal.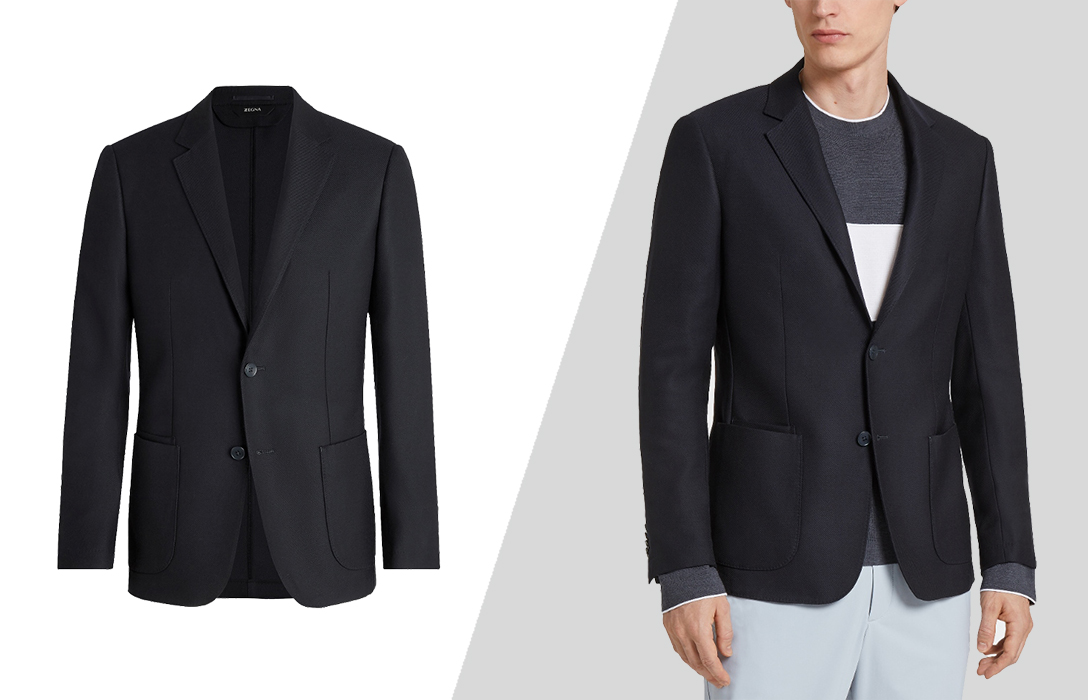 Blazers might provide a more relaxed vibe than a suit does; however, they prevent your shirt and pants ensemble from veering into an informal dress code.
Pick dressy accessories to help you dress up your blazer. A tie will also help pull your look together. It is safest to opt for a traditional shade.
A dark color such as navy or charcoal grey infuses some elegance into your attire.
In general, a blazer with a bold pattern may be too flashy for a semi-formal event. It will attract a lot of attention, which may not be appropriate for the event.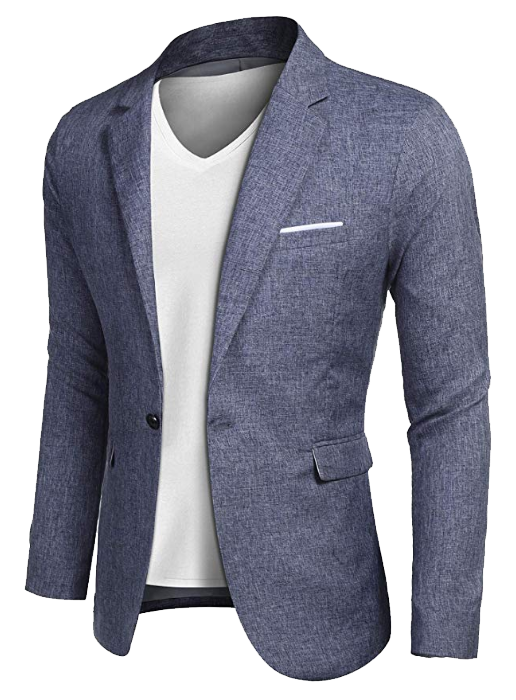 Shirts
A white collared shirt is a classic style and is the dressiest option in shirts. Light-colored shirts, such as light blue, also look very nice.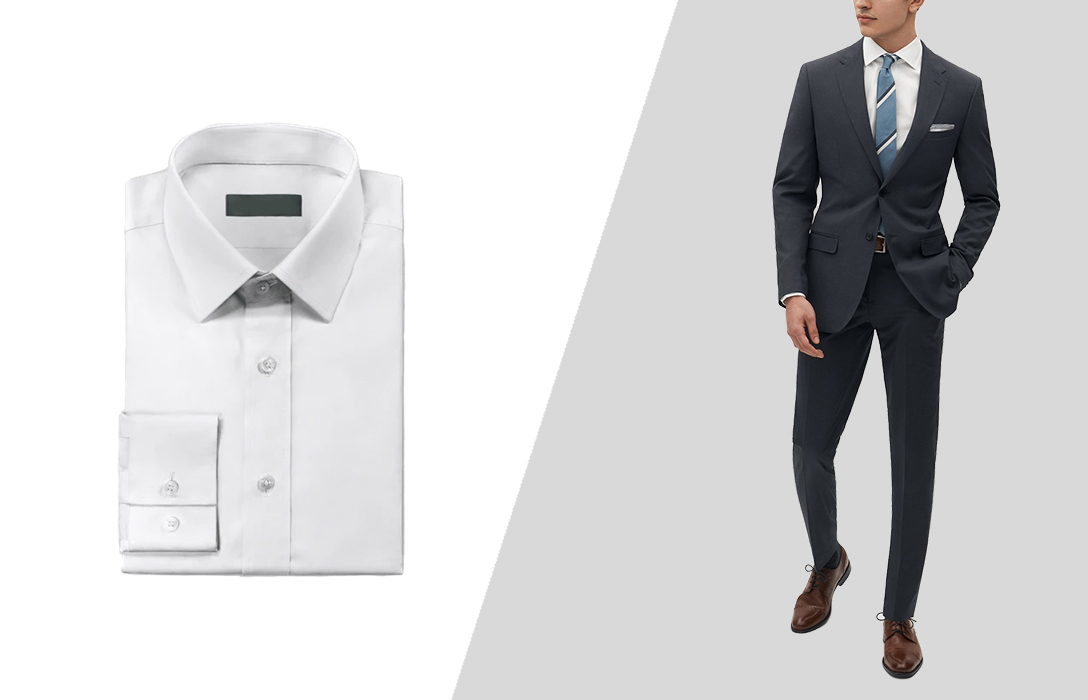 If your dress shirt is well-made and high-quality, you can feel free to experiment a bit with the color and pattern.
If your suit and accessories are subdued, be bold with your shirt color choice.
You may even go more daring with a bold pattern if that is your taste. Besides, that is your best option if you decide to leave the tie at home.
Just remember to use your best judgment and not go too flashy.
If you suspect a specific shirt would raise eyebrows in the company you'll find yourself in, it is best to keep it for another day.
Ties
A tie is not mandatory for a semi-formal dress code. However, the addition of a tie is great semi-formal attire, and I highly recommend you wear one.
Your ensemble can look just as polished without a tie. You only need to make sure the rest of your wardrobe makes up for the lack of it.
If you opt to add a tie, this is a great way to express your personality. You are free to play with texture, color, or pattern.
Don't get carried away using your tie for personal expression; it still needs to look classy. Cartoon characters aren't acceptable for semi-formal attire, but nice paisley just may take their breath away.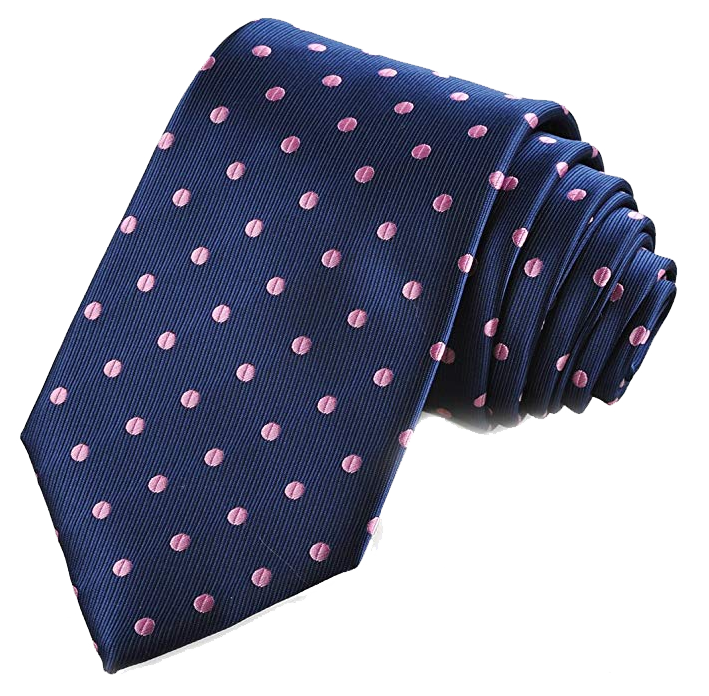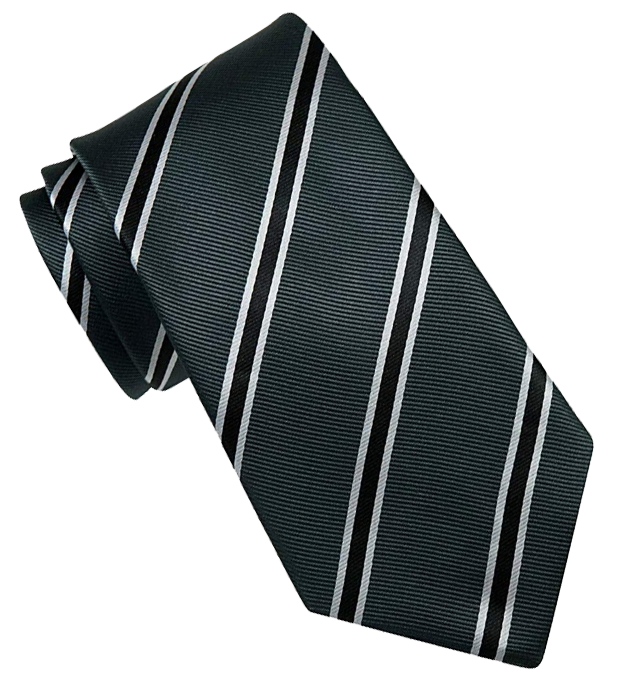 Pants
Compliment your stylish blazer with a nice pair of chinos or trousers. Pants are not often an article of clothing where you can be bold.
It is best to keep semi-formal pants in a traditional color. By using a pair of neutral color trousers as your base for your ensemble, you are free to add your flair elsewhere.
The pants ought to fit you well. They should be a slim cut, though not too tight. The hem should fall right to the top of your shoe, ensuring the proper length.
Shoes
A well-matched and properly maintained pair of shoes is the polish on your outfit. Oxford shoes are the most classic type of dress shoe.
Derby shoes also make a great shoe choice for semi-formal. They can be traditional black or brown, or even navy is suitable if it matches the rest of your outfit.
Broguing is another flexibility option. It adds something unexpected to your look.
Do not skimp on quality shoes. Spending some extra money will pay off when the shoes still look almost new long after you've bought them.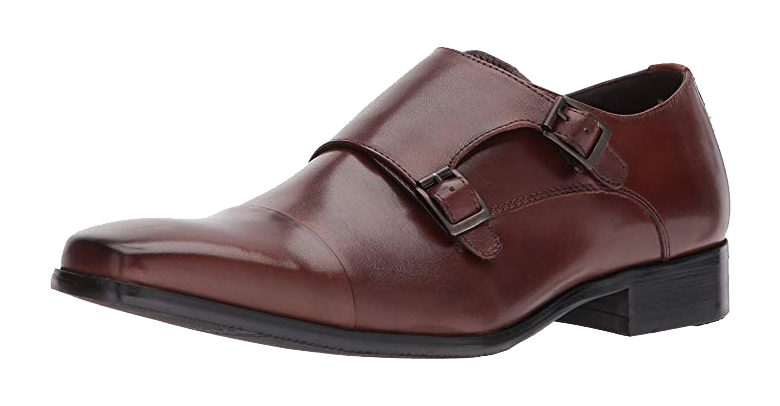 Accessories
The right accessories can give your semi-formal outfit a boost. For example, a pocket square is an amazing way to add a touch of color and elegance to your jacket.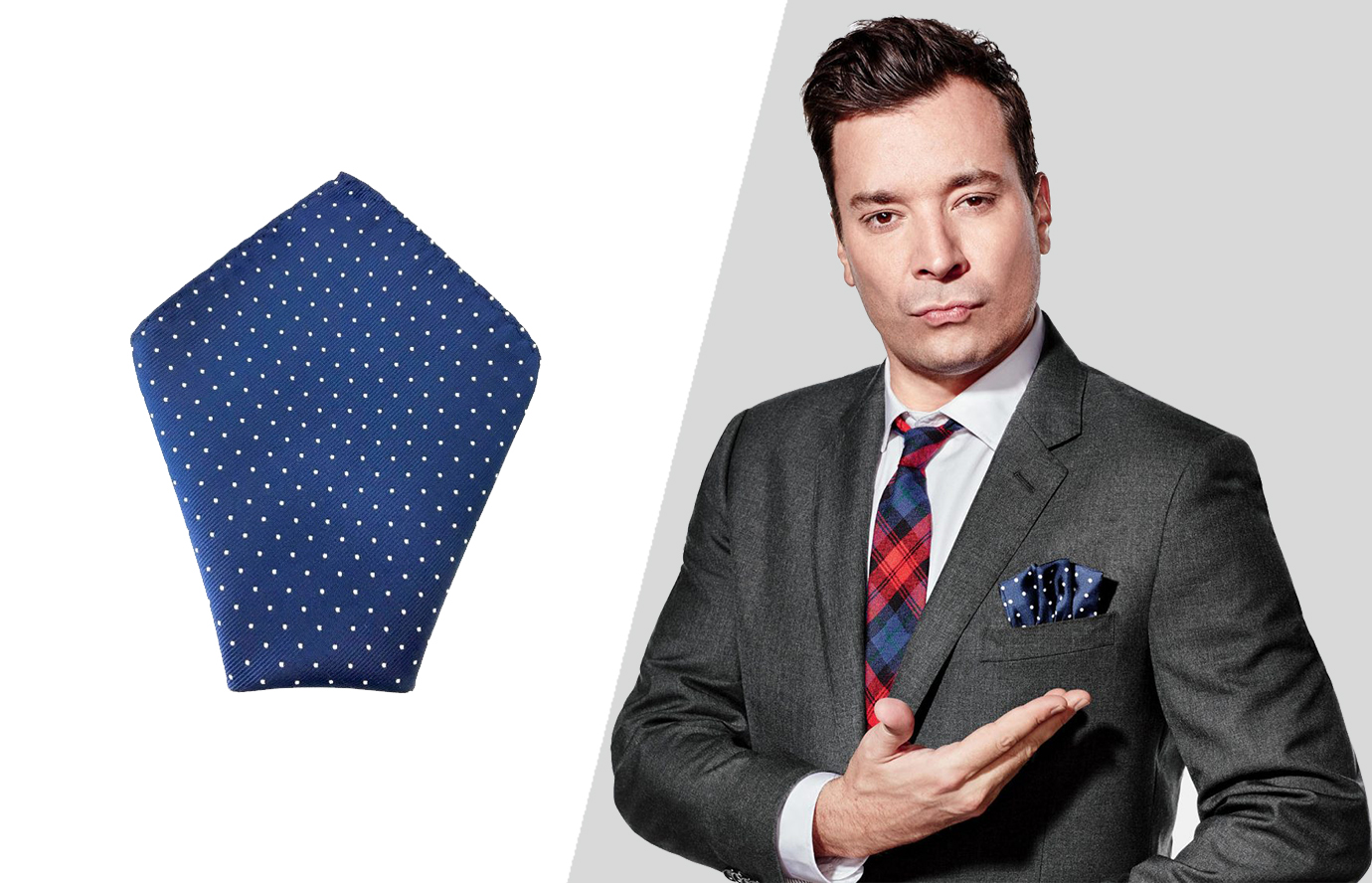 Pocket squares aren't commonly used these days, so you are sure to stand out when you show off your sophistication when you add one.
It can be a playful use of color, made even more playful, depending on how it is folded.
Your belt should be simple and of good quality. If it is well-made, you will wear it for many years and with many different outfits.
Remember to match the belt with your shoes. Be sure the metal on the buckle matches other metals in your outfit, such as cufflinks.
Your watch should match nicely with the rest of your outfit. It is not meant to be eye-catching but rather a subtle extension of your jacket sleeve.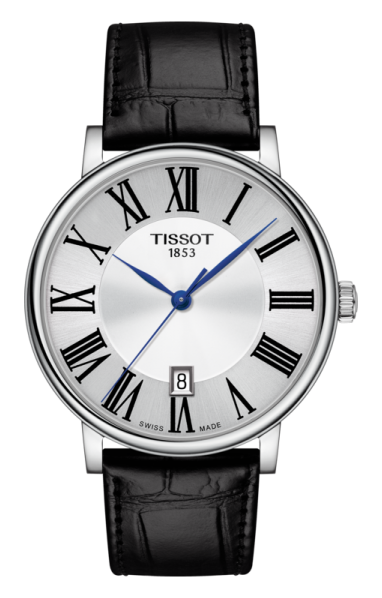 Best Attire for Different Semi-Formal Occasions
Not all events are the same, so not all have the same expectations. Each occasion has different standards. Therefore, you need to base your choices on the event. That is the beauty of semi-formal: flexibility.
Semi-Formal Wedding Attire
Most weddings you attend are going to be semi-formal. But not all weddings are created equal.
Your wedding attire's exact style depends on the time of the day and where it is held. Even with a semi-formal dress code, daytime weddings are very different from evening weddings.
A spring or summer wedding is likely to be outside and in the daytime. Your suit or blazer can be light tones and light-weight fabric. You might look uncomfortable in heavy colors or materials.
Add a colorful accessory to play up the lightness, such as a bright tie or pocket square. Your suit should be simple. Only play up one accessory.
If the event is in the evening, choose a dark wedding suit and a light shirt. You will look best with more elegant accessories, such as cufflinks. Keep your style understated.
You are not the center of attention at a wedding if you are not the groom. It is a time when you want to do your best to blend in.
On the other hand, you never want to arrive at a wedding underdressed. If you have any doubts about what to wear, err on the more formal side. You'll be glad you did.
Semi-Formal Cocktail Attire
Cocktail attire is synonymous with semi-formal and is often for after-work events or parties. It is a bit on the formal side and can be contemporary at the same time.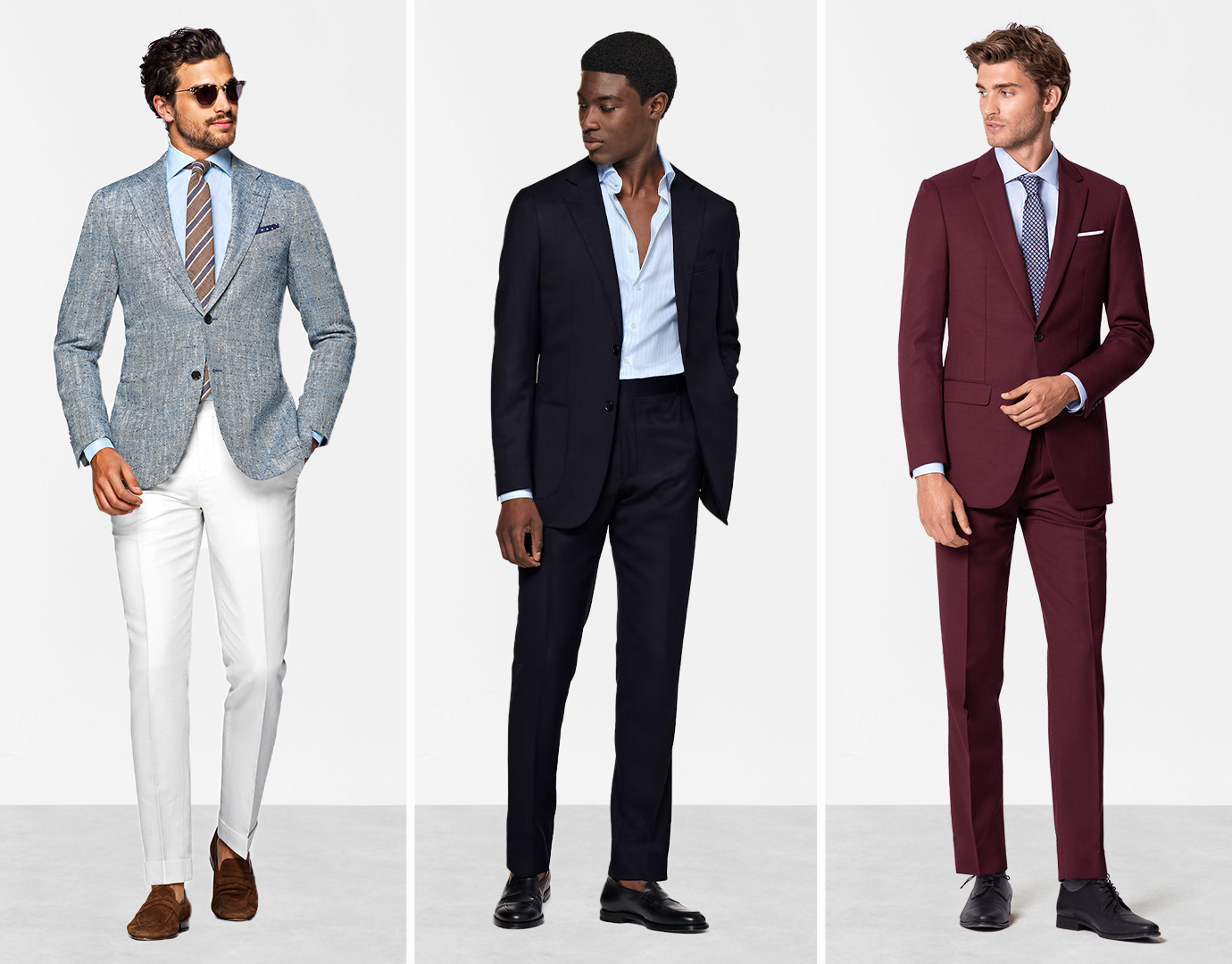 The cocktail attire opens up your wardrobe options. It is an occasion where a bit of personal flair is ok. It is also acceptable to stand out a bit from the rest of the crowd.
There is no preference between a suit or a blazer. Both work equally well in this setting. It is perfectly fine to leave the tie, though.
However, if you are at all in doubt, just add the tie. It is not fun worrying about whether your clothing is acceptable. Go with what you will feel most comfortable in. If you are unsure, it is fine to ask the host.
Daytime Semi-Formal Attire
A light-colored suit is best for a semi-formal daytime event. It is the perfect time to rock a cream or tan suit.
You still need dress shoes. A shade of brown would complement tan or cream very well.
Keep the accessories minimal for daytime events. The few accessories that you do add to your ensemble should be simple. Daytime events are not flashy at all.
If you always wanted to try out a printed shirt, this is the time to put it on. Remember to follow the basic semi-formal dress rules and stay away from loud patterns.
You are still going for a sophisticated appearance. Make the patterned shirt the focus of your outfit.
Do not add any competing accessories, such as a tie or pocket square. The rest of your ensemble needs to be subdued.
Relaxed Semi-Formal Attire
The idea of a relaxed semi-formal event may seem like an oxymoron. It is a little tougher to find the sweet spot for this dress code, but this can be simple once you get the idea.
You probably want to ditch the suit for a relaxed, semi-formal look. You can mix a blazer and trousers or chinos, but be sure they are high-quality and in good shape.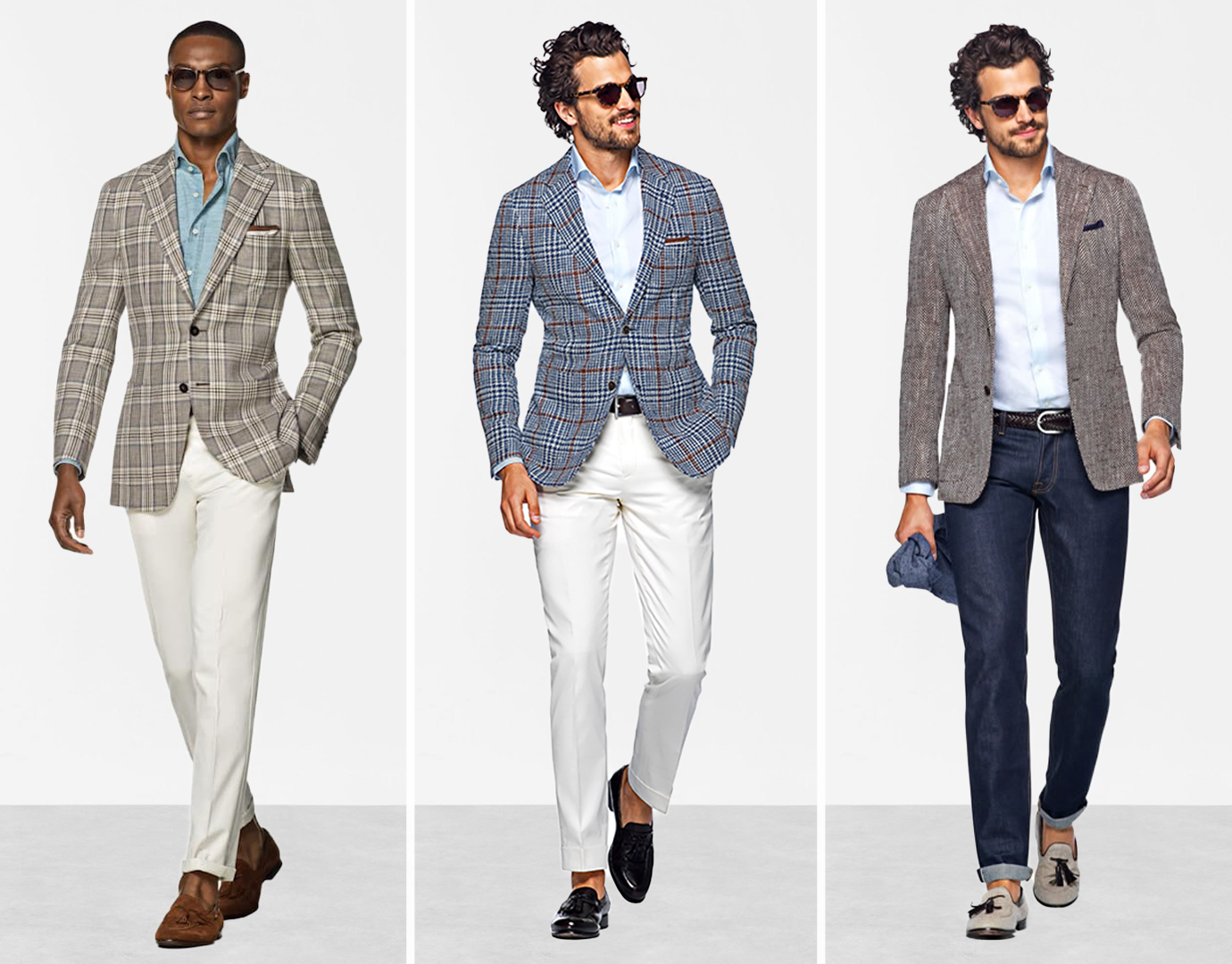 For something unusual, mix and match coordinating suit pieces. For example, a pair of suit pants combined with a different suit jacket creates an interesting, relaxed vibe. Just be sure they don't clash.
Unite these pieces with accessories and proper shoes. Shoes have a wider range of options with this dress code.
Apart from the usual dress Oxfords and Derbys, you could mix things up with a nice loafer or monk straps.
Be sure to leave the tie at home!
Final Tips
The most important thing to remember about a semi-formal dress code is classy, with a chance to be creative. Keep your creativity in check, though, and use it to show a splash of your personality.
Do wear a nice suit or blazer/trouser combo.
Do overdress when in doubt.
Keep daywear understated and straightforward.
Don't feel restricted by the rules of formal wear. Add a unique twist.
Dressing for a semi-formal event does not need to be stressful. On the contrary, it can be downright fun to put the ensemble together if you enjoy fashion.
It is helpful to follow guidelines for formal dress and remove one or two items. Then, replace them with something personal and unique to you, and away you go!
Author: Alexander Stoicoff
Hi, I'm Alex, and I've studied and specialized in styling in Rome. Through my writing, I want to help men dress well and learn the purpose and significance of suits and other formal attire. My final goal is to make men more confident in their wardrobe choice and life in general.