When it comes to bow ties, there are just too many styles and choices to deal with. It applies the same to first-time and seasoned buyers.
The best way to narrow down what you want is to have familiarity with the product.
Bow ties differ substantially from regular ties. They look different and leave a different impact on the community. As a matter of fact, people who wear bow ties seem friendlier, relaxed, and funnier.
Choosing whether to wear them or not can be rather tricky. What to pair them with, even more…
Bow Ties Origins
Originating in 17th century Croatia, bow ties have developed from the cravats worn by soldiers to keep their shirt collars closed.
Very soon, it became so popular that even President Abraham Lincoln progressively accepted it.
By the start of the 1900s, bow ties had become an essential component of everyday gentleman's attire. Then things changed.
The accessory remained popular among the academic classes but faded in popularity with the general public.
Today, bow ties can be worn at cocktail parties, offices, and at many casual events. Modern men are adapting the bow tie to fit almost any outfit they like.
Bow Ties Types
Often overlooked and underappreciated, a bow tie can be a good alternative to a regular tie. Wearing a wrong tie can swoop in and take over an otherwise excellent suit or tuxedo.
Based on the production model of the bow tie, there are three different styles you can choose from clip-on bow tie, pre-tied bow tie, and self-tied bow tie.
Below are the types of bow ties available and how they vary from one another. The only universally accepted truth with them is that the clip-on bow tie is the last resort option. Everything else? Completely up for grabs.
The Clip-On Bow Ties
The lack of frustration with a clip-on bow tie is why sales continue to be high for this particular product.
No matter the level of the user, these bow ties are easy to clip on.
And they stay put, even after hours of dancing and mingling. Where they fall short are the available styles and the material. There is also the lack of a personal challenge, but that's another story.
The most important thing to remember about clip-on bow ties is that they will always come off-center or adjust in weird ways.
Suits bought directly from a store without any fittings are made as a one-size fit, just like bow ties. So even if it never comes off, adjusting it through the night may become more hassle than it's worth.
The Pre-tied Bow Ties
Classing it up a little bit from the clip-on is the pre-tied. The fun thing about this type is that it has the same effortless features as the previous type but is better suited to wear with suits.
That means less adjusting and better quality all around. Beyond the obvious advantages of industry adoption, pre-tied bow ties also work well as a backup when time is running low.
It isn't uncommon for most suit wearers to have one of these on standby, even with an arsenal of self-tie bow ties.
They are pretty close in quality to the top-of-the-line self-ties, and from time to time, surprise customers by keeping up with trends.
The Self-Tie Bow Ties
And then there is the cream of the crop, the most professional: the self-tie bow tie. This type includes all of the top brand names, fabrics, colors, and even experimental designs.
It's usually referred to as freestyle, meaning you get to tie the bow yourself. This is where the beauty lies.
Everyone has a method that works, so there is no wrong way. Besides, tying shoes has the same amount of difficulty as doing a self-tie bow tie.
On the downside, there are no magic tricks to getting one of these on. So don't show carelessness when tying it; put some motion and love instead.
This style is the preferred purchase of serious suit wearers, with everything else considered a downgrade.
Bow Tie Shapes
Please do your suit a great favor by always coordinating colors/patterns long before worrying about the bow tie's shape. Nevertheless, it is normal for every person to find one shape more suitable than others.
So far, in modern society, men in suits have been introduced to the butterfly, batwing, big (jumbo) butterfly, diamond point, and slim diamond point.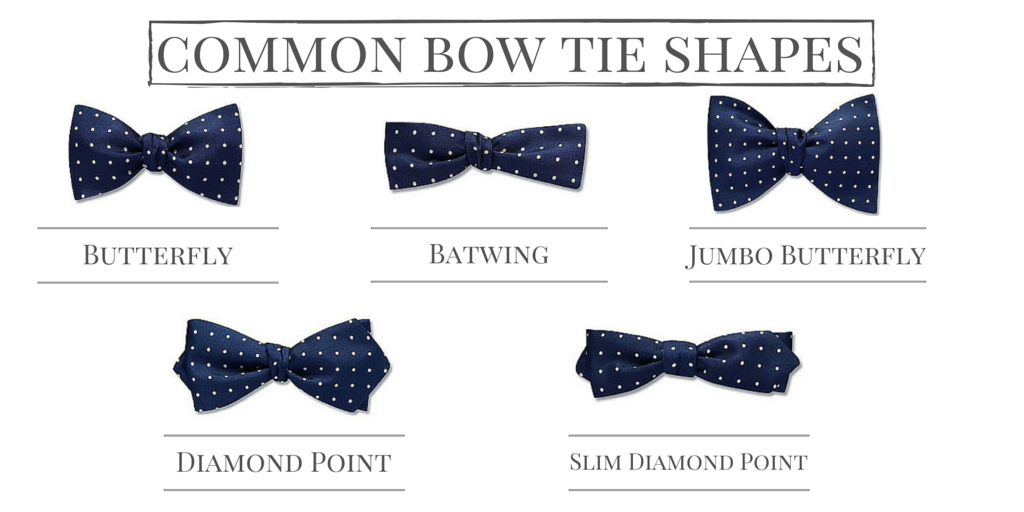 These are the varieties and ways to tie your bow tie yourself as well. Getting the shape right, however, isn't as imperative as the color/pattern.
The Butterfly
The standard style is, of course, the butterfly, also known as the thistle shape. It's the most common choice and is suitable for every occasion.
It's great for beginners and those not certain that a bow tie will suit them well.
The Batwing
They are the smallest of all types. It means that the end will be only slightly larger than the center (the knot).
Batwing bow ties provide a clean and symmetrical look. Suitable for a slimmer gentleman, even on casual events.
Big Butterfly
Known as Jumbo, the Big Butterfly is a similar yet larger variant of the regular butterfly.
It's wearable for larger as well as taller men. They are preferred at formal events or weddings.
Diamond Point
Both ends on the diamond point bow ties stick beyond the front edge, forming a pointed edge. As a result, the ends are visibly asymmetrical but still stylish and glamorous.
Slim Diamond Point
Asymmetrical, just like the regular diamond point. The slim version has a look that is similar to the batwing type. The tips are only slightly larger than the center.
How to Tie the Bow Tie
Just like tying a regular tie, it's a skill that every true gentleman must know. Here's a step-by-step guide on how to tie a bow tie:
Start by putting the tie around your neck with both ends even.
Next, pull one side longer than the other by about an inch and a half.
Bring the long side to the side of your neck, across the short side.
Continue to pull up and around the short end until you've created a loose knot.
Fold the short end into a bow shape by folding it over itself. The fold should be exactly in the middle of the two points of the collar.
Drape the long end over the front, fold it, and pass it back through the loop.
Pull halfway through to form the back part of the bow.
Tighten and adjust the knot by pulling on both ends at the same time. Now take a good look in the mirror. How stylish is that!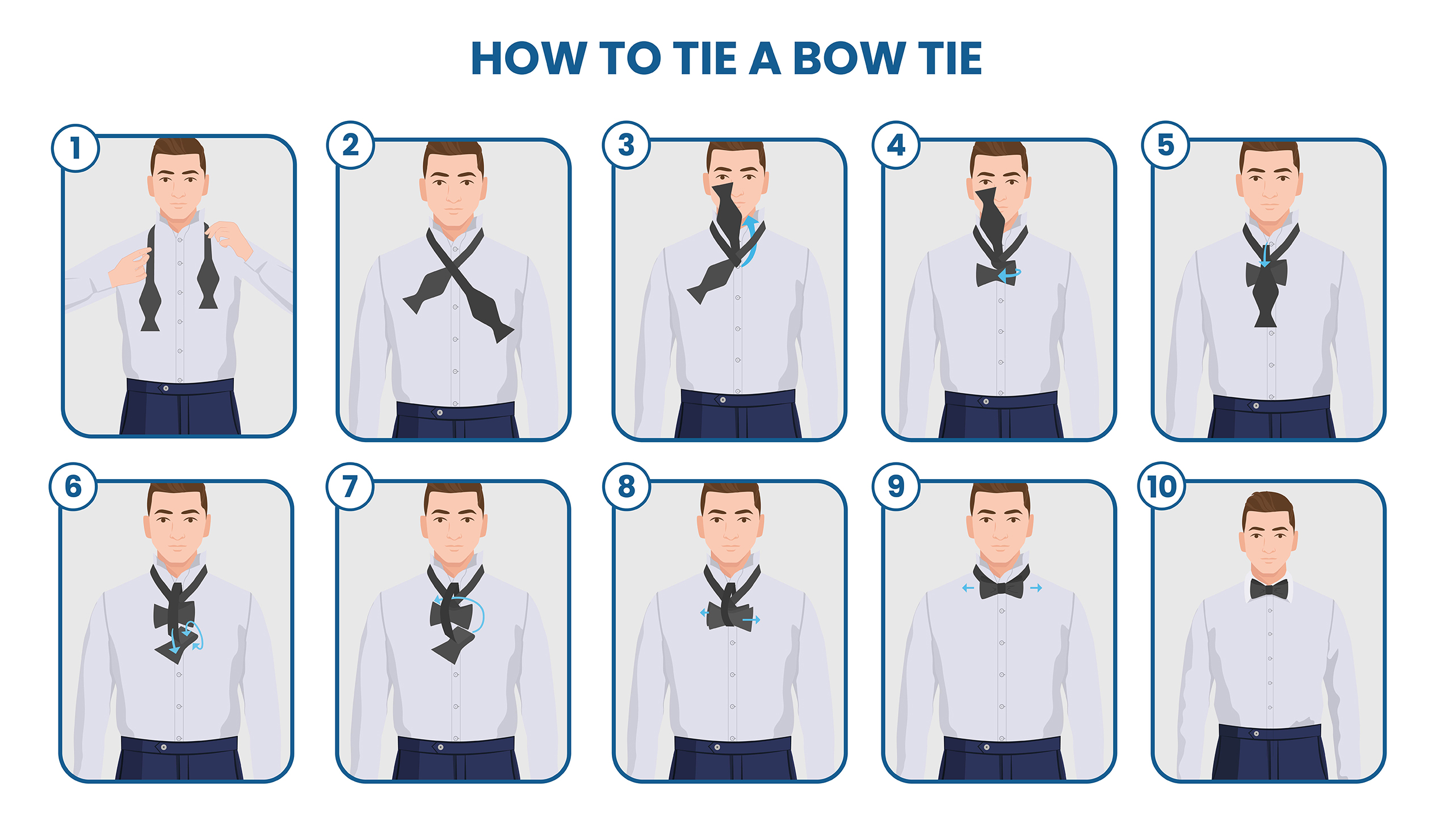 Remember to spend a little time practicing how to tie your bow ties before the occasion. There's nothing worse than being in a rush and trying to get a new suit and tie just right at the last minute.
How to Fit the Bow Tie
A fixed-size bow tie is useful as it keeps the bow proportional to the size of your neck.
For the best fit, buy a bow tie that is the same size as your tuxedo shirt collar. Alternatively, you can push the boat out and have a tailor measure your neck.
Bow ties look best with well-fitted shirts and suits. Bulkier jackets, in combination with a bow tie, can look rumpled and untidy.
For wing-collared shirts, be sure to tuck the collar wings behind the bow tie. This follows formal dress rules but is also a practical strategy for keeping your tie firmly in place.
Complications
The perfect bow does take practice to tie. It might be easy; however, it still requires repetition.
It turns out to be an entirely different beast, even for men that have perfected putting a tie together in mere seconds.
That said, don't be instantly tempted to use a pre-tied bow for a formal event. People will spot it a mile away, and it's considered a huge fashion faux pas.
Still, unlike regular clip-on ties (which are always considered bad), a good pre-tied bow tie is just not something that isn't worth considering.
However, it's best to learn the process, and it'll be better for the overall look of the tuxedo.
When to Wear Bow Ties
Black or white-tie events are occasions when bow ties are mandatory. But these aren't the only dress code events where a bow tie may be found useful.
Formal Events
Again, black-tie and white-tie events are the epitome of formal events, such as state dinners and high-end balls.
These occasions, more or less, demand that your bow tie is pure silk. Also, check that the texture matches the lapel of your tuxedo jacket.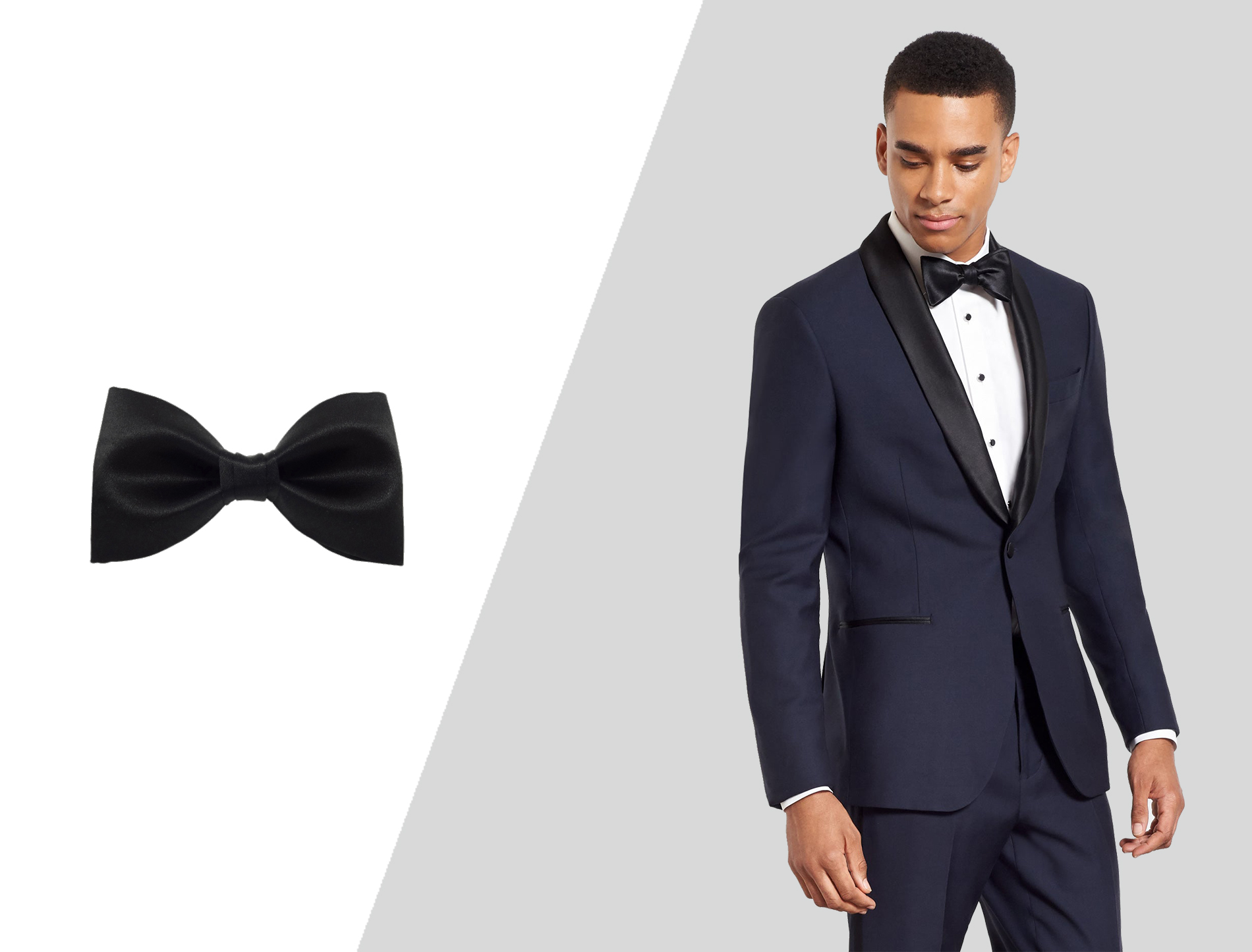 Black tie events call for black bow ties and include evenings at the opera and formal dinners. Again, match the texture of your pure silk bow tie to the tuxedo's lapel.
Weddings are another formal event example where you need to stick to certain wedding standards and dress codes.
Semi-formal Events
Semi-formal events are where you can have a bit of fun with your bow tie. Play around with different colors and textures.
Keep the rest of your outfit simple because the bow tie makes enough of a statement on its own. Stick to black, navy blue or dark grey suits and white shirts.
If you'd like to try something out, please do. However, know the boundaries between creativity with errors. After all, suits have rules you need to follow.
Casual Events
Casual events give you the liberty to try something new and avoid the rules. Mixing things up may explore new fields and style territories.
Here, the bow tie can be a game-changer that'll make your suit stand out in a sea of neckties.
To pull off this stylish stunt, your suit and bow tie should complement in color, fabric, and pattern.
Batwing bow ties might be the perfect addition to your smart-casual attire. It's slim and clean, less formal, and suitable for every kind of casual event.
Wearing a Tuxedo
Wearing a tuxedo means that the event is strictly formal. Neckties don't match with tuxedos pretty well and are considered less appropriate, especially if the tuxedo has a shawl lapel.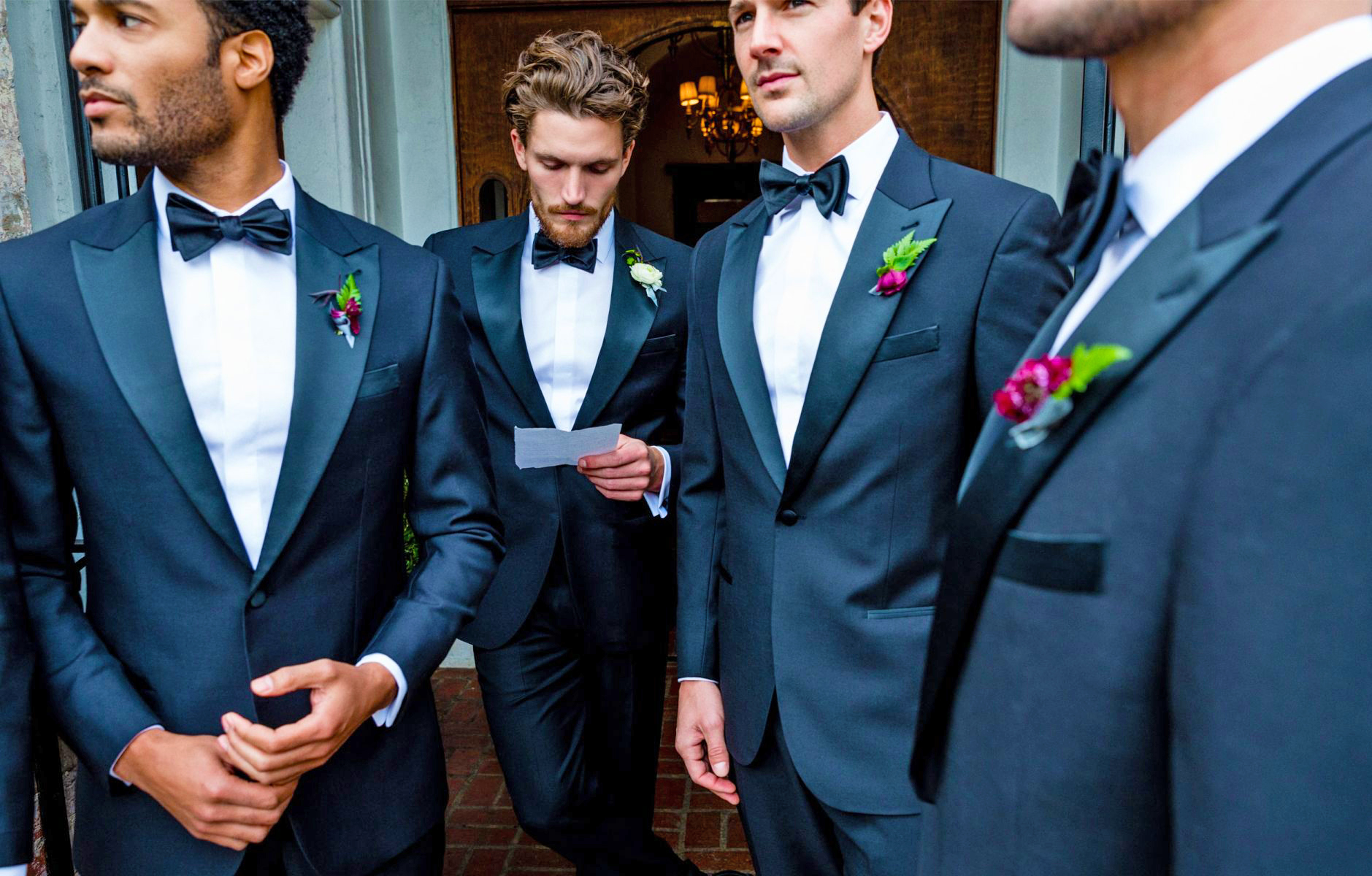 That leaves two options: either wear a bow tie or nothing at all. I will stick with the first option.
Wearing a Pleated Shirt
Did they tell you to wear a pleated shirt and a necktie? That's the last fashion advice you are going to get from them.
Again, you got two options: change your tuxedo shirt with a regular dress shirt or replace the necktie with a bow tie. It's all up to you, and that's the best advice you're going to get.
Take a Pick
It all comes down to taking the shortcut or doing it the long way. Saying that there is only one type of bow tie worth buying is a bit presumptuous. Wear what works best for an outfit and place everything else in the shadows.
Having a choice between a variety of bow ties should be a privilege and not a concern. Consider each shape and style's pros and cons and base your decision on a wide range of options of worlds.
Author: Alexander Stoicoff
Hi, I'm Alex, and I've studied and specialized in styling in Rome. Through my writing, I want to help men dress well and learn the purpose and significance of suits and other formal attire. My final goal is to make men more confident in their wardrobe choice and life in general.