A lot of work goes on behind the scenes for a man to wear a suit.
The suit is the center of attention, but many factors can make it a high-flying success or just another bland ensemble.
Let's explore ways to turn your suit skills into professional-level suiting.
Your Suit Should be Well-Fitted
The number one rule to mastering the art of wearing a suit is to fit perfectly by finding that tailoring sweet spot.
Your suit should always look like it was made specifically for you, hitting all the right points along your body.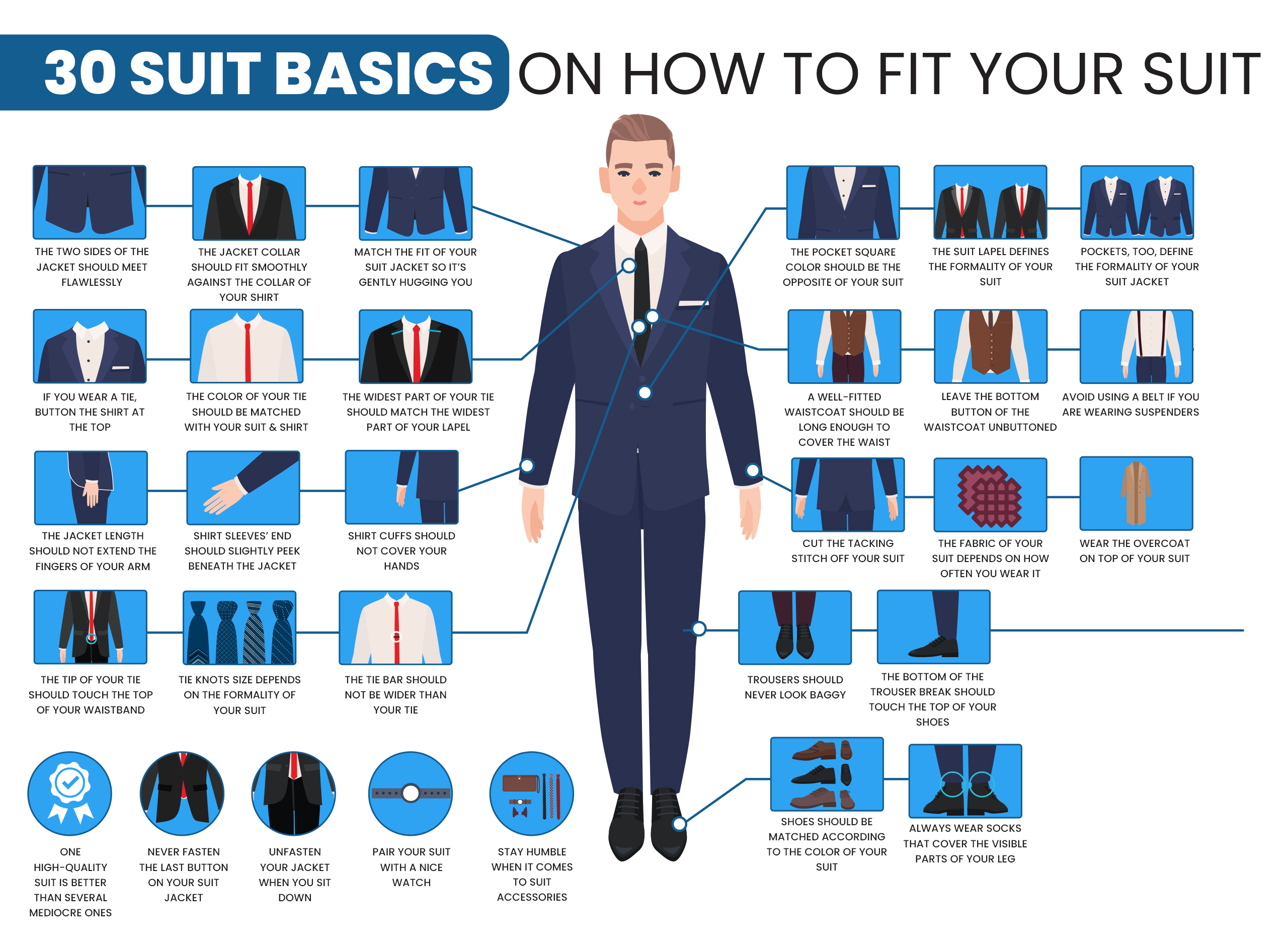 This requires getting the exact proper width and length. The perfect suit jacket should be snug but with enough room to move comfortably.
You should be able to fit a few fingers between your jacket and chest when it's buttoned.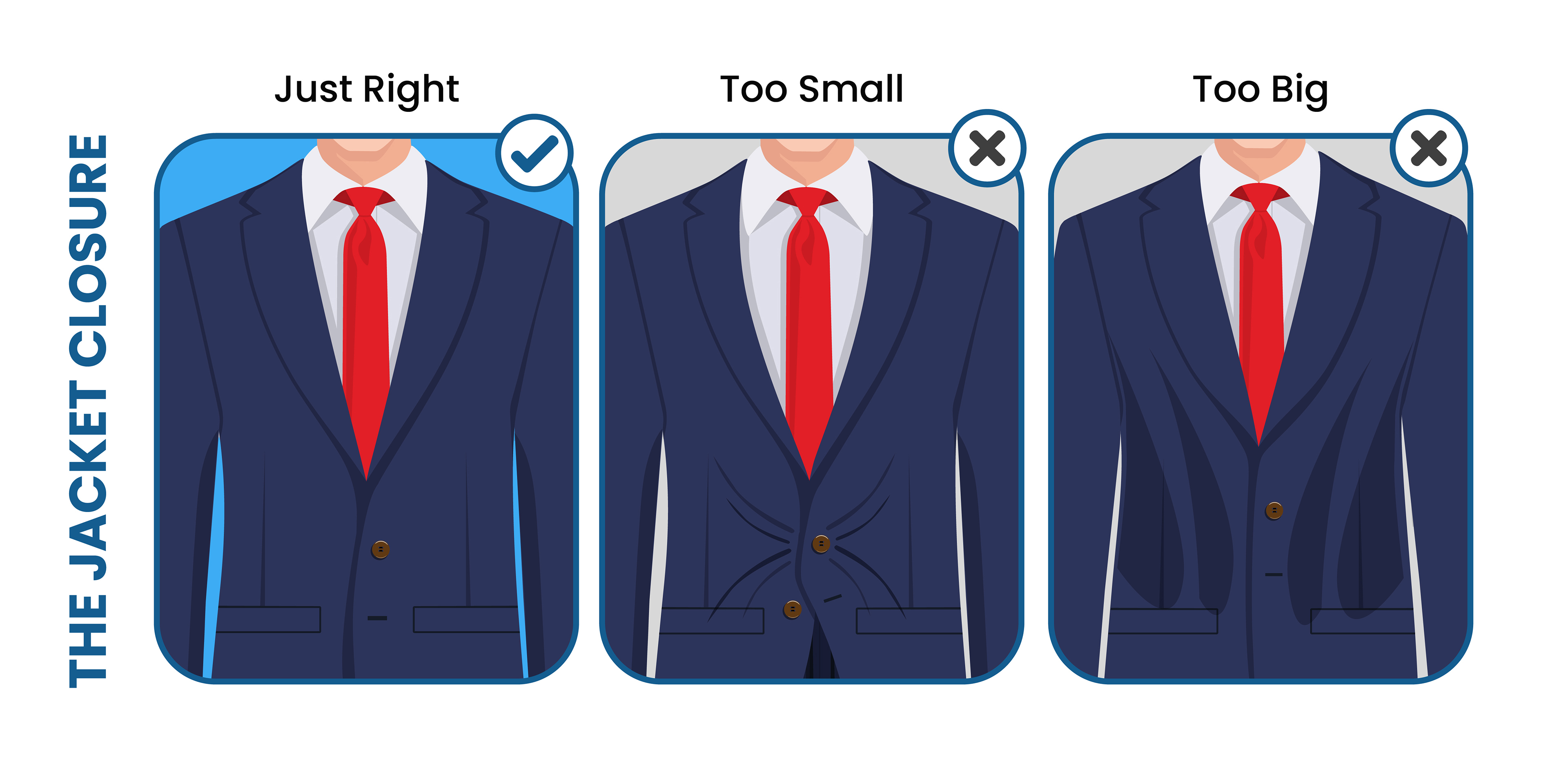 However, don't forget to include some tapering along your waistline, following your natural contours.
Aside from ensuring your suit isn't too baggy or tight, the right length will be the polishing touch. Check the hem of your jacket, sleeves, and trousers.
The right length for your suit jacket is just to the bottom of your crotch or the ends of your fingers.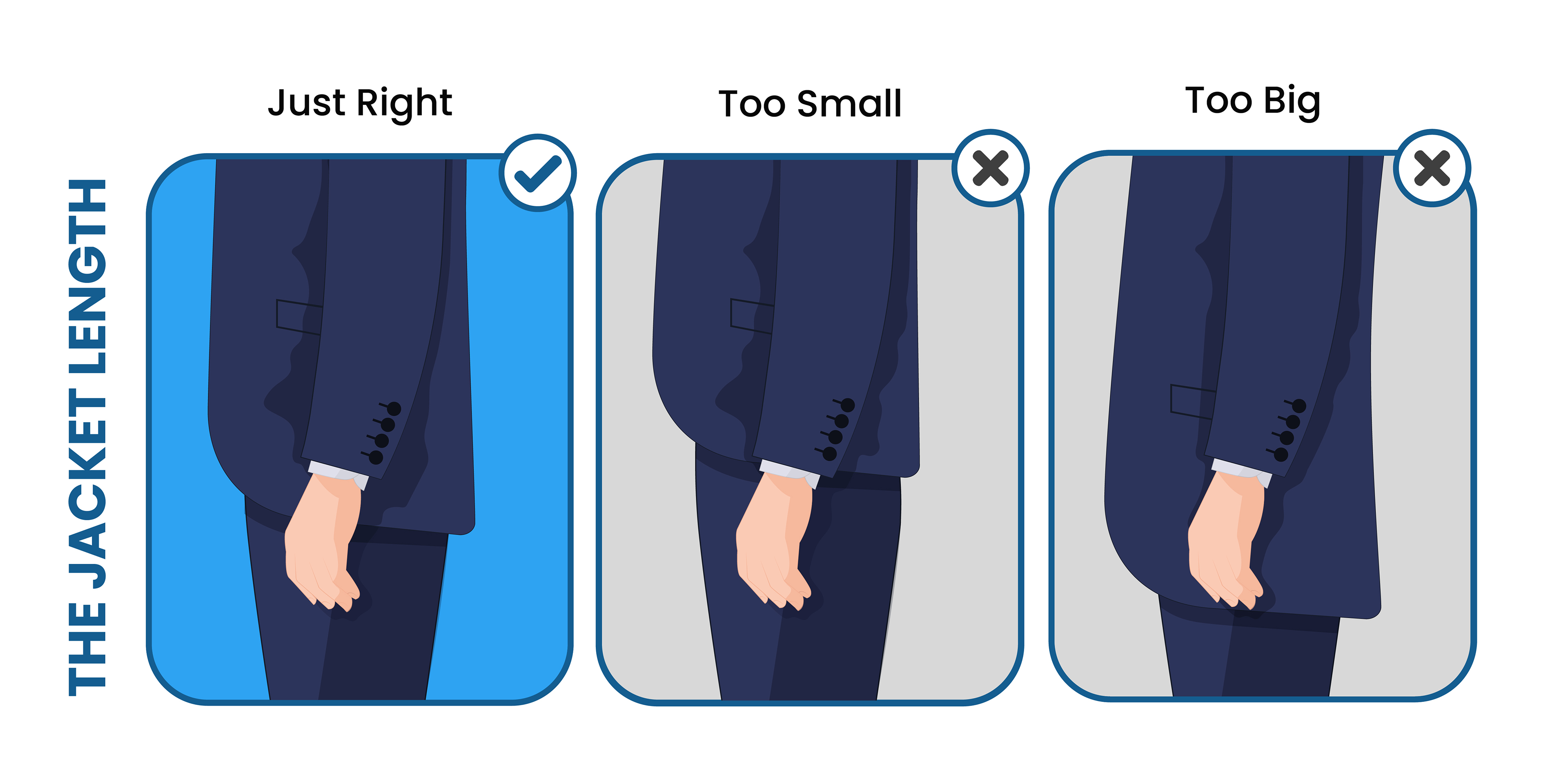 Your jacket sleeves should end at the top of your wrist, allowing your dress shirt cuff to poke out slightly.
And your trouser hem should lightly brush against the top of your shoe, with a small break at the ankle.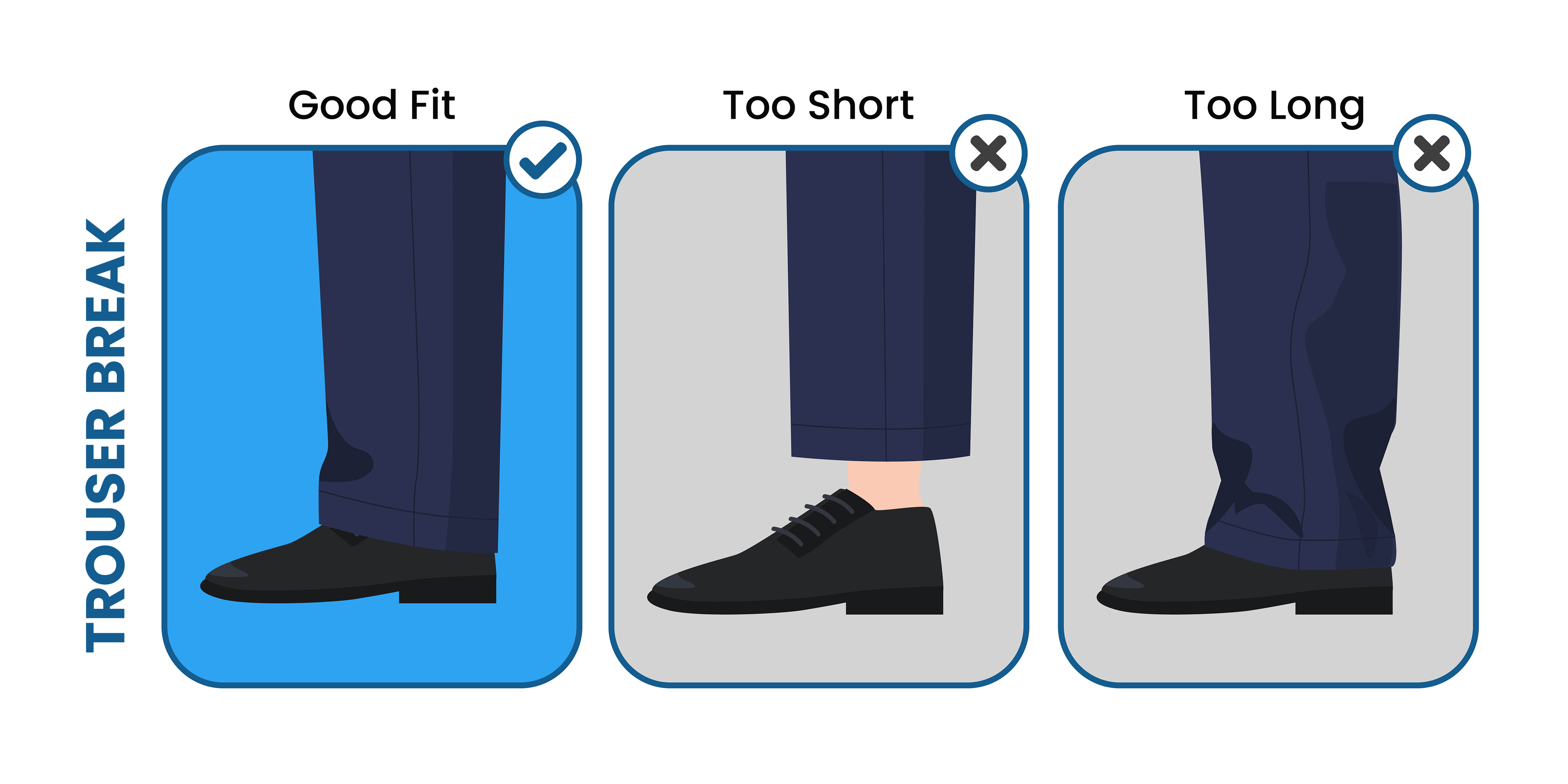 How's your seat? The fabric of your pants should lie smoothly across your bottom, with no sagging and no pulling up.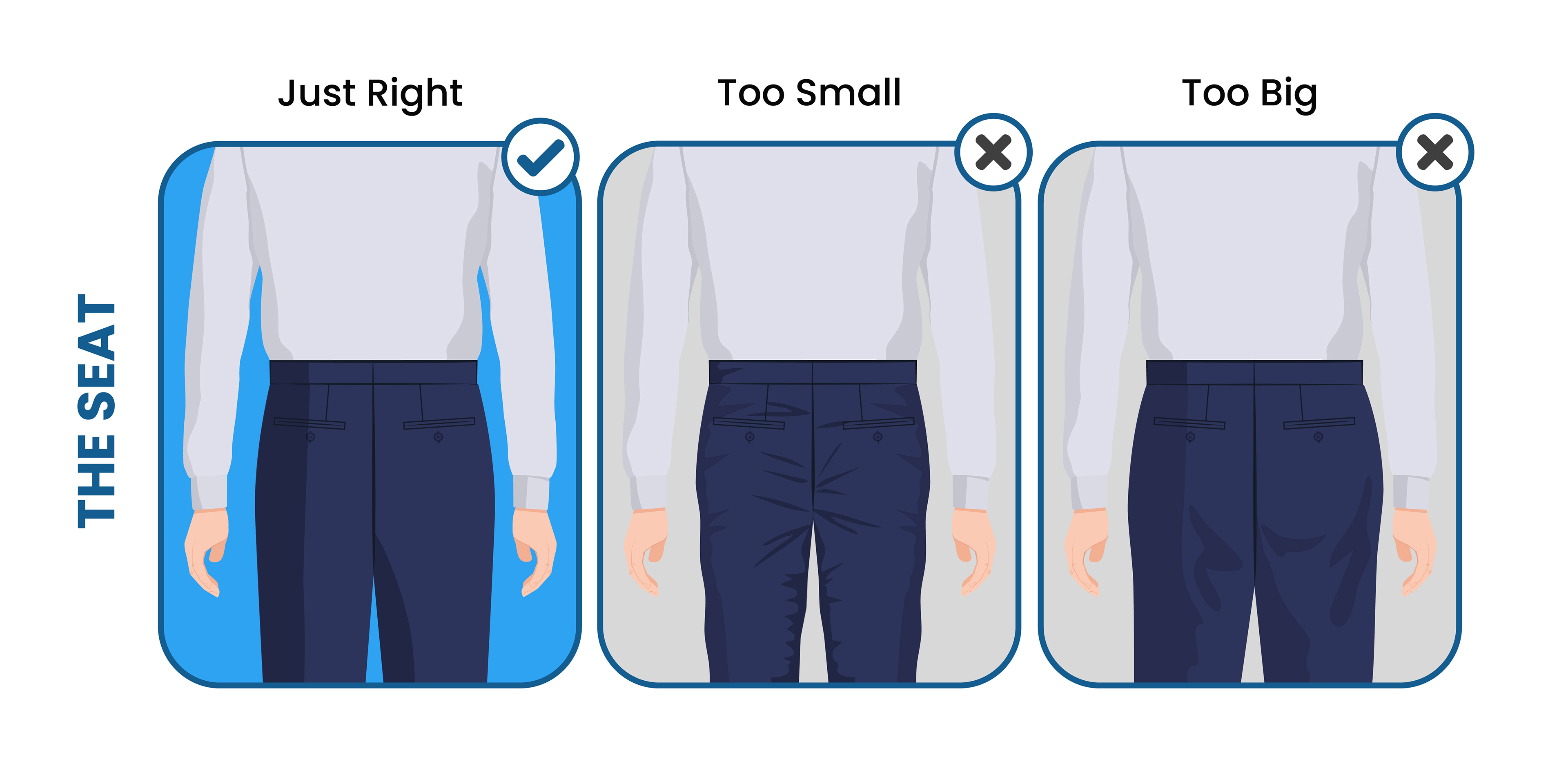 Another vital area to get the right fit is your shoulders. Don't let your shoulder seam extend past your shoulder bones; that's a sure sign of a baggy suit.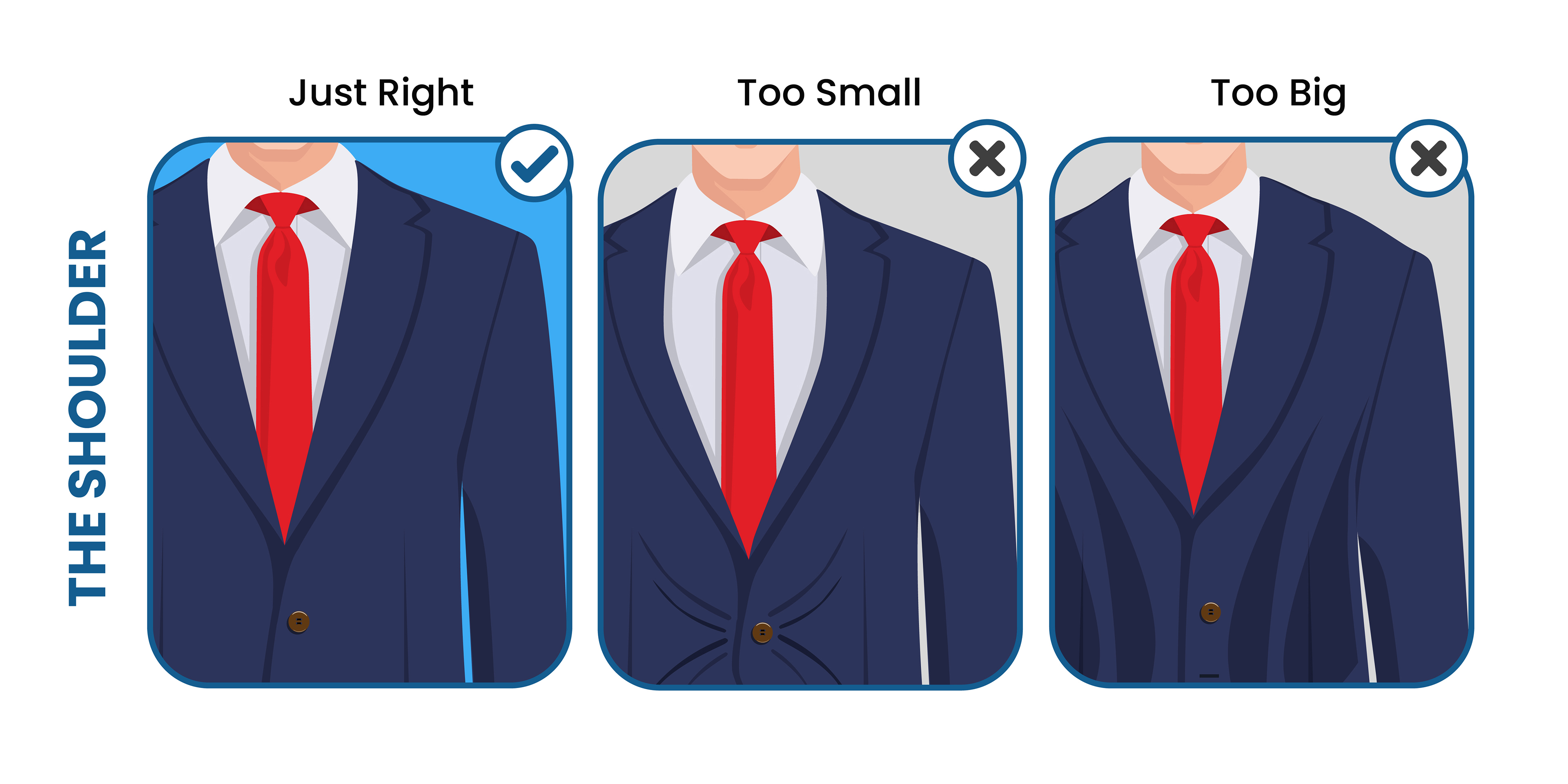 Instead, the seam should sit at precisely the end of your shoulder.
Basic Rules to Follow When Wearing a Suit
Whether you are dressing in formal attire or for a casual day on the town, there are certain fundamental rules you should always heed.
These basics will help keep you looking like a man who wears his suit like a pro.
Suit Bottom Button Rule
This one is very easy to follow: never, never button the bottom button on your suit jacket. That's it.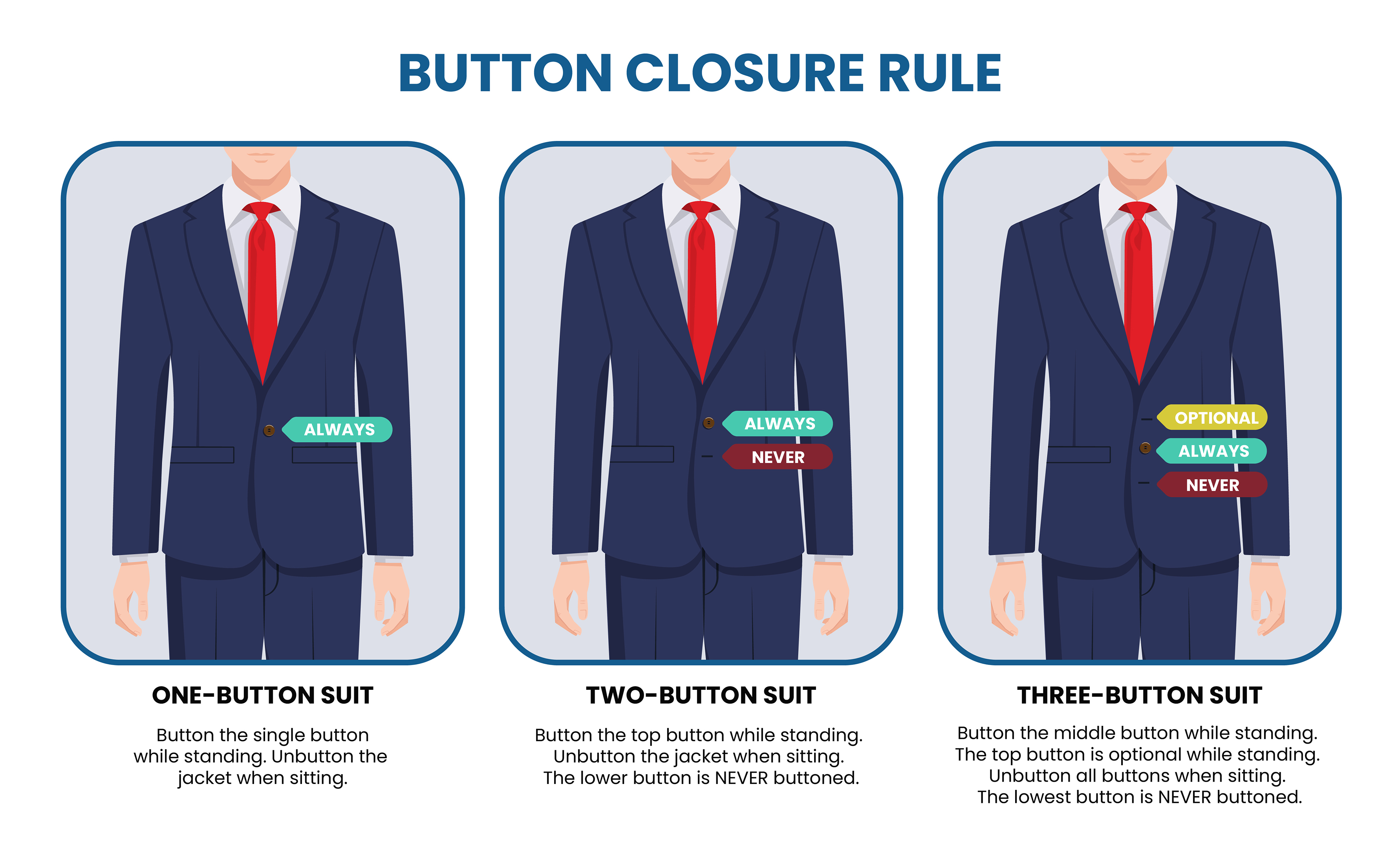 Most traditional suit jacket styles have two or three buttons. No matter how many buttons your jacket has, always leave the bottom one open.
The one above is always buttoned; if there's another one above that one, you may or may not fasten it. That's up to you. Only the middle button is required.
Leaving the bottom jacket button undone isn't about fit, but it's about style. If you button the bottom, you look too stuffy and uptight.
The Jacket is Buttoned When Standing
You should always keep your suit jacket buttoned up when standing, leaving the bottom undone, of course!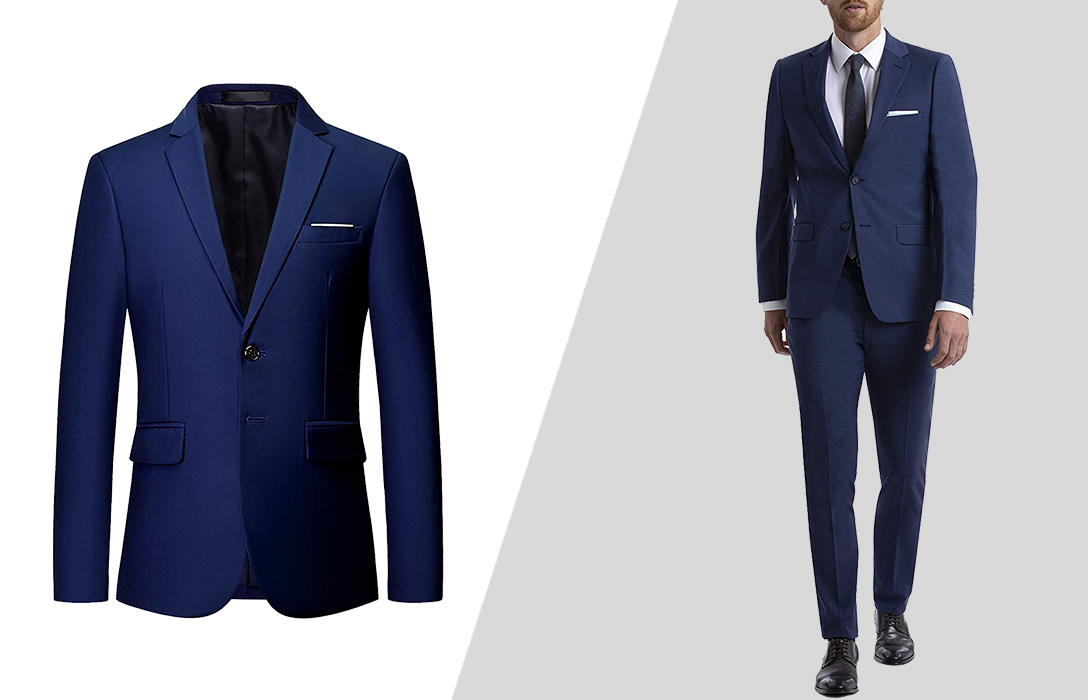 A buttoned jacket hugs your jacket around you, showing off your good fit.
It gives you a clean and tidy look. A suit requires good presentation, so you don't want your jacket flapping in the wind.
Unfasten the Jacket When Sitting
You should only undo all the buttons on your suit jacket when you're sitting down. It just looks better.
Otherwise, your jacket lapels puff up around your ears, making you look super awkward.
Oh yeah, it also feels way more comfortable. Unbuttoning your jacket when you sit is also helpful in preserving the life of your suit.
The jacket and buttons are relieved of strain when you open them for sitting. Keeping your jacket buttoned pulls on the fabric and the buttons, causing them to deteriorate.
Belt and Shoes are the Same Color
Matching the colors of your belt and shoes (and any other leather item you're wearing) pulls your entire look together.
It gives you an aesthetic that ties your entire ensemble, forming a cohesive look.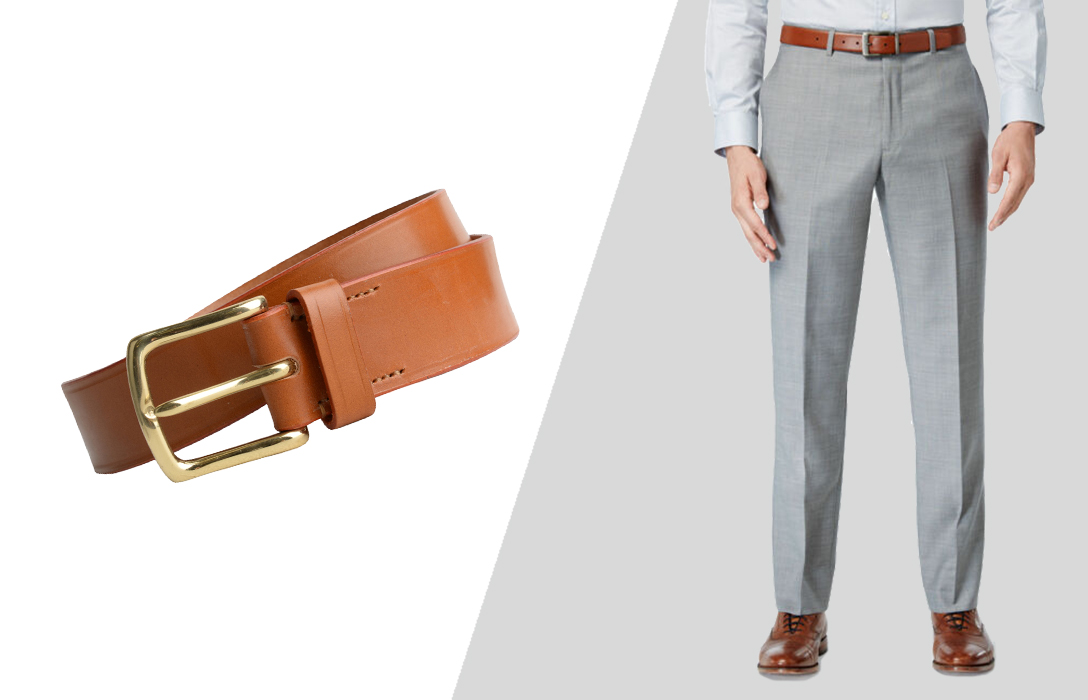 Though these pieces don't sit right next to each other, they'll stand out like an eyesore if they are disparate colors.
However, when they match each other, they make sense.
The Pant Break Ends on Top of Your Shoes
The ideal length for your trousers is gently kissing the top of your shoe, barely brushing along the top.
You still want enough fabric for a pant break, but only a slight one.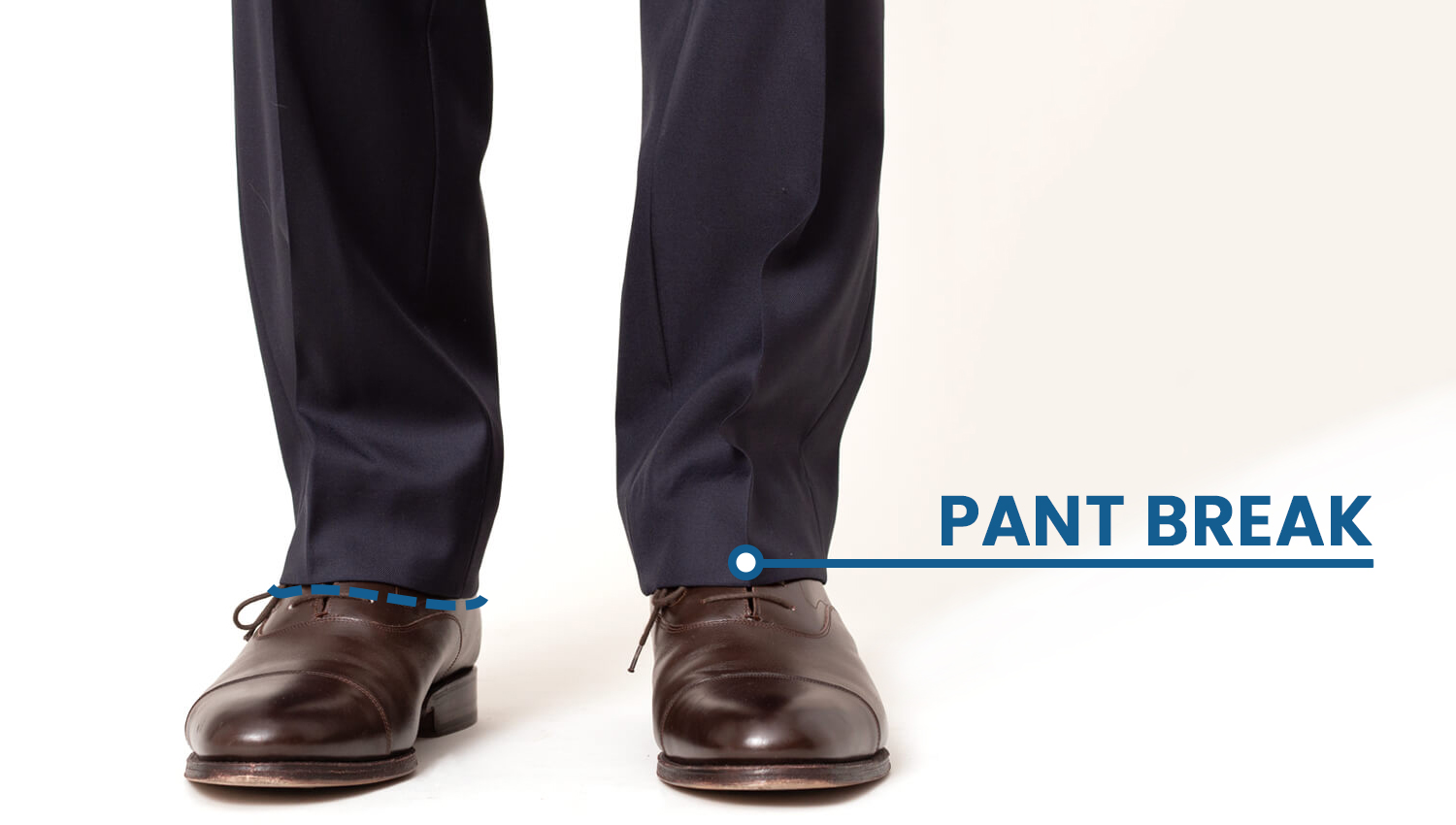 A pant break is a dimple in the fabric of your trousers at the ankle. It comes from extra material along your hemline and is very fashionable.
These days, it's most stylish to avoid a full break.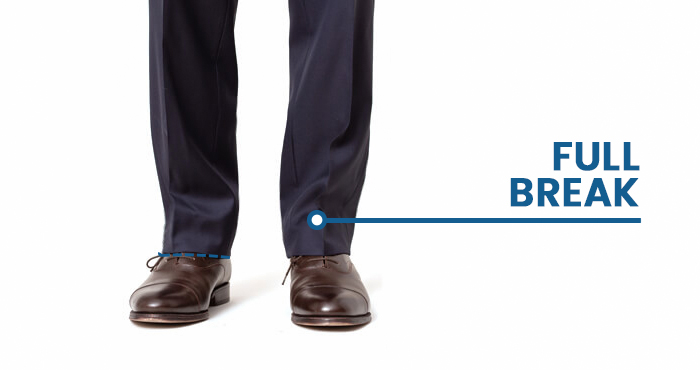 Instead, aim for a half- or quarter-break. Some looks are well-suited for no break, but that can be tricky to pull off.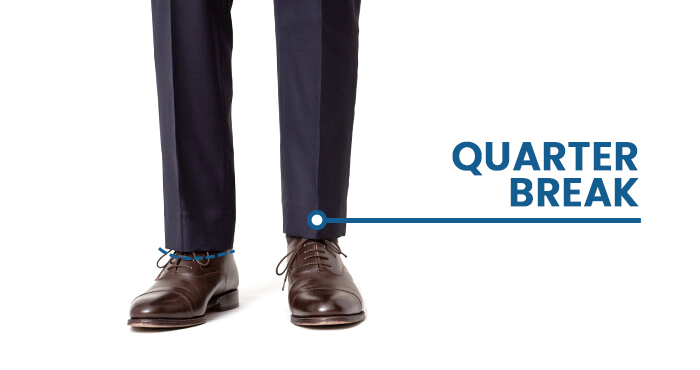 As a first-time suit wearer, it's best to avoid the no-break look.
How to Wear a Suit with a Dress Shirt
A dress shirt is a required part of your suit, so you may as well do it with style. Your choice of dress shirt can make or break the perfect suit.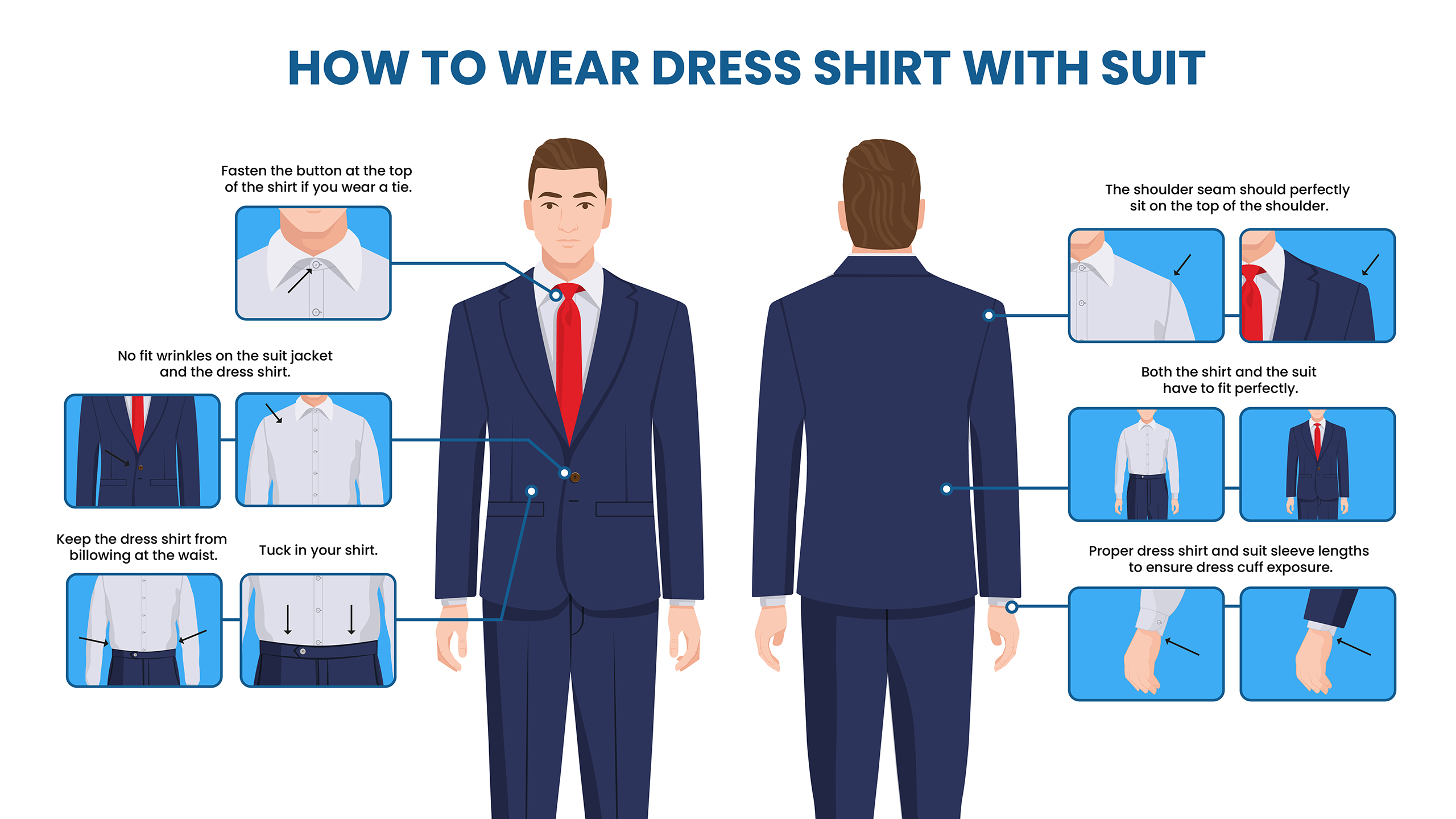 It can also elevate your look to new heights. You can't go wrong when you follow some guidelines.
Shirt Cuff Exposure Beneath Jacket
So much of creating your look falls to the details, including your shirt cuff.
We should see your cuff poking out underneath your jacket sleeve; it adds dimension to your look.
When choosing your dress shirt, the sleeve should end just past your wrist, not going further to the base of your hand.
We only need to see ¼ inch of your dress shirt from under your jacket sleeve.
No Collar Bunching
Your two pieces should fit together like a snug puzzle. The collars of your jacket and shirt should smoothly lay against each other.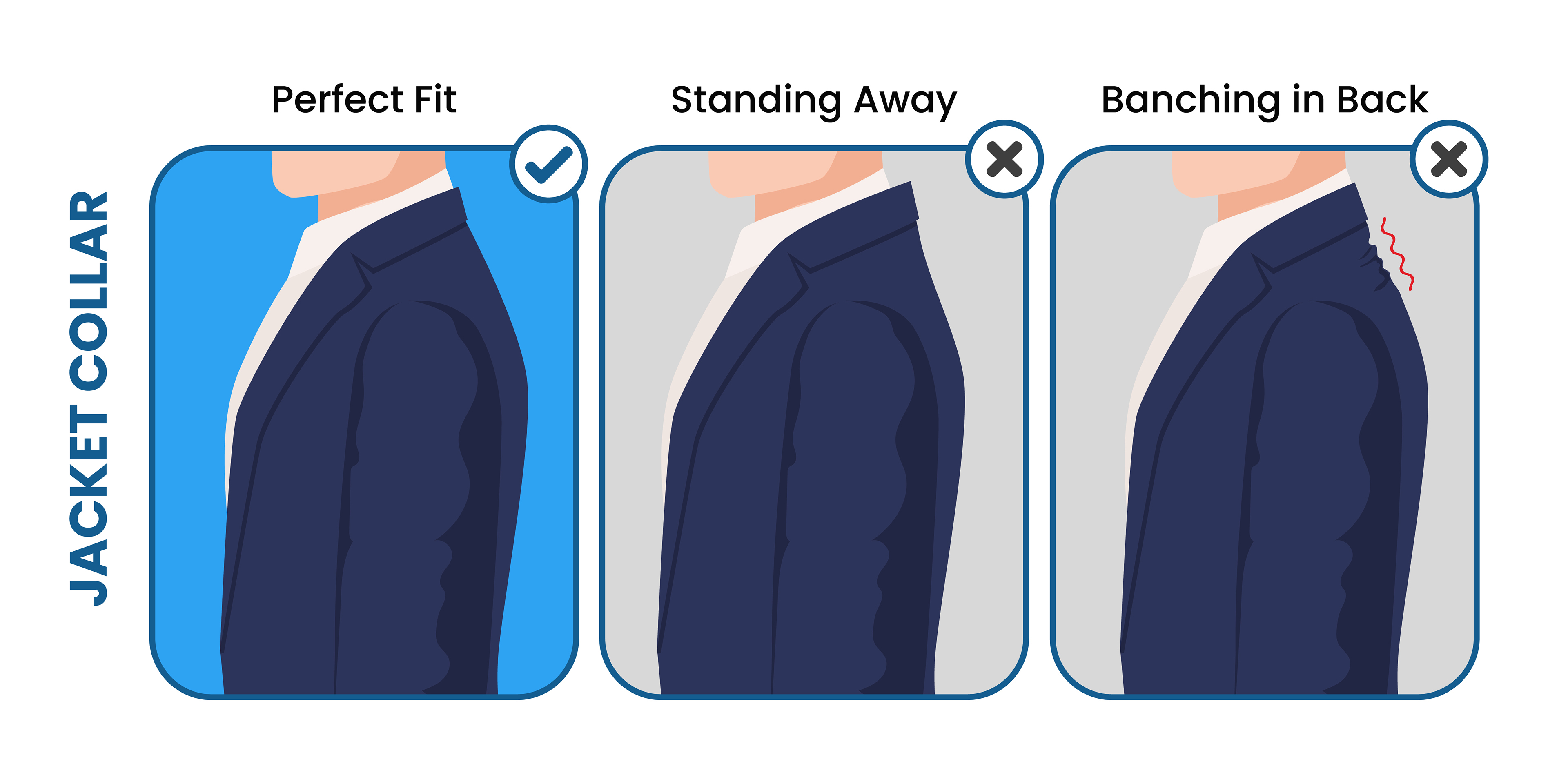 Ensure you get no gapping or tugging. If neither of these errors is present, it indicates a good fit.
There are many shirt collar styles, but whichever one you opt for should always drape evenly across the back of your neck.
Fasten the Top Button when Wearing a Tie
Your tie won't sit right if you leave your top button open. Make sure you completely fasten your buttons before putting on your tie.
Leaving it open doesn't create a relaxed look, only a disheveled one.
This plays into the fit of your shirt collar. It should be snug against your throat but with room to breathe.
You'll know you have the right fit if you can comfortably insert a finger between your collar and skin.
If you are aiming for laidback, you can ditch the tie altogether. In that case, you are welcome to leave your top button undone.
Proper Tie Length & Width
Yes, you even need to pay attention to the length of your tie. Like your other hems, it must fall at just the right spot.
It should be as long as your torso, ending right at your belt buckle. It shouldn't ever be long enough to be tucked into your waistband.
The width of your tie may be slightly more challenging. It should match the width of your jacket lapels. So, if you have very wide lapels, dive into a wide tie.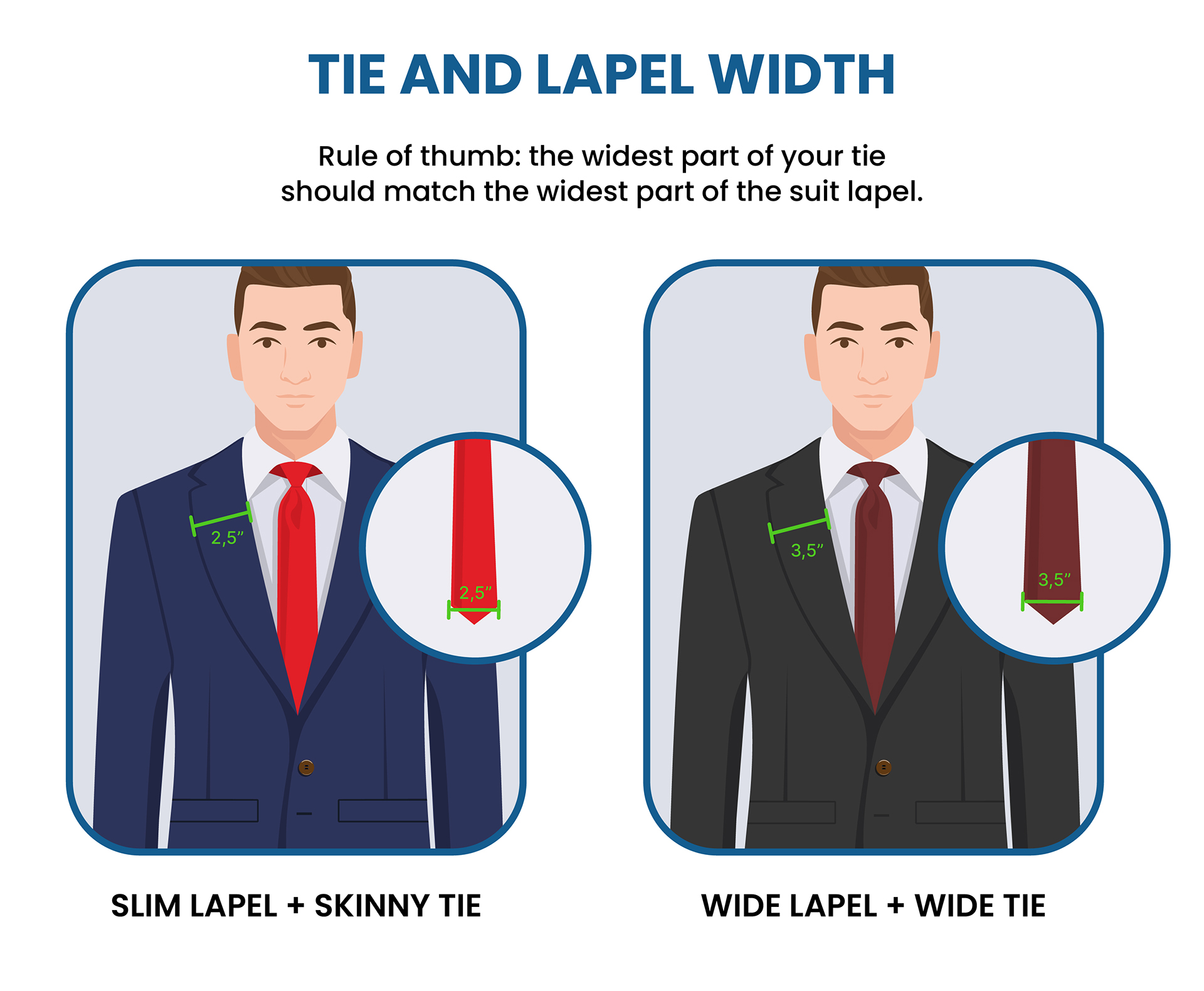 Likewise, for narrow lapels, wear a thin tie. If your tie and lapels are mismatched, you look outdated and unstylish.
How to Wear a Suit Casually
Most people automatically think of a professional or formal look when they talk about suits. However, there are so many suit styles available that you can create a wide range of less-formal looks.
You can loosen up a full suit and have fun while doing it without losing style points.
Wear the Suit without a Tie
Ties are the ultimate symbol of dressing up, so live a little and leave it off when you're goal is a laidback vibe. Be carefree with an open shirt collar, showing more skin.
Your throat won't be the only thing on display, but so will the front of your dress shirt. That's why you must choose carefully and ensure it's clean and pressed.
Perhaps this would also be a good opportunity to try a patterned dress shirt.
T-Shirt with a Suit
Exchange your standard button-up for a t-shirt to give you an iconic leisure look.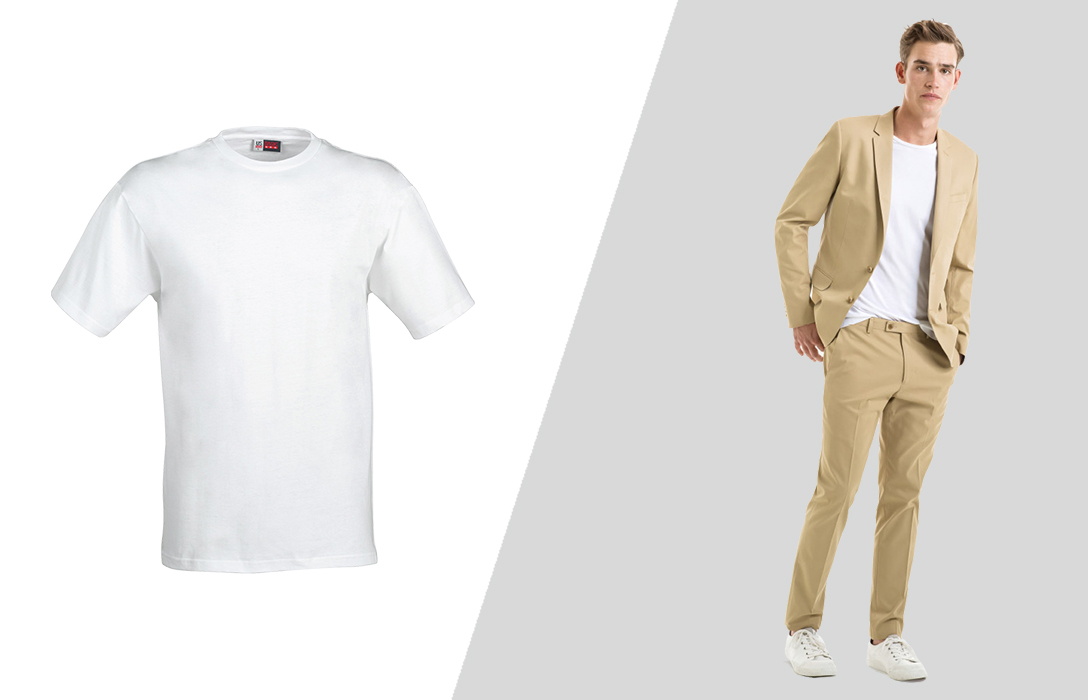 Wearing a shirt with no collar under your suit signals that you really aren't interested in formality that day.
It lends you a rakish, slightly dangerous vibe. But for this look to gel, you need the right t-shirt.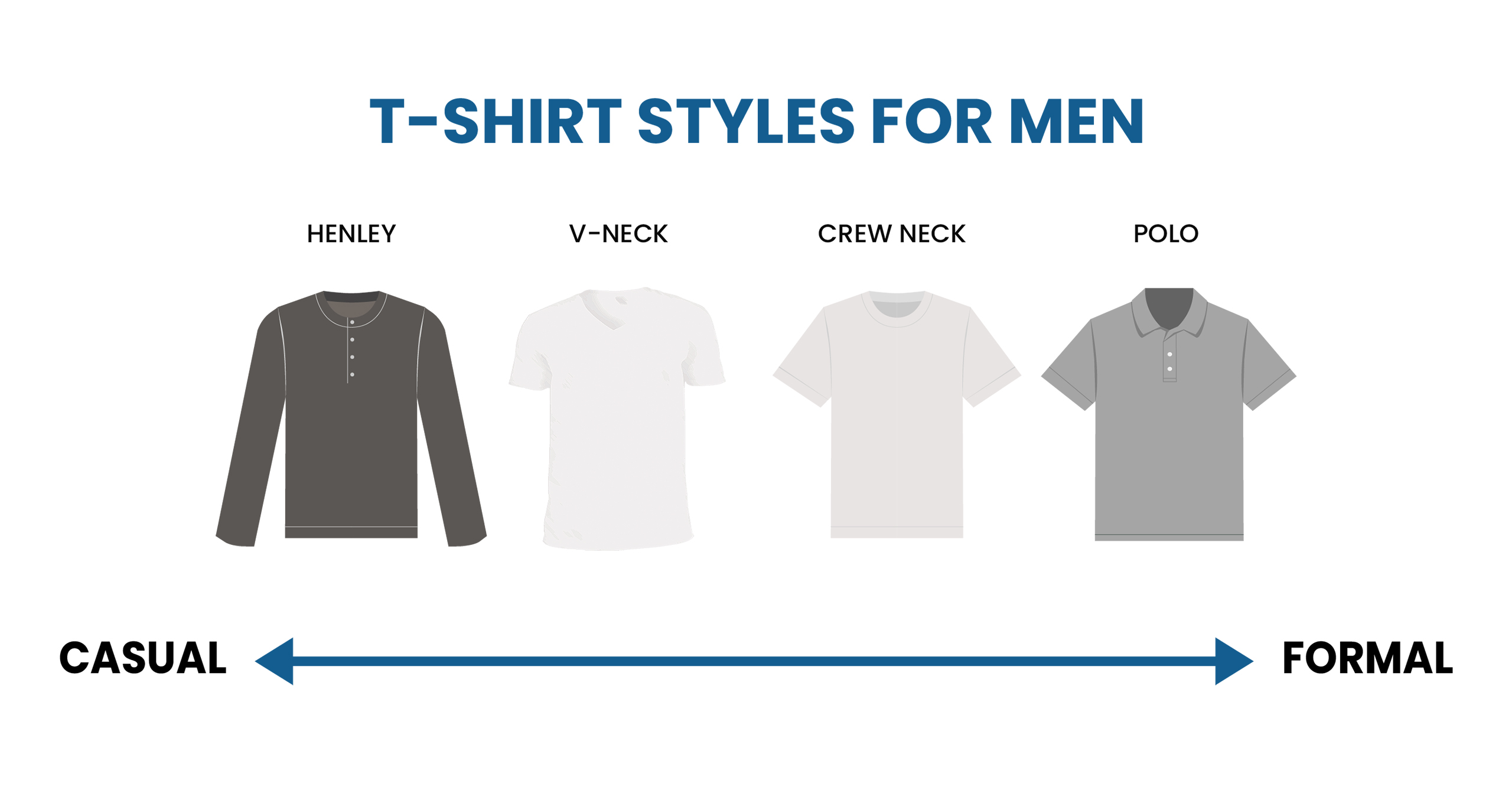 Stick with a solid color, avoiding prints and logos. Also, it must be clean and fitted; baggy T-shirts simply don't work under a suit jacket.
Sweater and a Suit
Layers are hot, as in stylish. But of course, they also add warmth! You can master this look with the right sweater under your suit.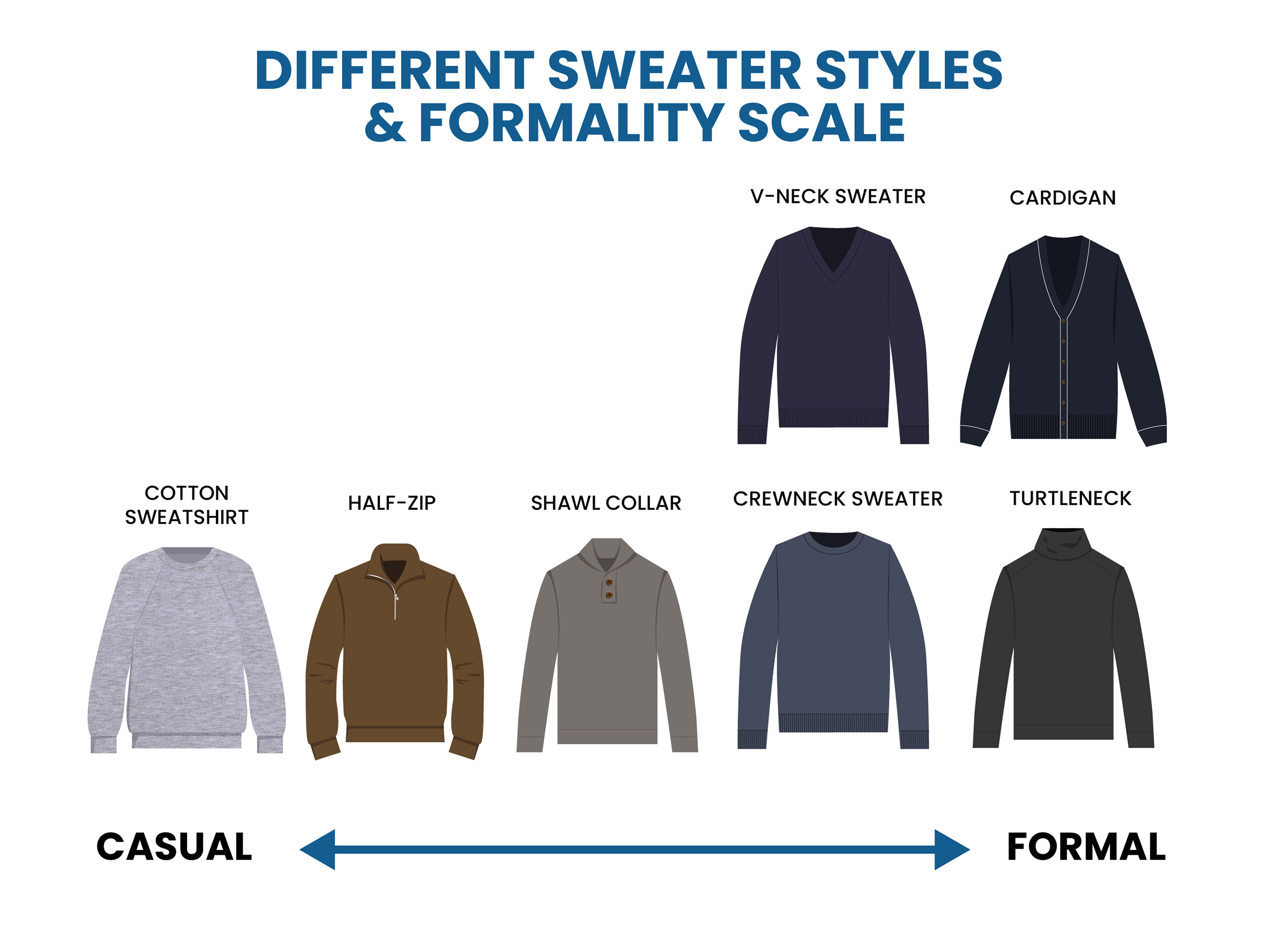 Crew and V-neck sweaters are your best bets; keep the dress shirt for a more conservative style.
You can also wear a turtleneck for a more unusual look.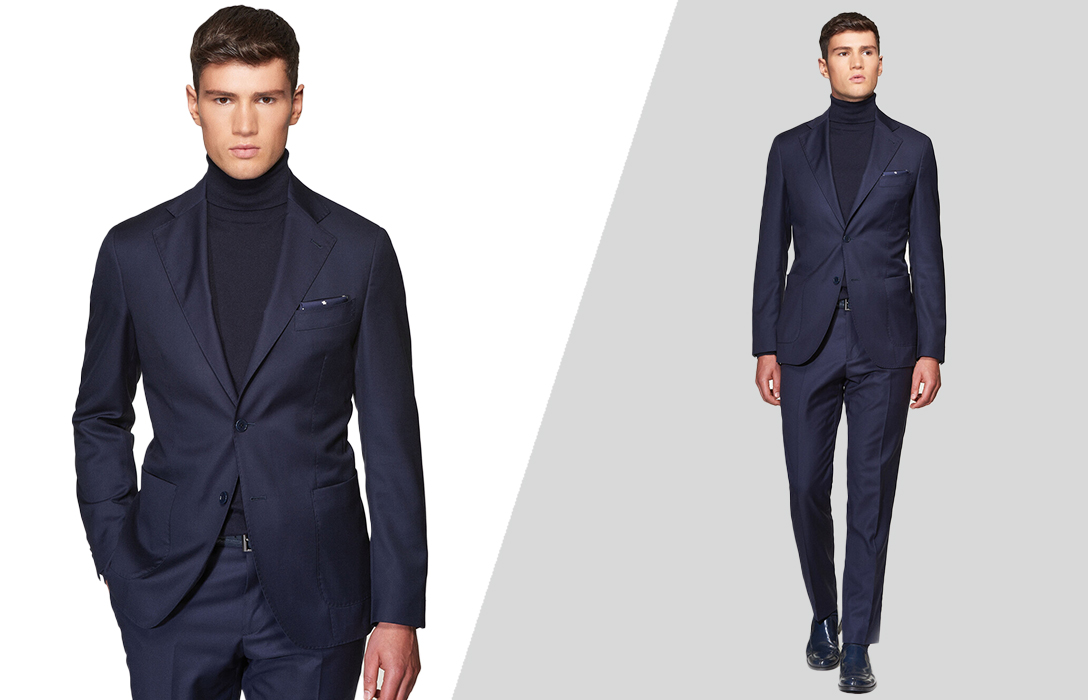 Whichever sweater style you choose must be a thin fabric with tight knits.
A bulky sweater makes you look unnaturally beefy. Plus, you'll feel too constrained.
Suit Color Combinations
There are so many ways you can alter the way your suit reads. Aside from the items you pair with your suit, like shirt style or shoes, even something as simple as the colors you use can have a huge impact!
Whether your aim is elegance or charmingly informal, the colors you pair together can send a strong message.
Navy is Perfect for a First Suit
A navy suit will be the hardest working suit in your closet. It's appropriate for all of your suit needs!
Depending on how you build on it, you can be the consummate professional or laidback. For example, a white dress shirt is the most formal way to wear a navy suit.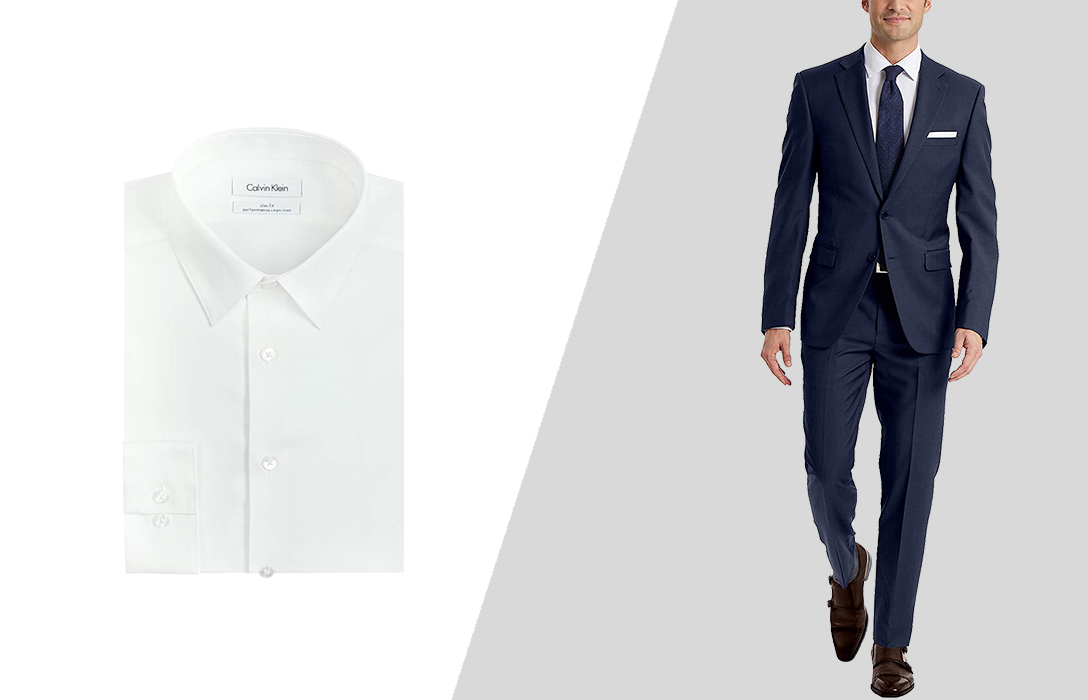 However, light blue or pale pink shirts are ideal tools if you want to soften your look while still looking polished.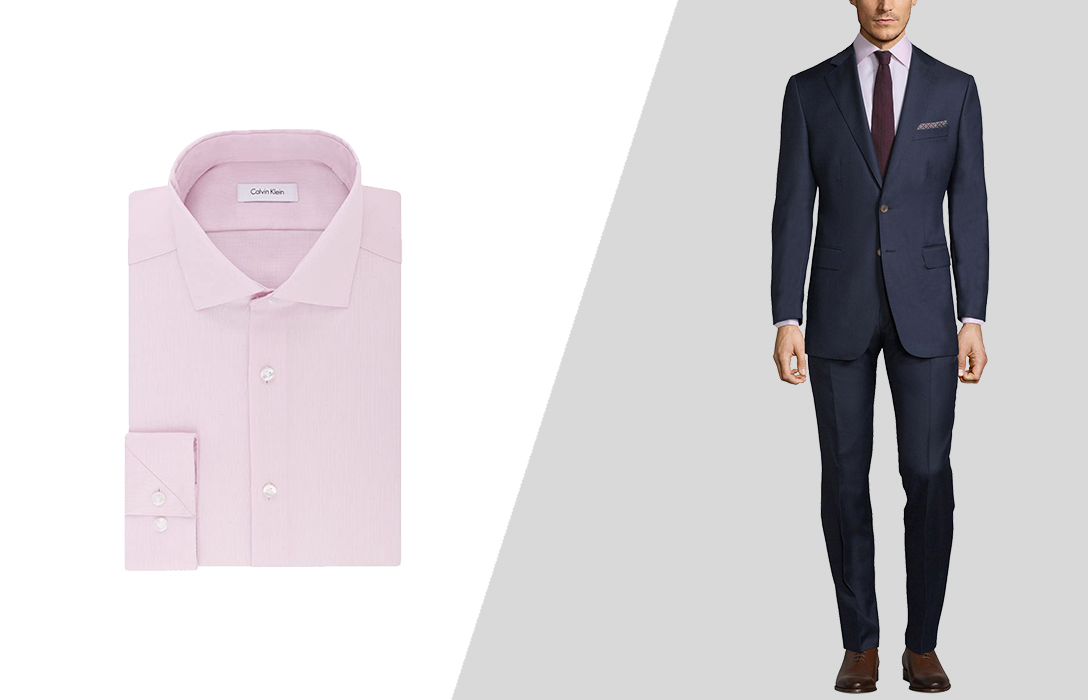 You can also play with style by adding a grey, light blue, or navy sweater. For a true eye-popping style, go bold with a burgundy sweater!
Want to go even more relaxed? Try a white or light blue t-shirt.
The Black Suit is for Most Formal Events
Black is always the dressiest suit color; it shows respect and seriousness.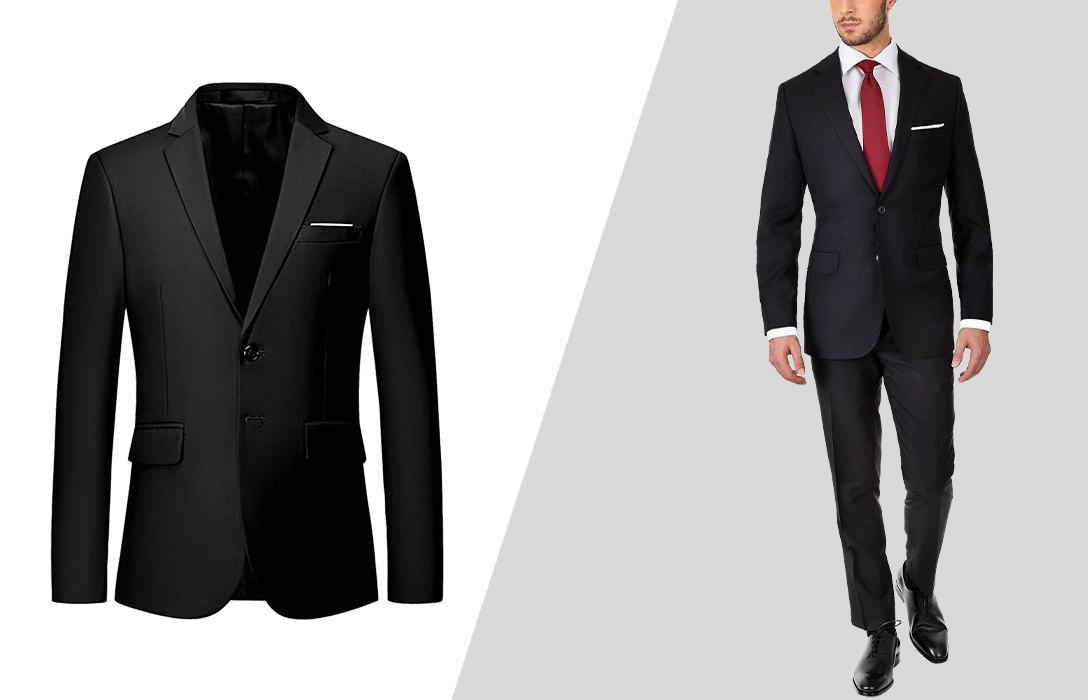 You should wear only black for a formal event or funeral. It's not a good fit for your day-to-day office wardrobe.
White is a natural pairing with black. It plays up the formality and is intensely striking. However, you can relax the suit or put a fun spin on it by incorporating a colored dress shirt, such as pink or maroon.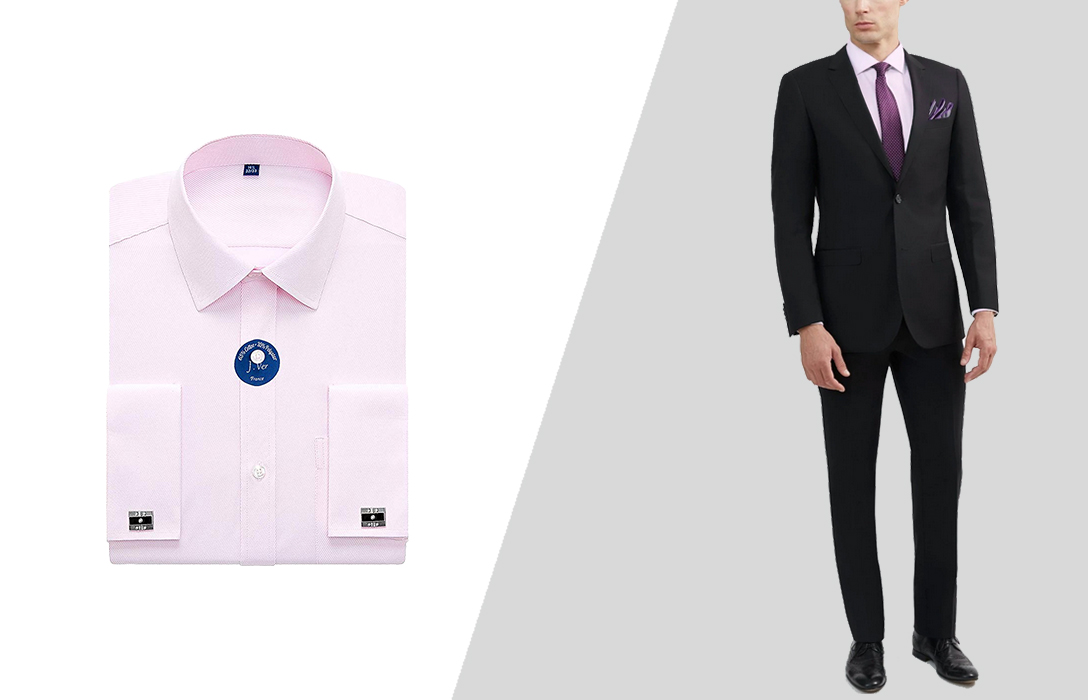 Want to go for a softer look? Try light blue.
Wear a black dress shirt with your black suit for an utterly sophisticated and mysterious pairing.
If you want to turn the suit's formality on its head, go for a maroon, white, or black t-shirt. It will give you that rock and roll effect. You can make it a bit smarter with a grey or black sweater.
Blue and Grey are Great Alternatives
Branch out from the standard dark neutrals with some lighter ones.
Blue is a cheery, yet still conservative, suit color choice. It's appropriate for the office yet versatile enough to wear for social events.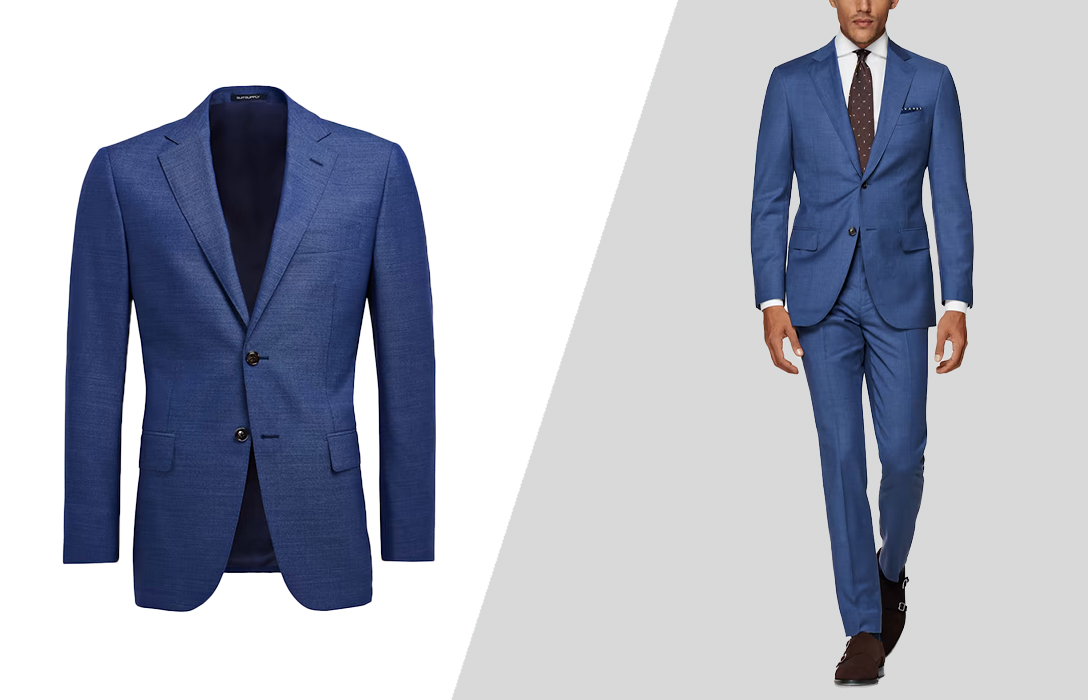 Keep it professional with a white dress shirt or relax your look with a t-shirt; white or grey would be the most natural choice. Or layer up with a sweater of the same color.
A grey suit is a wonderful addition to any wardrobe, especially a dark charcoal one. It's professional and elegant without coming across too harsh.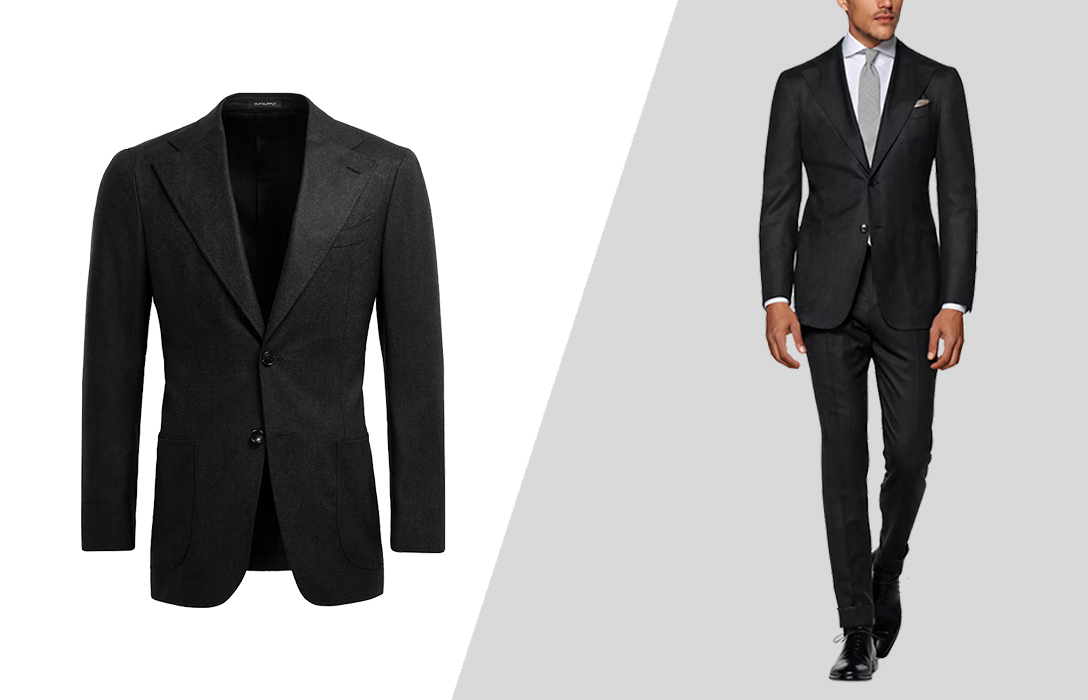 Match it similarly to the way you would a blue suit. However, you could incorporate a black or light grey t-shirt when dressing it down.
When to Experiment with Suit Colors
Once you feel that you have your feet under you with the basic suit colors, it's time to expand your color palette. Try bolder suit colors, like burgundy, brown, or green.
These shades aren't appropriate for more conservative workspaces but are fun to add to your social calendar. Spice up your look by pairing bold colors with these suits!
Neutrals are fine, but mixing jewel tones with a brown suit, for example, creates an unforgettable style.
Always Dress for the Event
If you've ever shown up to a party completely underdressed, you can relate to the uncomfortable feeling. Don't be caught unprepared; always keep the dress code in mind.
If you know it's a formal black-tie event, be precise in choosing your suit and the colors that go with it. This includes your dress shoes.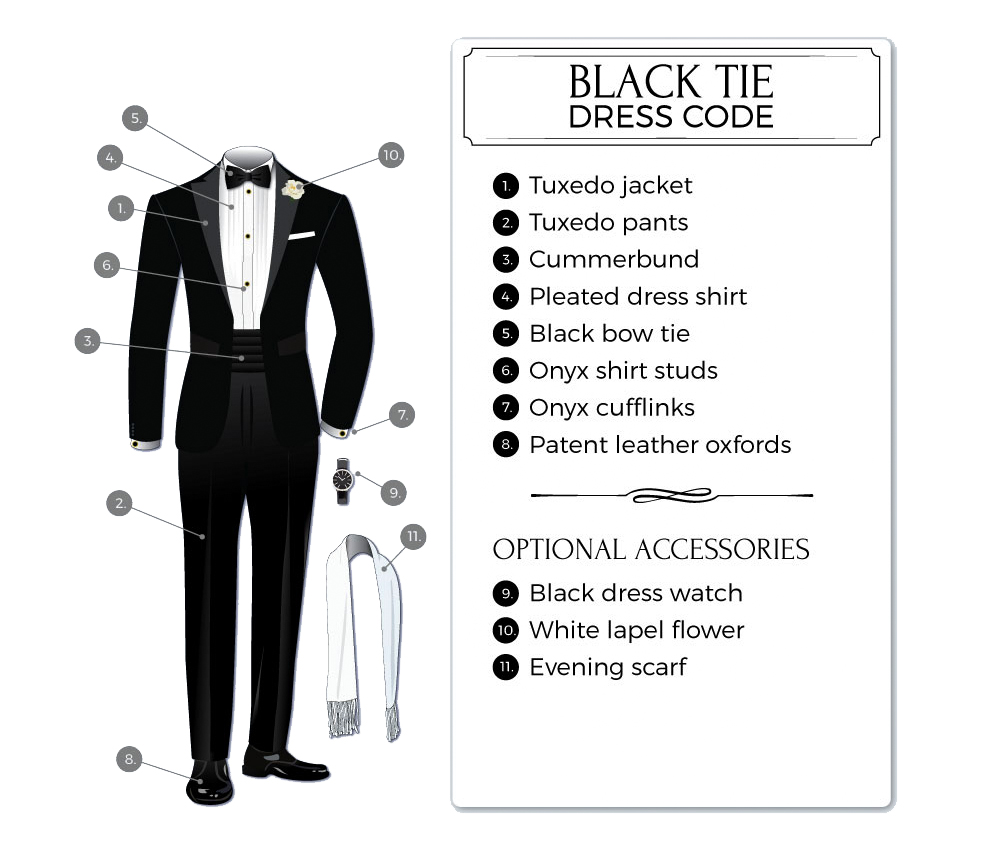 On the other hand, it's better not to be overdressed, either, so be mindful of your more laidback occasions.
If you're in doubt, dress a little more formally than you think might be needed, especially when it comes to more formal business settings.
It's always better to be more well-dressed than necessary instead of too informal.
Suits & Accessories
You could just slide into your suit and head out the door, or you could add some unique details that make it more interesting.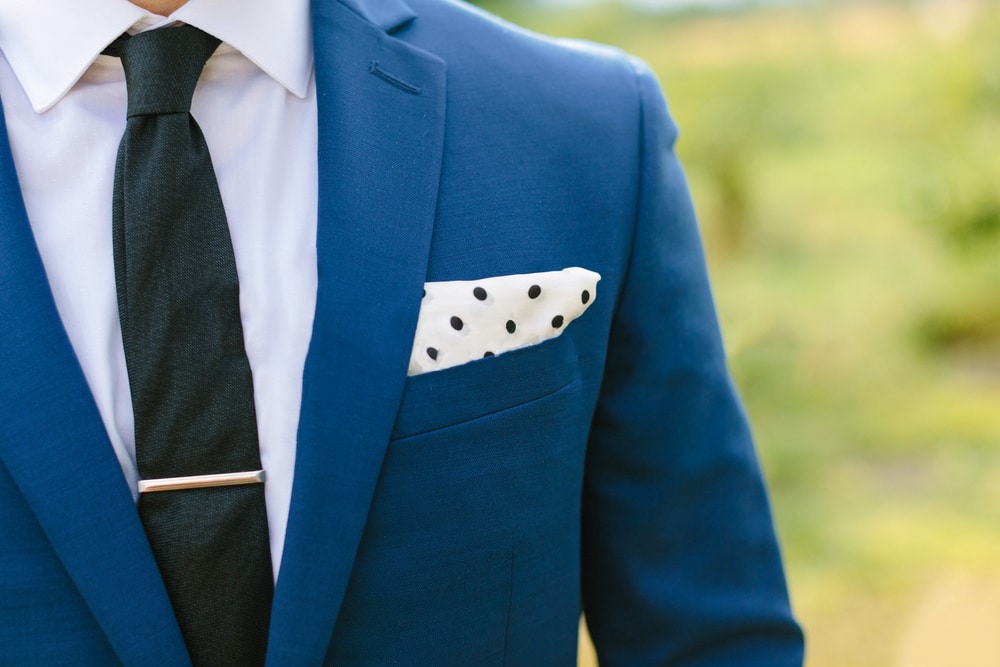 Men's suits benefit from a few accessories, which help you add some of your personality to your outfit. Accessorizing makes you stand out from the crowd.
The key to accessorizing is not which ones you choose but which ones you don't choose. In other words, remember that less is more.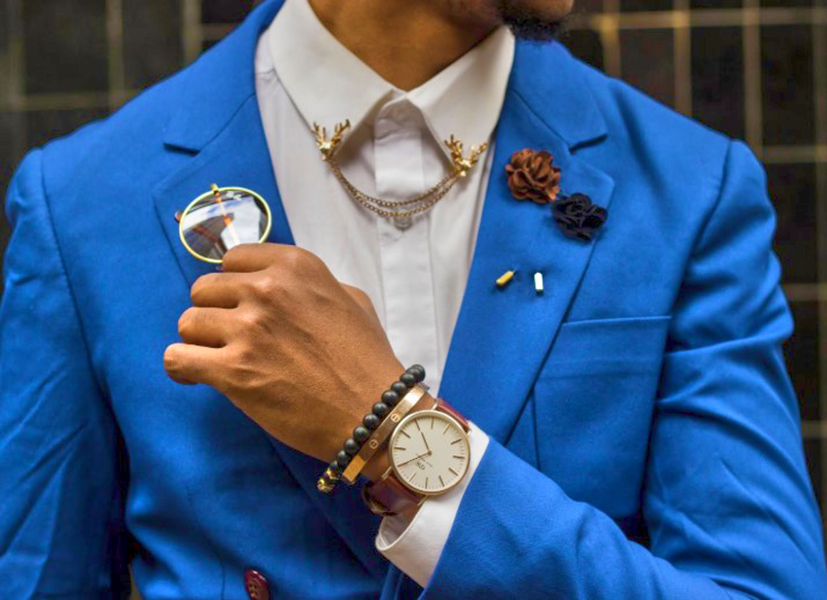 Your look will suffer if you add too many fun details, so only add a special one or two items.
Proper Dress Shoes
The way you match the color of your dress shoes with your suit is vital. For example, you'll always want black dress shoes for your most formal events.
This is because black shoes are the best match for any dark suit.
On the other hand, your best everyday shoes tend to be dark brown, but of course, that can change based on your suit color. Color is crucial, but so is style.
Oxfords are your dressiest option, but you can wear derbies in a pinch. Brogues and cap toes are wonderful style choices, though they do make your shoes less formal.
Check out some slip-on styles, like loafers if you need casual shoes.
Ties & Pocket Squares
The only time you'll wear a tie is if you're wearing a dress shirt; a collar is required with a tie.
A tie is another opportunity to play with color and add some personality, but be mindful that you match your shirt or suit.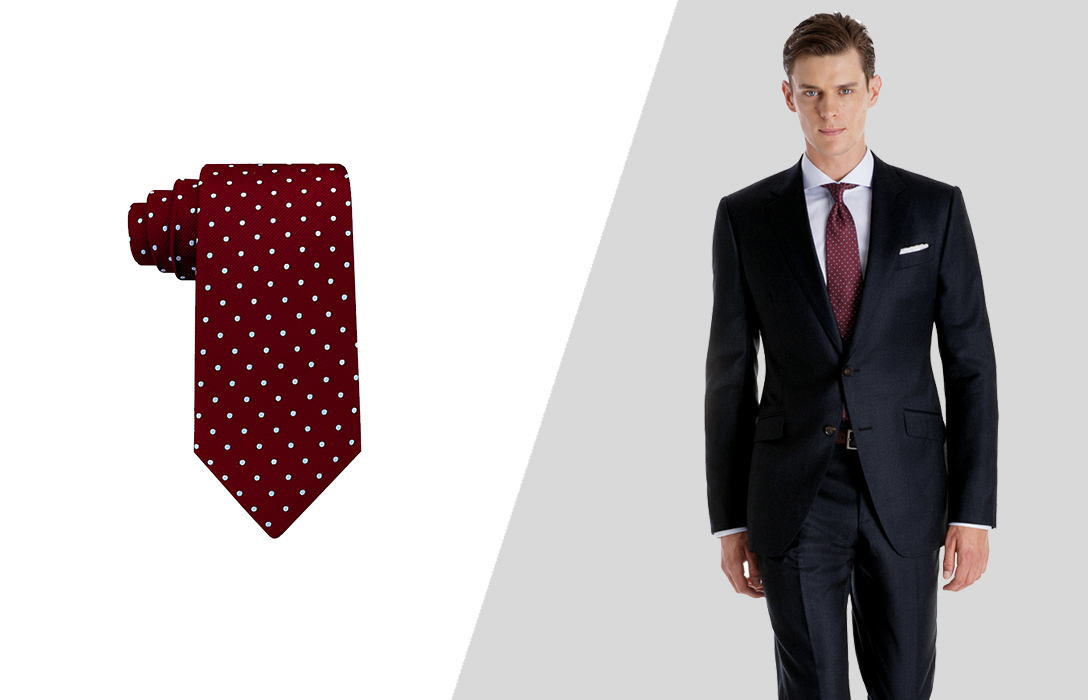 If you add a pocket square, they'll look best when you create a contrast.
They don't need to create a significant contrast, but they shouldn't ever be a complete match.
Not only does that look boring, but it's a beginner's mistake.
Watches
Incorporate a dress watch to make a simple statement with your style. They aren't as common today but always make an excellent conversation piece.
A leather band is the dressiest choice, but remember that it must match the color of all other leather you wear. A simple and unadorned face makes a classy statement.
The more features your watch has, the more casual it is.
Tie Bars & Cufflinks
A tie bar should be comparable to the width of your tie, usually falling about ¾ of the way across.
Cufflinks can be a fun way to decorate your shirt cuffs. The styles vary greatly, but remember that less is more.
In both cases, the metal parts should match any other metal you wear, such as your belt buckle.
Formal Belt
It's always recommended to wear a belt with a suit. Despite being functional, it has an aesthetic purpose as well.
Always choose a dress belt that's thin, with a small and subtle belt buckle. Formal belts should be made from smooth leather.
The belt must also be black if you wear a formal black suit. Don't forget the belt has to match the color of your shoes!
Dress Socks
Your socks may not be the main focal point of your suit, but they will be seen at least when you sit down. The number one rule of dress socks is never to wear white.
You can use color and patterns to add personality, though. They don't need to be boring!
The key is finding the proper length. Your dress socks should cover all visible parts of your leg, even when you sit. So, they should be as high as your calf or knee.
Author: Alexander Stoicoff
Hi, I'm Alex, and I've studied and specialized in styling in Rome. Through my writing, I want to help men dress well and learn the purpose and significance of suits and other formal attire. My final goal is to make men more confident in their wardrobe choice and life in general.