Your suit is a lot more versatile than you probably realize. By wearing different garments under your suit, you can create an endless catalog of styles.
From formal to ultra-casual, your suit can cover them all. It's all in how you play the game.
Dress Shirt
Quick: when you picture a suit, what type of shirt is under the jacket? Odds are you were thinking of a dress shirt.
That makes sense, though; a button-up dress shirt is the traditional way to wear a suit, and with good reason, too.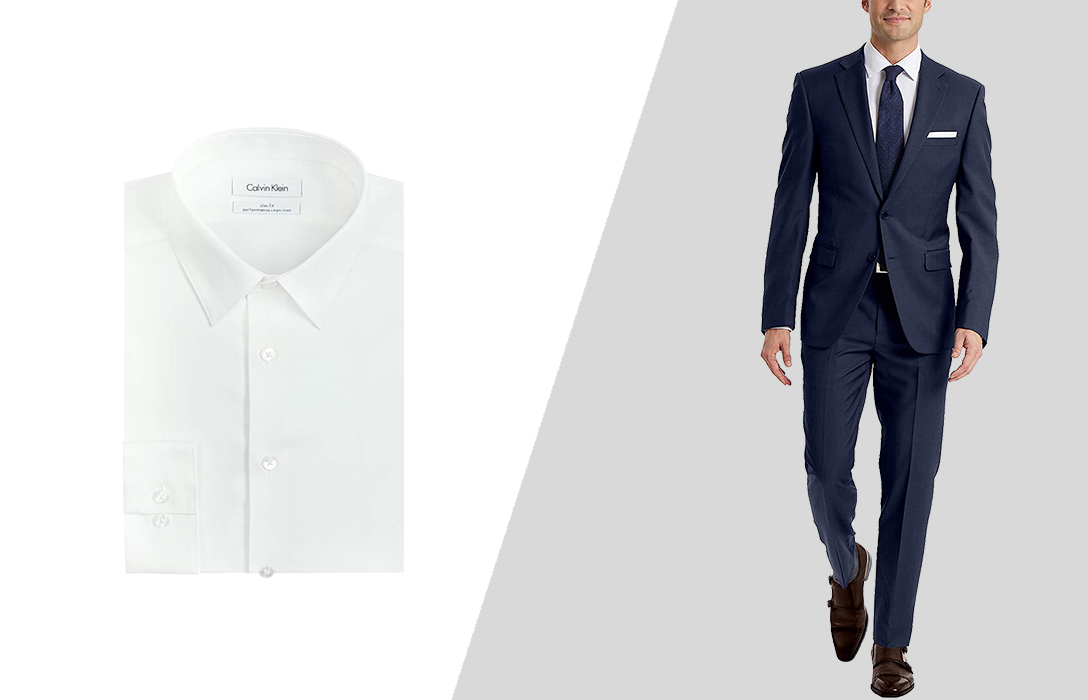 Dress shirts are a reliable way to maximize the formality of your suit. However, you can play around with your suit's dressiness by altering your dress shirt.
For example, you can incorporate a tie for a professional appearance or leave it off with an open collar for a rakish, relaxed look.
The color and print of your dress shirt also heavily influence your suit's formality. A plain white button-up is the tops in formal wear, making it the go-to for dress shirts.
However, you can switch up the suit by substituting a print dress shirt for a slightly casual style. Or even just by wearing a button-down style.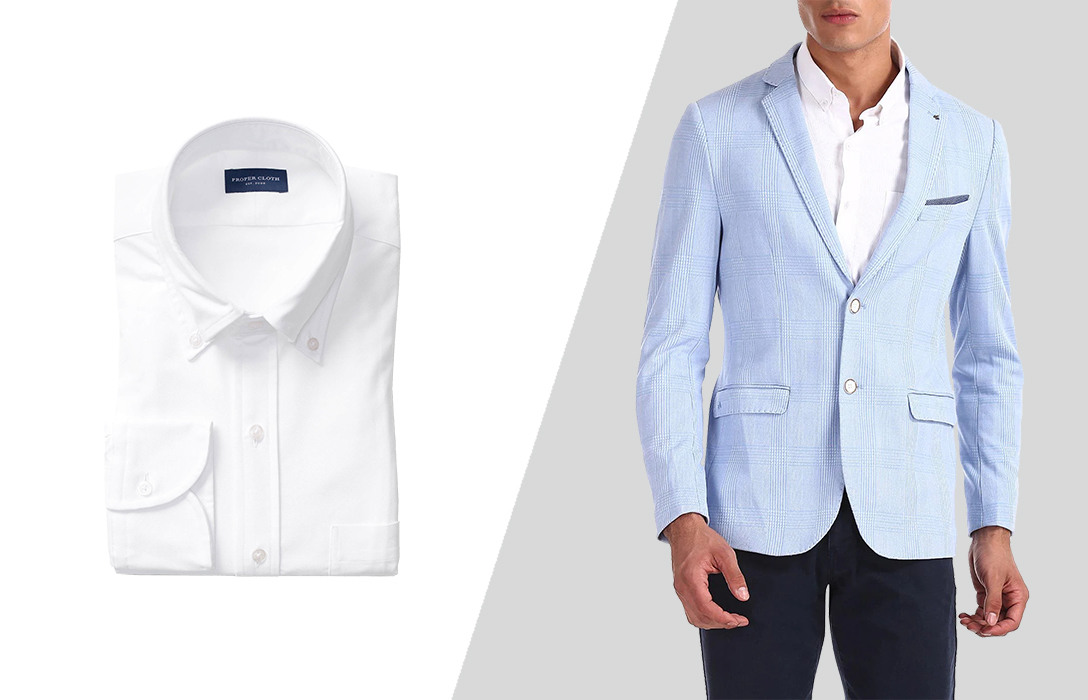 Fortunately, you can wear dress shirts year-round. Lighter materials like cotton or linen keep you looking dressy without making you overheat.
Stick to a dress shirt and dress shoes when you absolutely need to be very dressed up or very professional.
Casual Shirt
Wearing a casual shirt like a flannel, floral, or Hawaiian shirt with a suit is a bit like going off-roading.
You're not necessarily doing something that hasn't been done before, but there's no clear path to follow.
Wearing something unexpected under your suit jacket creates a funky vibe, which is great for parties or hitting the clubs.
And the nice thing is that you can achieve this look any time of year, depending on the fabric and shirt's sleeve length.
Highlight your intentional casual look through the right pair of shoes. Suede loafers or canvas sneakers will complete this unique look perfectly.
Polo Shirt
When the weather just feels too lovely for long sleeves, you can always consider a polo to save the day.
Polo shirts are not only great for warm weather suits but also for maintaining your suave appearance while loosening up your formality.
They're comfortable but don't wrinkle as easily as dress shirts, ensuring you always look put together.
Play around with the different effects you can create with the shirt's collar.
Leave the buttons undone when relaxing your suit as much as possible. Or, you can completely button them up for a more serious approach.
Either way, take care to pay attention to your shirt's collar; it should be rigid and not worn or flimsy. And remember to tuck it in!
Your shoes can reflect the look you're going for. Monk straps or loafers can be good matches for dressing up your polo shirt. Sneakers are always a winner for your casual styles.
T-Shirt
Nothing comes close to a t-shirt for toning down your suit's formality.
When even a polo shirt feels too dressy, a T-shirt with a suit is perfect for those informal, warm days.
It isn't your best choice for heading to the office, but it's an ideal outfit for a casual wedding party, a daytime occasion, or when you want to impress on a date.
Make a bold statement through color. Go all in and contrast your t-shirt and suit colors; a bright shirt will really pop against a dark suit.
Since this is a casual look, unusual colors are absolutely acceptable! A crew neck is ideal, but V-neck shirts work well, too.
To make this look feel intentional and not sloppy, be sure your t-shirt is clean and wrinkle-free. It should go without saying that holes are frowned upon.
A T-shirt works best under informal suit jackets, so avoid jackets with a high sheen.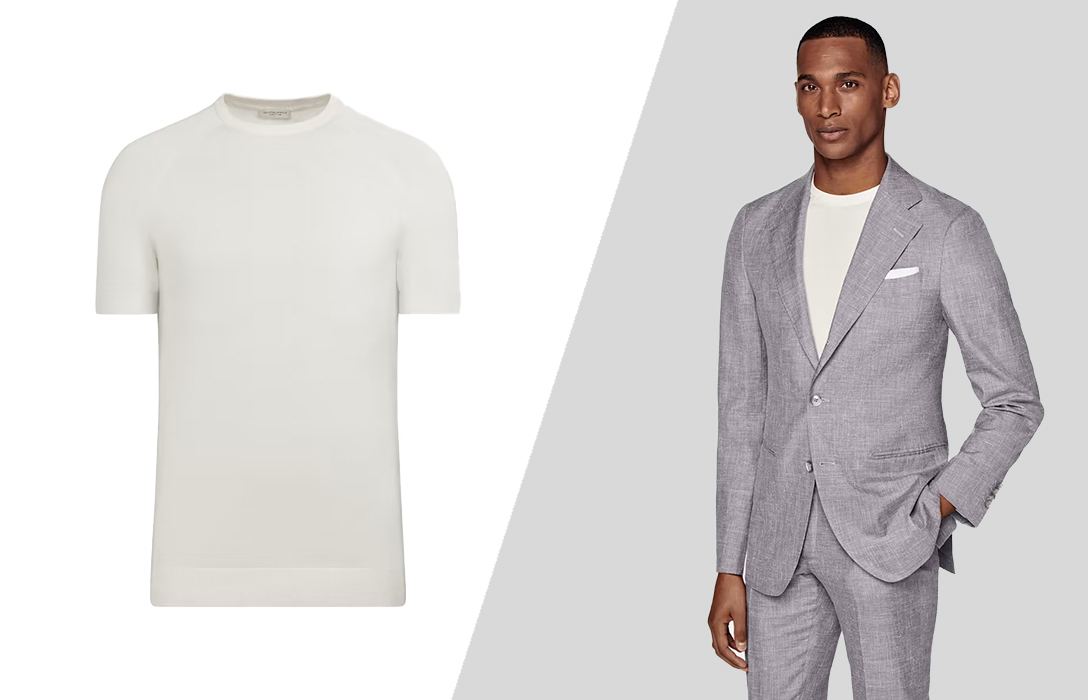 Sneakers are a terrific way to finish your outfit, but they are also the expected footwear for this style. Branch out and try a pair of Chelsea or Chukka boots.
Long Sleeve Tee
Most of the same rules as a regular t-shirt apply when wearing one with longer sleeves. The main difference is that this pairing is better for cooler seasons.
This is good to wear under a suit when you need to be slightly more put-together than a T-shirt.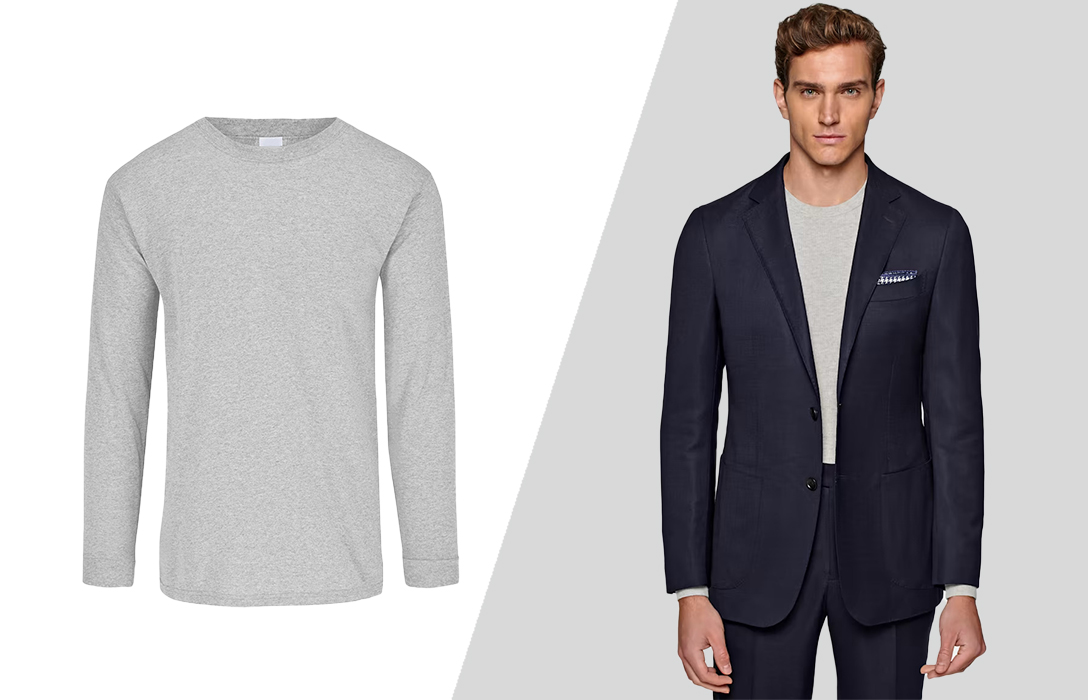 Long sleeves feel a bit more reserved than short sleeves, so it's a bit of a creative departure from the usual t-shirt.
You can still opt for a bold contrast between your shirt and suit color, but a monochromatic look can be very attractive if you need a muted style.
Again, sneakers are a solid choice. However, here's an opportunity to dress up this look a bit with a pair of derby shoes.
Vest
Including a vest with your suit is the simplest way to up your suit's formality level. In fact, the vest constitutes the well-known three-piece suit.
Aside from that, it's a shortcut to looking dashing and like a true gentleman.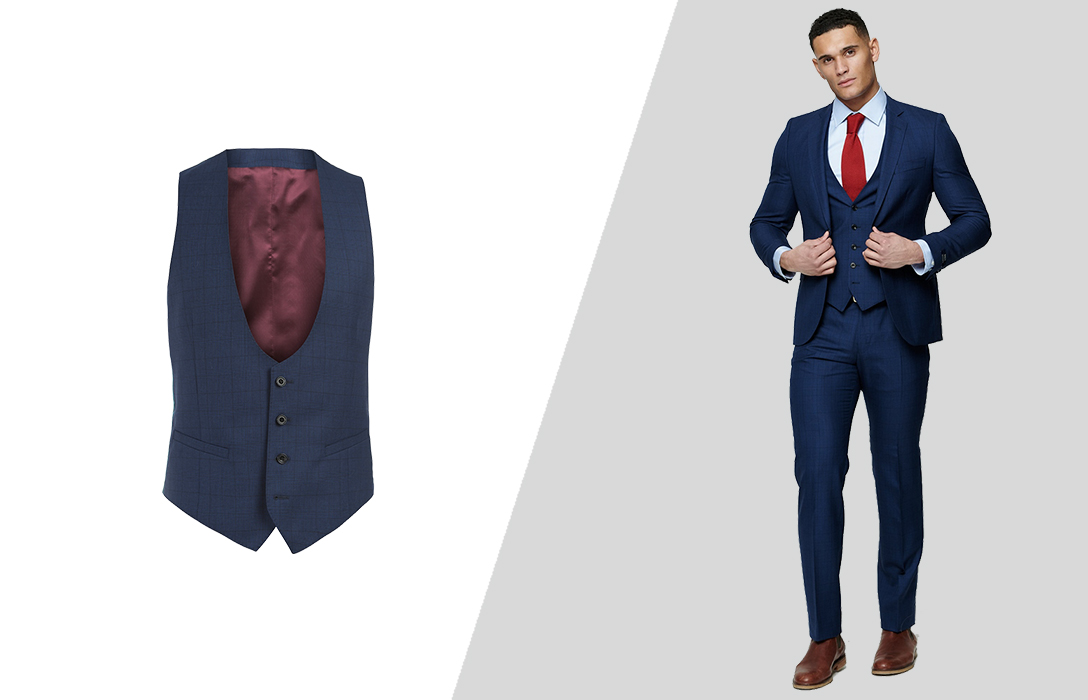 When you need to dress to impress, whether for a formal or highly professional setting, a vest is a winning choice.
However, you shouldn't include this piece in hot weather. You'll be uncomfortable.
Your vest should be constructed from the same material as your suit, though it doesn't necessarily need to match in color.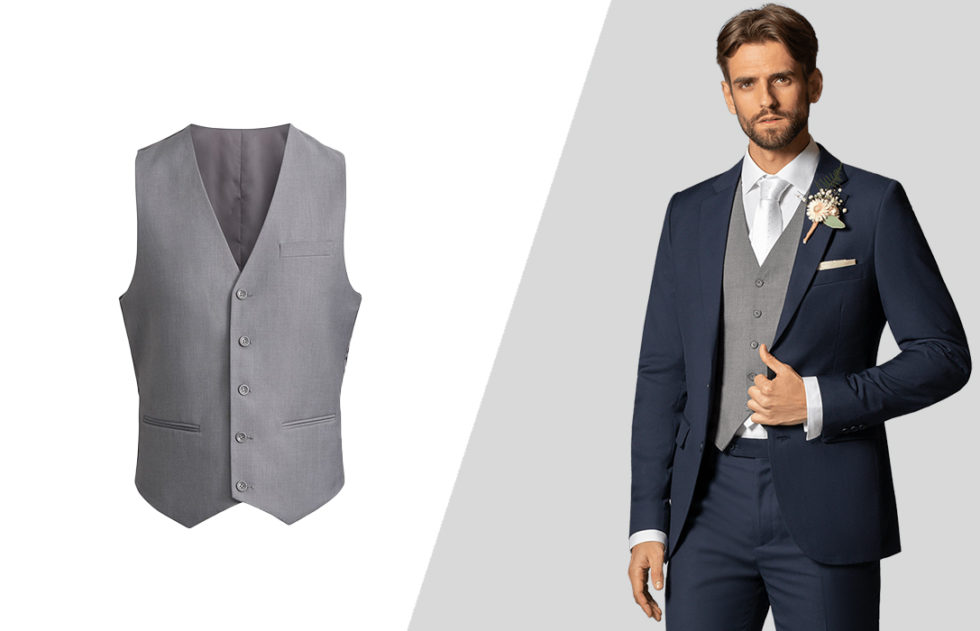 It's acceptable for your vest to be a slightly different shade that coordinates with your suit. A white dress shirt is the ideal garment to wear underneath.
Turtleneck
A turtleneck is the ultimate in cold-weather attire. And thankfully, you don't need to give it up just to put on a suit!
You can stay warm; as a bonus, you'll look super intellectual and sleek.
This style is dressier than it sounds. You can wear it for a business casual office, date night, cocktail events, or simply for prowling the local museums.
The secret to crushing the turtleneck look is choosing the perfect one. For the best match, the turtleneck should be thin and the suit dark.
Black, charcoal, or navy turtlenecks are going to slay in most instances. It should also be well-fitted; avoid baggy torsos or stretched-out sleeves.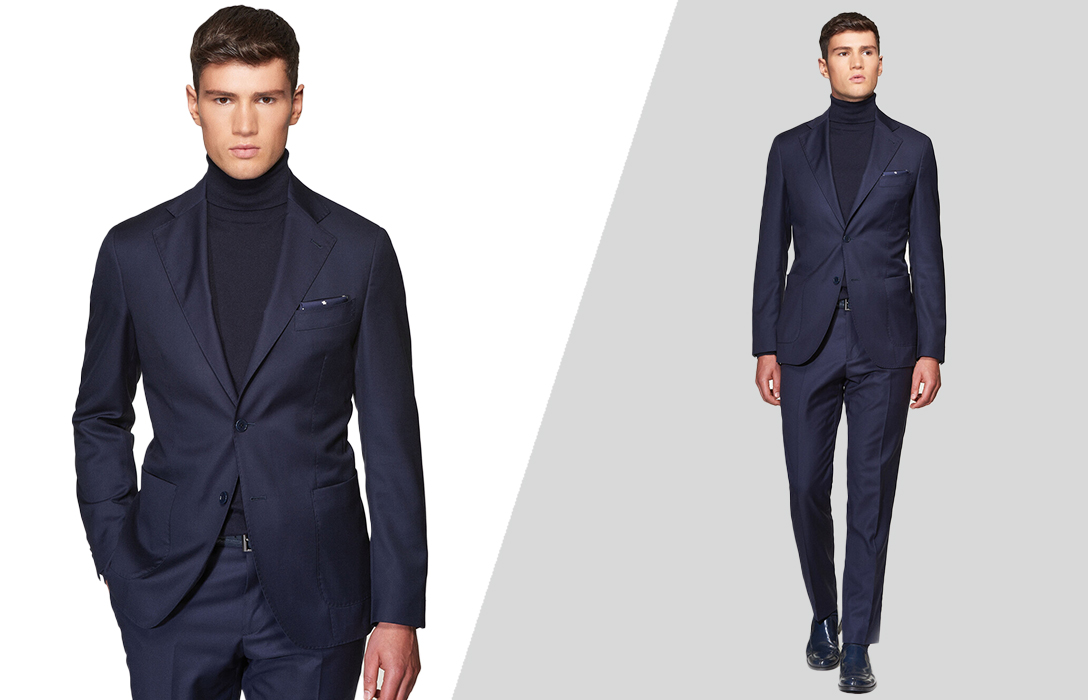 What's most fun about this outfit is how flexible it can be. You can wear sneakers with it or be dressy with derby shoes. For an in-between style, try out Chelsea boots or monk straps.
Sweater
You would (probably) never dream of wearing two warm layers during warm spring or summer days, but when it's cold out, think big. As in, pairing a sweater and suit jacket.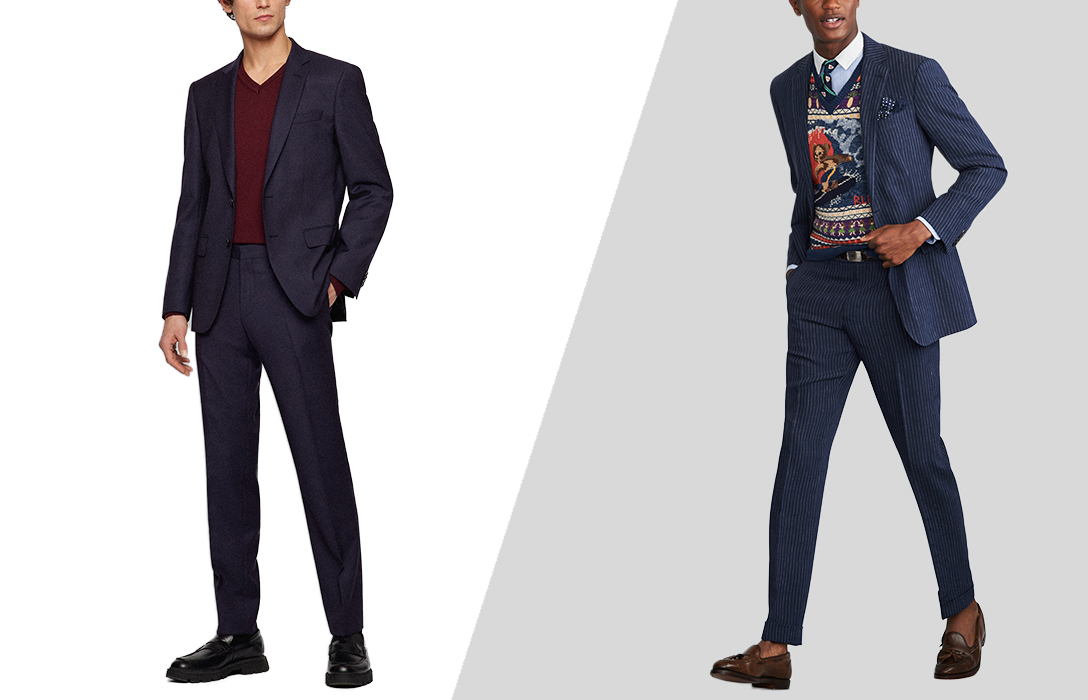 Most men who approach this look rely on a lightweight crewneck or V-neck sweater. This style is excellent because you can dress it up with a dress shirt underneath.
Or lean into a casual look with only a t-shirt underneath your sweater. How you proceed depends on your dressing goal.
This look works best when the sweater and suit colors complement each other or even have a monochromatic appeal. Muted colors keep your look relaxed and flexible.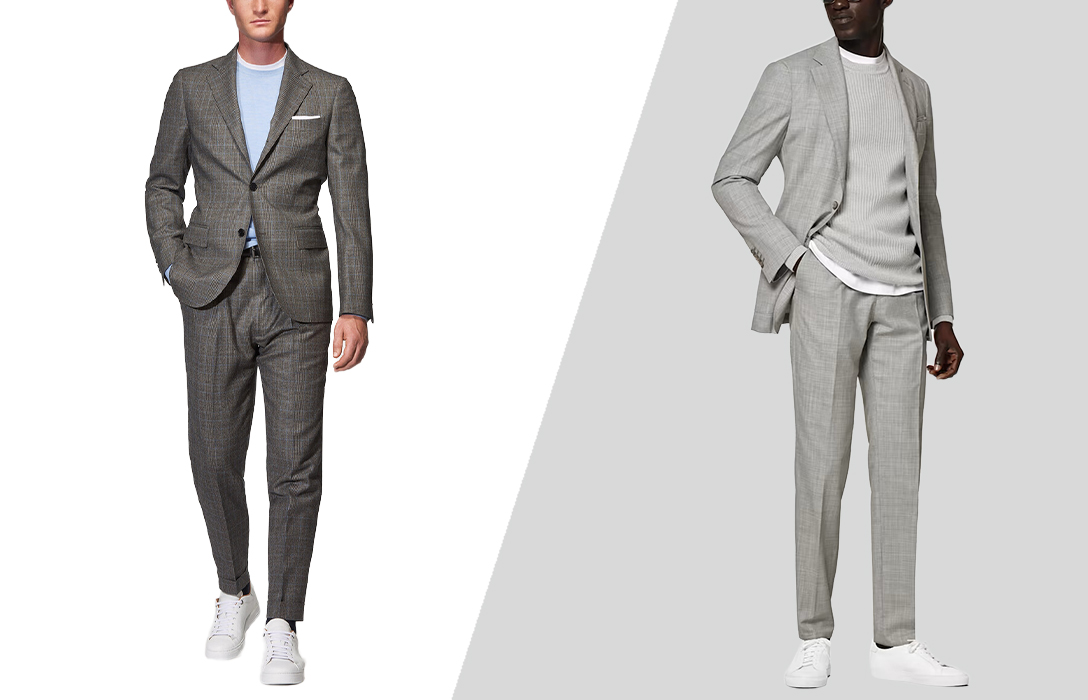 Ready to shake things up, though? When the mercury falls far below zero, go big with chunky knits under your suit jacket!
Oversized knit sweaters, like what you might see around a ski lodge, are super hot (as in style and maybe also temperature). But they're also very unexpected and create a super hip, informal, funky look.
Cardigan
Cardigans are always a soothing comfort and can have a wonderous effect when paired with a suit. It may seem delightfully old-fashioned, but it's a very elegant pairing.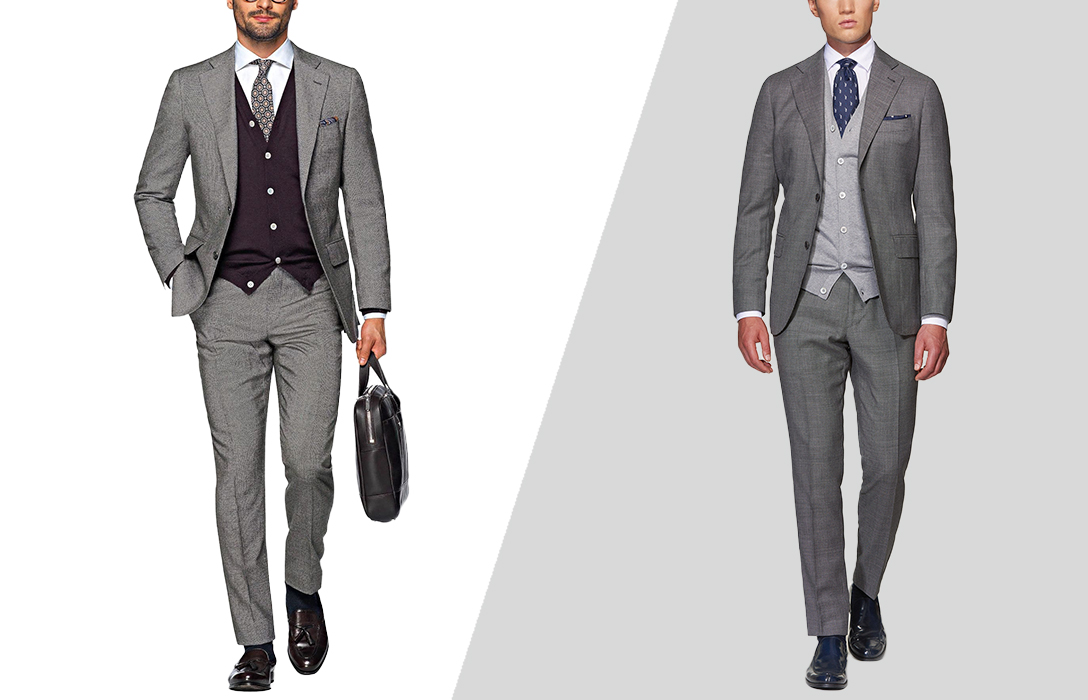 If business casual is your thing, or you need a dressy yet relaxed look for church or a social event, experiment with a thin, neutral color cardigan. It's an excellent way to dress for fall days as the weather turns colder.
Don't be tempted to dress this too casually, however. Keep it sophisticated with derby shoes or loafers.
Hoodie
This last one may not be appropriate for a full suit but is a very contemporary look with a blazer. Instead of suit pants, you can pair this combo with chinos or jeans.
Of course, it should be cold or rainy if you're going to layer on top of your hoodie. The effect? Very casual, very hip.
But don't shy away from pulling this off; go bold with color. If the colors are too similar, you end up with a bland combination.
Instead, go for a color contrast between your blazer and hoodie. Perhaps try a navy blazer and a light grey hoodie.
You may typically just toss on sneakers with a hoodie, but now's the perfect excuse to try different shoes. Reach for your favorite Chelsea boots.
Things You'll Need to Consider
So, you've got the bug to expand the usefulness of your suits – that's excellent.
We've gone over many of your options, but now we need to perfect your style by learning all the factors to consider when making your pairing choice.
Before you feel empowered to toss on that chunky knit sweater under your suit and run out to your friend's wedding, let's set some ground rules and perfect your suit style.
The Occasion / Dress Code
Sometimes, common sense is enough to help you determine what's appropriate to wear under your suit.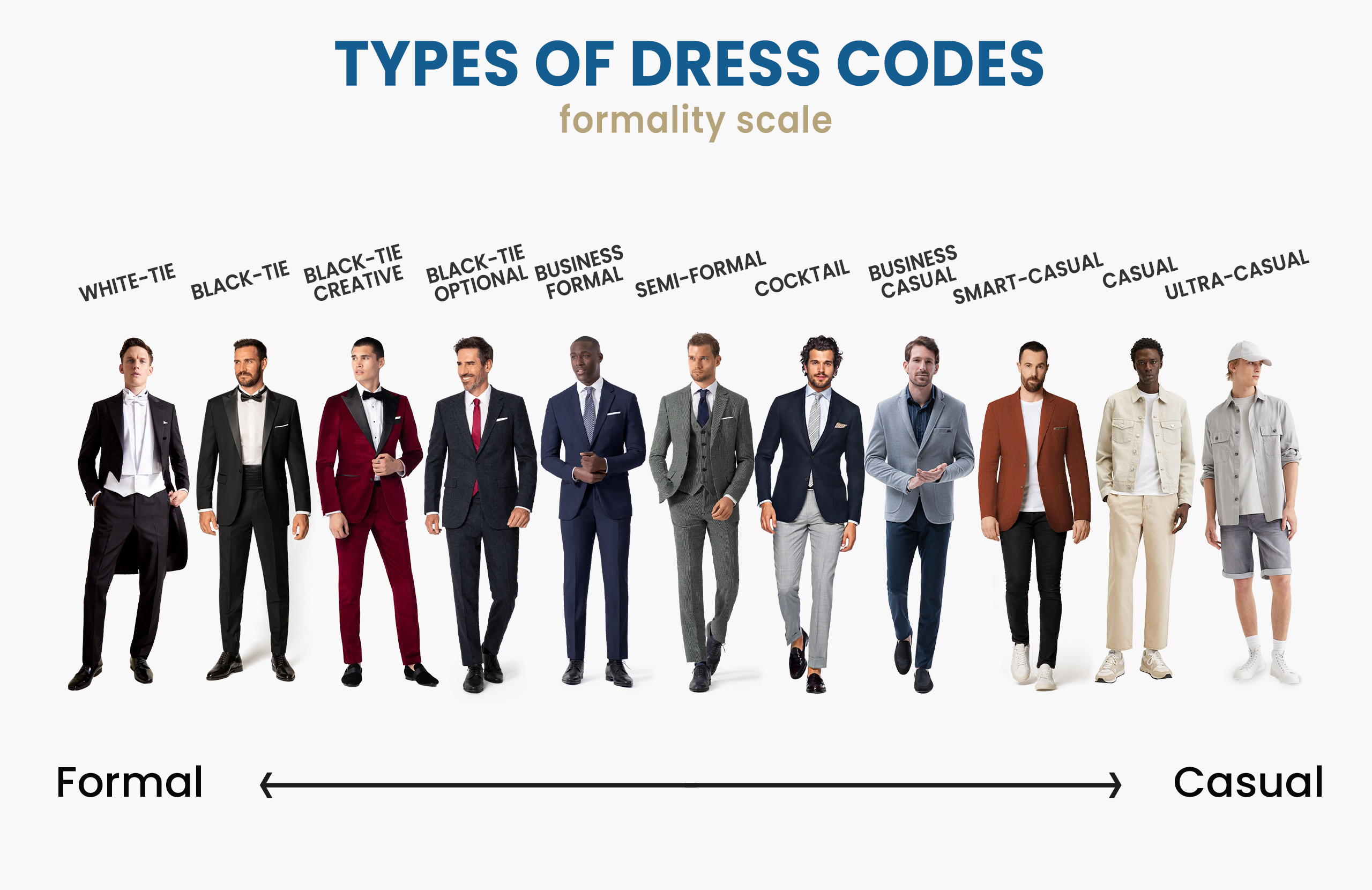 You likely wouldn't wear a hoodie for a formal event, and you probably wouldn't wear a white button-up dress shirt and tie to a friend's house party.
The goal is to match your clothing to the tone of the event. If you wouldn't otherwise find that article of clothing where you're going, reconsider wearing it.
Making a statement is sometimes perfectly acceptable, but showing respect for your host or the event is your priority.
The Season
This one usually is super easy to figure out. For example, wearing a turtleneck in the height of summer weather is just insane; adding it to your suit doesn't change that.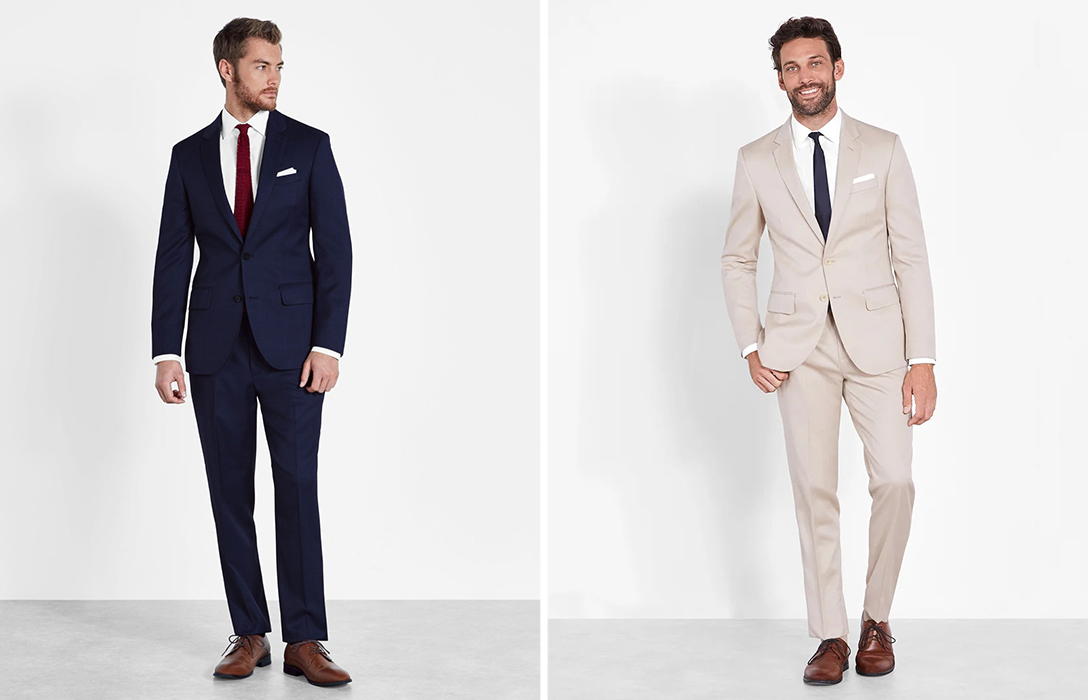 This doesn't mean that you can't wear a T-shirt in winter, since the inclusion of the suit jacket will help keep you warm. In other words, use your best judgment.
Personal Fashion Style
Are you not a Hawaiian shirt type of guy? Then don't try to make the look work for you.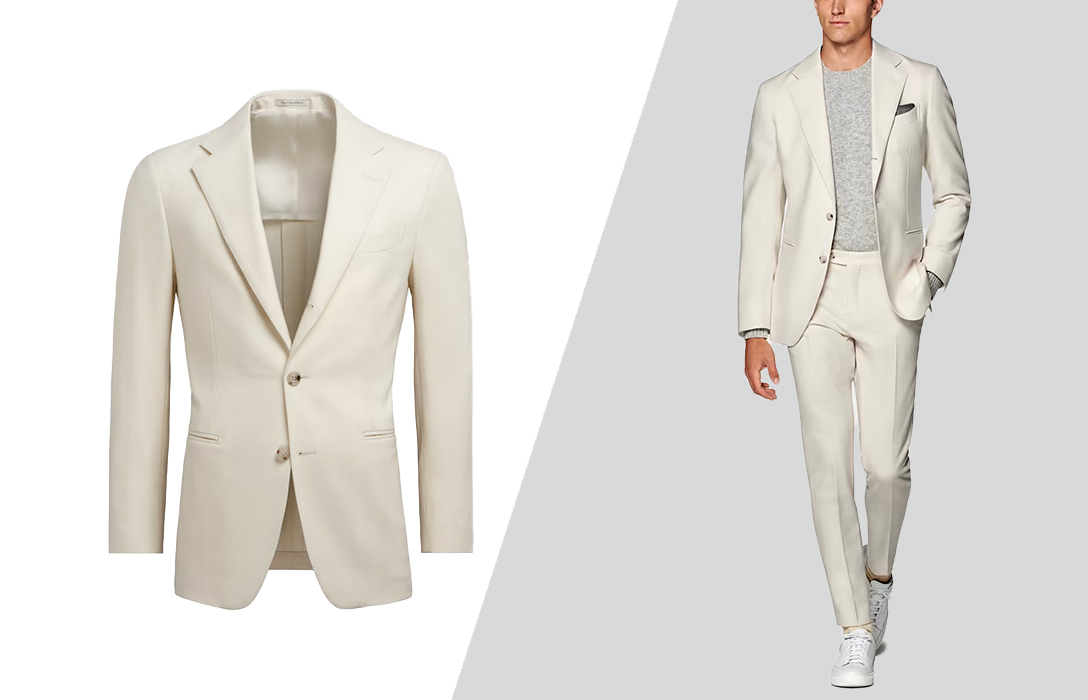 Wearing something that isn't "you" won't magically change you; it will most likely just make you uncomfortable.
That leads to a lack of confidence. And believe me, there is nothing less fashionable than zero confidence.
Only stick with garments that speak to you and your fashion style. Otherwise, your look won't work.
The Right Fit
Wearing a top under your suit jacket that's baggy looks sloppy. Heck, any baggy clothing tends to look sloppy.
On the other hand, clothing that's too tight can make you look silly.
It's important to have clothing that fits you well. Sure, it's more comfortable, but more importantly, people will take you seriously.
Your clothes can be comical when ill-fitting, so don't settle for less than perfect.
Comfort & Breathability
As we just talked about, a good fit is necessary for comfort. However, there's more to it than just fit.
You can't always regulate the temperature, so clothing that can breathe is vital.
Natural fibers, like cotton or wool, are best for this. They can help circulate air when you're sweating and trap warmth when it's cold out.
Watch out for synthetics like nylon or polyester. Those can make you sweat and don't bring you relief.
Author: Alexander Stoicoff
Hi, I'm Alex, and I've studied and specialized in styling in Rome. Through my writing, I want to help men dress well and learn the purpose and significance of suits and other formal attire. My final goal is to make men more confident in their wardrobe choice and life in general.