Admit it: You dread getting a wedding invitation in the mail, especially one that specifies "casual wedding attire."
What does that even mean? Regardless of the imagery a casual dress code brings up, it's probably dressier than you expect.
So, don't put off choosing your wedding outfit until the big day; you could find yourself in a bit of trouble.
Essential Casual Wedding Attire
Casual weddings are becoming a more popular wedding option these days, but what exactly does that mean?
A casual dress code can include a wide range of informal looks, but they aren't all equal.
Dressing for a casual wedding differs from dressing for a casual day of running errands. A wedding is a festive celebration, so it still requires effort.
Casual wedding dress codes are similar to business casual. They fall beneath semi-formal on the scale of dressiness.
A casual wedding outfit should accomplish two things: it should be comfortable and look good.
So, this rules out jeans and most T-shirts. However, you also don't need a tie, so that's a win.
Blazer or Suit Jacket
Incorporating a suit jacket or blazer hints at wearing a suit without actually rising to that formality.
This is a great choice when you don't want to risk being too informal or when the weather is cool.
Keep the blazer tailored. It can be unlined for a more casual effect but should be structured. This will help you look put together.
Pair your blazer with dress slacks or chinos and a button-down dress shirt.
Dress Shirt or a T-Shirt
Through your choice of shirt, you can take an informal approach that looks carefully curated.
For example, wear a button-down dress shirt with an open collar to appear stylish but relaxed.
But dress shirts are the go-to for weddings, so you can branch out for a casual wedding.
A solid T-shirt under a blazer is very understated and chic. Try a polo shirt for a more traditional preppy look if the wedding is in summer and outdoors.
Trousers or Shorts
Chino pants are a trendy and highly appropriate casual choice for a laidback wedding.
Depending on the venue, chino shorts may also be acceptable. Chinos, whether pants or shorts, are a very clean look.
Dress pants, such as suit pants, will work well with a less formal shirt. Pair them with loafers or clean canvas sneakers to help tone down their formality.
Shoes
Your shoes can be all about comfort when attending a casual wedding. Now is the time to ditch your dress shoes if you feel like it.
Loafers, dressy sneakers, or ankle boots are often excellent choices. Opt for casual material when possible.
Leather is acceptable, but canvas and suede are better for informality.
Decoding Venue-Specific Attire
Couples choose to say their vows in all sorts of unique and beautiful spaces.
Whether the celebration is on a beach, a mountain, or a bowling alley, it's a reflection of the couple's relationship and their ideals.
Some venues lend themselves to a more casual attire than others.
Beach Weddings
Beach weddings are typically super relaxed, but don't be fooled into thinking wearing your bathing suit is acceptable. It isn't!
Concentrate on lightweight fabrics like linen. Light colors that reflect your beach surroundings are also an excellent way to go.
White, tan, and pale blue are lovely clothing colors at the beach, and they help keep you cool.
Opt for a short-sleeved button-down shirt paired with a pair of loose-fitting pants. Or you can roll the shirt sleeves to blend in with the beach vibes.
A nice pair of shorts would also work well here.
Despite the sand, you probably can't go barefoot, so choose boat shoes, loafers, or nice sandals.
Garden Wedding
A garden wedding is probably set in somebody's backyard, making you feel like you're right at home.
Backyard casual wedding attire is laidback but not sloppy. You don't want to look too at home; this isn't just any old day!
Start with a cotton polo T-shirt or a dress shirt. Lean toward a light color, and be sure it fits well.
You can match it to a pair of chinos or dress pants for a crisp look. Of course, you can always top it off with a sports coat or a blazer.
Loafers or canvas sneakers finish off this look rather nicely.
Casual Outdoor Wedding
Many weddings take place in a park, vineyards, farms, or any other place away from towns.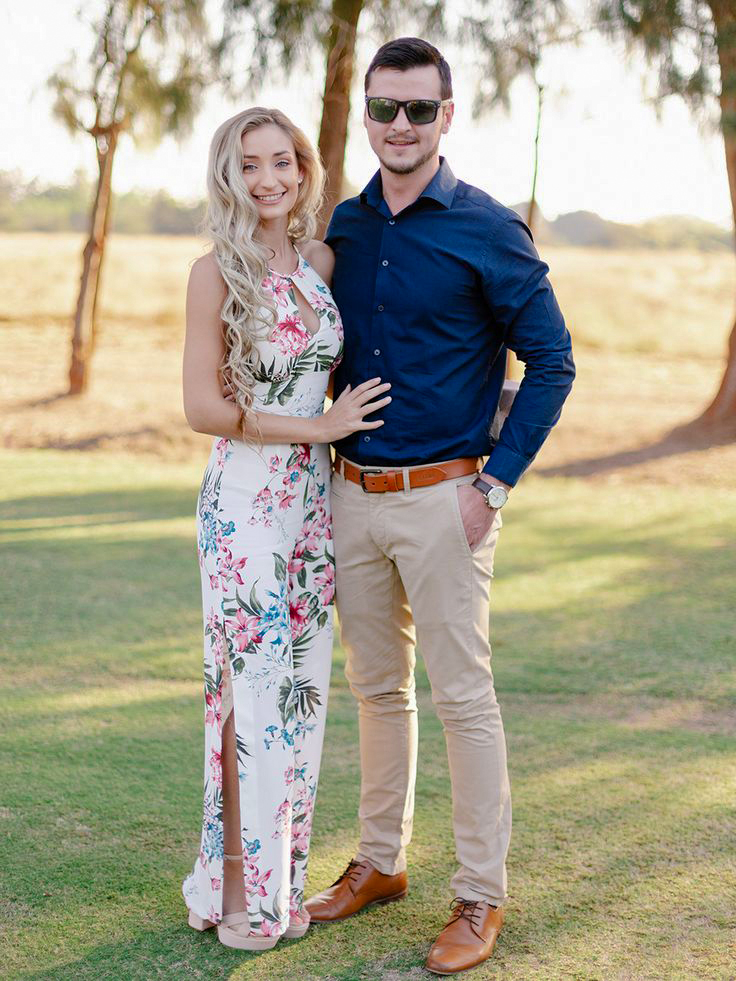 Another popular wedding destination is in the mountains, so you'll want to consider some mountain casual wedding attire.
This is slightly different from your garden wedding attire because it's likely to be more shaded and a bit cooler. You'll want to dress accordingly to keep warm.
Long sleeves are a smart start. Consider a flannel button-down dress shirt; dark colors are ideal to match your setting.
You can add a light cardigan or blazer if the weather is cool enough.
You can pair it with heavy chinos or corduroy pants; brown would be a nice neutral shade that's appropriate to the wooded atmosphere.
Leather chukka boots complete this look while keeping it wedding-friendly.
Indoor Casual Weddings
Not all casual weddings are outside. Some people love being indoors, too!
Restaurants are popular for weddings, but others choose quirkier locations: convention centers, theaters, or bowling alleys!
For a restaurant wedding, cocktail attire is most appropriate. You can wear a polo and a blazer or a light-colored dress shirt with chinos.
A pair of brogues add a spiffy touch, but loafers are also a good choice.
Hitting a more trendy wedding location? Try a solid, fitted T-shirt under a plain blazer.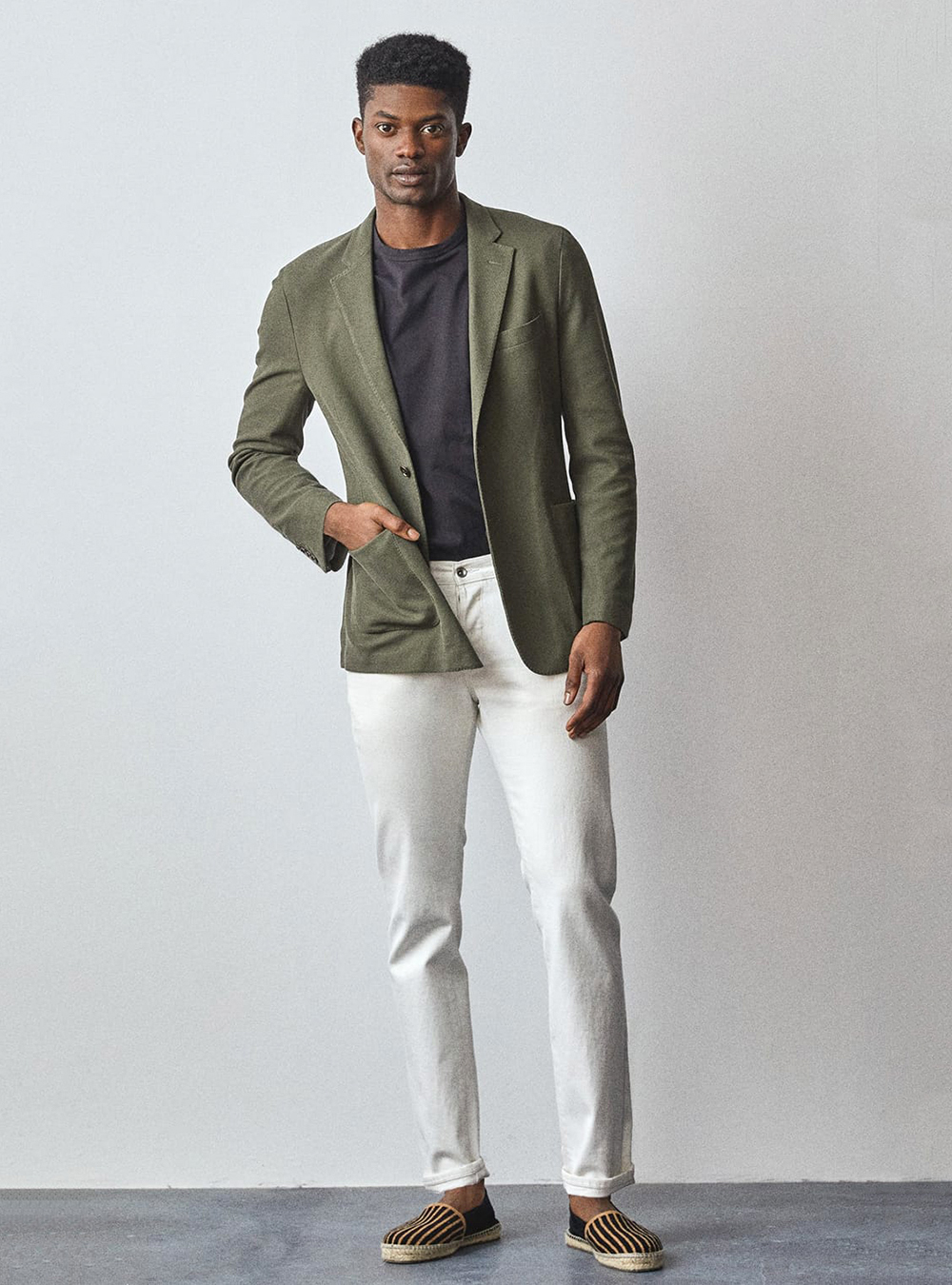 Pair this with light chinos or cords and dressy sneakers for a contemporary approach to this look.
If the wedding is at somebody's home, you can go even more relaxed. Keep it simple with a polo shirt, a pair of khakis, and simple sneakers.
Casual Wedding Attire Considerations for Each Season
Dressing appropriately for the season isn't just about being comfortable but also looking right for the setting.
Admit it; you'd look sideways at somebody wearing shorts to a winter wedding!
The importance of considering the season when choosing your outfit includes its colors. The warmer the weather, the lighter your clothing colors generally should be.
Spring
Spring calls for lightweight fabrics and light-colored ones, too. It's encouraged to dabble in patterns for this joyous time of year.
Florals and checks are perfect for a casual wedding in spring.
You can choose between a polo shirt or a lightweight button-down shirt if you're looking for a pattern.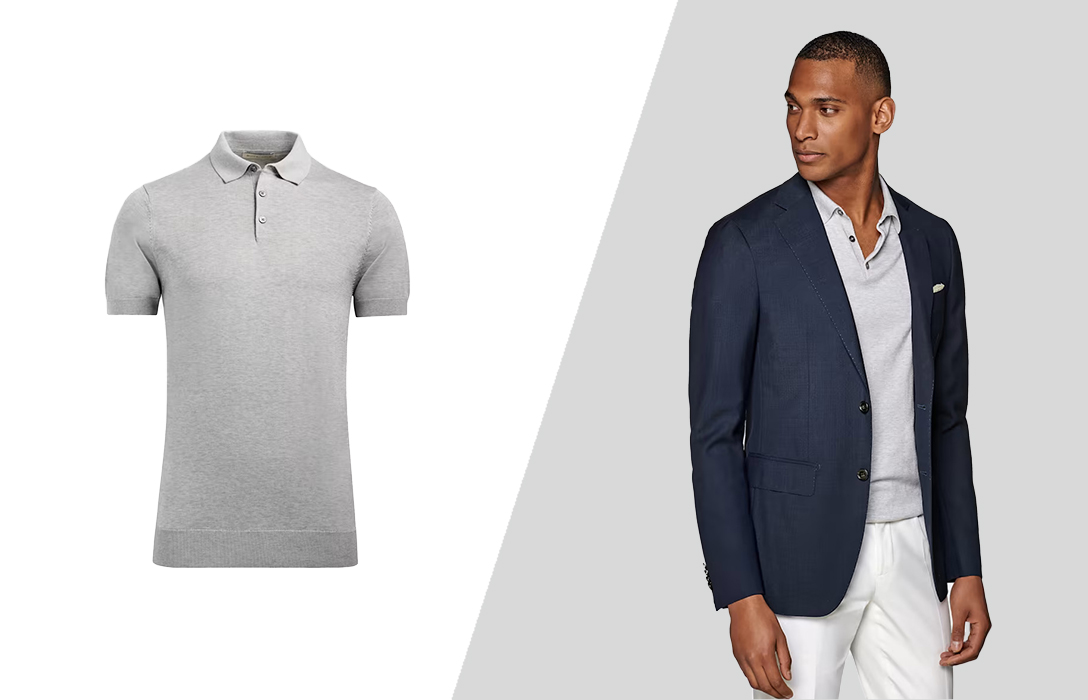 Dress pants or chinos are a good match for these shirts to stay put-together and relaxed.
If the evening is cool or you are worried about being underdressed, toss on a simple blazer.
Finish off your look with loafers or chukka boots.
Summer
Don't let the heat ruin your summer wedding. Dress in breathable fabrics and keep the colors light to help reflect the heat of the summer sun.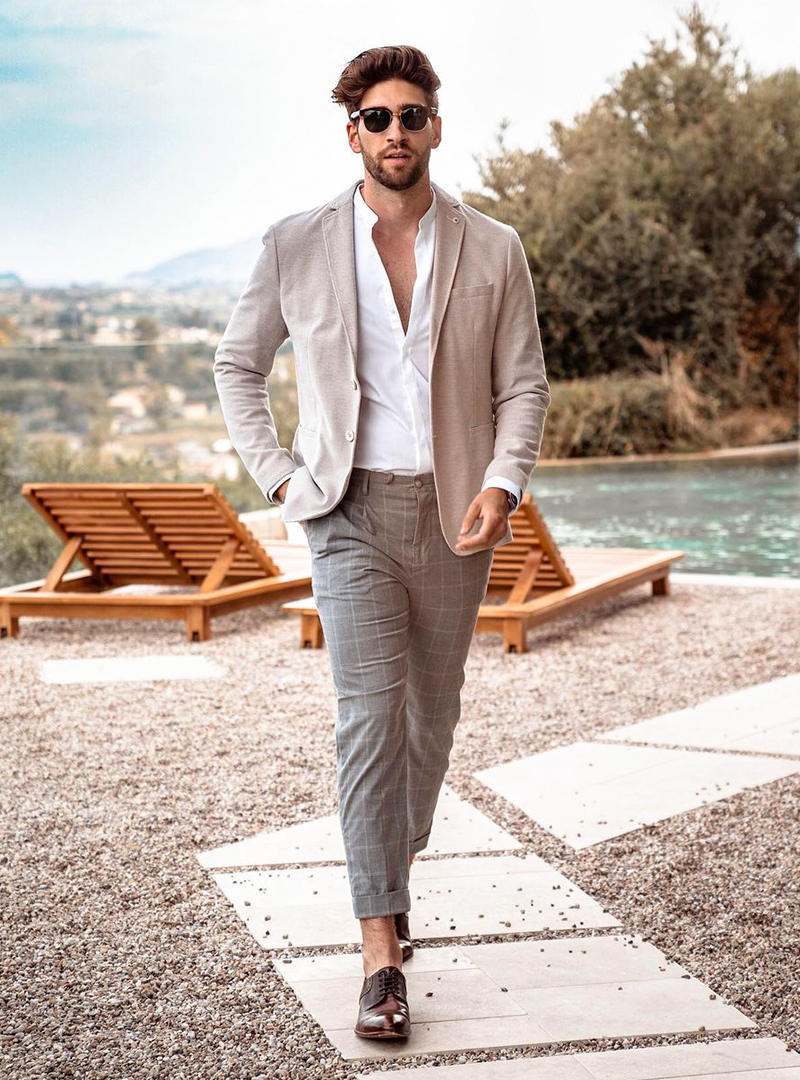 While chino shorts are fantastic attire for the dog days of summer, it's understandable if you aren't comfortable attending a casual wedding in them.
If that's the case, try seersucker pants. They are very lightweight and breathable, designed for hot weather.
Both options look fantastic with a button-down short-sleeved shirt or a long-sleeved one with rolled sleeves.
If your pants or shirts are solid, choose a printed or floral shirt to add some festivity to your look.
Whether you choose loafers or boat shoes, embrace the sockless look. But to battle the sweaty feet of summer, invest in some no-show socks.
Fall
When the weather is cooling down, and the leaves begin to change colors, your clothing should change color too.
Darker and more muted shades are the way to go this time of year.
Dark trousers or chinos make the best base to start your fall casual wedding attire. Top it off with a long-sleeve button-down dress shirt.
Keep your look simple and informal by choosing a print shirt, perhaps stripes or plaid.
It's a fine time of year to layer up, so consider a solid cardigan or sports jacket.
Leather chukka boots are very autumn-like. If you want something slightly more formal, derby shoes would be nice with this ensemble.
Winter
Layers are a must when heading out for a winter wedding. You'll be chilly at the beginning of the event, but you'll warm up from dancing.
Winter wedding clothes call for rich dark shades or jewel tones.
Start with dark, warm chinos or dress slacks. Choose a solid button-down dress shirt and pair it with a crewneck or V-neck sweater.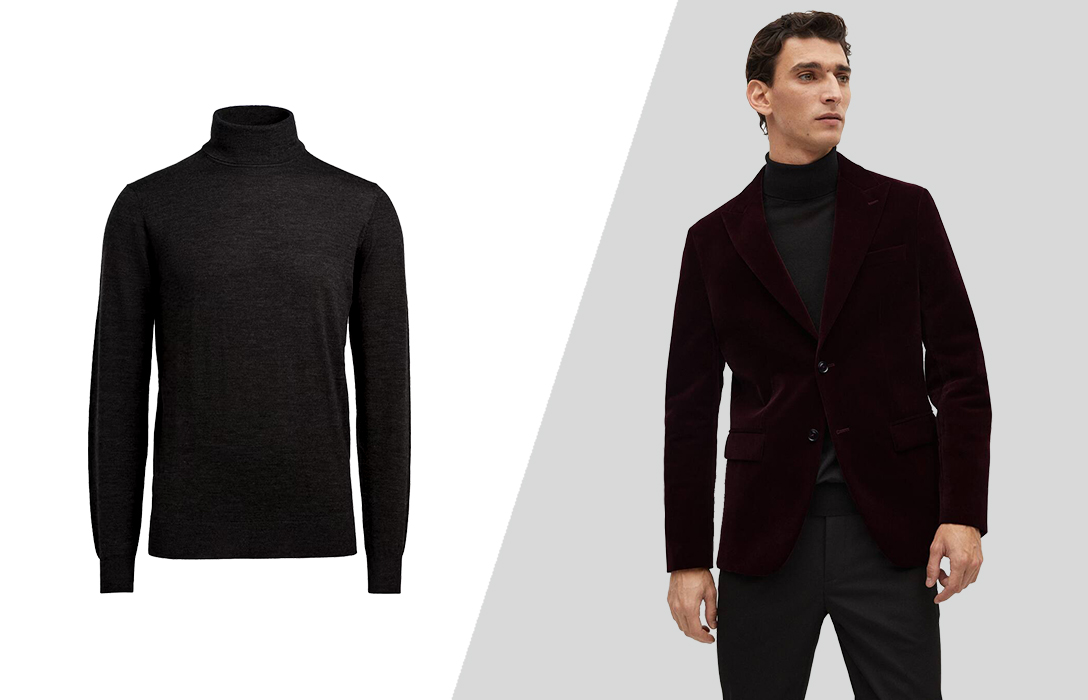 This makes it easy to remove a layer when the dancing begins to heat you up!
Alternatively, you can wear a turtleneck under your suit jacket or blazer.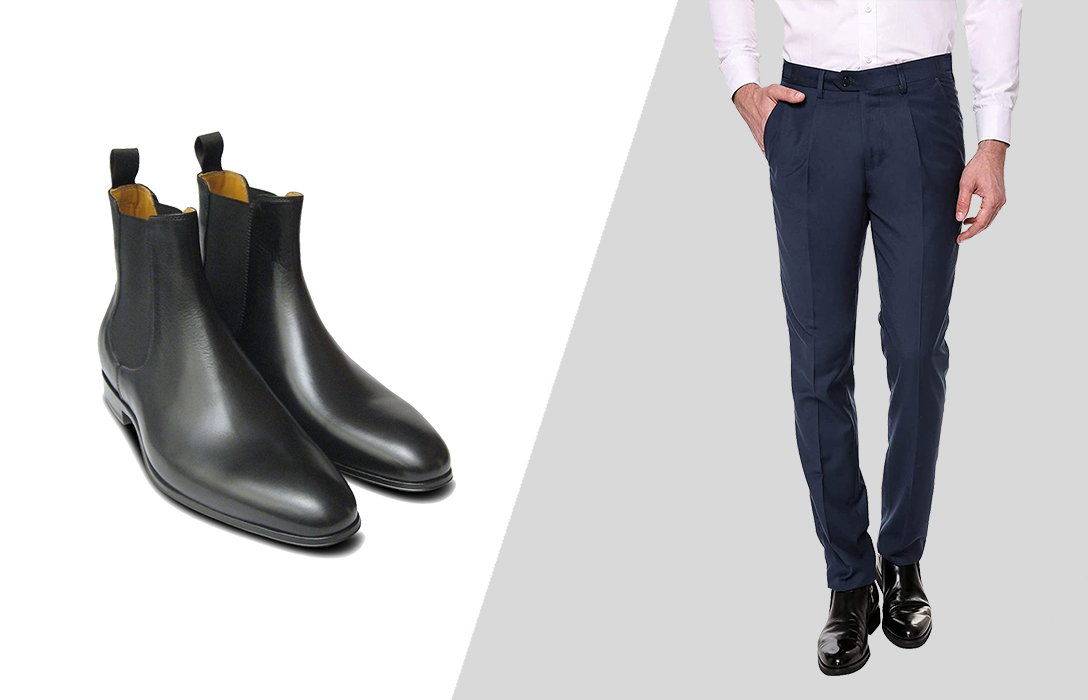 Chukka or Chelsea boots are superb for winter weather as they help keep your ankles warm and dry.
Accessories to Elevate the Look
Going casual doesn't mean you can't spruce up your outfit with accessories. They just need to be more subtle than when dressing formally.
You can use everyday items, like socks or belts, to make a statement. Colorful or patterned socks can be a fun hidden feature of your outfit.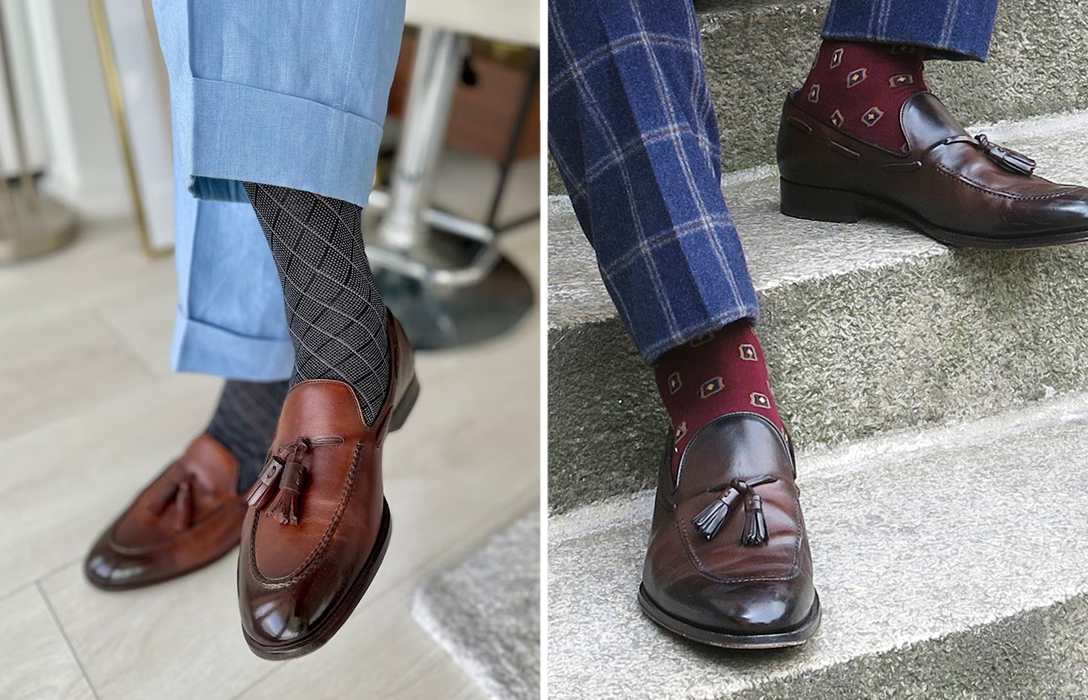 Or a braided belt helps to make a casual statement. On the other hand, skip the belt for a pair of colorful suspenders!
Add a pocket square to your blazer for a bit of pizzazz. Just because you're informal doesn't mean you can't also be dapper.
When outdoors at a beach or garden wedding, polish off your outfit with a straw hat! You can keep the sun off your face; functional and fashionable!
Casual Wedding Outfits for the Groom
The groom's style must always be above the rest, no matter the dress code.
The wedding party should come close to matching the groom's level of dressiness, but he should still stand out from the crowd.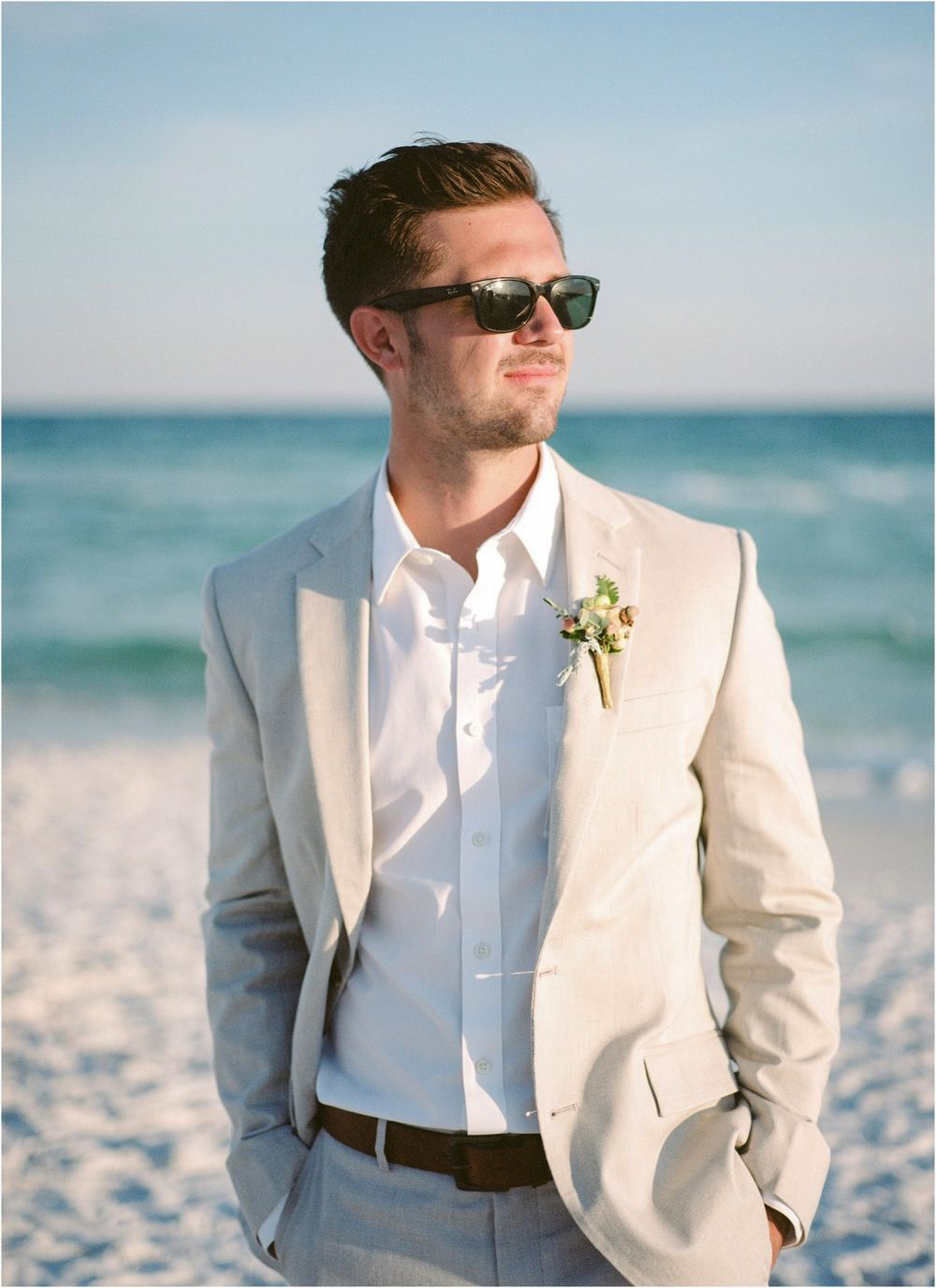 This can be a challenge with a casual wedding dress code, but a few adjustments can tweak a relaxed style.
Dress trousers can look informal with a button-up dress shirt and rolled-up sleeves. Add a light blazer for the ceremony and photos, and remove it for the party.
Don't forget the pocket square to match your wedding colors!
Another chic option would be to wear a casual suit, perhaps a patterned one, with sneakers. A tie is optional. Classy and memorable.
Check out these curated outfits for more inspiration: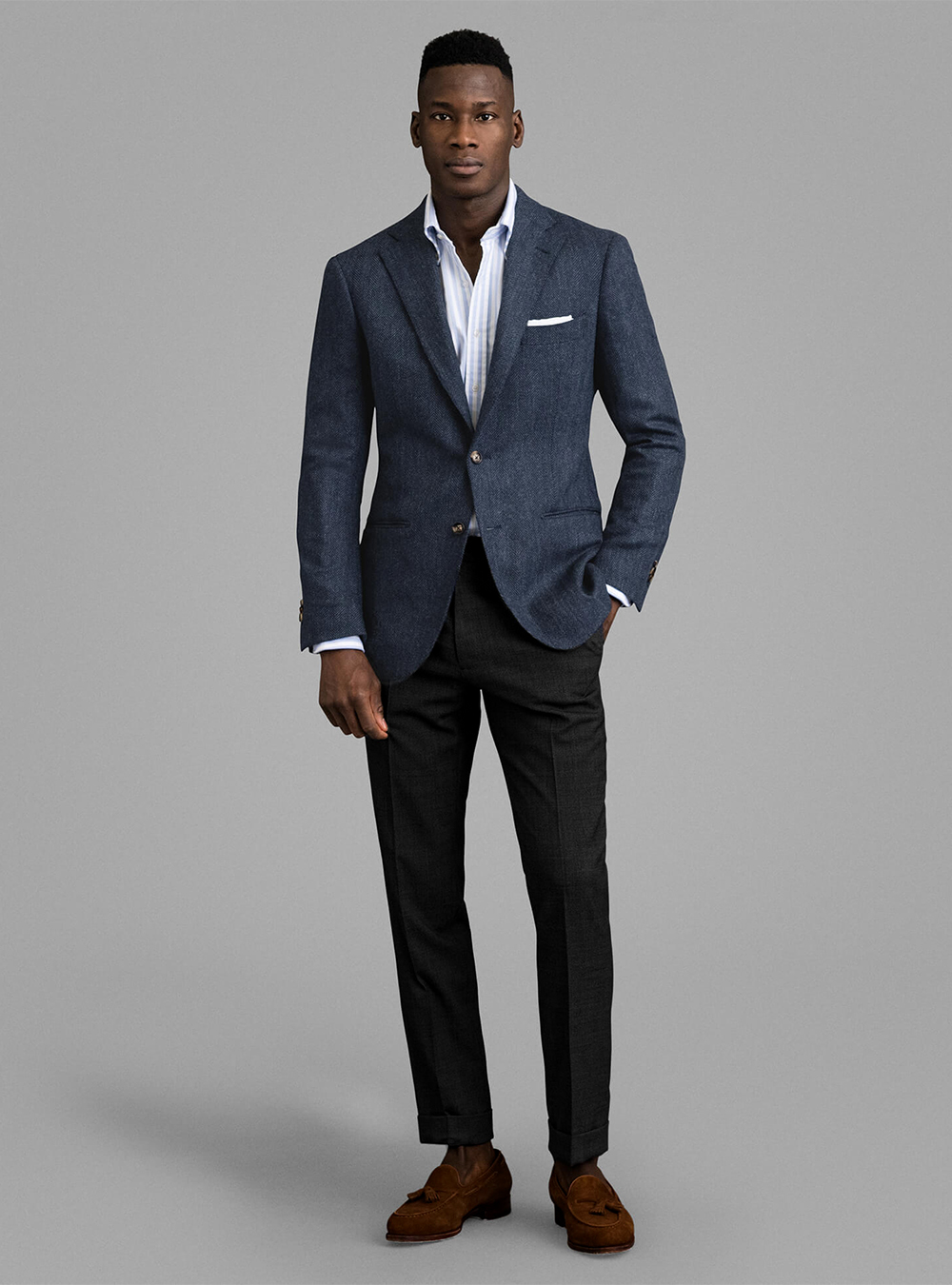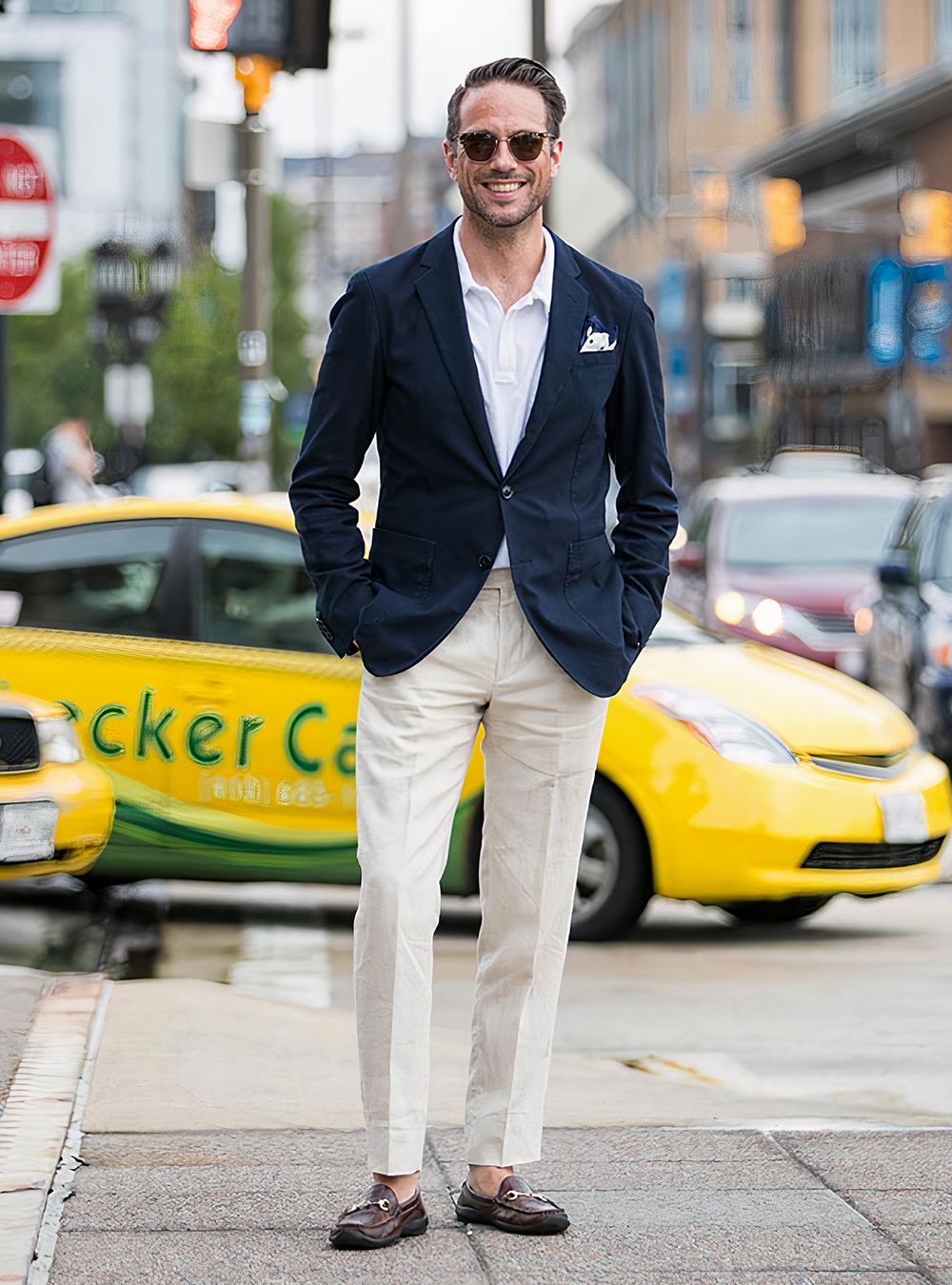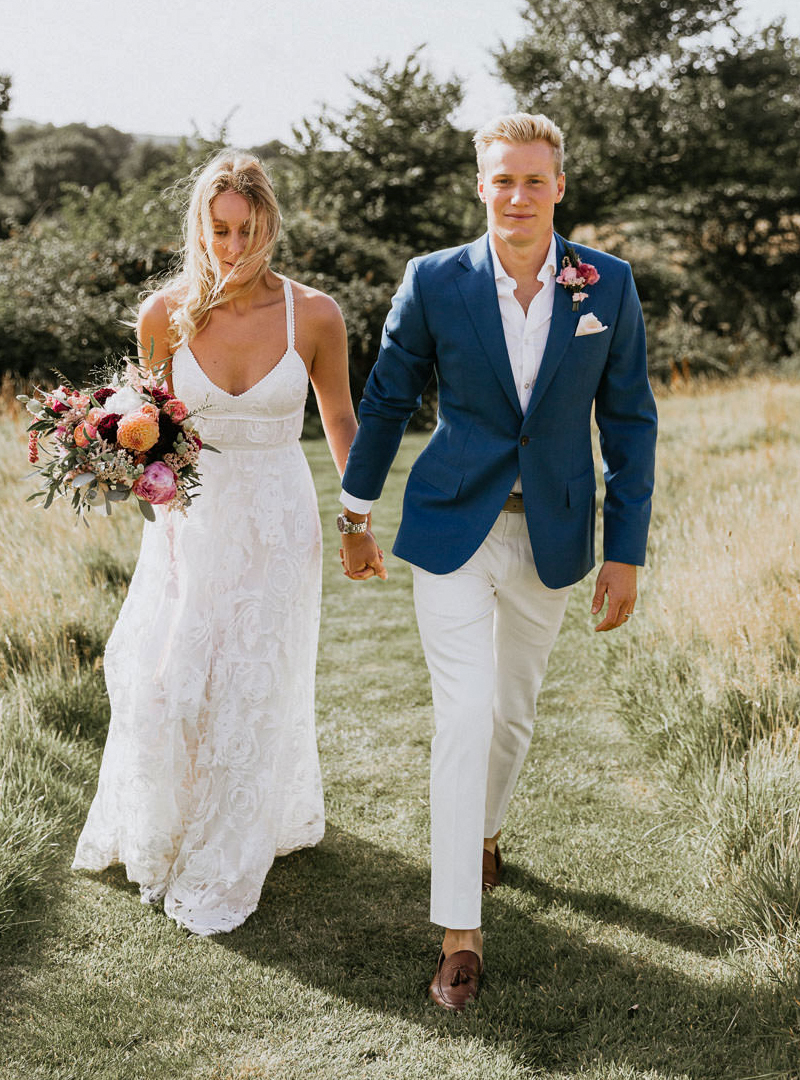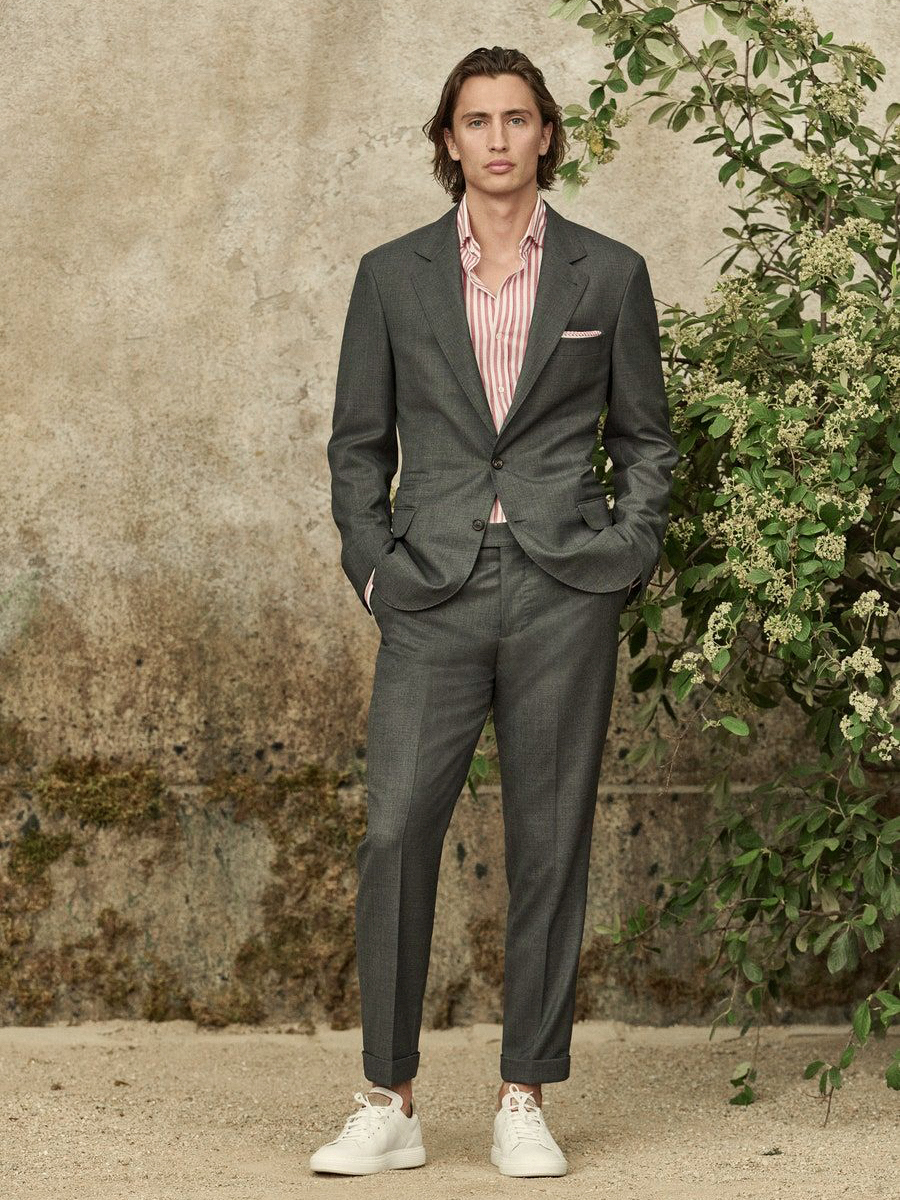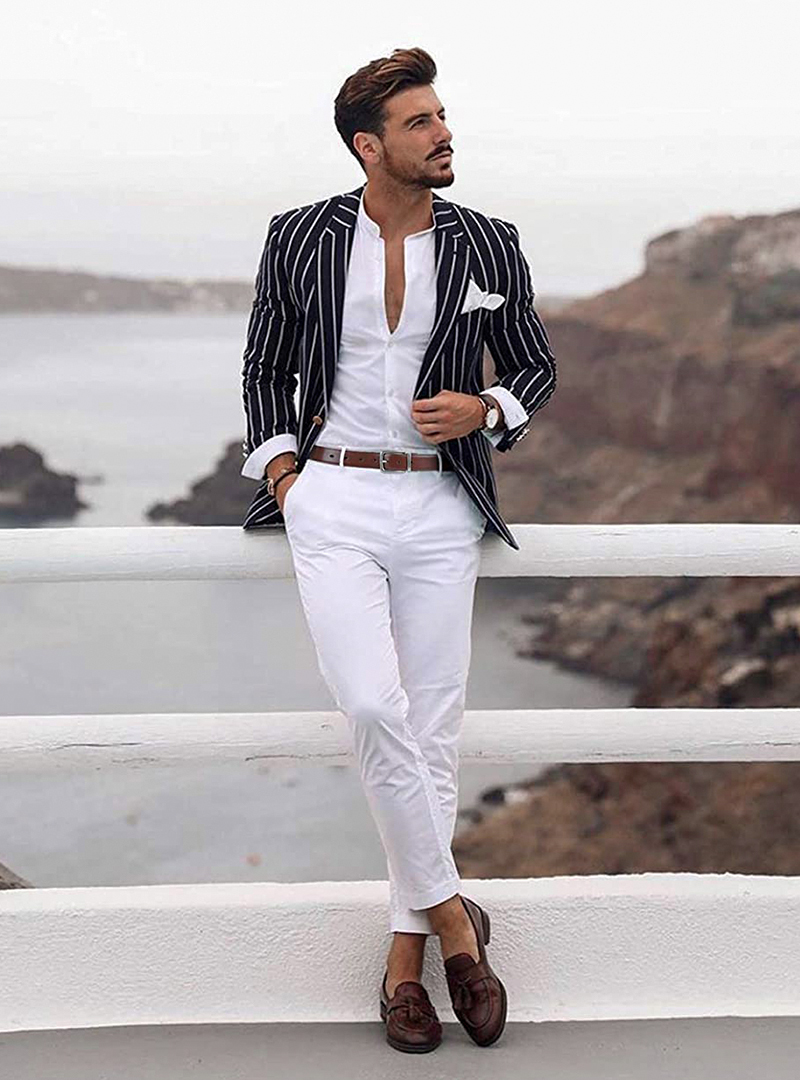 Common Mistakes to Avoid
The number one mistake people make when they see "casual dress" on their wedding invitations is assuming that anything goes.
It does not. It is possible to be too casual for a casual wedding.
Very relaxed clothing is not appropriate. This means leaving graphic tees and cargo pants in your closet.
Jeans should probably stay there, too. Even if the bride and groom are very relaxed about their event, they still don't want wedding photos full of people looking like they just stepped off the city bus.
Clothing that's oversized, wrinkled, or dirty is also not acceptable. Your clothes should always be well-fitted and clean, but especially so for a wedding.
Author: Alexander Stoicoff
Hi, I'm Alex, and I've studied and specialized in styling in Rome. Through my writing, I want to help men dress well and learn the purpose and significance of suits and other formal attire. My final goal is to make men more confident in their wardrobe choice and life in general.