There's a lot to keep in mind when trying to match a dress shirt and a tie. It's easy to feel overwhelmed with so many color choices and combinations.
But don't let color intimidate you!
Of course, you could choose to always stay on the sidelines of fashion by sticking to neutral-only colors. But where's the fun in that?
Once you begin to play with color in your outfits, they become so much more interesting.
Understanding the Color Wheel
No single quality makes a necktie a perfect match to your dress shirt. Of course, material and width are vital, but the color is undoubtedly one of the most critical aspects, as well.
So, what is the secret to being successful in matching shirt and tie colors to each other? I like to consult the color wheel.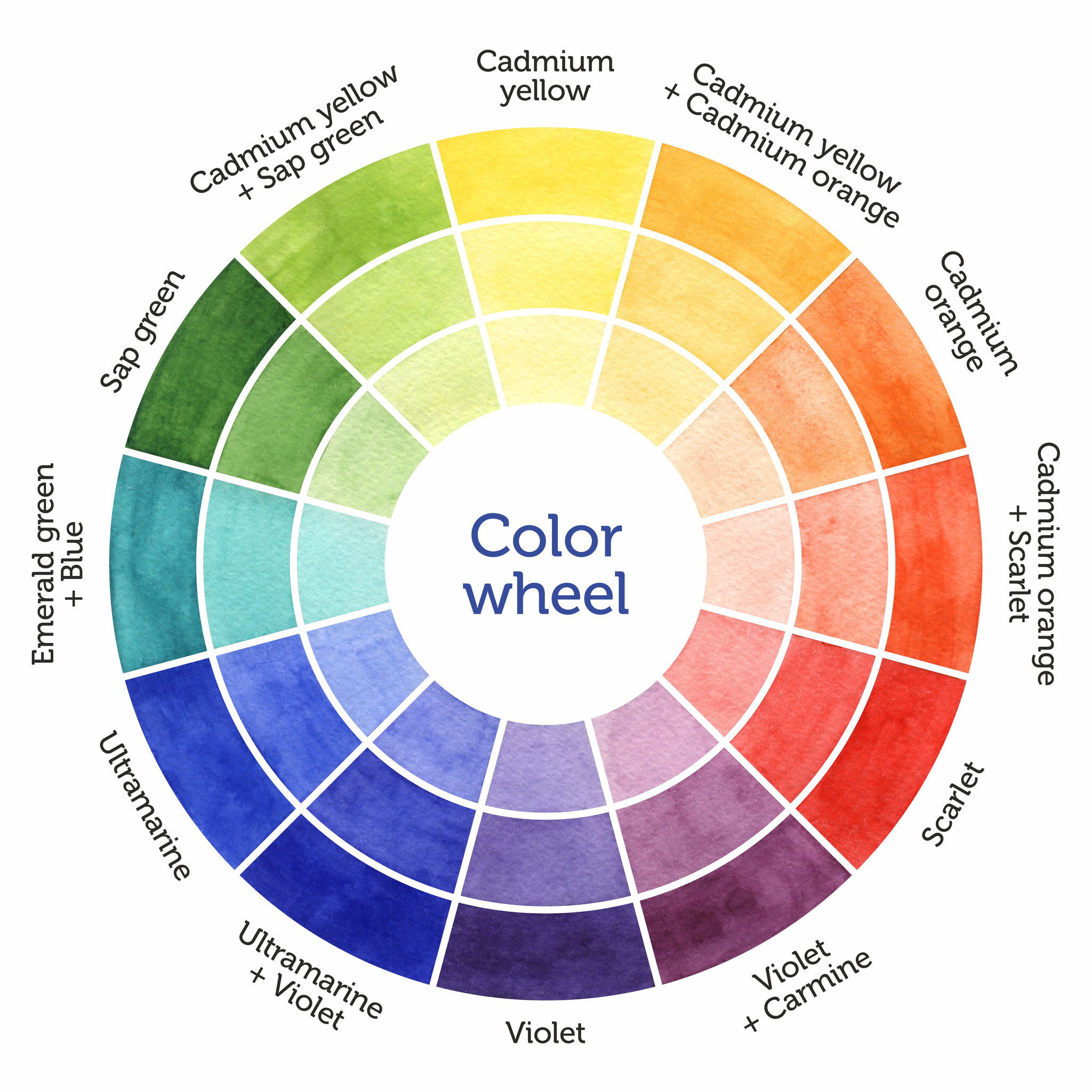 The color wheel is a beneficial tool that divides colors into warm and cool tones for you, creating a simple cheat sheet you can refer to.
When you understand how the color wheel works, you can feel more confident pairing suit, tie, and shirt colors together. Science tells you the match!
Monochromatic Colors
Matching similar monochromatic colors together is the most basic way to incorporate color into your wardrobe. It is very simple and looks incredibly sleek.
The idea behind wearing a monochromatic color scheme is you choose the same color shirt and tie.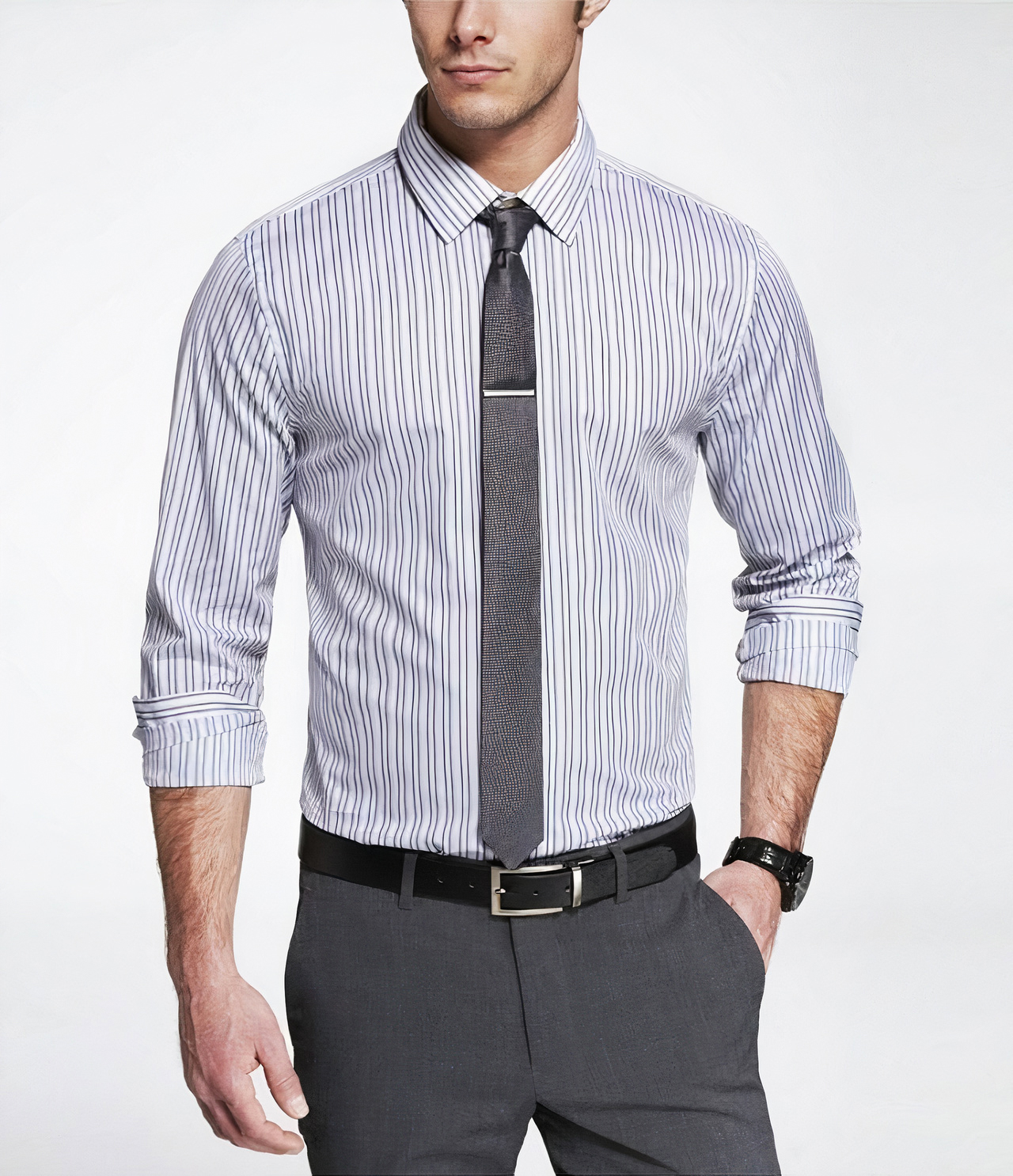 However, make them different shades of the same color. So, for example, you could wear a light grey dress shirt with a charcoal grey tie.
You have the freedom of playing with shades, too. For instance, you could wear a tie, either lighter or darker than the dress shirt. It's pretty difficult to mess up this look.
Analogous Colors
This type of color scheme takes colors that lay next to each other on the color wheel. They are very similar to each other. This is an effortless way for a beginner to begin to expand their color palette.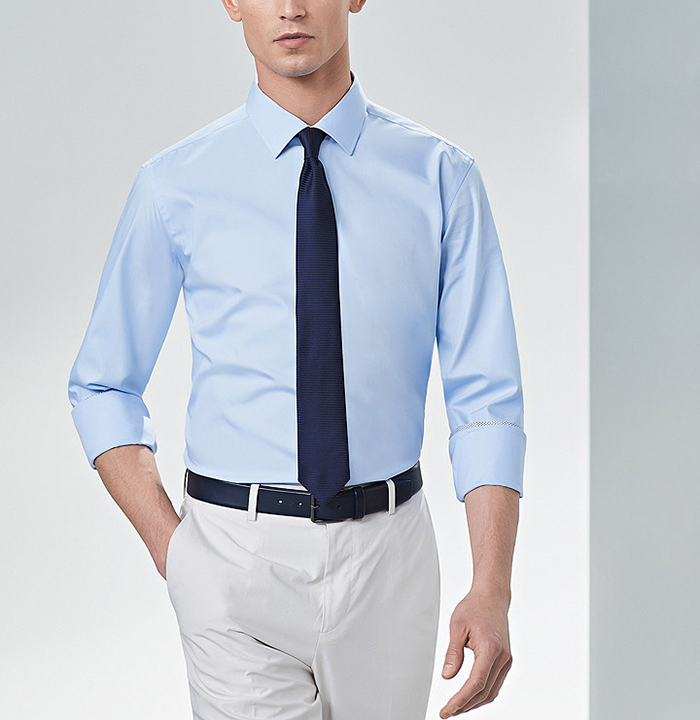 Wearing an analogous color scheme looks best when the tie is a warmer shade than the shirt.
For example, a powder light blue dress shirt looks fantastic with a navy-blue tie.
Triad Colors
Incorporating a triad color scheme into your wardrobe is a big step up in the color world. That involves working with three different colors or colors separated by three layers on the color wheel.
In addition, pairing three colors will mean that these three colors are all equally distant from each other on the color wheel.
For illustration, think about light shades of red and yellow with a darker blue. This is a typical use of triad colors and always looks stunning.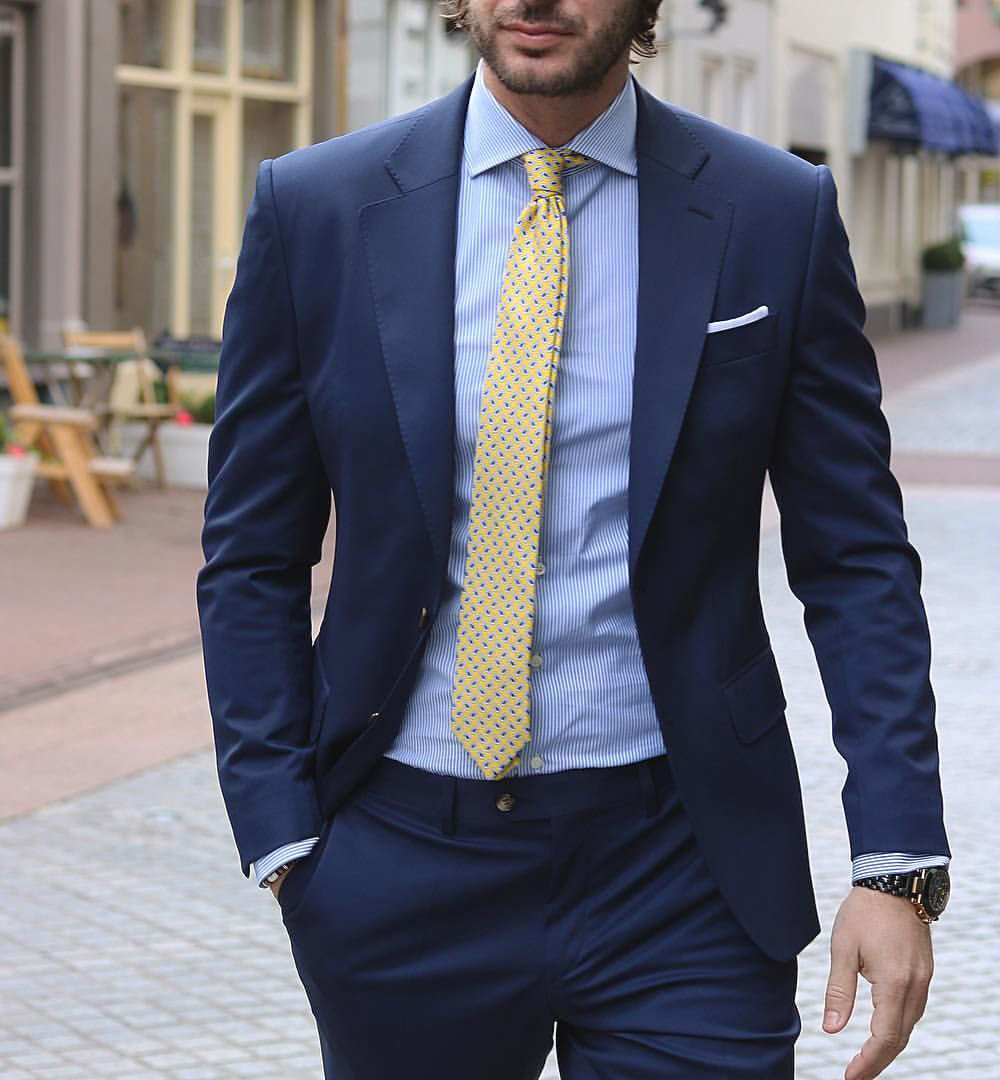 But you don't have to match all three at once. Just a light blue shirt and a yellow tie will work.
The use of color in this way requires a delicate balancing act between warm and cool tones. It's certainly a more sophisticated and daring approach to color, but the payoff is enormous.
Complementary Colors
Pairing complementary colors means that they are opposite each other on the color wheel. This is the most complex way to combine colors and the most challenging.
One combination example will be matching a blue shirt and orange tie. Keep in mind that it is possible to come on too strong with these color combinations.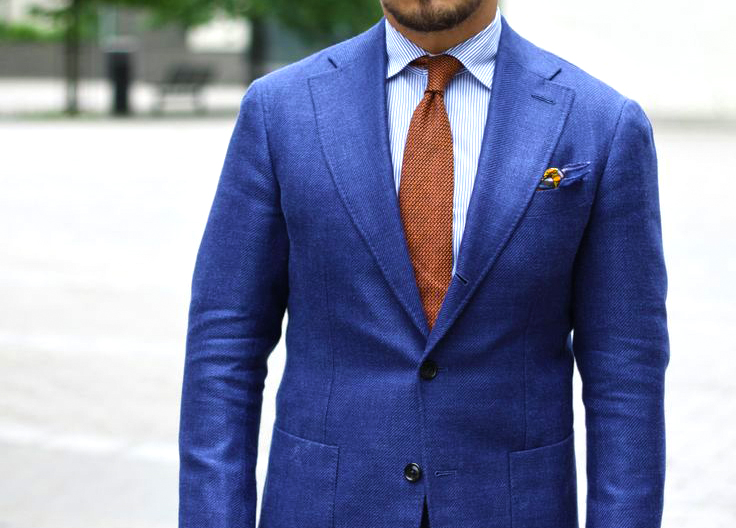 Therefore, you typically want to keep these colors in more muted shades when possible. Or, at least one of the colors should be light and one dark.
Complementary colors are the most visually striking. It's a vibrant and bold approach to matching a shirt and tie.
However, this look may not be the right approach for dressing professionally since it can be considered too bold.
Other Factors to Consider
As I said earlier, color is critical to making your tie and shirt combination work, but it isn't your sole consideration.
Your suit is an entire ensemble that must be taken in as a whole. All of the pieces must play well together.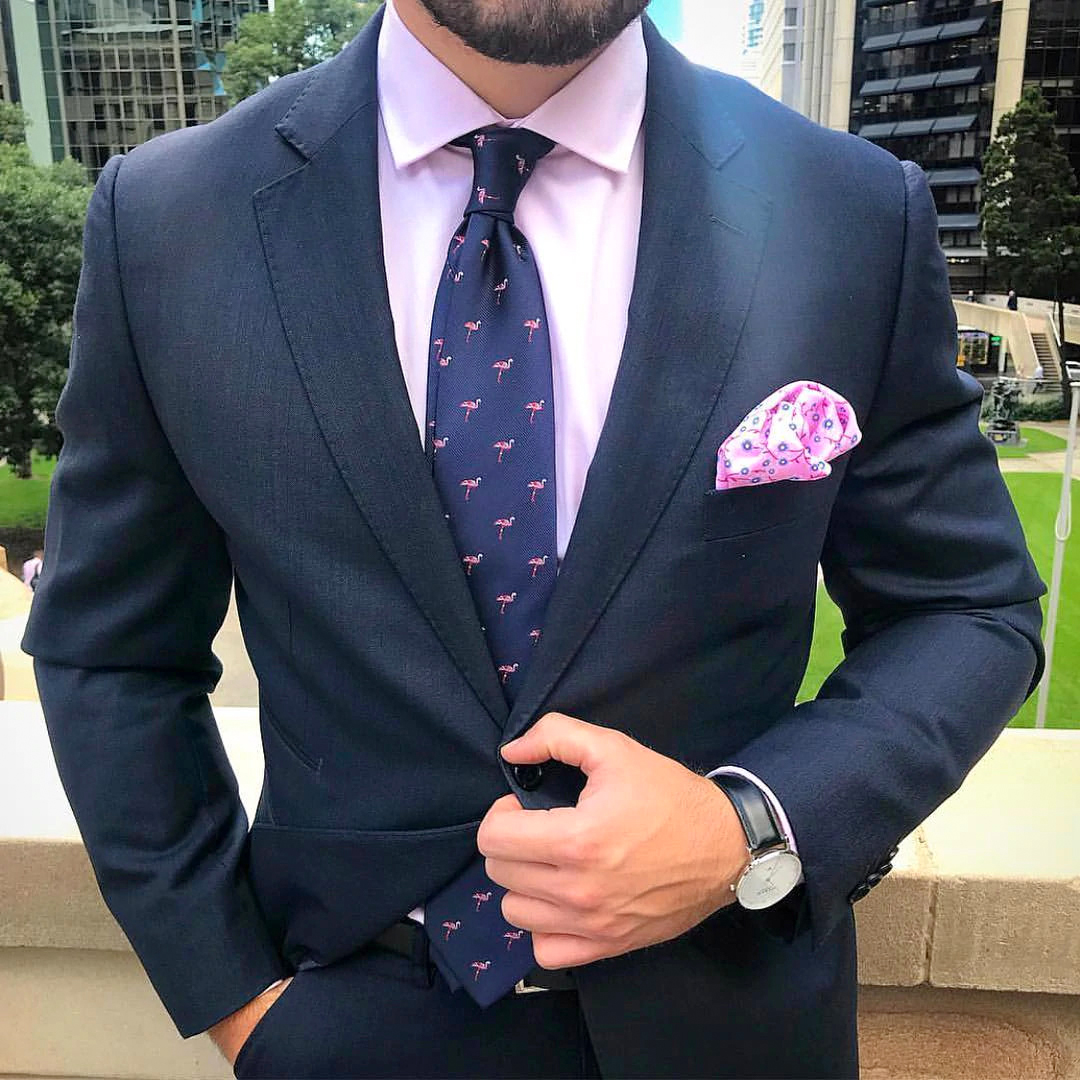 It may help you see how every part of your outfit fits together if you take a giant step back and look at the big picture.
The Occasion
You need to consider the event where you'll be wearing your suit. The occasion should be an indicator of which shirt fabric and color you should wear as well.
For example, a formal event calls for a silk tie. It offers a touch of class and elegance. It's best to stick to dark neutral colors in this situation. Solid ties are more formal than ones with patterns.
When you are wearing your suit in a more casual setting, you can mix up the fabric a little more.
Cotton or knit ties are good options because they aren't as stuffy as a silk tie. Patterns are perfectly acceptable for casual settings.
The Season
You wouldn't wear a wool sweater in the middle of July. So why would you wear a heavy tie then, either?
In summer, you would be best off with a lightweight fabric for your ties, such as cotton or linen. Silk is also acceptable, as it's a year-round fabric. Lighter colors and small patterns are pleasing in the summer.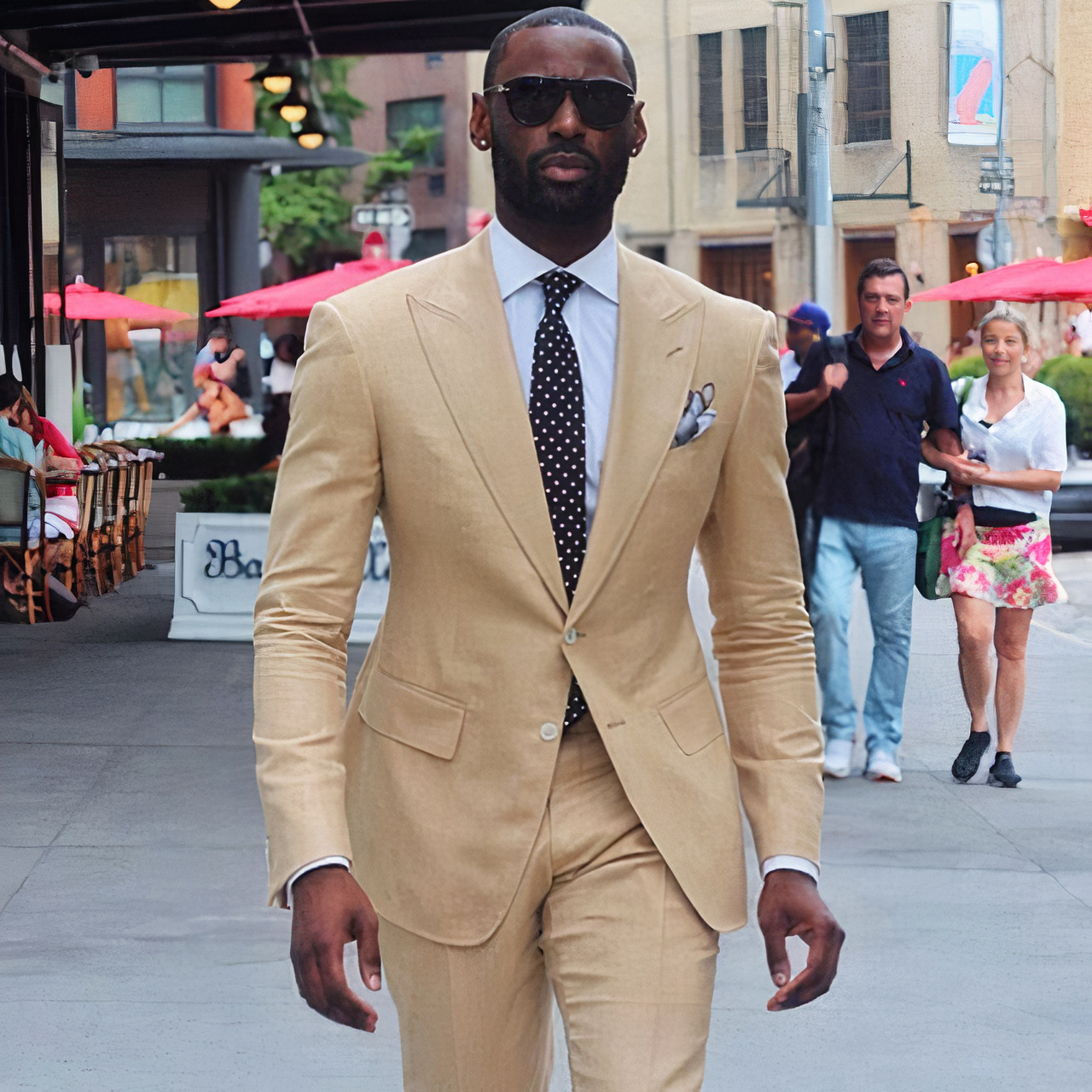 It's natural to gravitate toward heavier fabrics for your ties in the winter. Wool is an ideal fabric for winter ties. Dark colors are perfect, but so are neckties with large patterns.
Differences in Patterns
If you decide to be daring and mix patterns, remember that contrast is critical. Don't worry about the shapes not working together, but about the size.
For example, the design on the tie should always be more prominent and the shirt pattern smaller or clean if you want to deliver the perfect match.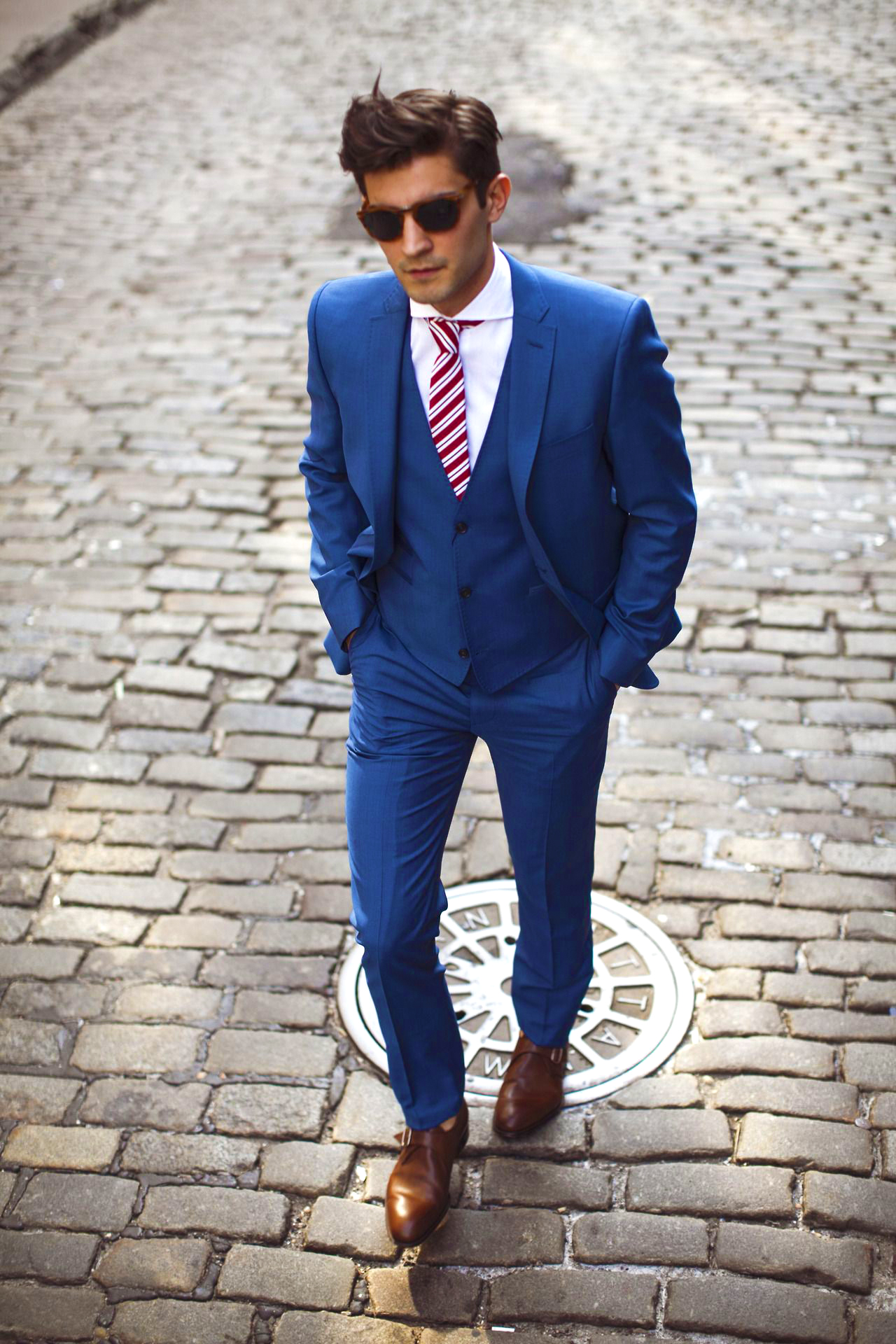 Stripes are the most commonly found print. They can be horizontal, vertical, or even diagonal. Stripes mix well with other stripes that are wider or thinner.
Checkered (including gingham) generally involves white and darker colored squares, though you can also find pastel checks. These can be either large or small scale.
Plaid involves multiple colors woven together in horizontal and vertical stripes, varying in width throughout the pattern. As a result, plaid tends to be bold, thanks to the various colors involved.
Other patterns, like houndstooth or paisley, can be very eyecatching, though challenging to pair. They do best with solid colors.
Invest in Quality Shirt and Tie
Clothing that's poor quality is immediately apparent; it often looks cheap. If you can tell it's not high quality, everybody who sees you wear it can tell, too.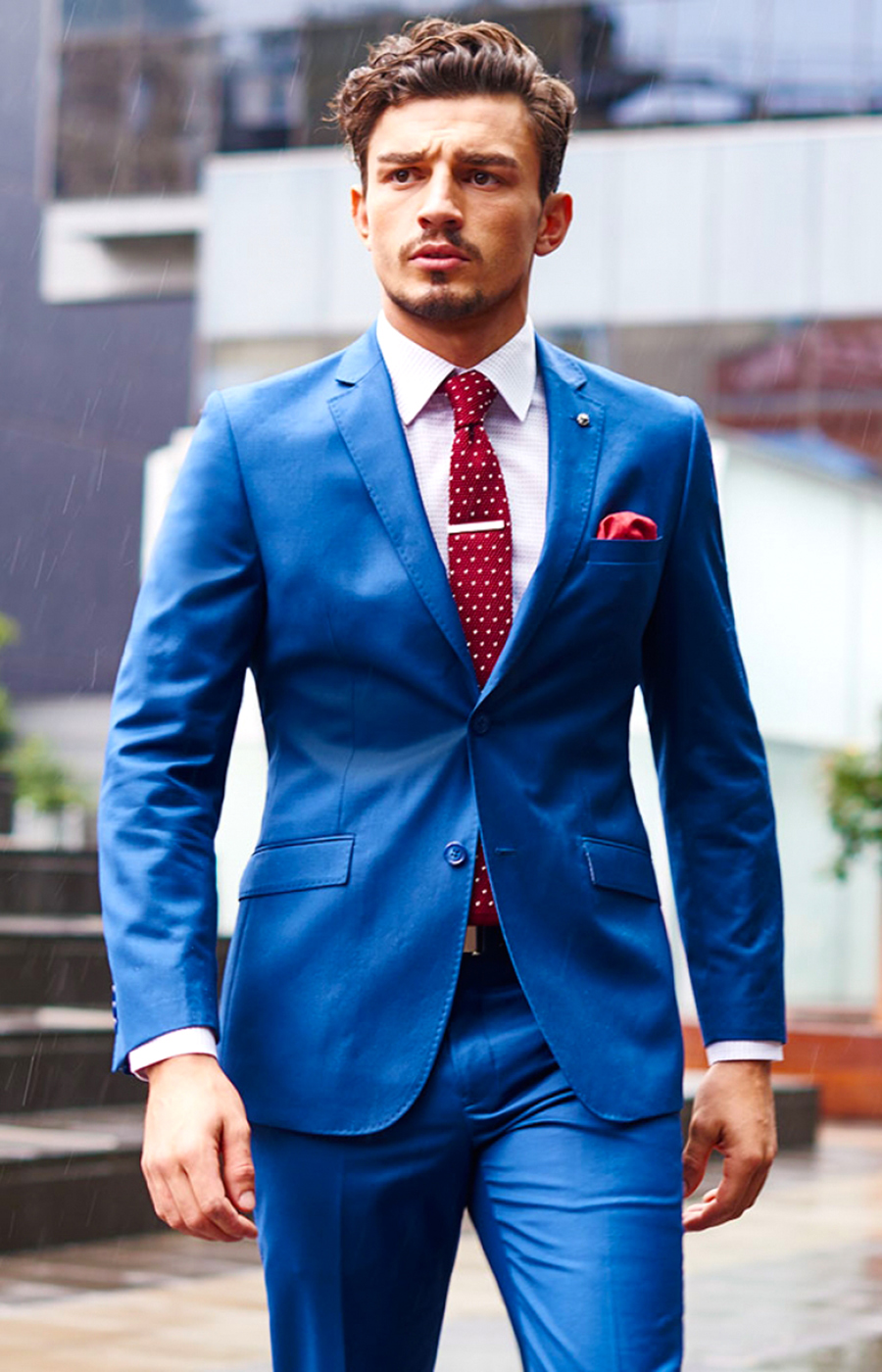 Think of good-quality clothing as an investment. You don't need to break the bank to buy new clothes; the quality can be affordable. Name brand isn't your only option, just don't cut corners.
And don't be afraid to experiment. Try out different shirt styles and brands. The more you try different options, the quicker you'll find your own personal style.
Ties to Wear with Solid Color Shirts
Aside from making sure your tie fabric and size are appropriate, you need to ensure the color isn't totally wrong. Fortunately, many colors can quite easily be mixed and matched.
If you know the basics of color, you won't even have to think twice about it. Once you've been practicing this skill for a while, it will become second nature to match your shirt and tie.
But, fortunately, I'm here to give you a push in the right direction.
Solid colored dress shirts make a perfect canvas for matching a tie. Think of your tie as the paint, and you are the artist. So what color would look right on the background you've chosen?
Solid dress shirts are also the easiest to pair a patterned tie with. You don't need to worry whether the pattern itself will work, only whether it's appropriate for the occasion.
Ties to Wear with White Shirt
A white dress shirt is a truly clean slate. Anything goes! All color options are on the table because white doesn't clash with anything.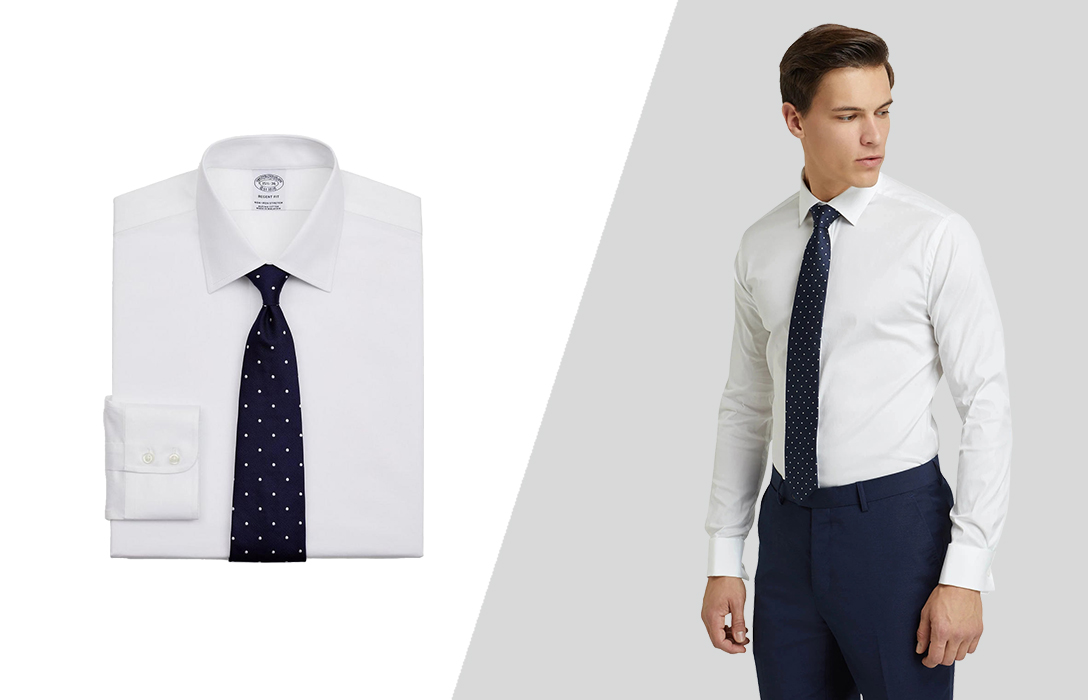 You have total freedom of color and freedom of either solid or pattern. The only factor that will put limits on your choices is the formality.
A colored tie is an ideal way to bring some excitement to your suit. It also is an excellent signal that you grasp how to dress for the occasion.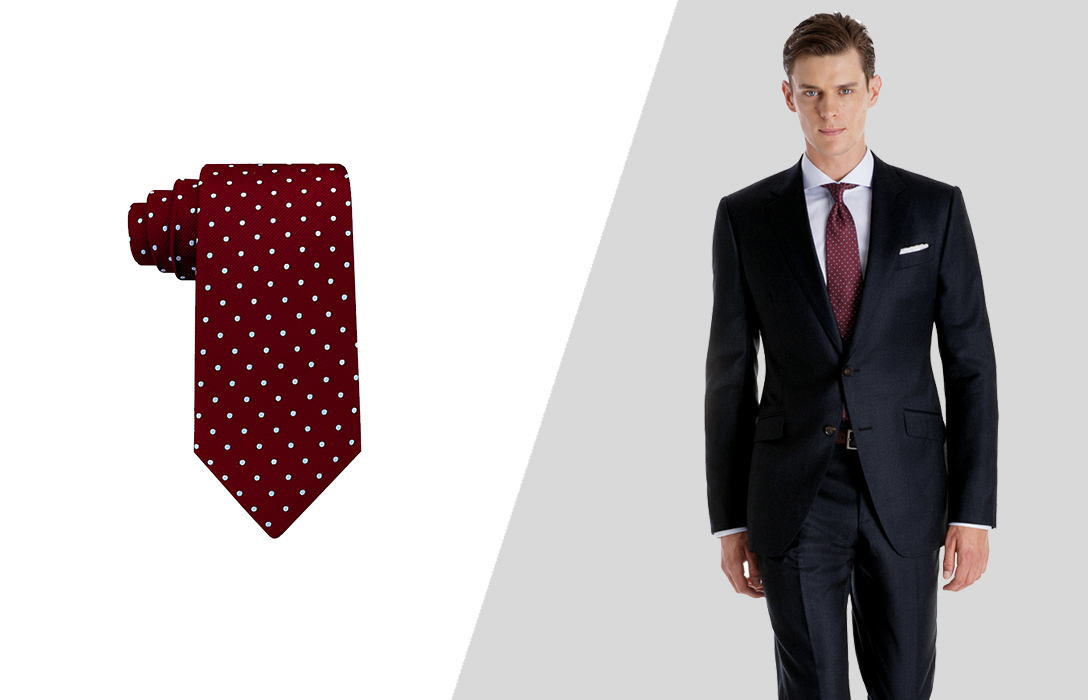 So, for example, if you need to be formal, keep your tie as dark as you can. A summer daytime event, on the other hand, is ideal for a pastel-colored tie.
Indeed, white is unbelievably versatile.
Ties to Wear with Blue Shirt
A blue shirt is a little more challenging to pair than a white shirt. However, it's also a great foundation color.
Blue is the perfect color to try a monochrome effect with. If you are wearing a pale blue dress shirt, add a darker blue tie.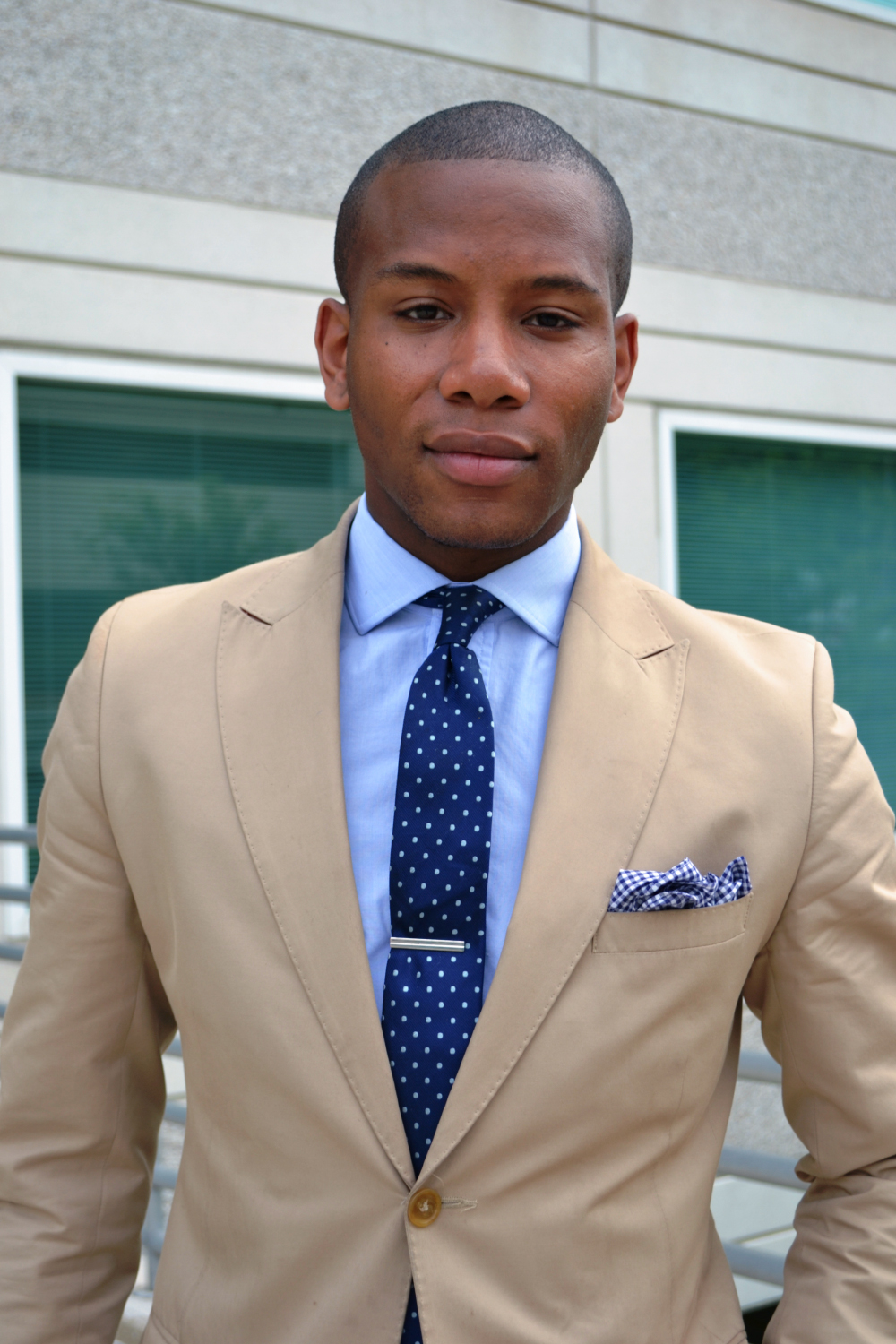 Navy or royal blue would look very sophisticated. If your dress shirt is a little more on the true blue side of the color spectrum, try a light blue tie.
For a more complex color combination, go with a triadic color scheme. How about a tie with red undertones, perhaps a burgundy-red?
On the other side of the color wheel is orange. That means you could wear a dark orange tie with a light blue dress shirt.
Neutral is also a pleasant way to match your blue shirt. Black makes a striking contrast, and so does charcoal grey.
Ties to Wear with Pink Shirt
Pink dress shirts are very in vogue right now. So, if you don't own one yet, this would make a superb addition to your closet.
To contrast your pink dress shirt, you can't go wrong with a dark blue tie. Navy and pink are practically made for each other.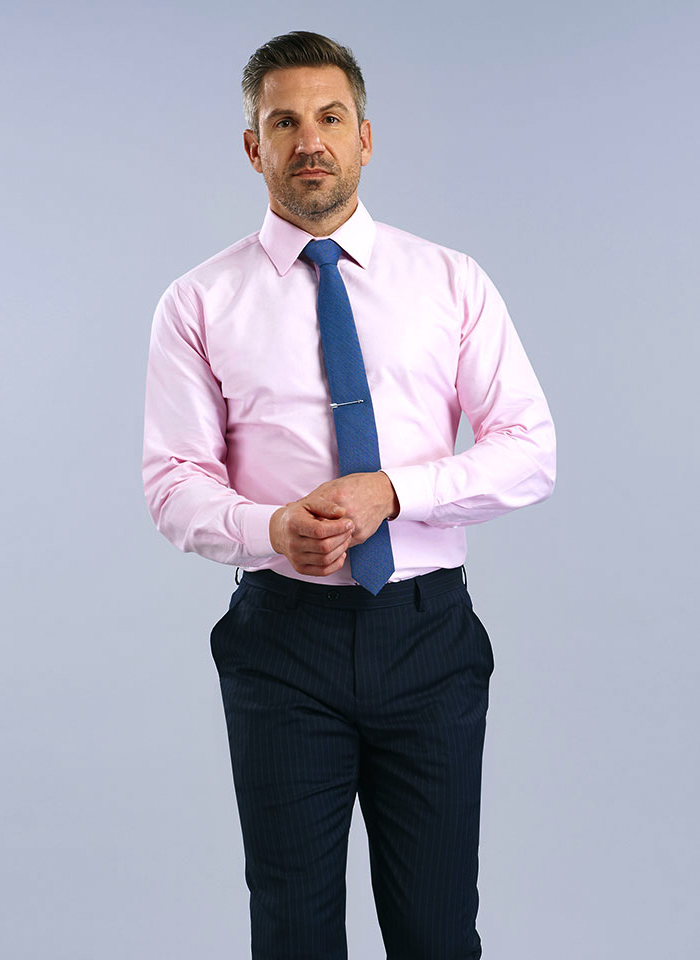 You could spice things up by opting for a navy tie with pink patterning on it.
If you feel more comfortable sticking with similar colors, a deep or medium purple color looks interesting next to a light pink dress shirt.
Patterned and floral ties are also a great match for a pink shirt. Again, you can be creative here, but make sure you're still within one of the color schemes we mentioned earlier.
You could also just go with a dark pink tie, too, for monochrome! Finally, for an even bolder approach, red is a powerful pairing.
Ties to Wear with Grey Shirt
Grey is a neutral shade, so you have some room to play with your tie colors. Another neutral shade would look elegant on a grey dress shirt, such as black or a darker grey.
A very dark color would also be a very smooth match. Burgundy or navy are both fantastic colors to perk up the possible dullness of grey.
Mixing and matching these colors in a striped or pattern tie can further enhance your appearance.
If you want to go out on a limb, a pink tie on a grey dress shirt is an exciting color combination. Pink and grey together would really turn some heads.
Ties to Wear with Black Shirt
Black makes for a sophisticated dress shirt, but it's a challenge to match. It's not a blank slate the way white is.
The darkness of this dress shirt is very easy to make colored ties look juvenile.
To successfully pull off a black dress shirt and tie, it helps if you can create some contrast between shirt and tie.
For example, this is the ideal shirt to wear a patterned or striped tie with. Keep the colors dark. Although, not as dark as the shirt.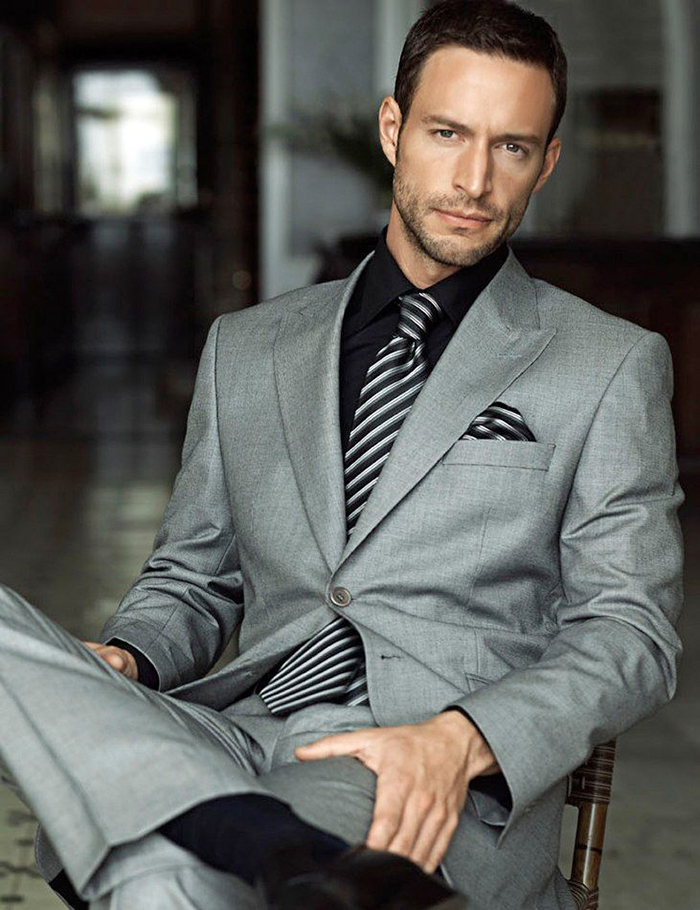 With a sprinkling of lighter shades in the tie's pattern, your black dress shirt will start to come to life.
How to Match a Striped Shirt & Tie
Stripes can be a challenge, no matter how you're trying to incorporate them into your wardrobe.
A striped shirt can bring up so many questions about color and print that it can make you break out in a cold sweat thinking about it.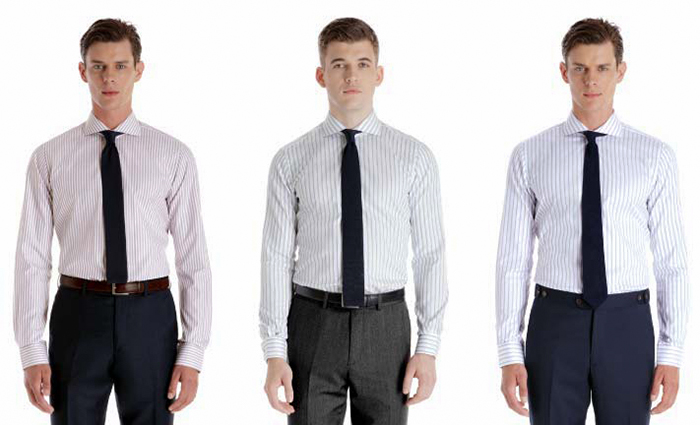 However, when you are able to integrate stripes successfully, you can look like a style genius. Striped shirts are a really fun way to liven up your suit.
They aren't suitable for formal wear, but stripes are ideal if you are going for a business-casual or smart-casual vibe.
Solid Tie
When you pair a solid tie with a striped shirt, you don't need to worry about the colors being a perfect match. Instead, match your tie to the colors of the stripes in your shirt as you would a solid shirt.
However, don't go in for a huge contrast. A sharp contrast in colors on top of the stripes will be too overwhelming. It would be too busy to look at.
Instead, use some common sense about what you know about colors. Either a monochrome or analogous color combination is your safest bet to incorporate your striped dress shirt.
Striped Tie
The key to wearing two articles of clothing that are both stripes is creating contrast. You need one set of stripes to be broad and the other set to be narrow.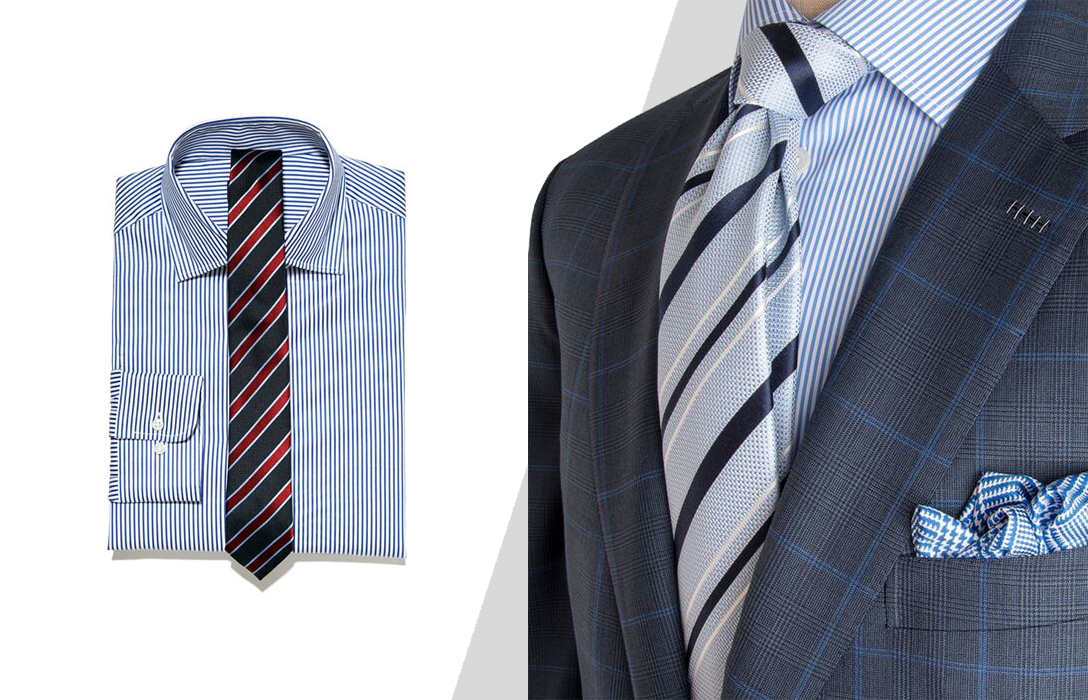 Oddly, this contrast in the size of stripes works well. However, when they are the same size, it looks more like it should be an optical illusion.
The same color rules apply as if you were wearing a solid tie. Don't go in for a sharp contrast in colors. Keep the colors as similar as possible, and it will work well.
Dotted and Patterned Tie
Even though some patterns you can mix by adjusting the scale of the prints, it's an exception to the rule.
When pairing a dotted or patterned tie with a striped shirt, keeping the patterns and stripes at the same scale is essential.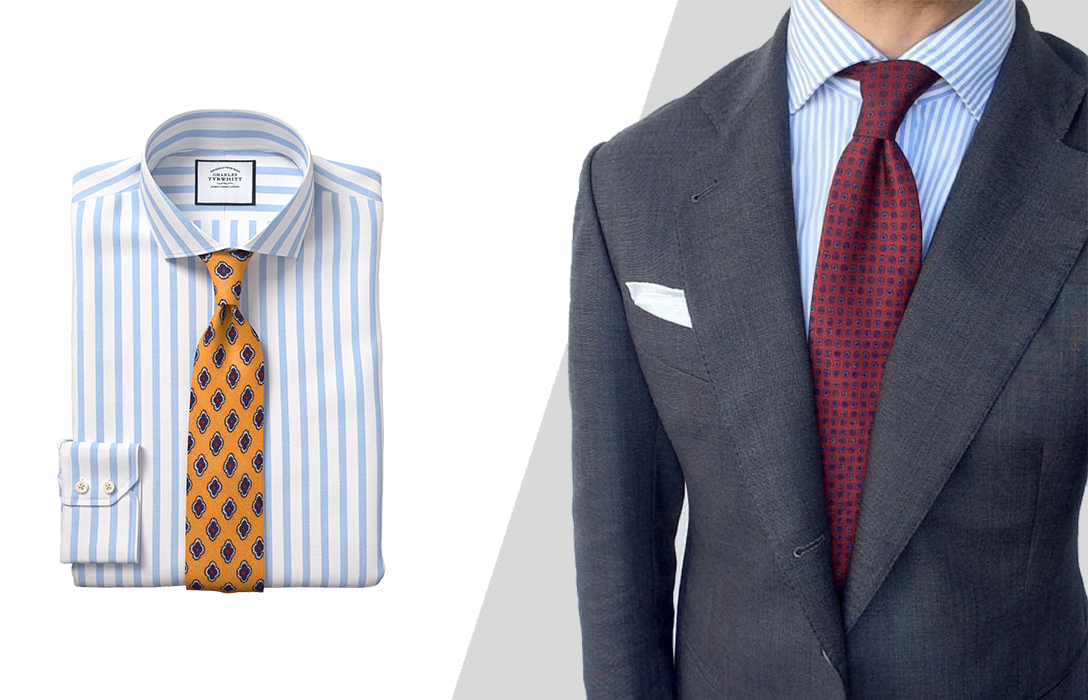 So, for example, if your shirt has narrow stripes, your tie should have a small pattern.
But, conversely, if your shirt has wide stripes, the print should be more prominent, with lots of space in between.
How to Match a Checkered Shirt and Tie
The checkered shirt covers every alternating grid of white and solid color squares.
Gingham is a pattern of white and another solid color, forming intermediate shade squares. It's a fantastic print, although people tend to shy away from it. They usually consider it too casual for suits, but I say put it into your rotation!
Plaid shirts are another checkered shirt type similar to gingham. However, plaid shirts usually have varying widths and different-colored straight patterns.
But one of the most frequent checkered patterns suitable even for formal occasions is the graph check shirt. It's a pattern consisting of lines that form small checks, usually formed by thin lines.
With that being said, you can dress up checkered shirts with a tie, opening up a whole new world of print possibilities.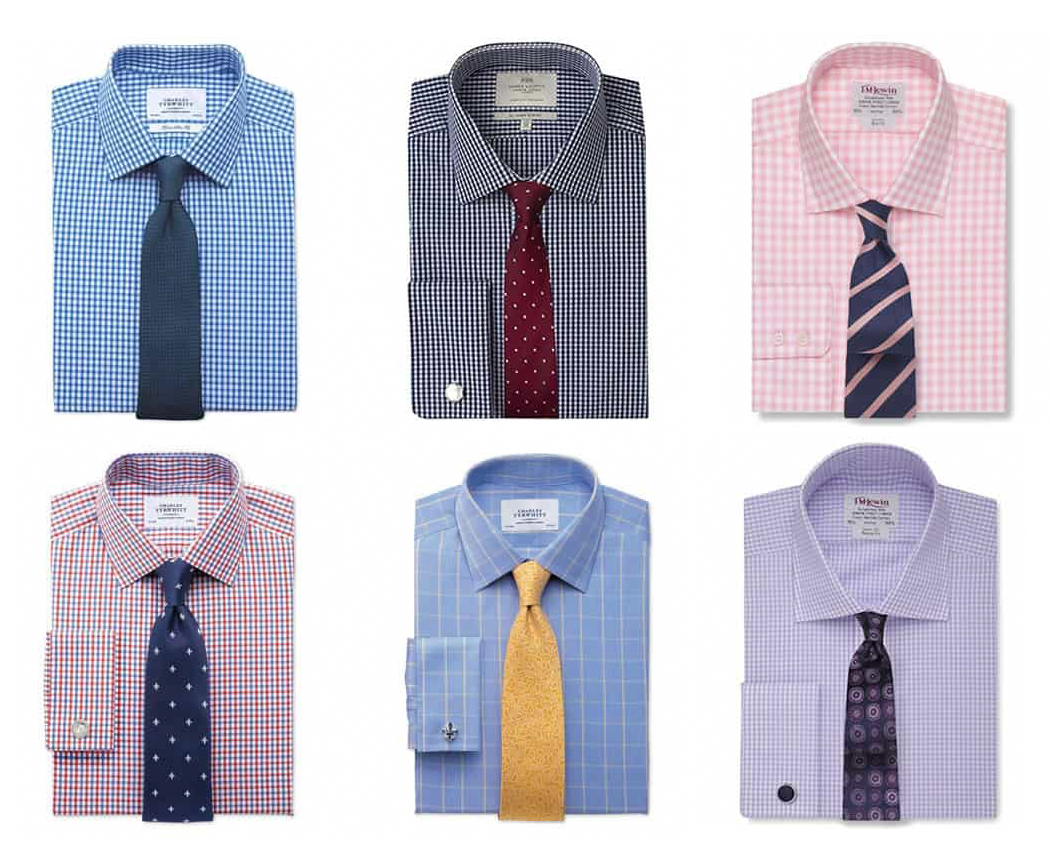 To be honest, it is possibly the trickiest shirt type to match, though. The checkered pattern can be intimidating, but you can make it work with a bit of finesse.
Small checks are easier to pull off; they are dressier than large checks.
Don't forget to keep the three major style components in mind when you're matching a checkered shirt and tie: color, pattern, and scale.
Solid Tie
You can match your solid tie by pairing it with the colored checks, not the white base of the shirt. Follow the basic color-matching rules you've learned from the color wheel.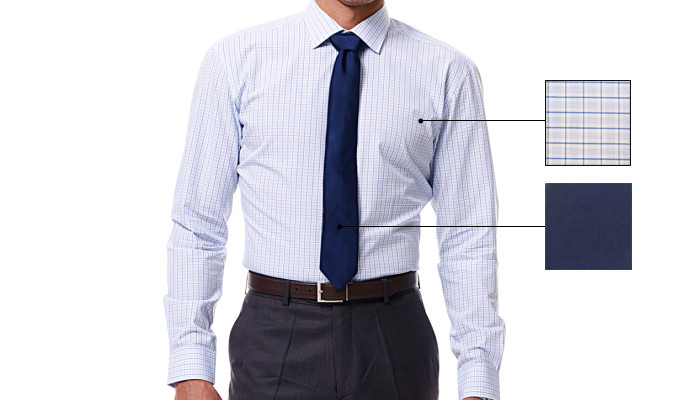 So, for example, if you are wearing a light blue gingham shirt, you might want to add a navy or royal blue tie. That follows a monochromatic color scheme.
Since dressing up in a gingham print shirt is a pretty contemporary idea, why not try a modern color scheme? Go for a complementary color scheme; wear an orange tie with your blue gingham check shirt.
Striped Tie
Mixing patterns is not the fashion blunder that people once believed it was. Instead, it's a fun way to spice up any outfit.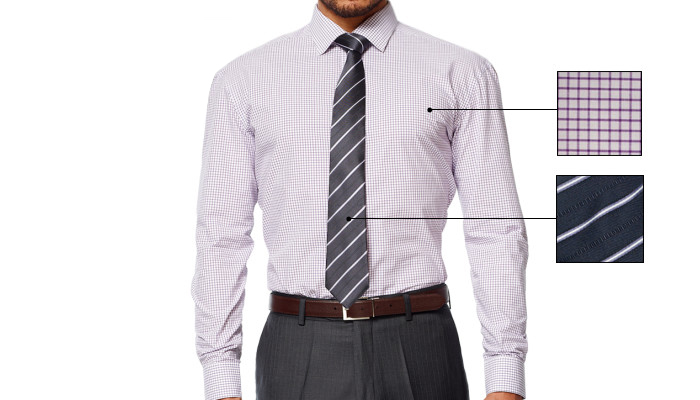 Remember to keep the scale of the patterns in mind if you wear a striped tie with a checkered shirt.
The stripes should be more prominent and bolder than the checks. It will set the patterns apart and make it clear that the combination is intentional and thought out.
Dotted and Patterned
Again, pick a tie where the design is on a larger scale than the checks on the dress shirt. But remember to keep the designs on the tie spaced out.
There should be plenty of background color peeking through between the pattern. This will be helpful to make your tie stand out against the background of your dress shirt.
Match Shirt and Tie FAQs
We covered a lot of information, but hopefully, it's not too overwhelming. Again, unlocking the secrets of the color wheel will be most helpful in taking your shirt and tie game to the next level. Here's a brief wrap-up.
Does the suit impact the choice of shirt and tie?
Yes, it absolutely does. The color of your suit needs to be taken into consideration; the wrong color suit can ruin the perfect shirt and tie combination. All the pieces need to match.
How to match a tie for a contrast collar shirt?
For this shirt style, your tie needs to be solid or patterned, a darker shade than the color of the base of your shirt. For example, if your dress shirt is blue with a white collar, you need a tie darker than your shirt's blue.
What's the best shirt and tie combo for a charcoal grey suit?
Grey is a neutral suit color, which offers up a world of color combinations. Possibly the nicest possibility is a white dress shirt and a darker grey tie. Any tie color would be acceptable, though, depending on the event.
What's the best shirt and tie combo for a navy suit?
Navy is another classic suit color that is so easy to pair shirts and ties with. A fun twist to consider for this suit would be to wear a light blue dress shirt with a dark-dotted tie. It would lower the inherent formality of this suit.
Should the tie be darker than the shirt?
In general, yes. Your tie should stand out against the background of your shirt. It can easily do that if it's darker than the shirt. On the other hand, if it's a lighter shade, you may lose sight of your lovely tie.
Should I wear a shirt and tie for an interview?
A shirt and suit jacket are the preferred outfits for a job interview. Remember, you want to make a good impression. So, unless your interview is business-formal, you can ditch the tie.
Author: Alexander Stoicoff
Hi, I'm Alex, and I've studied and specialized in styling in Rome. Through my writing, I want to help men dress well and learn the purpose and significance of suits and other formal attire. My final goal is to make men more confident in their wardrobe choice and life in general.