When you're invited to a wedding or are getting married yourself, the suit vs. tuxedo challenge emerges.
Yes, you may feel confused about which to wear, and that's completely natural!
I can help you understand all the components of both types of outfits, making it easier when the big day decision time comes. It doesn't need to be a stressful choice.
The Basics
A suit and a tuxedo are both formalwear options. But few key differences between them primarily relate to their levels of formality and the details in their design.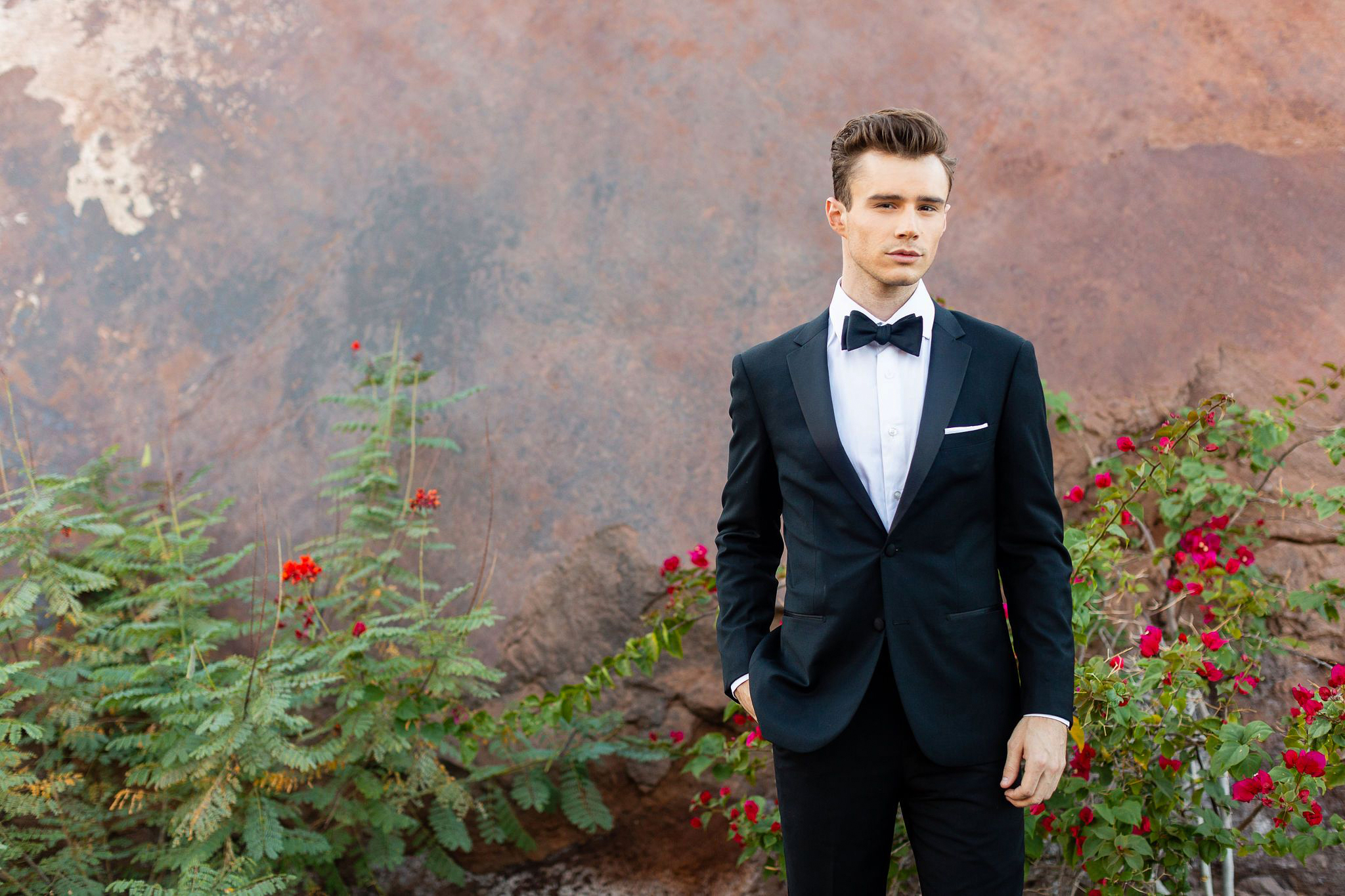 To make an informed decision, you need to know what defines the two.
Tuxedos Are Not Suits
Again, for the people in the back, tuxedos are not suits! There are major differences between them.
Tuxedos are only for evening wear. On the other hand, you can wear a suit both day and night.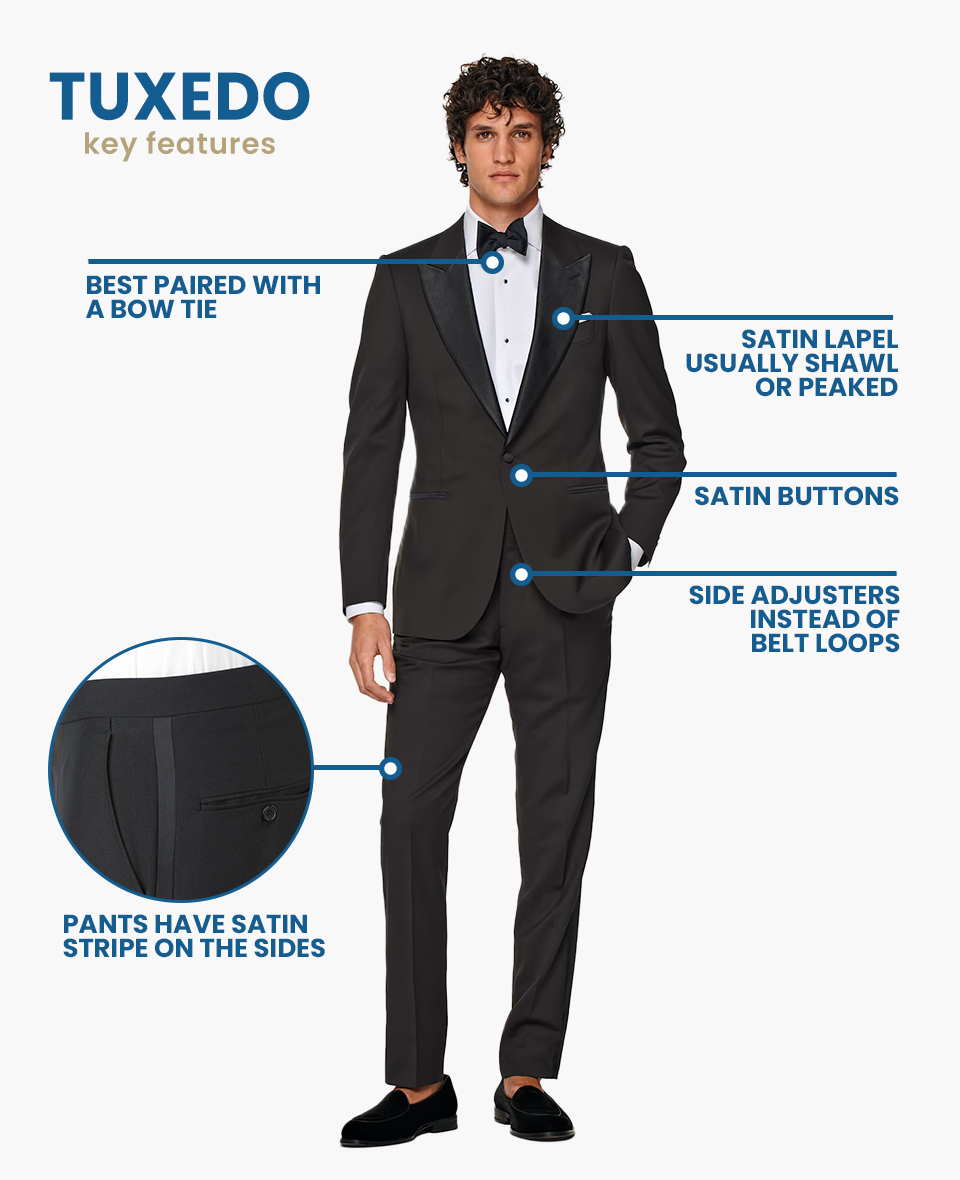 There are strict rules for wearing a tux; there is hardly any wiggle room for style. While tuxedos don't allow much room in the style rules, suits are much more open to interpretation.
What Are the Main Differences?
One main difference is the satin trim detail, which handily identifies tuxedos on the jacket lapel, buttons, and pants. Suits don't ever include satin detailing.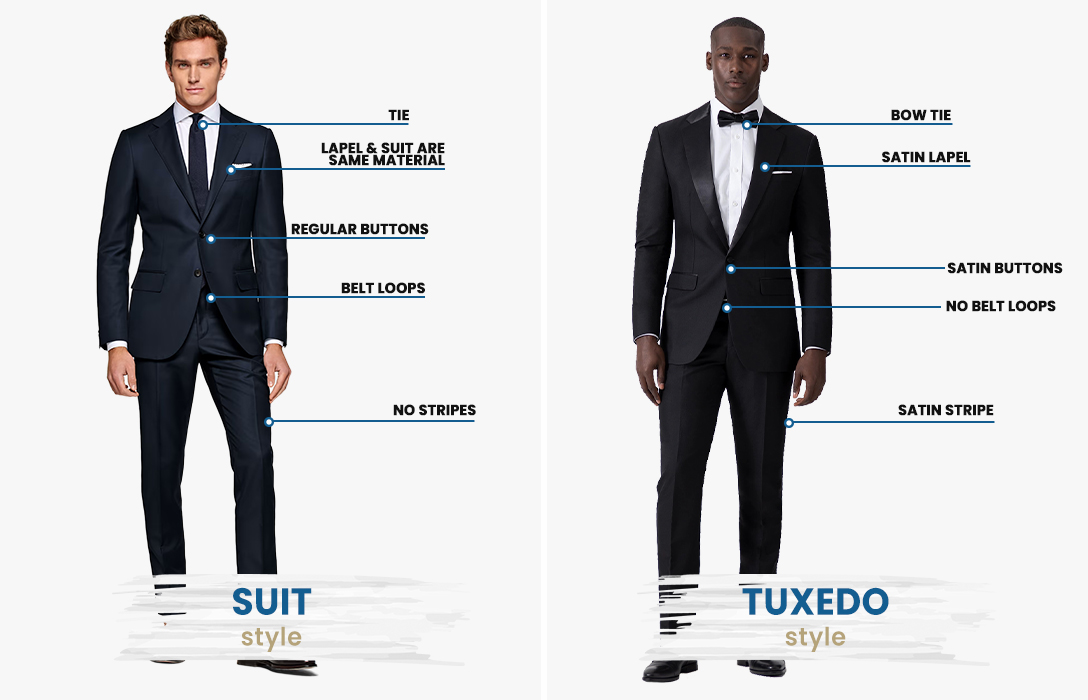 Overall, there is not much flexibility with a tuxedo. You can expect a standard set of accessories, black patent leather shoes, and a precise shirt style.
Suits offer more shoes, dress shirts, and accessory choices.
Formality Level Difference
A suit can be very dressy with the correct color, cut, and style. It can look sleek and stylish.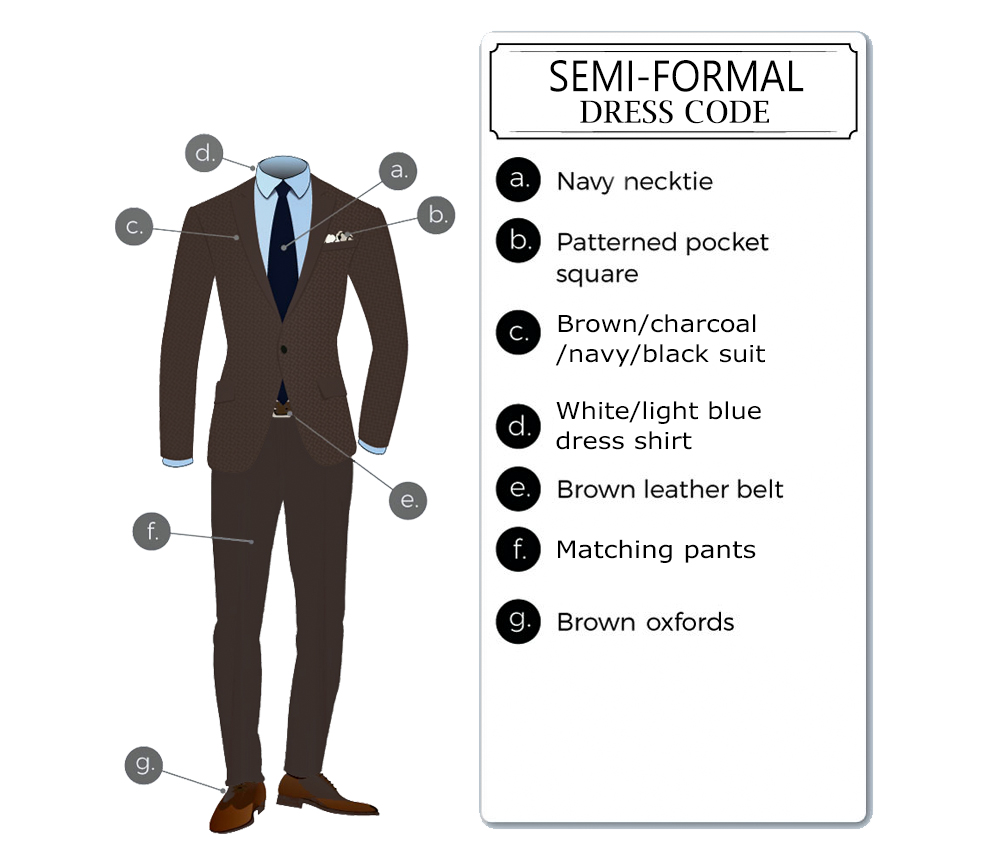 Yet even the most elegant suit will never be as dressy as a tuxedo.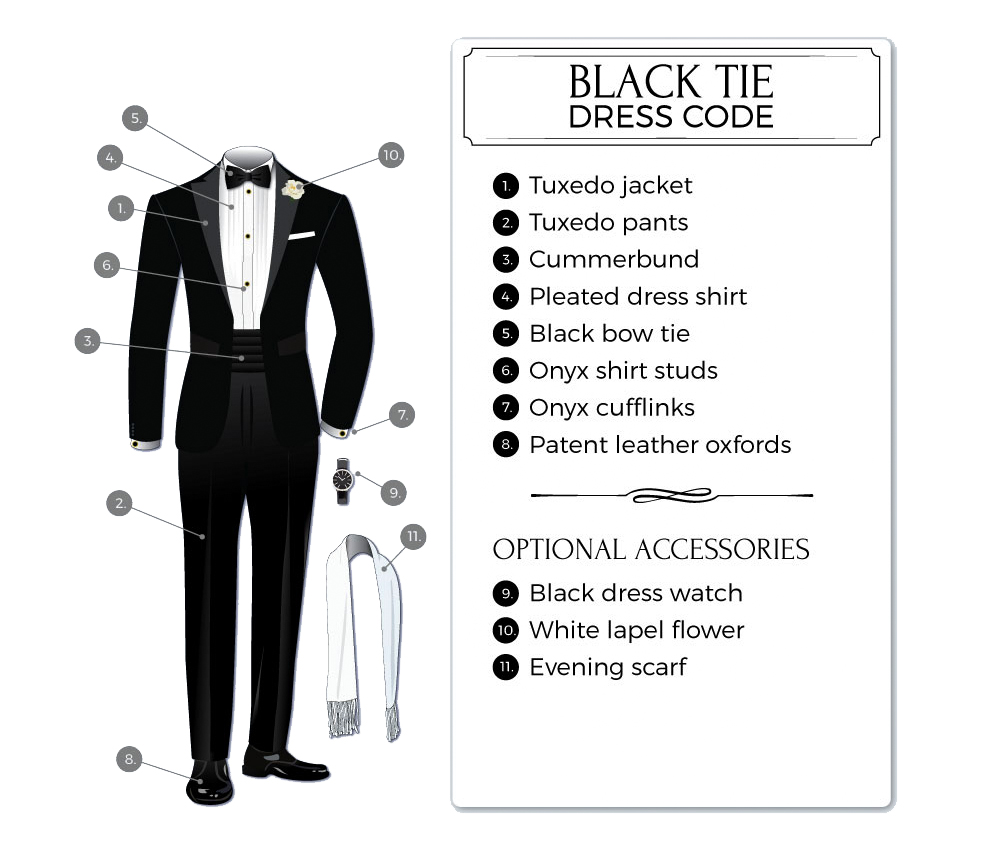 Tuxedos are considered the most formal outfit a man can wear. Therefore, they are considered standard at all black-tie events.
Suit vs. Tuxedo as Wedding Attire
Whether it is your own or a friend's, what you choose to wear to a wedding will depend on the dress code. It is dictated by the time of day of the event, the season, and naturally by the host's wishes.
Look at the wedding invitation for clues. It may tell you straight out that it is a black-tie event. Easy-peasy. Now you know you'll have to wear a tuxedo.
Does it say semi-formal or cocktail attire? Go ahead and choose a formal wedding suit.
Differences in Color Options
Suits come in different colors and tremendous varieties of styles.
Colors such as black, navy, and charcoal grey are the most formal suit colors. These are excellent to wear for evening weddings, job interviews, or important business meetings.
On the other hand, lighter colors such as light grey, blue, and tan look very nice and are good for more casual occasions, such as office settings or daytime weddings.
The most traditional tuxedo color choice is black. It is the highest level of formality and the only acceptable color in most cases.
It's also possible to pick tuxedos in a small number of different colors, such as midnight blue, navy, or burgundy. But even these tuxedo jackets usually arrive with black pants.
These alternative choices are not appropriate for most black-tie settings.
However, if you are invited to a creative black-tie event, have at it! And yes, "creative black-tie" is a thing.
Suit Jacket vs. Tuxedo Jacket
At first glance at a black jacket, you should be able to tell whether it is a suit or a tuxedo jacket.
Before you even read this article or even thought about the differences between the two, you'd know.
The lapel and the buttons are enough to clue you in. So let's break it down.
The Fabric
There is a common denominator in most suits and tuxedos. They are generally both made from wool fabric. There are other fabric differences, however, that are more subtle.
Tuxedos are usually made of velvet (although wool blend tuxedos are quite often, too) and will have satin details on the jacket.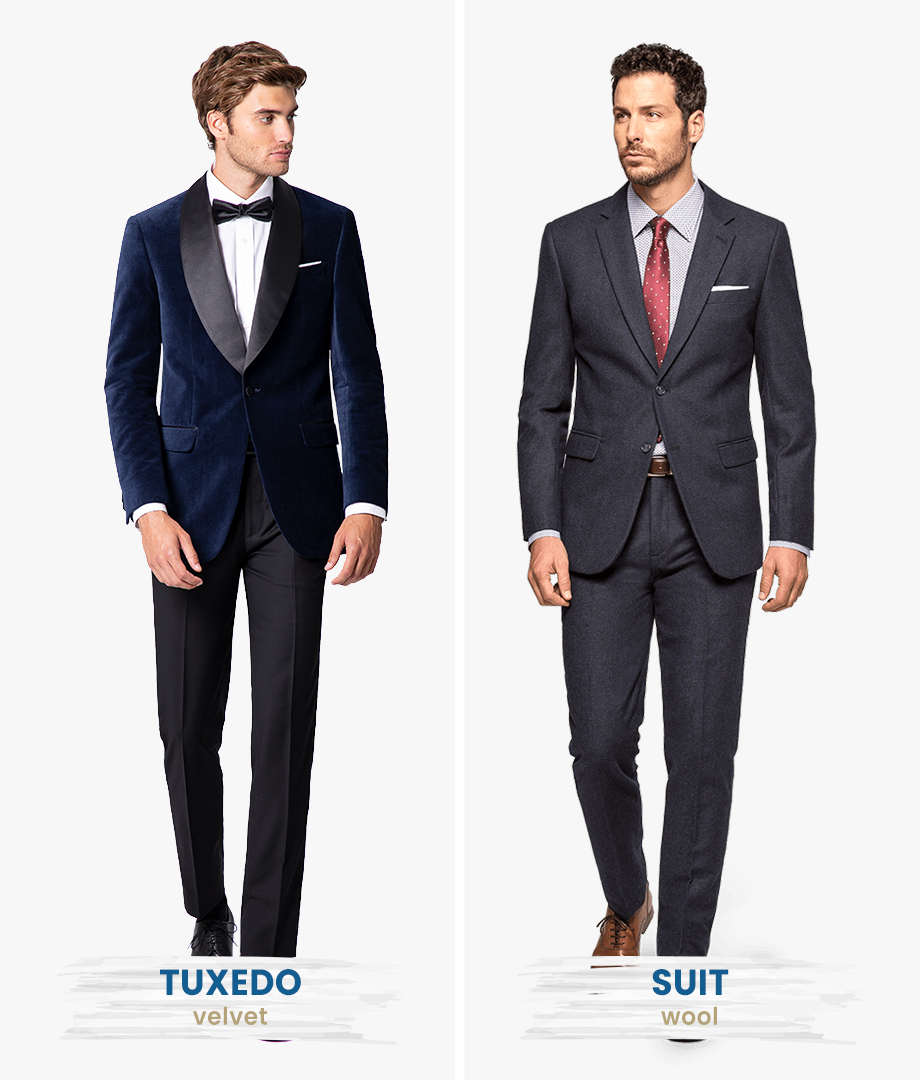 In tell-tale areas of the tuxedo jacket, you should expect to see satin trim or lining. That is not something you will find in suit jackets.
The Lapel
There are three standard styles of jacket lapels: notch, peak, or shawl. A suit will have either one of the first two.
The tuxedo jacket, on the other hand, is recognizable by the satin lapel in either shawl or peaked style.
A notch lapel is a casual lapel cut, which is why it's rarely included on a tuxedo jacket.
Buttons
Another major suit vs. tuxedo variance in the two jacket styles is button differences.
The suit buttons are made from a variety of materials. They can be plastic, bone, or fabric-covered. On the other hand, tuxedos usually have satin buttons.
Also, suits have anywhere from one to three button closures. The two-button option is the most common choice.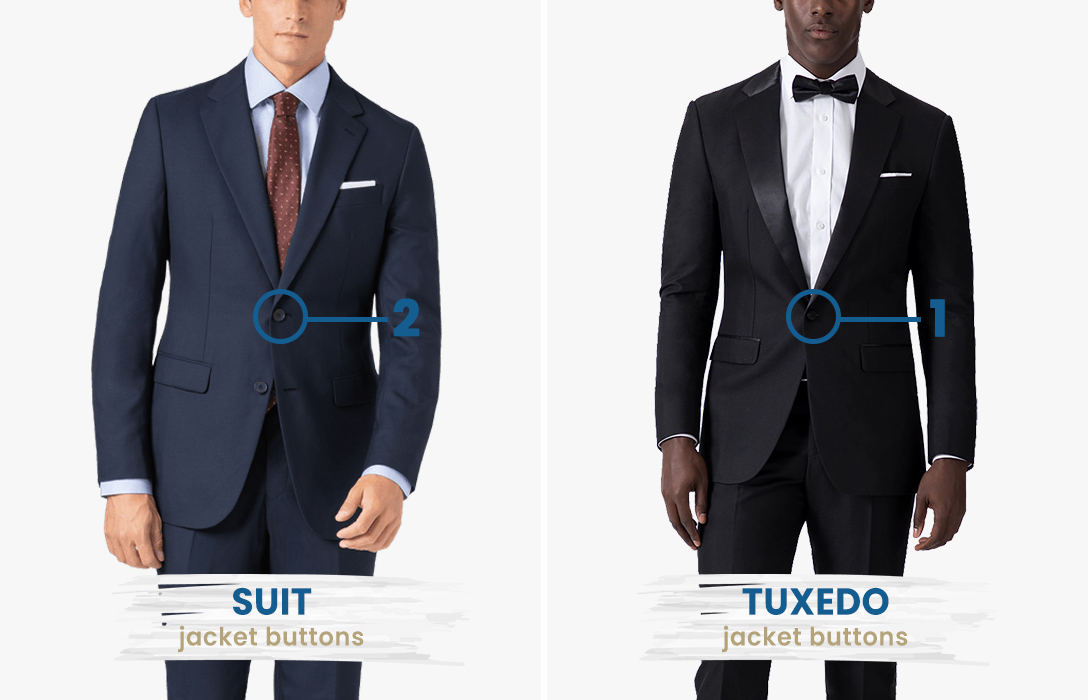 Tuxedo jackets, on the other hand, usually have only a single button closure.
Pocket Styling
A suit jacket will have one of two types of pockets: patch style or flap style. But usually, they'll have flap pockets.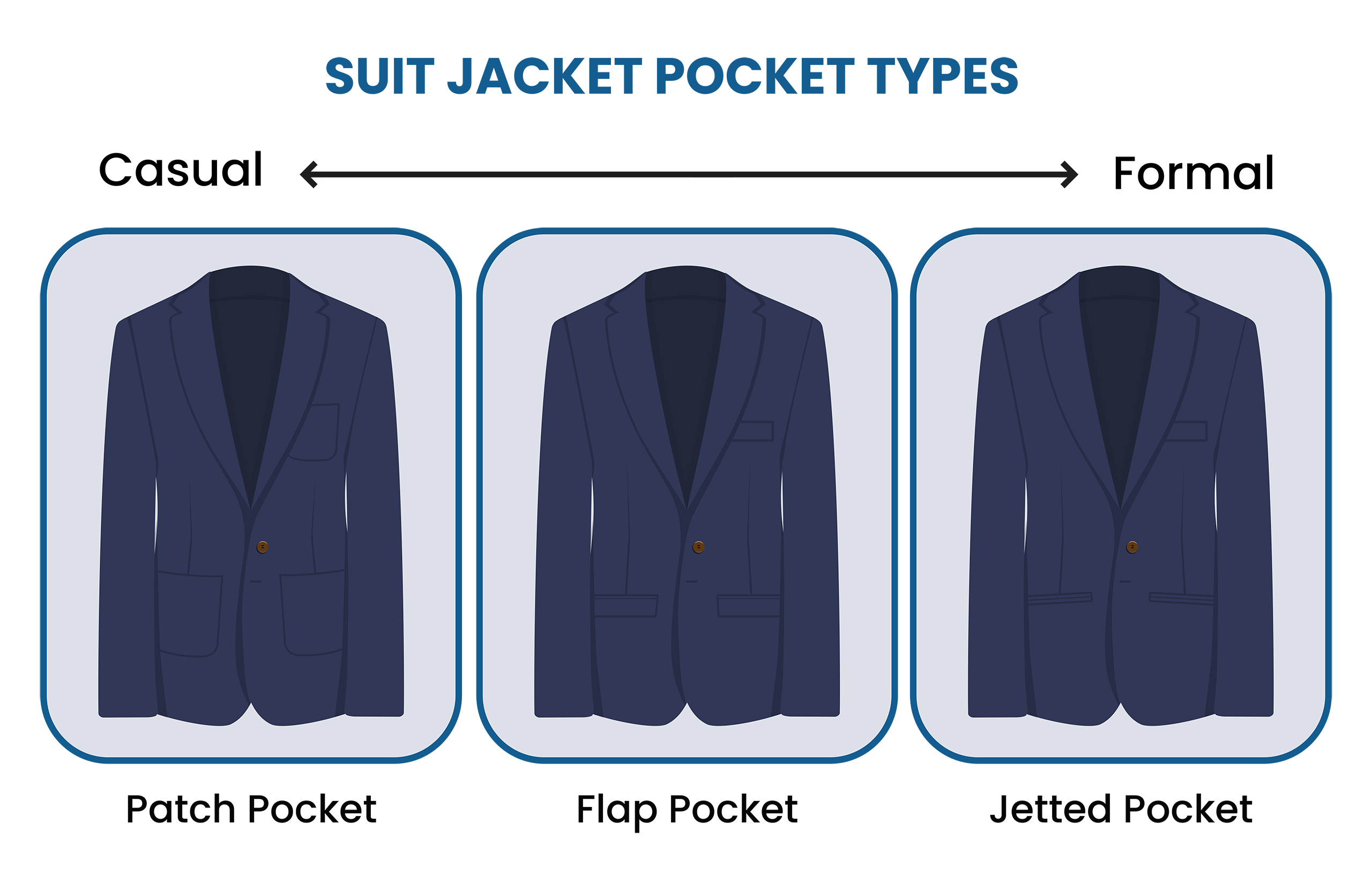 You can also find a small third pocket above one of the two main pockets on a suit jacket – called a ticket pocket. You'll never find ticket pockets on a tuxedo jacket.
In fact, a tuxedo jacket has jetted pockets. These are simple slits cut into the jacket with no flap or cover.
They are discrete without any frivolous fabric, helping to create a sleek line.
Suit Pants vs. Tuxedo Pants
The difference between tuxedo pants and suit pants is more difficult to spot immediately.
The most noticeable difference is that tuxedo pants have a satin stripe along the outer seam.
This strip of satin or grosgrain helps create the sleek line you expect from a tuxedo. It also has a satin waistband.
But the biggest difference is that tuxedo pants have no belt loops. So you might be wondering how you will hold your pants up!
Not being able to put on a belt makes it imperative that your pants fit you very well. If this isn't a possibility, or you aren't able to get a perfect fit, you may wear suspenders.
Suspenders are well hidden under your jacket. They are also pretty chic looking when you remove your jacket.
Suit trousers do offer belt loops, and it is advisable to wear a belt with your suit. It completes your look.
Some suit pants offer buttons inside the waist for suspenders.
Dress Shirt vs. Tuxedo Shirt
Tuxedo and suit shirts are constructed differently; each has components that are not found in the other shirt style. Even though they can be made from the same fabric, most similarities end there.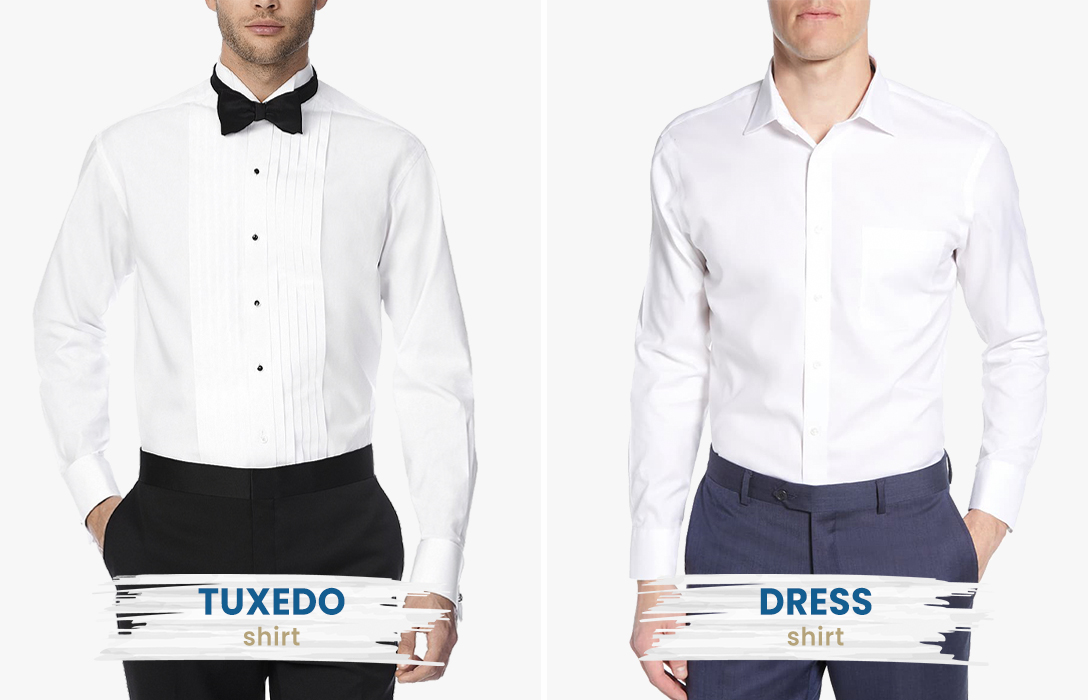 One of the main differences is that a tuxedo shirt also features what's called a placket. It's a strip down the shirt's center to accommodate the tuxedo studs in place of standard buttons.
When it comes to colors, white tuxedo shirts are non-negotiable for a tuxedo. Depending on your suit color and the setting, nearly any shirt color is fine with a suit.
Tuxedo shirt collars are surprisingly different from dress shirt collars.
A wing collar is the most common choice for a tux. It accommodates the bow tie because the collar points don't fold down.
A dress shirt for a suit has a spread or semi-spread collar. It folds down and has larger tips.
Tuxedo shirts often have French cuffs held together by cufflinks. While they're not required with a tuxedo, they help convey formality.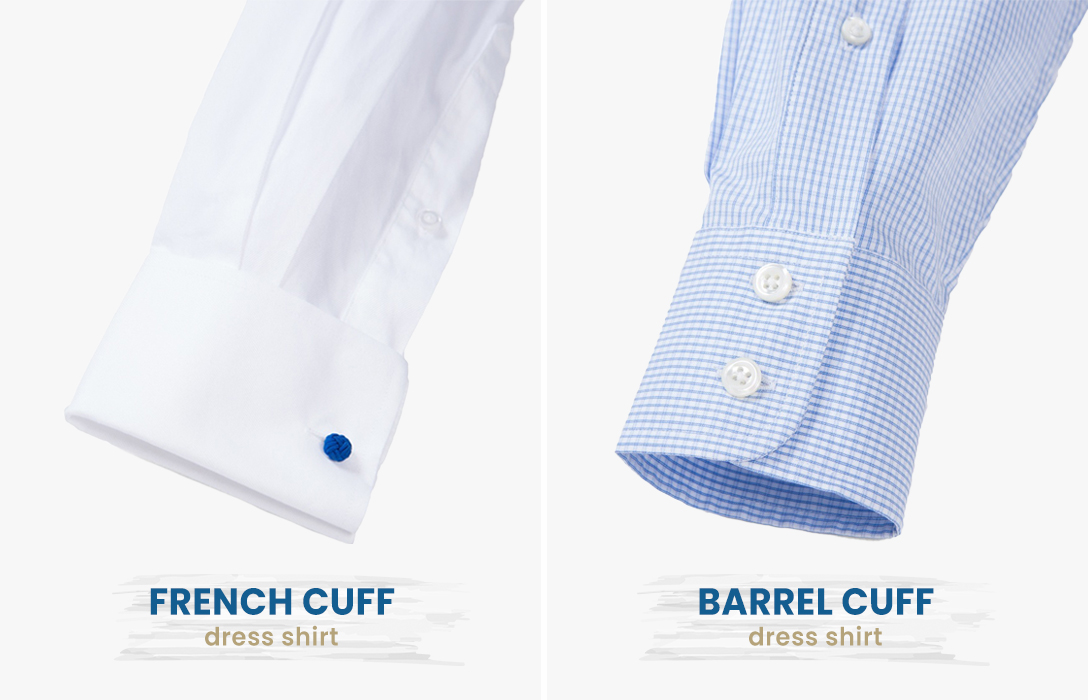 Dress shirts typically feature barrel cuffs. However, some men opt for French cuffs with their most elegant and sleek suits. This is a perfectly acceptable option.
Suit vs. Tuxedo Differences in Accessories
It's the small details that often can make or break your outfit. If you get the little touches just right, you have reached elevation in style. Get them wrong, though, and all your effort may go down the drain.
Here are some tips for perfecting those small details, whether you are in a suit or a tux.
Necktie vs. Bow Tie
A black bow tie is standard for a tuxedo. I mean, the entire dress code derived its name from this one little piece of fabric! If you aren't familiar with how to tie one, I'm afraid it is time to learn.
It's worth mentioning that a clip-on bow tie is cute when you are 8. Any other time, it's not acceptable.
A suit offers versatility in the tie department. Most men wear a necktie with their suits. However, some prefer to wear a bowtie; it shows personality and individuality.
Either is excellent, and the colors are wide-ranging. Just stay away from black if you opt for the bow tie.
Waistcoat vs. Cummerbund
If you are wearing a tuxedo, you can either wear a cummerbund or a waistcoat. There is no wrong choice here.
There is no cummerbund option for a suit, but a waistcoat is a possibility. It's also known as a vest and is a piece of garment that completes the three-piece suit set.
What's the difference between a tuxedo waistcoat and a suit vest?
A tux waistcoat has a deeper opening, and the buttons are lower. Therefore, it is not seen as much visible when the jackets are closed.
Dress Shoes for Suits and Tuxedos
The shoe is the final piece of your wardrobe to consider when comparing a suit vs. a tuxedo. And there are several different types of dress shoes, some more formal than others.
Black patent leather oxfords are the most often shoe choice for a tuxedo. But if your event has looser rules, such as black-tie optional or semi-formal dress code, you have some room for versatility.
Calfskin or suede loafers can work, too. Are you feeling a little wild? Try a fancy velvet slipper.
Suit shoes are even more flexible. Leather is the most formal material for dressing up your suit with the right shoes. Oxford, derby, or loafer options are all on the table.
Just consider how formal you want your suit. Oxford shoes are the best for work and evening events. Loafers are excellent options for casual and daytime occasions.
Whether you are wearing a casual suit or a formal tuxedo, one cardinal shoe rule applies to both. Your shoes must be clean and polished, with no scuffs.
If your shoes are in good shape, you can bet the rest of your outfit is!
Author: Alexander Stoicoff
Hi, I'm Alex, and I've studied and specialized in styling in Rome. Through my writing, I want to help men dress well and learn the purpose and significance of suits and other formal attire. My final goal is to make men more confident in their wardrobe choice and life in general.