It can be a little tricky to match a shirt and tie along your suit. Choosing the right colors can make your style look rich, elegant and presentable.
First impressions usually last. You may want to read our guide in men's suits first. Fitting your suit is important, so is the color combination between the suit, the shirt and the tie.
Actually, the color of the suit is the first thing someone notices – even before the brand, the cut, number of buttons etc.
Let's take a look at some of the most common colors used in suits and how to match them with shirt and tie. Keep in mind that the season, weather and the occasion play a crucial role in choosing a color.
Navy is oftentimes referred to as a foundation color for suits, perhaps due its commonality. In fact, it seems that there are no situations in which a navy colored suit would be viewed as inappropriate. It is often considered as an elegant and traditional choice. Play off with the elegance of this hue and choose ties that are classic.
Brown and white are great pairs with navy, just like other patches of blue. For instance, you can try putting on a navy suit with a brown tie.
Also, to come up with a modernized look, you can choose a skinny tie, experimenting with one of the slim type tie knots. To have an edgier twist, why not combine pink together with your navy suit? This is if you want to get attention. Pink automatically attracts attention. As an alternative, however, you may want to go for a purple, or a silver tie.
On the other hand, if you want to achieve an authoritative type of look, a white button down together with a red tie is a great match.
There is never going to be a perfect replacement for black other than navy. For people that need to stick with a dark color, but still want to make a more exclusive impression, then navy blue is the way to go. A very functional color just by design, it has the right amount of color in it. The hint of color really makes a difference for the overall appearance. Outfits can be built around navy blue and still be appropriate since it is a primary color.
This covers all circumstance, celebrations and business events alike. Navy blue can also accentuate youth depending on the wearer. A feature that may or may not be important. It is a color that has high preference among suit wearers, and one that's easy to plan around when time is short.
Charcoal Gray Suit
Charcoal gray is a really great color that you can choose, especially if you want to go for a more classic suit type. Additionally, this suit color is a great option for formal events, including meetings and weddings. It seems that you can never go wrong with a gray colored suit; it is perfect for any occasion.
Charcoal Gray Suit Color Combinations
One of the several reasons making gray a perfect choice is that, based on the shade, it can easily be matched with either blue or black tie.
To achieve a serious and formal look, match a gray suit with a white shirt, along with a gray tie. It can be partnered with a brown belt and brown shoes. To enhance it up a bit, you can wear a gray suit paired with a champagne shirt. This can match with black, navy blue or a gray tie. It also goes well with a black belt and black shoes.
Another option is pairing your charcoal gray suit with a blue and black diagonally striped tie together with black accessories. If you feel that the resulting ensemble is 'dry', you can also introduce other colors, such as a pink shirt paired with a maroon tie.
Another option is a black shirt together with a gray tie. Black tie will work well, too.
The point here is that a suit with a charcoal gray color is completely versatile and may easily be paired with almost any kind of ties. So long as your clothing are fitted and well-tailored, you are good to go!
Charcoal Gray over White
Charcoal grey can be the bane of a suit wearer's existence because of the many variations. If white is a bit too bright to wear, charcoal gray is the perfect color to use instead. The problem with this color is its variety. There is a light charcoal gray and a dark charcoal gray – and the spectrum can be huge. Deciding the tint and shade is a pure taste or opinion, not a fact, as they are all (almost) equal.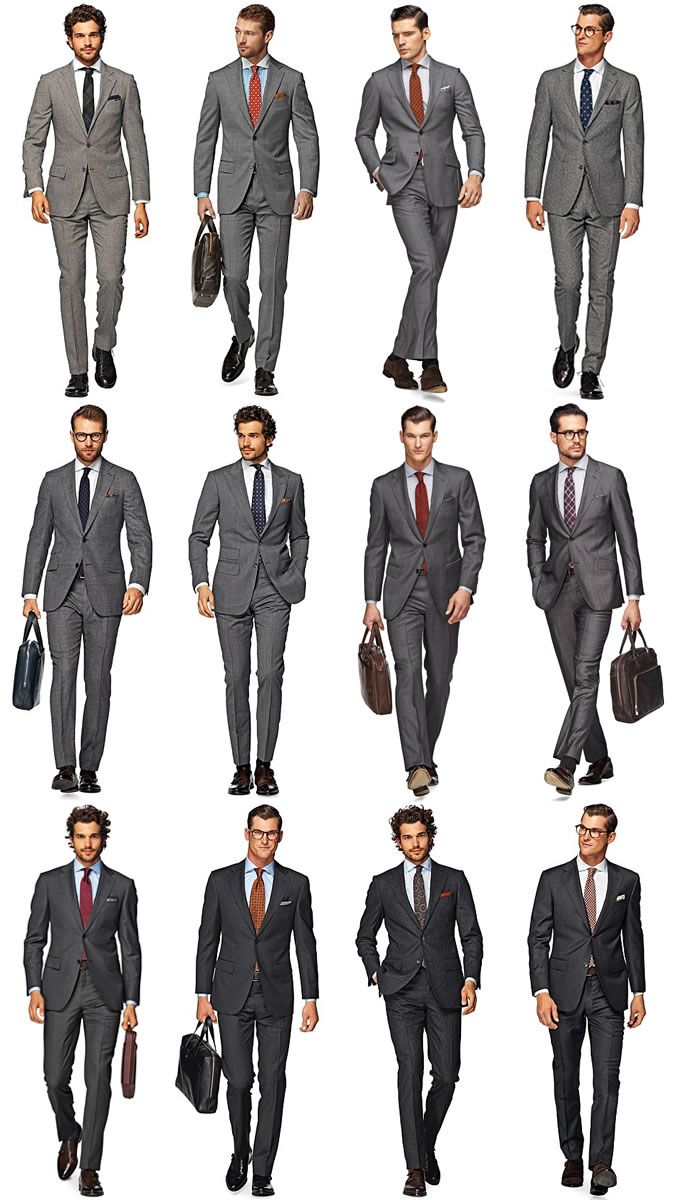 Finding out which is better is simply a matter of looking within the closet and finding the current tone of clothes. Mostly light? Then go with a dark charcoal gray for variation. Reverse this if the closet is full of mostly dark clothes.
It should cover a good amount of options for any wearer. The entire debate over the shade of charcoal gray will never end. Make the choice you feel most comfortable with.
Black Suit
Black is, by all means, considered to be principal color when it comes to suits. It carries a reputation of being authoritative and serious.
On the other hand, if you want to complement the serious appeal of this color, you may want to search for a black with a pinstripe suit. If you have a black suit paired with a white button down shirt, you can choose a tie that has patterns on it, unless you prefer to be acknowledged as 'serious'.
Black Suit Color Combinations
Red, blue and gold are oftentimes considered as the traditional options for suit and ties that go along well with black suit. On the other hand, green, pink and turquoise colors are more modern selections. Some also debate on the compatibility of black and brown, so it is up to you if you prefer such match.
Other good matches include a black suit with gold, black or brown shirt (or tie) stripes. A thing that you can keep in mind, though, is that black suits are mostly made of wool, a heavy fabric. Your option for both shirts and ties should complement this very well.
Black & White is Always Good
Black and white were once the perfect color combination. That makes sense though, since black suits are considered to be the most traditional wardrobe in the business world. In fact, every man should have at least one black suit.
The same qualities that once made black & white combo perfect, still hold true. Besides, it's a very easy color combination to pair anything up with.
There is something about white shirts that makes them stand out. Most of the people wear black suit than any other color. But the best thing about black and white? Both go together, and it is nearly impossible to mess up the coordination of the two when mixed.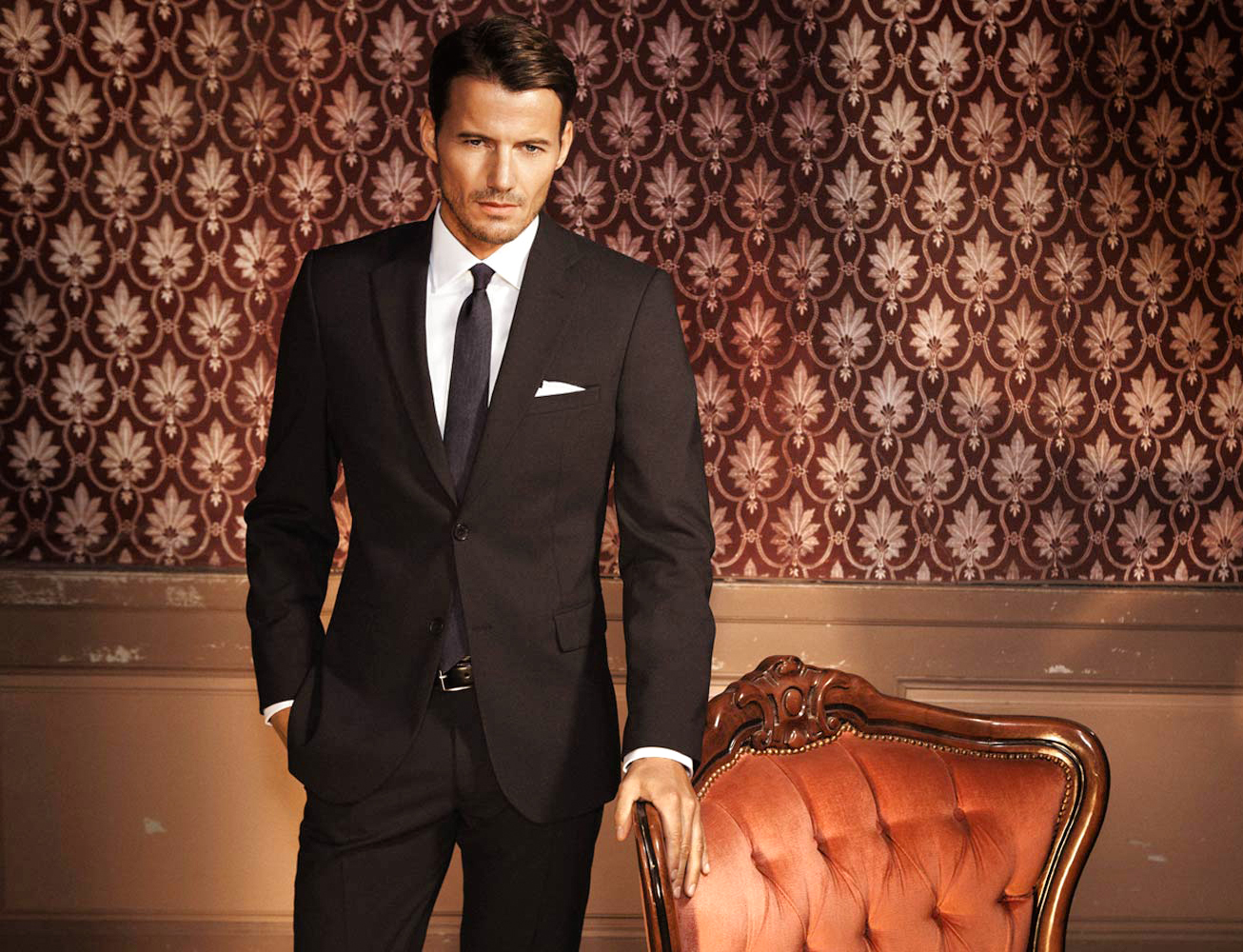 Be careful with color choices and use a close and trained eye when shopping. Whenever in doubt, consider black or white the safe choices when it comes to suits and shirt combinations.
Avoid wearing suits, shirt and tie that are all of one color. A "one-color-everything" outfit can only be done by high ranking people in the fashion industry. When a big celebrity wears all in one color, the attention comes from being a rebel rather than coordinating colors.
Brown Suit
Is brown an option? Yes, and based on the fabric can make anyone stand out. Brown suits are a natural earth tone that look their best even when going into the darker colors like chocolate. The fun thing about this color is that it can quickly alternate between professional and casual. There were times when older gentleman may not agree with brown being a professional color. But, times have changed.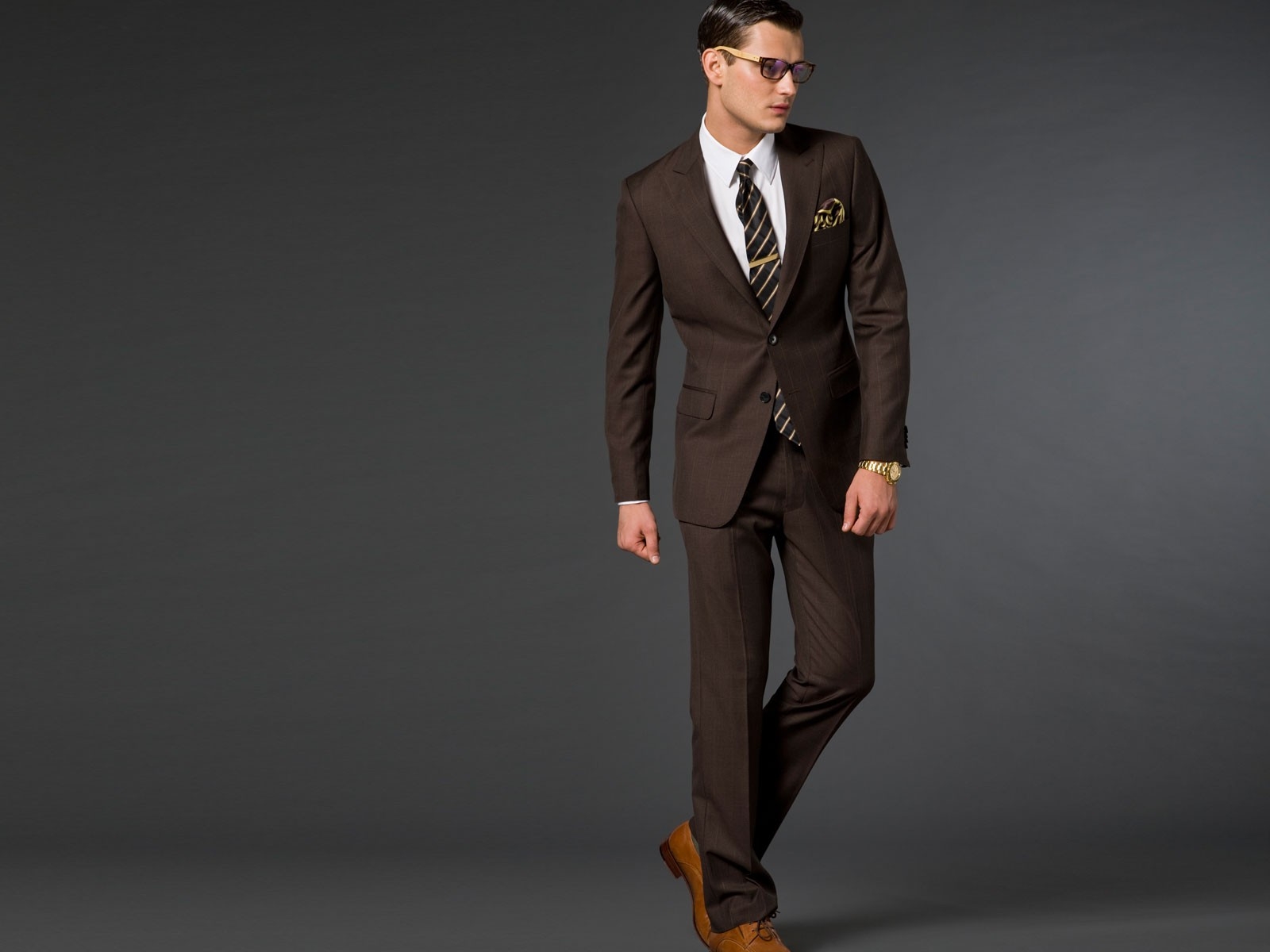 Old school suit wearers still look at brown as strictly casual. While that number is thinning, there might still be some stereotypes. It's the main reason why I don't suggest wearing brown suit on a job interview or important meeting. On the other hand, testing brown suits while traveling is always a good idea.
Finding the Sweet Spot
Having a variety of colors is the way to avoid getting stuck with nothing to wear. Suits variety is important for any closet. A wardrobe that lacks even the basic foundation colors will have nothing to fall back on. Start with the base colors. Then, work to mix and match the foundational colors for the best effect.
Brown is no longer just casual and can be used in the business world. Navy blue and charcoal gray are fantastic choices for every occasion. One thing to notice is that all these colors are just the tip of the iceberg. Thus, they make a great starting point for figuring out the personality within the suit.
If there is a combination that makes you uncertain, skip it through. Go with something certain and already proven.