Not all tuxedos are created the same; different tuxedo styles are available to help you achieve the perfect look for your black-tie event.
Don't know the difference between a cummerbund and waistcoat or Oxfords and opera pumps?
Sit tight because you're about to learn all things tuxedo.
Tuxedo Main Characteristics
Thanks to some of its unique features, a tuxedo stands out in the world of menswear.
It certainly isn't a versatile outfit; it will always be a formal outfit, no matter how you may fiddle with some of the elements.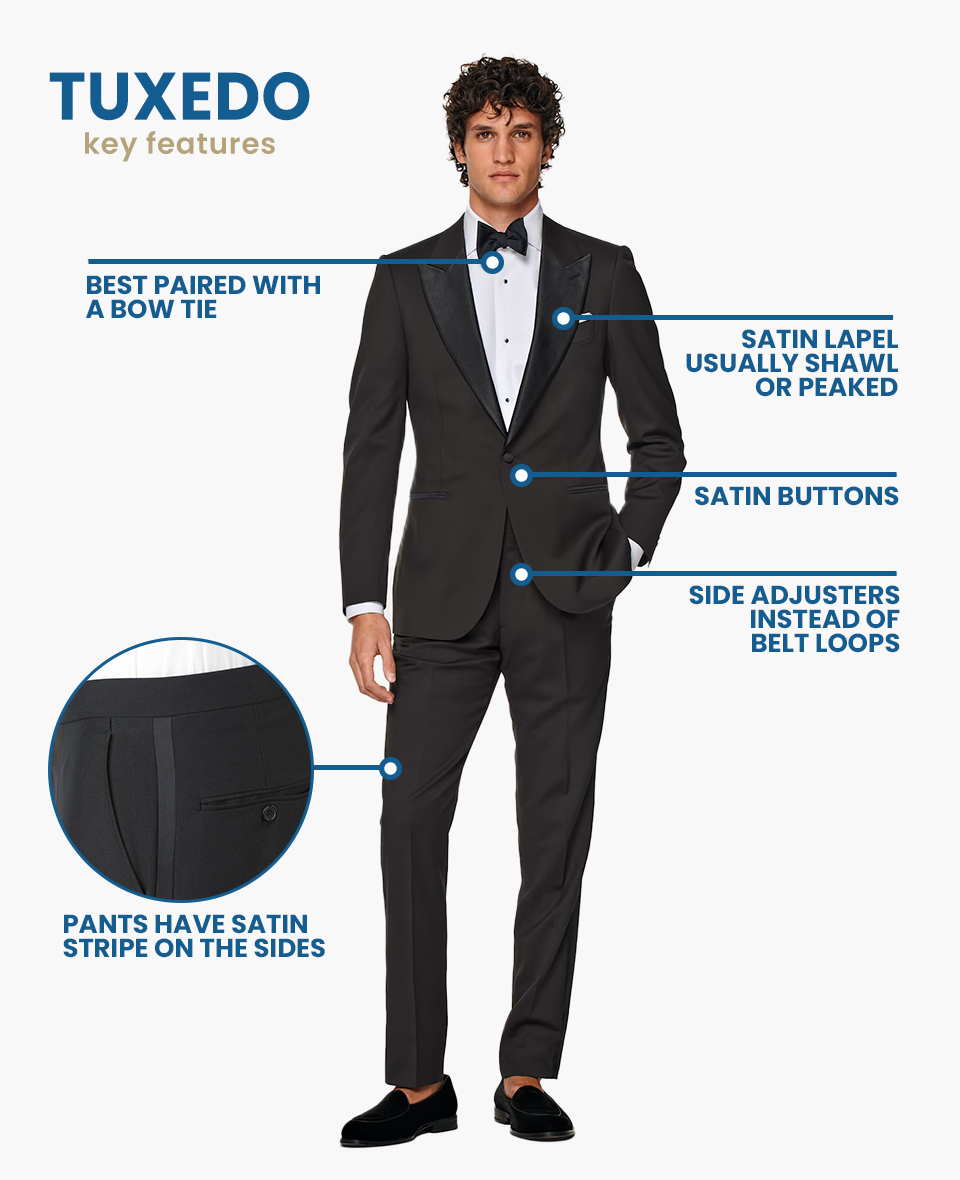 It isn't possible to downgrade this attire to a more casual standard.
A tuxedo is more majestic than other men's wear. It incorporates finer fabrics than a standard suit, including satin. It also features some detailing exclusive to tuxedos, such as satin trim.
There's also a three-piece tuxedo. It includes a tuxedo jacket, tuxedo pants, and either a vest or cummerbund.
Tuxedo vs. Suit
A suit is plainer than a tuxedo because it lacks certain features.
For example, one of the primary characteristics of tuxedo pants is the satin stripe down the outside of each leg.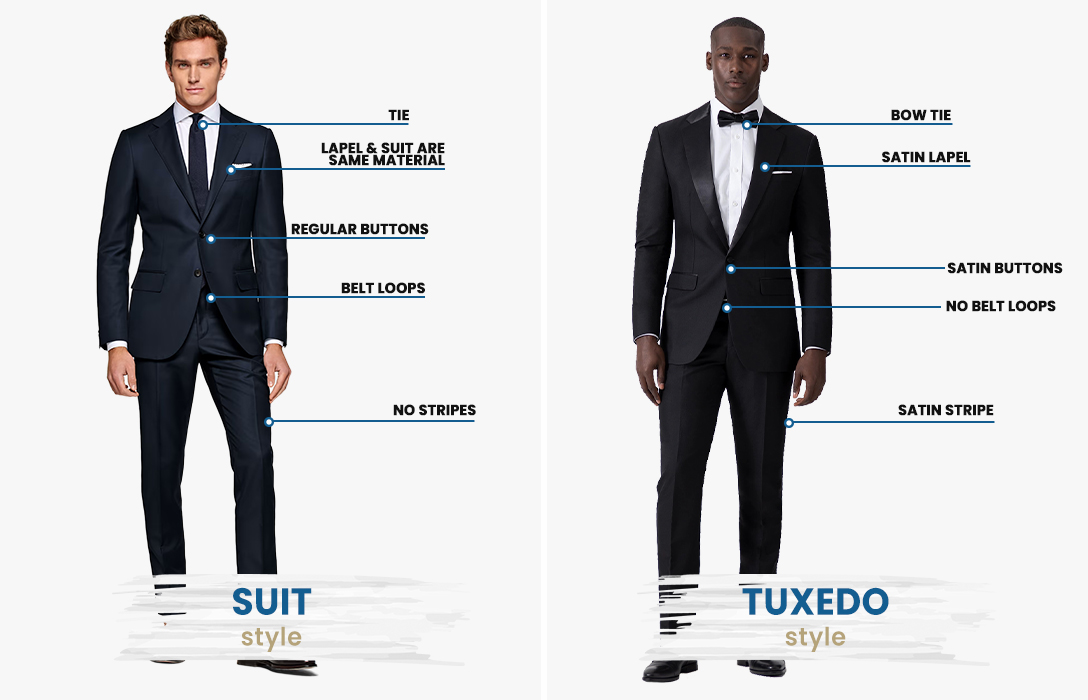 Satin is also present on the lapels, some trim areas, and on button coverings. In addition, most tuxedo jackets feature jetted pockets.
A suit can be made of nearly any material, color, or print. However, the most common natural fabric is wool or a wool blend.
Tuxedos, on the other hand, are often made of wool, silk, or velvet and are usually black.
However, that doesn't mean you can just slap on a black suit in place of a tuxedo. It would lack the formality inherent to a tuxedo.
Dinner Jacket Explained
Very dressy events don't always require a tuxedo. Some may be suitable for a dinner jacket, which is only slightly less formal than a full tuxedo.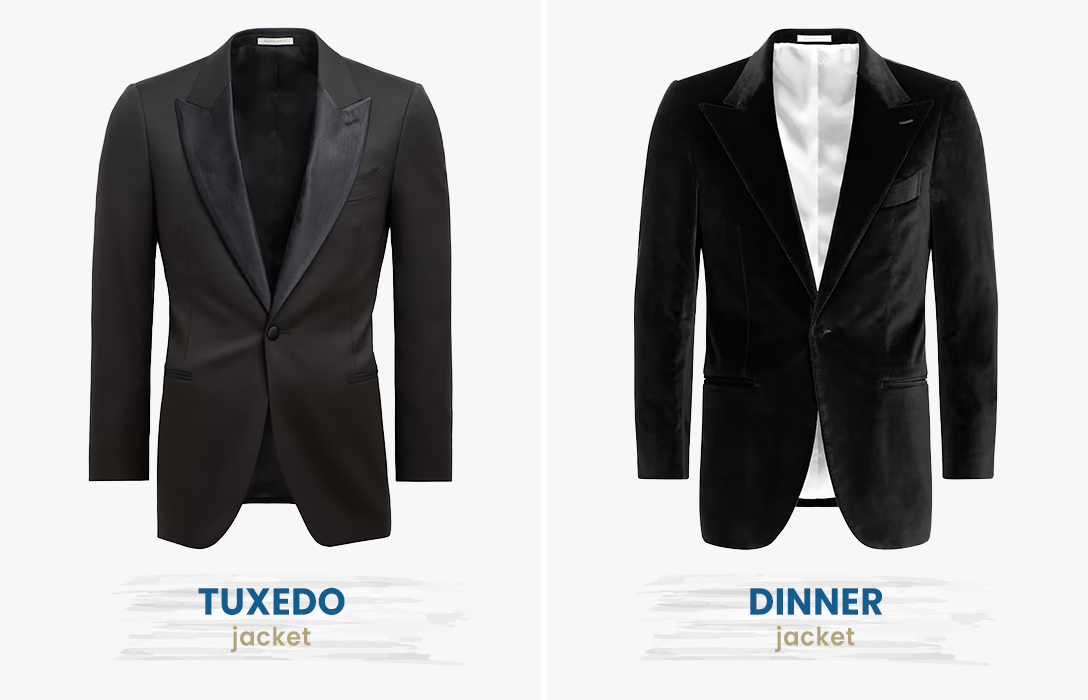 For example, you can wear a tuxedo for a white-tie event, but dinner jackets are relegated only to black-tie occasions.
This garment is similar to a tuxedo jacket. It has the same satin elements, no vents, and typically only one button enclosure.
The difference is that a dinner jacket doesn't have matching pants. You can buy them separately.
They may have a similar design to tuxedo pants but aren't part of a matching set.
Tuxedo Jacket Lapel Styles
One of the main tuxedo style choices that is in your hands is the lapel style.
Your standard suit typically only features notch lapels; it's the only style that is casual enough for day wear.
However, a tuxedo can sport any one of the three options available.
Shawl
Shawl lapels are only ever found on a tuxedo. This lapel style is entirely rounded and gently merges into the collar, making a smooth, clean line.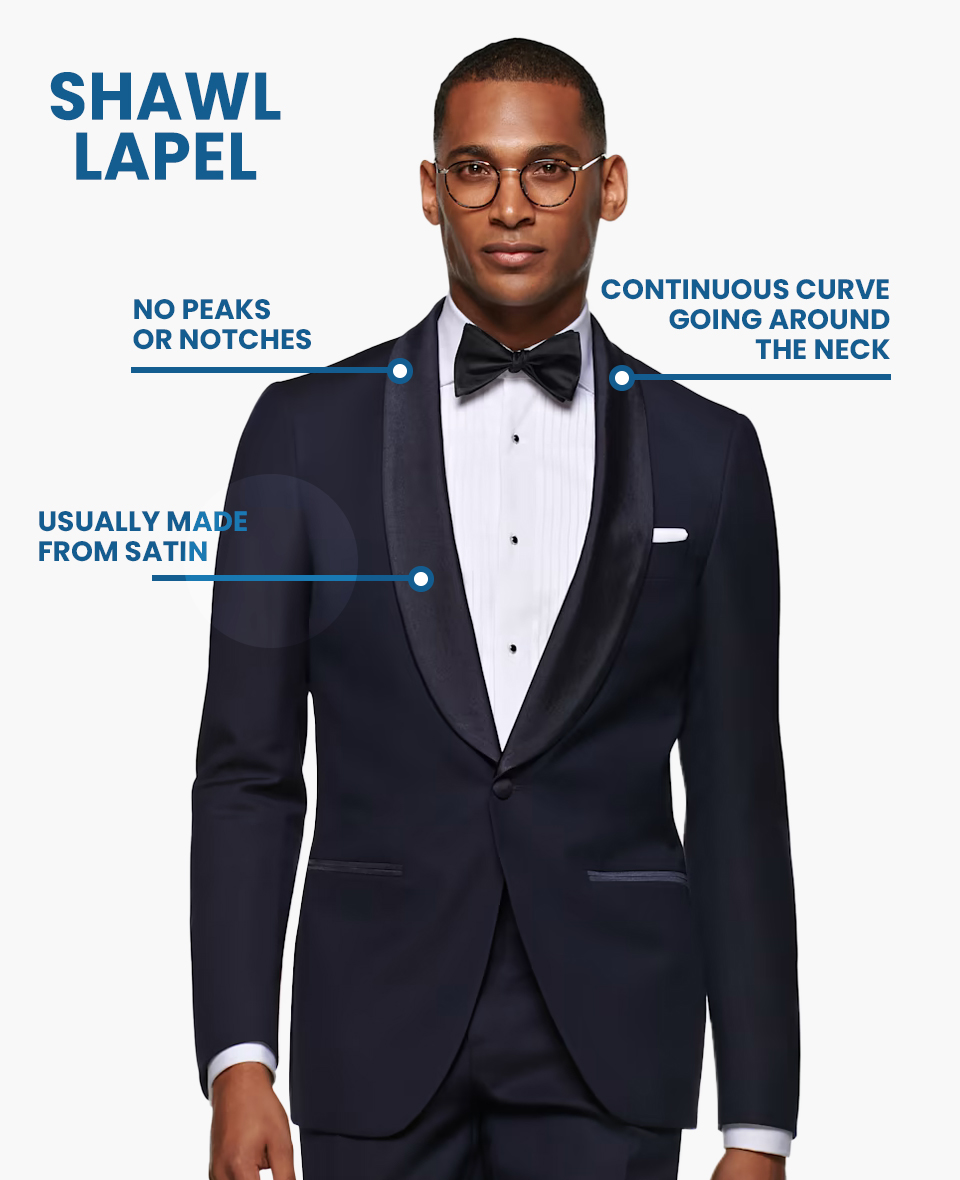 Though very suave, the shawl lapel has a bit of a relaxed feeling. It's formal but not the most formal option for your tuxedo or dinner jacket.
Peak
Peak lapels are the height of tuxedo styles. They are a bit wider than standard notch lapels, and the edges are long and point upward.
While finding a peak lapel anywhere other than a tuxedo isn't widespread, some suits on the more dressy or conservative end of the spectrum may sport a peak lapel.
Notch
Notch lapels are identified by the small cut-out, or "notch," where the collar and lapel meet. This design is the most casual and can be found widely on casual, professional, and formal suits.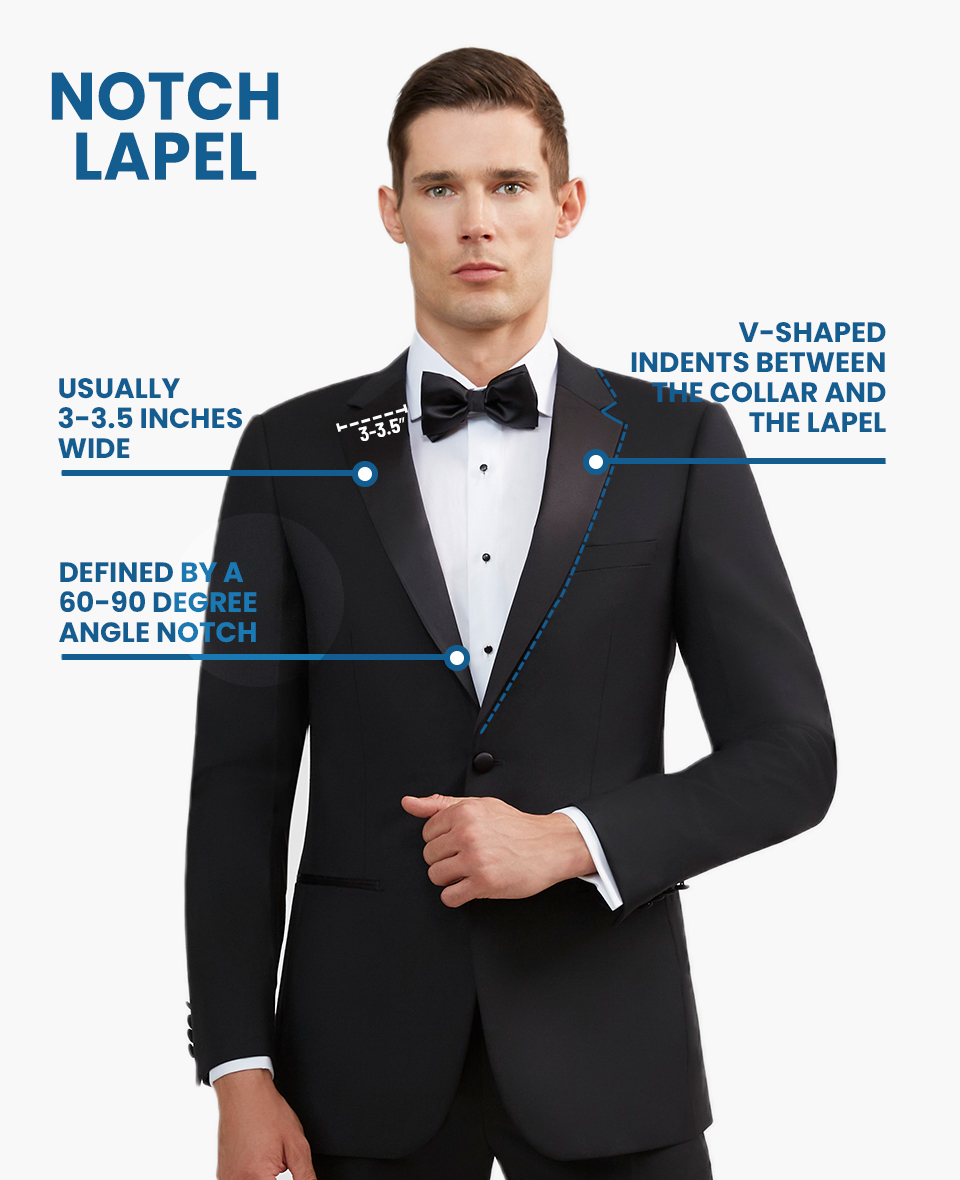 They are perfectly acceptable on tuxedos and dinner jackets but don't pick this style for your ultra-formal settings.
Tuxedo Jacket Closure Styles
Your typical daily suit can vary significantly in the number of buttons it sports.
It can have anywhere from one button all the way up to eight (if double-breasted), depending on the suit jacket style.
A tuxedo, on the other hand, usually only has one or four buttons.
Single-Breasted Jacket
A single-breasted tuxedo jacket is similar in style to your average suit.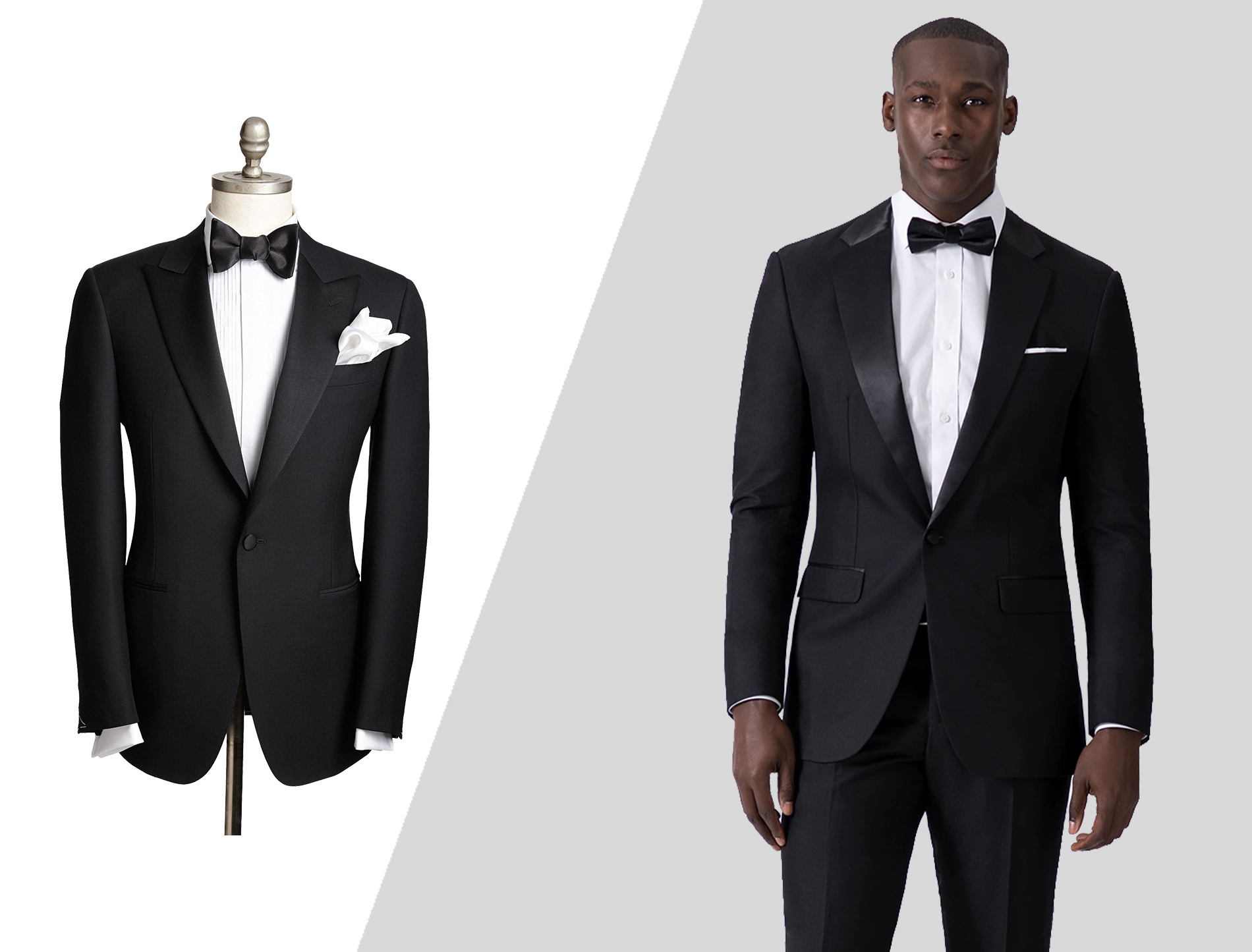 The two side panels meet in the front and are usually fastened by a single button, though some tuxedos have two buttons.
The main variance is if you're wearing a tailcoat. This is much more formal than your everyday single-breasted tuxedo jacket and stays open at all times. There are no buttons on a tailcoat.
Double-Breasted Jacket
You can choose double-breasted styles for a more formal tuxedo jacket than a single-breasted style. The double-breasted style isn't only for black-tie events, however.
This tuxedo style involves a flap that wraps across the torso to button on the side. It involves two sets of buttons, for a total of four. Two buttons aren't functional, though, and are merely decorative.
Tuxedo Colors
Tuxedos don't always have to be black. Dark shades are the typical standard but certainly aren't the rule.
The color you opt for is bound to influence your tuxedo's formality. But thankfully, many formal settings are open to some nuance.
Black Tuxedo
Quick – when I say "tuxedo," what color do you see in your mind? Odds are it's black.
And that makes sense; the standard tuxedo styles tend to be black. It's the most formal color, after all!
In other words, the black tuxedo with shawl lapels is the most classic tuxedo style and is the most appropriate choice for black-tie events.
Pair it only with a white tuxedo shirt and a black bow tie.
Ivory or White Dinner Jacket
What once began as an alternative formal color in tropical climates or hot weather, an ivory dinner jacket is now acceptable year-round.
Similar to ivory, a white dinner jacket is another tuxedo color option you can go for.
Don't confuse this with an all-white tuxedo. This dinner jacket is worn with black tuxedo pants and is different from a white-tie ensemble.
It's very formal, considered nearly equal to a black tuxedo.
Midnight Blue Tuxedo Jacket
Wearing a navy or a midnight blue tuxedo is a suitable substitute in most black-tie settings.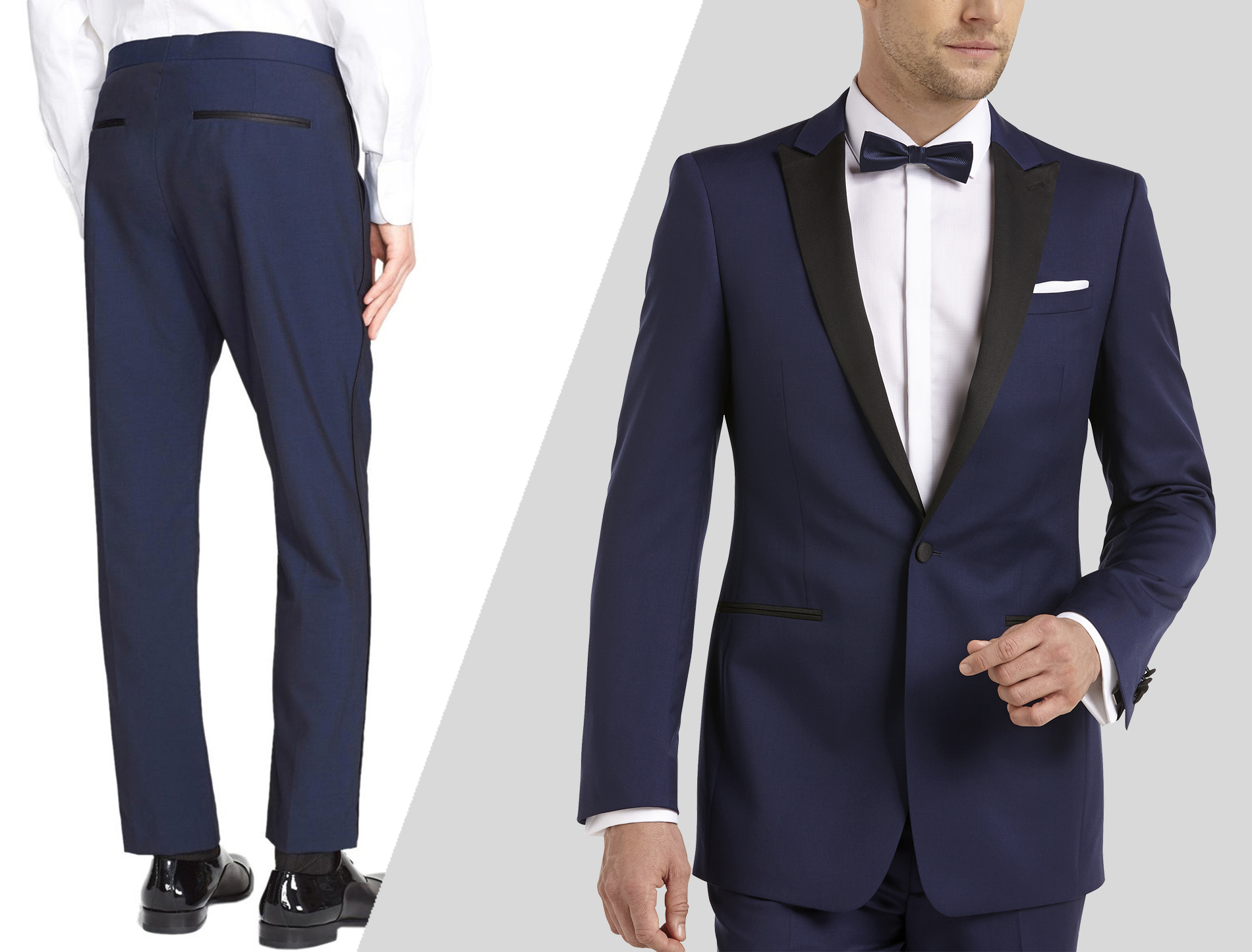 Additionally, a dark blue jacket is also worn with black tux pants and is widely accepted in most formal settings.
As dressy as it is, it's only excluded from the highest formal functions.
Burgundy Tuxedo Jacket
Have you got a special occasion coming up that calls for a tuxedo but isn't a stuffy, traditional event? You may want to consider a deep burgundy tuxedo jacket.
This head-turning color is excellent for dress codes that are creative black-tie or black-tie optional.
Weddings or red-carpet events are often the most likely settings for a burgundy tuxedo jacket. It's a chic, fun, and very contemporary fashion.
Best Tuxedo Materials
A tuxedo doesn't have quite the wide range of fabric options that more casual men's wear does.
However, there are still a few beautiful options to choose from, depending on your formality and budget level.
Wool
A wool, or wool blend, tuxedo is the most common material choice. It always looks elegant, especially since it has a beautiful drape to its fabric.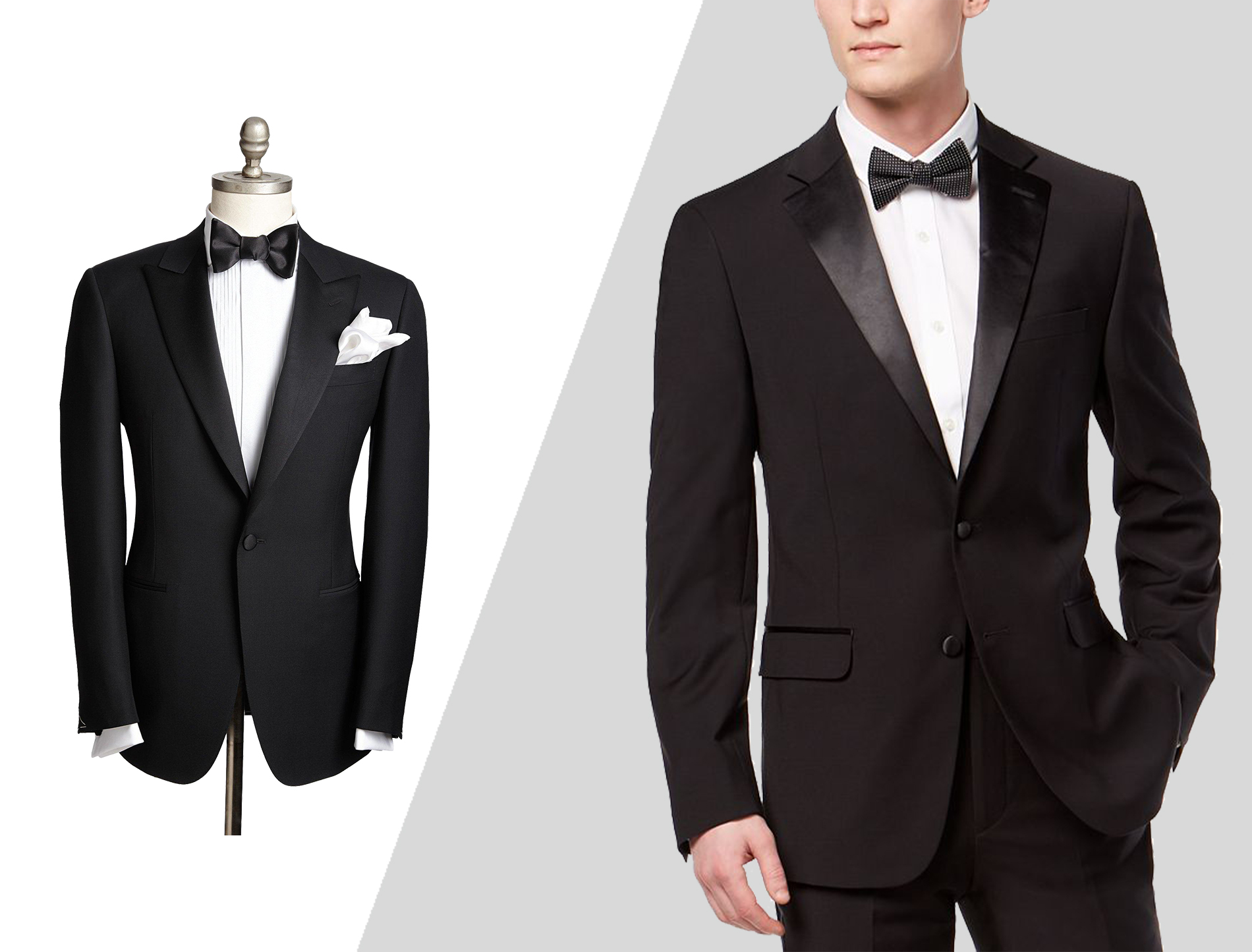 Wool is also a very comfortable fabric, so you don't need to worry about becoming a sweaty, stinky mess.
It's breathable, meaning it doesn't retain heat. However, it is also insulating enough to keep you warm during cold weather.
Velvet
Velvet is a well-known but little-worn material for adding some fun to your formal events.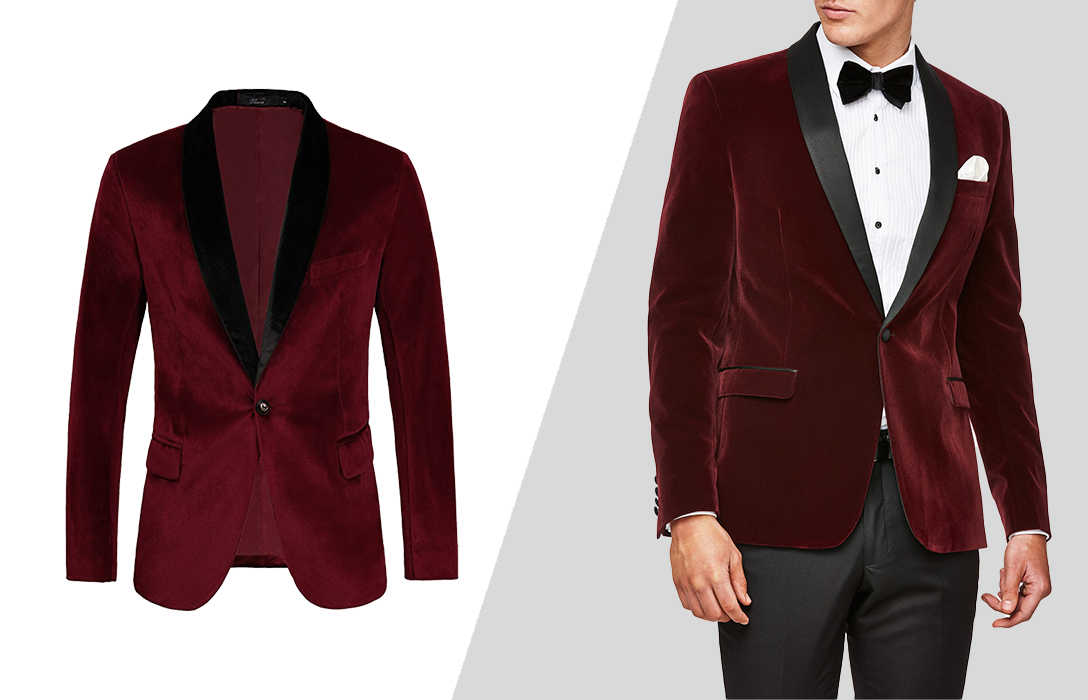 Because it is so lush and expensive looking, it adds a taste of luxury to every occasion.
It's a bit less formal than wool but also more exotic, so save it for dressy events that aren't super formal.
Silk Blends
It would be difficult to get any more high-quality for your tuxedo than a silk blend material. It's a very expensive, deluxe material made by spinning silk and wool together.
The result is that you get the benefits of wool and the refined luxury of silk. It's primarily wool, but the silk gives it extra sheen.
One of the most significant advantages of a silk blend tuxedo is that it's incredibly lightweight. It's the perfect fabric for hot weather.
Shirt Styles to Wear with a Tuxedo
There are many tuxedo shirt styles, and they all differ from a regular dress shirt.
A tuxedo shirt is always white to ensure maximum formality. Still, many other details can vary, from placket and collar to cuffs.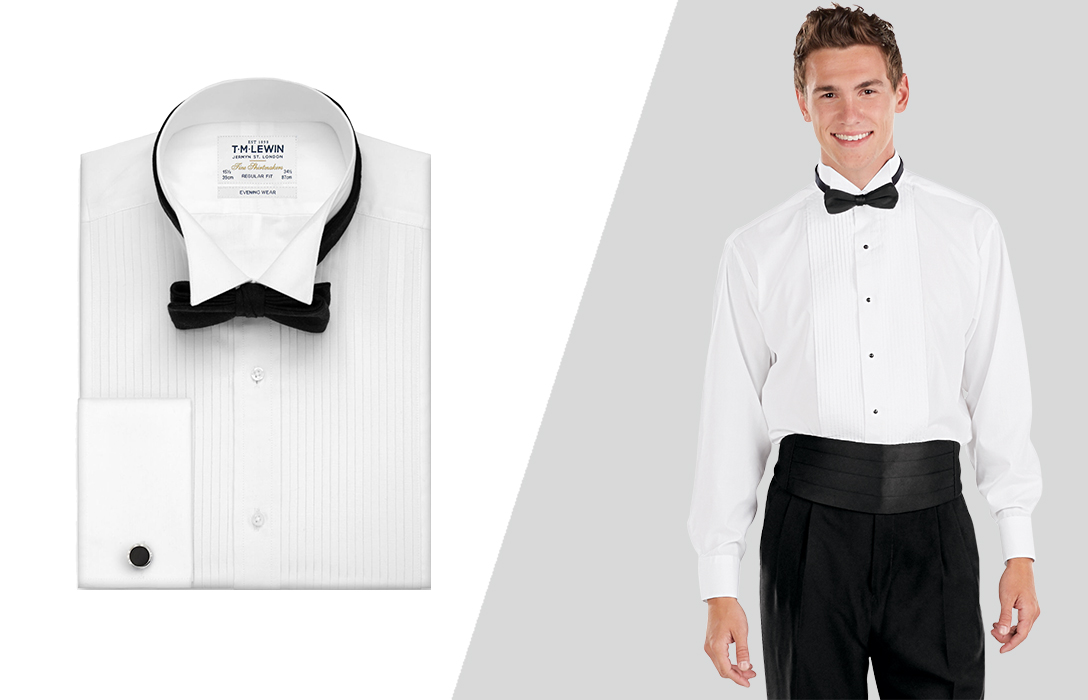 The classic tuxedo shirt collar style is wingtip, where the back of the collar doesn't fold down, only the front tips. However, a spread collar is an acceptable alternative.
The placket is the extra fabric strip down the center of the tuxedo shirt, one of the main differences from a dress shirt.
The various styles include a covered placket, a tuxedo placket, a French front, or maybe even ruffles!
You can also customize your shirt through your cuff choice. Barrel cuffs are the standard on most dress shirts and are also suitable for tuxedo shirts.
But you can opt for French cuffs with cuff links for a more stylish choice.
Tuxedo Pants Styles
Pants aren't typically an exciting topic; even tuxedo pants are relatively standard. This is because there tend to be so few options for trousers!
However, there are a few features that set them apart from your run-of-the-mill pants.
Tuxedo pants don't feature belt loops, either. Instead, look for adjustable tabs at the waist.
The Stripe
Perhaps the most distinct feature of tuxedo pants is the long stripe down the outer edge of each leg.
This stripe is generally made of satin but can also be a grosgrain ribbon. The stripe, just like the tuxedo pants, is always black.
Colors
Unlike most suits, your tuxedo trousers do not need to match your jacket. In most cases, regardless of the color of your tuxedo jacket, your tuxedo pants will be black.
There are colored tuxedos that include a jacket and pants of the same color, but this is incredibly bold and not terribly formal. This look isn't quite sophisticated.
Tuxedo Accessories
The heart of any tuxedo is the small details that make it your own unique suit. These help you stand out among a sea of similarly dressed men.
For example, if your tuxedo shirt has French cuffs, you'll need to choose cuff links. You can easily express your individual taste through these pieces.
Whether silk knots, simple expensive metals, or flashy gemstones, your cuff links.
A formal dress watch is the only watch type you can wear with a tuxedo.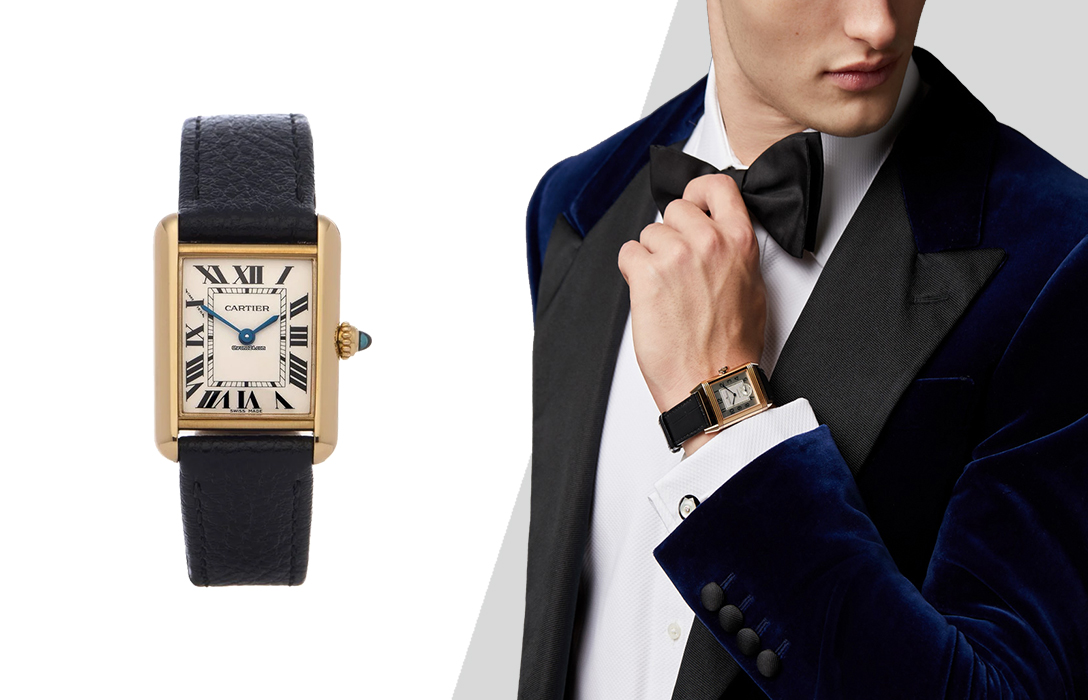 Keep in mind that a watch is considered taboo with a tuxedo since you aren't supposed to be interested in knowing what time it is.
Bow Tie
Some men occasionally wear a tuxedo with a black necktie, but that won't float if you're headed to a black-tie event.
Most of the time, you should incorporate a black bow tie into your tuxedo ensemble.
A colored or patterned bow tie is only suitable for less strict dress codes. A formal occasion requires a black bow tie.
Waistcoat vs. Cummerbund vs. Suspenders
As I mentioned at the beginning of this article, tuxedos can essentially be three-piece.
You can include either a waistcoat or a cummerbund with your outfit. However, never wear both together.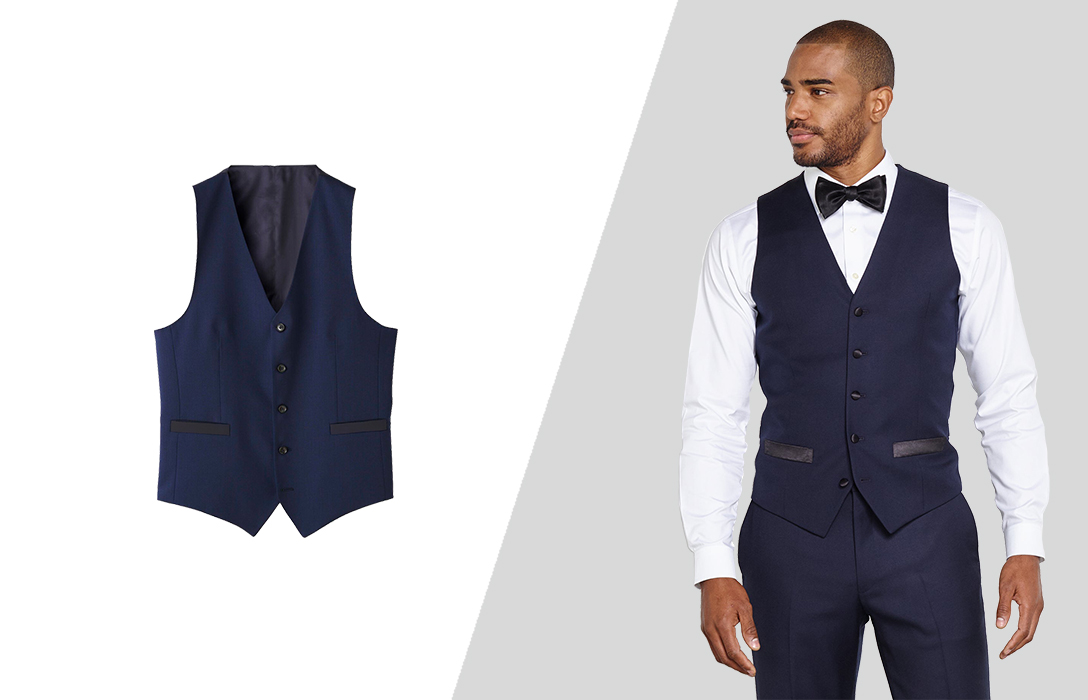 A waistcoat is a formal vest, though it differs slightly. The front opening dips very low, where a typical vest covers much of the torso. It usually has three small, satin-covered buttons and lapels. It should be black.
A cummerbund is usually also black. This article differs from a waistcoat because it only sits around the waist. It's a strip of satin with pleats that covers the waistline of your tuxedo pants.
You should never wear a belt with tuxedo pants because they don't have belt loops.
However, if you like the style, you are welcome to wear suspenders.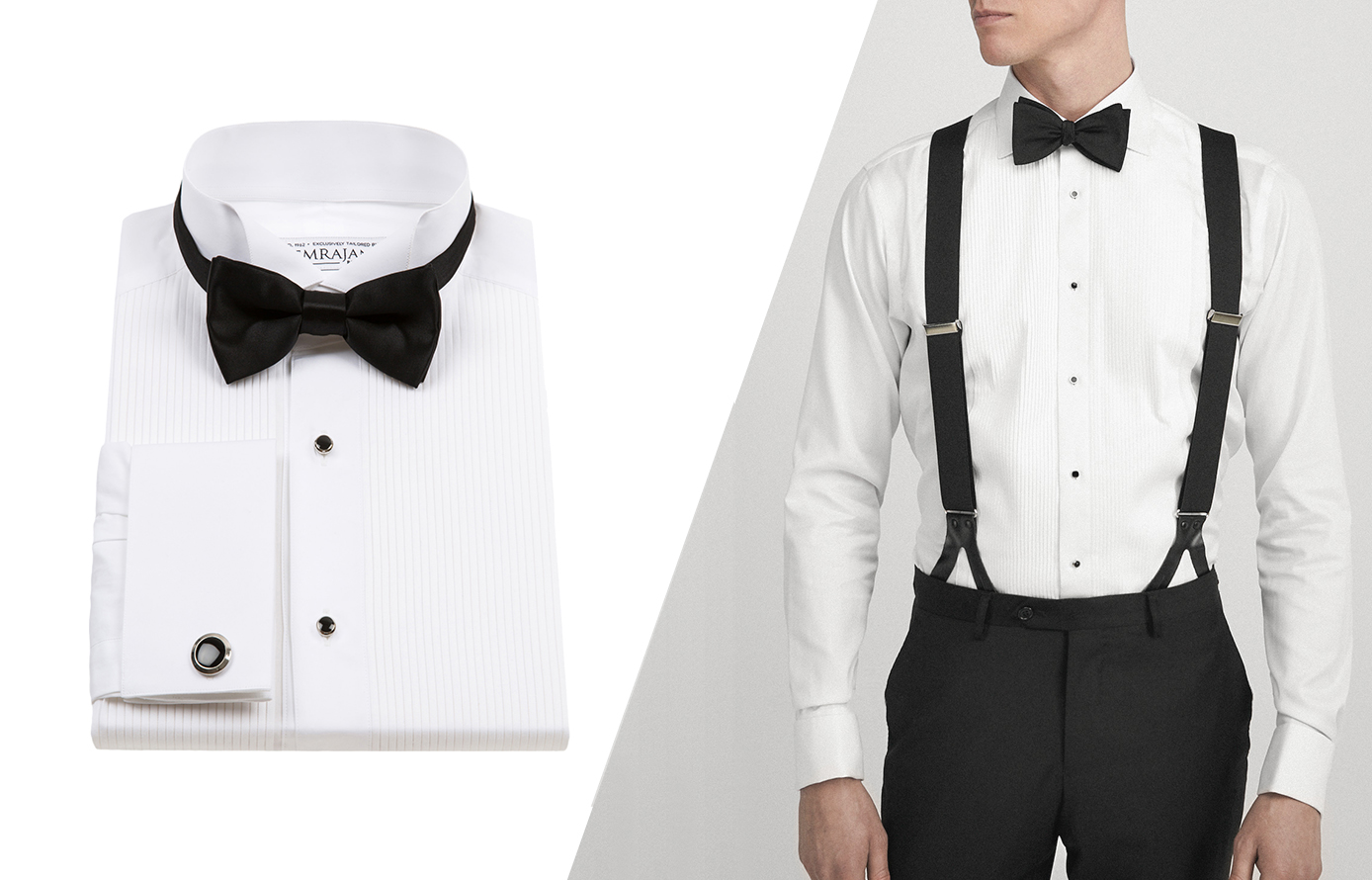 You can pair suspenders with a cummerbund. However, they won't look suitable with a waistcoat.
Appropriate Tuxedo Shoe Styles
Consider wearing a pair of opera pumps with your tuxedo for your highest-level formal events.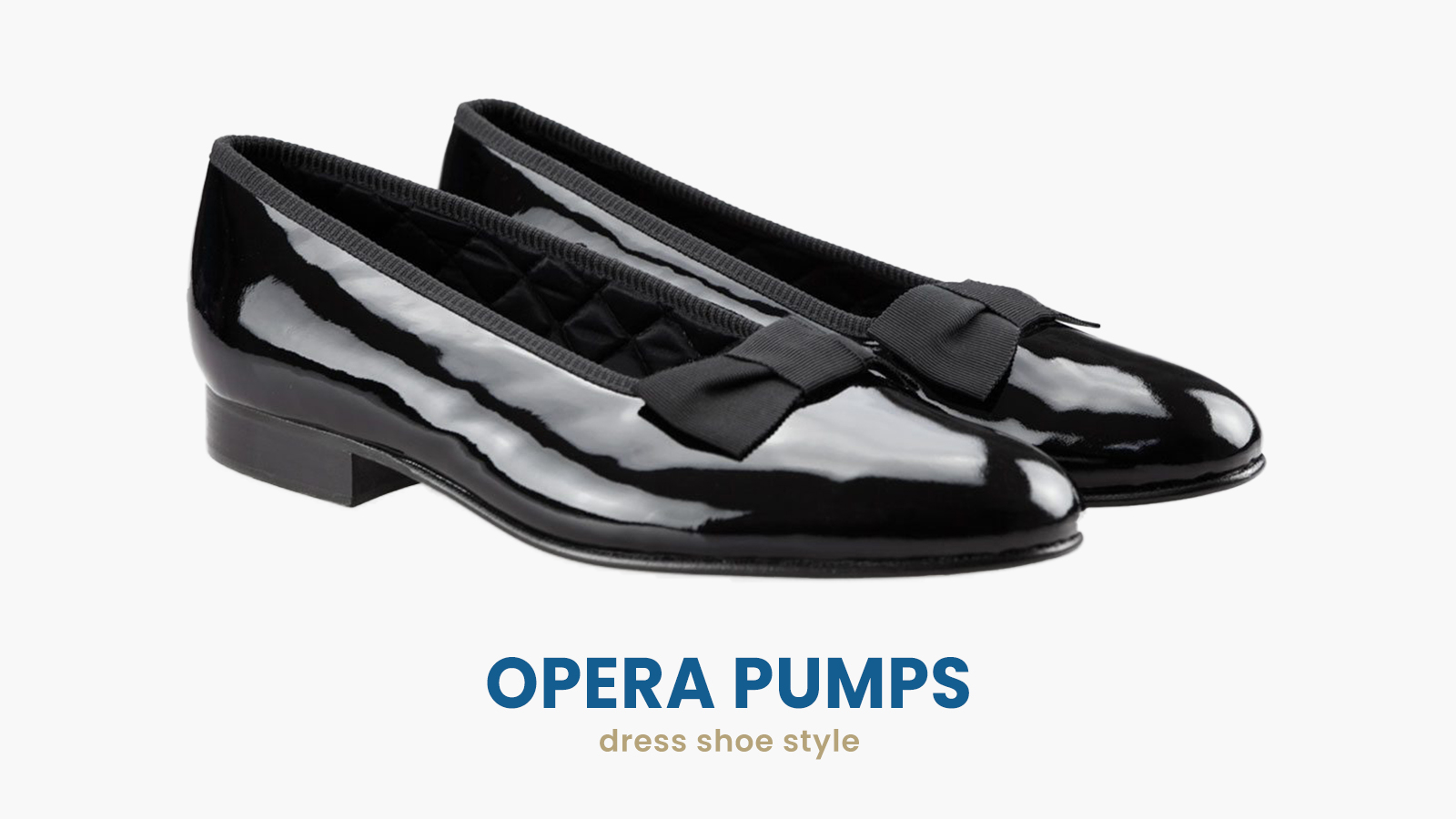 These delicate and sophisticated dress shoes aren't commonly worn but are the most formal style of men's shoes.
Otherwise, most men choose to wear Oxford dress shoes with their tuxedos. They are classically traditional and look very sleek with any outfit.
Whichever shoe style you opt for, ensure that your shoes are made of black patent leather.
To read more about the best tuxedo shoes you can wear, check out this article.
Author: Alexander Stoicoff
Hi, I'm Alex, and I've studied and specialized in styling in Rome. Through my writing, I want to help men dress well and learn the purpose and significance of suits and other formal attire. My final goal is to make men more confident in their wardrobe choice and life in general.