There's nothing that can up an outfit's cool factor more than a pair of suspenders. They are often unexpected and, when worn right, look classy and chic.
So, how can you be sure you're wearing them the right way? There are only a few important guidelines to keep in mind when pairing them with your favorite suit.
With a little dedication, you can even add suspenders to your wardrobe every day!
What are Suspenders?
Suspenders, known as braces in Britain, are a fashionable alternative to belts. They are what happens when fashion meets function in an effort to hold your pants up.
Suspenders are suave and sophisticated but can also be very playful. When paired with a wedding suit or a tuxedo, they have the ability to make your attire even more dashing.
Match the right suspenders with a casual ensemble, and you'll lend an air of cheekiness to your outfit.
You can play with the colors and patterns, coordinating them in different ways. Whichever way you choose to style your suspenders, you will elevate your style.
Suspender Dimensions
Suspenders have a wide variety of styles, not just in colors and designs. One style option is how wide they are.
The width you choose will send a message, so choose wisely. A really thin strap sets a more casual tone. Your outfit will be a little on the funky side with some skinny suspenders.
Be mindful not to mix too thin suspender straps with a suit; you may unintentionally look like a throwback to the 1980s.
A slightly wider strap is a more traditional way to wear suspenders with a suit. This is the style you will need for a more formal outfit. Wide braces will lend an air of gravity to your suit, adding maturity.
Clip-on vs. Button Suspenders
Suspenders sure don't seem like a controversial topic, but the great clip-on vs. button debate will surely inspire some strong opinions. Tread lightly.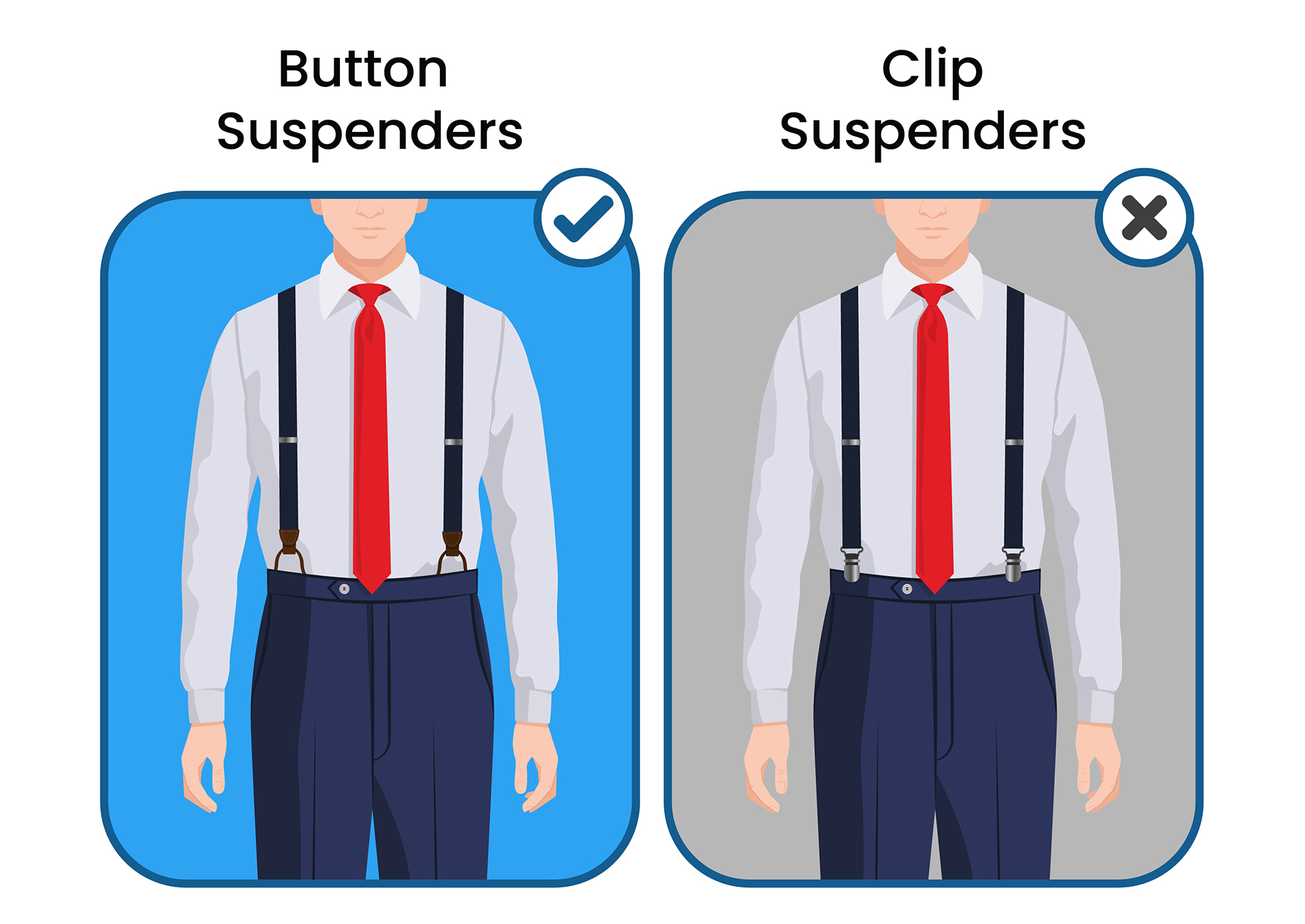 In one camp, you'll find the men of style who proclaim that clip-on suspenders are never, never, ever acceptable. Then there are the more laidback fashionistas who don't really care about rules; they say to wear whatever makes you happy.
The middle-of-the-road sartorialists will generally advise you to try your hardest to avoid clip-on suspenders. They'll agree, however, that clip-ons are a better choice than no suspenders at all.
No matter what, though, clip-ons are not acceptable in a black-tie and formal setting. If you are wearing clip-ons casually, they're probably fine. They can even make a statement and might just add a little something to your look.
However, straps on the skinny side are a little less common, so they're likely to stand out.
How to Put on Suspenders
It may seem as if putting on suspenders is simple, but they can get surprisingly complicated when buttons are involved.
Spread your suit pants on your bed so you can see inside the waistline.

Attach the button tab on the back loops of your braces to the buttons on the back of your pants. Ensure the braces are facing the correct way; the face of the back strap should now be toward your bed.

Attach the front tabs to the buttons on the front of your pants; first, one side, then the other.

Pull on your pants. Tuck in your shirt and fully close your pants before pulling the braces up and over your shoulders.
Adjust the sizing buckles for your best fit.
Suspenders Buckle Placement
The metal buckles on the front are there to make adjustments for a proper fit.
Suspenders are generally sold as one-size-fits-all, so these buckles are incredibly useful. You'll definitely need to play with them to find the right fit for you.
The size adjusters on your suspenders should ideally fall in the area of your mid-torso. Because of the one-size-fits-all approach to making suspenders, getting this buckle in the correct area can be difficult.
Shorter men will find they need to pull the adjuster higher, so their suspenders aren't flopping off their arms. Of course, men with very long torsos will have their buckles nearer their stomachs.
How to Wear Suspenders with Suit
Before you can even get to the finishing touches, including suspenders, you need to start with a beautiful canvas: your suit.
Your suit doesn't need to be expensive to look great. The aspect that will serve you best is a great fitting suit. If your suit falls just right in all the right places, you're already ahead of the game.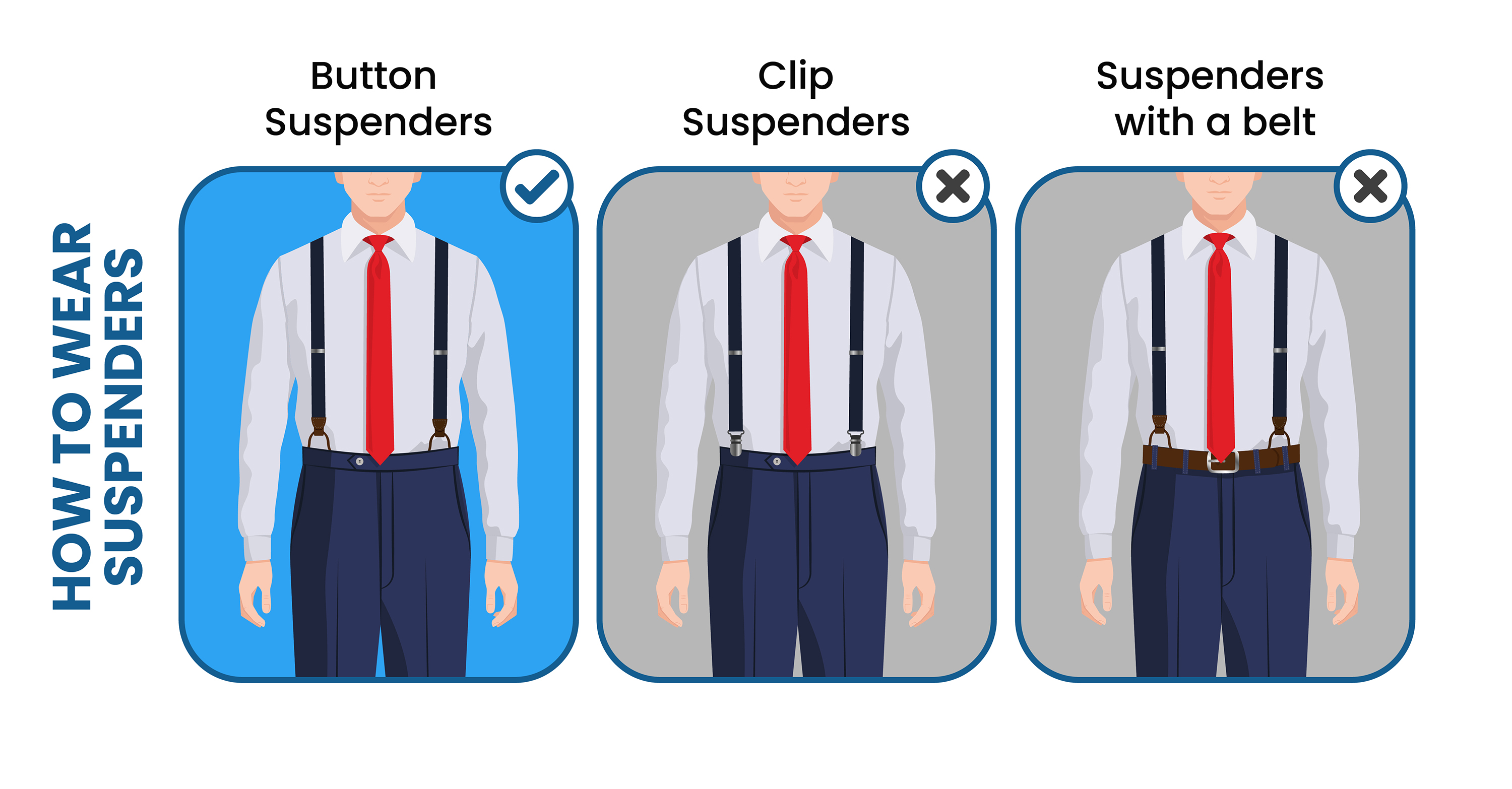 If you pair your well-cut suit with impeccable accessories, you can't look anything less than amazing.
Invest in quality shoes that add extra pizzazz to your suit, and pick out the perfect tie that will compliment your eyes. And top it all off with a rockin' pair of suspenders.
Suits & Suspenders Color Combinations
When pairing suspenders with a business suit, you may want to play it safe and stick to subdued colors, at least initially.
Pick muted tones that match your suit; navy suspenders for a navy suit, for example. You can also go with something that will complement your suit, such as black suspenders with a grey suit.
It's perfectly fine to work in some subtle striping on the suspenders, too, if the colors are right. Don't go with any flashy hues for your work environment. It is fine, encouraged even, to toss in some bolder color for special events.
Black suspenders will work with just about any dark suit. You can even go in a totally different direction, though, and pick a very bold, solid color.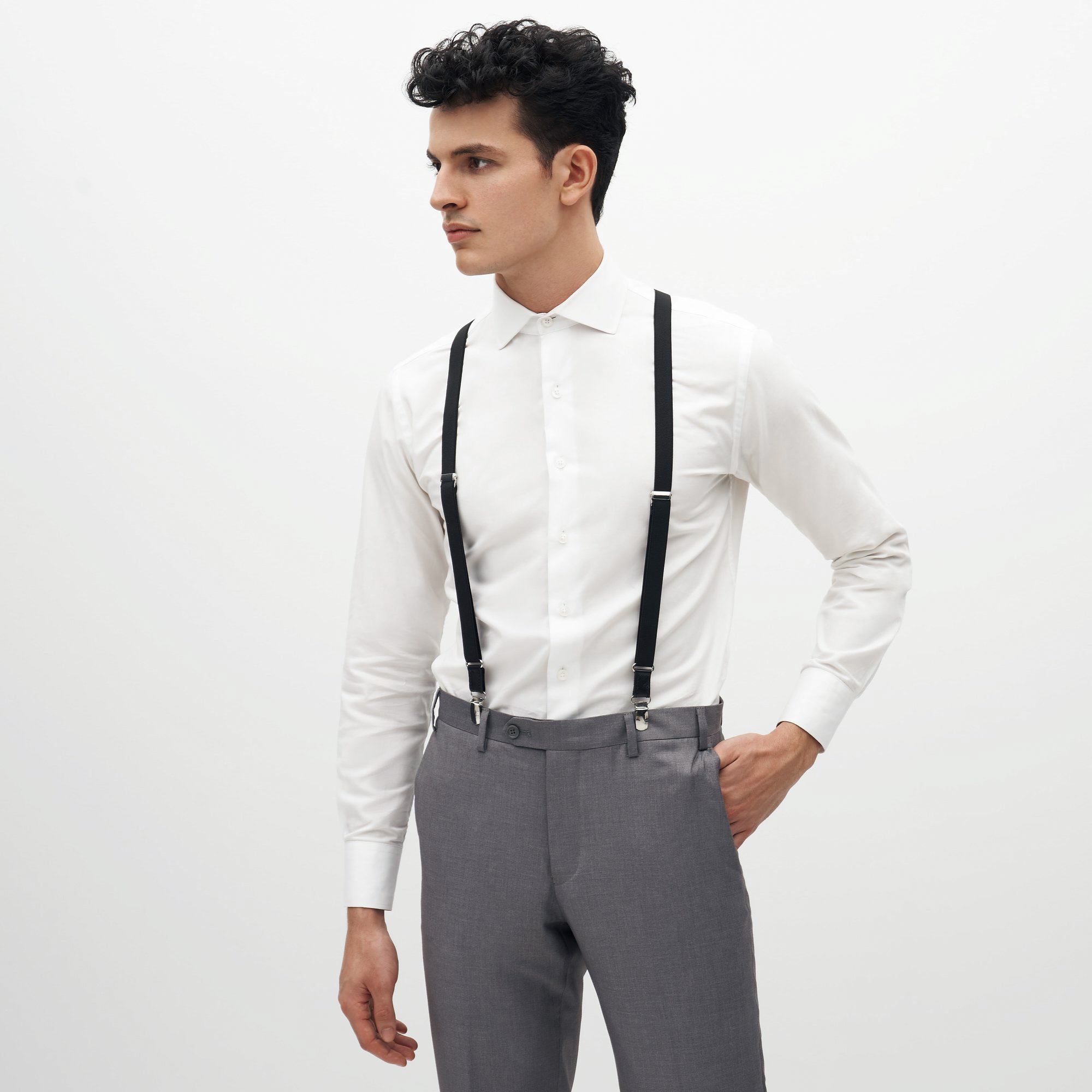 Red or Fuschia suspenders for a special event can make a plain, old suit exciting and surprising. They're like a hidden gem.
Match Dress Shirt & Suspender Color
If your dress shirt has any patterning on it, you should stick with a solid suspender. Wearing a solid shirt? Perhaps it may be OK to experiment with some design on your suspenders.
The colors of your dress shirt and suspenders don't need to match. In fact, it's best if they don't. Your suspenders will just get lost in their background.
Where's the fun in wearing them if nobody can even see them? They should at least complement each other, as long as they don't completely match.
Match the Suspenders Color with Your Tie
Your tie and your suspenders both sit in the same area on your body. You certainly don't want them competing for attention with each other or making your torso seem extra busy. Also, it would be easy to overwhelm the eye that way.
If your tie is patterned, then it is best to keep your braces a solid color. However, if your tie is solid, you can then experiment with some patterning on your braces. Patterns on both feel a bit overwhelming.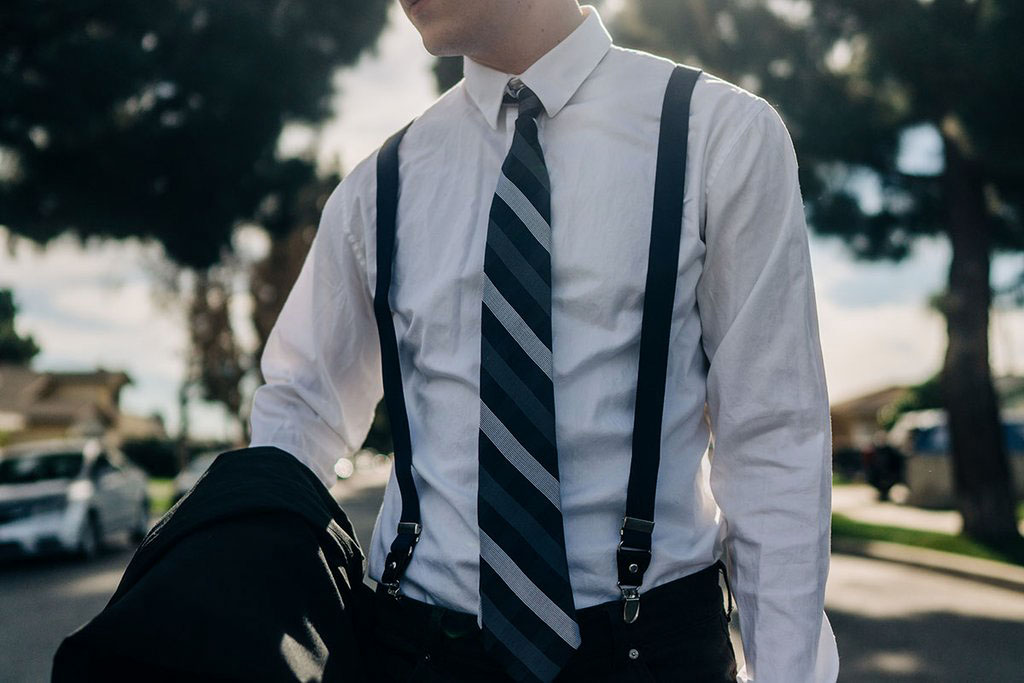 Find one color that you would like to play up. For example, if your tie has pink and green flowers on a yellow background, yellow suspenders would tie them all together.
However, a color that isn't on the tie at all would only feel random and mismatched.
Match the Suspenders Color with your Shoes
You also need to think about the style of your shoes when pairing your suspenders with your suit. In addition, the leather on the button holders needs to match your shoes.
Brown leather on your suspenders paired with black shoes are a fashion no-no. Any leather you wear should always be the same color throughout your outfit.
The absolute only exception to this rule is if you are wearing a tuxedo. White suspenders are popular to wear with tuxedos, and they'll have white leather button holders.
Black shoes with your tuxedo are mandatory, so there's no way to match your suspenders. This is one time when the matching leather rule is allowed to be broken.
Best Suspenders Thickness When You Wear a Suit
Wide suspenders are the traditional style. For almost all of fashion history, suspenders have been fairly wide. It's classic fashion.
You won't look right with thin suspender straps if you are wearing a business or formal suit. Business or formal settings are not the appropriate time or place to make a fashion statement.
Be sure your straps are 1.25″-1.5″ thick. Anything thinner won't be taken seriously.
How to Wear Suspenders with Tuxedo
If you are wearing a traditional tuxedo with a black bow tie and black shoes, black suspenders are your best option. It is the definitive combination for formal wear.
As a bonus, the color of your white tuxedo shirt will really pop against the black suspenders.
White suspenders are also very popular with tuxedos. These blend in a bit with your tuxedo shirt, but all that white also offers a very clean aesthetic. It feels a bit dressier, almost like a white-tie ensemble.
If you are heading in a more modern tuxedo direction, such as midnight blue, navy suspenders can also be appropriate. However, you can never go wrong with black suspenders when it comes to formal events.
Sometimes a color twist will be acceptable, but only if it's appropriate for the situation. For example, if your event is celebratory, an addition of some unexpected color would be appropriate.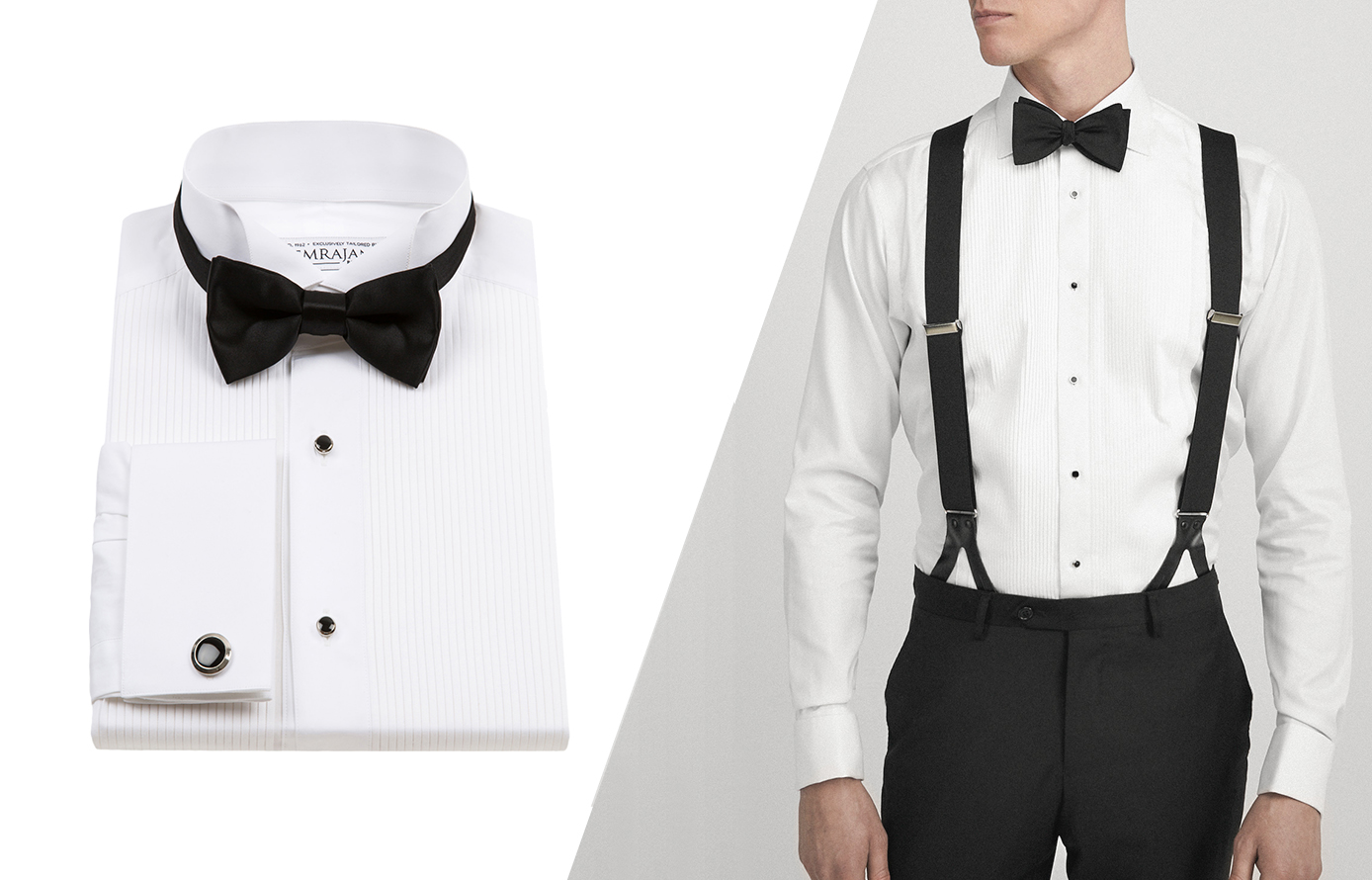 Clip-on suspenders are never appropriate in a formal setting. They are too tacky when paired against a beautiful, elegant tuxedo. Clip-on suspenders are on the same playing field as a clip-on tie; you just don't go there.
Styling Choices When Wearing Suspenders
Of course, there are proper and improper ways to wear suspenders. Try not to think of them as rules, so much as guidelines. Very strongly suggested guidelines.
Belts and Suspenders
Never wear a belt with suspenders!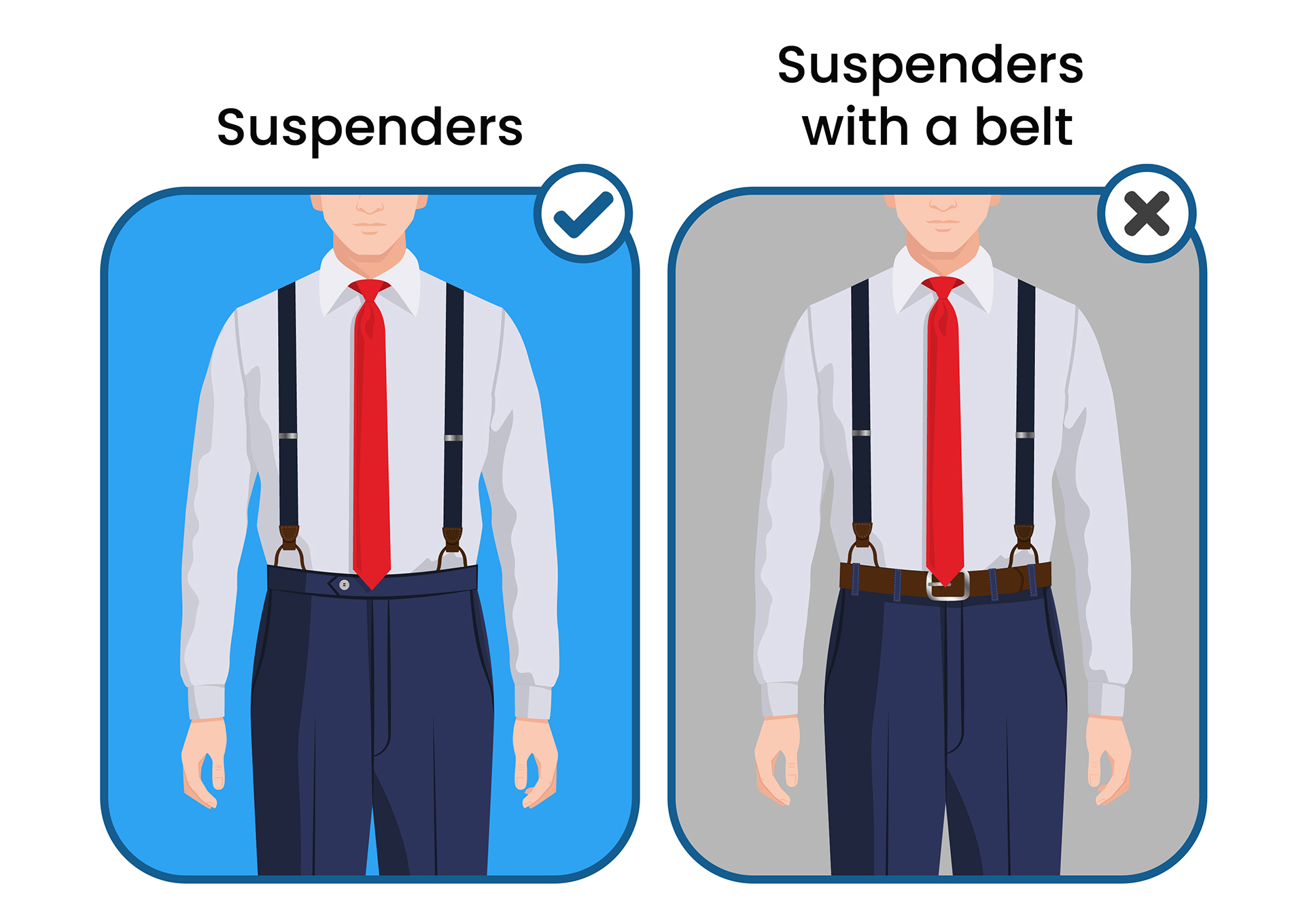 This can't be stressed enough. In a perfect world, your pants wouldn't even have belt loops if you are wearing suspenders. However, the reality is that most trousers these days are designed to be worn with belts.
Not many people make suspenders an everyday part of their wardrobe. Belt loops (that remain empty) are fine on pants that are being used with suspenders. Adjustable side tabs are allowed, though those are less common.
You simply don't need a belt and suspenders at the same time. It's redundant and extreme overkill.
Proper Trouser Rise
Most of your trousers probably sit right around your hips. It's the common style for pants these days.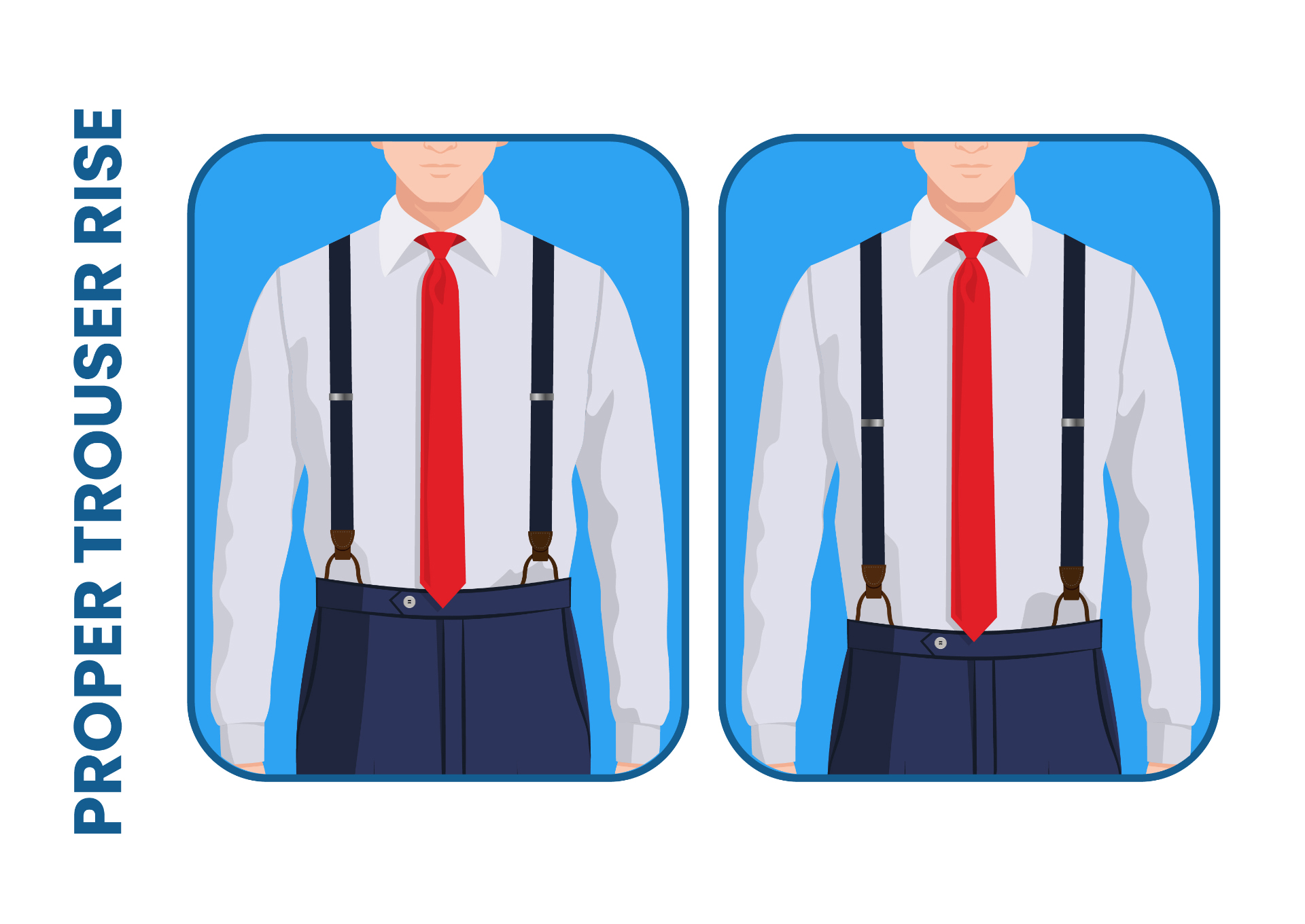 Ideally, pants that are being worn with suspenders should have a slightly higher rise. They should come up to your natural waistline. This is how suspenders are designed for you to wear with pants.
The higher rise on pants paired with suspenders makes them feel more comfortable. The braces aren't then pulling your pants further up all day, making your pants cram themselves into very uncomfortable areas.
Plus, it just looks better.
Proper Trouser Waistband
When pants have a higher rise, the waistband tends to be a bit looser than what modern men are used to. This is because when pants sit on your hips, they need to hug the hips.
But higher-waisted pants are looser around your waistline; otherwise, you may never get them pulled up over your hip area!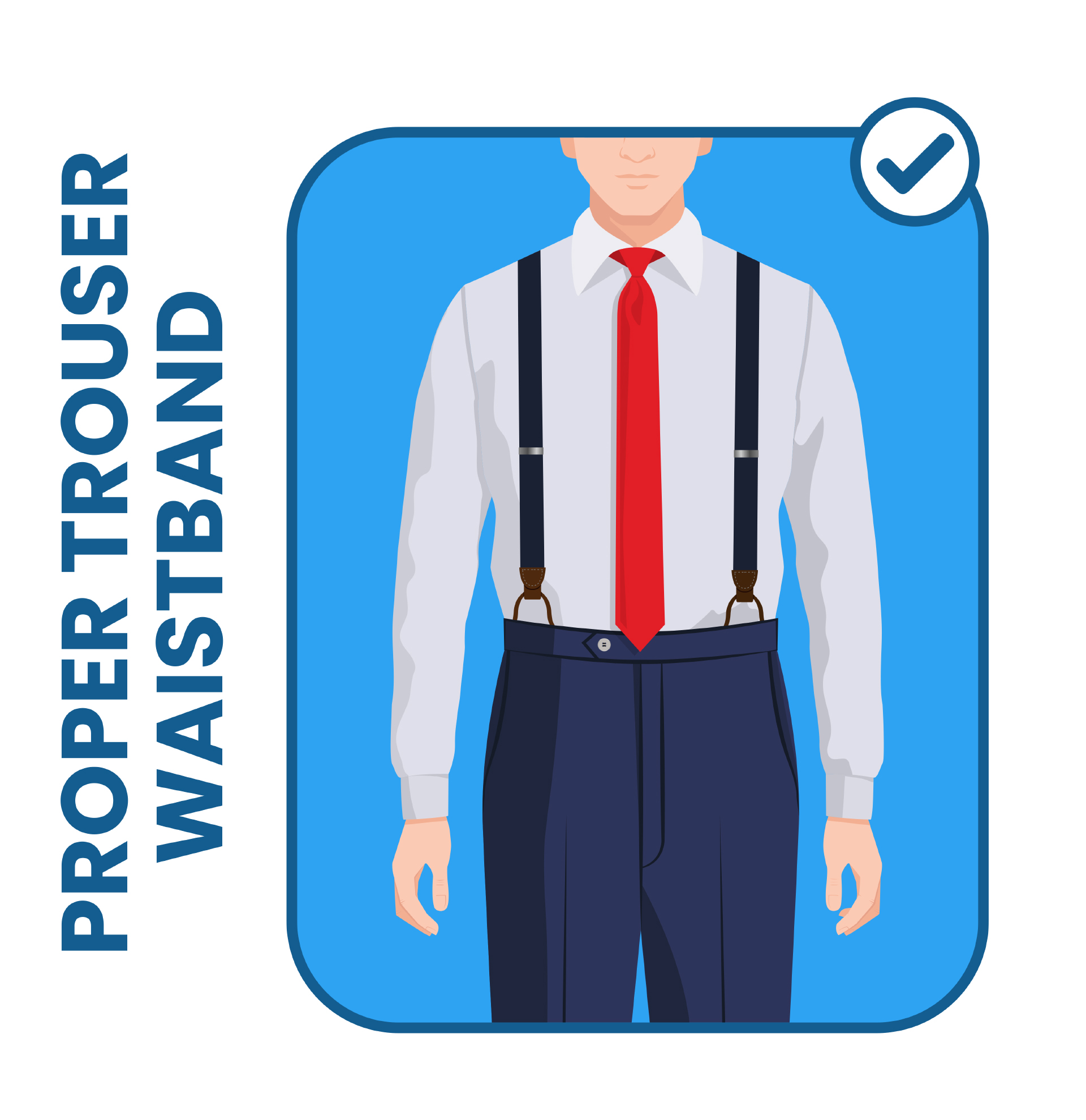 That makes suspenders necessary for holding your pants in place. And a looser fit is so much more comfortable to wear all day, as well.
Accessories You Can Wear with Suspenders
You'll be able to find all sorts of accents you can add to your outfit to complement or play up your suspenders.
If you are wearing a tuxedo, one of the most dapper accessories you can add (after suspenders, of course) is studs and cufflinks. In place of regular buttons on your dress shirt, cufflinks and button studs will stylishly hold your shirt together.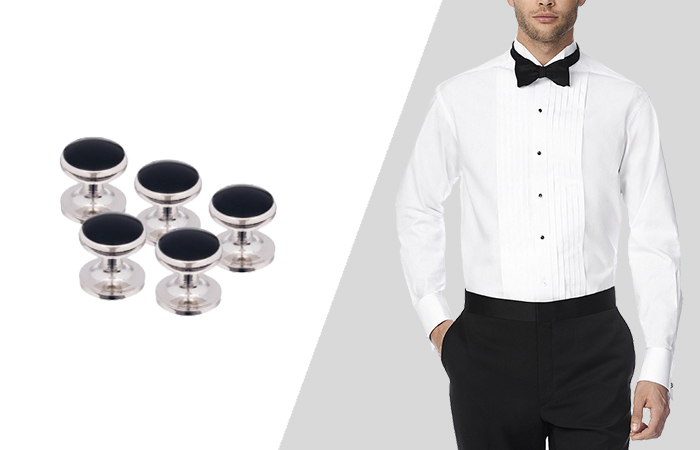 You can opt for a simple metal design that would match your suspender buckles. Maybe pick a gem to match your braces' color, or even a silk knot of the same material.
A pocket square in your suit jacket is another fun way to play with your suspenders. You can have a pattern on one, but choose a solid color for the other accessory.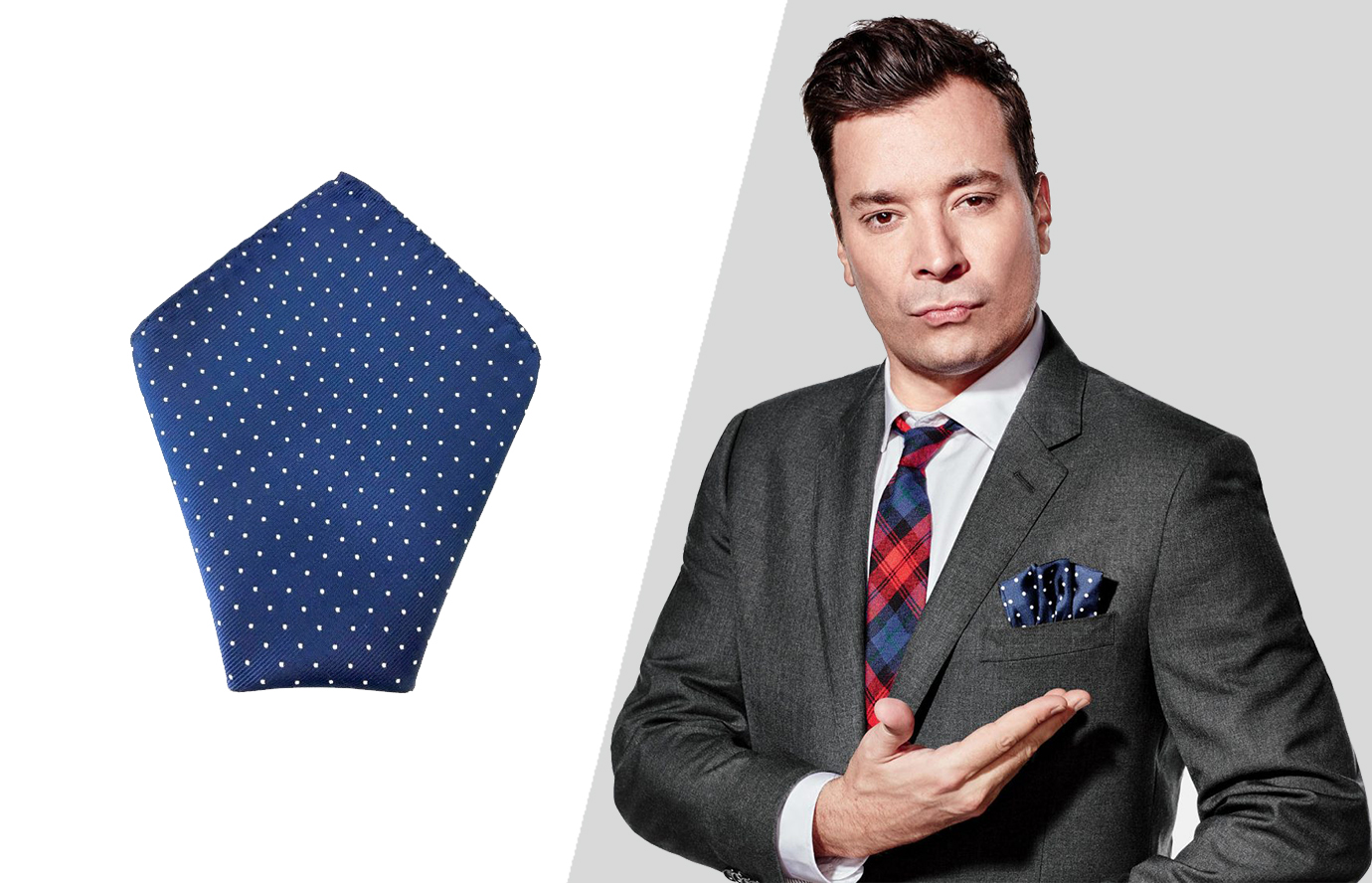 Finally, pick the same color for your shirt as your pocket square, only solid. So, when you take off your suit jacket, that color will still be a reminder of your pocket square.
The most versatile accessory, of course, is your tie or bow tie. You want a subtle tie-in between your tie and your suspenders. Stay away from having them match each other completely, though. It will end up looking juvenile.
How to Wear Suspenders FAQs
If you have a few burning questions, here is some quick advice on entering the world of suspenders.
How to properly wear suspenders with a suit on the formal side?
Formal wear is generally subdued, so stay with neutral colors. Always be sure to stick with button-on suspenders and to keep your straps wide.
Can I wear suspenders with a vest or tuxedo waistcoat?
Totally! This was the original style that was worn with suspenders. It makes for a very dapper combination. So even if they aren't seen under your vest, you'll at least know they're there.
How to wear suspenders more casually?
The most casual way you can wear suspenders is with jeans or other casual trousers. For example, pairing suspenders with pants that have a lower rise along your hips also takes some formality out. And finally, the skinnier the suspenders, the more casual you'll look.
Can I wear suspenders if my pants have belt loops?
While no belt loops would be preferable, you can still add suspenders if your pants have them. Just please, please remember: do not put that belt on with your suspenders!
Which fabric to choose for my tuxedo suspenders?
Silk suspenders would be ideal for wearing with your tuxedo. Suspenders that are made from high-quality ribbon material is also a nice choice.
Should I pick buttons or clip-on braces with a tuxedo?
Without a doubt, buttons are better. They are classy and more mature. Clip-on suspenders don't look very sophisticated. And when you are wearing a tuxedo, sophisticated is exactly the look you are aiming for.
Author: Alexander Stoicoff
Hi, I'm Alex, and I've studied and specialized in styling in Rome. Through my writing, I want to help men dress well and learn the purpose and significance of suits and other formal attire. My final goal is to make men more confident in their wardrobe choice and life in general.