Tweed suits are not just for professors anymore.
But there's a reason we often think of a college professor when we think of tweed; it looks so darn smart.
Tweed is sophisticated and refined; it adds a twist to your regular suit.
If you are looking for a way to stand out in the suit crowd, you'll definitely want to add a tweed suit (or two) to your wardrobe.
What is Tweed & How to Wear
Tweed is a thick fabric that's woven from virgin wool. It's acceptable for every season, but it tends to be most popular in fall and winter because of its natural thickness and warmth.
It was first produced in the early 1800s in Scotland, mainly for farming and other outdoor activities.
Scotland's harsh mountain climate makes it the ideal location for the birthplace of tweed. From there, it moved to many other parts of the world.
The style in which the threads for the fabric are woven creates a very unique pattern. Tweed isn't a "pattern" in the traditional sense of the word; there is no plaid or tartan-like repetition.
Instead, it appears as random variations in the fabric, which create a pleasing texture for the eye. You can almost feel the texture just by looking at it.
Tweed is an incredibly versatile fabric for a suit. It can be appropriate for all types of menswear, from casual to business. Typically, tweed is earth-toned, but it can also be multi-colored or monochromatic.
In general, you can wear tweed as you wear other suits.
Pair it with the right shoes, match it correctly with your shirt or tie, and most importantly, ensure your tweed suit is a good fit.
The standard brown tweed suit jacket perfectly matches a light blue shirt, navy necktie, and cream-colored khakis.
Enhance the look by adding refined suit accessories, like a brown leather belt and patterned pocket square.
Already looking good, right? But wait, there's more…
How to Wear Tweed in the Winter
Tweed is ideal for cold temperatures. Since it is natural wool, it is excellent for repelling wet weather, too. So, if you are heading out on a cold, drizzly day, you may consider a tweed suit or overcoat.
Tweed makes a great layering material, which is what you want when trying to battle the elements. If you aren't in full suit mode for the day, try layering tweed as an individual wardrobe piece.
A simple blazer matched with wool or moleskin can make a great combination. Even just the addition of a tweed scarf on a blustery day can add more warmth than you expect.
Tweed is such a natural insulator that if you do have on a full tweed suit, you may not need anything else to keep you warm.
Finish the tweed winter suit with a brown chukka or Chelsea boots. Oxblood double monk straps are also a genuine option.
Finally, derby shoes are an acceptable choice to add a bit of formality to your attire.
How to Wear Tweed in the Summer
Though tweed is best known for its warm qualities, there are certain types of lightweight tweed. These are wonderful to wear in warmer months.
You may not want to wear the full suit (again, still super warm), but you can make a bold statement with separates.
Try out a tweed waistcoat without the matching tweed jacket for a smart casual vibe. You can pair it with khakis and a cotton shirt, possibly with the sleeves rolled up.
Another great summer tweed option is to toss on a blazer for those brisk summer evenings after the sun goes down.
Keep the colors more on the pale side, such as light grey or blue. This will seem like a natural summer outfit choice.
Complete the look with light brown or beige boat shoes or loafers for the finishing touch.
When to Wear a Tweed Suit
Being the versatile fabric that it is, tweed is great for a wide range of occasions. It can be as casual and relaxed as you want it to be, or it can be professional. It can even be formal.
Pull out your dark tweed suit if you have an important business meeting and need to look sharp and ultra-professional. It will make a nice first impression since you'll stand out from all the other typical suits.
Slip into a tweed blazer if you are heading out for date night or just a nice night out with your best pals.
You can pair it with jeans and a button-down shirt for a relaxed but smart style. It looks effortless but very polished.
You can even wear a full tweed suit to a formal suit event. It would need to be a very dark shade without any other colors mixed into it, though.
Nevertheless, this will be a contrast from the usual sea of standard black wool suits.
How to Wear a Brown Tweed Suit Jacket
Brown tweed is a classic. It's an informal color, so it's best for casual or business-casual needs.
Because it's a neutral color, it can be paired with any earth tone to create a very natural palette. Try mixing in some jewel tones to add some extra pizzazz to your outfit. These rich colors together are incredibly striking.
To add a bit of formality to your outfit, wear a white dress shirt. White is the most formal color for dress shirts and will elevate the suit jacket to a bit dressier.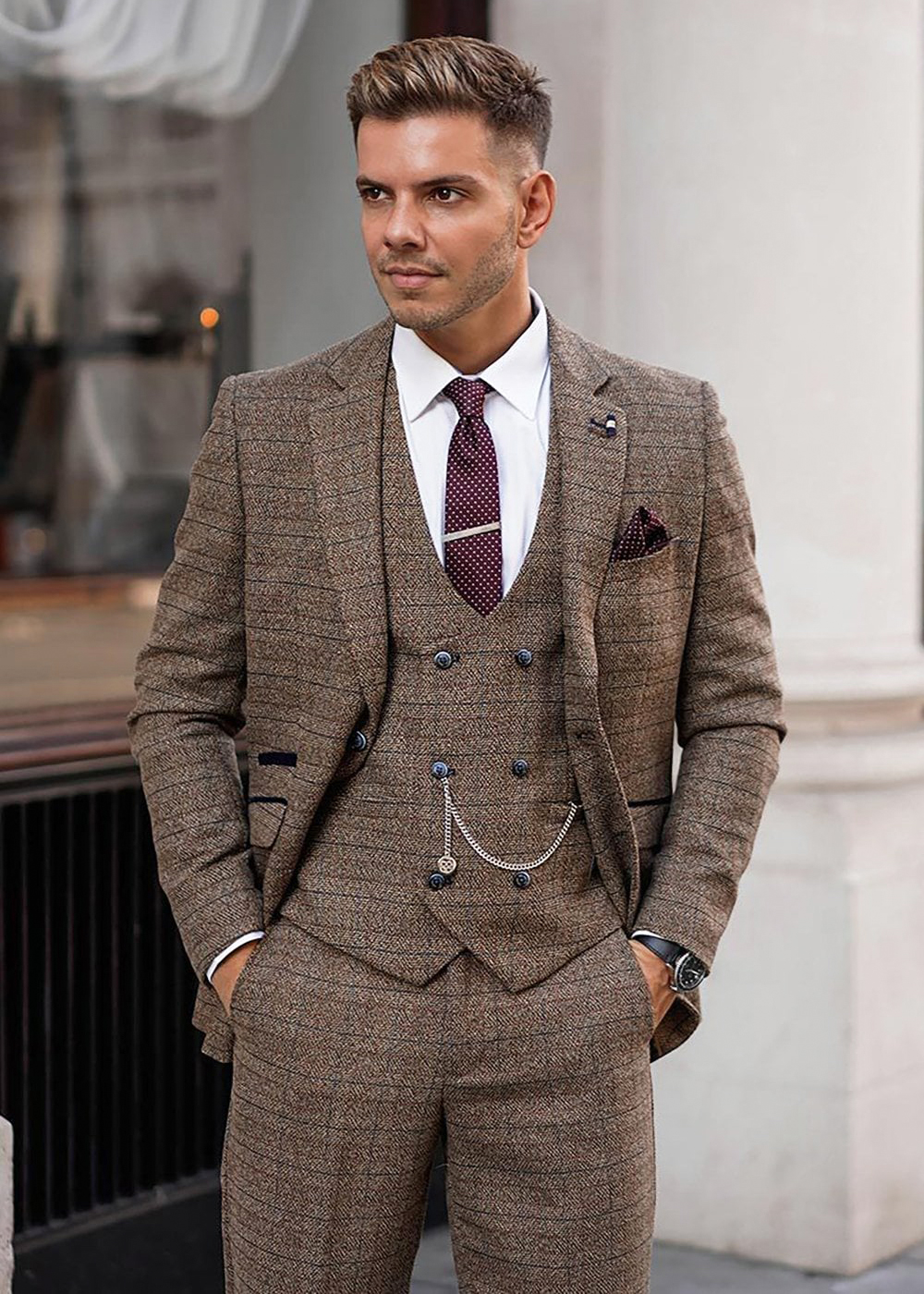 Wear a brown tweed suit jacket with a casual button-down shirt to make your outfit more relaxed. You can match a pale blue or pink striped or gingham shirt.
However, a clean blue button-down shirt is ideal with brown tweed. It matches the casualness of the brown and is a lovely color complement.
A brown blazer can also be paired with a pair of chinos. It would look great with a lighter shade of brown, cream, or tan. You may be surprised that grey is also a great choice for your pants.
Brown and oxblood can be a great color choice to match with a brown tweed suit. Go for monk straps, loafers, or Derbys, depending on the formality you wish to portray.
How To Wear a Grey Tweed Suit Jacket
A grey tweed suit jacket can be a bit more dressed up than a brown one. The darker the grey, the better; it's more formal that way. It is an excellent professional style, perfect for either the office or an evening outing.
Grey tweed suit jackets look really attractive next to a touch of jewel tones, such as a bold emerald or sapphire. You can add a tie or pocket square for just a hint of these colors.
Blue complements perfectly well with grey tweed. It emphasizes the grey hue and the overall appearance. That's because grey is a neutral color, and blue adds that cool twist that grey desperately needs.
Pair your grey tweed suit jacket with a white button-down dress shirt to cement its status as a dressy outfit. You can also add a pair of black or navy blue suit trousers to pull it all together.
Finish the look with carefully selected shoes. Black shoes work best for dark grey or charcoal tweed suits. On the other hand, brown shoes are a preferable option for a light-grey suit.
How to Wear a Blue Tweed Suit Jacket
If you are looking for a very casual look that says "classy" without trying too hard, a light blue tweed suit jacket is a must. Blue is a very relaxing color and very versatile.
Blue can be paired with most other colors and look amazing.
A dark blue or navy tweed suit jacket can be worn with a white button-down dress shirt in order to create a dressier look.
It can also be matched with a darker blue button-down dress shirt for an amazing monochrome ensemble.
Add a pair of tan or light grey chinos and loafers, and you have a very polished smart-casual vibe.
Additionally, you can go for brown monk straps or deck boots, which provide a great addition to the blue tweed suit.
How to Separate the Tweed Jacket
Tweed jackets look unbelievably cool with jeans! It is just the right blend of sophisticated and casual that makes this outfit stand out.
Try it with a casual shirt or even a light sweater underneath. It is an unexpected touch when you toss a tweed jacket over your casual outfit.
Be sure that the tweed jacket is a good fit. A well-fitting suit jacket is always flattering and lets other people know that you put effort into your appearance.
On the other hand, if it's too large, you'll look sloppy and like you tossed your clothes together, no matter how nice they are otherwise.
If the tweed jacket is patterned, make sure that your shirt underneath is a solid color. Mixing patterns (or even having matching patterns) would be too busy looking and disconcerting.
Keep it simple. Make sure your shoe match both the color and the feel of your ensemble.
Wearing Tweed Suit for Weddings
For an exceptional twist on your wedding attire, you can wear a tweed suit. It's unique but not inappropriate.
It's a suitable fabric for a winter wedding but also smashing if you have a fall or country-style wedding.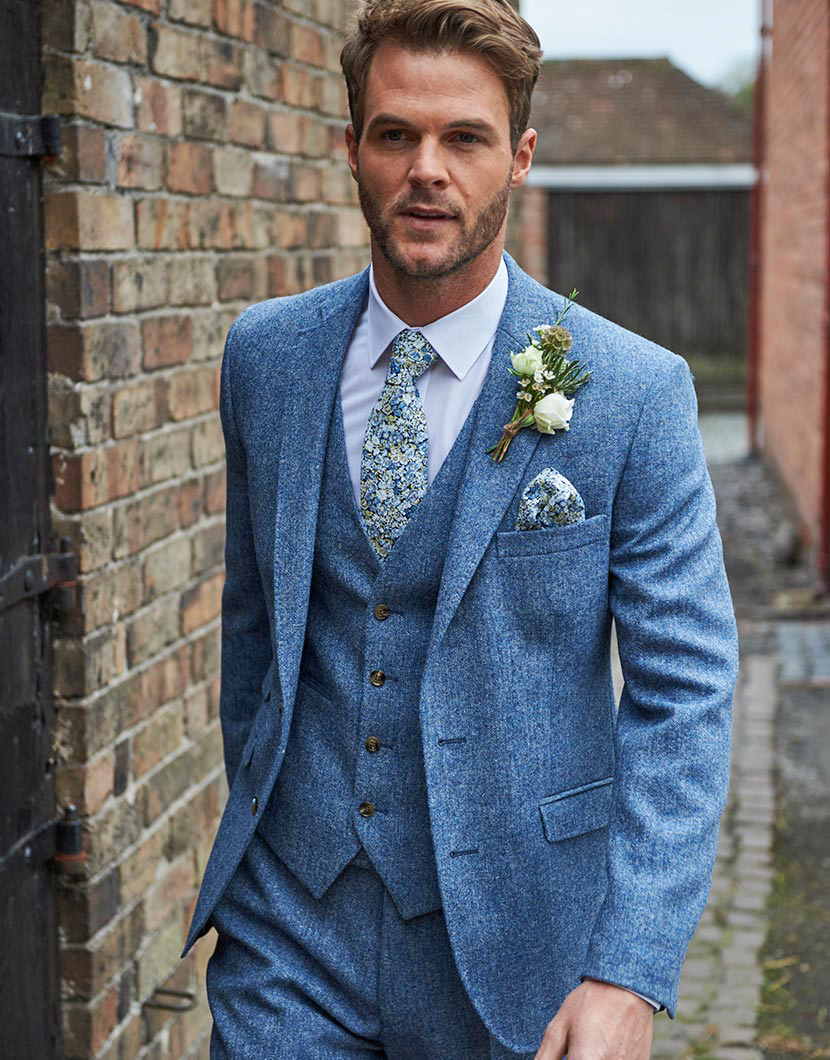 A tweed suit can go a long way toward creating the atmosphere for your special day. You can even have your groomsmen in tweed!
A tweed suit on your wedding day can be incredibly elegant, though it is slightly less formal than your standard wedding suit.
You can elevate its appearance with a chic white button-down dress shirt. Add a tweed waistcoat, as well, to add to the suit's formality.
Author: Alexander Stoicoff
Hi, I'm Alex, and I've studied and specialized in styling in Rome. Through my writing, I want to help men dress well and learn the purpose and significance of suits and other formal attire. My final goal is to make men more confident in their wardrobe choice and life in general.