Suits that will keep you warm during winter months are an absolute necessity.
If you have a good winter suit, you don't need to resign yourself to looking like a stuffed dumpling or freezing your butt off all winter.
It is possible to keep your excellent fashion style and stay warm simultaneously without piling on the layers.
With the right winter suit, you will barely notice the weather; but people will definitely notice your excellent clothing.
Best Winter Suit Fabrics
You want to stay warm when the outdoor temperatures plummet, but you also want to look good.
That can be a challenge; you could toss on some thermals under your suit. However, that gets pretty bulky and gives your body a funny shape.
So, what is your next best option? Wear a suit made from winter-appropriate fabric.
Not all materials are meant for year-round wear. What's good in the summer isn't quite suitable for winter. You need the right suit fabric to prevent yourself from freezing.
The best winter suits help you fight the chill while looking hot. The fabric should be thick and insulating, not light and airy.
Here are some of the best fabrics for winter suits.
Wool Suit
Wool is perhaps the most common choice for a winter suit, and for a good reason.
It is very insulating, but this suit's construction can actually be appropriate for most of the year.
You can find a few different types of wool suits. Worsted wool is the most popular.
However, there are also tweed and flannel suits, both made of wool. We'll talk more about them in a moment.
Not to mention the alpaca, which is a great wool fabric type for a winter suit.
Wool is a wonderful suit material choice for many reasons; it has an excellent drape and structure, is very sturdy and long-wearing, and is even water resistant.
There is almost no wrong this type of suit can do!
Tweed Suit
As I stated above, tweed is another type of wool. It's a slight step heavier and thicker than worsted wool.
So what exactly is tweed? It is three colors of wool yarn that are woven together, resulting in a unique and unmistakable pattern fabric.
Tweed suits are very classic and timeless suits for winter.
Unfortunately, the material isn't very soft; it has more of a rough and bumpy feeling than worsted wool does. But did I mention how incredibly warm tweed suits are?
Flannel Suit
Flannel is the heaviest and warmest wool suit you can find. It's ideal on those frigid days, but it's so warm that it might begin to feel too stuffy inside your comfortable office.
This fabric isn't worn much by younger sets these days, but flannel is starting to make a bit of a comeback.
And it's a good thing, too; flannel suits look very sophisticated and urbane in the winter. Flannel is the most expensive type of wool suit.
It's a similar look to tweed but is definitely much softer. Its softness may convince you that it's worth the extra few dollars.
Cashmere Suit
You may only know cashmere as a luxury fabric, but it's a classic that makes one of the best winter suits imaginable. Staying warm never looked or felt so good as this impeccably soft suit.
The extra supple fabric may make the hefty price tag of a cashmere suit more appealing, but keep in mind that cashmere suits aren't terribly durable.
They don't last as many years as wool suits because the material is so fragile and delicate.
However, if the cost is too much for you, consider saving money by opting for a cashmere/wool blend suit.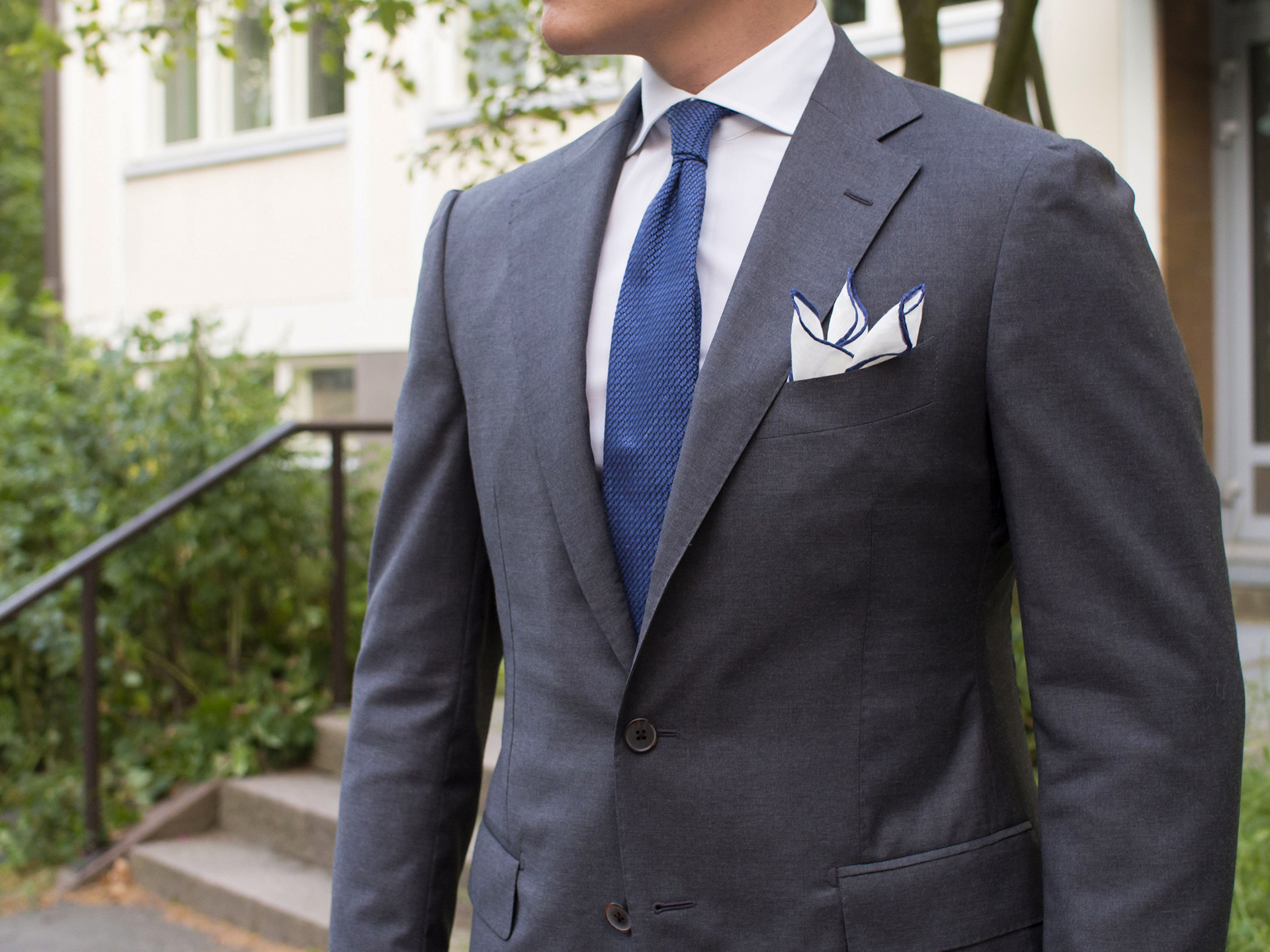 That way, you can get the best of both worlds: a warm, soft suit that costs less and is durable.
Velvet Suit
You will stand out from the usual crowd in an elegant velvet suit. This is the perfect way to play with texture, stay warm, and dress for a formal event.
Velvet feels very luxurious and soft; it certainly isn't for everyday wear.
You always feel fancy when you're wearing velvet. It's created from woven, tufted fabric that has a short pile. The result? A fuzzy material.
And if you are sensitive to some types of materials, you don't need to worry with velvet. It's all hypoallergenic.
Herringbone Suit
This is another winter suit that's not only thick and warm but also incredibly durable.
Herringbone material is also made from a twilled yarn; only it stands out because of its distinctive zig-zag pattern.
Also, if you're looking to trim your figure, herringbone has a slimming effect since the design creates a bit of an optical illusion.
The twilling process makes the herringbone weave very tight, giving the suit a very structured drape. And, of course, its excellent warmth.
Different Winter Suit Colors
Colors tend to be seasonal, with odd exceptions from time to time. Like grey, it can work all year.
Winter months are typically associated with darker suit colors. Probably because they match the dull, cold sky.
But you don't need to wallow in the doldrums all winter long. These suit colors will help you stand out, even when the skies are dreary.
Brown Suit
This neutral shade is anything but boring. Brown suits are mature but not in an old-man kind of way.
Instead, they're sophisticated and laid back. In addition, a dark brown suit has a warm tone to it, making it especially appealing in cold weather.
A white dress shirt always looks perfect with a brown suit, but you could soften it by switching out the white for a pale pink dress shirt.
Finish it off with a patterned tie with a hint of green or burgundy, and you'll feel like spring is just around the corner.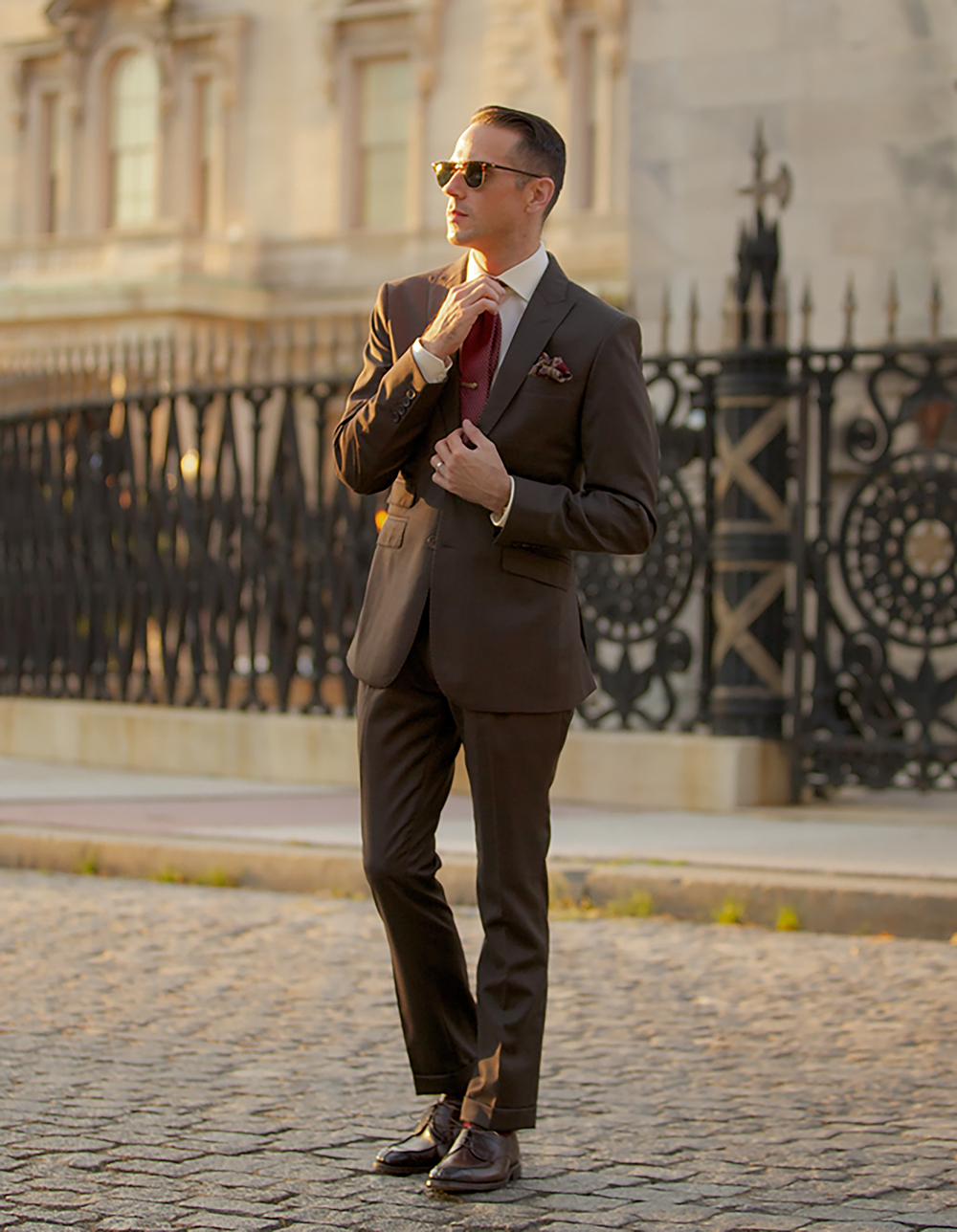 Your shoe pairing is pretty straightforward with a brown suit. Opt for a pair of dark brown leather dress shoes, preferably Oxfords, derby shoes, or monk straps.
Navy Suit
Navy is always an elegant suit color. It's dark enough to look thoroughly professional but with enough color in it to add some interest.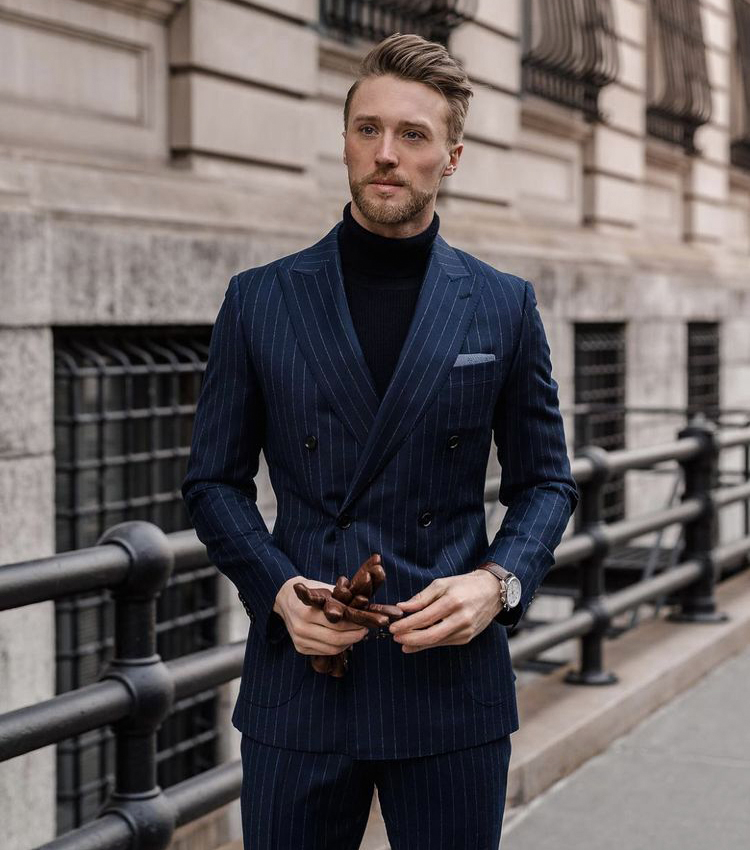 The navy suit is just right for an important day at the office or a fashionable night out at a cocktail party with friends.
You can't ever go wrong with a white dress shirt for your navy suit. There's no reason to veer away from perfection.
Lean into some playful color with a burgundy tie, or put on a charcoal tie for a refined and professional look.
Dark brown leather shoes are essential to make this outfit genuinely modern. Black oxford dress shoes are the best choice, but derby shoes make a fine runner-up.
Burgundy Suit
If you want to turn heads, check out a burgundy suit for this winter. You'll really stand out in a sea of neutral-colored suits.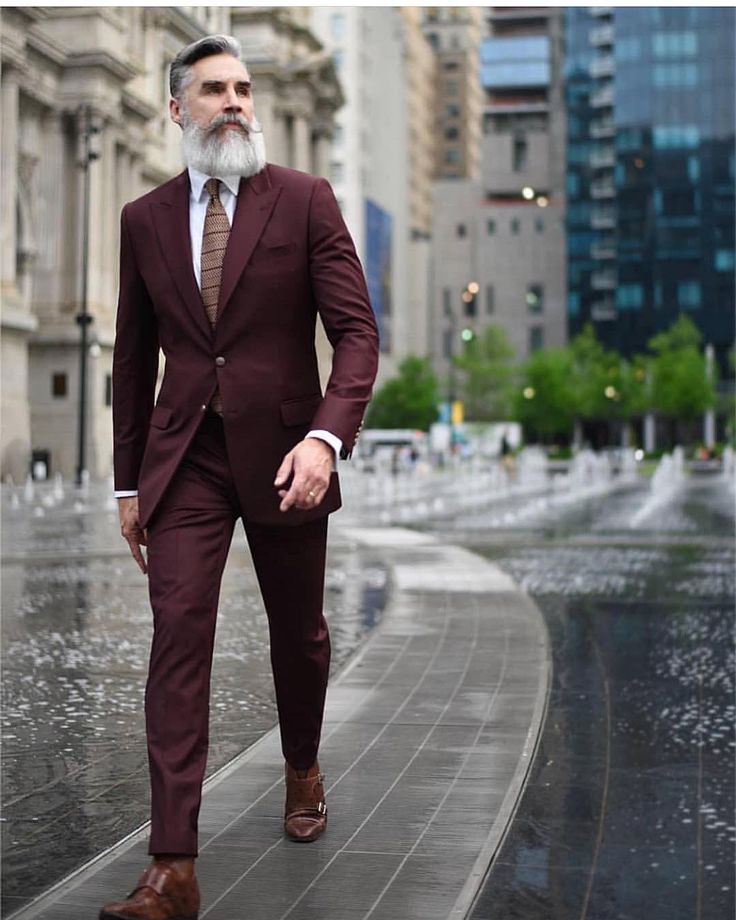 Don't get me wrong; I love neutrals. But sometimes, it's nice to break the mold.
This festive suit color looks even more cheerful when paired with a pink shirt or utterly sophisticated with a black dress shirt.
A black tie is your best choice; avoid matching it with a burgundy tie unless you're wearing a white shirt because that would look cheap.
Black monk straps look superb with this suit. For a more relaxed style, wear medium brown shoes, but only if you aren't wearing a black dress shirt.
Charcoal Suit
A charcoal suit is your sure bet when you want to be as formal as you can be during the daytime. It's ultra-professional and always sophisticated.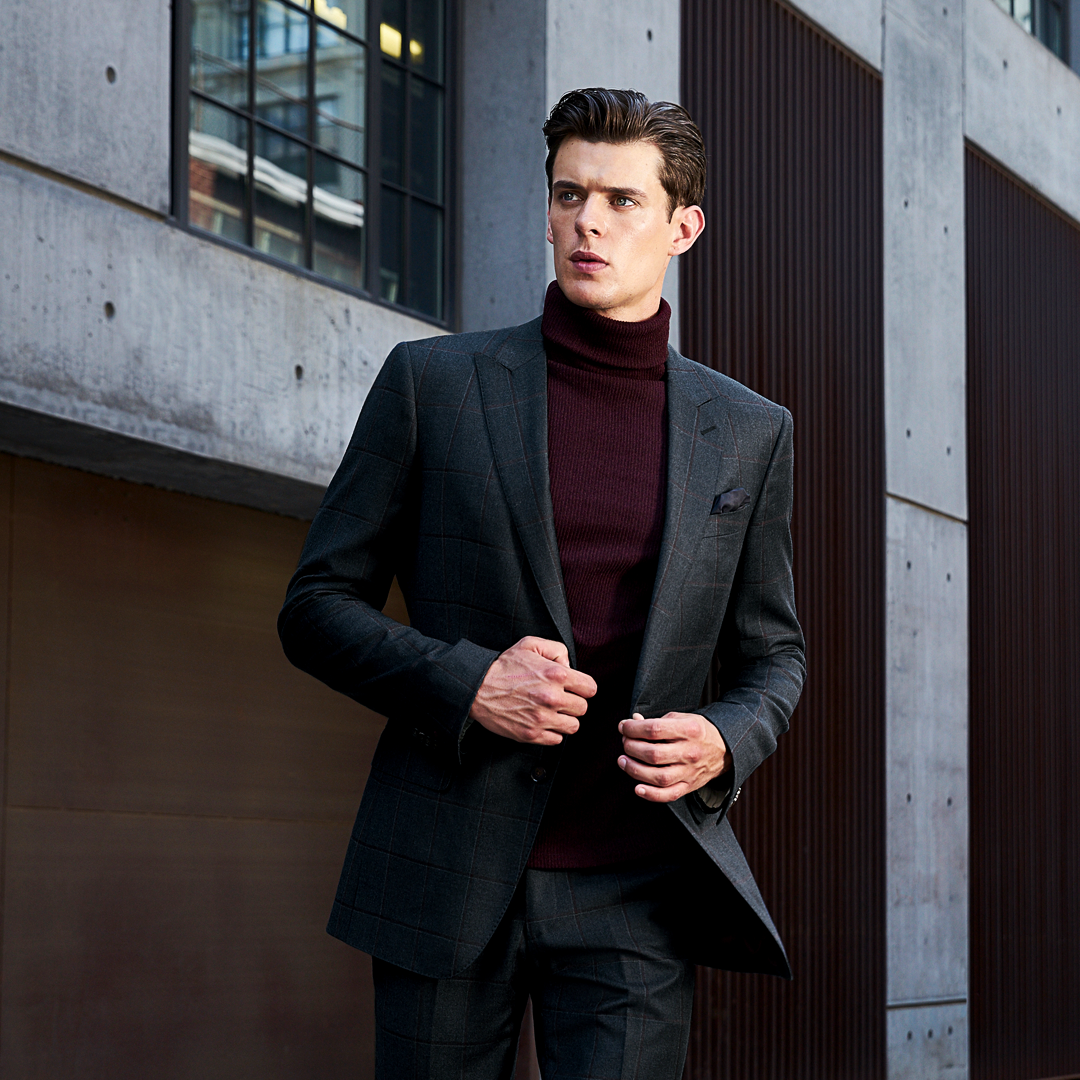 However, you need to wear a white dress shirt to keep it crisp and conservative.
Of course, you may exchange the white shirt for a light blue or pink one, but that will decrease the suit's formality.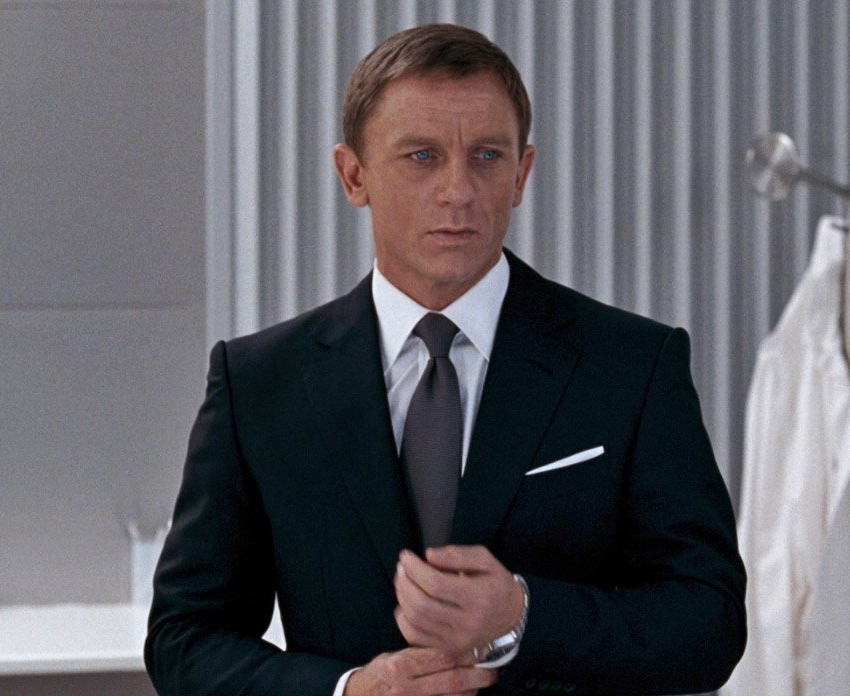 One of the greatest parts about wearing these grey winter suits is their versatility.
You can take your pick of tie colors; charcoal, blue, navy, black, and red are all excellent choices.
You can also decide between black or dark brown Oxford dress shoes.
Olive Green
You rarely see somebody wearing an olive green suit, but it's always a welcome sight. This shade is unique but surprisingly refined.
This tends to be a more casual suit, so why not play that up with a print dress shirt? Small polka dots or subtle paisley can be a perfect match with an olive green suit.
Shades of white or blue in your dress shirt work well, but avoid pink.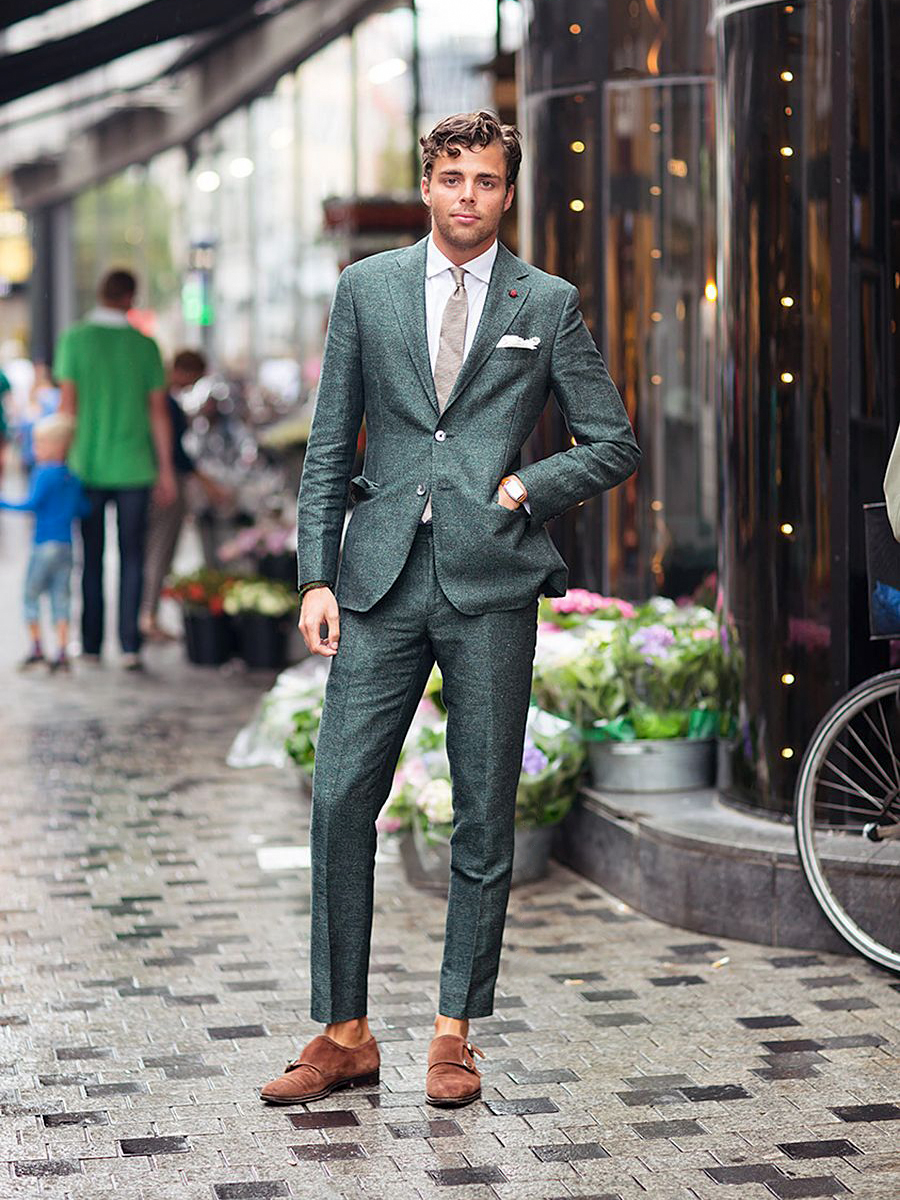 You have a wide range of tie color choices, from neutrals like brown or black to more colorful ones like navy or green.
To top off these natural tones, brown shoes are just the "chef's kiss."
Other Things to Consider
Before you grab the first warm suit you see, think about some other considerations that could affect what you wear and how you wear it.
There are a lot of factors that round out your perfect outfit and keep you comfortable all day long.
The Dress Code
Knowing how you're expected to dress for where you're going is essential. That's why, most often, there's a dress code.
A formal evening event is very different from a business-casual office.
That could mean the difference between a dark cashmere suit and a light-colored worsted wool suit.
Each fabric and color combination has an appropriate setting.
For example, you probably wouldn't wear a tweed suit to a company-wide board meeting, but it would work just fine for a work luncheon or a winter wedding.
Know your setting before you get dressed.
Wearing a Coat Over the Suit
Your winter suits may be warm, but the icy wind is colder.
Therefore, you should protect yourself with a warm coat over your suit, and no parka will be a good fit with a nice winter suit.
Thankfully, you can opt for fashion and warmth with one of these coat styles.
A topcoat is a slim and simple cut that falls at the knee. It's an excellent outer layer for heading into the office on brisk days. However, because it's so tailored, it works best over a slim-fit suit.
Peacoats are very heavy and warm wool coats; they're short, ending just past the crotch area.
They're ideal for windy days because you can turn their large collar up around your ears. However, this is the most casual coat you can wear with your suit.
Finally is the overcoat. It's your best choice because it's the warmest and the longest. It's simple, classy, and can be quite dressy.
Wear Warm Clothing Underneath the Suit
You don't have to pile on long johns to stay warm and toasty under your winter suit. Instead, you can choose clothing that looks good and functions to keep you from freezing.
For example, you can change up the aesthetic of your suit by pairing your dress shirt with a light sweater under your suit jacket.
It should be thin fabric so that your suit jacket doesn't begin to feel tight and constrictive.
There are different types of sweaters that you can experiment with, each having a different effect on your style.
You could also leave the dress shirt aside altogether and try out a turtleneck instead. But, again, it should be thin to avoid uncomfortable bunching.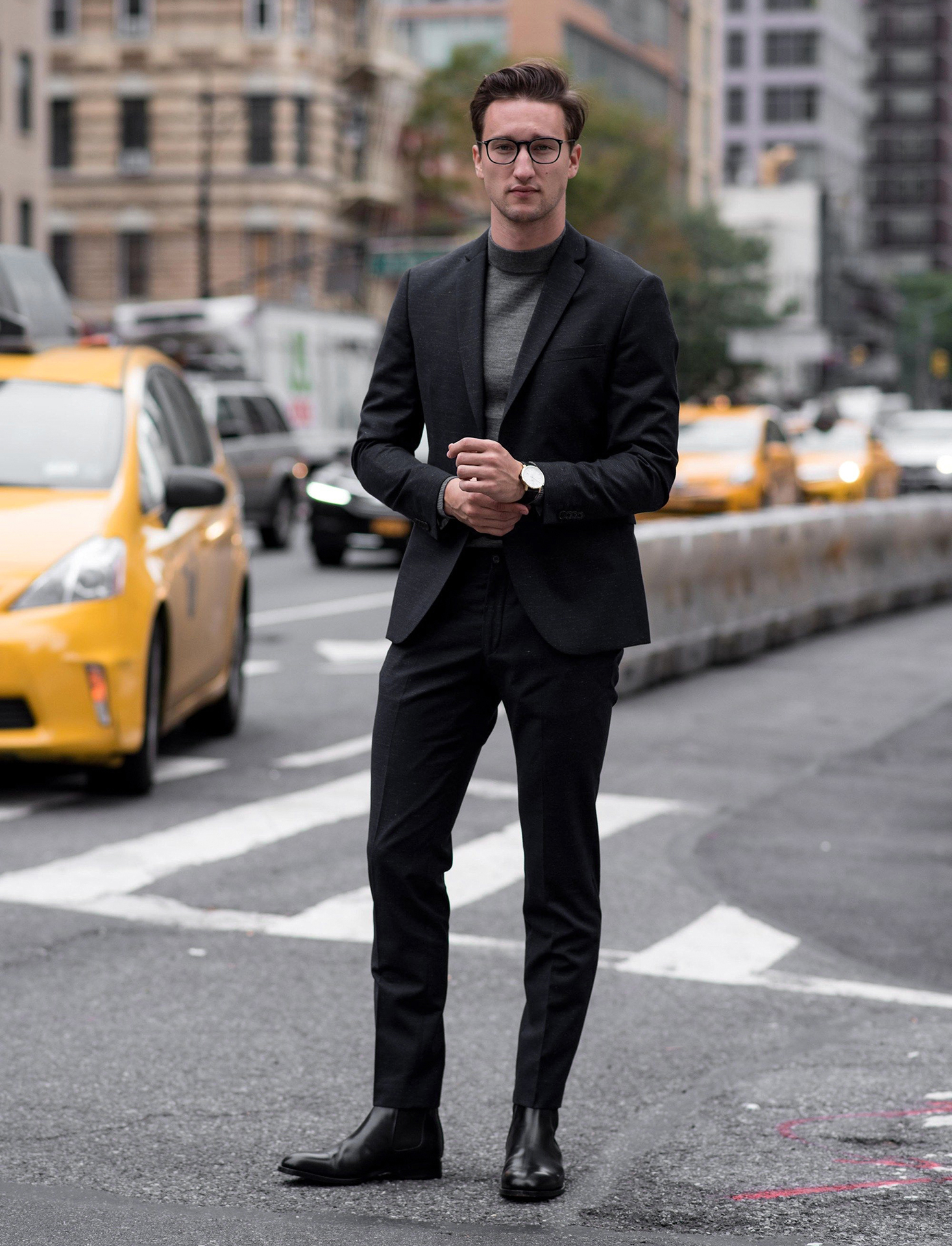 Turtlenecks also look best with suits when they're a dark shade, so gravitate toward black, navy, or charcoal.
Each of these variations makes your suit more casual, but they also make it warmer!
Wearing Dress Boots
Along with cold weather, sometimes comes snow or cold rain.
Nobody enjoys walking around all day with wet feet, and you shouldn't have to just because you're wearing a suit.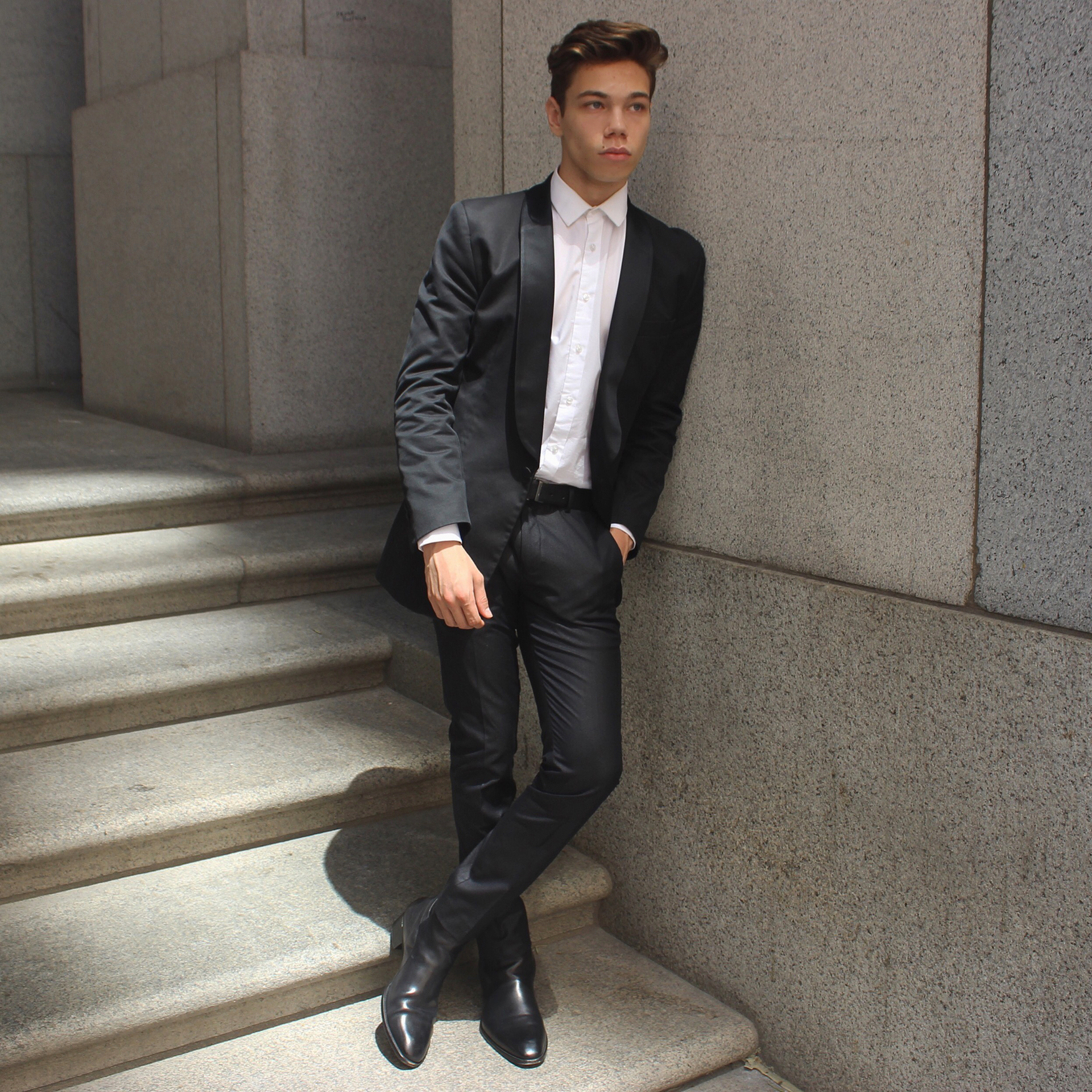 You don't need to wear only a typical pair of men's Oxford dress shoes. Instead, you can wear men's dress boots with your suit.
For example, Chelsea boots have a higher ankle, so you can better preserve your feet. Also, they look incredibly dapper with a suit.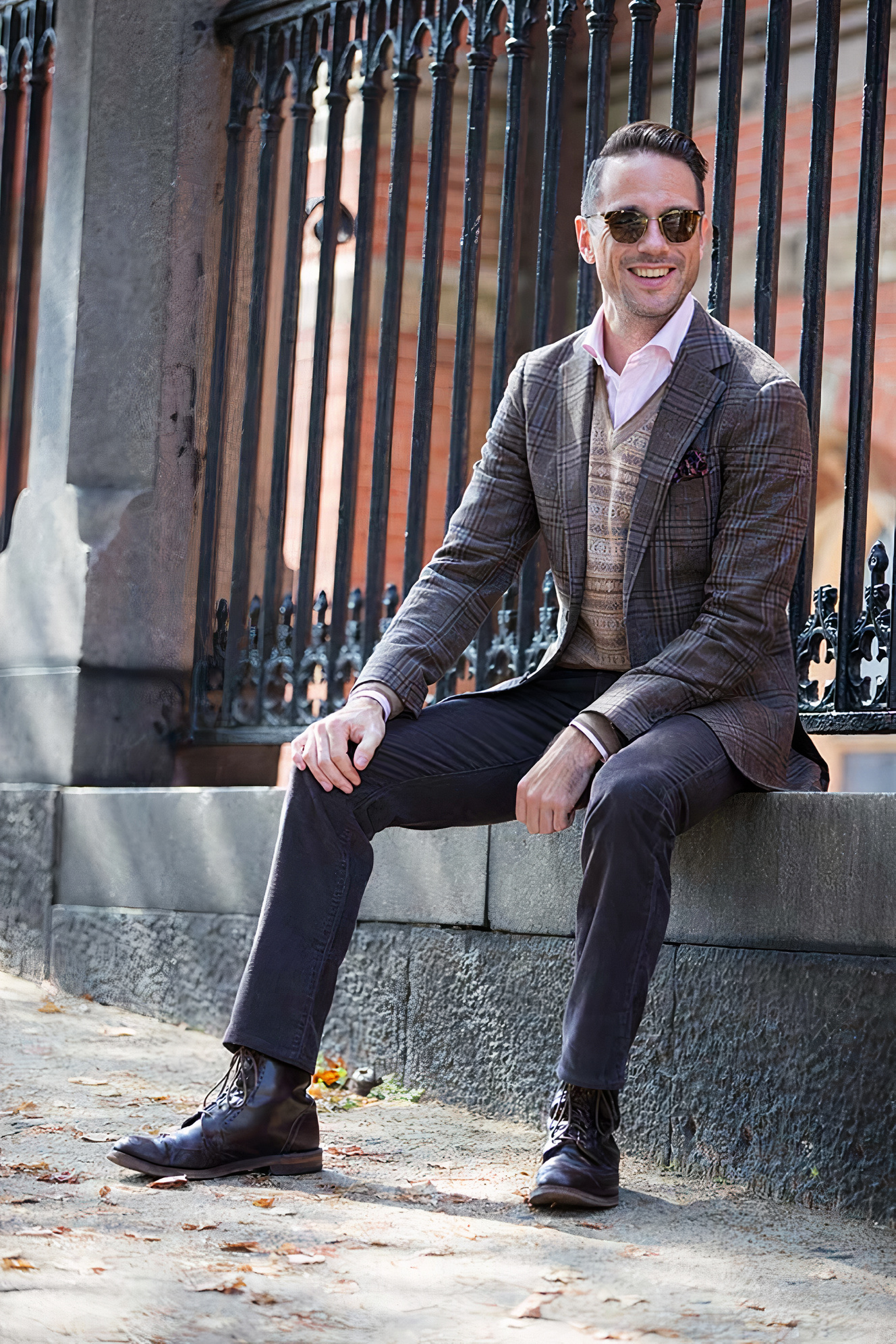 Besides Chelsea boots, you can go for Oxford or Derby boots, Jodhpur, or even Chukka.
Dress boots also allow you to wear thicker socks, helping insulate your toes.
Of course, you can't get away with thick socks when you wear dress shoes, but the dress boot hides the socks better.
Author: Alexander Stoicoff
Hi, I'm Alex, and I've studied and specialized in styling in Rome. Through my writing, I want to help men dress well and learn the purpose and significance of suits and other formal attire. My final goal is to make men more confident in their wardrobe choice and life in general.