As the crisp fall air transitions into the chill of winter, one fashion item becomes a non-negotiable in your wardrobe – the ever-dependable, ever-versatile sweater.
But let's be clear – we're not discussing any old sweaters. The world of men's sweaters is vast and varied, teeming with a multitude of styles.
Crew-Neck Sweater
A style that even the "King of Cool" actor Steve McQueen, frequently sported, the crew-neck sweater is a classic cornerstone in any man's wardrobe.
With its round collar sitting at the base of your neck, it's just the right balance of casual and classy.
This sweater style is an ace for layering; slide it over a dress shirt for a polished office look. You can even incorporate a tasteful tie for some playfulness.
Stick to a solid color if your dress shirt has too many patterns.
Are you feeling proud of your recent gym progress? Show it off subtly with a fitted cotton-blend crew neck.
V-Neck Sweater
The V-neck sweater features a neckline shaped like the letter "V" on the front.
Its distinct shape provides a slimming effect, offering a flattering silhouette that enhances the masculine form.
The true beauty of the V-neck lies in its versatility, which is equally suitable for both casual and formal settings. Worn over a dress shirt, it subtly showcases the collar, adding depth to your ensemble.
Layer it over a flannel shirt under a peacoat, and you have a cozy yet chic winter outfit.
And who said you can't play around? Try a pendant necklace for a date night or weekend brunch – the possibilities are endless!
Shawl Sweater
Have you ever wanted to rock a vibe that screams luxury weekend in the Hamptons, but you're actually just grabbing a coffee from your local joint?
The shawl collar sweater, with its elegant, turned-over collar, effortlessly bridges the gap between casual and classy.
The collar tapers from the back of the neck down to the front of the sweater, which can either meet with button closures or simply drape open.
I can't count the number of times I've thrown one on over a simple tee or dress shirt and instantly felt the surge of fashion-forward confidence.
Not to mention, it's as comfy as your grandma's hugs. Trust me, if you want to elevate your sweater game from "meh" to "marvelous" in 0.5 seconds flat, the shawl sweater's got your back.
Turtleneck
Cold weather calls for a turtleneck! This high-neck sweater style is a smart solution to keep your neck warm and comfortable without needing a scarf.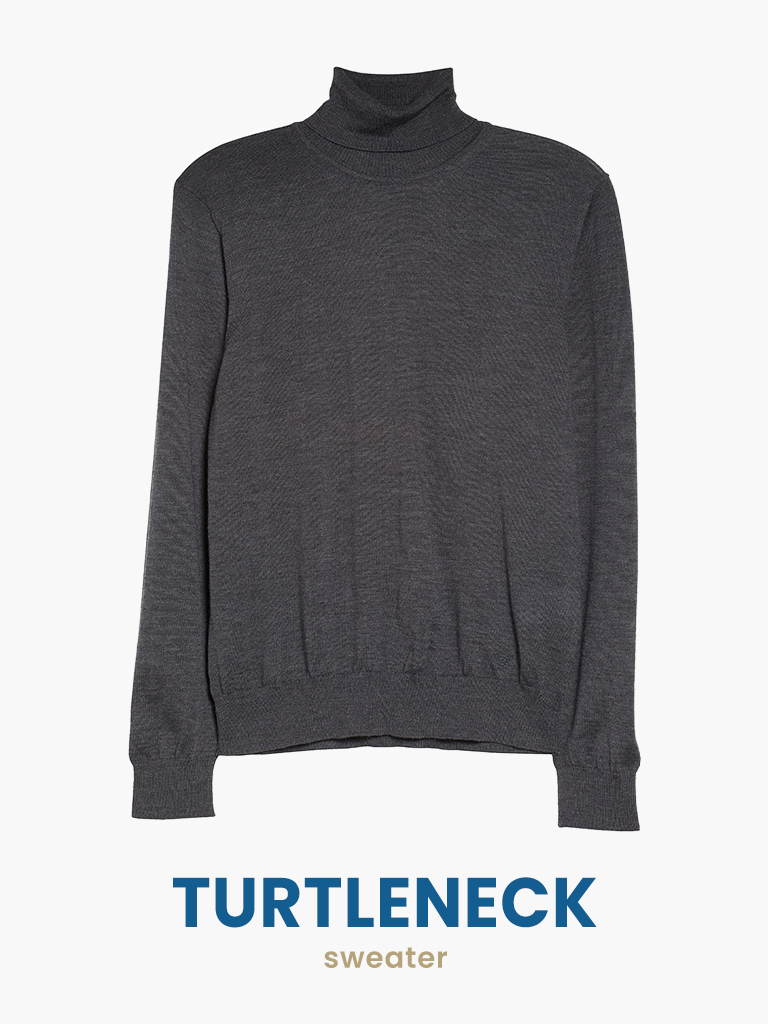 Possibly the epitome of effortless male chic, a classic turtleneck boasts a tall collar, usually folded over once or twice. Turtlenecks bring a vintage, intellectual vibe, ideal for business settings or creative spaces.
Pair it with a suit or tailored blazer and dress shoes for a polished, contemporary look.
Mock Neck Sweater
Not quite ready to commit to the full turtleneck? Let me introduce the mock neck sweater, the turtleneck's less imposing sibling.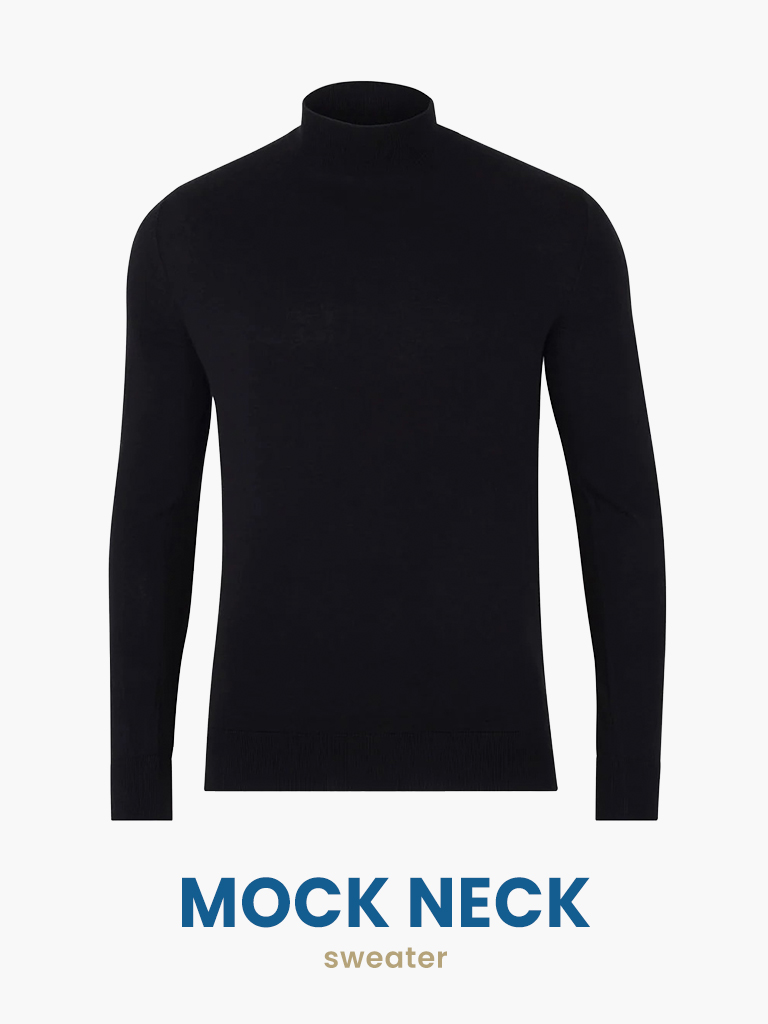 With a collar that stands up around the neck but doesn't fold over, it offers a sleek and modern take on cold-weather attire.
Mock necks are fantastic with casual outfits; pair one with your favorite jeans for a cozy yet stylish ensemble.
Remember, a good sweater fit is key. So, whether it's a turtleneck or a mock neck, ensure the fit is snug but not so tight that you're gasping for air!
Cable Knit Sweater
A cable knit sweater features a knit pattern resembling twisted ropes or cables. Born from the windswept isles of Ireland, the cable knit sweater isn't just attire – it's a legacy.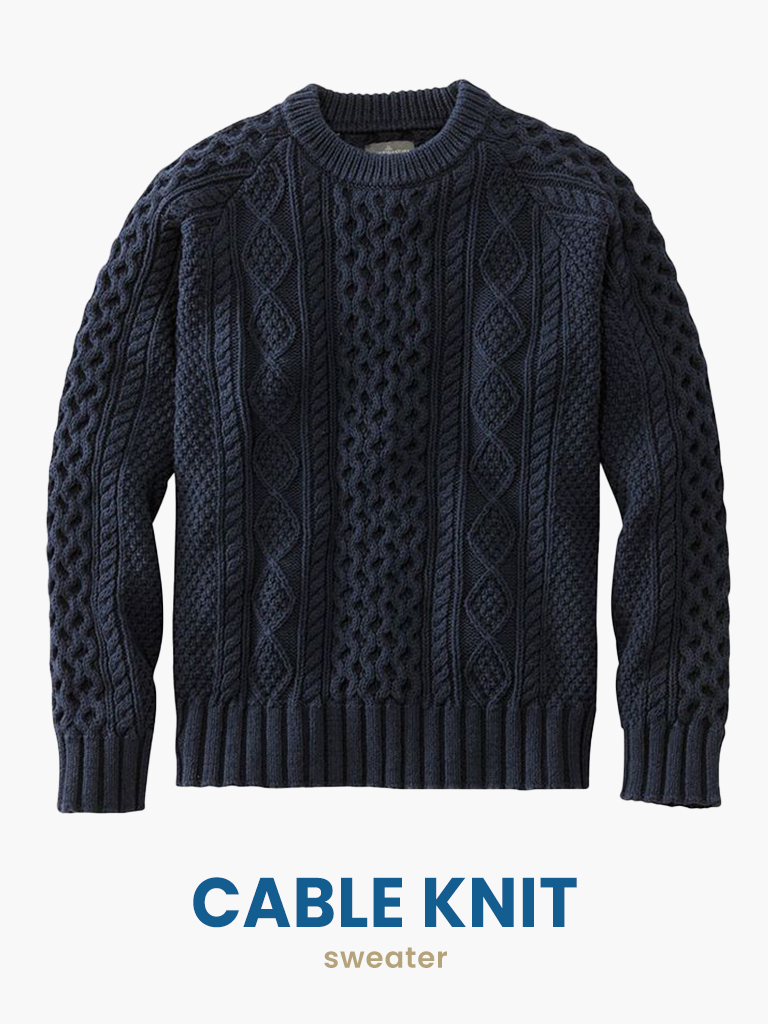 Cable knit sweaters are popular worldwide and are valued for their warmth, durability, and classic appearance. With their chunky, braided patterns, they offer a tactile charm that's hard to resist.
Beyond their cultural cache, I can't help but marvel at how they magically straddle that line between rugged charm and absolute sophistication.
So whether you're aiming for a distinguished professor look or just going for a cozy, fireside chat vibe, the cable knit sweater is your ticket.
Pair it with some dark denim or chinos, and watch the compliments roll in.
Cardigan
The cardigan is a sweater style that blends the luxurious feel of a good wool sweater with the convenience of a jacket.
Named after the 7th Earl of Cardigan, this button-down sweater offers an unbeatable combination of comfort and style.
Wear your cardigan buttoned up for a more formal look, or leave it open for a laid-back, easygoing vibe. Pair it with a simple tee or a dress shirt, depending on the occasion.
For the shawl cardigan, team it up with a plain crew neck tee, denim jeans, and leather boots for an effortlessly stylish ensemble.
Just a reminder that there are various types of cardigans that differ from each other by design, fit, and function.
Half-Zip & Full-Zip Sweaters
Ever wondered how to spruce up your casual look? Try adding a zipped sweater!
Starting with the full-zip sweater. That full-length zipper isn't just for show; it's all about convenience and adaptability.
Going for a breezy look? Wear it open. Are cold gusts giving you the chills? Zip it up!
When I'm in a rush, I often throw it over a button-down shirt, and boom: instant sophistication. Easy as pie and way more stylish!
Now, the half-zip? Oh, it's the cool kid on the block.
Have you ever imagined if a pullover and a full-zip had a trendy offspring? This would be it.
The half-zipper is all about giving you a peek-a-boo effect, showing off just enough to intrigue. Personally, I can't resist pairing it with my favorite dark jeans.
Guernsey Sweater
Let's set sail into the world of the Guernsey (or "Gansey") sweater. Originating from the English Channel's Isle of Guernsey, this knit is steeped in maritime tradition.
Designed for fishermen, its tightly knit fabric protected against biting sea sprays, while the unique patterns (distinct to each family) could identify the wearer if lost at sea. Morbid? A tad.
The sweater's straight bottom and side slits make it perfect for activewear, while its rich texture and patterns effortlessly elevate any look.
Pair with rugged jeans or neat chinos; Guernsey is a testament to timeless style.
Sweater Vest
Now, this is a style that's been making quite a comeback!
The sweater vest, also known as the sleeveless sweater, offers a quirky twist to the traditional sweater. This look is perfect for adding a layer of warmth without the bulk of full sleeves.
Try it over a dress shirt with a matching tie for a preppy look, or wear a turtleneck underneath for an eclectic ensemble.
Polo Sweater
Originating from the world of polo players (hence the name), this sweater is characterized by its distinct fold-down collar and often two or three buttons at the neck.
The beauty? Its versatility. While traditional polo shirts are often made from pique cotton, polo sweaters can also be crafted from knit materials, including wool, cashmere, or cotton blends.
I adore how it can be dressed up or down with equal ease. Slip it on for a brunch date and pair it with chinos, or perhaps for a more relaxed day at the golf course with some tailored shorts.
The polo sweater's got your back, or rather, your torso.
Pullover
When someone drops the term "pullover," they're referencing that tried-and-true staple that slides over your head rather than wrapping around like some fancy cloak.
Sure, some might have a half or quarter-zip. And yeah, we can dive into a whole spectrum of collar styles and necklines.
But at its heart? It's the sweater icon, the very embodiment of the word.
It's that trusty, knit, long-sleeved companion waiting to accompany whatever you've got on underneath, be it a tee or a dress shirt. So, when you think of sweaters in their purest form, remember the pullover.
It's like the Swiss Army knife in your wardrobe toolkit: versatile, dependable, and always ready for action.
Hooded Sweater
Last but certainly not least, we have the hooded sweater. Often known as a hoodie, it's a type of sweatshirt or jumper with an attached hood at the back.
This isn't just for the athleisure enthusiasts or the folks caught in a downpour. It can be a fashion-forward choice when styled correctly.
Gentlemen, the key to pulling off a hoodie is to ensure it's clean, well-fitted, and free of any tacky logos or graphics.
Wear fitted jeans and a clean pair of sneakers for a casual yet trendy look. Add a leather jacket on top, and you've got a street-style-worthy outfit.
Most Common Sweater Patterns
Now that we've covered the different types of sweaters, let's talk about patterns.
While solid-colored sweaters are timeless, patterned sweaters can add a fun twist to your ensemble.
Aran Sweaters
Ever heard of a sweater pattern that doesn't just look cool but also tells a tale? That's the Aran sweater.
Originating from the Aran Islands off the coast of Ireland, these intricate knits are steeped in history and lore.
Rumor has it each stitch pattern has a unique meaning, from the cable stitch symbolizing a fisherman's ropes to the diamond representing prosperity.
Perfect for cozy evenings by the fire or a walk through the autumn leaves.
Fair Isle Nordic Sweaters
Want to imbue your winter wardrobe with a bit of festive cheer? Look no further than Fair Isle and Nordic sweaters.
Fair Isle patterns traditionally incorporate repeating shapes, multiple colors, and symmetrical patterns vertically and horizontally.
Their vibrant and intricate designs instantly uplift your ensemble, ensuring you remain the life of the party, even in the harshest winter chill.
Argyle Sweaters
The argyle sweater is a classic choice for men who prefer a more polished, preppy look.
With its distinctive diamond pattern, an argyle sweater adds a dash of playfulness to your outfit.
It's the perfect companion for casual gatherings or weekend golf outings.
Striped Sweaters
Striped sweaters are an effortlessly chic way to introduce dynamism into your outfit.
Horizontal or vertical, thick or thin, the stripes add depth and dimension, making a statement without screaming for attention.
Choosing the Right Sweater's Fabric
One might think choosing a sweater is all about style and fit, but another element is equally, if not more, substantial – the fabric.
The material you choose can drastically affect the sweater's comfort, durability, and overall appearance.
Wool Sweaters
When it comes to battling the cold, wool is the undisputed champion. Its insulating properties keep you warm while allowing your skin to breathe. But not all wool is created equal.
Merino Wool: Originating from Merino sheep, this wool is renowned for its exceptional softness and breathability. It's an excellent choice for sweaters designed for both casual and formal settings.

Cashmere: Known for its luxurious softness and warmth, cashmere is the epitome of indulgence. A cashmere sweater is perfect for those special occasions when you want to feel and look your best.

Shetland Wool: This is a more rugged wool type known for its durability and heat retention. It's ideal for those particularly chilly days when warmth is your top priority.
Cotton Sweaters
For milder weather or indoor wear, cotton sweaters are a great option.
They're breathable, lightweight, and typically easier to care for than wool. However, they may not provide enough warmth for harsh winter conditions.
Synthetic and Blends
Synthetic materials (such as polyester) or natural and synthetic fiber blends are common in sweaters due to their affordability and ease of care.
They can mimic the properties of natural fibers but may lack the breathability and comfort of wool or cotton.
Author: Alexander Stoicoff
Hi, I'm Alex, and I've studied and specialized in styling in Rome. Through my writing, I want to help men dress well and learn the purpose and significance of suits and other formal attire. My final goal is to make men more confident in their wardrobe choice and life in general.