Cardigans hold a special place in the fascinating world of men's fashion.
This versatile garment has stood the test of time, effortlessly bridging the gap between casual and formal wear.
Let's embark on a style journey exploring different types of cardigans, their unique characteristics, and how they can revolutionize your wardrobe.
What is a Cardigan?
A cardigan is a knitted garment with an open front that can be buttoned or zipped for closure. Traditionally, cardigans were made of wool but are now available in various materials, including cotton, synthetic fibers, and other fabric blends. As such, they come in a wide range of styles, from thick and cozy designs perfect for winter to lighter versions for cooler summer evenings.
V-Neck Cardigans
When it comes to classic wardrobe staples, the V-neck cardigan indisputably holds its ground.
Its iconic V-shaped neckline provides the perfect backdrop for showcasing a crisp dress shirt or a casual summer tee.
Lightweight options, such as a Merino wool V-neck, are great for layering. It makes them a practical choice for the unpredictable weather of spring and fall.
V-neck cardigans are very adaptable as well. They fit well in a business-casual environment, complementing a tie and dress shirt combo with elegance.
Indeed, cardigans can be stylishly integrated with suits too. A well-chosen cardigan can be worn with a suit in lieu of a waistcoat.
I find the V-neck cardigan to be a must-have for any discerning dresser.
Shawl Collar Cardigans
Named after its distinctive collar that drapes around the neck and shoulders, this cardigan is the epitome of cozy style.
It's a perfect mid-layer piece, fitting snugly under an overcoat for winter or standing alone as an outer layer in milder weather.
What I truly love about the shawl collar cardigan is its ability to transition from a lazy Sunday afternoon to a stylish evening out.
Pair it with jeans and a well-fitted T-shirt for an effortless casual look, or dress it up with a button-down shirt for a sleek dinner outfit.
Its unique design makes it a stylish statement piece that turns heads wherever you go.
Cable Knit Cardigans
Tracing its roots back to the Irish Aran Islands, the cable knit cardigan is steeped in history and tradition. It was known for its insulating properties and unique water-repelling characteristics.
The intricate knitting, which is a distinctive cable pattern, adds a layer of texture to your outfit and provides additional warmth. It makes them thicker and heavier, and are an excellent choice for chilly days.
I've often turned to my trusty cable knit cardigan as an outer layer in winter or a cozy mid-layer in extremely cold conditions.
Wear it with a pair of chinos and a solid color shirt, and you have an outfit that's as stylish as it's warm.
Zip-Up Cardigans
A zip-up cardigan is the epitome of versatility and modern style in men's fashion.
Known for its distinctive stand-up collar and zip extending to its end, it offers a unique blend of practicality and aesthetic appeal.
It can be worn completely zipped up, half-open, or open, accommodating various looks and comfort levels.
Obviously, the option to change how it's worn allows you to transform your look.
So, for a structured, polished style, wear it completely zipped up with a pair of tailored trousers and a dress shirt.
Want a more laid-back vibe? Leave it open or half-zipped over a graphic tee and denim jeans.
Belted Cardigans
A belted cardigan is a remarkable style element that adds an intriguing twist to the traditional cardigan design.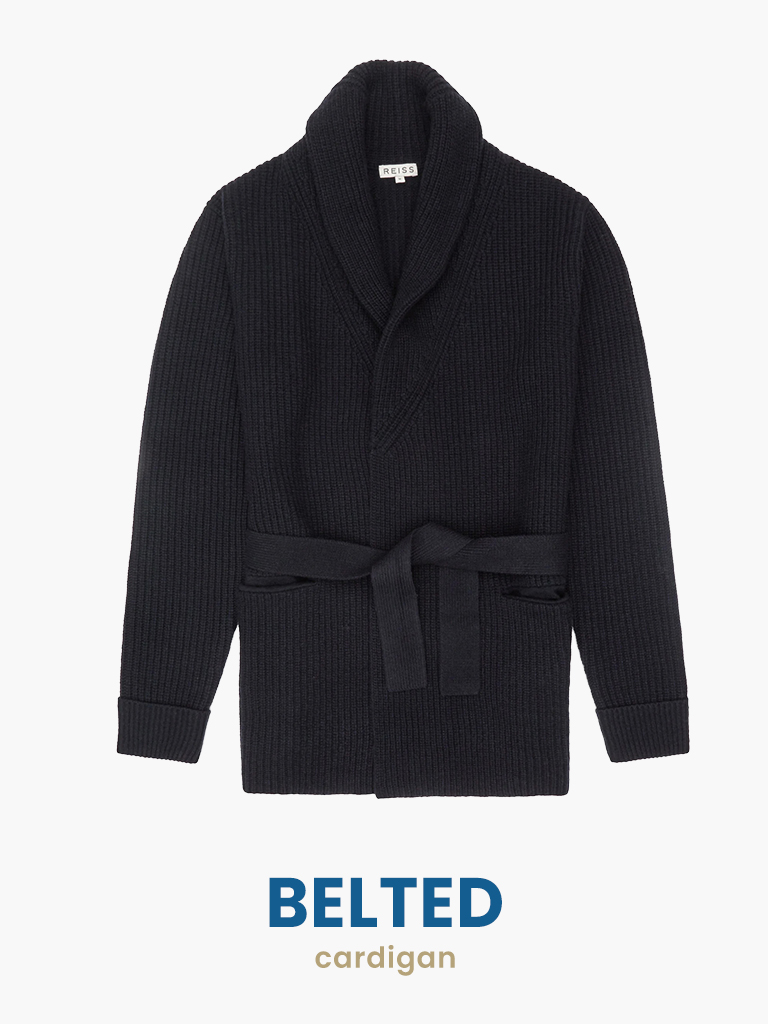 Characterized by its unique tie-up belt, this type of cardigan offers an opportunity for a personalized fit.
It allows you to cinch it at the waist for a more tailored look or hang it loosely for a relaxed silhouette.
When it comes to styling, belted cardigans offer a multitude of possibilities.
For a smart-casual outfit, pair your belted cardigan with a dress shirt, slim-fit trousers, and loafers.
In addition, you can combine it with a relaxed tee, your favorite pair of jeans, and casual sneakers for a laid-back weekend look.
Alternatively, wear it over a roll-neck sweater for a sophisticated winter look.
Longline Cardigans
Longline cardigans, as their name suggests, feature a longer length that typically reaches somewhere around the knees.
This cardigan style can add a modern, edgy look to your outfit. They're also incredibly comfortable, making them excellent for casual wear.
You can pair it with jeans and a simple T-shirt for a sleek, streamlined look. Or pair it with a dress shirt for a more sophisticated outfit.
Remember to ensure your longline cardigan fits well, particularly at the shoulder seams. An incorrect fit, especially if it's baggy, can dramatically affect the overall look.
Double-Breasted Cardigans
If you're looking for a warm and elegant cardigan, you can't go wrong with a double-breasted one.
Featuring two columns of buttons, this cardigan style exudes a strong, structured silhouette reminiscent of a pea coat or blazer. It's a perfect piece for those cooler months, providing warmth while ensuring you look sharp.
One of my favorite ways to style a double-breasted cardigan is over a dress shirt paired with chinos or dress pants.
The result is a smart-casual outfit that wouldn't look out of place in an upscale restaurant or a sophisticated social gathering.
Hooded Cardigans
Hooded cardigans combine style, comfort, and practicality.
These cardigans feature an attached hood, adding warmth and contemporary street-style touch to traditional designs.
Ideal for casual outfits, they can be paired with a graphic tee, jeans, and sneakers for a relaxed look.
With a range of materials from lightweight cotton for warmer seasons to cozy wool for cold weather, hooded cardigans are a versatile addition to any wardrobe.
The Impact of Material on Cardigan Style and Comfort
As important as the cardigan type is the material it's made from. The fabric determines both the comfort and occasion appropriateness of the cardigan.
Cotton cardigans, for example, are lightweight and breathable, making them perfect for a summer cardigan. You may prefer cardigans made from heavier materials like wool or cashmere for colder months.
Merino wool cardigans are a personal favorite of mine for their incredible softness and warmth without the bulk often associated with wool garments.
It's a wonderful mid-layer during winter and a comfortable outer layer in the fall.
Additionally, cashmere cardigans, while a bit more of an investment, provide unparalleled comfort and a touch of luxury.
Understanding the Cardigan Fit
In the world of cardigans, nailing the perfect fit is key.
While each cardigan type can have different fit characteristics, there are a few key areas you'll want to pay attention to.
The shoulder seams of the cardigan should ideally line up with the ends of your shoulders.
The cardigan may be too small if the seam is closer to your neck. If it falls down your arm, the cardigan might be too large.
The body of the cardigan should provide enough room to be comfortable without appearing baggy or oversized.
Most cardigans are fitted to follow the lines of your torso without being tight.
The length of a cardigan can vary significantly depending on the type.
Traditional cardigans typically fall at the hip, while longline cardigans can reach down to the mid-thigh or even the ankle.
The sleeves should allow for a full range of motion but not be so loose that they appear baggy. The cuff should land just past your wrist bone.
Finally, if the buttons are straining or gaping when buttoned, you've got a sizing issue.
But when worn open, your cardigan should cascade effortlessly down your frame. Now that's cardigan charisma!
Author: Alexander Stoicoff
Hi, I'm Alex, and I've studied and specialized in styling in Rome. Through my writing, I want to help men dress well and learn the purpose and significance of suits and other formal attire. My final goal is to make men more confident in their wardrobe choice and life in general.