Societal norms typically dictate what type of clothing is appropriate for each occasion. However, sometimes, those norms can get blurred or confused. In these cases, people institute a dress code.
A dress code is a set of rules and specific expectations on how to dress, depending on the occasion. It gives you a clue about the perception and the circumstances of the event you're planning to attend.
Think about the many parts of your life. There are school, work, social events, and familial responsibilities. Do you wear the same thing for each area of your life? No, likely not.
These "rules" can be beneficial so that you don't attract unwanted attention for not fitting in. They also help you dress with confidence and to look good.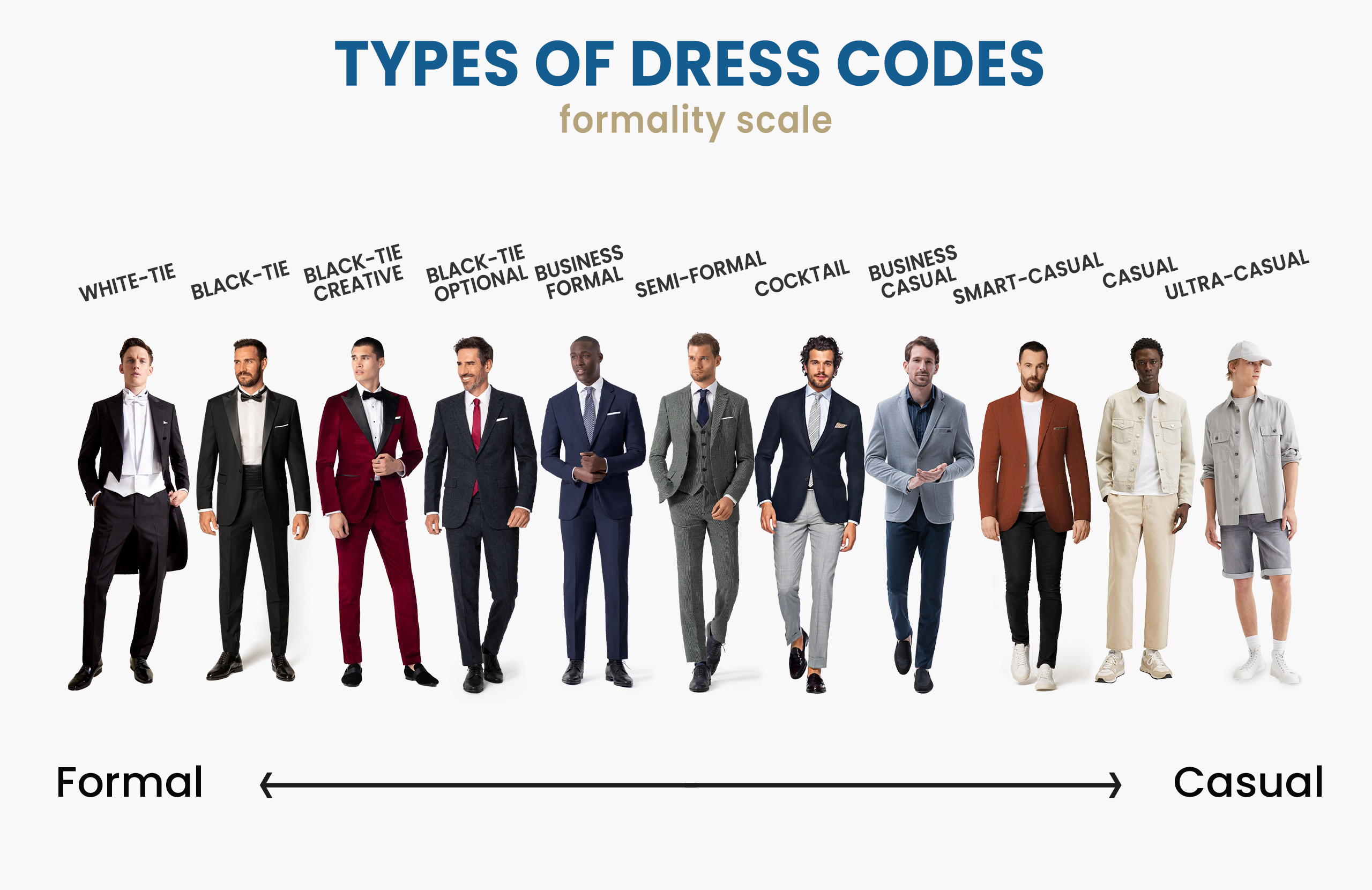 Dress codes do not have to be intimidating. There isn't much mystery to it; you simply need to know how to identify the occasion and translate the dress code.
White Tie Dress Code
A white-tie event is the most formal wear of all dress codes one could ever be invited to.
Sometimes called "full dress", white-tie dress codes were not rare before World War II. However, they are pretty uncommon today.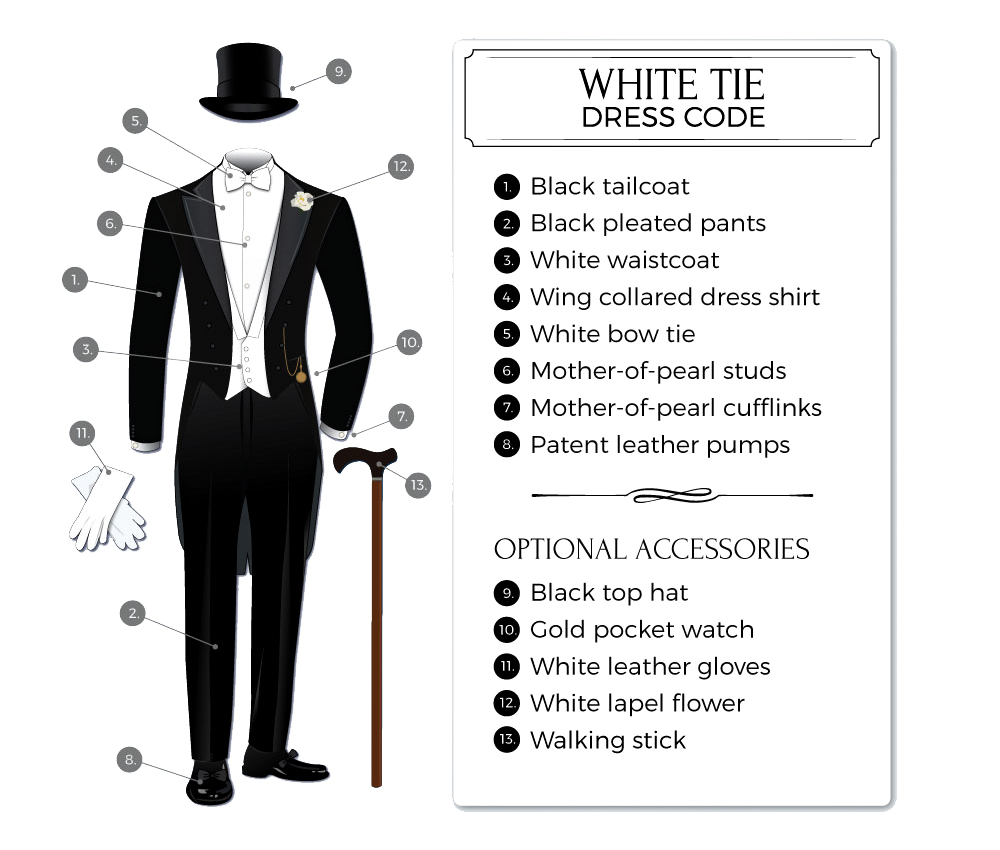 White-tie dress codes are rigorous. They're extremely fancy events and are quite elegant. So it leaves little room, if any, for leeway.
Everything about the suit must be a certain way. The white bow tie is mandatory as well.
The only room for some personalization, however, is in the choice of cufflinks, boutonniere, or pocket square.
Jacket
The tailored black jacket will have silk facings with peak lapels. The jacket has a tailcoat, with the tails hitting at the back of the knee.
It is double-breasted, with 4-6 buttons. The sleeves should fall slightly short so that they reveal some cuff.
Trousers
These are also black, high-waisted, and usually worn with suspenders. One or two satin stripes run along the outside seam of the leg.
Shirt
The suit is worn with a plain white dress shirt with a wing collar, preferably detachable.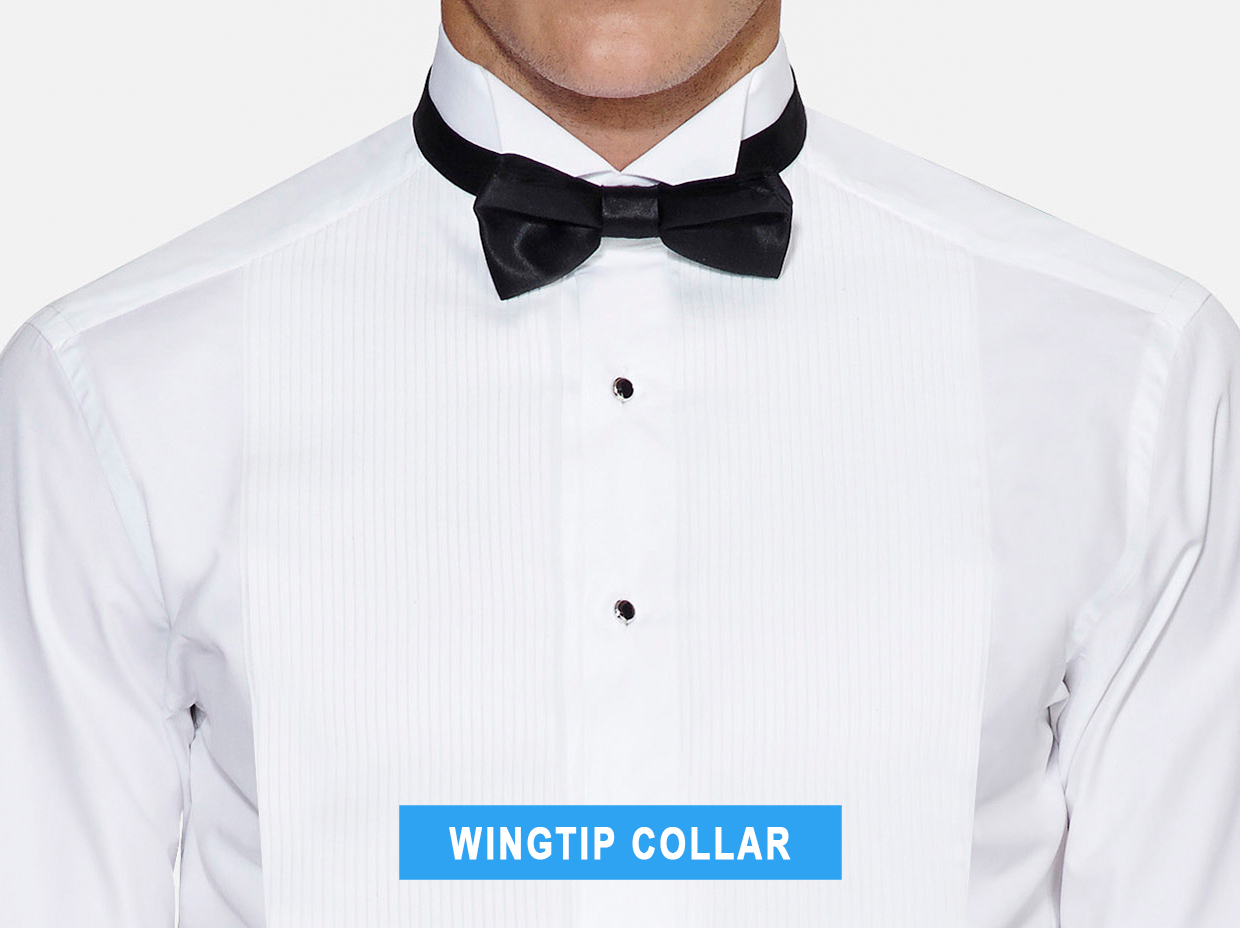 The shirt has single cuffs and a tab in front to attach the shirt to the pants. It prevents billowing of the shirt, which would ruin the sleek and elegant look.
Waistcoat
The white waistcoat has three or four buttons in front and is low-cut. The fit of the waistcoat is also precise. It must cover the trouser waistband but not go beyond the front hem of the tailcoat.
Bow Tie
As the name "white-tie dress code" indicates, wearing a white bow tie is a must. And do not get anything other than a self-tie. Anything else looks cheap and tacky.
Dress Shoes
As the most formal dress code, white-tie events demand the most formal of footwear. In particular, black and patent leather Oxfords with a small heel are ideal to complete the outfit.
Accessories
You will often see personal touches in a white-tie dress code through the accessories. For example, a white scarf, white gloves, a white pocket square, or a black top hat are all acceptable.
White Tie Dress Code Occasions
Opera
Gala
State dinner
Royal ceremony
Debutante ball
Black-Tie Dress Code
A black-tie event is almost as strict and formal as a white-tie event and is still very elegant.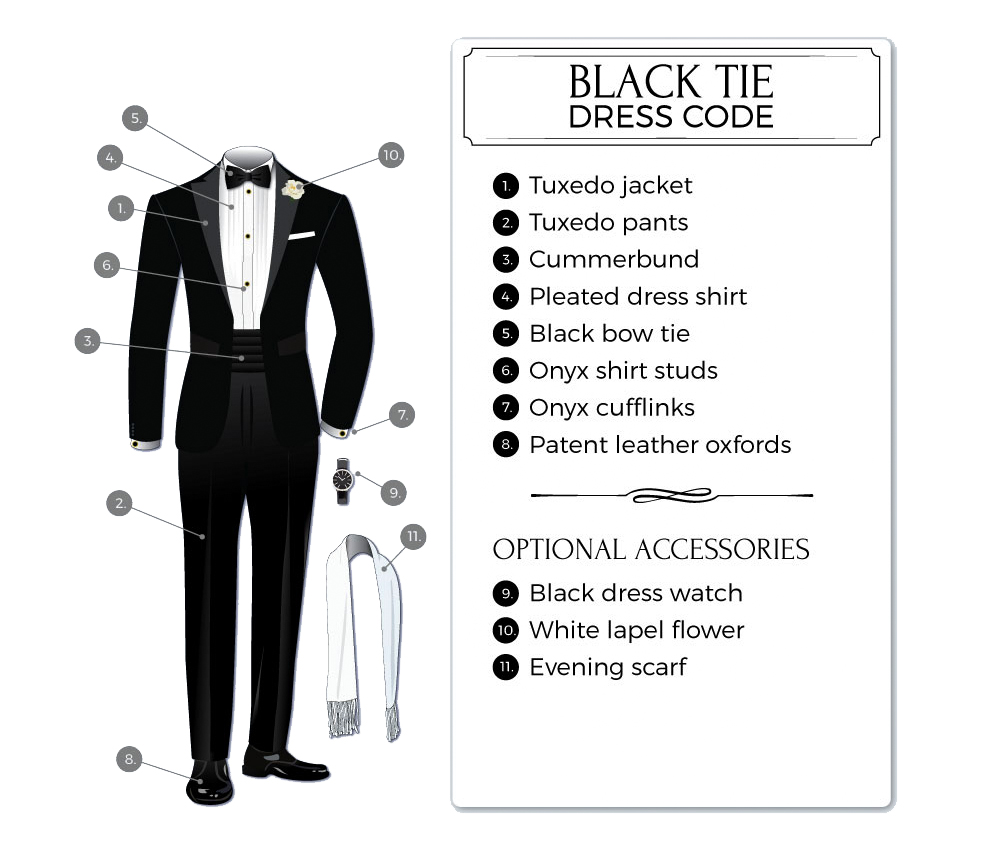 The black-tie attire is only worn in the evening. Often called either a dinner suit, dinner jacket, or tuxedo, this is the most common type of formal wear today.
Jacket
A tuxedo jacket is the epitome of black-tie attire. It is single or double-breasted with either a peak lapel or shawl, never notched. The lapel is preferably silk.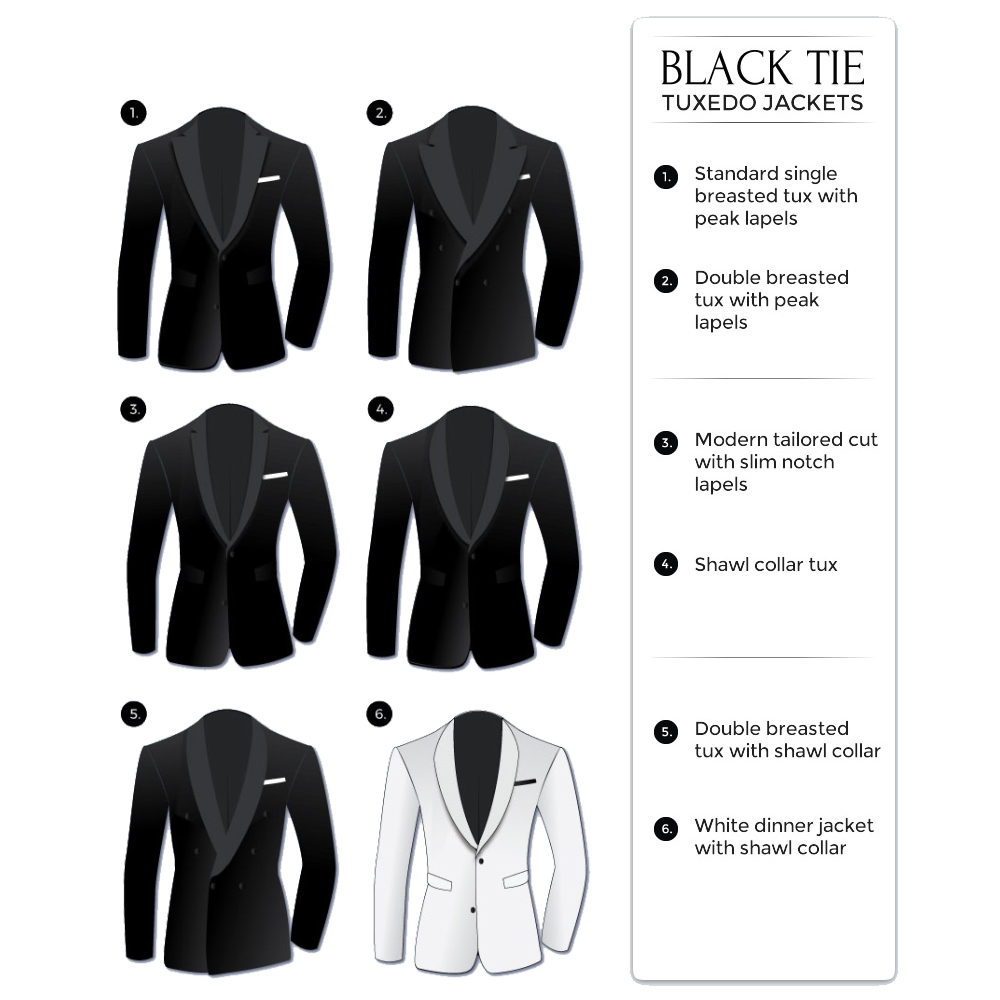 In almost all cases, the jacked is black, though occasionally you will find navy ones. In warm temperatures, a white suit jacket is acceptable.
The jacket can have vents at the side, if at all, though never in the back. The pockets are recessed without pocket flaps, best known as jetted pockets.
Tuxedo Pants
Tuxedo trousers have no cuff. Instead, there is a single stripe of either silk or satin on the outseam.
Tuxedo pants are unique because they do not have belt loops; rather, they have adjustable side tabs.
Shirt
Tuxedo shirts are also white with a wing collar. However, unlike a tuxedo shirt for a white-tie dress code, a black-tie code utilizes a French cuff.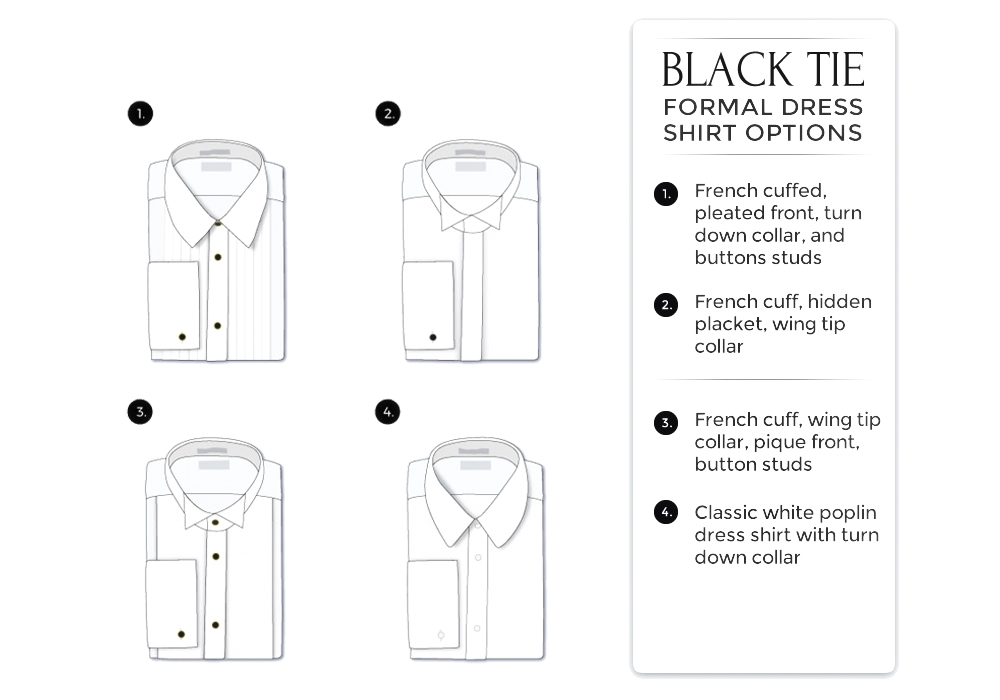 Waistcoat or Cummerbund
Either of these is acceptable with a tuxedo, but never both. The waistcoat can be single-breasted or double-breasted and works best with a peak lapel jacket.
A black pleated cummerbund is a good option, too, if you decide not to wear a waistcoat. It is worn around the waist with pleats facing up.
Bow Tie
Bow ties are the standard clothing attire piece for these formal dress codes. It must be black, obviously, hence the name black-tie dress code.
The bow-tie material should match the jacket facings, but nowadays, it's not that big of a thing.
The traditional code for black-tie events suggests that the black bow tie must be self-tied. Opt in for the standard style and match the texture with the suit jacket for a more conventional look.
For a trendier look, on the other hand, choose oversized or jumbo bow ties.
Dress Shoes
You're not supposed to wear your everyday shoes to a black-tie event. It is one of the most formal events, after all.
Black patent leather Oxford dress shoes will be the preferred choice. Calfskin pumps or laced Derby's are suitable, too.
Accessories
Black-tie dress codes offer fewer opportunities to accessorize than white-tie events.
For example, scarves and top hats are not typical with black-tie. However, suspenders and a white pocket square are welcome.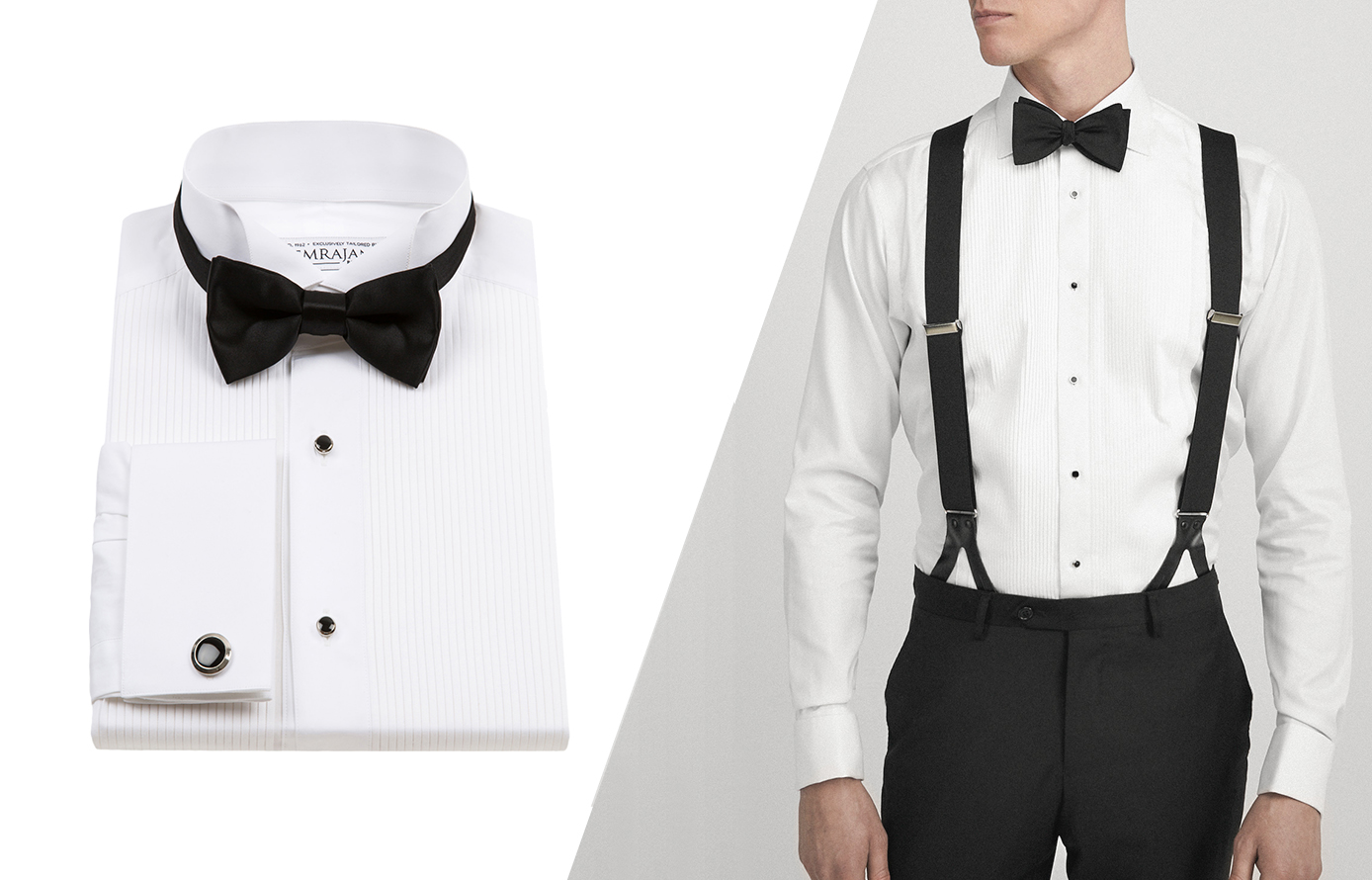 A boutonniere may be appropriate, depending upon the occasion. One should never wear a watch when dressing formally.
Black-Tie Dress Code Occasions
Evening weddings
Award ceremony
Private dinners
Fundraisers
Gala
Opera
Black-Tie Optional Dress Code
No other dress code can be as maddening as this instruction. It can strike fear into men, making them wonder, "If not black tie, then what?"
It does not need to be a mystery. Quite simply, it means that the dress code can be slightly less formal than a full tuxedo.
That's all there is to it. Everything else remains the same. So consider it the less formal version of black-tie.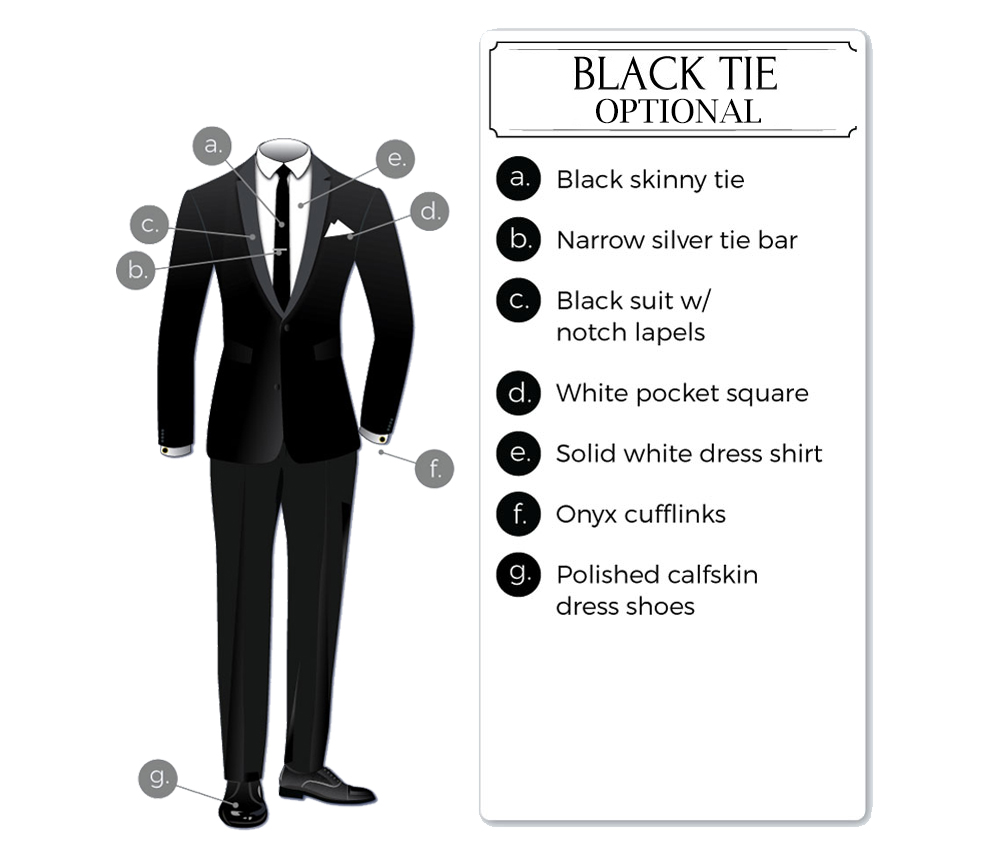 Not everybody owns or has access to a tuxedo. So, making an event black-tie optional is a good way to be more inclusive to your guests. Besides, it shows flexibility.
If you are invited to a gathering with a black-tie optional dress code and have access to a full tuxedo, you should go ahead and wear it. However, if you do not, here are the guidelines.
Suit
It is acceptable not to wear a tuxedo, although it is still recommended. However, a polished black suit with notch lapels is a suitable alternative.
Navy or midnight blue tuxedos are also an acceptable replacement for the black in this less formal setting.
Shirt
A white dress shirt is still the only way to go, even with more relaxed rules like these. French cuffs are preferred, though barrel cuffs are acceptable.
Tie
A tie is still a must with this dress code's settings. If you want to wear a skinnier black tie than the classic one, go for it. Either a black bow tie or a solid black necktie is fine.
Shoes
Choose black leather or patent leather. Be sure to wear dark socks that match the pants. These events are not the place to branch out with color!
Black-Tie Creative Dress Code
Black-tie creative is another dress code that can be difficult to decipher. It does pose a particular challenge, but it can also be fun!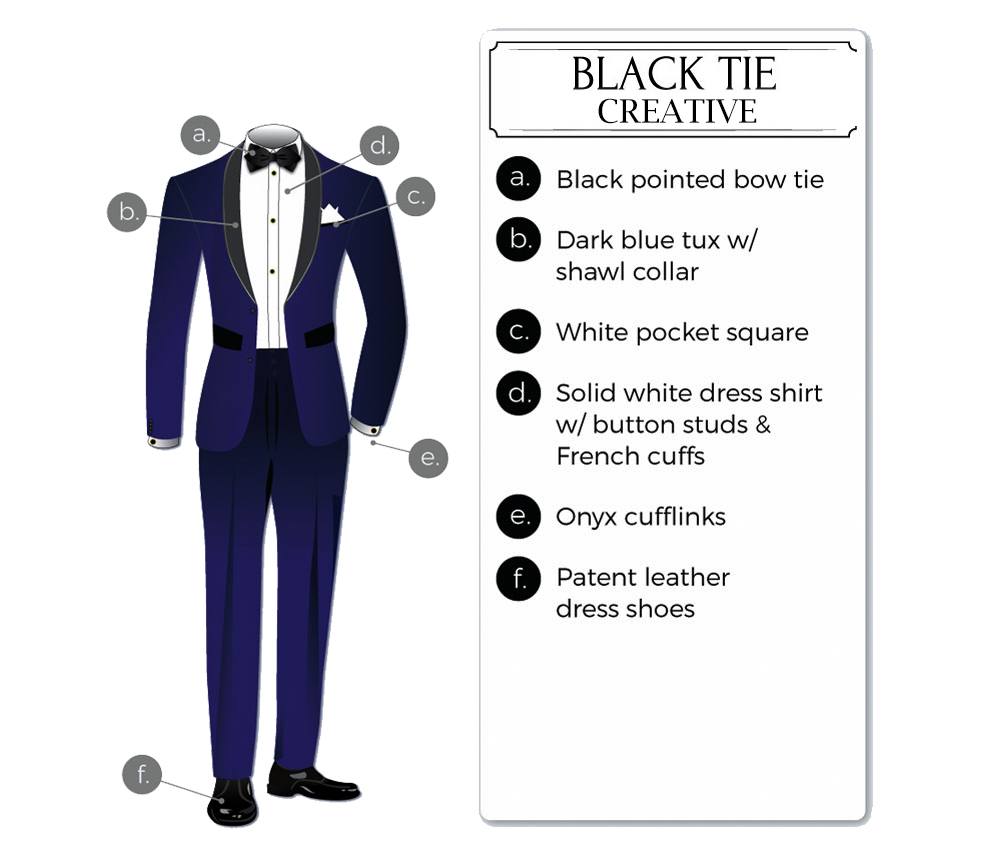 Creative black-tie dress codes are often utilized for events in the entertainment or other creative industries. They offer an opportunity to add color and flair to your look.
Keep in mind, though, that it is still a formal event.
So, if you see the words black-tie creative and break out into a cold sweat, relax. It is perfectly OK for you to wear a regular tuxedo or follow black-tie optional dress code rules.
While black is the standard, midnight blue and navy tuxedos are also a common choice. Maroon is worth considering as well.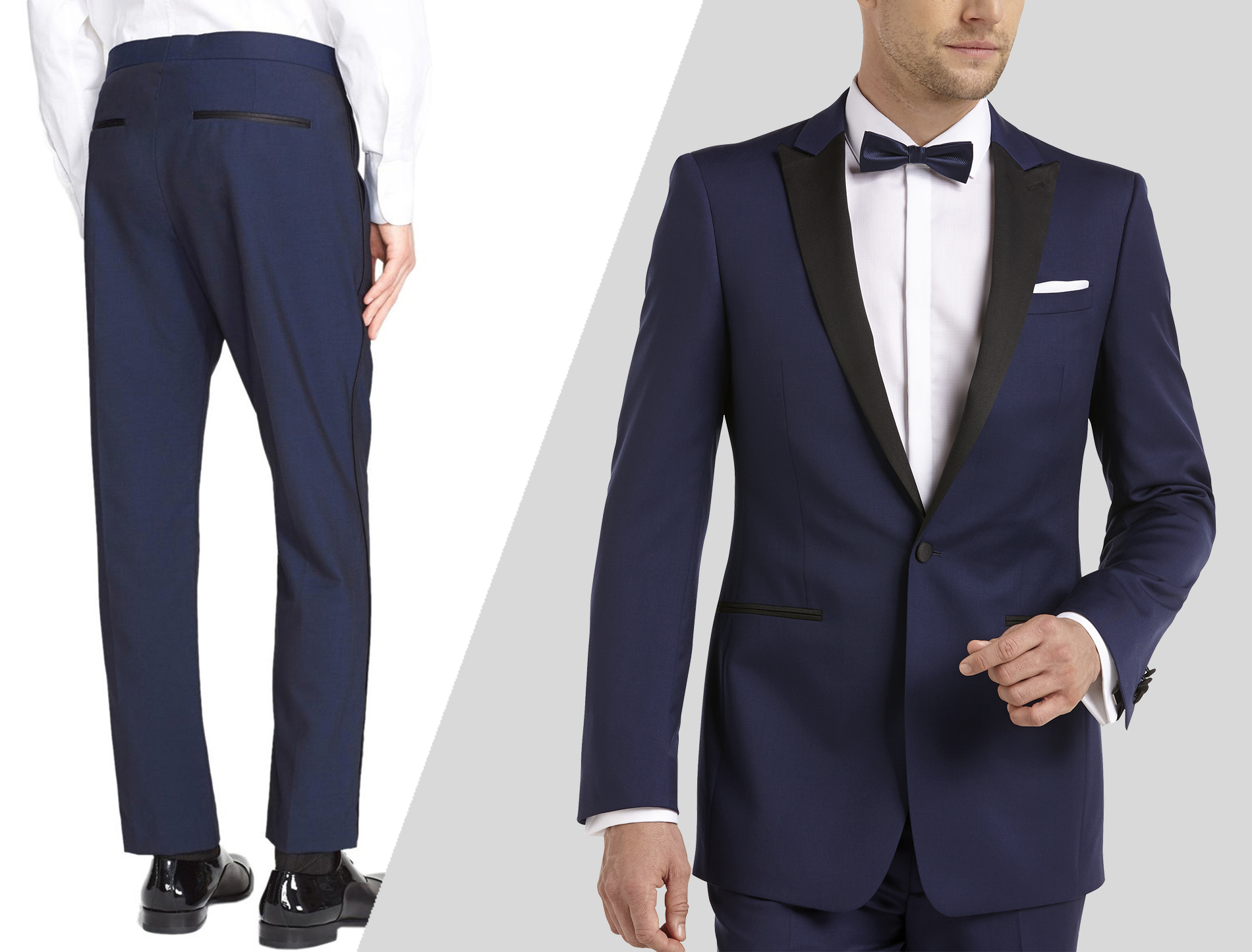 You can feel welcome to add color with your waistcoat or cummerbund. Just don't match your tie color to these pieces.
Some other things to be sure to stay away from are shocking colors on any article of clothing. Wrong shoes will also bring your outfit several notches down.
And informal details on your suit, such as pocket flaps, back vents, etc., are also frowned upon.
Business Formal Dress Code
Business formal is a very conservative way of dressing for work.
Many workplaces have dress codes or uniforms to reflect their business values.
It's a psychological effect to encourage you to do your best and a reminder that you are no longer on personal time.
The dark suit is the ultimate piece of wardrobe for business attire. And one of the best and most professional signals you can send with it is to know how to wear one.
Typically, you will find people who work in law, government, and finance adhering to business formal dress codes.
Suit
While there are more than a few types and styles of suits available, the first and foremost rule of a business suit is to make sure it's well-fitted, making you feel comfortable and confident in it.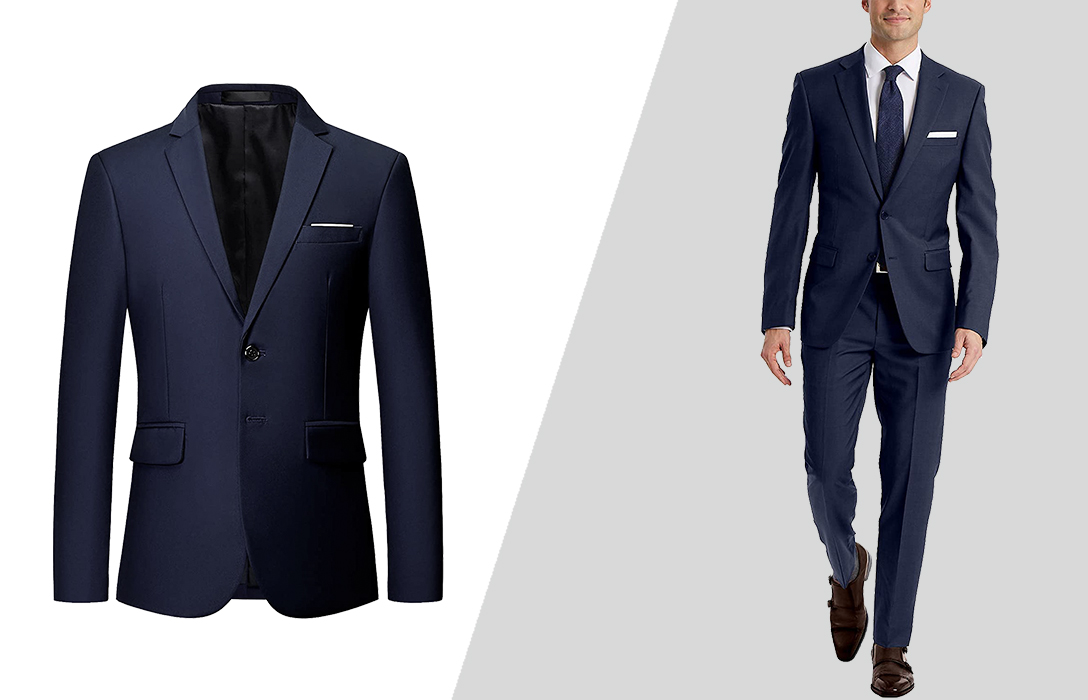 A dark grey or a two-piece navy suit is at the core of a business formal dress code. Thin pinstripes are subtle, just as a modern double-breasted suit is.
Shirt
A solid white or light blue dress shirt, with or without subtle stripes, completes the business suit. French cuffs or barrel cuffs are both OK with this look.
Tie
Only pair this look with a tie that has muted colors. Patterns are fine, so long as they are not too bold.
There are many possible tie color combinations with your suit and shirt that can enhance your look significantly.
Shoes
Black Oxfords or Derbys are still the most appropriate dress shoe style choice. That's because they are on the formal end of the shoe formality spectrum.
Dark leather dress shoes are also appropriate for business-formal dress codes. Just keep in mind that shoe color depends on the color of your suit, so choose wisely.
Business Formal Dress Code Occasions
Business meetings
Business-related events
Work environments
Business dinner
Conference
Interview
Funeral
Semi-Formal Dress Code
The semi-formal dress code can fall into two categories: daytime and evening semi-formal events.
This look rests at the same level as the business formal and below other formal dress codes. The reason for that is the semi-formal offers more flexibility than the formal attire.
Although very similar to professional business attire, the formality spectrum can vary in both. Keep in mind that semi-formal can easily surpass the business-formal in many environments.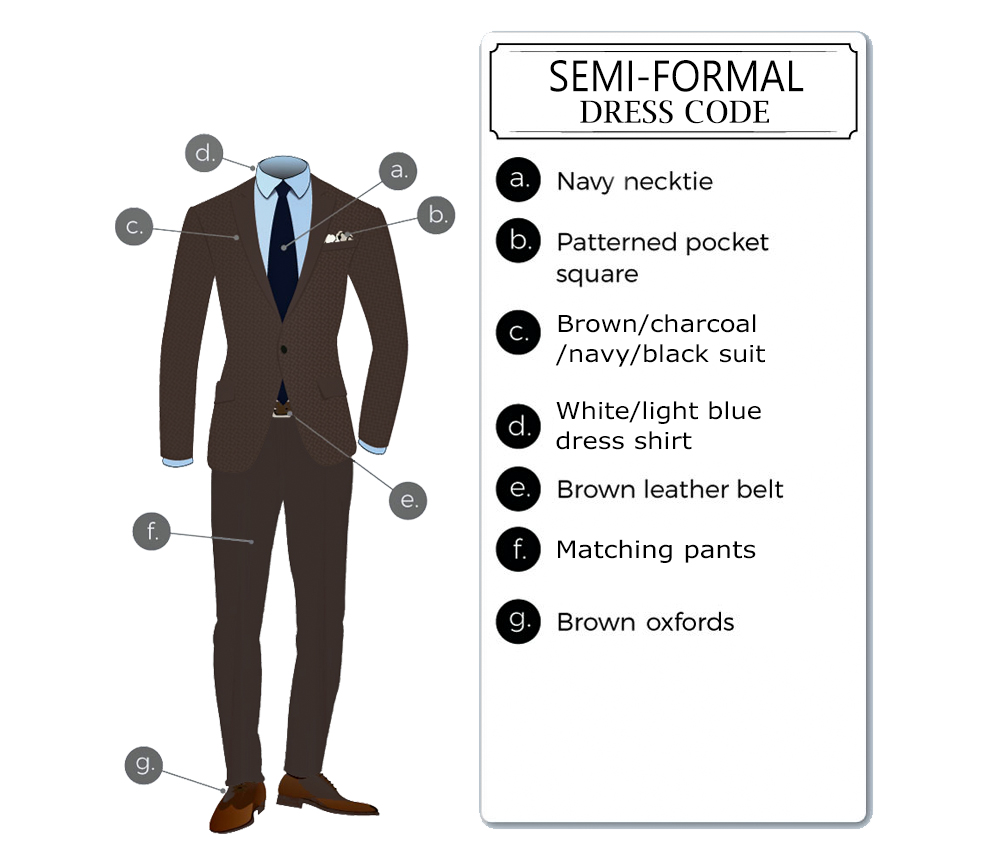 Although these events are slightly more relaxed, wearing a tie is strongly recommended. Black oxfords are the best dress shoe choice, but brown is also an option.
Also, if the event is more formal, choose a dark color suit, like charcoal grey, navy, or dark brown suit. Stay away from black, though, as that comes across as too formal.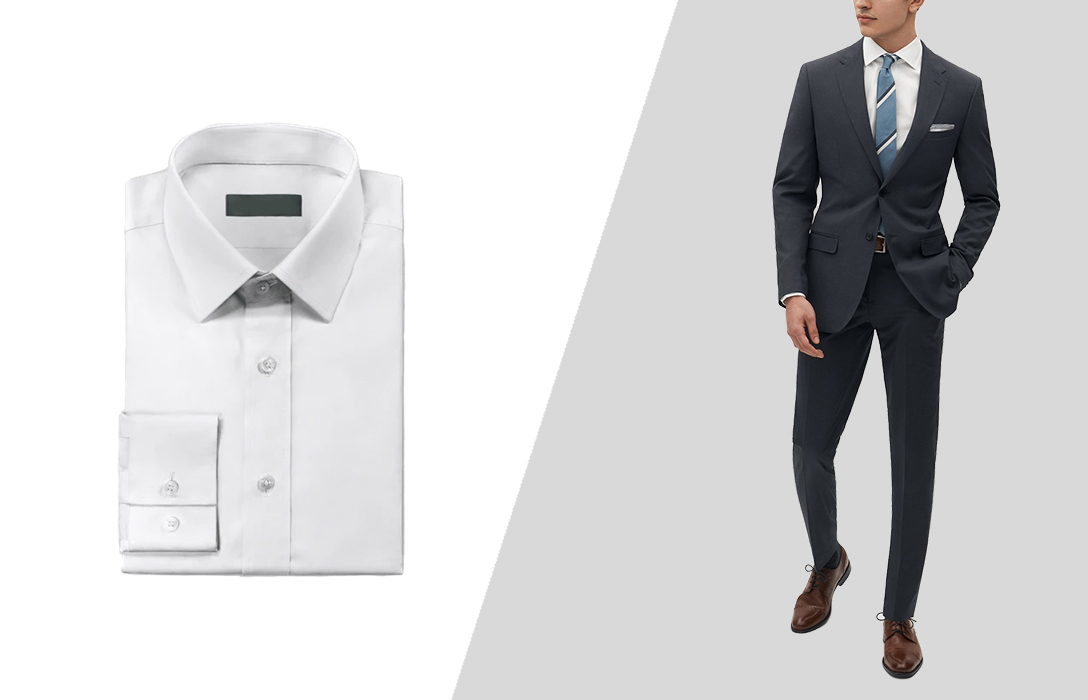 For a daytime event, you can wear a lighter suit, such as blue, cream, or tan. However, darker suits are totally acceptable daywear semi-formal dress code choices.
Colors and patterns are fine for the dress shirt, but be sure it isn't too wild. Extra bright colors or crazy patterns can end up looking garish. Therefore, you are not taking the event seriously.
Cocktail Attire
A cocktail attire dress code is a semi-formal attire for evening wear. Cocktail attire allows for plenty of personalities to shine through. It is a modern style mixed with a formal sensibility.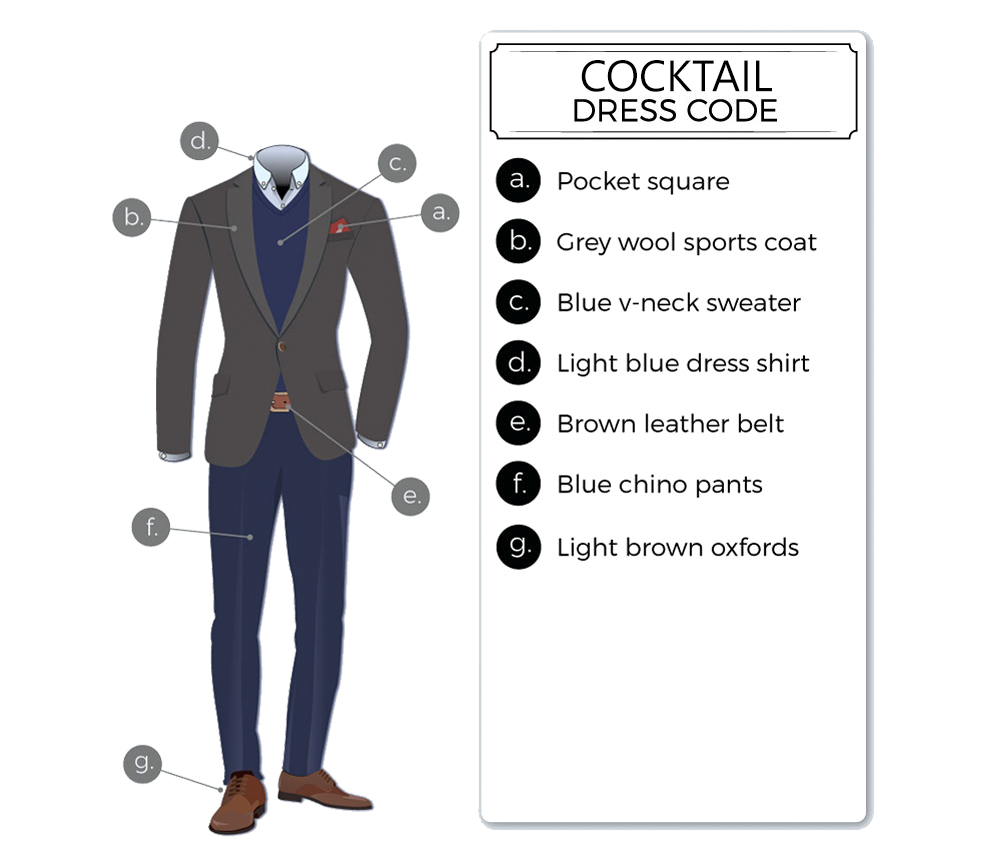 Contrary to the standard semi-formal attire, it is perfectly fine not to wear a tie. You can even leave a few buttons undone.
Again, cocktail attire is totally open to interpretation, but few do's, and don'ts define the dress code.
A suit is not required, but I would highly advise it. Tailored trousers and a polished blazer are appropriate; stick with neutral colors to be safe. Also, be sure these pieces are of high quality.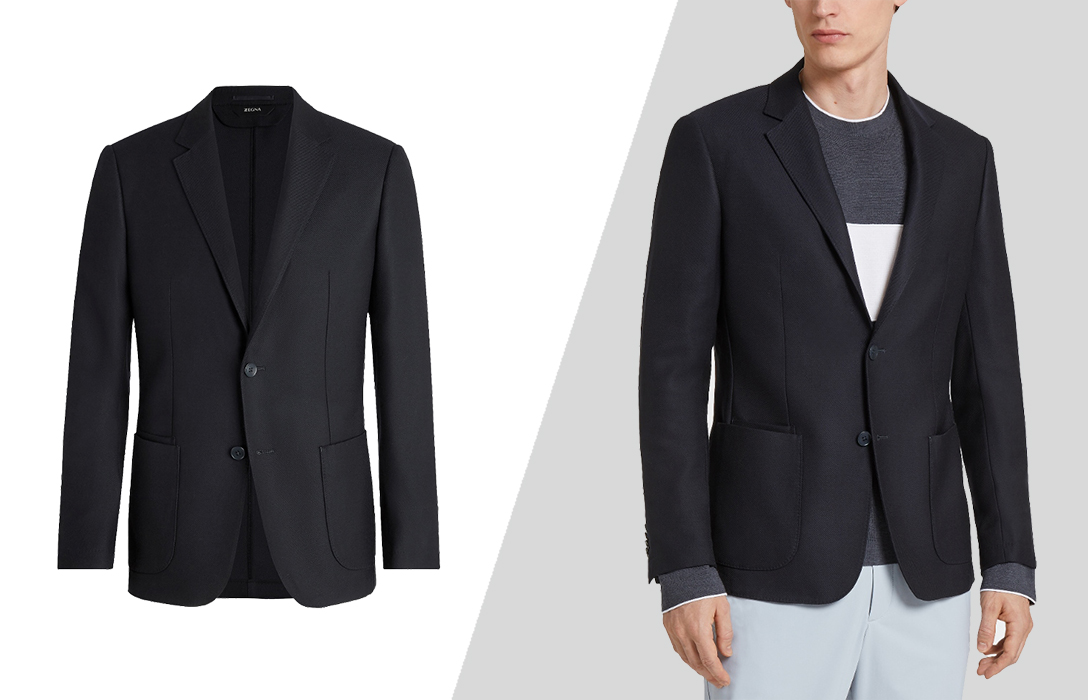 You can veer from leather shoes. Want to try suede or velvet shoes? Feel free! The only rule for the cocktail attire is to make sure they match your suit.
Cocktail attire dress code runs the risk of looking more casual, so accessorize wisely. A nice-looking pocket square or watch can complete this style.
Semi-Formal Dress Code Occasions
Afterwork
Parties
Weddings
Evening events
Interviews
Dates
Business Casual Dress Code
A relaxed office environment will usually include a business casual dress code. However, it's not a pass to look sloppy. In fact, employees must still look professional and follow specific rules.
Some businesses are not explicit in their expectations, or some events are considered business casual without explaining what they mean. Here are some helpful guidelines.
Blazer
Your business casual outfit should start with a nice jacket or a blazer. If you enjoy looking sharp, the best choice will be a single-breasted, navy notch lapel blazer.
Shirts
Business casual offers various shirt choices: favorite colors, unique patterns, and buttons versus no buttons are all in-game.
In addition, you can add a sweater, such as a V-neck or a cardigan. Even a polo shirt with a suit can mix things up.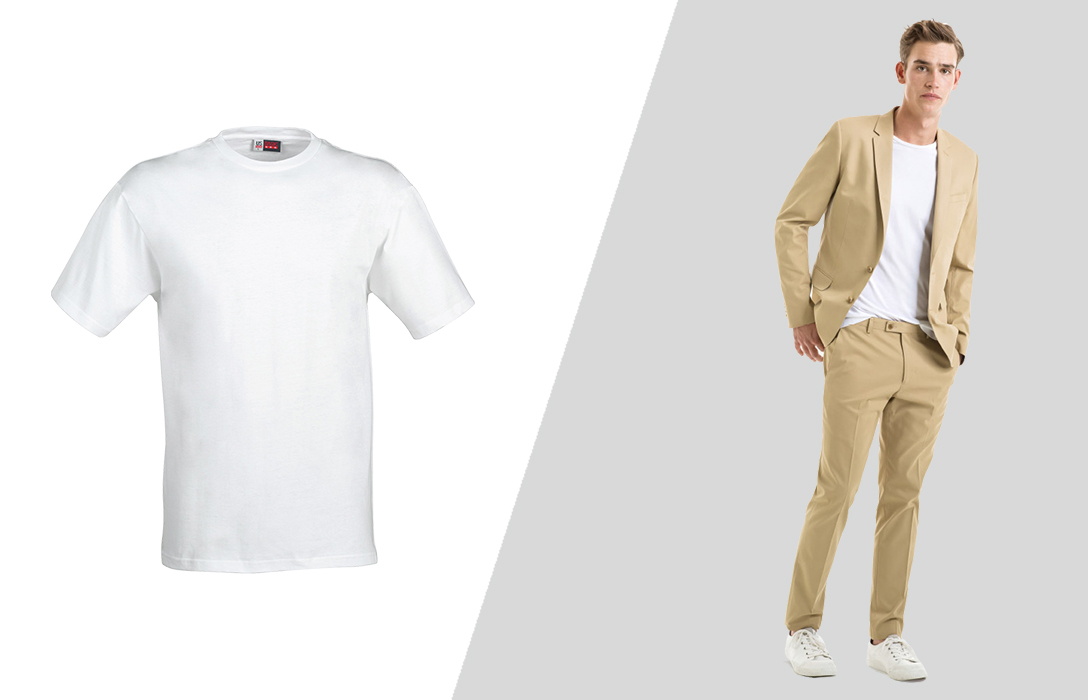 Do stay away from a white dress shirt because they equate with formal. The white background on a patterned shirt is good, though! French cuffs are also too fancy for business casual.
Pants
Dress slacks and casual trousers are both often seen in most business-casual dress codes.
However, depending on how relaxed the office is, sometimes a very nice pair of jeans can also be allowed.
Shoes
Loafers, brogues, or even chukka boots look nice with business casual. Just please stay away from tennis shoes and sneakers.
Tie
There should be no tie. But you can surely wear one if you immensely want to.
Business Casual Dress Code Occasions
Work environments (service industry, startups, etc.)
Interview (if it fits the company's culture)
Conference (if it meets the company's culture)
Work-related events
Meetings
Smart Casual Dress Code
Smart casual is not the typical office look. It is casual but with some sophistication, relaxed but not messy.
One may see this as an upgraded casual that can be worn daily. There is no singular look or even established rules, only guidelines.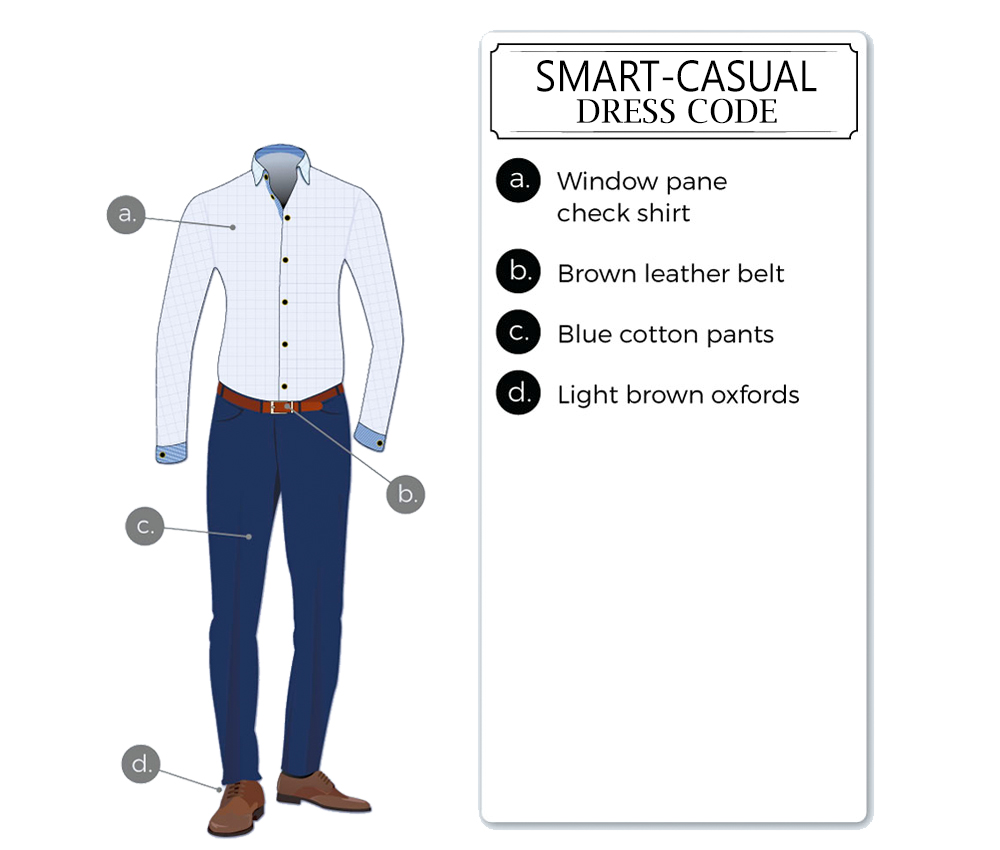 The best about smart casual is that it allows the use of multiple colors in one outfit. Also, you can combine pieces of attire that belong to different extreme ends of the clothing spectrum.
Blazer
Not a necessary item, but it adds a bit of flair to your style. Again, stick with a neutral color.
Shirt
Although not a necessary piece of smart-casual attire, a collared button-up shirt always looks well put together. But checkered shirts like gingham or plaid sort of define the look.
T-Shirt
T-shirts will tilt your smart casual look in favor of a more casual appearance but can look very nice when done properly.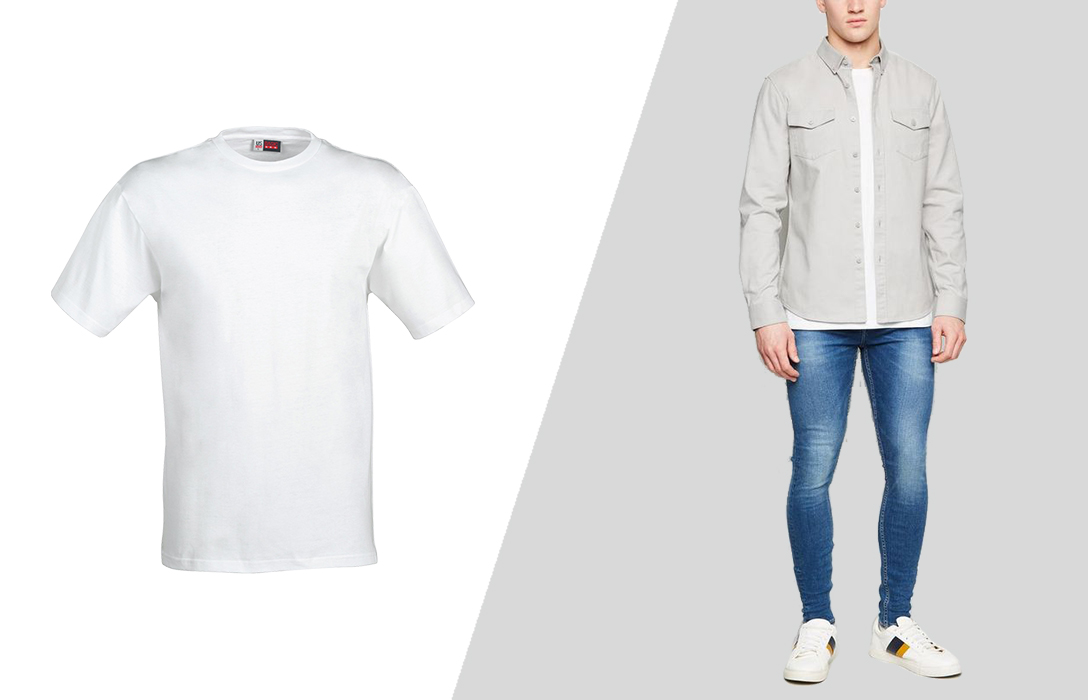 A well-fitting solid tee can be paired with dress pants or a jacket for a unique, stylish image.
Pants
Try nice dark jeans or chinos. Neutral pants colors like navy are perfect to finish the look. Go with chinos and perhaps khakis in colder weather. For the summer, go for linen pants.
Shoes
Leather shoes are nice for a more sophisticated outfit, while high-end sneakers can be fun as well.
Smart Casual Dress Code Occasions
Startup Companies
Tech Firms
Casual Friday
Family Event
Afternoon Social Engagement
Casual Office
Dates
Casual Dress Code
A very relaxed and comfortable setting will generally call for a casual dress code. It often includes jeans, a T-shirt, or a polo shirt, so long as they are well-fitting. The shoes can be canvas or boots.
All the pieces will probably mix and match easily, creating endless outfit combinations.
Ultra Casual Dress Code
Ultra-casual is the look you might wear when hanging out with friends. Frequent pieces in ultra-casual attire include a T-shirt, a sweater or a hoodie, jeans, or khaki shorts.
Comfort is the primary goal of ultra-casual. The only rules are that there should be no holes in the clothing, and some workplaces may not allow graphics on shirts.
Author: Alexander Stoicoff
Hi, I'm Alex, and I've studied and specialized in styling in Rome. Through my writing, I want to help men dress well and learn the purpose and significance of suits and other formal attire. My final goal is to make men more confident in their wardrobe choice and life in general.