The sharkskin suit is one of today's classiest and most flattering suits you can wear on the market.
The sharkskin brings your suit game to a whole new fashion level, leaving your day-to-day suit in the dust.
It's a subtle departure from your usual office suit, but it can completely turn your look around.
Every man should have at least one of these special suits in his collection.
What is a Sharkskin Suit
Right now, you may be imagining some lounge lizard from the 1980s, but the modern sharkskin suit is nothing close to those. Instead, today's sharkskin suits are formal businesswear.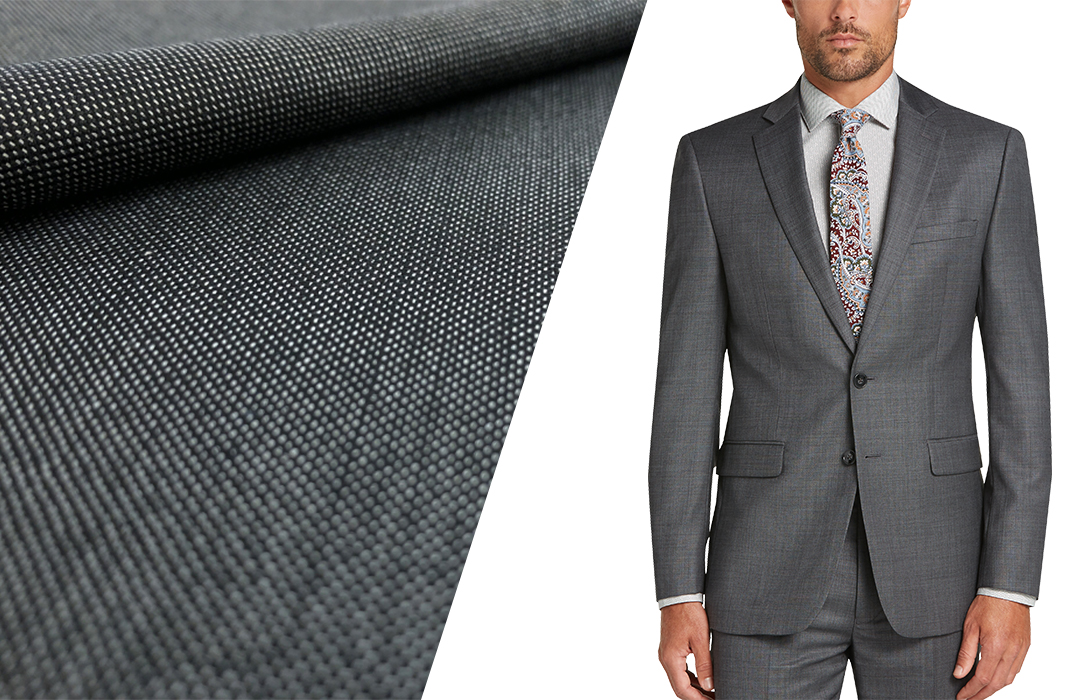 The suit is a smooth, worsted fabric formed by a pick-and-pick twill, similar to a basket weave.
This involves using two different color threads, white and usually grey or navy. When you view the fabric up close, it looks like the threads are forming zig-zags.
Sharkskin suits are made with lightweight materials, such as alpaca, mohair, or silk. They can also be constructed from synthetic fabrics, which are cheaper and tend to look it.
In addition, they have a high thread count, so they have a very soft texture.
Sharkskin Fabric Traits
Even though sharkskin suits are made from lighter fibers, they are suitable for most climates.
They make terrific spring and summer suits, but you won't freeze in them in winter.
Instead, you'll be warm enough when wearing the sharkskin's light winter jackets, thanks to the sharkskin fabric's tight weave.
Sharkskin suits are known for having a shiny appearance, which is how the suit derives its name. It is usually the color and texture of a shark!
The shininess occurs because of how the threads are woven together using two colors.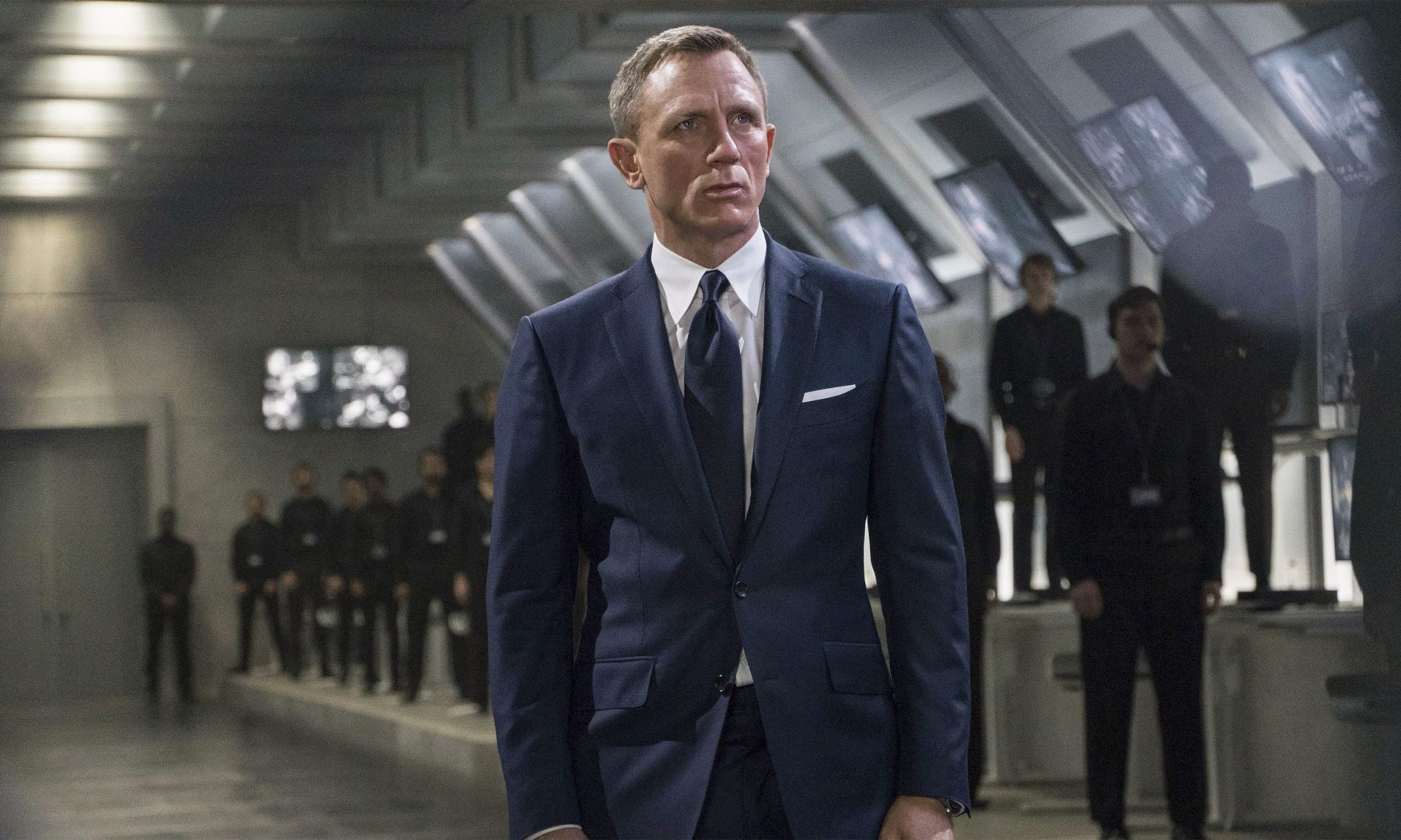 The fabric isn't quite a solid color. Instead, sharkskin suit material uses two threads woven on a diagonal, which creates a two-toned effect.
Yet, the material is neither striped nor plaid.
What are the Benefits of a Sharkskin Suit?
One reason sharkskin suits are popular, aside from looking stunning, is that they are highly breathable. Their material doesn't trap sweat, so you can feel fresh all day.
However, this only applies to sharkskin suits made from natural fibers. Synthetic fibers are notorious for making people feel hot and sweaty.
Sharkskin suits are also very durable. They are tightly woven, meaning the material can keep its shape and structure well.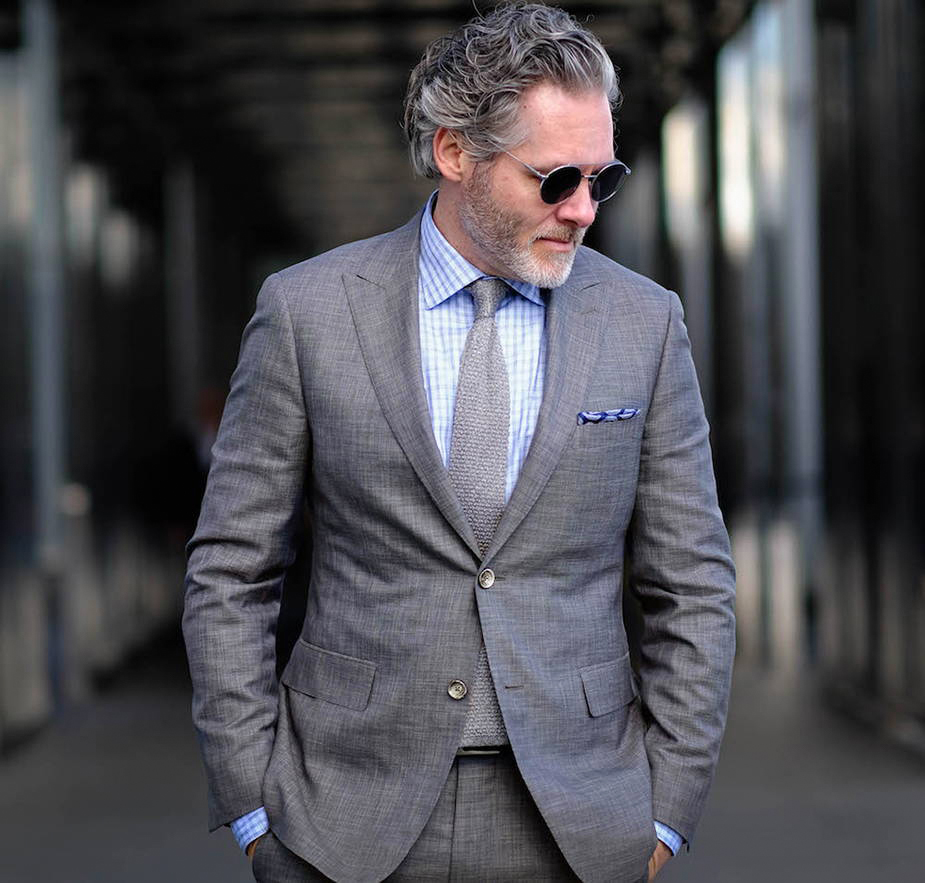 It also helps the fabric stay in shape longer; it won't wear down easily. These suits are built to last.
Perhaps the most significant benefit of a sharkskin suit is how darn stylish it looks.
How stylish? Let's just say that if they were good enough for the Rat Pack, they're good enough for you.
How to Wear a Men's Sharkskin Suit
Most men wear a sharkskin suit for their ultra-professional settings, but they are also superb for special occasions. These suits turn a lot of heads because they look so slick.
You don't need to style your sharkskin suit much differently than you would for a regular suit.
The main difference is that you should not wear a sharkskin suit for your day-to-day attire.
These suits stand out; they are much more noticeable than your standard wool suit.
Pick the Right Sharkskin Suit Color
The best colors for sharkskin suits are darker ones. Traditionally they were only grey, so it was simply a matter of which shade you should choose.
Lighter hues are better for warmer weather and dark for colder.
But, of course, sharkskin suits are always pretty formal, so the shade doesn't affect the suit's formality as it would with most other suits.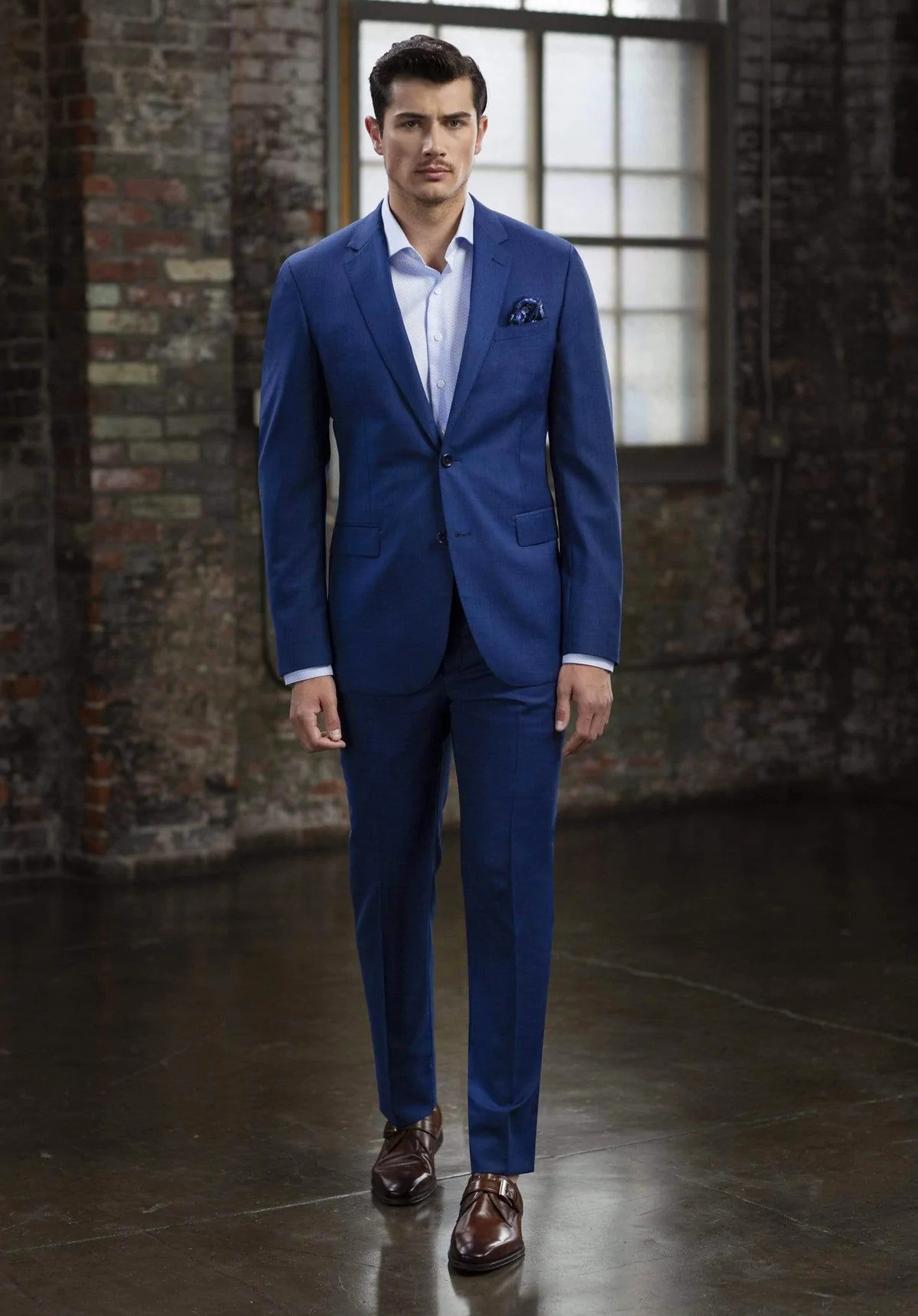 Another way to decide on the best sharkskin suit color is to base it on your skin tone.
For example, grey is flattering on all skin colors, but some shades work better with certain tones.
If you have dark coloring, lean toward a lighter grey, such as slate. If you are very fair, a charcoal grey is best.
Pair the Suit with a Dress Shirt
As you build the rest of your ensemble around your sharkskin suit, you need to rise to your suit's formality.
You must wear a dress shirt with your sharkskin suit. The best dress shirt to wear would be a fitted button-up.
Solid dress shirts are more formal than patterns, so keep your shirt plain.
White dress shirts are also the most traditional option; you can never go wrong with a crisp, pressed white button-up dress shirt.
Of course, you could wear a pale blue or pink dress shirt, but that will skew the formality slightly.
Shoes that Match the Formality
Don't slack when it comes to footwear for your sharkskin suit! Instead, stay dignified right down to your feet with a pair of dress shoes.
Play up your sharkskin suit's formality with black Oxford or derby shoes. These are the two most formal men's dress shoes.
Your dress shoe color has to match the suit's color. Of course, black is the dressiest, but other shoe colors like brown or burgundy can also look great.
You could also add a style twist by wearing monk strap shoes, which are slightly more informal.
If you want to make your sharkskin suit a little more casual without ruining the look, dress it down with a pair of dress boots.
Other Accessories
Be sure to add a leather belt that matches your dress shoes.
Your belt and shoes don't need to be exact matches, but they should be close enough that it's hard to notice the difference between your waist and your feet.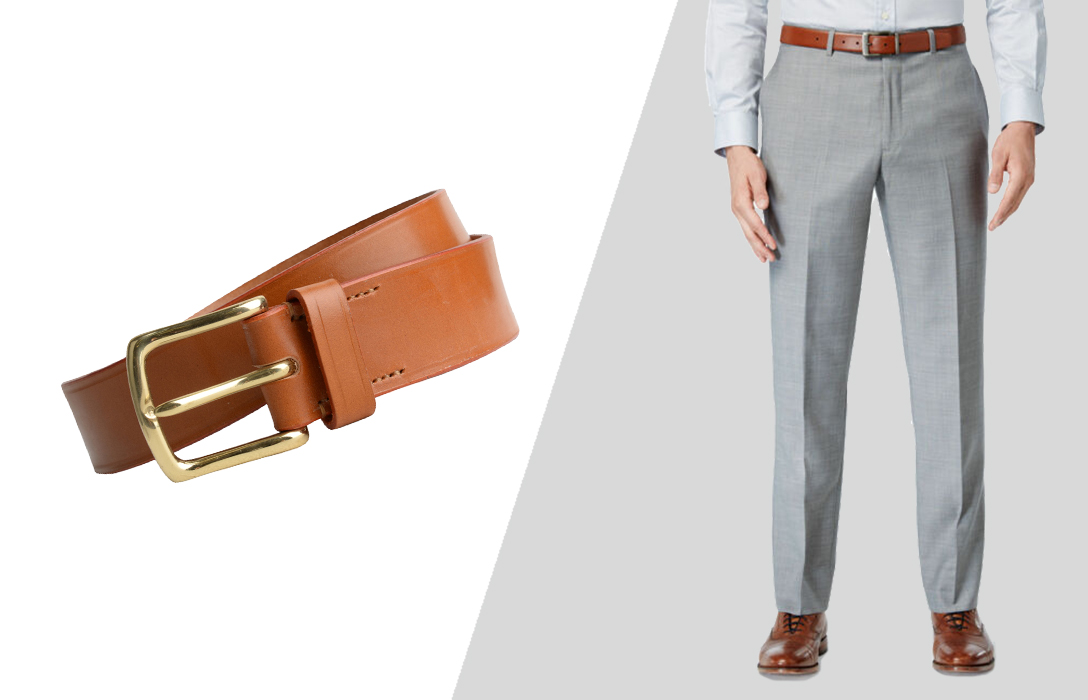 A pocket square in your breast pocket is a lovely addition that increases your suit jacket's elegance. It can also be a classy way to incorporate a dash of color.
If you don't have a men's dress watch, this is the perfect excuse to invest in one. Your sharkskin suit looks impeccable, so why not add a beautiful timepiece as a detail?
Best Men's Sharkskin Suit Colors
Special occasions often inspire us to want to look our best. After all, these significant events don't come around frequently.
So, when you have a wedding or other big night out, ditch your daily suit and put on a flashier yet sophisticated sharkskin suit.
Initially only available in grey, you can now find sharkskin suits in various colors.
So don't be afraid to branch out; maybe even get on in each color. You know, for good measure.
Grey Sharkskin Suit
Just because you could only find sharkskin suits in grey and now there are other colors doesn't mean you shouldn't get one in grey anymore.
In fact, I would argue that grey was the predominant sharkskin suit color for so long because it is the best color for this suit.
A grey suit is one of the most versatile garments you can own. It goes with just about every color and can be dressy or casual.
For example, a charcoal sharkskin suit with a crisp white button-up dress shirt and dark tie is perfect for your most professional situations.
However, if you're heading to a social event, you can loosen up with a lightly shaded dress shirt and a more colorful tie, such as blue.
Black or dark brown dress shoes are the perfect way to finish this ensemble.
Navy Sharkskin Suit
A navy suit is another impeccably professional suit color. It's a very tasteful color that is surprisingly flexible.
Navy isn't a neutral color, so you might expect it to be challenging to wear with other colors, but that's incorrect.
It's beautifully subdued with a white dress shirt. Almost every tie color works.
However, when you swap out the white button-up for a light blue dress shirt and a floral tie with small bursts of color, you might be surprised how the navy seems to come alive.
The slight shine to your sharkskin suit fabric helps to make the navy feel more festive.
Blue Sharkskin Suit
A blue suit is always head-turning, but a blue sharkskin suit is drop-dead gorgeous.
The sheen of the material makes the blue pop better than any dress shirt and tie combination could.
Of course, a white dress shirt looks incredible next to the blue suit jacket, making the blue look even brighter.
However, you can go for a softer look with a very pale pink dress shirt.
If you wear a blue suit to celebrate a festive event, such as a wedding, add a bright and cheery colored tie, like a paste.
Black dress shoes might seem too intense with this outfit, so dial it back with a pair of dark brown shoes instead.
Black Sharkskin Suit
A black suit is always the most formal a man can dress, so these may only be appropriate for your dressiest occasions.
The key thing to pay attention to with your black sharkskin suit is the sheen; the shine stands out easily against the super dark material.
Opt for a black sharkskin suit that is only slightly shiny. A gleaming appearance makes the suit look cheap.
Of course, if you are headed to a formal event, you must wear a white dress shirt, black tie, and black dress shoes with your suit.
But if it isn't a formal dress code, take some of the edge off your suit's formality with a light grey, blue, or pink tie.
Author: Alexander Stoicoff
Hi, I'm Alex, and I've studied and specialized in styling in Rome. Through my writing, I want to help men dress well and learn the purpose and significance of suits and other formal attire. My final goal is to make men more confident in their wardrobe choice and life in general.