A solid suit is appropriate for nearly any situation, but sometimes that begins to feel too routine. When that happens, it's time to try out a checked suit.
This style has been around for ages and is currently having a renaissance. You can say a million things through the design of the checked suit you choose.
So why not break the mold of your solid suit rut and dive into the checkered life?
What is a Plaid Suit?
A plaid suit is a style of suit that features complex patterns known as plaids. But the word "plaid" may conjure up different images for each person.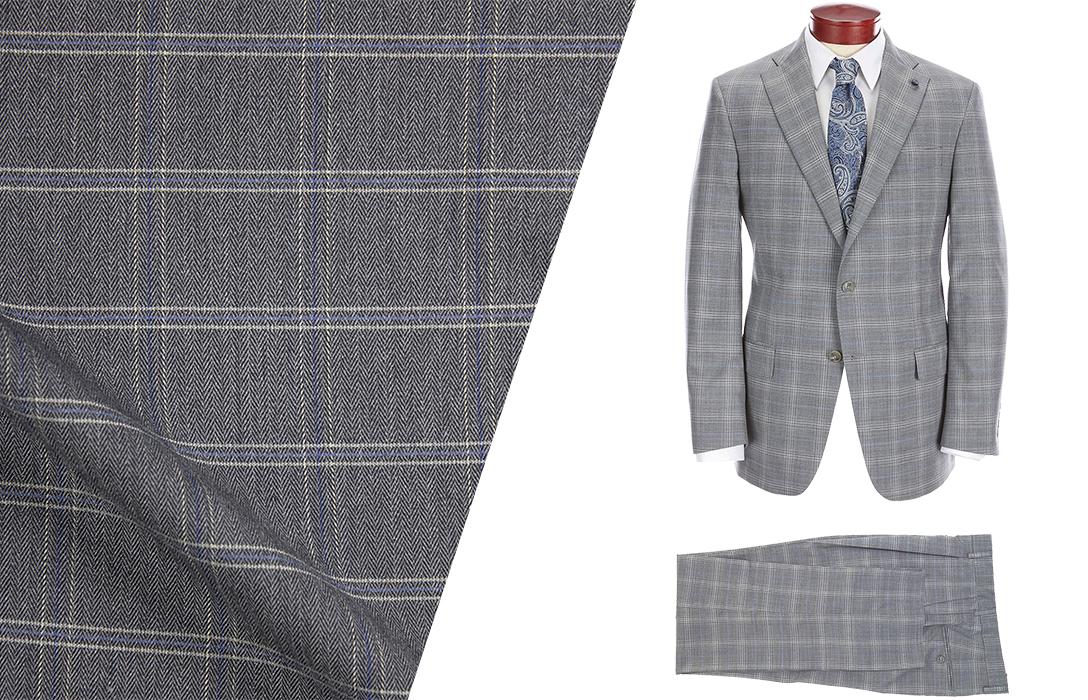 Some may think of Scottish kilts, while others see golf pants or lumberjack flannel. However, plaid isn't only confined to one specific design. It has many different looks.
Each plaid print can look remarkably different from the other.
The primary qualification for a pattern to be considered plaid is that it involves a mixture of horizontal and vertical lines, creating checks.
Other than that, there's a lot of leeway for how to design the plaid. Each can have different print sizes, a different layout, and anywhere from two or more colors.
Different Types of Checked Suits
As I mentioned above, all sorts of different versions of prints fall under the plaid category. Thankfully, they are broken into descriptors to make identifying each one easier.
You can pinpoint the exact look you want when you know the varieties of checked suits. These styles will help you whether you wish to pick a suit that's subtle or bold, busy or simple.
Windowpane Suit
This style is a simple checkered suit with large, plain boxes. It's typically thin white or light vertical and horizontal lines against a dark, solid background.
Each box is even and perfectly symmetrical, all on the same scale. As a result, it can be a rather bold yet simple print.
Today, windowpane suits are probably the most common checked suits. But can you guess why it's called a "windowpane" suit?
Tartan Suit
This is where plaid originated, with tartan. It was woven as a symbol for Scottish clans and is incredibly and beautifully varied. Today, tartan is a widespread type of checked print.
One of the best features of tartan prints is that they have so many different facets to them. They can be complicated prints, full of color and many patterned lines, or they can be subdued and simple.
Glen Check Suit
Here's another checked suit print right out of Scotland, only this one is even more complicated than tartan.
Glen check suits, also called Prince of Whales check, are more than just a configuration of lines and stripes; it involves a checkered print set over a houndstooth print.
The checked print is usually very small and has tight lines. You'll generally find suits with this pattern in neutral tones; bold colors might feel too overwhelming with such a busy print.
Gingham Suit
Gingham prints are relatively straightforward. They are usually boxes of two alternating colors.
One shade is almost always white, and the other can be a darker tone or a pastel. The boxes are all the same size and usually on a smaller scale.
Gingham is most commonly associated with warm weather outfits because seersucker suits most famously tend to feature gingham checks. However, it can be appropriate in the right colors at any time of year.
Madras Suit
Madras prints are a more tropical version of checked suits. They're usually used on fabrics intended for warm weather, like cotton.
Madras hails from India. While it's similar in many ways to tartan, it involves many bright and cheery colors. Madras checks are very busy and sometimes almost chaotic; they resemble a patchwork of colored pieces.
How to Wear a Checkered Suit
A checked suit is more complicated to style than a solid one. You have fewer color and print options for your dress shirt and tie because multiple colors are already involved in the suit's print.
Checkered suits aren't as formal as solid suits. However, you can influence the formality slightly with how you style them.
Start with a Solid Shirt
A solid dress shirt is the easiest way to ease into wearing a checked suit. It will melt into the background as your checked suit takes centerstage.
It's easier to style your suit when you don't have competition for differing patterns.
White is your best solid dress shirt color; it's the most formal option you have and never clashes with a checked suit. A crisp white dress shirt is the power hitter of your wardrobe.
Besides white, light blue or pink shirts are popular and widespread choices that match great with checks.
Pair it with a Solid Tie
Opting for a solid tie is similar to why you should pick a solid dress shirt. It is much less hassle to match than another print, and you won't risk having people go cross-eyed when they look at you.
In addition, a plain tie helps to subdue your suit. It makes a nice counterbalance to the busyness of your checked pattern.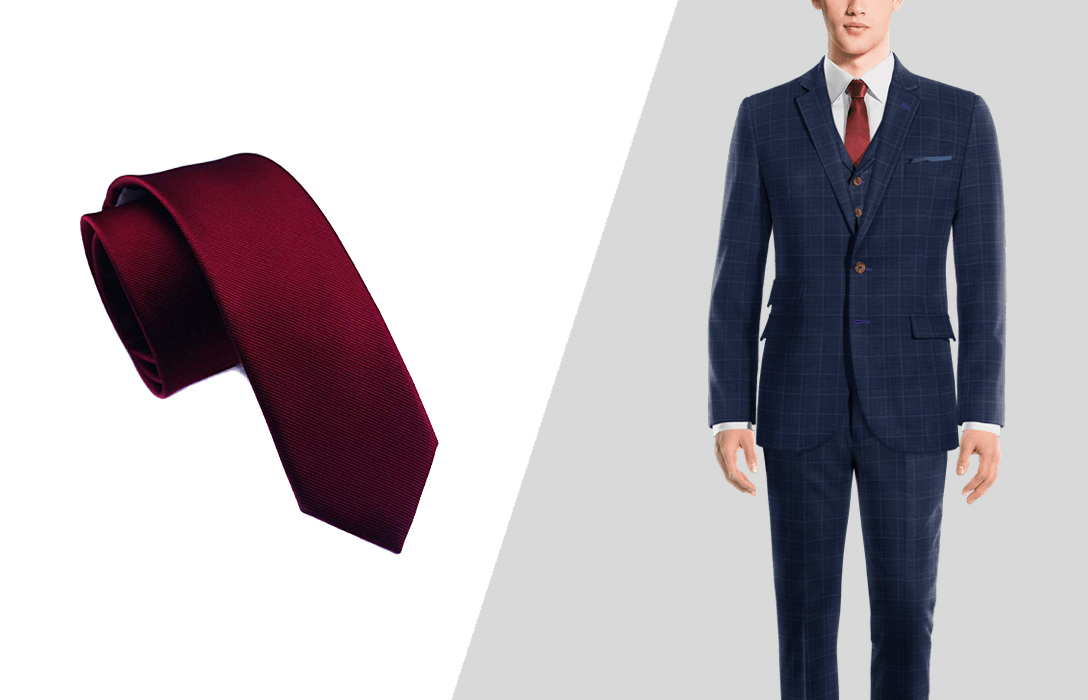 You can still make a fashion statement with the color of your tie. Pick a bold, contrasting color if you want your tie to truly stand out, or choose a complementary color to keep your color scheme flowing.
Mix Visually Distinct Patterns
When you decide that solid is boring, the next step in your fashion progression is to create a layered mix of patterns.
However, there are rules to mixing your prints, and you must proceed with a bit of caution. For example, the patterns must be obviously different from each other.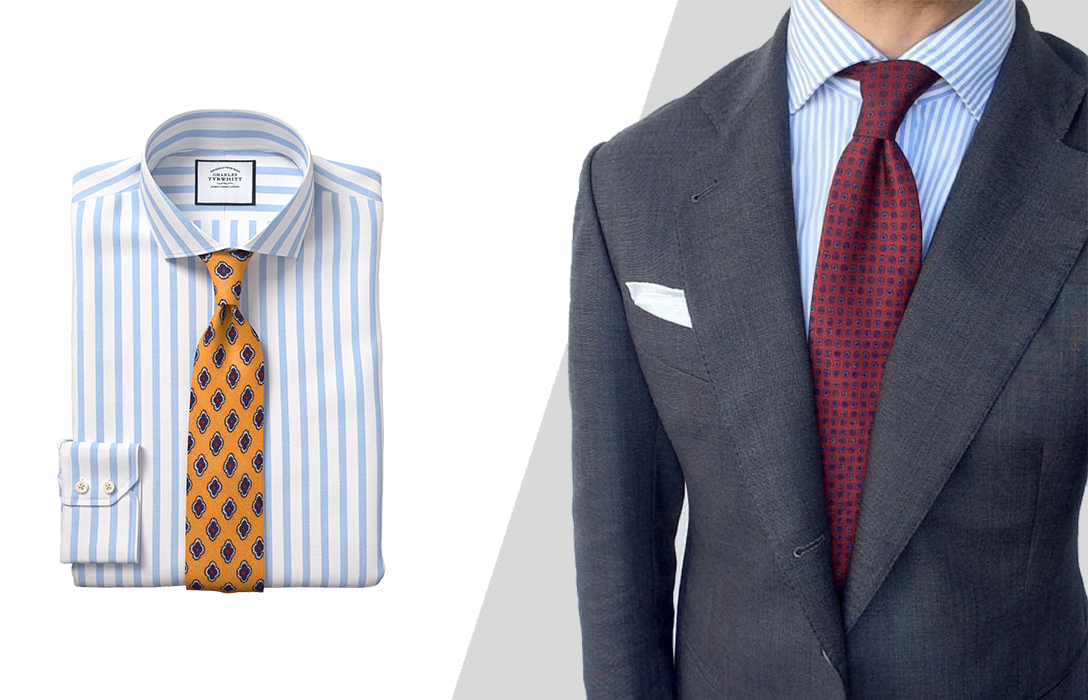 If you choose a patterned dress shirt, ensure that the print won't feel like an extension of your suit jacket. The colors also need to stand out from each other.
Striped shirts and windowpane suits are perfect for beginner print mixing.
Different plaids are also suitable, but the scale must be larger or smaller than the one on your suit to make it stand out.
Pick the Color Shoes Accordingly
Your shoes should always match your suit in color and formality; a checked suit is no different.
A more formal checkered suit has dark colors and small, precise patterns. If this describes your suit, you need a pair of men's dress shoes that are just as dressy.
Black is the most formal shoe color, but you can also wear dark brown leather shoes. Oxford or derby shoes are your ideal choice to keep your outfit formal.
Informal suits will have large prints and lighter colors. When this describes your suit, you have more choice in your dress shoes.
Depending on your suit color, you can decide between brown, burgundy, tan, or grey shoes.
You aren't obligated to stay with Oxfords or derby shoes, either. You can create different looks when you choose between double-monk straps, loafers, or brogues.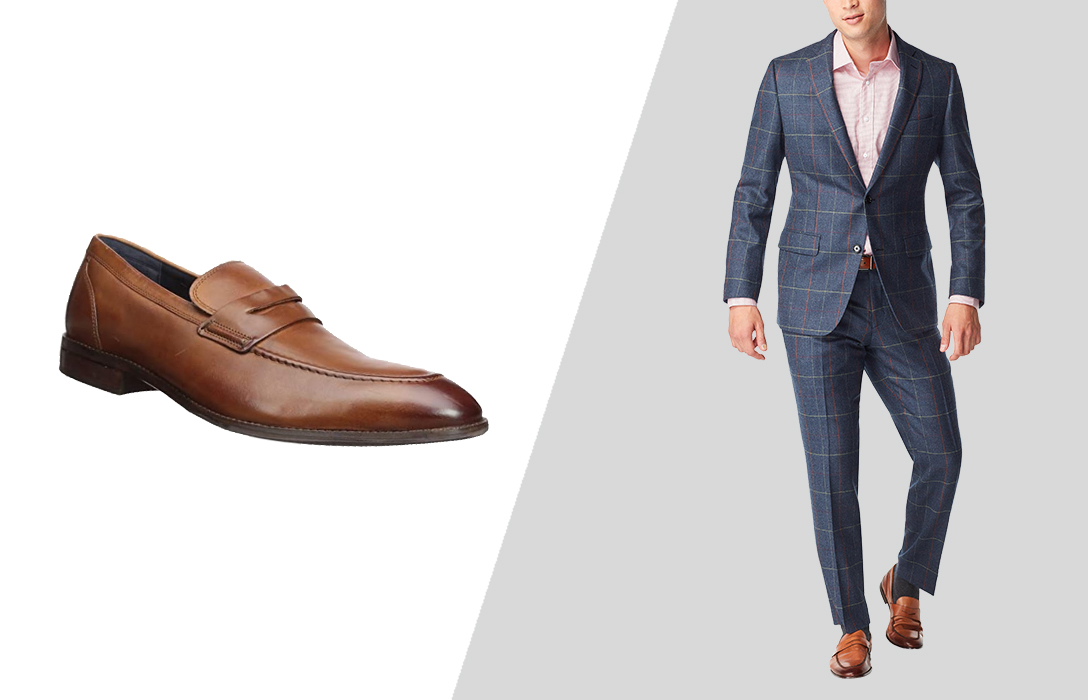 Additionally, you can even completely change up your suit with a pair of dress boots.
Match the Accessories with the Rest of the Attire
You don't have to learn new rules for wearing accessories with a checkered suit; match them just like you would with a solid suit.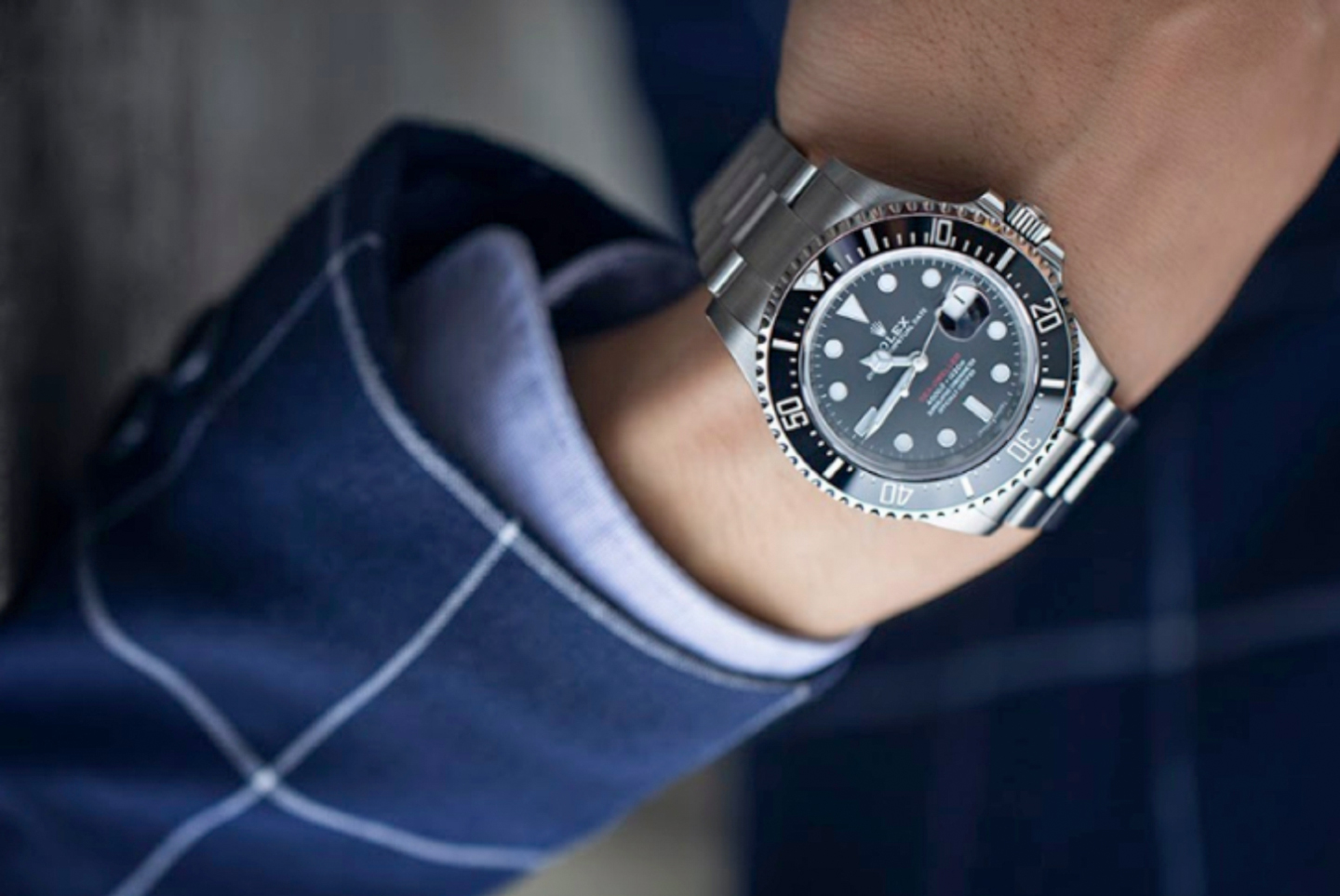 This means that all the leather you wear must be the same color, from your shoes to your belt to your watch strap.
You can add a pocket square, but a solid color would be best.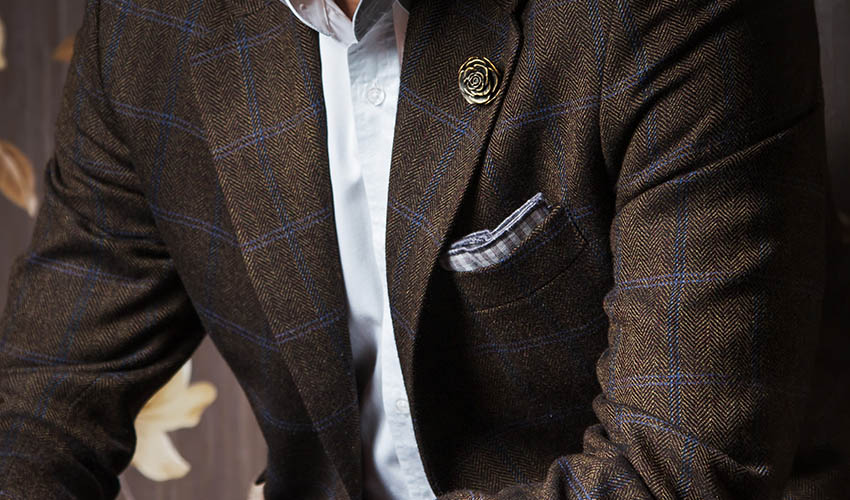 If your checked suit is very bold and loud, it's best to keep your accessories simple. Too many "finishing touches" may wind up feeling overwhelming.
Then again, that's solid advice for any outfit.
Best Checked Suit Colors & Where to Wear
The standard color rules of fashion still apply to checked suits.
To be on the more formal end of the spectrum, you need darker suit shades. On the other hand, you can opt to play up your casualness with lighter shades.
You may not be able to wear a checkered suit for your most formal needs, but there's an appropriate checkered suit for nearly any other occasion.
The suit's color and specific design will direct you toward which events it's suitable for.
Navy Checkered Suit
Navy suits are the ideal shade for office work. It's rich and muted, making it both sober enough for your most professional settings.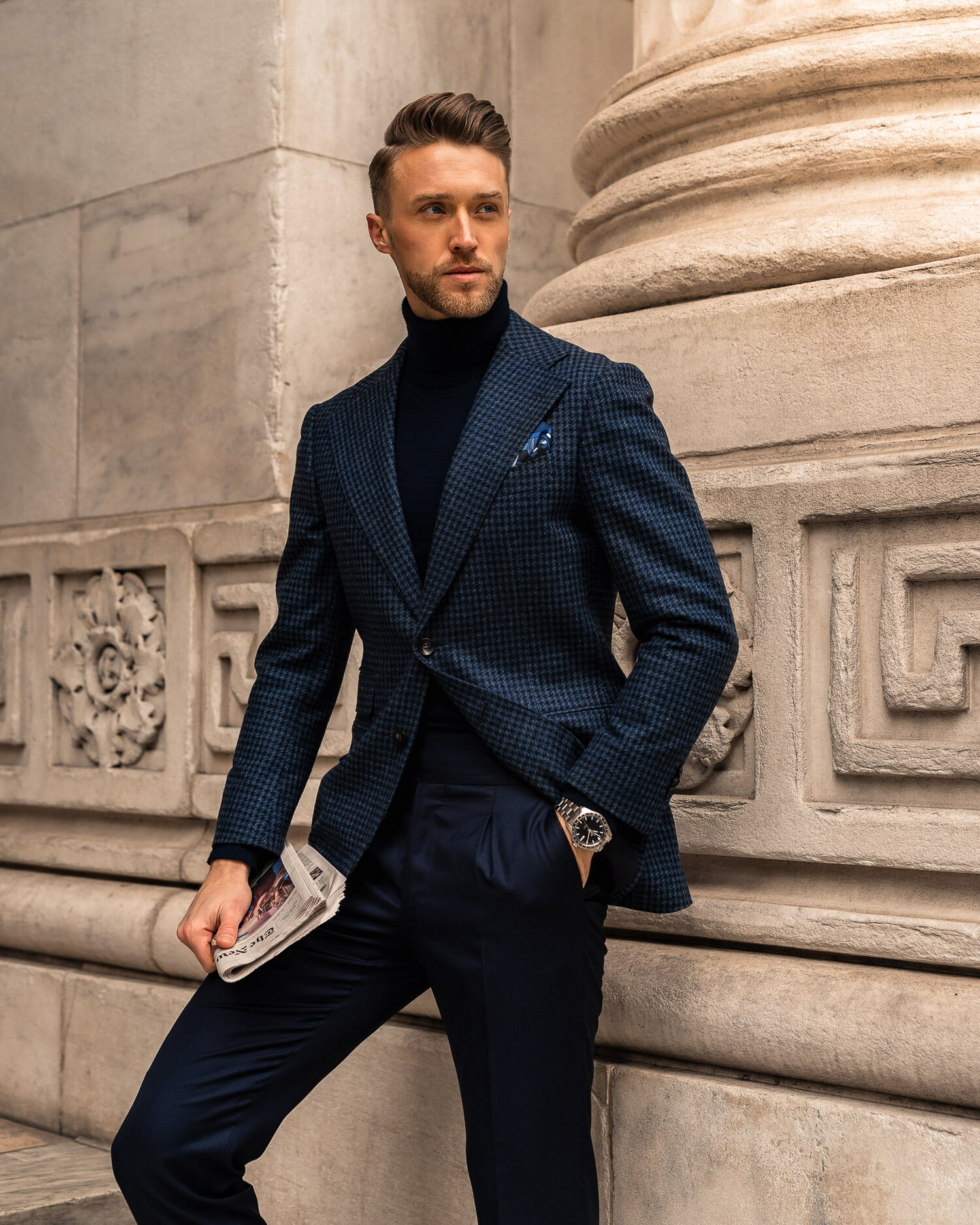 These suits also keep you looking fresh and stimulating. In addition, it's a very safe color for inserting a bit of boldness into your wardrobe.
Navy is a stalwart of tartan prints. You can change up the colors of your solid dress shirts to create different looks each time you wear a navy tartan print suit.
For example, if your print includes green, gold, or burgundy, you can play off one of those secondary colors.
Black Checkered Suit
Black isn't just for funerals or tuxedos; it's also the most dressy suit color, even for checked suits.
You can soften the impact of this harsh color with a pastel-colored shirt. On the other hand, if you want to convey confidence, pair your black checked suit with a bold tie.
Of course, you can always keep things classy with a white dress shirt and a black tie.
For a contemporary look, swap your light dress shirt for a black button-up dress shirt. It's unique and very sophisticated.
Blue Checkered Suit
Blue checkered suits are similar to navy ones but more laidback, with a little more personality and fun. It provides so many excellent color combinations to play with.
A crisp white dress shirt will make the blue in your suit genuinely pop. Of course, other light pastel shades create a dazzling effect, too.
You should top it off with a tie that fits your suit, something bold and easy to notice. Even a charcoal tie holds much elegance.
Grey Checkered Suit
Grey checkered suits deserve a lot of love because you can dress them up or down. Which way your suit goes depends on how dark or light it is; the shade will do all the heavy lifting for you.
A darker grey checked suit is professional. It has the same effect that a navy checked suit does.
You can look in charge with a solid dress shirt and sober tie next to your charcoal suit.
A light grey checkered suit is a must for a weekend out with friends. So grab some brunch in this suit when paired with a dress shirt with small prints and a pair of fresh loafers.
Different Checked Suit Styles
All these different types of plaids and checks can be implemented on different suit styles.
Step out of your comfort zone of the single-breasted suit and check out different ways to wear your checked suit.
Double-Breasted
Double-breasted suits are totally dapper. This style makes a big impression, but the impact is doubled when you include a print.
Double-breasted suit jackets look right at home with a checkered pattern.
Remember that this jacket style involves a lot of fabric because the enclosure is higher than on single-breasted jackets.
Therefore you should keep your shirt and tie simple so the top of your chest doesn't seem messy.
Small prints are best on double-breasted suit jackets; they'll elevate the tone and play up the jacket's inherent dressiness.
Three-Piece Suit with Patterned Vest
A suit vest or waistcoat looks incredibly refined and formal, but a checked one softens that effect.
Use the vest to create a layer of contrast to your three-piece suit; it should stand out, not hide behind the suit jacket.
Your vest should be neutral or a light color, with a darker solid suit jacket.
Always fully button your vest, or else it will shatter the formality created by the vest.
Why Wear a Checked Suit?
A checked suit will ensure that you stand out from the other people around you; you'll be distinguished from others in formal settings.
They are perfect for semi-formal events and cocktail attire; they are not too formal but dressy with flair.
Checkered suits are a fun way to express who you are. Solid suits don't show much personality, but a checked pattern can reveal much about your character and interests.
And besides all that, they look very appealing. A man who isn't afraid to express his inner creativity is attractive to others.
Author: Alexander Stoicoff
Hi, I'm Alex, and I've studied and specialized in styling in Rome. Through my writing, I want to help men dress well and learn the purpose and significance of suits and other formal attire. My final goal is to make men more confident in their wardrobe choice and life in general.