Dress shirt sizes can be either alphabetical or numeric. But there are several factors you need to consider in order to find the shirt size that fits you perfectly.
First and foremost, we live in a very different fashion period than our grandparents did. Back then, a man would seldom be caught without his suit jacket on.
Styles have become more relaxed since then. For example, modern styles often involve dress pants and a shirt on full display. Also, men's shirts are not always hidden under a jacket anymore.
That is why it is imperative to be sure your dress shirts are a good fit. When your dress shirt is freely seen, there is little room for error, even in sizing.
Dress Shirt Sizes
When you are purchasing an off-the-rack shirt, you have limited size choices. That's because the clothing industry cannot account for every body shape.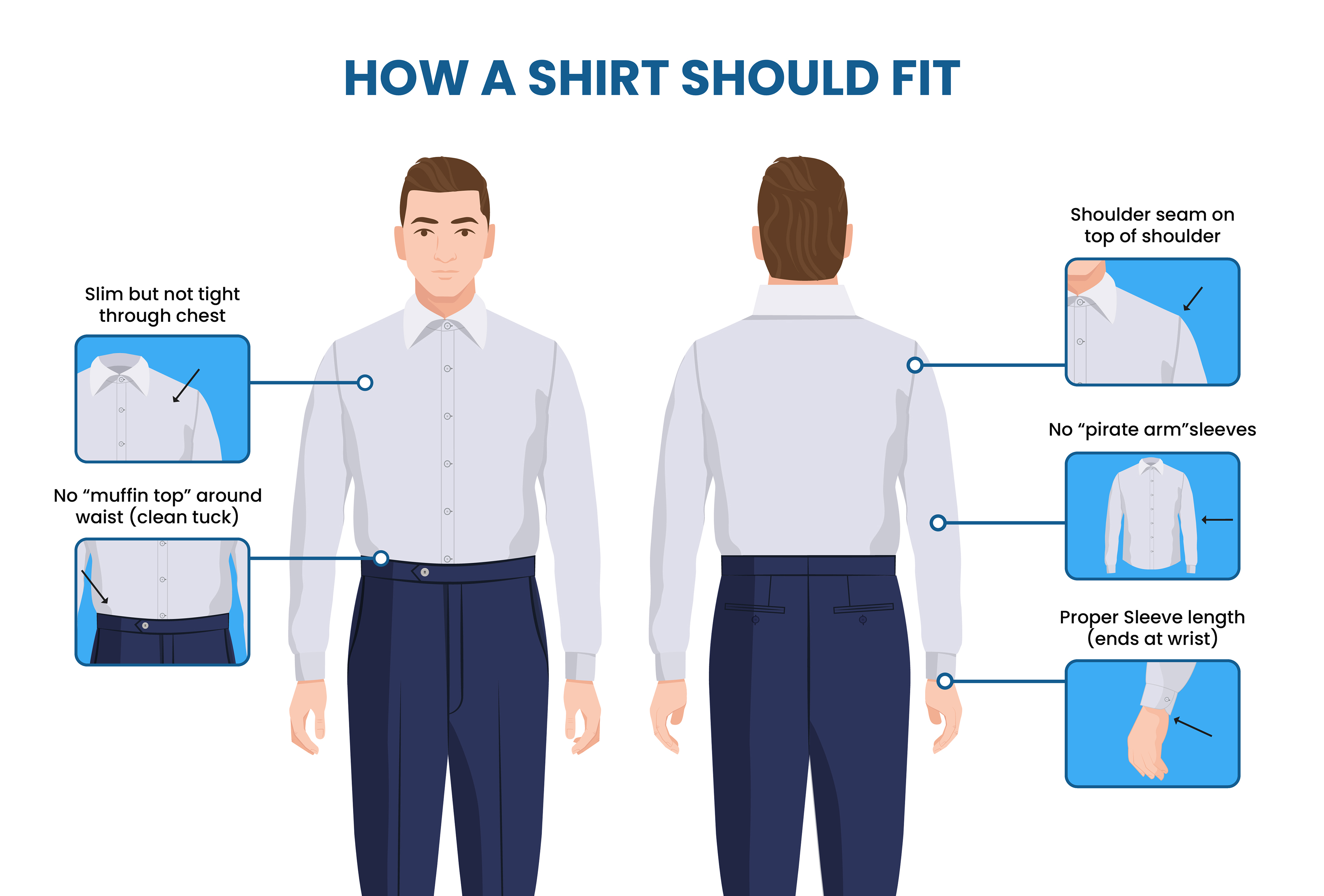 It would not be a realistic business model, and it would lead to a lot of waste. But it can work as best it can with generalizations. Instead, they take an average run of measurements, which results in shirts more or less fitting.
Still, shirts come in all kinds of shapes and sizes; each one is unique. That's because there hasn't been set a standard for what a company considers, let's say, medium size.
The good thing is that dress shirt sizes are generally denoted by neck circumference and sleeve length. And when you are purchasing off-the-rack, sizing is either alpha or numerical.
Alpha vs. Numerical Dress Shirt Size Enumeration
Numerical sizing will be listed by neck size, followed by sleeve length. For example, a tag that reads "15.5/32-33" would indicate the neck circumference is 15.5 inches, and the sleeve is 32-33 inches long.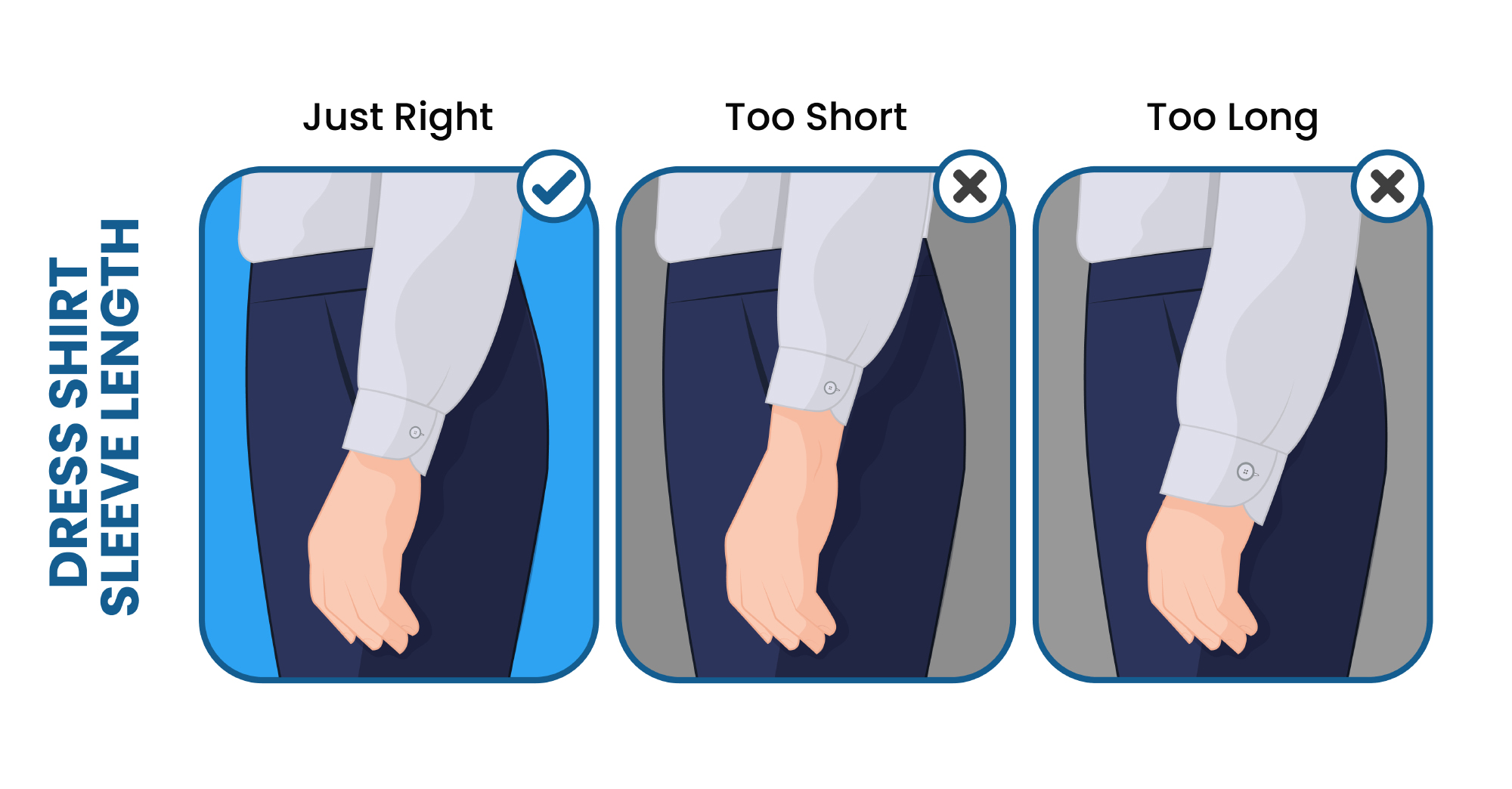 Sometimes dress shirts with numerical sizing may include a chest size. This is extraordinarily helpful in helping to achieve a better fit. It can make a world of difference.
Alpha sizing is much more hit or miss. Each company has a different idea of what measurements define a large, so the sizes end up varied. A small for one company might be a medium for another.
There is no standard sizing between clothing manufacturers, and their definitions feel arbitrary. Sizing is random and undefined, so you need to try on shirts to find which size will fit you best.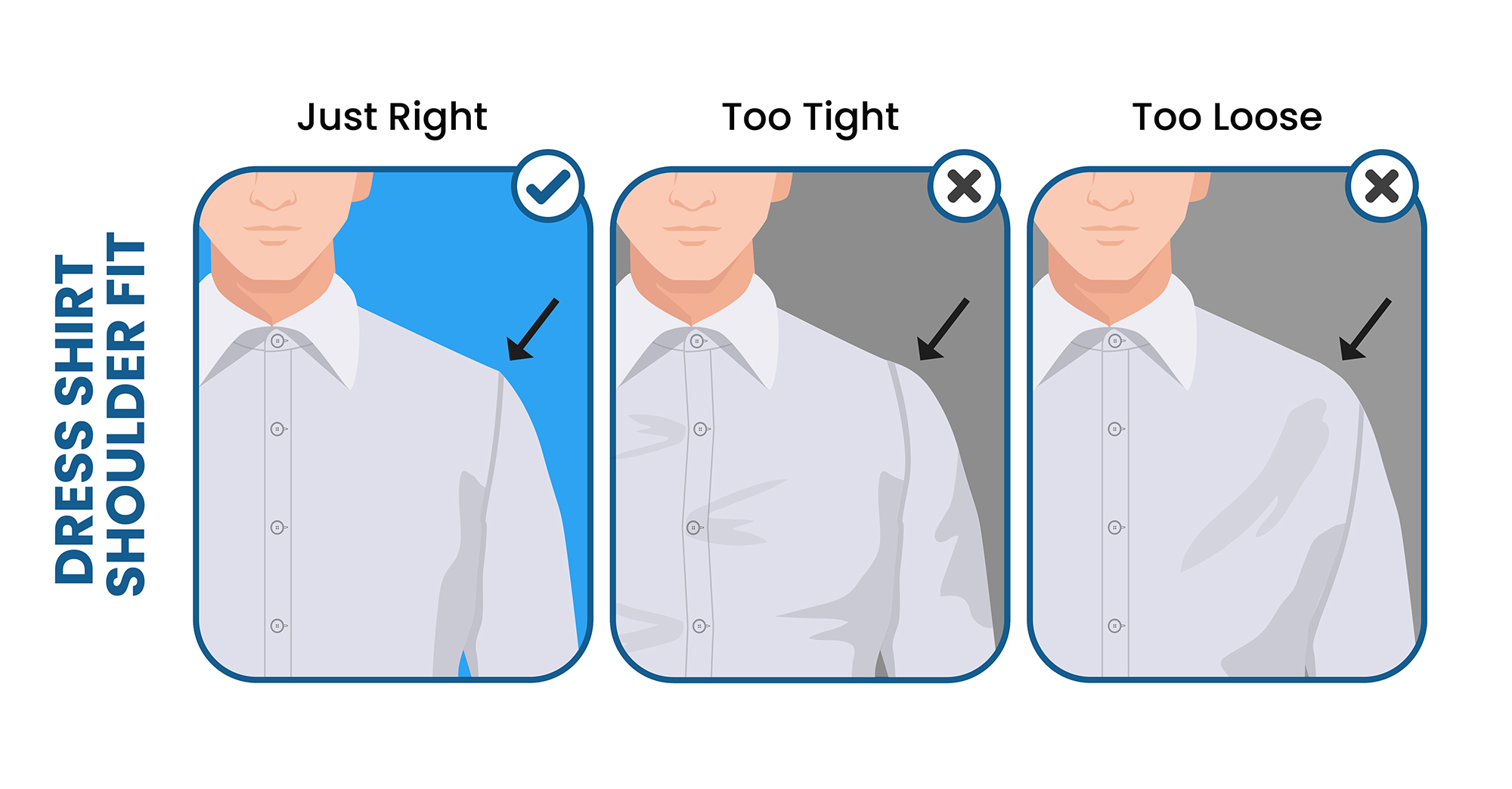 However, if you know your measurements, you can make an educated guess about which size you need.
Different Dress Shirt Sizes
If you don't want to or can't try on a shirt (for instance, if you are ordering online), here is a good rule of thumb to know when buying a new dress or tuxedo shirt.
An XS or extra small dress shirt will generally have a 13.5-14.5 inches collar circumference.
S (small) often runs 14.5-15.5 inches.
An M will usually have a neck size of 15.5-16.5 inches.
L tends to run 16.5-17.5 inches.
XL has a 17.5-18 inches collar circumference.
The final size offered off-the-rack is XXL, with а neck size of 18-18.5 inches.
Again, these dress shirt sizes are generalizations. They are helpful in giving the buyer a place to start when buying a ready-to-wear shirt but are not written in stone.
If purchasing an alpha-sized dress shirt online, check their return policy before submitting an order. You may need to return your shirt for a different size.
The upside is that then you will have figured out that company's sizing methods. You can freely order from them in the future, knowing their shirt is bound to fit you.
How to Determine Your Dress Shirt Size
As we've established, you will need to know your general size to buy a standard dress shirt. You can go to a tailor or dry cleaner to have somebody take your measurements for you.
You can also do this easily at home, though you may want another person to help you with part of it. A tailor's measuring tape (made of fabric or flexible plastic) is the best tool to use.
If you do not have one, you can use string, then lay it flat and measure with a ruler.
Measure your neck circumference: Put the tape measure low, near the base of your neck. Be sure it is snug, but not very tight. Add ½ inch to ensure your collar is comfortable.

Round up to the next nearest neck measurement size: If your tape measure reads 15.5 inches after adding the extra half-inch, round this up to 16 inches.
Measure your sleeve length: Hold the tape measure at the nape of your neck. Follow the line of your arm down to your wrist. Add one inch and round up to the nearest sleeve size.

Find your chest measurement: Place the tape measure around your chest, just under your armpits. Add an extra inch for movement.

Measure your waist: Place the tape measure around the narrowest part of your waist. Add a half-inch for comfort.

Once you have these measurements in hand, it is easier to know which size shirt you can purchase off the rack. From here, it is simple to convert these numbers into alpha sizing.
Numeric sizes will spell out for you exactly which size to purchase. Using these measurements will help you find the perfect fit.
How the Fit Determines Your Dress Shirt Size
It is important to know which type of fit you are looking for when purchasing a dress shirt. Not all mediums are created equal!
While there are many different types of fit, the two main ones you will find are classic (or standard) and slim (or trim). A standard-fit shirt offers a bit more room and is tapered near the waist.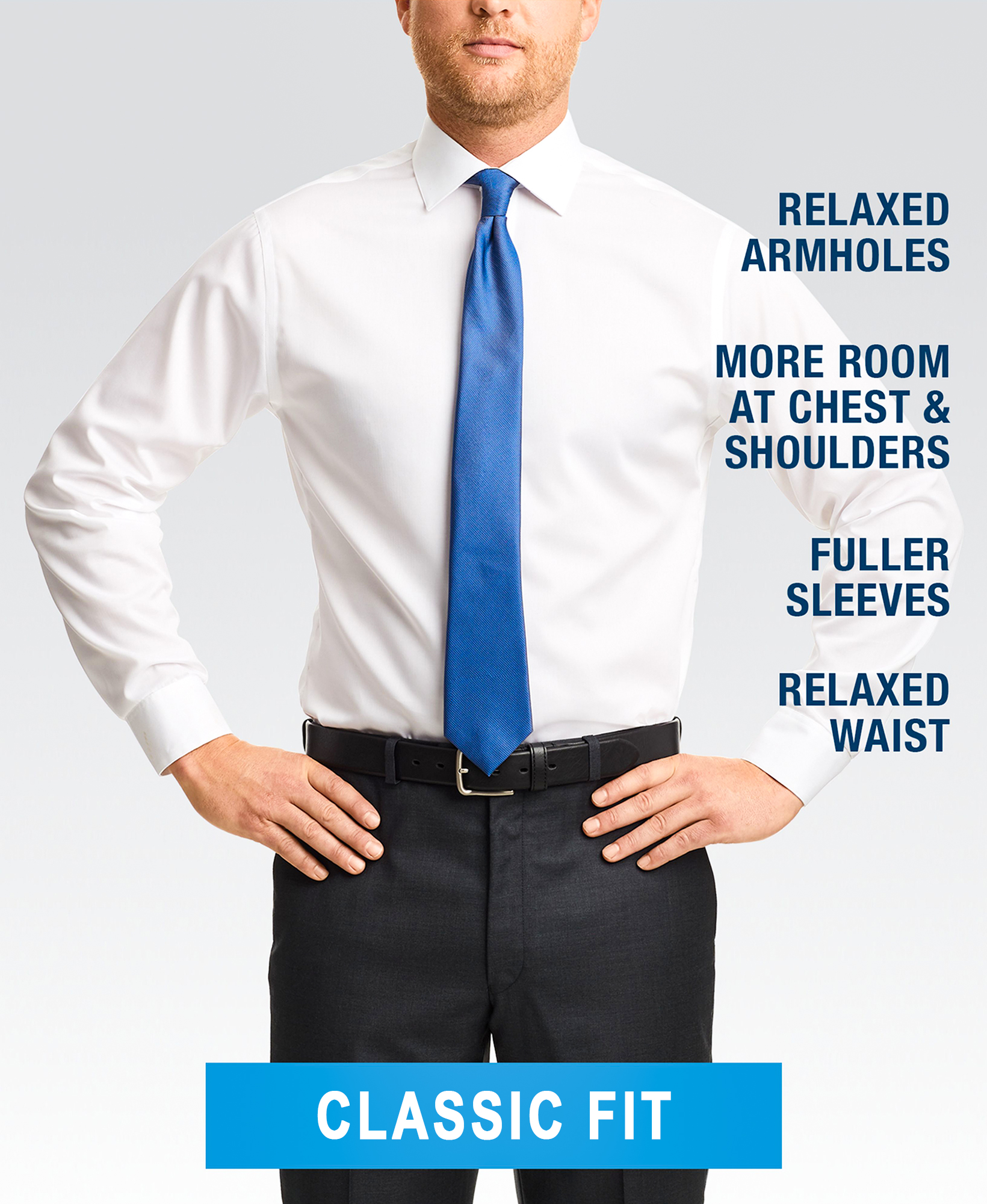 Trim-fit dress shirts have less fabric and sit closer to the body. The armhole is also placed higher on trim-fit shirts.
The neck size is the same on both cuts of the shirt. It is the chest and the waist that is measured differently. The shape of your body will dictate the fit that you should wear.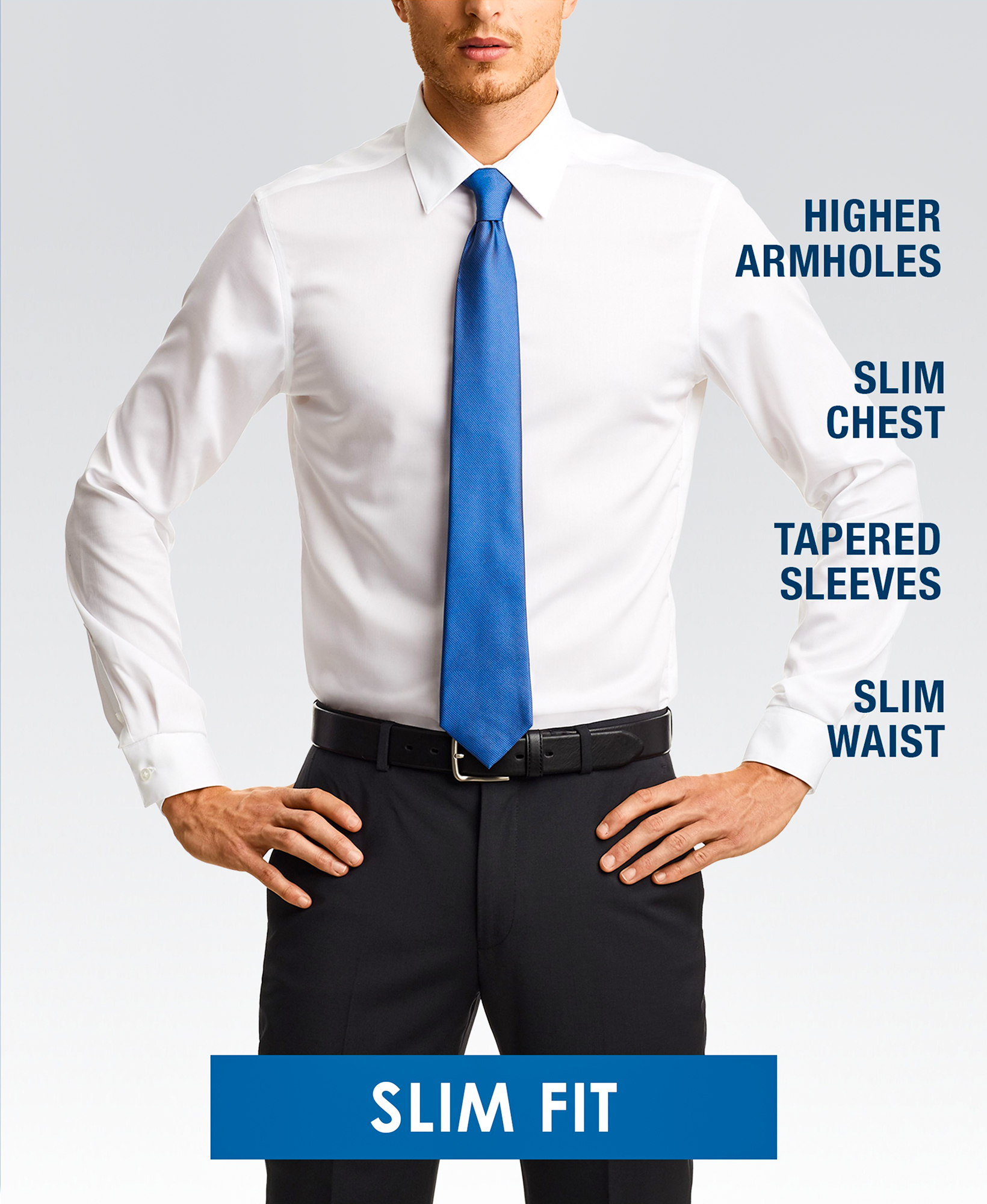 If you are on the slim side, you will look best in a trim-fit shirt. A standard fit works best on bodies that are a bit thicker in the middle.
How Standards and Industry Sizing Work
Not everybody can afford tailormade clothing. Unfortunately, it is the only way to get clothing that fits your entire body perfectly.
If your budget only allows for ready-to-wear clothing, ensure to find the best dress shirt that is the closest match to your size. This takes pure trial and error.
Industry sizing does not work for all bodies. Though sleeve length and neck circumference are the two most utilized standards in dictating dress shirt sizes, these are not the two best size indicators.
Height and torso shape are critical in obtaining optimal fit. Unfortunately, the industry usually ignores these two gauges for size in off-the-rack purchasing.
Author: Alexander Stoicoff
Hi, I'm Alex, and I've studied and specialized in styling in Rome. Through my writing, I want to help men dress well and learn the purpose and significance of suits and other formal attire. My final goal is to make men more confident in their wardrobe choice and life in general.