Suit fabrics play a huge role in determining the suit's style and appearance.
While fitting the suit correctly is essential to look good, the fabric (sort of) defines the personal style. It depends on the occasion, either for a glamorous event or everyday office use.
There are a plethora of fabrics available for tailoring a suit. Although most of them look very similar, it's good to know their specifications and differences.
Things to Consider When Choosing the Suit Fabric
Suits represent you, and the suit fabric you choose will be a chance to showcase your image.
Cost also plays a huge role in the process, so it's crucial to understand what you're getting. It might save you hundreds or thousands over time.
Breathability
No one likes a sweaty back when they're attending a summer event. Nor do they enjoy an icy winter breeze chilling them to the bone.
The breathability of your suit fabric will determine how much of both you need to suffer. A good, breathable fabric will let hot air escape and keep cold air at bay.
Usability
It is important to determine the frequency of usage, too. Since some materials are stronger and more resilient than others, they can be considered a better option for everyday use.
Also, wrinkle resistance plays a huge role when looking for an everyday suit you can wear in the office.
Softness
You don't want a fabric that makes you itch, nor a fabric that is so stiff it makes you feel trapped inside your suit. But soft, good-quality fabric will provide a comfort level you won't want to do without.
Natural fabrics are considered softer and smoother. On the other hand, synthetic fabrics, while stronger, are firmer and rougher but less expensive.
Suit Weight
The weight and thread count of the fabric can also impact the comfort levels, price, and overall appearance of your suit:
Lightweight: 7oz – 9oz. Great for summer.
Light to middleweight: 9.5oz – 11oz. Perfect for the transition from spring to summer and summer to autumn.
Middleweight: 11oz – 12oz. Go-to fabric weight for most days. Good choice for your first suit.
Middle heavy: 12oz – 13oz. Satisfactory for daily wear, but maybe too hot in the peak of summer.
Heavy: 14oz – 19oz. Perfect for autumn and winter.
Different Types of Suit Fabrics
Choosing the right suit fabric is a process that requires a man to learn a few things about crafting materials. That being said, there's no lousy fabric, only a good choice for the right occasion.
And as you might expect, every suit fabric has its pros and cons. Factors like quality, occasion, and price will usually decide what you can go for.
The following is a simplified list of the most popular suit fabrics, including their good and bad features.
Wool
Wool is a natural material, coming from the fleece of sheep. It is one of the most prominent fabric selections for men's suits due to its adaptability and fine-tuned visuals.
Wool is wrinkle-free & very soft, and since it's natural, it breathes well. That makes it good for everyday use and can be worn during every year's season.
There are two types of wool categories: worsted and woolen. This pertains to the yarn's weight and size and how the fiber is spun (prepared for spinning).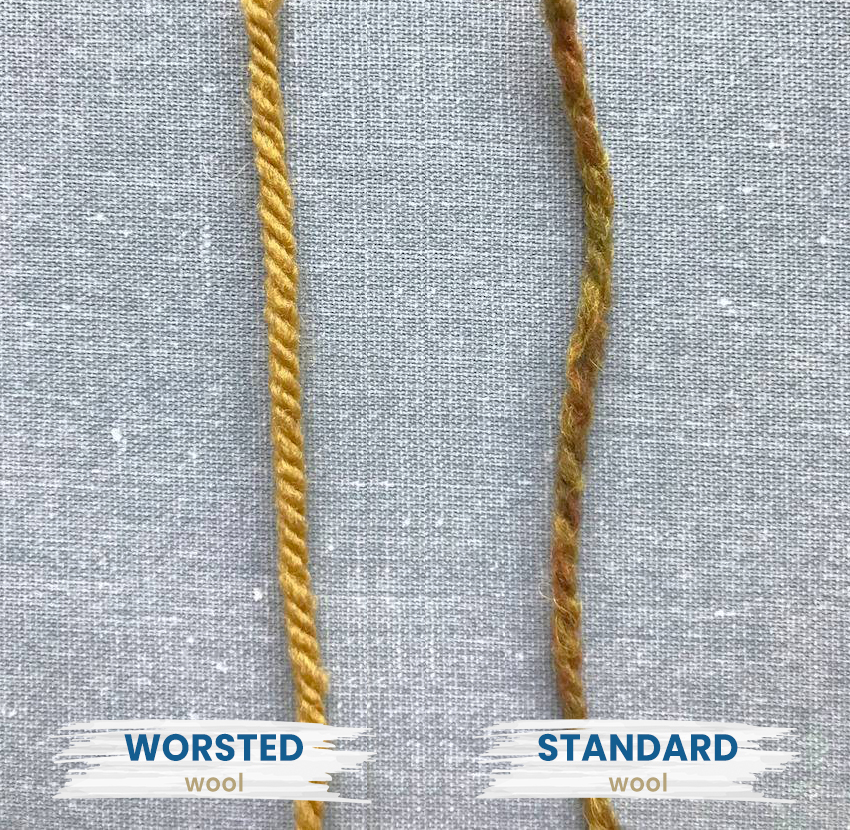 Woolen means that the length of each fiber is different and is not combed before spinning. Worsted fibers are combed at the same length and overlap at the tips, leaving almost no room between individual fibers.
That being said, you will find that most of the wool suits are actually from worsted wool. The one thing people don't like about wool is its "chubby" and not-so-luxurious appearance.
Wool Specifications
Breathes well

It can be worn on a hot day or a cold night

Wrinkle-free

Remarkably soft

Ideal for everyday use

Slightly extensive and less luxurious
Cotton
Cotton is the second most preferable suit fabric, only after wool. The fibers surrounding the plant are used as a material for tailoring.
This type of fabric is often used for semi-formal and casual suits. However, it's less expensive than wool and is considered less quality, too.
Cotton suits tend to fold easily, making them look ill-fitting. On the other hand, they are very soft and breathable but fairly durable.
Also, it's not the best choice for winter since it absorbs water without insulating it. Therefore, use it's the best material choice for autumn and spring.
Cotton Specifications
Good for semi-formal and casual events


Moves and breaths well

Satisfactory softness

It tends to crease and look sloppy

Absorbs water and does not insulate

Lacks luxury compared to cashmere
Cashmere
Cashmere is another natural fabric made from the hair of goats. It's an incredibly luxurious fabric and is very lightweight and soft.
Cashmere is also a highly durable and sustainable material.
But because a pure cashmere suit is pretty expensive, it is the only reason why it might not be suitable for everyday use.
Cashmere is indeed hygroscopic and naturally breathable, making it good for all-year use.
As a result, it can be a great choice for every occasion, whether casual or formal.
Cashmere Specifications
More luxurious

All-year usage

Great fabric for casual and special occasions

Suitable for everyday use

It gives an unwanted shine to a suit

Expensive
Linen
Made from the fibers of a flax plant, linen is another popular suit fabric.
Although a strong fiber, linen is less elastic than wool. Therefore, it wrinkles and stains easily.
The linen is resistant to high temperatures and sun. It's also lightweight, making it one of the best materials for summer.
I like how a linen suit looks, but they are not for everybody, certainly not for every occasion.
Consider them a choice for less formal and casual events.
Linen Specifications
Super lightweight

It keeps you cool in blistering temperatures

Good for semi-formal and casual events

Not suitable for everyday wear

Wrinkles and stains easily

Needs regular dry cleaning
Polyester
Polyester is a manufactured fiber made from synthetic materials. It's much cheaper than natural fibers (such as wool or cotton) and is considered lower quality.
Although polyester is not a breathable material to the extent of wool, it is often combined with other natural fibers (usually wool and linen) to increase the quality and breathability, making polyester suits good for everyday use.
As a synthetic fabric, polyester is wrinkle-resistant and dries quickly. It's also a good insulator; it's strong, durable, and can be washed easily.
Polyester Specifications
Wrinkle-resistant

Strong and durable

Dries quickly

Produces more fabric shine than wool or cotton

Do not breathe well

Can look cheap and low-quality
Silk
Silk is one of the most luxurious fabrics; however, it's pretty expensive. It brings superior comfort and is one of the most absorbent fabrics.
As a fiber, silk is elastic and has pretty good strength. However, it's super light and easy to wear. It has moderate resistance to wrinkles but does not attract dirt because of its smoothness.
Silk is a natural temperature regulator which will keep you warm in winter and cool in summer. It's perfect for all seasons and fits most body types; however, it's best for more formal events.
Silk Specifications
Superior comfort

Breathable

Lightweight

Warm in winter & cool in summer

Looks luxurious

Expensive
Velvet
Velvet is another soft and luxurious fabric that can be made from both natural and synthetic fibers. Even the term velvet itself describes "soft and smooth" nowadays.
Natural velvet is usually made of wool, mohair, silk, and cotton. On the other hand, synthetic velvet suit fabrics are usually a combination of viscose, nylon, rayon, and polyester.
Consider velvet suits as the ultimate luxury attire. That being said, they only do good for formal events. Velvet suits are not for everyday use and should not be worn for office.
Velvet Specifications
Best choice for autumn

Luxurious to touch

Very soft and smooth

Breathable

Less aeration than silk

Not recommended for everyday use
Tweed
Tweed is a woolen suit fabric typical in the UK. It's made of a soft and flexible texture but feels a little rough on the outside.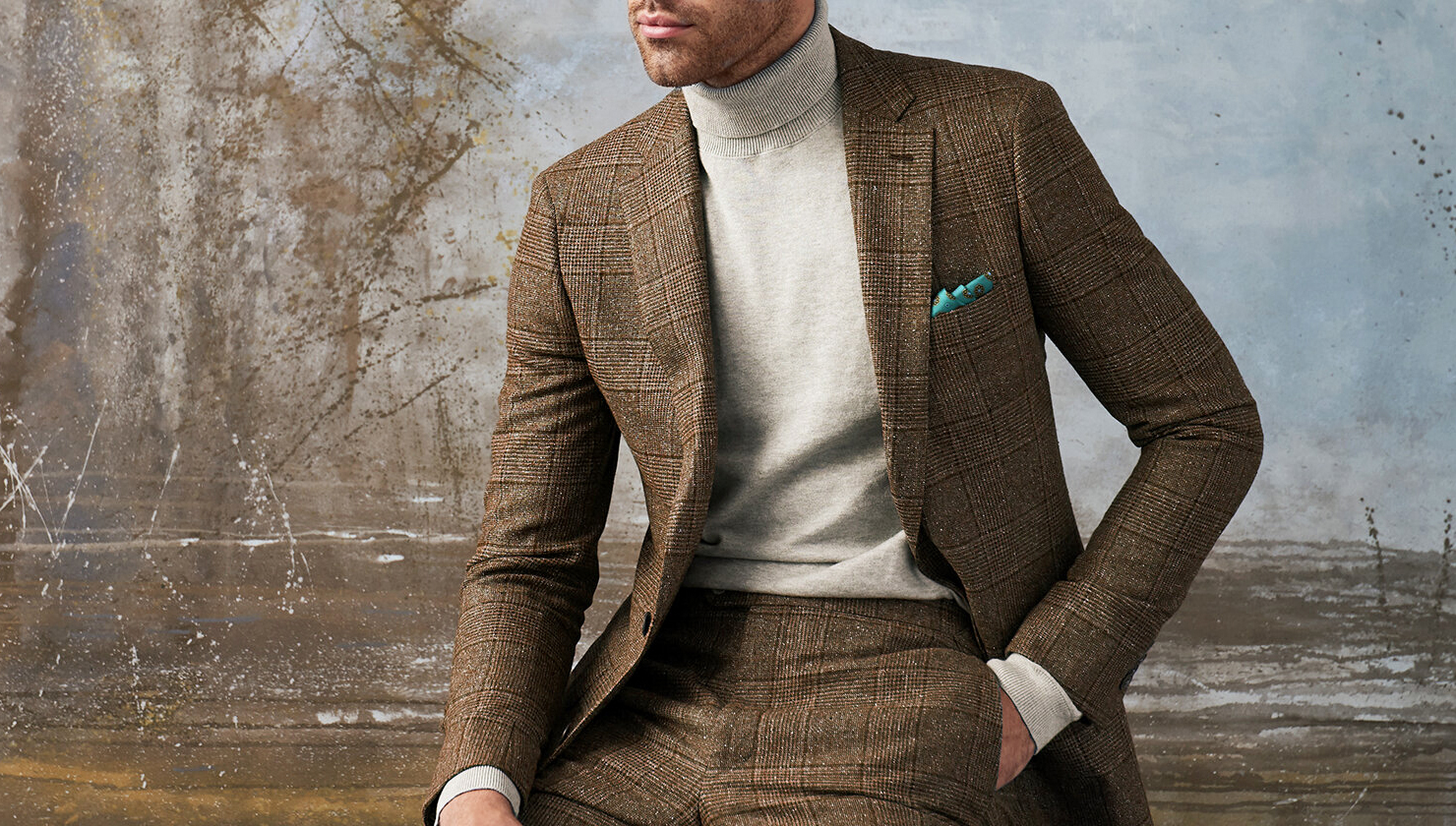 Tweed suits are durable, versatile, and preserve warmth very efficiently. These characteristics make them a popular choice for fall and winter. However, they're usually reserved for informal occasions.
The style in which tweed threads are woven creates a unique design for a suit and creates a pleasing texture.
Tweed Specifications
It's durable and versatile

Moisture-resistant

Designed for warmth

Not the best choice for summer
Seersucker
Seersucker is a cotton fabric woven so that the threads bunch up together. It's usually striped horizontally, but sometimes you can find it checkered or solid.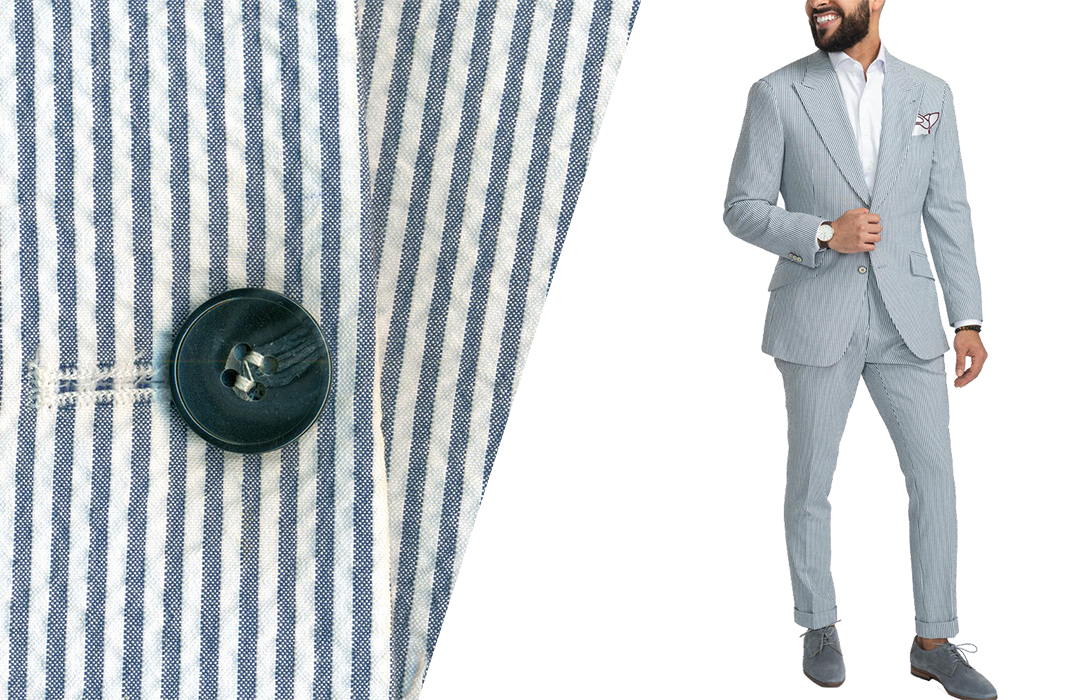 The fabric is very thin, allowing seersucker suits to have good air circulation and appear lightweight. It's this cooling effect that makes this material perfect for summer occasions.
However, seersucker comes with one disadvantage. Because the fabric is woven in a way that threads are bunched together, seersucker suits appear wrinkled. That makes them not applicable for formal occasions and job interviews.
Seersucker Specifications
Breathable

Excellent air circulation

Good for spring and summer

Soft and smooth

Not wearable for winter

Not suitable for formal occasions
Wrapping It Up
In most cases, there are no right or wrong suit fabrics. There are just different options for different occasions.
If you are looking for an everyday office suit, go for wool or cashmere. They provide breathability and comfort while being highly durable at the same time. If you're allergic to wool, choose cotton instead.
Choose more luxurious fibers like silk or velvet to stand out from the rest on formal occasions and events.
Keep in mind that while more expensive fabrics are often more luxurious, they may not necessarily be better. In fact, most of them will wear out much faster.
Author: Alexander Stoicoff
Hi, I'm Alex, and I've studied and specialized in styling in Rome. Through my writing, I want to help men dress well and learn the purpose and significance of suits and other formal attire. My final goal is to make men more confident in their wardrobe choice and life in general.