You may be surprised to know that there is more than one way to wear a dress shirt.
You most likely associate a dress shirt with a business suit, assuming that's all it's suitable for. However, you can create many different styles through this one menswear piece.
The same dress shirt can be used for formal events and a casual weekend with friends.
Once you know how to play with the details for this garment, you'll open up your wardrobe and tweak your style.
Wear a Dress Shirt with a Suit for a Formal Outfit
When people think of a men's dress shirt, they tend to assume that it is being paired with a formal outfit.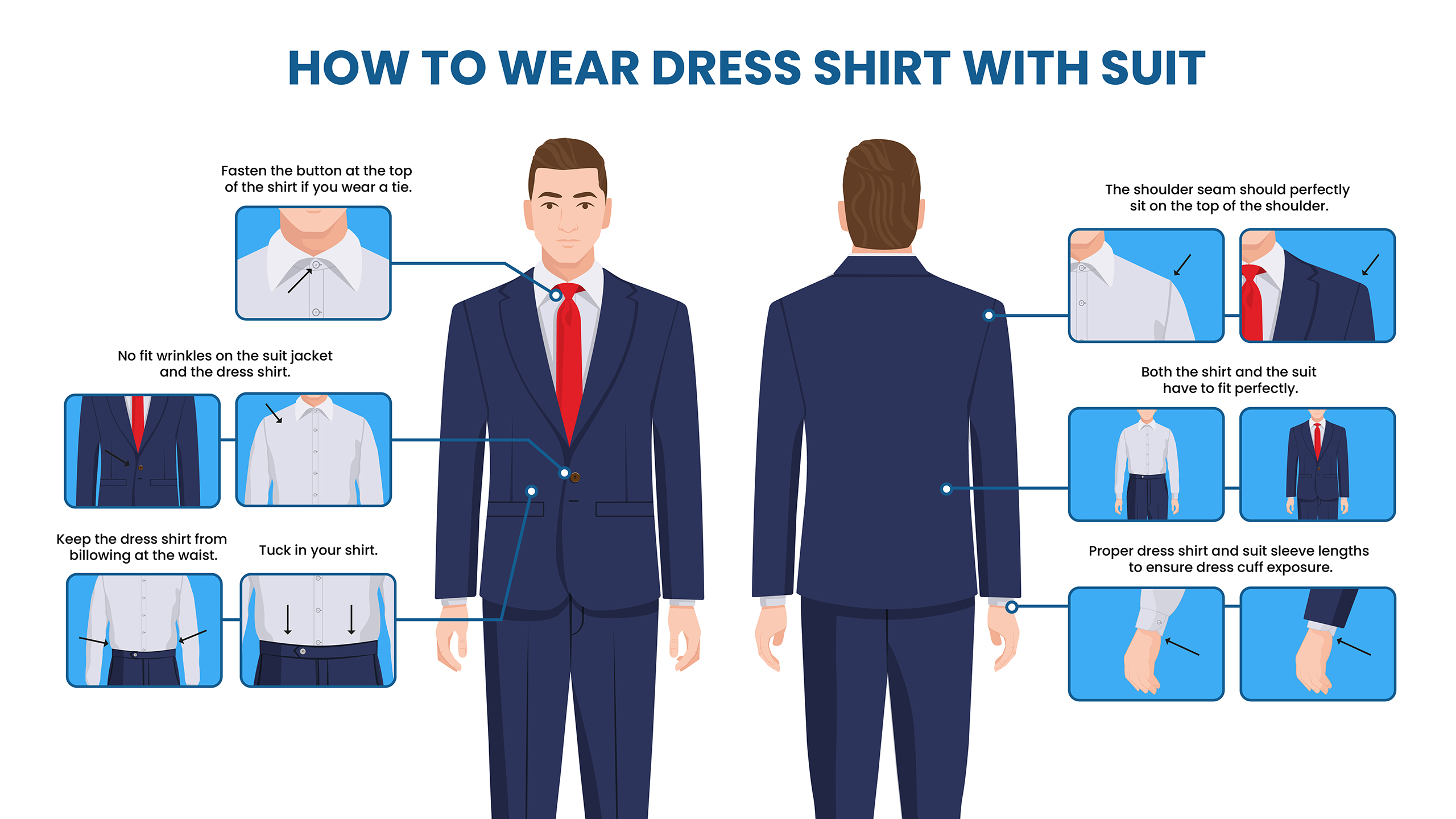 And when it comes to dressing up, perhaps the most critical rule of dress shirts is that you must tuck in your shirt.
It helps to polish your appearance and prevent you from looking sloppy. After all, dressing up is all about paying attention to the details.
Remember, do not tuck your shirt into your underwear; that could lead to a rather embarrassing reveal if your shirt pulls your waistband out of your pants.
For extra assurance that your shirt will remain tightly tucked, you can add discreet shirt stays under your pants.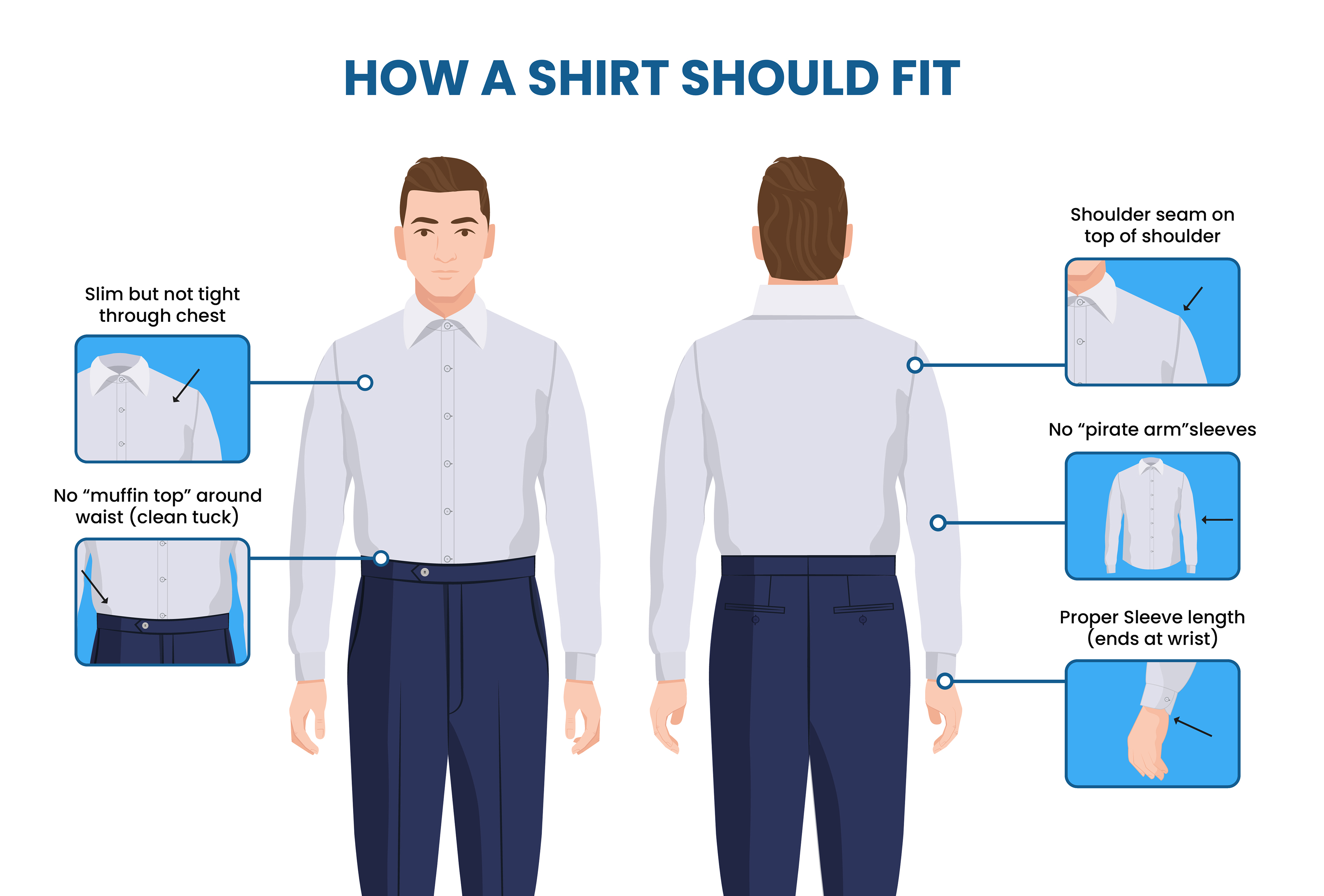 Most importantly, you have to ensure that the shirt fits you perfectly. Regardless of the shirt cut, your shirt must look as though it was made just for you.
However, the slimmer the shirt fit, the better your chance is to avoid bunchy shoulders. That way, you'll also prevent the muffin top around your waist.
Pick a White Dress Shirt for a More Traditional Look
White dress shirts are the most traditional approach for suits, mainly because they are the most formal color for dress shirts.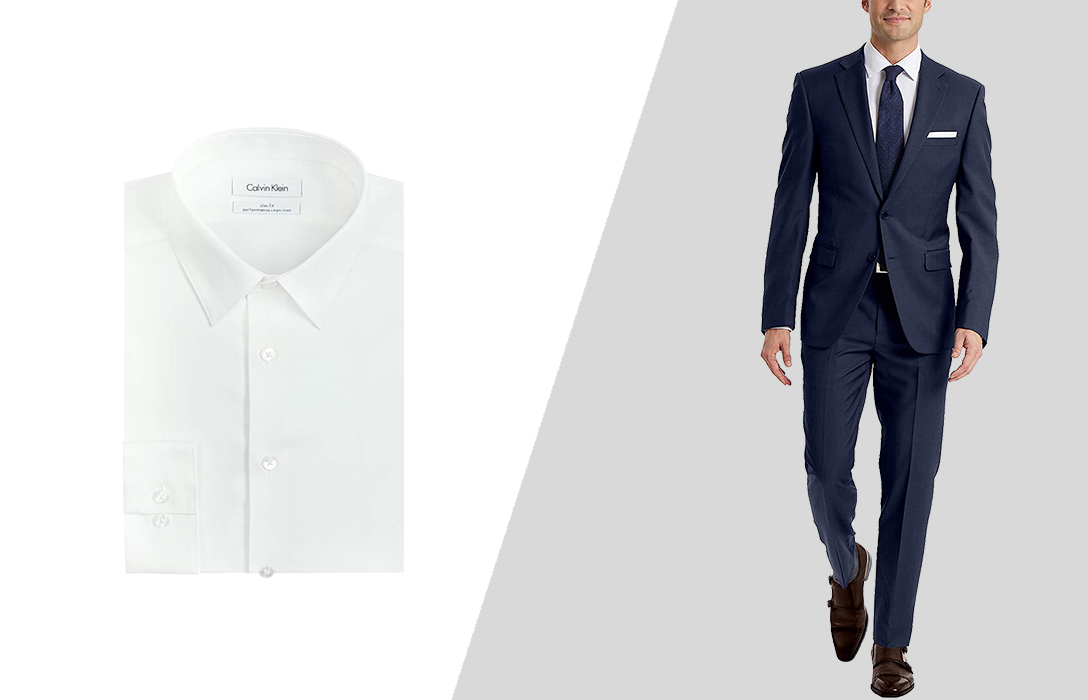 In addition, they look impeccable when they are clean and perfectly pressed.
Also, a crisp white against a dark suit makes for a stunning contrast that makes for a classic look.
A bonus of having a white dress shirt readily available to you is that it matches anything. All suits look good with a spotless white dress shirt.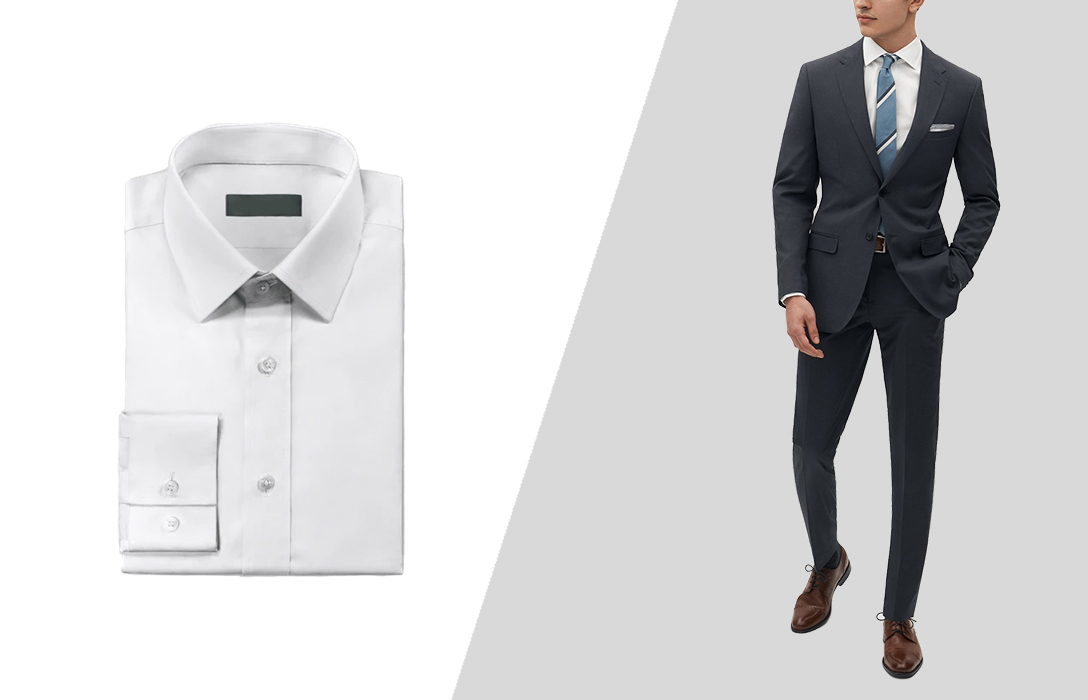 But you don't have to only opt for white; you can pick another light color if you want a change. Just be sure that your shirt is solid.
However, understand that a light blue or pale pink, while acceptable, will also make your outfit slightly less dressy and not suitable for black-tie events.
Add a Tie for Additional Formality
If your dress shirt has a point collar, it's best if you include a tie. This type of collar is designed to showcase a necktie.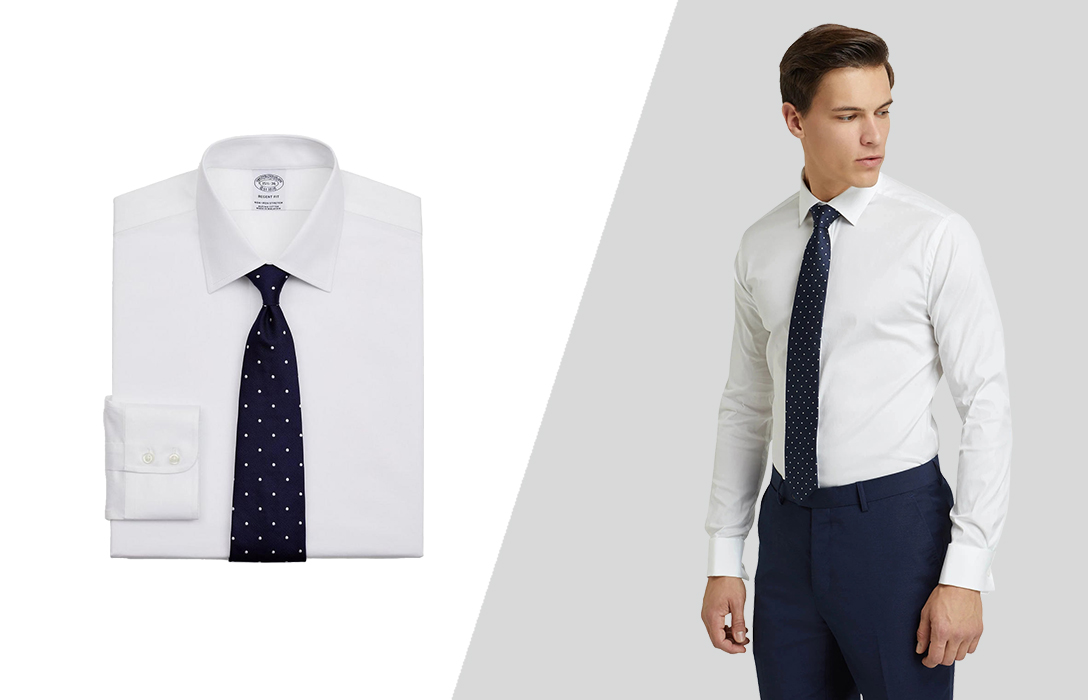 Remember to keep the knot centered, right over the top button. If it is even slightly askew, you'll look off-balance or like you've had a couple of drinks.
The tie material matters as well. For example, silk is the most popular fabric for a formal tie; the sheen lends a luxurious feeling to your entire outfit.
Wool in winter is acceptable but not quite as fancy. A knit tie is never a dressy tie; it's only proper for casual occasions.
Pair the Look with Formal Oxford Dress Shoes
When you wear a dress shirt with a formal outfit, you need a shoe style that matches the rest of your ensemble. That type of outfit calls for an Oxford dress shoe.
Oxfords are the most formal of men's dress shoes, but they are also highly versatile.
It's very smart to invest in a quality pair of Oxford dress shoes. Of course, you need them when you want to be dressed up, but you can also wear them for slightly more casual occasions.
You will undoubtedly get your money's worth for this shoe type. Derbies are also acceptable, just not as formal.
Wear a Dress Shirt with Lighter Suits for Semi-Formal Events
Semi-formal events offer you a lot greater flexibility in what you can wear.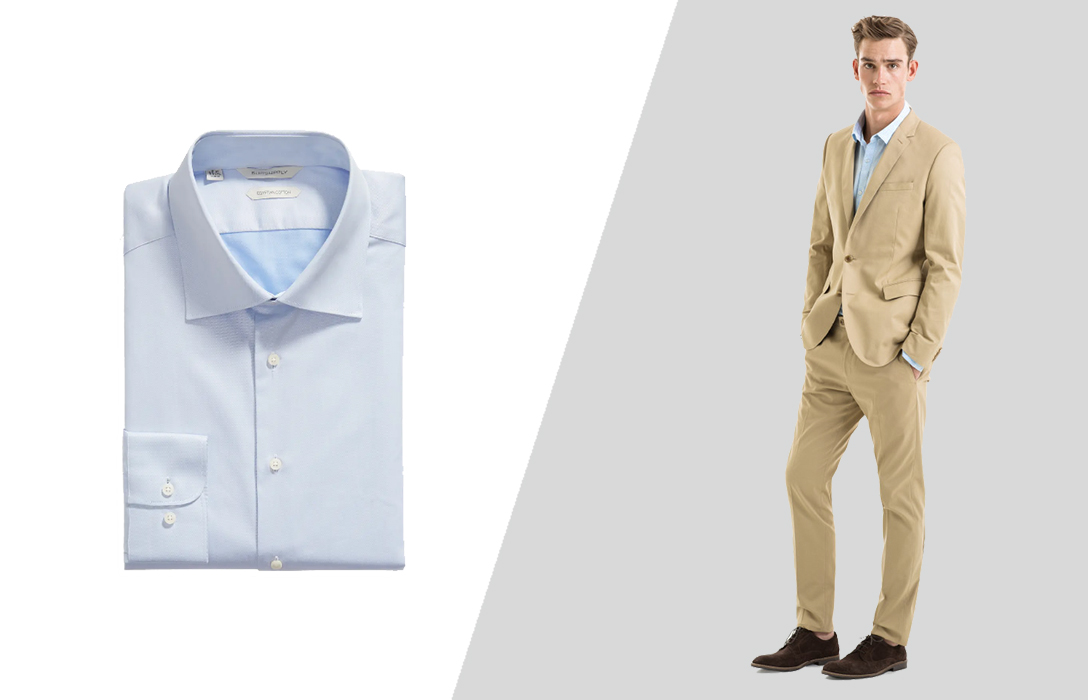 Of course, there are still plenty of conservative boxes you need to check off, but you'll find that this style of dressing is somewhere between black tie and business professional.
It means that you can add a creative spin to your suit.
So you might consider ditching the tie and leaving your collar open, although only undo one button. Any more, and you are too casual.
Heck, you can even ditch your full suit and wear a dress shirt with a separate blazer and pants if you are so tempted!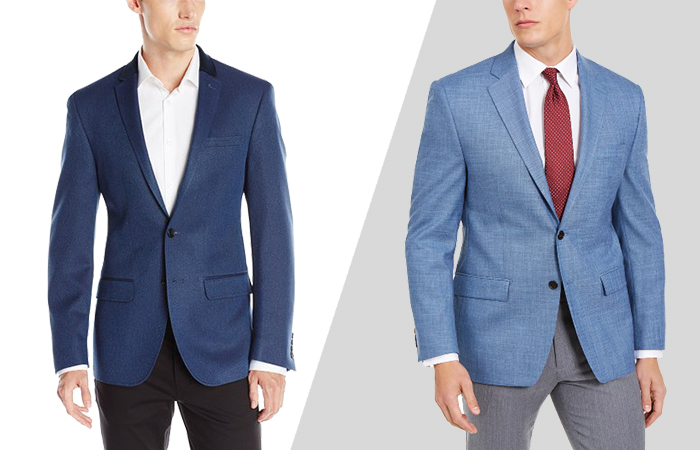 So don't feel obligated to wear the same color pants as your jacket, but remember that you'll need to make up and match the separates by including one more color.
You still must tuck in your dress shirt and leave your sleeves unrolled. You still need to look nice and avoid adding too many casual touches to your overall appearance.
Pick a Solid Color Dress Shirt
Even though some of the rules are relaxed for semi-formal dress codes, print dress shirts are too casual.
If you decide against the standard white shirt, blue or pink dress shirts would be the most appropriate shades.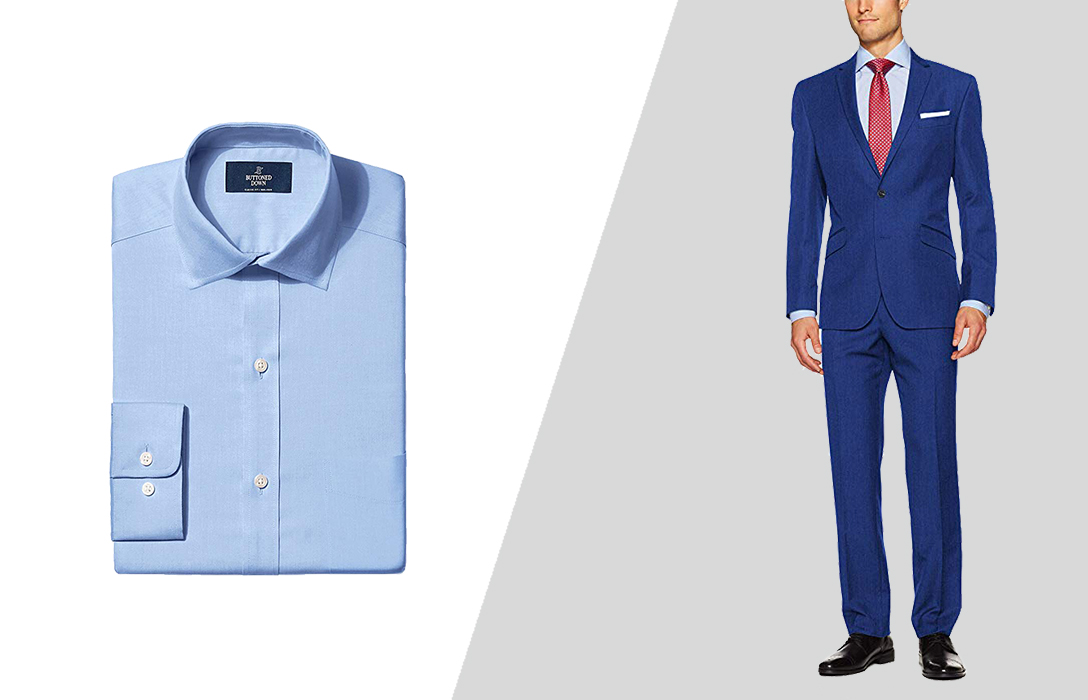 Semi-formal events still bring an expectation of sophistication, and a patterned shirt would detract from that, however slightly.
Nevertheless, you certainly have color and pattern freedom than you do with formal dressing. Therefore, adding a tie to your striped dress shirt is acceptable for semi-formal attire.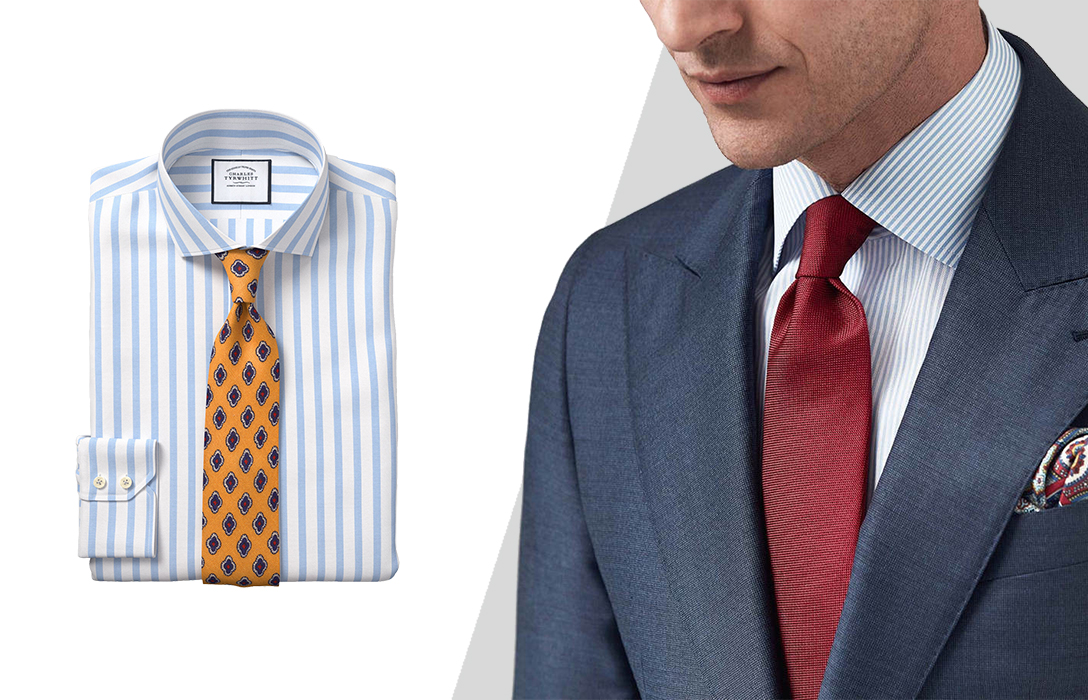 Also, you can experiment with grey, lavender, or even a black button-down dress shirt.
Tie Adds Sophistication to Semi-Formal Attire
You are welcome to skip the tie with semi-formal attire, but it's a perfect opportunity to show off a bit of character.
You can branch out from the stuffy looks associated with formal attire and try a tie that's a little more fun.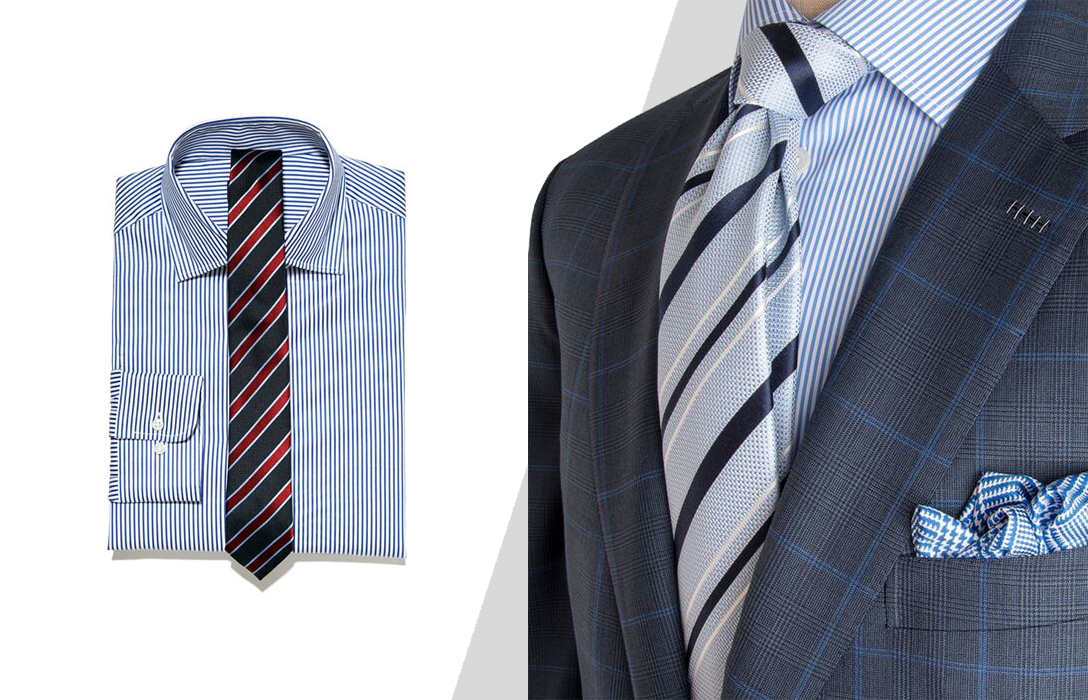 Why not try a different look and pick a tie with a small print? You can find many beautiful patterned ties in some stunning colors.
If you decide to wear a tie with a print, be sure the pattern is subtle and not overwhelmingly bold. Dark colors will also help to rein your tie in from looking loud.
The Dress Shoe Style Defines the Formality
If you want to lean into the dressiest version of semi-formal, you can't go wrong with Oxford dress shoes.
Derby shoes are nearly as formal, will match your suit perfectly, and help you stay formally dressy.
Monk straps are also a great choice for semi-formal events, especially daytime weddings.
On the other end of the spectrum, try a more relaxed, trendy shoe style if you want a looser semi-formal interpretation.
For example, brogue shoes are a cheeky twist on men's dress shoes; they look very dashing and add dimension to your outfit.
How to Match a Dress Shirt with Blazer and Pants
Pair a dress shirt with a blazer for an excellent dressy casual style. It's also a nice outfit for an interview if the office isn't too conservative.
You don't even need to put on a tie; instead, you can leave the top two buttons undone for a more relaxed image.
You can also leave your blazer unbuttoned, helping to loosen up your appearance further. This is how you take a relaxed approach to dressing up.
Even though you are relaxing your dress code slightly with this outfit, remember that fit is still critical.
Carefully match the dress shirt color with your jacket. In my experience, contrasting colors for the shirt and jacket work best.
A pair of slim-fit trousers or nice jeans is the perfect way to finish this ensemble.
How to Wear a Dress Shirt Casually
You would be mistaken to think that the words dress shirt and casual don't mix. Nothing says "casual" better than rolled-up sleeves, even if you are wearing a dress shirt.
Roll them up to the middle of your forearm for a jaunty twist; when your sleeves are below your elbows, it indicates a relaxed but still buttoned-up feeling.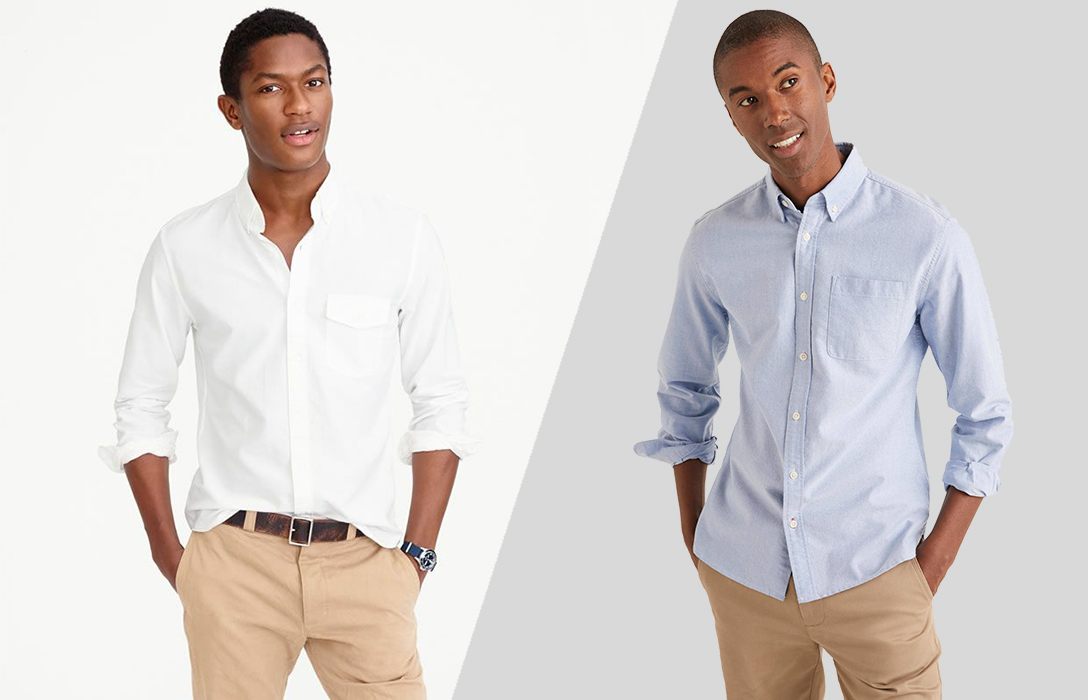 Wearing a dress shirt is a fabulous look for your downtime. It shows that you still make an effort to look good, even when you aren't required to.
The right shirt size is crucial here. It will be very apparent if your dress shirt fits you poorly because you won't have a suit jacket to hide your shirt behind.
Casual pants such as khakis or chinos are very crisp looking when worn with a dress shirt, and jeans are the perfect style for making your outfit completely casual.
And don't forget to top off your outfit with the perfect shoes. With this style, anything goes.
You can lean into a smart casual vibe by matching loafers with your dress shirt, or you can take a deep dive into the relaxed look with a nice pair of sneakers.
On a warm and laid-back day, slip into a pair of loafers for an in-between choice.
Leave Shirt Untucked
The goal of dressing casually is to look carefree but hopefully not sloppy.
Leaving your shirt untucked takes you far away from the conservative, polished appearance you usually expect from a dress shirt.
This is possible when you have the right dress shirt and know how to use it.
The length is the most important thing to pay attention to when leaving your dress shirt untucked.
You should wear your dress shirt so that it falls midway to your pelvis.
Pay close attention that it isn't so long that it looks more like a medieval tunic. But, on the other hand, it can't be so short that you show some belly every time you raise your arms.
Unbutton a Few Buttons at the Top & Wear a Shirt
You can loosen up when wearing a dress shirt – by leaving a couple of top buttons undone. For a relaxed approach, leave the top two unbuttoned.
However, if you are aiming for a super chill vibe, you can undo the top three.
Be aware, though, that if you leave three buttons or more open, it's best to wear a t-shirt under your dress shirt.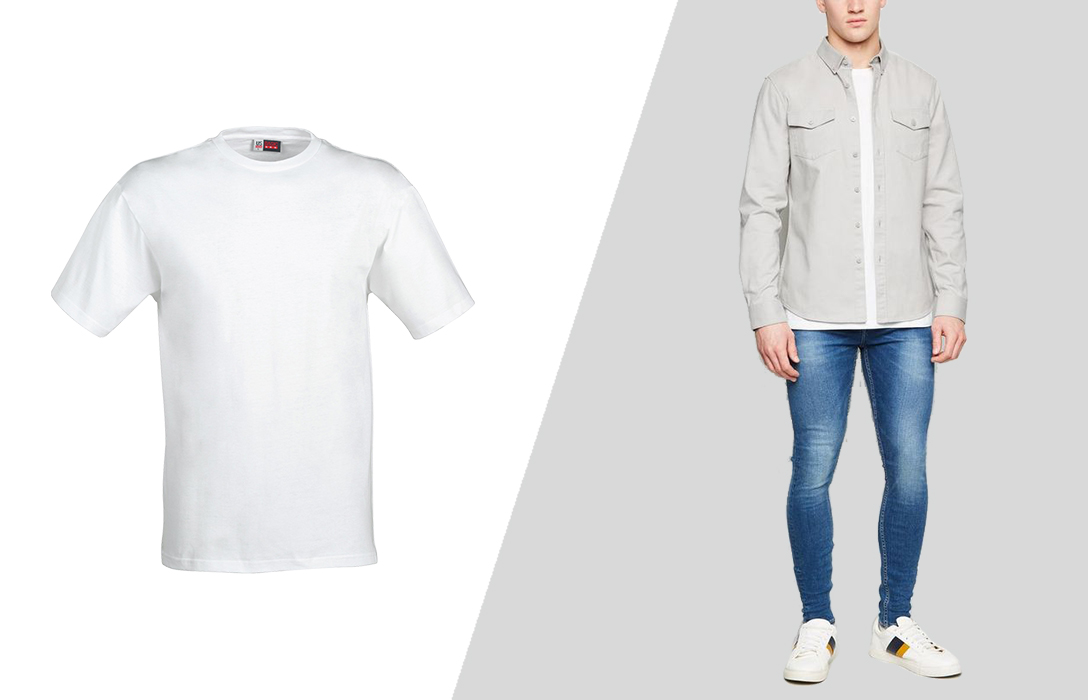 And if you are dressing for a casual day at the office, play it safe and only stick to the top two.
This look is quite loose and flowing, so be sure your pants are slim-fit or at least very well-fitting. If they are at all loose, you may inadvertently wind up looking shapeless.
Wear Jeans with Your Shirt
Denim may be the ultimate material in casual pants, but it can still look very sharp.
Dark, well-fitted jeans can make a lasting impression. Deep blue or black are usually the most refined-looking, and avoid baggy jeans.
One of the best things about jeans is how versatile they are. You can switch them up regularly, wearing them with a dress shirt one day and a graphic t-shirt the next.
You can even toss on a blazer to accent your dress shirt; black jeans would be the ideal color in most situations.
Adding a Sweater Over Your Dress Shirt
A dress shirt underneath a light sweater is one of my favorite casual looks. It looks tremendously polished and comfortable.
You can go with either a V-neck or a crew neck; both work amazingly well with a dress shirt.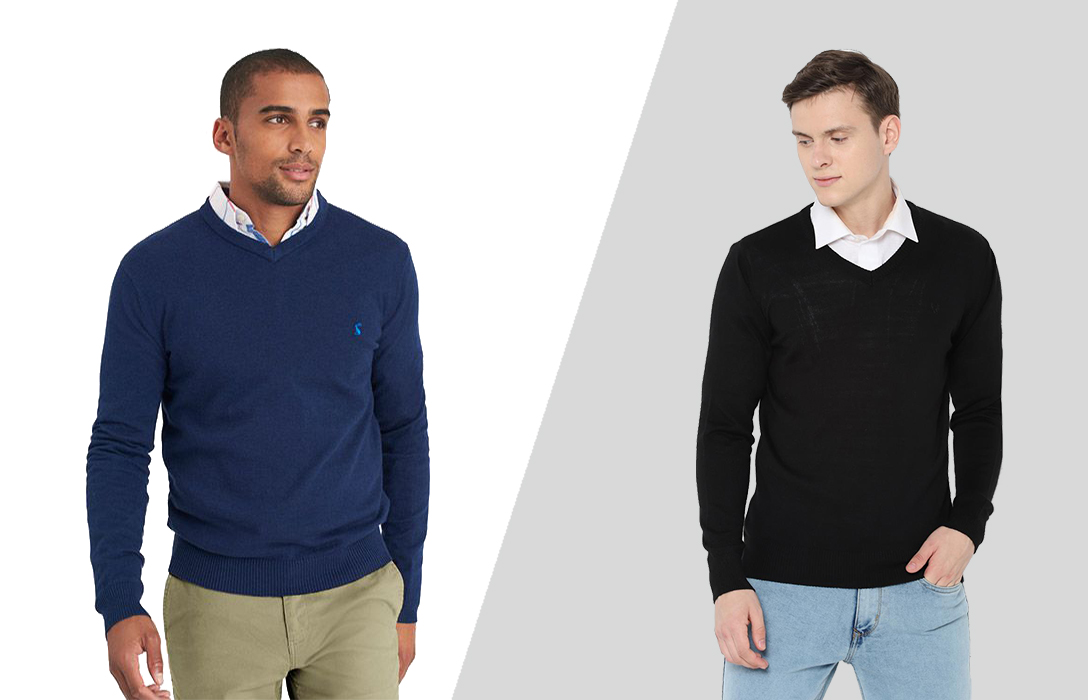 Make sure that your collar and the tips of your sleeves peek out, although the tips of your collar should be tucked in. This gives off the impression of well-polished, immaculate attention to detail.
Thin material for your dress shirt is the best way to pull off this look smoothly. That helps cut down on material bunching up around your shoulders under the sweater.
Differences in Shirt Cuts
Fortunately, not all dress shirts are cut the same way. You can buy a dress shirt in your size in three different styles of fit: slim-fit, classic fit, and modern fit.
Each one will suit you for different needs, based on what activity you'll be doing when you wear them, what you are pairing them with, and the style you are going for that day.
While there is no wrong or right choice for any of these fits, there are times when one fit is more right than the others.
Wear Slim-Fit to Keep Your Dress Shirt Close to Your Body
Slim-fit dress shirts are highly tailored to your body. They look trim and sleek.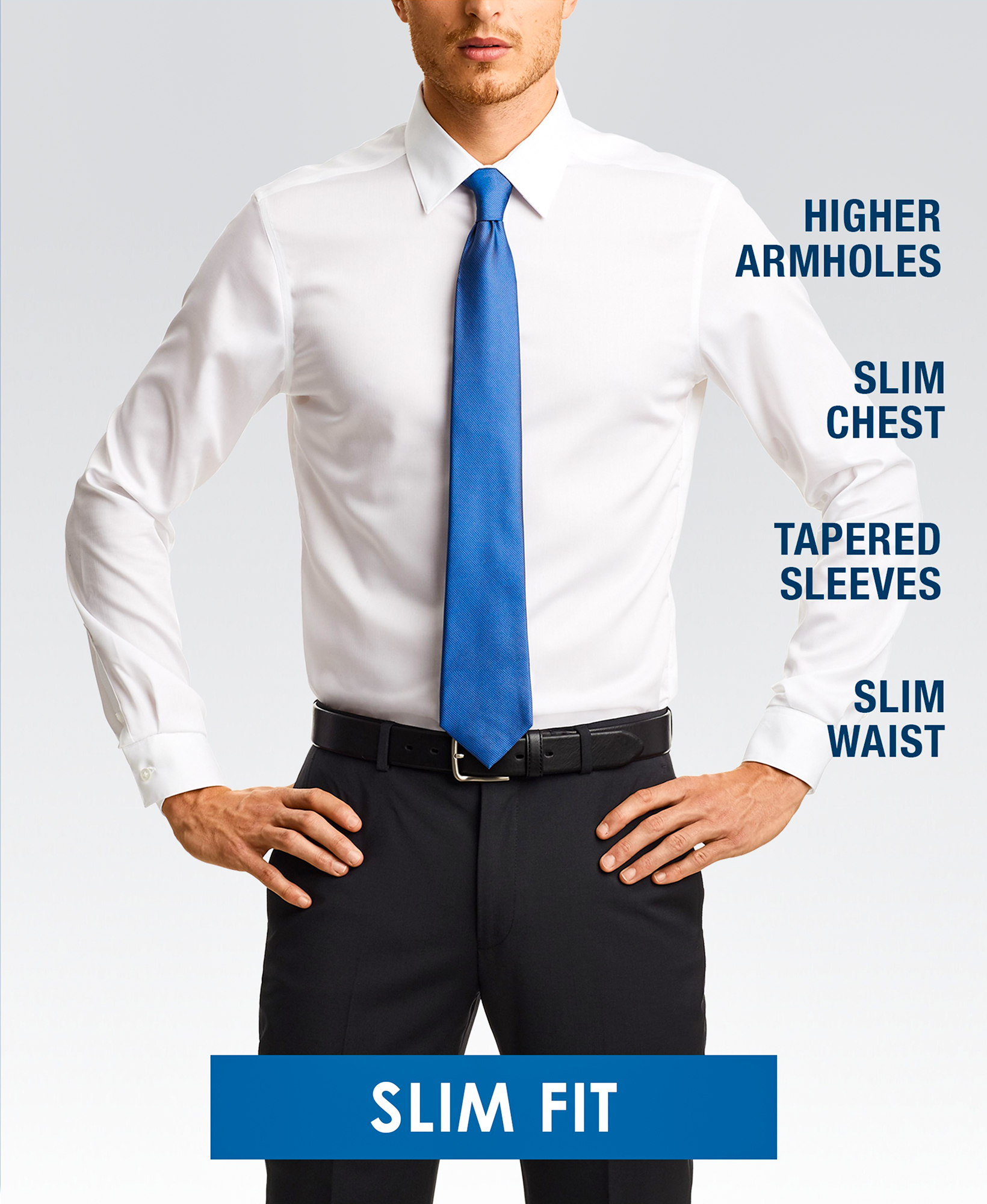 However, because they sit close to your torso, your arms and shoulders don't have a significant amount of mobility.
These shirts are excellent for displaying your slender physique, but you don't need to be super-fit to be able to pull off this look.
Slim-fit dress shirts are also an excellent base for when you are layering.
Wear a Classic Fit Dress Shirt for Comfort
If movement is a concern for you, and you know you'll be moving your arms a lot, a classic fit dress shirt may be more your speed.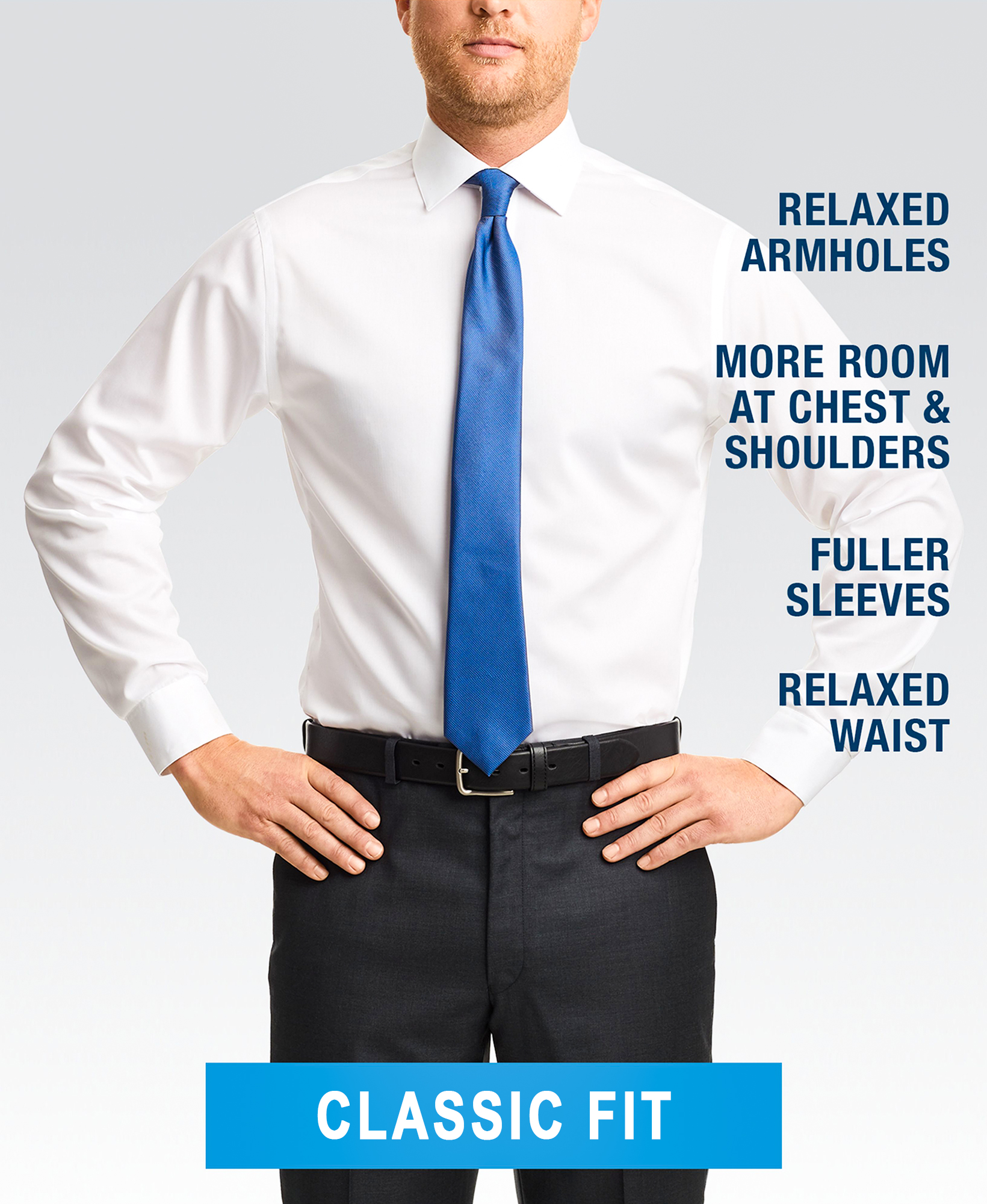 Classic fit doesn't hug your body as a slim fit does; however, it doesn't need to look shapeless.
If you find a dress shirt that suits your measurements perfectly, it will look very appropriate.
Try Modern Fit to Have a Bit of Both
Perhaps you love the tailored look of a slim-fit dress shirt but yearn for the movement of a classic fit dress shirt. Fortunately, you can get both.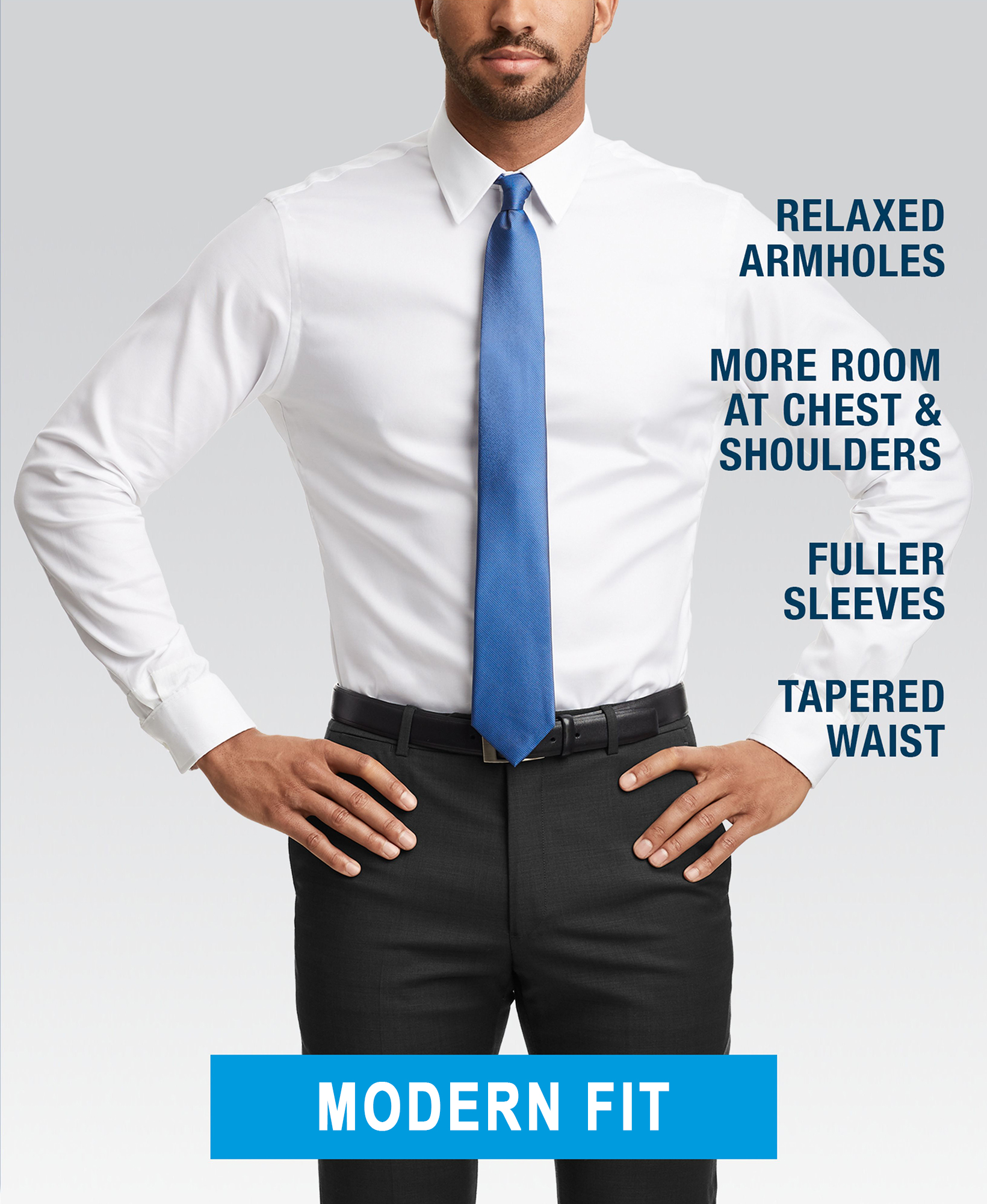 Modern-fit dress shirts are a lovely compromise between the two extremes. This dress shirt style looks streamlined to your body, with more shaping than you would find with a classic fit.
It also has more fabric than a slim-fit shirt, so your mobility is not limited in the same way.
Other Things to Consider When Wearing a Dress Shirt
Successfully dressing is all in the details. You can nail your look if you know which elements to pay most attention to.
Of course, you need to start with the correct dress shirt, but how you wear it will influence its effect.
The first step is to decide what look you want, or need, to accomplish. After that, your goal will dictate how you proceed.
Tucked vs. Untucked Dress Shirt Difference
Leaving your dress shirt untucked isn't always necessarily sloppy, although it is too untidy when you are dressing up.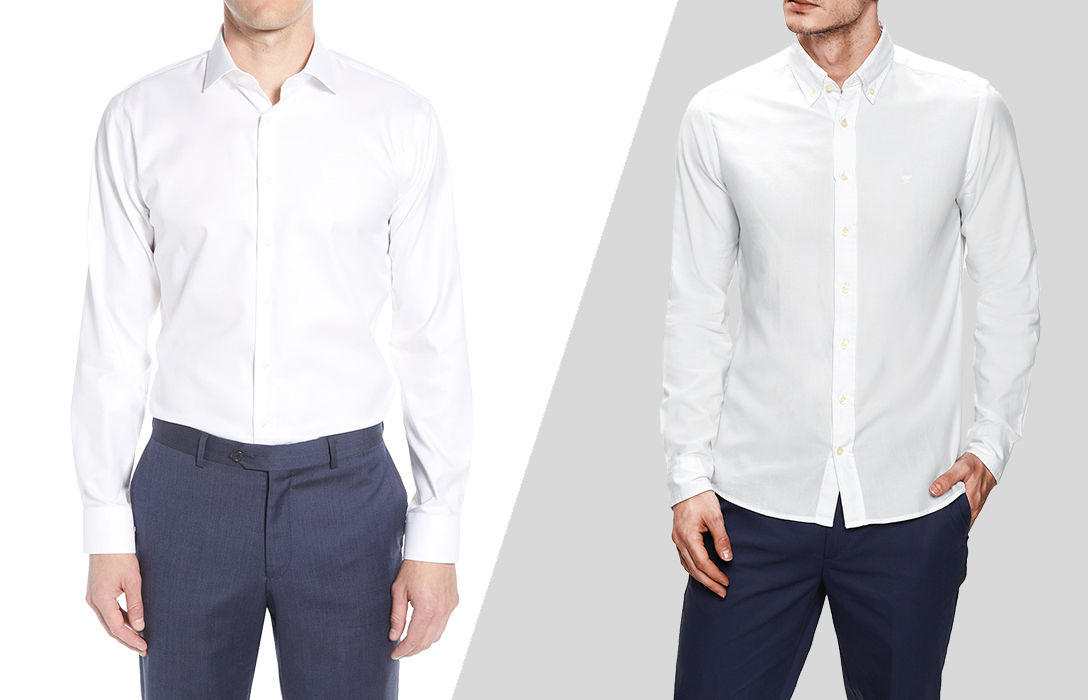 Formal dress is all about looking polished and clean, which is why you must tuck in your dress shirt.
On the other hand, casual dress is more of a toss-up. You may want to look polished while being relaxed, or you may like to send the message that you are feeling very laidback.
Leaving your shirt untucked will sway your outfit over the line from one extreme to the other.
When to Wear a Patterned Dress Shirt
It is acceptable to wear a patterned dress shirt for casual or very dressy outfits, but remember that patterns make all suits less formal.
And keep in mind that a print shirt is never acceptable for the most formal outfits.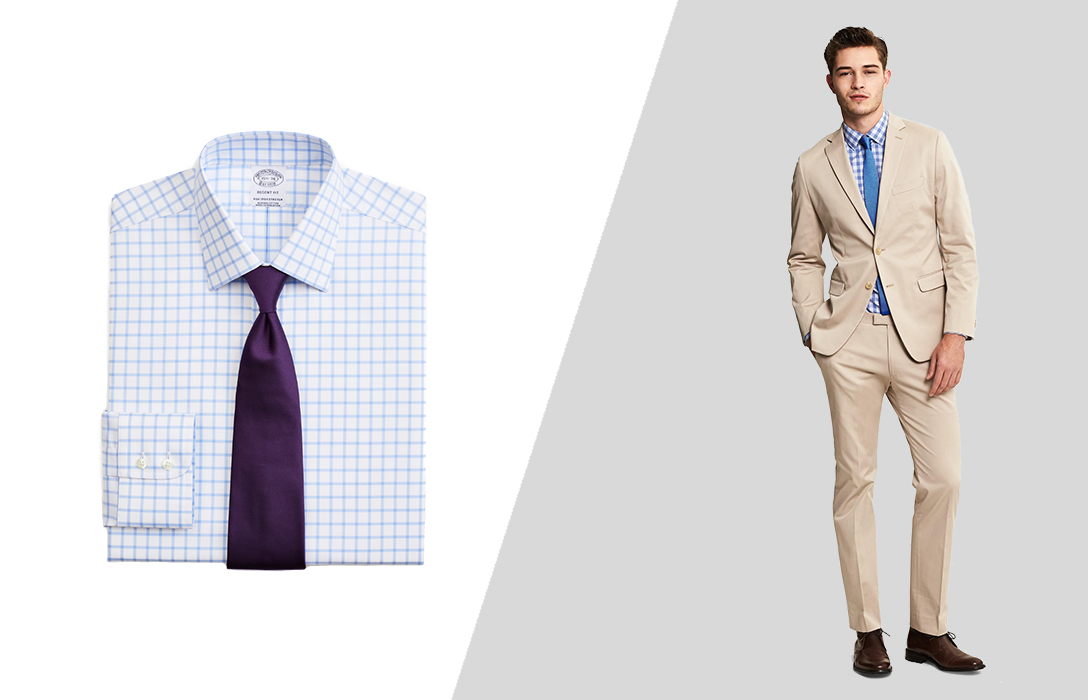 If you are going for a casual appearance, patterns can add depth and interest to your ensemble.
You can go very bold and big with casual dressing, as long as you aren't in a conservative setting, like an office.
You should only ever wear a patterned dress shirt if you are wearing a solid suit.
It is a faux pas to mix patterns, so tread carefully when incorporating patterns. A combination of patterns might just overwhelm the rest of your outfit.
When to Roll up Your Dress Sleeves
Rolled-up sleeves are another signal that you are in a laid-back frame of mind. It indicates that you are either relaxing or doing some light physical activities.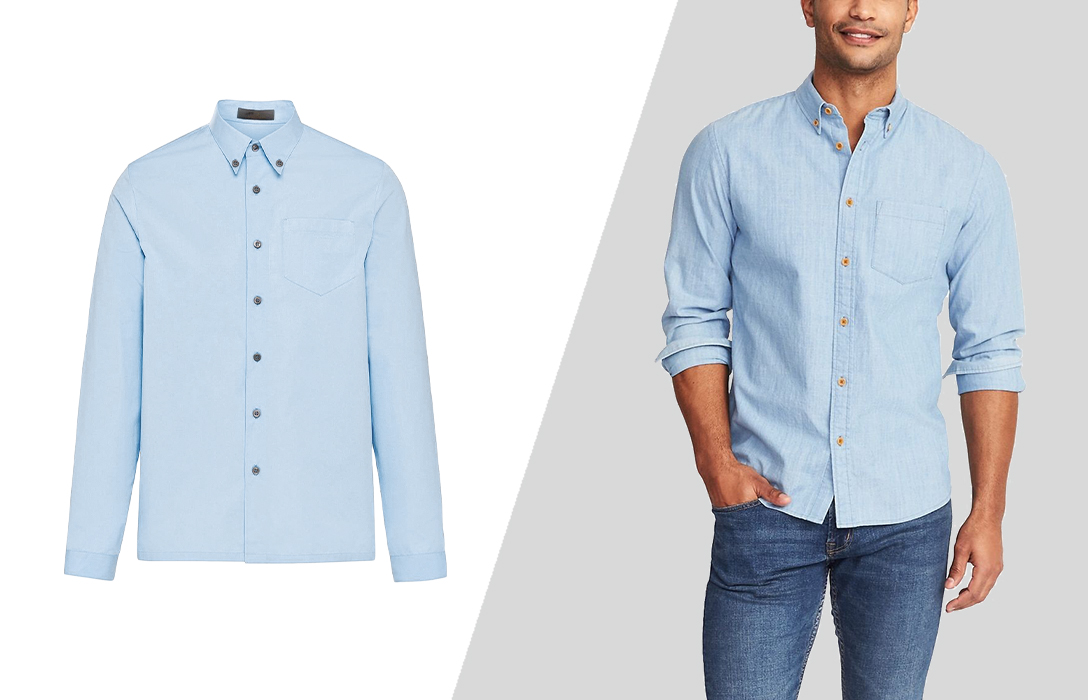 Roll your sleeves up to your mid-forearm. If you keep one button done up while undoing the other button, you will have some room to roll the up while maintaining your sleeves' structure.
For an even more relaxed style, undo both buttons. You'll have looser and larger rolls.
Securing the Cuffs
How you button your cuffs can keep your silhouette sleek and trim around your wrists.
Men who wear a dress shirt with a single cuff style or French cuffs should always secure them with cufflinks.
Cufflinks can be a beautiful addition to your dress shirt. They are traditional in formalwear and have a highly decorative and purposeful function.
Most dress shirts, however, have barrel cuffs with two buttons located at the cuff. Set your cuff at the looser setting for more movement.
If you wear a dress watch, set your buttons in a tighter setting. This may sound counterintuitive, but it's the best way to force your shirt to display your timepiece.
Author: Alexander Stoicoff
Hi, I'm Alex, and I've studied and specialized in styling in Rome. Through my writing, I want to help men dress well and learn the purpose and significance of suits and other formal attire. My final goal is to make men more confident in their wardrobe choice and life in general.