Brogues can turn any outfit from "dud" to "dude."
They are a simple yet practical addition to your wardrobe, elevating you to a whole new level of fashion sense.
Yet, this is only true if you can match them to your outfits properly.
What are Brogue Shoes?
What sets brogues apart, making them identifiable and unique, is the detailing of the perforations that create a pattern around the shoe.
Brogues can be any style of shoe: Oxfords, derbies, monk straps, even boots!
However, it's the small holes decorating the shoe that turn it from a regular shoe into a brogue.
And, as you'll see, even the patterns and designs of the perforations can vary from very little to quite a lot.
These varying designs can infuse your entire outfit with a sense of personality, turning it from your everyday work suit into something slightly more dapper.
Different Styles of Brogues
These shoes can come in several variations and designs.
The level of your brogue's formality is highly influenced by how much broguing it has; more design and detailing make it more informal.
Brogue shoes can be very dressy, though they are never entirely on the same level as a plain Oxford dress shoe.
So, even the most formal brogues (quarter brogues) are inappropriate for black-tie events.
Quarter Brogues
The quarter brogue shoes have a minimal design. They involve subtle detailing along the toe cap and perhaps the edges of the quarters.
Quarter brogues are the dressiest shoe in the brogue family.
Since they have the simplest and cleanest design, they are also prevalent in business professional settings.
Semi-Brogues
This design, also called a half brogue, features broguing along the toe cap and edging.
Just like the quarter brogues, but then expands to include a perforated medallion inside the toe cap.
Because of the extra decorative touches, this style of brogue is less formal than a quarter brogue.
It's too busy for a slick formal suit but works well for business casual or smart casual ensembles.
Full Brogues aka Wingtips
This is the most detailed design for brogues.
They're also often referred to as wingtips because the perforation along the toe cap comes to a point in the center and extends down the side of the shoe. Essentially, it forms a pattern that may look like a wing.
Because full brogues are rather busy, they don't work well with a suit. They feel too informal against the dressier sensibility.
So, instead, these are excellent when paired with jeans or perhaps a pair of chinos. You can make a firmly casual outfit more stylish just by swapping out your shoes!
Longwing Brogues
For a truly unusual take on brogues, check out longwing brogues.
These are similar to regular wingtips, but the wing extends fully around toward the back of the heel.
So, you could say that these have even more detailing than wingtips since they have a longer line of design. This ensures their informality.
Different Ways to Wear Brogue Shoes
The brogue shoe has undergone many transformations in its lifetime. It began as an outdoor shoe for use in the fields and has now morphed into a dressy shoe.
Because of this wide range of uses, there are many ways to style your outfits around brogue shoes. You can create new and unexpected looks when you use these shoes wisely.
Semi-Formal Look with Brogues and a Full Suit
Your navy or charcoal suit is beautiful for your dressiest business occasions, but it can feel stale after a while. You can add some charm to your professional style with brogues.
Changing up your shoes gives you more room to play and veer away from the formal trappings of the boardroom.
Because brogue shoes are slightly less dressy than traditional Oxfords, you can break the mold a bit with your suit.
Swap your formal white dress shirt for a more relaxed light blue button-up. Add dark brown quarter brogues for the finishing touch.
Brogues with a Three-Piece Suit
A three-piece suit is very sophisticated but sometimes feels rather stiff.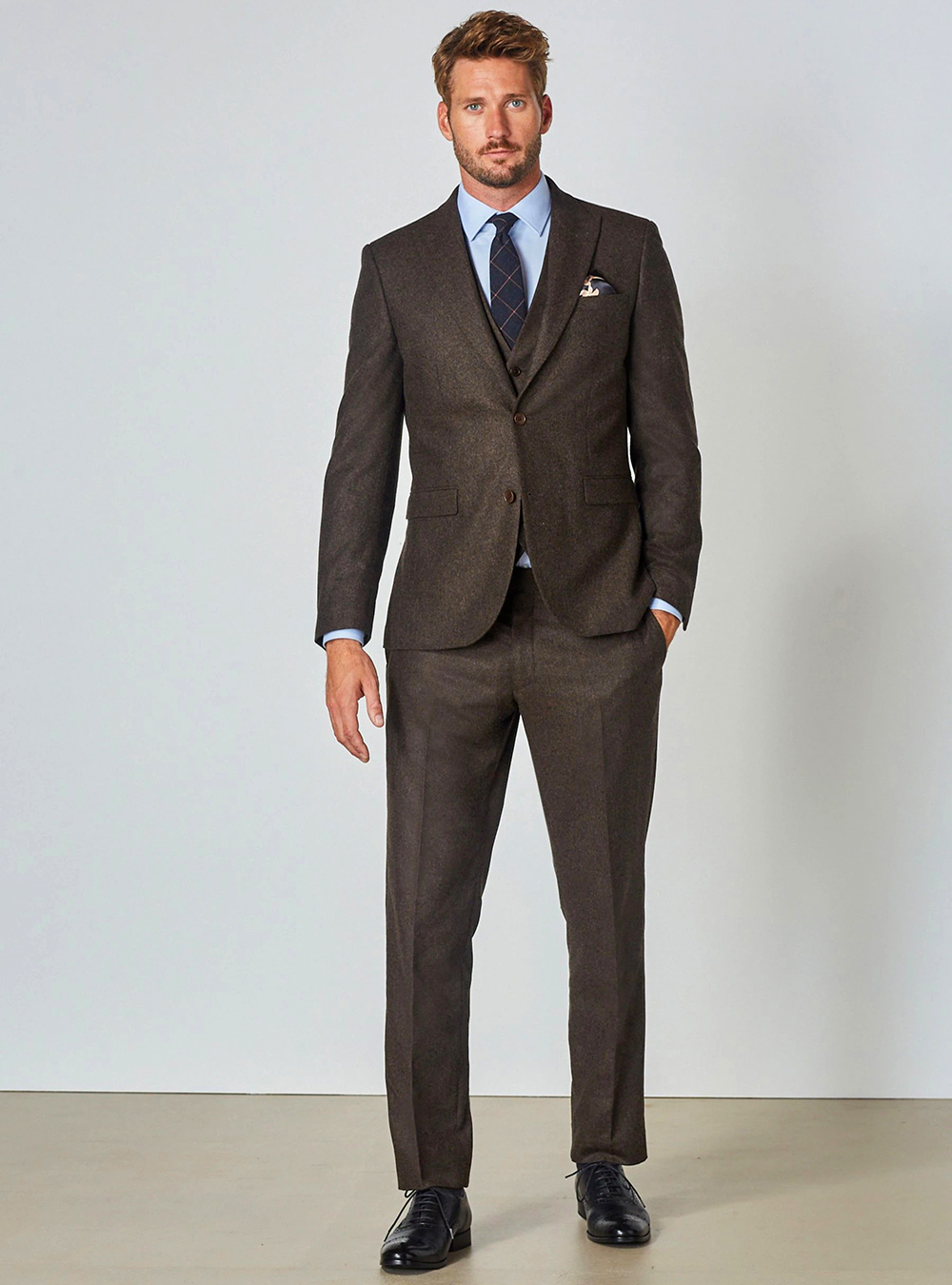 However, this suit doesn't have to feel stuffy when you invigorate your look with quarter or half brogues. Instead, it can feel downright dapper.
If you can, opt for a pair of dark brown brogues. This shade feels less harsh than black, helping to mute the stuffy feel of your suit.
Finalize your outfit with a blue or pink dress shirt with a dark tie.
Light-Colored Suit for a Summer Wedding
Men typically wear light suit shades to a summer wedding. Tones like light grey, light blue, tan, and beige are trendy, though they aren't very dressy colors.
Choose a light-colored brogue shoe appropriate for the event.
Medium or light brown shoes are good colors for these lighter suits and stick to a quarter or semi-brogue.
But keep the rest of the outfit dressy with a white button-up dress shirt. A light-colored tie with a fun pattern will pull it all together.
Bold Suit Colors for Cocktail Hour
Cocktail attire should be head-turning. So, consider a beautiful suit in an unexpected shade, like burgundy.
Complement this striking suit with a pair of dark wingtips or quarter brogues. Wear this with a white dress shirt and a dark tie for total elegance.
Power Look with a Black Suit and Brogues
A black suit makes a strong statement; it's formal and powerful. You can soften it with black quarter brogues if you worry about coming on too strong with your black suit.
However, it's necessary to keep the white dress shirt for greater impact. A dark tie is also essential; consider a red power tie to convey strength. Plus, it just looks fantastic.
Wearing Brogues with Blazer with Jeans
Make your night out suave, halfway between dressy and casual. Start with a pair of well-fitted dark jeans.
Add a patterned blazer and medium brown wingtips – how swinging! The best part is that this outfit is tie optional.
Tan Brogues with Jeans for Contemporary Contrast
Going casual gives you more chances to bend a few fashion rules.
With this outfit, you can lean into a contrast with dark, casual jeans and light shoes. This look elevates your ensemble to just a step above casual.
A light button-down shirt with rolled sleeves makes this outfit feel breezy.
Your choice of shoe style can also help; consider full broguing or perhaps even a pair of brogue boots.
Brogues with Separate Blazer and Pants
Brogue shoes were practically created to support suit separates. Pairing the lower formality with a bit of dressiness creates a beautiful balance.
Medium or dark brown brogues with dark pants and a light blazer are excellent for business casual offices.
Plaid Blazer and Full-Brogue Shoes
A plaid blazer generates much attention, so balance that out with equally fierce shoes.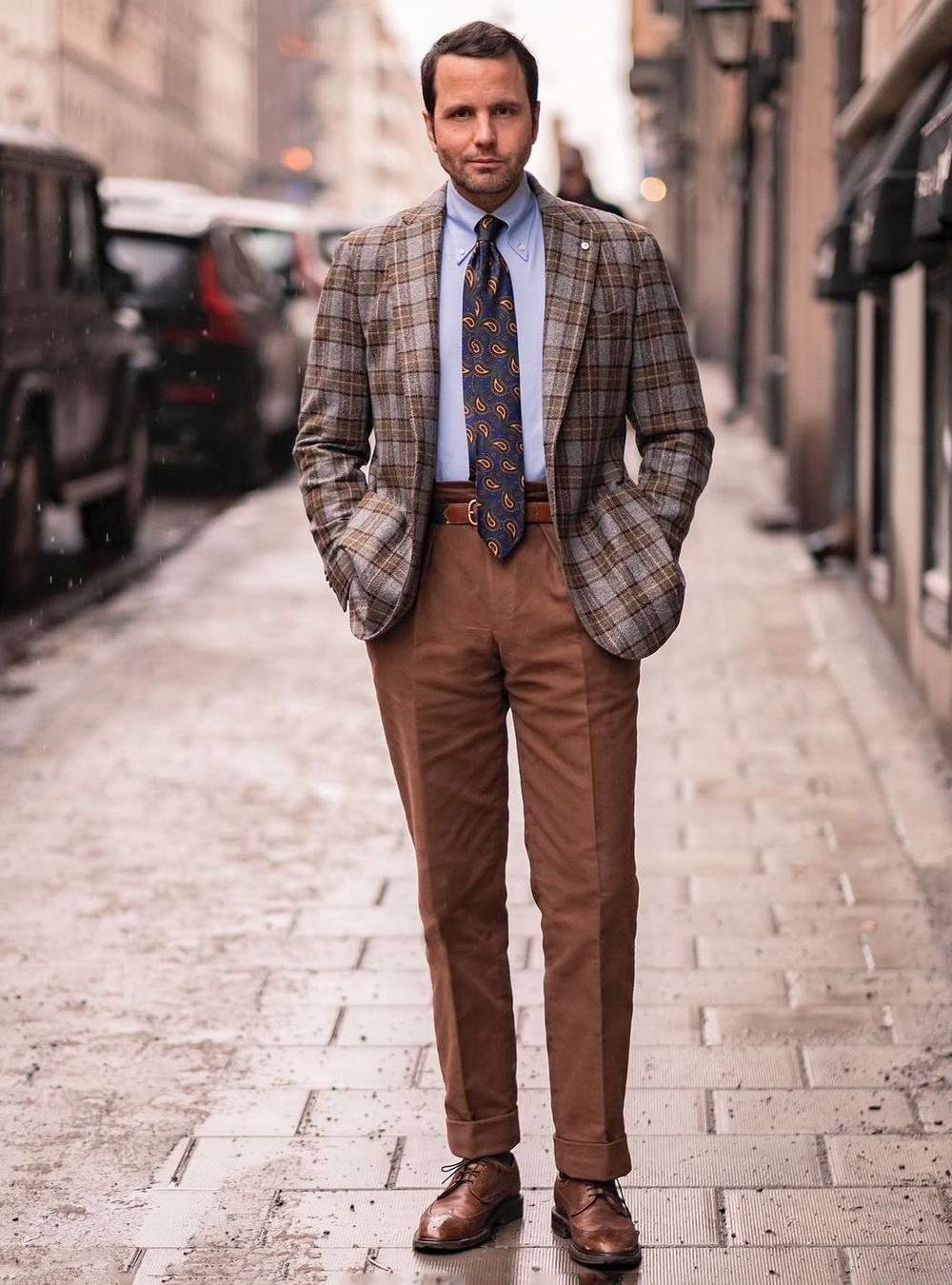 Keep your colors neutral so that you don't overwhelm the senses. This is one rare case where a white dress shirt may feel too harsh—tone things down with a pale blue instead.
Matching Brogues and Peacoat over Dress Shirt
You can head out on a crisp day with a spring in your style with this pairing. Medium brown brogues feel very modern against the setting of a very traditional peacoat.
Let a patterned dress shirt peek under your coat, creating a simple and casual but versatile appearance.
Brogue Shoes with Turtleneck and Dress Pants
A turtleneck can be shorthand for quiet elegance. Brogues beautifully enhance this feeling. They take a classic, if sometimes old-fashioned, garment and modernize it.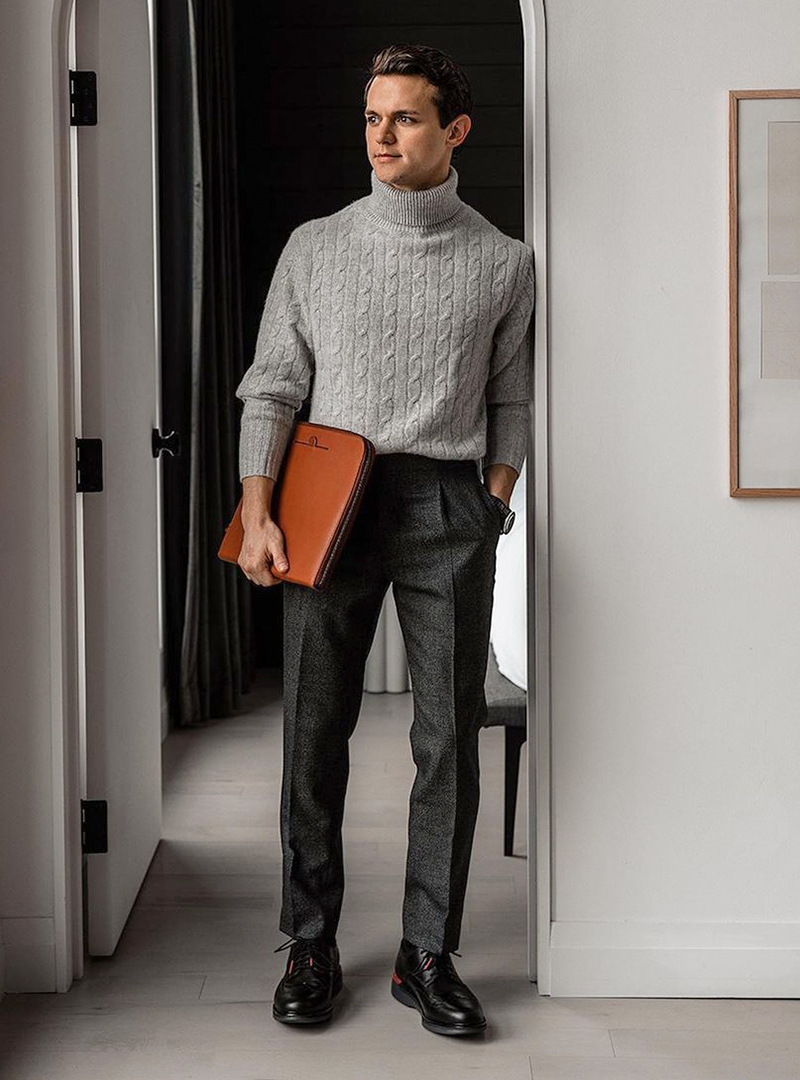 Try dark pants and shoes with a dark or lighter turtleneck. Consider adding some texture to soften the overall effect.
Brogues with a Blazer and Chinos
Chinos are incredibly flexible. They are an easygoing base for any smart casual outfit.
You can toss on a blazer over them to ensure your outfit doesn't read as too relaxed.
Opt for a dark, solid shirt underneath. A pair of brogues can tie it all together.
Suede Brogues with a Barn Jacket for a Casual Spin
Return to your brogue's original roots with a classy but outdoorsy style.
Spend time exploring the great outdoors in neutral-colored pants with a darker jacket over a pair of full brogues.
You can be comfortable while blending in with the nature surrounding you.
Other Things to Consider
Picking the right pair of brogues for your outfit is about more than just how many holes it has or selecting the right color.
Some nuances can make one pair more appropriate than another.
Of course, the rest of your outfit is also important to consider. Slim-fit pants, for example, make an excellent complement to brogue shoes.
And the color of your pants is also helpful in determining which brogues you should choose.
Oxford vs. Derby Brogues
Oxfords and derby shoes are two different styles, while broguing is simply a detail that can be included in either type.
Oxford shoes have a closed lacing system, making them the more formal option. If you add broguing to it, it's still semi-formal but not as dressy as a plain Oxford.
Derby shoes have an open lacing system and are dressy, just not as much as Oxfords.
Brogue Shoe Material
Most brogues are made from leather. These are your standard, everyday brogue shoes.
However, you can find styles that come in patent leather or suede. Just like their non-brogued counterparts, the material influences the shoe's formality.
Patent leather is a dressy brogue, while suede is a casual shoe.
Matching Colors and Tones
Though brogue shoes stand out thanks to their detailing, they should still follow standard rules for matching the rest of your outfit.
The color aligns with how laidback or elegant your outfit is. In many cases, brown brogues are a versatile option that can swing between formalities.
In general, dark shoes are dressier and more professional and keep your outfit sophisticated.
On the other hand, lighter shoes are more casual and relaxed and work well with medium and lighter-shade outfits.
Consider the Occasion
Your first question should be whether the occasion is appropriate for brogue shoes.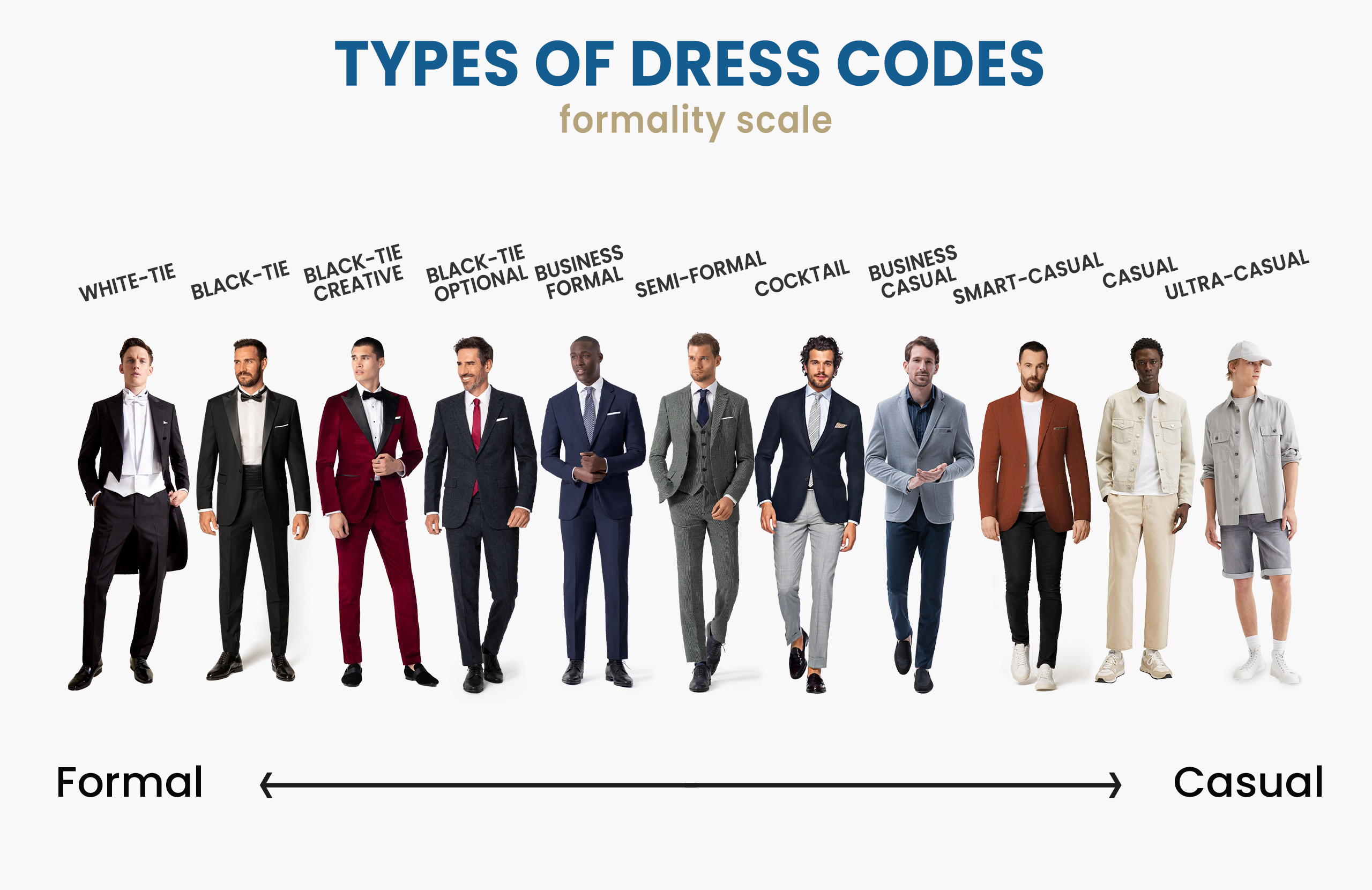 Sadly, if you go to a black-tie event, you'll need to leave your brogues at home. However, most other occasions are suitable for some style of brogue shoes.
Brogues are an excellent choice for semi-formal dress codes and anything less dressy.
Use them to dress up a more casual outfit or infuse an extra dash of style.
Just remember that the design of your brogue should always match the sensibility of the event. Less broguing is always a safer bet when you need to be dressy.
Author: Alexander Stoicoff
Hi, I'm Alex, and I've studied and specialized in styling in Rome. Through my writing, I want to help men dress well and learn the purpose and significance of suits and other formal attire. My final goal is to make men more confident in their wardrobe choice and life in general.