Navigating the world of ties can be daunting, given the plethora of different tie patterns and types. It can significantly impact the overall vibe of your outfit, so it's essential to choose wisely.
Whether attending a formal event or adding a touch of polish to your casual attire, the right pattern can amplify your style.
So let's demystify the art of selecting the perfect tie pattern to complement not only your suit and shirt but also your unique personality.
Solid Ties
When it comes to versatile elegance, nothing beats a solid tie. A tie in a single, solid color is a staple in any man's wardrobe.
It pairs well with virtually any patterned or solid shirt, making it a safe yet stylish choice for any occasion.
The color of your solid tie is also very important. It can complement or contrast your suit and shirt.
For a start, I suggest trying a dark-colored tie. Don't rush with bright or neon ties at the beginning.
Particularly, a medium-blue or navy solid tie is an absolute must-have. It offers a sleek refinement at a formal event or a business meeting.
Dark orange, olive green, or maroon ties are also excellent choices to begin with. Black is nice but way too formal.
But don't be afraid to explore a rainbow of options: a bright solid tie can provide a punchy accent to an otherwise subdued outfit.
Foulard Ties
Foulard ties are recognizable for their characteristic small-scale repeating patterns and fine silk fabric.
These ties often feature symmetric, tessellated designs ranging from simple geometric shapes to complex floral arrangements.
The term "foulard" originates from the French word for a silk neckerchief. But the meaning changed a century ago when Brooks Brothers incorporated these repeating tie patterns.
Versatile and stylish, a Foulard tie adds a hint of tasteful complexity to your ensemble, making it a splendid choice for both formal and semi-formal settings.
Macclesfield Ties
Hailing from Macclesfield, England, a town famed for silk production, Macclesfield ties are synonymous with subtle elegance.
Known for their distinctive geometric woven patterns, they usually feature a two-tone design.
The designs don't need to be perfectly symmetric, which is one of the main distinctions between Foulard and Macclesfield ties.
These tie patterns offer an understated yet classy touch when wearing a suit. Opt for colors like white and blue or silver for an approachable yet authoritative look.
The intricate designs of a Macclesfield tie are a tasteful choice when you're attending a semi-formal or cocktail event.
Polka Dot Ties
You can't go wrong with a polka-dot tie if you want to inject a playful spirit into your formalwear.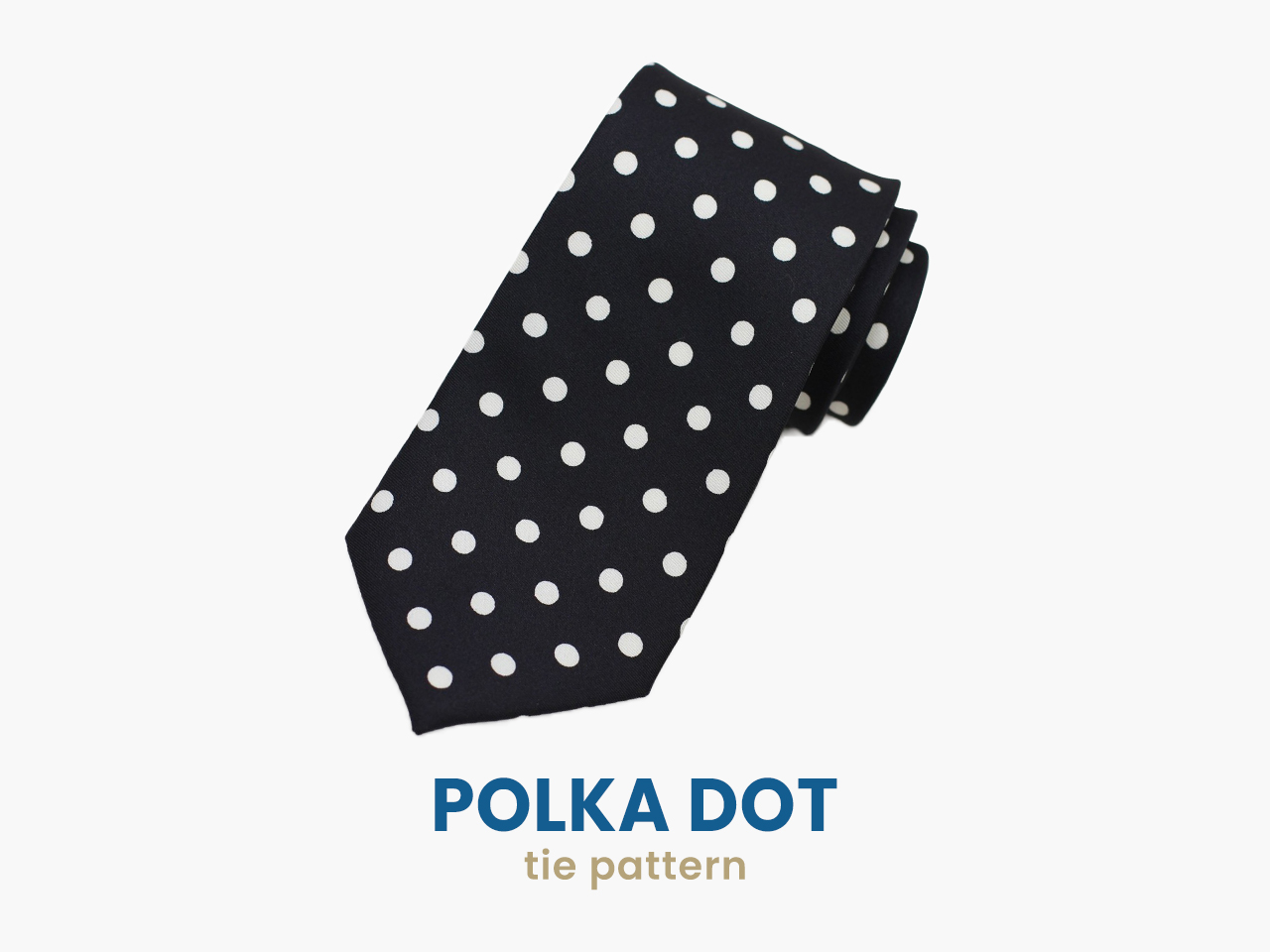 Originating from the polka dance craze of the 19th century, these fun-filled tie patterns have endured in men's fashion. They deliver a whimsical touch without compromising formality.
Look for ties that have small white dots on a dark, muted color background.
White dots on a navy or black background are timeless. But you can also experiment with different color combinations.
Just remember to keep the rest of your outfit relatively simple to let your polka-dot tie shine.
Pin Dot Ties
Pin dot pattern ties are the epitome of understated elegance. Featuring tiny dots scattered over a solid background, these ties are a brilliant choice when you wish to add a hint of pattern without going overboard.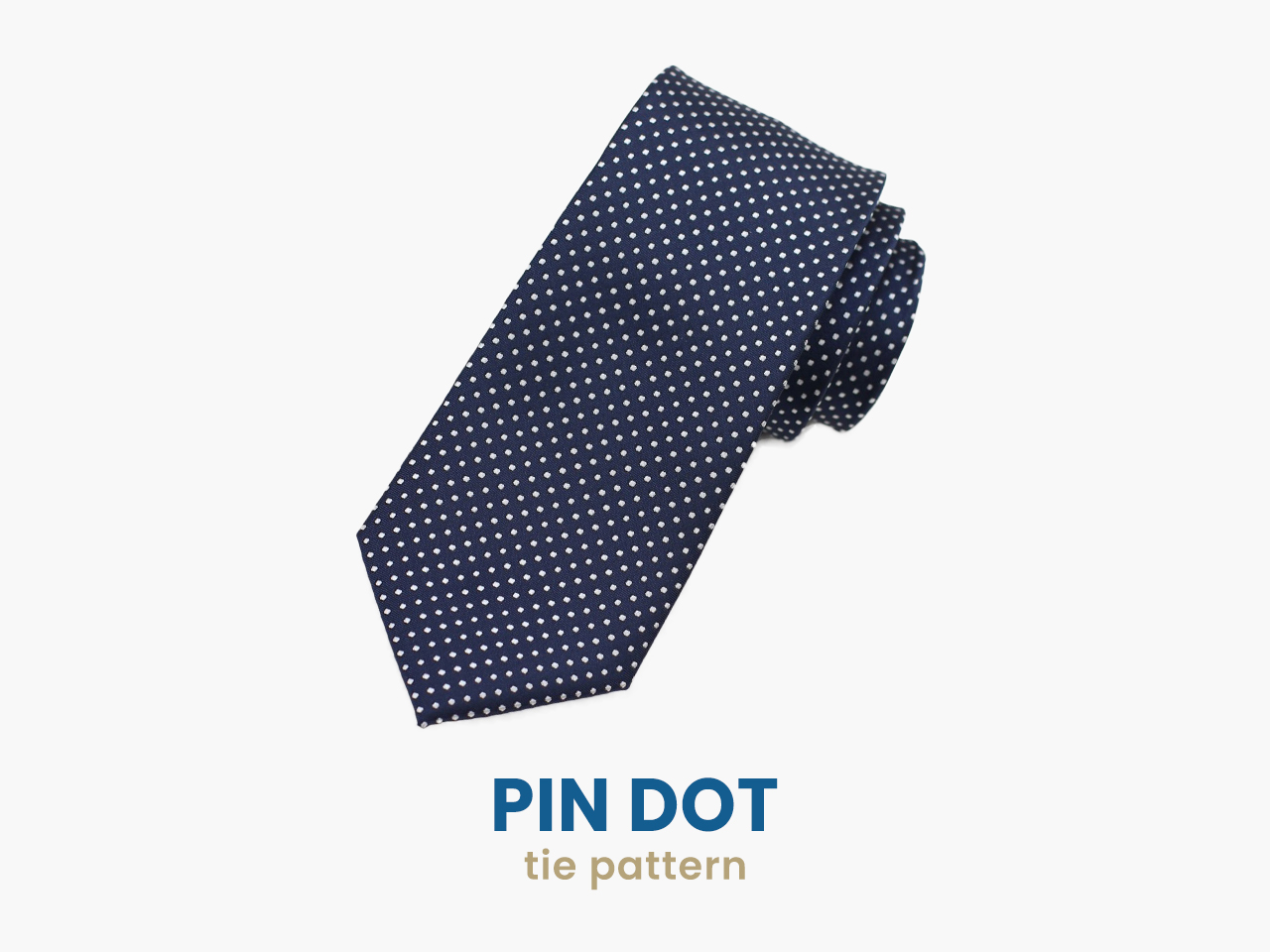 This type of tie pattern, often set against a dark background, is a master of versatility, straddling the line between formal and casual with grace.
The simplicity of pin dot ties offers flexibility when it comes to pairing. They can be effortlessly matched with striped or checkered shirts for an element of contrast.
Moreover, the subtle pattern adds depth to your ensemble without drawing undue attention.
Striped Ties
A staple in any gentleman's wardrobe, the striped tie holds a venerable position in the realm of men's fashion.
Synonymous with classic style, these ties work seamlessly with various outfits, be it a solid, checkered, or even a subtly striped shirt. But not all striped ties are created equal.
British Regimental Stripes
Steeped in tradition and symbolism, British Regimental striped ties are a class apart. The stripes run from the left shoulder down to the right side, a design rooted in military history.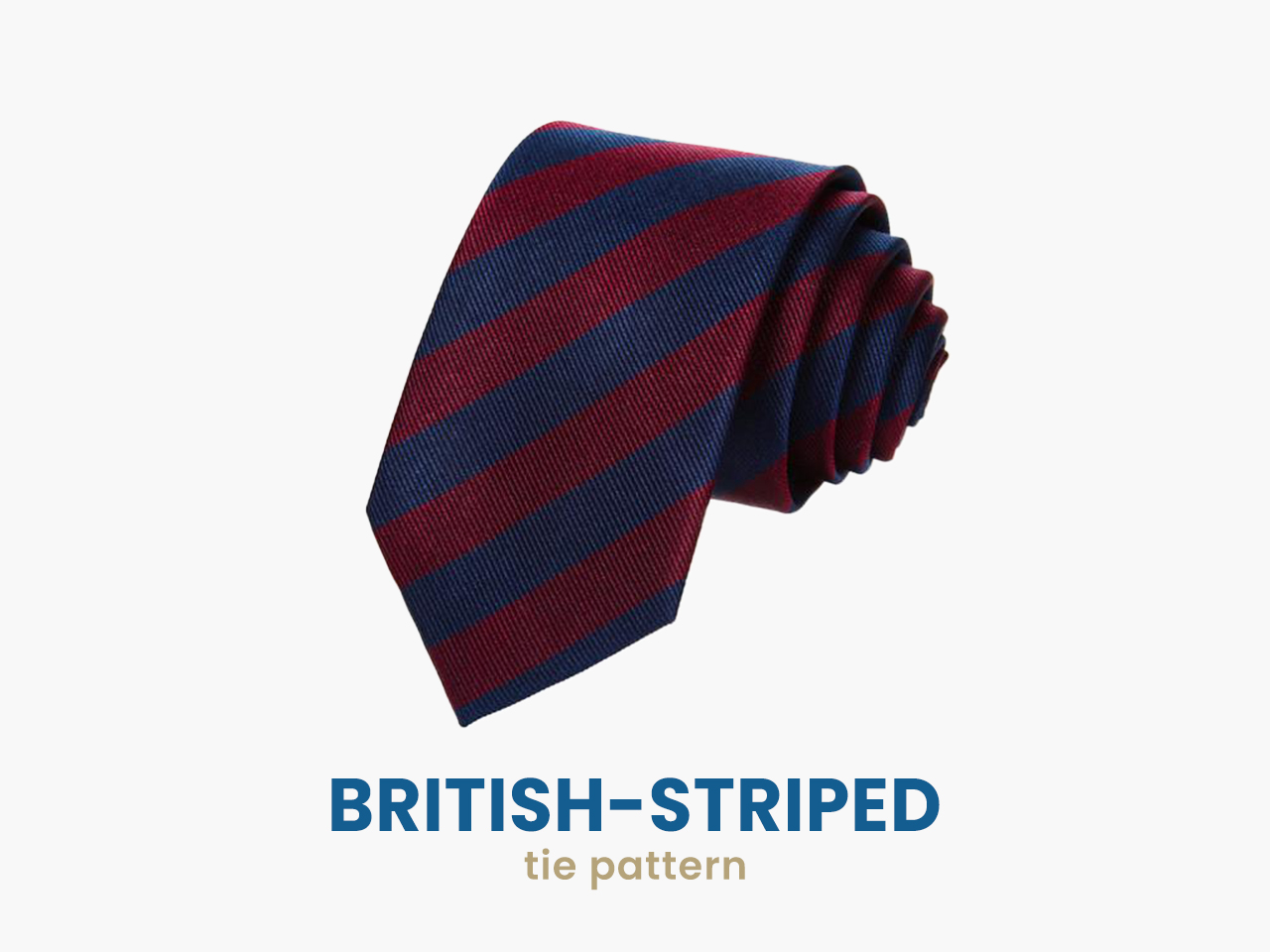 Each color combination signifies a specific regiment or school affiliation, adding a layer of cultural heritage to your outfit. These ties are not merely about aesthetics; they tell a story.
The regimental ties can serve as a conversation starter, especially among those aware of the tradition.
Pair them with a classic white dress shirt and a well-tailored suit for a polished look that speaks volumes of your refined taste.
American Regimental Stripes
The stripes on the American regimental ties go from the right shoulder down to the left side.
In other words, the American counterpart of the British stripes takes the same concept but flips the script quite literally.
While they may not hold specific affiliations like their British counterparts, American Regimental ties ooze a preppy, Ivy League style. The beauty of these tie patterns lies in their universal appeal.
They are at home in a corporate setting and at a weekend gathering. Pair them with a contrasting shirt color, and you're set to make a memorable impression.
Repp Striped Ties
Repp striped ties are a sartorial masterpiece that combines texture and pattern. The defining characteristic of a Repp tie is that the diagonal stripes are a weave, not a pattern.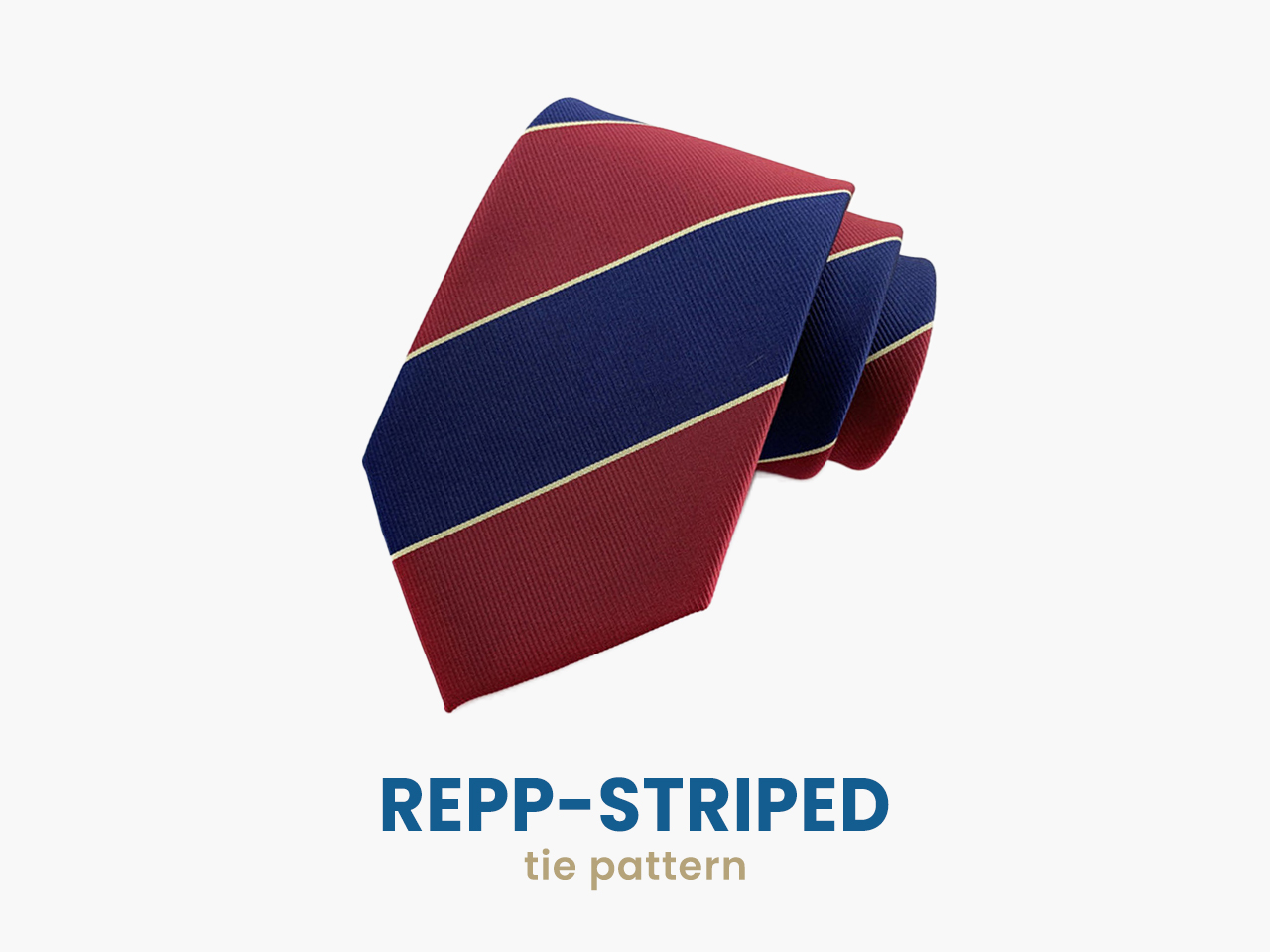 The stripes can run in either direction, making them versatile and internationally palatable. These ties are a favorite for adding visual interest to an outfit without overwhelming it.
The ribbed and textured fabric provides a beautiful contrast to a smooth shirt. So, from business meetings to casual social events, the Repp striped tie is a reliable go-to.
Novelty Ties
There's a tie for every occasion, and novelty ties stand testament to that. Often adorned with a range of quirky, fun designs, these ties are your ticket to express your unique personality or hobbies.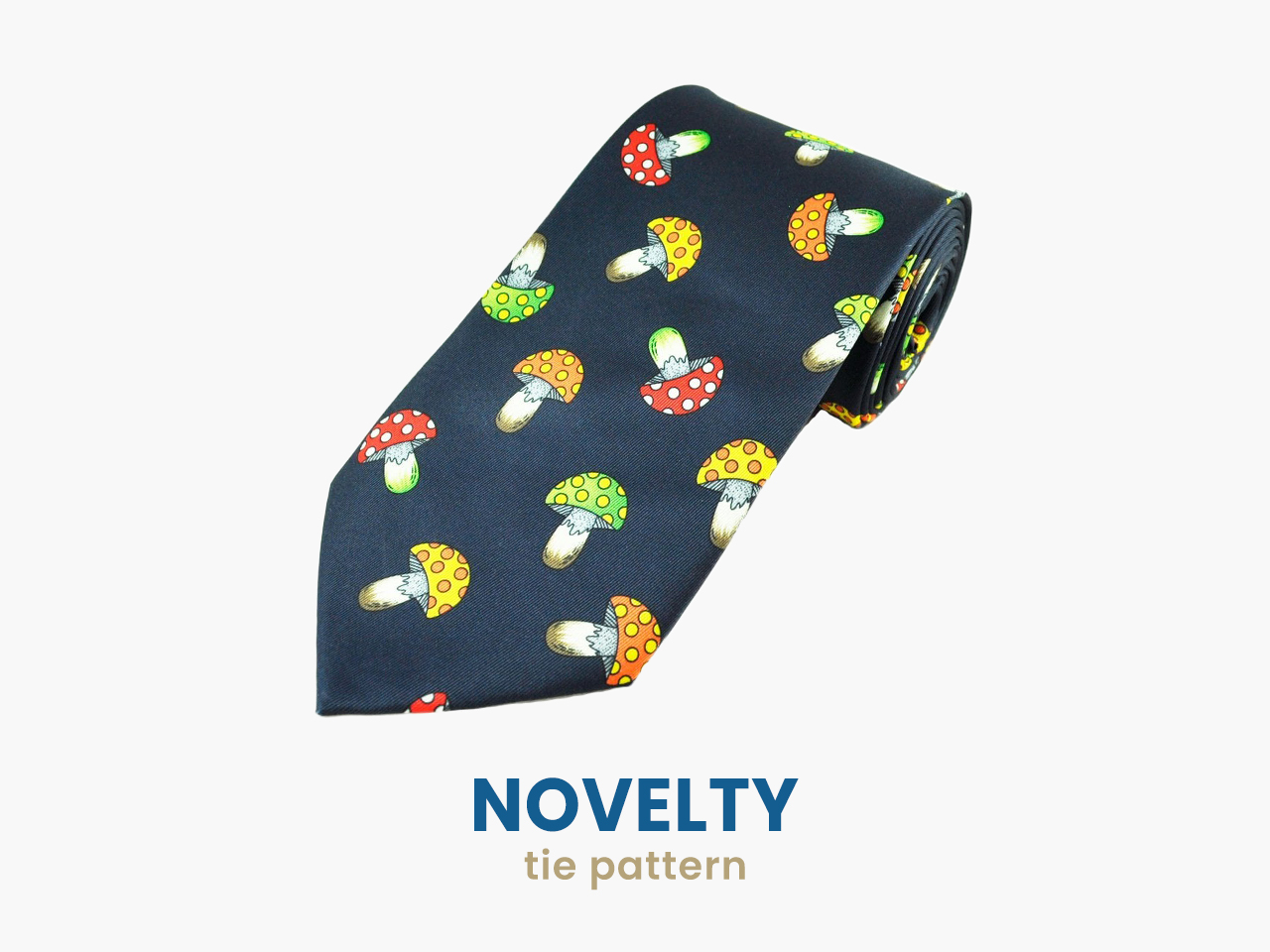 From holiday motifs to superhero logos, the design options are virtually endless.
Though not ideal for formal settings, novelty ties can be a fantastic choice for less formal gatherings or themed parties where they add a splash of fun to your ensemble.
Despite their lighthearted appeal, pairing them requires thought. To keep the focus on the tie, it's best to team them up with solid shirts and suit jackets.
Floral Ties
Once considered a bit of a novelty, floral tie patterns have blossomed in recent years, becoming a mainstream favorite for fashion-forward men.
They're perfect for spring and summer, offering a refreshing burst of color and a cheerful vibe. Pair your floral tie with a solid shirt for a stylish and approachable look.
Whether you opt for a subtle, tonal floral or a bold, vibrant bloom, these types of ties will make a stylish statement.
Plaid / Tartan
Paying homage to the Scottish highlands, plaid or tartan ties are a timeless classic.
Featuring interlocking stripes in varying widths and colors and thus forming diamonds when crossing, these tie patterns offer a harmonious blend of tradition and style.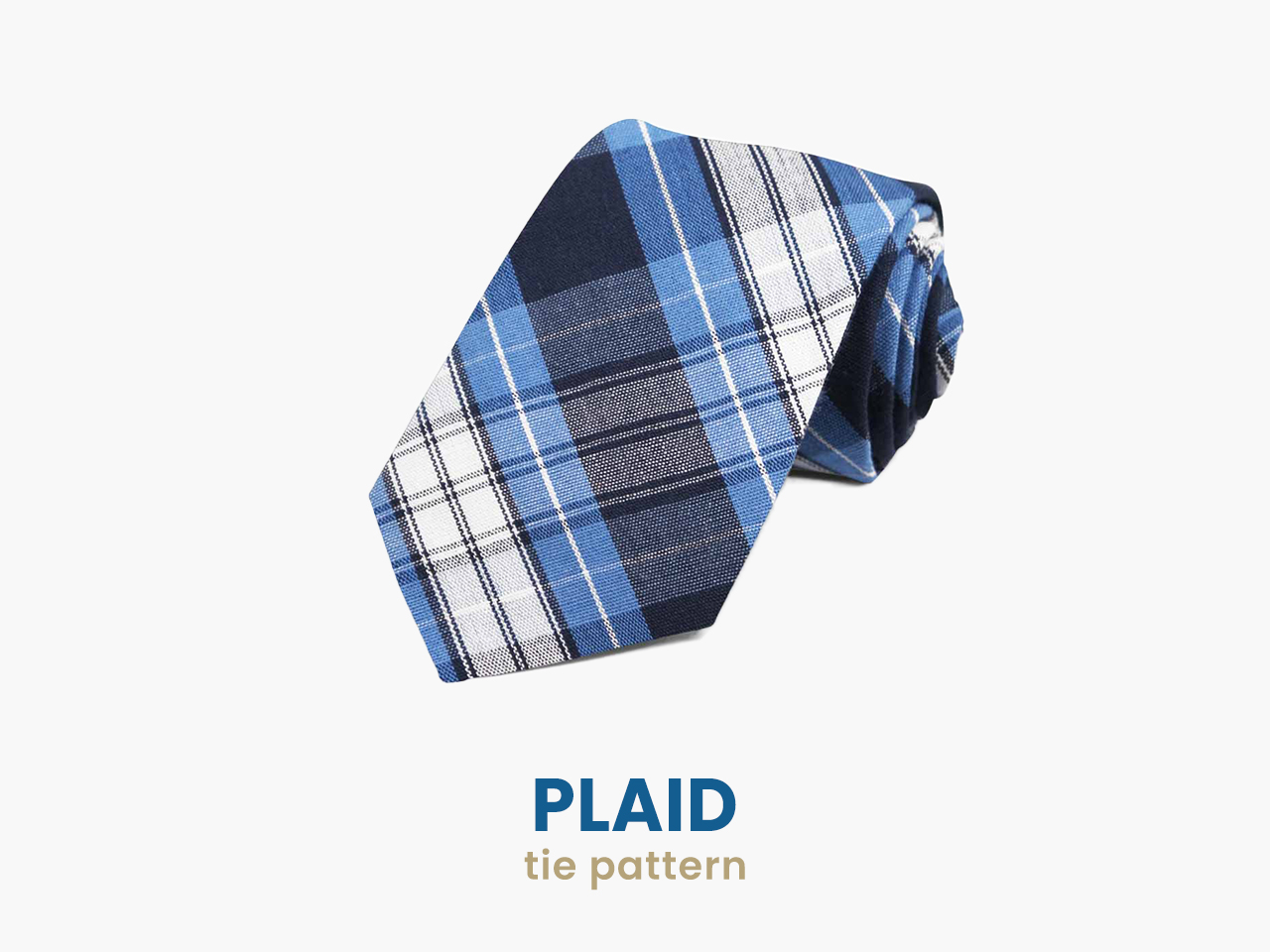 They work exceptionally well in the colder months, paired with a crisp white shirt and a woolen blazer.
The key to pulling off a plaid tie is balance. If your tie is bold, keep the rest of your outfit simple, and vice versa.
Paisley Ties
An exotic "import" from the Middle East (specifically Persia), paisley ties offer an abstract, rich, and intricate pattern. It can add depth and interest to your outfit.
The swirling, teardrop-shaped design is named after the Scottish town of Paisley. It became a center for manufacturing these patterns in the 19th century.
Paisley ties can range from subtle to bold, making them a versatile choice for formal and more relaxed settings.
Consider a muted, tonal paisley for a refined look. Or go for a vibrant, multicolored pattern to make a statement truly.
Club Ties
A storied classic in men's fashion, the Club tie carries a deep sense of belonging and tradition. Sporting motifs of clubs, societies, or organizations, they are a symbol of unity and shared identity.
The designs could range from school crests to naval symbols, each carrying a unique heritage.
Club ties are versatile, sitting comfortably between semi-formal and informal, and exude an air of sophistication and tradition.
Remember, the motif should be the star of your outfit, so pair these ties with solid shirts and complementary suits.
Author: Alexander Stoicoff
Hi, I'm Alex, and I've studied and specialized in styling in Rome. Through my writing, I want to help men dress well and learn the purpose and significance of suits and other formal attire. My final goal is to make men more confident in their wardrobe choice and life in general.