Balancing classic refinement and bold self-expression, most types of ties aren't merely fashion accessories but statement pieces, voices in the language of style.
From vibrant bow ties to suave skinny ones, different types of ties brings a unique flavor to your ensemble.
So, let's dive into their world and reveal their hidden charms and vast diversity.
Necktie
Ahh, the necktie – the standard bearer of ties. The quintessential blend of formal grace and timeless style.
It's a staple in men's fashion, seen in boardrooms, formal events, and even dressed down for casual days.
The variety of tie knots – from the simplistic Oriental knot and four-in-hand to the intricate Windsor or Balthus tie knots, allows for customization based on personal style and the occasion.
The best thing? It pairs easily with almost every shirt style.
Solid colors, bold patterns, or a classic striped tie, the necktie is a versatile accessory to wear with a dress shirt.
Skinny Tie
Despite its slim profile, the skinny tie packs a significant fashion punch. A retro classic, reborn with a modern twist.
The skinny tie first saw the limelight in the '50s and '60s, only to resurface in the '80s synth-pop style. And, more recently, thanks to Mad Men.
Skinny ties, typically no wider than 2.5 inches, offer a fresh, sleek look when paired with a slim-fit suit or even a shirt below a sweater.
My personal favorite? The chunky look of knitted silk. It has an understated elegance that breathes contemporary coolness into any outfit.
Seven-Fold Tie
The epitome of luxury in the world of neckwear, the seven-fold tie is a testament to masterful craftsmanship.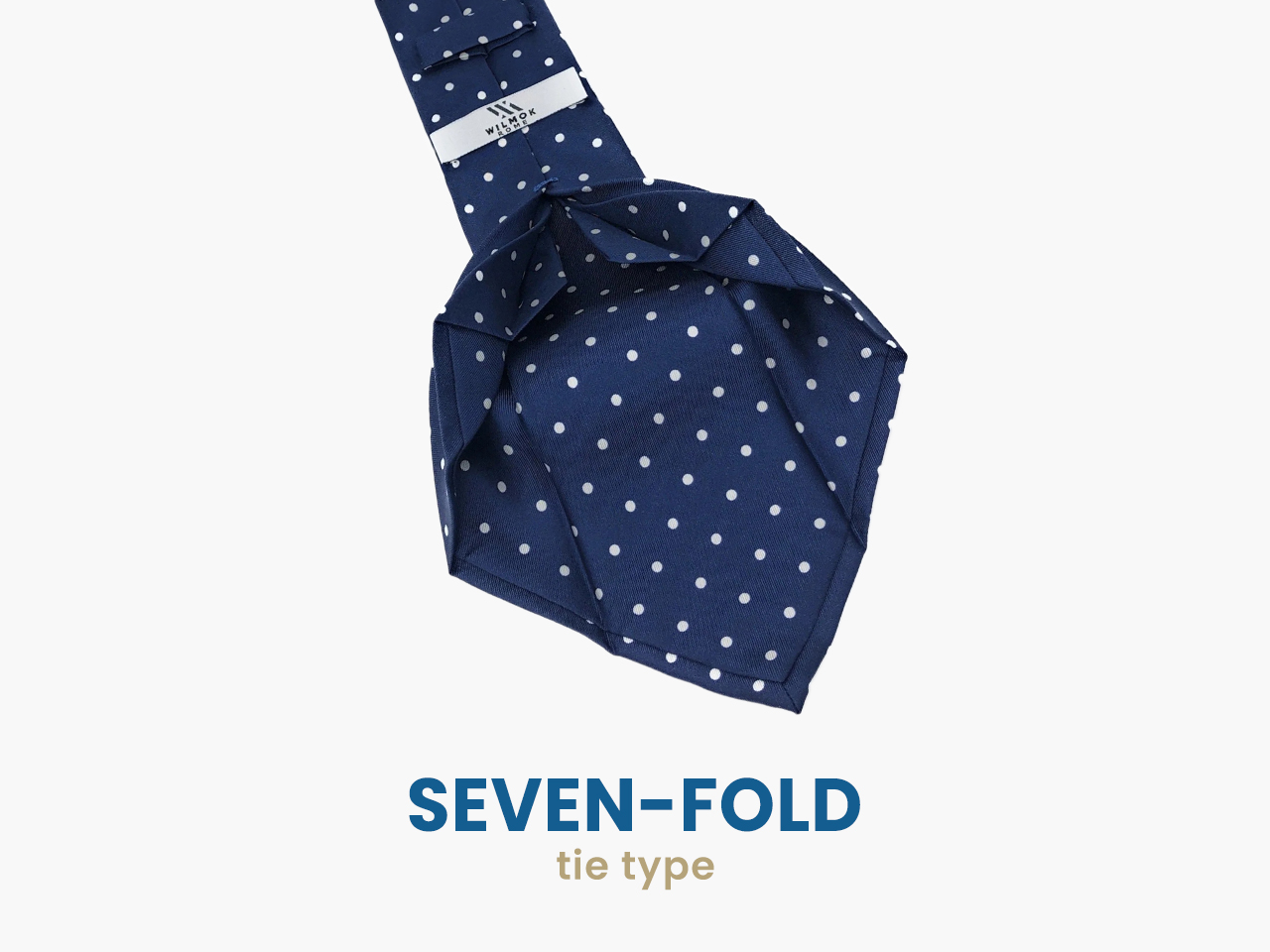 Made from a single piece of silk, folded seven times to create its shape. It's both thicker and richer in feel than the standard tie.
Because it uses more fabric, it's often a touch more expensive. But in my opinion, it's worth every penny.
While not an everyday tie, it's best suited for the office or formal events. When you want to impress with your knowledge of men's fashion, it makes a striking statement.
Cravat
An elegant precursor to the modern tie, the cravat exudes refined sophistication and a flair for the dramatic.
Originating from Croatian Mercenaries in the 17th century and quickly adopted by the stylish French, the cravat has maintained its aristocratic charm throughout the ages.
Its loose knot and flowing fabric give off a rakish vibe that pairs well with a morning suit or formal dinner jacket.
Although not commonly seen in everyday wear, the cravat can make a distinguished statement for those willing to channel their inner dandy.
Ascot Tie
The ascot tie, also known as the 'day cravat,' is a more relaxed version of the formal cravat. Named after the prestigious Ascot Racecourse, where it was often seen.
This tie is tied with a simple knot and tucked into the shirt, creating a nonchalant yet debonair look. Perfect for semi-formal events or when you're aiming for an effortless but classy style.
So, if you want to add a dash of "old world charm" to your wardrobe, consider the ascot tie.
Bolo Tie
Venturing into the realm of the unconventional, we find the bolo tie.
A distinctive piece of neckwear that carries with it a whiff of the American West. Recognized by its braided leather cord and ornamental metal tips, the bolo tie employs a decorative slide for easy adjustment.
While it may not be your go-to for a formal event, it can undoubtedly make a remark on more informal occasions. Especially if you're embracing a Western-style aesthetic.
To pull off a bolo tie, you only need a bit of confidence and a lot of attitude!
Clip-On Tie
Let's face it, we don't always have the time (or patience) to master the perfect tie knot. Enter the clip-on tie – the ultimate "ready-to-wear" solution.
Known for its convenience and ease, this type of tie already comes knotted and simply clips onto the shirt collar.
While they're not typically the first choice for formal wear, clip-on ties can be practical for those just starting their tie-wearing journey.
Don't overlook the clip-on; it's all about practicality and time-saving!
Sailor Tie
The sailor tie, also known as the "square knot," is a traditional neckwear piece that brings a touch of maritime flair to your attire.
Derived from naval uniforms, this tie is neatly knotted like a scarf around the collar, exuding a vintage nautical charm.
While it harkens back to seafaring traditions, the sailor tie can be cleverly integrated into everyday outfits.
Or used as a unique accent for themed events, making it a versatile accessory with a rich historical background.
Kipper Tie
The kipper tie, a symbol of 1960s and '70s bold fashion, stands out for its broad width and often vibrant patterns.
This daring tie, named after its creator Michael Fish, reflects the era's shift towards expressive, unconventional styles.
Despite its rarity today, it remains a fantastic statement piece for those looking to add a hint of vintage, retro appeal.
As a blend of old-school charm and eccentricity, the kipper tie is a unique accessory for the fashion-forward individual.
Self-Tied Bow Tie
Charming, witty, and a tad unconventional – that's the personality of a bow tie. This distinct type of tie, with its iconic butterfly silhouette, can completely transform a look.
Traditionally worn for black-tie events, self-tied bow ties are now making a splash in more casual and eclectic style circles. Paired with a white tuxedo shirt, it offers an air of sophistication without losing that playful edge.
Whether it's a silk bow tie for an evening gala or a quirky patterned one for a cocktail party, donning one is a bold yet classy move.
Pre-Tied Bow Tie
Pre-tied bow ties are a type of necktie that already comes tied with a fixed knot. They are attached with an adjustable band that wraps around the collar of a shirt.
These bow ties are designed to provide a perfectly symmetrical, neat appearance. They are convenient, easy to use, and often bought by those who may not know how to tie a traditional bow tie or for situations where quick dressing is needed.
However, fashion experts argue that they lack the personal touch and elegance of a self-tied bow tie.
Clip-On Bow Tie
Similar to clip-on neckties, clip-on bow ties are a type of tie that attaches directly to a shirt's collar with a clip, eliminating the need for a traditional knot or band.
They are the simplest form of bow tie to wear, providing a quick and easy option for both formal and casual occasions.
Western Bow Tie
The Western bow tie is a rugged classic. Also called a string tie, it gives a frontier vibe.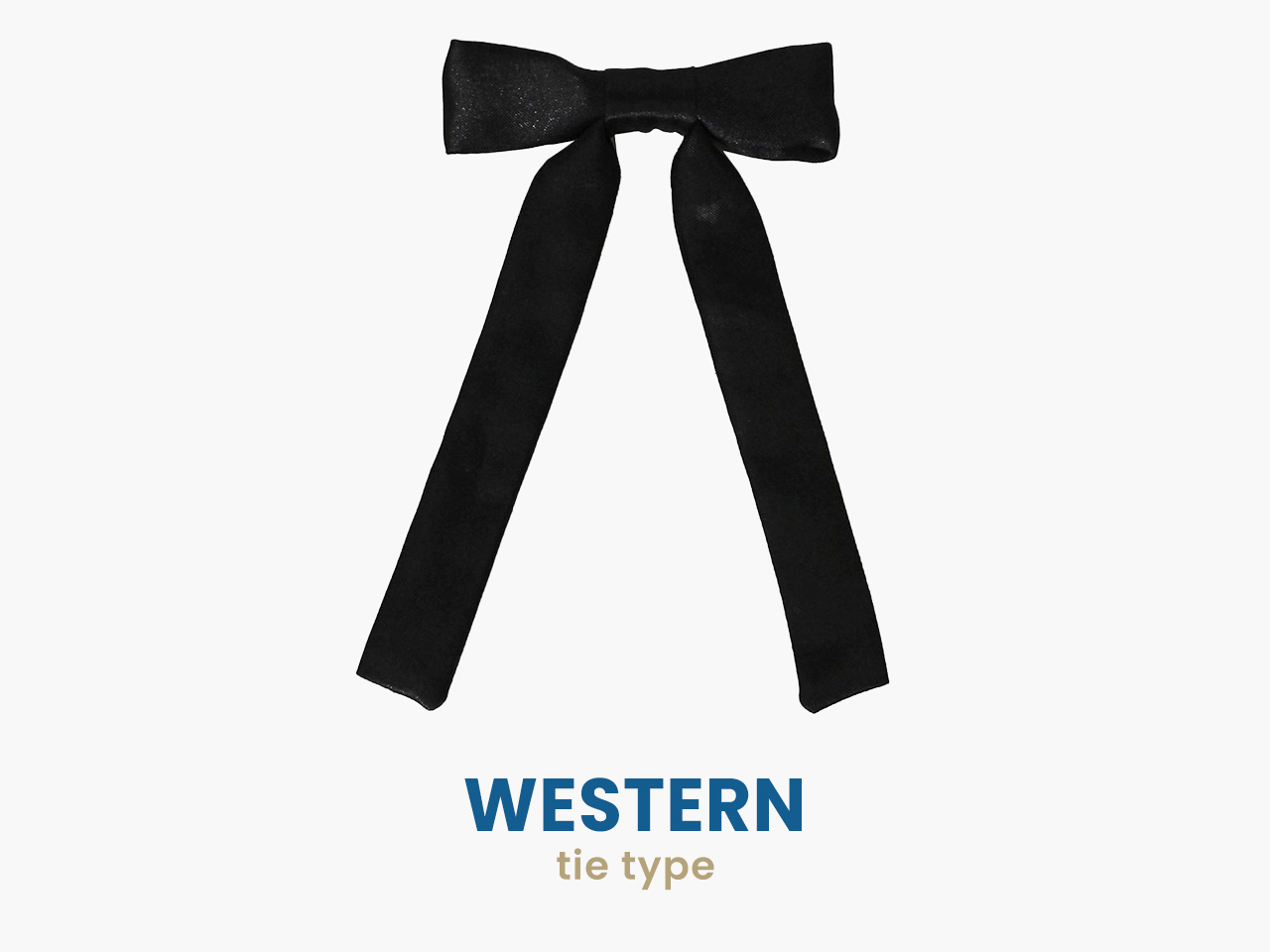 Its thin, pointed shape is distinctive because it has the familiar loop and knot. This tie will definitely showcase your cowboy charm perfectly.
Worn traditionally with a Western-style shirt and a blazer, this tie works as a distinctive centerpiece in your ensemble. Whether it's a barn dance or a country-themed wedding, the Western bow tie will help you channel your inner cowboy in style!
Neckerchief
While a neckerchief might seem like a humble square of fabric, let's not forget it's a fashion artifact with a rich history stretching back centuries.
Crafted traditionally from silk or cotton, this versatile accessory finds its place neatly tied around your neck, lending itself to myriad knotting styles.
Sure, the neckerchief might take you back to images of hardy sailors, resilient cowboys, or eager scouts. But did you know it's also found its footing on the high fashion ramps?
How you style it can be a window into your mood for the day.
It might whisper a relaxed, easygoing vibe and shout out a bold, youthful edge. Or reflect a rugged, endearing charm.
So, why not give the neckerchief a whirl? It might just turn out to be the unexpected star in your accessory arsenal!
Types of Tie Patterns
Different tie patterns are suitable for separate occasions and outfits.
For example, solid ties are the most versatile and suitable for any occasion. On the other hand, patterned ties like Macclesfield or Foulard bring personality to your look.
Macclesfield ties are elegant with geometric woven patterns. In addition, foulard ties have small-scale repeating silk patterns for a touch of complexity.
Polka-dot ties add a playful spirit, while paisley ties provide rich, intricate patterns.
Striped ties carry tradition and respectability and are most suitable for professional business settings. British stripes go from top left to bottom right, and American stripes go from top right to bottom left.
Floral ties are becoming more popular, perfect for spring and summer with a refreshing burst of color.
Finally, plaid or tartan ties blend tradition and style, providing classic aesthetics, especially in colder months.
Author: Alexander Stoicoff
Hi, I'm Alex, and I've studied and specialized in styling in Rome. Through my writing, I want to help men dress well and learn the purpose and significance of suits and other formal attire. My final goal is to make men more confident in their wardrobe choice and life in general.