When I say tuxedo, what do you think of? You've noticed that it slightly differs from a standard suit. But my guess is that you haven't seen many people wear a tuxedo.
So, maybe you think of a stuffy, fancy party full of formal wear. Maybe you think of James Bond, looking super suave on a secret mission. You might even think of penguins wearing nature's tuxedos.
Whatever comes to mind, chances are you could use a refresher on exactly what a tuxedo is and certain guidelines around wearing one.
With our ever-evolving world, you'll also likely need tips on wearing one in the 21st century.
The Basics: What is a Tuxedo?
In short, a tuxedo is a formal suit that is often called for under specific dress codes. Its black bow-tie often identifies it.
You won't find one at your average dinner outing, but more often at weddings or red-carpet events.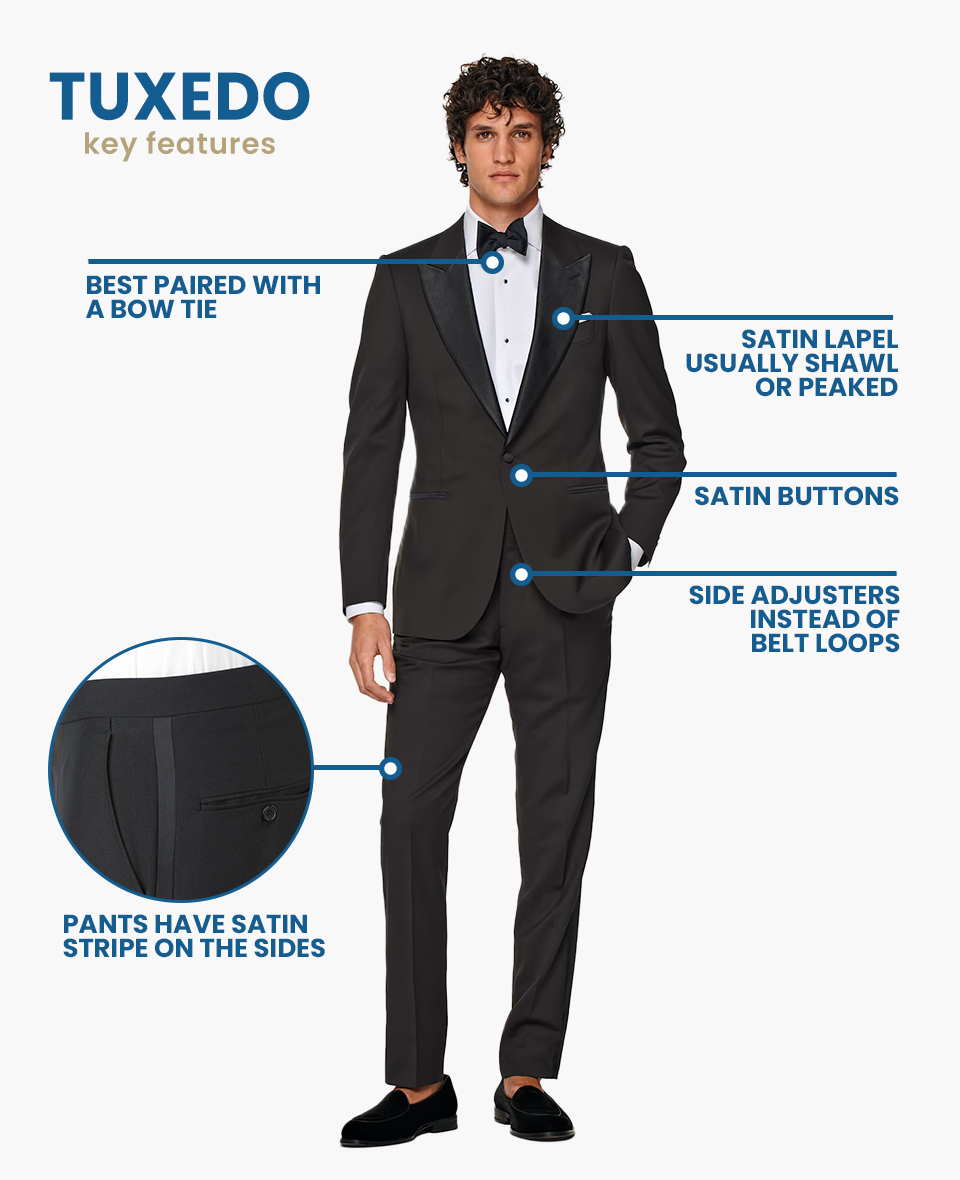 A tuxedo is formalwear that meets certain guidelines, such as color and material. It is usually black with a formal, white tuxedo shirt. Not to mention the black bow tie that comes with the name.
The dinner jacket will adhere to specific lapel and button guidelines. Additionally, the pants will often have a silk or satin stripe along the outer leg seam.
A tuxedo is the height of elegance. When a dress code is marked as black-tie, that signals that the event is quite significant. Attendees are expected to rise to a level of class and sophistication.
The Brief History Behind the Tuxedo
Tuxedos are a relatively new style in the history of fashion. Way back in the 1600s in England, smoking jackets were very popular.
Men would put them on after dinner to enjoy a smoke without getting ash on their dinner attire.
These jackets did not become formal until 1865 when Edward VII, Prince of Wales, commissioned a blue evening jacket from his tailor.
It was unlike other dinner jackets of the time. But apart from the other jackets, this one did not have tails, making it easier to move in.
The style caught on and is now known as the ancestor of the modern formal dinner jacket.
When to Wear a Tuxedo
If you receive an invitation to an evening event considered a formal or black tie, you need to be getting your tux ready. The keywords to remember are formal and evening.
Tuxedos are not appropriate for daytime events, no matter how nice they are. There are appropriate alternatives that are just as elegant.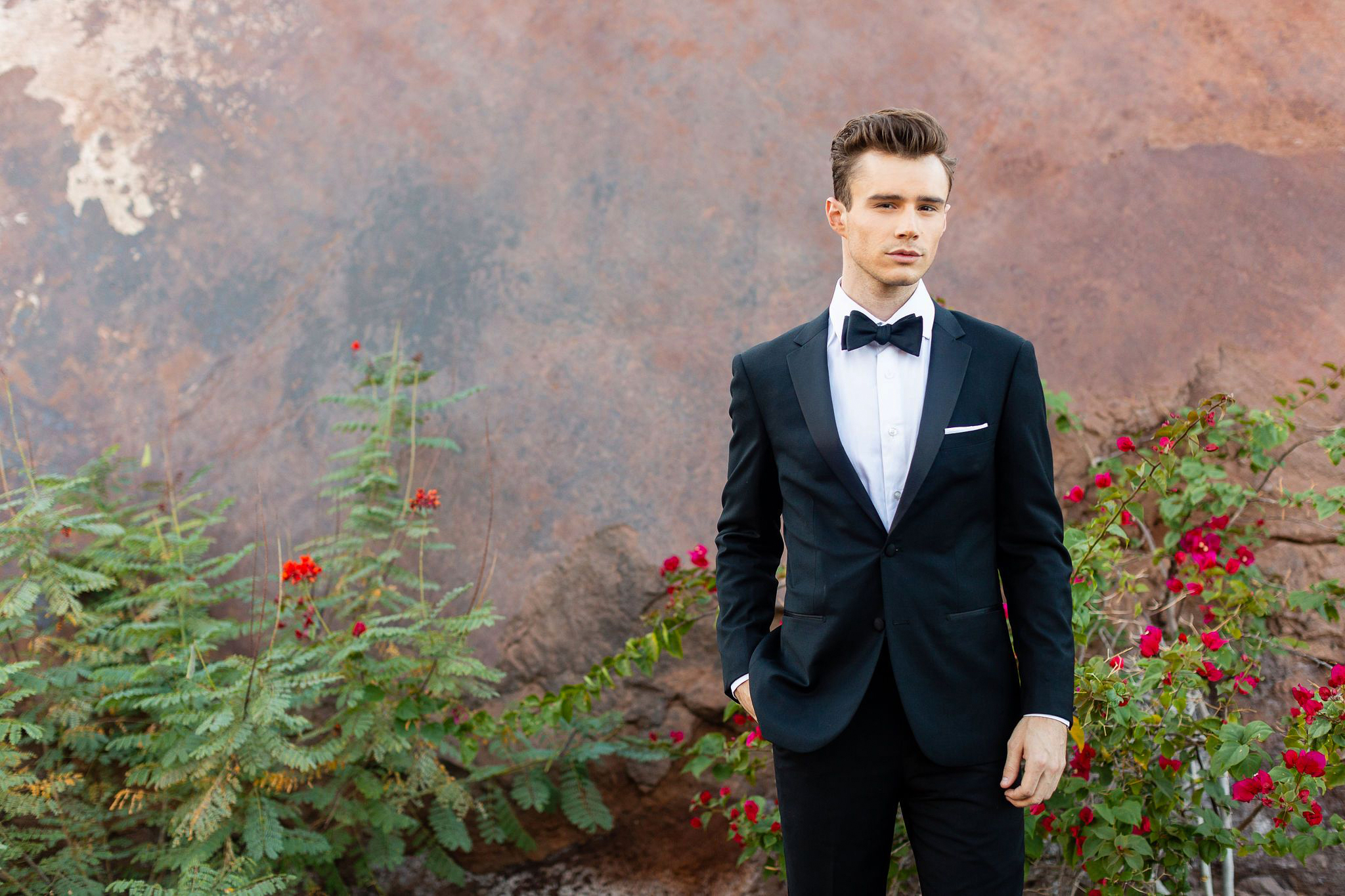 The most common events that you would wear a tuxedo to are weddings and galas. If you get an invitation to a formal charity event, most men will likely be in tuxedos, too.
Should you ever be fortunate enough to be invited to a red-carpet event, remember that you'll have a moment walking that carpet when all eyes are on you.
A tuxedo will not only keep you looking your best but will give you a confidence boost that you are camera-ready.
How to Wear a Tuxedo
Wearing a tuxedo may seem intimidating at first; there are so many rules! However, that is the beauty of the expectations that come along with formal wear.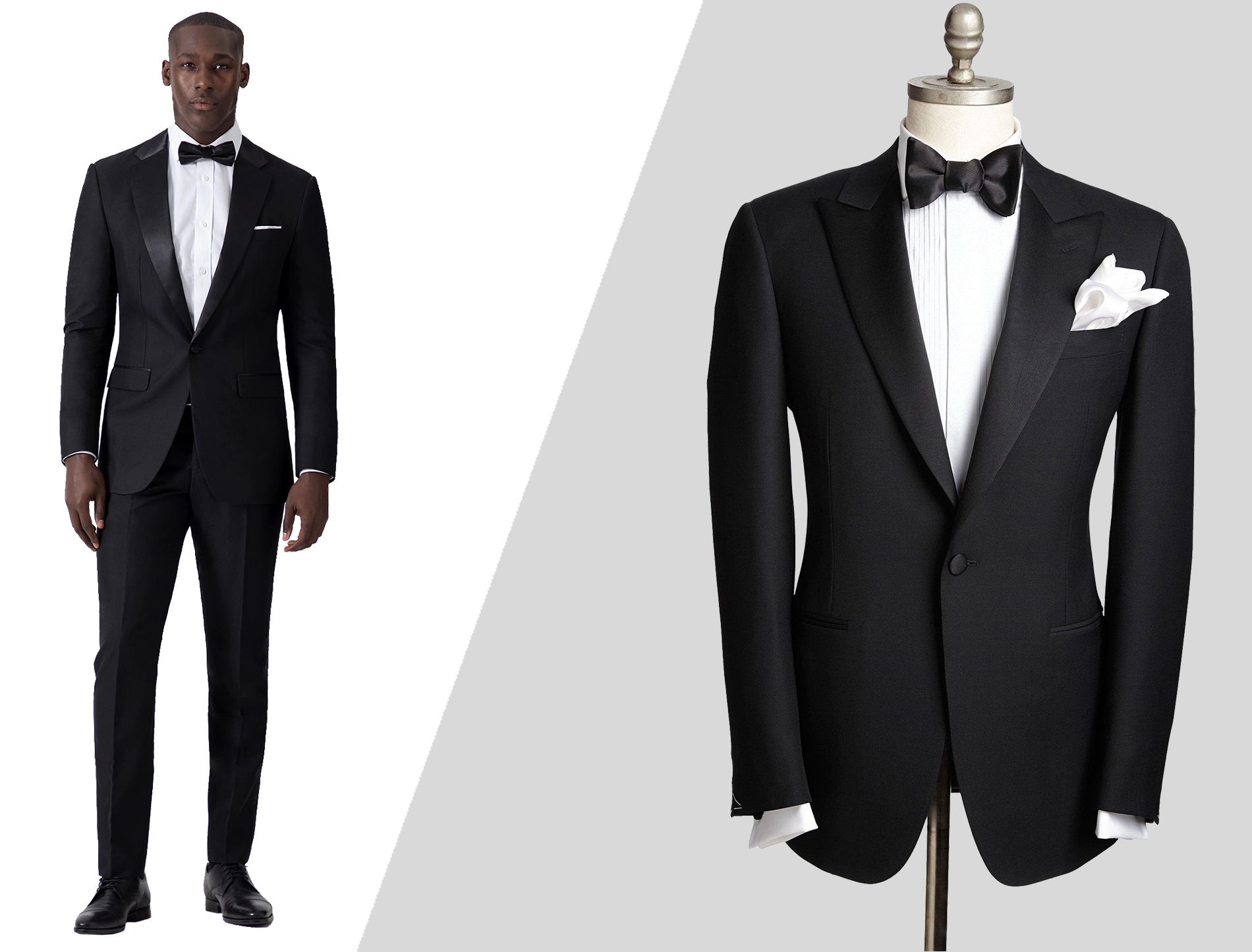 The rules are there to help you out; they make it so easy. If you just follow the guidelines, you will be in great shape.
Remember to pay attention to the details. It is the little things that will make your outfit all come together. With a fine eye on the details, there is no way you won't hit it out of the park.
The Tuxedo Jacket
The tuxedo jacket is the star of your ensemble. This formal jacket has silk or satin lapels and is a variation on one of three styles. Also, its buttons should match the lapel material.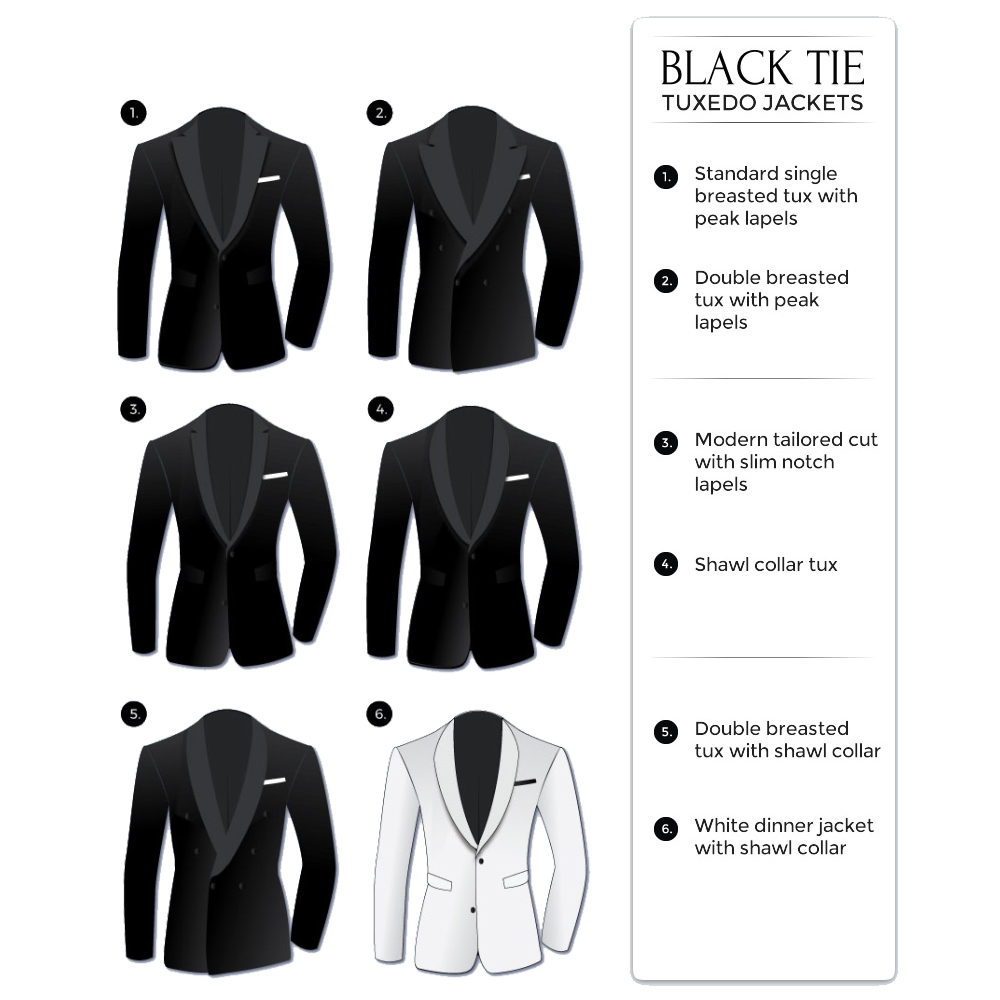 The jacket is traditionally single-breasted, but it can seldom be double-breasted. It usually has pockets, though not always. Jetted pockets are the most formal type, though there are other options.
For the highest level of formality, the jacket must be black. A colored jacket is acceptable at times, but only in certain scenarios. More on that later…
However, the most crucial aspect of your tuxedo jacket is that it must be a good fit. If the jacket is too loose or tight, there is no saving your appearance that day.
The Tuxedo Pants
Your trousers should be black to match your jacket material. Tuxedo pants have a stripe (sometimes called a braid) down the outer leg seam. The stripe is made from the same material as the jacket lapel.
The trousers are high-waisted. This is to ensure that your tuxedo shirt does not peek out from under your waistcoat or cummerbund when your jacket is open.
Also, don't expect to find belt loops on your tuxedo pants! Most tux trousers will have adjustable tabs inside the waist to help them fit. If not, suspenders are an exquisite solution to baggy pants.
The Tuxedo Shirt
There is no negotiating the color of a tuxedo shirt: it must be plain white. The standard white dress shirt is appropriate for business suits but not for formal evening wear.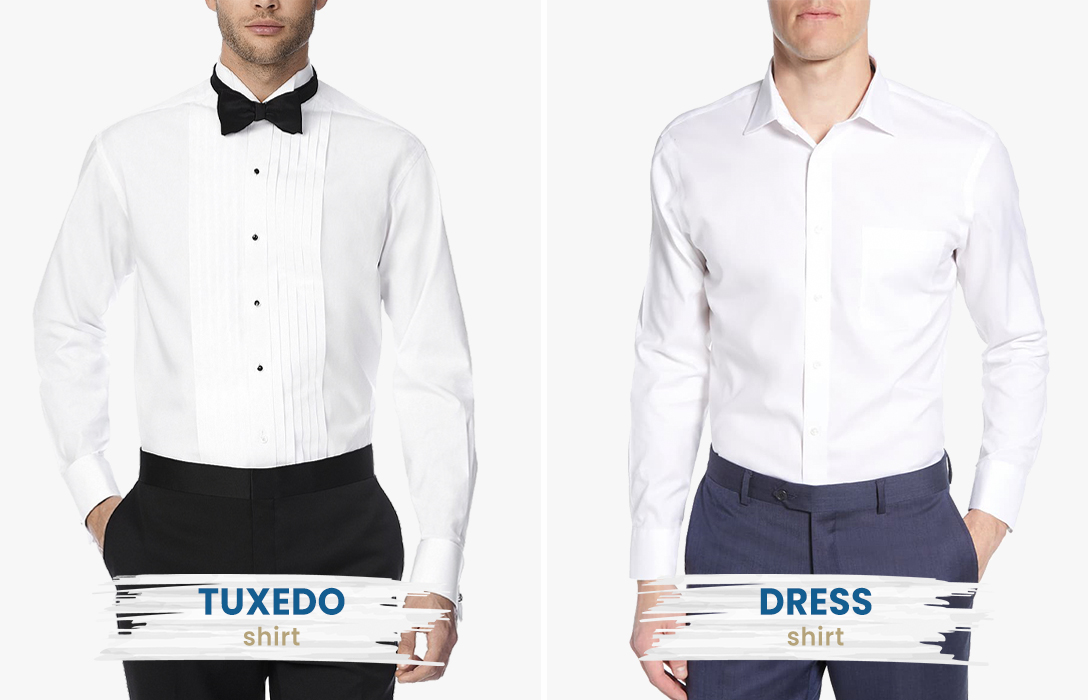 A typical tuxedo shirt will have an area on the front called the bib. The bib may be either pleated or pique, which means a stiff plaque down the front.
There will be studs on the shirts, going the extra mile for formality rather than buttons down the front. The studs are more elegant looking than plastic buttons.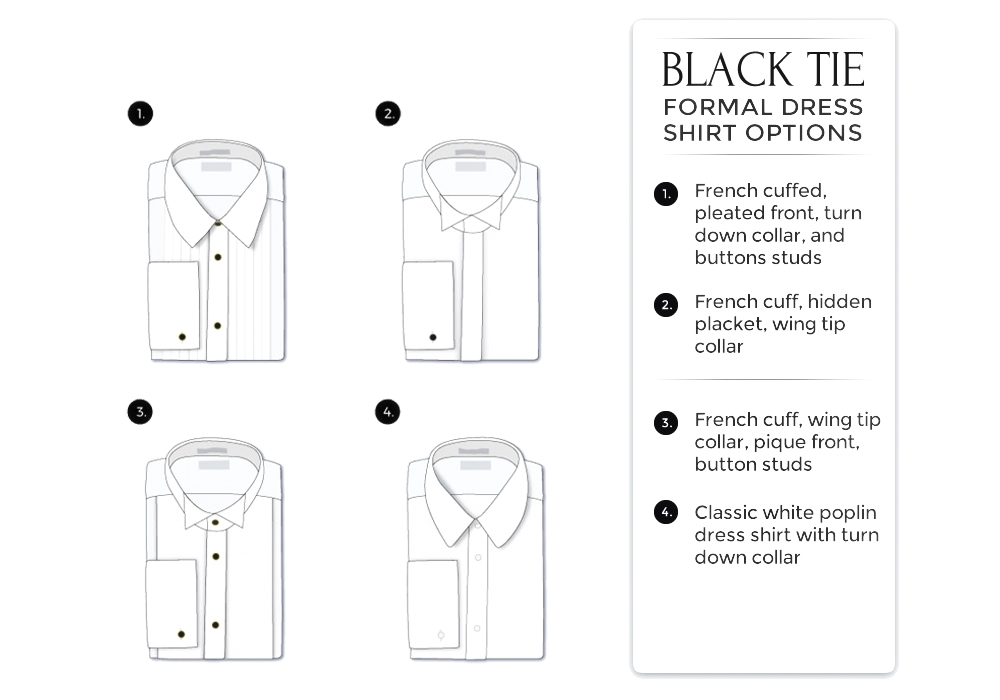 The sleeves will usually have French cuffs, which will require cufflinks. A person with an eye for detail will ensure that his studs and his cufflinks match.
The collar must never be a button-down collar. In fact, it should either be a wingtip or maybe a simple spread collar. These collar styles will help show off your snazzy bow tie.
Dress Shoes
There is not a lot of room for negotiation in the shoe department for tuxedos.
Black patent leather is the standard material for dress shoes that you can wear with tuxedos. The shoe style is usually Oxford, although they may also be loafers or formal pumps.
Don't forget to pay attention to the socks you put on! They need to be black dress socks. I'm sure you don't need reminding to leave the white sweat socks at home.
The Bow Tie
Considering that the dress code is called "black tie," it would only make sense that your bow tie is black.
The material for your tie should be the same as the lapel on the dinner jacket. Consider it the bow that ties everything together.
For the most respectability in the tie department, do not ever wear a pre-tied bow tie. This is never acceptable for a sophisticated outfit such as a bow tie.
If you do not know how to tie a bow tie, there are plenty of tutorial videos online, and you can learn any of the four styles. The two styles with larger-sized bows are butterfly and semi-butterfly.
For smaller bows, you can choose between straight-end or pointed bow ties.
Cummerbunds vs. Waistcoat
A cummerbund is a pleated sash that is worn over the waistband of the tuxedo trousers top. The pleats are placed facing upward.
The cummerbund is made from the same fabric as the lapel facings. It's one of two options for your waist covering.
The second option for the tuxedo waist covering is the waistcoat. It's also known as a vest, though it differs slightly from a suit vest.
A waistcoat dips low in front, exposing most of the white tuxedo shirt. It has small lapels on either side of the opening and is made from the same fabric as the jacket.
One of the most important functions of the waistcoat is to cover the front of the trouser waistband. The shirt must not be seen below the waistcoat, either.
Accessories You Can Wear with a Tuxedo
Lest you start to worry that you will just look like a clone of every other man in a tuxedo, take heart. The accessories are where you can show a bit of your personality. Nothing super flashy, of course.
By choosing the right touches here and there, you can make your outfit a style all your own. It's the details that make the look.
Cufflinks
Cufflinks are an excellent personal touch. A simple silk knot is always elegant if they match the material on the jacket lapel.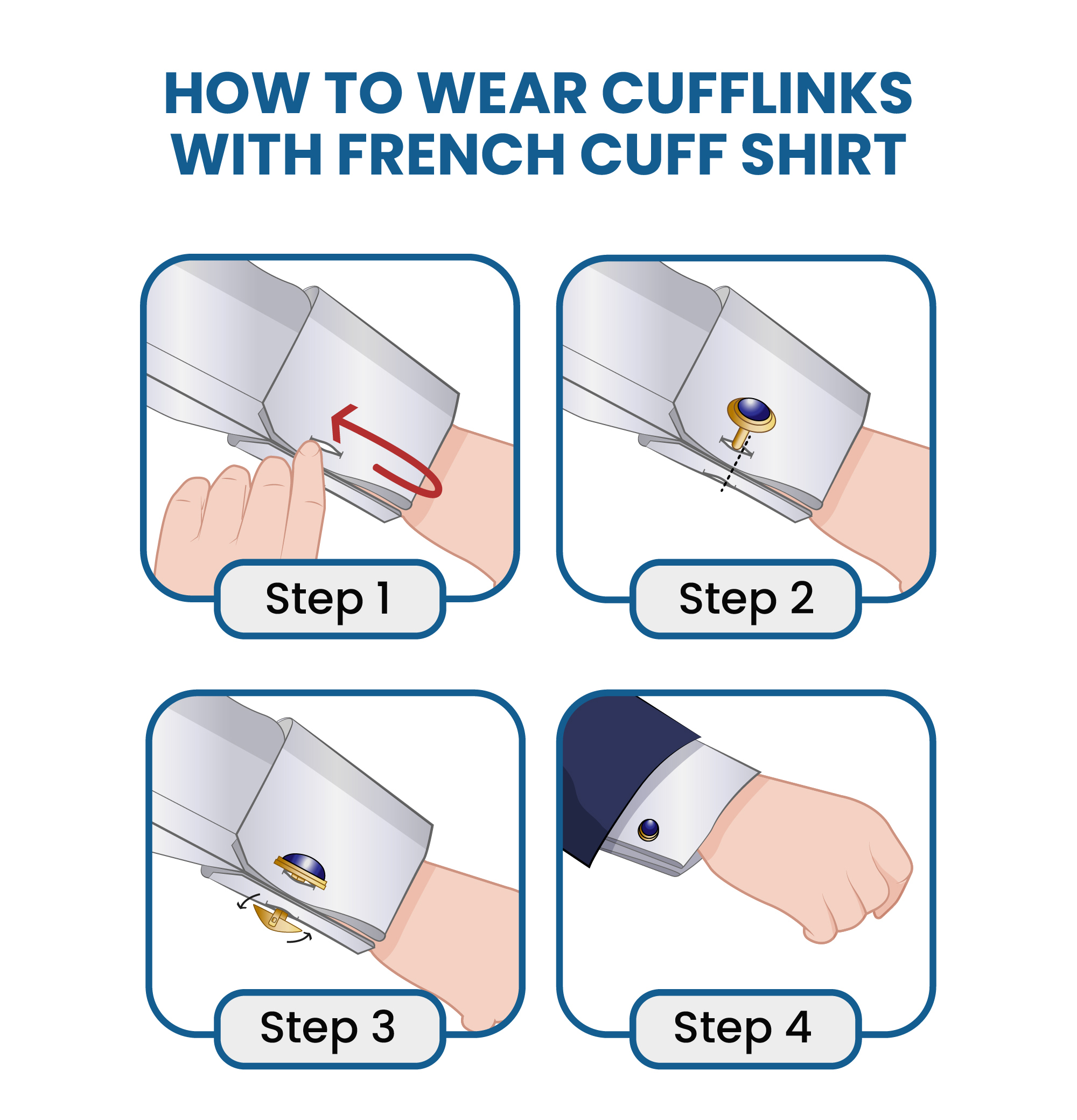 If you want something a little more standout, you can opt for gold or silver cufflinks. Perhaps add a tasteful gemstone to raise the formality and glitz. Of course, a simple pearl or onyx cufflink is very refined.
Dress Watch
A slim black leather dress watch is ideal if you decide to add a watch to your tuxedo. It should be simple with clean lines.
Any metal around the face of the watch must match the metal on your cufflinks and shirt studs.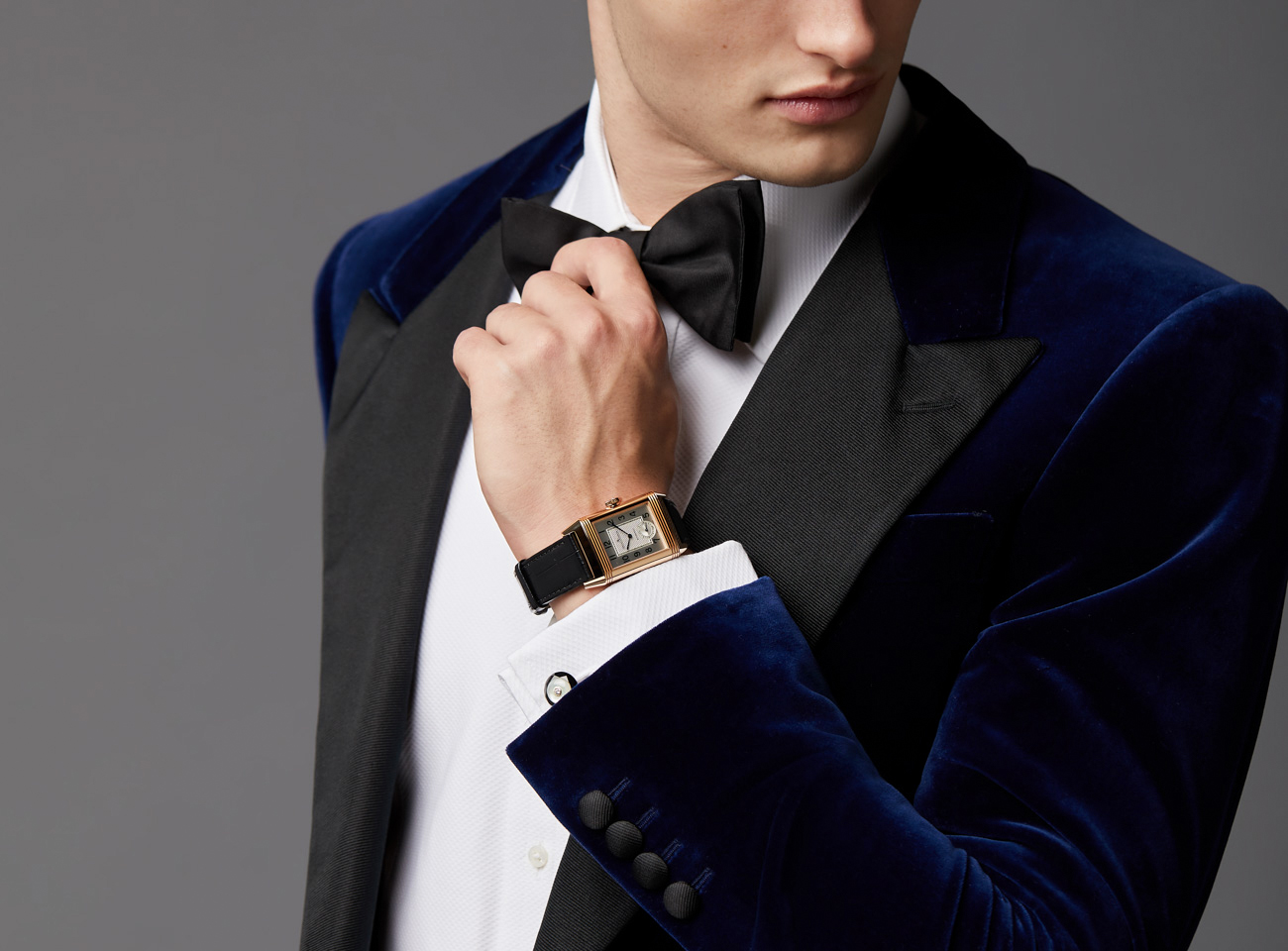 Ideally, though, it is best to leave the watch off completely. It might be considered bad form to be checking the time during the formal event.
Pocket Square
A white silk pocket square in your breast pocket is a touch of class. Linen or cotton is acceptable, but know that silk is the preferred fabric.
There are nearly a million ways to fold a pocket square, and they are all acceptable. As long as you keep the material white, you are looking great.
Other Details
A boutonniere is an optional way to add a flourish of color to your black and white ensemble. A single blossom is simple and classy.
Suspenders that button to your trousers are a neat way to help secure your pants around your waist. Be sure that they stay hidden, though, under your waistcoat.
Socks are often overlooked but essential detail. They must be black and go all the way up to your knee. The thin fabric is critical so that whatever pokes out between your shoe and cuff is minimal.
Tuxedo Color Choices: How and When to Wear
While the powder blue tuxedos of the 1970s may be long gone, that does not mean that all color is gone from formal wear. In fact, there are events where a little color to your evening jacket could really spice things up!
Here are the most common tuxedo color choices and where you can wear them:
Black Tuxedo
Black is the classic color for formal eveningwear. The darker your suit is, the more formal it is; therefore, black is the ultimate formality.
If you are ever in doubt about what color tuxedo you should wear, just go with black. It will always be appropriate.
You should wear this color if the event is black-tie. Wearing a full black tuxedo shows that you respect the occasion enough to conform to the event's expectations.
Midnight Blue Tuxedo
Midnight blue is a very modern twist on the classic tuxedo and is becoming very popular. It is still incredibly classy and elegant looking, though it may not come across as stiff as the pure black tuxedo.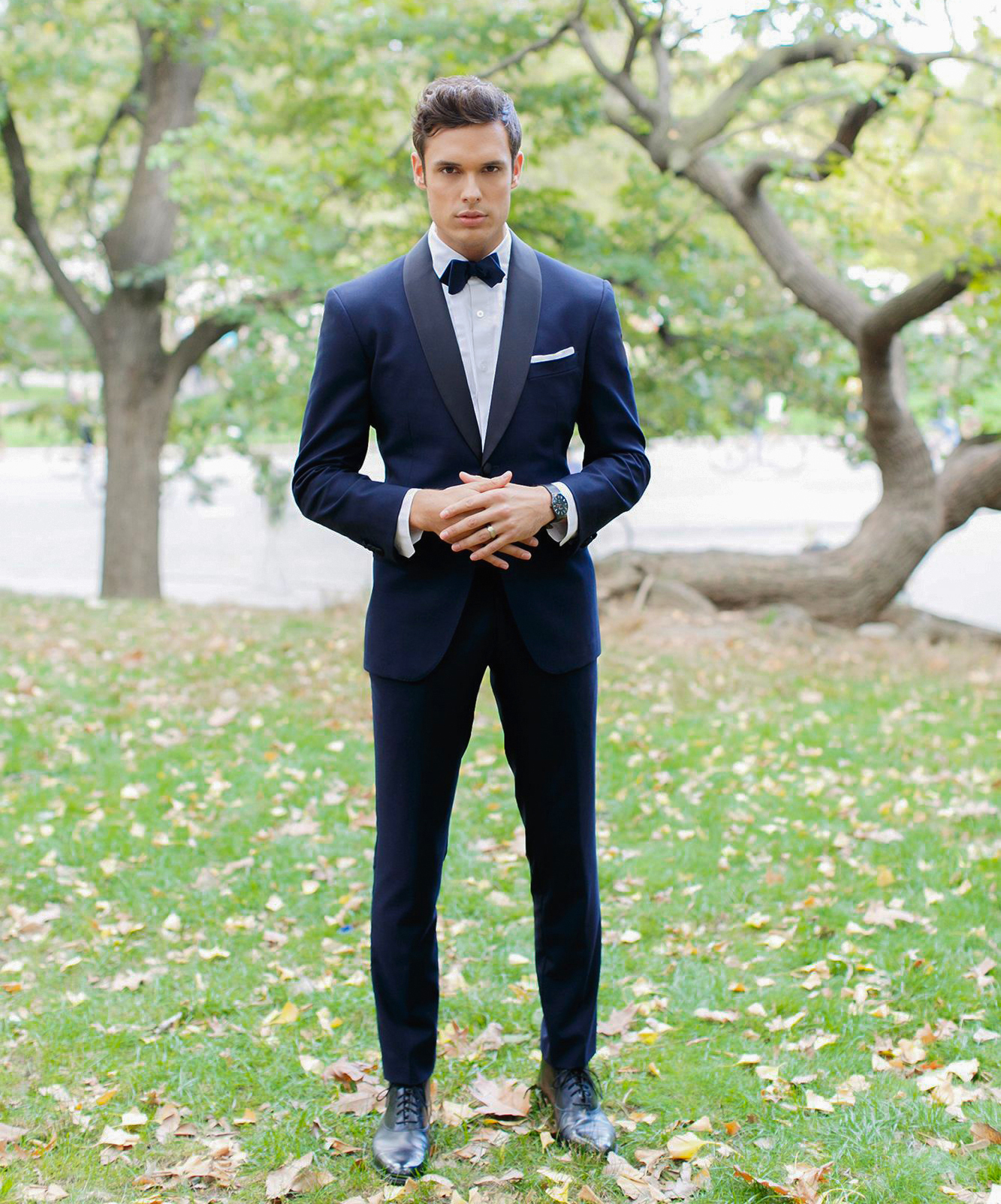 Oddly enough, a midnight blue tuxedo can end up looking blacker than a black tuxedo at night.
This is because the way the light hits it creates the illusion that it is deep black. So you could feel as if you are getting two tuxedos in one!
A navy tuxedo is a trendy wedding choice these days. It is more fun than the very dark tuxedos while still a respectful shade. It is dark, but not so dark that you can't be sure of the color.
Navy tuxedos look amazing in a slim-fit cut. The cut is youthful. The lines are immaculate, and the color is so refreshing that the silhouette is positively crisp.
Burgundy and Maroon Tuxedo
Looking for something fun to wear to a fancy event that isn't super serious?
I suggest playing with a bright and fun color, such as maroon or burgundy. It would not be appropriate to wear in a formal setting, so only pull this tuxedo out once in a while.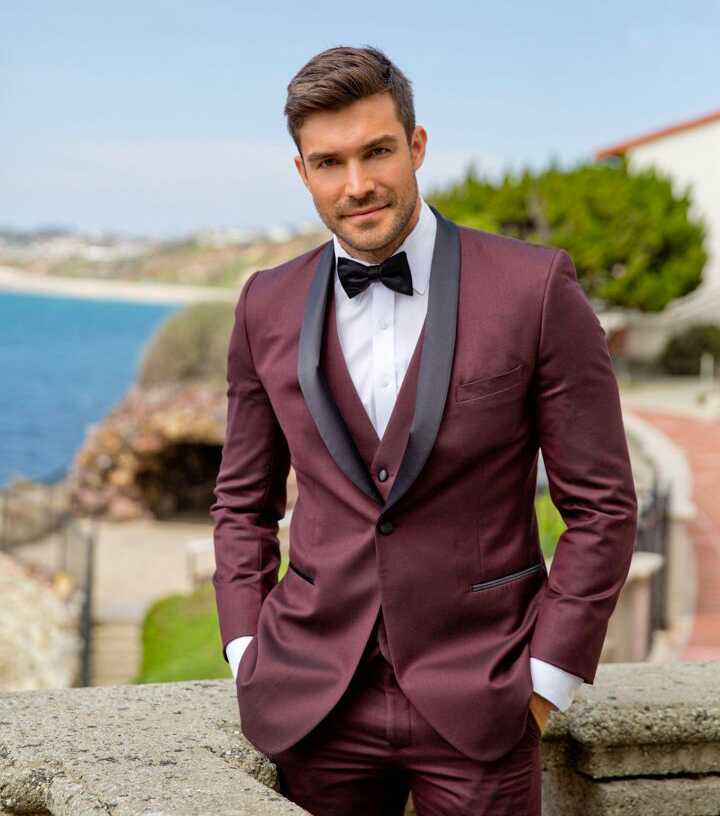 If you are looking for something to wear to a creative black tie or semi-formal event, here's your chance to shine!
Ivory Tuxedo
What happens if you are invited to a wedding in a tropical location? Of course, you still need to wear a tuxedo if the wedding is formal.
However, you also have the opportunity to mix things up with a cooler, lighter ivory tuxedo.
Ivory is a classic twist to an already classic tuxedo. It is still elegant but feels slightly more relaxed for the warmer weather.
All other formal rules must still be followed to adhere to the dress code. The only change is the color of the dinner jacket.
Formal Events Where You Can Wear a Tuxedo
It is pretty standard that when an event is declared formal, a tuxedo is expected. But what are these types of events that usually expect this style of dress?
If you aren't sure if a tuxedo is overdoing it, just check your invitation. It will let you know if they expect you to wear a tuxedo.
Black Tie Event
When you hear the words black-tie event, they are often related to a gala or a charity event.
These are events that are put on to really impress the attendees. What is more impressive than a room full of impeccably dressed guests?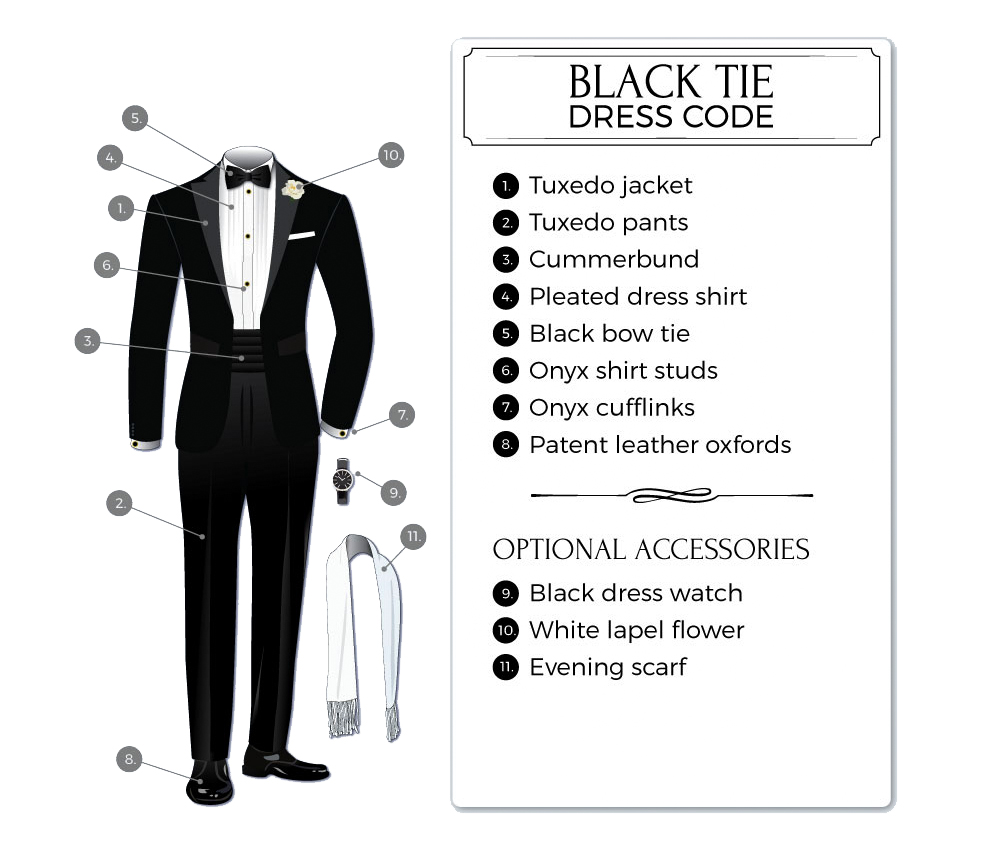 Stick to black jacket color, along with silk, black bow tie. The standard black tie tuxedo pants will also have a satin stripe on the outer seam.
Finally, choose a pleated white tuxedo shirt that features French cuffs and a wingtip collar (although a semi-spread collar is fine, too).
Black tie includes events like opera and ballet, theatre, gala parties, or other official ceremonies.
Creative Black Tie Event
The term "creative" is a chance to cheer up the black-tie attire a little. But it's no invitation to ruin it.
You can only be creative about the tuxedo's jacket color. Just don't get carried away; stay close to dark colors such as burgundy, maroon, navy, or midnight blue.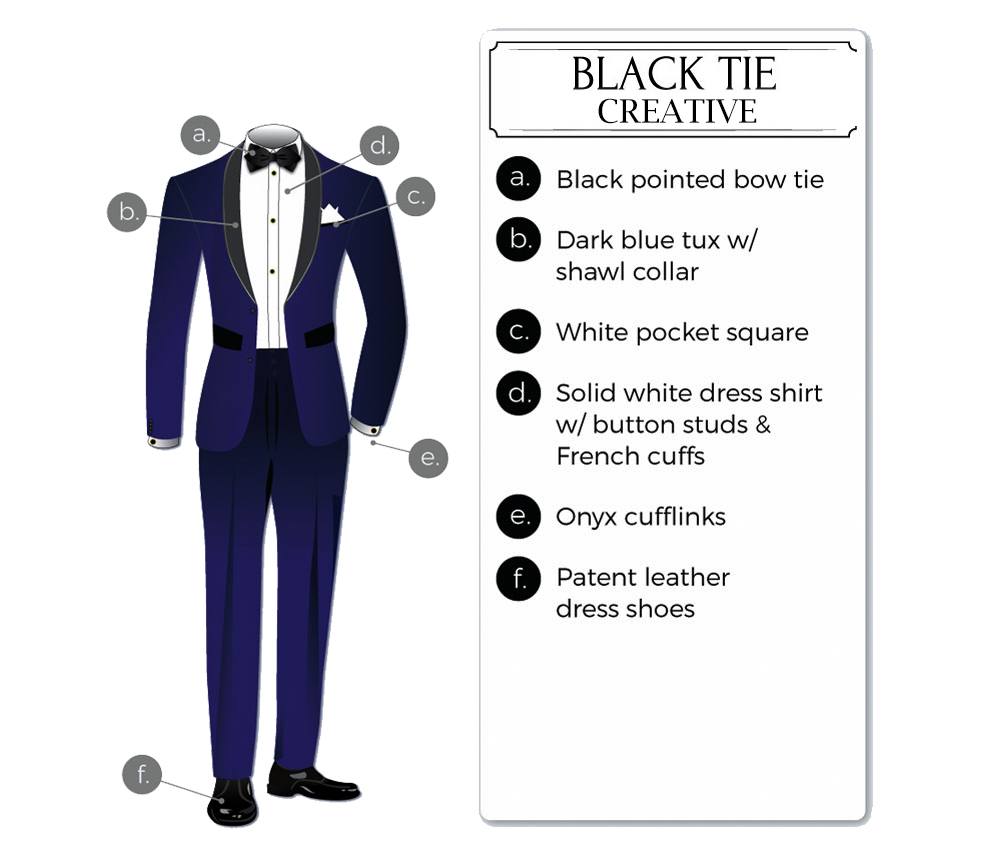 Fine, you can change one more thing. You can go for a standard dress shirt instead of a pleated tuxedo shirt. But everything else stays the same.
Creative black tie events will include private parties and events, public shows, or awards ceremonies.
Wedding
A tuxedo is the appropriate wedding attire choice when the wedding is labeled as a "black tie", regardless of the words "creative" or "optional".
Some couples decide that their important day should be the height of elegance to mark how special this day is. These types of weddings are evening weddings and are often held in a large church or a formal hall.
Regardless of the time of day, it is not uncommon for the entire groom's party to be dressed in tuxedos.
Prom
Your high school prom is often a young man's first experience with wearing a tuxedo. The best rule of thumb for this event is to keep the tuxedo simple and classy.
Trust me; you will have plenty to cringe over the years later when you look back at your photos. So don't let your suit be one of those things.
Author: Alexander Stoicoff
Hi, I'm Alex, and I've studied and specialized in styling in Rome. Through my writing, I want to help men dress well and learn the purpose and significance of suits and other formal attire. My final goal is to make men more confident in their wardrobe choice and life in general.