Oxford shoes are so common and traditional that it's easy to misleadingly believe they're boring.
But nothing could be further from the truth!
Oxfords are incredibly adaptable shoes, almost transforming themselves to be suitable for nearly any outfit.
So if you don't believe me, see for yourself.
What Are Oxford Shoes?
The Oxford shoe is sleek and simple, impeccably versatile, and the most popular choice of footwear for men.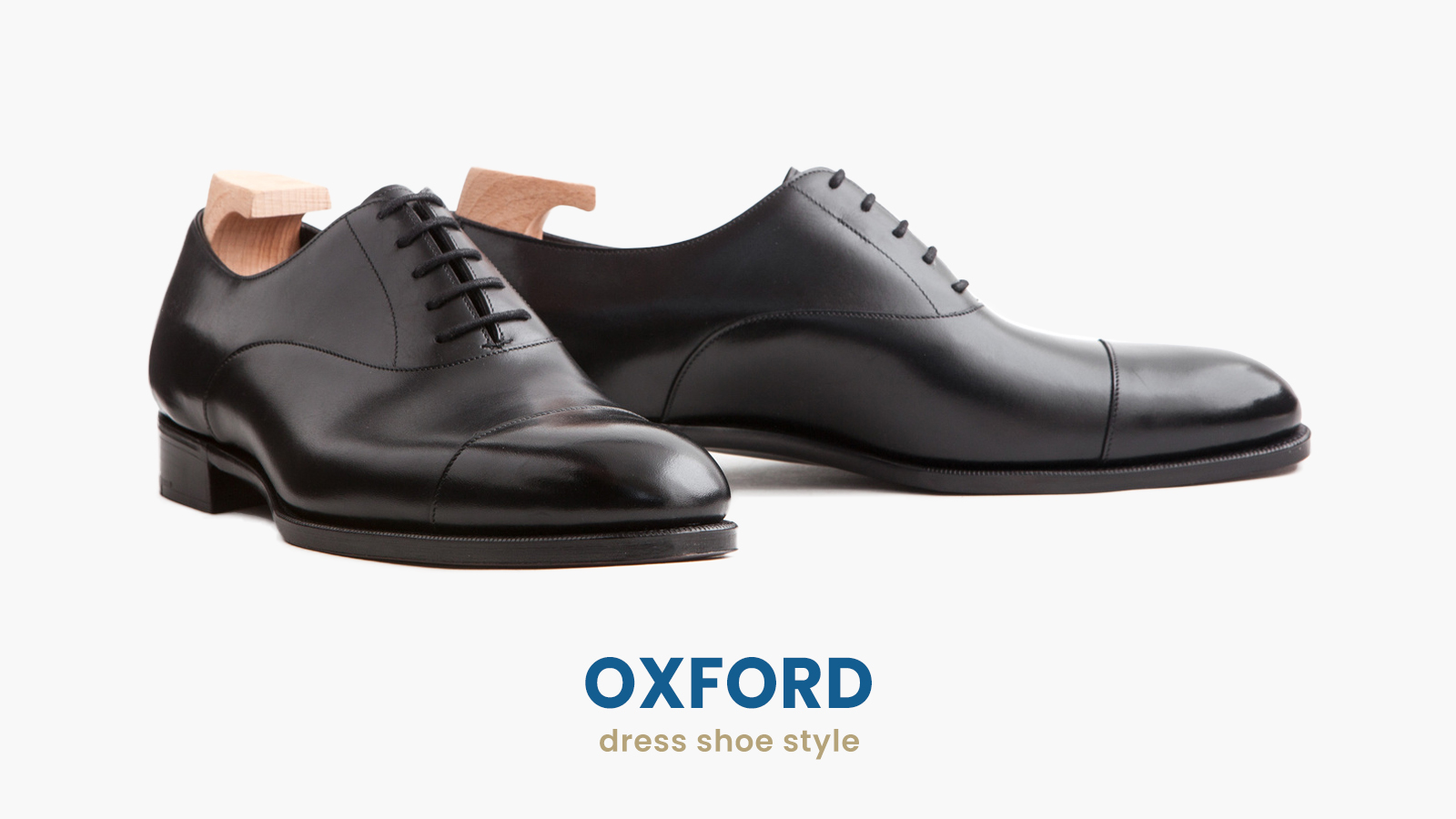 The defining characteristic of Oxford shoes is that it has a closed lacing system.
As a result, the eyelets lie on top of the shoe, under the vamp. This differs from Derby shoes, for example, which have an open lacing system.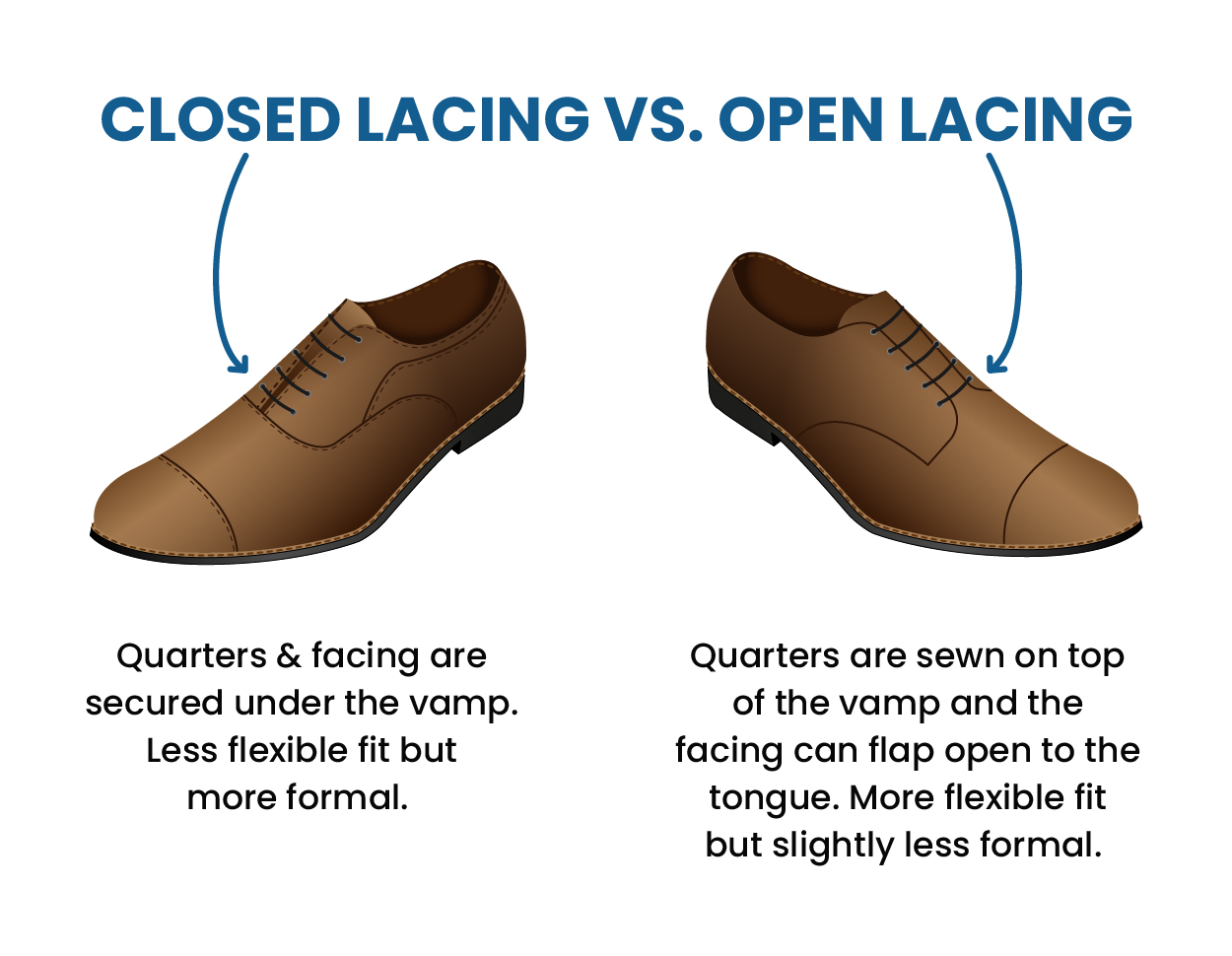 In short, oxfords are a particularly dressy shoe type you can wear and are practically required for your most formal events.
However, they are surprisingly convertible, and you can wear them with casual outfits.
Main Features of Oxford Shoes
Three main parts make up the classic Oxford shoe.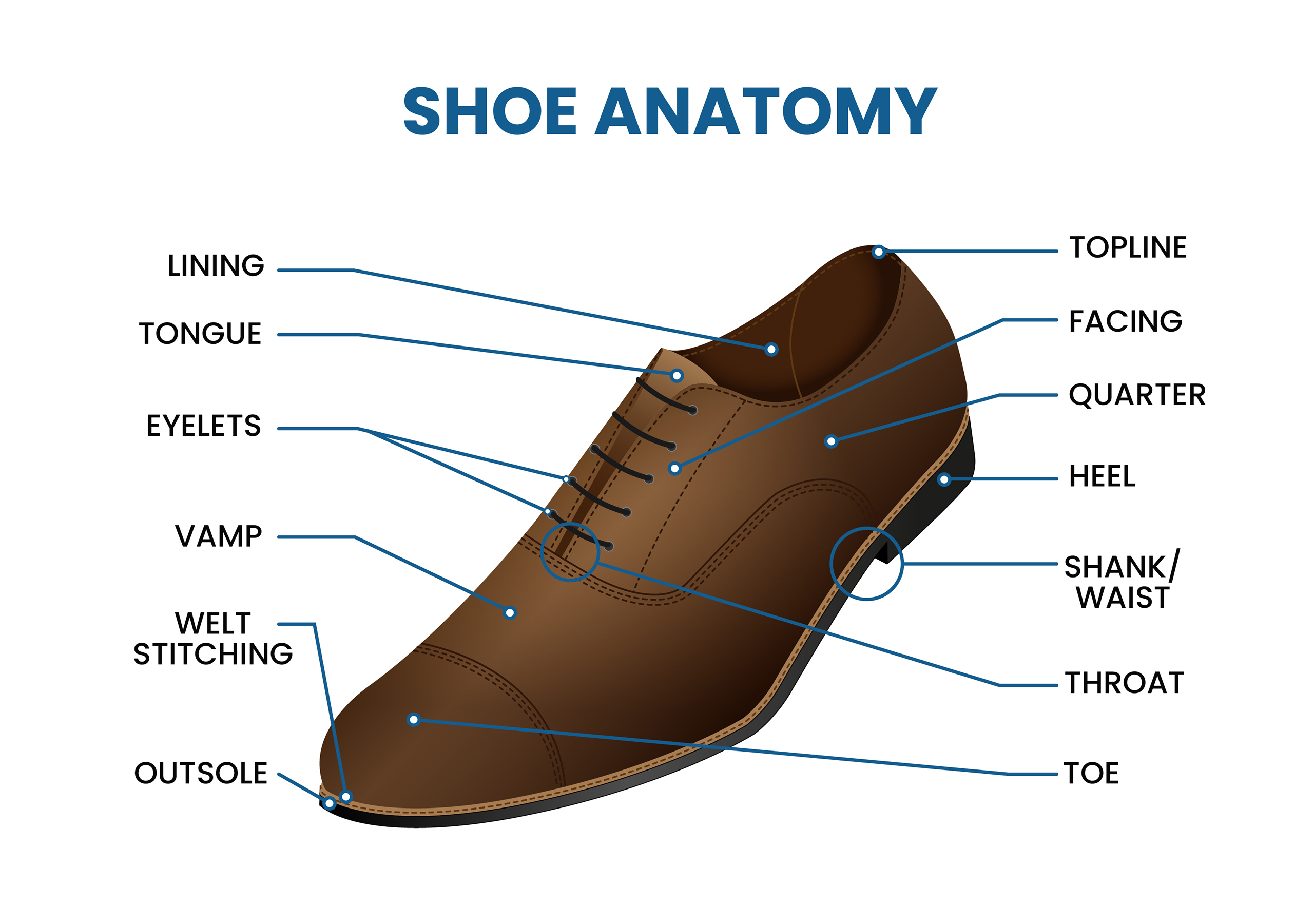 First is the upper. This is the top part of the shoe that extends completely over the entire surface of the foot.
Next, there's the vamp. It extends from the top front and down around to the middle of the foot.
Finally, Oxfords include quarters, which wrap from the center of the foot around to the back of the heel.
Different Oxford Shoe Types
Not all Oxford shoes are the same. There are several variations; each is distinct and can affect the overall effect of the shoe.
The most traditional style for Oxfords is a plain style. It is also the most formal version of this type of shoe. As the name implies, plain Oxfords include little to no embellishments.
Whole-cut shoes result when the shape of an Oxford shoe is cut out from one single piece of leather. This style stands out because there aren't seams on the shoe except at the heel.
A cap-toe Oxford looks like it has a separate piece of leather over the toes. The seam where the toes meet the foot makes the shoes slightly informal.
Wingtip shoes, also known as brogues, have tiny perforations along the sides and across the toe cap, usually in the shape of an M or W.
Keep in mind that brogues are more casual than cap-toe Oxfords.
Finally, and more rare these days, are saddle shoes. You know these black and white icons! Today, you can find them in a wide array of colors in any combination of two tones.
Best Oxford Shoe Colors
Yes, black tends to be the standard color for Oxford shoes, but there's a whole world of colors available.
You can be bold or subtle; various shades of Oxfords allow you to create many looks. You can even have two tones in your shoes.
Pick a shade that best fits your fashion goal with your suit. The choice of color can dictate your outfit's formality.
Black Oxford Shoes
Black is the dressiest color for any men's shoe. Therefore, you can wear only black Oxford shoes for your most formal events.
Fortunately, black Oxford shoes look good with most suit colors.
Aside from the obvious pairing with a black suit, they elevate a charcoal suit to a stunning elegance.
Black Oxfords also have particular ramifications with a navy blue suit.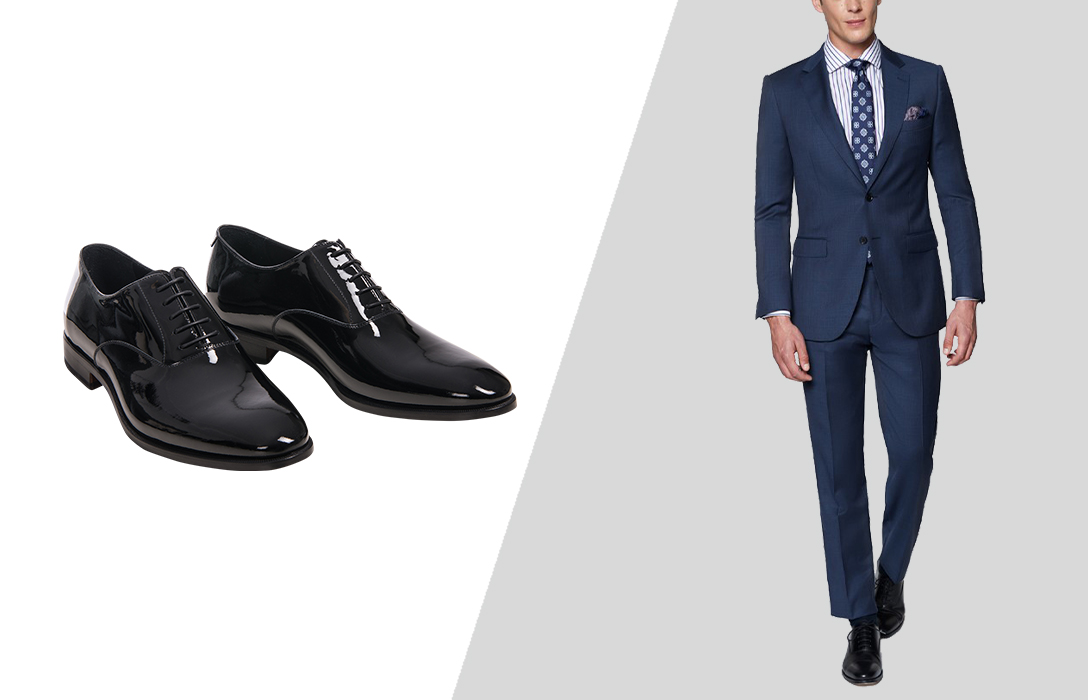 So if you only own one pair of Oxfords, make them a black pair.
Brown Oxford Shoes
Brown Oxford shoes can be very dressy if they are dark.
You may not be able to wear brown dress shoes to a black-tie event, but they are suitable for most of your professional business needs.
It may surprise you how well brown can work with grey and charcoal suits.
Even black suits can benefit from this twist! They are slightly less conservative than black dress shoes, but the effect is subtle.
I especially like how brown Oxford shoes match with a blue suit. They instantly elevate the blue suit's formality and give the cool blue tone a warm feeling.
Finally, you can wear brown Oxford shoes with a separate suit jacket and pants to create a more interesting visual for your outfit.
Burgundy Oxford Shoes
Burgundy dress shoes are so elegant and fashionable looking. While burgundy isn't a common shoe color, it still looks so stylish that I think it should be.
It isn't a dressy shade, so it isn't suitable for a conservative space. However, it does make a stuffy and dull suit more modern-looking.
Burgundy Oxfords can turn a conservative navy suit into a contemporary and trendy outfit.
This color is also stunning with a light, medium, and dark grey suit or a brown suit.
And why not try burgundy Oxfords with more casual outfits? Navy chinos and blue jeans are ideal with this shoe type.
Tan Oxford Shoes
Tanс are perhaps the most informal version of Oxfords. However, they are super versatile.
Tan is a great way to dress down your suit while still looking sharp.
Wear tan Oxford shoes with a light blue or light grey suit. they are also excellent with khakis or jeans.
How to Wear Oxfords with Formal Attire
The number one rule for wearing Oxford shoes for a formal occasion is that they must be in pristine shape.
Be sure that there are no scratches or scuffs, and they should be clean. A little polish is an excellent way to brighten up an older pair of dress shoes!
The style of Oxford that you choose has a subtle effect on the tone of your outfit.
So whether you are aiming for a traditional and conservative style or a more quirky and fun feeling, Oxfords can accommodate those tones.
Plain Oxford Shoes & Tuxedo for Formal Events
While there are other shoe options for your tuxedo, opera pumps and velvet slippers aren't exactly all the rage these days.
That leaves you with only black Oxford shoes to wear with your tuxedo.
Of course, you can opt for regular leather, but patent leather Oxfords are the ultimate in formality.
Stick with a round toe for your Oxfords, as they are the sleekest option. Again, they have to be black, whether it's a black tuxedo or a blue one.
Also, aim for as slim and narrow as you can get. This will lend to a more formal appearance.
Oxfords & Suit for Semi-Formal Settings
If you are wondering how to dress for a wedding or a cocktail party, your safest bet is to wear a suit and a pair of Oxford shoes.
You'll not only look dashing in this semi-formal combination, but you also aren't likely to stand out from the crowd.
You'll likely be wearing a dark suit and tie if it's an evening event, so you should consider either black or dark brown Oxfords.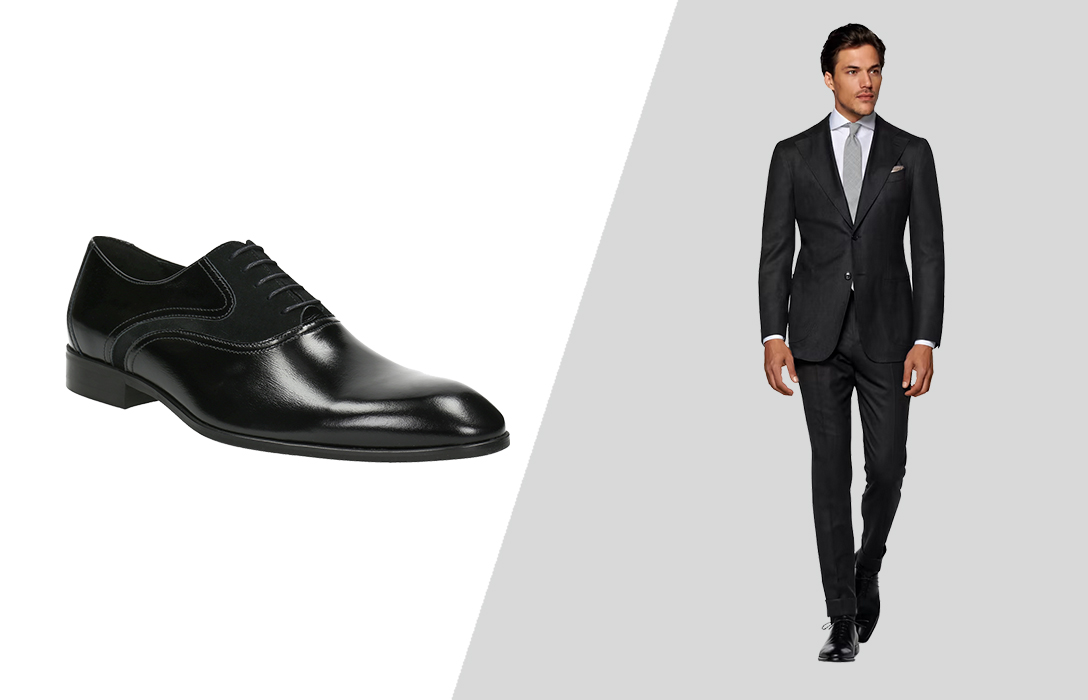 A cap toe is acceptable, but it is probably best to avoid broguing; it would lower the formality of your outfit.
Again, the key to a semi-formal setting is to keep your appearance understated.
Oxfords & Dark Suit for Business Settings
A dark suit matched with a pair of dark Oxford shoes is the ultimate professional combination.
Black dress shoes are the ideal preference, but you may be able to pull off a dark brown Oxford with the right color suit.
Stick with Oxford shoes that are either plain or whole-cut to stay within the business professional dress code.
To elevate your appearance, remember to choose a white button-up dress shirt and accessorize well.
If you've chosen black Oxford dress shoes, you must also wear a black belt.
Dress Shirt & Slacks for Business Casual Style
When you choose a business casual ensemble, Oxfords are especially helpful in creating this look.
You also have the option to play with color and styles because you aren't obliged to stay within the formal parameters.
For example, you can choose a pair of grey slacks and a black blazer. Black Oxfords would work just fine, but so would dark or medium brown.
It might also be the perfect opportunity to experiment with burgundy Oxfords.
Cap-toe shoes will work well for business casual, but if you wear plain or whole-cut Oxfords, they will elevate your business casual ensemble to look slightly more dressy.
Shirt & Chinos for Smart-Casual Style
Smart casual is a very fun style to aim for because you have so many fashion possibilities before you.
You can choose any color for your Oxford shoes, but the lighter you go, the more casually you'll be dressed.
Also, you may want to intentionally start with a pair of tan Oxfords and build your outfit from there. Likewise, you'll add a certain flair to your ensemble if you opt for wingtips.
Top off your chinos with a blazer, and you'll be the most sophisticated casual man around.
How to Wear Oxfords with a Casual Outfit
Part of the reason for the enduring legacy of Oxford shoes is their versatility.
Sure, Oxfords are the formal shoe, but you can also turn your style on end with this shoe.
Oxfords can be a surprising twist for any casual outfit to help you stand out and be noticed.
A savvy dresser knows how to combine elements from different styles for a unique take on dressing.
Pairing Oxfords with Jeans
Oxford shoes can look great with a pair of jeans, but you need to find the proper jeans to make this look work.
They must be trim and well-fitted, for starters. Baggy jeans will look too sloppy next to a trim pair of Oxfords.
The color of your jeans doesn't matter, but they should dictate the color of your Oxfords.
The lighter your jeans are, the lighter your shoe should be. The same goes for dark jeans and dark Oxfords.
Wearing Oxfords with Sweater & Turtleneck
If you want to spice up your classic sweater and turtleneck, there's no better time to break out a pair of saddle Oxfords!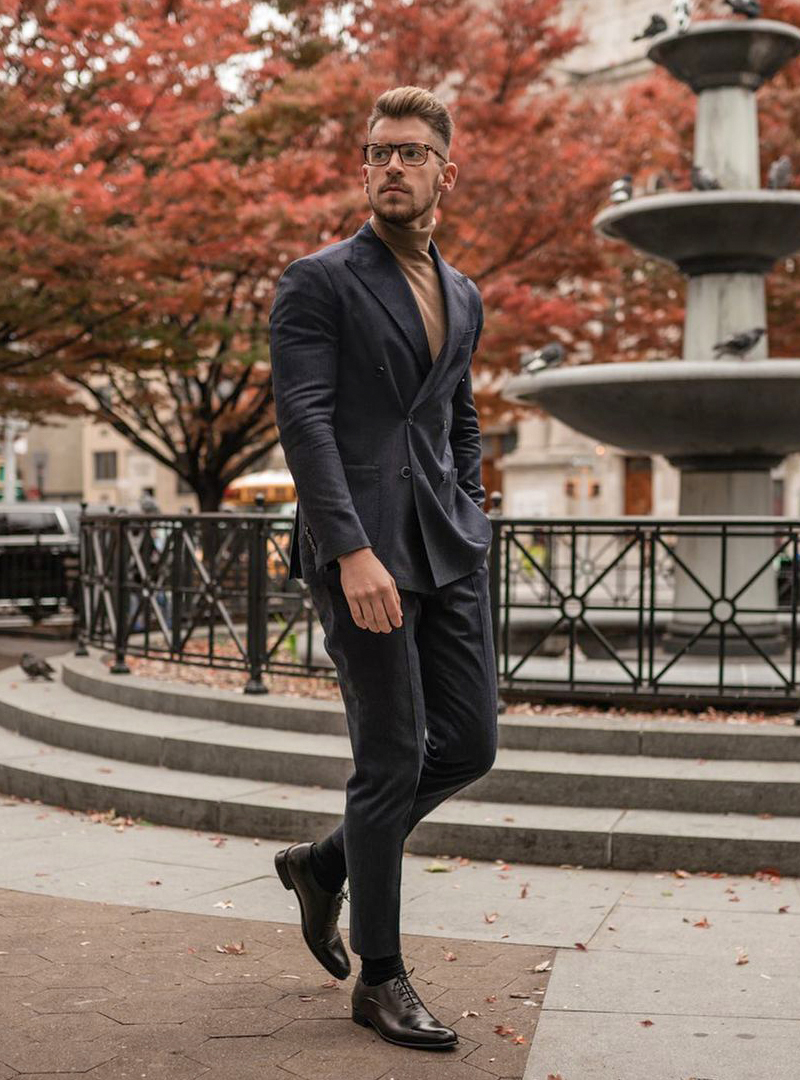 Wearing a sweater under your suit is also an outstanding way to put a twist on the traditional office setup.
You can create an immensely stylish retro style with these two-toned shoes, a neutral turtleneck, and a colorful blazer.
If you want a less bold appearance, avoid saddle shoes and choose brogues or a pair of cap-toe Oxfords instead.
Oxford Shoes FAQs
Are Oxford shoes formal?
Oxford shoes are formal. But they are the most versatile dress shoe type you can invest in, so they can also look casual.
What is the difference between Oxfords and Derby Shoes?
Oxfords have a closed lacing system, which means that the eyelets are located on the top of the shoe; the quarters are sewn underneath the vamp.
Derby shoes, on the other hand, feature an open lacing system. This means the quarters are sewn on top of the vamp.
What is the difference between Brogues and Oxfords?
First, brogues aren't a type of shoe themselves; they are a detail that can be added to a pair of Oxfords.
Second, brogues simply include decorative perforations along the sides and toe-cap.
What is a proper pant break for Oxford Shoes?
It would be best to look for a partial break with your dress pants when wearing Oxfords. This means that the hem of your pants should fall right at the top of your shoe.
Author: Alexander Stoicoff
Hi, I'm Alex, and I've studied and specialized in styling in Rome. Through my writing, I want to help men dress well and learn the purpose and significance of suits and other formal attire. My final goal is to make men more confident in their wardrobe choice and life in general.