The navy suit holds a singularly iconic status in the vast tapestry of menswear.
The beauty of the navy suit lies in its duality. It can be both a powerhouse in the boardroom and a subtle standout at social gatherings.
The challenge, however, is in the details.
The right shirt, the perfect tie, and the ideal shoes can elevate the navy suit from simply stylish to utterly impeccable.
What Colors Go Well with a Navy Suit?
You can think of your navy suit as a blank canvas on which you can layer other colors. That's why most shirt colors work exceptionally well with navy.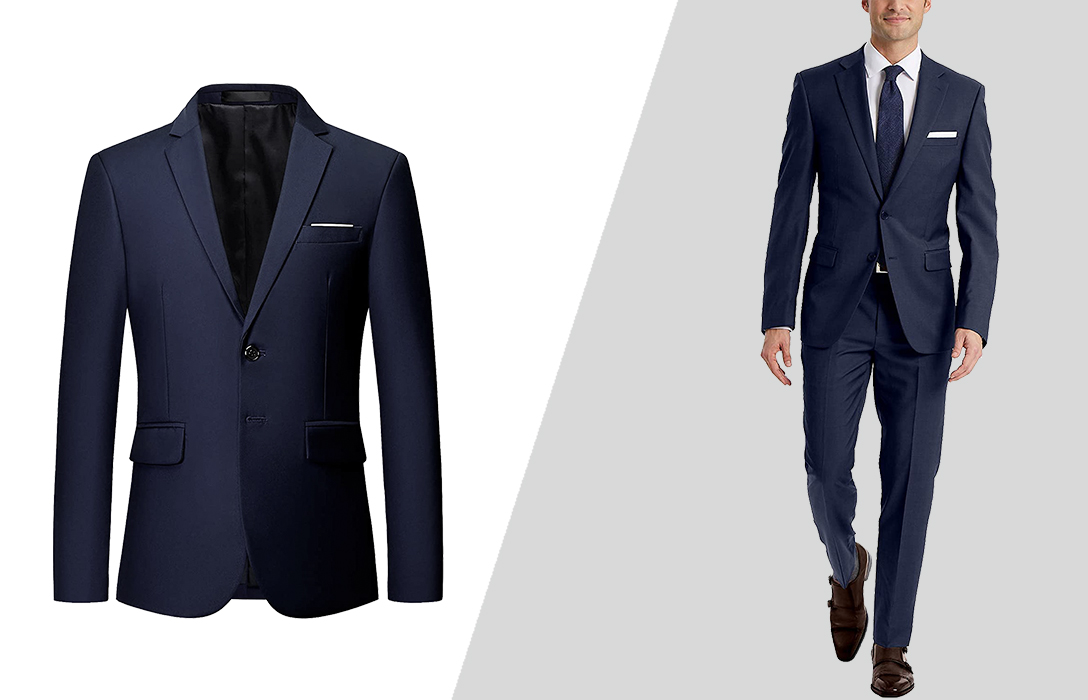 You'll just be better off avoiding overly loud shirt colors and designs. Opt for solid colors or subtle patterns instead.
On the other hand, bombastic and vibrant tie colors can definitely level up the style stakes when matched with a navy suit.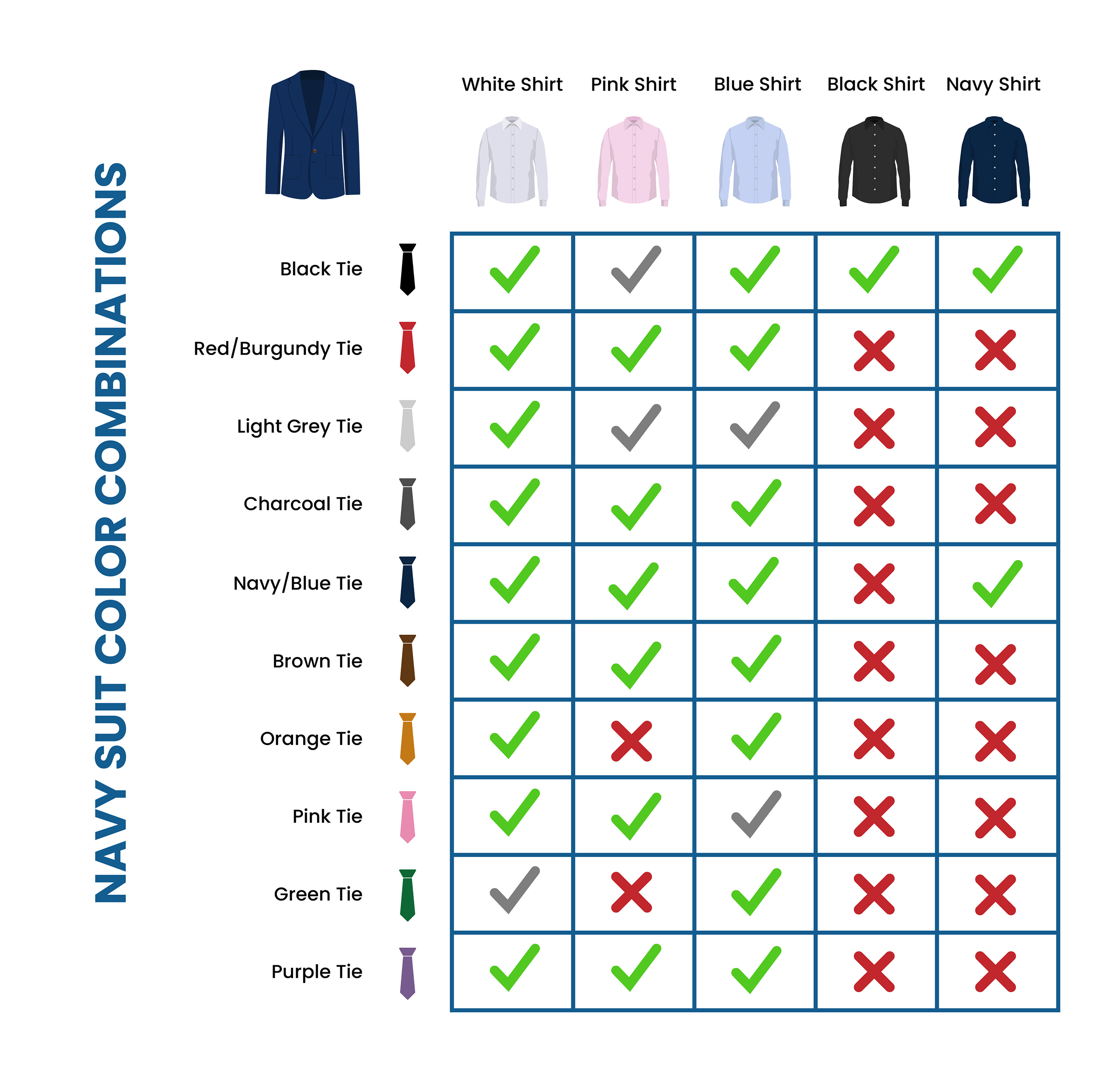 It's always a good idea to wear a pocket square that's contrasting with your tie in color and patterns.
For example, choose a pocket square with patterns if you're wearing a solid tie.
In a hurry? Here's a brief video guide to help you find the right shirt and tie colors for your navy suit:
Navy Suit and White Shirt Color Combinations
If you're unsure of what goes with what, you can never go wrong with a crisply ironed, pristine white shirt and a navy suit.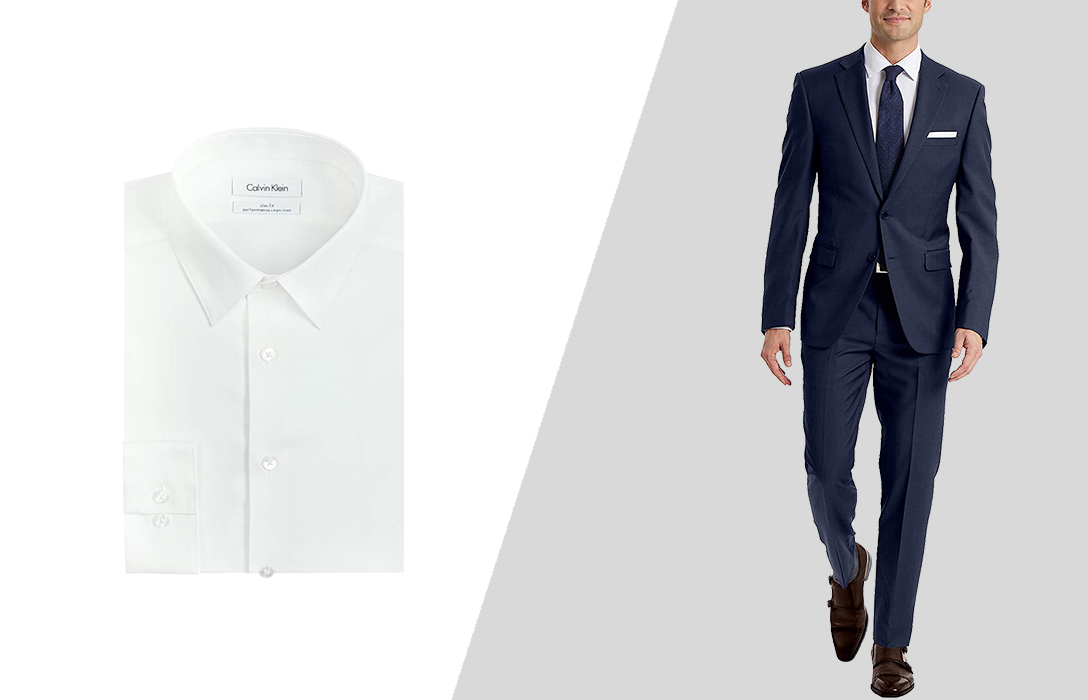 Fairly formal accessories work well with this combination, such as a leather belt and Oxford shoes in brown or black. This look is immediately effortlessly stylish.
Of course, you'll still have to decide on a tie, and this is the part where you get to experiment a little and express your personality.
Shop The Look
Here's a list of ties that work well with a navy suit and white shirt:
Red Tie
A timeless classic, you can't go wrong with a red tie. It's not exactly a bold color combo, though. So, if you want something a bit more daring, then try other colors.
Orange Tie
What? Really? Yes, orange is a great summer alternative to boring old red.
You'll exude confidence without looking crazy because the rest of your outfit is classic and understated.
Grey Tie
Navy and grey play well together and could be the most versatile color match in menswear.
Just watch out for contrasts that are too strong between the shades. For example, if your suit is dark navy, avoid a very pale grey tie. Veer for charcoal shades, instead.
If you want to go a bit lighter, pick a light grey tie with charcoal grey patterns, but keep your suit and shirt plain.
Black Tie
It may sound surprising, but you can wear your navy suit to black-tie events, too.
Simply combine it with a classic black bow tie and a white dinner shirt. Finish the look with a white pocket square.
And yes, pairing a navy suit and a white shirt with a classic black tie is also suitable for weddings, work, or other formal occasions.
Brown Tie
Navy works surprisingly well with brown. Depending on the shade, the tie can make the look either serious or festive.
Be sure to wear brown dress shoes and navy socks to perfect the combo.
Navy Blue Tie
If you want to look seriously stylish, pick out a navy tie in the same shade as your suit and take it up a notch by getting one with narrow diagonal white stripes to tone in with your white shirt.
Alternatively, a navy tie with a simple, small pattern can look good for daywear, too.
Navy Suit and Pink Shirt Color Combinations
A pink shirt offers a lively, cocktail-inspired hue compared to the more formal and classic white.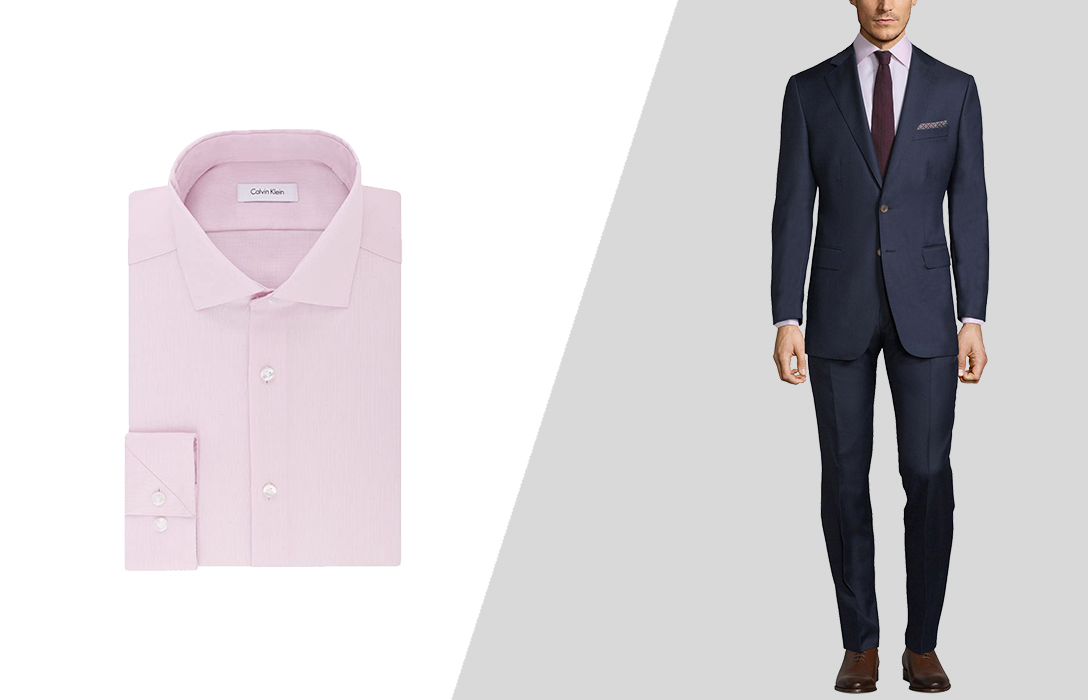 Shop The Look
Pale pink shirts are flattering for everyone, no matter their skin or hair color. So, it's probably the most versatile shade of pink to go for.
Also, lighter pink shades are a comfortable and elegant pairing for a navy without clashing.
Pink with navy creates a modern look that is entirely appropriate for occasions when you want to look festive. It's not too stuffy and never too classic.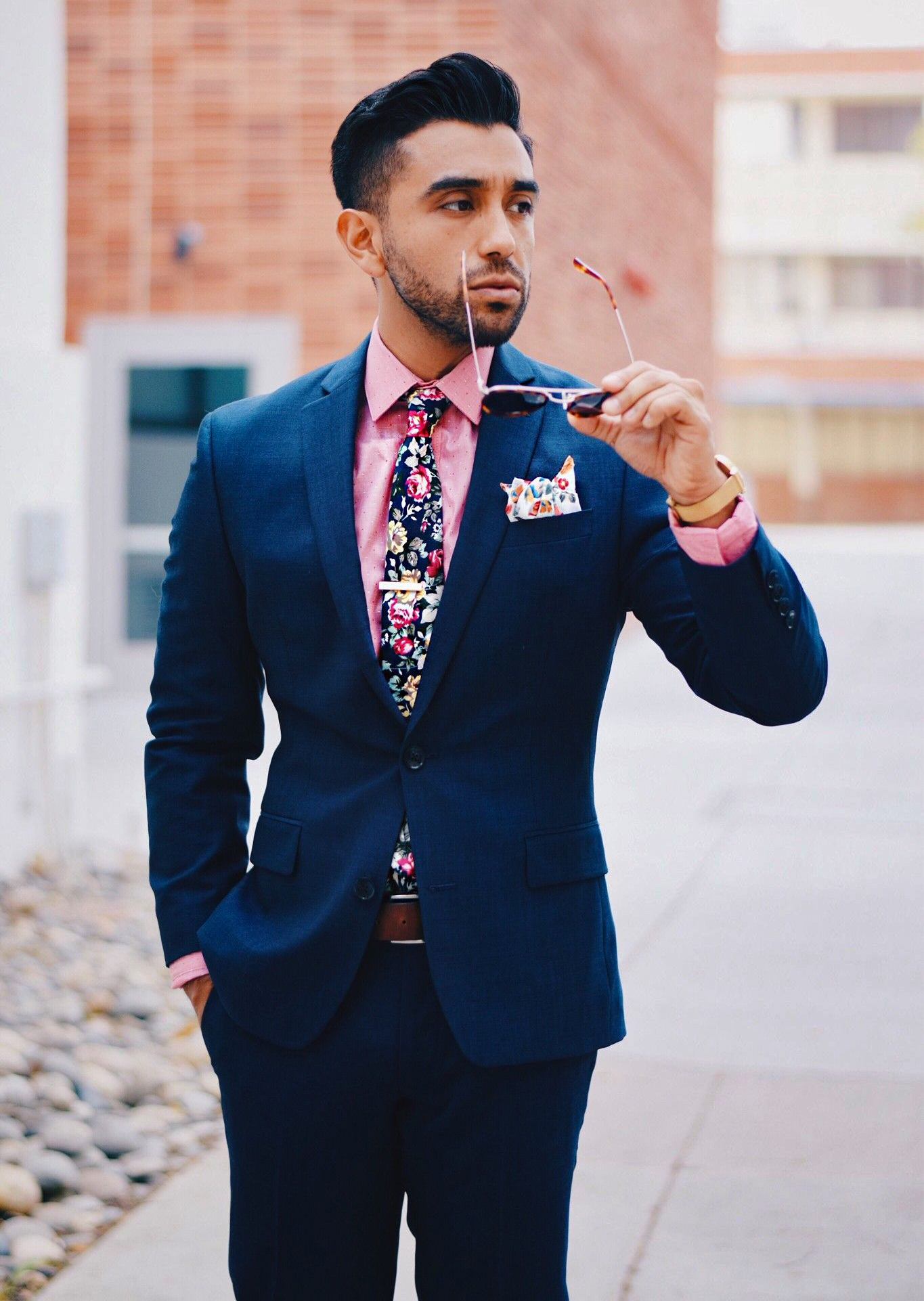 But which color tie goes best with the look?
Navy Tie
It is an expected option, but at least you can't go wrong. For a bit of contrast, pick a navy tie with some texture or one that has a small print on it.
Go a shade lighter or darker than the suit; not exactly the same navy.
Red Tie
A little more adventurous than a navy tie, red will never let you down. Look for a solid dark red shade like Oxblood or maroon to add interest here.
Pair this color combination with black Oxford or Derby shoes, and you're perfect!
Pink or Purple Tie
If you're going with a pink tie, choose a darker shade of pink. It shares a warm element with a pink shirt and works surprisingly well.
Match with dark brown Oxford shoes or boots and a plain brown leather belt.
Patterned Ties
Your navy suit allows you to be bold and choose a striped or even a patterned tie. The key is to make sure that the background color of the tie is also navy.
Dots or plaid can also help create a fresh, playful impression.
Navy Suit and Blue Shirt Color Combinations
A light blue shirt stands out as an excellent choice for those seeking a deviation from the standard crisp white.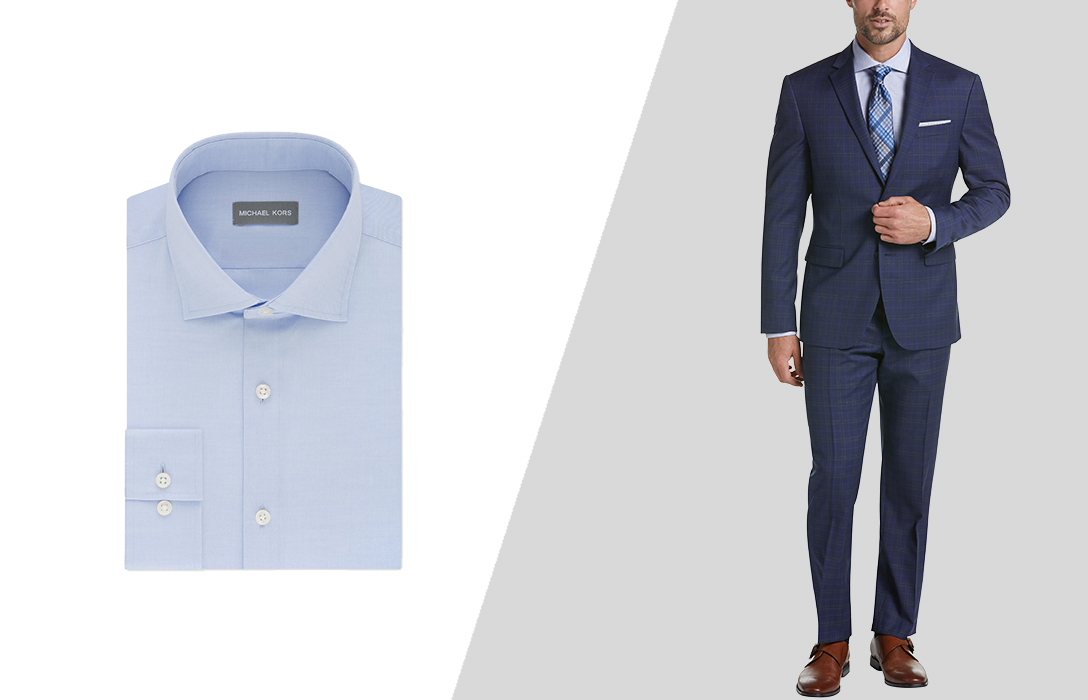 Not only does it offer a formal business appeal, but its contrast against a navy suit ensures that varying shades of blue harmoniously complement one another.
While there's nothing wrong with opting for white, sometimes a dash of differentiation in color elevates the entire ensemble.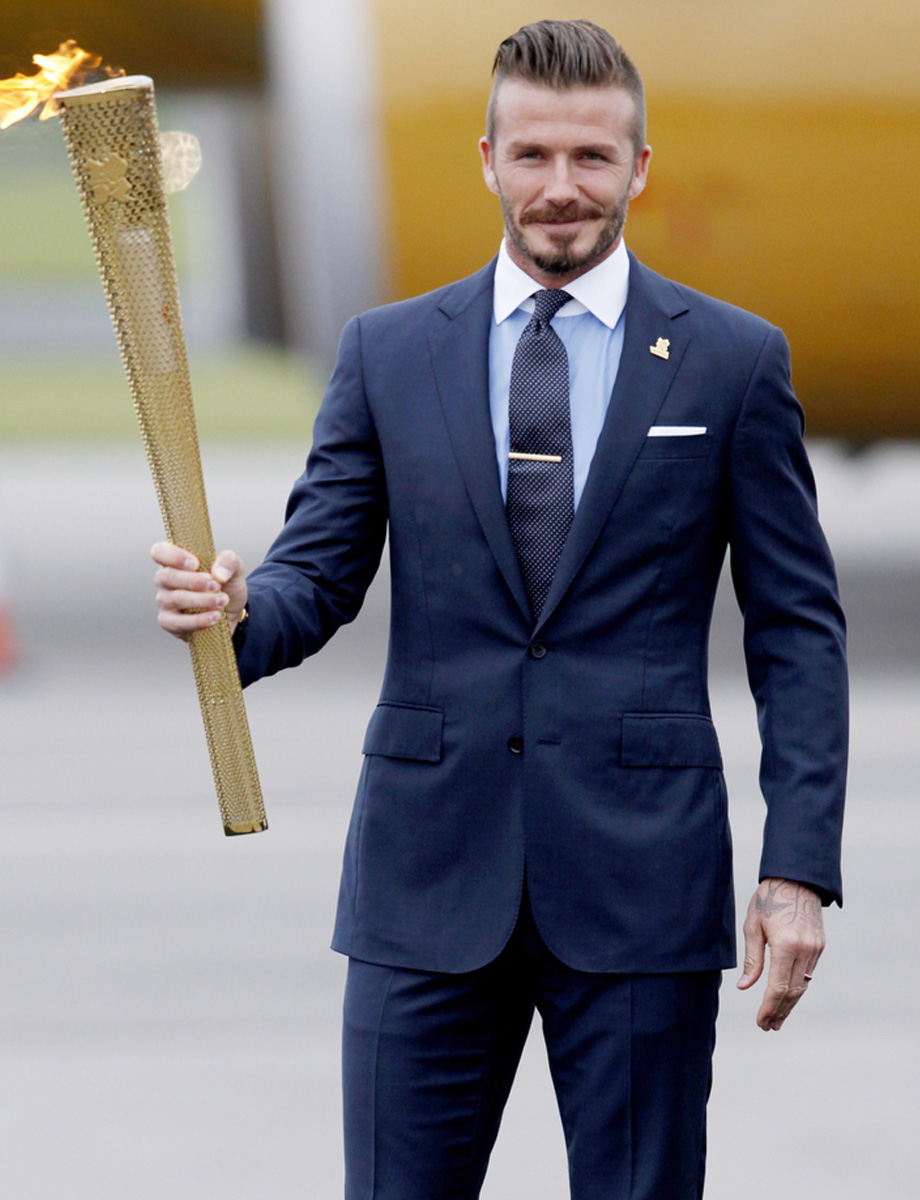 A sky-blue shirt is also a great choice here, and it combines well with several different tie options.
Best Choices
Blue/Navy Tie
Choose a blue tie that's darker than the shirt, like dark blue or navy. Experiment with texture to add a little interest.
Alternatively, try polka dots on your navy tie. Black Oxford shoes, Derbies, or brown Chelsea boots – all complete the look.
Black Tie
Although my advice would be to go for vibrant colors, like red or maroon, a black tie can be paired with a navy suit and blue shirt.
It's a little conservative, but it's one of the most classic choices for suits.
Besides a solid black, other smooth options are striped or textured ties, like Macclesfield or Foulard.
Red Tie
A red tie goes better with navy than with any other color suit. It creates a power-dressed look.
Just remember that if you want the look to exude confidence, you need a proper red. Alternatively, if you want to tone it down a notch, go for a brownish-red or burgundy.
Classic Oxford shoes in brown or black add the perfect finishing touch.
Orange Tie
For the bold! An orange tie creates a very eye-catching contrast against a light blue shirt and navy jacket.
While it'll work for most events, this suit and tie combo is certainly not for work or business. It's best suited to a less formal affair like a daytime wedding.
Mustard yellow ties also create a good contrast with a blue shirt.
Green Tie
A solid green tie can strikingly complement a blue shirt. Opt for a darker or more matte green shade to make it stand out.
Alternatively, consider a striped tie where one of the bands mirrors the blue of your shirt, interspersed with green and perhaps navy.
Navy Suit and Striped/Patterned Shirt Color Combinations
If you're looking to make a statement, pair your navy suit with a striped or printed shirt. Look at stripes, gingham, dots, or checks.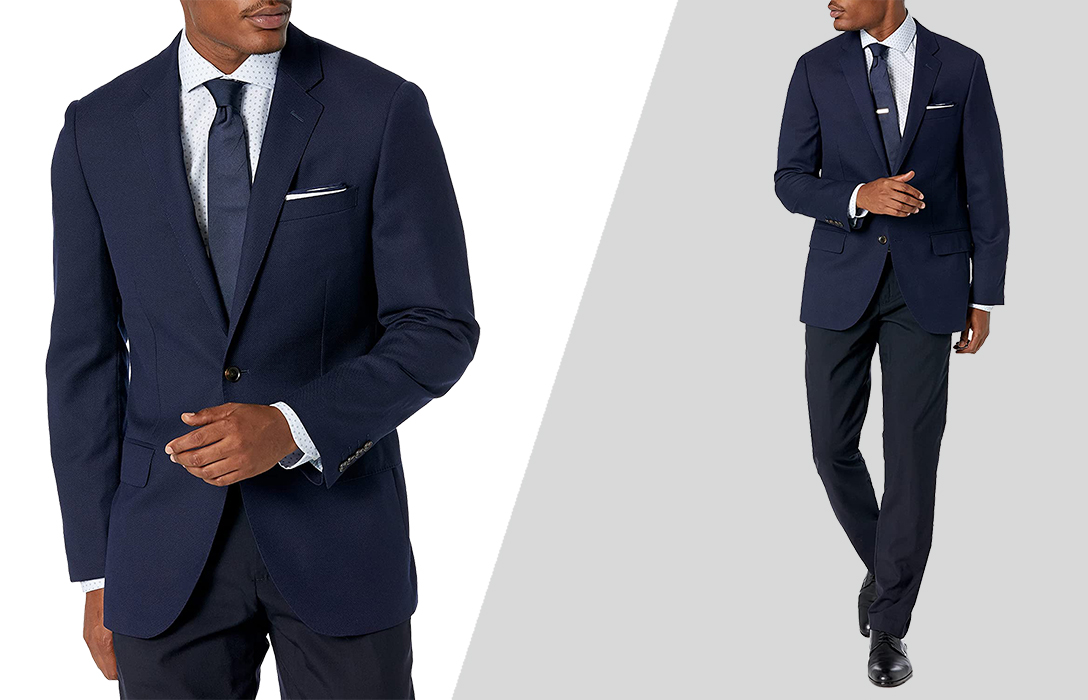 The key here is to make sure that the colors don't clash with your suit. An easy way to avoid this is to choose a shirt with white as a foundation color.
Never wear a striped suit, striped shirt, and a striped tie together. You can, however, wear a striped shirt and striped tie if the stripes are of a different scale.
For example, you can wear a shirt with very narrow stripes and a tie with thick stripes.
Stripes and dots go well together, too, so try a striped shirt with a dotted tie.
How to Match Your Shoes with a Navy Suit
Since navy is one of the most versatile shades on the color wheel, it's hard to mismatch your shoes with a navy suit. You can match it with black, brown, or even burgundy shoes.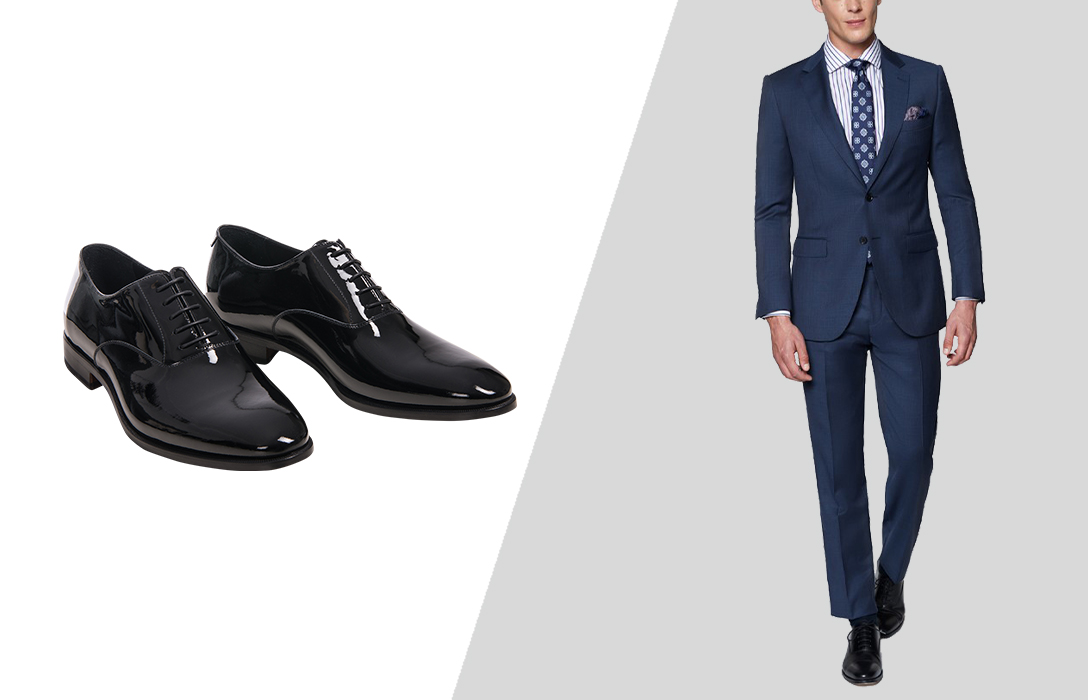 If I have to choose one, black is always my top choice for dress shoes to match this suit color. That's because black dress shoes add an additional level of formality to the navy suit.
However, if the suit has a lighter texture, brown dress shoes are a better choice. It makes your ensemble more playful and vibrant.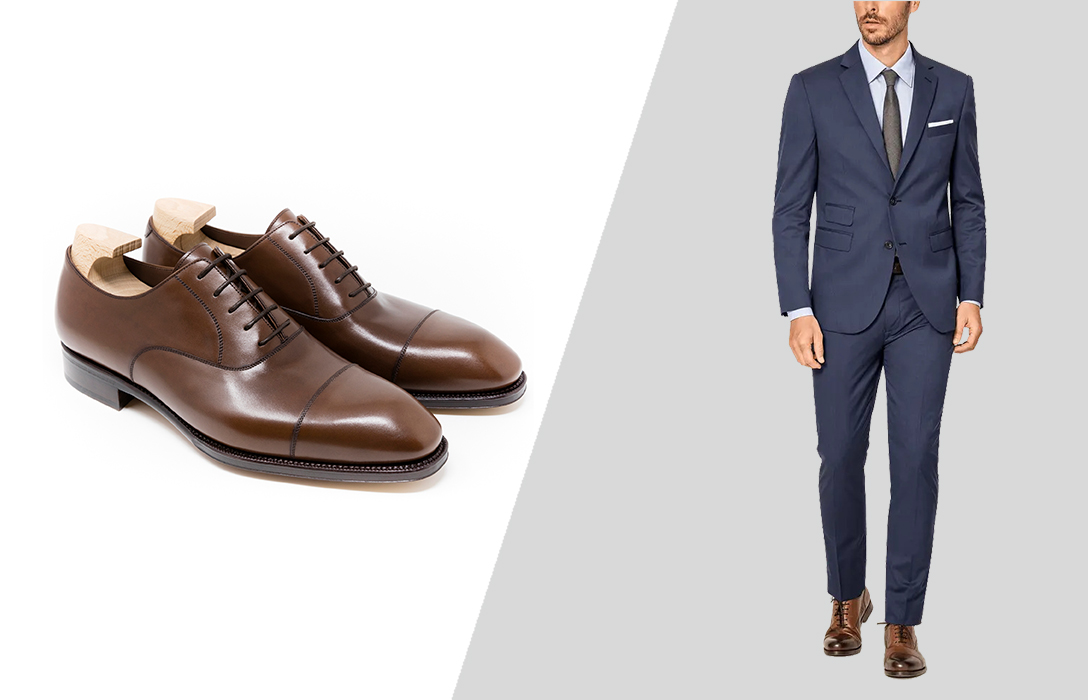 In terms of style, go for Oxfords, brogues, or even loafers. Shoes with a rounded toe generally work better than pointy ones.
More Ways to Style Your Navy Suit
There's more than meets the eye when it comes to navy suits.
Yes, it's a classic choice for formal occasions. But there's a world of styling possibilities that extend beyond the standard suit-and-tie combination.
Beyond Shirts and Ties
Turtlenecks look very elegant with a navy suit and are ideal for colder weather. The best choices are neutral colors like grey or black and contrasting ones like white or beige.
Likewise, sweaters and cardigans can be a more casual alternative to the turtleneck.
Embrace a smart casual style by pairing your suit with a polo shirt. Choose a navy polo for a monochromatic effect, or select white or light grey for a striking contrast that enhances your look.
For an ultra-relaxed yet trendy look, pair your navy suit with a plain T-shirt. Again, neutral colors like white, grey, or black work best.
Separating the Navy Suit Jacket
Experiment with different colored pants to break the monotony of the navy suit jacket. The good news is that you have a plethora of options to choose from.
Charcoal pants are the safest and most professional pants color (other than navy, of course) for navy blazers.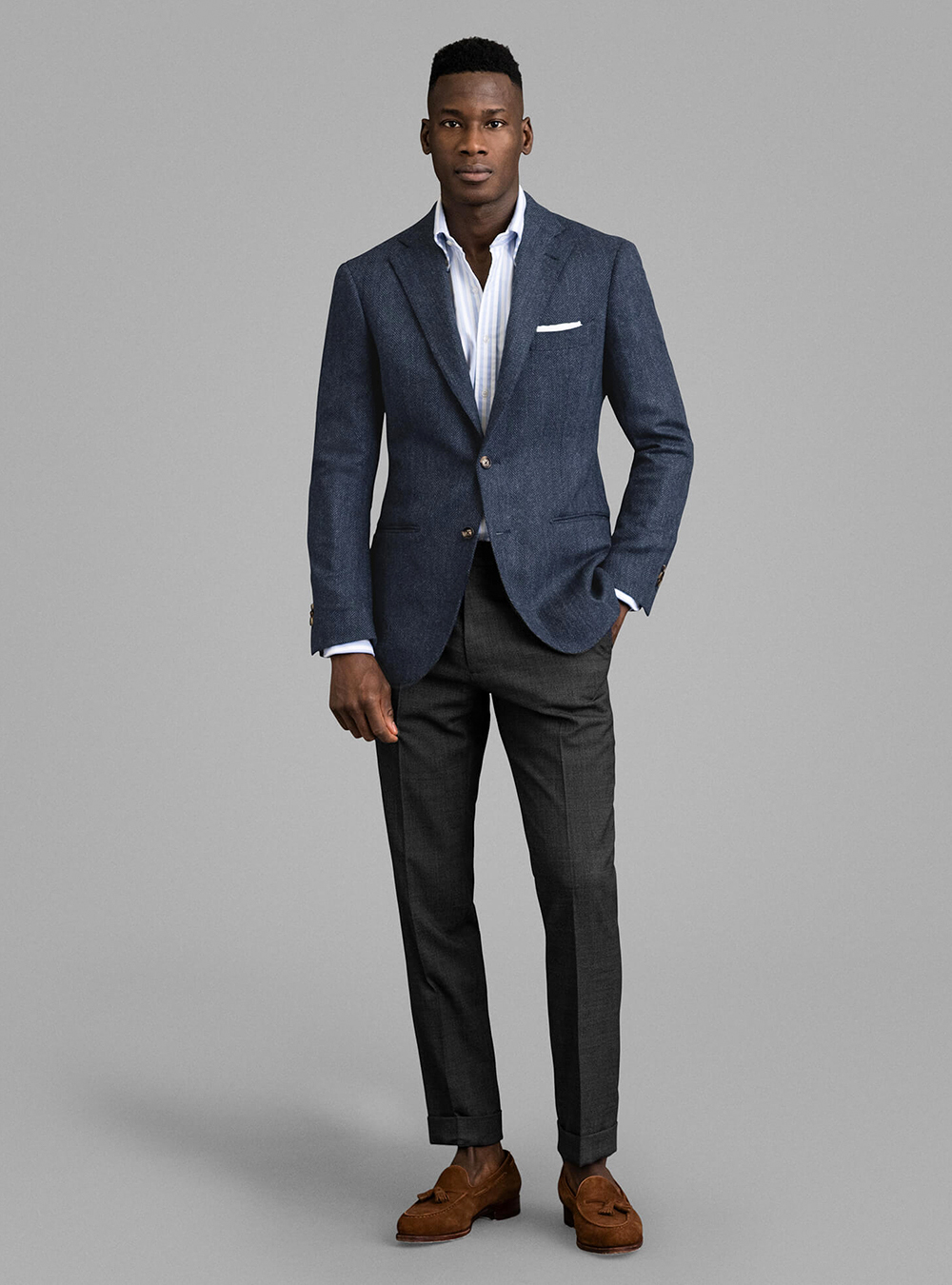 Pairing light blue pants with a navy jacket creates a harmonious, tonal look.
On the other hand, light grey pants offer a higher contrast, making this combination ideal for business casual settings.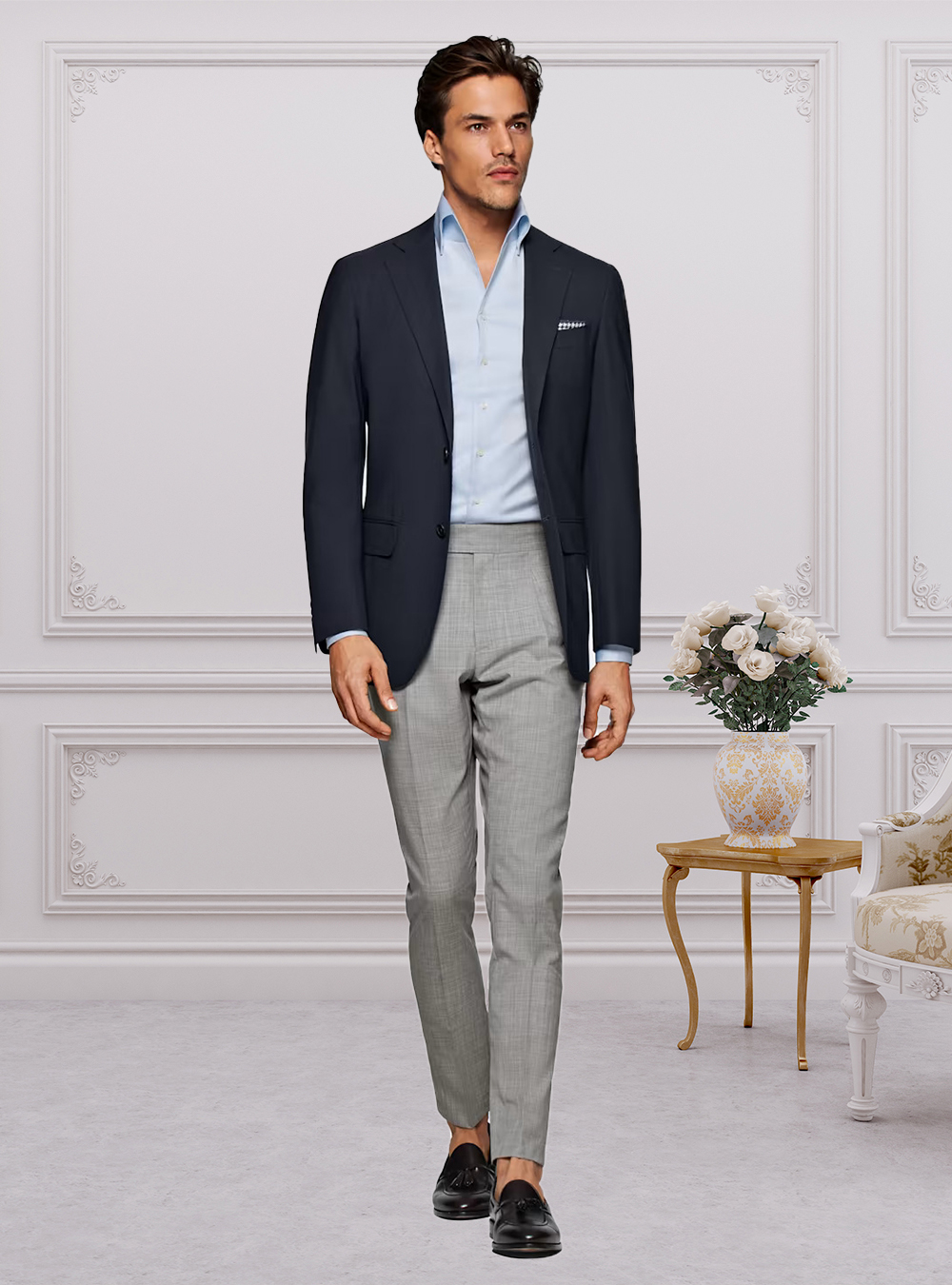 You can also wear white or beige pants for a bold look during warmer months. The contrast in this combination looks striking and out of the ordinary.
I often get questioned about mixing navy and black. While this blazer and pants color combo is traditionally avoided together, fashion norms have evolved.
Nowadays, pairing a navy jacket with black pants can create a modern, sleek look, especially for evening events.
Brown and black loafers are some of the most common footwear choices to finish the look.
Fabric and Texture
Natural fabrics like wool or cotton are classic and a sign of higher quality. They provide a matte finish and a soft feeling on the suit's surface.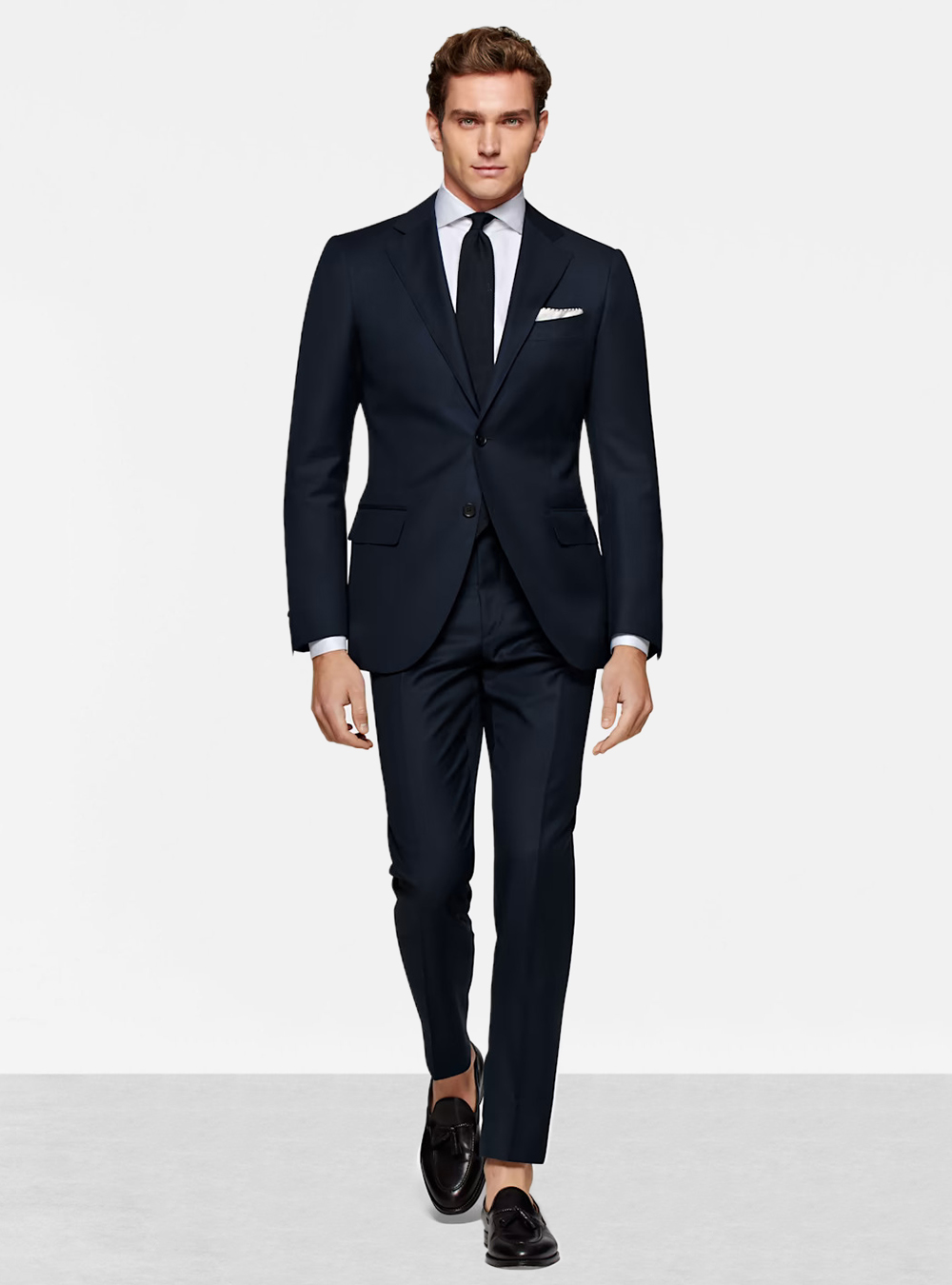 Shop The Look
Mohair and cashmere usually blend nicely with other natural suit fabrics to give a luxurious sheen and softness to your navy suit.
Be careful of too shiny synthetic fabrics as they can sometimes look cheap.
Pattern or Plain?
When choosing your first navy suit, I recommend you go for a plain navy suit with no patterns.
A fine, subtle pinstripe is OK, but stay away from heavy suit patterns like tartan until you gain confidence.
Shop The Look
And beware of wearing a patterned suit with different patterned items, such as a striped tie or a checkered shirt.
Achieving the Perfect Fit
As always, the main thing to bear in mind is for the suit to fit well. A great fit will help create a sleek and stylish look and ensure you are always on-trend.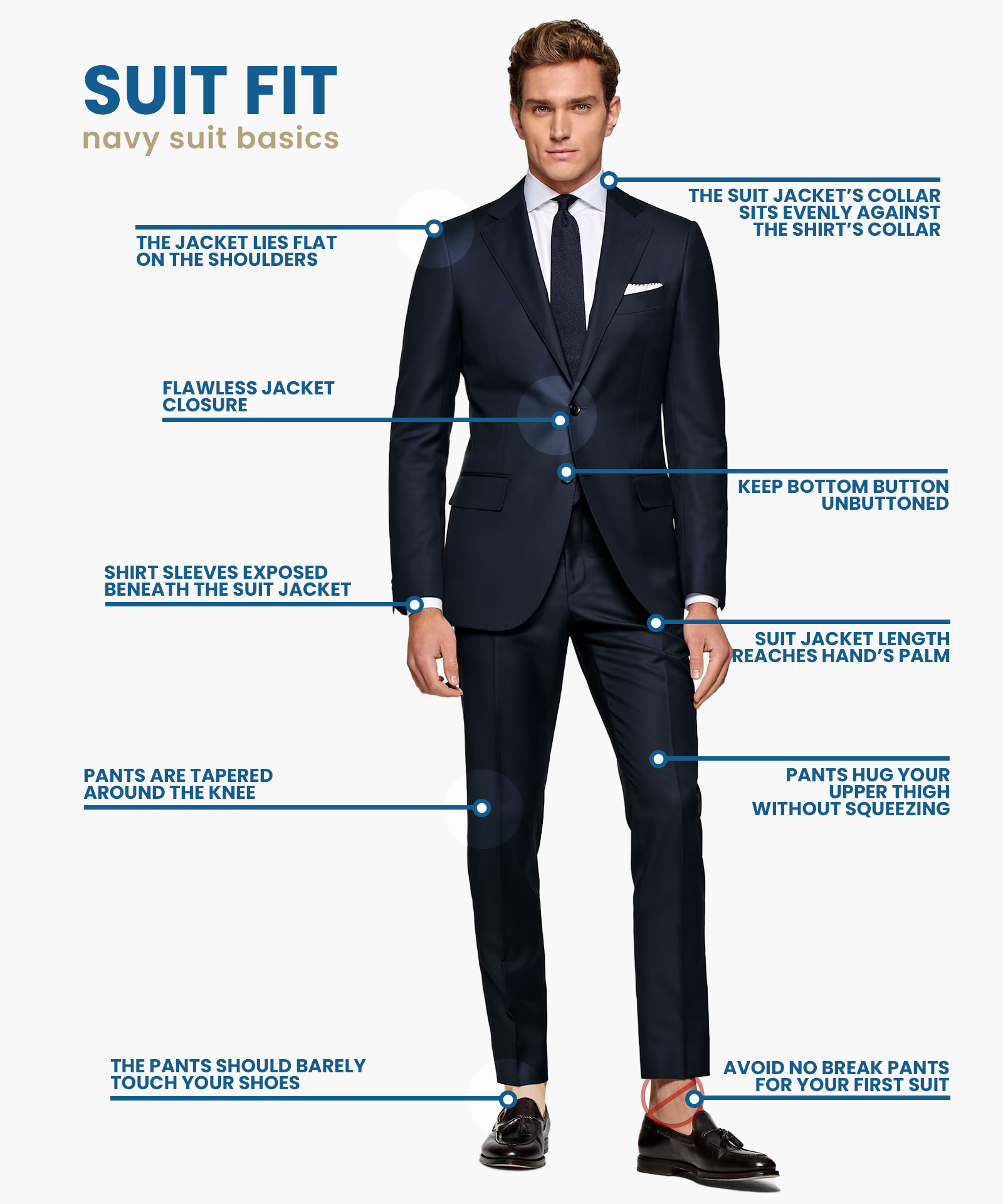 A good tip is to make sure the shoulder seam runs along the top of your shoulder. So, with your arms down at your sides, the end of the sleeves should stop at your wrist.
Also, both sides of the jacket should meet flawlessly, without any gap between them.
The pants should stay up without the need for a belt. And for the right pant length, the hem breaks should touch the top of your shoes.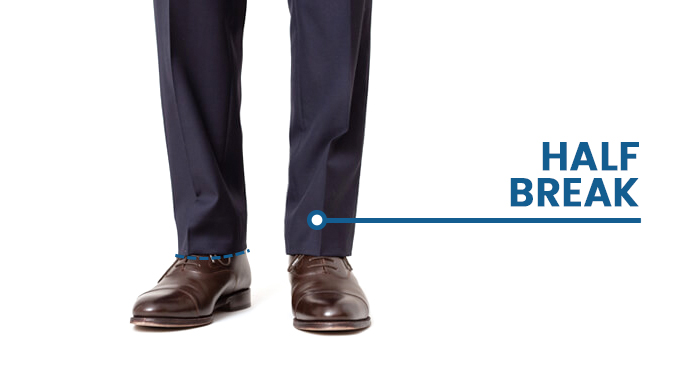 There are two common suit cuts for off-the-rack suits: classic and slim fit. Which one to choose depends mainly on your body type.
Also known as the traditional fit, classic-fit navy suits provide comfort and are more relaxed to wear.
On the other hand, slim-fit suits are tailored closer to the body. They feature a modern finish and a sharp look, projecting a clean and powerful silhouette.
Keep in mind that a good slim-fit suit, when fitted correctly, will always provide comfort and ease of movement.
Author: Alexander Stoicoff
Hi, I'm Alex, and I've studied and specialized in styling in Rome. Through my writing, I want to help men dress well and learn the purpose and significance of suits and other formal attire. My final goal is to make men more confident in their wardrobe choice and life in general.