Embark on a fashion journey where the navy blazer and grey pants take center stage, crafting outfits to turn heads.
Workday or weekend, we've got your back with our versatile style playbook. Buckle up, style aficionados!
Gentleman's Three-Piece Voyage
Board the fashion ship with a timeless ensemble.
A navy blazer and grey dress pants unite with a white dress shirt for an indisputable business vibe. Brown cap-toe Oxford shoes beautifully match the whole ensemble.
The grey vest makes the third piece of the outfit. And, when paired with the navy blazer, it creates a combo that nods to classic menswear while still being entirely modern.
The Dapper Deal-Maker
The brown loafers, matched with a navy blazer, white dress shirt, navy blue tie, and grey pants, create an astonishing and more modern business look.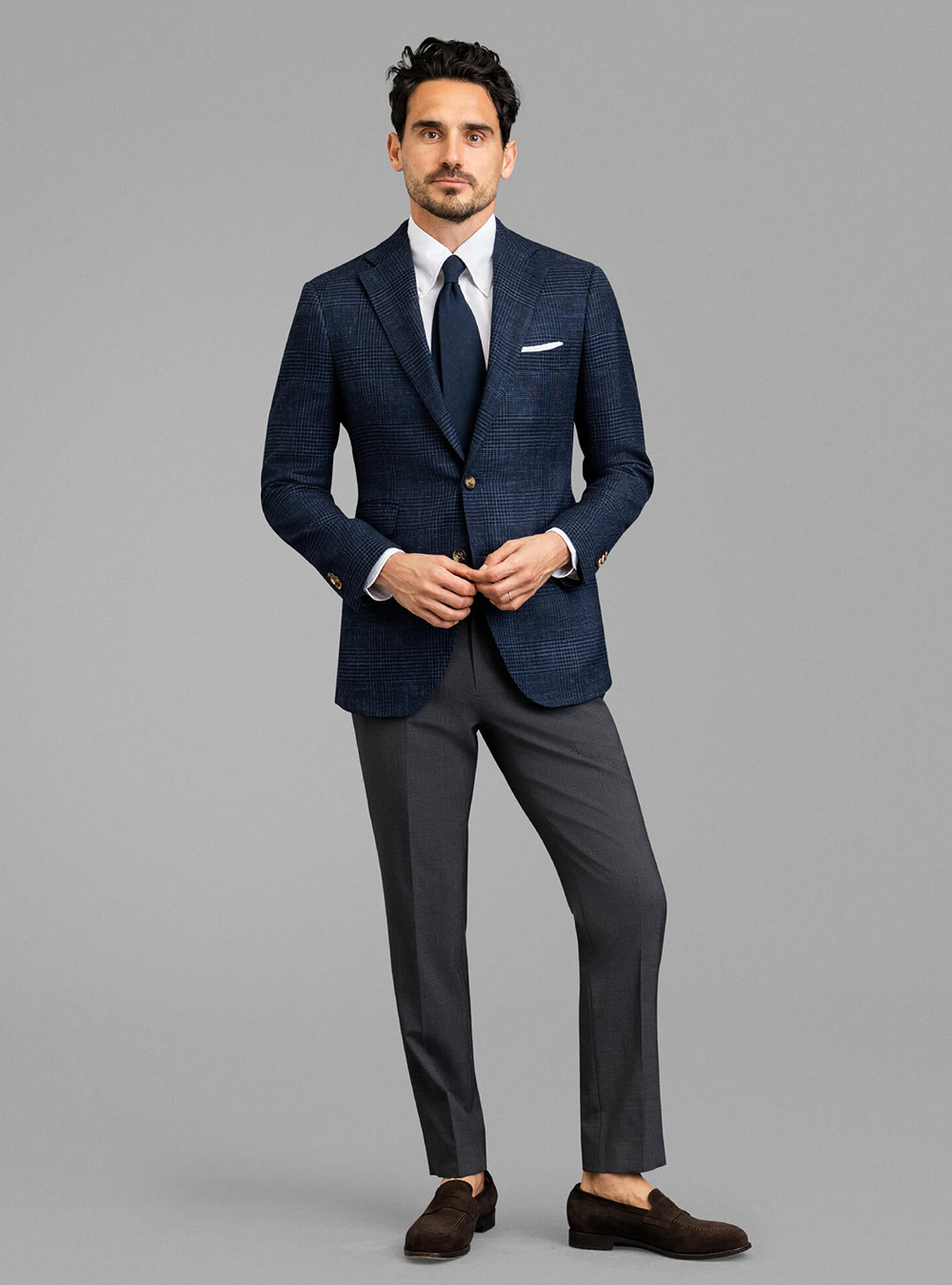 A perfect example of how you can still show personality, even when dressing for the office.
The navy blue tie adds a hint of nautical flair to the outfit, while the blazer and trousers keep it all professional.
Stripes Serenade
Embrace the sophisticated art of pattern play by choosing a white and blue striped dress shirt that loudly declares your mastery of modern style.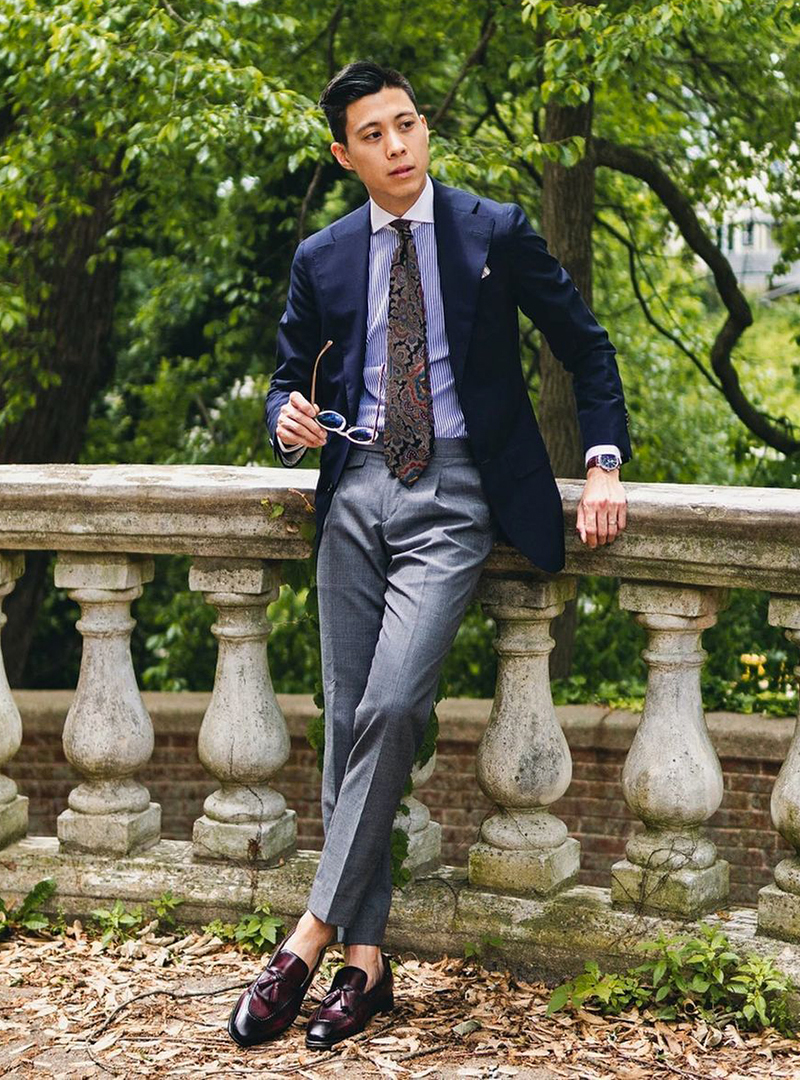 The exciting part is the shoes. The unexpected flash of color from a pair of burgundy loafers adds a delightful twist to the outfit, elevating it from elegant to extraordinary.
Perfectly curated, this ensemble is your go-to choice for cocktail hour, business meetings, or any occasion that demands impeccable taste.
Downtown Connoisseur
Step into the gentleman's zone with an outfit that screams chic sophistication with a dash of bold color.
A navy blazer and grey trousers form the core of this outfit. However, the burgundy polka-dot tie steals the show, perfectly complementing the brown Oxford shoes.
And then, the finishing touch: a matching brown pocket square, carefully folded and placed. More than an accessory.
Touch of Black Elegance
A stylish yet contemporary option for men with a taste in fashion.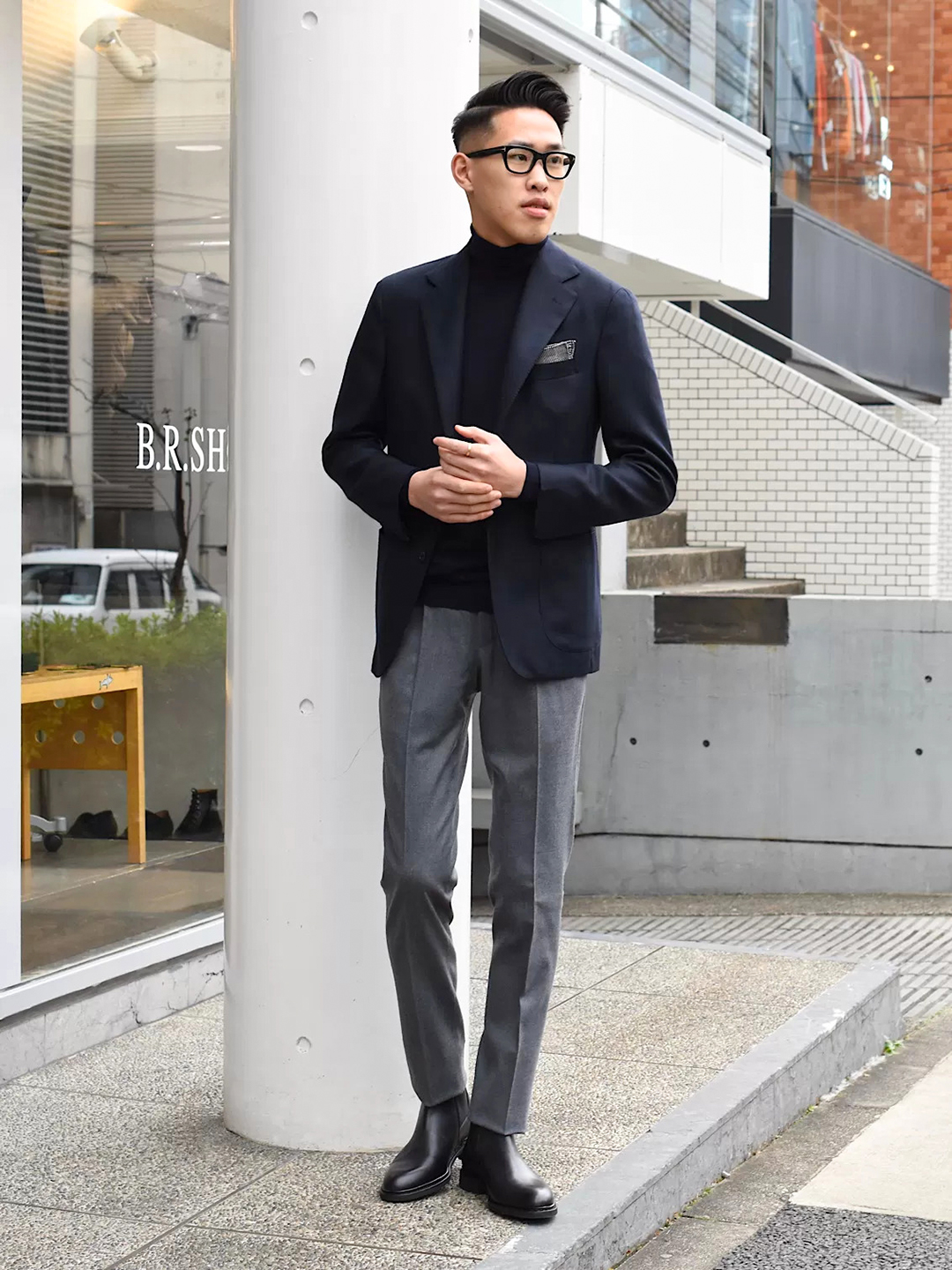 A navy blazer and grey dress pants provide the base, with a black turtleneck offering a stark contrast. To complete this chic ensemble, black Chelsea boots are a must.
Perfect for those colder months when you still want to look sharp.
Playful Weekend
Take the helm and navigate your weekend style with our laid-back yet dapper ensemble.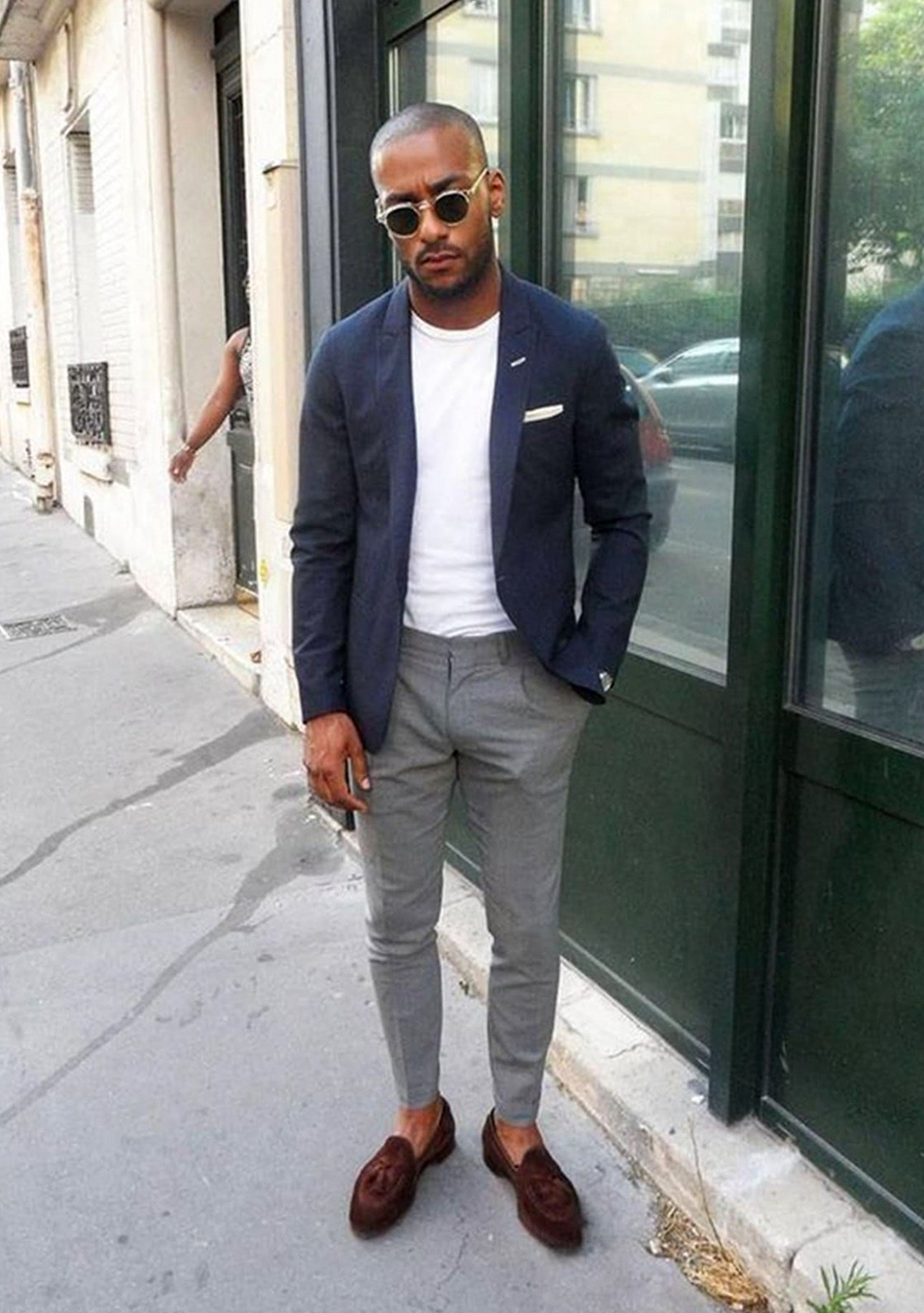 A navy blazer paired with a relaxed white t-shirt and grey chinos epitomizes casual chic. Topped off with brown loafers, this look is perfect for a breezy day at the marina or a relaxed dinner date.
A navy blazer doesn't always mean business – it can easily be dressed down for those off-duty days.
This look is a prime example of that, proving that a blazer is truly a versatile addition to your capsule wardrobe.
Browntide Harmony
Take a dive into the harmonious fusion of colors with our outfit inspired by the warm hues of a beach at sunset.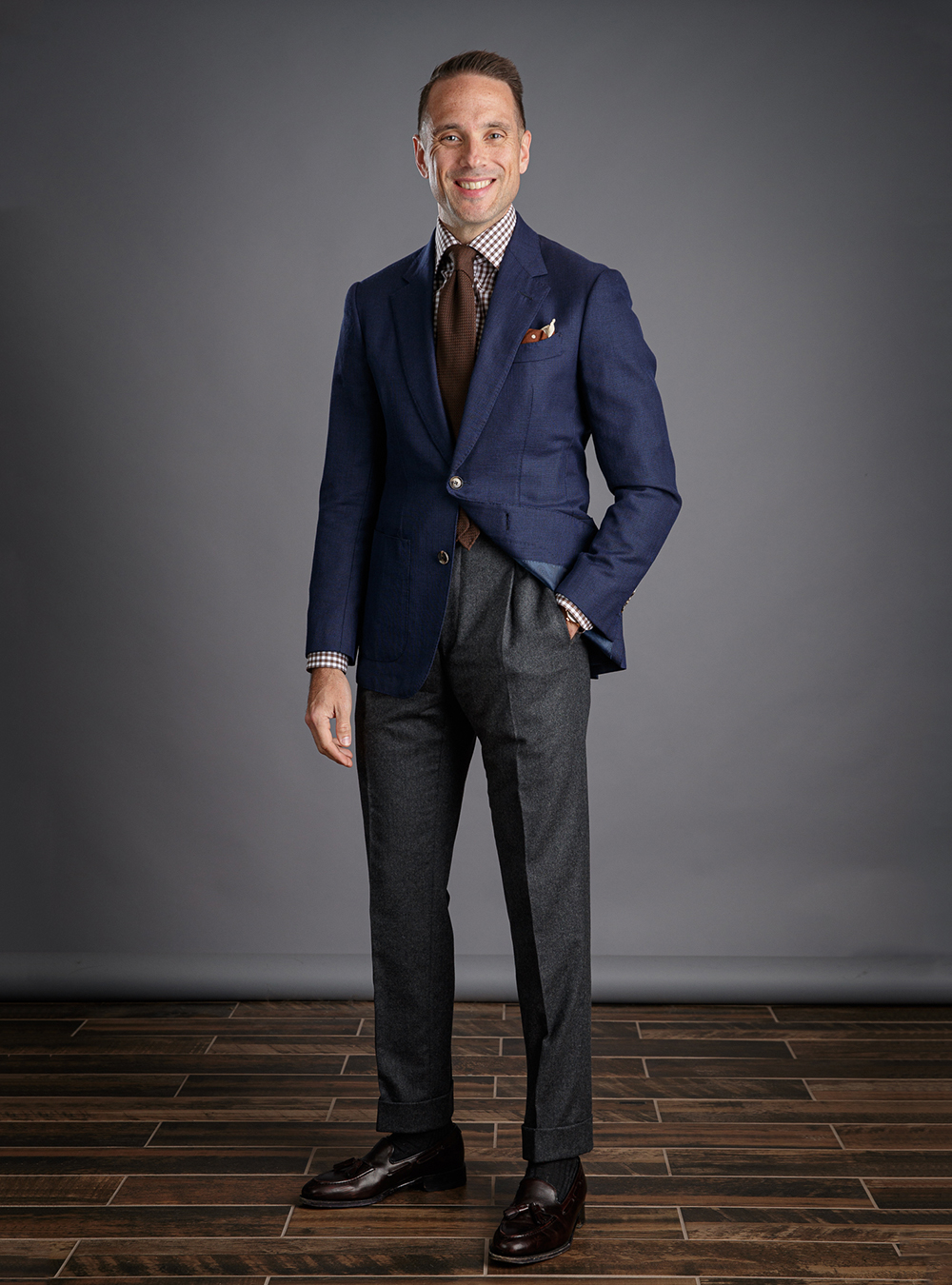 A brown gingham shirt and brown tie complement the navy blazer and grey pants, while dark brown loafers keep the ensemble grounded.
This ensemble's play of patterns and colors is nothing short of intriguing. The gingham shirt adds a touch of casual style, while the blazer and tie keep it polished.
Seen above wearing the ensemble is Brian from He Spoke Style. He never disappoints with his true sense of style.
Heritage Chronicles
Drift back in time with our outfit that pays homage to menswear's enduring legacy.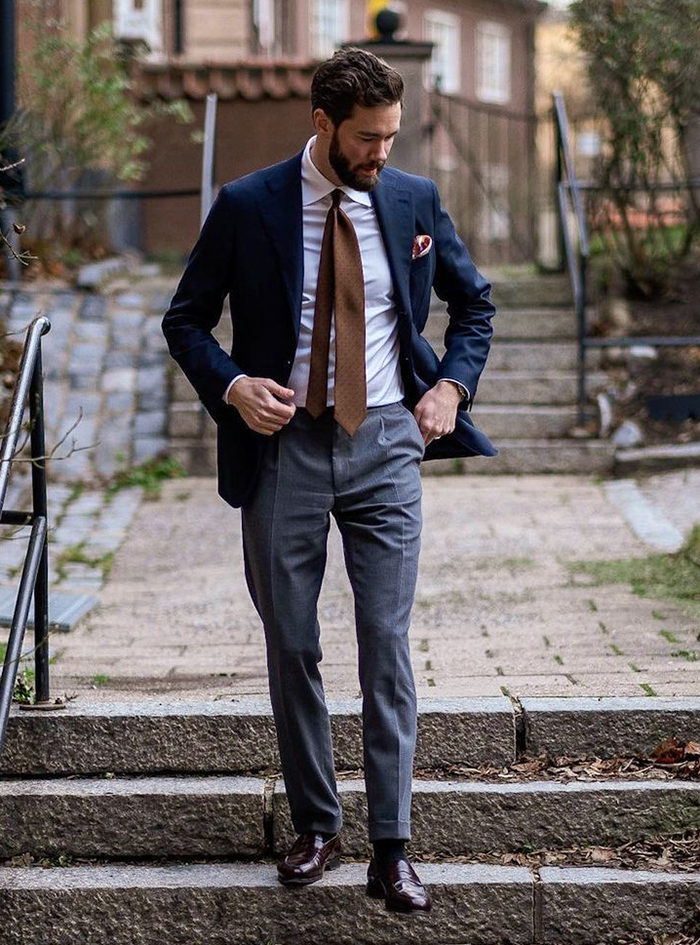 A navy blazer, white dress shirt, and grey dress pants come together to create an ensemble that stands the test of time. Dignified, classic, and unapologetically stylish.
Oceanic Breeze
Next is a stylish mix of navy and blue that perfectly captures the essence of a cool summer day.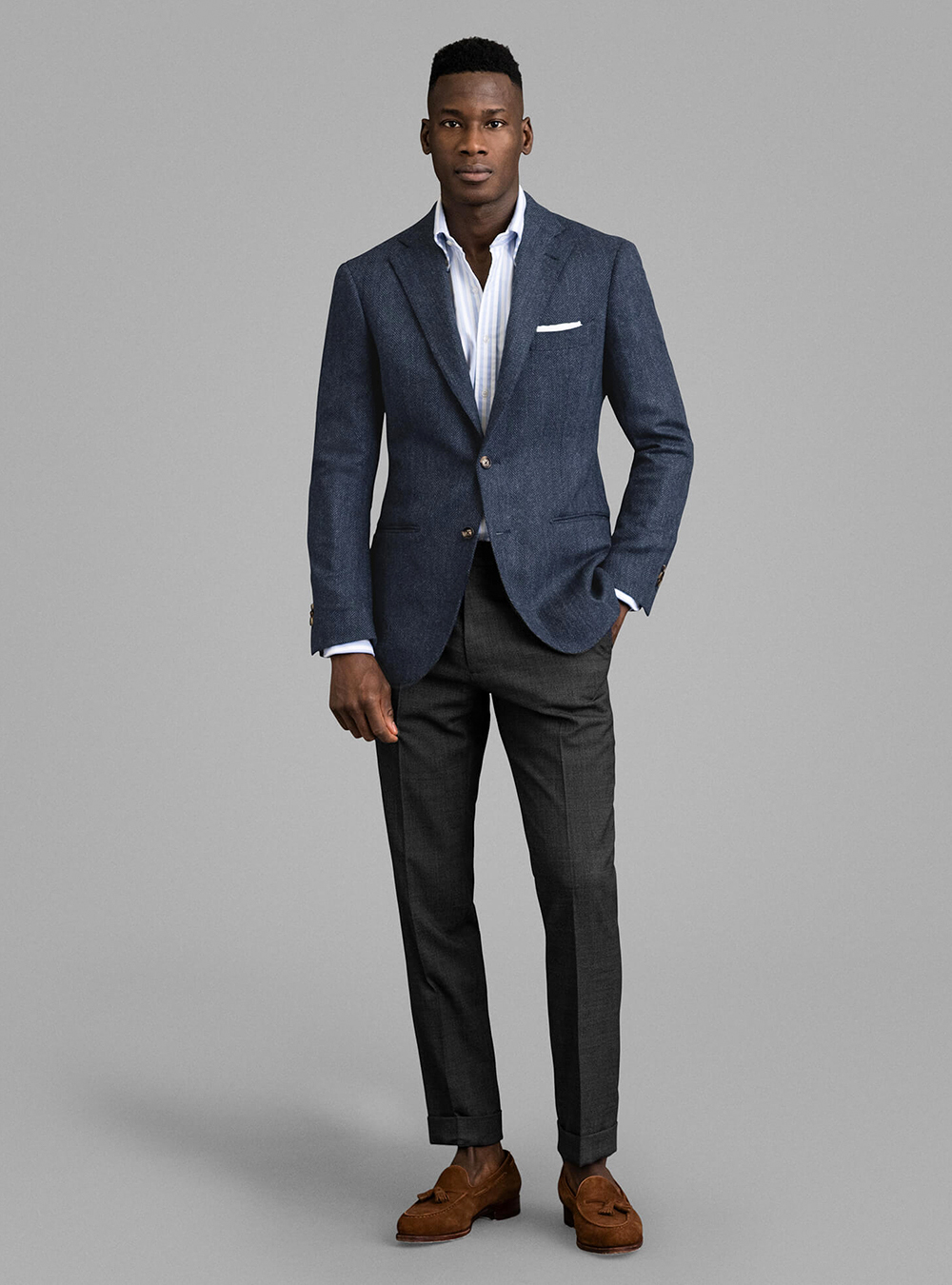 The navy blue blazer, blue-striped shirt, and grey pants create a nautical theme.
The striped shirt adds a playful element to the ensemble, and the brown suede loafers provide a warm contrast to the cool tones of the outfit.
Whether at a summer wedding, a luxury seaside resort, or a daytime horse race, it's as versatile as you can imagine.
Navy Nebula Notation
It's time to add a navy polo T-shirt for the next look. A blazer and polo paired with grey dress pants make a smart team for a fresh look.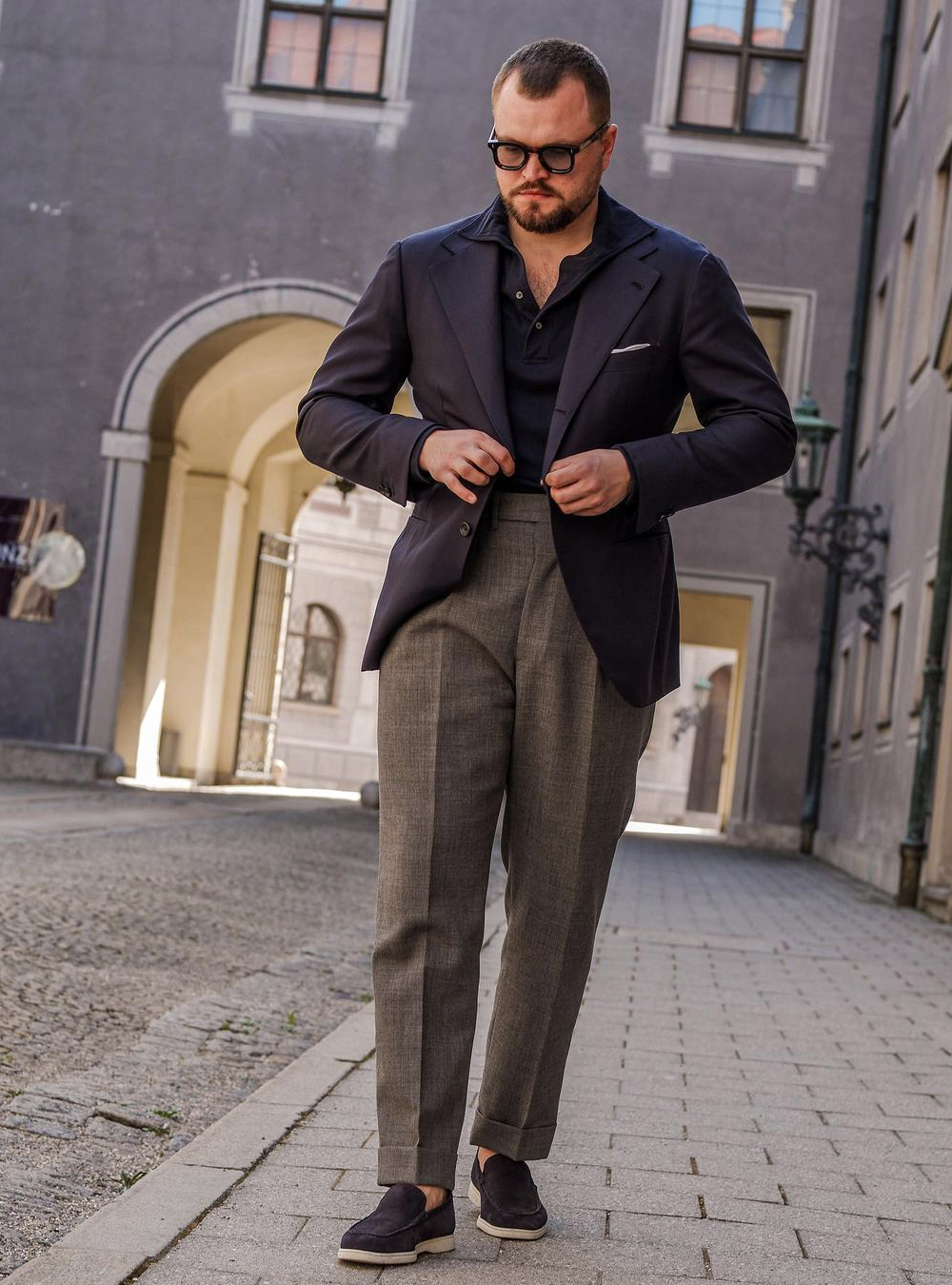 This effortlessly chic look, rounded off with navy loafers, spotlights the versatility of varied navy shades.
Ideal for an array of occasions, from a business meeting to a casual lunch. Or anything in between.
Louvre Lark's Finery
Step into the elegant universe of Parisian style with our simple yet sophisticated look.
The charm of a navy blazer and light grey dress pants is elevated by a white dress shirt, a combination perfect for business-casual settings.
The star of this show, the black monk straps, add a touch of casual elegance to the otherwise standard outfit, striking a balance that works for a variety of occasions.
This ensemble is a classic, no-fuss look that will stand the test of time.
Autumn Chic
Wrap yourself in the spirit of fall with our ensemble that effortlessly combines style and comfort.
A navy blazer paired with a brown turtleneck and grey dress pants is a contemporary combo.
Accentuated with a pair of sophisticated brown loafers, the outfit seamlessly infuses a touch of casual flair.
And don't hesitate to wear a turtleneck under a suit jacket; it's a stylish choice that works seamlessly.
Preppy Urban Promenade
The dapper coordination of a tailored blazer with a waistcoat brings an urbane sophistication that effortlessly transitions from the boardroom to the evening's soiree.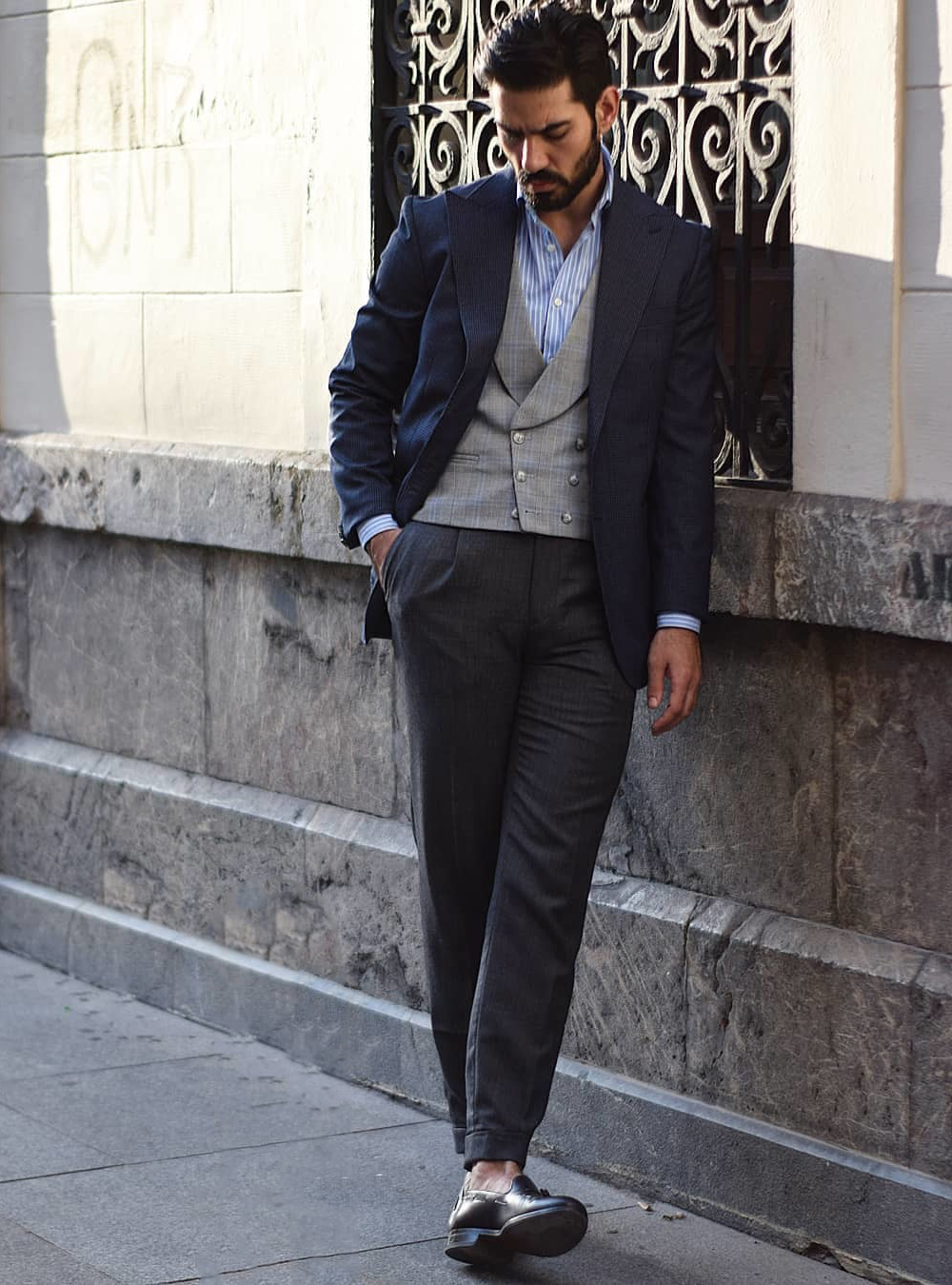 Paired with sleek black loafers, the ensemble resonates with a genteel yet contemporary charm. The brilliance of this look lies in its accessibility, polished without being pretentious.
Whether commanding the workplace or enjoying an after-work cocktail, this outfit ensures you navigate your day with style and grace.
Before Wearing Navy Blazer and Grey Pants
No matter the ensemble, remember that style is personal. And these outfits should serve as inspiration or a launching point for your fashion journey.
Here are some important considerations:
Ensure Perfect Garments Fit
Your blazer and pants must fit well and flatter your body type. It enhances your overall look and boosts your confidence.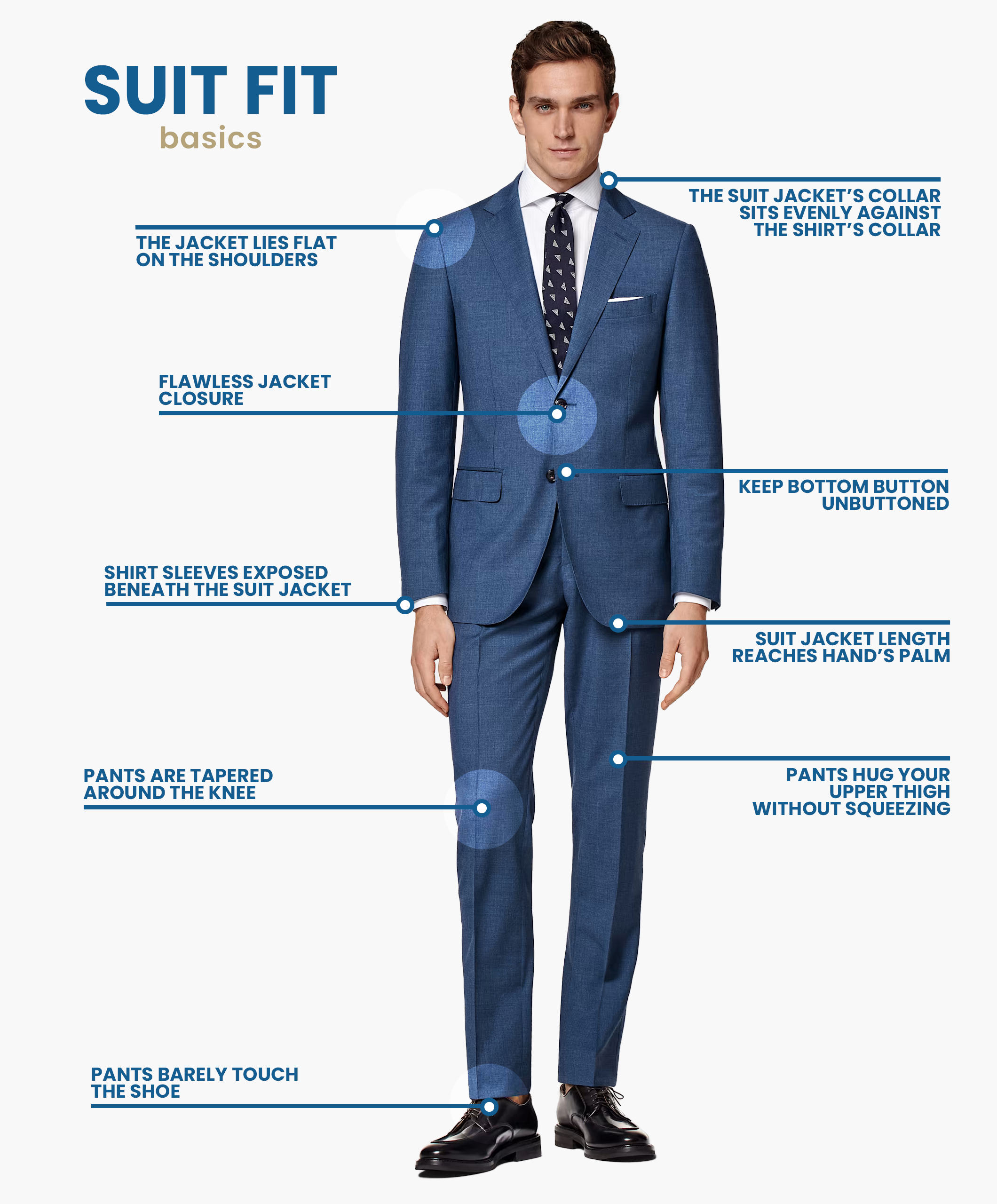 A blazer fits the same as a suit jacket would. It should button up flawlessly and hug your chest without being tight. Also, the shoulder seams should line up with your shoulders.
The pants should sit comfortably on your waist. Go for a slim or straight cut through the thigh and legs for a more refined look.
A slight break at the bottom helps accentuate the modern vibe, especially if you're wearing more casual shoe styles, like loafers.
Remember, tailoring can work wonders. So, don't hesitate to get your clothes altered for that perfect fit.
Appropriate Fabric for the Season
Choosing a suitable fabric is crucial for comfort and style.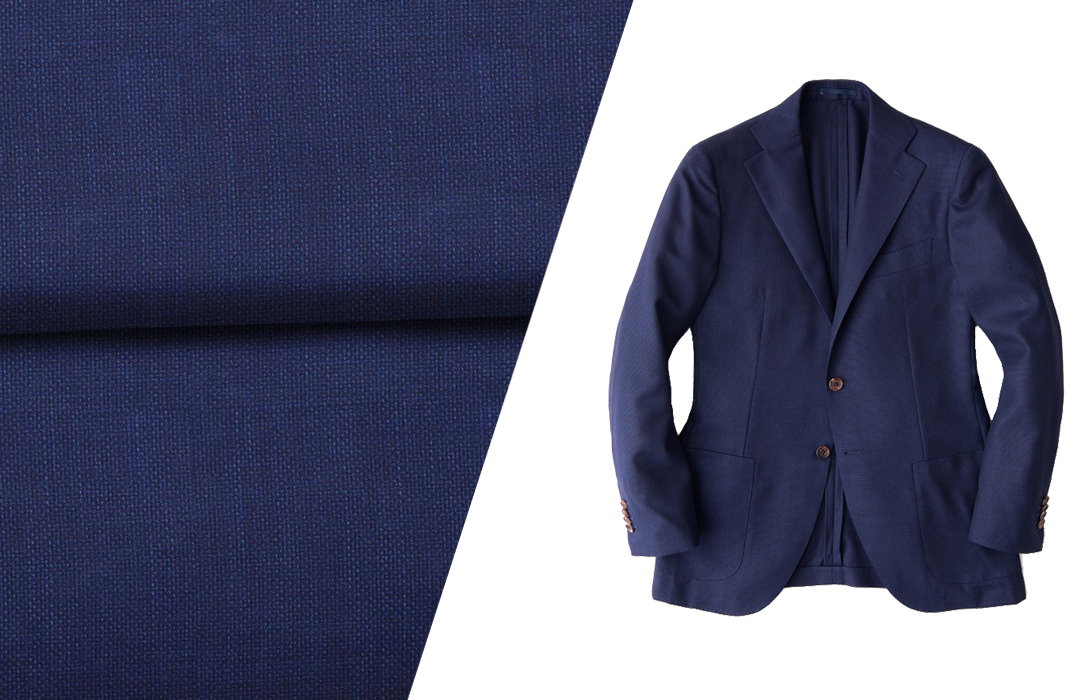 Opt for lightweight cotton or linen for your blazer and pants for warmer months. These will keep you cool while still looking stylish.
In colder months, opt for heavier fabrics like wool. They provide warmth and a luxurious texture that adds depth to your outfit.
A cotton and wool blend can provide the perfect balance in transitional weather.
Mixing Shoes and Accessories
Shoes and accessories can make or break your outfit.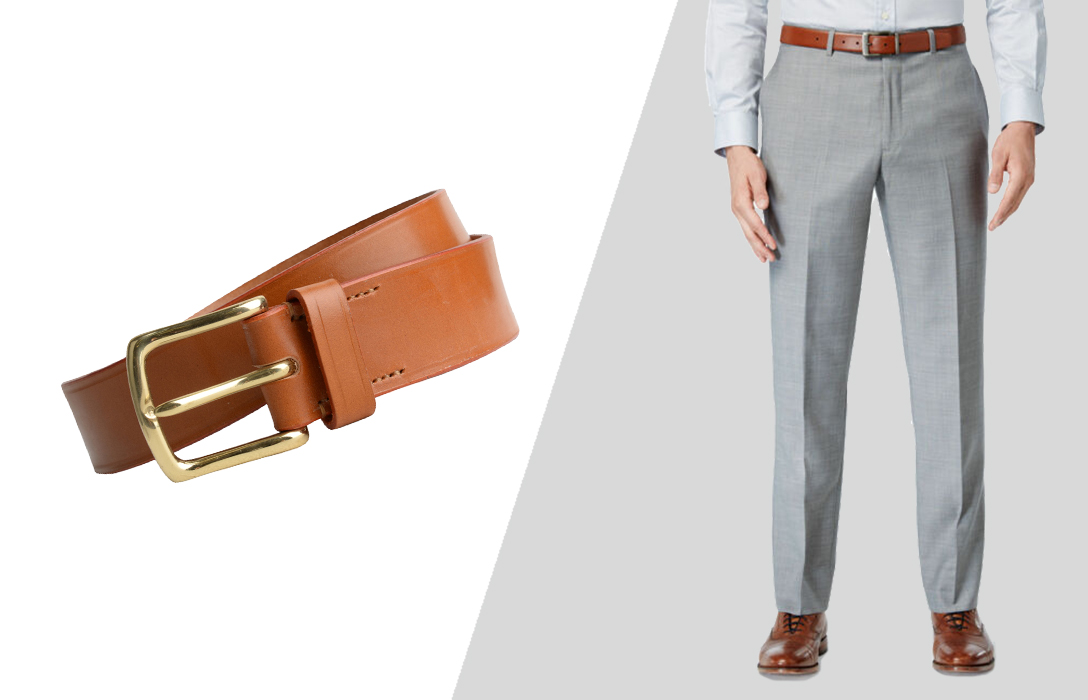 For a more formal look, opt for brown or black leather oxfords or derby shoes. On the other hand, loafers or suede brogues can lend a more casual vibe.
Don't overlook accessories, either.
A matching belt, a tasteful tie, or even a pocket square can add intricacy. As for watches, a classic timepiece can enhance your professional look, while a sportier watch can keep things casual.
Mind the Occasion
The occasion is a crucial factor to consider when styling your outfit. A navy blazer is a true workhorse in a man's wardrobe, adapting seamlessly to any event.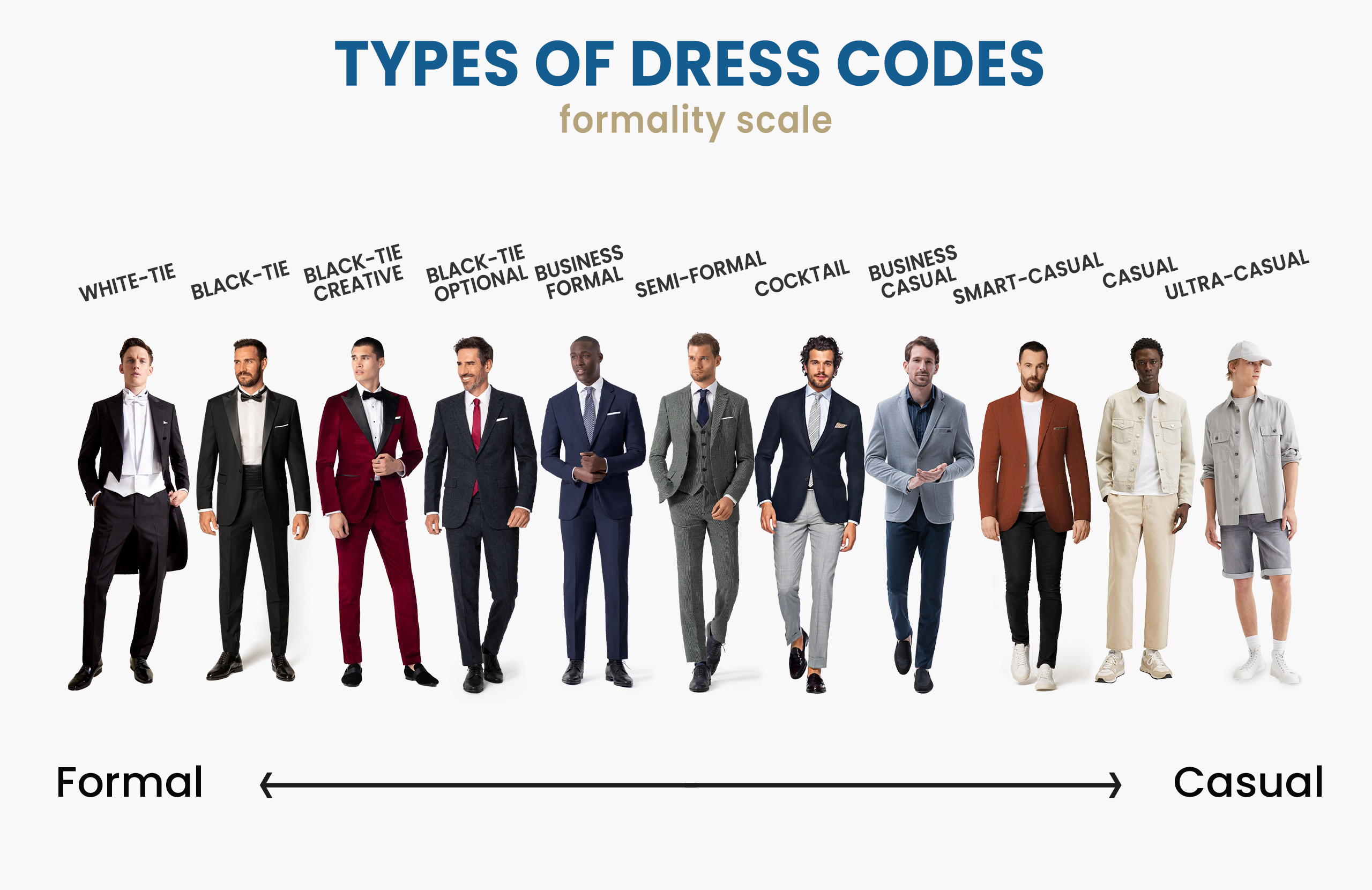 For business meetings or formal events, a crisp dress shirt, well-tailored blazer, and suit pants strike professionalism.
For smart-casual occasions, consider pairing your blazer with a polo or a light chambray shirt for a more relaxed yet refined look.
Even when paired with a simple T-shirt can yield a stylish, effortless vibe.
Author: Alexander Stoicoff
Hi, I'm Alex, and I've studied and specialized in styling in Rome. Through my writing, I want to help men dress well and learn the purpose and significance of suits and other formal attire. My final goal is to make men more confident in their wardrobe choice and life in general.