As we venture into the realm of sartorial explorations, a question teeters on the edge of certainty – can one truly pair a blazer with a polo shirt?
This seemingly unconventional pairing has sparked debate among style enthusiasts. And while some might frown upon the idea, others are curious to embrace the challenge, keen to experiment with their wardrobe.
In this guide, we cautiously venture into the heart of this style enigma: How does one successfully wear a polo with a blazer?
Can You Wear a Polo Shirt Under a Blazer?
You can definitely wear a polo shirt under your blazer. It's a combination that provides a nice balance between formal and casual attire.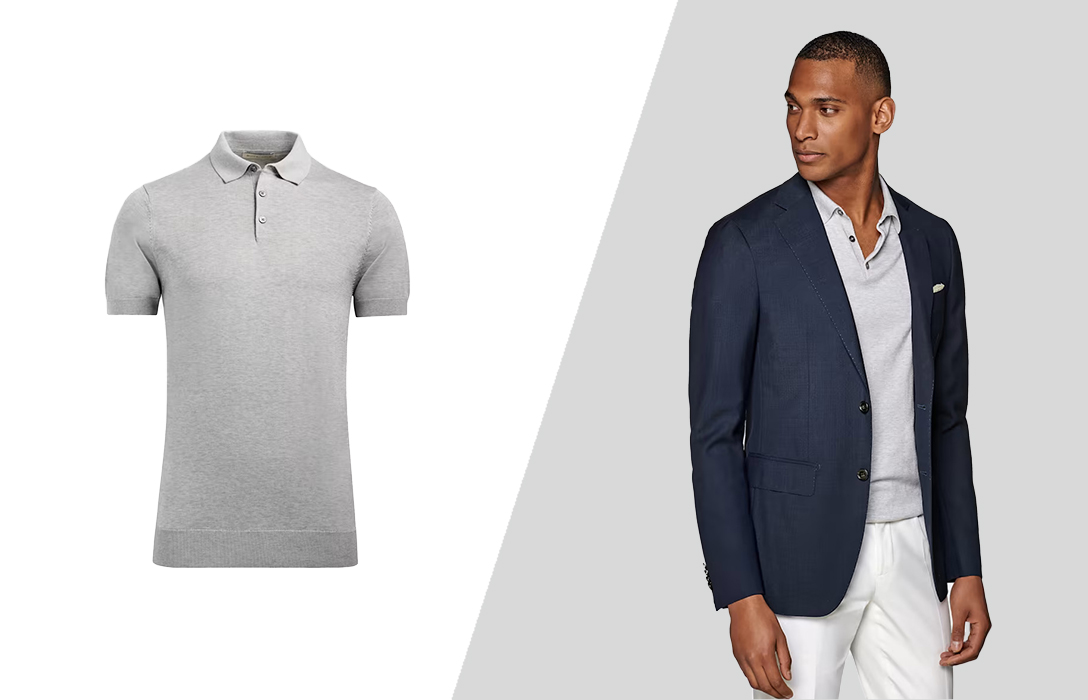 This combination particularly shines in warmer weather. The short sleeves of the polo shirt offer greater comfort under a blazer than a long-sleeved button-up would during the summer months.
However, I can understand that pairing a polo with a blazer can present a unique challenge due to the polo's collar.
Unlike the sturdier collar of a button-up shirt, a polo shirt's collar is an extension of the shirt fabric itself, making it softer and more relaxed.
Another aspect to be mindful of is the polo collar's propensity to crumple or bunch under the weight of a blazer.
So, checking your reflection and adjusting the collar is essential, especially if you frequently put on and remove your blazer.
Polo Shirt and Blazer Outfit Examples
When curating a polo and blazer, it's crucial to create harmony between all components of your ensemble.
This harmony is determined by how well you match the textures, colors, and styles of your blazer, polo, pants, and shoes.
Seersucker Simplicity
The light grey seersucker suit marries perfectly with the navy polo, resulting in an effortlessly chic ensemble. The simplicity is what makes it so striking.
Pair it with brown suede loafers for a touch of classic appeal. This look is an easy go-to for a beach party.
The polo shirt's collar tucked neatly beneath the suit jacket provides a clean and polished look.
The outfit exudes a laid-back elegance, with the shirt's fabric complementing the seersucker suit.
For added flair, finish the look with a simple blue pocket square.
Navy Nuance
There's something inherently captivating about the monochromatic style.
The navy suit paired with a matching navy polo T-shirt exemplifies this. The dark color adds a sleek, refined touch.
Going for brown dress shoes or loafers is a strategic choice. It provides a tasteful contrast, ensuring you don't get lost in the navy.
As an extra footwear option, brown boots add a rugged edge to this refined outfit.
I find that this outfit speaks volumes about one's fashion sensibilities, making it a fantastic pick for an easygoing business look.
Verdant Virtuoso
Immerse yourself in a world where nature and nuance intertwine.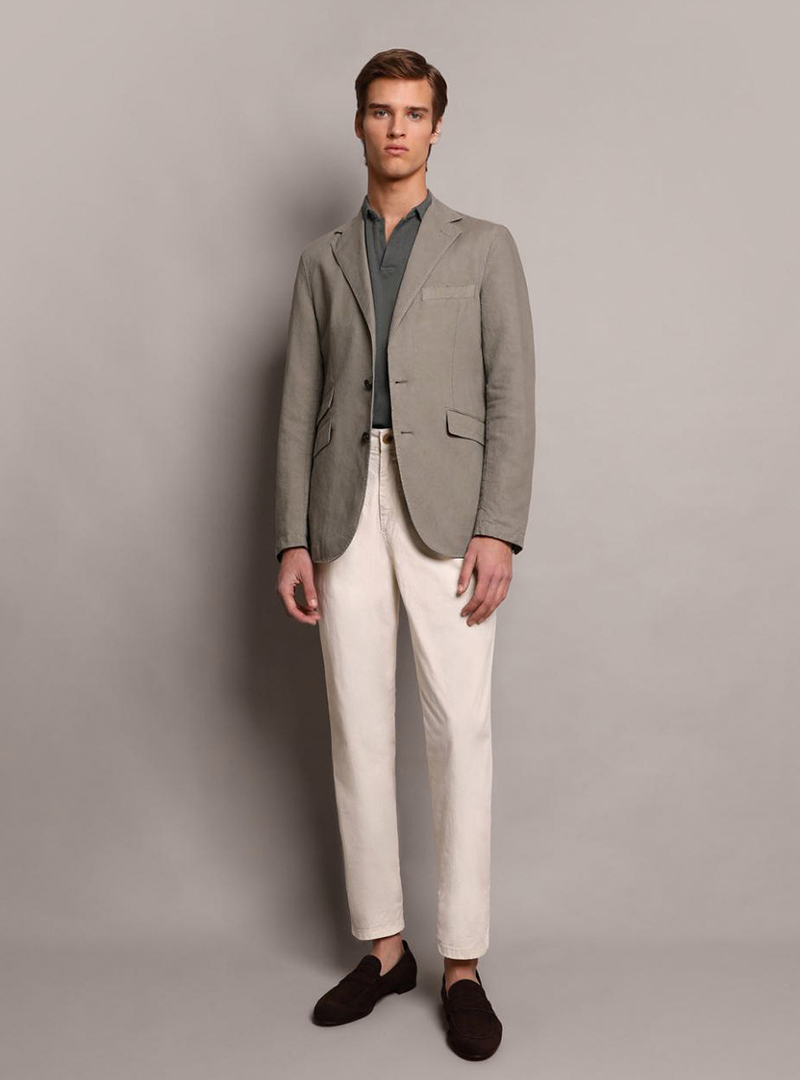 The green blazer, an unconventional yet audacious choice, exudes an earthy charm that harmoniously complements the matching polo.
The duo evokes the vibrant shades of a serene forest, a style nod to the natural world.
Meanwhile, the beige chinos serve as the neutral canvas, allowing the vibrant green pieces to take center stage.
The brown loafers inject a touch of traditional sophistication, providing an earth-toned base that effortlessly unites the ensemble.
This outfit is a symphony of colors and textures, ideal for a man who isn't afraid to incorporate a touch of bold and vibrant into his sartorial repertoire.
Summer Refinement
The next ensemble embodies the essence of summer sophistication, ensuring you're elegantly equipped for the balmy days ahead.
The obsidian black blazer, a timeless classic, lends a structured edge to the look, making it versatile enough to transition from daytime ventures to evening affairs.
Feel like the black blazer is too strong? Feel free to replace it with a navy one.
Contrasting this, the olive polo infuses a touch of relaxed flair, its earthy hue ideally in tune with the season's spirit.
Airy white chinos pair seamlessly with the dark blazer and polo for a summer outfit. While black espadrilles lend grounded elegance to the look.
Perfect for an alfresco brunch, a daytime garden party, or a relaxed summer evening on a rooftop lounge.
Beige Balance
This ensemble is a perfect amalgamation of a sport coat with a relaxed polo, making for a fantastic casual date night look.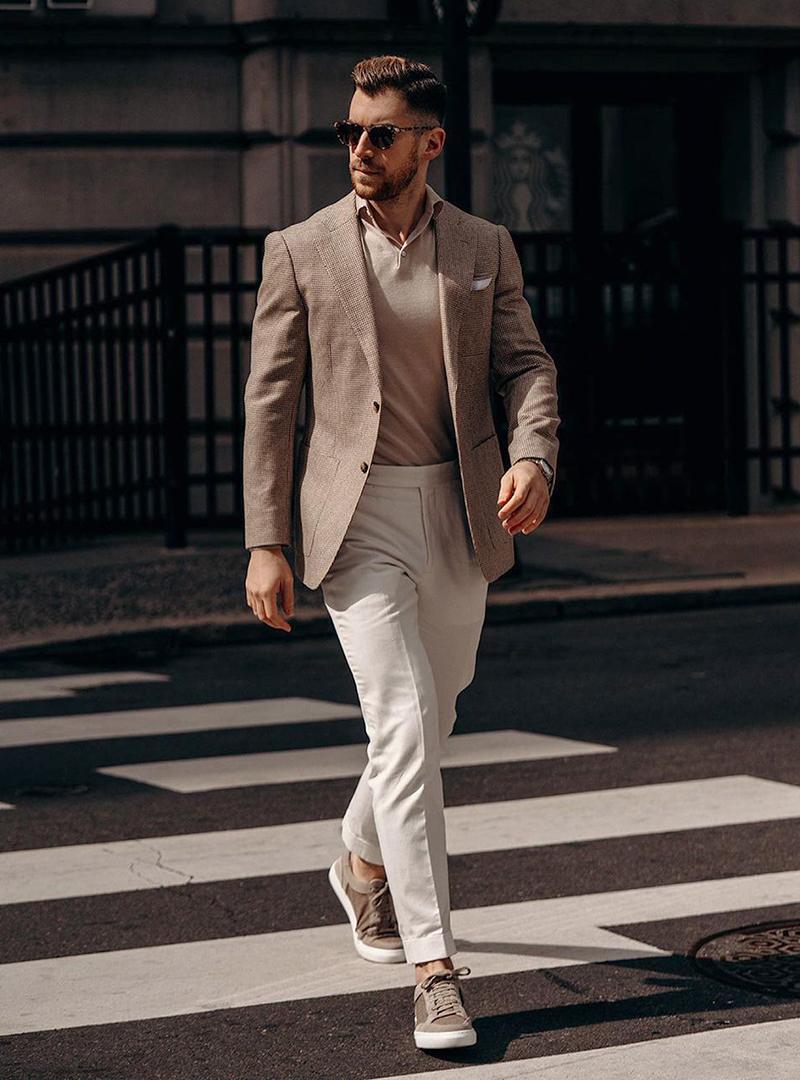 Brown is a timeless color that never goes out of style. And when paired with beige and white, it adds an element of effortless chic to the look.
Finish it off with brown sneakers, and you have a truly balanced outfit that speaks to your sense of style without trying too hard.
Plaid Precision
This heritage-inspired pattern style, also known as Glen Plaid, offers the blazer a sense of depth and character.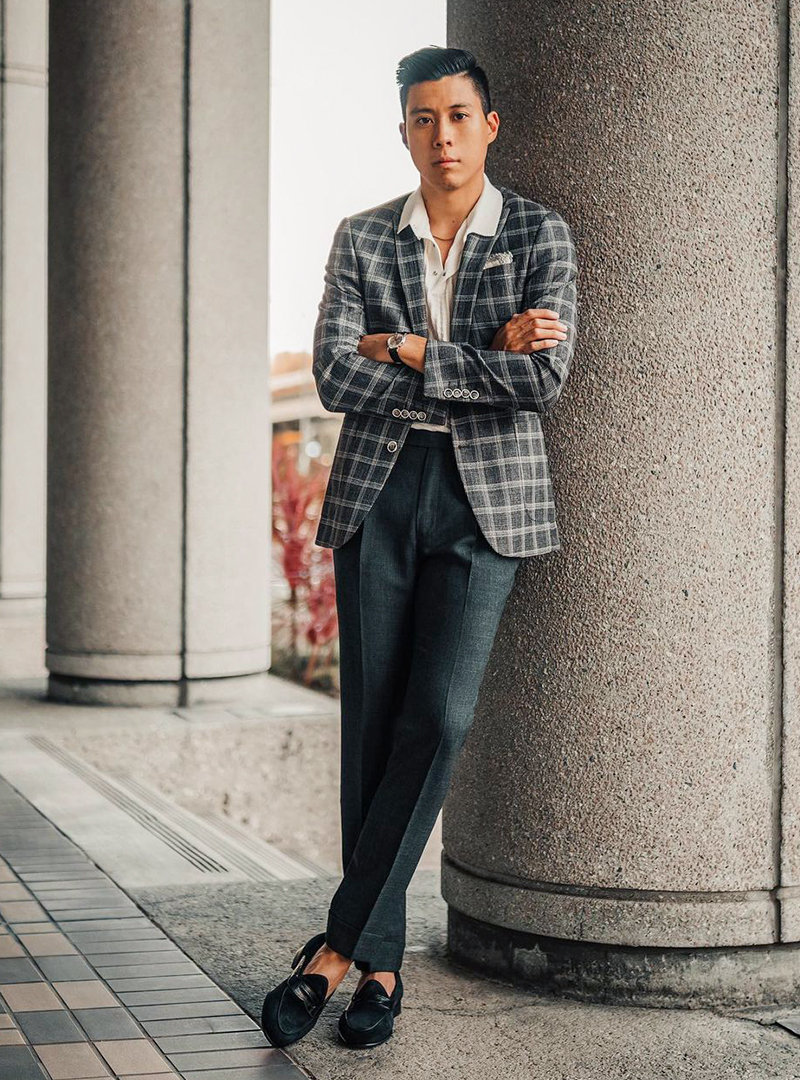 In varying charcoal shades, the play of checks within checks creates a fascinating dialogue between pattern and color.
Accompanying a crisp white polo lends a modern casual touch to the look while maintaining the outfit's classic roots.
The charcoal dress pants, in the shade harmonious with the blazer, keep the ensemble sleek and uninterrupted, enhancing the visual potency of the plaid.
A pair of black loafers anchors the look.
Grey Blazer Party
This outfit certainly fits the bill when it comes to expressing an effortless, laid-back style.
The dark jeans paired with a black polo offer a seamless transition into the grey blazer, creating a cohesive look. The black Chelsea boots are the cherry on top.
So whether you're attending a party or simply stepping out for a night in town, this outfit will ensure you're the best-dressed man around.
Metropolitan Marble
At the heart of this outfit is a navy unstructured blazer, a garment that echoes the crisp aesthetics of metropolitan architecture.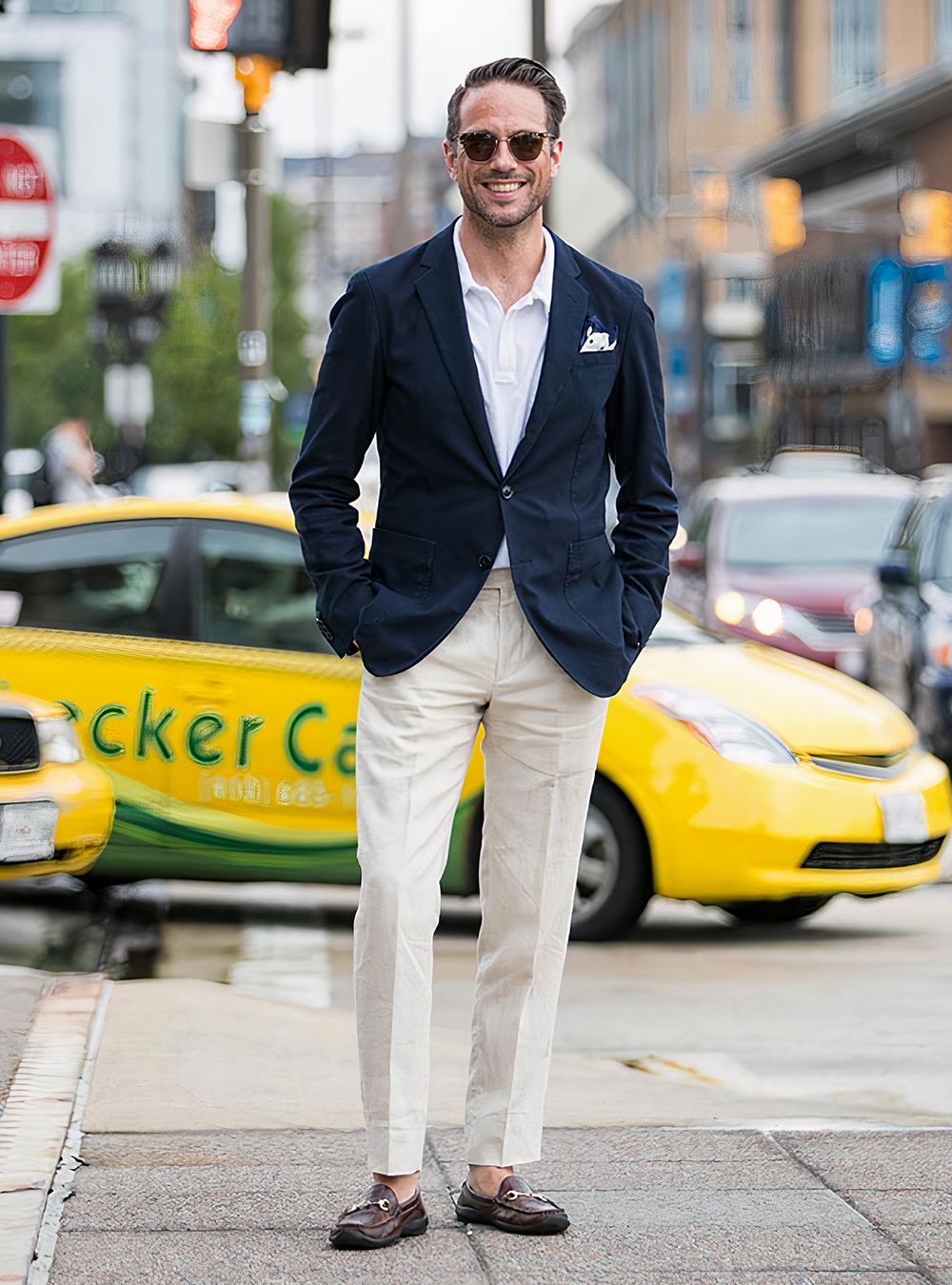 The clean choice of a white polo shirt underneath the blazer delivers the outfit's contrast superiority.
The tan linen pants serve as the grounding force in this ensemble. Their light hue offsets the navy blazer, creating a visually appealing contrast that adds depth to the look.
Finally, a pair of brown leather loafers complete the outfit, offering the perfect blend of casual and formal city aesthetics.
Sunlit Serenade
Introducing a versatile ensemble that seamlessly merges casual style and business sophistication.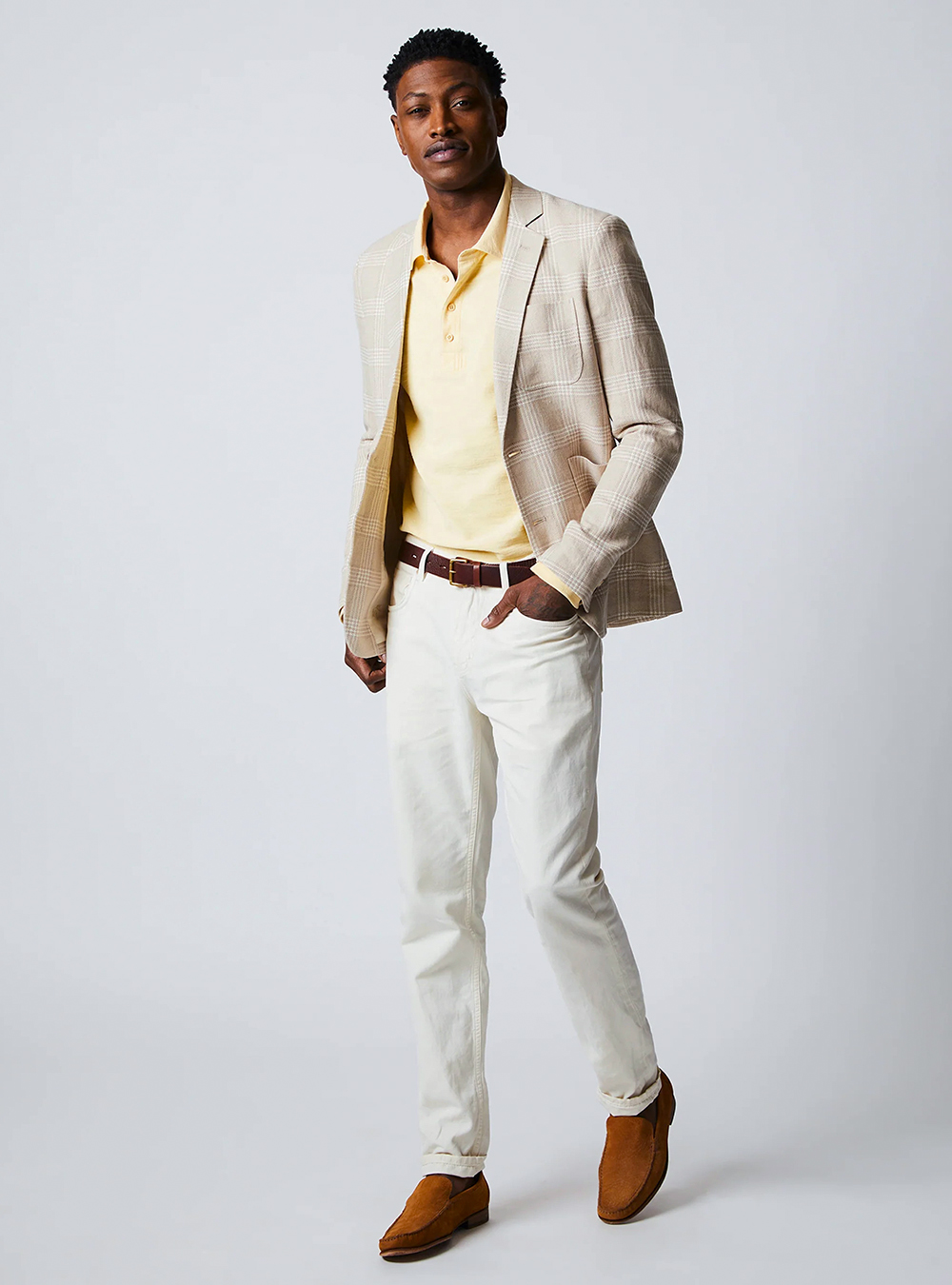 This look, as invigorating as a sunny day, is a refreshing addition to any discerning man's wardrobe.
Under a light brown blazer, a bright yellow polo shirt injects a lively color pop, enlivening the neutral scheme.
Combined with white chinos and brown loafers, this outfit radiates a leisurely yet refined aura, ideal for a summer brunch or a relaxed office day.
Checkered Charm
This stylish blend of tradition and modernity pairs a timeless blue plaid blazer with a fantastic black polo for a visual symphony.
The tan chinos serve as a neutral canvas, highlighting the intricate blazer pattern and contrasted polo. At the same time, brown loafers lend a touch of formality.
This ensemble represents a fashion-forward man who values classic elements yet reinvents them for contemporary appeal.
Pink Panache
Meet a fearless fusion of classic elegance and vibrant hues, perfectly captured in an open-air café setting.
Anchored by a timeless navy blazer, this outfit boasts a soft pink polo that whispers elegance. Paired with airy beige chinos, the ensemble encapsulates a breezy summer day vibe.
The whole look is skillfully pulled together by classic brown loafers, a nod to a man who deftly balances color play with fashion restraint amidst the buzz of a city café.
Double-Breasted Decadence
Slide into this dynamic ensemble that marries the ageless charm of a double-breasted brown plaid blazer with the modern simplicity of a cool blue polo shirt.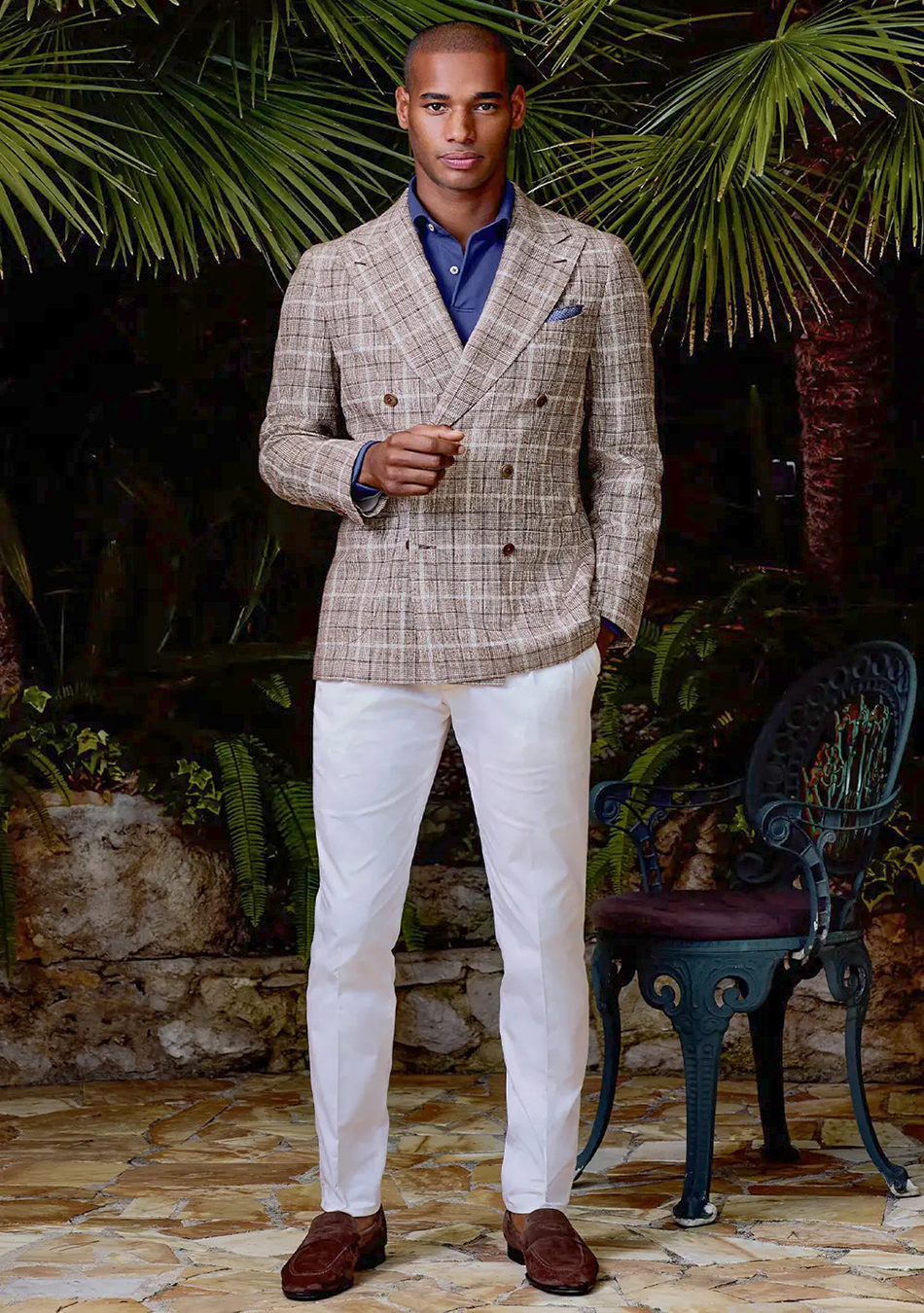 The contrast between the patterned richness of the blazer and the understated polo creates a striking balance of classic and contemporary.
Pair it with crisp white chinos for a versatile base, and finish with polished brown loafers for that quintessential touch.
Oxford Opulence
Embrace the sophisticated allure of Hollywood as you don a sleek navy blazer with a matching polo shirt, a look that whispers rather than shouts its stylish intent.
Like Brad Pitt gracing the red carpet, you'll command attention with this ensemble's casual elegance.
The black dress pants serve as a solid foundation, perfectly juxtaposed against the relaxed aura of the polo.
To seal the deal, black Oxford shoes deliver a definitive stroke of finesse, ready you to face any high-profile event with carefree charm and understated opulence.
Taupe Tapestry
Last but not least, this look weaves together the elements of a navy blazer, brown taupe polo shirt, blue jeans, and brown leather loafers into an intricate masterpiece of casual style.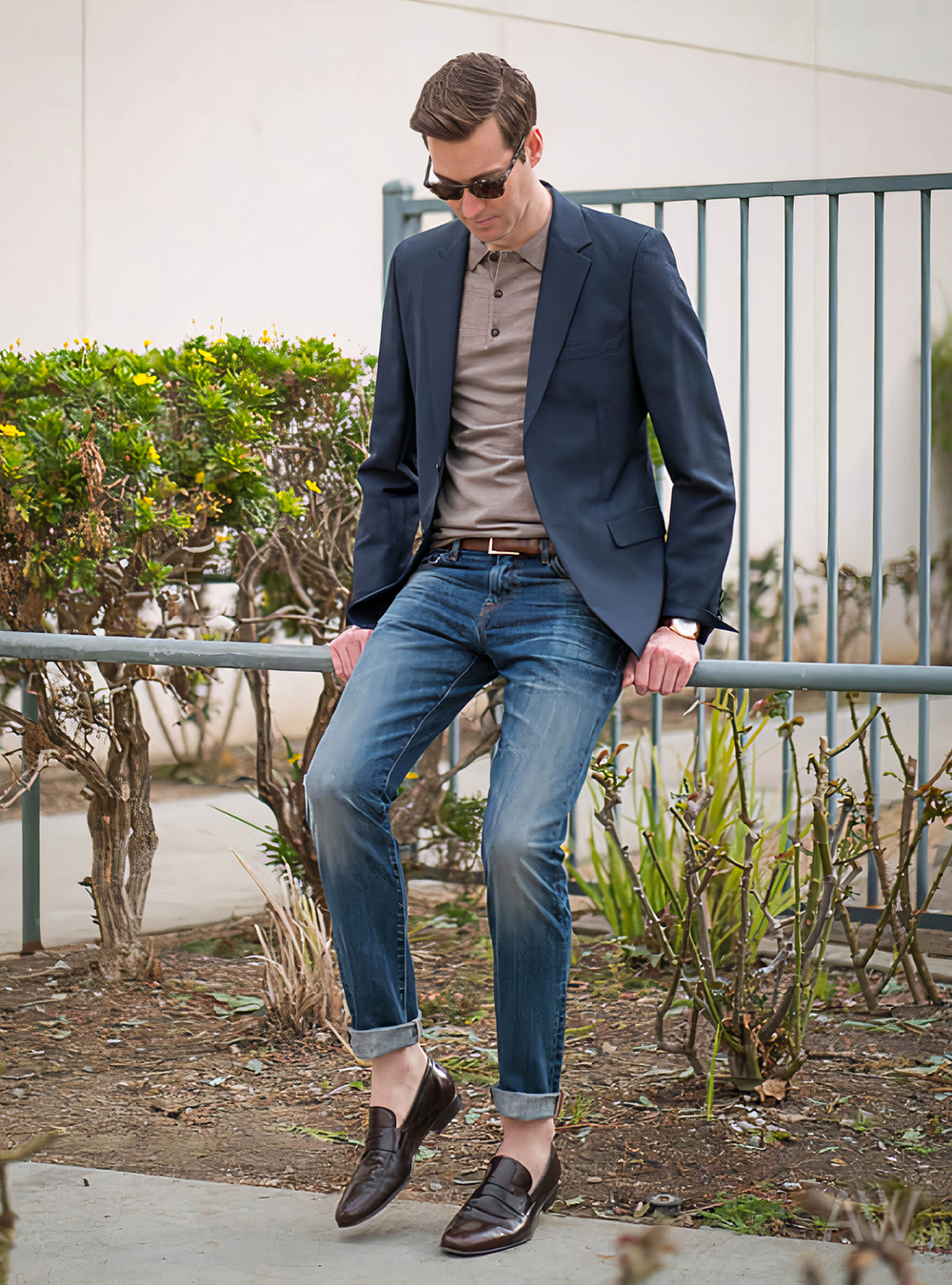 The navy blazer brings an element of formality, beautifully offset by the casual nature of the brown taupe polo and blue jeans.
The brown leather loafers bring the look together, adding a touch of classiness.
Perfect for those moments when you want to balance relaxed and refined, effortlessly threading the needle of smart-casual style.
Things to Consider When Wearing Polo Shirt with a Blazer
Wearing a polo shirt with a blazer is a fashion-forward move that merges the formal with the casual.
But, to pull off this look with aplomb, there are a few essential considerations.
The Right Pants & Shoes
Of course, creating an outstanding ensemble involving a blazer and a polo shirt involves a thoughtful pairing of trousers and footwear.
First, decide on the level of formality you're aiming for.
A polished, formal look can be achieved by pairing them with wool slacks and trousers.
If you're after a smart-casual and balanced look, opt for chinos coupled with a cotton or linen blazer.
Consider dress loafers or brogued Derbies or Oxfords that match the level of formality of the rest of your outfit.
For an attire that exudes a relaxed yet refined aura, consider pairing dark denim jeans with a casual sport coat.
Footwear such as chukka boots, casual loafers, or even clean leather sneakers can be your go-to choices for jeans.
Collar Placement
The polo shirt's collar plays a crucial role in your overall look.
Traditionally, the polo's collar is kept inside the blazer. It should sit neatly against the lapels, creating a clean line.
However, consider letting the collar out, resting atop your blazer's collar for a more audacious yet fashionable stance. This can inject an intriguing element of casualness.
But remember, the key to pulling it off is ensuring that the collar sits neatly and doesn't appear messy. It's a bold move that can truly set your style apart.
Plain Polo Shirts
A polo and blazer outfit leans towards understated elegance.
Opt for a polo shirt devoid of flashy logos and excessive embellishments. This maintains a clean, refined aesthetic that aligns seamlessly with the elegance of the blazer.
Likewise, while vibrant colors can be enticing, they often risk overpowering the overall look. Instead, prefer understated hues that compliment your blazer, maintaining a harmonious color balance.
Material
Regarding polos, I favor cotton or performance fabric options for their breathable nature and comfortable fit.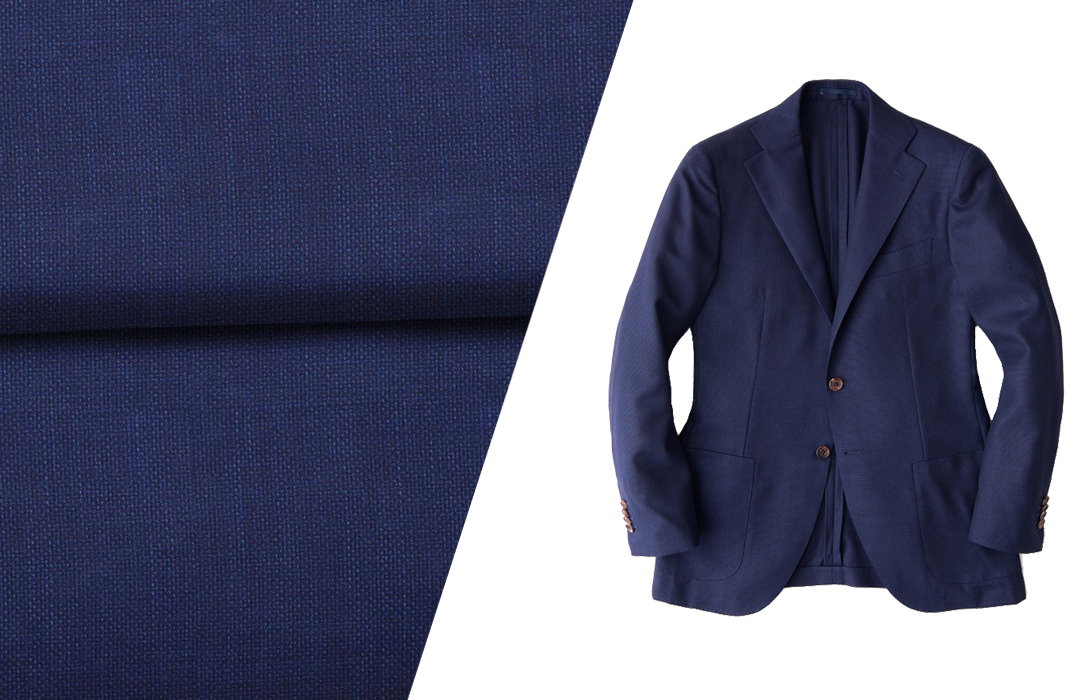 On the other hand, the blazer fabric should align with the season and occasion. A wool blend provides warmth for colder months, while a cotton or linen blazer lends itself to summer events with its lightweight charm.
For a seamless blend, ensure your polo shirt's fabric weight corresponds with that of your blazer.
Color Combination
A navy blazer and a neutral-colored polo shirt remain a fail-safe duo in the vast wardrobe universe.
The versatility of navy as a color lets it harmonize effortlessly with a spectrum of hues. Neutral polo shirts, whether they're shades of white, beige, grey, or even light pastels, add the perfect subtle touch.
This winning combination allows for various outfit options, serving as a canvas that accommodates practically any color palette for any occasion.
Author: Alexander Stoicoff
Hi, I'm Alex, and I've studied and specialized in styling in Rome. Through my writing, I want to help men dress well and learn the purpose and significance of suits and other formal attire. My final goal is to make men more confident in their wardrobe choice and life in general.